ELTON JOHN NEWS ARCHIVE: March 2012
Ben Babylon Band to 'Shred Kids' Cancer' at House of Blues
Thursday, March 29 2012
Shred Kids' Cancer, a nonprofit organization that raises money to fight pediatric cancer, has invited the Ben Babylon Band to perform at Shredfest 4, in West Hollywood, California on Saturday, April 7, 2012.
Several other Southern California artists are also set to perform at this battle-of-the-bands music showcase, at the world-famous House of Blues.

Ben Babylon is the son of the late Guy Babylon, Elton John's long-time keyboardist and arranger. This will mark the second time that he has performed at Shredfest. Ben is looking forward to playing his new single "Contradiction" and two other originals songs with his band, Alex Arnaout, Jagger Krusen and Brian Schwartz. Other participating bands are Stereo Union, Sabrina Lentini Band, Common Gesture, Death of a Century, False Puppet and Aftershock, with special guest SLATR.

Celebrity judges will include bassist Shavo Odadjian from System of a Down, dancer and singer Carrie Ann Inaba from ABC's "Dancing with the Stars," DJ Lethal from Limp Bizkit and House of Pain, guitarist Dave Kushner from Velvet Revolver, and others to be announced.

The judges aren't the only ones who will get the "celebrity" treatment. Audience members will get to walk a red carpet when they arrive, posing for professional photographers along the way. The concert will include a silent auction of one-of-a-kind items. Proceeds will benefit Mattel Children's Hospital at the UCLA Medical Center.

Shred Kids' Cancer will take place on Saturday, April 7, 2012 from noon-3:00 p.m. at House of Blues, 8430 W. Sunset Blvd., West Hollywood, CA. More information and tickets are available at shredkidscancer.org, Facebook.com/shredkidscancer and Twitter @shredkidscancer.

Information about the Ben Babylon Band is available at www.BenBabylonMusic.com.
Students steal the show at Elton concert
Thursday, March 29 2012
Two brothers' fanciest dance moves caught the attention of one rock's flashiest performers, reports The Breeze.
Ty, a senior sociology major, and Asher Walker, a freshman theatre and dance major, are brothers who went to an Elton John concert with their family. While standing in front of the venue in Roanoke on March 15, 2012, someone who works for Elton John offered them and their sister front-row tickets.

When the concert started, Ty and Asher started dancing in the front row. Their hip-hop and breakdance performance had everyone around them watching, including Elton. It wasn't long before a security guard asked to see them on the side of the stage, where they met with Elton's manager, who asked them to write down their names and phone numbers.
"We didn't think anything of it, and just kept dancing for the rest of the concert," Asher said.

To their surprise, something did come of it. The next day, the manager called Ty and Asher and asked them to come to Richmond on March 17, 2012 for another concert. He told them he would leave front-row tickets and backstage passes for them at will call. "We picked everything up at will call and the manager took us down under the stage," Ty said. "We turn a corner and there sits Elton John."

Elton then invited them to sit and talk with him about their dancing. "He was saying that he really enjoyed what we did, and that he's never seen anything like that at one of his shows," Asher said. Ty and Asher hung out with band before the concert started. When it began, they danced in the front-row again, just like in Roanoke — only this time with a twist.

About three-quarters of the way through the set, Elton's manager told them they were going on stage. Before they knew it, Elton John was announcing them to come up and dance in front of 15,000 people. "They were all yelling," Ty said. "Looking out at the sea of people, that was a crazy sight. It was surreal. I mean, it's Elton John. He's a legend. To be there talking to him and him being so down to earth, it was just wild."

Anne Stewart, a professor in the graduate psychology department, was among the sea of onlookers. "I thought they represented JMU incredibly well," Stewart said. "They had a lot of talent and enthusiasm." Both Ty and Asher realize their 15 minutes of fame was a rare stroke of luck. "That should not have happened to us," Asher said. "All of those things falling into place — just doesn't happen."

Both brothers are hoping to pursue careers in music after college. To jumpstart that, Ty DJs at Club Gilty and Asher is a theatre and dance major. They're also hoping that keeping in touch with Elton John will allow for expanded opportunities. "As of right now, he just wants to help us as much as he can," Ty said. "He's not doing anything crazy for us. We're just communicating."

This means that should they ever need advice on the music industry or a reference, "he would be there to help as best he could," Asher said. "The impossible can and does happen," Ty said. "It happened to us."
Elton opens up on being bullied as an adult
Thursday, March 29 2012
As the constant debate concerning the theatrical release of Bully continues, Elton got candid with E! News' David Burtka during an exclusive interview recalling his own struggle with being bullied, even as an adult megastar.
"It was about control and them being able to keep me under their thumb," he says. "And I was the perfect candidate for it. Even though I was famous and a big deal, it doesn't matter, it's who you are underneath that, and I was always kind of shy and intimidated." Elton adds, "One was violent and the other two were mentally violent. They were very important people in my life. They were important people in my career and and in my personal life."



He admitted to being physically hit by his tormentors, and although he kept mum on the situation, he urges others that are victimized to contact someone about their issue. "Speak out, speak out. Snitch on them. Try to defend yourself, not like me, who hid it and thought it was OK to just go on like it." As for the bullies, "Your insecurities are what drive you to do this. You need to consider your consequences. I'm sure underneath it, you're all very nice people. We've all made mistakes in our life—this is a good time now to correct your mistakes and help people."

He continues, "We have to nip this in the bud, too many people have died. Too many young people have committed suicide because they've been frightened of 15-16-year-olds."

Elton has been working closely with Lady Gaga on an anti-bullying campaign, and truly feels that this "cruel and disgusting" behavior can be stopped. But he's also preparing to deal with the possibility of his son, Zachary, coming into contact with a few bullies at school. "I know by being two same-sex parents that when my boy goes to school he's probably gonna have some people saying, 'Oh you don't have a mommy.'"

If that should happen, Elton hopes that his "pride and joy" will do what he urges everyone else to do in this type of situation, and speak out.
"The Diving Board" track list
Thursday, March 29 2012
Elton & Bernie's brand new studio album "The Diving Board" is currently in the mixing stage and slated for release sometime in the fall of 2012, reports berniejtaupin.com.
As reported earlier, produced by T-Bone Burnett the 10 songs comprising the record were recorded during a 10-day period in January 2012 and feature the trio unit of Elton, drummer Jay Bellerose & bassist Raphael Saadiq.

The most stripped down and piano-dominant album in their prolific careers, "The Diving Board" features flashes of color provided by among others guitarist Doyle Bramhall II and Keefus Cianca with additional low key brass and interwoven cello wizardry courtesy Stjepan Hauser & Luka Sulic.

Bernie says, "It's intimate and cohesive, just really good songs without a lot of fuss."

Tracks are as follows:

1. Oscar Wilde Gets Out
2. A Town Called Jubilee
3. Can't Stay Alone Tonight
4. My Quicksand
5. Candlelit Bedroom
6. The Ballad Of Blind Tom
7. The New Fever Waltz
8. 5th Avenue
9. Mexican Vacation (Kids In The Candlelight)
10. The Diving Board


Elton John cuts raw LP with T Bone Burnett
Thursday, March 15 2012 at 18:26:22


Elton puts two West Hollywood condos up for sale
Thursday, March 29 2012
The Sierra Towers units, which have city and ocean views, could be combined. One is priced at $1.6 million. The other is listed at $3.5 million.
According to the Los Angeles Times Elton and David have listed their two condominiums in West Hollywood for sale, according to the Multiple Listing Service.

The smaller of the two, with one bedroom, 11/2 bathrooms and 1,151 square feet of living space, is priced at $1.6 million. The larger, with the same number of bedrooms and baths in 1,831 square feet, is listed at $3.5 million. The Sierra Towers units, which have city and ocean views, could be combined. The building has 24-hour security, a doorman, an outdoor pool and a gym.

The pair recently bought a contemporary house in Beverly Hills that had been listed at $7.695 million but was withdrawn from the market before closing. It can be weeks or months before a sales price appears on the public record. The remodeled house includes four bedrooms, 5 1/2 bathrooms and more than 4,200 square feet of interior space. The nearly half-acre site features a swimming pool, lawn, a cabana and patios.

Public records show the smaller condo was purchased in 2004 for $900,000 and the larger one in 2007 for $2.497 million. Andrew Clark and Barry Peele of Sotheby's in Beverly Hills are the listing agents for the condominiums. Jade Mills was the listing agent on the Beverly Hills house.


Elton and David buy new house in L.A.
Thursday, March 8 2012 at 07:36:29


Elton plans to have another baby soon
Thursday, March 29 2012
It is understood they will ensure the baby has a different biological dad to first child Zach, so both parties will be blood fathers, reports The Mirror.
Elton wants to become a dad again – and hopes to have a little brother or sister for 14-month-old Zachary by the end of this year. A source said: "The wheels are in motion. David and Elton have never hidden their desire to extend their family, and believe the time is right for another child. By the end of this year, or the beginning of next year, there will be a fourth member of the John-Furnish clan. They are incredibly excited and loving every minute of parenthood."

The couple, who had a civil partnership ceremony in 2005, have been raising toddler Zachary Jackson Levon Furnish-John at their mansion in Windsor, Berks. Their baby was born to a surrogate mum in California, on Christmas Day 2010. Elton declared himself "overwhelmed with happiness".
Happy 65th Birthday, Elton John!
Sunday, March 25 2012
A somewhat different birthday note by Aziz S. Inan, Electrical Engineering, University of Portland, Portland, Oregon.
Today, March 25, 2012 will mark famous singer, songwriter, composer and pianist Elton John's 65th birthday. He was born on March 25th, 1947 in England where the calendar dates are expressed in day- month-year date format. As I was looking at numbers related to Elton's life, I discovered that Elton's 65th birthday possesses numerically special properties. Here is why:

1. Elton's 65th birthday's full date number is 03252012 in month-day-year date format and 25032012 in day-month-year date format. Let us go ahead and split 03252012 in the middle into numbers 0325 and 2012 (or 2503 and 2012). It turns out 2012 equals 4 x 503, that is, the prime factors of 2012 are 2 and 503. Are you with me so far? Now, put these two prime numbers side- by-side as 2503, what does this number correspond to? (It is 25 March in day-month format.) Next, what comes out if the leftmost and rightmost two digits of number 2503 are switched? (Number 0325 which correspond to March 25th in the month-day date format.) Isn't this neat?

2. Next, consider Elton's full birth date expressed as 03251947 (or 25031947 in day-month-year date format). If this number is split as 03, 25, 19 and 47, these four numbers add up to 94. Interestingly enough, the sum and the difference of the digits of 94 are 13 and 5, and guess what, 13 times 5 equals to Elton's upcoming birthday number!

3. If numbers are assigned to the letters of name "ELTON JOHN" using the English alphabet as A = 1, B = 2, ..., Z = 26, the letters of "ELTON" add up to 66 (which equals the sum of the leftmost and rightmost two digits of 1947, that is, 19+47) and the letters of "JOHN" add up to 47 (that is, the rightmost two digits of 1947). Wow! Okay but what does this have to do with Elton's 65th birthday?" Okay, go ahead and add the squares of "ELTON" and "JOHN" (that is, 66x66+47x47), what is the result? (Double 65's side-by-side!) Doesn't this make Elton's upcoming birthday more special?

4. Also, the reverse of twice the difference of numbers 19 and 47 (which make up 1947) yields 65!

5. In addition, the difference of the squares of numbers 65 (Elton's new age) and 56 (which is reverse of 65) yields 1089 which is 33x33 and interestingly enough, two 33's add up to "ELTON"!

6. If number 2503 (25 March) is split as 25 and 03 (or 0325 (March 25) is split as 03 and 25), the reverse of twice the sum of these two numbers also yield 65!

7. If 25 March is expressed as 253 (instead of 2503), this number equals 11 times 23 and the squares of these two prime numbers add up to ten times 65! Similarly, if March 25th is written as 325 (or 0325), this number equals five times 65!

8. As an aside, Elton's 66th birthday to occur next year will also be numerically special, why? Multiply "ELTON" with "JOHN" and reverse the result, what comes out? (2013!) Amazing! (Note also that Elton's 2013 birthday number (66) correspond to his name "ELTON"!)

9. Elton's 100th birthday will occur in 2047 which equals 23x89. The difference between these two prime numbers also yields "ELTON"!

Based on the above, Elton's upcoming already special 65th birthday is indeed numerically unique. Thanks for all what you do Elton John and have a happy 65th birthday!

Aziz S. Inan is a professor of electrical engineering teaching at University of Portland for 23 years. As a hobby, he enjoys finding interesting numerical properties associated with numbers, connections and coincidences between numbers, calendar dates, birthdays, historical dates, etc. He can be reached at +1-503-943-7429 or ainan@up.edu.

(Note that the purpose of this article is solely recreational and for fun.)
Happy Birthday, Elton!
Sunday, March 25 2012
Elton will turn 65 on March 25, 2012 - and this year he will not be on the stage at his birthday.
Last year he performed a birthday show with Leon Russell at Philadelphia's Wells Fargo Center. Now he has just finished a number of shows with the band in the US and is heading to Dubai for a one-off show with Ray Cooper.

On behalf of the Hercules team and all the fans around the world, we would like to wish him all the best and a happy birthday!


Happy 65th Birthday, Elton John!
Sunday, March 25 2012 at 05:00:00


Life is wonderful, when protected.
Tuesday, March 20 2012
Elton John and David Beckham in Russia Safe Sex Campaign by AIDS Foundation East West.
The Honourable David Furnish?
Sunday, March 18 2012
Gay partners of knights and peers may be given courtesy titles in latest equality drive, reports the Daily Mail.
It could lead to Sir Elton John's partner David Furnish being known as 'Sir David' or possibly 'the Honourable David Furnish'. It would, of course, depend on whether the couple decide to convert their civil partnership into a full civil marriage, as allowed under new Government plans.

The prospect of courtesy titles for same-sex partners arises from the Coalition's controversial proposal to give gay and lesbian couples the right to marry. In a consultation document published mid March 2012, Home Secretary Theresa May and Equalities Minister Lynne Featherstone declared: 'If commitment and marriage is a good thing, we should not restrict civil marriage only to opposite-sex couples.'

Buried in the small print were a number of thorny issues, including courtesy titles. The document stated: 'Married couples and civil partners are entitled to similar rights and responsibilities but there are some differences around eligibility for some pension rights and laws around adultery and non-consummation and courtesy titles.'

At present, if 'Fred Bloggs' is given a peerage and becomes 'Lord Bloggs', his wife 'Freda' becomes 'Lady Bloggs'. Likewise, the wife of a knight of the realm, 'Sir Fred Bloggs', becomes 'Lady Bloggs'. However, this privilege is not granted to the partners of homosexual peers and knights in civil partnerships.

To ensure full equality, the Government will either have to grant courtesy titles to the partners of married gay peers and knights – or remove them from the wives of their heterosexual counterparts. That could cause considerable anger: many male peers and knights say the main reason they accepted the honour was to enable their wives to call themselves a 'Lady'. To add to the complications, male spouses of female peers and dames are already discriminated against. They are not granted courtesy titles, and remain plain 'Mr'.

The Mail on Sunday understands that notwithstanding David Cameron's publicly stated enthusiasm for gay marriage, it will not be in the Queen's Speech in May 2012 when the Government unveils its legislative plans for next year. That means it will not become law for at least two years, possibly not until after the next General Election in 2015.
Elton tops Billboard Hot Tours charts
Saturday, March 17 2012
Elton John, who is in his sixth decade of touring, take the No. 1 slot on Hot Tours this week with $2.7 million in box office grosses reported from two stops on his Greatest Hits Tour, currently on the road in North America through the end of April 2012.
Before beginning a slate of US concerts in early March 2012, Elton played a two-show run in Mexico City's Auditorio Nacional on March 2 and 3, 2012, drawing 19,000 fans. Ticket sales totaled more than 19.7 million pesos ($1.5 US$) at the Mexican capitol city's 9,600-seat national auditorium.

The first U.S. date to be reported from the tour's final North American leg was a performance at Orlando's Amway Center on March 10, 2012. The show grossed more than $1.2 million at the box office with over 14,000 in attendance.

The Greatest Hits tour kicked off in February 2011, playing markets worldwide throughout last year and the beginning of this year. Following the current US/Canada trek, Elton will return to Europe for dates booked in June and July 2012.
Elton John cuts raw LP with T Bone Burnett
Thursday, March 15 2012
'It's the most exciting record I've done in a long time,' Elton told the Rolling Stone.
In recent years, Elton John has returned to his musical roots – reviving characters from previous albums (The Captain and the Kid), recreating the rootsy vibe of his Tumbleweed Connection era (Peachtree Road), and cutting an album with longtime hero and early Seventies touring partner Leon Russell (The Union). With his just-completed new album, Elton revisits another storied part of his past – the piano-bass-drums trio format heard on classic early records like the live 11-17-70. The result, says Elton, is "the most exciting solo record I've done in a long, long time."

Called The Diving Board, the album was written and recorded in a matter of weeks in Los Angeles and produced by T Bone Burnett. "It was T Bone's idea to get back with piano, bass and drums," Elton says. "He said, 'Let's start with that.'" Backing Elton are Raphael Saadiq on bass and Jay Bellerose (who played on The Union and has worked with John Mellencamp, Ray LaMontagne Robert Plant and Alison Krauss) on drums. On two tracks, the trio is augmented by guitarist Doyle Bramhall.

Although Elton was scheduled to start cutting a new disc, he admits he wasn't initially jazzed about the idea, no matter the style. "I was due to go back into the studio, but I didn't know whether I wanted to go back in so quickly (after The Union)," he says. Even after longtime collaborator Bernie Taupin handed him a stack of lyrics, Elton wasn't sure. "I was on holiday and I didn't even look at them," he says. "But I said, 'I'll go into the studio and if it doesn't work out, it doesn't matter.'"

Elton himself picked the backup musicians, especially Saadiq, who played at Elton's annual AIDS Foundation benefit in Los Angeles in 2009. "I wanted to go with Raphael," he says. "He's such a great bass player and he plays all sorts of music. I love his albums."

To his surprise, Elton's creativity went into hyperspeed; he wrote six songs a day in two days, cut them in a mere four and picked 10 for the final track list. "It just came flooding out," he says. "Quickest record I've ever made." Elton's enthusiasm about the project is palpable: "I'm as psyched about it as I was with The Union," he says. "As I said with The Union, I had to go back to go forward, and it's the same with this record." The Diving Board is set for a fall release.
Elton John ballet heads to TV
Thursday, March 15 2012
Alberta Ballet's critically acclaimed production featuring the music of Elton John is heading to television.
A one-hour adaptation of Love Lies Bleeding airs Monday, April 9, 2012 at 9 p.m. on CBC Television. The 2010 ballet, choreographed by Jean Grand-Maitre, explores the challenges of super-stardom through the eyes of the main character, the Elton Fan. It features the music of Elton and longtime lyricist Bernie Taupin. The televised production, directed by Moze Mossanen, stars principal dancer Yukichi Hattori.

Love Lies Bleeding will also make a return to Alberta stages in May 2012. The show runs May 2-5, 2012 in Calgary, and May 10-12, 2012 in Edmonton. Tickets and infomation are available at 780-428-6839 or albertaballet.com.

The encore performances happen just a week after Elton himself stops in Alberta to do several live shows in smaller cities, including Grande Prairie on April 26, 2012.


Students shocked as US high school assembly descends into homophobic rant against Elton
Thursday, March 15 2012
Kicking off with a hard rock performance, it was clear this was not to be your average assembly.
At first students at Dunkerton High School, Iowa, seemed grateful for this musical break from the norm - albeit with Christian-themed lyrics denouncing the evils of drugs, alcohol and violence. But things took a turn for the worse when the event veered into an impassioned and unfocused rant against homosexuality, abortion and sex before marriage.

After his band Junkyard Prophet left the stage, drummer and preacher Bradlee Dean took the microphone, separating the crowd into boys, girls and teachers. Mr Dean is the president of the ministry You Can Run But You Cannot Hide International, which is listed by civil rights organisation the Southern Poverty Law Center as an active anti-gay hate group.

The clip below - a segment on homosexuality - shows him launching attacks on the influence of the media and pop culture, taking aim mainly at Elton and Lady Gaga.



Before a packed school hall he projects a photograph of Elton next to a quotation that reads: 'There's nothing wrong with going to bed with someone of your own sex. I just think people should be very free with sex... They should draw the line at goats.' Mr Dean demands of his young audience: 'Is that a good moral standard? Would you allow your son or daughter to spend the night at Elton's house?'

He then picks apart Lady Gaga hits such as The Fame and Born This Way, taking exception to her placing the lyrics 'No matter black, white or beige' side by side with 'No matter gay, straight or bi'. He says: 'What she's saying is if you're black it's the same thing as being gay. Sexual deviancy is the same thing. You're born as a product of your parents. But your actions - listen to this - you do have control over it.'

And after an embittered rant in which Mr Dean claims music videos give a false impression of what love is, he asks: 'Did you know the average age death of a homosexual male is 42 years old? Yeah, his actions literally kill him and he lives about half his life out.' He adds: 'Up until 1961 [homosexuality] was illegal in all 50 states. We protected that institution. In 1998 if you were busted in Rhode Island you'd go to prison for 20 years; in 1973 they thought it was a mental illness. Now what are they teaching you?'

Junkyard Prophet had previously visited the school without incident and staff were expecting them to return last week with a talk on bullying and making the right choices. But instead, students found themselves faced with graphic images of aborted foetuses, while girls were instructed to obey their husbands.

Parent Jennifer Littlefield told the LaCrosse Tribune: 'They told my daughter, the girls, that they were going to have mud on their wedding dresses if they weren't virgins.' Her 16-year-old daughter Alivia was distraught when she called her after the event and was one of several to have left in tears. Appalled parents complained to the school, which has since accepted responsibility. The district authority is trying to recover the fee paid to Junkyard Prophet, who are said to command a rate of $1,500 (£955) per show.

Members of the group have since returned to the area to explain their performance, addressing 75 people at a nearby church. According to local network KWWL, Mr Dean, who was met by a small group of protesters, took to the stage to hit out at 'offensive' accusations and negative media coverage. He said: 'When I left, there was nothing wrong with anything. I get home and it's an anti-gay ministry. I'm tired of that. It wasn't brought up at all.'
Elton John and band performed in Estero on March 13, 2012
Thursday, March 15 2012
Following is the complete setlist of the Estero show on March 13, 2012.
Saturday Nights Alright (For Fighting)

Bennie And The Jets

Grey Seal

Levon

Madman Across The Water

Holiday Inn

Tiny Dancer

Philadelphia Freedom

All The Young Girls Love Alice

Harmony

Candle In The Wind

Goodbye Yellow Brick Road

Rocket Man

I Guess That's Why They Call It The Blues

Hey Ahab

Gone to Shiloh

Monkey Suit

Funeral For A Friend

Love Lies Bleeding

Believe

Someone Saved My Life Tonight

Honky Cat

Sad Songs Say So Much

I'm Gonna Be A Teenage Idol

Daniel

Sorry Seems To Be The Hardest Word

Don't Let The Sun Go Down On Me

I'm Still Standing

The Bitch Is Back

Crocodile Rock


Your Song
Elton fan's billboard gets her dream meeting
Wednesday, March 14 2012
Persistence paid off for Camille Clement Gregg. She got to go backstage and meet her inspiration, Sir Elton John, at his concert in Orlando on March 10, 2012.
Gregg's dream came true after Action News aired a story about Gregg and the billboard she rented, asking Elton for the meeting. Elton's representatives arranged everything after seeing the story. "When I met him, I asked him and he said 'I saw everything.' he said 'I saw the video,' he said 'I saw the billboard, I saw your letter,' and he said it just seemed very sweet and very sincere," said Gregg.

Over the last 41 years, Gregg has traveled to 106 concerts across the globe. She says the singer kept her spirit alive when she was battling cancer. Gregg has wanted to thank him so she wrote him letters and went to great lengths to meet Elton. "Elton is going to be 65 in a couple of weeks, I'm not getting younger, my father just passed away and I felt like I really couldn't give up," says Gregg.



Gregg decided to make her dream come true earlier this month, when she rented a billboard on the side of Interstate 95. It said, "Dear Elton John, I'm your #1 fan. 106 shows/41 years, Please meet me in O'Town 3/10. Camille." Gregg met the singer on March 10, 2012. He signed the very first ticket she ever got for his concert. Gregg's brother gave her the ticket so she had Elton write a message for him on the ticket, thanking him.


Jacksonville fan sends Elton a message through a billboard
Thursday, March 8 2012 at 07:29:03


Elton John and band performed in Orlando on March 10, 2012
Monday, March 12 2012
Fan report by Josh Thompson.
Elton John never ceases to amaze. Still a part of his Rocket Man Greatest Hits tour, he keeps the fans interested. With the addition of a two man group named 2 Cellos, the band rocked Orlando from "Smooth Criminal" (the opening number of 2 Cellos) to "Your Song".

Amway Arena is a massive basketball mecca of Orlando. Once the lights dimmed for 2 Cellos, it was all about the magic of music all night long. The sound produced by two classically trained Croatian men on their cellos was even better than their viral Youtube videos. They worked the crowd without using a single spoken word. It was a stunning and beautiful setlist which seamlessly launched straight into Elton's setlist. 2 Cellos were officially a part of the band by the start of "Saturday Night's Alright (For Fighting)".

Elton looked ecstatic all night, even during the somber notes of "Candle in the Wind". He sounded stronger than ever and played his songs with licks of jazz, blues, honky tonk, classical and rock. "Madman Across The Water", a personal favorite, had some great chords in it and its always fun to see him play off of Davey on guitar and Kim Ballard on keyboards. Davey seemed to be having a blast playing off of 2 Cellos, especially during songs from "The Union".

What caught me off guard (even though I knew they were coming because of prior setlists from this leg of the tour) were the addition of two "Goodbye Yellow Brick Road" tracks, as well as the reintroduction of a few favorites I had never seen played live before. "Grey Seal", "Harmony", "Someone Saved My Life Tonight" and "I'm Gonna be a Teenage Idol" were all played with intensity and were received extremely well. "Teenage Idol" was obscurely wonderful, and "Harmony" sounded great with the incomparable Backup singers.

I hope he keeps a few of these songs to share with the rest of his audiences. This show more than any other that I've seen showcased his ability to continually transform himself, I don't think to stay current or on the pop charts, but to continually express love to the band, audience and the world. As he said to introduce "Believe": 'This song is about the power of love.'

Following is the complete setlist of the Orlando show on March 10, 2012:
Saturday Nights Alright (For Fighting)

Bennie And The Jets

Grey Seal

Levon

Madman Across The Water

Holiday Inn

Tiny Dancer

Philadelphia Freedom

All The Young Girls Love Alice

Harmony

Candle In The Wind

Goodbye Yellow Brick Road

Rocket Man

I Guess That's Why They Call It The Blues

Hey Ahab

Gone to Shiloh

Monkey Suit

Funeral For A Friend

Love Lies Bleeding

Believe

Someone Saved My Life Tonight

Honky Cat

Sad Songs Say So Much

I'm Gonna Be A Teenage Idol

Daniel

Sorry Seems To Be The Hardest Word

Don't Let The Sun Go Down On Me

I'm Still Standing

The Bitch Is Back

Crocodile Rock


Your Song
Elton John and band performed in Sunrise on March 09, 2012
Sunday, March 11 2012
Following is the complete setlist of the Sunrise show on March 9, 2012.
Saturday Nights Alright (For Fighting)

Bennie And The Jets

Grey Seal

Levon

Madman Across The Water

Holiday Inn

Tiny Dancer

Philadelphia Freedom

All The Young Girls Love Alice

Harmony

Candle In The Wind

Goodbye Yellow Brick Road

Rocket Man

I Guess That's Why They Call It The Blues

Hey Ahab

Gone to Shiloh

Monkey Suit

Funeral For A Friend

Love Lies Bleeding

Believe

Someone Saved My Life Tonight

Honky Cat

Sad Songs Say So Much

I'm Gonna Be A Teenage Idol

Daniel

Sorry Seems To Be The Hardest Word

Don't Let The Sun Go Down On Me

I'm Still Standing

The Bitch Is Back

Crocodile Rock


Your Song
Music's Top 40 Money Makers 2012
Sunday, March 11 2012
As the concert business rebounded in 2011, touring remained the biggest source of income for the top earners in the U.S. music business. Billboard's sixth annual Money Makers ranking includes Elton John on #13 with $11,973,990.
Elton John returned to Las Vegas in 2011 and performed 16 of his "Million Dollar Piano" shows before heading to Russia and Australia. His Colosseum at Caesars Palace residency accounted for a third of his concert grosses, which hit $32.5 million and a personal take of $11 million. A summer tour of Europe, scattered U.S. dates and the soundtrack to his animated "Gnomeo & Juliet" dominated Elton's activity prior to setting up shop in Vegas, while "The Union," Cameron Crowe's documentary about Elton's collaboration with Leon Russell, debuted in April 2011 at the Tribeca Film Festival.

Concert income was significant for Elton in 2011 as sales of his recordings dipped: Physical album sales were 254,000 units, while digital album and single track sales were 148,000 each. Elton also contributed music to "Billy Elliot: The Musical," and though the Broadway stand ended in January 2012, road versions continued in other territories around the world.

Taylor Swift tops the Top 40 Money Makers List on Billboard and has made the most money by an artist or band in the past year, according to Billboard. It's thought that Swift earned just over $35.7 million which is 17% more than last year's top money-maker, Lady Gaga.
Rocket Pictures plots sequel to "Gnomeo & Juliet"
Friday, March 9 2012
Elton John's Rocket Pictures has set up the 3D animated Gnomeo & Juliet: Sherlock Gnomes, a sequel to the 2011 Disney hit that grossed $194 million worldwide, Mike Fleming exclusively reports on Deadline Hollywood.
Andy Riley and Kevin Cecil, who wrote the original, are writing the sequel script. Elton is currently composing new songs for the film. Rocket Pictures' principals Steve Hamilton Shaw and David Furnish are producing, and Elton is executive producer. The plan is to begin production in the fall of 2012, and they are talking to directors. Gnomeo & Juliet director Kelly Asbury will act as a creative consultant on the sequel.

When gnomes start disappearing from the suburban gardens of England, Gnomeo, Juliet and friends enlist the help of Sherlock Gnomes, 'the greatest ornamental detective,' to track the culprit. Unfortunately, Sherlock is neither as brilliant nor as insightful as his human counterpart, and as the crimes against gnomanity continue, the threat to their world becomes bigger than they ever imagined.

"Action detective stories need some gnomes to liven them up, I'm sure Arthur Conan Doyle would agree," said Rocket CEO Shaw. "It will be a fun, broad family film building on the popular foundation of the first. We believe the wide appeal of our world and characters combined with strong musical elements create a terrific franchise opportunity."
Elton and David buy new house in L.A.
Thursday, March 8 2012
Elton and David have reportedly just purchased a Beverly Hills home listed for sale for $7,695,000.
The couple recently sold their two-unit condo in the Sierra Towers apartment complex in West Hollywood and were looking for a larger home to raise their baby.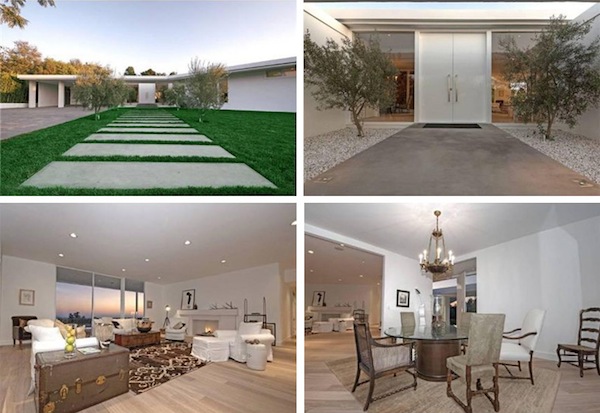 The Mid-Century Modern home has just over 4,200 square feet of indoor living space and boasts 4 bedrooms and 5.5 bathrooms. Features include: clean lines with open spaces and white oak floors that meet walls of glass inviting light and seamlessly fusing the interior and exterior spaces.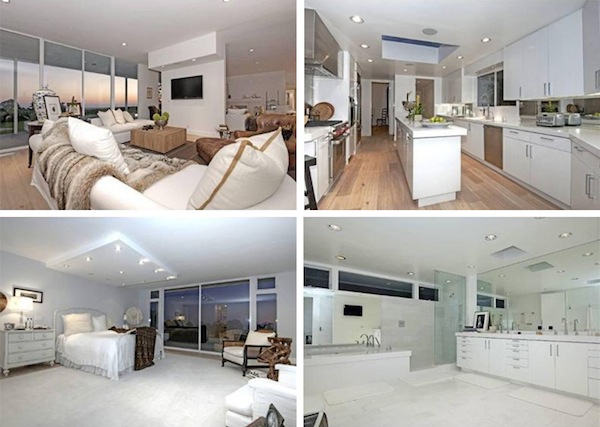 There are two additional bedroom suites each with large walk-in closet and bath, powder, spacious laundry room, and maid's suite. The home features a wonderful outdoor space with patios, lawn, pool, and a fabulous cabana featuring a living room, gym and bath.
Jacksonville fan sends Elton a message through a billboard
Thursday, March 8 2012
In a quiet Jacksonville neighborhood, there's a lady who is not afraid to rock.
And Camille Clement Gregg's rock of choice is Elton John. "In 41 years I've seen Elton John, well, this Saturday it will 106 times in Orlando," she said.
Gregg has set up her dining room table with some of the memorabilia she has from four decades of fandom. For instance, she has the program from a show she saw in Cincinnati in 1976. She also has stock photos and autographed books, paintings, DVDs, and even VHS recordings from most every time he's on TV.



"If he does an interview on TV my friends usually call me or text me and I try to record it," she said with a laugh.
Yes, her collection says "Big Fan." But her dedication to seeing him live says "Biggest Fan." "I've had years where I saw him eight times," she said. "I once saw him six times in six days."

She was 10-years-old when she saw her first Elton John show. It was in Detroit. She's got autographs and has even been on stage with him in Vegas. "But I really want to shake his hand and say thank you," she said. Gregg says her goal is to now meet him. And she's taken a creative approach to get the musician's attention. "Go big or go home," she said.

She went big by buying a billboard message on I-95 just south of downtown. The message says: "Dear Elton John, I'm your #1 fan. 106 shows/41 years, Please meet me in O'Town 3/10. Camille" "I wanted impact," she said. "I wanted someone to look up and say, 'What's up with that?'" She says she's not obsessed, just grateful.

"It's a fun hobby," she said. "I've always just wanted to say thank you for the joy he's brought into my life through his music."
Elton's Jaguar E-Type brings $130,000 at auction
Thursday, March 8 2012
A beautiful 1965 Jaguar XKE 4.2-Liter Series I Roadster that was formerly owned by Elton John sold at auction in Oxford, England for an impressive $130,027 (£82,140).
The Jaguar was purchased by Elton in 1987 and stayed with him until 2001 when it was sold at auction alongside several other vehicles he owned. During that time the car earned the nickname "OK Elton" because of its unique registration number (OKE-1).

While the fact the car was owned by Elton certainly adds some value, the car is truly a beautiful old Jaguar regardless of ownership history. Amazingly the restoration work on this E-type was performed in 1979. 33 years later it certainly appears to be one of the better things that came out of the later part of the seventies.


Fancy bidding on Elton's old Jaguar?
Sunday, January 22 2012 at 18:28:12


Elton John and band performed in Augusta on March 06, 2012
Wednesday, March 7 2012
Following is the complete setlist of the Augusta show on March 6, 2012.
Saturday Nights Alright (For Fighting)

Bennie And The Jets

Grey Seal

Levon

Madman Across The Water

Holiday Inn

Tiny Dancer

Philadelphia Freedom

All The Young Girls Love Alice

Harmony

Candle In The Wind

Goodbye Yellow Brick Road

Rocket Man

I Guess That's Why They Call It The Blues

Hey Ahab

Gone to Shiloh

Monkey Suit

Funeral For A Friend

Love Lies Bleeding

Believe

Someone Saved My Life Tonight

Honky Cat

Sad Songs Say So Much

I'm Gonna Be A Teenage Idol

Sorry Seems To Be The Hardest Word

Daniel

Don't Let The Sun Go Down On Me

I'm Still Standing

The Bitch Is Back

Crocodile Rock


Your Song
Elton is coming to Toronto to host Fashion Cares
Thursday, March 1 2012
On September 9, 2012, Elton will be hosting the 25th-anniversary Fashion Cares gala at the Sony Centre for the Performing Arts in Toronto.
The event, which will raise money to support the AIDS Committee of Toronto and the Elton John AIDS Foundation, will be chaired by Michael King and David Furnish, with MAC Viva Glam returning as the title sponsor. It promises to be a theatrical evening complete with live musical performances and fashion.