ELTON JOHN NEWS ARCHIVE: March 2008
The Willits News corrects Elton story
Monday, March 31 2008
The Willits News recently claimed that Elton visited Mendocino County.
It stated that on March 17, 2008, Elton spent time with Linda Byrnes of Natural Choice who, "was the first to figure out it was really Elton John," and that he and his small entourage were on their way from Humboldt County to the Bay Area.

An unconvincing cell phone photo purporting to be Elton with Byrnes accompanied the story, which suggested that the performer may have stopped in Willits because he was friends with the late sculptor and Ferndale resident, Hobart Brown (who died last year), and wanted to see the Kinetic Sculpture Race founded by the artist, as well as the exhibition at Hobart Galleries.

Ellin Beltz of Hobart Galleries has cleared it all up. Eldon John visited Humboldt County. Eldon, she explained, does appearances as Elton, including in Asia, and planned to become involved with Bollywood movies.

And it was Eldon, who owns several of Brown's pieces, and who was friends with the artisan for more than 30 years.



Elton John makes impromptu visit to Willits
Saturday, March 22 2008 at 07:14:46


Does Elton John's fundraiser for Clinton break election rules?
Friday, March 28 2008
Elton John was at the centre of a new controversy in the American presidential race on March 27, 2008 after claims that his planned fundraising concert for Hillary Clinton may be illegal.
U.S. election laws ban foreigners from donating or raising cash for candidates. Elton's April 9, 2008 concert at New York's Radio City Music Hall is almost sold out, with only tickets costing £500 and £1,150 remaining.

The 1966 legislation was introduced to "minimise foreign intervention" in American elections. Penalties for infringements include fines and prison sentences. A spokesman for the Federal Elections Committee did not rule out the possibility that the concert could contravene the act if it is ruled that Elton is contributing indirectly to the Clinton campaign.

The Washington Times said the law "prohibits any foreign national from contributing, donating or spending funds in connection with any federal, state, or local election in the United States, either directly or indirectly." But there is an exemption, according to the Washington Times, as long as the foreign national isn't compensated. Elton is not believed to be being paid for the fund-raiser.

A complaint would have to be filed with the U.S. Federal Election Committee for any action to be taken. No complaint has yet been filed.



UPDATE: Elton John & Hillary Clinton - One Night Only
Monday, March 17 2008 at 07:30:22


The Hottest Pink Party Ever
Wednesday, March 26 2008
Elton and the band will be performing at "The Hottest Pink Party Ever" at the Waldorf-Astoria in New York City on April 8, 2008.
The event is organized by the Breast Cancer Research Foundation (BCRF). Tickets start at US$ 1,000. See BCRF's website for more information.
Happy Birthday, Elton!
Tuesday, March 25 2008
Elton will turn 61 on March 25, 2008 - and he will be performing a "Red Piano" show in Las Vegas on his birthday.
On behalf of the Hercules team and all the fans around the world, we would like to wish him all the best and a happy birthday!

For most of us it is hard to believe that is has been a year already since his 60th birthday concert in New York. Our special website from last year is still up, so if you feel like re-living that period again, simply go to sixty.eltonfan.net.

Here's a poem that Luther Philaya (Lukesbox) wrote reminiscing about the past year and Elton's approaching 61st birthday:

It's been almost a year since that magical night
When I left Minneapolis and boarded a flight
Converge on The Garden is what I would do
To listen, and laugh, and reminisce to

The man that I loved, the music he'd made
The Cowboy and Captain had practiced their trade
Perfected, refined into countless renditions
Collected together they became my traditions

For so long ago I banged at the keys
To Candle, and Bennie and Your Song and these
Practiced my own Elton John imitation
While the real Captain was taking the nation

With Davey and Nigel and Dee at his side
He started one decades long magical ride
And though the band changed, some came and went
Sir Elton was present at every event

Alas the time passed and his fame slowly died
The Rocket Man struggled with demons inside
The drugs, the depression, his identity
The sexual one that would finally be free

A man in a man's world, a lover of men
Would rise from the ashes and begin again
With Foxes and Lions and Pianos Red
He came the full Circle of Life from the dead

So there I stood in that time, in that age
As Sir Elton John once again took the stage
Memories started of decades long gone
As The Captain began with his "Sixty Years On'

I sit and I type this as morn crosses my lake
Sipping on coffee it's my time to take
This journey of memories not quite yet done
Happy Birthday Sir Elton John, now Sixty One
Elton John makes impromptu visit to Willits
Saturday, March 22 2008
Excitement was in the air for a few hours on March 1, 2008 when Elton stopped in Willits, passing through on his way back to San Francisco after working with the Kinetic Sculpture Race in Humboldt County earlier in the day, reports the Willits News.
Elton stopped to look for a special necklace or earrings with an ankh, the Egyptian hieroglyphic character that symbolizes "life" for a friend, dropping in first at the Headroom and then Natural Choice. "I didn't believe it was him," says Pam Grover of the Headroom. "He was so sweet, he was very nice!"

According to the Willits News, Linda Byrnes owner of Natural Choice was the first to figure out it was really Elton John, but didn't make a big scene because she could tell he was trying to stay out of the limelight. "After he left my shop," Byrnes explains, "Pam [Grover] came over from next door and asked me if that was actually Elton John. I said it was and she mentioned what a fan of his she was. I went out onto the sidewalk where he had walked to near the Chamber of Commerce and I called him back. He turned around and walked back and I told him I wanted him to know that when he sang the song, 'Candle in the Wind' at Princess Diana's funeral, it was the most beautiful song I had ever heard. He thanked me and then I introduced Pam and myself to him. I asked him if he'd like to go to the Shenachie Pub since it was St. Patrick's Day and he said he would love to, but he needed to catch his flight that afternoon, but he would be happy to take me to lunch."

Monday was Byrnes' birthday and she gladly accepted the invitation for lunch. "I told him I was so excited that he showed up for my birthday!" Byrnes laughed. Sir Elton, his assistant, Byrnes and her daughter, Pristina Henderson, ate at The Loose Caboose, at Elton's treat, with Elton ordering a corn dog, a small vegi-rice soup, water and iced tea.

The Willits News continued: "He said that the vegi soup was some of the best he's ever had," says Byrnes. "He said that it had a great variety of vegetables and so much flavor." Elton also mentioned the soup soothed his sore throat. He had cancelled two weekend concerts in Florida for health reasons on the advice of his doctor, according to a press release.

Jack Isborn was the lucky staff member who waited on the table and Liz Day, a waitress at Loose Caboose, was very excited to see Elton John dining in the restaurant. "He looked so normal, wearing a hat and sunglasses, but he had a beautiful silk dress coat and very cool black and white Oxford wing-tip shoe," says Day.

Byrnes had a pleasant conversation with Sir Elton talking about kids and grandkids, "He almost spit out his water when I said that I had ten grandkids!" Byrnes laughed. While at Loose Caboose, they ran into Pete Swanton owner of the Pub and Byrnes introduced them. After a few photos with the Loose Caboose staff, the group went to Main Street Music where Kate Shaffer, an employee at the music store said, "When I saw him, I stood there with my mouth open! He walked around the store, so nonchalantly and looked around at our selections."

Sir Elton gave autographs to the surrounding group and bid goodbye to everyone. "He said that he needed to head back soon and that he didn't want to draw too much attention." Byrnes noted. "He said he would keep in touch with me and took one of my business cards with him when he left."

He jumped back into the black Hummer driven by his assistant and headed south to catch his flight. "We were just so amazed that it was actually him, and so impressed how nice and humble he was," Byrnes reminisced. "I hope he gives a call when he's back in town next--and hopefully then we can make it to the pub!"
The Gay Wedding Collection
Friday, March 21 2008
Leave traditional wedding music to the traditionalists. The Gay Wedding Collection features beautiful string quartet renditions of romantic classics for the rest of us.
Create the perfect soundtrack to a truly extraordinary wedding or commitment ceremony with these enchanting instrumental versions of songs by Dusty Springfield, Elton John, The Smiths, Etta James, and more.

"The Gay Wedding Collection" has been released by Vitamin Records on March 18, 2008. See their website for more information as well as mp3 samples. The album or individual tracks are also available on iTunes.
Man issued summons for loud Elton John music
Friday, March 21 2008
On March 11, 2008 officers in Troy responded to the 2000 block of Girard Lane on a loud music complaint and heard the music two houses from the subject's residence.
The music was coming from the garage and an officer knocked on the garage door. A male inside yelled, "Who the expletive is that? Somebody's about to die!" The door opened and the subject was informed about the complaint. The subject said he was singing Elton John and his neighbors should be happy it wasn't R&B. He smelled of alcohol and advised he'd been drinking.

The subject said he'd turn down the music. Shortly after leaving an officer was again dispatched to the location because the subject turned the music up. When officer arrived he could hear "Rocket Man" playing inside the garage. The subject was advised again about the music and issued a summons for the violation. The subject said he was just hanging out and singing Elton John and asked the officer not to give him a ticket. His was issued a summons for disorderly conduct after a warning.
Cancelled Reservations
Friday, March 21 2008
Ever wanted to know how much of bitch Nicole Kidman was but how nice Elton John (post drugs) is to their hotel staff?
Well you can't find out unfortunately, as "Great Reservations: Two Concierges Dish About Outrageous Requests, Celebrity Encounters, and Guests Behaving Badly at a Luxury Hotel" has been canceled.

The book was slated to come out on April 15, 2008 and then pushed back to June 10, 2008, and Crain's just reported its demise. Apparently the only thing the two authors failed to dish about was their confidentiality agreements.

The now non-book includes celebrity phobias and outlandish requests, such as Nicole Kidman sending 800-thread count Italian sheets and instructions for how to fold them before she arrived, and then never did. John Cusak supposedly left dirty underwear and clothes in his room to be laundered and mailed to him after he checked out (his rep denies this). And in a lack of creativity, the hotel staff took to calling Gary Busey, "Abuse-y."

The book wasn't all negative however. Anthony Hopkins told everyone to call him simply "Tony" instead of "Sir Anthony," and Elton John refused any VIP treatment and slept in the smallest room available.

One wonders what the former Four Seasons Chicago concierges, Abigail Hart, who worked at Four Seasons for 17 years, and Nancy Joyce Callahan, will do now.
Video clips and photos from Elton's Oscar party
Thursday, March 20 2008
On February 24, 2008, Sir Elton John and David Furnish hosted the 16th annual Elton John AIDS Foundation (EJAF) Academy Awards Viewing Party at the Pacific Design Center in West Hollywood, sponsored by Chopard and VH1.
EJAF's event to celebrate the Academy Awards was one of the night's best-attended parties, raising a record-breaking $5.1 million for EJAF's urgently needed grant-making initiatives supporting innovative HIV prevention programs and direct care services.

This party continues to be the leading fund-raising event in Hollywood on Oscar night. This year's gala featured some exciting moments, including live performances by Sir Elton John with his entire band and special musical guests Mary J. Blige and Jake Shears of Scissor Sisters. Please visit EJAF's website to view:

Elton John and Jake Shears performing "I'm Still Standing;"
Elton John and Mary J. Blige performing "I Guess That's Why They Call It the Blues;" and
Elton John and Band performing "Bennie and the Jets."

You may also browse photos from the event.



Elton prints by old76
Wednesday, March 19 2008
old76 presents his unique perspective through his art - all inspired by music that he loves.
What is presented on his website is all Elton John related, but there is a huge library of other artwork that will be included in the future.

Prints of old76's artwork are available. Any print can also be made into a T-shirt upon request.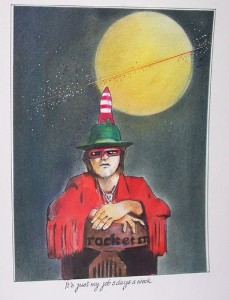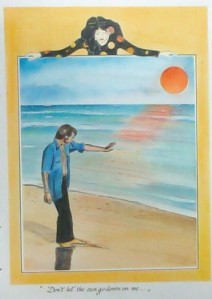 UPDATE: Elton John & Hillary Clinton - One Night Only
Monday, March 17 2008
"Elton John & Hillary Clinton - One Night Only" is a solo concert by Elton John in support of Hillary Clinton for President and includes remarks by Senator Hillary Clinton and President Bill Clinton.
The event will take place at New York City's Radio City Music Hall on April 09, 2008. Tickets will go on sale on March 19, 2008 and will start at $100 for Mezzanine seats and $250 for Orchestra seats. Go to Ticketmaster to order these tickets. For Diamond, Platinum, and Gold Levels starting at $500, please go to http://www.hillaryclinton.com/feature/elton/.

The full amounts paid for tickets, except for applicable delivery charges, are considered political contributions to Hillary Clinton for President and are subject to the prohibitions and limitations of federal law. Contributions to Hillary Clinton for President are not tax deductible for federal income tax purposes. This event is paid for by Hillary Clinton for President.
Elton postpones Florida shows due to sickness
Saturday, March 15 2008
Elton John announced that his sold-out concert at the Pensacola Civic Center on March 14, 2008 must be postponed "due to sudden illness".
The Pensacola Civic Center announced that the concert there has been rescheduled for April 25, 2008.

Under doctor's instructions, the concerts March 15, 2008 at the Tallahassee Leon County Civic Center, Tallahassee, and March 16, 2008 at the Stephen O'Connell Center, Gainesville, also are postponed. The Tallahassee concert has been rescheduled for April 23, 2008 and the Gainesville concert for April 24, 2008, according to the Civic Center release.

All tickets for the postponed concerts will be valid for the rescheduled ones, or ticket holders can obtain refunds from their point of purchase. It is expected that Elton will be fit to perform the first show of the Red Piano run at Caesar's Palace, Las Vegas, on March 19, 2008.

Also see Elton John Tour News.
Store to auction off Elton's Aud furniture
Friday, March 14 2008
The store that supplied the furniture for Elton's dressing room at the Kitchener Aud is auctioning off the items to benefit a local AIDS group.
Snugglers Furniture, at 30 Weber St. N. in Waterloo, is taking bids on a sofa, love seat, coffee table and two end tables that were used in Elton's dressing room for the March 3, 2008 concert.

Bids will be taken in the store, where the furniture is on display, until 6 p.m. on Friday, March 14, 2008. All of the money raised will go to ACCKWA--the AIDS Committee of Cambridge Kitchener Waterloo and Area.

"I was given an interesting list of do's and don'ts," Gary Springer, one of the partners at Snugglers, said. No leather, but whites, greys and blues were fine. Instead of donating the auction proceeds to the Elton John AIDS Foundation, Springer wanted to give the money to a local agency.



Elton John performed in Kitchener, Canada on March 3, 2008
Tuesday, March 4 2008 at 09:04:07


Billy Elliot sets Broadway opening date at the Imperial
Friday, March 14 2008
As previously announced, Billy Elliot — the Olivier Award-winning Elton John-Lee Hall musical based on the 2000 film of the same name — will play its first Broadway preview September 17, 2008 at the Imperial Theatre.
The eagerly awaited musical will officially open at the Imperial October 16, 2008. A search has been ongoing for the triple-threat lads who will alternate in the role of the working-class boy with dreams of ballet stardom. The musical is a London sensation (at the Victoria Palace Theatre), hailed as composer Elton John's most mature writing for the musical theatre (following The Lion King, Aida and Lestat). A Sydney production opened in January 2008.

Stephen Daldry, who directed the inspirational motion picture, also directs the stage production. The music is by Elton John with book and lyrics by Lee Hall. The tale is set in England's Northeast against the background of a miners' strike. The musical concerns a working-class boy's dream of becoming a ballet dancer — and the obstacles and advocates he encounters.

Billy Elliot—The Musical features choreography by Peter Darling, scenic design by Ian MacNeil, costume design by Nicky Gillibrand, lighting design by Rick Fisher and sound design by Paul Arditti. Producers are Universal Pictures, Working Title & Old Vic Productions and Tim Bevan, Eric Fellner, Jon Finn and Sally Greene. Angela Morrison and David Furnish are executive producers.

The London production won Best New Musical at the 2006 Olivier Awards. Peter Darling picked up the Best Theatre Choreographer Award, while the Best Actor in a Musical Award was shared by James Lomas, George Maguire and Liam Mower, who originated the title role. A London cast album is in stores. For more information, visit www.billyelliotthemusical.com.



Re-issue of Kiki Dee CD with Elton bonus track
Wednesday, March 12 2008
Edsel Records will re-release Kiki Dee's album "Perfect Timing" on April 7, 2008. The CD will also contain an alternate version of "Loving You Is Sweeter Than Ever" - a duet with Elton John.
By the time she signed to Ariola label in 1980, Kiki Dee had established herself as one the world's premier music stars. She was the first UK act to be signed to the Motown label, before joining Elton John's Rocket Records in 1973. She made four hit albums with Rocket as well as scoring high in the singles charts with "I've Got The Music In Me", "Loving And Free" and "Amoureuse", as well as hitting # 1 in the UK and the US with her duet with Elton John "Don't Go Breaking My Heart".

"Perfect Timing" features a cover of the Four Tops' "Loving You Is Sweeter Than Ever", another duet with Elton John. The four bonus tracks feature two non-album b-sides along with the rare 12" version of "Perfect Timing" and an alternate mix of "Loving You Is Sweeter Than Ever".

The album will be available in shops like HMV and Zavvi, but you can pre-order it from www.hmv.com, www.amazon.co.uk and www.play.com.

And according to Kiki Dee's Tour Programme (Under the Night Sky Tour 2008) EMI will be releasing Kiki's Rocket albums "Loving & Free", "I've got the Music In Me", "Cage The Songbird", "Kiki Dee", "Stay With Me" and "Angel Eyes" on May 12, 2008. All CDs will feature bonus tracks along with new sleeve notes.
David Walliams sang Elton John songs to take his mind off sharks
Wednesday, March 12 2008
David Walliams sang Elton John songs to take his mind off sharks during his Sport Relief challenge.
The Little Britain comedian swam the 12-mile Strait of Gibraltar with Olympic rower James Cracknell in just over four and a half hours on March 7, 2008. Walliams, 36, said: "I was singing to try and get me through it. I was singing 'Sorry Seems To Be The Hardest Word' and 'Your Song'.

"When you're in the water if you start thinking about where you are you think 'I want this to be over' <>but if you think about nice things like Elton John songs it kind of passes the time. I found it really tough. About two hours in I started to get sea sick. The sea was really rough and I swallowed a lot of sea water.

"I started feeling really nauseous and throwing up. I got really demoralised so I had to talk to myself and say 'you've got to do it, you've got to do it," he said on Channel 4's Richard and Judy.
Elton John performed in Newark, Delaware on March 10, 2008
Tuesday, March 11 2008
Fan Report by Chris Akins.
As I arrived at the BCC to claim my Rocket tickets, I was amazed at the size of the venue and became instantly excited. It reminded me of a large high school complex where varsity basketball games would take place. I knew this was going to be a perfect setting for Elton's infamous solo show.

We took our seats in the 7th row, on what would be the band side, but obviously, there was no band. However, the venue was so incredibly small that these seats were like being in the third row.

The show started at exactly 8pm. The lights went down and the beautiful Aida music blared from the speakers. Elton walked out on stage at the appropriate moment, and the crowd stood instantly and applauded. He looked flawless and he still seems to be getting slimmer these days.

Elton started the show off with the obvious opener, "Your Song". My friend and I were standing when he started the song, and the man behind us yelled at us to sit down. I was in no mood to already hear this. The entire crowd instantly sat down for this opening song. I dealt with this due to the fact it was a solo show. After Elton finished, we all stood for him, and he began talking about why he was in Delaware and so glad he finally made it. The jerk behind me once again yelled at us to sit down. Keep in mind, the screen was in perfect eyeshot of them, due to the fact we had aisle seats, so I told him to watch the f*cking screen.

I rarely have problems with people, especially on the floor, but he was extremely rude and it was too early to be telling me to sit down. I always follow what the rest of the floor does, and once everyone else sat down, we took our seats during the Elton John album journey.

I noticed the crowd was very gracious with their standing ovations, but not so much standing throughout songs. During "Honky Cat", which was Elton's first up-tempo number, barely anyone stood. Elton made a few rise when he had his jam session at the end and he was really getting into it. We stood during this section too, only to be yelled at once again. I became extremely pissed off, and became very unhappy with the Delaware crowd as a whole. This was Elton's first visit, and he had to be the biggest superstar that ever stepped foot in that arena.

I just wished more of the floor had been more gracious and excited. Not to say everyone there was lame, but our entire section, minus a very few number, were extremely lame. I instantly felt, out of the nineteen shows I have seen, this was the worst crowd. I was not impressed.

The coolest moment from the crowd was when he was in the middle of his extended "Rocket Man", and the crowd on his side began waving their arms in the air, demanding the rest of us get out of our seats. Of course, we did. Only to be yelled at once again to sit down. I ignored the idiot and remained standing throughout the rest of the song. After the song ended, the guy came behind me yelling really loud in my ear. My friend just responded by saying loudly to me; "Now you know what you're supposed to do at a concert." For the first time, the guy was acting normal, but he was definitely trying to get a rise out of me. It is funny how ignorance works.

The entire performance by Elton was amazing and simply beautiful. Just is what is expected from his solo shows. The treats for me were "Sixty Years On", "The Greatest Discovery", "Ballad of the Boy in the Red Shoes", "Mona Lisa's and Mad Hatters", "Ticking", "Tonight", "Sacrifice". The return with "I'm Still Standing" was priceless. I loved this version solo.

During "Sacrifice" there was a loud boom from a speaker I'm guessing and a major hissing sound. Elton kept playing and singing even though the sound was not really fixed yet. The crowd was cheering him on throughout the song, and he responded with that priceless grin. It was really neat, even though there was definitely a problem. The sound was completely back to 100% near the end of the song. The sound in that venue was flawless. The piano was still rumbling through my body, and his deep voice sent chills down my spine. The vocals were extremely clear. It was an amazing concert, I am just hoping, the next time, the crowd where I am sitting will be a little bit more respectful to others and to Elton himself.

Following is the complete set list of the Newark, Delaware solo show on March 10, 2008:

Your Song

Sixty Years On

The Greatest Discovery

I Need You To Turn To

Border Song

Ballad of the Boy in the Red Shoes

Daniel

Honky Cat

Rocket Man

Tiny Dancer

Mona Lisa's and Mad Hatters

Nikita

Philadelphia Freedom

Sacrifice

Ticking

Roy Rogers

Sorry Seems to be the Hardest Word

Candle in the Wind

I Guess That's Why They Call It the Blues

Levon

Carla Etude

Tonight

Blue Eyes

Bennie and the Jets

Crocodile Rock


I'm Still Standing

Don't Let the Sun Go Down on Me
VH1 gets into Monkey business
Saturday, March 8 2008
A documentary about music icon Elton John produced by London-based indie Monkey Kingdom is among seven new productions set to hit US cablenet VH1's schedule.
Elton John: Me, Myself and I (1x60') originally aired on UK broadcaster ITV in September 2007. Touted as "a private insight" into the singer's life "unlike anything ever seen before in any television documentary," the one-off special features Elton John narrating the story of his life aided by rare archive material.

The documentary will air as part of VH1's Rock Doc strand on June 7, 2008. The channel has also greenlit an original Rock Doc to air on April 5, 2008.
Adams Center nets over half of donation
Saturday, March 8 2008
The Adams Center has raised between 60 and 80 percent of the $75,000 promised to the Elton John AIDS Foundation in an as-yet unsigned memo with the Howard Rose Agency, venue director Mary Muse told the Montana Kaimin on March 6, 2008.
"Quite frankly, the $75,000 … we never regarded it as something that might not happen," Muse said. "It's a very do-able thing." This news correlates with optimism expressed this week by University of Montana administrators that the donation money will be raised in time for the April 11, 2008 concert.

Bob Duringer, UM vice president of administration and finance, told the Kaimin, while attending the Board of Regents meeting in Dillon, that Muse is ultimately responsible for making sure the funds are raised. UM Vice President Jim Foley, also attending the Board of Regents meeting, said he thinks Muse is involving people in the community to raise the $75,000, a fact Muse confirmed. Ultimately, Foley said, a combination of groups would be responsible for fundraising.

"I think it's a whole bunch of us, including students," Foley said. "A lot have come forward to try to be helpful, not only the University, the student community, but the community of Missoula, to bring this world-class entertainer back again." Muse said she did not make a public announcement about the donation because she felt a "media blitz" would generate bad blood between the Adams Center and local AIDS charities. The donation was not meant to directly compete with the UM Foundation or Missoula-based charity organizations, she said.

"I know that there is a very strong force within our community that fundraises for AIDS in Missoula, and I don't want them to view us as competition." Keri McWilliams, executive director of the Missoula AIDS Council, spoke out after reading about the Adams Center donation in the Montana Kaimin. McWilliams issued a statement on behalf of the Council: "We certainly support the efforts of the Elton John Foundation to raise awareness about HIV/AIDS. However, we would like to remind the University community that HIV/AIDS is an issue right here in Montana. Missoula AIDS Council provides statewide prevention services, as well as supportive services for those living with HIV/AIDS in Montana. So obviously we would like to see our community resources stay in Montana and go to local efforts."

McWilliams said a representative from the Adams Center attempted to contact the Council. The Council plans to get in touch with Adams Center administration and will not make further statements until that has been done. Muse said the Adams Center has not made plans to release detailed information regarding donors and donation amounts to the public, and it is doubtful that the information will be made available. This is a measure to protect any private donors who wish to remain anonymous for personal reasons and does not mean the Adams Center is trying to pull the wool over anyone's eyes, she said.

"We are facilitating donations, we are not making the donations," Muse said. Negotiations for a second Elton John concert began shortly after ticket sales for the first concert concluded. Because the show sold out so quickly, Muse called Elton's representatives to ask if she could reserve a second concert date. Due to a busy tour schedule, Elton was unable to play a second concert in the fall. But Muse said Elton's people were considerate when she continued to ask, "How can we get a second date?"

Muse said in answer to her question, the Howard Rose Agency mentioned Elton's passion for his AIDS Foundation. Muse did not say who first suggested the Adams Center make a donation, only that during negotiations the parties landed on something mutually beneficial. "When we made this commitment, we believed it was reasonable and doable, and we still do," Muse said.



Elton concert comes with a price
Tuesday, March 4 2008 at 13:40:32


Mayor makes no apology for enjoying Elton John show
Friday, March 7 2008
Kitchener Mayor Carl Zehr had a great time at the Elton John concert on March 3, 2008 -- and he makes no apology for going despite the ticket controversy surrounding the event.
"Many people said that they were pleased to see me there," he said yesterday. City politicians have been on the hot seat since it was revealed they got free tickets for the sold-out concert, plus an inside track to buy tickets for friends and relatives.

The public reaction persuaded at least one councillor, Kelly Galloway, to skip the concert and give her free ticket to a disabled client at the social agency where she works. Zehr, however, went to the show as planned, as did seven friends and relatives he bought tickets for before they went on sale to the general public.

"I considered it important for me to be there for a variety of reasons," he said. Zehr wouldn't outline those reasons, saying it might influence a review of the long-standing practice of giving councillors free tickets to all events at the city-owned Aud.

The review, including a look at practices at similar facilities across the country, was promised after the ticket controversy erupted last month. Coun. John Gazzola also skipped the concert, but only because he was too busy to go. He gave his free ticket to his wife and bought seven more for relatives and constituents. Gazzola said he will consider ending the practice if upset residents demand it.

But he said he personally agrees with councillors getting free tickets for themselves and jumping the queue to buy tickets for others, with a reasonable limit on the number. "Let's be realistic," said Gazzola, citing perks provided in the business world. "It's all around us."

Coun. Geoff Lorentz, who bought 19 standing-room tickets for friends and relatives, said in an e-mail that he attended the concert, but he couldn't be reached for comment. Councillors John Smola, Berry Vrbanovic have said in the past they support a review of the ticket policy. Christina Weylie couldn't be reached.

Zehr said he had no qualms about attending the show and, apart from some good-natured ribbing from people he knew, he didn't encounter any hostility in the audience, he said. "I enjoyed the concert immensely. It was a fantastic show -- full of energy."



Elton John performed in Kitchener, Canada on March 3, 2008
Tuesday, March 4 2008 at 09:04:07


Elton John performed in Manchester, NH on March 6, 2008
Friday, March 7 2008
Following is the complete set list of the Manchester, NH solo show on March 6, 2008.
Your Song

Sixty Years On

The Greatest Discovery

I Need You To Turn To

Border Song

Ballad Of The Boy In The Red Shoes

Daniel

Honky Cat

Rocket Man

Tiny Dancer

Mona Lisa's And Mad Hatters

Nikita

Philadelphia Freedom

Sacrifice

Ticking

Roy Rogers

Sorry Seems To Be The Hardest Word

Candle In The Wind

I Guess That's Why They Call It The Blues

Levon

Carla Etude

Tonight

Blue Eyes

Bennie And The Jets

Crocodile Rock


I'm Still Standing

Don't Let The Sun Go Down On Me
Darwin determined to see Elton
Thursday, March 6 2008
Darwin is determined - Sir Elton John is coming to town. All it will take is a few banners, 10,000 signatures and a bit of luck, says NT Tourism Minister Kon Vatskalis.
Elton's plans to tour regional Australia went public a few weeks ago, when his promoter Michael Chugg revealed Elton was trying to include the Northern Territory and Western Australia as part of his Asian tour. Both regions missed out on seeing the Rocket Man on his Australian tour in 2007.

Mr Vatskalis on March 6, 2008 called on all Territorians to do they bit in getting the entertainer to the Top End. The government has joined forces with a local company to encourage Territorians to register online in a bid to secure a performance by Sir Elton John in Darwin in May 2008.

Unveiling 10 three metre colour banners urging people to support the push - to be erected at several vantage points around the city - Mr Vatskalis today said it was no time for complacency. "Sir Elton John has expressed an interest in performing in Darwin not Sydney, not Melbourne, not Brisbane - Darwin," he said. "And we want him to know how much we want him here. To do that, we need a minimum of 10,000 people to get on-line and register their support for a Darwin show."

Mr Chugg said that if the shows went ahead it could prompt other artists to rethink the way they tour Australia and the places they included in their itineraries.
Elton concert comes with a price
Tuesday, March 4 2008
The University of Montana Adams Center has offered to donate $75,000 to the Elton John AIDS Foundation "in appreciation" for the April 11, 2008 Elton John concert.
The agreement does not say how the Adams Center will raise the donation.

On March 3, 2008, the Montana Kaimin obtained from UM's Legal Counsel office a copy of a "Memorandum of Understanding" sent to the Howard Rose Agency, Elton's representatives in concert negotiations. The memo, sent by the Adams Center administration, states that "in appreciation for making room in his concert touring schedule, UM has agreed to transfer the donation of $75,000 to the Elton John AIDS Foundation."

The memo was sent out recently and has not yet been signed by either Adams Center director Mary Muse or Howard Rose of the Howard Rose Agency. As such, the conditions are still under negotiation. "We're doing this as a good business decision for the benefit of this community," Muse said in an interview with the Kaimin.

Muse said that an appearance by a musician of Elton's caliber was beneficial to both the campus and the community and could bolster UM's appeal to prospective students. "It's good for the state, it's good for the community … it's good for the students," she said.

According to the memo, the Adams Center "will deliver a certified check in the amount of Seventy-Five Thousand Dollars ($75,000) to Rose on behalf of the Foundation at the close of Elton John's performance on April 11, 2008." Muse said the Adams Center has been networking within the Missoula community to raise the donation, and locals have so far been supportive of the effort. Some UM student groups are aiding the donation effort as well, she said.

Muse did not say how the Adams Center would fulfill the obligation if it is unable to raise the full $75,000, but said she was not the only official on campus involved in the process. "This is supported across the institution," Muse said. "I'm not the only person working on this. That would be quite daunting."

However, UM President George Dennison said the University is not responsible for raising any money for the donation. "There was an agreement to assist, but it's to be raised and we're not paying any University money for it," Dennison told the Kaimin.

Dennison said he was unaware of the specific conditions of the memo and was not privy to any of the memo negotiations. "I haven't seen the agreement. I didn't negotiate the contract, or the agreement for that matter," Dennison said. The possibility of a second Elton John concert in Missoula first came under fire last fall, when Rose criticized UM's management and production of the October 2007 concert in an e-mail to Muse. In the e-mail, Rose said the agency was "open to re evaluating a Univ (sic) of Montana concert under the right conditions" and suggested UM consider changes to its "student project team," UM Productions.
Elton John performed in Kitchener, Canada on March 3, 2008
Tuesday, March 4 2008
Following is the complete set list of the Kitchener, Canada solo show on March 3, 2008.
Your Song

Sixty Years On

The Greatest Discovery

I Need You To Turn To

Border Song

Ballad Of The Boy In The Red Shoes

Daniel

Honky Cat

Rocket Man

Tiny Dancer

Mona Lisa's And Mad Hatters

Nikita

Philadelphia Freedom

Sacrifice

Ticking

Roy Rogers

Sorry Seems To Be The Hardest Word

Candle In The Wind

I Guess That's Why They Call It The Blues

Levon

Carla Etude

Tonight

Blue Eyes

Bennie And The Jets

Crocodile Rock


I'm Still Standing

Don't Let The Sun Go Down On Me
Elton John performed in Sudbury, Canada on March 2, 2008
Tuesday, March 4 2008
Following is the complete set list of the Sudbury, Canada solo show on March 2, 2008.
Your Song

Sixty Years On

The Greatest Discovery

I Need You To Turn To

Border Song

Ballad Of The Boy In The Red Shoes

Daniel

Honky Cat

Rocket Man

Tiny Dancer

Mona Lisa's And Mad Hatters

Nikita

Philadelphia Freedom

Take Me To The Pilot

Sacrifice

Ticking

Roy Rogers

Sorry Seems To Be The Hardest Word

Candle In The Wind

I Guess That's Why They Call It The Blues

Levon

Carla Etude

Tonight

Blue Eyes

Bennie And The Jets

Crocodile Rock


I'm Still Standing

Don't Let The Sun Go Down On Me
Elton John attended Bill Clinton fundraiser
Monday, March 3 2008
Joined by stars such as Tom Cruise, John Travolta, Shakira and Elton John, former president Bill Clinton on March 1, 2008 told a Toronto fundraising of his latest foreign aid efforts in Latin America and the developing world.
The project, part of the Clinton Giustra Sustainable Growth Initiative, will assist local leaders in addressing issues of social, economic and environmental impact through employment and economy. Clinton started the initiative in June 2007 to create sustainable development in Latin American countries where natural resources dominate the economy.

Tables at the event cost between $25,000 and $300,000. Vancouver mining financier Frank Giustra has pledged $100 million to the project, plus half of his future earnings from the natural resources sector. The initiative has raised more than $300 million so far.
Elton signed autographs at Toronto HMV store
Monday, March 3 2008
You don't see this everyday. Elton John and David Furnish step into HMV Records on Bloor St. in Toronto to the shock of the people already in the store.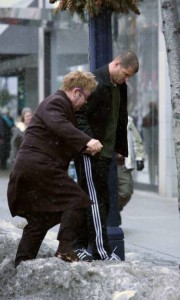 People starting grabbing Elton John CD's and DVD's from the Elton bin - ripping them open for Elton to sign (even before they paid for them!) Elton stood for 45 minutes in the store greeting fans, signing autographs, and posing for pictures.

This is a far cry from the diva-like behaviour Elton has been known for in the past. When Elton usually wants to shop in a store, his handlers are known to call ahead and have the store close just for him. on February 29, 2008, Elton was just like any other joe on the streets of Toronto.

Elton shops in Toronto
Saturday, March 1 2008
Elton John was spending February 29, 2008 shopping along Bloor St. Toronto as some snowy weather was setting in.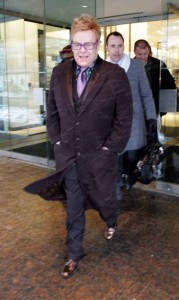 Elton is in Toronto for the big Bill Clinton bash set to take place on March 1, 2008. There seemed to be some mis-communication between Elton's people and his personal driver Marcus.

When Elton exited the Holt Renfrew store with husband David Furnish and handlers - the car was locked and no driver to be seen. And it was some pretty nasty weather on Bloor St. to be caught out in.