ELTON JOHN NEWS ARCHIVE: March 2007
LATW in New York raises $15,000
Wednesday, March 28 2007
The "Lunch Around The World" in New York City on March 25, 2007 was a fantastic event. Now we know that it also raised a fantastic amount of money for the Elton John Aids Foundation!
Main organizers Jim Ward and Susan Jacobs have reported that the event has raised $15,000 so far! That's an average of $50 per attendee or $5,000 per hour. Congratulations!

And this isn't even the final result yet as money is still coming in. For example, you can still bid on some items in the Hercules Auction which will also benefit the Elton John Aids Foundation:

So make sure to place your bids today and help raising even more money for the Elton John Aids Foundation. Thanks for your support!



LATW - International Style
Sunday, March 25 2007 at 23:04:23


Churches fail to ban Elton John from Tobago
Wednesday, March 28 2007
A group of Christian churches have failed to persuade the Tobago House of Assembly to join the call for a boycott of Elton John's appearance at the Plymouth Jazz Festival in late April 2007.
Some Christian leaders on the Caribbean island said that the singer should be banned from performing at the festival in Tobago because his homosexuality could influence young people. The House of Assembly, which oversees the administration of the island, has rejected their call.

The Christians say they will pursue the campaign against Elton, who married his partner David Furnish in 2005. "We feel it can have a negative social impact. There are some who may not be sure of their sexuality and one has to be careful about how this can create impressions on impressionable minds," pastor Terrance Baynes told Reuters on March 26, 2007.

Prophetically, Sir Elton caused a furore in November 2006 when he said that organised religion was a source of bigotry and discrimination, turning people into "hateful lemmings". He suggested that it should be banned.

Jazz festival organiser CL Communications dismissed calls for a boycott and said the show would go on and the musical star, would play along with other performers like Diana Ross, Mary J. Blige and Earth, Wind & Fire.

"Elton John is coming as what he is, one of the world's greatest performers," said Anthony Maharaj, adding that the country should be honoured to have Elton perform in Tobago, the smaller island of energy-rich Trinidad.

"His band has performed in every country around the world. .... He is not coming here to preach about what lifestyle people should have," he said.

Sir Elton's friends include similarly beknighted evangelical Christian pop icon Sir Cliff Richard – who said last year that the churches should stop being obsessed with gays and show a bit more love.



UPDATE: "Rocket Man -- Number Ones" out now!
Tuesday, March 27 2007
Island Records in the US has released a special CD/DVD on March 27, 2007, celebrating Elton's 60th birthday two days earlier.
"Rocket Man -- Number Ones" is also available with a bonus DVD featuring 10 videos and performance clips, including "Bennie and the Jets," "Rocket Man," "Your Song" and "Saturday Night's Alright for Fighting" from the NBC special "The Red Piano." Additionally, the DVD features the video for Elton's new single, "Tinderbox."

The 17-track CD rounds up all the usual suspects, from "Goodbye Yellow Brick Road" and "Philadelphia Freedom" to "Tiny Dancer" and "Don't Let the Sun Go Down on Me."

Here is the track list for "Rocket Man -- Number Ones":


Goodbye Yellow Brick Road

Bennie and the Jets

Daniel

Crocodile Rock

Lucy in the Sky With Diamonds

Philadelphia Freedom

Island Girl

Don't Go Breaking My Heart

Sorry Seems To Be the Hardest Word

Sacrifice

Don't Let the Sun Go Down on Me

Can You Feel the Love Tonight

Your Song

Tiny Dancer

Rocket Man

Candle in the Wind

Saturday Night's Alright for Fighting
"Rocket Man" - Norwegian Version
Thursday, February 15 2007 at 11:40:58

Rocket Man CD/DVD Combo
Tuesday, February 13 2007 at 08:38:54
Elton John - The Birthday Concert
Monday, March 26 2007
Report and photos by Stephan Heimbecher.
Finally, the wait was over. The concert that we had all been looking forward to over the past months then almost arrived suddenly, and I found myself in a sold out Madison Square Garden in New York for the 21st time (as far as Elton shows are concerned) - the 60th time for Elton.

There had been a lot of rumours and predictions about this record breaking show (Elton broke his own record for the most shows at this venue) before. What is he going to play? Will there be musical guests? Will it be worth the trip?

So now we know the answers to all these questions, and to start with the latter, yes, it was well worth the trip as for the fans this finally was a show that brought back some of the more unusual songs to the stage, although I have to say that the way the song list was put together seemed a bit odd at times.

I assume that quite many of the fans that haven't been in New York in person have seen the concert which was broadcast live all over the world by various stations as well as over the internet by MSN. And it was due to that broadcast that the show started on time at 8.00 pm with Bill Clinton, being introduced as the "last great president of the USA", entering the stage to the thunderous applaus of the audience. He praised Elton's musical achievements but even more the fabulous work he had been doing via the Elton John Aids Foundation over the years.

And then at 8.05 pm, the birthday boy himself entered the stage and everybody in Madison Square Garden was up and giving him the typcial Garden welcome. Elton then went right into "Sixty Years On" which on the one hand was the obvious choice of song, on the other hand turned out to be one of his very fews songs that has him not play the piano until the very end of the song.

The regular Elton John concert-goer recognized the cellist (Martin Tillmann from Switzerland) that was added to the band - and what a fabulous addition that turned out to be during the course of the show (although I had wished for Guy to taking it back a little bit in regard of his synthesizer sounds). The other special thing about this show was that Elton had once again chosen the Brooklyn Youth Chorus as a background choir, and these kids added a lot to some of the songs - especially the early material.

The songs that were to followed wowed the devoted Elton John fans in the arena, but there seemed kind of a risky choice for the majority of the audience and especially for the live broadcast. But I was happy that Elton - for once - seemed to not care about that and had dug out quite some treasures: "Madman Across The Water", "Where To Now St. Peter?", "Hercules" and "Ballad Of A Well Known Gun".

Even when he briefly returned to one of the more usual songs, "Take Me To The Pilot", it was unusual in the sense that it came without the usual lengthy piano intro this night. But after that Elton launched into even more great songs, "High Flying Bird" to start with, and didn't forget to explain to the audience that he had a hard time remembering some of these tracks and that the "band had to teach me the songs again."

Following "Holiday Inn", "Burn Down The Mission" and "Better Off Dead" (fantastic with the choir) I was completely wowed and I was almost happy that - at least for one song - Elton would return to the 'routine' with "Levon", which was pimped up by short piano intro, the aforementioned cellist and once again the Brooklyn Youth Chorus.

Elton then reminded everyone of his second show at Madison Square Garden on November 28, 1974, during which he was accompanied on stage by a "petrified John Lennon". And he stated that there is one song that he only ever things in this venue: "Empty Garden".

While the crowd was still all excited about that song, Whoopi Goldberg came on stage and was followed by Robin Williams only seconds later who greeted Elton with "My sweet Lord". He also mentioned that Elton has an "Oscar, several Grammys, a Tony ... and a David" and then introduced what qualifies as a historic Elton moment as Bernie Taupin came on stage (which has been a very rare event in the 40+ years career of Elton).

Bernie wasn't short of words though, and after a short speech he led the crowd into singing "Happy Birthday" to Elton. To the end of that, an "Elton 60" sign was lowered from the ceiling and confetti was flying all over the stage, the piano and all over Elton who when trying to get it off his shoulders joked "this looks like a Head & Shoulders commercial".

With Whoppi, Robin and Bernie off the stage again, the show switched into kind of 'regular' mode with songs such as "Daniel", "Honky Cat" (okay, another treat there), "Rocket Man" (once more in an extended R-O-C-K-E-T version), and "I Guess That's Why They Call It The Blues".

Elton then introduced the Brooklyn Youth Chorus and the members of the band, which he announced as "the nicest people I've ever met". The following "The Bridge" was once again enhanced by the fabulous choir and turned out to be one of the very few newer songs of the evening.

After that, Elton launched into two 'almost-solo' presentations of "Roy Rogers" (only accompanied by John Mahon) and his "all time favourite" song "Mona Lisas And Mad Hatters" (with only Davey and the cello). The rest of the band then came back on stage for "Sorry Seems To Be The Hardest Word".

"Bennie And The Jets" and "All The Young Girls Love Alice" had almost everybody out of his seat again, but then Elton changed the mood with "Tiny Dancer" and "Something About The Way You Look Tonight" which he dedicated to "my other half" (David, of course, was in the audience).

"Philadelpia Freedom" and "Sad Songs (Say So Much)" seemed like another try to have everyone in the Garden up on his feet, but the following "Don't Let The Sun Go Down On Me" kind of undid that again. But with "I'm Still Standing", "The Bitch Is Back", "Crocodile Rock" and "Saturday Night's Alright (For Fighting)" the place was finally rocking before Elton left the stage at 11.05 pm - after exactly three hours.

But of course everybody knew he was about to come back for some encores, which funnily enough started off with "Funeral For A Friend/Love Lies Bleeding" which usually is the show opener. Before the final "Your Song" Elton once again mentioned that "this is the best place to come" and he thanked everyone "for making my birthday a special event". With that the show came to an end at 11.25 pm.

The special commemorative programme that was sold for this event contained a set list with the note that "the final set list will be taken from the selection of songs" listed. At the end of the day, Elton had only left out "I Want Love". And with that the statistics read as follows: Out of 33 songs performed, 27 were from the Seventies, only four from the Eighties and one each from the Ninties and the 2000s - I think that sums up Elton's career pretty well.

Finally, a few words on the big screen behind the stage - which was above the choir. It was used during the entire show, most of the times for some special video material, at some times for live pictures of Elton and the band. I like the material they had chosen for some of the songs, e.g. I think that the video projection during "Empty Garden" really completed the presentation of the song. But many times I found the video to be distracting and couldn't quite make out why the particular images were chosen for the particular song. But maybe that is just me.

Following is the complete set list of the New York show on March 25, 2007:


Sixty Years On

Madman Across The Water

Where To Now St. Peter?

Hercules

Ballad Of A Well Known Gun

Take Me To The Pilot

High Flying Bird

Holiday Inn

Burn Down The Mission

Better Off Dead

Levon

Empty Garden

Daniel

Honky Cat

Rocket Man

I Guess That's Why They Call It The Blues

The Bridge

Roy Rogers

Mona Lisas And Mad Hatters

Sorry Seems To Be The Hardest Word

Bennie And The Jets

All The Young Girls Love Alice

Tiny Dancer

Something About The Way You Look Tonight

Philadelphia Freedom

Sad Songs (Say So Much)

Don't Let The Sun Go Down On Me

I'm Still Standing

The Bitch Is Back

Crocodile Rock

Saturday Night's Alright (For Fighting)


Funeral For A Friend/Love Lies Bleeding

Your Song
Also see the 'NYC Blog' on www.sixty-years-on.com.

LATW - International Style
Sunday, March 25 2007

While some 300 so called A-list celebrities had celebrated Elton's birthday last night at the cathedral St. John the Devine in Harlem, New York, some 300 A-list Elton John fans got together on March 25, 2007 to celebrate Eton's 60th birthday with a "Lunch Around The World" event - international style.
For the first time ever - six Lunch Around The Worlds had united to host this annual fundraiser! LATW teams from London, Germany, Manhattan, Washington DC/Baltimore, Philadelphia, Staten Island plus the Hercules Fan Club (eltonfan.net) joined forces in this unique event!

This year's fundraiser indeed was an international event with guests coming as far as Canada, Russia, Japan, Israel, all parts of Europe and most of the US states. Elton himself didn't give us the honor of his presence, but Jerred Price from Leachville, Arkansas did a great job acting as his substitute, both by his looks and his fabulous piano playing and singing.

While the final result of this event is not yet known, we are already sure that quite a lot of money has been raised for the Elton John Aids Foundation.

For more details and pictures of this event see the 'NYC Blog' on www.sixty-years-on.com.
Sir John at St. John
Sunday, March 25 2007
Elton John, who recently described organized religion as "hateful" and worthy of being banned, was slated to whoop it up at the famed Morningside Heights cathedral on March 24, 2007 in celebration of his 60th birthday.
Church officials apparently turned the other cheek to Elton's disparaging comments, but some worshipers were still a little miffed. "It's inappropriate that everyone will be drunk and flamboyant in the cathedral," said one peeved churchgoer.

Surveying the florists, sound technicians and decorators feverishly preparing the church, the world's largest Gothic cathedral, he complained, "I can't even find a pew to sit in."

The bacchanal for 300 guests included $18,000 worth of exotic flowers, 1,000 bottles of champagne and a large dessert mound of sticky toffee pudding - Elton's favorite.

The stars which came out to sparkle for Elton's big night included Bette Midler, Ozzy and Sharon Osbourne, Donatella Versace, Michael Stipe, Jon Bon Jovi, Michael Caine, Richard Gere, Barbara Walters, Pierce Brosnan, Kid Rock, Liv Tyler, Whoopi Goldberg, and Rod Stewart.

Diane Sawyer and Emma Thompson showed up giggling arm and arm, and newlywed Elizabeth Hurley even cut short her honeymoon with hubby Arun Nayar to join the fracas.

Tasteful white flowers filled the church. And in keeping with the religious atmosphere, tables were adorned with silver drinking chalices. The altar was set up as a stage for the performers, which included the trendy rock group Scissor Sisters, Sting and Paul McCartney.

And despite several mentions in both the U.S. and British press, organizers insist it came as a total shock to Elton. "It's a surprise," said Interview magazine editor Ingrid Sischy, who planned the party with publisher Sara Brandt and David Furnish.

Also see the 'NYC Blog' on www.sixty-years-on.com.



Elton and David arriving at the party
Sunday, March 25 2007 at 12:54:45

UPDATE: Elton's New York birthday party
Saturday, March 24 2007 at 14:28:19
Elton and David arriving at the party
Sunday, March 25 2007
It was a rainy night in New York City on March 24, 2007 when Elton and David as well as some 300 celebrity guests arrived at St. John The Devine for Elton's birthday party.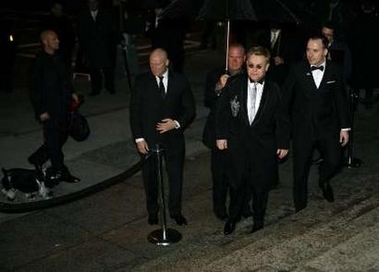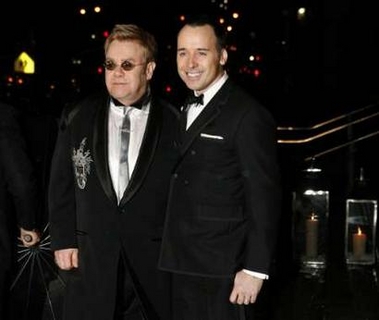 For more details, check out the 'NYC Blog' on www.sixty-years-on.com.



UPDATE: Elton's New York birthday party
Saturday, March 24 2007 at 14:28:19
60 quotes of Elton on his 60th
Sunday, March 25 2007
Besides other things, Elton John is well known for his bitching. So what better way to celebrate his birthday than by reliving 60 of his most memorable quotes.
On The X Factor: "It is a cruise ship show. I've got nothing against the people who go on – good luck to them. But I hate how they're treated. The record companies sell a lot of records and those people are gone. It's f***ing cruel."

On Hear'Say: "They have to be the ugliest band I've ever seen. If you're going to have a boy band or a girl band then they've got to be good-looking. The guy Danny looks like Shrek. I feel sorry for them."

On florists: "I loathe flower arranging – it's a hideous profession."

On Grammys, while reviewing a Stevie Wonder video on a kids' TV show: "Grammys only go to disabled people."

On Madonna's victory at the Q Awards in 2004: "Madonna Best Live Act? Since when has lip-synching been live? Anyone who lip-synchs on stage when you pay £75 to see them should be shot. That's me off her f***ing Christmas card list, but do I give a toss? No."

On The Lord Of The Rings: The Return Of The King winning 11 Oscars in 2004: "It was the most boring Oscars I have seen. I thought there might be one surprise in the song category but even there The Lord Of The Rings won. And I don't think it deserved to."

On pop music: "The Backstreet Boys, NSYNC, Britney Spears, S Club 7, Steps – the music is like packets of cereal. There are too many of them, too many of them are just average and mediocre."

On appearing on Chris Moyles's breakfast show: "I haven't been to the BBC for so long, I almost went to the other building. But I saw Tony Blackburn on a walking stick and I thought, 'No, it's the wrong f***ing place'."

On George W Bush: "The worst thing that has ever happened to America."

On Cherie Blair's lifestyle guru Carole Caplin: "Who's that stupid cow who advises the Prime Minister? Carole Chaplin, Caplin – whatever her name is. She's a mindless f***ing turd."

On his football club Watford FC: "I'll be fine if I don't get an Oscar. I was chairman of Watford FC so I know what it's like to lose."

On Tony Blair and the Iraq invasion: "You lied to us, Tony. The Hutton Report made me wanna spit. It was like, these idiots think they can get away with anything. I voted for Tony. He's basically a nice guy. What happened? Is it because power does that thing to you, that you isolate yourself? It enrages me that people can just smirk their way through it."

On his grandma: "When she was visiting me in LA I'd just taken a load of pills and was threatening to throw myself in the pool. I told her I'd be dead in two hours and she replied, 'Oh, I better go home then'. "

On pseudonyms: "In hotels I use names like Binky Poodleclip and Sir Horace Pussy."

On HIV: "America is my second home. I slept with half of it and came out HIV negative. I'm a lucky, lucky person."

On ex-wife Renate: "The nicest person I have ever met. I don't have one negative thing to say about her."

On his mum Sheila: "I've always been a mummy's boy."

On Simon Cowell: "I am on the side of the artists. I am not on the side of someone like Simon Cowell, who sees them as another Mercedes Benz in his pocket."

To a critic who slated his duet Sorry Seems To Be The Hardest Word with Blue: "Sorry happens to be a beautiful song sung by Frank Sinatra, among others. As a musician, I know this. As a w***er, you wouldn't. Have a nice day."

On the Diana Memorial Fountain: "It's purely ugly. It looks like a sewer."

In a tirade to photographers and police waiting at Taiwan airport in 2004: "You are rude, vile pigs. Do you know what that means? Rude, vile pigs. That's what all of you are."

On David Beckham: "David's adorable – he's a great role model for young people now he's calmed down. He loves his wife, adores his kids, he's a modern father who isn't racist or homophobic. He loves his fashion. I really don't think there is a single bad bone in his body."

On women: "I can be driving along and see a woman and think, 'Phwoar, she's gorgeous.' I don't just fancy men."

To a female photographer who tried to snap him leaving Liz Hurley's house: "I hope you die of cancer of the clitoris."

On Robbie Williams: "I keep my eye on him from a distance. I worry about him. I always feel he's a bit of a loose cannon. He has that look in his eye."

On Geri Halliwell: "Whenever you see her she clings on to you. She's good company but she and Robbie just seem to be so obsessed with their careers."

On Rod Stewart: "When we get together I truly believe we are the funniest two people in the world. We just insult each other – but in a great way."

On Oasis: "They could have been the biggest band in the world but they blew it. It all came down to the fact that they were not prepared to work. And the drugs didn't help during their abortive trips to America."

On cocaine: "I have dreams when I have a white nose and it's all round my mouth and I'm trying to get it off my nose and my mother's coming in the room."

And cocaine again: "Sometimes when I'm flying over the Alps I think, 'That's all the cocaine I sniffed'. We once tried to figure out how much money we spent on coke and alcohol. We were so disgusted that we stopped."

On himself in the 1997 fly-on-the-wall documentary Tantrums And Tiaras: "She's an absolute cow! I had to laugh. I was just impossible."

On agents: "An agent is a person who is sore because an actor gets 90 per cent of what they make."

On success: "I cannot bear successful people who are miserable."

On sex: "There is nothing wrong with going to bed with someone of your own sex. People should be very free with sex – they should draw the line at goats."

On his real name, Reg Dwight: "I was making a record and I had to choose a name because they said, 'You can't make a record under the name of Reg Dwight, because it's not attractive enough'."

On gadgets: "I was more ashamed that I couldn't work the washing machine than the fact that I was taking drugs."

On the 2006 World Cup: "I love football but I'm sick of the World Cup. Who cares about Angola versus Portugal? I don't even care about England."

On George Michael: "My fear is he just smokes too much dope."

On Brian McFadden's solo single Irish Son: "I nearly died when I heard it. I absolutely hated it. I had to take it off in case I committed suicide."

On his tantrums: "I think it is an Aries thing. I don't like it, but what can you do?"

On Ozzy Osbourne: "We have so much in common, apart from the hair. Mine is bought. His is real."

On the Bible: "I'm a mad shredder. I get these Bibles sent to me saying 'Repent now' and I shred them."

On playing at the private parties of German businessmen: "I sing Rocket Man, Candle In The Wind and Happy Birthday Dear Gunther – and get paid tens of thousands."

On the present he would give Liza Minnelli to celebrate her 2002 wedding to David Gest: "A heterosexual husband."

On singer Craig David in 2001: "If there's a better solo singer in the UK than Craig David, I'm Margaret Thatcher."

On spending £2million in a month: "I'm not a nest-egg person."

On Old Blue Eyes: "Sinatra was simply the best. No one else even comes close."

On himself: "A review in the Financial Times said I was an extremely funky pub pianist. That was a good summing-up of what I am."

After a fan said hello to him while he was on holiday in the South of France: "I'm supposed to be on f***ing holiday. I'm never coming here again. Get me on a plane tomorrow."

On his refusal to sell pictures of his wedding to David Furnish to a celebrity magazine: "Our relationship isn't up for grabs. Our love is sacred to us. It doesn't come with a price tag."

On film Billy Elliot: "I could barely watch it I was crying so much. It moved me because I could see myself in Billy. It was like my own childhood and how I broke out into my dream."

On his body: "I'm stocky. I've always had a body-image problem. No self-esteem. And that will never, ever leave me. It's improved, but I'm hypercritical of myself and the way I look."

On his music: "The great thing about rock and roll is that someone like me can be a star."

On David Furnish: "I took hostages and prisoners and expected them to adapt to my lifestyle. This relationship is very 50-50."

On Live 8 2005: "I thought it was a bit of an anticlimax, to be honest. The thought behind it was fantastic but Hyde Park is a charisma-free zone. There was no sense of occasion and, from a musical point, I didn't think there were too many highlights. I was very pleased to be a part of it but I didn't think it was anywhere near as good as the first one. How could it be?"

On Posh's attitude to husband David's alleged affair with Rebecca Loos: "I don't think they handled it very well."

On his own indiscretion: "I haven't got Tourette's syndrome but I can't censor myself. Why should I?"

On aggression: "I've always wanted to smash a guitar over someone's head. You just can't do that with a piano."

On songwriting: "At my age you've just got to make a decision about whether you are going to write for yourself or for the radio. I mean, how many f***ing hits can you have?"

On trying to live a normal life: "Well, I'm not ordinary, so it's not a struggle trying to be."
UPDATE: Elton's New York birthday party
Saturday, March 24 2007
It was supposed to be a secret. But the New York Post reported that Elton's 60th birthday party for 300 carefully selected A-list friends on March 24, 2007 will be at Cathedral of St. John the Divine.
The 8 pm invite for cocktails, dinner and dancing at the world's largest Gothic cathedral in Morningside Heights specifies "elegant black tie," which could cover a wide range of flamboyant sartorial splendor inside the holy venue.

The hosts - Elton's spouse David Furnish, and Ingrid Sischy and Sandy Brant of Interview magazine - declined to disclose details, and cathedral officials did not return calls.

We can now confirm that this is indeed the location where the party will take place in. Tables etc. have been set up in the church this morning, which was still open for tourists. Elton's piano was already there as were instruments from the Scissor Sisters which are therefore likely to perform at the party.

For more details and pictures, check out the 'NYC Blog' on www.sixty-years-on.com.
Hercules Auction to benefit the EJAF
Friday, March 23 2007
Place your bid on a copy of the brandnew book "Elton - The Biography" which has been signed by the author, David Buckley.
On March 25, 2007, hundreds of fans will gather in New York City in order to celebrate Elton's 60th birthday. One of the highlights of the weekend, besides Elton's 60th show at Madison Square Garden, will be a "Lunch Around The World" event which will also feature a silent auction.

For all fans that cannot make it to New York this weekend, we are auctioning off a few items over the Hercules website. All proceeds from the auction will be donated to the Elton John Aids Foundation.

Place your bids now! Many thanks to David and his publisher for donating these great prizes.



Sixty things for Sir Elton's 60th
Friday, March 23 2007
Sir Elton John turns 60 on March 25, 2007, and to celebrate his milestone birthday BBC News has put together 60 facts about the pop superstar.
CHILDHOOD

1. Elton Hercules John was born Reginald Kenneth Dwight on 25 March 1947 in Pinner, Middlesex.

2. His father, Stanley Dwight, was an RAF flight lieutenant and big band trumpet player. He divorced Elton's mother Sheila in 1962.

3. Elton began playing the piano when he was three or four and went to the Royal Academy of Music at the age of 11.

4. He attended the academy for five years but dropped out before the final exams, later saying he "resented" attending and hardly ever studied.

5. He joined his first group, Bluesology, at the age of 14.

6. He would perform, aged 15, at weekends in the Northwood Hills pub and would have to cope with drunken customers emptying their pints into his piano.

7. His parents were alarmed by his music. His father wanted him to concentrate on classical pieces whereas his mother did not like his often raucous playing style.

EARLY CAREER

8. Sir Elton auditioned for prog-rock bands King Crimson and Gentle Giant - he was rejected.

9. Before he hit the big time, Sir Elton recorded several anonymous albums of budget cover versions.

10. He also played in the backing band of British blues legend Long John Baldry. His stage name is drawn from those of Baldry and his sax-player Elton Dean.

11. Scarecrow, the first collaboration between Elton John and lyricist Bernie Taupin, was released in 1967. The pair had never met - their work was swapped by post.

12. His official nickname is Rocket Man - taken from his second hit single - but Rod Stewart calls him Sharon.

ACHIEVEMENTS

13. He is at number nine on the all-time US best-seller list, with a total of 69 million albums sold in the US during his career. He is sandwiched between Barbara Streisand at eight and AC/DC at 10.

14. His song Candle in the Wind '97, released in tribute to the late Princess Diana, is the highest-selling single in history. More than 30 million copies were sold around the world.

15. The Elton John Aids Foundation has raised more than $100m (£52m) since it was established in 1992.

16. When he received his knighthood in 1998, the Rocket Man was announced as Sir John Elton.

AWARDS

17. He was named best British male at the Brit Awards in 1991. It is the only competitive Brit he has won - but he has received the outstanding contribution award twice.

18. The first time, in 1986, he shared the honour with Wham! and was presented with the award by then-Conservative Party chairman Norman Tebbit. Sting presented the second accolade nine years later.

19. In 1994, the five nominations for the best original song Oscar included three songs Sir Elton co-wrote for The Lion King with Sir Tim Rice. They won with Can You Feel the Love Tonight.

20. He has won five Grammy Awards - his first in 1986 for That's What Friends are For and his most recent in 2000 for Aida.

21. Sir Elton had 13 UK top 20 hits before Don't Go Breaking My Heart, a duet with Bradford-born Kiki Dee, earned him a number one spot in July 1976.

TOUR STORIES

22. His 1976 World tour was called Louder than Concorde (But Not Quite as Pretty).

23. Sir Elton became the first Western pop star to tour the Soviet Union in 1979.

24. He has toured several times with Billy Joel, but denies there is any rivalry. "He is Mr Piano Man, I am Miss Piano Man," he said.

25. After performing with Eminem at the 2001 Grammy awards Sir Elton was full of praise for the rapper. "There just aren't many people in the world with balls that big and talent that awesome," he said.

26. "It's very important to have two tiaras when you're on the road," he said. "You never know when you'll be invited to something really formal."

27. He once had a balloon promoting a Rod Stewart concert shot out of the sky.

EXTRA-CURRICULAR ACTIVITIES

28. In 1975, he played the Pinball Wizard in Ken Russell's big-screen adaptation of the rock opera Tommy.

29. He became chairman of the then Fourth Division Watford football club in 1973. He wept openly when the team lost 2-0 to Everton in the FA Cup Final.

30. In September 1988, Sir Elton put more than 2,000 items of his personal memorabilia up for sale at Sotheby's, raising £4m for his AIDS charity.

31. Every year since 2004, he has opened a temporary shop to sell thousands of items from his wardrobe for charity. Last year, the shop was in New York, and was called Elton's Closet.

PERSONAL LIFE

32. He came out as bisexual in a 1976 interview with Rolling Stone magazine. "People should be very free with sex," he said. "But they should draw the line at goats."

33. He married Renate Blauel, a German recording engineer in 1984 but they divorced four years later. He announced his homosexuality soon after.

34. In 2001, Sir Elton told The Sun newspaper he spends "more than £200,000 a time" when shopping for clothes.

35. He entered into a civil partnership with long term partner David Furnish in December 2005.

36. He cannot put a figure on how much he spent on drugs, but told one reporter: "Sometimes when I'm flying over the Alps I think, 'that's like all the cocaine I sniffed'."

37. The superstar has refused to adopt a child with Furnish because of their age difference. "And, frankly, I refuse to breast feed," he joked.

38. He credits Watford Football Club with helping him kick his addictions. "Graham Taylor would sit me down and say, 'You're drinking too much'," he said in 2004. "If I hadn't had Watford, I really don't know what would have happened to me..."

CONTROVERSY

39. He reckoned Hear'Say were the "ugliest band in pop", saying singer Danny Foster was a dead ringer of cartoon character Shrek. Hear'Say blamed Sir Elton for the demise of their group.

40. He doesn't like making music videos. "I hate videos. Videos are loathsome," he complained in the warts-and-all documentary Tantrums and Tiaras.

41. David Bowie sparked a 20-year feud with Sir Elton when he called him "the token queen of rock".

42. Sir Elton joked that if he was to join the Spice Girls he would be known as "Cocky Spice". Fellow crooner Rod Stewart would be "Mingy Spice, because he is mingy".

43. The singer wasn't impressed with Elvis Presley. "When I met him in Washington he was half dead already. There were no signs of life there and it was kind of sad."

IN THE STUDIO

44. Former Beatle John Lennon plays on Sir Elton's 1975 concept album Captain Fantastic and the Brown Dirt Cowboy - but he is credited as Dr Winston O'Boogie.

45. One of his oddest songs is called Conventional Oven Thermostat. He improvised it using the manual from Richard E Grant's cooker on ITV's Audience With Elton John in 1997.

46. The masterpiece included the lyrics: "You and your oven are capable of great things / Remember, no two ovens are the same".

47. Lyricist Bernie Taupin wrote the ballad Someone Saved My Life Tonight about the night he stopped Sir Elton from committing suicide with a gas oven.

48. The pair wrote a song called Can't Go On (Living Without You), hoping it would become the British entry for the Eurovision Song Contest in 1969. But it didn't make the cut, coming sixth out of six songs.

49. Sir Elton has duetted with George Michael, Kiki Dee, Gladys Knight, Cliff Richard and 2Pac.

50. He plays piano on the Scissor Sisters number one single I Don't Feel Like Dancing.

51. Sir Elton wrote the music for the Captain Fantastic album aboard a luxury ocean liner. "I'd tried to book the ship's music room, but an opera singer had it for the whole five days," he told Rolling Stone. "The only time she wasn't there was when she scoffed her lunch for two hours. So every lunchtime I'd nip in there and grab the piano."

52. The pop star keeps up to date with the latest music, listing LCD Soundsystem, James Blunt and Antony and The Johnsons among his current favourite acts.

53. Sir Elton and Taupin wrote Don't Go Breaking My Heart under the pseudonyms Ann Orson and Carte Blanche.

MISCELLANEOUS

54. Pop star Justin Timberlake appeared as a young Elton John in the video for This Train Don't Stop Here Any More.

55. The original version of Candle in the Wind was a UK number one in 1973, but its release was cancelled in the US when radio stations started playing Bennie and the Jets instead.

56. Take That's Gary Barlow sings backing vocals on Can You Feel The Love Tonight?

57. For his 50th birthday, Sir Elton wore a Louis XV-style powdered wig topped by a silver ship shooting real smoke from its cannons.

58. The garment was so big, he had to be delivered to his party in a furniture removal van. He was not pleased.

59. He was a guest of honour at Liz Hurley's recent wedding, and walked the bride down the aisle.

60. The flamboyant superstar was dragged into a pool of water by a troupe of singing crocodiles when he appeared on the Muppet Show in 1977.
Rainbow Theatre Concerts 1977
Friday, March 23 2007
While everybody is focused on Elton's 60th performance at Madison Square Garden on March 25, 2007, Jason Anderson is spending some thoughts on Elton's Rainbow Theatre Concerts in 1977.
"I had a few thoughts I wanted to share with you about Elton's Rainbow Theatre concerts in May of 1977 with Ray Cooper. I thought your readers might benefit.

It had occured to me after listening to the concert on CD in my car that this year marks 30 years of its anniversary. I think the period of 1977-1981 gets largely overlooked in Elton's career, but in my estimation concerts like this were really monumental in their day.

At the time punk rock was gaining momentum, and many established artists were entering a blue period. In England especially, many of rock music's elite were avoiding huge tax penalties and fleeing the country. Elton was one who stayed put no matter what. I'm sure you probably know more about the history of the actual concerts, why they took place, and their value. Any additional information you have would be appreciated. I don't think anyone in pop music had ever gone out on their own with just a percussionist and performed a 2.5 hour full show before.

The Rainbow Theatre itself has a long and storied history, and I'm sure is special to Elton. With all the attention surrounding his 60th birthday, and the MSG concert, I was hoping people didn't forget this historic set of shows that has gotten very little attention all these years later. It was "the" prototype for Elton's Single Man tour which everyone knows and loves.

Although Elton fans may remember the infamous "retirement" show in November of 1977, I believe the Rainbow Theatre shows with Ray Cooper have been overlooked almost completely. Perhaps its because the later show was broadcast on HBO in America.

The precurser as you know was his solo show in Edinburgh the previous year, which I was quite pleased to see you've gotten your company to broadcast. That show is also historic and overlooked in Elton's history, and music history for that matter.

I just wanted to share this with you in the hopes that we could remind music fans, and "Hercules" readers of these wonderful shows that showed Elton entering a very different phase in his career, but one that can be regarded as very important.

Back when many artists simply gave up or stopped trying, Elton John took a big risk playing a very different kind of show that everyone loved. Especailly a concert without a full band and highlighting lesser known songs and sparse arrangements.

It shows the true strength of Elton and Bernie's songs. I don't think any artist has done anything like it even to this day. Thank you for your time in reading this."

Jason Anderson
Portland, Oregon
Elton John and band performed in Providence, RI on March 22, 2007
Friday, March 23 2007
Following is the complete set list of the Providence, RI show on March 22, 2007.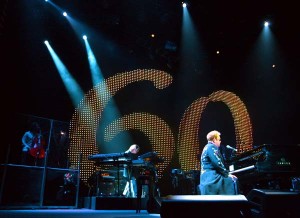 Sixty Years On

Madman Across the Water

Where to Now St. Peter?

Hercules

High Flying Bird

Holiday Inn

Burning Down the Mission

Take Me to the Pilot

Daniel

Honky Cat

Rocket Man

I Guess That's Why They Call it the Blues

The Bridge

Mona Lisas and Mad Hatters

Sorry Seems to be the Hardest Word

Bennie and the Jets

All the Girls Love Alice

Tiny Dancer

Something About the Way You Look Tonight

Don't Let the Sun Go Down on Me

I'm Still Standing

The Bitch is Back

Crocodile Rock

Saturday Night's Alright for Fighting


Funeral For A Friend/Love Lies Bleeding

Your Song
A review of the show will follow shortly.

Elton's Garden Party
Friday, March 23 2007

Elton John started planning years ago for the party at Madison Square Garden on March 25, 2007, where he'll celebrate his 60th birthday with 20,000 of his closest friends.

Two years ago, Madison Square Garden entertainment president Jay Marciano recalls, he got a call from Howard Rose, John's agent, asking if the Garden could hold March 25, 2007 - Elton's 60th birthday.

"I remember laughing and saying I wasn't even sure I had a 2007 calendar yet," says Marciano. "But I told him that of course Elton could have it."

The world's most famous arena and its single most successful concert artist have been rolling down the yellow brick road together for a long time.

Elton's first Garden show was on September 23, 1973, when his current radio hit was "Saturday Night's Alright for Fighting" and Richard Nixon was President.

His show on March 25, 2007 will be his 60th. That's eight more than the second-place Grateful Dead and 13 more than Billy Joel, a friend with whom Elton has several times shared the Garden stage. Sixty shows also adds up to more than a million tickets.

To mark this milestone, the Garden will unveil a commemorative banner in the rafters. The show will also be filmed for, among other things, a two-hour special scheduled April 5,2007 on MyNetworkTV.

"It will be a unique night," says Marciano. "There will be a number of surprises, not all of which Elton has shared even with us."

With resellers asking $1,000 or more for floor seats, fans are clearly counting on something to remember. That's likely to include everything from famous guests to a push for Elton's long-running anti-bigotry campaigns.

"How many artists can do a three-hour show where the crowd knows every song?" says Marciano. "That's what you get with Elton." Independent concert industry analyst Bob Grossweiner also says it comes down to music. "Few artists have had his musical longevity or his sustained output," says Grossweiner. "You could argue the quality has decreased, but he still puts out good songs. So even though radio isn't that friendly to him anymore, he's still a big concert draw."

Grossweiner calls it an "honor" for New York that Elton is doing his birthday show here. Marciano says the Garden just has that kind of aura.

"For many artists, playing the Garden is the pinnacle of their career," he says. "It's the biggest stage there is. No one phones it in here. The crowds are great and they expect something great. Elton has always said it's one of his favorite places."

Grossweiner notes that for Elton's first public shows in New York, November 20-21, 1970, at the Fillmore East, he was third-billed behind Leon Russell and McKendree Spring.

"Whatever you think of his music," says Grossweiner, "he's come a long way."




The Garden shows #1 through #60
Saturday, February 17 2007 at 16:20:43



Win a Trip to see Elton John Live from MSN
Friday, March 23 2007

Every day from March 18 to April 15, MSN will post a featured Elton video with three questions at http://msnconcertcontest.com.

Watch the video, answer the three questions correctly, and you're entered into the contest for that day. Enter once per day to increase your chances of winning!

Grand Prize: 2-night trip for two to Las Vegas from May 11-17, 2007, to attend the Elton John concert on May 12, 2007, and $500 cash.

First Prizes (3): Autographed 8x10 framed photograph of Elton John (ARV $50).

Second Prizes (3): One-year membership to the Elton John fan club (ARV $50).

Third Prizes (50): Elton Johns Greatest Hits CD (ARV $19.99).

Open to residents of the 50 United States & D.C. 21+ expires Sunday, April 15, 2007 @ 11:59pm ET. Also see http://msnconcertcontest.com/rules.html.

Only three days to go ...
Thursday, March 22 2007

Elton will be celebrating his 60th birthday in New York on March 25, 2007. You can send your birthday wishes online via www.sixty-years-on.com!

You have the chance to send your congratulations to Elton via this website in the form of a simple text message, a photo/image and/or an audio/video clip.

See 'How to post' for more details, and please note that the deadline is March 24, 2007.

Elton Birthday Show live on MSN
Thursday, March 22 2007

You can watch Elton's Birthday Show from Madison Square Garden live on the internet.

MSN Music will stream the concert to your compter - click here for details.

Elton's call to 'shout down bigots'
Thursday, March 22 2007

Elton John has written an article in the News Statesman denouncing homophobia.

He has urged the public to stand up and speak out against homophobia, on the eve of his 60th birthday. In an article published in the New Statesman to mark his commitment to human rights, Sir Elton, called on people to "shout down" the abuse faced by many across the world.

He said: "In December 2005 I was legally bound to the man I love. It's my legal right and my human right. And I wanted everyone to know, I wanted to shout about it. In some countries, my voice would have been drowned out. Maybe even stamped out. In some European countries the bigots have a loud voice. Pride marches are banned in some east European cities.

"Men and women are persecuted and attacked every day all over the world, just because of who they love and who they make love to."

Elton drew particular attention to the case of William Hernandez, a gay rights activist from El Salvador. Hernandez was threatened at gunpoint and had his offices raided last year after his organisation, Entre Amigos, campaigned against moves to amend the constitution to formally prevent gay marriage.

Elton said: "I want to shine a spotlight on William Hernandez and the many, many individuals who stand up for human rights around the world, at great risk to their personal safety. People like William are a lot braver than me. When the bigots shout abuse, they shout back. My voice has served me pretty well over the years; I hope maybe it can do him some good too. But we need more voices.

"Whether the bigot is in our local pub or a thousand miles away, we should all stand up and speak out for these basic human rights."

Elton called for people to join Amnesty International's campaign to ensure the safety of Hernandez, and others like him. He was writing for the New Statesman's monthly column, in association with Amnesty International, called It Could Have Been Me, in which high-profile UK figures highlight Amnesty cases.

Elton John to put entire music catalog online
Thursday, March 22 2007

More than 30 albums from the singer and songwriter will be made available for digital download at the end of March 2007, Elton said on March 21, 2007, marking the first time his whole catalog of more than 400 tracks will go online.

Elton, who has sold more than 200 million hard copies of records in a career spanning more than 40 years, has already released some of his more recent work online in the United States, but this will mark the first time his entire catalog is available.

Elton said he had wanted all his music to be online for some while but time was needed to prepare the entire catalog.

"I knew that the entire catalog -- not just the hits -- needed care and attention to be released in this way," he said in a statement. "Now that it's happening, I'm pleased for the fans' sake."

The catalog will be available exclusively from Apple Inc.'s iTunes service from March 26 until April 30, 2007 before being made available on other legal download services.

It will include his debut 1969 album "Empty Sky" and "Goodbye Yellow Brick Road" and tracks such as "Tiny Dancer", "Your Song" and "Candle in the Wind".

The move will coincide with the singer and songwriter's 60th birthday and the global release in physical and digital formats of a new, 18-track compilation of his work, "Rocket Man -- The Definitive Hits" from Universal Music Group's Mercury Records.

Elton will also release some of his biggest hits as mobile phone realtones and a selection of video clips through digital music services including the duet "Don't Go Breaking My Heart" with Kiki Dee.

In January 2007, new chart rules came into force in Britain which made any song eligible for chart entry regardless of its age or whether a physical copy was also available in shops.

That means Elton John could enjoy hits with his old songs if he sells enough downloads.

"The world has certainly changed since Philips Records issued my first single on seven-inch vinyl -- 39 years ago this month," he said.

Elton's back catalog is owned by Universal Music Group, a unit of France's Vivendi.

Chopard celebrates Elton's 60th with birthday billboard
Thursday, March 22 2007

This birthday banner for Elton John appears on the barricade outside Chopard International's Manhattan flagship boutique, opening in fall 2007.

New York—Loyal supporter of the Elton John AIDS Foundation since 1998, luxury jeweler Chopard has given the legendary performer a birthday card befitting his larger-than-life status.

The barricade outside the new Chopard International flagship boutique at 709 Madison Ave., scheduled to open this fall, will feature a "Happy Birthday" tribute to the celebrated musician and humanitarian.

Chopard designs and creates the EJAF chronograph watch collection in partnership with Sir Elton John and sells the watches in boutiques worldwide. Ten percent of the proceeds of each sale are donated to the Elton John AIDS Foundation.

Elton John and band performed in Hartford, CT on March 21, 2007
Thursday, March 22 2007

Following is the complete set list of the Hartford, CT show on March 21, 2007.
Sixty Years On

Madman Across the Water

Where to Now St. Peter?

Hercules

High Flying Bird

Holiday Inn

Burning Down the Mission

Take Me to the Pilot

Daniel

Honky Cat

Rocket Man

I Guess That's Why They Call it the Blues

The Bridge

Mona Lisas and Mad Hatters

Sorry Seems to be the Hardest Word

Bennie and the Jets

All the Girls Love Alice

Tiny Dancer

Something About the Way You Look Tonight

Don't Let the Sun Go Down on Me

I'm Still Standing

The Bitch is Back

Crocodile Rock

Saturday Night's Alright for Fighting


Funeral For A Friend/Love Lies Bleeding

Your Song
A review of the show will follow shortly.


Elton John Week On Capital Gold
Tuesday, March 20 2007

Download free Elton John Podcasts, vote for your favourite Elton Song and win Elton prizes.

Here at Capital Gold UK Radio we're celebrating Elton John's 60th Birthday with a special week of music, features and competitions. Win the chance to see Elton perform live in New York on March 25, 2007 and bag brilliant signed Elton prizes including iPod Nanos packed with Elton tunes, back catalogues and more. Vote for your favourite Elton John track ahead of our Top 30 Elton John rundown on March 24, 2007 plus enjoy Elton recorded live in concert on March 25, 2007.

We've also launched a new series of podcasts - Capital Gold...Rewind - enjoy rare interviews from the Capital Gold archives with the biggest names in music. Listen to them online, download them for free and subscribe to the series via the iTunes store.

We're kicking off the Capital Gold...Rewind podcasts with a series of Elton John interviews recorded throughout his career that we're releasing as part of our Elton John Week. We'll be releasing an interview each day from the archives during Elton John Week with more archive material available soon.

Go to www.capitalgold.com/frequencies to find out how you can listen to Capital Gold

Go to www.capitalgold.com/podcasts to listen to / download today's interview.

Go to www.capitalgold.com/happybirthdayelton for more info on Elton John Week.

Hercules Poll: Best of Elton
Monday, March 19 2007

On the occasion of Elton's 60th birthday on March 25, 2007 we have put together a "Best of" list - with the help of the fans.

Over the past weeks, you have cast your vote for the following categories:


Best Elton John song


Best Elton John album


Best lyrics of a song originally performed by Elton John


Best Elton John tour/show


Best Elton John video clip


Best Elton John tantrum


Best Elton John moment


Best Elton John musical


Best Elton John costume
The final results are now available! According to that, "Funeral For A Friend/Love Lies Bleeding" is the best Elton song, and "Goodbye Yellow Brick Road" the best Elton album.

"I'm Still Standing" is the clear winner in the "Best Video Clip" category, as is "The Lion King" as the best Elton musical.

From the Tobago News
Monday, March 19 2007

"Judge not lest thy be judged" - Friday, March 16th 2007

The Editor: On an island rife with promiscuity,

On an island where most men pride themselves of having a wife and a "woman" (or more than one),

On an island where AIDS and HIV are still beyond control

On an island where most children are born out of wedlock

On an island where most children in a "family" have more than one father

On an island where fathers are still "breaking in" their daughters, where uncles 'break in" in their nieces, and where, in some cases grandfathers are "breaking in" their granddaughters, (better known as incest)

On an island where the village/tribe and church leaders openly protects the above from the law

On an island where religious leaders take children to camps over the carnival holidays to prevent them from seeing the show of raw flesh on TV, and some girls are coming back from the camp pregnant

On an island which has gained international reputation for its' first class phone videos, prominently distributed throughout the internet, showing thirteen year olds in school uniforms having sex and stripping for the camera

On this island WE DARE to condemn you, Sir Elton John!

On behalf of the non-bigoted population of Tobago, I apologise, Sir John.

Signed

Judge not!




Elton John may turn you gay
Friday, March 16 2007 at 20:49:44

No ban on Elton John
Thursday, March 15 2007 at 09:07:37

Archdeacon against Elton's visit
Tuesday, March 13 2007 at 18:56:33



Elton at 60
Sunday, March 18 2007

Elton John loves a party. When it comes to celebrating, he favours the approach adopted by his friend Liz Hurley. Do it. Then do it again, and again.

As he hits 60 on March 25, 2007, he will be at one of three ostentatious celebrations to mark the milestone. This one will be a little more public than the other two, with 19,500 fans watching him at New York's Madison Square Garden, opening the show with a fitting rendition of his 1970 song "Sixty Years On".

He has already thrown a bash in London and a New York party will take place on an undisclosed date at a closely guarded location, around the time of the concert.

While he celebrated his 50th in a Louis XIV-style outfit with powdered wig and silver boots, Sir Elton's 60th party in New York will be a more sober affair. "It's 60. Fifty was a great occasion where I wore that ridiculous outfit, [this one] won't be a ridiculous outfit," he says, in his only interview to mark the anniversary.

Instead, he and partner David Furnish - who became the most high-profile couple to commit to a civil partnership, in December 2005 - are expected to opt for formal wear. Sir Elton follows fellow rock icon David Bowie in reaching 60 this year. And he has candidly admitted that despite his energy - he boasts the middle name Hercules - he is beginning to feel the effects of ageing.

In the interview, to be broadcast by BBC Radio 2 in a three-part series from March 24, 2007, he tells programme-maker Paul Sexton: "I don't mind getting older, except sometimes you think 'I can't do that as well as I used to'."

There is even talk of taking his foot off the gas and "slowing down". "Well, David is going to kill me if I don't," he said. "This year is pretty full, obviously. I would like to slow down a little bit and not do so many shows, not travel as much."

Even after a career spanning four decades, he remains at the peak of his powers. He did suffer the ignominy of his £7m vampire musical, Lestat, closing after 39 performances last year when critics sank their teeth into it, but his last album, the autobiographical "The Captain and the Kid", had an enthusiastic reception and his shows remain sellouts.

There is no shortage of takers for his Madison Square Garden show, despite terrifying prices for some seats. A slot just in front of the stage costs £1,400 through a ticket agency, and even seats with modest views cost around £150. Two fans paid £125,000 each for a pair of tickets to the show when Sharon Stone auctioned them at an Aids fundraiser hosted by the singer in February 2007.

Now happily settled in his personal life, Sir Elton has not always enjoyed such peace of mind. Chunks of the late Seventies and Eighties were lost in a haze of cocaine and drink and he had a short-lived marriage in 1984, despite knowing he was gay. And his notoriously short fuse was captured in the film "Tantrums and Tiaras", produced by his partner Mr Furnish.

But after a stint in rehab in 1990 and the steady relationship he formed with David shortly after, he is now seen as a grand statesman of pop and a favourite friend of A-listers. The superstar, who has sold 250 million albums worldwide, partied with pals such as Sir Paul McCartney, Elle Macpherson, Hugh Grant, Daniel Craig and David Walliams for his first 60th celebration in London last week. He indulged his flamboyance by dressing up as a Russian general. Many of the guests are expected to make the New York event.

Looking back, he finds it hard to decide whether it is his music or his fundraising activities - he has raised tens of millions through his Elton John Aids Foundation, formed 15 years ago - which will provide his ultimate legacy.

"It would be hard to choose, because they go hand in hand,""Without having my musical legacy, I couldn't do my philanthropic work."

'The Continuing Adventures of Captain Fantastic - Elton At 60' begins on BBC Radio 2 on March 24, 2007 at 8pm.




Stars out to celebrate Elton's 60th
Wednesday, March 14 2007 at 10:55:07



Elton John may turn you gay
Friday, March 16 2007

Tobago Church leaders are worried Sir Elton John's performance at a jazz festival will turn locals gay.

Elton is due to headline the Plymouth jazz festival there in April 2007, but Church leaders and locals are campaigning to keep Elton out because he's gay.

Archdeacon of Trinidad and Tobaga, Philip Isaac is quoted in the Daily Mirror as saying: "His visit to the island can open the country to be tempted towards pursuing his lifestyle." The Archdeacon also criticised his relationship with David Furnish as "man should not lie with a man".

However Elton will be pleased to hear that there may still be help for him and husband David Furnish as despite his lifestyle Isaac is still prepared to assist him. Isaac said: The artist is one of god's children and while his lifestyle is questionable he needs to be ministered unto."

Homophobic campaigners are trying to keep Elton out of the country by claiming that a clause in Tobago's immigration laws means homosexuals could be kept out of the country. One person told a local newspaper "We have a huge problem with homosexuality in our population because, unlike our foreign counterparts, our free-up nature and infrastructure cannot support the conditions of this lifestyle."

However festival organiser Anthony Maharaj said that Tobago should be "honoured to have him," adding: "This is a man who was knighted by the Queen, who was highly complimented by Desmond Tutu."




No ban on Elton John
Thursday, March 15 2007 at 09:07:37

Archdeacon against Elton's visit
Tuesday, March 13 2007 at 18:56:33



No ban on Elton John
Thursday, March 15 2007

Despite calls by members of the Christian community in Tobago to ban self-confessed homosexual Elton John from appearing on the Plymouth Jazz Festival, the British singer will perform.

Elton faced the possibility of being barred from entering Trinidad and Tobago as a result of a clause that exists in the island's immigration law that bars self-confessed homosexuals from entering the country.

According to the Immigration Act Sections E and F, self-confessed prostitutes and homosexuals are among those who can be blocked from entering the country.

Elton, who was knighted by Queen Elizabeth II in 1997 for his charitable nature and contribution to music, and who headlines the event with the likes of former lead singer of the Temptations, Diana Ross, rhythm and blues singer Glady's Knight, three-time Grammy award winner Mary J Blige and LL Cool J, has stirred a silent protest by Tobagonians since the organisers made the announcement in November 2006.

He is one of the closing acts on the three-day event, which commences on April 27, 2007 and ends April 29, 2007.

Anthony Maharaj, chief executive officer of the festival in an interview with the Trinidad Express on Tuesday, said Elton's scheduled performance for the Jazz Festival should not have anything to do with his private life.

Maharaj reportedly said: "It was strange for me to to see the article in the Sunday Express. This country should be honoured to have Sir Elton perform in Tobago."

The controversy has received mixed reviews and readers on the newspaper website have lauded the singer, while some have condemned his lifestyle.

"Ridiculous! This is ridiculous! Sir Elton should be allowed to perform. The man is a professional and should be allowed to ply his trade. There is more immortality in Trinidad that needs to be protested against than a gay performer. I thought Trinidad is where every creed and race find equal place, silly radicals and extremists," said the posting of a Trinidadian living in New York.

On the other hand, a reader, responding to a statement made that the attitude of the Trinidadians was Third World, said, "So we are Third World because we hold on to positive values? We have a huge problem with homosexuality in our population because unlike our foreign counterparts our free up nature and infrastructure cannot support the conditions of this lifetsyle."




Archdeacon against Elton's visit
Tuesday, March 13 2007 at 18:56:33



Stars out to celebrate Elton's 60th
Wednesday, March 14 2007

Elton John celebrated in his customary glamorous fashion as he hosted a star-studded party for his 60th birthday.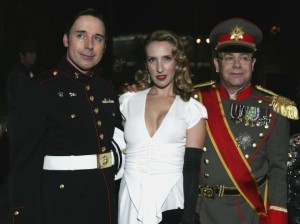 He threw the joint party with artist Sam Taylor-Wood, who is understood to be celebrating her 40th.

The pair are close friends, and Taylor-Wood was one of the few guests at Sir Elton's marriage to David Furnish in December 2005 at Windsor Guildhall. They have frequently collaborated on fundraising events for the Elton John Aids Foundation.

Stars including Hugh Grant, Sir Paul McCartney and actress Thandie Newton were among those arriving for the party at the Shoreditch Town Hall in east London. Also there were Pearly Kings and Queens.

Elton and Furnish both donned military garb, while Taylor-Wood wore a floor-length white gown and Sir Paul arrived in bow tie and tails.

Newlyweds Liz Hurley and Arun Nayar, close friends of Elton, are still honeymooning after their lavish nuptials and were not at the party. Elton was a guest of honour at the wedding, walking Hurley down the aisle and singing after the speeches.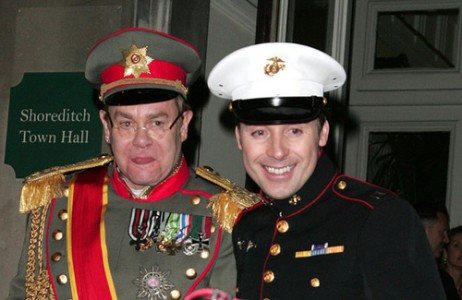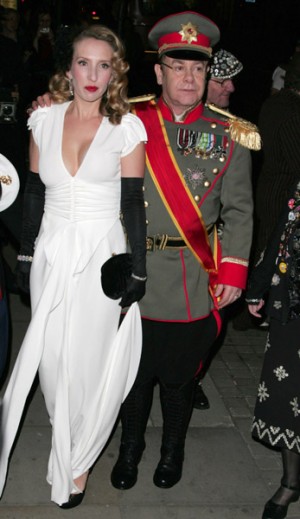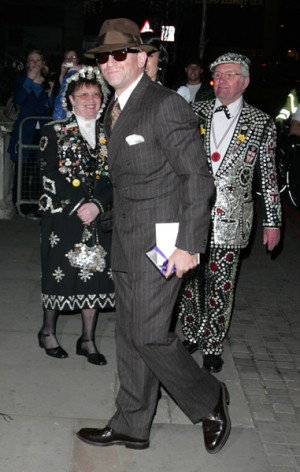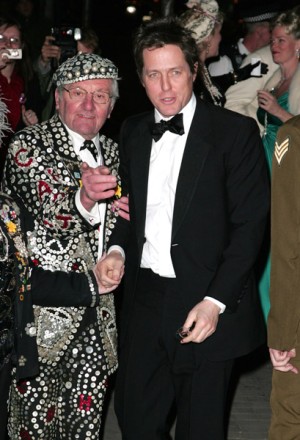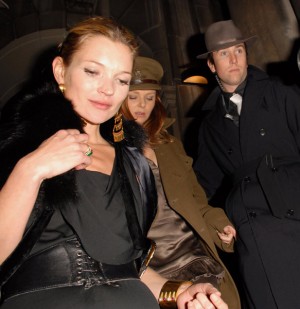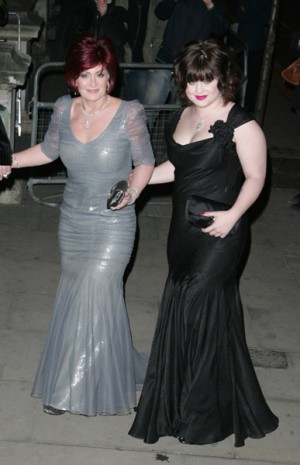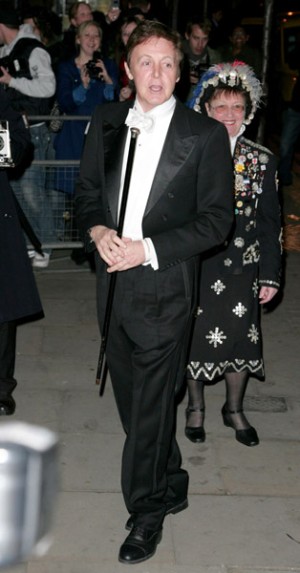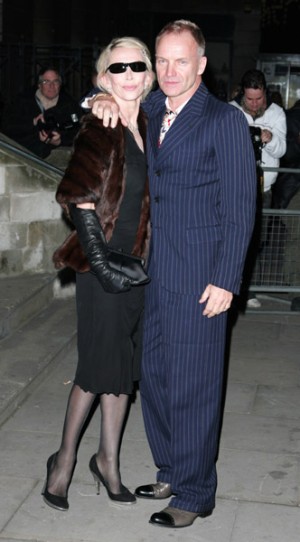 Elton's party plans
Tuesday, March 13 2007 at 19:03:21
Interview with David Buckley
Tuesday, March 13 2007
eltonfan.net webmaster and Hercules Coordinator Stephan Heimbecher interviewed David Buckley about his new book, "ELTON: The Biography", which has been published in the UK on February 19, 2007.
1. David, you are not necessarily what one would call a die-hard Elton fan and you had to do a lot of research in order to "get to know" the man about whom you have now written a 400 page summary about his 40+ years musical career. According to the author's note, your view about Elton as a musician and as a human being seems to have changed during the writing process. How much? Have you become an Elton fan in the end?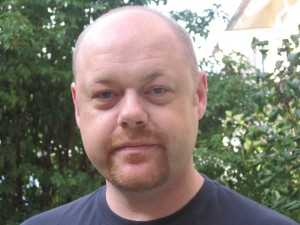 That's certainly true about me not being a diehard fan. This was the first time that a publisher approached me to write a book, rather than the other way round. I had written a biography of Roxy Music for André Deutsch, and they kept asking me if I would write an Elton biography for them. After six months, I gave in! The problem for me was that I wasn't convinced I knew, or even liked, enough of Elton to make the book work, so I was a pretty reluctant writer to start with. My allegiances in terms of Seventies icons had always been to David Bowie, someone I had grown up with and whose work I knew very well. There was a snobbish attitude (which, I must admit, I shared) about Elton: he wasn't quite the 'real deal' somehow because he didn't write his own words (as if that really matters), and he was never cool, or 'groundbreaking.' However, I was totally converted when I played Elton's music and listened to it week after week. There are still areas of his career which I think are substandard, but I discovered so many great songs along the way that, yes, I guess I really have now become an Elton John fan.

2. In doing research for the book, you have spoken to a lot of people that have been part of Elton's life in whatever way or form. Who was the most interesting person to talk to and who has revealed the most astonishing stories to you?

Well, it was wonderful to meet Ray Cooper – he hasn't changed a bit, and was elegantly dressed in his waistcoat and jacket. He took me to a very stylish Italian restaurant in Munich, and we spoke for about four hours and have remained in contact ever since. The interview was wonderful, but over half of it was unconnected, or only loosely connected with Elton and so there was a lot I didn't use. He's lived an incredibly life as actor, musician, and filmmaker. Clive Franks was also tremendously helpful and told so many wonderful anecdotes. One which didn't make the book sadly as I couldn't find the right place to put it in, was when he was working doing the live sound on tour in the mid Seventies. Clive was, and is, a huge Beatles fan, and had been playing one of the Beatles hits compilations on cassette as music before the main show. Anyway, it was time to start 'Funeral For A Friend', which, as I'm sure everyone knows, starts very quietly with the all the doom-laden horror- movie sound effects. Live, this section was not played by the band, but rather Clive would pop in a tape of the beginning as found on the Goodbye Yellow Brick Road album before Elton and the band would come in. But on this particular occasion he put on what he thought was the right tape only to hear, to his horror and crashing embarrassment, the beginning of the Beatles, 'Hello Goodbye.'! It got to, 'You say yes/I say no', at a deafening volume, before he managed to stop the track. After his mistake, he could hear apparently was Calab Quaye on stage in fits of laughter. Of course, this is exactly the sort of mistake Elton would find hysterical!

3. Gary Osborne certainly was one of the pople you have talked to a lot. He has also written the foreword. How much has he influenced this project and how much of a help has he been to you?

Gary couldn't have been more helpful. I managed to reach him through Spencer Leigh, who works as a broadcaster on Radio Merseyside in the UK. Spencer is amazing! He seems to have interviewed everyone on the planet connected with pop music, or so it seems. And when I interviewed him in October 2005, he said I must get in touch with Gary Osborne and Sir Tim Rice, and Spencer offered introductions to both people. Gary, of course, hadn't been interviewed by Philip Norman for his earlier Elton book, and quite rightly thought that his own role and his importance in Elton's career had tended to be dismissed. Gary, of course was one of Elton's closest friends, and had worked with him for a five year period. So I managed to get, over three long interviews with him, a wonderful picture of Elton in the late Seventies and early Eighties. Warm, intelligent and with a great sense of humour, Gary was a great help throughout the project and was probably my main interviewee. During the interviewing process, he wrote the song, 'Checkin' It Out' for 'Lil Chris, which was a big hit in the UK.

4. Gary, like yourself, was not initially a big Elton fan. Do you think that this has been beneficial to the writing process because it meant that you could tackle the subject without being too full of praise and be more objective?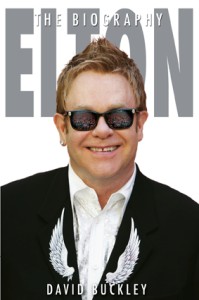 I hope the fact that I am discovering some of his songs for the first time means that I can bring a fresher approach to the analysis. I can't compete with someone like Elizabeth Rosenthal in her knowledge of the songs in all their detail, but what I hope I can bring, after five previous biographies of my own, is a rounded and balanced picture of the man. I was keen to strike a balance. Rosenthal's book is predominantly about Elton and his songs and speaks to Elton's hardcore fans, whilst Philip Norman's book says very little about Elton the artist, and rather more about Elton's business dealings. I wanted to write a book which with it's new interviews could appeal to staunch and knowledgeable Elton fans but which would also speak out a little to the less-committed fans, maybe people like myself who liked Elton but were unaware of how strong his catalogue of music was. I wanted to try and get these people to stop thinking about Elton as some sort of cartoon media figure with all the tantrums and outrage, and to start thinking about him again as a serious musician.

5. You must have ended up with a lot of material from the interviews alone. Plus the material you got from other parts of your research. How difficult was it to fit all that into the 400 pages you were given for this project?

Very difficult, but that's part of the challenge of writing. An author has to make a decision about what's really relevant and be brutal about leaving stuff out. The book is already 10,000 longer than it should have been! That said, there was material which was edited out at the last minute which I would have loved to have remained in. There's some really interesting stuff from Paul Buckmaster about the making of the Elton John album for example which sadly didn't make the final version. Another of my favourite anecdotes was also edited out too. Chris Charlesworth was a journalist working for Melody Maker at the time, and he recalled one example of Elton's wit which I though was really funny but which my editor obviously didn't! Chris said, 'Do you remember the song "All By Myself", a big hit in 1976 for Eric Carmen? Well, Eric Carmen came to an Elton gig, on that tour, I think it was in Cleveland. He came in to the dressing room and was introduced to Elton, who said, "On your own are you?" It was just at the time he had had the hit and we creased up laughing.'

6. Before this book, you have written about R.E.M. and David Bowie, to just name a few. Of all these books, what was the most difficult to write? What was the most interesting one from your perspective?

I made a conscious decision to write the Elton John book in a slightly different way to the other books I'd written. For a start, I wanted each chapter to start with a little incident in Elton's life which I would write almost like a novel and in the present tense. Then the main action of the chapter would either fold back form this point or go forwards chronologically. Having set that as a rule, it meant that writing the Elton John book was probably more of a challenge than the other books. I also decided not to run the quotes from my interviewees in long blocks of text as I had done in previous books, but to use them in shorter burst as part of the narrative (something which is more difficult to do).

The David Bowie book you mention, Strange Fascination, was, on one level, easier to write because I knew so much more about the topic. But I think because I was a big Bowie fan, I was very wary of sounding too enthusiastic, and so I was criticised by some fans for being too hard on some of his albums and tours, particularly the later ones. With the Stranglers and R.E.M., I had more input from the bands themselves. If I have one major regret, it is, of course, that I didn't get to interview Elton and Bernie themselves for the book.

7. Despite his 60 years of age and over 40 years in the music business, Elton seems to gain speed rather than slowing down as he still has various projects in the pipeline. What is your feeling, will you be asked to write an update about 2007-2017 in ten years from now?

I hope I might be asked to write an update earlier than that actually! If the hardback sells well then I might be asked to write an extra chapter for a revised paperback version. But I actually do think Elton John fans have a lot to look forward too. Elton seems in pretty good health and is committed to new albums and tours (despite the fact that he say he wants to retire almost every year!) I think Elton genuinely still believes he can appeal to a teenage audience, and on the evidence of The Lion King and his recent collaborations with pop acts, there's no reason to suspect that he can't. that said, the poor performance of his last two albums, and the Lestat production, also means that Elton has had to contend with a series of flops too. The period 2004-2006 has been a fallow period for Elton commercially; knowing Elton as we all do, he's going to want to do something about that!

8. How many Elton records did you have in your collection before you started writing this book? How many do you have now?

Ouch! I have all them now of course! Beforehand, I had Goodbye Yellow Brick Road which I bought back in the Seventies, Elton's Greatest Hits Vols 1 and 2, Too Low For Zero, The Very Best of Elton John, and several singles including, if memory serves me, 'The Bitch is Back', 'Ego', 'Part Time Love', 'Song For Guy', 'Sartorial Eloquence', 'Little Jeannie', 'Blue Eyes', 'I Guess That's Why They Call It The Blues', 'Wrap Her up', and 'I Don't Wanna Go On With You Like That.' The song I remember the most was the single, 'Goodbye Yellow Brick Road', which I remember as a child when it first came out in 1973 and thought it was one of the most wonderful things I'd ever heard.

9. Have you ever seen Elton in concert?

Yes, but only recently, in Stuttgart in 2005, and I have to admit that I was a tad disappointed. I don't know for sure, but I think he was battling the 'flu at the time, so that might have had something to do with it, but he seemed to be going through the motions a bit or at least not as engaged with the audience as I know he usually is. I have never been to a concert which started at 7.20 pm before either, and that caught me out. I was thinking I had plenty of time to get a beer and get to my seat when I heard this Elton John music being played quite quietly from outside the arena. Then, much to my horror, it seemed that the concert had already started! But maybe I just got him on a bad night, or I was having a bad night. I'm sure if I saw him again it would be great.

10. Gary Osborne said in the foreword that yours is not the first book about Elton he has read, but that it is the best one. I would support that. I have enjoyed reading the book and I hope that many Elton fans will do so too. Thanks for the interview.

It was a pleasure Stephan. Of course, you helped me so much reading drafts of the book and lending me materials and your website was wonderfully helpful so, my thanks to you too!

The book is available online through amazon.co.uk.



"ELTON: The Biography" - out now in the UK
Monday, February 19 2007 at 20:31:23

"ELTON: The Biography" - exclusive extract
Wednesday, January 31 2007 at 18:53:42

ELTON: The Biography
Wednesday, January 17 2007 at 05:52:13
Elton's party plans
Tuesday, March 13 2007
David Furnish has hired a huge Harlem church for one of Elton's 60th birthday galas on March 24, 2007.
There'll be a second party the very next night. Every limousine in the city will be commandeered, reports the New York Post.
Archdeacon against Elton's visit
Tuesday, March 13 2007
Controversy is emerging over the sexual orientation of Elton John with one local religious leader opposed to bringing the singer to Trinidad's sister island of Tobago for next month's Plymouth Jazz festival.
Archdeacon Phillip Isaac, who insists that Elton's lifestyle does not conform to biblical teachings, said Christian principle dictated that a "man should not lie with a man".

"The artiste is one of God's children and while his lifestyle is questionable he needs to be ministered unto. His visit to the island can open the country to be tempted towards pursuing his lifestyle," the clergyman said.
Country girl comes home to painting murals
Monday, March 12 2007
Annie Reavey was a textile designer in London, England, and now she paints murals. The Walker resident walked into Wasabi's Asian Bistro on February 21, 2007, and opened her portfolio containing pictures of Elton John wearing some of her creations.
"I met Elton John and we just hit it off," said Reavey. "I had purple hair, he had green hair. I had rhinestones, he had diamonds. Once I started Elton John's clothes, I did 12 outfits."

These days, Reavey is focusing on designing murals. She recently painted the Japanese carp that are on the overhead lighting fixture at Wasabi's.

"I've been painting and drawing since I was 5 years old," said Reavey. "My grandfather was an artist. I exhibited since I was 9 or 10 in England."

Reavey attended art college, taking her first year of classes at Oxford University and obtaining her bachelor of arts degree at Leicester University. At that time she chose to specialize in textile design. "It was a toss up between interior design or fashion," said Reavey.

After graduation, she returned to Oxford University to teach, finding that artists often wondered why they had to learn fashion. But Reavey felt it was a good place to start.

"To me, textiles is a surface. The whole world is a surface," said Reavey. Reavey began doing freelance work in London with the "current designers of the day" through a recommendation by an editor at "Vogue" magazine. She worked in textile design, experimental design, shoes, colorwork and fashion. She also sent "fashion forecast" reports around the world through the American Merchandising Corp.

During this time she met Steve Brown, who put Elton John and Bernie Taupin together. When Elton, Taupin and several others opened their Rocket Record offices, Brown invited her to paint murals and a piano, and so she met Elton. At that time "he was still a hippie," said Reavey.

Elton commissioned Reavey to design and produce 12 stage outfits for his 1972 tour. She became, as quoted in the "Elton John Sothebys Art Auction Catalogue," "the first professional stage costumer" for him.

"Many a zany outfit was produced over the next 2 1/2 years," said Reavey. "We became more and more humorous and outrageous over the years as Elton and I spent many late night sessions laughing and pushing the envelope toward shoes and glasses, as well as clothes. His home was one of my most favorite art galleries."

In 1975, Reavey came to Los Angeles from England. She continued to work within the music industry, designing custom clothing for Kiki Dee, Jeff "Skunk" Baxter of the Doobie Brothers and sports clothing. She also did interior design art for industries.

In 1977, due to parental responsibilities, Reavey decided to slow down and move to Palm Springs, Calif., where she designed and produced custom clothing for Barbara Sinatra and Alice Faye, among others. She relocated to Idyllwild, Calif., designing clothing for high-class boutiques and creating a new hand-decorated clothing line "Annie Reavey Originals," which was carried in about a dozen stores. At the same time she taught at Isomata, a high school-summer school for music and the arts.

Eighteen years ago Reavey moved to Mammoth Lakes, and continued to work in theater, designing backdrops for sets in local and high school theater. She also continued her clothing business. After a while, she transferred her attention to painting signs and murals.

"I know from my sign painting experience and set painting experience that things have to look equal from a distance and up close," she said.

She took jobs doing window painting, during which she discovered that the wet weather in Mammoth was not conducive to paint. So she learned to paint backwards on the inside of the windows.
Tell us about your MSG moments
Sunday, March 11 2007
With Elton approaching his 60th shows at Madison Squarde Garden, we would like you to tell us about your favorite MSG moments in regard of previous Elton John concerts.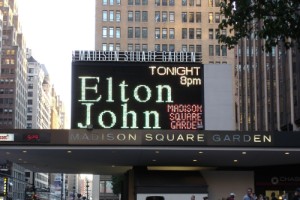 Earlier we have published a list of all Garden shows of Elton John since 1973. How many shows have you seen at the Garden? What was your favorite one? Do you remember any special stories? Did you see any special guest perform with Elton?

Is there a fan out there who has attended all 59 MSG shows so far?

Please write us at msg-moments@eltonfan.net. Send us pictures and/or scans of your ticket. In the days left until show #60, we would like to hear from you! Some of your feedback has now been published at www.sixty-years-on.com. Why don't you add your story?
Amy axes gigs after love split
Sunday, March 11 2007
There are fresh fears for Amy Winehouse after she went on a 24-hour bender after splitting from her boyfriend, dramatically cancelling her two sold-out gigs in London.
Thousands of fans, including Elton John, were left fuming after organisers cancelled the shows at the last minute.

Heartbroken Rehab singer Amy was so upset after splitting with chef Alex Jones-Donelly, she hit the booze big-time.

Organisers cancelled Amy's sold-out gigs at London's Shepherd's Bush Empire on March 8 & 9, 2007. Amy was seend staggering into the K-West hotel in West London, just five minutes from the gig venue, at 10pm on March 8, 2007.

The 23-year-old, who won Best Female at last month's Brits, made a beeline for the bar. Two minders propped up the unsteady singer, who was also with a worried-looking female pal.

"Amy staggered all over the place, looking really upset," a person said. "Her friend was saying Amy had split up with her boyfriend Alex and had been drinking since the night before."

The boozy song-bird bought a round at the bar, threw back a rum and Coke, and then snuck off to another party - to the Griffin Pub in Shoreditch, East London. She was overheard shouting at other drinkers: "What are you f***ing looking at?"

Elton was one of the 2,500 gutted fans let down on March 8, 2007. His spokesman told us: "Elton was looking forward to the gig as he's a big fan. He got a call at the last minute to say it was cancelled - he was disappointed."

Amy's spokesperson declined to comment, but her website yesterday said: "Amy would like to apologise to her fans... and hopes they understand."
Scissor Sisters bond with Elton
Saturday, March 10 2007
Most people can't help but notice that Jake Shears' voice can sound uncannily similar to British pop star Elton John's.
But the Scissor Sisters frontman says he only gave one of Elton's records a cursory listen before penning the New York City dance outfit's 2004 break-out hit, "Take Your Mama".

"It's really funny, because I had Goodbye Yellowbrick Road on double vinyl. I'd got it at a flea market, or whatever. I had probably listened to it once, like a couple of years before we had written 'Take Your Mama'," Shears said.

"And I remember I played (Take Your Mama) for my mom, and she was the first person that looked at me and said, 'You sound like Elton John.' So then it was happy coincidence, and that's how I really discovered his music."

Who knew that one day Shears would end up collaborating with Elton on two songs for the Scissor Sisters' second album, last year's Ta-Dah, including the huge hit I Don't Feel Like Dancin'.

"He was an early fan, and then we just made great friends," Shears said. It was Elton who approached the band three years ago about playing some shows together.

"Especially with (multi-instrumentalist) Babydaddy and me, (Elton) is family. He treats us like his kids. We always have tons to talk to him about together, so we spend a lot of time with him and David."

It wasn't until Elton visited Scissor Sisters' New York studio that "I Don't Feel Like Dancin'" was born. "He just stopped by our studio and brought Babydaddy and I sweaters. I needed a winter coat. And he brought us some warm stuff last winter. And we were happily trying stuff on. He sat down at the piano and started playing, and we wrote 'I Don't Feel Like Dancin''."

Turns out the song couldn't have come at a better time. "He's like a happy drug," Shears said. "I was going through a lot of depression at the time, so a visit from him is like the sweet fairy that comes into the room. I think it was a mixture of an adrenaline thing, being on the road for too long, coming back to New York and trying to assimilate back into some sort of a life. I think it's a culmination of that and the intense pressure to make a followup record."



Scissor Sisters reveal all about second album
Wednesday, January 11 2006 at 16:22:50

Elton John seeks Scissor Sisters for Billy Elliot
Wednesday, December 1 2004 at 21:11:36

Scissor Sisters To Support Elton John
Wednesday, May 12 2004 at 17:14:15


Bill-Bucks Charts 2006
Friday, March 9 2007
The Rolling Stones earned $234 million last year, far surpassing Madonna, who pulled in $175 million, according to the list of "Who Is Making the Biggest Bucks Off the Billboard Charts."
But she doesn't have to split her fortune among Keith Richards, Charlie Watts and the rest of the band.

The list, which includes album, digital sales and concert revenue, has Bon Jovi, Tim McGraw and U2 rounding out the top five spots. Barbra Streisand came in at No. 11, with $67 million, and Elton John No. 15, at $49 million.

Johnny Cash, despite being dead, was 17th, with $48 million.
Everett bemoans bossy Elton
Friday, March 9 2007
Actor Rupert Everett has slammed Elton and David, claiming the "bossy" couple think they rule England.
The "My best friend's wedding" star is unimpressed with the singer's well-documented diva reputation.

He says, "He and David think they are the King and Queen of England and can tell everyone what to do. They've come a bit overwhelming."
Live broadcast of Elton John Birthday Show in Germany
Thursday, March 8 2007
German pay TV operator Premiere will broadcast Elton's "60 at 60" concert live from New York on March 25, 2007.

Hercules Coordinator and eltonfan.net webmaster, Stephan Heimbecher, who is working full-time for Premiere, was successful in convincing his employer to become the official broadcaster of the show for Germany.

In addition to the live broadcast, Hit24, another channel of the Premiere package, will also show the "One Night Only" concert from 2001 as well as "Elton live at the Edinbourgh Playhouse" from 1976.

Furthermore, Hit24 will broadcast Elton video clips, interviews and reports every hour on March 25, 2007.

If you are a resident of Germany or Austria and not a Premiere subscriber yet, you can also get access to this programming via the prepaid offer Premiere Flex. See www.premiere.de for more details or click on the banner to the right.



















The Definitive 200
Wednesday, March 7 2007
The National Association of Record Manufacturers and the Rock and Roll Hall of Fame are celebrating the greatest albums ever.
The two organizations released "The Definitive 200," a list of 200 albums they think every popular-music fan should own.

Top 200 albums of all time

1 BEATLES SGT. PEPPER'S LONELY HEARTS CLUB BAND 1967 Rock

2 PINK FLOYD DARK SIDE OF THE MOON 1973 Rock

3 MICHAEL JACKSON THRILLER 1982 Pop

4 LED ZEPPELIN LED ZEPPELIN IV 1971 Rock

5 U2 THE JOSHUA TREE 1987 Rock

6 ROLLING STONES EXILE ON MAIN STREET 1972 Rock

7 CAROLE KING TAPESTRY 1971 Adult Contemporary

8 BOB DYLAN HIGHWAY 61 REVISITED 1965 Rock

9 BEACH BOYS PET SOUNDS 1966 Rock

10 NIRVANA NEVERMIND 1991 Rock

11 PEARL JAM TEN 1991 Rock

12 BEATLES ABBEY ROAD 1969 Rock

13 SANTANA SUPERNATURAL 1999 Rock

14 METALLICA METALLICA 1991 Rock

15 BRUCE SPRINGSTEEN BORN TO RUN 1975 Rock

16 PRINCE PURPLE RAIN 1984 Pop

17 AC/DC BACK IN BLACK 1980 Rock

18 ROLLING STONES LET IT BLEED 1969 Rock

19 DOORS THE DOORS 1967 Rock

20 GRATEFUL DEAD AMERICAN BEAUTY 1970 Rock

21 SHANIA TWAIN COME ON OVER 1997 Country

22 WHO WHO'S NEXT 1971 Rock

23 STEVIE WONDER SONGS IN THE KEY OF LIFE 1976 R&B

24 FLEETWOOD MAC RUMOURS 1977 Pop

25 PINK FLOYD THE WALL 1979 Rock

26 ALANIS MORISSETTE JAGGED LITTLE PILL 1995 Pop

27 NORAH JONES COME AWAY WITH ME 2002 Pop

28 EMINEM THE MARSHALL MATHERS LP 2000 Rap

29 OUTKAST SPEAKERBOXX-LOVE BELOW 2003 R&B

30 DR. DRE THE CHRONIC 1992 Rap

31 BEASTIE BOYS LICENSED TO ILL 1986 Rap

32 GUNS N' ROSES APPETITE FOR DESTRUCTION 1987 Rock

33 DIXIE CHICKS WIDE OPEN SPACES 1998 Country

34 MILES DAVIS KIND OF BLUE 1959 Jazz

35 EAGLES HOTEL CALIFORNIA 1976 Rock

36 DEF LEPPARD HYSTERIA 1987 Rock

37 SOUNDTRACK: GREASE 1978 Soundtrack

38 MARVIN GAYE WHAT'S GOING ON 1971 R&B

39 BEATLES THE WHITE ALBUM 1968 Rock

40 SOUNDTRACK: SATURDAY NIGHT FEVER 1977 Soundtrack

41 JIMI HENDRIX ARE YOU EXPERIENCED? 1967 Rock

42 BEATLES REVOLVER 1966 Rock

43 BOSTON BOSTON 1976 Rock

44 BON JOVI SLIPPERY WHEN WET 1986 Rock

45 U2 ACHTUNG BABY 1991 Rock

46 WHITNEY HOUSTON WHITNEY HOUSTON 1985 R&B

47 LED ZEPPELIN LED ZEPPELIN II 1969 Rock

48 DAVE MATTHEWS BAND CRASH 1996 Rock

49 ROLLING STONES STICKY FINGERS 1971 Rock

50 GREEN DAY DOOKIE 1994 Rock

51 LED ZEPPELIN HOUSES OF THE HOLY 1973 Rock

52 JONI MITCHELL BLUE 1971 Rock

53 ELVIS PRESLEY ELVIS PRESLEY AT SUN 2004 Rock

54 AEROSMITH TOYS IN THE ATTIC 1975 Rock

55 LAURYN HILL THE MISEDUCATION OF LAURYN HILL 1998 R&B

56 BRUCE SPRINGSTEEN BORN IN THE U.S.A. 1984 Rock

57 50 CENT GET RICH OR DIE TRYIN' 2003 Rap

58 AC/DC HIGHWAY TO HELL 1979 Rock

59 NOTORIOUS B.I.G. LIFE AFTER DEATH 1997 Rap

60 VAN HALEN VAN HALEN 1978 Rock

61 GREEN DAY AMERICAN IDIOT 2004 Rock

62 BLACK SABBATH PARANOID 1971 Rock

63 EMINEM THE EMINEM SHOW 2002 Rap

64 JEWEL PIECES OF YOU 1995 Pop

65 COLDPLAY A RUSH OF BLOOD TO THE HEAD 2002 Pop

66 MEAT LOAF BAT OUT OF HELL 1977 Rock

67 USHER CONFESSIONS 2004 R&B

68 KID ROCK DEVIL WITHOUT A CAUSE 1998 Rock

69 GEORGE HARRISON ALL THINGS MUST PASS 1970 Pop

70 BILLY JOEL THE STRANGER 1977 Pop

71 EAGLES HELL FREEZES OVER 1994 Rock

72 VAN MORRISON MOONDANCE 1970 Rock

73 R.E.M. AUTOMATIC FOR THE PEOPLE 1992 Pop

74 PHIL COLLINS NO JACKET REQUIRED 1985 Pop

75 METALLICA MASTER OF PUPPETS 1986 Rock

76 FAITH HILL BREATHE 1999 Country

77 JOHNNY CASH AT FOLSOM PRISON 1968 Country

78 JOHN COLTRANE A LOVE SUPREME 1964 Jazz

79 PINK FLOYD WISH YOU WERE HERE 1975 Rock

80 MICHAEL JACKSON OFF THE WALL 1979 Pop

81 MARVIN GAYE LET'S GET IT ON 1973 R&B

82 BOB SEGER NIGHT MOVES 1976 Rock

83 PAUL SIMON GRACELAND 1986 Pop

84 LINKIN PARK HYBRID THEORY 2000 Rock

85 PRINCE 1999 1983 Pop

86 DEF LEPPARD PYROMANIA 1983 Rock

87 JANET JACKSON CONTROL 1986 R&B

88 RED HOT CHILI PEPPERS BLOOD SUGAR SEX MAGIK 1991 Rock

89 DIRE STRAITS BROTHERS IN ARMS 1985 Rock

90 TUPAC ALL EYEZ ON ME 1996 Rap

91 MATCHBOX TWENTY YOURSELF OR SOMEONE LIKE YOU 1996 Pop

92 RED HOT CHILI PEPPERS CALIFORNICATION 1999 Rock

93 LED ZEPPELIN PHYSICAL GRAFFITI 1975 Rock

94 NELLY COUNTRY GRAMMAR 2000 Rap

95 CREED HUMAN CLAY 1999 Rock

96 CLASH LONDON CALLING 1979 Rock

97 CELINE DION FALLING INTO YOU 1996 Adult Contemporary

98 NEIL YOUNG HARVEST 1972 Rock

99 SOUNDTRACK: DIRTY DANCING 1987 Soundtrack

100 DIXIE CHICKS HOME 2002 Country

101 TOM PETTY FULL MOON FEVER 1989 Rock

102 VAN HALEN 1984 1984 Rock

103 SOUNDTRACK: TITANIC 1997 Soundtrack

104 CROSBY STILLS & NASH DÉJÀ VU 1970 Rock

105 TLC CRAZYSEXYCOOL 1999 R&B

106 BECK ODELAY 1994 Rock

107 KENNY G BREATHLESS 1992 Adult Contemporary

108 NWA STRAIGHT OUTTA COMPTON 1989 Rap

109 SEX PISTOLS NEVER MIND THE BOLLOCKS 1977 Rock

110 BEATLES RUBBER SOUL 1965 Rock

111 RADIOHEAD O.K. COMPUTER 1993 Rock

112 SIMON & GARFUNKEL BRIDGE OVER TROUBLED WATER 1970 Pop

113 DIXIE CHICKS FLY 1999 Country

114 METALLICA AND JUSTICE FOR ALL 1988 Rock

115 MICHAEL JACKSON DANGEROUS 1992 Pop

116 MARIAH CAREY DAYDREAM 1995 Pop

117 SOUNDTRACK: TOP GUN 1986 Soundtrack

118 ELTON JOHN GOODBYE YELLOW BRICK ROAD 1973 Pop

119 POLICE SYNCHRONICITY 1983 Rock

120 NO DOUBT TRAGIC KINGDOM 1995 Pop

121 ROLLING STONES BEGGARS BANQUET 1968 Rock

122 R KELLY R 1998 R&B

123 TOOL LATERALUS 2001 Rock

124 OASIS WHAT'S THE STORY MORNING GLORY 1995 Rock

125 BOB MARLEY EXODUS 1977 Reggae

126 JOURNEY ESCAPE 1981 Rock

127 CHRISTINA AGUILERA CHRISTINA AGUILERA 1999 Pop

128 JAY-Z BLUEPRINT 2001 Rap

129 ALICIA KEYS DIARY OF ALICIA KEYS 2003 R&B

130 SOUNDTRACK: O BROTHER, WHERE ART THOU? 2000 Soundtrack

131 CARS THE CARS 1978 Pop

132 ENYA DAY WITHOUT RAIN 2000 Adult Contemporary

133 NATALIE COLE UNFORGETTABLE: WITH LOVE 1991 R&B

134 SOUNDTRACK: FOOTLOOSE 1984 Soundtrack

135 LIONEL RICHIE CAN'T SLOW DOWN 1983 Pop

136 SARAH MCLACHLAN SURFACING 1997 Adult Contemporar

137 BONNIE RAITT NICK OF TIME 1989 Rock

138 METALLICA RIDE THE LIGHTNING 1984 Rock

139 SHERYL CROW TUESDAY NIGHT MUSIC CLUB 1993 Pop

140 FRANK SINATRA IN THE WEE SMALL HOURS 1954 Standards

141 EARTH WIND & FIRE GRATITUDE 1975 R&B

142 ZZ TOP ELIMINATOR 1983 Rock

143 WILLIE NELSON RED HEADED STRANGER 1975 Country

144 JOHN LENNON IMAGINE 1971 Rock

145 TONI BRAXTON TONI BRAXTON 1993 R&B

146 ETTA JAMES AT LAST 1961 Blues

147 ELVIS PRESLEY ELVIS PRESLEY 1956 Rock

148 CAT STEVENS TEA FOR THE TILLERMAN 1970 Pop

149 SMASHING PUMPKINS MELLON COLLIE & THE INFINITE SADNESS 1995 Rock

150 DAVE BRUBECK TIME OUT 1959 Jazz

151 JANET JACKSON JANET 1993 R&B

152 QUEEN A NIGHT AT THE OPERA 1975 Rock

153 OZZY OSBOURNE BLIZZARD OF OZZ 1980 Rock

154 WILL SMITH BIG WILLIE STYLE 1997 Rap

155 PRINCE SIGN O' THE TIMES 1987 Pop

156 PUBLIC ENEMY IT TAKES A NATION OF MILLIONS TO HOLD US BACK 1988 Rap

157 BOB DYLAN BLOOD ON THE TRACKS 1975 Rock

158 GEORGE MICHAEL FAITH 1987 Pop

159 BOYZ II MEN COOLEYHIGHHARMONY 1993 R&B

160 DESTINY'S CHILD WRITING'S ON THE WALL 1999 R&B

161 JAY-Z THE BLACK ALBUM 2003 Rap

162 AVRIL LAVIGNE LET GO 2002 Pop

163 FUGEES THE SCORE 1996 R&B

164 MADONNA LIKE A VIRGIN 1984 Pop

165 LED ZEPPELIN LED ZEPPELIN 1969 Rock

166 STEVIE RAY VAUGHAN TEXAS FLOOD 1983 R&B

167 STONE TEMPLE PILOTS CORE 1992 Rock

168 ORIGINAL CAST: PHANTOM OF THE OPERA 1988 Cast Album

169 JETHRO TULL AQUALUNG 1971 Rock

170 TUPAC ME AGAINST THE WORLD 1995 Rap

171 DAVID BOWIE THE RISE AND FALL OF ZIGGY STARDUST 1972 Rock

172 SHAKIRA LAUNDRY SERVICE 1998 Pop

173 SOUNDTRACK: FORREST GUMP 1994 Soundtrack

174 AL GREEN CALL ME 1973 R&B

175 CURTIS MAYFIELD SUPERFLY 1972 R&B

176 LIVE THROWING COPPER 1994 Rock

177 GEORGE BENSON BREEZIN' 1976 Jazz

178 WHITE STRIPES WHITE BLOOD CELLS 2001 Rock

179 LYNYRD SKYNYRD PRONOUNCED LEH-NERD SKIN-ERD 1973 Rock

180 SADE DIAMOND LIFE 1984 Adult Contemporary

181 FLEETWOOD MAC FLEETWOOD MAC 1975 Pop

182 PAUL MCCARTNEY & WINGS BAND ON THE RUN 1973 Rock

183 BEYONCÉ DANGEROUSLY IN LOVE 2003 R&B

184 ANITA BAKER RAPTURE 1986 R&B

185 NAS ILLMATIC 1994 Rap

186 BARBRA STREISAND A STAR IS BORN 1976 Soundtrack

187 EARTH WIND & FIRE THAT'S THE WAY OF THE WORLD 1975 R&B

188 ANITA BAKER RHYTHM OF LOVE 1994 R&B

189 JAY-Z IN MY LIFETIME VOL. 1 1997 Rap

190 LL COOL J MAMA SAID KNOCK YOU OUT 1990 Rap

191 STEELY DAN AJA 1977 Rock

192 WILLIE NELSON STARDUST 1978 Country

193 ARETHA FRANKLIN SPARKLE 1976 R&B

194 ANDREA BOCELLI ANDREA 2004 Classical

195 BOB DYLAN BRINGING IT ALL BACK HOME 1965 Rock

196 LUTHER VANDROSS NEVER TOO MUCH 1981 R&B

197 U2 ALL THAT YOU CAN'T LEAVE BEHIND 2000 Rock

198 RUSH 2112 1976 Rock

199 OUTKAST AQUEMINI 1998 R&B

200 GRAND FUNK RAILROAD WE'RE AN AMERICAN BAND 1973 Rock
Liz Hurley weds Arun in private ahead of castle celebration
Saturday, March 3 2007
Elizabeth Hurley's new husband Arun looked relaxed ahead of the star-studded celebrations on March 3, 2007 as he arrived at Sudeley Castle in a blue Bentley.
The couple, who began dating in 2003, secretly tied the knot in an intimate civil ceremony at Sudeley Castle, in Gloucestershire, in front of just two witnesses.

By 4.30pm on March 3, 2007 some of the newlyweds' celebrity guests including Elton John's partner David Furnish and actress Patsy Kensit had started arriving at the 15th-century stately home, which is steeped in history and royal connections. They were there to attend a religious blessing for the couple in St Mary's Church - a small chapel in the castle's picturesque grounds - conducted by the Reverend John Partington.

Elizabeth, 41, and the entire bridal party have been dressed in Versace for Saturday's traditional English celebrations. Oxford University-educated textile heir Arun, 42, was to be supported by younger brother Nikhil as his best man while Elizabeth's four-year-old son Damian, from a previous relationship with Hollywood producer Steve Bing, was said to be acting as ring-bearer. Not one to do things by halves, Elizabeth is reported to have five bridesmaids and ten pageboys including Elle Macpherson's son Cy.

The Estee Lauder model's mother, Angela, is hosting the glamorous black tie affair following the service. Guests will enjoy a four-course feast and vintage champagne before hitting the dance-floor in a specially-erected marquee. Elizabeth and Arun are then to board a flight to Mumbai on Sunday to continue the festivities in India which will include a traditional Hindu wedding ceremony in Rajasthan.

It is the first time up the aisle for Elizabeth and second-time round for Arun who was previously married to Italian model Valentina Pedroni.
UPDATE: Rumours about Elton's Birthday Concert
Friday, March 2 2007
Elton's 60th show at Madison Square Garden on his 60th birthday, March 25, 2007, seems to include some special treats for his fans.
Rumour has is that Elton and the band are rehearsing some songs less often performed live for the show.

According to Adam Chester (www.adamchester.com), who is sitting in for Elton during band rehearsals, Elton is planning to perform songs he hasn't played live in decades. These include "Ballad Of A Well Known Gun", "Where To Now St. Peter", and "Madman Across the Water".

In total, 34 songs are currently being rehearsed for the birthday show.

Furthermore, it is likely that a second show will be added. However, the date is unclear at this point in time as The Garden is booked on March 23, 2007 (Christina Aguilera), as well as on March 26, 2007 for a Knicks game. The Elton John birthday party is said to be on March 24, 2007, so that's not an option, and Elton is scheduled to be back on stage in Las Vegas starting on March 27, 2007. Unless the second show will be at another venue there seems to be no room for that.



Row over Elton's Highland festival clash
Thursday, March 1 2007
The organisers of an annual island music festival have been angered by what they see as "artificial" competition this year from a one-off gig by Elton John which is being staged as part of the Highland Year of Culture.
Elton has been booked to play at the Caledonian Stadium in Inverness on July 5, 2007, in what many regard as a huge coup for the 2007 programme.

But those behind the Hebridean Celtic Festival in Stornoway from July 11-14, 2007 say the Elton John concert will take away some of its audience while doing nothing for culture in the Highlands.

The Hebridean festival, now in its 12th year, will be headlined by The Proclaimers, who will be joined on the bill by the Irish band Moving Hearts, featuring original members Davy Spillane and Donal Lunny, as well as artists from Scotland, Spain, Canada and Turkey. Organisers say it will be a "truly cultural festival, unlike some of its one-off competition".

Caroline MacLennan, the festival director, said: "We are dedicated to bringing live music to the Outer Hebrides and developing a positive and long-term legacy for Celtic culture in the Highlands and Islands. Despite increased competition for audiences this year as a consequence of Highland 2007, we believe our line-up, combined with our continued family events and wider community-based projects, will prove popular with our audiences from around the world."

A festival source, who asked not to be named, said: "Highland 2007 is supposed to be a celebration of Highland culture. However, despite assurances that the organisation would not use taxpayers' money to set up artificial competition for existing festivals, they have done exactly that. As a consequence, there is not a level playing field, and millions of pounds will now go out of the Highlands this year, rather than be used to develop the region's cultural roots."

Fiona Hampton, director of Highland 2007, said: "We wanted a headline artist that would send the message out across the UK and the world that we can put on fantastic big events in the Highlands and Islands. So when we got the opportunity to host Sir Elton John in Inverness we thought 'fantastic'.

"It was never on our radar that Sir Elton John playing the Caledonian Stadium would affect any of the existing festivals, especially something as well established as Heb Celt. We just thought they were totally different audiences and did not perceive there to be any conflict or negative impact."