ELTON JOHN NEWS ARCHIVE: March 2004
"Lunch Around The World" in Mexico
Wednesday, March 31 2004
Report by Patty Perrín about "La Dama de Negro" theatrical performance for the Elton John AIDS Foundation on March 28, 2004.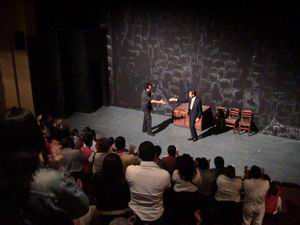 Being a British play (written by Susan Hill) and performed in Mexico was the perfect combination to collect money for the Elton John AIDS Foundation.

"La Dama de Negro" ("The Woman in Black") is also on stage in London at the Fortune Theatre by this moment, and in Mexico has been performed since February 17, 1994; so it is the most succesful play in our country. The performance for the EJAF was number 2254.

Germán Robles and Rafael Perrín did, as always, an incredible work, but this time, surely because they knew they were helping people suffering HIV/AIDS, the performance was particulary emotived.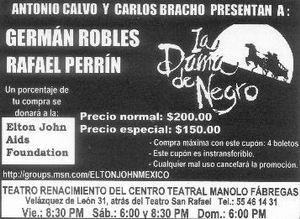 The Renacimiento Theater got an amazing audience (more than 200 persons were gathered to watch this play and contributed with the Foundation. A percentage of each ticket will be send to the EJAF).

Theater lovers and generous people who attended, gave an standing ovation to the actors at the end of the performance and "shouted a lot" in a lot of scenes (this is a terror play). And it is nice to say that not only people from Mexico City helped this cause. Persons from other places of our country also contributed.

It was important for us to inform the people the work of the EJAF (we did so with printed information that was distributed to the audience). That was very useful to make understand them how neccesary was to help this fight and they were happy to know that also Latin America countries receive benefits.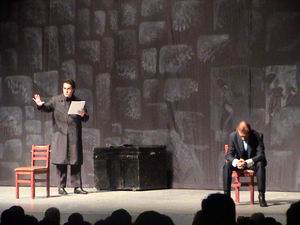 Rafael Perrín (who is one of the actors of the play and also its director, and by the way, my brother), mentioned at the end of the performance how proud he was that "La Dama de Negro" was now vinculated with the Elton John AIDS Foundation and he was happy to see that mexican people could do something for an English Foundation because an English play means for him and a lot of families (all the theater company) food and work for ten consecutive years (from 1994 to 2004). He also remarked that the Elton John's sensibility wasn't only in his musical activities (he's a huge fan of the "Aida" musical) but also in his personal life, helping a lot of people in need. He and Germán Robles thanked the audience for contributing to this effort, which was very moved for everybody.

It's still soon to know exactly how much money was collected for the EJAF, (because of taxes, actual ex-change etc.) but I'm pretty sure we obtained more than our last year contribution (in 2003 we sent 6,500 mexican pesos, which means around 590 dollars these days), but I promise that as soon as I know it exactly, I will inform you with precision how much it was.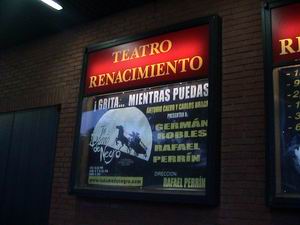 By the moment, I will really like to say thanks to ALL "La Dama de Negro" theater company: Antonio Calvo and Carlos Bracho (Producers), Rafael Perrín (Producer, Director and Actor); Germán Robles (Prestigious Actor); Guillermo Wiechers, Juan Torres and Mónica Galarza (Assistant Producers), thanks Juan for the photos for this report! Lupita Carcaño and Irmita González (Actors Delegation), ALL the technicians and my mom for being always by my side in the special moments.

And yes, thanks to the Elton John AIDS Foundation for let me contribute a little bit with them, and of course to Nancy Case for her incredible idea of the "Lunch Around the World" events. Ooh ...and why not? ... Thanks also to the phantasmagoric "Woman in Black"!
Colosseum to be renamed
Wednesday, March 31 2004
Due to the huge success of Elton's "The Red Piano" show at Caesars Palace Colosseum in Las Vegas, the proprietors of the casino announced to rename the venue Eltoneum.
According to a press release by Caesars Entertainment, Inc. there will be press conference today, April 1, 2004, 2.00 pm, at Caesars Palace.

Elton is reported to be present at the event to accept the accolade at Emperors Ballroom on the 4th floor of Palace Tower. He has a day off today, having just finished the 15th show of the popular "The Red Piano".

Sorry, this was as an April Fool's joke ... don't shoot us!
See "The Red Piano" and meet Elton
Wednesday, March 31 2004
Las Vegas based radio station Kool 98.5 FM is giving away a pair of tickets for Elton's 10.30 pm "The Red Piano" show on April 3, 2004 with a chance to meet Elton before the show.
Additional prizes include merchandise from the new Elton John store at Caesar's Palace as well as "The Red Piano" programmes.



All you have to do is to identify the two Elton John songs in which you can find "Caeasars Palace". In other words, there is one song with the term 'Caesar's' in the lyrics, and one Elton John song that contains the term 'palace'.

Pick either of those two songs, call +1 (702) 447-6530 (answering machine) and sing the chorus of that song. Don't forget to also leave your full name and e-mail address! Deadline is April 1, 2004, 12.00 noon Las Vegas time.

We entered the competition earlier today and couldn't find any hint that it is only available to US residents which is often the case with competitions like this one. So don't hesitate to call from all over the world!

If you are having trouble identifying the two songs, here's a hint: There is a great search tool on www.eltonography.com! Good luck!

Sorry, this was as an April Fool's joke ... don't shoot us!
Rock 'n' roll Immortals
Thursday, March 25 2004
50 rock stars are enshrined in "The Immortals," the first of three special issues of the Rolling Stone this year to commemorate the 50th anniversary of rock 'n' roll. The magazine, which arrives on newsstands on March 26, 2004, toasts the genre's 50 greatest artists of all time in testimonials by such admirers as Lou Reed, Eddie Vedder, Tom Petty, Paul Simon and Elton John.
Buddy Holly, Otis Redding, Janis Joplin and Kurt Cobain all died in their 20s, but they will live forever in the hearts and stereos of rock fans, according to Rolling Stone.

Votes were cast by industry honchos (BMG's Clive Davis), movie figures (Quentin Tarantino), critics (MTV's Kurt Loder) and a variety of colleagues, including Pete Townshend, Chuck D, Smokey Robinson, Dr. John, Bruce Springsteen, Jackson Browne, Carlos Santana, Bo Diddley, Neil Diamond and members of the Beastie Boys, Linkin Park and The Strokes.

Elton John appears on #49 (article written by Billy Joel). He has also written the piece for Stevie Wonder who is on #15.
Happy Birthday, Elton!
Thursday, March 25 2004
Elton turns 57 today, March 25, 2004. It looks like he will be celebrating in his "new home" in Las Vegas, where he has a day off from performing "The Red Piano".
On behalf of all Elton John fans worldwide, the members of the fan club and the team of Hercules, we would like to wish him all the best, lots of presents and the strength to carry on for many, many years to come.

Happy Birthday, Elton!
Elton to record with Catherine Britt
Sunday, March 21 2004
Elton John will record a duet next month with teenage Newcastle country singer Catherine Britt.
He confirmed last week the pair will sing together on the ballad "Where We Both Say Goodbye", a song co-written by the 19-year-old Britt.

"I just got an e-mail from Elton's e-mail person," Britt said. "I knew we were going to do a duet, but I thought it would be one of his songs."

"He asked me to send some songs of mine, so I sent him two originals, and he's ended up choosing one of them to record."

"For him to turn around and respect my songwriting, I can't really comprehend that. It is going to be really cool for me to hear him singing my song."

The knight and the girl from Knights territory were introduced in Sydney in 2002 after John heard, and was impressed by, Britt's debut album, "Dusty Smiles And Heartbreak Cures".

After meeting backstage at the Sydney Entertainment Centre, they kept in touch via e-mail. Britt described "Where We Both Say Goodbye" as: "A really sad song, where they both say goodbye - it's a typical country love song."



Elton supports Catherine Britt
Thursday, July 31 2003 at 04:33:45


Elton John piano up for auction
Sunday, March 21 2004
Sir Elton John's 1910 A-Day Upright Piano is up for auction at the Dallas Market Hall on April 17 & 18, 2004.
This is the piano used by Elton John and Bernie Taupin to write more than 100 songs, including "Your Song," "Tiny Dancer," and other classics. It is pictured on the back of the American version of Elton's "Empty Sky" album. John and Taupin autographed it when they gave it as gift of appreciation to documentary photographer, Bryan Forbes, in 1972.

The inscriptions read: "To Bryan and Nanette, Sarah and Emma with love, Elton John, May 31, 1972, original piano, lots of success with it." And, "Within this piano lays the ghost of a hundred songs. Take care of them, they love you. God Bless from the one who writes the words, Bernie Taupin."

Two decades later, Elton put another inscription on the face of the piano: "May 1991 - 19 years later. 3 children, 1 hysterectomy, 25 lawsuits, 1 marriage, 751 cats and countless boyfriends is free. Send you both my Love, Elton John."

Also up for auction is a White Jumpsuit, featuring the word 'ELTON' on the back. It was most famously worn by Elton at his Madison Square Garden show on Thanksgiving 1974. This was the night John Lennon accompanied him onstage for several songs on what would be Lennon's last live concert appearance.

For the last two years the piano and jumpsuit have been on display in the Rock & Roll Hall of Fame Museum. Elton John was inducted into the Rock & Roll Hall of Fame in 1994.

Both are featured items from the Tom Fontaine Music Memorabilia Collection.
Anastacia is back stronger after breast cancer
Sunday, March 21 2004
Although she had a shoirt relationship two months after her surgery, Anastacia has been single during her illness and recovery, but the support of family and friends such as Elton John played a major role in her getting well.
Just over a year ago, Anastacia faced the fight of her life when she was diagnosed with breast cancer. The 30-year-old Chicago-born blonde, a little lady with a big heart and an even bigger voice, had taken the world by storm with two multi-million selling albums, "Not That Kind" and "Freak Of Nature". She had lived with Crohn's disease since her teens, fought her way to global superstardom after years of obscurity, and was the epitome of the strong-minded independent woman.

Then, during preparation for a breast reduction operation in January 2003 - she attributes years of back pain and slipped discs to her large bust - cancer was discovered.

"I felt I had more love than ever from so many people during my illness," she smiles. "EJ is my Fairy Godmother - that's what he calls himself when he phones me up. He was phenomenal and was there with me every step of the way."

"Before I went into surgery he assessed and researched everything. He made me feel completely secure and comfortable with who I was going to see and what I was going into."

"Elton was great because he had more power than my mother to make all those phone calls to get all these great people. He didn't expect me to be in a great mood and that was cool too.

"Much later in my recovery, he called me and I was driving in LA with friends. I said, 'EJ, I'm feeling back to normal'. And he replied, 'Darling, you've never been normal'."

She laughs heartily at the memory, but it's not hard to see what Elton meant.
The Hot Pink Party
Sunday, March 21 2004
Elton and the band will be performing at the Hot Pink Party organized by the Breast Cancer Research Foundation (BCRF).
The event by which BCRF celebrates it's 10th Anniversary Spring Gala with a huge party will take place at New York City's Waldorf Astoria hotel on April 26, 2004.

See the BCRF website for more details.
Elton live in Vienna on June 13, 2004
Saturday, March 20 2004
Austrian grocery store Billa is celebrating its 51st birthday with a live concert of Elton John in Vienna.
The show will take place on June 13, 2004 at Ernst Happel Stadium. Tickets are reduced by 51 per cent - call 43 1 588 85 to order tickets by phone.

For more information (in German) see Billa's website.
LATW West Palm Beach raises $5,000
Thursday, March 18 2004
The West Palm Beach "Lunch Around The World" (LATW) - organized by LATW founder Nancy Case - raised $5,000.00 for the Elton John Aids Foundation, doubling the amount from last year.
Nancy Case reports:

The third annual LATW in West Palm Beach Florida was a smash hit! Mixed in was a bit of Philadelphia Freedom as Philadelphia LATW host Gary Yetter travel many miles to attend the West Palm Beach event.

Event day began with a tennis round robin, we had 24 players all of whom played their hearts out for three hours of Mixed Doubles, Mix and Match play. Play lasted three hours, weather was a bit overcast, and windy. The overcast part was no problem but the wind was another issue… carrying what ootherwise would have been an excellent shot out of the alley lines.

Our winners were (First place) Michael Montgomery, (Second place) Debbie Kershaw ,(third place) Jim Murphy and Sportsmanship award went to a lifelong friend and fellow tennis player Kate Sellwood.

Awards in order of placement were a Wilson Tennis Carrying Case , a large igloo cooler, a small igloo cooler and a gift certificate for a local record store. Everyone who played received a goody bag, filled with miscellaneous items.

Then it was on to the barbecue which was held at a private home a few blocks from the tennis courts. Most of those who played tennis did not attend the barbecue; so the crowd at the barbecue was different and a bit larger.

Approximately 50 adults and 15 or so children listen to lots of Elton, dined on elk, hamburgers, hot dogs, chicken, beans and the normal barbecue foods.

The silent auction included both Elton from a copy of Liz Rosenthal's "His Song", to an autographed photograph of Elton. To Non Elton related items ranged from an hour and half in house massage to a signed glass sculpture by artist David Gold Hagen.

There were 34 auction items in all. In addition, a small raffle was held, with items ranging from CDs to a gift certificate from Robb and Stucky, an interior design studio.

Paul Moore from Palm Beach County Health Department also joined us and informed us. He spoke about the most recent HIV/AIDS statistics both on a local, national and globally level. A special thanks to Paul for giving up his Sunday afternoon to speak with all in attendance
We wrapped up the evening and then it was counting time and we doubled our intake from last year's event!

Currently, with several pledges not yet in, we are at the $5,000 mark! A final exact number will follow in a week or so.

I would like to thank many friends who helped with this year's event, especially thank you to Bill and Rina Curtin for all the items they donated and to Gary Yetter for flying all the way down from Philly In addition there are many of my friends who are non rocket members who helped in one way or another so thank you to all of you, especially to Bob, my husband . Lastly, a very Happy Birthday to Elton!
Elton John is crazy about Sports
Wednesday, March 17 2004
Elton John is constantly on the phone with his mother from Las Vegas - to ask her for the sports results.
He is regularly calling Sheila to find out if his favorite soccer team Watford Football Club (FC) has won any of their matches, as he performs at Caesars Palace in the Nevada gambling capital.

Sheila says, "He's in Las Vegas but he'll be on the phone every 10 minutes. It drives me mad."

"He doesn't just want the football results; I have to know what is happening in cricket and rugby as well."
12th Rainforest Benefit Concert Line-up
Sunday, March 14 2004
The Rainforest Foundation announces its 12th Carnegie Hall Benefit Concert at 7pm, April 21, 2004 in New York. The list of performers include mainstays Elton John, James Taylor and Sting plus Antonio Banderas, Melanie Griffith, Billy Joel, Bette Midler and ...
Ellen Barkin, Ronald O. Perelman and Revlon will sponsor what the Guinness Book of World Records, Millennium Edition, has deemed "The Biggest Environmental Fundraising Event" in the world.

The theme is "Singin' in the Rain 'Forest': Great Songs from the Movies." According to Rainforest Foundation Co-founder and Concert Producer Trudie Styler: "The combination of some of the greatest performers of today and classic songs from the silver screen is going to result in a truly unforgettable evening for a cause that must never be forgotten."

The Rainforest Foundation was founded in 1989 by Trudie Styler and her husband, Sting. Over the past 15 years, the Foundation has been working with Indigenous peoples to help them assert their rights and make their voice heard. To date, the foundation has projects in rainforest countries in three continents and has raised over 19 million dollars to support its mission.

"In too many countries the voices of Indigenous people are still smothered by the darkness of intolerance and neglect. The threat to their home is part of a larger threat to the planet and our common future. While forests and its peoples are gaining greater global attention, deforestation and forest degradation are continuing at an alarming rate and Indigenous peoples' land and rights are at risk. Our work is more crucial than ever," comments Rainforest Foundation Fund Chairperson Franca Sciuto.

The concert will be the culmination of various awareness-building and fundraising events in New York known as "Rainforest Awareness Week." For more information, please click on www.rainforestfoundation.org.

A limited number of "good" concert only seats are available at $600 each as well as some "super" seats for $2,500 that include admittance to the post-show gala and dinner. For benefit ticket information, please contact Event Associates at 212-245-6570.



Update: Elton to perform at Rainforest concert
Friday, February 27 2004 at 05:14:16


Bear to Make a Difference
Friday, March 12 2004
A Celebrity Teddy Bear silent auction and reception benefiting the Matthew Shepard Foundation on March 20, 2004 also includes a bear autographed by Elton John.

This event will take place on March 20, 2004 at the beautiful Westin Tabor Center Hotel Grand Ballroom in Downtown Denver.

For more information see http://www.matthewshepard.org/bears/. You can also bid online at http://www.matthewshepard.org/bears/gallery.html
Watch this!
Wednesday, March 10 2004
The Elton John AIDS Foundation just can't quite get rid of that pricey Chopard watch.
On Oscar night in West Hollywood, Star 94 personality Vikki
Locke won the Sir Elton-designed timepiece valued at $3,320. Locke brought the item home with her, and held an on-air auction.

A Boston woman in Atlanta on business who wishes only to be identified as Wendy had the winning bid of $10,000. She then promptly turned around and re-donated the watch back to the AIDS foundation.

"The generosity of people never fails to flabbergast me," Star 94 General Manager Mark Kanov told Buzz after the auction. Meanwhile, EJAF-Atlanta board member Barron Segar tells us the watch will now be autographed by the pop star and auctioned "within the next 30 days" on eBay with the proceeds going to the charity.

Segar has also been in touch with the Star 94 listener who unsuccessfully bid $9,500 on the watch. Segar now plans to hit Chopard up for another watch so the EJAF can reward both Elton fans.



Exclusive watch from Elton's Oscar Party
Tuesday, March 2 2004 at 04:34:14

Report: Elton's annual Oscar Party
Monday, March 1 2004 at 12:29:11


Live Aid Concert Set For DVD Release
Wednesday, March 10 2004
The historic Live Aid concert is to be released on DVD after chief organiser Bob Geldof discovered pirate copies were being sold on the internet.
Geldof hopes it will raise "a few million pounds". Its release is planned for Christmas - almost 20 years after the event. Live Aid was held in the summer of 1985, primarily at London's Wembley Stadium and in the US, at JFK Stadium, Philadelphia.

It took place six months after the single "Do They Know It's Christmas?" was released, raising £8m. The live 16-hour broadcast instantly raised £80m for African famine victims.

Organisers have now decided to auction the rights of Live Aid, which has never been made available on either video or CD.

The successful bidder will have to get the permission of all performing artists, who included U2, Madonna and Sir Elton John.
"Queer Eye for the Straight Guy" Soundtrack
Tuesday, March 9 2004
Despite earlier rumours (see related news), there is no new Elton song on the album, but 'only' the well-known "Are You Ready For Love".
The complete track lists reads as follows:


Widelife with Simone Denny "All Things (Just Keep Getting Better)"

Basement Jaxx featuring Lisa Kekaula "Good Luck"

Kylie Minogue "Slow"

Junior Senior "Move Your Feet"

In Grid "You Promised Me (Tu Es Foutu)"

Jamelia "Superstar"

Fischerspooner vs. Billy Squier "Everybody Wants You To Emerge"

Duran Duran "Sunrise"

Sting "Never Coming Home"

Prophet Omega "An Area Big Enough To Do It In"

OK Go "You're So Damn Hot"

Liz Phair "Extraordinary"

Elton John "Are You Ready For Love"


Check out the Official Queer Eye Music Player to listen to these songs. More infos can be found at the Official Queer Eye of the Straight Guy site.



New song: "Run For Love"
Thursday, November 27 2003 at 05:42:38



Elton John fans feel the love tonight
Monday, March 8 2004

Hundreds brave drizzly weather to get tickets for Arena show in Bridgeport, CT.

There were more people waiting in line early March 6, 2004 morning to buy Elton John tickets than people in the audience the last time he played here, more than 30 years ago. There were more than 200 people waiting when the Arena at Harbor Yard box office opened at 10 a.m., five hours after the first die-hard fans arrived.

Among them was Bruce Gerstman of Trumbull, who was at a fall 1973 appearance by John at Sacred Heart University. "He was supposed to play in the gym, but there was a hurricane and only about 125 people showed up. So they moved the show to the cafeteria," Gerstman recalled.

"He was there right after his first album, with 'Your Song' came out, and Nigel Olson was with him. They played for two hours, all original stuff," he said. "They would jam, with a lot of piano and guitar solos."

Among the eight tickets the Trumbull resident was holding by 10:15 were seats in row AA, on the floor. "They are a little to the side, but they're great seats," he said. "I'll keep what I want and sell the rest."

Dorothy and Anthony Cook of Easton were the first to the window, although when they arrived shortly after 6 a.m. they were assigned bracelet number 54. Shortly before tickets went on sale, arena staff held a lottery to select the first several people in line, and the Cooks came out on top.

"I started screaming," Dorothy Cook said. "I've liked his music all my life." Her favorite Elton John song? 'Don't Let The Sun Go Down on Me." Anthony Cook was calmer, but still beaming as he clutched their tickets. The latest high profile concert booked at the Arena "is the best thing to happen to Bridgeport," he said.

The ages of people in line ranged from teens to 60ish, all of them agreeing it was worth getting up early on a rainy Saturday to snag seats for the April 27, 2004 show.

Brothers Tim and Bill Olender of Stratford admitted they are more into the big hair bands of the 1980s. "But we like classic rock and '70s stuff too," Tim said. His favorite Elton John song is 'Tiny Dancer'. We got here at 6:45 and we got number 91," Bill said. "But we got pretty good seats."

Joan Penkoff of Trumbull said she and her husband came to the Arena box office because their friends urged them to. "He didn't know who Elton John was an hour and a half ago," Penkoff said of her husband, who stood distractedly nearby.

Although they haven't seen "Aida" on Broadway, they have seen the "Lion King" musical twice. "Can you feel the love tonight?" Penkoff sang. Anne Fers of Trumbull, who was given number 31 at 6 a.m., said she felt the lottery for positions in line was a good idea. "It's to get around scalpers," she confided. "Otherwise they'd drop off a busload of people. But they should guarantee everyone in line tickets, and they won't," Fers said. She has seen Elton perform before, several years ago at the Trump Plaza in New Jersey. "He's awesome. Every song is a hit," the Trumbull resident said.

Kathy and William Brooks of Bridgeport were part of a group that staggered its arrival times, so they stood about 20 minutes apart in line. "We did it right," Kathy Brooks said as the group divvied up the ducats. "I saw him at the Meadowlands and there was just one song I didn't recognize; that was a duet with Billy Joel."

Kathy and Bill are 11 years apart, and they both are big Elton John fans. They both agree on the best album the British glam-rocker turned out was "Goodbye Yellow Brick Road."

People who met in line chatted animatedly and promised to hook up again at the show. With intermittent drizzle spritzing them, arena staff opened the lobby and threaded the line through it.

Elton adds another Las Vegas show
Monday, March 8 2004

Elton John is said to be thrilled at how his Caesars Palace engagement is progressing.

He just added another show -- a 10:30 p.m. performance on April 3, 2004 -- simply because he felt like it, and is apparently not getting any extra bucks for it.

"He is enjoying the Vegas lifestyle -- shopping and playing tennis, and then taking the elevator down to go to work," a source close to Sir Elton said.

What's not to like? During his Vegas stay, Elton is enjoying a renovated Caesars penthouse suite that was redecorated to his specifications at a cost of nearly $1 million.

See Tour News for more tour dates.




"The Red Piano" - 6 of 91
Saturday, February 28 2004 at 07:08:56

Just bricks and stones to give them ...
Friday, February 20 2004 at 03:57:55



"The Heart Of Every Girl" popular in Germany
Sunday, March 7 2004

Since February 2004, Elton's song "The Heart Of Every Girl" has been extremely popular in the audience charts of German radio station WDR, which is one of the largest in the country.

The song from the "Mona Lisa Smile" soundtrack has been on number 1 for the past few weeks, i.e. it received the most calls from listeners.

That way, Elton's hit is more popular than charbusters such as Nelly Furtado's "Powerless" or Limp Bizkit's "Behind Blue Eyes".




DVD release of "Mona Lisa Smile"
Friday, January 16 2004 at 14:39:42

The Heart of Every Girl
Saturday, November 8 2003 at 08:15:18



Elton performed at benefit show in Vancouver
Sunday, March 7 2004

Elton John electrified a Vancouver benefit concert singing "Tiny Dancer" and bidding against fans for a diamond cross before the show on March 5, 2004.

He performed with jazz diva Diana Krall and her rocker husband Elvis Costello, helping raise $810,000 for a local leukemia program.

By the time ticket sales and the proceeds of a splashy auction were tallied the trio had ripped past their goal of raising $350,000 for the hospital that treated Krall's late mother.

Wearing a black Vivienne Westwood gown and sparkling Manolo Blahnik heels, Krall was floored by the generosity. "People were quite choked up and there were lots of hugs. Diana looked absolutely elated, she looked so happy. It was really special night for her," said spokeswoman Michelle Welygan.

"You could feel it in the air, there was a lot of love in the room and it was nice that it was so small and intimate and we had these three huge performers."

The benefit for Vancouver General Hospital was a tribute to Krall's mother who died of leukemia in May 2002. Adella Krall's courage was mentioned a number of times throughout the show while the siren's sister and dad sat in the audience.

Elton told the crowd supporting her and Costello at the show was an absolute must for him. "It was through Diana I met Elvis. They're two of the sweetest and most precious friends we have," he said.

Elton promised to donate a large part of the proceeds on any future concerts he plays in British Columbia to Krall's leukemia fund. She joined him on stage during the more than two-hour performance to sing "Love Letters". Costello came out and the trio capped off the night with a rendition of "Makin' Whopee".

Tickets for the performance ranging in price from $550 to $1,000 and sold out in two days. A week ago, the final pair of passes to the concert were auctioned for $5,500 on eBay. The same couple that snapped those up also laid down $22,000 for one of John's Versace suits, a pink and black number, in the pre-show auction.

It was held in a posh room at Vancouver's Fairmont hotel where cocktails and dinner were served before the stars began singing.

Elton caused quite a stir during the auction, agreeing to play "Tiny Dancer" in return for a $50,000 donation for a pair of tickets to the annual White ball he holds at his London home.

Since 1998, Krall has held concerts raising over $500,000 for the leukemia program. The money has gone towards medical equipment and assisting out-of-town patients. There were only 600 seats at this latest blockbuster - the first since her mom's death - giving fans a chance to see the performers up close.

Money raised from the show will go towards outfitting a new out-patient centre at Vancouver General, which has become internationally recognized as a leading centre for treatment and clinical research.




Diana Krall, Elvis Costello arrive in Vancouver to play benefit with Elton John
Friday, March 5 2004 at 06:26:36



Diana Krall, Elvis Costello arrive in Vancouver to play benefit with Elton John
Friday, March 5 2004

Diana Krall said she hasn't figured out a song list for the concert she's playing on March 5, 2004 with her rocker husband Elvis Costello and her friend Elton John.

The plan is to be spontaneous at the intimate benefit in celebration of her late mother and play old songs that make people happy. "The music is the last of my concerns almost. I'm just going to be completely in the moment, hope I don't break the heel off my shoe," the jazz siren told a press conference on March 4, 2004 with Costello at her side.

"It's about continuing on after very tough couple of years with a positive light and my mother whispering in our ear. It's a fantastic thing to feel and maybe shut the door, you know."

Krall is hosting the concert as a way of thanking leukemia program workers at Vancouver General Hospital who cared for her late mother, Adella, who died in May 2002.

This benefit - the first since her mom's death - will be held on March 5, 2004 at the Fairmont Hotel Vancouver. There are only 600 seats, sold exclusively to patrons of the leukemia program, giving fans a chance to see the performers up close.

"It's not often you get to see Elton John in a hotel ballroom," remarked Elvis Costello.

Krall said it was very important to Elton, who opened his home up to the couple for their wedding, to take part.

"We saw him last summer and he said 'Diana, let's set a date for the benefit. I can do it March 5, I've got a window.'

"He's very committed to things that are important, he's very generous and he's been a dear friend to us."

Elton John, along with Costello and Krall, could easily have raised more money by playing a larger venue but Krall said they wanted to make sure the focus - celebrating love and fighting disease - wasn't lost.




Elton John to attend Vancouver hospital fundraiser
Saturday, January 17 2004 at 13:45:35

Woodside wedding
Monday, December 15 2003 at 15:41:28



Elton tops Billboard Boxscore Charts
Thursday, March 4 2004

His first eight "The Red Piano" shows at Caesar's Palace Colosseum in Las Vegas brought Elton a #1 position in the charts of top concert grosses with gross sales of $6,415,950.

The sold out shows with ticket prices at $250, $175, and $100 were attended by 32,682 people the nights of February 13-15, 17-18, and 20-22, 2004.




Update: Kiss the Groom(s)
Wednesday, March 3 2004

Elton says he's on track to wed longtime partner David Furnish. When Parliament makes it possible, Elton John says, he and and David Furnish will be getting married in England.

Like Rosie O'Donnell and Kelli Carpenter and hundreds of other gay couples in recent weeks, Sir Elton told the Daily News exclusively that he and his beloved are going to wed.

"I was on the fence about it for a while," he said. "I've been married before. I thought, why would I want to get married again?"

That more traditional marriage ended when the pop legend divorced Renate Blauel in 1988.

Elton added that it was President Bush's proposed constitutional amendment outlawing gay marriage that was the final push down the aisle he needed.

"I'm totally for it," Elton told us. "In this day and age, if people who want to make a life commitment can't have protection, then we live in a pretty sick world."

Since he's a British citizen, Elton says, he and the Canadian-born Furnish want to get married in England. They are waiting for a current Parliamentary measure on civil unions to come into law.

"We're definitely going to do it when it gets passed," he says. "I would like to commit myself to David. I already have in my mind anyway."

Elton, 56, and Furnish, 40, have been together for 11 years. London's Observer called the pair "the most conspicuous gay couple in the world."

In Las Vegas this past Valentine's Day, Elton released gigantic inflated roses to show his love for Furnish at Caesars Palace at the launch of his three-year concert series there.

Chances are the wedding party will include their cocker spaniel, Arthur, who scurried down the red carpet at the InStyle benefit for Elton's foundation in a collar adorned with a diamond Oscar statue. But so far the singer's mum on whether there'll be a prenup, which Rosie and Kelli
O'Donnell decided not to do.

Update: Meanwhile, Elton said that while he supports same-sex marriage, reports are untrue that he plans to wed his longtime partner, David Furnish.

"David and I are in favor of gay marriage but have no plans to get married," Elton said in a statement on March 3, 2004.

Exclusive watch from Elton's Oscar Party
Tuesday, March 2 2004

Vikki Locke of Atlanta's Star 94 was in Hollywood attending the Oscars and hanging out at the "Elton John In Style Magazine party".

She had lots of great stories to tell on March 1, 2004 as she reported, "live" from Hollywood.

Vikki also won a special watch given away at the Elton John party because she correctly predicted all the Oscar award winners correctly. The pink watch is surrounded in diamonds and is valued at between $10,000 and $50,000.

The exclusive watch will be auction off at a later date on STAR 94 with the proceeds going to the Elton John Aids Foundation. If you are in the Atlanta area, tune in oin March 2, 2004 in the morning as Vikki returns to the studio with more inside scoop on the Oscars and check the Star 94 website for all the pictures.




Report: Elton's annual Oscar Party
Monday, March 1 2004 at 12:29:11



Report: Elton's annual Oscar Party
Monday, March 1 2004

With the 76th annual Academy Awards coming in what passes for winter in Southern California, designer Stanlee Gatti decided to evoke "a tropical day" for Elton John's annual Oscar night gala.

Gatti transformed a West Hollywood parking lot into a lime-green tent with some 14,500 yards of Bengalian file silk. He used 4 1/2 miles of bamboo to line the tent. Greeting guests were two very large balls of anthurium plants.

Speaking of green, it cost $2,500 a ticket to attend the 12th annual Elton John/In Style benefit, with proceeds going to the Elton John Aids Foundation.

Elton himself began his evening by walking the carpet with partner David Furnish and Arthur, his beloved spaniel, who lapped up the paparazzi's attention.

Donald Trump and his girlfriend, model Melania Knauss, were escorted to their table and seated between Tony Bennett and "Las Vegas" siren Molly Sims and her actor boyfriend, Enrique Murciano.

The group dined on puree of tomato and roasted fennel soup and a salad of mache arugula and field of greens for starters, followed by grilled New York steak with roasted scallopini squash filled with potato and celery root puree.

Attendees dined under a blue sky canopy of silk and watched the awards on flat-screen televisions.

Elton worked the room in a black suit with a vibrant red shirt and tie.

Seated at his table were the Osbournes — Ozzy, Sharon and the kids; 16-year-old soul singer Joss Stone, who was invited to perform with Elton later in the evening; Nia Vardalos of "My Big Fat Greek Wedding"; and husband-and-wife country singers Faith Hill and Tim McGraw.

Also attending were singers Michelle Branch and JC Chasez and actors Allison Janney, Katie Holmes and John Stamos and Rebecca Romijn-Stamos. Mingling during an intermission were Carson Kressley from "Queer Eye for the Straight Guy" and newlyweds Dave Navarro and Carmen Electra.

To add to the benefit's take, guests could bid on a Bentley Continental GT, a hard-to-get $150,000 car considered the fastest four-door coupe in the world. It sold for $400,000.




British phenom to perform with Elton at his Oscar Party
Wednesday, February 18 2004 at 04:40:09

Elton's annual Oscar Party
Thursday, February 12 2004 at 13:57:17