ELTON JOHN NEWS ARCHIVE: February 2017
EJAF Oscar Party
Monday, February 27 2017
Singer Paul Janeway of St. Paul and The Broken Bones and host Elton performed during the 25th Annual Elton John AIDS Foundation's Academy Awards Viewing Party at The City of West Hollywood Park on February 26, 2017 in West Hollywood, California.
It may have been the film world's biggest night, but music's elite were also out in full force Sunday for one of the biggest and glitziest Oscar soirees in Hollywood: Elton's 25th annual fundraiser for his Elton John's AIDS Foundation, held at West Hollywood Park — just three blocks down the street from the Troubadour club, where Elton famously performed his first U.S. show in 1970.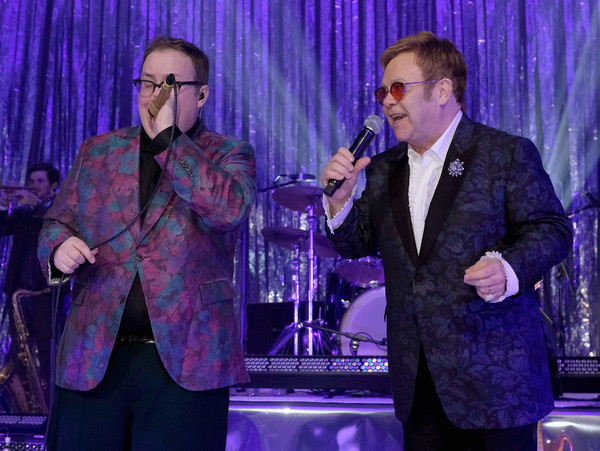 The EJAF event offered some of the most rockin' people-watching west of the Dolby Theater, with a guestlist that included a radiantly pregnant Ciara, Sting, Smokey Robinson, American Idol alumni Adam Lambert and Katharine McPhee, Laverne Cox, Russell Simmons, Scissor Sisters' Jakes Shears, Rufus Wainwright, Big Sean, Ryan Adams, Heidi Klum, Ruby Rose, Wale, Ashley Tisdale, Leona Lewis, Caitlyn Jenner, Pentatonix's Kirstin Maldonado, Jhene Aiko, Sharon Stone, Voice winner Alisan Porter, Earth, Wind & Fire legend Verdine White, and ex-Glee stars Lea Michele, Chris Colfer, Matthew Morrison, and Kevin McHale.

But the Alabama soul combo St. Paul & the Broken Bones, whom Elton introduced as one of his favorite bands, practically stole the show with their fiery private performance, the highlight of which was a surprise duet with Elton himself.

Elton — who in a statement said he was "absolutely delighted to welcome St. Paul & the Broken Bones to EJAF's Academy Awards Viewing Party; they are just amazing, fantastic musicians, and I know our guests will be thrilled by their performance" — joined the band onstage for their gender-bending song "I'll Be Your Woman," trading passionate vocals with ex-preacher-trainee-turned-frontman Paul Janeway. "You can't beat that s***," Janeway grinningly remarked afterwards. "You can't beat that."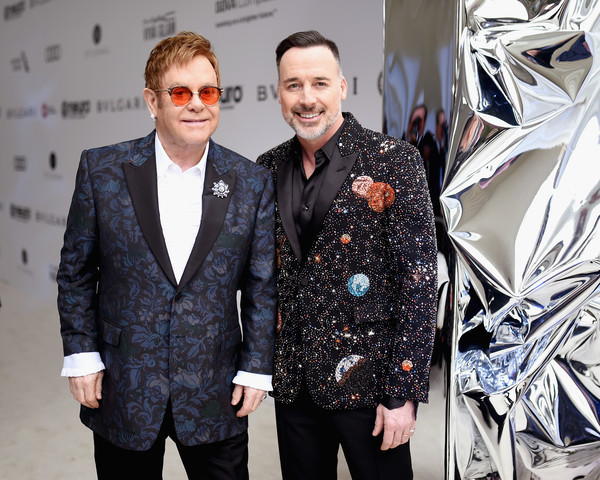 The other main attraction of the night was the live auction benefiting Elton's foundation; items for sale included a five-night stay at Aerosmith singer Steven Tyler's private Maui vacation home, an invitation to a special party at L.A.'s Hammer Museum celebrating Elton's 70th birthday and 50-year songwriting partnership with Bernie Taupin, and archival pigment prints of legendary photographer Norman Seeff's portraits of Carly Simon, Robert Mapplethorpe, and Patti Smith (pictured below). The auction — which took place immediately after the Oscar telecast, in which Warren Beatty and Faye Dunaway cringe-inducingly, accidentally announced that La La Land, not actual winner Moonlight, had won Best Picture — was cheekily introduced with Elton quipping, "Wow, I'm glad we didn't have Warren Beatty do the live auction!"
Council spends $300,000 to get Elton John
Thursday, February 23 2017
Cairns regional councillor Richie Bates claims the council is spending $300,000 to lure superstar Sir Elton John to the city later in 2017.
Cr Bates made the claim during the council's ordinary meeting on February 20, 2017. It was also revealed that the deal was so secret, it was only referred to as "Project X".

Only three councillors knew the technicolour crooner was bound for Cairns before his visit was announced on February 21, 2017 – Mayor Bob Manning, Deputy Mayor Terry James and cultural services committee chairwoman Cr Linda Cooper.

They were sworn to secrecy back in November 2016 by Tourism and Events Queensland, which is believed to have tipped in $600,000 to secure the shows, on top of the $300,000 each spent by the Cairns and Mackay councils. The announcement came as a shock to Cairns councillors, although the codename "Project X" raised suspicions.

"I realise it all came on very suddenly ... there had been a lot of work done behind it and a lot of discussion, but all kept confidential," Cr Manning told the meeting. The council's $300,000 contribution was also meant to be confidential. A slip of the tongue from Division 5 Cr Richie Bates, who was not party to the clandestine operation, blew the lid off the mystery spend.

Cr Bates was eager to welcome Elton to the Far North in September 2016, but he noted another festival requiring no council benefaction had been struggling for months to gain approval. The Grass is Greener dance music festival organisers are negotiating with the council over the use of Fogarty Park, with officials trying to shift them to Cannon Park after noise complaints.

"I think it's 5000-7000 people ... a third of those coming from out of town. It's not insignificant," Cr Bates said. "We've spent $300,000 on Elton John and the 12,000 people that will attract," he said. "That's a good thing. But let's not forget the other things that are going on, and let's throw some weight behind those, particularly when we're getting real value and real bang for buck out of them."

Cr Bates later admitted the $300,000 remark was a slip of the tongue but said it was bound to come out eventually. But why Cairns? More to the point: Why Mackay? "He has a habit, I hear from talking to the agents, of not going back to the same places," Cr Manning said. "So this tour was to involve four venues in Australia. Four of them are on the east coast."

The Rocket Man visited Townsville in 2007 and has ticked off the major capital cities in Australia.
EJAF will introduce new film The Promise
Thursday, February 23 2017
At the Elton John AIDS Foundation (EJAF)'s 25th annual Academy Awards Viewing Party to be held on Sunday, February 26, 2017, at West Hollywood Park, Elton and David will introduce Open Road and Survival Pictures' new film – The Promise – which tells the story of the Armenian Genocide in Turkey at the outset of World War I.
Written by Terry George and Robin Swicord and directed by Terry George (Hotel Rwanda), The Promise stars Oscar Issac, Christian Bale, and Charlotte Le Bon.

In addition to sharing EJAF's vision for championing human rights, The Promise team at Survival Pictures has taken the unprecedented step of making the commitment to donate all proceeds from the film to nonprofit organizations including EJAF and other human rights and humanitarian groups. As part of this commitment and to inspire Party guests to give generously, Survival Pictures will match the pledges guests make to EJAF via text and live auction purchases made during EJAF's Academy Awards Viewing Party with the goal of making this a record-setting evening. Read more here.

"Such giving has never happened with a film of this scale, and we are incredibly grateful," said EJAF Chairman David Furnish. "We are honored to announce this generosity, thanks to the late philanthropist and humanitarian Kirk Kerkorian, on the eve of EJAF's 25th annual Academy Awards Viewing Party. Not only is The Promise committing to support EJAF's work, but matching funds will be provided to inspire donors even more throughout the event and live auction."

Survival Pictures has also developed a social impact campaign for The Promise to help educate the global public about the genocides and mass atrocities of the 20th and 21st centuries, the debate about the legal definition of genocide, and historical denialism.


EJAF's 25th Annual Academy Awards Viewing Party
Wednesday, January 18 2017 at 19:26:13


Elton John FAQ: All That's Left to Know About the Rocket Man
Wednesday, February 22 2017
A new paperback will be published on August 29, 2017.
In a career spanning five decades, Elton John has sold over 250 million records worldwide and has appeared in nearly 4,000 live performances. Inducted into both the Rock and Roll Hall of Fame and the Songwriters Hall of Fame, the GRAMMY, Oscar, and Tony Award-winning singer-songwriter is the most successful solo artist Great Britain has ever produced and the third-most successful artist overall in American music history (behind only Elvis Presley and the Beatles).

"Elton John FAQ: All That's Left to Know About the Rocket Man" chronicles the music legend's entire career, from "Empty Sky" to "Wonderful Crazy Night". Beginning with his humble, and at times disheartening, childhood in the North London suburb of Pinner, readers are privy to the serendipitous meeting between Elton and lyricist Bernie Taupin, with whom he'd form a songwriting partnership that would ultimately rank alongside Lennon and McCartney in its success.

Investigating the highs and lows throughout each musical phase and sartorial change, the book underscores not only the talent behind the legend but the truth behind tales that are familiar only to diehard fans.
R.I.P. Alan Aldrige
Monday, February 20 2017
Chances are pretty good that the name Alan Aldridge won't register with you. But if you are a classic rock fan with a deep collection, you probably own an album or two whose cover he designed.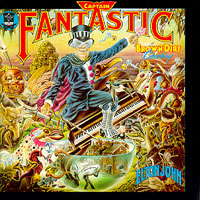 At just 23, Aldridge designed the front cover for the second album from The Who, 1966's "A Quick One", which contained Pete Townshend's mini opera of the same name. The pop art illustration depicts the young band's four members playing their instruments – or in Roger Daltrey's case, singing into a microphone. Never mind that the images don't really resemble Townshend, Daltrey, John Entwistle and Keith Moon ... the imagery was apt for the times.

Aldridge died on February 17, 2017, following a debilitating illness, at age 73. His death was announced by a daughter, Lily, herself a Victoria's Secret model who has appeared in Sports Illustrated's swimsuit issue, via Instagram.

Alan Aldridge also designed the cover for Elton John's 1975 album "Captain Fantastic and the Brown Dirt Cowboy".

Aldridge was born on June 1, 1943, in East London, and at 21 was hired by Penguin Books as their art director. He started his own graphic firm, INK, in 1968 amidst the vibrant London scene where art was meshing with the youthful rock 'n' roll culture. Among his other notable music oriented accomplishments was designing the now-iconic logo for the Hard Rock Cafe and two books of illustrated Beatles lyrics.
Elton John Sale
Sunday, February 19 2017
Check out my updated list of Elton John collectibles for sale.
You might have read in my Christmas post that I plan to "fade out" my fan club related activities after Elton's 70th birthday.

As part of that, I am also continuing to part with some items from my Elton John collection. Have a look at what's up for grabs at heimbecher.net/sale.

Take care, Stephan
Happy birthday, Nigel!
Friday, February 10 2017
Elton's drummer Nigel Olsson is celebrating his 68th birthday on February 10, 2017.
On behalf of the Hercules team and the Elton John fans all over the world, we would like to wish him a happy birthday!
Elton among curators of new experience vinyl subscription Service
Thursday, February 9 2017
Experience Vinyl, a new vinyl record subscription service, announced on February 8, 2017 its April 2017 launch and the initial slate of artist-curators, including Elton John, George Clinton, Quincy Jones, Talib Kweli and Sean Lennon.
Billboard.com reports that subscribers to the new service will receive one of the artist's favorite albums (not their own album) along with personalized commentary, the artist's top ten albums list, access to the Experience Vinyl store and various rewards.

Subscribers will pay under $30 a month, depending on the term of subscription which can run annual, trimonthly, or month-to- month. A portion of the sales wil go to the artist's charity of choice. The service's first curator, Elton John, has directed a portion of his sales be donated to The Elton John AIDS Foundation.

The genesis of Experience Vinyl came from founder Brad Hammonds' 2014 blog Desert Albums where musicians such as guitarist Vernon Reid (Living Color) and Regina Carter answered one question: If you you could only listen to 10 albums for the rest of your life, which ones would you pick? Experience Vinyl, which also includes Hammonds' business partner Jake Fishbein, takes the artists' answers and delivers it to the subscriber's door.

"Growing up a vinyl fanatic, I've had the desire to create a record club for the better part of my adult life," Hammonds tells Billboard. "Experience Vinyl is a different kind of subscription service and a dream for any vinyl lover. It's a record club where artists handpick not only the records they love, but the ones they couldn't live without. Who better to send you great music each month than artists themselves? It's an honor to work with some of the greatest musicians of all time, and we're excited to share their personal and meaningful picks with all of you."

Experience Vinyl memberships also include invitations to quarterly concerts and eligibility for giveaways and trips.

While Experience Vinyl declined to discuss the financials of the new venture when asked it they expect to make a profit after releasing or possibly re-releaesing these albums in vinyl, paying royalties to artists, labels and/or publishers and a charitable donation, the company only said that "the business model is designed to make a profit."

Elton pays tribute to generous George Michael
Wednesday, February 8 2017
Elton has said some kind words about the late great music legend George Michael and how he should be remembered for his "wonderful music" and "humanity".
Elton has paid a touching tribute to George Michael hailing him "one of the best vocalists ever". He shared a close friendship with the late former Wham! star - who tragically passed away at his home in Goring-on-Thames, Oxfordshire, on Christmas Day (December 25, 2016) - and says he should be remembered for his "wonderful music" and generosity.

Speaking about the 'Careless Whisper' singer on his Apple Beats 1 radio show on February 7, 2017, he said: "I wanted to do a little tribute to him on the show because not only was he a good friend, but he was probably one of the most brilliant songwriters this country's ever produced, and certainly one of the best vocalist ever. One of the best in the world."

On their close bond, he shared: "It was an amazing friendship based on music to start with, and I remember sitting in the car just off of Hyde Park listening to a cassette of 'Wake Me Up Before You Go Go' and I said, 'George, that's the nearest record I've heard to a Motown record for years and years'. It was such a great record, and he and I became great friends."

Since his death many people have been coming forward to share the late singer's secret acts of kindness, and Elton, 69, says his "humanity" will be sorely missed.

He added: "I just want to remember him for his wonderful music and his kindness, which people are commenting on. He was the kindest, most generous man, and did it without wanting any publicity. I've seen him being so kind to so many people. I'll miss him so much for his music but more than anything his humanity."

Following the news of his death, fans took to Twitter to share stories of his philanthropy, that were kept secret during his lifetime. 'Pointless' presenter Richard Osman, who was previously an executive producer on 'Deal or No Deal', tweeted: "A woman on Deal Or No Deal told us she needed £15k for IVF treatment. George Michael secretly phoned the next day and gave her the £15k (sic)."

And it wasn't long before Twitter users began to share their own stories of his generosity. One person replied to Richard saying: "He gave a stranger in a cafe £25k as she was crying over debt. Told the waitress to give her the cheque after he left (sic)," while another added: "George Michael worked anonymously at a homeless shelter I was volunteering at. I've never told anyone, he asked we didn't. That's who he was."

Another wrote: "Omg amazing! I remember he would phone help a London child every year and match all the donations," and one Twitter user said: "He would drive around London and feed homeless. Brilliant legend. Very sad (sic)."


Elton pays emotional tribute to George Michael
Thursday, December 29 2016 at 20:14:18

Elton to perform at George Michael funeral?
Wednesday, December 28 2016 at 15:12:35

R.I.P. George Michael
Monday, December 26 2016 at 06:30:51


Top 20 Global Concert Tours from Pollstar
Monday, February 6 2017
The Top 20 Global Concert Tours ranks artists by average box office gross per city and includes the average ticket price for shows Worldwide.
The list is based on data provided to the trade publication Pollstar by concert promoters and venue managers.

TOP 20 GLOBAL CONCERT TOURS

1. Guns N' Roses; $5,043,476; $101.18.

2. Adele; $3,399,416; $108.24.

3. Justin Bieber; $2,327,795; $77.90.

4. Kanye West; $2,059,813; $84.41.

5. Red Hot Chili Peppers; $1,516,916; $83.51.

6. Marc Anthony; $1,506,465; $123.41.

7. Elton John; $1,436,022; $116.43.

8. "The Illusionists"; $977,263; $68.79.

9. The Cure; $910,724; $62.10.

10. Stevie Nicks; $885,769; $98.05.

11. Sia; $821,290; $78.98.

12. Trans-Siberian Orchestra; $817,060; $59.44.

13. Andre Rieu; $806,999; $104.38.

14. Dolly Parton; $725,294; $92.34.

15. Carrie Underwood; $707,091; $71.02.

16. Keith Urban; $662,422; $70.27.

17. Maxwell / Mary J. Blige; $585,729; $85.90.

18. Florida Georgia Line; $561,449; $47.49.

19. Simply Red; $469,238; $60.14.

20. Jerry Seinfeld; $431,725; $92.83.
Elton plays at Robert Kraft's private Super Bowl party
Monday, February 6 2017
How do you prep for the Super Bowl? If you're Patriots owner Robert Kraft, you have a private party at your hotel and invite Elton John to play a solo set on the piano.
Not bad, right? Kraft hosted the hush-hush affair for 100 or so friends and family in a ballroom on February 4, 2017 at the Marriott Marquis in downtown Houston. Pats players couldn't make it, of course — but tight end Rob Gronkowski, who's sidelined with a back injury, was there. Also hanging out, we're told, was country star Kenny Chesney, who's become good pals with the Pats poobah having played many sold out shows at Gillette Stadium over the years.

Elton is a longtime friend of the Kraft family and has played at past parties they've hosted. Kraft is also a regular attendee of the EJAF's annual Oscar party in LA.

Despite earlier rumours, Elton did not perform with Lady Gaga at the Super Bowl halftime show, but he was seen in the stadium.


Rumours: Elton to join Lada Gaga at Super Bowl
Thursday, February 2 2017 at 07:14:40


Tom Hardy gives an update on playing Elton John
Sunday, February 5 2017
In an interview with Philippine Daily Inquirer actor Tom Hardy provided an update on his Elton John and Al Capone projects:
"The Al Capone project is this year. The [one about] Elton John is on a waiting status. That would make a nice set of characters for me. "Fonzo" (the title of the film and the nickname of Capone, whose full first name was Alphonse) and Elton John are good bookends in many ways. Just to watch them tonally is a cinematic experience.

They are completely on the opposite ends of the spectrum. But they've similar energy in the delivery. Not the people necessarily, but the tales. I like those two pieces, and they're on the radar."


Rumours: Elton to join Lada Gaga at Super Bowl
Thursday, February 2 2017
Lady Gaga is trying to pull out all the stops in order to put on the greatest Super Bowl Halftime Show of all time.
Fans been in suspense for weeks wondering what Mother Monster is going to pull off. The rumors have been swirling constantly, from who will join her, to what stunts she is and isn't allowed to pull off during her performance.

There are reports that Lady Gaga plans on hanging from the roof, and that still might not be the biggest news yet. Gaga is rumored to be joined by Elton John for a David Bowie tribute.

Having Elton John perform with Gaga is already huge. Having them remember the late, great, David Bowie could be the show-stealing performance we're looking for. Elton and Lady Gaga are two of the strangest, yet most iconic global stars who have never performed at the Super Bowl. Those two, in tandem, might put on the performance of a lifetime.
Elton among GLAAD Media Awards Nominees
Wednesday, February 1 2017
This year's GLAAD Media Awards artist nominees include Elton John, Frank Ocean, Sia, Lady Gaga, Tegan and Sara, Blood Orange, Brandy Clark, Against Me!, Tyler Glenn, and Ty Herndon. These nominees are recognized for having an album released within the past year.
The event will take place April 1, 2017 at the Beverly Hilton in Beverly Hills, California. There will also be a celebration on May 6, 2017 at the Hilton Midtown in New York City.

The nominees were announced on January 31, 2017 and the 2017 list has expanded from five musicians to 10 in its Outstanding Music Artist category. The GLAAD Media Awards recognize those in the media for their inclusive representations of the LGBTQ community. The 28th annual awards continue to expand with added nominees in both the music and Outstanding Comic Book categories.


28th Annual GLAAD Media Awards Nominees:

Outstanding Music Artist
Against Me!, Shape Shift With Me (Total Treble Music/Xtra Mile)
Blood Orange, Freetown Sound (Domino)
Brandy Clark, Big Day in a Small Town (Warner Bros. Records)
Tyler Glenn, Excommunication (Island Records)
Ty Herndon, House on Fire (BFD)
Elton John, Wonderful Crazy Night (Island Records)
Lady Gaga, Joanne (Interscope Records)
Frank Ocean, Blonde (Boys Don't Cry)
Sia, This is Acting (RCA Records)
Tegan and Sara, Love You to Death (Warner Bros. Records)