ELTON JOHN NEWS ARCHIVE: February 2016
Elton John and band performed in Los Angeles on February 27, 2016
Saturday, February 27 2016
Following is the complete set list of the Los Angeles (Tower Records) show on February 27, 2016.
The Bitch is Back

Bennie and the Jets

Looking Up

Blue Wonderful

Levon

Rocket Man

Your Song

Tiny Dancer

A Good Heart

Wonderful Crazy Night

Don't Let the Sun Go Down On Me (with Lady Gaga)

Saturday Night's Alright for Fighting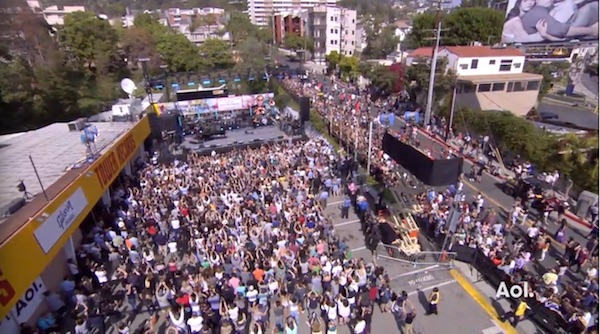 Free Elton concert on AOL
Saturday, February 27 2016
Elton John will be performing a free concert in Los Angeles, Saturday, February 27, 2016. Watch it live exclusively on AOL.com.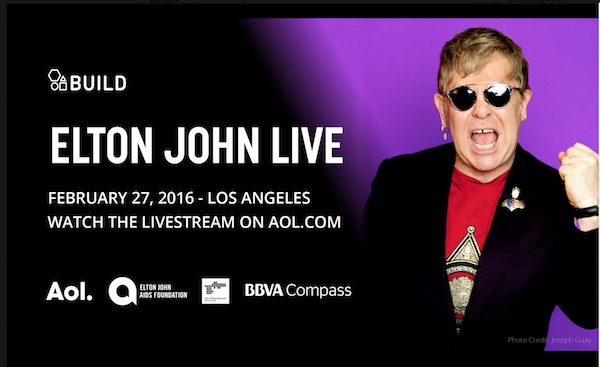 Elton will be performing as a thank you to the city for its support of the Elton John AIDS Foundation and its annual Academy Awards Viewing Party, which will go down again during this Sunday's show.

"At AOL we are committed to the live experience and its ability to bring offline moments online for audiences in a unique and immersive way," said Jimmy Maymann, EVP and President, Content and Consumer Brands at AOL in a press release. "We can't think of a better partner than Elton John - his iconic stature spans generations and we're excited for the opportunity to bring this incredible experience to his fans and our millions of viewers worldwide."

Tune in to AOL.com at 3 p.m. ET on February 27, 2016 to stream the concert live, and stay tuned to Billboard.com for coverage of the event. The performance will take place on the Sunset Strip at the former Tower Records location.
Elton on "The Talk"
Saturday, February 27 2016
This was one of Elton's best television appearances. He did a fun interview and performed "Looking Up" and "Bennie And The Jets."
And be sure to watch the additional song he performed, but not broadcast and is only available on the website, "Levon."
R.I.P. Alan McCormick
Friday, February 26 2016
Having just learned about the death of Elton enthusiast and Mr. "Wrap it up!", Alan McCormick, I am sadened and still in shock.
Although we had lost touch in recent years, Alan has played a major role especially in the early days of the fan club. As a matter of fact, he hosted the very first fan meeting in his apartment in Cologne on April 8, 1989, giving the 15 attendees a chance to sample his vast collection of Elton John memorabilia, records, etc.

It's probably true that every real Elton fan has bought at least one item from Alan once he had set up "Wrap it up!" a few years later. A source for many Elton collectors the rule was "If Alan doesn't have it, it doesn't exist".

But Alan wasn't just the "business man" that would sell you the latest Elton rarity, he was also a very funny and caring person and I happily remember many "drunken nights in dark hotels" ...

All our love and thoughts these days are with Alan's wife Jenny and his family.
David dishes on Elton's Oscars Viewing Party
Friday, February 26 2016
David opens up about the Elton John AIDS Foundation 2016 Oscar party and strides the organization has made towards HIV/AIDS research.
Elton tells Janet Jackson to "'F--k Off"
Friday, February 26 2016
Elton John is one of the most outspoken musicians alive, and in a new Rolling Stone interview, he takes aim at one of the most popular female solo artists of all time.
Because he prides himself on giving his all onstage, Elton is sensitive to others he feels do not hold themselves to the same standards. "You know, f--king music magazines writing a review of Janet Jackson saying, 'This is the greatest show—four and a half stars.' It's f--king lip-synced! Hello! That's not a show!" Elton says. "I'd rather go and see a drag queen. F--k off."

Jackson, who is currently on a world tour in support of her eleventh studio album, "Unbreakable", has not yet responded to Elton's allegations; E! News has reached out to the 49-year-old "No Sleeep" singer's rep for comment.

More than a decade ago, Elton made similar lip-syncing claims about Madonna. "I say what I feel," he tells Rolling Stone in hindsight. "I probably went too far with Madonna, and I got very personal and I wrote her—she was very gracious."
Elton John and band performed in Las Vegas on February 24, 2016
Friday, February 26 2016
Following is the complete set list of a private show for IBM at MGM Grand in Las Vegas on February 24, 2016.
The Bitch is Back

Bennie and the Jets

Candle in the Wind

Levon

Tiny Dancer

Looking Up

Daniel

Philadelphia Freedom

Goodbye Yellow Brick Road

Rocket Man

I Guess That's Why They Call it the Blues

Your Song

Sad Songs (Say So Much)

Don't Let the Sun Go Down on Me

I'm Still Standing

Your Sister Can't Twist (but She Can Rock and Roll)

Saturday Night's Alright for Fighting


Crocodile Rock
Chatty Elton on his 'creaky old' pal Rod Stewart
Tuesday, February 16 2016
"I cant't remember the last time an interview was this easy – or rewarding", says Ross King from the Sunday Post.
"I've spoken before about how some celebs can be a bit shy, distracted or just seem to have taken some sort vow of silence. The brilliant Sir Elton John was, thankfully, just the opposite. I'd barely said hello and he'd started talking about how he's loving life, how he's coping with parenthood – and how he'd always wanted a daughter," King continues.

"Can it be like this every week? Some newspapers reported on our chat through the week there but Elton and I had a good old natter about a lot more besides. Including how his good pal Rod Stewart is raging – with Elvis!", says King.

"Rod's album did really well in Britain and we've been emailing each other all the time," chuckled Elton. "He's been doing well but is absolutely devastated Elvis Presley of all people kept him off the No. 1 album spot! But Rod's actually gone platinum with the album, Another Country, in less than seven weeks – which proves there's a market for us creaky old things!"

Elton's got a new album of his own out called Wonderful Crazy Night – which doesn't sound like the type of record a 68-year-old man should be producing.

"I've enjoyed playing in the last two years more than I've ever done," explained Elton. "I'll be 69 at my next birthday so I wanted to do something up-tempo and joyous. This turned out the most rock and roll record I've ever done. I'm very happy. David and I have been together for 22 years and we have two sons who are incredibly happy. I've had a great career, we have wonderful friends and I have a wonderful family.

"I've got nothing to complain about! This is the happiest I've ever been. I always try to live in the moment and I have done since I've been sober."

So Elton doesn't seem to be planning on stopping soon. Someone who's that rich, it makes one wonder… why keep on going?

"I've done 3,000 shows so there's a lot of mileage in my fingers!" said Elton. But when I start to feel there's a tapering off in the quality of my playing then I'll stop, because financially, I don't have to keep going. A lot of performers feel they have to keep going as they're not sure what else to do but I'm lucky as I've got my two boys. It's nice that later in my life I have two young boys and hopefully as they go into their formative years they'll keep me young."
Elton backs campaign to knight 1966 World Cup heroes
Sunday, February 14 2016
The football-loving music legend has thrown his weight behind attempts to get the surviving members of England's 1966 World Cup winning squad.
Elton is the latest superstar to join the Sunday Mirror's fight to knight the remaining heroes of the 1966 World Cup. Elton, who has had a lifelong love affair with football, told how the Wembley victory was one of the defining moments of his life. The Honorary Life President of Watford FC, said: "Like millions of other English people, our World Cup win was absolutely one of the defining moments of my life. I think they should definitely be honoured with a knighthood."

The musical icon and lifelong Watford fan first stood on the terraces watching his beloved team at the age of six. He took over as chairman of the club in 1976 and he and future England manager Graham Taylor led them from the fourth division to top flight success. His partner David Furnish and sons Zachary and Elijah recently attended a match to witness a stand being named after the singer.

His call comes amid growing calls for the issue to be debated in Parliament. July 30, 1966, cemented the starting 11's names in history as England achieved its greatest ever sporting triumph by beating West Germany 4-2. But just two, Bobby Charlton and hat-trick hero Geoff Hurst, have since been knighted. The Sunday Mirror's campaign calls for Gordon Banks, 78, George Cohen, 76, Ray Wilson, 81, Martin Peters, 72, Jack Charlton, 80, Nobby Stiles, 73, and Roger Hunt, 77, to be given the same honour.

A host of leading sporting figures and celebrities including Gary Lineker and Simon Cowell has joined the newspaper in urging Prime Minister David Cameron to create a fitting memory of the team's inspirational win. The appeal aims to secure the honour for the other seven surviving players – many of whom are now suffering in old age from severe ill health.

The Football Association, former England boss Graham Taylor and West Ham United have also pledged their support, as has Lady Elsie Robson, widow of the late England manager Sir Bobby. Sports Minister Tracey Crouch is behind it and support is growing in Parliament after MP Graham Stringer put down an early day motion which MPs can sign calling for the players to get knighthoods.
Elton slams 'irrelevant' Rolling Stones
Sunday, February 14 2016
However, Elton admitted that he admired the stars for continuing to produce new music - something that prevents him from "going crazy".
Elton told a US radio interview the legendary group featuring Mick and Keith Richards should return to their roots of blues music. He claimed artists who simply play a hits package "go crazy", explaining: "What I think the Rolling Stones should do is a great blues record, and go back to what they used to do - and do things like 'Come On' - the Chuck Berry song like they did in their early career. That is what they should do. I think Mick wants to still be relevant on the radio - well they are not. And I think Keith would love to do a record like that. And that is what they should be doing."

But he applauded the band for continuing to record new music, saying that he also has to keep producing new albums to stay sane - and to provide new parts of his live shows. He added: "People like Billy Joel, who is a great songwriter and one of America's finest, say there is no point because people don't want to hear them. And I kind of get that as well, but it is very frustrating that you play new songs that people don't want to hear but I can't not try and have a go. Usually when you play a new song people hurtle towards to the toilets quickly, but you have to play new songs."
Elton will support Hillary Clinton at NYC 'I'm With Her' concert
Saturday, February 13 2016
Hillary Clinton is assembling a squad, and it boasts music mavens Katy Perry, Elton John and Andra Day.
The three will take the stage at Radio City Music Hall with the Democratic presidential hopeful on March 2, 2016, the day after Super Tuesday.

Clinton announced the concert on Twitter; both former President Bill Clinton and daughter Chelsea Clinton will be present at the event. Tickets (at $125 each) will benefit the Hillary Victory Fund.
John Mahon talks to East End Lights
Saturday, February 13 2016
Elton John band percussionist John Mahon talked to our partner magazine "East End Lights" and answered some questions about the final tour and the recording of Wonderful Crazy Night.

1. So this "final curtain" tour is supposed to be the last big tour for Elton. What's the feeling amongst the band, the crew etc?
JM: We are all excited about the last tour because it is going to be a big show in great cities all over the world. I don't think about it being a farewell tour and never do another show with Elton - I just think it will be the end of touring year round.

2. What are you going to miss the most about being on tour?
JM: I will miss my road family of course and really miss playing those amazing songs night after night. We get to see some spectacular parts of the world and I will surely miss the exotic travel.

3. Turning to the new CD 'Wonderful Crazy Night': What's the feel (sound, tempo, fast/slow songs etc) of the new CD?
JM: When we started the project Elton said to me, "let's keep these songs up and lively". And that they are - I did my best to create grooves in bright tempos when the opportunity arose. The album is very organic sounding and the lyrics as always quite amazing. Bernie never fails to surprise with a story or idea that always comes out of left field. I've written many lyrics and he is truly incredible.

4. Its been a long time since Elton has recorded an album with the band, what was it like finally getting back into the studio again?
JM: It is always a memorable experience to watch Elton write a song. To be part of the process is an honor and to sit right in the room with him while he creates is magical - and sometimes you get to see him struggle which makes him human. He does not linger long on a song that's not working out. He'll move on quickly - for Elton, I think the flow is either there or it isn't.

5. I heard that there is a lot of guitar on the album? Maybe you'll have to bring back John Jorgenson for the tour to help Davey carry the load.
JM: Davey always plays a lot of guitar parts. He's so creative in the studio Elton just lets him record for hours. But not all of the parts turn out to be so noticeable in the mix. They are layers or sound FX or doubles. In this day and age between samplers and electronic guitar synths we can replicate anything Davey did and play it via keys or drum pads. I don't think we'll add another guitar player. Davey will play the standout parts himself and the other parts we'll cover if need.

6. Elton has said that the recording of the album reminded him of recording in the 70's, the songs being done in one or two takes.It that correct?
JM: Yes, one or two takes when the tape started to roll. Of course we would run through the song and sort of learn it while Elton was writing it. And of course there were plenty of times we would stop the take before it went all the way if the feel was not right or the tempo was off or God forbid - someone made a mistake! But most of the songs were really done in a a couple takes - a couple songs were done the 1st time for Elton's part.

7. Elton said this was a live album. Does that mean you all recorded your instruments at the same time or did you layer them one or two at a time.
JM: There were a good number of songs that were recorded with all of us playing. Usually it was Elton's piano, bass, drums and maybe guitar. Other songs would start with just Elton's piano, my percussion and bass all the way through to set a consistent groove. Then Nigel's drums would be overdubbed later. Kim would sometimes play organ during the take and go back afterward for overdubs or fixes. Davey did lots of overdubs like acoustic guitars and solos that work better when recorded separately. Every song was different but always started with some type of ensemble feel.

8. Was Elton more hands on with this record since he "co-produced" with T Bone Burnett?
JM: Elton was very hands on. He is full of ideas and usually open to trying different things when it comes to guitar or keyboard parts. He knows what he likes and all his ideas bounce off of T-Bone and the band members too. T-Bone of course drives the direction of the recordings but when we get on a roll he let it go and did not try to interrupt the flow.

9. Did Elton only play the piano while Kim Bullard handled all of the other keyed instruments?
JM: Mostly yes, there were a keyboard parts that were not piano sounds that Elton played to create an idea. On this record, Elton liked to just play the piano and the other keyboard parts were overdubbed as we went along.

10. Elton said you recorded a song a day. Did he write one song a day as well? Were they written on the spot or did he come in with demos?
JM: It sort of goes like this. Elton shows up in the morning and goes directly to the piano. With the tape running he picks a Bernie lyric to start creating a song with. He will pretty much stay at the piano until he has written a song in it's basic form. Sometimes we will join him in the room by the piano and let him bounce suggestions off of us - melody, harmony, tempo, groove, song form etc… From there we decide which instrumentation will be the best way to record the song. This all happens in the 1st hour or two. Once the basic song is recorded he will record the lead vocal. After that is done it's time to add the other instruments that were not recorded in the first go around. Then it's overdubbing more parts where needed, and usually last is vocal harmonies. By the end of the day we have a song in the bag. Pretty much a 12-8pm day.

11. How did you figure your parts in coordination with Ray Cooper and his work?
JM: Most of the record was done before Ray came over to America so he added parts where they were needed on some of the early recordings. I believe he was there for the writing of the last four songs, and I want Ray to do what he does before I decide to "muck it up"! I will just add color when there's a need for it. It's difficult to not want to play your part but sometimes there's just not the right space. Ray is genius in the studio so it's always just a learning experience for me.

12. Was the album recorded quickly during the tour i.e. did you record a song and then jump on a plane to that night's gig?
JM: We had a few weeks in the studio in blocks. Three weeks here, two weeks here. Maybe a few days we jumped back in but it was mostly done in about a two months window between touring.

13. If you only did the recording and not during the touring was it just show up to the studio and hang out for a day and work like a 9-5 job?
JM: Well yes. I am usually the last person to overdub my percussion parts so there were a few late nights but we tried to keep it civilized. I think the recording engineer works harder than anyone else. Some of us like to just hang around after Elton leaves and experiment with parts or maybe have late dinners. It was nice recording in LA because you could go home and not to a hotel afterward.

14. Is there more camaraderie during making an album? Or does everyone just go home and back to work the next day?
JM: It can be intense in the studio but we are always puling for each other to come up with something that elevates the song musically. It's good because we can be very honest with each other and that's where the camaraderie comes in. You need to be able to take criticism from all levels. If you cannot do that, then just pack up and go home!

15. Was there a lot of spontaneity on the record?
JM: When you record a song a day there is always spontaneity. Elton loves when something odd happens and it is a good thing. For example we have a handclap on "Guilty Pleasure". I don't remember who suggested it but next thing I know T-Bone takes us upstairs to this massive old room and four of us, I think Davey, Matt, Nigel and myself did a "Crocodile Rock" hand-clap that sounded like it was in a church! Elton is spontaneous with harmony parts - he will hear something in his head and run right to the mic to record it.

16. Any extra guest performers on the record? Any duets? Who did the backgrounds?
JM: There are no guest performers on the record or duets. U2 was rehearsing upstairs - maybe we should have tried to get Bono on something? Elton did quite a bit of the background vocals himself. The rest were done by Davey, Nig, Matt and I.

17. What was working with T-Bone like? Are you free to play what you want or does he define each part etc.
JM: T-Bone Burnett was the consummate producer. He lives and breathes music. He knows when a take is not working or when he thinks we can do better. He is mostly about getting the best performance from his musicians and artist. He is supportive and suggestive. He will not say that sucked when maybe it did. He will inspire a better performance out of you and make gentle but intuitive corrections, always keeping the mood light and fun. And he burns wood in the studio - odd but cool. I look forward to working with him again.

18. What's your favorite song on the record? Elton said it's a 1970's feel yet very 2015 , what's your take?
JM: I don't like to put music into categories of dates and genres. It either floats your boat and moves you or it doesn't. You will be tapping your foot on this album - I guarantee that. Elton said he wanted a push to keep it uptempo and he got that from me when I could. These are his songs and the band is there to add what he feels makes the song what he hears it to be. We want him to be the best so we give him our best. Favorites that come to mind are "The Open Chord", "Tambourine", and "Wonderful Crazy Night".

19. Since it was recorded quickly, did you feel enormous pressure on your work?
JM: I always feel pressure to do my best. Of course I want to come up with the perfect part but it's not always possible. Elton writes from the melody down where some artists start with the beat. It's a challenge to add a percussion part after all the instruments have been added. Sometimes the best part is no part! But the reality is after this many years as a musician your instincts kick in and you will you know quickly what is going to work or not.

20. How do you think these songs will translate live? Do you look forward to playing them verses Diving Board material?
JM: These songs are going to be fun to play live. They are lively and the subject matter is surely a shift from the last album. It's also very different playing songs that you actually recorded as opposed to recreating another musicians parts. There's a fine line between respecting what another musician played and trying to make it sound better so it works live. You don't want to insult the other player but of course want to put your own touch on the part. We're going to have a good time playing this record.
Elton talks about friendship with David Bowie
Thursday, February 11 2016
Elton John and David Bowie's friendship never recovered from comments the Ziggy Stardust made forty years ago.
In a new interview, Elton reveals that when David died aged 69 last month they "were not the best of friends" - despite once enjoying wild nights out at gay clubs with T-Rex frontman Marc Bolan. He said: "David [Bowie] and I were not the best of friends towards the end. We started out being really good friends. We used to hang out together with Marc Bolan, going to gay clubs, but I think we just drifted apart. He once called me 'rock'n'roll's token queen' in an interview with Rolling Stone, which I thought was a bit snooty. I wasn't his cup of tea. But the dignified way he handled his death, I mean, thank God. I knew he'd had a heart attack on stage in Berlin years ago, but not about the cancer. Everyone else take note of this: Bowie couldn't have staged a better death. It was classy."

Elton first touched upon David's scathing comments in a 1976 interview with rock mag Rolling Stone. The mag reported: "Currently, Bowie appears to be trying to start up a feud in Playboy, admitting in an interview that he had referred to Elton as "the Liberace, the token queen of rock. Says Bowie, 'I consider myself responsible for a whole new school of pretensions — they know who they are. Don't you, Elton?'"

He told Evening Standard's ES Magazine: "I was in Los Angeles, asleep. It was 3am and the phone rang. It was David [Furnish]. I immediately panicked, as when you get a phone call at three o'clock in the morning you think something is wrong. I thought of the kids, something has happened to the kids. And David said, 'I thought I better let you know, David Bowie has died.' And I was shocked... I couldn't go back to sleep."

However, he can't help but praise Bowie for selling so many records even after his death. He added: "The best thing to happen to your records is for you to die. Death is very popular. Obviously, no one wanted David to die, but it's astonishing how many records he's sold since — something like two million in two weeks. And that's CDs."
Elton about meeting Putin to discuss human rights
Thursday, February 11 2016
Elton John says he is willing to risk his life to speak out about human rights abuses as he prepares to meet Russian President Vladimir Putin.
He said it was not just gay rights he was passionate about, as he wanted to leave the world a "good place to live" for the sake of his children. He also told ES magazine he was not embarrassed at being tricked into believing he was speaking to Mr Putin in a prank phone call by two Russian TV presenters last September. He said: "You have to have a sense of humour about these things. The next day the Kremlin got in contact and were extremely embarrassed about the way I'd been treated. And within a couple of days I did have a call from President Putin at my home in Windsor and we had a 10-minute chat. Soon I'm going to go to Moscow to talk to him face to face over a cup of tea — what's the worst that can happen? It's not just gay rights. I'll take on anything and go anywhere to help those in need. I am not afraid."

"I will speak out. What are they going to do to me? If they shoot me, they shoot me. I don't care. I am a fan of the human being. I don't like seeing dead children washed up on the beaches of Europe. But I am an optimist. There's more good in this world than bad."

Elton paid tribute to David Bowie and revealed that the news of his friend's death was broken to him in a 3am phone call from his husband David Furnish: "I knew he'd had a heart attack on stage in Berlin years ago, but not about the cancer. Everyone take note of this — Bowie couldn't have staged a better death. It was classy."

He said he would love to have a daughter but was "too old" to have any more children. Meanwhile his sons Zachary, five, and Elijah, three, "beat the s**t out of one another". He added: "I hate being away from my kids. We FaceTime but it's not the same. They are wonders ... I look forward to being closer to them. That is the way I want my future life to go. I want to give them a childhood they can love, and be a parent they will miss. I want to leave them a good place to live."
'Hold Me Closer, Bernie Sanders'
Thursday, February 11 2016
A musician with Fox Cities roots is feeling the Bern all right. So much so that Appleton native Mel Flannery and her husband, Danny Sher, who live together in New York, put their talents into "Hold Me Closer, Bernie Sanders," a song that's a Sanders-centric take on the Elton John classic "Tiny Dancer."
Flannery, Sher and a few friends — who for this venture have called themselves Punned It — wrote and recorded the song on February 7, 2016, "when everybody else was watching the Super Bowl," Flannery said. They timed its release for after the New Hampshire primary. "We wanted to give those feeling the Bern something to celebrate with," Flannery said.

Here's a sampling of the lyrics:

You're the closer, Bernie Sanders
Fix the wage gap, schools and highways
End the school-to-prison pipeline
And bring the troops back home today



Punned It also features Alex P. Wernquest, Lindsey Poleck and Wesley Nichols. The whole thing, video included, came together in a span of 48 hours. It was recorded straight to tape at Wernquest's Basement Floods studio in Catskill, New York.

Flannery, an Appleton East High School grad, fronts Mixtape (dubbed "a cover band for hipsters") and also leads the original band Mel Flannery Trucking Co. The idea for the song came after a Mixtape gig. "Tiny Dancer" was on and Sher sang along, subbing the presidential candidate's name in the chorus. It got some laughs and they ran with it from there. "It's a tribute to both Bernie and Elton John and made out of love and adoration for both," Flannery said.

It just might be the best take on "Tiny Dancer" since Phoebe Buffay's "Hold Me Close, Young Tony Danza."
Elton boosts Sanremo start
Thursday, February 11 2016
Italy's popular Sanremo Music Festival, boosted on its opening night by a performance by Elton John, captured nearly half of the TV audience share for State broadcaster RAI on February 9, 2016, with an average number of 11.135 million viewers.
Elton took the stage in dark glasses at the Ariston Theatre for just over 15 minutes. After performing his classic "Your Song", Elton reflected back on his career in response to questions from the festival's host Carlo Conti. "I still like to play, above all live, more than ever," Elton said. "I never thought the journey would have lasted so long. And I never would have thought I'd become a father, to have the life that I've had, it has all been very positive," he said.

Elton was referring to his sons with husband David Furnish, who wasn't in attendance. He finished his set with the single "Blue Wonderful" from his new album "Wonderful Crazy Night".

The performance came amidst an impending vote in the Italian Senate on a civil unions bill, which prompted artists Noemi, Arisa, and Enrico Ruggeri to take the stage waving rainbow flags in support of the measure.

Second-time host Conti on Wednesday said he was "very happy" with the viewership for the festival's opening night. In his debut last year, the first-night broadcast garnered nearly the same number of viewers, taking in a 49.34% audience share. "We should have put the soundtrack from Mission Impossible, because repeating it wasn't easy," Conti said. "I'm particularly happy, but we have to get to Saturday," he said of the five-evening festival.


Italy senator says Elton 'vile' for surrogate mum use
Tuesday, January 26 2016 at 03:04:56


Happy birthday, Nigel!
Wednesday, February 10 2016
Elton's drummer Nigel Olsson is celebrating his 67th birthday on February 10, 2016.
On behalf of the Hercules team and the Elton John fans all over the world, we would like to wish him a happy birthday!
Elton slams X Factor
Tuesday, February 9 2016
Ben Haenow got the chop from Simon Cowell's record label – and Elton John reckons the problem with The X Factor winners is that the show doesn't nourish their live performance skills.
Elton , of course, has no such troubles, with a glittering career that spans the decades. He tells 3am: "The problem with X Factor is you are just a TV product and you have no real experience of singing live. Leona Lewis was the only one really that cracked it live," he says, adding that One Direction and Little Mix "are very good, obviously".

Elton was speaking after turning in a brilliant three-night stint in Paris at the Olympia theatre over the weekend. The audience were wowed as he seamlessly wove tracks from his new album, Wonderful Crazy Night, with his back catalogue of hits including Your Song, Tiny Dancer and I'm Still Standing.


Elton: 'I would like to have a daughter'
Tuesday, February 9 2016
Elton has spoken about his love of fatherhood and says he wished he had started his parental journey sooner - so that he could have had a daughter.
In an interview aired on Lorraine on February 8, 2016, he about his boys with affection. "I wish I had done it earlier," he said. "I'd like a little girl. Being away from my sons is hard. I'm going to stop travelling so much. It is about them. If you don't stop, what's the point in having children?"



Elton also talked about how he's keen to make sure his boys aren't spoilt, despite the family's wealth. "They don't wear designer clothes," he said. "They have a normal background, even though though we are privileged. So far, so good. They know daddy's a singer, but they are more into their torches and lego. They like Thunderbirds. They never ask to come on stage. They can sing Rocket Man and Bennie And The Jets, but Zachary's favourite song is Hotline Bling and Uptown Funk.

Elton also talked about their love of Disney. "They know I wrote the Lion King soundtrack but they're too young to watch it. The death of Mufasa is a little scary for them. I took them to Disneyland on December 23 [, 2015] and Zachary was too scared to go on the roller coasters. He took me on the teacups and I hate them. There are pictures of me with my head down."

Promoting his new album, Wonderful Crazy Night, he said his dancing days are over. "I don't dance. Not since the I'm Still Standing video. Arlene Phillips said I was the worst dancer she has ever worked with. I'm the happiest when I'm on stage. I'm singing really well and performing well. There's a lot of mileage on my voice. To still be improving on stage is a bonus."
Elton John Carpool Karaoke
Monday, February 8 2016
In this extended version for the web, James Corden asks Elton to help him navigate Los Angeles on a rainy day while the two sing some of his songs, including a Lion King classic and "Don't Let the Sun Go Down On Me."
Elton John and band performed in Paris on February 7, 2016
Monday, February 8 2016
Following is the complete set list of the Paris show on February 7, 2016.
Funeral for a Friend

Love Lies Bleeding

Bennie and the Jets

Levon

Looking Up

A Good Heart

Daniel

Tiny Dancer

Philadelphia Freedom

Goodbye Yellow Brick Road

Rocket Man

Wonderful Crazy Night

Blue Wonderful

I Guess That's Why They Call It the Blues

Sad Songs (Say So Much)

Burn Down the Mission

Sorry Seems to Be the Hardest Word

Don't Let the Sun Go Down on Me

The Bitch Is Back

I'm Still Standing

Your Sister Can't Twist (But She Can Rock 'n Roll)

Saturday Night's Alright for Fighting


Your Song

Guilty Pleasure
Photos from Olivier Flous can be found here.
Elton John and band performed in Paris on February 6, 2016
Sunday, February 7 2016
Following is the complete set list of the Paris show on February 6, 2016.
Funeral for a Friend

Love Lies Bleeding

Bennie and the Jets

Levon

Looking Up

A Good Heart

Daniel

Tiny Dancer

Philadelphia Freedom

Goodbye Yellow Brick Road

Rocket Man

Wonderful Crazy Night

Blue Wonderful

I Guess That's Why They Call It the Blues

Sad Songs (Say So Much)

In the Name of You

Burn Down the Mission

Sorry Seems to Be the Hardest Word

Don't Let the Sun Go Down on Me

The Bitch Is Back

I'm Still Standing

Your Sister Can't Twist (But She Can Rock 'n Roll)

Saturday Night's Alright for Fighting


Your Song

Guilty Pleasure
Elton ends his bitter 8-year feud with his mother
Sunday, February 7 2016
Elton has ended his bitter eight-year feud with his mother Sheila. Confirming the pair have put their row behind them, he said February 5, 2016: "We are now back in touch."
Elton, who has just launched his latest world tour in Paris, hadn't spoken to Sheila since an explosive fall-out in 2008. And there seemed to be little chance of a thaw recently when she booked an Elton tribute act to perform at her 90th birthday party. But Elton says the pair have been back in touch for weeks.

He said: "Out of respect for my mother's privacy, I have always shied away from speaking publicly about our relationship. However, I can say that we are now back in touch and have been so since my mother's 90th birthday. I won't be commenting further on this."

Their bust-up was sparked by Sheila's refusal to cut off contact with two of her son's oldest friends, Bob Halley and John Reid, after he fell out with them. Bob had worked for Elton for three decades, first as a driver then later as a personal assistant, before he was fired as part of a series of changes the singer was making to his team.

John, who had been Elton's manager and briefly his lover, helped guide the early stages of the star's £235million career. Sheila explained last year: "I've got used to it. And it was all so stupid – so petty." She also explained how she blamed Elton's husband David Furnish for turning her son against her.

But it's now understood the filmmaker, who has been with Sir Elton since 1993, has been actively encouraging his husband to make amends. And on February 5, 2016 Elton told an amusing ­anecdote about his mum on Graham Norton's BBC1 chat show – a hint that the ­relationship might be improving.

Last month it emerged Elton had paid £30,000 for a double hip replacement operation for Sheila, who lives in a seaside house in West Sussex, after she began struggling on her feet. And new pictures of the 90-year-old doing her shopping in a wheelchair last week show she's quickly got back on the mend after the week-long stay at a private London hospital, to the relief of her family and close friends. A source said Sheila turning 90 was also a turning point in the feud.

"Enough was enough. It had gone on for a long time which is desperately sad, but he didn't want things to continue downhill," said the insider. "He decided when she turned 90 things had to change and they've been back in contact. Obviously he was happy to help out with her operation. He wanted to make sure she got the best possible care and did everything he could to ensure that happened. Before the fall-out they were incredibly close and hopefully they can now rebuild their relationship."


Elton John and band performed in Paris on February 5, 2016
Saturday, February 6 2016
Following is the complete set list of the Paris show on February 5, 2016.
Funeral for a Friend

Love Lies Bleeding

Bennie and the Jets

Levon

Looking Up

A Good Heart

Daniel

Tiny Dancer

Philadelphia Freedom

Goodbye Yellow Brick Road

Rocket Man

Wonderful Crazy Night

Blue Wonderful

I Guess That's Why They Call It the Blues

Sad Songs (Say So Much)

Burn Down the Mission

Sorry Seems to Be the Hardest Word

Don't Let the Sun Go Down on Me

The Bitch Is Back

In the Name of You

I'm Still Standing

Your Sister Can't Twist (But She Can Rock 'n Roll)

Saturday Night's Alright for Fighting


Your Song

Guilty Pleasure
Photos from Olivier Flous can be found here.
Elton joins James Corden for carpool karaoke
Saturday, February 6 2016
The likes of One Direction, Adele and most recently Chris Martin have all joined him for a spot of carpool karaoke.
And just when The Late Late Show viewers thought the VIP guests couldn't get any better, TV host James Corden released a teaser video of his next A-list passenger. The 37-year-old comedian revealed on the chat show's Facebook page that the next star to accompany him on a fun-filled singalong is none other than Sir Elton John.

Sharing a snippet from Sunday night's upcoming episode of the CBS programme, Corden wrote: 'Ladies and gentlemen, Sir Elton John'. The pair can be seen singing "Don't Let The Sun Go Down On Me", with Corden taking on the lyrics originally performed by George Michael in the chart-topping 1991 duet.



Elton casts his classically-trained co-passsenger a look of surprise as he passionately belts out the tune, showcasing his impressive vocals.

Clad in a smart blue suit, accessorised with a touch of silver bling and his favourite tinted shades, the 68-year-old musical legend looks on fine form in the short clip. Fans went wild for the brief snippet on social media, praising TV host James for his innovative and fun brand of presenting. Sunday night's post-Superbowl special will also feature famous guests Zac Efron, Anna Kendrick and Adam Devine.


James Corden has filmed Carpool Karaoke with Elton
Saturday, January 16 2016 at 10:05:09


Elton talks on NBC's TODAY show
Saturday, February 6 2016
With over five decades in the business and more than 250 million record sales worldwide, Elton has set the standard for enduring solo success in the music industry. And at 68, he's not slowing down.
The rock legend just released his 33rd studio album, "Wonderful Crazy Night," and in a one-on-one interview with TODAY's Matt Lauer, Elton said that he's "playing and singing better than ever" now.

But his career isn't his main measure of success anymore. While his music and on-stage persona are what fans know best, Elton is also a family man with a husband and two sons that bring him joy. "That was the greatest decision I've made — well — we've made, in the last six years, is to have those boys," the proud dad explained. "They're our primary concern. They're the things that come first and foremost." And he's pretty important to them, too. They're even fans of his music — but even bigger fans of other music.



"[Zachary] is very proud of his daddy, but he's more interested in 'Hotline Bling' by Drake or 'Uptown Funk,'" Elton laughed. "They sing 'Rocket Man.' They sing 'Benny and the Jets.' ... They know who I am. They know what I do, but they're more interested, to be honest with you, in their toys. And I'm fine with that. That's good."

That's life — kids, marriage and, in the case of this singer-songwriter, a wildly successful career. But it's a life he never imagined for himself. "When I started off in a band, I never dreamt of becoming Elton John," he explained. "All I wanted to be was involved in music, whether it was playing in a band, working in a record store, or doing something to do with music... I never thought this life of mine would exist. It's been an amazing journey."

Just how amazing it's been was clear when Lauer asked him if there was anything that could make him happier right now. The icon simply said, "No."
Elton video filmed in Châteauguay
Saturday, February 6 2016
The new video for "Blue Wonderful" swas hot on Carré Richard, a residential street on Montreal's South Shore.
If the classic mid-20th century bungalows in Elton's new music video for "Blue Wonderful" look familiar, it could be because the video was shot on Carré Richard, a residential street in Châteauguay on Montreal's South Shore. CBC Montreal's Daybreak spoke to the video's director, Thibaut Duverneix, about his use of acrobatics, working under a strict deadline and shooting in Quebec.

"We found that place, and we just loved it. It was exactly what I was looking for," said the Montreal-based Duverneix. He said he is used to working with a certain crew, so he did not want to risk shooting somewhere outside of Quebec. In terms of security, the production crew also needed to find a space that did not have electrical wires that could interfere with the cranes and wires needed for the shoot. For that, too, "the place was perfect," Duverneix said.

The video, which features a song from Elton's new album "Wonderful Crazy Night", was planned in ten days and completed in a month — "concept to [broadcast]," Duverneix said. Duverneix describes the video as melancholic and dreamy – walking the line between dark and joyful. It was shot on the last Sunday before Christmas 2015.



The "Blue Wonderful" video features a dancing couple and uses acrobatics and wire work to create the illusion that the two dancers are weightless. Duverneix is a director for Cirque du Soleil, which is how he met the performers.

"I wanted to do something between dancing and acrobatics," Duverneix said. The video was meant to be a surprise for Elton John from creative director and consultant Tony King. Elton was not aware of anything being filmed until it was finished. Duverneix said Elton John loved it.
Wonderful Crazy Year - Elton Fan Survey
Friday, February 5 2016
With the release of "Wonderful Crazy Night" on February 5, 2016, we will kick off our "Wonderful Crazy Year" during which we invite you to vote on all of Elton's recordings since the beginning of his career.
Lead by Elton fan Antti Honkasalo from Finland (visit him on Facebook), who is one of the moderators of the Hercules Message Board under his pseudonym BiteUrLip, there have been many discussions and surveys about Elton's songs and albums in the previous years - such as "Elton John Song of the Day", which invited board members to rate a randomly chosen Elton recording on a daily basis.

A few months ago Antti came up with the idea to run a bigger survey including all of Elton's back catalogue - and also addressing all Elton fans and not just members of the Hercules Message Board.





Regular visitors of eltonfan.net might remember that we ran a similar project back in 2003. You can still find the results here. "Songs from the West Coast" was the most recent album at the time. Only five new studio albums have been released since, but we thought it would still be interesting to have the fans vote on all of Elton's albums again.

We will kick things off with his new album before taking a look at his back catalogue, with a new survey being released every week. As the project will also address albums such as "The Lion King" or "Good Morning to the Night" (Elton vs Pnau), voting will take place until the very end of the year as we have no less than 45 weeks of voting in the pipeline for you.

Simply click on the banner above to start voting.
Elton performs in the underground
Thursday, February 4 2016
Elton John started playing a piano at St Pancras station in London to a delighted crowd.
Passengers travelling through St Pancras station on February 4, 2016 could not contain their delight when they saw Elton John sitting playing a piano. He has donated the Yamaha B3 Piano to the station and even signed it saying "Enjoy this piano. It's a gift. Love, Elton John x"


Elton John - Live in session at Maida Vale
Wednesday, February 3 2016
Elton John performs a special session live at the BBC's Maida Vale studios for Radio 2's Ken Bruce with a mix of tracks from his new album Wonderful Crazy Night and some much-loved classics.
Following is the complete set list of the Maida Vale show on February 3, 2016:
Looking Up

Your Song

Blue Wonderful

Rocket Man

Wonderful Crazy Night

Tiny Dancer
Elton John: The Wiltern Show
Wednesday, February 3 2016
While rehearsing for his upcoming tour, Elton John invited KCRW into the gorgeous Wiltern Theatre to record an exclusive 6-song set.
For his 33rd studio album"Wonderful Crazy Night", produced by T Bone Burnett, Elton reunited with musicians he's played with for decades. Watching them play live, you can see the comfort and ease only decades of collaboration can bring to the stage.

They jammed out on fan favorites like "Levon", "Burn Down the Mission", "Mona Lisas and Mad Hatters" and lit up the stage with fresh energy behind "Wonderful Crazy Night", the ballad "Blue Wonderful", and the upbeat single "Looking Up".

Watch his first US live radio session behind this album and see the music legend like you have never seen him before:


Elton meets his fans at signing for new album
Wednesday, February 3 2016
Elton John met with fans as he launched his brand new album "Wonderful Crazy Night".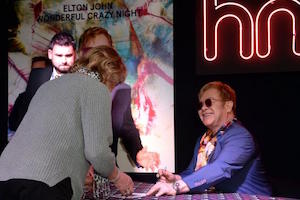 The British musician, who describes the record as 'fun' and 'upbeat', signed copies for fans at HMV on Oxford Street on February 3, 2016. Elton seemed in good spirits as he chatted to the long queue of fans, joined by Paul McGann and other half David Furnish.

Speaking about the new album during an interview at Radio 2 earlier in the day, he said: "The last one was a very intimate record and piano-based record and I wanted to make a record with the band and make it upbeat lyrically and musically and I wanted to be able to play the songs on stage. I'm very happy with it. It's very 'up' and it's hard for me to write 'up' songs. As a piano player, I usually write miserable songs."



Elton explained that the upbeat nature of the album reflected how he felt about his own life at the moments. "I think I'm in a good place in my life, so was Bernie Taupin who writes the lyrics," he explained. "It was planned, sometimes planning doesn't work out to be the way it should but it all came together in the studio and it was done very quickly and that's how I wanted it to be and it's a fun record."
Elton joins Adele by distancing himself from Donald Trump
Tuesday, February 2 2016
Elton has followed in the footsteps of Adele by distancing himself from Donald Trump after the U.S. presidential hopeful played his music at political rallies.
The billionaire businessman, who condemned the U.S. Supreme Court's decision to legalise gay marriage in 2015, has been using Elton's hits "Rocket Man" and "Tiny Dancer" during campaign events as he seeks to become the Republican Party's candidate in America's upcoming presidential election.

However, a publicist for the singer/songwriter confirmed to WENN that Elton, who entered into a same-sex marriage with husband David Furnish in 2014, is not endorsing Trump's political run, saying, "Elton's music has not been requested for use in any official capacity by Donald Trump. Any use of his music should not be seen as an endorsement of Donald Trump by Elton."

The statement comes after representatives for Adele, whose music has also been used at Trump rallies, issued a similar declaration, telling WENN, "Adele has not given permission for her music to be used for any political campaigning."

Other musicians who have criticised the controversial political candidate for playing their records at public events include Neil Young, Aerosmith, and R.E.M. A representative for Trump has been contacted for comment, but had not responded as WENN went to press.
Get well soon, Ray!
Monday, February 1 2016
Elton has just finished a set of "Million Dollar Piano" shows in Las Vegas without percussionist Ray Cooper, who is still recovering after open-heart surgery.
Eltonfan.net has learned that Ray is still in hospital these days.

On behalf of the Hercules team and the Elton John fans all over the world, we would like to wish Ray a speedy recovery!
UPDATE: Wonderful Crazy Night Track-By-Track
Monday, February 1 2016
See Elton discuss tracks from his forthcoming album "Wonderful Crazy Night", e.g. "Blue Wonderful" - which he considers a close relative of "Tiny Dancer".
Up until the release of the album on February 5, 2016, eltonjohn.com will be posting track-by-track videos for each song on the album on his YouTube and Facebook pages - if you haven't seen them yet, catch up on the tracks that are available already!

"Wonderful Crazy Night"



"In the Name of You"



"Claw Hammer"



"Blue Wonderful"


"I've Got 2 Wings"



"A Good Heart"



"Looking Up"



"Guilty Pleasure"



"Tambourine"



"The Open Chord"


Top 20 Global Concert Tours from Pollstar
Monday, February 1 2016
The Top 20 Global Concert Tours ranks artists by average box office gross per city and includes the average ticket price for shows worldwide.
The list is based on data provided to the trade publication Pollstar by concert promoters and venue managers.

TOP 20 GLOBAL CONCERT TOURS

1. Taylor Swift; $4,311,565 (average box office gross per city); $110.91 (average ticket price for shows Worldwide).

2. Madonna; $2,587,487; $121.54.

3. Elton John; $1,906,287; $128.98.

4. The Weeknd; $1,368,999; $77.08.

5. Dead & Company; $1,187,307; $81.36.

6. Juan Gabriel; $1,060,559; $119.46.

7. "The Illusionists"; $1,036,339; $84.69.

8. Muse; $971,373; $59.45.

9. Andre Rieu; $900,922; $82.56.

10. Florence + The Machine; $760,913; $58.88.

11. Simply Red; $736,161; $67.93.

12. Jerry Seinfeld; $726,798; $100.33.

13. Trans-Siberian Orchestra; $719,160; $55.82.

14. Motley Crue; $709,108; $71.77.

15. Def Leppard / Whitesnake; $640,238; $68.66.

16. Zac Brown Band; $629,213; $51.27.

17. Imagine Dragons; $497,900; $46.46.

18. "Nitro Circus Live"; $489,149; $54.78.

19. The Prodigy; $410,033; $54.96.

20. Scorpions; $395,505; $62.59.
Elton's deep cuts
Monday, February 1 2016
Elton has personally chosen some of his favourite "deep cuts" of his own albums, including "Wonderful Crazy Night".
You can listen to the tracks on Spotify.