ELTON JOHN NEWS ARCHIVE: February 2015
Elton John and band performed in Cincinnati on February 27, 2015
Saturday, February 28 2015
Following is the complete set list of the Cincinnati show on February 27, 2015.
Funeral for a Friend

Love Lies Bleeding

Bennie and the Jets

Candle in the Wind

All the Girls Love Alice

Levon

Tiny Dancer

Believe

Daniel

Philadelphia Freedom

Goodbye Yellow Brick Road

Rocket Man

Hey Ahab

I Guess That's Why They Call It the Blues

Mona Lisas and Mad Hatters

Your Song

Burn Down the Mission

Sad Songs (Say So Much)

Sorry Seems to Be the Hardest Word

Don't Let the Sun Go Down on Me

The Bitch Is Back

I'm Still Standing

Your Sister Can't Twist (But She Can Rock 'n Roll)

Saturday Night's Alright for Fighting


Circle of Life/Can You Feel the Love Tonight?

Crocodile Rock
23rd Annual EJAF Academy Awards Viewing Party raised just over $5.8m
Tuesday, February 24 2015
The gala, which took place on Sunday, February 22, at West Hollywood Park in Los Angeles, was sponsored by Chopard, Neuro Drinks, and Wells Fargo.
American Airlines serves as the Foundation's official airline. Attendees included Sir Elton John& David Furnish, Heidi Klum, Miley Cyrus, Alec Baldwin, Robert Duvall, Tim Allen, Aaron Paul, John Stamos, Chris Colfer, Beck, Lil' Kim, Ryan Kwanten, Cloris Leachman, Judith Light, Rob Low, Moby, Lydia Hearst, Ozzy, Jack, Kelly & Sharon Osbourne, Petra Nemcova, Cody Simpson, Gigi Hadid, Dita VonTeese, Brittany Snow, Lisa Rinna & Harry Hamlin, Alessandra Ambrosio, Camilla Belle, Nina Dobrev, Sandra Lee, Jane Seymour, Sia, Russell Simmons, Bellamy Young, Sarah Hyland, The Band Perry, Julianne Hough, Maggie Grace, Peter Fonda, JC Chavez, Dermot Mulroney, Jonathan Groff, Chris Hardwick, Jared Harris, Eric McCormack, Giovani Ribisi, and Bryshere Y. Gray, among others.



Guests arrived at the Academy Awards Viewing Party for cocktails followed by a gala dinner and viewing of the 87th Academy Awards telecast. For a third consecutive year, Chef Gordon Ramsay, British celebrity chef, television personality, restaurateur, and holder of 14 Michelin stars, prepared an exquisite 5-course meal for guests.

The dinner was followed by a lively auction. Auction items included the Alex Prager photograph Sheryl: 2009; the Jeurgen Teller photograph of Joan Didion for the Celine Campaign Spring Summer 2015; the Stephen Somerstein print Dr. Martin Luther King, Jr. Speaking to 25,000 Civil Rights Marchers at End of Selma To Montgomery, Alabama March. In Front of Alabama State House. March 25, 1965 - View of Rear of Head with Crowd of Marchers in Background; a Greg Gorman photograph and portrait sitting; an all-inclusive, four-night stay for four people at the Clayoquot Wilderness Resort; a five-day stay for four people at Steven Tyler's Hawaiian Retreat; and two tickets to the Vanity Fair Oscar Party later that night.

Following the auction, Grammy winner Nile Rodgers & CHIC took the stage to perform several songs, including such favorites as "Le Freak," "We Are Family," "Dance, Dance, Dance (Yowsa, Yowsa, Yowsa)," "Everybody Dance," and "Good Times." Nile will be releasing the first CHIC single in 23 years on March 20th. The title of the song is "I'll Be There." The new CHIC album, It's About Time, will be released summer of 2015. Both single and album are coming out on Warner Brothers Records.

In his remarks for the evening, EJAF Founder Elton John thanked his guests for enthusiastically participating in the evening's audience participation feature, which enabled guests to make gifts to the Foundation on the spot using their cell phones. Throughout the evening video messages from long-time EJAF supporters Neil Patrick Harris and Matt Lauer, as well as live messages from EJAF friends Alec Baldwin and Mike Myers, encouraged guests to text in pledges to support the Foundation's urgent mission.

"What we're able to do in just one evening continues to amaze me," said Sir Elton. "Because of your generosity last year, we helped nearly 70,000 people across the U.S. and the Caribbean to receive regular HIV testing services. Because you cared, an additional 15,000 people were able to stay in continuous medical care, and nearly 12,000 achieved complete viral suppression. That's an amazing achievement. And this year, we're poised to do even more. Together, we're making real progress against this epidemic by helping one person, one community, at a time. And it is not at all unrealistic to think that together we can end AIDS in our lifetime."


Stars take Oscars out to play at after parties
Monday, February 23 2015 at 13:51:54


Stars take Oscars out to play at after parties
Monday, February 23 2015
The Oscars may be over, but Hollywood was not done celebrating its biggest night on February 22, 2015 as the film industry took Academy Award winners and their statuettes out for an extended spin through glamorous after-parties.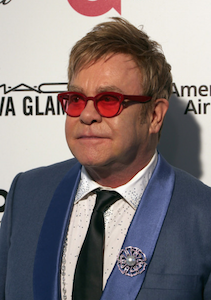 As the Oscars ceremony wrapped up with "Birdman" winning the best picture prize, stars piled into the Governor's Ball, the official after-party hosted by Oscars organizers, the Academy of Motion Picture Arts and Sciences.

For those who aren't nominated or invited to the Oscars, Elton John hosted his annual viewing party to raise money for his AIDS foundation. Guests sipped cocktails and dined under a tent that occasionally sprang a leak, dribbling rainwater on the halibut and macaroons, all part of a menu designed by celebrity chef Gordon Ramsay.

Alex Baldwin was there to raise funds and watch on the small screen as his "Still Alice" costar, Julianne Moore, won best actress.

Sharon Osbourne left her friend Elton red-faced when she went on stage at his annual Oscars party to encourage party-goers to raise funds to beat AIDS. In a rant that left the audience and Elton, she said: "F*** the Oscars.
"We are not here for the Oscars, we are here to truly fight AIDS. F*** the Oscars."

Upon hearing the outburst, while she was working as a host during an advert break for the 87th Academy Awards, which were held just a mile away from LA's Pacific Design Center, Elton "didn't know where to look" said one onlooker.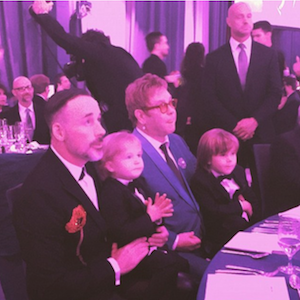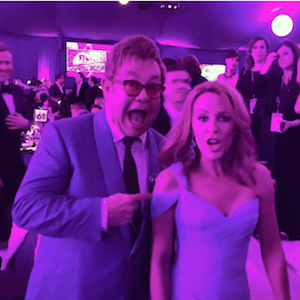 A source at the yearly party, his 23rd in a row to raise money for the Elton John AIDS foundation said: "During the breaks, various celebrities went up onto the stage to encourage guests to donate and raise money for the special cause. "Sharon is very supportive of the cause, and also very, very passionate so she got up and said how she felt. It is about making money for her, money to help people so she started using the F-word towards the Oscars.

"Elton, who was sat down at a table for the viewing party, didn't know where to look. He was obviously delighted that Sharon was backing his cause but the swearing was a bit awkward. To Elton, it is his biggest event of the year, he is immensely proud of it and he is so grateful for his friends who help him raise awareness and money."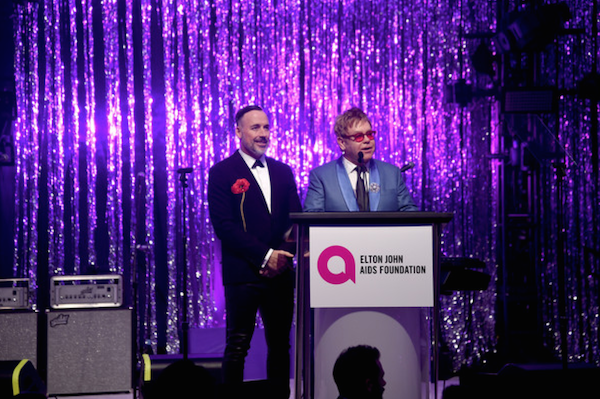 Former X Factor judge Sharon and husband Ozzy were joined by chart-topping singer Miley Cyrus, US songstress Sia, Brit Natasha Bedingfield, Peter Fonda and former Breaking Bad heart-throb Aaron Paul.

Speaking of his night, Elton said: "We can look forward to a lot of fun tonight, everyone enjoys it because they keep coming back."


David: Zachary's Broken Clavicle Is 'Part of Little Boys'
Saturday, February 21 2015 at 22:12:00

EJAF's 23rd Annual Academy Awards Viewing Party
Thursday, January 22 2015 at 02:55:16


David: Zachary's Broken Clavicle Is 'Part of Little Boys'
Saturday, February 21 2015
One parenting lesson Elton John and David Furnish already know: boys will be boys.
"Zachary broke his clavicle two days ago in the playground jumping off the climbing tower," David told PEOPLE of the couple's 4-year-old son during the Elton John AIDS Foundation Oscar Party Preview Day on February 19, 2015. "Which we told him not to do and told him not to do and told him not to do — and all his friends were doing it and he couldn't understand why we didn't want him to."

He continues, "You turn your back for half-a-second and he jumps off the climbing tower. He's fine. It's part of little boys, and growing and bumps and bruises and fortunately, not major broken bones."

Their tough little man will still join his 2-year-old brother Elijah at their parents' annual Academy Awards viewing party on February 22, 2015, where David and Elton are hosting a "'70s disco glamour" fęte for 1,000 people.

Although the boys will only stay for their traditional half-hour visit, the couple — who "really love throwing a good party" — will entertain their guests with a musical performance by Nile Rodgers and Chic, not-to-mention a five-course dinner designed by chef Gordon Ramsey. "They're going to come in … say hi to the people they know and [then] get them home in time for their bath time because we don't believe in disrupting their routine," says Furnish, adding Donatella Versace "has made them some sweet little tuxedos to wear" for the evening.

Another recent celebration the couple wanted their sons to be a big part of: their wedding. "We had our civil partnership nine years ago and that was the big party. Now that we have the children in our lives we wanted to do something that really involved them," explains David. "It was a special part of their day and their history. So to have them … as ring bearers was really great and really special."

And there's one more major (and exciting!) lifestyle change the family's looking forward to. "Zachary is going to start school full-time in September," shares David. "So that's a very, very big year for us and that's a big change in our life because we've been able to travel on the road together as a family while Elton's been touring."

Adds David, "Now we're going to be drastically reducing Elton's touring commitments. We're going to be spending more time together as a family off the road because at the moment we spend a lot of time together on the road. It's great because we've been able to take the boys with us everywhere. So that's going to be a big milestone, a big change."
Matthew Vaughn: 'I Wrote A Kingsman Cameo For Elton John'
Saturday, February 21 2015
Elton almost landed a tough guy role in Matthew Vaughn's new action movie "Kingsman: The Secret Service," opposite Oscar winner Colin Firth.
The director admits he wrote a cameo for the rocker and then abandoned the idea because he didn't think it would work in the film. He tells ABC News Radio, "I was umming and ahhing 'cause it had a whole fun subplot about celebrities being kidnapped. And I had an idea of, who's the worst celebrity you'd want to have locked in a cell? And I came up with Elton John. (I thought about) having Elton John throwing these huge tantrums, and then I wanted to do an action scene of Elton John kicking the living daylights out of people.

"I just got uncomfortable with, 'How do you have celebrities playing themselves? Opposite famous actors playing another role?' The suspension of disbelief suddenly becomes harder to pull off."
Behind the scenes at Elton John's star-studded party
Saturday, February 21 2015
Oscar night is full of star-studded parties, but there's one that draws all the big names — and for a good cause.
For the past 23 years, the Elton John AIDS foundation Oscar-viewing party has been a mainstay side event of the Academy Awards. Elton and David will play host to some of the world's biggest stars in music, art, film and fashion on February 22, 2015.

"It's a whole cross-section of everybody from Hollywood," Furnish told CBC's Kim Brunhuber at the Four Seasons Hotel Los Angeles in Beverly Hills. This year's guest list, includes Mike Myers, Eric McCormack, Heidi Klum, Steven Tyler and Miley Cyrus, to name a few.

David says even after so many years, he still gets a bit nervous in the days leading up to the big event. "It's always a bit nerve-racking ... but we always manage to get it ready." This year, the venue is decked out in purple and white decor accented with mirrors. The unique look is inspired by the glamorous excess of the disco era. Nile Rodgers, from classic disco band CHIC (Le Freak, Dance, Dance, Dance) will keep things bumping on the dance floor. British celebrity chef Gordon Ramsay designed the menu for the evening.

The high-profile event has raised more than $45 million dollars (US) for the AIDS foundation in the past two decades.

David gives Kim Brunhuber a walk-through of party preparations in the following video:



The 87th Academy Awards will be given out at the Dolby Theatre in Hollywood on February 22, 2015, beginning at 8:30 p.m. ET with the red carpet starting at 7 p.m. ET on ABC and CTV in Canada. CBC arts team is on the ground in Hollywood and will be live blogging from the parties, the red carpet and behind the scenes all weekend.

Watch for full coverage, including photo galleries and all the winners, on CBCNews.ca/arts. CBC's film critic Eli Glasner will be live chatting with the CBC Community Team in the aftermath of the awards Monday starting at 12 p.m. ET.


EJAF's 23rd Annual Academy Awards Viewing Party
Thursday, January 22 2015 at 02:55:16


We can make 'Ending AIDS' more than just a slogan
Wednesday, February 18 2015
David Furnish writes in The Independent on February 17, 2015.
Too many people have been excluded from our global fight against the virus, and that needs to change immediately

For the last few decades, those of us in the fight against the spread of HIV/AIDS have rallied around two powerful words: Ending AIDS.

And while we are closer to that goal than we have ever been, another set of words threaten to undermine so much of our progress: Left Behind.

In most communities, people who inject drugs still don't have access to clean syringes, opioid substitution treatment, or naloxone to prevent overdose and the spread of infections. Moreover, many people who inject drugs are still denied access to basic health services, non-judgmental primary care, mental health and drug treatment services, and the support they need to maintain stable and healthy lives.

How can it be that over the past 15 years science has delivered approximately 14m antiretrovirals to people living with HIV, but still managed to exclude 96 percent of people who inject drugs?

The evidence has long been in: harm reduction is extremely effective in curbing HIV transmissions. It was endorsed long ago by the Joint United Nations Programme on HIV/AIDS, the UNAIDS and the World Health Organization (WHO) as a vital tool in the global response to the epidemic.

In places where comprehensive harm reduction has been implemented, HIV rates among people who inject drugs are the lowest and in some cases almost negligible. It was the primary reason that the HIV/AIDS epidemic among drug users in cities like London, San Francisco, Sydney, Amsterdam and Berlin was avoided when AIDS first surfaced in the early 1980s.

We need to continue to apply that evidence now, especially in certain regions where intravenous drug-use is on the rise and has the potential to undermine progress.

East African countries like Kenya and Tanzania are cases in point. Further HIV infections in sub-Saharan Africa driven by drug use are as concerning as they are avoidable. Luckily, both are implementing programs around harm reduction. Tanzania has opened methadone and clean needle exchange services and Kenya has expanded access to needle and syringe programmes. However, it is critically important that these interventions be scaled up and adopted across the region where similar patterns of drug use may be emerging.

International and national funding is also essential for these services to continue. The UNAIDS estimates that $2.3bn is needed annually to fund global preventative measures among people who inject drugs. Unfortunately, at the last estimate, only a fraction — $160m — has been invested by international donors. And despite the epidemiological need and the willingness of the national governments to step in and cover the remaining funding gaps, more countries are becoming ineligible for international donor support due to their middle-income status.

Unless fundamental changes are made in donor priorities, matters are set to worsen.

Too many people are being left behind and left out in the Americas, in Africa, in Asia, and in Eastern Europe.

Every person left behind is a fellow human being – someone's child, someone's parent, someone's friend, someone's partner. Every one of them has a right to life and to health. Every one of them deserves compassion, and dignity, and love.

As we look back on all of the important progress we've made in recent years, we must remember that "Ending AIDS" must be much more than a slogan.

It must be a well-funded vision, grounded in science and implemented in a manner that will reach all who are in need. Because to truly End AIDS, we must make sure that no one is Left Behind.

David Furnish is the Chairman of the Elton John AIDS Foundation. This is an edited version of his foreword to the Global State of Harm Reduction 2014 report launched today by UK based NGO Harm Reduction International.
Taylor Swift and Elton for Super Bowl 2016?
Sunday, February 15 2015
The world is still buzzing about Katy Perry's half time show but Taylor Swift, 25, is here to swoop in and steal the Super Bowl spotlight!
A source revealed to HollywoodLife that Taylor's got the gig if she wants it. Will Taylor Swift be next year's Super Bowl half time show performer? She is a frontrunner, a HollywoodLife.com EXCLUSIVE insider revealed!

"Taylor Swift is on NFL's short list to be the halftime show for next years SuperBowl, it's basically hers if she wants to do it," the source revealed. There are always surprise guests during the half time shows, so who will join Tay on stage next year? The source spilled, "They are also considering Elton John to either join her or be an option as well."

"With the diversity that the San Francisco area embraces, they not only want to make the show universally appealing but also something to show that diversity matters. That is why they want to add Elton John to the plans," the source added. It would be awesome if Elton John joined Taylor on stage at the Super Bowl.
Valentine's Day in the studio
Sunday, February 15 2015
John Mahon posted a photo of the works in the studio on Facebook.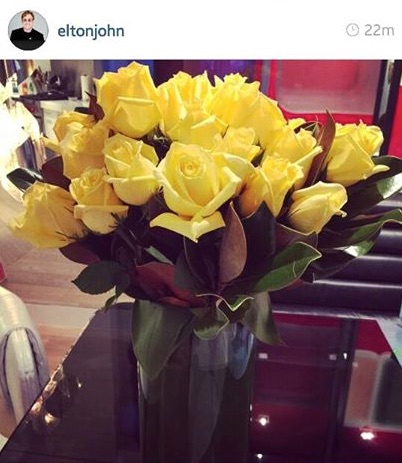 Meanwhile, Elton posted a photo of his Valentines roses bouquet on Instagram: "Look at my beautiful roses from my darling David. Happy Valentine's Day everyone. #ShareTheLove"

John Mahon captioned his shot from the studio "Listening session for the new record. It's gonna be a wonderful album."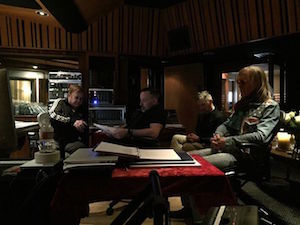 Elton back in the studio
Sunday, February 1 2015 at 07:37:21
Happy Birthday, Nigel!
Tuesday, February 10 2015
Elton's drummer Nigel Olsson is celebrating his 66th birthday on February 10, 2015.
On behalf of the Hercules team and the Elton John fans all over the world, we would like to wish him a happy birthday!
The Emperor's New Clothes
Wednesday, February 4 2015
The Elton John tour has a new official sponsor. Tom Cridland is a menswear brand devoted to making trousers in unique colours, started by a 24 year old designer from London.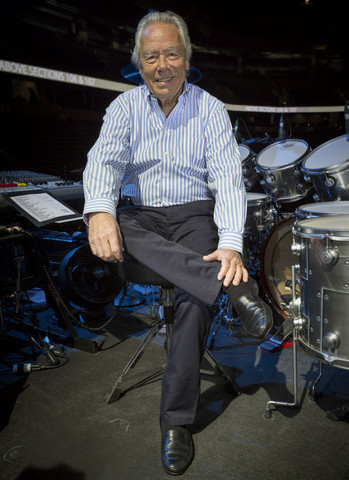 Elton's crew and three band members (Nigel Olsson, Matt Bissonette and John Mahon) all wear Tom's original and imaginative trouser designs. The crew will even sport them on stage during concerts from spring 2015.

Elton's longstanding drummer, Nigel Olsson, was the first to hear about Tom's trousers and selected Classic Navy and Rolling Stone as his favourites colours. He wears them on the road and introduced the brand to Matt Bissonette, the bass player, and percussionist John Mahon.

Tom Cridland are currently running a Kickstarter campaign for their American launch and are offering trousers at a specially discounted price on their webpage.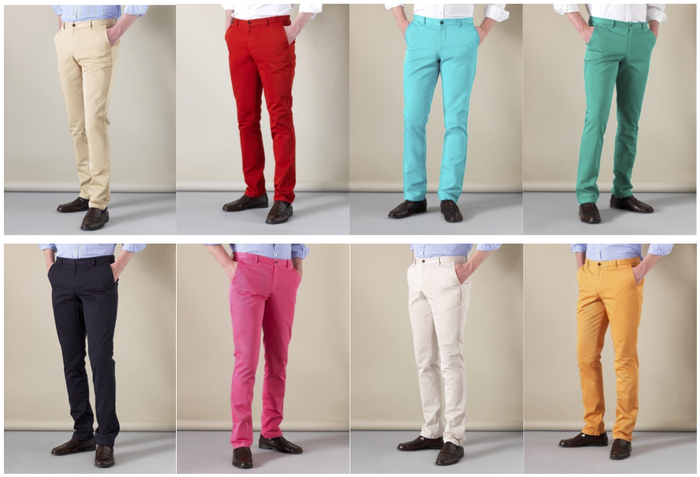 Elton John slot machines
Wednesday, February 4 2015
There is more in Las Vegas now than seeing Elton John perform in "The Million Dollar Piano".
Elton John slot machines have been installed in Caesars Palace, but also at Harrahs Atlantic City and Harrahs Cherokee ... and probably in some other casino locations as well.



Happy gambling!
Which pop concerts cost you the most (and least)?
Wednesday, February 4 2015
Vocativ crunched ticket pricing data for dozens of popular musical acts. Turns out, Lady Gaga and Katy Perry are a bargain next to Fleetwood Mac and Elton John.
With the help of secondary marketplace StubHub, Vocativ looked at ticket prices for the 2014 concert tours of dozens of the most-popular artists: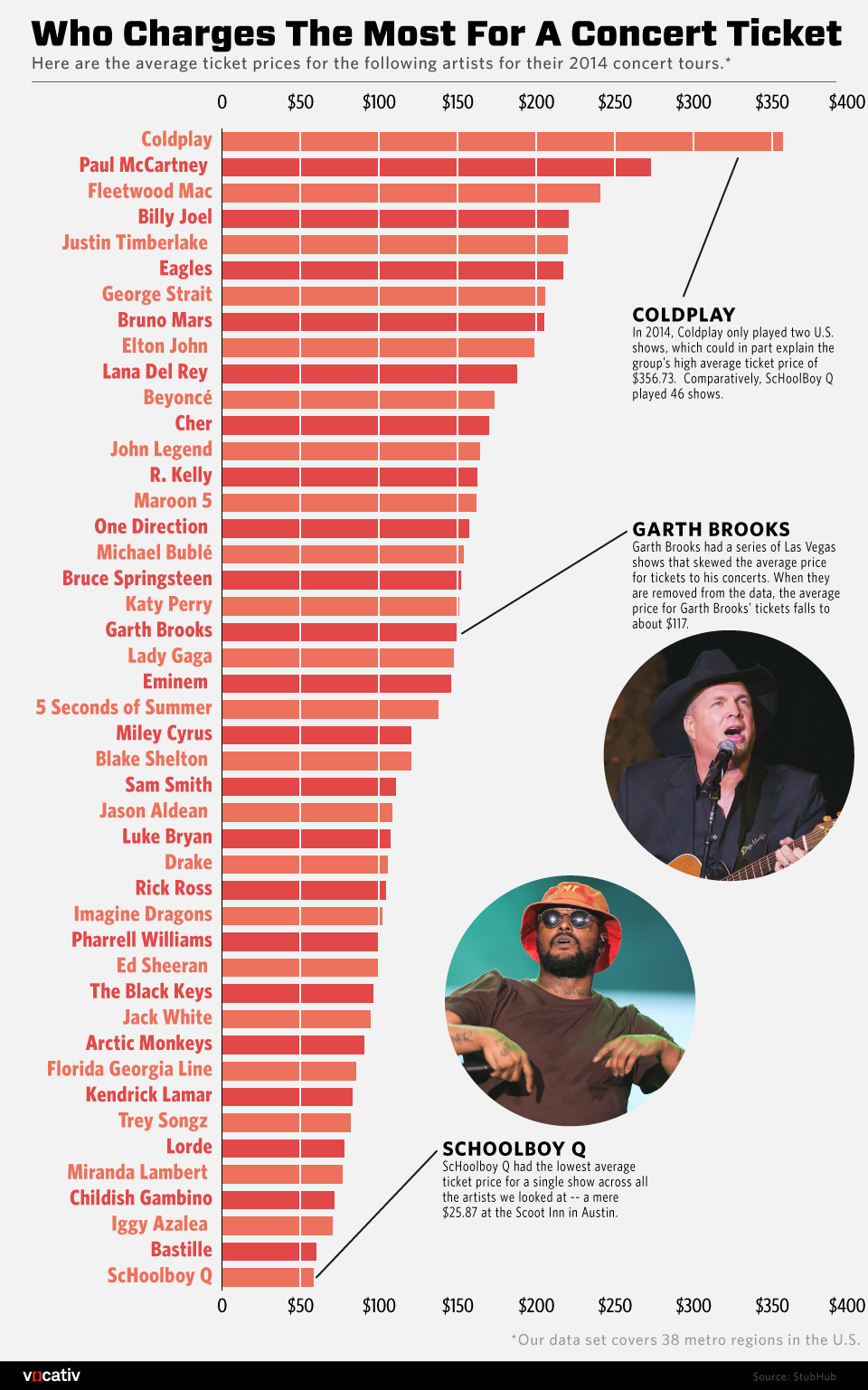 To gain insight into the range in ticket prices for each artist, Vocativ also looked at the venues on their 2014 tours where they had the highest average ticket price and the lowest average ticket price: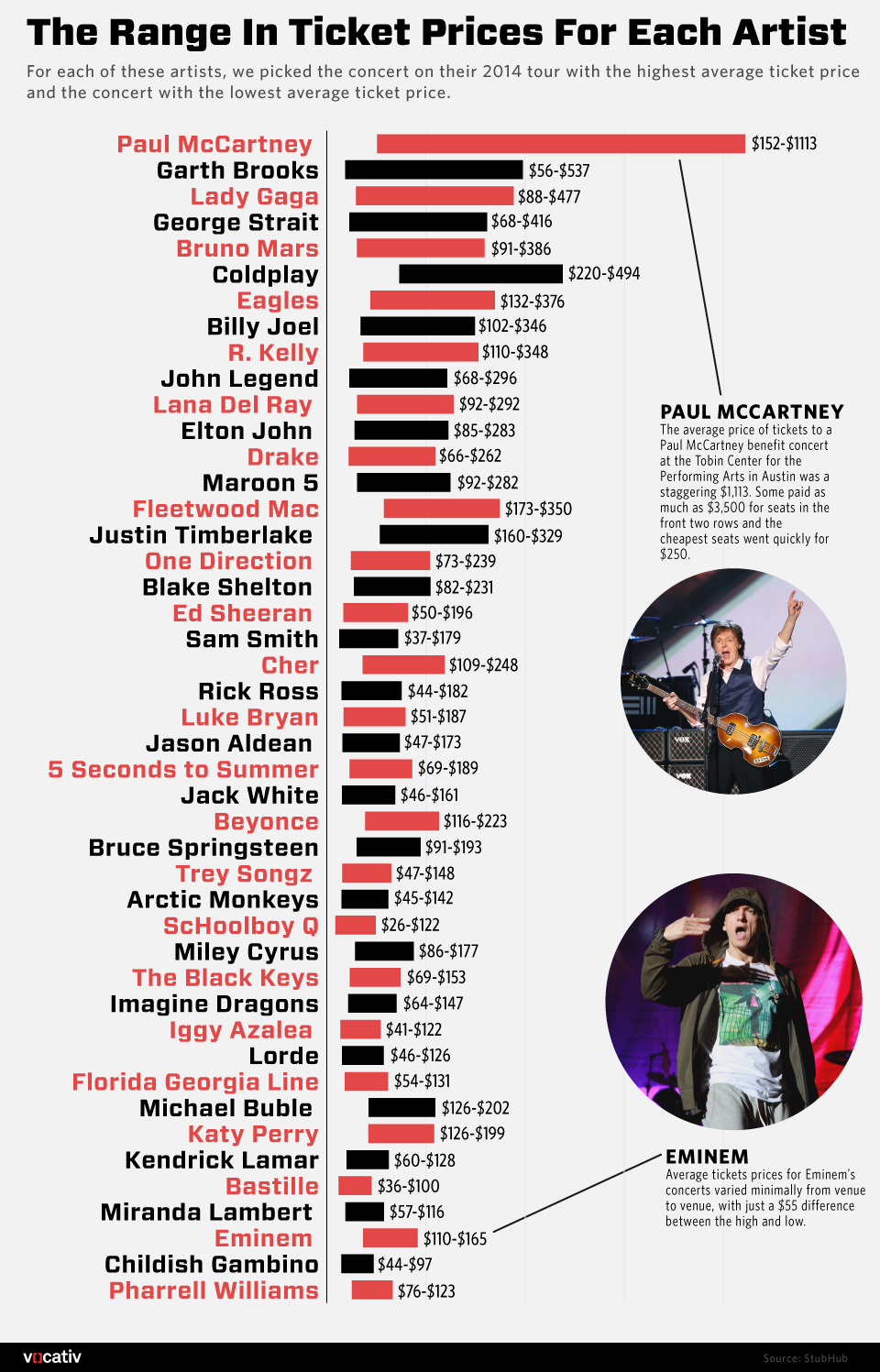 Elton back in the studio
Sunday, February 1 2015
Elton has posted a photo with producer "T-Bone" Burnett on Instagram on January 31, 2015.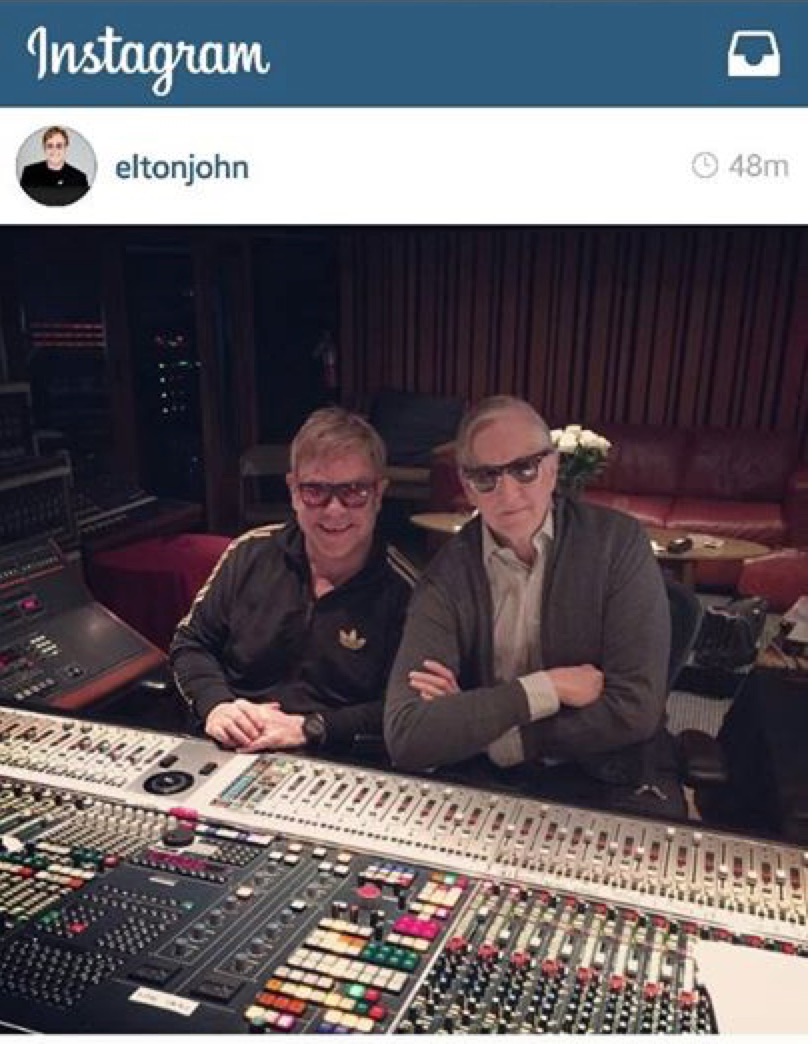 The post "Nice to be back in the studio with this lovely man #tboneburnett" confirms rumours, which we had reported on towards the end of last year as part of our Xmas post.

It appears that work on a new studio album will commence now and - contrary to the past two albums for which Elton worked with session musicians - it will feature the Elton John band again.


Merry Christmas & a happy New Year 2015
Friday, December 12 2014 at 15:10:44