ELTON JOHN NEWS ARCHIVE: February 2013
The Lumineers slapped by Elton
Tuesday, February 26 2013
The Lumineers' Jeremiah Fraites was slapped by Elton John, because he didn't believe he could have heard their album.
The 'Ho Hey' band met the legendary singer at the Grammy Awards, but accidentally offended him by not believing he had heard their music. The band's Wesley Schultz told radio station XFM: "We saw Elton John's suit and his brightness and his entourage and he turns and Jeremiah says 'I'm sorry man, we're in The Lumineers and we're just big fans of yours.' He [exclaims] 'The Lumineers!' and he comes over and our drummer says, 'There is no frigging way you listened to our album' and [Elton] slaps him in the face and says, 'The hell I didn't! I definitely did!' He was really upset that we were questioning whether or not he'd heard our album."

The 'Ho Hey' group - which also includes Neyla Pekarek - have achieved huge succes in the last year, but say it has been a long time coming. Jeremiah explained: "We've been writing together for seven years, and I think it's been a slow gradual climb. I think we had to make a lot of mistakes with this band before we made stuff that people got into. For about five years of making music it was just not focussed, and through all of the mistakes we made as a band we finally got somewhere pretty neat."
Elton heaps praise n Adele after Oscar win
Tuesday, February 26 2013
Elton has been raving about Adele following her dramatic Oscar win at the Academy Awards, describing the singer as 'perfect.'
The legendary musician heaped praise on 24-year old Londoner Adele after she picked up the Best Original Song award for 'Skyfall' at the 85th Annual Academy Awards in Hollywood on February 24, 2013. Speaking to reporters later that evening at his annual AIDS Foundation Academy Awards after-party,Elton admitted that Adele was the complete package because she's 'imperfect.' "She's authentic. She doesn't lip-sync, she comes on and she sings, she's the real deal," he gushed. "She's not slick, she's human, she's imperfect, she's what every entertainer should be."

Elton was also quick to praise Scottish star Emeli Sande following her success at the Brits – and predicted the singer would enjoy even greater success in 2013.

Adele's win at the Oscar's tops off a successful 12-months, during which she gave to her first child, a son, with boyfriend Simon Konecki – who also has a daughter with his ex-wife. In January 2013 she scooped the Best Original Song Award for 'Skyfall' at the Golden Globes.
Inside Elton's Oscar Party
Tuesday, February 26 2013
At 4 p.m. on February 24, 2013, it was a balmy 70 degrees in Hollywood, and Elton John could not have asked for better weather for his Annual Elton John AIDS Foundation Academy Awards Viewing Party held on the cusp of the Pacific Design Center. And the evening had only just begun.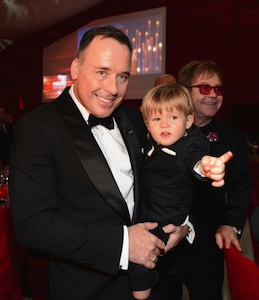 The fab affair, sponsored by Audi Wells Fargo, Chopard and Grey Goose, brought out a record number of people and raised a record $6 million for Sir Elton's AIDS Foundation. Gordon Ramsey donned his chef's garb to whip up the night's edibles, while guests like Steven Tyler, Jared Harris, Molly Sims, Zac Efron and Nicki Minaj made the rounds.

Trying to keep a low profile was Bono with beautiful daughter Eve Hewson – both of whom jetted off as soon as the awards were over to cross-town to the Vanity Fair soiree.

During the course of the evening, singer Chris Brown made his way easily through the crowd, and surprisingly was not reviled, but instead revered, as he jumped from table to table. Jim Carrey – who we've not seen much of as of late, sat at Table 35 surrounded by Randy Jackson and Steven Tyler. While Randy was bedecked in a swank 50's inspired ensemble talking up the newly single Carmen Electra in va va voom brick red and black satin, during the commercial breaks, Steven Tyler was wearing – well, Steven Tyler.



After the show, there was a quick round of charitable auction action – things got very heated at one point, when Dave Grohl and Chelsea Handler (with Andre Balaz by her side) went head to head in an attempt to garner the tony prize of 5 days at Steven Tyler's compound in Molokai (Tyler exclaimed that this place was so remote, you could walk around naked all day long). Chelsea outbid Grohl when she hit $240,000 for the package, but alas, she was outbid by someone else hiding out at one of the lone tables, far from the maddening Hollywood crowd.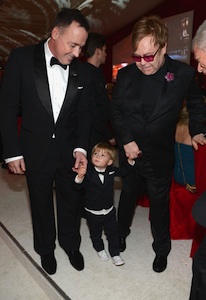 Who else was there? Britney Spears, Louise Roe, Mel B, Peter Facinielli, Nicole Richie, Nina Garcia, Steve Tisch, Anna Paquin; Stephen Moyer, Sammi Rotibi, Miley Cyrus, Gabrielle Anwar, Kelly Osbourne, Jane Lynch ... though many split soon after the auction ended and the entertainment began for the likes of Vanity Fair, Fox Searchlight, and maybe – just maybe – Madonna's party which would start up around midnight.

With celebrities at every table, Elton John's Oscars bash is the place to be seen. But the stars were all outshone by the smallest guest of all - two-year-old Zachary Furnish-John. The toddler joined his proud dads, Elton and husband David Furnish, as they welcomed the stars to their annual party. And showing he is very much his fathers' son, little Zach did not seem the least bit overwhelmed. Instead he happily high-fived U2 singer Bono as Elton showed him off to the assembled company. The youngster entered the party holding tightly to his fathers' hands.




Emeli Sandé to perform at EJAF's Academy Award Viewing Party
Tuesday, February 12 2013 at 20:49:05

Gordon Ramsay to design menu for EJAF's Academy Awards Viewing Party
Wednesday, February 6 2013 at 21:53:51

2013 Academy Awards Viewing Party
Friday, January 18 2013 at 19:37:13
Elton finishes new album, eyes September release date
Saturday, February 23 2013
Elton John has finished what he calls "the most piano-oriented album of my career" and is looking at a release in September 2013.
Titled "The Diving Board," the 13-track album comprises songs written in two sessions with lyricist Bernie Taupin. The first was in January 2012 soon after the completion of his album with Leon Russell, "The Union." Four others were written and recorded in January 2013.

"We wrote 11 songs in three and recorded them in four days," Elton told a small group of friends, associates and journalists at Los Angeles' Village Studios on February 22, 2013. After a year, Elton and Taupin were able to revisit the project, write a few more songs and finish the album. "In hindsight, I realize I never had that before," he said of being able to step away from compositions for a good period of time.

T Bone Burnett, who produced "The Union," produced the new album as well. They kept the accompaniment minimal -- Jay Bellerose on drums, Raphael Saadiq on bass, Keefus Ciancia on keyboards, Doyle Bramhall on guitar and Motown legend Jack Ashford on percussion. Elton was keen to point out that the block Ashford used on his "A Town Called Jubilee" was the one used on Marvin Gaye's "What's Goin' On."

The album is a mix of gospel, blues, jazz, brass band music, pop and a waltz -- "everything I love about American music," he said. Taupin treats each song as a short story that, in turn, giving the work a cinematic feel. "This is the album I should be making after 'The Union.' It's my most adult album."

Here's the track listing for Elton John's next album, "The Diving Board":

"Oceans Away"
"Oscar Wilde Gets Out"
"A Town Called Jubilee"
"The Ballad of Blind Tom"
"My Quicksand"
"Can't Stay Alone Tonight"
"Voyeur"
"Home Again"
"Take This Dirty Water"
"The New Fever Waltz"
"Mexican Vacation (Kids in the Candlelight)"
"Candlelit Bedroom"
"The Diving Board"


Elton and David plan weddings
Saturday, February 23 2013
The couple entered into a civil partnership in 2005 but after gay marriage was legalised in the UK they have decided to tie the knot there and again in Los Angeles when the US city follows suit.

David told Hollyscoop: "Los Angeles is like a second home to us. We have a civil partnership, but gay marriage has now been legalised in the UK. When we go back to Britain, we will definitely renew our vows under the gay marriage act but to do it here in Los Angeles, which is a second home to us, we'd love to do it here too! Let's renew those vows everywhere they become legal!"

While they are excited to wed, David admitted the couple - who recently welcomed baby Elijah into their family, a brother for their two-year-old son Zachary - are also hoping their high profile will encourage other people to accept gay marriage. He explained: "It is one of the pivotal defining issues of our time and this moment has arrived and even though we have our relationship legally recognised, people are fighting hard for this issue everyday and deservedly so. If we can give it profile and support, we'll continue to do that."
Elton and David: No more kids for us, "We're complete"
Saturday, February 23 2013
Don't expect Elton and David to be making anymore baby announcements, reports eonline.com.

"We're done," David told Marc Malkin on February 21, 2013 while promoting this year's Oscar viewing party benefit for the Elton John AIDS Foundation. "That I can confirm. No more. We're complete." Complete is 2-year-old son Zachary and baby Elijah, who was born just six weeks ago.

David also told how he and Elton have found parenthood much easier the second time around. He said the support network around Zachary had made it much easier to adjust to baby number two. "It feels a lot easier, a lot more comfortable - the routine is already in place with Zachary in a way, and all the stuff that was so scary the first time around isn't quite so scary the second time around," he said.

He explained the couple had a "wonderful nanny, fantastic paediatrician, all the great support. Now we have that wonderful infrastructure in place so we can just sit back more and enjoy the little person themselves without the worry - or as much worry," he laughed.
EJAF reaches $300 million fundraising milestone
Wednesday, February 20 2013
Eltonfan.net would like to congratulate the Elton John AIDS Foundation (EJAF) for reaching the historic milestone of having raised more than $300 million for HIV prevention, treatment, advocacy, and anti-stigma programs across the globe.
Please read more about this achievement and how EJAF's fundraising has made a difference around the world:

"After 20 years of doing this work, I know that the only way to fight against AIDS is by helping everyone in need, especially those living at the margins of society," said Sir Elton John. "I'm so grateful to all our donors, whose generosity has allowed us to support dozens of innovative organizations that provide critical services to the most stigmatized populations around the world. These organizations are doing work that governments refuse to do, and helping people that governments refuse to help. I'm proud and honored to support them. And even though our foundation has reached this wonderful milestone, there is so much more work to be done."
Elton plans in-store shows to help save HMV
Wednesday, February 20 2013
Universal UK boss says Elton has suggested a series of gigs by leading artists to encourage fans to shop in high street stores, reports The Guardian.
HMV could be thrown a lifeline by Elton after it emerged that the singer plans to perform in one of the chain's stores. He has suggested that big artists could play a role in keeping Britain's last major music retailer on the high street by playing a series of in-store gigs.

David Joseph, the chief executive of Universal UK, to which Elton is signed, said: "We've got lot of artist support for HMV. Last week one of our biggest global superstars said why don't we get a lot of the biggest artists to start doing gigs in HMV, just to turn up and say these are music stores, come and get your music here." He confirmed the artist was Elton.

The singer's spokesman, Gary Farrow, confirmed Elton would perform but could not say when or in what capacity. Any show was likely to be "intimate", he said. "Elton has always been a big supporter of record shops. He will be doing something with HMV although as yet we cannot confirm what or when that would be."

Joseph said major and independent record labels were in close discussion with HMV in an attempt to ensure its future on the high street and hoped for a 6 Music moment – referring to the outpouring of support for the BBC radio station when it was threatened with closure.

"How HMV emerges is going to be an important factor for us, our artists and our record fans," he said. "I'm hoping, and doing everything I can with them, to make this a bit of what happened with 6 Music, which looked like it was going away and all of our artists said it was a part of culture didn't want to lose."

Joseph said HMV had to rediscover its roots as a music and film destination, with more knowledgeable staff and a better system for recommending music to fans. "I think it lost its way, you would go into a HMV to buy music and find yourself being able to buy a Twilight poster, a South Park keyring, some merchandise," he said. "The way they survive is not to try to be Athena posters, Dixons, Apple and HMV all at the same time. They have to curate music. The conversations we have had which are healthy are about restoring it to its core values. Look at the way it works in Daunt Books or Waterstones, with recommendations on handwritten notes – that's what I firmly believe HMV has to do."

A source close to HMV said the company had been in "on-off" discussions with various labels about artists performing in stores and would be "honoured" if Elton performed. If the company emerged from administration a number of in-store events could help relaunch the business, the source said. HMV's administrators have struck a temporary deal with film studios and music labels to ensure that new releases such as the Bond film Skyfall and Madagascar 3 continue to be supplied to the group's stores while its future is decided.

The chain's fate rests largely with Hilco, a specialist investor in distressed retail groups, after it acquired secured debts from Royal Bank of Scotland, Lloyds Banking Group and other lenders. It acquired HMV's Canadian business in 2011 and is the most likely to emerge as owner of the brand in the UK. Administrators from Deloitte have shut the HMV website and are cutting the number of HMV branches from 220 to 150 in the next few weeks.
San Diego Gay Men's Chorus celebrates Elton playlist
Friday, February 15 2013
The songs of legendary musician and showman Elton John will take center stage at the San Diego Gay Men's Chorus spring concert "Rocket Man – The Music of Elton John" April 13 and 14, 2013 at the Birch North Park Theatre in San Diego.
The 150-member chorus will highlight five decades of hits from "Your Song," "Crocodile Rock," "Daniel" and "Candle in the Wind" to "Circle of Life" and other songs from his movie and stage hits The Lion King and Aida.

"Everybody has at least one favorite Elton John song and we promise to rock them all," said Artistic Director Gary Holt. "And, for anyone wondering if there will be glittery costumes, outlandish glasses and over-the-top dance numbers, the answer is – abso-gayly-lutely!"

Elton was the first major star to talk about his sexuality in 1976 and through the years has become a proud gay man, husband and father. Many of his songs reflect the unique struggles and celebrations faced by the LGBT community.

The show features a live orchestra, and is directed and choreographed by Joey Landwehr, the award-winning artistic director of San Diego's J*Company Youth Theatre. As an added bonus, Holt – a lifelong professional pianist himself – will rock the entire production from center stage as he conducts the high-energy show from the keyboard.

Tickets for the Saturday, April 13 8 p.m. performance are $25-$43; and tickets for the Sunday, April 14 3 p.m. matinee are $21-$38. A $5 discount is available for seniors, students, military and groups of 10 or more. The Birch North Park Theatre is located at 2891 University Ave. in San Diego.

For tickets or more information, visit sdgmc.org or call 877-296-7664.
'Nsync, One Direction and Elton top Bad Love Song List
Friday, February 15 2013
Elton John, Celine Dion and boybands 'Nsync and One Direction have been named in a Valentine's Day-themed list of the worst love songs of all time.
Elton's "Can You Feel the Love Tonight" has been branded a "cornball ballad" in Rolling Stone magazine's 20 Love Songs We Never Want to Hear Again list, while Dion's "My Heart Will Go On" is described as causing listeners "instant recognition followed by immediate terror".

'Nsync's "(God Must Have Spent) A Little More Time On You" and One Direction's "Little Things" were called "romantic cheddar bombs", while editors also named and shamed "schmaltzy sweetheart tunes" by James Blunt (You're Beautiful), Chris de Burgh (Lady In Red), and Phil Collins (Groovy Kind of Love).
Elton tells Adele: Head for Vegas, baby!
Friday, February 15 2013
Elton believes a stay in Las Vegas could rid Adele of her stage fright, reports Now magazine.
Adele could soon be living in Sin City - if she listens to Elton. The new mum, 24, suffers from crippling stage fright and has been concerned about undertaking a gruelling US tour.

However, Elton has the solution: a residency in Las Vegas. He's been helping Adele conquer her nerves ahead of her huge gig at the Oscars on February 24, 2013 - her first live performance since having baby Angelo in October 2012.

"Adele's aware she has to keep up her exposure in the US, but doesn't want to tour, especially with the baby," says a source. "Last time she did she fell ill and it led to her needing surgery on her vocal cords. Elton suggested she look into a three-month residency in Vegas. She could take her boyfriend Simon Konecki and the baby. He said he could help organise it."


Desperately nervous Adele calls on Elton for help
Thursday, January 24 2013 at 04:45:51


Grammy Event memorabilia auctioned on eBay
Thursday, February 14 2013
On February 8, 2013, an impressive lineup of stars, including Neil Young, Elton John, Jackson Browne and Sting, performed at the annual MusiCares Person of the Year gala honoring Bruce Springsteen.
Now, a variety of signed memorabilia from that event has gone up for auction on eBay. The items include an acoustic guitar signed by Young, Elton, Browne, Sting, Patti Smith and others; an electric guitar autographed by Young; an Elton-signed greatest-hits set on vinyl; a program journal autographed by both Young and Sting; and a Sting: 25 years box set.

Proceeds from the auction will benefit MusiCares, a charity set up by the Recording Academy to help musicians in need.


Elton and other stars honor Bruce Springsteen at MusiCares
Sunday, February 10 2013 at 06:49:15

Elton John and Neil Young will honour Bruce Springsteen at gala
Wednesday, January 2 2013 at 20:39:55


Elton and Ai Weiwei join forces to launch Valentine's Day Aids campaign
Thursday, February 14 2013
Elton and the Chinese artist Ai Weiwei will join forces to support a Valentine's Day campaign to raise awareness of Aids on February 14, 2013.
Elton has persuaded stars including Jessie J, Jamie Oliver and Elizabeth Hurley to take part by pricking their finger to draw a spot of blood and then tweet an image of it accompanied by the words, Love Is In My Blood.

The campaign also includes a film by Weiwei. The dissident artist, who filled the Tate Modern's turbine hall with porcelain sunflowers in 2010, said: "When Elton asked me to create something for the foundation, I wanted to contribute by finding an expression that raises awareness for this crisis among as many people as possible."

Elton infuriated the Chinese authorities when he dedicated a performance in Beijing in November 2012 to the outspoken Weiwei. Local police questioned the singer after he met the artist and announced that the performance was dedicated "to the spirit and talent of Ai Weiwei".

Two versions of his film, one lasting 30 seconds and one lasting a minute, will run on YouTube and on big screens in Times Square, Piccadilly Circus and Independence Square in Kiev, Ukraine, on February 14, 2013. Elton said: "Now more than ever we know how to beat Aids. Thanks to incredible work by the Aids community over the past 20 years we now have affordable, quality treatment which saves lives and dramatically reduces the chances of passing on HIV. But these medicines don't work against prejudice and discrimination. It's time to stop treating people who are most vulnerable to HIV as outcasts. Everyone deserves the chance to protect themselves. Surely we have enough love for that."

David, who chairs his AIDS Foundation, said: "Of course we want people to protect themselves and everything we fund promotes safe sex, clean disposable needles and condom use. The idea of this campaign is not to get everyone pricking their fingers, but to get the world's attention; to challenge the equation that HIV + blood only equals fear and isolation. What pumps through our veins is also the love and compassion to keep one another safe and look after people when they need it. The only question is whether we are ready to show it."
Emeli Sandé to perform at EJAF's Academy Award Viewing Party
Tuesday, February 12 2013
The Elton John AIDS Foundation (EJAF) is proud to announce that it has selected soulful Scottish songstress Emeli Sandé to perform at this year's Academy Awards Viewing Party to be held on February 24, 2013, at West Hollywood Park.
This annual gala, sponsored by Chopard, Neuro Drinks and Wells Fargo, is the largest fund-raising event in Hollywood on Oscar night and has raised more than $34 million to support the Foundation's mission to empower people infected, affected and at risk of HIV/AIDS.

"Emeli Sandé's album, 'Our Version of Events,' is a true work of art and a favorite of mine," said Elton. "When she is on stage, you can feel her passion for music and the heart that goes into her lyrics. I can't wait to introduce Emeli to my guests and experience her live performance together. I predict that by next year she will be a multi-Grammy Award winner."

Sandé leads the 2013 BRIT Award nominations with four nods, including Best Female Solo Artist, Album of the Year and two for Best Single. Her breakthrough multi-platinum album, "Our Version of Events," was the top-selling album in the U.K. last year, winning over critics, fans, and fellow artists worldwide. Sandé has also enjoyed international success, selling 2.5 million copies and achieving Gold and Platinum status in France, Italy, Australia, Ireland, Germany, Holland, Belgium and Switzerland.

"I'm absolutely delighted to have the chance to work with Sir Elton again and to help support the amazing work he continues to do with his Foundation," said Emeli Sandé. "I was lucky enough to perform at his Winter Ball recently and I'm sure this will be as memorable a night. I look forward to helping the Foundation raise funds and awareness for those touched by HIV/AIDS."

In addition to Sandé's performance, guests can look forward to an evening of fun that includes a dinner prepared by internationally renowned Chef Gordon Ramsay and a lively auction performed by Sotheby's own Jamie Nivens. The event will play host to a myriad of Hollywood top names, many of whom are committed supporters of the Foundation's work to provide services, including direct treatment and care for people living with HIV/AIDS in marginalized communities.

Among the individuals who will attend the celebration are the 2013 Event Chairs, including Bill and Tani Austin, Johnny and Edwina Barbis, Joseph Blount, Chris Colfer, Miley Cyrus, John Demsey, Alec Gores, Tim Hanlon and Anthony Klatt, Neil Patrick Harris and David Burtka, Hugh Jackman and Deborra-Lee Furness, Diana Jenkins, Quincy Jones, Rashida Jones, Heidi Klum, Ryan Kwanten, Fred Latsko, Sandra Lee, Baz Luhrmann and Catherine Martin, Eric and Janet McCormack, Joe McMillan, Anna Paquin and Stephen Moyer, Katy Perry, Tyler Perry, Pablo and Nathalie Salame, Caroline Scheufele, Sharon Stone, Steve Tisch, Edward Walson and John Waters.

Audi, Grey Goose and MAC Viva Glam are the evening's Co-Sponsors. The Foundation is especially grateful to the City of West Hollywood for its continued collaboration with EJAF. American Airlines is EJAF's official sponsoring airline.


Gordon Ramsay to design menu for EJAF's Academy Awards Viewing Party
Wednesday, February 6 2013 at 21:53:51

2013 Academy Awards Viewing Party
Friday, January 18 2013 at 19:37:13


Elton John Grammys performance with Ed Sheeran
Tuesday, February 12 2013
Elton John and Ed Sheeran performed "The A Team" at the 55th annual Grammy Awards on February 10, 2013.
Elton's Grammys performance with Sheeran was the iconic singer's idea, according to the young upstart. "He put it together. He rung me up one day and said, 'How would you feel about performing with me at the Grammys?'" Sheeran told MTV. "I was like, 'I'll check my schedule.'"

Sheeran struck it big in 2012 with the release of "The A-Team." The song was nominated in the Song of the Year category at the Grammy awards. Elton was busy during the Grammys broadcast. He also performed with Mumford & Sons and other artists in a tribute to Levon Helm.


China tightens concert rules after Elton's 'disrespectful' Beijing show
Tuesday, February 12 2013
Chinese authorities have hardened their line on foreign musicians, after Elton John infuriated them by dedicating a performance to outspoken artist and activist Ai Weiwei, according to industry sources.
Police arrived to interview the singer shortly after he announced that the performance, which took place in Beijing in November 2012, was dedicated "to the spirit and talent of Ai Weiwei", according to two sources. One said officers wanted Elton's manager to sign a statement saying the dedication was inspired only by admiration for Ai's art. Elton's spokesman declined to comment when contacted by the Guardian.

Ai and Elton met briefly before the Beijing show, with Ai subsequently announcing to fans on Twitter: "I super like him." Elton was allowed to go ahead with a scheduled concert in Guangzhou in early December 2012. But the English language edition of state-run newspaper Global Times attacked Elton. It said the singer was "disrespectful" when he "forcibly added political content to the concert", adding: "If they had known that this concert would be dedicated to Ai Weiwei, many in the audience would not have come. John's action will also make the relevant agencies further hesitate in future when they invite foreign artists ... [He] has raised difficulties for future arts exchanges between China and other countries," the newspaper said in an editorial.

The singer's remarks even prompted the culture minister, Cai Wu, to demand that only stars with university degrees be allowed to play in China in future, according to two sources. They said that days after the concert, Cai gathered those who deal with visiting foreign artists and announced that only graduates should be given performance licences. One source said officials believed it would be difficult to implement the edict, and both suggested it may have been a spur of the moment comment.

A culture ministry spokesman said there were no new regulations. They did not address specific questions that the Guardian had asked regarding the meeting, replying: "About what you said in the fax, there is no such thing". Another source said that since the start of the year, classical musicians had been required to supply proof of degrees and other qualifications when applying for permission to tour China. "There is no doubt at all it has made things harder," said one of those with knowledge of the meeting, adding that several recent applications for licences had been rejected. "They are looking closely at videos, making sure that the people on stage are exactly the same as in the visa applications, and so on. It's not a change in the rules as much as a tightening [of existing procedures]."

A fourth source said he was not aware of the ministerial meeting, but that local cultural officials had summoned promoters within a fortnight of the incident to remind them of event rules, which included appearances by foreign artists. Scrutiny of visiting musicians was tightened in 2008 after Björk shouted "Tibet! Tibet!" at the end of her song Declare Independence during a performance in Shanghai. China's ministry of culture later said that "[her] political show has not only broken Chinese laws and regulations, and hurt the feeling of Chinese people, but also went against the professional code of an artist".

A ban on artists who did not make it to university would have kept out both Elton and Björk, neither of whom have degrees. The ministry of culture monitors music for vulgarity, as well as political content. In 2009, it ordered a cleanup of online music sites to address "poor taste and vulgar content".


Elton dedicates Beijing show to Ai Weiwei
Tuesday, November 27 2012 at 05:47:40


Elton and other stars honor Bruce Springsteen at MusiCares
Sunday, February 10 2013
Bruce Springsteen was named MusiCares' Person of the Year at an all-star concert and fundraiser that benefits the Recording Academy's philanthropic arm.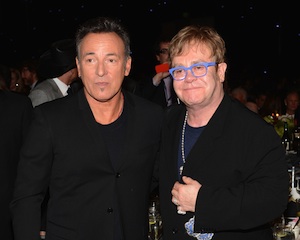 Each year, Grammy Week offers up a full calendar of events -- each one boasting a guest list more spectacular than the next. But this year, the most coveted ticket was "2013 MusiCares Person of the Year Tribute" honoring Bruce Springsteen on February 8, 2013. The evening's entertainment featured six Rock and Roll Hall of Famers, a few critically acclaimed young artists -- and The Boss himself.

Neil Young and Crazy Horse turned up the volume with a spirited version of "Born in the U.S.A," flanked by a pair of cheerleaders with the letter "S" emblazoned on their sweaters. Colombian superstar Juanes put a bilingual spin on "Hungry Heart," singing verses in both Spanish and English, and John Legend transformed "Dancing in the Dark" into a jazzy piano ballad, which led Springsteen to later remark that "he made me sound like Gershwin. I love that."

Other standout performances included Mumford & Sons' banjo-laced cover of "I'm on Fire," Tom Morello and Jim James' mesmerizing take on "The Ghost of Tom Joad," and country superstar Kenny Chesney's quietly effective rendition of "One Step Up."

Elton John also opted for simplicity, accompanied only by his piano on "Streets of Philadelphia." But the most curious vocal of the night was on "Lonesome Day," where Sting exhibited a raspy growl that suggested he was looking to honor Springsteen by sounding like him.

The evening was part all-star concert, part fundraiser to benefit the MusiCares Foundation, the Recording Academy's philanthropic arm that provides assistance to members of the music industry. "We take care of our own," said Springsteen, invoking the title of a song off his current Grammy-nominated album, "Wrecking Ball."

When a live auction featuring a signed guitar wasn't generating enough interest, Springsteen took the microphone and upped the ante, throwing in a free guitar lesson with himself as the teacher, a ride in the side car of his Harley, eight tickets to the E Street concert of their choice, a backstage tour and lasagna made by his 87-year-old mother, Adele. A woman from New Jersey snapped it up for $250,000, then proceeded to kiss Springsteen on his lips.

The 63-year-old music icon was honored for his philanthropic work, as well as his musical achievements. "I am here tonight under totally false pretenses," he told the crowd of 3,000 packed into a ballroom at the Los Angeles Convention Center. "Any philanthropy I've done involves me playing the guitar ... and I would have been playing the guitar anyway."

He then took the stage, launching into "We Take Care of Our Own," "Death to My Hometown," "Thunder Road" and "Born to Run." For his finale, Springsteen called for every musician in the building to join him onstage for "Glory Days." Neil Young grabbed a couple of drumsticks and banged on a snare, while Tim McGraw, Faith Hill, Patti Smith, Sting, Jackson Browne, Emmylou Harris, Mumford & Sons, Ben Harper, Tom Morello and host Jon Stewart joined in the singalong. Also spotted in the audience: Springsteen's daughter, his mother and Sean Penn.

2013 MusiCares set list: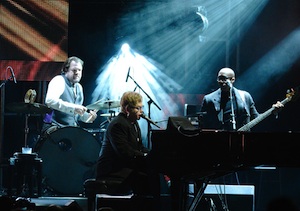 Alabama Shakes, "Adam Raised a Cain"
Patti Smith, "Because the Night"
Natalie Maines, Ben Harper and Charlie Musselwhite, "Atlantic City"
Ken Casey (from Dropkick Murphys), "American Land"
Mavis Staples and Zac Brown, "My City of Ruins" Mumford & Sons, "I'm on Fire"
Jackson Brown and Tom Morello, "American Skin (41 Shots)"
Emmylou Harris, "My Hometown"
Kenny Chesney, "One Step Up"
Elton John, "Streets of Philadelphia"
Juanes, "Hungry Heart"
Tim McGraw and Faith Hill, "Tougher Than the Rest"
Tom Morello and Jim James, "The Ghost of Tom Joad"
John Legend, "Dancing in the Dark"
Sting, "Lonesome Day"
Neil Young, "Born in the U.S.A."
Bruce Springsteen, "We Take Care of Our Own"
Bruce Springsteen and Tom Morello, "Death to My Hometown"
Bruce Springsteen, "Thunder Road"
Bruce Springsteen, "Born to Run"
Bruce Springsteen and friends, "Glory Days"

Happy Birthday, Nigel!
Sunday, February 10 2013

Elton's drummer Nigel Olsson is celebrating his 64th birthday on February 10, 2013.

On behalf of the Hercules team and the Elton John fans all over the world, we would like to wish him a happy birthday!

Elton is mentoring Irish teen sensation The Strypes
Saturday, February 9 2013

When you've achieved the rock god status of Elton John it's probably easier to spot the next big thing when you see it. Now Elton believes he sees fledgling rock stars in brand new Irish band The Strypes.

According to Contact Music Elton is currently mentoring the group, a hot new Irish band, after falling in love with their music. In fact he is so sure of their talent he has reportedly invited them to lunch with him at his home in Windsor, England after signing them to his management company. But not only that, Elton has also introduced them to music mogul Chris Thomas, who produced the Sex Pistols and the Beatles' legendary White Album.

During a TV appearence on the Chelsea Lately show, Elton said, "They're 15 and 16-year-old boys from Ireland and someone sent me a video of them playing on YouTube and here they are playing this Bo Diddley song, You Can't Judge a Book by its Cover. They have a knowledge of R&B and blues at 16 years of age that I have only amassed in my 65 years."

"They're playing music like the Rolling Stones used to or the Yardbirds or the Beatles, and it's astonishing to find kids of that age wanting to play music like that; most kids wanna be Justin Bieber. They're just like a breath of fresh air."

Oh, and add The Jam's Paul Weller to their growing list of world class admirers. Not bad for some sixteen year olds from County Cavan. Elton explained how he signed the band. It's like a chapter from a Roddy Doyle novel: "I phoned the dad - the dad's name is Niall - and we talked about soccer mostly. He said, 'I've been a fan of yours for 35 years...' I said, 'Listen, please give me the chance to meet with the boys'."

"They came for Sunday lunch to my house. They walked through the door and you think, 'God, these boys are stars; they look like the Beatles.' They're amazing and they're great musicians." Sometimes you can actually see rock and roll history as it's being made. Now watch the world take note.

Elton recorded with Queens of the Stone Age for new LP
Saturday, February 9 2013

Add Elton John to the increasingly interesting roster of musicians contributing to the next album by Queens of the Stone Age.

He talked about recording a song with the band on February 6, 2013 when he appeared on Chelsea Lately with guest host Dave Grohl, who plays drums on the new album.

As it happened, Queens of the Stone Age were in a Los Angeles studio not far from sessions for an Engelbert Humperdinck album, and Elton managed to stop by both. "I went down and sang with him and then drove three blocks, in the Valley, I went from Engelbert to Queens of the Stone Age," said Elton, who will lead a tribute to Levon Helm February 10, 2013 at the Grammys. "Which was, you know, a bit of a mind-fuck."



Elton said he's not often asked to contribute to other bands' albums, because people assume he'll say no, but pointed out that he played on Alice in Chains' 2009 album "Black Gives Way to Blue". Grohl joked that John had certain expectations when he walked in the door. "You were like, 'Alright, what do you have, a ballad for me?'" Grohl said, rolling his eyes with exaggerated disdain. "And we were like, 'No, we don't have a ballad for you today, at all.'"

Along with Grohl and Elton, Trent Reznor, Scissor Sisters frontman Jake Shears and original bassist Nick Oliveri have also contributed to the upcoming Queens of the Stone Age album, which is due sometime this year.

Elton John, Mumford & Sons to pay tribute to Helm
Wednesday, February 6 2013

Elton John and Mumford & Sons will hit the Grammys stage to pay tribute to Levon Helm.

The Recording Academy announced that T Bone Burnett, Mavis Staples, Zac Brown and Brittany Howard of Alabama Shakes will also perform "The Weight" at the awards ceremony in Los Angeles on February 10, 2013. "Can you think of a song that fits (more)?" said Ken Ehrlich, producer of the Grammy Awards. "Philosophically it fits the moment." Helm was the drummer and singer for The Band. He died of complications from cancer last year at age 71.

The Band's 1968 debut, "Music From Big Pink," and its follow-up, "The Band," remain landmark albums of the era, and songs such as "The Weight" and "Cripple Creek" have become rock standards. Early on, The Band backed Bob Dylan on his sensational and controversial electric tours of 1965-66 and collaborated with him on the legendary "The Basement Tapes."

Ehrlich said the lineup of performers is a representation of Helm's diverse sound. They'll sing "The Weight" when the show has its in memoriam tribute, which honors musicians who died last year. "Generationally it's very mixed, and genre-wise it's certainly mixed, and ... that's what (Helm) was all about," Ehrlich said. "He was about old and young, country and pop. He was this incredibly eclectic artist."

The 55th annual Grammy Awards will air live from the Staples Center in Los Angeles on CBS.



Bernie Taupin responds to Levon Helm's death
Saturday, April 21 2012 at 05:56:42

Elton on Levon Helm: "A part of my life that was magical"
Friday, April 20 2012 at 07:17:55



Gordon Ramsay to design menu for EJAF's Academy Awards Viewing Party
Wednesday, February 6 2013

The Elton John AIDS Foundation (EJAF) is pleased to announce that Chef Gordon Ramsay, British celebrity chef, television personality, restaurateur, and holder of 14 Michelin stars, will design the menu for the Foundation's Academy Awards Viewing Party to be held on February 24, 2013 at West Hollywood Park.

Over the years, the 21st annual event, sponsored by Chopard, Neuro Drinks, and Wells Fargo, has attracted the participation of top chefs from around the world. "David and I are so pleased to welcome our friend Chef Gordon Ramsay to EJAF's Academy Awards Viewing Party," said Founder Sir Elton John. "I'm sure our guests will be thrilled by his wonderful cuisine, and we are deeply grateful to him for his generous philanthropic efforts over the years, his commitment to ending the AIDS epidemic, and for supporting our urgent cause with his talent and creativity."

Chef Gordon trained with some of the world's leading chefs, including Albert Roux and Marco Pierre White in London, and Guy Savoy and Joël Robuchon in France. He became chef of Aubergine in London in 1993 and established the three-star Restaurant Gordon Ramsay in 1998 at age 31. With restaurants across the globe from Italy to the U.S., Chef Gordon is also a well-known television personality from such shows as Gordon Behind Bars, Ultimate Cookery Course, Gordon's Great Escapes and Gordon Ramsay: Shark Bait in the U.K. and the FOX series Kitchen Nightmares, Hell's Kitchen, MasterChef, and Hotel Hell. Chef Gordon was awarded the Order of the British Empire by Queen Elizabeth II in 2006.

The Foundation's Academy Awards Viewing Party is the most highly visible and successful fund-raising event in Hollywood on Oscar night. Over the past 21 years, this annual event has raised nearly $34 million, thanks to the generosity of EJAF's supporters. These funds help the Foundation to support a wide range of initiatives, including direct treatment, care, and support services for people living with HIV/AIDS in marginalized communities, such as among young gay black men; providing injection drug users with clean needles to prevent HIV infection and transmission; and sexual health education for young people in America who are most at risk.

Audi, Grey Goose, and MAC Viva Glam are the evening's Co-Sponsors. The Foundation is especially grateful to the City of West Hollywood for its continued collaboration with EJAF. American Airlines is EJAF's official sponsoring airline.



2013 Academy Awards Viewing Party
Friday, January 18 2013 at 19:37:13



Elton and David's new Beverly Hills home
Tuesday, February 5 2013

In this month's Arch Digest (March 2013) is the high-gloss Beverly Hills home of Elton and David.

The duo called upon longtime friend Martyn Lawrence Bullard, ultra high-end celebrity designer and star of Bravo's Million Dollar Decorators, to boost the panache of the otherwise low-key abode, which the couple purchased in 2012.

Bullard, who also decorated the eye-popping Los Angeles condo Elton and David listed in spring 2012, suited up the 1966 single-story in lots of contemporary art and custom furniture, meshing the trim lines of the home's design origins and some 1970s-ish glam. "We focused on things that are colorful and positive and celebrations of life," David says.



Visit NBCNews.com for breaking news, world news, and news about the economy

The living room features Bullard-designed club chairs upholstered in Mongolian lamb, a print by American digital artist Jeremy Blake, and a pink-laquer cocktail table by Lawson-Fenning. Elsewhere, there's a silver mylar ceiling, a second-century Roman sculpture, a Bullard-designed kelly-green sofa, and a Roy Lichtenstein piece in the backyard.

Click here for a slideshow.


Elton and David sell Hollywood apartment over safety fears for Zachary
Wednesday, September 26 2012 at 04:59:53

Elton sells pair of West Hollywood condos
Saturday, September 8 2012 at 06:59:13

Elton puts two West Hollywood condos up for sale
Thursday, March 29 2012 at 17:21:35



Elton to bring ANIMAL FARM Children's Musical to Broadway?
Monday, February 4 2013

According to ContactMusic.com, Elton John is aiming to return to Broadway with a children's musical.

David Furnish told Britain's Hello! magazine, "Later this year we begin filming Rocketman, a biopic of Elton's early life. Towards the end of the year, we are also planning to open a children's musical on Broadway."

The Guardian reported in July 2010 that Elton is working on a musical adaptation of Animal Farm, based on George Orwell's novel. This is likely the "children's musical" to which David is referring. The project has been in development since roughly 2008.

Elton won't be the first to tackle Animal Farm for the stage, though; Peter Hall previously adapted the political allegory into a musical with lyrics by Adrian Mitchell and music by Richard Peaslee. Elton has written songs for Disney's "The Lion King" animated movie, which were later used on the Broadway stage, as well as music forBilly Elliot the Musical. He won a 2000 Tony Award for his work on Aida. John also produced Broadway's 2010 production of Next Fall.



Elton is working on a new musical
Saturday, July 24 2010 at 06:10:19



Piano men lack harmony
Monday, February 4 2013

Six-time Grammy winner Billy Joel decided he didn't want to tell all in his autobiography and wonders why Elton John thinks it's his place to dish on a fellow piano man's personal issues.

In the new Rolling Stone, Joel tells the mag he has no idea why Elton suggested in the February 2011 edition that Joel go into rehab. "We haven't spoken, and I don't know why," Joel says. "Elton doesn't really know me that well. We toured together for 16 years and never really hung out. Elton assumes a lot about me that he doesn't really know. If he thought I was screwing up or doing something bad, I don't know why he didn't just call me."

Joel also tells Rolling Stone he was working on an autobiography, but shelved the idea when his publisher wanted to make it about booze and other bummers. "When I saw the publishing company hyping it as 'all about his drinking, his divorce and his depression,' I said, 'Nah, I don't want to do this. Here's the money back.'"

Elton explains son's name
Sunday, February 3 2013

Elton and David gave their new son Elijah the middle name Joseph in honour of a rescue dog they used to keep as a pet.

Their welcomed their second boy, Elijah Joseph Daniel, through a surrogate mother on January 11, 2013, and each of his names has a different significance. Elton explained: "I have always liked names that have resonated over hundreds of years. When we were discussing the name of our second child, we liked the sound of Zachary and Elijah together, there is a nice rhythm to the two names.

"We chose the name Joseph because we liked it, and it also reminds us of a much-loved rescue dog who lived with us for many years."

David explained Elijah's second middle name is after one of Elton's singles from 1973, as with Zachary, who was born in December 2010.

He added to Britain's HELLO! magazine: "One of Zachary's middle names, Levon, is the title of an Elton John song. We chose it because there is a line in the song 'He was born on Christmas Day' - and of course Zachary was born on December 25, 2010.

"So we also wanted to give Elijah one of Elton's songs in his name. 'Daniel' has been a significant name in Elton's career and it has always been one of my favourite songs so it was a perfect choice."