ELTON JOHN NEWS ARCHIVE: February 2012
EJAF Oscar Party raised $5.25 million
Tuesday, February 28 2012
The 20th annual Elton John AIDS Foundation Academy Awards Viewing Party hosted by Sir Elton John and David Furnish raised $5.25 million for the fight against HIV/AIDS.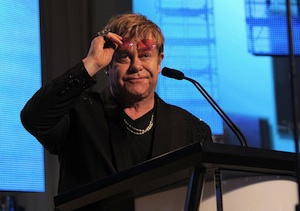 The gala, which took place on February 26, 2012, at West Hollywood Park in Los Angeles, was co-sponsored by Chopard, Neuro, and Wells Fargo; American Airlines serves as the Foundation's official sponsoring airline. Attendees included Academy Award winning Best Actor Jean Dujardin, Steven Tyler, Gwen Stefani, with her band No Doubt, Quincy Jones, Heidi Klum, Katy Perry, Kim & Kourtney Kardashian, Aziz Ansari, Anna Paquin & Stephen Moyer, Neil Patrick Harris, Dave Grohl, Smokey Robinson, Matthew Morrison, Chace Crawford, Ian Somerhalder & Nina Dobrev, Adam Lambert, Marisa Miller, Alessandra Ambrosio, Whoopi Goldberg, Vanessa Hudgens, Ashley Tisdale, Jessica Lowndes, Mischa Barton, Billie Jean King, Brooklyn Decker, Chris Colfer, Colton Haynes, Darren Criss, Dianna Argon & Sebastian Stan, Dita von Teese, Jessalyn Gilsig, Jesse Tyler Ferguson, Karolina Kurkova, Kyle MacLachlan, Liam Hemsworth, Lorraine Bracco, Ted Danson & Mary Steenburgen, Mehcad Brooks, Mena Suvari, Michelle Rodriguez, Miley Cyrus, Natasha Henstridge, Natasha Bedingfield, Paul Stanley, Paz Vega, Petra Nemcova, Ryan Kwanten, Joel McHale, Taye Diggs & Idina Menzel, Paul Wesley, Torrey DeVitto, Michael B. Jordan, Rebecca De Costa, Sandra Lee, Kat Graham, Sarah Hyland, Sky Ferreira, Anika Noni Rose, Gina Carano, Kelly Osbourne and Ziyi Zhang.

Guests arrived at the Academy Awards Viewing Party for cocktails followed by a gala dinner and viewing of the 84th Academy Awards telecast. This year, Chef Cat Cora, the first and only female Iron Chef on The Food Network's "Iron Chef America," prepared an exquisite 5-course meal for guests that included sesame encrusted lamb meatballs with harissa yogurt, sauteed sea bass with lemon couscous and piquillo pepper saffron sauce, and chocolate budino with whipped cream and fresh berries.

The dinner was followed by a lively auction. Auction items included a tennis lesson with 10 time Grand Slam Champion Rafael Nadal that sold for $190,000 twice; an in-home cooking class for up to ten people with Chef Cat Cora which sold for $100,000 to Steve Tisch, owner of the NFL champion New York Giants; the opportunity to join Elton John and David Furnish at the Vanity Fair Oscar Party that sold for $230,000 and a surprise auction lot – a bite from "Vampire Diaries" stars Nina Dobrev and Ian Somerholder, set visit to the show and lunch with Elton John and David Furnish went for $80,000. Following the auction, Foster the People took the stage to perform several songs including their hits "Pumped Up Kicks", "Helena Beat" and "Don't Stop (Color on the Walls)" much to the crowd's delight.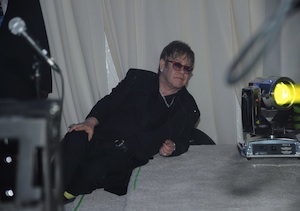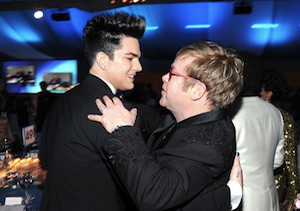 Zachary steals the Oscar party spotlight
Tuesday, February 28 2012
Zachary Jackson Levon Furnish-John likes to party, and he already has his own monogrammed tuxedo.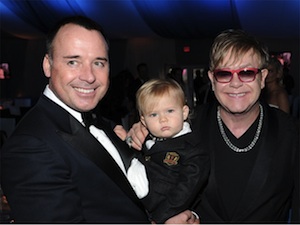 And he stole the show: That's the Oscar party consensus. And he looked good doing it: That's the unanimous chorus. "Elt's new best pal Katy Perry cooed over the youngster all night," is what Britain's Mirror reports. Elton's baby boy had particular chemistry with Fran Drescher's Pomeranian. Zachary — blue-eyed, blond-haired — turned up fashionably late.
Elton on outdoing his own Oscar parties this year
Tuesday, February 28 2012
Elton John stopped on the way inside his annual Oscar viewing party to chat about how his charitable event has grown over the last 20 years. The music legend says live acts, such as this year's performer Foster the People, always cheer guests.
Battle of the Oscar party
Monday, February 27 2012 at 08:11:12


Battle of the Oscar party
Monday, February 27 2012
It's not just the nominees who will be battling it out at tonight's glamorous Oscars ceremony in Los Angeles.
Behind the scenes at the Kodak Theatre, a war has been waging between two of the world's biggest stars, Elton and Madonna, who are throwing rival post-Oscar parties at the same time, two miles from each other in Hollywood. In a battle of A-list egos, the feuding stars have spent the days leading up to the 84th Academy Awards ceremony trying to outshine one another in a desperate attempt to host the best Oscars party in town, reports the Daily Mail.

Elton and David are holding their annual Oscar dinner party at the Pacific Design Centre in aid of the Elton John Aids Foundation. Tickets to the event cost $3,500 (£2,200) and last year it raised $4 million (£2.5 million). Katy Perry, Chace Crawford, Dita Von Teese, Heidi Klum and Jessica Alba are among the invited guests.

But Madonna, who is engaged in a long-running spat with Elton, is determined to upstage his dinner. The 53-year-old has poached Elton's favourite LA florist, Eric Butterbaugh, and has promised guests she will sing live at her party. Angelina Jolie, Brad Pitt, Britney Spears, Natalie Portman, Sean Penn, Tom Hanks, Jennifer Lopez and Tom Cruise are reportedly confirmed to attend the party at her manager Guy Oseary's house.

The singer, whose film W.E. has been nominated in the Oscar's costume design category, has apparently even phoned Penelope Cruz, Bradley Cooper and Cameron Diaz to personally invite them to the party, which she usually co-hosts with Demi Moore, who is recovering from a breakdown. 'Madonna wants to make sure she has better guests than Elton. The war between them has now become quite personal,' said a source. 'Madonna has been calling people up asking them to attend. Most of the big names will go to the Vanity Fair party, then they will head to Madonna's after that.'

Stars and nominees attend the post-Academy Award's dinner, the Governors Ball, before taking their pick of glamorous after-parties. According to one source, Madonna is so keen to ensure her party is well attended she been calling in favours from contacts so that her guests get to leave with a goodie bag.


Elton to perform at Rainforest Fund Benefit
Sunday, February 26 2012
The lineup for this year's Rainforest Fund benefit concert has been announced, and the list of artists set to perform at New York City's Carnegie Hall is an impressive one.
The performers at the Revlon-sponsored concert include Sting, Elton John, James Taylor, Meryl Streep, Katharine McPhee, Bryn Terfel, Rosanne Cash, Vince Gill and a number of surprise guests. The Rainforest Fund, founded by Sting and Trudie Styler in 1989, came to life because of a direct request from a Kayapo Indian leader in Brazil attempting to protect his land.

"Sting and I founded the Rainforest Fund after seeing with our own eyes the destruction of one of the world's most precious resources," Styler said. "We're so thankful that artists like Elton John, James Taylor and the many others who are doing their part to support the Rainforest Fund in its quest to raise awareness of the global environmental crisis we're facing. If we all take action, we can help save the planet and prevent further harm to the rainforests and indigenous people who live there."

Last year's benefit concert featured Lady Gaga, Bruce Springsteen, Elton John and more, and was a huge success, mostly thanks to Elton. "Elton... stole the show," the New York Daily News' Jim Farber said. "Taking a deep, and well-advised, breath, he dove into Madonna's 'Material Girl' and 'Like A Virgin' while a kick line of go-go boys in Speedos flitted around him with moves worthy of Cirque Du Soleil."

The Rainforest Fund benefit concert will be held on April 3, 2012.
Justin Timberlake closer to starring in Elton movie?
Thursday, February 23 2012
It sounds like Elton's hope for Justin Timberlake to play him in his biopic is more than just wishful thinking these days, reports E! Online.
David tells E! Online the two music superstars have been talking to each other about the project. So what's the hold up? "We're searching for a director," David said on February 22, 2012 as he was overseeing preparations for the 20th annual Oscar viewing party benefiting the Elton John AIDS Foundation. "It's important we all share the same vision. Elton and Justin have had conversations about it," he continued. "Justin also says he has to feel comfortable with the director and the director has to be comfortable with Justin. The chemistry is really important. There's no race to make this. We're just going to take the time to make it right."

Elton told the Los Angeles Times in January 2012 that Timberlake is "No. 1" on his wish list because he did such a "superb" job playing him in a David LaChapelle video for "Rocket Man." And his life story may not end with the big screen. "We haven't ruled out a [Broadway] musical," David said. "But we just want to do the movie first."
Attend Elton's Oscar party - courtesy of EMMA
Thursday, February 23 2012
Tysons Corner company MicroStrategy's online marketplace, EMMA, is holding contests offering "experiences of a lifetime."
Michael Saylor and his company, the Tysons Corner–based MicroStrategy, are trying to be inventive with the launch of their new social marketplace site, EMMA, by offering a chance to party with Elton John on Oscar night, airfare and hotel included.

EMMA stands for electronic marketplace for merchandise and activities—but, unsurprisingly, "We liked EMMA better," says Glenn Goldstein, the company's vice president for social media.

The network just launched and so far has 10,000 subscribers. That's where Elton John enters the picture. The company is offering new subscribers what it calls "experiences of a lifetime." Goldstein says there are three contests. The first is two tickets to the Elton John Oscar viewing party, where the winners will sit at Saylor's table. The second "experience" is access to what Goldstein calls the "after-after party at a super-secret location with a thousand Hollywood A-listers." The third contest is aimed at aspiring actors and actresses.

"We're going to pick six actors and six actresses and send them to the after-after party," says Goldstein. As with the Elton John tickets, all the contests include airfare and hotel, and all the winners will be in the company of Saylor at the event.

Anybody who joins EMMA can compete, but each contestant will have to share his or her social profile. The winners will be decided by a committee of four at MicroStrategy. For example, the Elton John party tickets ideally will go to "someone who is a big Elton John fan, a supporter of the HIV cause, a big fan of the Oscars, or all three," says Goldstein. The winners will be chosen and announced on February 24, 2012, and will be on a plane the next day.
Elton hands Scots schoolgirl, 13, dream invite to support him on stage this summer
Wednesday, February 22 2012
A Scots schoolgirl has been invited by Elton to support him in concert, reports the Daily Record.
Tallia Storm, 13, gave David Furnish a copy of her CD after spotting him while on holiday with her family in Hawaii. She was stunned when Elton phoned the next day and asked her to sing at his Falkirk show in June 2012.

Soulful Tallia said: "My grandfather took us on holiday at Christmas and he got a really bad stomach bug so we had to stay an extra couple of days. We moved to a different hotel and dad saw Elton John, David Furnish and their little baby in the lift. I was so excited but I never saw him. The next morning at breakfast, mum pointed out David at one of the tables. I knew it wasn't every day I'd have an opportunity like that, so I went up to my room, got a CD, wrote a quick letter and went up to David and his friends. I was nervous but he was so nice and said he'd give the package to Elton."

Less than 24 hours after the chance encounter, Elton called Tallia on her mobile. Tallia said: "I was at airport security and my phone rang but the reception was really bad. I answered and this man said, 'Hello, this is Sir Elton John'. I was like, 'Sorry, who?', then the security guy told me to switch off my phone. "When we eventually arrived back in London, he called again to let me know his whole band had listened to my songs. He said they all loved them and asked me if I'd like to join him as his support."

Tallia, whose parents are PR guru Tessa Hartmann and music producer and composer Sascha Hartmann, still can't believe what happened. She said: "I was calm on the outside but inside I was freaking out. Elton knew each track and pinpointed certain bits to give us feedback. He said my music was really exciting and that I have a promising career in the industry."

Tallia, of Killearn, Stirlingshire, is now working hard in rehearsals. She said: "It is the opportunity of a lifetime and I want to make the most of it. There will be people who say I got there with help from my parents and stuff like that but it's down to the music. "Sir Elton didn't know who I was and doesn't care what my mum does."

Elton said last night: "David met Tallia when I was on tour in Hawaii in January and she gave us a CD of her songs. I was very impressed with the maturity of her voice – I think she has a great singing future ahead. I am very much looking forward to seeing her performance."
Elton cancels two Vegas shows
Monday, February 20 2012
As eltonjohn.com reports, Elton became ill with food poisoning and reluctantly had to cancel his "Million Dollar Piano" shows on February 17 and 18, 2012.
Both Elton and Caesars Palace apologise to ticketholders for the inconvenience caused. Buyers who purchased tickets with a credit card for the cancelled performances will be automatically refunded. Those who purchased tickets with cash may present tickets at the original point of sale for a refund. Ticket holders who purchased through Ticketmaster can call +1-800-745-3000.

Elton's management stated on eltonjohn.com that they would like to apologise to all the ticket buyers who were disappointed over this unavoidable cancellation. Elton did not attend the funeral of Whitney Houston on February 18, 2012.

The February and March 2012 concerts in Mexico with the band and Ray Cooper respectively will go ahead as planned.
Elton to attend Whitney Houston's funeral
Friday, February 17 2012
Elton John and Oprah Winfrey will lead a parade of celebrities expected to attend Whitney Houston's funeral at the New Hope Baptist Church in Newark on February 18, 2012, according to two people with knowledge of the family's plans - reports The Star-Ledger.
Rock star David Bowie is also expected to attend the services for the 48-year-old pop queen, a source said. Earlier on February 16, 2012, a source told The Star-Ledger the rap mogul Jay-Z, songstress Beyonce, comedian Bill Cosby and singer Chaka Khan planned to attend Houston's funeral. The sources spoke on condition of anonymity because they were not authorized to make the guest list public.

While he refused to disclose the guest list, Newark Police Director Samuel DeMaio said that officers will provide motorcycle escorts to many of the celebrities who are expected to arrive in Newark. The funeral will otherwise be a private affair, with police shutting down a six square-block area around the New Hope church. There will be no procession of Houston's body from Whigham Funeral Home to the church Saturday, and no outside video screens erected so fans can mourn publically, DeMaio said.

The area remained public on February 16, 2012, however, and Houston's cousin Dionne Warwick was seen at the church where she is believed to be practicing for Saturday's service with the New Hope Baptist choir. Mayor Cory Booker is also expected to attend the services, according to his spokeswoman, Anne Torres. Currently, he is the only Newark dignitary to publicly receive an invitation. Several city council members said they had not been extended an invitation to the event.

E! News also reports that Kevin Costner, who starred alongside Whitney Houston in the blockbuster "The Bodyguard," is expected to speak at the funeral, along with Houston's mentor Clive Davis, although Costner's publicist told The Star-Ledger he could not confirm this.
Aretha Franklin and Stevie Wonder are both expected to sing in memory of Houston. Invitations to the private service have reportedly been extended to singers Chaka Khan, CeCe Winans, Brandy, Darlene Love and songwriter Diane Warren, according to E!

Fans will have to content themselves with a TV and Internet feed from inside the church, where Pastor Marvin L. Winans will give eulogy over the service. Winans tells CNN's Anderson Cooper that the family wanted to bury Houston "with dignity." "This is not a break or an opportunity," he told Cooper. "We are really hurting and seriously grieving, and it amazes me the insensitivity of the media when it comes to things like this ... We loved her when she was Nippy in New Jersey. The world loved her because of her voice. But if Nippy could not sing, the Houston family would love her, and I knew that Mama Houston would do it the way she wanted it done. We're going to church, and we're not going to be worried about if the world can get in."


Elton about the death of Whitney Houston
Sunday, February 12 2012 at 18:24:01


EJAF donated $8.3 million in 2011
Tuesday, February 14 2012
The Elton John AIDS Foundation (EJAF) announced on February 13, 2012 over $3.2 million in newgrants that will further its mission to assist the most marginalized populations vulnerable to HIV infection.
These new awards brought EJAF's final total grant-making commitments for calendar 2011 to a record $8,316,871, with disbursements totaling $7,006,871 last year. These grants represent EJAF's continuing commitment to fund demographics and geographic regions that are seriously impacted by HIV/AIDS and under-served by traditional funders. Grant expenditures totaling $3,221,622 were awarded for 19 new and 29 renewal grants, including:
health services for Black women, one of the highest HIV-impacted populations in this country;

innovative programs focused on the health and rights of gay and bisexual men throughout the U.S.;

programs designed to help people with HIV who are leaving prison to access and stay on treatment and maintain their health as they reintegrate into society;

small community grants supporting services for gay men throughout Latin America;

clinical and mental health services for vulnerable populations in the Caribbean; and

additional funding totaling $1.6 million over two years to support over 50 community organizations providing needle exchange and harm reduction services for injection drug users.
"Through the efforts of hundreds of privately-funded syringe access programs, HIV incidence due to injectiondrug use in the U.S. has declined from 25% of all infections in 2000 to 9% today," said Executive Director Scott Campbell. "Scaled-up syringe access programming could bring injection-related HIV infections down to zero. Given Congress' unfortunate reinstatement of the ban on the use of federal funding for syringe exchange programs, EJAF's increased investments as one of the top three funders in this field are particularly crucial."

"For twenty years, EJAF has remained consistent in our mission, even as we've increased the scope and reach of our grant-making," added Chairman David Furnish. "Our most recent grants continue this historic focus, dedicating critical funding to the most urgent and under-resourced aspects of the HIV/AIDS epidemic."

Elton about the death of Whitney Houston
Sunday, February 12 2012

"This is a sad day today, all I want to talk about is her music", Elton said from the stage at Caesars Palace in Las Vegas, before dedicating the song "Don't Let the Sun Go Down on Me" to Houston.

"She was the most beautiful woman I think I ever saw.... Thank you for giving us your talent, and one of the most beautiful voices I've ever heard."

Elton's Pepsi 2012 Super Bowl commercial costume up for auction
Sunday, February 12 2012

Here's your chance to own a piece of Super-Rock N' Roll-Bowl history!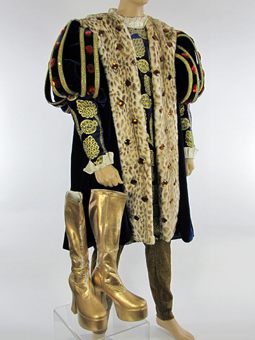 The costume up for auction was worn by Elton for Pepsi's 2012 Super Bowl commercial, King's Court, which aired on February 5, 2012 during Super Bowl XLVI! The custom-made costume is as magnificent as the commercial and includes a jewel encrusted and faux fur accented cape fit for a King, a ruffled velour shirt, gold tights, and 5" high-heeled gold boots, all donned by Elton.

The "King's Court" commercial was shot in Los Angeles over a 3-day period and included over 200 cast members, including X Factor winner, Melanie Amaro, who premiered her first single, "Respect." Fellow cast mates included Josh Sussman ("Glee") as the Jester, Aviva Farber ("Superbad") as the Duchess, and of course Sir Elton as the King! Noam Murro, winner of the Director's Guild of America award for directorial achievement in commercials led the cast in the video, and will soon be directing the sequel to "300" for Warner Bros. titled 300: Battle of Artemesia.

This one-of-a-kind item is a true collectible and here's your chance to own a King's wardrobe worn by a musical legend! 100% of the final sale price will support MusiCares Foundation. Established in 1989 by The Recording Academy, MusiCares provides a safety net of critical assistance for music people in times of need. MusiCares' services and resources cover a wide range of financial, medical and personal emergencies, and each case is treated with integrity and confidentiality. MusiCares also focuses the resources and attention of the music industry on human service issues that directly impact the health and welfare of the music community. For more information, please visit www.musicares.org.


Pepsi unleashes Elton John, Melanie Amaro Super Bowl ad
Saturday, February 4 2012 at 06:30:37

Behind-the-Scenes Preview: Melanie Amaro & Elton star in Pepsi Super Bowl Commercial
Monday, January 30 2012 at 18:43:39


Happy Birthday, Nigel!
Friday, February 10 2012
Elton's drummer Nigel Olsson is celebrating his 63rd birthday on February 10, 2012.
On behalf of the Hercules team and the Elton John fans all over the world, we would like to wish him a happy birthday!
Free for All: Taupin exhibit in Houston
Friday, February 10 2012
On February 11, 2012, you can be stargazing at the "Beyond Words: Bernie Taupin" exhibit at Off the Wall Gallery in Houston.
Much of Bernie's work is abstract, made up of colored blocks against vibrant backgrounds. Bernie will be in attendance at exhibit previews at 6 to 8 p.m. on February 11, 2012 and 2 to 4 p.m. on February 12, 2012.

Off the Wall Gallery, 5015 Westheimer, Houston, TX. For information, visit www.offthewallgallery.com or call 713-871-0940. RSVP requested.
David Furnish speaks to Access Hollywood
Thursday, February 9 2012
David Furnish is still a little surprised that his personal Facebook posting last month, slamming Madonna's Best Song win at the Golden Globes, went viral.
"It kind of freaked me out because I've been on Facebook for three years and nothing I've ever put on my Facebook page has ever gone into the press," David told Access Hollywood correspondent Jill Martin as he hit the red carpet at the amfAR Gala in New York City on February 8, 2012. "I was embarrassed," he continued of his post, and the reaction to his comment, which reportedly read, "Madonna. Best song???? [Expletive] off!!!"

"I don't want to put negativity out into the world," he added. "I like to put positive things out into the world. I was very emotional at the time and I thought it was only to be shared with my friends and never ever meant to go public." Elton lost to Madonna for Best Song at the Globes, and David told Jill why he later hit Facebook a second time after his first post made headlines.

"I went back on and I said, 'I think this has been blown out of proportion and Madonna is a great artist.' I've always been a big fan and I wish her well on her film premiere, because anyone who makes and gets a film released these days, it's a huge accomplishment and you know, you want to wish people well with that," the activist and filmmaker told Jill. Still, David didn't manage to catch Madonna's halftime performance at Sunday's Super Bowl, but not over any reported feud. "I didn't see it because I'm not a football fan," David said. "I've never watched the Super Bowl in my life, but I went on Facebook and all my friends that saw it said it was fantastic, so well done, her."

On February 8, 2012, David was promoting an organization close to his heart – amfAR – which is dedicated to supporting HIV/AIDS research. "This is such an important cause and it's a cause that Elton and I have dedicated our life to," he said. "There's 33 million people in the world living with HIV. One in five people in this country who are infected don't know it, and we know now the importance of getting tested and knowing your status because the antiretroviral drugs which organizations like amfAR have contributed to the development of, they reduce the chance of passing the virus on to someone else by 96 percent. So, we really want people to know their status and understand. So, nights like tonight are so important."

Elton couldn't be at the event because he was in Las Vegas where he is performing "Elton John The Million Dollar Piano" at The Colosseum at Caesars Palace. "He's in Las Vegas with the baby," David said of their son Zachary, now a year old. "I'm going to fly out and see them tomorrow night." David said their little one is already ready to walk – and hit the water. "He's just started walking and I got him starting on swimming lessons because he loves the water," David said. "I'm a little bit nervous about him because he's sort of fearless and I think he's just gonna throw himself into a pool one day and he'll need to know how to swim."


Elton added To royal gig as McCartney and Bassey are confirmed
Tuesday, February 7 2012
Elton John will perform for Queen Elizabeth II at her upcoming Diamond Jubilee concert alongside Sir Paul Mccartney, Dame Shirley Bassey and Sir Cliff Richard.
The British monarch marked 60 years on the throne on February 6, 2012 and a star-studded show is being organised for June 4, 2012 as part of the festivities.

The line-up for the Diamond Jubilee event at London's Buckingham Palace was officially announced on February 7, 2012, and the cream of the U.K. music industry will take part, including former Eurythmics star Annie Lennox, Jools Holland, Sir Tom Jones, pop group Madness, boyband Jls and singers Jessie J and Ed Sheeran.

Other acts are set to be unveiled in the coming weeks and Take That star Gary Barlow, who is helping to organise the show, reveals he's still looking to sign up a number of big international names - especially those requested by The Queen's grandsons, Princes William and Harry. He tells the BBC, "They've asked for a couple of artists, which I'm still running round the world trying to get hold of! But they're quite involved musically, so we're hoping to pull it off for them. I don't just want to represent the Commonwealth up there, I want the whole world to be on that stage as the whole world will be watching that stage that night. This is gonna be a massive event on a worldwide basis so I'm very excited. 2012, I hope, will be remembered forever for this concert.

"I want to focus on the U.S. in the next month and try and get some U.S. artists on the bill also... I think artists are so honoured to be involved in this show. Interestingly, internationally the love for The Queen is amazing and the fact that people want to be involved so heavily in this concert has been incredible, it makes my job much easier!"
Sit with Steven Tyler at EJAF's Academy Awards Viewing Party
Monday, February 6 2012
The Elton John AIDS Foundation (EJAF) is very pleased to announce that Steven Tyler, a generous Foundation supporter and an Event Chair for EJAF's 20th annual Academy Awards Viewing Party, is working with them to help make our 20th Oscar-night event especially successful.
Through an auction on Charity Buzz, Steven is inviting the highest bidder to be a guest at his table for the Party:

The winner of the auction will be a guest of Steven Tyler and Erin Brady, dining at their table for the February 26, 2012 event at the newly redesigned West Hollywood Park on San Vicente in West Hollywood, CA. The Foundation's 20th year event will feature a cocktail reception, an incredible dinner prepared by celebrity chef Cat Cora and served during the Oscar telecast, an exciting live auction, and an after-show performance by Foster the People. Chopard, Neuro, and Wells Fargo are the Presenting Sponsors for the event, and American Airlines is the official sponsoring airline for the Foundation.

"How would you have to dress if you were sitting next to me at a banquet table at Elton John's Oscar Party?" Steven joked. "Sounds like a loaded question, eh? Put your money where your mouth is and arrive as you will and come as you are to help me support the Elton John AIDS Foundation!"

EJAF staff is deeply grateful to Steven for his tremendous generosity over the past several years. They are particularly thrilled to welcome him as an Event Chair this year for our 20th Academy Awards Viewing Party and so very thankful for his leadership and enthusiasm in helping to raise additional dollars for our urgent cause.

Please visit Charity Buzz and bid on this incredible opportunity to enjoy the Oscar telecast with Steven Tyler, Erin Brady, and their guests and to support the urgent work of the Elton John AIDS Foundation.
Simon Cowell 'lines up Sir Elton John as new X Factor USA judge'
Sunday, February 5 2012
Simon Cowell has approached Elton to revive the sagging fortunes of The X Factor USA, insiders said according to a report of the Daily Mail.
The 52-year-old music mogul is assembling a new cast for the next series of the talent contest after firing host Steve Jones and two judges – Nicole Scherzinger and Paula Abdul. The show was beaten in the ratings by its rival American Idol, and also faces stiff competition from another talent show, The Voice, which is being picked up by the BBC.

Now Cowell is said to have turned to Sir Elton after making offers to several celebrities, including Mariah Carey. One source said: 'Persuading Elton to do anything – even a guest spot – won't be easy. He is playing Las Vegas and has almost back-to-back tour dates and a baby to bring up. Family is taking priority in his life. Simon is hoping money may land him but realistically the most he could be paid for a whole series is between $20million and $25million, and that kind of money means nothing to a superstar like Elton.

'Firing your judges before you have new ones in place is a brave move but it won't be the first time Simon has gambled and won.' A spokesman for Sir Elton declined to comment. Cowell's spokeswoman said discussing prospective judges would be 'utter speculation'. It was previously claimed that Cowell was approaching both Beyoncé and Mariah Carey to revive the panel. And reports suggested that Cowell was prepared to pay new mother Beyoncé a staggering $100million for the role.


Elton John and band performed in Costa Rica on February 03, 2012
Sunday, February 5 2012
Following is the complete setlist of the Costa Rica show on February 03, 2012.
Saturday Night's Alright (For Fighting)

I'm Still Standing

Levon

Madman Across the Water

Holiday Inn

Tiny Dancer

Philadelphia Freedom

Goodbye Yellow Brick Road

Candle In The Wind

Rocket Man

I Guess That's Why They Call It The Blues

Hey Ahab

Gone to Shiloh

Monkey Suit

Someone Saved My Life Tonight

Honky Cat

Sad Songs (Say So Much)

Daniel

Sorry Seems To Be The Hardest Word

Don't Let The Sun Go Down On Me

Take Me To The Pilot

Bennie And The Jets

The Bitch Is Back

Crocodile Rock


Circle Of Life/Can You Feel The Love Tonight

Your Song
Pepsi unleashes Elton John, Melanie Amaro Super Bowl ad
Saturday, February 4 2012
Well here it is. And it is quite the extravagant production.
Created by TBWA\Chiat\Day and titled King's Court, the ad features X Factor winner Melanie Amaro singing a version of Otis Redding's "Respect" recorded specifically for the ad to a kingly Elton John. The ad was directed by Noam Murro.




Behind-the-Scenes Preview: Melanie Amaro & Elton star in Pepsi Super Bowl Commercial
Monday, January 30 2012 at 18:43:39


Elton John and band performed in Lima on February 01, 2012
Friday, February 3 2012
Following is the complete setlist of the Lima show on February 01, 2012.
Saturday Night's Alright (For Fighting)

I'm Still Standing

Levon

Madman Across the Water

Holiday Inn

Tiny Dancer

Philadelphia Freedom

Goodbye Yellow Brick Road

Candle In The Wind

Rocket Man

I Guess That's Why They Call It The Blues

Hey Ahab

Gone to Shiloh

Monkey Suit

Someone Saved My Life Tonight

Honky Cat

Sad Songs (Say So Much)

Daniel

Sorry Seems To Be The Hardest Word

Don't Let The Sun Go Down On Me

Take Me To The Pilot

Bennie And The Jets

The Bitch Is Back

Crocodile Rock


Circle Of Life/Can You Feel The Love Tonight

Your Song
Elton and REM produce most depressing songs
Thursday, February 2 2012
REM and Elton John have produced two of the most depressing songs in the world. Isn't that a wonderful way to be remembered?
A man named David King wanted to figure out what makes people cry, musically that is, and conducted a survey that asked all kinds of personal questions. The results are not all that shocking, but many will be amazed so many guys admitted to crying like a baby when they heard a sad song.

According to the survey results printed in the British paper, The Telegraph, 90 percent of women say they have cried while listening to an especially emotional song. Young men between 18 and 24 are also prone to tears when hearing sad songs. In fact, 84 percent of the guys admitted to shedding a tear when they hear an emotionally charged song.

As the poll stands right now, REM's tear-jerker, "Everybody Hurts," is the leader of the depressing song pack. Elton John lands at number two with his, "Candle in the Wind." REM's Michael Stipe just has that tone that can reduce even the toughest person to tears, but Elton's (or Bernie's rather) lyrics are a little more touching. It could be hard to buy into the sadness of Elton's song due to the colorful, playful image that coincides with the man. Michael Stipe's bald head and melancholy attitude are easier to associate with depression.

King says he wanted to do the survey to find out the power of music. The survey also questions where people are more apt to break down in tears when they hear a sad song. Not surprising, 40 percent of women say wedding songs could make them cry. Men, not so much. A lot of people prefer to cry in the privacy of their own home or while driving in the car.