ELTON JOHN NEWS ARCHIVE: February 2010
"Next Fall" Family & Friends offer
Saturday, February 27 2010
Be the first to take advantage of this very special offer. Order by March 11, 2010 for performances through April 4, 2010.
See "Next Fall" and meet Elton backstage
Wednesday, February 24 2010 at 23:40:36

Elton John gets behind 'Next Fall'
Tuesday, February 2 2010 at 08:36:14


Billy dismisses rumors he yanked tour with Elton
Saturday, February 27 2010
"There was never a tour booked this summer!" says Billy Joel, responding to Internet claims that he pulled the plug on a summer tour with Elton John.
He continues, "Obviously, this has the smell of a really juicy story: 'Why did they cancel? Did Billy and Elton have a fight? What's going on?' The truth is, there's nothing going on. I had made up my mind a long time ago that I wasn't going to work this year."

Though the duo are currently performing together on their recurring Face to Face tour, these shows — which swept up the West Coast, and continue until March 11th in Buffalo — are make-up shows, rescheduled from canceled 2009 dates.

Billy insists that rumors about 2010 summer tour were leaked by insiders at certain venues around the country. He explains, "There were a couple stories that came out that we were supposed to play Wrigley Field and Fenway Park, and I think Pittsburgh was mentioned. Booking agents hold real estate. They like to research what's available when, to see if they can put together a series of dates. Then they'll come back to the artist and say, 'Look, if you wanted to, you could play such and such and such.' These rumors probably came from somebody at one of those venues who had to be a big shot and call the local newspaper and say, 'Hey, Billy and Elton are going to play here this summer.'"

Elton even perpetuated the story himself. In a recent interview, he was quoted saying, "Billy just wants to take a year off. I'm so disappointed because when we came to Wrigley Field last year, it was like playing in the church of baseball." Billy responds, "Elton and I don't really sit down and discuss our future plans with each other. We see each other backstage and we hang out and kibitz and talk about music and life. When Elton did that interview, he'd just found out from his booking agent that I wasn't going to be working this summer, and therefore Elton's quote puts a spin on it that I'd changed my mind all of a sudden, or suddenly decided to cancel the tour, which is nonsense. There was never a tour booked!"

Before their February 22, 2010 show in Denver, Billy approached Elton about his comments to the press. "When I saw him backstage, I said, 'Elton, what were you told about this supposed summer tour?' He goes, 'Well, I just found out you weren't going to be working this year, and I was heartbroken because I was looking forward to doing it.'"

In his statement to the press, Elton also seemed to convey that their hugely successful Face to Face tour — which has brought in big crowds since 2004 — would be ending for good in Albany. "We'll probably pick it up again," says Billy. "It's always fun playing with him." He insists there is no bad blood. In Denver, their conversation ended thusly: "Elton said, 'Are you mad at me?' I said, 'No, I'm not mad, I just want to clarify what's going on here.' Everything's fine."

Billy says the thought of retirement looms in his mind, but he's always drawn back to the stage. "I see pictures of myself onstage, and I look at them and say, 'There has to be some kind of mandatory retirement age for doing this gig,' and then I watched the Super Bowl and saw the Who and I figure, 'Well, I guess there is no mandatory retirement age.' 'I hope I die before I get old,' — that went out the window. It's always possible that I'll tour again, whether it's with Elton or on my own. I love my job. For now I'm going to stop, but I won't sit around for the rest of my life and rot."

Billy claims last year was a rough one. "There was an incident with my daughter that was very shocking," he says of daughter Alexa's suicide attempt. "I got divorced. I worked a lot. I promised myself more personal time this year. I'm going to Italy, and I'll probably go to Paris. I'll probably take my boat to New England and hang out on the coast. I'll ride my motorcycle. I'll just be a bum."



Summer concert with Billy Joel at Wrigley is canceled
Saturday, February 20 2010 at 06:20:35


Grace Jones to perform at 18th Annual EJAF Academy Awards Viewing Party
Saturday, February 27 2010
Legendary entertainer Grace Jones will perform for guests at the 18th annual Elton John AIDS Foundation Academy Award Viewing Party. The gala event, which will take place March 7, 2010, at the Pacific Design Center in West Hollywood, has brought some of the most iconic musicians to the stage over the years, but none as theatrical as the incomparable Grace Jones.
"Grace Jones is not only an amazing performer, but a dear friend and a fellow activist in the fight against HIV/AIDS," says Elton. "Without a doubt, Grace will put on a show for our guests that will have them talking for years to come. It is an absolute honor to have Grace as part of this evening that means so much to the Foundation."

Ms. Jones' first album, Portfolio, released in 1977, resulted in a string of dance-club hits that transformed the international club scene. Her following albums "Fame" and "Muse" generated considerable success in the market and solidified her as a major recording artist. Jones later adapted to the emerging New Wave music to create a different style for herself. This resulted in the acclaimed albums "Warm Leatherette", "Nightclubbing" and "Living My Life."

Equally known for her roles in the fashion, art and film communities, Jones has established a presence that has stood the test of time. Born in Jamaica and raised in Syracuse, New York, she began her career as a successful high-fashion model. Starring roles followed in such films as the James Bond blockbuster "A View to a Kill", "Conan the Destroyer" with Arnold Schwarzenegger and the vampire thriller "Vamp."

Jones took the art world by storm when she became the muse to famed artists Andy Warhol and Keith Haring, resulting in an iconic series of portraits by Warhol and Hiring's famous series of body paintings. With her dramatic visual makeover created in partnership with Jean-Paul Goode, Jones starred in the concert special "A One Man Show" and created a persona that has intrigued fans and established her as an international entertainment icon.

Lucky guests at this VIP affair will be taking in this great performance while sipping custom-made Neuro cocktails and have the option of a NeuroSonic to get them through the glamorous evening and A NeuroBliss to celebrate when their favorites win on Oscar Night.

Follow the Elton John AIDS Foundation on Facebook.



18th annual EJAF Academy Awards Viewing Party
Wednesday, February 3 2010 at 21:09:27


Best of Guy Babylon
Saturday, February 27 2010
Montash Music has released an album with ten recordings from the late Guy Babylon.
Many of us only knew Guy as the keyboarder in Elton's band for many years. However, Guy had a lot more talents, some of which you can discover by listening to this collection.

1. Las Vegas Twister
2. Babylon Bleu
3. She Is
4. Petrushka
5. Marine Venus No Ocean
6. Friction
7. Kip Keno
8. Rosanne
9. Barth
10. Whoo Shoo

You can download these track from iTunes.



Elton on "The View" on March 11, 2010
Thursday, February 25 2010
Bill Geddie, executive producer of ABC's Emmy award-winning talk show "The View," announced February 24, 2010 that Elton John is confirmed to partake in the "Hot Topics" discussion of ABC's "The View," live, March 11, 2010 (11:00 a.m.-12:00 noon, ET).
This marks Elton's fifth appearance on "The View" and his first time at the signature "Hot Topics" table. Elton's prior appearances as a featured guest were 3/31/01, 11/28/01, 2/20/04 and 11/11/08.

Elton and David are currently promoting "Next Fall," the Broadway play they've produced. Elton and David also collaborated on the internationally successful Tony award-winning "Billy Elliot: The Musical." The show received ten Tony Awards, including Best Musical, 2009.



See "Next Fall" and meet Elton backstage
Wednesday, February 24 2010 at 23:40:36

Elton John gets behind 'Next Fall'
Tuesday, February 2 2010 at 08:36:14


See "Next Fall" and meet Elton backstage
Wednesday, February 24 2010
Elton has donated an exciting item to the Broadway Cares/Equity Fights AIDS auction which ends on March 2, 2010.
Elton John is auctioning VIP tickets for a very special performance of the new American play "Next Fall" to benefit Broadway Cares/Equity Fights AIDS. Elton, one of the producers of this intimate theatrical experience, donated a pair of VIP seats to the final press performance, two passes to the exclusive post performance reception, as well as the chance to meet-and-greet with the actors and Elton John himself! The performance will take place on March 10, 2010 at Broadway's Helen Hayes Theatre.

Broadway Cares/Equity Fights AIDS, one of the nation's leading industry-based, nonprofit AIDS fundraising and grant-making organizations. Since 1988, BC/EFA has raised over $160 million for essential services for people with AIDS and other critical illnesses across the United States.



Elton John gets behind 'Next Fall'
Tuesday, February 2 2010 at 08:36:14


Ke$ha wants Elton and David Bowie
Monday, February 22 2010
Party girl Ke$ha has got the be the wildest star to hit the music scene in a while.
At just 22, she has already broken into singer Prince's house, joked about peeing in a sink whilst being serenaded by Lily Allen, been sick in Paris Hilton's closet and discussed alien life forms with rocker Alice Cooper.

But disappointingly, her craziest dream has nothing to do with throwing televisions out of hotel rooms - and everything to do with pyjamas. "I'd really like to have a slumber party with Elton John and David Bowie. We could all do each other's make-up, I think we all share an affinity for glitter."

She also confesses that hitting the big time has done wonders for her personal hygiene. "I wake up in hotel rooms every night, which means I don't have to change the sheets, that's nice."

Her crazy image has already netted her hordes of celebrity admirers. But the singer is intent on staying single. "I don't want a boyfriend, I don't need a boyfriend, I just want different hoes in different area codes. Although I wouldn't mind a giant fat bearded man."
Elton blames Parade magazine for his 'Jesus Was Gay' remark
Monday, February 22 2010
Elton is blaming Parade magazine for his remark in February 21, 2010 edition that Jesus Christ was a compassionate, super-intelligent gay man.
"Parade magazine did a kind of a sneaky thing and put it on their website that I said this," Elton told Chicago's WGN-TV. According to Elton, he made the comment "as part of the conversation during the interview," but he apparently didn't think this was going to be included in the article.

"I don't really want to cause a controversy, and I didn't know it was going to be a sidebar to an article that was a great article, and I think Parade have been a bit sneaky about that".

ELTON JOHN: "Well, let me clarify the situation first of all. It's not actually in the interview in Parade magazine. Parade magazine did a kind of a sneaky thing and put it on their website that I said this. And I, I might have said this as part of the conversation during the interview. And the interviewer did a wonderful job. And I'm very, very happy with the article in Parade magazine. I think everybody's individual faith is their own business, and I do believe in Jesus, and I believe that he was a compassionate person, and I see him as, from my point of view, and that's just my point of view, and I'm not, as a compassionate gay person. Someone who was persecuted. Someone who forgave people. And, and that's how I see him. He could have easily been Jeannie White, Ryan White's mother, you know, who went through that awful thing. It's just I identify in my mind as someone like that...Everybody's idea of faith is their own business. And I think as long as you do believe in someone wonderful, and someone who was such a great person as Jesus Christ, and someone who was compassionate and forgiving, then that's all I'm saying. I'm not saying to everyone that he definitely was gay. That's how I see him. That's my idea of faith."

"Everyone has their own idea. If I offended anybody, I don't see why they should be offended by it because I'm not saying that's how he definitely was. And, you know, we each have our own idea of what religion should be and our faith should be. And I, I do believe in Jesus Christ, and I do believe he was a wonderful man. And that's my view of him. And, and I don't, I don't really want to cause a controversy, and I didn't know it was going to be a sidebar to an article that was a great article. And I think Parade have been a bit sneaky about that. But I can't do anything about it, and I'm afraid I'm a bit of a lightning rod for these situations."



Bill O'Reilly: "Elton John is a pinhead!"
Sunday, February 21 2010 at 07:01:56

Elton under fire for 'Jesus is gay' remark
Friday, February 19 2010 at 08:56:59

Elton John: 'There's A Lot Of Hate In The World'
Thursday, February 18 2010 at 06:12:35


Elton John finally gets his own ('homoerotic') ballet
Sunday, February 21 2010
He's toured with Billy Joel and performed on the Grammy Awards with Lady Gaga and Eminem. But Elton John's latest collaboration is with a Canadian ballet company, which is mounting "Love Lies Bleeding," a new ballet about the pop star's life, set to premiere in Canada in May 2010.
"It's a visual abstract of my life," said Elton, phoning during a break from recording in an L.A. studio, in his first interview about the production. "It's about the dark side of my life as well as the bright side of my life."

Choreographed by Jean Grand-Maitre, the Quebec-born artistic director of Alberta Ballet who also just choreographed the opening ceremonies for the Vancouver Olympic Games, the ballet centers on a narrative story line rife with images of homosexuality, AIDS and drugs, a story that Elton called "very on the money about my life."

"It's very homoerotic," Elton says, adding that he has no qualms whatsoever about sharing his darkest moments – including his struggles with coming out and the depths of his past drug addiction – with ballet and pop music audiences alike. "The truth is the best way."

Set to 15 songs by Elton and his writing partner Bernie Taupin, the $1-million Alberta Ballet production is said to meld Bob Fosse-inspired jazz choreography and classical ballet en pointe with urban hip-hop, rollerblading, drag queens and Cirque du Soleil-style acrobatics.

Elton says he'll be at ballet's the May 6, 2010 premiere in Calgary, Alberta. A worldwide tour is expected to follow.

To read more about the production and John's role in its development, read the full story at LAtimes.com.
Bill O'Reilly: "Elton John is a pinhead!"
Sunday, February 21 2010
Some people think that Elton John knew exactly what he was doing when he laid out that quote for Parade.com about Jesus being gay.
Like Kathy Griffin, it's not his first time at the media rodeo. He knew the quote would exasperate folks like the Catholic League's Bill Donohue and FOX News Bill O'Reilly.



Elton under fire for 'Jesus is gay' remark
Friday, February 19 2010 at 08:56:59

Elton John: 'There's A Lot Of Hate In The World'
Thursday, February 18 2010 at 06:12:35


Summer concert with Billy Joel at Wrigley is canceled
Saturday, February 20 2010
Elton John said February 19, 2010 that the summer leg of his joint concert tour with Billy Joel has been canceled, reports the Chicago Tribune.
"It's not my decision, it's Billy's," Elton said at the Beverly Hills Hotel, during satellite TV interviews to promote the Chicago engagement of "Billy Elliot."

"He has decided to take a year off. It doesn't gel with my plans but he's a friend. And as an artist you have to respect his decision."

Elton said he was "bitterly disappointed" not to return to Wrigley. "That's the church." Calls to Joel's publicist were not returned.



Billy Elliot is coming to Chicago
Wednesday, July 22 2009 at 07:24:04


Elton under fire for 'Jesus is gay' remark
Friday, February 19 2010
Elton John has sparked a storm of internet protest after suggesting Jesus Christ was gay in a new online interview.
Elton has been targeted by outraged bloggers and 'tweeters' over comments he made to Parade.com as part of an article which will appear in the website's sister weekend magazine.

In the article, Elton says, "I think Jesus was a compassionate, super-intelligent gay man who understood human problems. On the cross, he forgave the people who crucified him. Jesus wanted us to be loving and forgiving. I don't know what makes people so cruel."

His remarks have led to a wave of attacks from online critics. One writes, "John is now the authority on Christ? Jesus Christ was as gay as Saddam Hussein is alive."
And blogger rhardin tells Fox News' 411 blog, "I will never listen to this man's music again. How dare he speak of my Lord in such a disgraceful way. He should not speak on things he knows nothing about. I hope and pray that all Christians will take a stand on this one. Elton John's lifestyle speaks for itself."

Meanwhile, bobj72 tells TheDailyBeast.com, "While I have had some appreciation for Elton John's music... he could not be further from the truth on this matter regarding Jesus. It is clearly stated in Leviticus 18:22, 23; that Christ sees homosexuality as an abomination."



Elton John: 'There's A Lot Of Hate In The World'
Thursday, February 18 2010 at 06:12:35


Elton's gig posters for book
Thursday, February 18 2010
Elephant Book are working on a book which is to be published by Frances Lincoln this fall called "The Art of British Rock: 50 Years of rock 'n' roll posters, flyers and handbills".
The book is a history of 50 years of gig posters, album covers, flyers & handbills created by British designers — it's looking great and they've already got some fantastic material, including interviews with leading poster artists/designers from Pete Saville to Hugh Gilmour and many other pivotal figures, both past and present. Author of the book is Mike Evans, a leading writer and broadcaster on pop culture and music.

They are looking for Elton John gig posters, designed by British designers, that were created between the late 60s to mid 70s. If you are able to help in any way with this, please contact Clarissa. Ideally, they are looking for high resolution images, but if you live in the UK, they may be able to arrange for a photographer to come and shoot the poster(s).

And of course, for all your kind contribution, they will credit you in the book. Thank you in advance! Elephant Book is looking forward to hearing from you!
Elton John: 'There's A Lot Of Hate In The World'
Thursday, February 18 2010
In this week's issue of PARADE, Elton John talks to Dotson Rader about the transition from his raucous rock-star years to becoming a committed philanthropist.
In the web exclusive below, the music legend opens up about the life-threatening downside of fame, his partner David Furnish and his take on Jesus.

Making early mistakes in love.
"I'd always choose someone younger. I wanted to smother them with love. I'd take them around the world, try to educate them. One after another they got a Cartier watch, a Versace outfit, maybe a sports car. They didn't have jobs. They were reliant on me. I did this repeatedly. In six months they were bored and hated my guts because I'd taken their lives and self-worth away. I hadn't intended to."

Love and drugs.
"Just about every relationship I ever had was involved with drugs. It never works. But I always had to be with someone, good or bad, otherwise I didn't feel fulfilled. I'd lost the plot."

It's all or nothing when it comes to drugs.
"For some people a gram of cocaine can last a month. Not me. I have to do the lot, and then I want more. At the end of the day, all it led to was heartache."

Why fame has lost its appeal.
"Princess Diana, Gianni Versace, John Lennon, Michael Jackson, all dead. Two of them shot outside their houses. None of this would have happened if they hadn't been famous. Fame attracts lunatics. I never had a bodyguard, ever, until Gianni died. I don't like celebrity anymore."

Remembering friends lost.
"Every time I sing 'The Ballad of the Boy in the Red Shoes' onstage, I say that this is a song written about a time when people in America started getting AIDS and your president, Ronald Reagan, did nothing about it. I get boos. There's a lot of hate in the world."

His take on Christianity.
"I think Jesus was a compassionate, super-intelligent gay man who understood human problems. On the cross, he forgave the people who crucified him. Jesus wanted us to be loving and forgiving. I don't know what makes people so cruel. Try being a gay woman in the Middle East -- you're as good as dead."

He'll never stop helping.
"I set up my foundation because I wanted to make amends for the years I was a drug addict. People with HIV are still stigmatized. The infection rates are going up. People are dying. The political response is appalling. The sadness of it, the waste."

Finding new relationships.
"In 1993 I went back to my house in Windsor for a while. I wanted meet new people so I rang up a friend in London and said, 'Could you please rattle some new people together for dinner here Saturday?'"

An instant connection.
"I was attracted to David immediately. He was very well dressed, very shy. The next night we had dinner. After it, we consummated our relationship. We fell in love very quickly."

Keeping the love alive.
"Every Saturday for 16 years, we've sent each other a card, no matter where we are in the world, to say how much we love each other."

Communication is key.
"We've never been jealous. We talk about the sexual side of things, things that normally would have frightened me before."

For the full interview, check out Parade.com on February 19, 2010.
Jeff Bridges and T Bone Burnett party with Elton John
Wednesday, February 17 2010
It's good to be in Los Angeles during Oscar season because you get to attend events like the one Hitfix went to last night: a star-studded party held for "Crazy Heart" with performances by the movie's Oscar nominees Jeff Bridges, T Bone Burnett and Ryan Bingham.
Did we mention yet that Sir Elton John joined them on stage, as did co-star/Oscar winner Robert Duvall and Harry Dean Stanton? And that fellow "Crazy Heart" nominee Maggie Gyllenhaal and her brother Jake were grooving to the performances as were Jon Hamm, Jennifer Westfeldt, Oscar nominee Woody Harrelson and Peter Fonda?

Held at Vibrato, a restaurant/jazz club off famed Mulholland Drive and owned by Herb Alpert, the party, thrown by New West Records, which released the movie's fantastic soundtrack, had no red carpet or paparazzi outside. Inside there were no VIP or roped off areas.

Burnett and Bingham are up for best original song for the "Crazy Heart" theme, "The Weary Kind." You could practically imagine every Oscar voter in the room rushing home to mark his or her ballot for Team Crazy Heart after Bingham gave a weather-beaten performance of the song. Then Bridges, who is nominated for best actor for his performance of dissolute singer/songwriter Bad Blake, and Burnett took the stage, joined by Duvall, who sang "Red River Valley," backed by Stanton on harmonica. Bridges and Burnett played the movie's "Fallin' & Flying," which is a country hit just waiting to happen. Elton John hopped on stage to pound the ivories on "I Don't Know," also from the movie. Burnett is producing Elton's new album with his musical hero Leon Russell.
Auction benefiting the Elton John Aids Foundation
Monday, February 15 2010
Interested in an original wedding reception menu of Elton's wedding to Renate Blauel, signed by Elton and Renate?
Then this is your chance. You can bid on this item by contacting Denise Hurley and sending her your offer (in US dollars). Denise has agreed to donate 10 per cent of the highest bid to the Elton John Aids Foundation.

The deadline for sending your bids is February 28, 2010.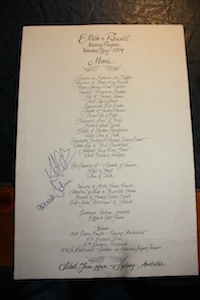 Elton John supports homophobia video
Saturday, February 13 2010
Elton John, the chief of the Rugby Football Union and the gay Irish hurler Donal Óg Cusack have all given their support to the FA's anti-homophobia video.
The figures gave their support to the film in a statement on February 12, 2010, but not a single footballer came forward to condemn homophobia. Although the FA cancelled the premiere of the viral ad, it said it still planned to show it to match stewards as a training and education tool.

It shows a fan hurling homophobic abuse at people in the street and co-workers without being challenged. The cancellation was revealed last week when the FA admitted it had more work to do on the film.

The film was criticised by some of those consulted over it, including Peter Tatchell and John Amaechi. Mr Tatchell said he was disappointed top players had refused to get involved. Elton said: "I fully support the initiative and hope people realise that homophobic abuse at matches should not be tolerated."

Cusack, who came out last year, said: "The FA is showing excellent leadership in this. When I came out to a team which was at the top of its game the reaction could be summed up in two words: 'Yeah? So?'" Meanwhile, Francis Barron, the chief executive of England's Rugby Football Union, said he welcomed "any scheme that seeks to remove discrimination from sport and which enhances the experience of gay or lesbian participants playing or watching sport".

Professional Footballers' Association chief Gordon Taylor said homophobia was "unacceptable", adding that he applauded the "ongoing work in this arena". Mr Taylor tried to defend top-level players for their failure to back the initiative. He told the Independent: "Everybody assumes footballers are full of confidence, but it is not easy on issues like this. Remember there was a time when even black players did not feel they could talk about race."

Despite several heterosexual footballers suffering homophobic abuse, all of the big-name players and their agents who were approached refused to support the video.
Lady Gaga honors Elton John at amfAR Gala
Thursday, February 11 2010
Lady Gaga honored Elton John and David Furnish for their outstanding contributions to AIDS research organization amfAR on February 10, 2010 by accepting the Award of Courage on their behalf at the amfAR benefit at Cipriani 42.
Gaga performed an all-white rendition of "Speechless" for the crowd, then hopping up on the piano with a pearl-encrusted face to sip a cup of tea.

Elton and David were not present as Elton is on tour with Billy Joel and David called in sick, so Gaga accepted amfAR's award for their efforts to raise awareness about HIV/AIDS on their behalf.

Michael Kors, Chloe Sevigny, Heidi Klum and Kenneth Colewere just a handful of names in the room, along with Cyndi Lauper, who made a speech about the MAC AIDS Fund Viva Glam Campaign. Vanessa Redgrave also showed their support by honoring her late daughter Natasha Richardson's contributions to amfAR, citing "My darling Natasha, I am so proud of your courage, your commitment, your spirit."

Rufus Wainwright hit the stage for a performance of Judy Garland's "The Man that Got Away," and Meryl Streep closed the night with an Irish song "for Tasha and all the people who aren't here tonight."

"It really takes guts to get up and sing after Lady Gaga and Rufus," Streep said. "The sacred and the profane." "Lady Gaga was exciting and new," said Rufus Wainwright, who also performed two songs, "and I'm a great admirer of hers, but I was surprised with Meryl Streep's song. I lost my mother a few weeks ago, and I thought I could keep it together just fine, and of course, I failed. I cried. Thanks, Meryl!"

"I know they'd so much like to be here," Gaga told the audience, which included Sigourney Weaver, Zoe Saldana, Julianne Margulis, Iman, and Brooke Shields. "I recently became good friends with them, and you get to feel like they're someone you've known your whole life, and you've wanted to know your whole life. It's fitting this award is about courage, because Elton was for me someone who represented a fearlessness to be who you are, and speak for the things you believe in, and really stand up for what you believe in. I will tell them you all said hello"



Bid on two VIP tickets for an Elton/Billy concert
Thursday, February 11 2010
Charity Folks is dedicated to auctioning off one of a kind celebrity experiences as well as physical items for various charities around the world.
They are currently auctioning two VIP tickets to an upcoming Elton John & Billy Joel Face 2 Face concert. The proceeds of this auction benefit Love Our Children USA.

The auction will end on February 14, 2010, at 3 pm EST.
Tickets for Elton's Israel show selling fast
Thursday, February 11 2010
Promoters claim that tickets to Elton John's concert went on sale at 7 pm on February 9, 2010 evening, and more than 5,000 tickets were sold within the first hour, according to "IDF Radio" (Galei Zahal).
The tickets sold represent more than 10% of the available seats for the concert at Ramat Gan stadium. Demand was so strong that the website processing the ticket requests collapsed, after more than 3,000 people entered the site within 15 minutes. However, the server was fixed.

When Leonard Cohen said he would be coming to Israel, tickets to his performance were sold out within 24 hours. It appears that tickets to Elton John's concert are selling at an even faster pace.



BRICUP tells Elton John 'Don't Play Israel'
Thursday, February 4 2010 at 11:48:59


Happy Birthday, Nigel!
Wednesday, February 10 2010
Elton's drummer Nigel Olsson is celebrating his 61st birthday on February 10, 2010.
On behalf of the Hercules team and the Elton John fans all over the world, we would like to wish him a happy birthday!
Lady Gaga, Elton John and a beautiful Baldwin
Tuesday, February 9 2010
Artist Terence Koh Talks about designing the dual-sided piano for the most stunning performance during the Grammy Awards 2010.
The buzz surrounding the Grammy Awards duet between Lady Gaga and Elton John lingered during the first week of February 2010, with postings of the glam-stoked performance appearing all over the web. The dual-sided Baldwin piano at which Elton and Gaga sat cut a dazzling figure in its own right – its most striking feature being the claw-hand arms jutting upwards from its surface.

To get the story behind the instrument – and to find out what inspired those arms – Russell Hall of gibson.com spoke with the dual-piano's designer, Terence Koh. One of the art world's most provocative young visionaries, Koh has seen his work featured in major exhibitions around the world.

Applying his talents to two Baldwin "R" acoustic pianos, Koh helped provide the Grammys with one of the most memorable moments in its history. So pleased was Lady Gaga with his efforts, in fact, that she's already commissioned him to fashion yet another Baldwin for her live shows.

In the following interview, Koh talks about the challenges involved with the project:

Did Lady GaGa come up with the vision for the dual-piano? Did Elton John -- or people acting on his behalf -- have creative input, as well?

I was approached by Lady Gaga to help visualize the duet between her and Elton. Since they would be singing and playing the piano together, I had the idea that they should be playing at the same piano, facing each other. I was given a lot of freedom as an artist to do pretty much what I wanted.

What did the arms and hands represent?

The hands were based on sculptures of hands I had done in a previous exhibition. Lady Gaga and I then thought it would be great for the hands to be claw-like, in dedication to her fans making a claw-shaped "monster hand." It was an homage to when you go to her concerts and you see a wave of those hands, which Lady Gaga calls her "little monsters." It was about a sea of love and affection.

What was the idea behind the face-paint and ash that was smeared onto the faces of Elton and Gaga?

The idea for her to be thrown into an oven had already been conceptualized. Therefore it was only natural that Elton and Gaga should "emerge" for the performance together – maybe like a phoenix -- "ashed" as well.

What was the most difficult challenge involved in constructing the piano?

Well, I don't think anybody has ever done a Siamese piano like that. We had about five days to make it happen, so the logistics of taking new pianos and putting them together as one piano took a lot of thinking and planning.

Is it true that the second piano had been used previously in the feature film Poseidon? Was there something about its design for that project that made it especially suitable for this one?

It is true that the other piano was used in Poseidon, but that was just a coincidence. It just happened that the piano was available for us to saw it in half. But there was nothing "dead" about it. In fact, two lives were born.

Did Elton John and Lady Gaga have an opportunity to try out the piano prior to the performance?

They did rehearsals the day before the Grammys, and both were very happy to be playing on it. It was also designed so that they could see each other between the sea of hands. That was really important – that they be able to see each other clearly while playing the piano. It brings to my mind the composition by John Cage, "Music for Two Pianos."

To have accomplished this project in just five days is remarkable. Had you done a similar project before, that prepared you well for this one?

No. I am learning like a child, as I go along.



Elton John and Billy Joel performed in Seattle on February 6, 2010
Monday, February 8 2010
Following is the complete set list of the Seattle show on Februray 6, 2010.
Elton John/Billy Joel (solo)

Your Song

Just The Way You Are
Elton John/Billy Joel (bands)
Don't Let The Sun Go Down On Me

My Life
Elton John set
Funeral For A Friend

Love Lies Bleeding

Saturday Night's Alright (For Fighting)

Levon

Madman Across The Water

Tiny Dancer

Goodbye Yellow Brick Road

Daniel

Rocket Man

Philadelphia Freedom

I'm Still Standing

Crocodile Rock
Billy Joel set
Prelude

Angry Young Man

Movin' Out (Anthony's Song)

Allentown

Zanzibar

Don't Ask Me Why

She's Always A Woman

Scenes From An Italian Restaurant

River Of Dreams

Foxy Lady (Jimi Hendrix)

We Didn't Start The Fire

It's Still Rock'n'Roll To Me

Only The Good Die Young
Elton John/Billy Joel (Bands)
I Guess That's Why The Call It The Blues

Uptown Girl

The Bitch Is Back

You May Be Right

Bennie And The Jets

Elton John/Billy Joel (solo)
Candle In The Wind

Piano Man
Broadway Bears Auction
Friday, February 5 2010
All Elton John fans - Broadway Cares/Equity Fights Aids is holding its annual Broadway Bears Auction in which bears are produced to replicate characters from popular Broadway shows.
Follow this link to get a chance to own a unique, one-of-a kind bear from the show "Billy Elliot: The Musical", signed by Haydn Gwynne, Stephen Daldry and Sir Elton John!

The auction ends February 13, 2010, so act fast!
News from the upcoming studio album
Friday, February 5 2010
Basic tracks for Bernie and Elton's new album with Leon Russell have been recently completed and the gang is about to start vocals and overdubs immediately, reports the blog on Bernie Taupin's website.
The trio has cut fifteen songs ranging from Stones like rockers, Country tinged ballads, Gospel and even a Sinatra like weepy similar to something torn from the grooves of "In the Wee Small Hours". The album is varied in scope and drenched in a rich tapestry of atmospherics. Don't expect to hear the old EJ/BT sound; this is organic recording unlike anything you've heard from the duo before.

Leon continues to improve from the surgery that sidelined him in the initial stages and caused the media to over diagnose his condition. His playing is masterful as ever and his contribution to the project grows more exciting with the passing of every day.

The players in the first two weeks of recording have included such T-Bone Burnett, as drummers Jim Keltner and Jay Bellerose, bassist Dennis Crouch, guitar virtuoso Marc Ribot and additional keyboardist and tech wizard Keefus Ciancia.



Leon Russell undergoes brain surgery, condition unknown
Wednesday, January 13 2010 at 08:12:09

New album update from Bernie Taupin
Wednesday, December 30 2009 at 21:36:45


BRICUP tells Elton John 'Don't Play Israel'
Thursday, February 4 2010
BRICUP, the British Committee for Universities for Palestine, has sent an open letter to Elton John asking him to cancel his planned concert in Israel in June 2010.
They have said to him: "Okay, you turn up in Ramat Gan, and it gets to that 'Candle in the Wind' moment, and thousands of lighters flicker – but there won't be any Palestinians from the Occupied Territories swaying along with the Israelis – the army won't let them leave their ghettoes. Please read what Judge Goldstone said about the onslaught on Gaza; what Amnesty International and Human Rights Watch have been saying for decades about the crimes committed against the Palestinians."

Read the BRICUP open letter:

Dear Elton John:

Like much of the world, we think you're a good bloke. You came out when it was difficult; you admitted your addictions were stronger than you were; you've poured money into AIDS research. Oh, and then there's the music – not bad at all.

But we're struggling to understand why you're playing in Israel on June 17. You may say you're not a political person, but does an army dropping white phosphorus on a school building full of children demand a political response?

Does walling a million and a half people up in a ghetto and then pounding that ghetto to rubble require a political response from us, or a human one?

We think it needs a human response, and we think that by choosing to play in Tel Aviv you're denying this. You're
behaving as if playing in Israel is morally neutral – but how can it be? How can the cruelties Israel practises against the Palestinians – fundamentally because the Palestinians are there, on Palestinian land, and Israel wants them to go – be morally neutral?

Okay, you turn up in Ramat Gan, and it gets to that 'Candle in the Wind' moment, and thousands of lighters flicker – but there won't be any Palestinians from the Occupied Territories swaying along with the Israelis – the army won't let them leave their ghettoes. Please read what Judge Goldstone said about the onslaught on Gaza; what Amnesty International and Human Rights Watch have been saying for decades about the crimes committed against the Palestinians. Of course the Israeli state denies it has a case to answer, though it's knee-deep in ethnic cleansing and land-theft and the endless daily suffocating of Palestinian lives and hopes.

Political or not political, when you stand up on that stage in Tel Aviv, you line yourself up with a racist state. Do you want to give them the satisfaction?

Please don't go.

Yours sincerely,
Professor Haim Bresheeth
Mike Cushman
Professor Steven Rose
Professor Jonathan Rosenhead
London, February 2010
18th annual EJAF Academy Awards Viewing Party
Wednesday, February 3 2010
The 18th annual Elton John AIDS Foundation (EJAF) Academy Awards® Viewing Party hosted by Elton John and David Furnish will be held March 7, 2010, at the Pacific Design Center and will be presented by Chopard, Jo and Raffy Manoukian, and Neuro Drinks.
The event will begin at 4:00 P.M. with a cocktail reception, followed by a formal dinner and viewing of the 82nd Annual Academy Awards®, an exciting auction and a very special soon-to-be-announced musical performer invited by Sir Elton John to perform at the event.

Last year, the highly successful annual gala raised $4 million. EJAF will continue to invest the money raised at this event in grant-making initiatives that support HIV prevention programs, anti-discrimination efforts, and direct services to persons living with HIV/AIDS. The Foundation targets key populations that are poorly served by current prevention efforts and most at risk of infection in an effort to bring about immediate change that will end this epidemic.

"Beginning with a modest dinner that raised $300,000 in 1993, EJAF's Academy Awards Viewing Party has grown into a multi-million dollar annual benefit that has raised approximately $25 million to date for the Foundation's life-saving programs," says EJAF Director Scott Campbell. "But these achievements only address a small portion of the enormous need that already exists and that is growing at the rate of 10 more people every minute. We have a huge task ahead of us, and we are deeply grateful to our supporters and friends around the world for joining us in this vital cause."

The EJAF Party is guaranteed to bring out today's brightest Hollywood stars. This year, the Foundation is especially honored to have David and Victoria Beckham, Kathryn Bigelow, Ellen DeGeneres and Portia de Rossi, Caroline Gruosi-Scheufele, Diana Jenkins, Marilyn and Jeffrey Katzenberg, Nicole Kidman and Keith Urban, Lenny Kravitz, Ryan Kwanten,Ed Limato, Eric and Janet McCormack, Tyler Perry, Rich Ross, Gabourey Sidibie, Sharon Stone, Dame Elizabeth Taylor,Donatella Versace, and John Waters serve as event chairs.

Past guests have included Academy Award winners; stars of music, film, television and fashion; and Hollywood's most influential filmmakers such as Dame Elizabeth Taylor, Sir Paul McCartney, Zoe Saldana, Marion Cotillard, Natasha Bedingfield, Gerard Butler, Halle Berry, Heidi Klum and Seal, Victoria Beckham, Harrison Ford, Ellen DeGeneres, Sting,Denzel Washington, Chace Crawford, Emmy Rossum, Zac Posen, Rashida Jones, Jerry Weintraub, Sean Penn, Prince, and Mary J. Blige, among many others.
Lady Gaga's 300k piano plan
Wednesday, February 3 2010
Lady Gaga is trying to raise £300,000 to buy a piano designed by artist Terence Koh which she played with Elton John at the Grammy Awards on January 31, 2010.
The singer is desperate to buy the instrument - designed by controversial Canadian artist Terence Koh - after she and Elton opened the US awards ceremony on January 31, 2010, with a medley of her song 'Speechless' and Elton's 'Your Song'.

A source said: "Terence's artwork is confrontational and incorporates many elements that appeal to Gaga such as sex, punk and gay culture. The black piano with arms reaching out of it was beautiful and it's no surprise she wants it, especially after giving one of the performances of her career."

Earlier this week, Gaga described her duet with Elton as a dream come true, and that she couldn't control her emotions before the show. The 23-year-old pop star said: "I ruined all of my make-up right before the show. Crying... I was just so happy. I had been fantasising about this performance piece for a while and we got to do it and I'm just really truly floored."

It seems likely Gaga may be able to get the money together, as her bankability is at an all time high. She was reportedly paid £30,000 for a two-hour DJ set at an exclusive London club Maya on January 20, 2010. The 'Just Dance' hitmaker also managed to raise donations of $500,000 for victims of the Haiti earthquakes on January 27, 2010 with an impromptu show in New York.



Lady Gaga cries for Elton
Tuesday, February 2 2010 at 19:09:39

Lord Choc Ice meets Lada Gaga
Monday, February 1 2010 at 07:30:52

Elton John to join Lady Gaga on stage
Friday, January 29 2010 at 08:13:37


Lady Gaga cries for Elton
Tuesday, February 2 2010
Lady Gaga was so excited about performing with Sir Elton John at the Grammy Awards on January 31, 2010, she broke down in tears shortly before they were due on stage.
Lady Gaga "cried" because she was so overwhelmed at singing with Elton. The 23-year-old singer was so happy the pair got to perform a spectacularly extravagant duet - seated either side of a giant piano which sprouted hands - at the Grammy Awards on January 31, 2010, she was forced to make an emergency visit to her make-up artist shortly before she was due on stage.

She said: "I'm just so happy, I can't say enough and Elton was so amazing and the performance was really truly magical. I had been fantasising about this performance piece for a while and we got to do it... and I'm just really truly floored. I ruined all of my make-up right before the show. Crying... I was just so happy."

The 'Bad Romance' hitmaker picked up two awards at the event - Best Electronic/Dance Album for 'The Fame' and Best Electronica/Dance Song for 'Poker Face' - and dedicated her wins to her legion of fans. She told 'Access Hollywood': "This is not an award for me, it's for my fans. And I love my fans so much. And I wanted them to know that they should believe in themselves. And I wanted to be everything that they hoped I would be tonight, and that's what we got to do."



Lord Choc Ice meets Lada Gaga
Monday, February 1 2010 at 07:30:52

Elton John to join Lady Gaga on stage
Friday, January 29 2010 at 08:13:37


Godiva Valentine's Day Heart gift boxes
Tuesday, February 2 2010
On February 1, 2010, at a press conference in Los Angeles, EJAF Board member David Furnish and long-time EJAF supporter actress Eva Longoria Parker joined Godiva Chocolatier representative Alison Tryon to announce an exciting new partnership between the world's leading premium chocolatier and one of the world's leading nonprofit HIV organizations.
For Valentine's Day 2010, Godiva is encouraging consumers to open their hearts to loved ones as well as to people in need. Godiva will celebrate the joy of giving back with a special limited edition gift box and an exciting Valentine's Day Sweepstakes inspired by Godiva's partnership with EJAF. As Ms. Tryon stated, "The eternal values of love and sharing, as exemplified by EJAF, have always been staples of Godiva's philosophy, particularly during Valentine's Day. We are proud to honor our shared ideals and support their valuable contributions through this special Valentine's Day sweepstakes. At Godiva, we have long admired the tireless efforts of the Elton John AIDS Foundation and their grant-making programs that bring life-saving HIV prevention education and support services to people in need across the world. We are proud to support them in their endeavors."

The Grand Prize winner of the 2010 Godiva Valentine's Day Sweepstakes will win an exclusive, all-expenses-paid trip to New York City in the fall, where he or she will receive red carpet treatment at EJAF's star-studded An Enduring Vision benefit. At the event, the winner will present Sir Elton John with a $200,000 check on behalf of Godiva. Additionally, to honor another cause close to the winner's heart, Godiva will make a $20,000 donation to a charity of the winner's choosing, allowing the sweepstakes winner to give back in two very special ways.

Godiva has also created the Limited Edition True Love Gold Heart assortment to commemorate its partnership with the Elton John AIDS Foundation. As Ms. Longoria Parker stated at the press conference, "I really love this new Limited Edition Valentine's Day box that honors Godiva's partnership with the Elton John AIDS Foundation. It reminds us that love and compassion should always go hand-in-hand. I will definitely be gifting this to some of my loved ones this year and encouraging others to share a gift that gives back to those in need."

"Saving lives is truly the ultimate expression of love, and that is what Godiva's generous donation will accomplish," added EJAF Board member David Furnish. "In fact, contributions like Godiva's will help EJAF not only to support its ongoing grant-making initiatives, but also to provide emergency dollars in crisis situations related to HIV/AIDS. Just this past week, EJAF released $200,000 in emergency funding to two of our grantees in Haiti to provide HIV/AIDS medicines and other medical supplies for the earthquake relief effort. At EJAF, we pride ourselves on being both a responsive and responsible nonprofit organization, putting our donors' generous contributions to work quickly in regions and populations hardest hit by the HIV/AIDS epidemic, and doing so in the most efficient and cost-effective way possible. Elton and I are so very grateful to Godiva for their generous support and partnership in this vital, life-saving work."



EJAF supports Haiti charities
Wednesday, January 27 2010 at 18:31:30


Elton John gets behind 'Next Fall'
Tuesday, February 2 2010
Following Oprah Winfrey ("The Color Purple") and Jay-Z, and Will and Jada Pinkett Smith ("Fela!") in lending their names to favorite Broadway shows, Elton John and his partner, David Furnish, have signed on to the producing team of the upcoming Broadway transfer "Next Fall," a new play about the happiness, strains and religious differences between two gay men over the course of their five-year romantic relationship. The publicists for the production announced the arrangement on February 1, 2010.
As producers, Elton and David have put money into the show — no one involved in the production would say how much — and will lend their marquee names to the show's publicity and audience material in hopes of drawing attention to the show.

Written by Geoffrey Nauffts and directed by Sheryl Kaller, the Naked Angels production of "Next Fall" — which drew critical acclaim during an Off Broadway run last summer — is moving to the Helen Hayes Theater without a star actor, director or playwright, a risky proposition on Broadway today. "Next Fall" is scheduled to begin previews on February 16, 2010 and open on March 11, 2010.

Elton and David previously worked on Broadway with "Billy Elliot: The Musical," for which Elton was nominated for best original score and David served as an executive producer. They are also collaborating on a score for a film, "Showstopper."

In a statement provided by the publicist, Elton and David said: "We are excited to join the team bringing Geoffrey Nauffts' extraordinary play to Broadway. After fulfilling experiences bringing new musicals to the stage, it was seeing this inspiring and timely new work that attracted us to take on our first play."
Elton not part of "We Are The World"
Tuesday, February 2 2010
Elton John did not take part in the recording of "We Are the World" on February 1, 2010 because he was in the studio recording with Leon Russell.
However, the Elton John Aids Foundation has donated $200,000 to Haiti relief, and more may be coming. The Foundation may have lost more than dozen volunteers in the earthquake.



We Are the World 25: Elton, Wyclef, Celine, Gladys, Aretha
Monday, February 1 2010 at 05:53:17


Interview with Diane Bruner
Monday, February 1 2010
Diana Bruner was one of the original Soul Train Dancers, a 1970's dance show featuring host Don Cornelius. Elton John was reputedly the first white performer on the black-dominated show.
Shortly after Don introduced Elton, the dancers had the chance to ask Elton questions, e.g., "where do you find those funky glasses?" Diana was one of those Soul Train Dancers who had the chance to ask Elton, "Have you been singing since childhood?" Elton replied that he had only been singing for 5-6 years and explained how he used to back Patti LaBelle.

Eltonfan.net caught up with Diana recently as she and other members of the original Soul Train Dancers would like to tell their story.

ELTONFAN.NET: Diana, where did you grow up and how did you become a Soul Train Dancer?

I grew up in California and New York City, I started dancing on Soul Train in 1973. Pat Davis and I were very good friends and she invited me on the show and I became a regular on the show. I became a professional dancer and got with a Dance Company called the Dancing Machine, we did the Touch of Gold Special on NBC, and I also danced with the Rollin Stones for there LA Concert. I also appeard in Right On Magazine they always wrote about the Soul Train Gang and I was a big part of that.

ELTONFAN.NET: What can you tell us about meeting Elton John, and what did you think of him then? What do you think of him now?

He is such a talented singer I have always loved his music, and still do. It would be great to see him again in person.

ELTONFAN.NET: What do you miss the most about Soul Train?

The people who danced on the show we had such a great time and the entertainment.

ELTONFAN.NET: When was the last time you spoke with Don Cornelius, and is there anything you would like to say to him?

Why are you avoiding the True Soul Train Dancers we dance on your show for all those years and you never did try to interview us or Thank You for making that show a success. It would be nice of him to do a TV show interview with all the dancers.

ELTONFAN.NET: Thank you Diana for an interesting interview.
Lord Choc Ice meets Lada Gaga
Monday, February 1 2010
Lady Gaga and Elton John sang their much anticipated two-piano-powered duet at the Grammy Awards — a fusion of Gaga's "Speechless" and Elton's "Your Song."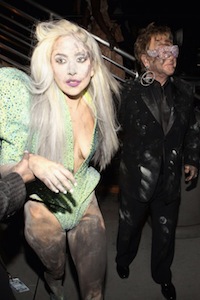 The number followed the very first song of the night, a lavish performance by Gaga of "Poker Face" that culminated in a bit of stage business where she was seemingly set on fire.

Never one to shy away from making a fashion statement, Gaga adorned a sparkly green leotard with shoulder pads that made her look like a heart. Elton and Gaga emerged together on a piano, with Gaga saying "take my picture Hollywood." Elton was adorning large, sparkly glasses with his face painted in what looked to be ash.

The two traded off verses at times, while simultaneously playing the piano. "How wonderful life is with Gaga in the world," Elton said at one point, altering the lyrics of 'Your Song.'

Click here to see a video clip of Lada Gaga's "Poker Face" and her monster duet with Elton John.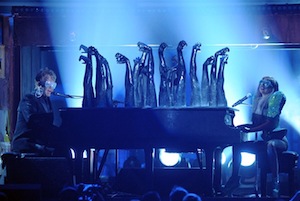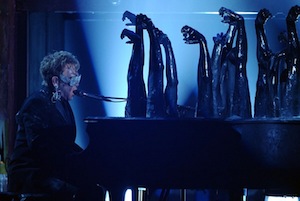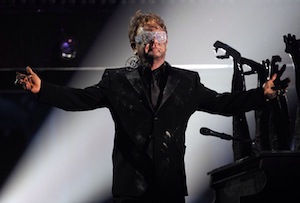 Elton John to join Lady Gaga on stage
Friday, January 29 2010 at 08:13:37
We Are the World 25: Elton, Wyclef, Celine, Gladys, Aretha
Monday, February 1 2010
"We Are the World 25″ is a go for February 1, 2010, at Henson A&M Studios, the same place where it was recorded in 1985. Quincy Jones and AEG Live's Randy Phillips are putting the finishing touches on the big recording session.
Among the names we've heard so far: Elton John, Celine Dion, Wyclef Jean, Gladys Knight, and possibly Aretha Franklin will join a huge number of younger stars. Some of the stars from Quincy Jones' upcoming album, "Soul Bossa Nostra," may join in as well. They would include Jennifer Hudson, John Legend, Akon, Bebe Winans, Usher, Robin Thicke, LL Cool J, and Tevin Campbell.

Paul Haggis will film the proceedings. What's still being finalized is where all the money will go. When the original "We Are the World" was recorded in 1985, the money was funneled through its own organization. This time, however, raised funds will be sent through an established foundation.

Originally there was a sketchy plan to re-record "We Are the World." But when the Haiti earthquake occurred, Quincy Jones realized there was a larger purpose for the reunion.
Elton staged intervention for Donatella Versace at her daughter birthday
Monday, February 1 2010
An 18th birthday party for Donatella Versace's daughter Allegra was used as a ruse for Elton John to lead an intervention that sent the cocaine-addled designer to rehab, a new book says.
"House of Versace," by Deborah Ball, details the June 30, 2004, soiree where Donatella was confronted about the drug use that threatened her life and her multi-million dollar company. The "party" started with Versace slipping into a bathroom at her Milan mansion to snort a line of coke - just before Elton's surprise arrival, the book reveals.

The longtime friend put the intervention in motion six weeks earlier after watching a sobbing and shaking Donatella at one of his concerts. "You people are doing nothing but enabling Donatella by protecting her!" the singer railed at Versace's top assistant. "She's going to die if we don't do something!"

The showdown was timed to coincide with Allegra Versace's birthday, and the teen joined Elton in confronting her mother. The plan worked. The drug-addicted designer climbed aboard a private plane that night and flew to The Meadows, a rehabilitation facility in Wickenberg, Ariz. The 343-page book says that Donatella's appetite for cocaine left her paranoid, semi-coherent and erratic. Her wild mood swings frightened her two children.

The designer bottomed out during the debut of her men's collection just weeks before she cleaned up, the book reports. During a dress rehearsal, Donatella sat on a sofa "so dazed that her bodyguards had to sit on either side of her to prop her up." The emaciated design doyenne then held a rambling news conference so embarrassing that it led a longtime Versace executive to quit.

As her drug spiral worsened, Donatella snorted cocaine openly in front of employees, before fashion shows and at after-parties while security stood outside the bathroom door, the book said. Her taste for the highlife grew along with her appetite for drugs, the book said. She flew only on private jets, hired $5,000-a-day stylists and used only the priciest models, like Kate Moss and Naomi Campbell.

Among her favorite drug buddies was Madonna's brother Christopher Ciccone, the book said, and the pair went on a three-day cocaine binge before a 1998 fashion show. After a Metropolitan Museum of Art memorial service for her slain brother Gianni in 1997, Dontella also reportedly did lines of coke with Ciccone and rocker Courtney Love.
Auction raises £80,000 for Haiti
Monday, February 1 2010
An online auction by the Glastonbury Festival organisers and Oxfam to raise money for Haiti earthquake victims has so far attracted bids of about £80,000.
Elton John's duck-egg blue suit has attracted over £1,500, and bids of £7,000 and £5,000 have been made for VIP tickets for the festival.

A signed guitar smashed by rocker Dave Grohl was put online on January 30, 2010, a festival spokesman said. The organisers hope to raise more than £100,000.

The spokesman said a night out with actor Colin Firth closed with a winning bid of nearly £500. He added: "We're hoping to go over the £100,000 mark and it's up towards £80,000 at the moment.

"That's pretty good during a week. Some of those things are pretty jaw-droppingly unique. The artists have been extremely generous."

He said the auction would continue to run during the first week of February 2010.