ELTON JOHN NEWS ARCHIVE: February 2009
Elton John's growing Empire
Thursday, February 26 2009
Just a normal Monday lunchtime for wacky newcomers Empire Of The Sun. The psychedelic Aussie duo are on a mission to conquer the world - and I wouldn't bet against it.
Created by Luke Steele (the mastermind behind The Sleepy Jackson) and Nick Littlemore (one half of techno duo Pnau), they immediately had many people hooked as they were greeted by the gentle strumming of a guitar.

They've already created a splash with "Walking On A Dream," the title track from their spectacular new album which is the perfect example of the year's infectious electro-pop sound.

Now they are going to travel around the world to make music videos for each song on the LP and merge them into a feature film with an all-star cast. Nick said: "Elton John will probably be involved. He is a huge fan of EOTS and loves our plans. He's a fun guy. He might play a dog."

However Luke - who met Nick in Sydney in 2000 through a label friend - chipped in: "I don't think he'll want to be a dog so we'd better make him an elephant. He's very grand." Luke added: "We've written a script which is changing all the time. We're trying to get someone like Forest Whitaker to be the voice of God."

Nick also has plans to get Brandon Flowers on board after forging a friendship with The Killers while working together in 2006. While Nick recalled how Elton hunted him down in Australia after connecting with Pnau's music. He said: "He rung me up and told me one of Pnau's albums was one of the best he's ever heard. "We've become good friends and he really likes the visual concept of EOTS. We've been round his house for tea and spoken a lot about our ideas. He's such a big star and appreciate any input he gives.

"He loves visual and theatrical masterpiece we are trying to create. I love his costumes too but he seems to have toned them down a bit recently which is a shame. I loved the 70s when people were flamboyant - it's time to be more out there again."

Luke continued: "There are discussions to film one video at Elton's country estate in Windsor. So far 'Walking On A Dream' was filmed with emperors in China and 'We Are The People' in Mexico. Mexico was a life-changing experience and we'd like to go back but each video is taking us somewhere different. Iceland is next but then I think we'll be ready to hit the UK. Stonehenge is an idea also."



Elton signs Sydney dance pop duo Pnau
Thursday, July 31 2008 at 08:48:43

Elton John joins the PNAU Fan Club
Thursday, December 13 2007 at 21:05:58


Elton John performed with special guest Raphael Saadiq
Tuesday, February 24 2009
Elton John and David Furnish hosted the 17th Annual Elton John AIDS Foundation (EJAF) Academy Awards viewing party. The event was held on February 22, 2009 at the Pacific Design Center and was co-sponsored by Chopard, Jo and Raffy Manoukian and Vh1.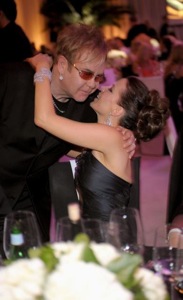 EJAF's party to celebrate the Academy Awards was one of the night's best attended parties and raised nearly $4 million.

The annual gala continues to be the leading fundraising event in Hollywood on Oscar night. This year's gala brought some exciting moments including a live performance by Elton John and special guest Raphael Saadiq, as well as a emotional first-hand account by Kerrel McKay who spoke about her experiences as an HIV/AIDS activist in her home country of Jamaica. McKay also spoke about a public service campaign orchestrated by the Caribbean Broadcast Media Partnership on HIV/AIDS, supported by the Elton John AIDS Foundation.

This year's guests included the event's esteemed co-chairs Victoria Beckham and John Walters in addition to Hollywood luminaries such as Sir Ben Kingsley, Claire Danes & Hugh Dancy, Gerard Butler, Ben Stiller & Christine Taylor, Quincy Jones, Keifer Sutherland, Whoopi Goldberg, Sharon Stone, Eva Longoria Parker, Kate Beckinsale, Carrie Underwood, Natasha Bedingfield, Chace Crawford, Olivia Wilde, Rosanna Arquette, Josh Groban, Elle Macpherson, Gordon Ramsey, Eric McCormack, Tim Allen, Rashida Jones, Molly Sims, Russell Simmons, Dita Von Teese, Zac Posen, Natasha Henstridge, Terrell Owens, Chris O'Donnell, Paz Vega, Chris Noth, Taye Diggs and Ricki Lake.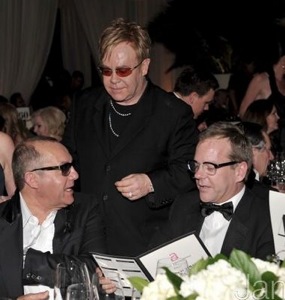 Guests arrived for cocktails followed by dinner and viewing of the 81st Annual Academy Awards in the custom-built tent adorned in black and cream hued modern "supper club" decor created exclusively by Antony Todd. The five-course meal, as created by Chef Wayne of Crumble Catering, included carnaroli risotto with dry Marsala wine and crystallized natural flowers, choice of sauteed beef filet or roasted halibut and a dessert puffed chocolate tartlet with raspberry bitter orange sauce, among others.

As is tradition, immediately following dinner, auctioneer Jamie Niven of Sotheby's led the evening's live auction. Items auctioned included the opportunity to dance with Ellen DeGeneras on her Emmy Award winning talk show, which sold for $20,000; two jewel encrusted 10th Anniversary Elton John AIDS Foundation collection watches designed by Chopard went for $250,000 each; a one-hour tennis lesson by tennis champion Andy Roddick sold at auction for $31, 000; taken directly for the Academy Award stage was the "Milk" soap box used by Hugh Jackman in his opening homage to this years' Best Picture nominees; and a three-day, four-night stay at the Normandy, France home of the Forbes family, Chateau de Balleroy, sold for $80,000.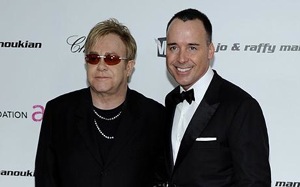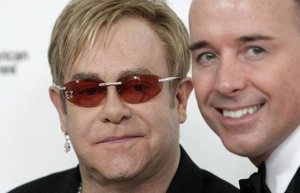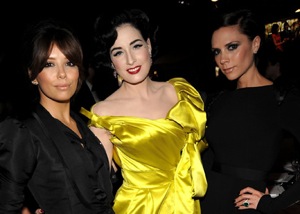 Diana Jenkins hosts launch party for her new book, "Room 23"
Friday, February 20 2009
The rooms at the Peninsula Hotel aren't exactly haunted with legendary tales of debauchery or wild celebrity parties, but "Room 23," a coffee table book featuring a long list of celebrities intimately photographed behind the closed doors of a room in the hotel, gives a tiny glimpse of what the scene might be if such stories did exist.
Shot by L.A.-based photographer Deborah Jenkins and produced by socialite/entrepreneur Diana Jenkins, the book snaps such celebs as George Clooney, Cindy Crawford and Donald Sutherland lounging in a room at the Peninsula. Some images are mild and straightforward, black and white candids, others are provocative, suggestive and sexually overt images of some of your favorite stars.

Jenkins hosted a launch party for the book at the Peninsula ballroom on February 17, 2009 and the celebrity turnout was no less impressive than the ones who fill the pages of "Room 23." Elton John, David Furnish, Cindy Crawford, Lindsay Lohan, Cheryl Tiegs, Larry King and Anthony Kiedis all came out to support Jenkins, a mutual friend and the reason most of them agreed to take part in the book.

Proceeds from the sale of the book will support programs at the Sanela Diana Jenkins Clinic on International Justice and the Irnis Catic Foundation.

The eclectic crowd made people-watching feel like sport. There was '80s MTV veejay Downtown Julie Brown holding a dance party reminiscent of "The Grind," Sir Elton John and David Furnish greeting Bosnian President Haris Silajdzic, and perennial party-goer Lindsay Lohan making her way through the crowd to say hello to Jenkins.
Diageo Chateau & Estate Wines renews wine sponsorship of EJAF
Friday, February 20 2009
Diageo Chateau & Estate Wines Company, a leading producer of premium wines, and a sponsor of the Elton John AIDS Foundation, will provide wines by Sterling Vineyards for the EJAF gala dinner and Academy Awards Viewing Party for the third consecutive year.
Additionally, for the 6th consecutive year, Sterling Vineyards will be the featured wine at the Academy Awards' Governors' Ball, the celebration that follows the Oscars' telecast.

Diageo Chateau & Estate Wines will continue to provide wines for all EJAF annual fundraising events in the United States in sponsorship of the organization's global efforts to support HIV/AIDS prevention and service programs. Diageo Chateau & Estate Wine brands have shown consistent commitment to similar goals with support of the Human Rights Campaign, Broadway Cares/Equity Fights AIDS, Dining Out for Life and regional AIDS support groups.

"We are proud to continue our alliance with the Elton John AIDS Foundation," said Tom Scott, Vice President of Communications & Corporate Relations for Diageo Chateau & Estate Wines. "EJAF is tireless in the critical fight against AIDS and at DC&E we honor that commitment. As for Sunday's Viewing Party, we are delighted to participate in an event that does so much good, with so much glamour."



17th Annual Oscar Viewing Party benefiting the EJAF
Friday, January 23 2009 at 07:39:44

Elton sets sights on Winehouse for Oscar party
Monday, January 19 2009 at 12:30:21


Elton too shy to meet his hero
Friday, February 20 2009
Elton missed the chance to meet his all-time hero, jazz musician Oscar Peterson, before he died - because he was too starstruck.
Elton reveals the pianist helped shape his musical style, but he couldn't muster up the courage to introduce himself when they both found themselves in the same Paris, France restaurant, shortly before Peterson's death in 2007, at the age of 82.

Speaking during a guest hosting slot on pal Elvis Costello's music talk show Spectacle, Elton says, "A couple of years ago, I was in a restaurant in Paris and Oscar Peterson came in in a wheelchair with his daughter - and I was too shy to say hello. And I've always regretted it, because he died soon after."
Defying Inequality: The Broadway Concert
Friday, February 20 2009
On February 23, 2009 the Broadway community (and beyond) is coming together for one of the most important events of the year - "Defying Inequality: The Broadway Concert" -- A Celebrity Benefit for Equal Rights, a one-night only concert event at the Gershwin Theatre in New York City.
Featured in the star-studded evening are performers from stage & screen - all to benefit equal right organizations including: Family Equality Council, Empire State Pride Agenda, Equality California, Garden State Equality, and The Vermont Freedom to Marry Task Force.

The special evening, presented by the Broadway cast of Wicked, will include a special appearance by Academy Award-winner Jane Fonda as well as Keith Olbermann, and the Reverend Al Sharpton (Pres. Of Nat'l Action Network & Leader for Equal Rights), a special video message from Elton John and David Furnish, the Broadway debut of Tony, Emmy and Grammy Award winner Marc Shaiman's Prop 8 - The Musical, and Grammy Award-winner Cyndi Lauper.

100% of the profits from this spectacular event will be donated directly to Family Equality Council, Empire State Pride Agenda, Equality California, Garden State Equality, and The Vermont Freedom to Marry Task Force, five charitable organizations working to promote equality and protect civil rights for the gay and lesbian community.

Defying Inequality: The Broadway Concert, A Celebrity Benefit for Equal Rights, is produced by 4Good Productions, the same presenters of the 2005 event Broadway's Celebrity Benefit for Hurricane Relief at the Gershwin Theatre, in association with b. swibel presents. Featuring over 200 Broadway performers, the 2005 event raised more than $200,000 in just one night.

For more information visit www.defyinginequality.com.
Krall benefit raises more than $2 million
Wednesday, February 18 2009
Diana Krall, James Taylor, Elton John, and Elvis Costello performed before 550 guests at the Fairmont Hotel Vancouver as part of Monday (February 16, 2009) night's, black tie charity benefit, raising more than $2 million.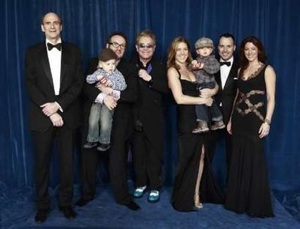 The funds will help patients with multiple myeloma, leukemia and other blood-related cancers at VGH, according to a news release.

Highlights from the evening's live auction included a spontaneous offer by Elton John to have one's own lyrics set to music penned, performed and recorded by Elton John, which was offered to two individuals for $250,000 each. Another unique offering, which went for $120,000, featured an all-inclusive seven-night stay for 10 people at Clayoquot Wilderness Resort, compliments of the Radcliffe Foundation, which included a night of campfire songs performed by Sarah McLachlan.

"Our wish has always been to pass along the precious gift of time that we had with our mother and to give other families more time with their own loved ones," said Diana Krall. "I'm honoured that my husband, Elvis Costello, my dear friends, James Taylor , Elton John and Sarah McLachlan, and so many generous donors and sponsors have joined us in our family's vision of great care combined with comfort and hope for a cure."

"Proceeds from this event will help fund research for better, less toxic treatments to help people live longer lives, and ultimately help us find 'made-in B.C.' cures for blood cancers," said Dr. Michael Barnett, Head, Divisions of Hematology, VGH & UBC, in the news release. "These funds will also help us maintain the highest standards of care for patients in the uplifting and supportive surroundings of the Krall Centre here at VGH."



Elton and Billy tickets take the #1 spot
Tuesday, February 17 2009
Elton John & Billy Joel tickets take the top spot in Ticket News's Weekly Top Events rankings for the week ending February 15, 2009.
With a 7.10 power score, the duo knocked last week's number-one seller, Bruce Springsteen & the E Street Band from first place. Springsteen now sits at number four (power score 3.02), behind number two Wicked (5.43) and number-three Jimmy Buffett (4.02).

Ticket sales for Coldplay's upcoming national tour went on sale this weekend and now the bands ranks at number five with a 2.80 power score. Keith Urban & Taylor Swift will perform a few concerts together, and sales for this event propelled the duo to number six (2.39). A Swift-less Keith Urban ranks at number eight (1.95), behind Il Divo (2.04). With the influx new concerts, Jersey Boys fell in the rankings, from number five to number nine (1.82), though the show still pulls ahead of number ten Kenny Chesney (1.76).

Other popular concert offerings, according to the Top Concert Events rankings, include Britney Spears (number nine, 3.10) and Taylor Swift, who enters these rankings for the first time at number ten on the concert chart, power score 2.82.
Rocket launches 'Predator'
Tuesday, February 17 2009
Elton John's Rocket Pictures hopes to make the first Jane Austen adaptation to which men will drag their girlfriends.
Will Clark is set to direct "Pride and Predator," which veers from the traditional period costume drama when an alien crash lands and begins to butcher the mannered protags, who suddenly have more than marriage and inheritance to worry about.

Shooting will begin in London later in 2009. Elton exec produces, and his Rocket partners Steve Hamilton Shaw and David Furnish are producing.

Clark, who directed award-winning short "The Amazing Trousers," wrote the script with Andrew Kemble and John Pape. "It felt like a fresh and funny way to blow apart the done-to-death Jane Austen genre by literally dropping this alien into the middle of a costume drama, where he stalks and slashes to horrific effect," David Furnish said.

Elton will supervise the music, as he does in each Rocket-produced film. The company is in production on the CG-animated "Gnomeo and Juliet" for Miramax/Disney; James McAvoy and Emily Blunt voice the title characters. Rocket is also behind the Sundance series "Spectacle: Elvis Costello With ...".
Elton to honor Pet Shop Boys at Brit Awards?
Monday, February 16 2009
The Pet Shop Boys are to receive a Lifetime Achievement award at the 2009 Brit Awards scheduled to be broadcast live on ITV1 on February 18, 2009.
Longtime friend Elton John is rumoured to be presenting the award. The event will be held at Earls Court prior to the Coldplay/ Killers War Child Charity Concert in which Elton will be attending later that evening.

He's reportedly spent £30,000 to book most of the front three rows at the War Child concert to share the moment with pals and family.



Elton John spends £30k to watch Coldplay
Saturday, February 14 2009 at 09:40:56


Mini Car for a British Forces Appeal
Monday, February 16 2009
Gordon Brown signed a Mini car in aid of a British Forces appeal outside Number 10 Downing Street on February 12, 2009.
Other signatures include David Beckham, Lewis Hamilton and Elton John.
Jade Goody to marry Jack Tweed at Elton John's mansion
Monday, February 16 2009
Dying Jade Goody is to marry boyfriend Jack Tweed next weekend - at Sir Elton John's £20million mansion.
Elton offered to host the wedding because he has been so moved by Jade's brave battle against cancer.

Jade plans to sell the rights to cover the ceremony for £3million - which she will stash away for sons Bobby, five, and Freddy, four.



Goody saddened by lack of celeb support
Wednesday, January 14 2009 at 10:48:49


Surprise party for Nigel's 60th birthday
Monday, February 16 2009
Elton John threw a surprise birthday party for his drummer Nigel Olsson at Rao's in Caesars Palace, where his Red Piano show is winding down in The Colosseum after a successful three-year run.
Elton ordered up the signature meatballs, penne ala vodka and Dom Perignon champagne to go with a special birthday cake in the shape of Nigel's bass drum!

Nigel turned 60 on February 10, 2009.



Happy Birthday, Nigel!
Tuesday, February 10 2009 at 07:07:24


25 years ago ...
Saturday, February 14 2009
... on Valentines Day 1984 Elton John married studio engineer Renate Blauel.
The marriage lasted four years.

Happy Valentines Day to all of you!
Elton John spends £30k to watch Coldplay
Saturday, February 14 2009
Elton John is well-known for his extravagant style – and he is now planning to fork out £30,000 to book most of the front three rows at the War Child concert.
The joint performance by The Killers and Coldplay is set to be a night to remember and Elton – not short of a bob or two – wants to share the moment with pals and family. The two legendary bands come together on February 18, 2009 for the charity event at the O2 Shepherds Bush Empire, and will follow the Brits at Earls Court earlier that evening.

Front row, first-floor VIP tickets to the concert are selling for £1,000 each – for punters with a little less cash other seats are between £50 and £100. A source told theBuzz: "Elton has requested most of the front three rows on Level One, 30 seats in total, which will cost £30,000. It's a lot of tickets for one person, so the venue is checking to see if they can accommodate him."

In 2008, Elton recorded a Christmas track with The Killers called "Joseph, Better You Than Me". While he once joined Coldplay in concert to play to piano to their classic track Trouble.



"Joseph, Better You Than Me"
Tuesday, December 2 2008 at 10:49:40

Elton John not enough, The Killers need a Pet Shop Boy
Tuesday, November 11 2008 at 19:20:28

Killers, Elton to release Christmas single
Wednesday, September 24 2008 at 08:23:38


Princess Diana memorabilia on show
Thursday, February 12 2009
"Diana: A Celebration" presents the life of Princess Di through some 150 items ranging from her tiara to her wedding dress and toys that she played with as a child.
The Károlyi-Csekonics Residence in Budapest with its magnificent, wood-panelled entrance hall is an appropriate setting for the personal effects of the princess.

The original text of the speech given by her younger brother Charles Spencer at her memorial service is on display, as well as the musical score and lyrics of Elton John and Bernie Taupin's "Candle in the Wind" which plays in the background.

The exhibition is a fitting tribute to the princess. Visitors hoping to find out more about Diana Spencer than has already been written in the media will be disappointed, however. Personal relationships like those with her sons only appear peripherally. Problems in her life such as the divorce from Charles have no place here. Given that the exhibition was put together by Charles Spencer it is hardly surprising that he wishes to highlight only the positive aspects of her life.

"Diana: A Celebration" at the Károlyi-Csekonics Residence, District VIII. Múzeum utca 17 is open daily from 10am to 8pm. Tickets: Adults HUF 2,900, at weekends HUF 3,900 Children HUF 1,500, at weekends HUF 1,900.
John Jorgenson wins a Grammy
Wednesday, February 11 2009
Former Elton John band member John Jorgenson has won a Grammy award for Best Country Instrumental.
John accepted the Best Country Intrumental Performance award for "Cluster Pluck" during the 51st Annual Grammy Awards held at the Staples Center on February 8, 2009 in Los Angeles. Congratulations!
David LaChapelle retrospective in Paris features 200 works
Tuesday, February 10 2009
Once only reserved for housing French coins and medals, Hôtel de la Monnaie in Paris is hosting the the biggest and the most thorough David LaChapelle retrospective thus far, celebrating his 20-year career in fine fashion.
The famed photographer is exposing almost 200 works in the rooms of the 1st floor of the French hotel, a pre-revolutionary building next to the Seine. The collection features portraits of Madonna, Leonardo DiCaprio, Jeff Koons, Elton John, Paris Hilton, and many other celebrities.

The art space also shows some recently created series for the first time. Attendees will see "Awakenings," inspired by Genesis; "The Deluge," inspired by the Sistine Chapel; and "Auguries of Innocence," after the William Blake poem.

The exhibition will run at Monnaie de Paris until May 31, 2009. Visit the website ww.monnaiedeparis.fr for more details.
Happy Birthday, Nigel!
Tuesday, February 10 2009
Elton's drummer Nigel Olsson is celebrating his 60th birthday on February 10, 2009.
On behalf of the Hercules team and the Elton John fans all over the world, we would like to wish him a happy birthday!
Elton, could you get the check?
Tuesday, February 10 2009
Elton John and husband David Furnish recently had dinner at LA's Tower Bar restaurant where they chatted with fellow diners Alison Janney, Jennifer Aniston and Mick Jagger.
But, when Courteney Cox and David Spade showed up and David yelled, "I hope he's picking up my check, too!" (referring to Elton), Elton was reportedly not amused.

"Everyone laughed but Elton," a source told The New York Post's Page Six. Let's hope David didn't dine & ditch, leaving Elton with the tab.
Charity auction benefits Elton John AIDS Foundation
Saturday, February 7 2009
A Valentine Day event plans to acution off more than candy and flowers to raise funds for HIV research.
"The Bachelor Auction" is an all-male auction, and will offer up 10 beautiful men for dates and a series of packages for bid. Organized by Clark Atlanta University senior Shaneese Holland, the event was originally planned as a small gathering. But as interest grew from community organizers and national organizations, Holland's tasks kept growing.

"We got some interest from the National AIDS Campaign and they wanted to include us in their agenda, so we expected more people and we had to get more space," Holland says. Holland, a lesbian, and her fellow organizers continually upsized their event space as additional people showed interest, settling at the venue located at 595 North Ave. She says she expects 300 to 400 people to attend and would like to raise $5,000 to support the Elton John AIDS Foundation. "Hopefully we'll get more than that and I think we can," she says.

The male auction is not Holland's first step into HIV activism. In 2006 she won an MTV essay contest where she detailed the crisis as she saw it in Atlanta.
Stars back fire station legal bid
Saturday, February 7 2009
Several celebrities have backed a High Court bid to block a plan to close a Berkshire fire station at night.
Elton John, Rolf Harris and Sir Alan Sugar are all calling for Windsor fire station to be saved. It comes after Berkshire Fire Authority agreed in 2007 to cut operating hours and provide a service for Windsor from Slough between 8pm and 8am.

A judicial review of the consultation process is to be heard at the High Court on February 17, 2009. A host of stars have sent messages of support backing the campaign.
Actor Warwick Davis said: "Save Windsor fire station - magic."

Windsor resident and television presenter Timmy Mallett said: "Good luck to our utterly brilliant firemen." Elton wrote: "Please keep Windsor fire station open, they do a fantastic job for the community."

The review was requested by council leaders as part of their campaign to keep 24-hour cover at the fire station. The council's application sought a review on the grounds that the fire authority's consultation process was flawed.The council said the authority's decision was based on historical statistics and without proper assessment of future risk in respect of population increases in Windsor and Slough.

The fire authority said the plans were "part of a county-wide programme to improve levels of fire cover where it is most needed".
New Eminem Album To Feature Sir Elton John?
Thursday, February 5 2009
Eminem's forthcoming album, 'Relapse', could feature a guest appearance from Sir Elton John, it's been reported.
Elton reportedly spent half a week in the same recording studio in Detroit where Eminem was recording the album in October 2008. The pair, who performed together at the Grammy Awards in 2001, have spoken in the past about their desire to collaborate on record.

A witness told The Independent: "No one realised the significance, though the Detroit Free Press did mention that Elton had been in town". The witness, who wasn't named in the article, said the two musicians had a mutual respect for each other.

"Elton really gets his music. Anything they produce will be total dope: some of Em's biggest records have been collaborations with mainstream pop stars – Dido on 'Stan', for example – and they really don't come much bigger, or more mainstream, than the man with the red piano."

'Relapse', which is due out this Spring, is already known to feature guest appearances from 50 Cent and the album's producer Dr Dre. Two tracks from the record – 'Relapse' and 'Crack A Bottle' – have already leaked online.

The album will be the follow-up to Eminem's 2004 release 'Encore'.
Raphael Saadiq to serenade Elton John's guests
Thursday, February 5 2009
Elton John has personally selected triple Grammy nominee Raphael Saadiq to perform at his 17th Annual AIDS Foundation Academy Awards viewing party in West Hollywood February 22, 2009.
"I'm absolutely thrilled and excited that he will be performing at our Oscar party," says Elton. "I can't wait to hear the songs live."

The bash at the Pacific Design Center – sponsored by Chopard, Vh1, and Jo and Raffy Manoukian – will feature cocktails and a five-course dinner and will raise funds to support HIV/AIDS prevention and service programs in 55 countries.



17th Annual Oscar Viewing Party benefiting the EJAF
Friday, January 23 2009 at 07:39:44


A contemporary tale of classic desire
Wednesday, February 4 2009
Melbourne artist Ross Watson laughs as he remembers the time he thought his most famous patron, Sir Elton John, was about to blow his top.
"When he came to the gallery I'd just had an exhibition and it had sold out. He was flicking through a portfolio and saying 'Well, where's this one? And where's this one?"'

"Finally he came to one that I'd kept. I was relieved; I could show him something! But I had to tell him 'This is the painting I've kept because my accountant advised me to a keep a painting from each series for my superannuation'."

"Then I looked at Elton and he had the blank look of Edina from Ab Fab on his face and I thought 'Ross, he doesn't understand anything about superannuation!' But he heard what I said and seemed to respect it. It was very surreal," says the outspoken artist, reclining on a leather couch in his home, studio and gallery in Carlton North.

An original Watson sells for between $9,000 and $33,000. His work resides in the collections of the National Galleries of Victoria and Canberra, in the National Portrait Gallery, and in several internationally significant private collections. Raised in Brisbane, Watson, 46, moved to Melbourne after graduating from the Queensland College of Art and was soon working as a full-time artist.

"In 1984 I was invited to do a solo show at the Acland Street Gallery — that was the starting point. The only other job I had was working in Harrods in London painting trompe l'oeils in designer kitchens. Margaret Thatcher had one. But I've never had another job!"

Selling a painting to Elton John when he was 25 gave Watson's creative confidence a huge boost. "With people like that buying my work and being excited about it, as a young man it was very encouraging and sent a strong message: 'You can keep doing this. You can be an artist, and live and do what you love full time.' I had no idea it was going to be so exciting."

"I had periods of experimentation when I was younger; I think that's essential for all artists," says Watson. "I made several different bodies of work incorporating aspects of symbolism, abstraction and realism." Today his work is firmly grounded in the realm of homoerotic contemporary realism. You could say he's found his niche.
Elton John to close Las Vegas show
Wednesday, February 4 2009
Elton John is playing his final notes on the red piano in Las Vegas. He will close his Las Vegas Strip show, "The Red Piano," on April 22, 2009.
The show made its debut in February 2004 at The Colosseum theater at Caesars Palace. After initially signing on for 75 shows, Elton's engagement was extended. The casino says the closing show will be the 241st performance.

The offbeat production blends the singer's top hits with elaborate video montages created by photographer and director David LaChappelle.

Tickets for the final engagement go on sale February 5, 2009. Elton's show alternates with other Colosseum headline acts, including Bette Midler and Cher. A casino spokeswoman said there was no word on a replacement.
Using star power to pursue war criminals
Wednesday, February 4 2009
Hollywood may be in a post-inaugural mood, but many of the industry's leading activists came back from Washington without a hangover. They're already moving into full swing on a number of nonpartisan human rights issues as varied as hunger in America and the ongoing war in Iraq.
Celebs will have a chance to add another cause to their rosters: the prosecution of Balkan war criminals.

Bosnian-born Diana Jenkins, now a Malibu-based businesswoman, is hoping to enlist a glittering set of stars for an Oscar week party to raise money for the Sanela Diana Jenkins International Justice Clinic at UCLA's law school. (Jenkins -- whose brother, Irnis Catic, was killed in Bosnia war ethnic cleansing -- founded the clinic to help bring war criminals to justice.) At the pre-Oscar event February 17, 2009, Jenkins will also debut "Room 23," a coffee-table book featuring photographs of celebrities -- including Elton John, Cindy Crawford and George Clooney -- who donated their time for the cause.

It's easy to find allies in Hollywood, where concern over the situation in Darfur and memories of Rwanda remain raw. Although the guest list isn't final for the party -- which will be sponsored by Jenkins' nutritional drink company, Neurobrands, and held at the posh Peninsula Hotel in Beverly Hills -- expect big names.
Elton offers home to Jade Goody
Monday, February 2 2009
Big-hearted Elton John has offered his holiday home to cancer victim Jade Goody.
He has told her she is welcome to escape to his Spanish villa for a sunshine break with her two beloved sons Bobby, five, and Freddie, four. Brave Jade said: "I've heard through a friend that Elton says I can use his Spanish villa when I need a rest. I might take him up on that."

Jade is a big fan of Sir Elton – and watched his New Year's Eve gig in hospital. She recently told of her fears for the future, saying: "I have to accept I might not make it. I worry what will happen to my boys… that they'll never know how much I love them, how proud I am of them, how – of everything I've ever done - they're the best of it."
Elton John and Abba gifts stolen from Bad Company band member
Monday, February 2 2009
Gifts from Elton John and members of Abba were among items stolen when burglars broke into the house of a Bad Company band member.
Jaz Lochrie, the rock band's bass guitarist, alleges it took media involvement before police followed up his burglary complaints, despite him calling more than 30 times. Police denied not responding.

Burglars targeted his home in Northanger Road, Streatham, at 6.30pm on January 28, 2009. Among the stolen items is a silver dog tag engraved "To Jaz, love from Elton (John) and David (Furnish)", for his work on the Billy Elliott musical.

A Tiffany star and thank you card from Bjorn and Benny from ABBA was also taken, after he received it in 1999 while working on the Mamma Mia stage show.

Police initally spoke to Mr Lochrie's mentally ill house guest who provided them with some information. Mr Lochrie claims he will be taking further action to see why police did not respond to his calls sooner but a police spokesperson denied any wrongdoing.

"I'm going frantic with worry because I need to get the stolen items back. Some of the items hold more sentimental value than anything but I have clear, distinct descriptions which will make them easily traceable. I'm pleased the police have now got in touch with me but it should have been done sooner."