ELTON JOHN NEWS ARCHIVE: February 2008
Elton John performed in Portland, ME on February 28, 2008
Friday, February 29 2008
Fan report by Marian Joy Friedman-Kaplan.
It is difficult to believe, but the show at the Civic Center in Portland, Maine was the finest show yet. True, if a fan were to pick one place to see Elton, it would have to be Madison Square Garden, but it is not the only place to experience Elton at his best.

The Civic Center at Portland, Maine, to me, was Elton at his finest and I think, the people of Portland, had a lot to do with that. To make a general statement and for lack of a better word, they are happy people who open doors for you, warn you to be careful of the ice on the street and thank you for shopping in their store when business is slow. This attitude was very present at the concert as well.

Some lady just walked up to me and started talking to me determined to have a friendly exchange. A courier who jumped to open a door for me when I arrived earlier that evening, ran over to me in the auditorim and hugged me exclaiming that Elton's people got word he was recovering from cancer and provided him with a front row seat. He was completely besides himself. That is only the beginning.

When the time arrived for Elton to make his entrance, the crowd went wild. I don't know. I've seen Elton in concert many times but to me, Elton was having a particularly good time that evening, enjoying his craft and enjoying genuine affection from a very uniquely affectionate crowd in a town called Portland, Maine.

The only sombering moment was before his introduction to "Ballad Of The Boy In The Red Shoes". I don't always agree with this superstar, sometimes he even angers me but it was clear to everyone his sincerity, the depth of his sorrow and frustration at the complete lack of action taken by the US government in the early 80's and ultimatley the loss of so many lives to this horrible disease called AIDS.

Following is the complete set list of the Portland, ME solo show on February 28, 2008.
Your Song

Sixty Years On

The Greatest Discovery

I Need You To Turn To

Border Song

Ballad Of The Boy In The Red Shoes

Daniel

Honky Cat

Rocket Man

Tiny Dancer

Mona Lisa's And Mad Hatters

Nikita

Philadelphia Freedom

Take Me To The Pilot

Sacrifice

Ticking

Roy Rogers

Sorry Seems To Be The Hardest Word

Candle In The Wind

I Guess That's Why They Call It The Blues

Levon

Carla Etude

Tonight

Blue Eyes

Bennie And The Jets/In The Mood

Crocodile Rock


I'm Still Standing

Don't Let The Sun Go Down On Me
City councillors return 71 of 120 Elton John tickets
Thursday, February 28 2008
Greater Sudbury politicians say they have given back 71 tickets among 120 they purchased for Elton John's concert in the city.
City officials disclosed the ticket return on February 26, 2008, in response to widespread public anger that council jumped the queue and bought scores of the exclusive tickets before they went on sale to the public. The tickets returned by council have been used for a random, public draw, with the winners getting to buy the tickets at regular price.

Mayor John Rodriguez said he and councillors decided to give back the tickets due to the controversy that ensued when city residents learned council had jumped the queue and used its position to buy scores of the exclusive tickets before they went on sale to the public.

The decision was made "because it seemed that the public focus, it became a political focus, not on the concert, but on the politics of the tickets," Rodriguez said. However, true to council's form of the last few weeks, a number of questions remain unanswered following the latest turn of events.

For starters, Rodriguez told The Star that council members were giving back 71 tickets, leaving them with 49 tickets for themselves, friends and family. That means council had purchased a total of 120 tickets to begin with, whereas prior to February 26, 2008, the official number purchased by council was 104 tickets.

"You now know that 71 tickets were turned in on Friday to the promoters and 49 tickets were not returned to the promoters. So councillors kept 49 tickets, or were not able to retrieve 49 tickets," Rodriguez said.

So council had a total of 120 tickets all along? "That's 120 tickets; that's correct," the mayor said, adding that he had 11 tickets - not 10 as he previously reported. Rodriguez appeared at a loss to explain why it came to light that council had a total of 120 tickets and not 104.

"Councillors may have obtained other tickets as well," he said. "I don't know how that was, but the fact of the matter is, they got a total of 120 tickets - actually 119 because I bought mine to make the presentation to Elton John." The mayor reaffirmed that he plans to make a gift presentation to Elton John on March 2, 2008, despite the intense public criticism of the mayor and council over the ticket controversy. However, the presentation will not be made during the concert, or publicly, he added.

"As far as I know, it's still on ... I will be making a presentation to Elton John. And it's before the concert, not in front of 6,000 people," he said. Is the mayor staying for the concert afterwards? "I might," Rodriguez said.



Elton John concert in jeopardy over ticket grab
Sunday, February 17 2008 at 09:33:43

Mayor sorry for handling of Elton John tickets
Thursday, February 14 2008 at 12:43:11

City councillors snapped up Elton John tickets
Monday, February 11 2008 at 11:05:08


Elton John: 'Britney must help herself'
Thursday, February 28 2008
Elton John has admitted he feels sorry for Britney Spears in her current plight.
Speaking to OK! at his 16th annual AIDS Foundation fundraiser, Elton said: "She doesn't deserve this. The only person that can help Britney is herself ... as much as she's going through, it's horrible and I hope she comes through it. If I could do anything, I would."

Spears was reportedly excluded from several high-profile Oscars party guest lists due to her recent erratic behaviour.

Elton also spoke of his relief at the end of the WGA strike, allowing his Oscar night party to raise millions for AIDS research and relief. "We're very, very happy about the end of the strike. Otherwise we would have been in real trouble."



Noel Gallagher barred from Elton John and Prince parties?
Thursday, February 28 2008 at 20:09:58

Elton's Oscar party raises millions for AIDS
Wednesday, February 27 2008 at 15:00:22


Noel Gallagher barred from Elton John and Prince parties?
Thursday, February 28 2008
Oasis guitarist Noel Gallagher was reportedly denied entry to two post-Oscar parties held in Los Angeles on February 24, 2008.
Gallagher, who is in the city working on the new Oasis album, failed in a bid to get entry to both Sir Elton John and Prince's parties. "Noel was texting the organisers trying to get in but they weren't having any of it. In the end, they all sloped off looking dejected," a Hollywood 'source' told the Mirror.



Elton video clips on CNN.com
Wednesday, February 27 2008
Clips from Elton's Oscar party as well as from his visit at "Larry King Live" can be found on CNN's website.
See the list of Elton John related videos on CNN.com.



UPDATE: Elton on Larry King Live
Monday, February 18 2008 at 09:48:33


Elton's Oscar party raises millions for AIDS
Wednesday, February 27 2008
In what has become a Hollywood tradition, a host of A List stars turned out for an Oscar Night party in aid of the Elton John AIDS Foundation.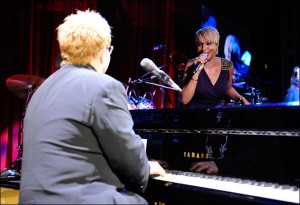 The annual gala featured performances from Mary J Blige and Jack Shears of Scissor Sisters as well as Elton himself.

It was one of the night's most attended parties and raised a record breaking $5.1 million (£2.6m). After dinner, items such as Chopard sunglasses custom-designed by Julianne Moore, Demi Moore, Ashton Kutcher and Brooke Shields and a vintage Corvette from Sharon Stone's personal collection were auctioned to the highest bidder.

This year's guests included Hollywood lesbian couple Ellen DeGegneres and Portia De Rossi, British talent Kate Beckinsale, Johnny Lee Miller, Minnie Driver and Tom Wilkinson, music legends Billy Joel, Stevie Wonder and Quincy Jones and media mogul Rupert Murdoch.

Since its establishment in 1992 the Elton John AIDS Foundation has raised more than $125 million to support HIV/AIDS prevention and service programmes in 55 countries. It is one of the world's leading nonprofit HIV/AIDS organisations.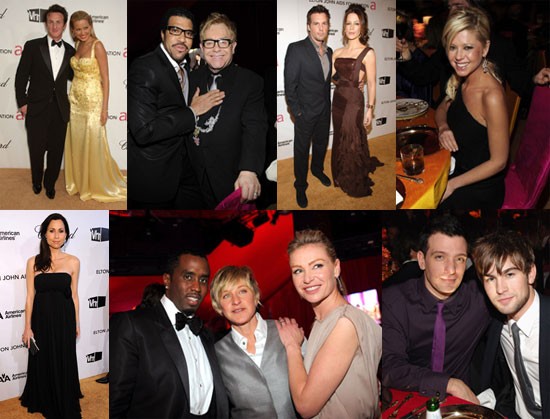 Inside Elton John's Oscar bash
Monday, February 25 2008
Auctioning off a car for Elton's AIDS foundation, the always honest Sharon Stone heckled would-be bidders, telling them, "don't be a [umm... cat]," and offering to duet with Elton should the price get good.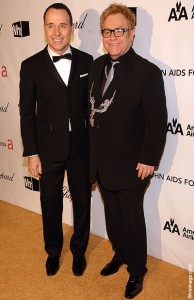 Sean Penn, who arrived with Petra Nemcova, sat at a table with the model along with Kate Beckinsale, Chris O'Donnell and Larry King. The Into the Wild director wasn't scared to let loose, jumping up and down and singing along to Elton's "I'm Still Standing."

Kate (whose director husband Len Wiseman used her rear as a drum later in the evening) said of the night's awards, " I loved it when Tilda [Swinton] won. She looked so surprised. And I love Julie Christie, but I was hoping Marion Cotillard won, and she did!"

Elton himself was in good company, sitting at a table with Portia de Rossi, Ellen DeGeneres, Billy Joel and partner David Furnish. Mary J. Blige joined the evening's host for a performance of "I Guess That's Why They Call it the Blues," much to Patricia Clarkson's delight.

Harrison Ford and Calista Flockhart were in the house, as well as Prince.
Elton on CBS News Sunday Morning
Monday, February 25 2008
Elton John was on CBS News Sunday Morning on February 24, 2008.
On the morning of his Oscar party to benefit the Elton John AIDS Foundation, the Oscar- and Grammy-winning composer/performer welcomed CBS' Russ Mitchell into his apartment in Atlanta. There, they talked about everything from Elton's stunning career to his transformation from hard-partying rocker to world-renowned humanitarian.

CBS News correspondent Russ Mitchell asked Sir Elton what he thinks now when he looks back at some of those costumes he wore back in the '70s.

"They make me laugh so much," Elton told him. "I mean, sometimes I did take it too far, but I was having fun." But these days, he's using all the excess from those years - the wealth, the fame, and even the outrageous clothing - for a different purpose. "I wanted redemption for the way I lived my life beforehand," Elton told Mitchell. "And that was, you know, the drugs, the drink, the loose sex, whatever. I wanted redemption for the fact that during the '80s, as a gay man, I didn't do enough for HIV and AIDS."

So Elton John decided to set himself on a new course. But first, he needed inspiration.

"I'm a great believer that something comes along and changes your life." That life-changing "something" was the unlikely friendship between the drug-addicted rock star and a young hemophiliac from Indiana who'd contracted AIDS. "It all came about with Ryan White and seeing how my life was so distorted and upside down," Elton recalled. "Yeah, I had some good times, but the good times compared to the bad times - not worth it. Not worth it."

Ryan White was just 19 when he died in 1990. Soon after, Elton John entered rehab. "I'm 18 years clean and sober this year and I've never been happier," Elton shared. "But you have to have the humility to say, 'Okay, I've got to listen to people who know what the deal is.'"

On the advice of friends and doctors, he gave-up the hard-partying scene in Los Angeles for the southern gentility of Atlanta. His apartment, high above the city and overflowing with photographs, has been his American home ever since. "We don't have any room," he told Mitchell, showing off his home. "All my walls are filled with photography upstairs." And it's here in Atlanta, 16 years ago, that he established the Elton John AIDS Foundation to provide services to people living with the illness all over the world.

"Now when I started the foundation, the disease was basically about gay men," Elton said. "And since then, of course, it's blossomed or boomed into this worldwide epidemic - 33 million people being infected - and it affects everybody." Recently, the Journal of the American Medical Association reported that, after a long period of decline, the number of AIDS cases, especially among young gay men, is on the rise.

"We are facing an uphill battle again in countries that you thought you'd crossed, you'd done that, you've covered that territory," Elton said. "Why do you think that's going on?" Mitchell asked. "Because people think, 'Well, you know, even if I do get HIV, I'm going to be OK.' They don't realize the toxicity of the drugs they have to take. And I just think it's so reprehensible, with the information available to them. But they do it and so we have to help them."

And when Elton John says "we have to help," people listen. Today his foundation, now based in New York and London, is considered among the most successful AIDS charities in the world. "It is a small operation in America," Elton said. "In fact it's two people. And in England it's about 12 people including volunteers. That way, you know where the money's going." And the money is substantial. "We're over $150 million in given-away grants and heading towards $200 million very quickly," Elton said.

And he expects to get closer to that goal on February 24, 2008. The Academy Awards ceremony is not only Hollywood's biggest night - it's the foundation's, too. Every year since 1993, Elton John has thrown a celebrity-studded Oscar bash to benefit his charity. "The first one, we raised $100,000. Last year, we raised $4.5 million. It's a big pile of money for us." And on February 24, 2008, Elton's party has another huge draw. "I'm gonna play it for the first time. I normally get someone else to play it, but this time I'm playing."

Another periodic fundraiser that never disappoints is called Elton's Closet, where those old outrageous costumes have a new life. "I clear out our closets and sell the clothes for the AIDS Foundation. We've had about five of them so far and they pull in a lot of money - $750,000 last time. We've been very lucky. And there are a lot of people walking around in a lot of ridiculous clothes! But ... good!" Elton said, laughing. "The eye glasses, too?" Mitchell asked. "No, I never give the eyeglasses," Elton said with a smile, "they're all in storage. God, I've got enough storage you know … I want to have an exhibition one day. I want to have my own Elton John Museum."

In the meantime, Elton John lives life "off display," preferring a lower-profile. "I have a balanced life," John said. "My life was not balanced at all before, but I have someone in my life who I love, who balances me out."

Elton John and David Furnish, a former advertising executive, married two years ago on the day gay civil partnerships became legal in England. "We've never sort of run down the streets waving placards," Furnish said. "We've just always said, "this is who we are. We're together. We're very much in love. We support each other. We're committed to each other.' And just try to live by example, really." They've been together since 1993 when a mutual friend brought David along to dinner at Elton's house. "I would look for love all the time and I made a decision, 'I'm not going to look for love anymore,' and when I made that decision, love walked through my front door and found me," Elton said.

"What was it about him in particular?" Mitchell asked. "He's incredibly intelligent. He's not afraid to be honest," Elton told him. "He had his own car, his own place. This was new for me. I mean, this is Elton who took hostages and took people's lives and completely just said, 'Right, you're putting your life on hold. You come around the world with me.' Which of course always ended in tears."

Elton and David do travel the world - not in the service of Elton, but for the foundation. "When you go out in the field into places like South Africa (I've been many times over the years), you get a real chance to see the difference that the work is making, the impact it's having," Furnish told Mitchell. "Eight years ago, when I went to South Africa, there were no antiretroviral drugs. Eight years later, you're going back and you're seeing people now who are living full lives on antiretroviral drugs. You're seeing instances where pregnant women are able to take antiretroviral drugs at the point of delivery and not pass the virus on to their children." "The women specifically are saving South Africa," Elton added.

Their outreach work is not just about making medication available. It's about making it accessible. "It's the logistics of AIDS," John said. "We've about 75-80 motorbikes we brought for Lesotho, which is a mountainous area. Even a 4x4 can't get through those mountains." But David Furnish says he's amazed by one thing that always seems to get through: "Elton's music has gone around the world and when he comes, they do recognize him."

Elton John says music and audiences have never let him down, and playing concerts is still one of his favorite things. Among the happiest was last year, on his 60th birthday when he performed to a sold-out crowd at Madison Square Garden. He played nearly three-and-a-half hours and then celebrated with friends. "People gave me incredible birthday gifts," Elton remembered. "Someone came up to me and said, 'I never know what to buy you so here, here's something for you.' And it was a million dollars for the AIDS Foundation." "Oh, wow," Mitchell reacted. "I mean, I was flying!" said Elton.

And he says that's the kind of flying that keeps him grounded about where his newfound life has taken him. "I have a very special, a very rich life," said Elton. "But when I see these people and the gratitude they have for the little amount that we've given them, then that just makes me feel I've got to do more. Because everyone who's human deserves to be treated with some dignity - whether they've done good things or bad things, they have to be given hope."
Oscar crowd besieges Elton
Monday, February 25 2008
Elton John seemed to be a victim of his own success on February 22, 2008 night at the new Soho House space on the top floor of an office building on Sunset Boulevard, where many A-listers were hanging out in the days before the Academy Awards.
With the cancellation of Graydon Carter's annual Vanity Fair party, everyone and his uncle were trying to get into Elton's annual AIDS fund-raiser at the Pacific Design Center on February 24, 2008. "And we simply don't have any more space," Elton told the New York Post.

Elton was surrounded by supplicants as he stood by his spouse, David Furnish, in the penthouse overlooking all of Los Angeles. The crowd — under light bulbs dangling from exposed steel beams and fiberglass insulation — included Soho House owner Nick Jones, NBC chief Ben Silverman, Griffin Dunne, Julian Sands, Fisher Stevens (whose "Crazy Love" was up for an Independent Spirit Award) and Miramax chief Daniel Battsek, who has three films in contention for various awards tonight.

This is the 16th year Sir Elton has hosted the fund-raiser. "I wanted redemption for the life I lived beforehand, the drugs, the drink, the loose sex, whatever," he tells Russ Mitchell about founding his Elton John AIDS Foundation today in an interview on "CBS News Sunday Morning." On February 21, 2008, Madonna was checking out the SoHo House space as a possible venue for the party she's throwing at Oscar night with her kabbalah cohort, Demi Moore. But Variety reports they'll hold it at the home of Madonna's manager, Guy Oseary.

"It gives the A-list Vanity Fair crowd someplace to go to," a source tells Variety. "It'll probably be pared down to where it's 85 percent talent, not a lot of suits." The star quotient should be equally stellar at the super-exclusive soiree pop icon Prince is throwing at his new house in Benedict Canyon. Think the likes of Tom Cruise and Will Smith.

And Penelope Cruz is said to be hosting a party for fellow Spaniard and likely Oscar winner Javier Bardem at the nightclub Villa. This could also be a bigger year than usual for the Governors Ball, held immediately after the Oscars ceremony in a tent outside. Usually the A-list stars race through the black-tie crowd on their way to the Vanity Fair bash. This year they'll probably linger and sample some of Wolfgang Puck's cooking.



Mary J. Blige to Perform at Oscar Party
Thursday, February 21 2008 at 01:18:14

Elton's Oscar party plans still moving forward
Thursday, February 7 2008 at 14:59:50

Elton's 16th Annual Oscar Party
Friday, January 25 2008 at 13:28:55


More tantrums
Saturday, February 23 2008
Elton John's civil partner, David Furnish, was on exuberant form at another party in West Hollywood. "I've got parties every night until Tuesday," he told the Telegraph. "It's silly season, but I love it."
And Furnish, a documentary maker, revealed he was soon to re-release his Elton biopic, Tantrums and Tiaras, which first came out over a decade ago.

"We're re-releasing it, because there are 140 hours of footage there, most of which we didn't show. It was one of the most difficult things I ever did, my hands were shaking the whole time I was filming."
Mary J. Blige to Perform at Oscar Party
Thursday, February 21 2008
Two longtime AIDS activists are seeking to make beautiful music together on Oscar night: Mary J. Blige will join Elton John on stage for a duet at John's AIDS Foundation Academy Awards viewing party on February 24, 2008.
"Elton John is one of the most inspirational musicians and philanthropists in this industry for me," Blige said in a statement on February 19, 2008. "I respect him with all my heart, and it is truly a pleasure to be performing with him on such an important night as we look to raise awareness and vital funds for the fight against HIV/AIDS."

Elton's annual Oscar party has raised more than $15 million over the past 15 years. Blige's AIDS-awareness efforts date back to 2000, when she worked with MAC Cosmetics on its Viva Glam fundraising campaign.

The "queen of hip-hop soul" has also worked with Elton before. He played piano on her single "Deep Inside." No word yet on what song the two will perform at the Oscar party.



Elton's Oscar party plans still moving forward
Thursday, February 7 2008 at 14:59:50

Elton's 16th Annual Oscar Party
Friday, January 25 2008 at 13:28:55


Elton John back at Ischgl
Wednesday, February 20 2008
Elton John will perform the season closing Top Of The Mountain concert in Ischgl (Austria) on May 3, 2008.
It will be Elton's second appearance at Ischgl – he was the first star to feature in the Tirolean resort's now famous season closing concerts, back in 1995.

The lunchtime concert, as with his first, will be at Idalp, at the top station of the main gondola from the village. Concert-goers just need a liftpass to get up to the venue at 2320m. The concert is on the last weekend of the ski season at Ischgl, with the slopes open for the last day on Sunday May 4, 2008.

Ischgl Tourist Director Andreas Steibl said: "We are very excited to have signed Sir Elton to perform his second concert at Ischgl – he is one of the world's biggest stars and Ischgl has once again shown that our resort is a world stage featuring the biggest names. It will be a fabulous concert and a great way to round off what is proving to be a fantastic season with wonderful snow for our skiers and boarders."

Ischgl's ski season got under way with a sensational concert by US singer Rihanna in December 2007. Last season saw top acts Melanie C, Scissor Sisters and The Pussycat Dolls and previous stars include Lionel Richie, Rod Stewart, Pink, Tina Turner, The Sugababes and Bob Dylan.

Also see Elton John Tour News.
Elton John boot ad a knee-slapper
Tuesday, February 19 2008
If you've been frantically calling an out-of-state phone number to claim Elton John's psychedelic platform boots, pull off the love beads and put down the bong. You've been punk'd.
And you're not the only one. Prankster Rory Emerald of Los Angeles, an artist when he isn't pulling people's legs, said February 12, 2008 that he's had more than 50 calls responding to his ad:

"FOUND: Elton John's psychedelic Platform boots and Kaleidoscope Collection."

Rory said the ad was placed only in Tuesday's Colorado Springs Gazette, but by midday he had received calls from across the country and Canada as word of it spread from friend to friend and then onto the Internet.

One caller with a suspicious British accent demanded his boots back. "They just flip out," he said. "They think it's just hilarious. They know it's a prank, but it just does something to them."

Rory said he started pulling his gentle pranks via free newspaper ads in 2005. His first prank ad was in the Santa Barbara News-Press during the height of Michael Jackson's trial on sexual assault charges. Rory's ad said he had found a prosthetic nose on the grounds of Neverland, Jackson's weird home/amusement park.
UPDATE: Elton on Larry King Live
Monday, February 18 2008
Elton John will be on "Larry King Live" on February 25, 2008.

Larry takes you inside his Oscar-night bash that raises money for AIDS. It's your all-access, behind-the-scenes pass to one of the most exclusive parties in Hollywood!

"Larry King Live" runs on CNN Monday through Sunday at 9pm ET/6pm PT.
Elton John fans leave ticket line empty-handed
Sunday, February 17 2008
It took less than 30 minutes for Elton John's first-ever Delaware concert to sell out, leaving about 200 bundled-up fans who waited at the University of Delaware's Bob Carpenter Center's box office locked out of the show.
The 4,500 tickets, which ranged from $85 to $125 each, were snapped up almost immediately, by fans and, undoubtedly, scalpers. Joan Cochran, 70, arrived at the Bob at 10:30 a.m. and waited in line. Meanwhile, her daughter, who was in Rehoboth Beach, tried to buy tickets online through Ticketmaster.com. Neither were able to get tickets.

"I'm a little hot under the collar," said Cochran, of Newark. "How could they all be sold at the stroke of 12, exactly when they were supposed to go on sale?" Here's how: Earlier in the morning, an unknown number of floor tickets were sold through Elton John's website.

And then at noon, fans were able to buy tickets not only at the box office, but also through Ticketmaster.com and Ticketmaster's pay-by-phone service. If tickets for an in-demand concert, which is being presented by Live Nation, are available via the Internet and the phone, the tickets are almost sure to sell out immediately. Waiting in line does not give the customer an upper hand, unless you count avoiding Ticketmaster's notorious convenience charges.

"It's 2008, do you know what I mean?" said Domenick Sicilia, director of the Bob Carpenter Center. "The ticket business has changed." Even so, Sicilia said, it was unfortunate that everyone in line couldn't get a ticket, adding that it was a hot ticket because of the intimate nature of the show compared with the larger venues Elton normally plays. He last played the region in September 2005 at Philadelphia's 20,000-seat Wachovia Center.

Sicilia said he did not know exactly how many tickets were sold at the Bob's box office. "Delaware is not used to the race it takes to get tickets to big shows like that," said Gary Bongiovanni, editor of Pollstar, the trade journal of the concert industry. "You may be first in line at a ticket outlet, but there are many first-in-lines on the Internet. It's not like one big line where you're assured of getting tickets if you're near the front."

But not all fans were left out in the cold. Mark Slacum, 53, was one of about 200 fans who waited in line at the Newark box office to get a chance to buy tickets to see Sir Elton on March 10, 2008. Slacum arrived at the Bob at midnight and was the fourth person in line. He walked away 12 hours later with exactly what he wanted: two $85 tickets for himself and his wife, Linda.

"The venue is relatively small for a guy that can play giant stadiums," said Slacum of Newark. "It's just more cozy to see him at a place like the Carpenter Center." But Slacum was one of only a handful of Elton fans in line who actually got tickets for the show, making it a Friday morning alright for fighting.

To make matters worse for ticketless Elton fans, there were nearly 100 tickets for the show on sale on eBay within an hour of the sellout, with some selling for up to $375 each, proving that the show was on the scalpers' radar screen as an in-demand show.

"You have a well organized group of secondary ticket scalpers and that makes it harder to get a ticket," Bongiovanni said. "You are competing with people whose jobs it is to go out and get those tickets so they can turn around and resell them. The average fan is competing against professionals and that makes it that much harder."

Even though the vast majority of tickets were immediately sold through Ticketmaster, Sicilia believes it was the right move to sell tickets at the box office as well, even through many fans were left without tickets. "That would mean everyone would have to pay the convenience charge and that's not fair, I don't think, personally," he said. "It gives [fans] a choice and puts the decision back on the purchaser."

But for longtime Elton fans like Joan Cochran who never thought they would ever get the chance to see him in concert, it all adds up to one big disappointment. "It's like false advertising, you couldn't buy a ticket," she said. "People were furious. Why do they bother to tell you to wait at the Bob Carpenter Center for tickets when they're not going to have them? You feel like you've been made a fool of."



Elton John ticket sales briefly shut down TicketsWest
Saturday, January 26 2008 at 20:42:36

Fans line up for chance to see Elton
Sunday, September 9 2007 at 15:50:30


Elton John concert in jeopardy over ticket grab
Sunday, February 17 2008
The raging controversy over city council's self-awarded "perk" of scores of Elton John concert tickets in Sudbury is now jeopardizing the concert's fate, according to city officials.
The Star has learned that city officials fear the public uproar over the ticket fiasco is causing so much concern for the event promoter, the March 2, 2008 Elton John concert could be cancelled. Furthermore, city management also fears the controversy will damage Sudbury's chances at securing major acts in the future.

Thousands of Elton John fans came away empty-handed earlier this month when tickets available to the public sold out within 45 minutes. The city's website received one million hits during that brief period from would-be ticket buyers. One week later, it was reported that city council had jumped the queue and given itself first crack at more than 100 tickets, which prompted a deluge of public protest and anger. While councillors took an average of eight tickets, the actual numbers ranged from as few as two tickets to a whopping 22 purchased by one councillor, sources said.

The public furore has continued virtually unabated over the last week as several city councillors refuse to disclose how many concert tickets they obtained, while the municipal administration steadfastly refuses to divulge precisely how many tickets were available to the public. All city council members were contacted on February 15,2008 with regard to the latest startling revelation - that the controversy may be jeopardizing the Elton John concert as well as other major events in the future.

In an e-mail message sent to the mayor and councillors, the politicians were asked if they shared the concern that the ticket controversy is jeopardizing the Elton John concert and future events. They also were asked if the disconcerting news might compel them to disclose how many concert tickets they purchased and what they have done with those tickets.

As of press time on February 15,2008, none of the councillors responded to The Star's invitation for comment. There was one response sent from the city, indicating Ward 8 Coun. Ted Callaghan is away and not available for comment.

Earlier this week, The Sudbury Star filed two requests under Ontario's freedom-of-information legislation to attempt to determine how many tickets for the Elton John concert were obtained by individual city council members and how those tickets were used, as well as the precise number of tickets that was available during the 45-minute period the tickets were on sale to the general public.



Mayor sorry for handling of Elton John tickets
Thursday, February 14 2008 at 12:43:11

City councillors snapped up Elton John tickets
Monday, February 11 2008 at 11:05:08


Mayor sorry for handling of Elton John tickets
Thursday, February 14 2008
Sudbury mayor John Rodriguez has taken responsibility for allowing city councillors to buy "so many" tickets for next month's Elton John concert.
"My decision to offer so many advance purchase tickets to council was rushed and not given sufficient consideration. For that I apologize," the mayor said at the outset of a city council meeting on February 13, 2008. In a rare departure from normal procedure, the mayor read a prepared statement before beginning regular council business.

The 365-word statement was a response to the public furore over the preferential treatment that allowed council first dibs on more than 100 tickets for the March 2, 2008 Elton John concert. "I want to speak directly to the people of Greater Sudbury," Rodriguez said. While he stated that council must learn from its "mistakes," the mayor also reiterated some of his positions on the controversy that have offended many city residents.

In particular, Rodriguez emphasized that councillors did not get any freebies, nor is council the only such group in the province to get first choice on tickets to exclusive events at municipal facilities. "These tickets are not free: the cost is paid in full by the councillor. This same practice occurs in the City of Kitchener, where Elton John is also playing next month," he said.

The mayor also maintained that "the practice of making tickets available to councillors and staff is a longstanding one" at the city. That assertion, particularly with regard to the actions taken by council with Elton John tickets, has been disputed by a former councillor, by a current councillor (in an off-the-record admission) and by a former advisor in the mayor's office. In fact, Rodriguez noted last week that the opportunity provided to council for Elton John tickets was not offered to the politicians for the two recent, sold-out performances of Michael Buble.

The mayor also said in his statement that he has directed city staff to prepare "an open and transparent policy to ensure that this type of debacle never happens again." The Elton John concert should be a "very positive event for our city and our citizens," Rodriguez said.

"I deeply regret that this controversy has been such a distraction," he said. However, there was no mention of, let alone apology for, the refusal of city officials to be entirely open and transparent on a number of issues related to the Elton John concert. For example, there still has been no explanation or apology for an initial assurance offered by a city manager that no tickets were offered in advance to city officials.

As well, fully 50 per cent of councillors - six in number - continue to refuse the request that they publicly disclose how many concert tickets they obtained. City officials also are refusing to disclose precisely how many tickets were available for sale to the general public and how many tickets in total went to other groups.

Speaking to reporters following the council meeting on February 13, 2008, Rodriguez suggested the news media have unfairly prolonged the controversy. He rejected the suggestion that the matter continues to fester partly because councillors and city officials refuse to answer questions about ticket sales. Asked if he thought council's stated commitment to openness and accountability should include councillors disclosing details of their ticket purchases, the mayor said he "can understand the sensitivity of councillors to answering these questions."



City councillors snapped up Elton John tickets
Monday, February 11 2008 at 11:05:08


Elton's tour takes global warming seriously
Wednesday, February 13 2008
Glastonbury UK based Serious Stages shipped 10 containers with two of their new Solar Roofs to Australia for a busy summer festival season there.
The Solar Roofs were utilised for Elton John's 'Rocketman Number Ones Solo' tour followed by Sydney's Big Day Out event, where the 2008 line rocked with Rage Against The Machine, Bjork, Arcade Fire, Carl Cox and many others.

Serious's 22 metre wide 12 metre deep Solar Roof - as used on the Elton gigs - offers 12 metres of headroom and also featured a 2.4 metre thrust running its full length. This version of the Roof can support up to 24 tonnes of flown equipment. It was supplied complete with double out-rigged goal post towers standing 9.6 metres wide and 15 metres off the deck, facilitating two PA hangs and video screen supports each side.

The tour visited assorted wineries and country houses and was Elton's twelfth in the country. Serious worked with site co-ordinators Butlers Hire for tour logistics and local crewing with whom they have a longstanding relationship in Australia and New Zealand.

Serious also supplied all the decking for the Elton stage, constructed from their Black Deck system and measuring 42m wide x 14.4m deep, plus various ramps and steps as per each individual site's requirements.

A crew of 16 - eight from the UK and eight from Australia – all fully trained in how to rig the structure - were co-ordinated by Kenny Falconer for Serious. They leapfrogged the two identical Solar roofs. This was necessary because of the distances between gigs and the schedule, which involved two days of trucking between shows and weekend performances – leaving a tight timeframe for the stage/roof systems to be de-rigged, moved and re-rigged during the week.

These same two Solar Roofs supplemented by additional kit were then erected side by side in the Sydney Showgrounds for their recent Big Day Out event. The two-stage formula was adopted by the festival to dramatically reduce changeover times.

The BDO Solar Roofs were both built with one extra bay of depth and could fly an increased capacity of up to 30 tonnes of sound, lighting and video production. Four Serious 18 metre, four-bay Orbit stages were used at all the other Big Day Out events - in Perth, Adelaide, Melbourne, Brisbane and Wellington, New Zealand.
Yamaha Elton John Signature Series Red Piano makes stop in Utah
Tuesday, February 12 2008
I'ts not exactly Elton John on this national tour — it's his piano.
The Piano Gallery, located at 390 N. Mall Drive Stuite B in St. George, UT, is one of a handful of piano dealers to receive the Yamaha Signature Series Red Piano now on tour.

The piano itself plays songs recorded earlier by Elton John including "Tiny Dancer," "Your Song," "Rocket Man," "Candle in the Wind" and "Take Me to the Pilot." The piano will be on display 10 a.m. to 6 p.m. Monday through Saturday through February 19, 2008.
City councillors snapped up Elton John tickets
Monday, February 11 2008
If you're still smarting over your failure to snag Elton John tickets for his Sudbury concerts, you may want to give your friendly neighbourhood city councillor a call. He or she may have a couple to spare.
The Star has learned more than 100 tickets for the once-in-a-lifetime concert at Sudbury Community Arena were made available to council members before they went on sale to the general public.

The mayor and each councillor had the opportunity to purchase up to eight tickets apiece, The Star confirmed on February 8, 2008, ending rumours of such an arrangement that had been circulating for days. An undetermined number of tickets also were made available to others, although details of those arrangements have yet to be confirmed.

With 13 members on city council, that means 104 tickets for the March 2, 2008 Elton John concert were made available to the politicians. If a councillor opted not to buy all the tickets at his/her disposal, the remaining tickets were offered for purchase to other councillors, which means some politicians were able to buy more than eight.

Public buyers were limited to a maximum of six tickets each when they officially went on sale on the morning of February 1, 2008. More than 6,000 tickets sold out within 45 minutes, the city reported at the time. The vast majority of tickets were purchased via the city's website, while a few lucky people who lined up outside the arena were able to buy a small number. The city reported its website received one million hits during the ticket-buying frenzy.

The Star attempted to contact all 13 council members about their concert ticket purchases, but only Mayor John Rodriguez and three councillors replied.



Elton John tickets gone in 45 minutes
Saturday, February 2 2008 at 07:08:35


Elton's Oscar party plans still moving forward
Thursday, February 7 2008
Vanity Fair's post-Oscar party 2008 is off, but Elton John's is on.
The singer and AIDS activist is moving forward with plans for his 16th annual Elton John AIDS Foundation Academy Awards viewing party, the foundation announced Wednesday. "This event is our most important fundraiser of the year," it said in a statement. "Last year, we raised over $4.3 million and we expect to exceed that record this year."

Elton will also play a special concert set at the party, backed by his full band. Vanity Fair canceled its party in support of striking Hollywood writers and others affected by the labor action.

Elton's viewing party, held at the Pacific Design Center, is always lavish and star-studded, boasting past guests such as Denzel Washington, Sting, Sharon Stone, Ben Kingsley, Kevin Spacey and Halle Berry. Among the expected guests at the Feb. 24 soiree are Victoria and David Beckham, Ellen DeGeneres and Portia De Rossi, Sharon and Ozzy Osbourne, Donatella Versace and Elizabeth Taylor.



Elton's 16th Annual Oscar Party
Friday, January 25 2008 at 13:28:55


Elton and David make GQ's power list
Wednesday, February 6 2008
Elton John and partner David Furnish have been recognised as among the most powerful men in Britain by GQ.
They are jointly listed at number 30 on the magazine's 100 most powerful men list, the only joint entry. The magazine says the couple, who entered into a civil partnership in 2006, are worth £225m.

"Their ninth annual white tie and tiara ball was attended by le tout showbiz and raised £3.5m for the Elton John AIDS Foundation," the citation reads. "Meanwhile, Furnish produced 'Gnomeo And Juliet'." Last year they were listed at number 40.

The magazine chose Tory leader David Cameron as the most powerful man in Britain with Prime Minister Gordon Brown second, media executive James Murdoch third, Governor of the Bank of England Mervyn King fourth and Tesco chief executive Sir Terry Leahy fifth. The March edition of GQ is on sale from February 7, 2008.
UM Productions won't run next Elton John concert
Wednesday, February 6 2008
University of Montana Productions declined to produce the upcoming Elton John concert, UM Productions director Ryan Hamilton announced in a recent e-mail.
Instead, the Adams Center will host the April 11, 2008 concert. "I can assure you there is no ill-will between UM Productions and the Adams Center or the promoter of this concert," Hamilton said in the e-mail.

The message, forwarded from the ASUM president's office to ASUM senators on January 25, 2008, said that UM Productions' decision was financially motivated.

UM Productions has a standard fee of $1 per ticket sold on shows produced for outside promoters. They accepted a lower bid of 50 cents for last September's Elton John show. But, according to the e-mail, "UM production staff made a unanimous decision that it would not be in our best interest to produce a second Elton John show at a reduced rate."

UM Productions will still receive a rental fee for their equipment used during the Elton John concert in the Adams Center, Hamilton wrote.

"The Elton John (concert) was a tremendous amount of effort," said ASUM President Dustin Leftridge. "It's not something that UM Productions will be willing to put on for a reduced rate." UM Productions negotiated with the Elton John promoter on the production fee, he said, but decided in the end that the fee was too low.

Mary Muse, executive director of the Adams Center, would not comment on the decision, saying it was UM Productions' choice and had nothing to do with the Adams Center. "It was purely a business decision," Leftridge said.
Boris Johnson upset at Elton's support for rival
Tuesday, February 5 2008
The Tory candidate for Mayor of London has revealed that he is on Sir Elton John's Christmas card list and was shocked and disappointed when the star gave his backing to Lib Dem hopeful Brian Paddick.
The Conservative, who has the dubious honour of being backed by nightclub owner Peter Stringfellow, told LBC radio on February 5, 2008 that he hopes to recruit troubled singer Amy Winehouse to his campaign.

Last week Elton and his partner David Furnish hosted a dinner where they introduced Mr Paddick to potential donors to his campaign. "I'm very disappointed by this, by the way, because Elton and David Furnish send us a Christmas card every year," Mr Johnson said on LBC.

"I couldn't believe it when he suddenly announced that he was backing ex-commander Paddick. I couldn't believe it. Anyway, there you go. Elton and I are going to have to see what's going on. I have been friends with Elton and David for many years and I am so grateful to them for supporting me in this way. Elton, David and their friends really engaged with the discussion about how they could support my campaign and what was the best way forward. We were very pleased with the way the evening went."

Londoners will go to the polls in the Mayoral election on May 1, 2008. Incumbent Ken Livingstone is standing as the Labour candidate.



Elton John backs Paddick campaign
Friday, February 1 2008 at 09:39:27

Paddick confident of Sir Elton's support
Friday, December 21 2007 at 07:38:45

Elton to support London major candidate?
Friday, November 16 2007 at 07:08:53


Elton gets involved in Free-The-Orcas
Tuesday, February 5 2008
Looks like the answer is still "no" to actvists trying to spring the last two Puget Sound orcas being held in captivity at sealife amusement parks in Miami and San Diego.
"No to a million dollars, no to pressure from celebrities and no to the romantics who believe a fairy-tale ending is possible," writes Judith Lavoie in the Vancouver Sun.

The likes of Harrison Ford, Johnny Depp and Elton John are getting involved, but without result so far. The Miami Seaquarium had taken Lolita the killer whale out of its logo and replaced it with dolphins, presumably to promote its "swimming with dolphins" program.
Elton, Kylie out of The One And Only
Sunday, February 3 2008
Kylie Minogue impersonator Victoria Jones and Elton John tribute act Ed Hintze have been voted off The One and Only in a double elimination.
Jones - who was in the bottom two on last week's show - was automatically eliminated after receiving the least amount of votes from the public. Hintze, meanwhile, had to perform again, along with Cher impersonator Joanna Berns who was also in the bottom three. However, he narrowly lost the final vote four to two, with his fellow performers opting to save Berns instead.

Earlier in the evening, Jones had been criticised by mentors David and Carrie Grant for her rendition of "Better The Devil You Know". "You had a great routine and dancers, but the performance wasn't great," David said, while Carrie complained the Kylie soundalike was "out of tune".

Hintze, meanwhile, received a mixed response of his version of the Elton hit "I'm Still Standing". David said he had given his "best performance by some way although Carrie was less keen. "That vocal will not make it in Vegas," she told him.

Seven performers progress to the semi-final, in which another two will be eliminated from the competition.



Dorset songwriter pens lyrics for T.V.'s 'Elton John' hopeful
Friday, February 1 2008 at 10:12:01


Elton John tickets gone in 45 minutes
Saturday, February 2 2008
The City of Greater Sudbury anounced that it took just 45 minutes to sell the more than 6,000 tickets for Elton John'sconcert on March 2, 2008 at Sudbury Community Arena.
The tickets were available at the arena box office, by phone or by Internet.
Dorset songwriter pens lyrics for T.V.'s 'Elton John' hopeful
Friday, February 1 2008
Dorset-based writer, Stuart Fretwell is keeping his fingers crossed for 'T.V. hopeful' Ed Hintze who is appearing as 'Elton John' in BBC. 1's Staurday-night talent show, "The One And Only", which reaches its fourth round on February 2, 2008.
The show features a selection of musical tribute acts, each hoping to win-through to the final and scoop the first prize of performing at Las Vegas's prestigious "Legends" venue, famous for its stable of top-notch tribute acts. It's a 'vote-'em-out' type of show where viewers vote for their favourite performance each week and the artist or artists with the lowest vote have to leave. This week two hopefuls will have their Vegas dreams shattered!

A few weeks prior to his friend, Ed Hintze, joining the show Stuart handed-over a number of his own 'Elton John/Bernie Taupin' style lyrics for the Elton John 'soundalike' to work on. "Ed freely admits that lyrics are not his strong point," says Stuart, "and I can't play the piano. So it was a marriage made in heaven for the both of us. In fact I may even have had a hand in him deciding to apply for the show in the first place."

As well as teaching music part-time at Stuart's daughter, Sophie's, school, Ed also helps run a music shop three-days a week, as well as playing gigs at the weekend.

"He was delivering an electric piano we'd bought for our daughter, Sophie," continues Stuart, "when we got talking about our favourite artistes. It turned-out that we were both big fans of the Elton John/Bernie Taupin songwriting partnership. I mentioned that in 2004 I'd sent a song lyric to Sir Elton, at Caesar's Palace in Las Vegas, but that all I'd got for my trouble was a bad-tempered letter from his U.K. management's Chief Executive, Frank Presland, who wrote:

"Sir Elton has told us that he merely glanced at the sheet and saw that it contained lyrics and made no effort to read them. We now have to keep this correspondence on file against the day when you will no doubt claim that there is some similarity between your work and an Elton song."

"I was pretty taken-aback by the sheer rudeness of the letter," says Stuart, "but I do still keep a framed copy in the 'loo' where it always makes me smile. After all ... if they hadn't told me that Sir Elton had had my lyrics in his oh-so-talented hands in the first-place, I would never have believed that they had actually got through to him!"

"Anyway," continues Stuart, "Ed took our chance-meeting as a good omen and went ahead with his audition for the show. The rest is History!" Prior to his departure for London we had the chance to work together on my 2004 "Elton" song and I have to admit that it sounded pretty good. I really hoping that Ed continues to have success on the show and, who knows, I might one-day get to hear my song on CD , recorded by one-or-other of the talented 'Eltons'!"



Music teacher is the One and Only Elton
Tuesday, January 8 2008 at 02:58:10

The One And Only
Friday, January 4 2008 at 19:06:28


Elton John backs Paddick campaign
Friday, February 1 2008
Elton John is hoping to sprinkle some celebrity stardust over Brian Paddick's campaign to become London's mayor in May 2008 as the former police chief struggles to raise funding.
Sir Elton held a fundraising event at one of his houses in London on January 30, 2008 to introduce potential donors to the candidate, who has received only a trickle of donations so far.

Mr Paddick, former deputy assistant commissioner at the Metropolitan police, has registered no donations at the Electoral Commission. A recent event with 80 supporters at a wine bar near London Bridge raised £5,000.

"People are very reluctant to get involved as donors at all," said Peter Dunphy, Mr Paddick's chief fundraiser, "although there is an immense amount of goodwill." A target of £150,000 is considered realistic but still "an uphill struggle" by Mr Paddick's campaign team.



Paddick confident of Sir Elton's support
Friday, December 21 2007 at 07:38:45

Elton to support London major candidate?
Friday, November 16 2007 at 07:08:53