ELTON JOHN NEWS ARCHIVE: February 2007
'Stars' bid farewell to former gangster
Wednesday, February 28 2007
Roads and pubs were closed in Morden as crowds of spectators gathered to watch the funeral of well-known East End gangster Joey Pyle.
Celebrities, including Elton John and Lulu, were rumoured to be attending the funeral at St Theresa's Church, Lower Morden Lane, on February 28, 2007 - reports The Guardian.

American soul singer Jocelyn Brown, who worked on the 1984 hit Somebody Else's Guy, sang at the graveside Police directed traffic around St Theresa's Church, Lower Morden Lane, as stretch limousines and motorcycle groups arrived to pay tribute to Mr Pyle, a known friend of notorious underworld villains the Kray twins.

Residents living near the church lined the street to watch the funeral procession go by and pubs in the area closed their doors in the afternoon for fear of 'security problems'. One North Cheam publican said he had closed the doors to his pub after the brewery which owns the business warned him that there could be trouble.

Following the funeral mourners travelled to Sutton and Merton Cemetery in Lower Morden Lane. Mitch Pyle, Joey's son, said: "What can I say about the man? He was a legend. He was a respectable man and was loved by everyone. He will be very sadly missed."
More from Elton's Oscar Party 2007
Tuesday, February 27 2007
It was one of the hottest tickets in town: a seat at the Elton John Oscar viewing party.
P. Diddy was there. So was Mary J. Blige. And even Jon Bon Jovi.

And those were just the folks sitting with the singer at his "15th Annual Elton John AIDS Foundation Party to Celebrate the Academy Awards."

"Just have fun. Boo. Cheer. Clap. Stand on your table," Elton told his more than 600 guests, who shelled out hundreds (sometimes thousands) of dollars to attend the party on February 25, 2007, which was highlighted by a duet of "Tiny Dancer" by John and James Blunt.

"It is a lot of work," Elton told asap shortly before the party started.

To see what it takes to throw an A-list Oscar party, asap zoomed in on everything from the filling of gift bags to assigning of seats.

Take a look at this interactive gallery to see what it all looked like.



15th Annual EJAF Oscar Party raises $4.2 million
Monday, February 26 2007 at 21:41:58


MyNetworkTV plans an Elton John Musical Special
Tuesday, February 27 2007
MyNetworkTV will air a two-hour Elton John musical special on April 5, 2007 as it continues to diversify its lineup and move away from its original all-televnovela slate.
"Happy Birthday Elton" will air as a two-hour special featuring footage from a March 25, 2007 concert at New York's Madison Square Garden as the singer celebrated his 60th birthday.

The special will be produced by HST Management and Whizz Kid Entertainment. It will be directed by David Mallet and produced by Malcolm Gerrie, Paul Morphos and Lisa Chapman.

The fledgling network, which recently named well-respected industry veteran Greg Meidel as president, is launching a new schedule March 8, 2007 that will consist of less telenovelas in a lineup featuring mixed martial arts and movies.
15th Annual EJAF Oscar Party raises $4.2 million
Monday, February 26 2007
Elton John and David Furnish hosted the 15th annual Elton John AIDS Foundation (EJAF) party to celebrate the Academy Awards.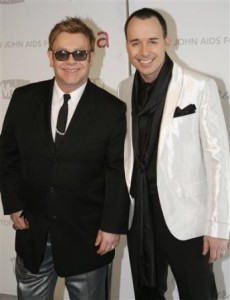 The event was held on Sunday, February 25, 2007 at the Pacific Design Center and was co-sponsored by Audi, Chopard and VH1.

EJAF's party to celebrate the Academy Awards(R) was one of the Foundation's most successful and visible fundraisers of the year, raising $4.2 Million for the fight against HIV/AIDS.

The Elton John AIDS Foundation annual gala was the leading fundraising event in Hollywood on Oscar night. To top off the evening, Elton John and Grammy winning artist, James Blunt, performed together live.

The 15th anniversary of this party brought about some exciting changes with an expanded dinner, significant live auction and enhanced musical performance. These modifications significantly increased funds generated to support EJAF's grant-making activities in the fight gainst AIDS. This year's event alone raised more money then in any other year since the gala's inception.

The gala brought out some of the biggest and hottest celebrities from the entertainment community. Guests included Hollywood luminaries such as Victoria Beckham, Jon Bon Jovi, Sharon Stone, Ozzy & Sharon Osbourne, Sean "Diddy" Combs, Sheryl Crow, Keifer Sutherland, Eve, Naomi Campbell, Simon Cowell, Dita Von Teese, Emmy Rossum, Zac Posen, Hedi Slimane, Roberto Cavalli, Macy Gray, Eric McCormack, Garcelle Beauvais, Gloria Estefan, Joely Fisher, John Waters, Cedric the Entertainer, Kevin Zegers, Cheryl Tiegs, Sarah Michelle Gellar, Bernie & Heather Taupin, Marlee Matlin, Petra Nemcova, Deborah Cox, Ana de la Reguera, Patricia Hearst, James Denton and Tim Allen.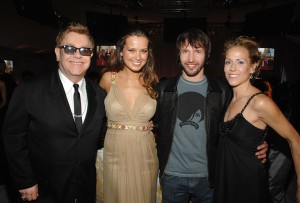 Adding excitement to the evening was a live auction immediately following dinner. Items such as a private soccer lesson with David Beckham; the very first 2008 Audi R8 to hit the streets; a five-day stay at Villa Fontanelle (the legendary home of the Versace family); and a limited edition Herb Ritts photograph entitled Stephani, Cindy, Christy, Tatjana, Naomi, Hollywood 1989 were auctioned off to raise funds for the Foundation.

The most exciting moment of the evening came when Sharon Stone jumped on stage to help with the live auction. Ms. Stone auctioned the "Sir Elton John's 60th Birthday Celebration Weekend" package to two lucky bidders who each paid $250,000 to win the prize. The package included two tickets to Sir Elton John's private 60th birthday party in New York City, two premium seat tickets to his sold out concert at Madison Square Garden, airfare and accommodations.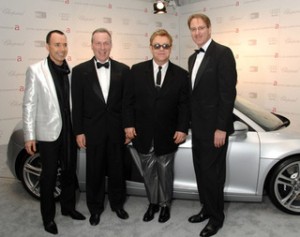 "The Red Piano" to tour Europe
Monday, February 26 2007
Elton John will bring his successful Las Vegas show, "The Red Piano", to Europe this summer,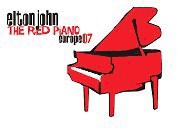 For the time being, the following tour dates have been announced:

May 18, 2007 - Sevilla, Plaza de España
May 29 ,2007 - Paris, Château de Versailles
June 5 & 6, 2007 - Venice, San Marco
June 22, 2007 - Berlin, Brandenburg Gate
July 3, 2007 - Moskau, venue t.b.c.

"I'm really pleased to be coming to Europe with this show. The show is all about love. We have so many things thrown at us in our everyday lives that are so upsetting that no one really ever concentrates on the positive things in life - we only read about the horrible things that go on. But you know, I believe in love", said Elton.

Tickets will be available online at www.redpiano.eu from February 27,2007. Tickets start at Euro 150.
"60 at 60" - only one month to go!
Sunday, February 25 2007
Exactly four weeks from today Elton fans from around the world will pilgrimage to New York City in order to celebrate Elton's 60th birthday!
Before doors open at Madison Square Garden that night, hundreds of fans will gather in a unique "Lunch Around The World" event to celebrate Elton and to collect money for the Elton John Aids Foundation. Make sure to get your ticket today as space is limited.

Elton has performed 59 shows at the Garden since September 23, 1973. If you have been at one or more of these shows, why don't you tell us about your special MSG moments.

On his 60th birthday on March 25, 2007 Elton will climb the stage at the famous arena for concert no. 60. The show is sold out, but you will still be able to get tickets by clicking on the "Buy tickets!" link on the Elton John Tour News page.

But even if you cannot make it to New York for this special day, you can be part of this event. First of all, you can place your vote in the Hercules Poll in order to put together a "Best of" list of Elton's many achievements.




And finally, there is www.sixty-years-on.com where you can post your birthday wishes for Elton online. The site will also tell you how to send presents to Elton.

So as you can see, there is a lot you can do within the final 28 days, and while exitement grows we would like to hear from you.

NEW: Hercules Auction
Saturday, February 24 2007

We have added a new feature to the site - the Hercules Auction. This will be your place to buy or sell Elton John related items - free of charge!

Skip the Ebay fees and place your auctions on the site that 500 Elton fans from all around the world visit daily!

Hercules Auction has been created for you to buy or sell Elton John related items and you can do so free of charge. We hope you will enjoy this new feature.

We have tested it intensively before taking it live. We are aware that there are still a few teething problems, however, this should not affect the auction process.

Should you encouter any problems, please "don't shoot us", but do let us know! Happy bidding!

Somebody help me `cause the bug bit me
Thursday, February 22 2007

Ever heard of Carabus (Morphocarabus) regalis eltoni? It's a new subspecies of a bug that has been named after Elton John!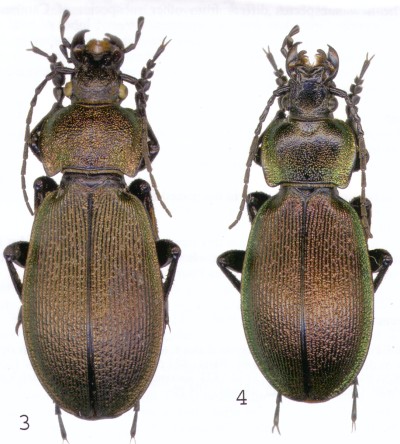 Dmitry Obydov of the Timiryazev's State Museum of Biology in Moscow has found the new species in the Tyver Region - near Moscow.

The Carabus (Morphocarabus) regalis eltoni has a body length of 23.5-24.9 mm (males) or 23.7-24.9 mm (females). Here's a little more from the official description: Head not thickened; eyes moderately convex; madibles short, broad, slighly incurved; frontal furrows deep and long, inside nearly smooth.

Not strange enough? Then have a look at the official dedication: "It is a great pleasure to name this new subspecies in honor of Sir Elton John, the legendary composer and the singer, who has contributed a lot to protection of wild nature, having created W. Elton Jones Foundation".

Any questions?
London to welcome new Billy Elliot
Wednesday, February 21 2007
The first new Billy Elliot of 2007 will arrive on the London stage on February 26, 2007.
That's the date 12-year-old Layton Williams from Mancunia, Australia, will make his West End stage debut in the hit Elton John musical at the Victoria Palace Theatre.

Layton will join fellow Billys Leon Cooke, Dean McCarthy and Travis Yates, who all alternate in the title role of Billy Elliot the Musical, which was penned by John and Lee Hall. Stephen Daldry directs.

In a press statement, young actor Williams says, "My name is Layton Williams, I am 12 yrs old and I live in Bury with my Mum Michelle, my stepdad Curtis, my two brothers Joshua and Regan and my sister Renee. My hobbies are dancing and singing and I also love all types of sport, which I do a lot of at my school St. Paul's Primary. I had never done any ballet or tap before my audition for Billy Elliot, so I was thrilled to get through the intensive training and attend the Academy in Leeds. I struggled at first but now I have found that tap and street dance are my favourite types of dance. I had street dance and drama lessons at Carol Godby's theatre workshop in Bury and I performed singing and dancing roles in a few shows. I also went to Center Pointe in Manchester to learn Ballet.

"I love singing and dancing in front of an audience, so when I found out I had been given the part of Billy in the West End, I was ecstatic, my dreams have finally come true! I want to thank my mum, my stepdad Curtis and all my family that have helped me to achieve this, especially all the dance teachers that have taught me."

Billy Elliot the Musical plays the Victoria Palace Theatre on Victoria Street in London. For tickets to the show, which is now booking through Oct. 20, 2007, call +44 870 895 5577.

Visit www.billyelliotthemusical.com for more information.



Lunch Around the World NYC on March 25, 2007 - book now
Wednesday, February 21 2007
You are invited to the exclusive Lunch Around The World in honor of Elton's 60th landmark birthday! Time is running out to attend the fundraiser of the year - a truly international event - so please RSVP now!


For the first time ever - six Lunch Around The Worlds will unite to host the annual fundraiser of the year! Be apart of the excitement as London, Germany, Manhattan, Washington DC/Baltimore, Philadelphia, Staten Island plus Hercules Fan Club (eltonfan.net) join forces!

This year's fundraiser is indeed an international event with guests coming far and wide: Canada, England, Russia, Japan, Netherlands, Spain plus Alabama, California, Illinois, Minnesota, Massachusetts, Texas, Wisconsin.

The event will take place on World Yacht Cruises leaving from New York City. So, come aboard for New York's ultimate dining cruise; truly, an experience as inspiring as the city itself for an afternoon of food, music,and friends while raising money for the Elton John AIDS Foundation.

Be a part of a growing tradition by celebrating the talent and humanity of Elton John!

RESERVE YOUR SEAT NOW!

Lunch Around the World in honor of Elton's 60th Birthday and Concert at Madison Square Garden

Date: March 25, 2007
Where: World Yacht Marina, Pier 81, West 41st Street at the Hudson River, New York
Time: Board 11:30am, Sail 12:30pm, Return 2:30pm
Price: $50 (includes sightseeing cruise, buffet lunch, soft drinks, tax, tip)

Seating is limited for this fundraiser – so get your seat now! The event is almost sold out! Email ejlatwnyc042002@yahoo.com for any questions.

Two Ways You Can Pay:

Check/Money Order - Make checks payable and mail to: James Ward, 300 East 46th Street – 12G, New York, NY 10017 (please put LATW-NY in your Memo line on check). Once we receive your check, you will receive an email receipt confirmation.

PayPal – please email ejlatwnyc042002@yahoo.com for details. Note: An additional $3 will be charged to cover paypal fees.

So, come aboard for an afternoon of food, music, friends, and silent auction to raise money for the Elton John AIDS Foundation. The organizers have been graciously awarded terrific prizes for Silent Auction and Raffle Tickets (both tax-deductible):


2 Round Trip NorthWest Airline Tickets (a $1,000 value)

The Catalina Beach Club, weekend stay in Miami, Florida (a $700 value)

Dinner for Two at The Sea Grill, Rockefeller Center - one of the city's best seafood restaurants in a quintessential New York setting

Dinner for Two at Tribeca Grill– co-owned by Robert DeNiro, sports stars show up after an engagement at the Garden; neighborhood celebs Harvey Keitel Bill Murray and Mikhail Baryshnikov are also seen here.

BB Kings Club and Grill – Brunch

Much more to be announced
Collectible Elton Memorabilia Items include:


"His Song: The Musical Journey of Elton John" autographed by the author, Elizabeth Rosenthal.

Lunch Around the World Banner - signed by Elton at The Nassau Coliseum concert

Elton in Las Vegas

Billy Elliot – The Musical programs, mugs, posters

Rare vinyl, t-shirts, programs

Much more to be announced
For more activities around Elton John's 60th birthday, please see sixty-years-on.com.

"ELTON: The Biography" - out now in the UK
Monday, February 19 2007

The new Elton John biography by David Buckley has been published in the UK on February 19, 2007.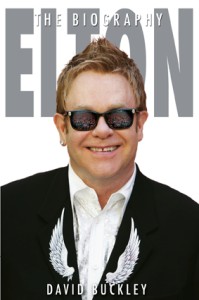 The book - available online via amazon.co.uk - is drawn from over thirty original interviews, including Kiki Dee, Tim Rice, musical collaborators Ray Cooper and Paul Buckmaster, lyricist Gary Osborne, two members of Elton's first band, and many more friends and associates, alongside meticulous secondary research, "Elton: The Biography" tells a page-turning story of incredible rock 'n' roll excess, amazing comebacks, tantrums, high-camp humour and prodigious talent.

David Buckley is the author of five other highly acclaimed music biographies, including "David Bowie: Strange Fascination", R.E.M. (both Virgin Books) and "Roxy Music: The Thrill of it All" (André Deutsch).

We will publish an interview with David Buckley on eltonfan.net shortly - so tune back in!



The Garden shows #1 through #60
Saturday, February 17 2007
Ever wondered whether Elton's 60th birthday show on March 25, 2007 really is his 60th performance at New York's Madison Square Garden? Well, we did some research and travelled back in time to find out.
And after browsing through books, old magazines and tour programs, here is the result: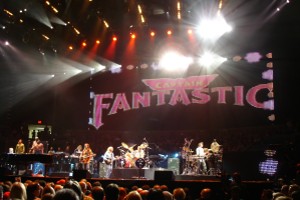 Elton John Tour 1973
1
- 23 Sep 1973
North American Tour 1974
2
- 28 Nov 1974
3
- 29 Nov 1974
Louder Than Concorde Tour
4
- 10 Aug 1976
5
- 11 Aug 1976
6
- 12 Aug 1976
7
- 13 Aug 1976
8
- 15 Aug 1976
9
- 16 Aug 1976
10
- 17 Aug 1976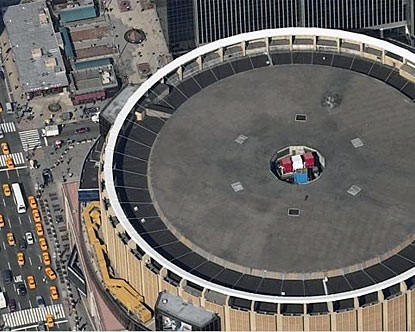 North American Jump Up Tour
11
- 05 Aug 1982
12
- 06 Aug 1982
13
- 07 Aug 1982
Breaking Hearts Tour
14
- 23 Oct 1984
15
- 24 Oct 1984
16
- 25 Oct 1984
17
- 12 Nov 1984
World Tour 1985/1986
18
- 11 Sep 1986
19
- 12 Sep 1986
20
- 13 Sep 1986
21
- 14 Sep 1986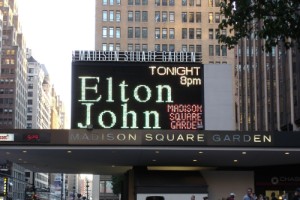 Elton John US 88 Tour
22
- 17 Oct 1988
23
- 18 Oct 1988
24
- 20 Oct 1988
25
- 21 Oct 1988
26
- 22 Oct 1988
The World Tour
27
- 03 Oct 1989
28
- 04 Oct 1989
29
- 05 Oct 1989
30
- 06 Oct 1989
31
- 07 Oct 1989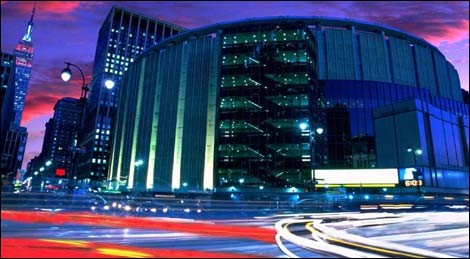 The One Tour
32
- 02 Oct 1992
33
- 03 Oct 1992
34
- 05 Oct 1992
35
- 07 Oct 1992
36
- 09 Oct 1992
37
- 10 Oct 1992
Made In England Tour
38
- 12 Oct 1995
39
- 13 Oct 1995
40
- 14 Oct 1995
41
- 17 Oct 1995
42
- 18 Oct 1995
43
- 19 Oct 1995
44
- 20 Oct 1995
The Big Picture Tour
45
- 13 Oct 1998
46
- 14 Oct 1998
47
- 17 Oct 1998
48
- 18 Oct 1998
The Medusa Tour
49
- 15 Oct 1999
50
- 16 Oct 1999
Greatest Hits Live
51
- 20 Oct 2000
52
- 21 Oct 2000
Songs From The West Coast Tour
53
- 27 Nov 2001
54
- 28 Nov 2001
Face 2 Face Tour 2002
55
- 15 Mar 2002
56
- 23 Sep 2002
Peachtree Road Tour
57
- 21 Sep 2005
58
- 23 Sep 2005
59
- 24 Sep 2005
60 at 60 Birthday Show
60
- 25 Mar 2007


Please note: Show #17 was originally scheduled for October 26, 1984, but Elton had to cancel in the last minute and the show was postponed to November 12, 1984.

So it is true, March 25, 2007 will indeed mark Elton's 60th performance at The Garden, if you don't count the following four special appearances that is: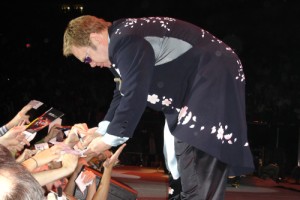 On October 11, 1992, Elton also performed there for the Elizabeth Taylor Aids Benefit. On October 20, 2001, he was part of the Concert For New York, and on September 20, 2005, he also took the stage at Madison Square Garden for From The Big Apple To The Big Easy.

His last Garden appearance was on November 15, 2005 when he took part in the 39th Annual CMA Awards.

Since 1984, Elton has always performed at The Garden in the last quarter of the year, mainly in mid October. The only exception from that rule was the March 15, 2002 performance with Billy Joel during the "Face 2 Face Tour". And he will break that rule again on March 25, 2007 for his 60th performance.

Thanks to Tony Marshall whose list of Elton's concert and television appearances from 1964 until today (Excel file) was a great help.

Women's Sports Foundation announces Award Finalists
Saturday, February 17 2007

The Women's Sports Foundation will host The Billies on Wednesday, April 11, 2007 at the Beverly Hilton Hotel. Adding additional excitement to the evening, Sir Elton John will perform.

The awards recognize media excellence in women's sports and physical activity. In addition, the event raises money for the Women's Sports Foundation. Last year's event raised $1.5 Million for the Foundation.

Event Co-Chairs for the evening include Geena Davis, George Lopez, Kathy Smith, Casey Wasserman and Honorary Co-Chair Maria Shriver.

Slatkin provides a sneak preview of the new Elton John fragrance
Saturday, February 17 2007

Harry Slatkin, President and Founder of Slatkin & Co. will present Miami resident Marisol Perez a $75,000 6-carat Journey diamond pendant for winning the Legendary Rock Sweepstakes and offers an exclusive look at the new Elton John Estate Home Fragrance Collection available in stores in April 2007.

Elton John and Harry Slatkin announced the sweepstakes in November 2006 along with the introduction of Elton John Fireside Home Fragrance Collection sold exclusively at Bath & Body Works. A portion of the proceeds benefit the Elton John Aids Foundation.

B'role of Elton John and Harry Slatkin is available upon request.

The event will take place on February 21, 2007 at 10:30am in the Four Seasons Hotel Miami (Suite 2612, 1435 Brickell Avenue, Miami, Florida, 33131).




An enduring vision
Monday, October 2 2006 at 14:51:13



Versace and Lamborghini create super car for Elton John's Charity Auction
Saturday, February 17 2007

The one-of-a-kind Versace Lamborghini Murcielago LP640 Roadster took center stage among a star-studded charity auction event in Beverly Hills.

Celebrity actress Sharon Stone, using her feminine mystique, heated up the bidding process on the super car to surpass half a million dollars and charmed the winning bidder, Vik Keuylian of Lamborghini Orange County, on stage in front of 600 VIP guests.

Keuylian walked away with Stone's lipstick imprint on his face -- a token of her appreciation for his generous donation. Proceeds from the auction benefited Elton John's AIDS Foundation.

"It is remarkable that the finest Italian clothing icon, Versace; the sexiest actress, Sharon; and the champion of Italian super sports cars, Lamborghini; could collaborate together to generate a financial windfall for Elton John's medical research. We are glad we won the bid," Sossi Keuylian of Lamborghini Orange County affirmed.

Stone was attired in a sensuous black Versace evening dress with chain detail augmenting her plunging neckline. Stone's dramatic dress matched the sexy scintillating Murcielago LP640 Roadster.

"The Versace Lamborghini Murcielago LP640 Roadster is representative of the ultra-distinct, fast and sexy Italian super car. It is unique because it is the one-and-only Lamborghini made to the custom tailored impeccable specifications of high-fashion designer, Versace," Vik Keuylian went on to explain how the interior enhancements added great value to the Versace Murcielago LP640 Roadster.

In addition to celebrity hosts Donatella Versace, Elton John, and Sharon Stone, others who actively supported the cause were Guns N' Roses, Prince, Jennifer Lopez, Marc Anthony, Eva Longoria, Naomi Campbell, Tyra Banks, Mischa Barton, Demi Moore, Ashton Kutcher, Cindy Crawford, Jada Pinkett-Smith, Drew Barrymore, Brooke Shields and Christina Ricci.

"It's incredible that all the celebrities compassionately came together to promote such a worthy cause. We are eager to do more celebrity charity events in the future," said Nora Keuylian, owner of Lamborghini Orange County. "Although this particular Lamborghini LP640 may be a collector's item, other Lamborghini models, the Gallardo and Murcielago are available for immediate delivery at our showroom in Orange County."

Elton on Anna Nicole: She's no Marilyn Monroe
Friday, February 16 2007

Anna Nicole Smith worshipped Marilyn Monroe. So much so, to the point she tried to become a Marilyn clone. But how much alike were they?
Elton John, who immortalized Marilyn in "Candle In The Wind", sat down with Access Hollywood's Billy Bush to shed some light on Anna.

"It's just so awful and sad and tragic," Elton said. "The whole thing." Anna Nicole and Marilyn led tragically parallel lives. Both dead before the age of 40 with most believing drugs played some part in both deaths. And both were found in the nude.

And while Anna often channeled Marilyn, for Elton, the similarities end there. "Anna Nicole Smith fancied herself as a kindred spirit to Marilyn Monroe. Do you see that when you look at her?" Billy asked Elton.

"Marilyn Monroe was a movie star. There's a difference," Elton explained. "Marilyn Monroe was a huge star and a hugely talented actress. Anna Nicole Smith was a product of what television is today."

But Elton wasn't entirely critical of Anna. "Looking from afar, I really liked her," he revealed. "I thought she was a good girl. I feel incredibly sad for her."

And Elton expressed sympathy for Anna and her family. "After the initial marriage to the guy, she became kind of a freak show on her own reality show," he said. "I was really upset when she died. After her son dying and everything, it was like, God this couldn't get any sadder."
"Rocket Man" - Norwegian Version
Thursday, February 15 2007
Elton fans in Norway can vote on what songs to go on "Rocket Man - 18 Norwegian Hits" - to be released on March 26, 2007.
Universal Music and the newspaper VG launched a competition to let Elton fans descide what songs to be on this album. It will be a total of 18 songs, and there are a few conditions.

Following Elton's personal wish, the album must contain "Tinderbox", says Eivind Slotsvik from Universal. Furthermore, "Candle In The Wind '97" cannot be on the album (due to rights issues).

You can place your vote online. VG and Universal will pull one lucky winner, who will get two tickets to Elton's sold out concert in Kristiansand on June 26, 2007.



Rocket Man CD/DVD Combo
Tuesday, February 13 2007 at 08:38:54


Rocket Man CD/DVD Combo
Tuesday, February 13 2007
A special, limited CD/DVD pack, "Rocket Man - The Definite Hits", will be released on March 26, 2007 - one day after Elton's 60th birthday.
CD
1. Bennie And The Jets (Live)
2. Philadelphia Freedom (Album Version)
3. Daniel (Album Version)
4. Rocket Man (I Think It's Going To Be A Long Long Time)
5. I Guess That's Why They Call It The Blues (Album Version)
6. Tiny Dancer (Album Version)
7. Don't Let The Sun Go Down On Me
8. I Want Love
9. Candle In The Wind (Album Version)
10. The Bitch Is Back
11. I'm Still Standing (Album Version)
12. Saturday Night's Alright (For Fighting)
13. Your Song 1996 (Album Version)
14. Sorry Seems To Be The Hardest Word (Album Version)
15. Can You Feel The Love Tonight
16. Goodbye Yellow Brick Road
17. Tinderbox
18. Are You Ready For Love ('79 version radio edit)

DVD
1. Bennie And The Jets (Live)
2. Rocket Man (Live)
3. Candle In The Wind (Live)
4. Saturday Night's Alright (For Fighting) (Live)
5. Your Song (Live)
6. Your Song (Elton In Four Decades - Promo - Stereo)
7. I Guess That's Why They Call It The Blues (Elton In Four Decades - Promo - Stereo)
8. I'm Still Standing (Elton In Four Decades - Promo - Stereo)
9. I Want Love (Elton In Four Decades - Promo)
10. Tinderbox (Video)

Prince and Sir Elton meet in Las Vegas
Sunday, February 11 2007
Prince showed up at Elton's Red Piano show in Las Vegas on February 8, 2007, and the British rock legend returned the favor the day after by turning up at Prince's 3121 Club.
The unusually chatty Prince gave a shout-out to Sir Elton: "You tore that piano up," he said, and urged the audience to "Go check out his show; it's a lot to see."

Elton, like Prince, is doing a semi-permanent performance-in-residence in Vegas. And with that kind of endorsement, who could resist taking the stage? Elton eschewed the ivories in favor of a standup rendition of "The Long and Winding Road," with Prince's band -- minus Prince.

Afterwards, Elton said, "You never know what's gonna happen in Las Vegas, Baby."
Berie Taupin honored Don Henley
Sunday, February 11 2007
Songwriter Bernie Taupin spoke onstage at the 2007 MusiCares Person of the Year.
He honored Don Henley at the Los Angeles Convention Center on February 9, 2007 in Los Angeles, California.
England rocks
Sunday, February 11 2007
This week, tourism bosses launch England Rocks! — a campaign showing how you can discover the rich musical heritage of England on holiday.
There's a fantastic map and website to help you discover 113 musical locations from Abbey Road to Penny Lane, the Isle of Wight to the Holy Island of Lindisfarne.

The map celebrates artists spanning five decades, listing places of interest, venues and festivals — so here is an example:

PORTSMOUTH: South Parade Pier. Elton John's musical score from Tommy was filmed here. See southparadepier.co.uk.

In June 1974, Ken Russell utilised the Pier for the filming of his rock opera "Tommy" starring Roger Daltry, Elton John and Tina Turner. During the filming of the Pinball Wizard scene a serious fire broke out in the Gaiety, causing damage to the value of £500,000 and resulting in some of the most iconic local photographs of that decade.

The theatre venue was re-built in a less extravagant and more manageable design and in 1995 was purchased by its current owners, Leisure Parcs Ltd, a Blackpool based leisure company responsible for six Piers around the country along with a variety of other leisure venues and attractions including the Blackpool Tower and Winter Gardens.

Get a free England Rocks! map by calling 0845 345 2689 or go to www.enjoyengland.com/rocks.
Gig marks start to NY fashion week
Saturday, February 10 2007
A star-studded gig at New York's Radio City Music Hall marked the start of New York fashion week on February 8, 2007.
The gig featured performances from Elton John, Justin Timberlake, who performed his new single SexyBack, and P Diddy.

However, the show was stolen by Beyonce who performed with boyfriend Jay-Z wearing a mini skirt crafted from a string of bananas.

The show enabled stars and attendees to showcase the latest trends and gave a taster of what to expect at the New York fashion week. Christina Aguilera who presented an award with Elton John took up a nautical style wearing this seasons must-have high-waisted trousers and also a sailor's cap.

Designer Donna Karen also attended the event wearing one of her own short black dress creations.

New York fashion week begins on February 9, 2007 and is one of the most famous fashion events in the world. New designers that are being tipped for big things are Erin Fetherstone, Ashleigh Verrier and Brian Reyes.
Viva Versace!
Saturday, February 10 2007
The A-list have been out in force during the run-up to the Oscars to honour fashion label Versace - and the man who made it all happen.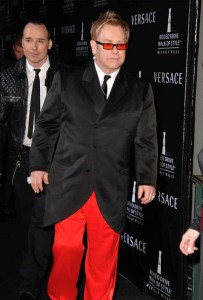 The city of Beverly Hills and the Rodeo Drive Committee honoured the label with the Rodeo Drive Walk of Style Award on February 8, 2007 to celebrate the accomplishments of the late Gianni Versace and his sister Donatella who took over the label after his death.

Gianni Versace was shot dead outside his Miami home in 1997. Friends of the brother and sister duo such as Elton John and Sharon Stone took to the red carpet to celebrate the designers.

Gianni and Donatella are the ninth and tenth recipients of the Rodeo Drive award. They will be honoured with a permanent plaque in the pavement on Hollywood's most fashionable street.
James Blunt to perform at 15th Annual EJAF Oscar Party
Thursday, February 8 2007
The Elton John AIDS Foundation has announced that the Grammy nominated artist James Blunt will perform at the 15th Annual Elton John AIDS foundation (EJAF) party to celebrate the Academy Awards on February 25, 2007 at the Pacific Design Center in Los Angeles.
The event will be co-hosted by Sir Elton John and David Furnish and is co-sponsored by Audi, Chopard and VH1.


Britain-born singer and songwriter James Blunt made his musical debut in 2004 with the U.K. release of his Custard/Atlantic recorded album "Back to Bedlam." The album, fusing adult alternative, Britpop, pop, rock and folk, hit U.S. shelves in October 2005, and is now certified by the RIAA as double-platinum.

Immediately popular in the U.S., Blunt became the first British artist to top the American singles chart in nearly a decade with his smash hit single "You're Beautiful." The last British artist to reach #1 in the U.S. had been none other than Elton John in 1997, with "Candle in the Wind."

The upcoming Oscar party will not be the first time the two vocal powerhouses join forces; Blunt held a supporting role on tour with Elton John in 2004.

"James is a truly talented singer/songwriter, his voice and expressive lyrics enchant audiences worldwide," says Elton. "I have no doubt that he will do the same for our guests on Oscar night."

Blunt has earned five nominations for the 49th Annual Grammy Awards, including Record of the Year, Song of the Year and Best Male Pop Vocal Performance for "You're Beautiful," Best Pop Vocal Album for Back to Bedlam and Best New Artist. Blunt's new live album and DVD, Chasing Time: The Bedlam Sessions, was released in 2006.



Audi R8 Ride and Drive and Oscar Party Weekend Auction
Monday, February 5 2007 at 00:58:48

Elton and David to host 15th Annual Oscar Party
Wednesday, January 24 2007 at 19:26:36

Judie's big finale is a family affair
Tuesday, February 6 2007
Back in 1979 Judie Tzuke was lead singer of a support band. Within a year or so, following the massive hit single "Stay With Me Til Dawn'" and two chart albums on Elton John's Rocket Records label, Judie Tzuke returned to Croydon as the headline act, seemingly with the music industry at her feet.
Twenty-eight years on, Judie is excitedly preparing for her biggest tour in two years: "You're right, I haven't toured for quite a while -- and I probably won't again!

"In fact, this tour might not have happened until I was inspired by performing with some friends at a charity gig.

"The evening will begin with me and my band for roughly an hour, after which we'll have other people come on - my daughter Bailey Tzuke will do four songs, Ben Mark might do four and a visiting guest will come and do a spot."

Fortunately, this is not the last we will hear of the Tzuke name. Since the completion of her purpose-built recording studio back in 1987, Judie has enjoyed far more control and creative freedom over her own material and this looks set to continue, not just for herself, but for her daughter's career as well.

"I'll never stop writing and recording. The job I have now is fantastic, because I get to use all my enthusiasm and creativity through people who really want to go on stage and sing the songs," said Judie.

In the often cut-throat world of the music industry, it was heart-warming news to hear that Rocket had relinquished the copyright to her first three albums.

"Yes, that was brilliant," she said. "Even after I left Rocket, whenever I made an album I always sent Elton a copy. One day his assistant emailed to ask for a copy of the latest album, so I took the opportunity to put a letter in with it, just saying do you think I could have my albums back?'.

"Sometime later, while I was on holiday, sitting by the pool, the phone rang and it was Elton to say of course you can!' To be honest it wasn't quite as simple as that, as I think his lawyers were a bit shocked and tried to question it. But Elton was as good as his word."
How to send birthday presents to Elton?
Monday, February 5 2007
Many fans have asked us how they can send birthday presents to Elton for his 60th birthday.


In 1997 - after Elton's 50th birthday - we were able to deliver your presents to Elton personally, and we hope that something similar can be arranged this year. Please refer to instructions on sixty-years-on.com for more details.

Audi R8 Ride and Drive and Oscar Party Weekend Auction
Monday, February 5 2007

Audi continues its charity affiliation with the Elton John AIDS Foundation in 2007 with an out-of-this world eBay auction.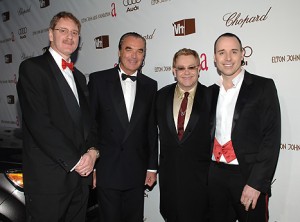 One very lucky winner will get the opportunity to participate in two unique events on back-to-back days with 100% of the winning bid going to benefit HIV/AIDS prevention education and direct care and support services to people living with HIV/AIDS.

Audi has been running worldwide journalists, dealers and celebrities through its R8 introduction program in the Las Vegas area for the past couple of weeks. It will utilize this program as the first half of the auction, where the winning bidder and a guest will be offered a rare opportunity to drive the 2008 Audi R8 at an all-day driving experience on February 24, 2007. Both track time at Las Vegas Motor Speedway and more everyday driving through the scenic Valley of Fire is on the schedule.

The next day on February 25, 2007 it will be on to Los Angeles for the star-studded Elton John Academy Awards Viewing Party at the Pacific Design Center in West Hollywood. Drawing some of the very biggest names in the entertainment industry to raise money for the fight against HIV/AIDS, the Elton John Foundation party is one of the most important events on Oscar night. Last year's diverse group of attendees included such notables as Sharon Stone, George Lucas, Ozzy and Sharon Osbourne, Ben Stiller, Eddie Van Halen, Selma Hayak and many others from film, television, music and modeling.

The 2008 R8 will figure prominently again on Oscar night as it becomes the highlighted auction vehicle at the party benefiting the Elton John AIDS Foundation.

In addition to the ride & drive and exclusive party the winning bidder also receives round trip airfare, luxury hotel room accommodations, scheduled dinners, entertainment and entrance and up front seating at the Elton John Academy Awards Viewing Party. Be one the of the first - or better yet the very last - to bid on this unique experience and charity opportunity.



Elton and David to host 15th Annual Oscar Party
Wednesday, January 24 2007 at 19:26:36
World Peace One
Saturday, February 3 2007
On 11 August 2007, EarthOne Productions will deliver "World Peace One," the largest humanitarian event ever experienced.
The event is currently planned to be broadcast "live" from 15 primary host cities with the support of secondary host cities spanning 24 time-and span 24 time-zones across the world.

Throughout the event's 24-hour broadcast, "World Peace One" will unite the world with music, inspiration, and responsibility. This event will reach more than 3.5 billion people in more than 180 countries through a global distribution grid that includes television and radio networks, Internet and mobile distribution networks, and a humanitarian awareness campaign that can help bring an end to war in our lifetime.

World Peace One is attracting a line-up of international recording artists, actors, athletes, Nobel Laureates, doctors, scientists, diplomats, inspirational leaders, and concerned global citizens who are contributing their time, status and resources to the important cause of Peace in our complex and perilous global environment.

Recording artists that will be invited to participate in the "World Peace One" Event include:

Elton John, U2, Madonna, Pink Floyd, Carlos Santana, Yes, Shakira, the Rolling Stones, Earth Wind & Fire, Paul McCartney, Sting, David Bowie, Lionel Ritchie, the Goo Goo Dolls, Aerosmith, Bruce Springsteen, The Who, Led Zeppelin, Tina Turner, The Eagles, Pearl Jam, Moby, Alanis Morissette, Phil Collins, Eminem, Wyclef Jean, Will Smith, Usher, Mary J. Blige, JZ, Beyonce, Pink, Peter Gabriel, Eric Clapton, Alicia Keys, Lenny Kravitz, Janet Jackson, Baby Face, Greenday, Stevie Wonder, Chaka Khan, Patti Labelle, Aretha Franklin, Red Hot Chili Peppers, Justin Timberlake, Christina Aguilera, Celine Dion, Mariah Carey, Britney Spears, Bon Jovi, Outkast, Sarah McLachlan, Enya, Paul Simon, The Dixie Chicks, Willie Nelson, Brad Paisley, Garth Brooks, Rascal Flatts, Tricia Yearwood, Keith Urban, Shania Twain, Martina McBride, Faith Hill, Tim McGraw, Ricky Martin, Mark Antony, David Bisbal, Juanes, Luis Miguel, Olga Tanon, Alejandro Sanz, Gilberto Gil, Ivan Lins, Barbra Streisand, Bette Midler, Tony Bennett, Andrea Bocelli, Josh Groban, Autograph, Jane Zhang, David Lee, Prince Ali; and regional talent popular in many parts of the world.

All venue sites will be linked to each other via satellite, enabling each city to view other events happening "live" in other parts of the world. These venue-to-venue uplinks will be shown on Jumbotron, Diamond Vision, and screens at all Primary and Secondary Host City venue sites.

The event is currently planned to be broadcast "live" from 15 primary host cities that include: Sydney, Tokyo, Seoul, Beijing, Mumbai, Moscow, Dubai, Johannesburg, Cairo, Berlin, London, Rio de Janeiro, New York, Las Vegas, Los Angeles; and other Secondary Host Cities to be announced.
UPDATE: Elton Birthday Concert
Friday, February 2 2007
Tickets for Elton's 60th concert at Madison Square Garden on his 60th birthday are hard to find. Both eltonjohn.com and ticketmaster.com seemed to have sold out their contingents.
The concert will feature a range of songs celebrating almost 40 years of Elton's musical career. Elton will be performing with his current band: Davey Johnstone, Guy Babylon, Bob Birch, John Mahon and Nigel Olsson. For a select number of songs Elton will be joined by a full choir.

Eltonjohn.com made tickets available to Rocket Members. These tickets went on sale via eltonjohn.com on January 19, 2007, but are already sold out.

For those without a Rocket membership, the offical start of the ticket sale via ticketmaster.com was on January 29, 2007. However, no tickets were available as apparently tickets sold out during the American Express pre-sale the week before.

If you are still looking for tickets for this special event, you might also want to try TicketsNow! As of early February 2007, they had almost 500 tickets still available.



WINNERS: "ELTON: The Biography" - competition
Thursday, February 1 2007
"ELTON: The Biography" by David Buckley will be published in February 2007. Six visitors of eltonfan.net have won their copy in our special competition.
Following are the six questions from six decades of Elton's life that we asked Elton fans. The correct answers are displayed in red:

1) 1947-1956: What was the profession of Elton's father, Stanley Dwight?
Squadron leader with the Royal Air Force

2) 1957-1966: Who played drums in the first Bluesology band in 1962?
Mick Inkpen

3) 1967-1976: What Elton John album made history by becoming the first record ever to debut on #1 in the Billboard charts?
Captain Fantastic And The Brown Dirt Cowboy

4) 1977-1986: What was the name of Elton's former lover who was the addressee of "Blue Eyes"?
Vance Buck

5) 1987-1996: What was Elton's only single chart success in 1991 - reaching number one in both the US and UK charts?
"Don't Let The Sun Go Down On Me" (with George Michael)

6) 1997-2006: When did Elton John and David Furnish get 'married'?
December 21, 2005

We have received hundreds of entries, but nobody answered all six questions correctly. However, there were several people that had 5 out of 6 correct, and we have picked the winners from that group. Congratulations to:


Michael Payne, UK

Cassandra Crawford, USA

Katja Lage, Germany

Ruth Nielsen, Germany

Annette Rogge, Germany

Michael English, USA
The winners will receive their copy directly from the publishers in the next few weeks. Thanks to everyone who took part in the competition.



"ELTON: The Biography" - exclusive extract
Wednesday, October 31 2007 at 18:53:42

ELTON: The Biography
Wednesday, January 17 2007 at 05:52:13