ELTON JOHN NEWS ARCHIVE: February 2006
"Rocket Man" cover version
Monday, February 27 2006
Former "B3" member John Sutherland has released a cover version of Elton's hit "Rocket Man".
For more information about the release, please see http://www.john-sutherland.de/.
Elliot musical leads stage awards
Monday, February 27 2006
The stage version of Billy Elliot has won four prizes at the Laurence Olivier Awards, including one shared between three of its young stars.
James Lomas and George Maguire, 15, and Liam Mower, 13, who share the title role, won best actor in a musical. Its composer, Sir Elton John, shared best new musical with writer Lee Hall.

The Almeida Theatre's revival of Henrik Ibsen's Hedda Gabler also won four awards in the ceremony, which honours the best of the London stage. Its star Eve Best won best actress, while Richard Eyre won best director. It also won best revival and best set design.

Brian Dennehy took the best actor award for his performance in Arthur Miller's Death of A Salesman, while comedy actress Celia Imrie won best supporting role in a musical for her part in Acorn Antiques - The Musical!

A special award was presented to Sir Ian McKellen in recognition of his contribution to theatre, at the ceremony at the London Hilton.

Of the three Billy Elliot stars, only one, Liam, is still performing - breaking voices have forced the other two to bow out of the smash hit musical. They are the only actors to have won the award in a shared capacity and the youngest-ever winners of an award.

Billy Elliot also won best theatre choreographer and best sound design.

The trio beat Ewan McGregor to their prize, but his Guys and Dolls co-star Jane Krakowski won best actress in a musical for her performance as Miss Adelaide.

Anthony Minghella's production of Puccini's Madam Butterfly at the English National Opera won best new opera production.



"Billy Elliot" musical leads theatre nominees
Thursday, January 19 2006 at 09:39:42


Lestat and Broadway.com Team Up for Exclusive Behind-the-Scenes Blog
Saturday, February 25 2006
In an online first, Broadway.com has teamed up with the upcoming musical Lestat to bring users an exclusive behind-the-scenes look at the making of a mega-musical.

Over the new few months, users can get up close and personal with the cast and creative team of Lestat as Broadway.com follows them from their current New York rehearsal period through opening night at the Palace Theatre. In addition, leading man Hugh Panaro, who plays the titular character, will share details of his personal process as the star of a big Broadway musical with an ongoing video diary.

Users can access the special Lestat video blog directly at http://lestat.broadway.com.

Lestat premiered at the Curran Theatre in San Francisco from December 17, 2005 through January 29, 2006. It starts performances at the Palace on March 25 and opens on April 25.

Lestat is the first Broadway venture for Warner Bros. Theatrical Ventures.



'Lestat' sinks teeth into podcasts
Tuesday, February 21 2006 at 09:31:32



Elton John plays for charity with eBay auction
Wednesday, February 22 2006

Sir Elton John has placed one of his most famous pianos up for auction on eBay to raise funds for the Aids charity which he founded.

The iconic Yamaha DC6A Pro digital acoustic 6ft 11in grand piano, played by the star at a variety of special events surrounding his hit shows in Las Vegas, will be sold off to support the Elton John Aids Foundation.

The famous grand piano, nicknamed 'Fiona', was on display in the Colosseum Lobby at Caesars Palace in Las Vegas.

Sir Elton will play the piano for the final time at the 14th Annual Elton John Aids Foundation Viewing Dinner and After-Party to celebrate the Academy Awards on March 5, 2006 in Los Angeles. He will then autograph the piano in preparation for delivery to the lucky auction winner.

"The charity auction of this one-of-a-kind piano on eBay offers a unique opportunity for a fan or collector to own a major piece of music history while raising funds to support the critical work of prevention, education and treatment of Aids," said Scott Campbell, director of the Elton John Aids Foundation.

The charity auction will begin on February 27, 2006 and conclude on March 9, 2006.




A living legend at Elton's Oscar bash
Wednesday, February 15 2006 at 02:10:55

14th Annual Academy Awards EJAF Party
Wednesday, February 1 2006 at 18:01:33

Harrah's Entertainment Artists Rally Together
Tuesday, February 21 2006

Three of the world's most popular entertainers -- Celine Dion, Elton John and special guest host Jerry Seinfeld - came together for a one-night-only, sold-out performance - the Harrah's Entertainment Artists Rally Together (H.E.A.R.T.) Concert -- in The Colosseum at Caesars Palace on Monday, February 20, 2006.

The Presidents Day evening gala raised $2.1 million for Harrah's Entertainment's hurricane-affected employees in New Orleans and the Gulf Coast region.

Elton John and Celine Dion performed songs such as "Sorry Seems To Be the Hardest Word" and "Saturday Night's Alright (For Fighting)" together.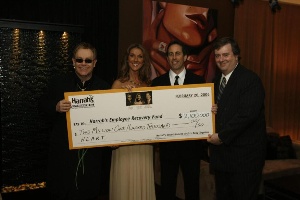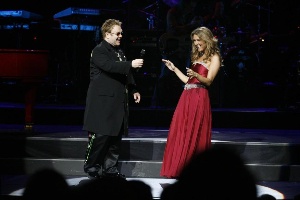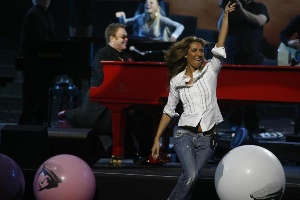 A benefit for Gulf Coast families
Friday, February 3 2006 at 15:52:30

Elton John to be part of performance to aid hurricane-affected families
Friday, December 2 2005 at 08:22:32
'Lestat' sinks teeth into podcasts
Tuesday, February 21 2006
This winter, The Playbill Club is proud to introduce its first ever Pre-Broadway Production Blog, featuring an inside look at LESTAT, the new musical arriving on Broadway this spring.

LESTAT, one of Anne Rice's most celebrated literary characters, is coming to Broadway beginning March 25, 2006 at the Palace Theatre.

Over the next eight weeks, The Playbill Club will offer an inside look into the development of Lestat including exclusive interviews with the illustrious team of Sir Elton John (music), Anne Rice (source material) and Bernie Taupin (lyrics).

The following interviews are now available to download as a podcast on iTunes®! Click Here to download the podcasts.

Fans can also go to http://www.playbill.com/lestat/ to watch the same interviews in the Flash Video (FLV) format.



Elton defends "Lestat"
Monday, February 6 2006 at 17:10:38

LESTAT sets new Broadway opening
Friday, February 3 2006 at 15:57:59

Exclusive interview with Elton John
Sunday, January 29 2006 at 16:35:03

Stars line-up for Tony Bennett duet
Tuesday, February 21 2006

Crooner Tony Bennett is to duet with Sir Paul McCartney, Sir Elton John and Bono on a new album to mark his 80th birthday.

George Michael, Sting and Mary J Blige will also appear on the record, along with Barbra Streisand and John Legend.

The world's biggest recording artists are queuing up to duet with the US singer, best known for his hit "I Left My Heart In San Francisco".

Bennett turns 80 in August 2006 and the album will be released the following month. Hollywood star Clint Eastwood has directed a forthcoming documentary about the star's career. The crooner has been a chart fixture since the 1950s.

Bennett has signed a lucrative deal with record giant Sony BMG, which described the singer as "one of the most legendary performers of all time". His most recent recording, The Art Of Romance, won a Grammy last month for best traditional pop vocal album.

Sir Elton John gives love advice
Saturday, February 18 2006

Elton John has reportedly offered Madonna and Guy Ritchie marriage advice - amid claims their relationship is on the rocks.

The pop legend fears the pair may split if they don't start to accept each other's busy careers. Elton's partner, David Furnish, is quoted in Britain's Daily Mirror newspaper as saying: "Elton and I have spoken to Madonna plenty of times lately. She and Guy are close friends of ours.

"They both need to concentrate on their careers if they want their relationship to work. Elton and I completely understand. But if they neglect that, their relationship will inevitably disintegrate."

David added: "We're there for Madonna as friends. I absolutely admire her. We both do."

Madonna and Guy have been plagued by rumours they are on the verge of splitting, amid rumours the singer's "close working relationship" with music producer Stuart Price was putting a strain on her marriage to the 'Snatch' director.

Speculation intensified after Madonna apparently snubbed Guy during her acceptance speech at the Brit Awards this week.

The pop queen scooped the accolade for Best International Female and thanked everyone but her husband while on stage.




Elton John accepts libel damages
Thursday, February 16 2006

Elton John has accepted undisclosed libel damages from the Sunday Times over a claim in the newspaper regarding the star's behaviour at a charity ball.

The allegations caused him "distress and embarrassment", his lawyer said. The paper erroneously repeated an entirely false rumour that he acted in a rude, self-important and arrogant manner, his lawyer told the court.

She added the paper falsely said Sir Elton issued an absurd edict to guests not to address him unless spoken to. Sir Elton sued the Sunday Times for reprinting content which first appeared in the Daily Mail on June 24, 2005.

The Mail is also facing legal action over publishing the story branded "entirely false" by his spokesman.

Elton was not at London's High Court to hear about the settlement of his action, which he has pledged to the Elton John Aids Foundation.

Times Newspapers Ltd acknowledged that the allegation should not have gone to print, publicly withdrew it and apologised for the distress it had caused Sir Elton.

The newspaper's lawyer, Alistair Brett, said: "As soon as the defendant found out the story was untrue - it had been picked up from another newspaper - it immediately apologised to Sir Elton and it is happy to repeat that apology here today." They will also have to pay the singer's legal costs.

The original story concerned the annual White Tie and Tiara Ball fund-raiser hosted by the chart-topping star, which was attended by a number of celebrities.

Elton felt that the story had affected the image and reputation of his fund-raising efforts, and said legal action would be taken elsewhere if the allegations were repeated.

Sir Elton won an estimated £1m in libel damages in 1987 from The Sun newspaper. He made an out-of-court settlement for allegations printed in the paper, which printed a front page apology.




Elton sues papers for libel
Tuesday, June 28 2005 at 21:45:21



A living legend at Elton's Oscar bash
Wednesday, February 15 2006

All the Hollywood buzz about a "living legend" performing at Sir Elton John's famous post-Oscar party turned out to be true.

Triple-Grammy winner John Legend will be the entertainer for the 14th annual AIDS Foundation Oscar night bash (EJAF) on March 5, 2006 at the Pacific Design Center.

So get ready to "Get Lifted" at the event, co-hosted by Sir Elton and David Furnish and sponsored by Audi, Chopard and VH1.

The best new artist Grammy winner is set to perform songs from his platinum album, "Get Lifted," a blend of hip-hop and smooth classical soul.

"I have been a huge fan of John's since I first heard his album," says Sir John. "I am so thrilled that he won three Grammys last week and even more thrilled that he will be playing at our Oscar party."




14th Annual Academy Awards EJAF Party
Wednesday, February 1 2006 at 18:01:33



Most romantic celebrity couple survey
Wednesday, February 15 2006

Survey to find Most Romantic Celebrity Couple highlights public perception of celebrity misbehaviour and changing attitudes to same gender couples.

So who encapsulates romance in 2006? Which role models could guide you to find the man or woman of your dreams? This was the question asked by the UK's biggest dating/friendship website www.MakeFriendsOnline.com and the answers, from 10,500 members, may not be those you'd expect.

10,457 members answered the question 'Which do you consider the most romantic celebrity couple?' Results were:

Brad Pitt & Angelina Jolie 36.06%
David & Victoria Beckham 23.75%
Elton John & David Furnish 17.48%
Charles & Camilla 12.07%
Jude Law & Sienna Miller 10.63%

A few decades ago, Charles & Camilla's love against the odds would have been considered the height of romance, the backbone of countless novels: In today's society they were considered almost the least romantic couple with only 12% of the vote. Moreover, they were considered a lot less romantic than recently married gay couple Elton John & David Furnish who claimed nearly 20%, despite this being a mainly heterosexual vote.

So what or who encapsulates romance in 2006?

According to the survey, if you want to be a hit this Valentines Day you should take your lead from Brad Pitt & Angelina Jolie who soared ahead with a winning 36%: The majority of people considered theirs a true love and approved of the way they'd handled a very difficult situation. The similarity between Brad & Angelina's circumstances and those of Charles & Camilla cannot be ignored, yet their approval ratings couldn't be more different, suggesting romance is very much in the eye of the beholder; it's not what you do but take care how you do it!

Runners up with nearly 24% of the vote were David & Victoria Beckham who were perceived as a devoted couple despite the occasional media scandal, whilst Elton John & David Furnish were considered romantic by 17.5% of respondents and particularly admired for their long term devotion to each other.

Make Friends Online Managing Director, Martin Bysh, commented 'we were curious to see how romantic values may have altered and there does seem to have been a significant shift. The Charles and Brad examples show quite clearly that people no longer expect couples to stay together for life if they're not happy or love someone else, but they do expect the involved parties to behave with decorum and respect for others.'

So if you want to be romantic this Valentines season, follow Brad & Angelina's example; set your heart on your dreams and go for them no matter what stands in the way. But remember to do it nicely; you want to be perceived as a caring Casanova, not a complete Charlie!

An Ideal Husband
Monday, February 13 2006

In December 2005, David Furnish wed Sir Elton John. How a nice boy from Scarborough became one half of the most famous gay couple in the world ...

... read it in an article by Ellen Himelfarb published by Toronto Life.

"One Mighty Weekend"
Thursday, February 9 2006

Johnny Chisholm, founder and producer of Orlando's legendary "One Mighty Weekend" events at Walt Disney World, today announced that the Elton John AIDS Foundation will be the beneficiary of the June 1-4 "One Mighty Weekend" celebration.

Since its inception 12 years ago, One Mighty Weekend has become the signature event for Orlando's annual gay and lesbian celebration, attracting visitors from 30 countries around the globe.

"One Mighty Weekend is bigger than one city or one country," Chisholm said. "That's why we selected a respected, nonprofit organization founded and chaired by Sir Elton John. In our twelfth year of this event, we are so proud to be able to support an organization that is effectively addressing one of the world's most serious public health problems."

One Mighty Weekend includes three days of events on Disney properties and other nearby locations that attract more than 135,000 people from all over the world. Performances by A-list entertainers, theme parties and park activities are the highlights of a weekend that organizers estimate will generate $150 million in revenue for the Orlando area.

"The Elton John AIDS Foundation is proud to be the beneficiary of this year's One Mighty Weekend celebration in Orlando," said EJAF Executive Director Scott Campbell. "The funds received from this event will help further the critical work of the Elton John AIDS Foundation in fighting AIDS across the U.S. and throughout the world."

Elton Dean - 1946 to 2006
Thursday, February 9 2006

British jazz saxophonist Elton Dean died on the evening of February 7, 2006, in a London hospital. For the last year in particular he had been suffering from heart and liver related health problems. He was 60.

Dean, from which Reginald Kenneth Dwight once took the "Elton" to become Elton John, was saxophonist for Bluesology, Elton's first band.

Dean first gained acclaim as a member of the Keith Tippett Group, led by the English pianist and featuring the horn section of Dean, Marc Charig and Nick Evans, in 1969. Later that year, Dean, Charig and Evans were hired by Soft Machine to augment their core trio. After touring as a septet, the band was trimmed down to a quintet, then a quartet. This resulted in what many consider the "classic" Soft Machine line-up of Robert Wyatt, Mike Ratledge, Hugh Hopper and Elton Dean, which recorded "Third" (1970) and "Fourth" (1971) for CBS.

Dean left Soft Machine after 1972's "Fifth" to devote his time to his own group, Just Us, and various jazz-oriented line-ups, many of them featuring Tippett. Over the years however, he remained associated with the Soft Machine family (also known as the "Canterbury scene"), often in the company of bassist Hugh Hopper, while leading his own acoustic jazz quartets and quintets.

In the past few years Dean had again been involved in a variety of Soft Machine-derived line-ups. Soft Machine Legacy recorded its debut album in September 2005, and the band were looking forward to supporting it with a series of live performances; a live DVD, recorded in Paris in December 2005, is also set for release later this year.

On July 21, 2005, Long John Baldry - another former Bluesology member - had died in Vancouver. Baldry was the "John" in Elton John.




John William Baldry - 1941 to 2005
Friday, July 22 2005 at 11:53:32



Elton's chairs fetch record sum in Cape Town
Thursday, February 9 2006

Four antique chairs which briefly belonged to rock star Sir Elton John have been auctioned in Cape Town for R110 000 - more than twice what they were expected to fetch.

An unnamed telephone bidder from Johannesburg snapped up the set of four chairs after a furious battle.

Other bidders, at the Old Mutual Conference Centre at Kirstenbosch, dropped out at around the R50 000 mark but it was clear that for the mystery man money was no object.

International collectors mingled with Cape Town's top art dealers at the Sotheby's event, as the lots, mostly fine antique furniture and paintings, went at a rate of more than one a minute. A total of one hundred lots went in an hour.

Sir Elton's chairs, dating back to 1905 from the Arts and Crafts movement, were part of the eclectic Elton John Collection auctioned by Sotheby's in London in 1988. The original buyer, who paid R40 000 for them, brought them to his South African house but then decided to sell them again.

Auctioneer Stephan Weltz joked that the chairs had "just about kept up with inflation". Weltz and Sotheby's had estimated that the chairs would sell for between R35 000 to R50 000. "But we're always cautious," he said.

The chairs seemed to set the tone for an evening of extravagance, with South African paintings selling for record sums, including Maggie Laubser's Shepherd in Blue Hat, which sold for R340 000, three times the pre-sale estimate.

"South Africans are sick of buying property now," said Weltz. "Now they're buying things to put in their houses!"




Elton's chairs up for auction
Monday, January 30 2006 at 08:45:49



"Billy Elliot" - Original Cast Recording (US Release)
Thursday, February 9 2006

"Billy Elliot" is in stores since February 7, 2006 on Decca Broadway. The package includes a bonus CD featuring three new songs performed by Elton John.

Based on the beloved film, the new musical Billy Elliot is London's hottest sold-out ticket, playing to sold out houses and reaching wide acclaim from critics and theatre-goers alike. The production will move to Broadway in 2007, but Americans will have the treat of experiencing Billy Elliot before it even crosses the pond with Decca Broadway's release of the Original Cast Recording featuring a score and performances by Elton John. Included in the 2-CD box set are complete lyrics and exclusive photo postcards.

Hailed as "The Greatest British Musical" by The London Telegraph, Billy Elliot has won universal praise for its powerful and theatrical score, unlike any Elton John has ever written. The songwriter has himself expressed having an emotional attachment to the story since seeing the film, and has called this work one of his most heartfelt. His uplifting orchestrations run a wide gamut of genres including influences of rock, show music and pop ballads.

From the jazzy hooks of the catchy "Solidarity" to the enchanting theatrics of the cast of children singing and tap dancing in "Expressing Yourself", the music reaches beyond the standard Broadway fare. Elton John's solo renditions of key tracks are the icing on the cake, further proving the super-star's status as one of the foremost singer-songwriters of our time.

Billy Elliot was produced by the legendary Phil Ramone and has a book and lyrics by Lee Hall, who wrote the original screenplay for the film.

Set in the mid 1980s in northeastern England, Billy Elliot tells the emotional story of an 11-year- old miner's son and his quest to win a spot at the Royal Ballet School. Billy dreams of a life of dancing amidst the challenge of breaking away from his small town's conformity and traditions. It is an inspirational tale of perseverance with a universal message of triumph over strife.




"Billy Elliot" musical leads theatre nominees
Thursday, January 19 2006 at 09:39:42

Billy Elliot is top musical
Tuesday, November 29 2005 at 08:28:24

Elton joins Billy Elliot team for "Thank you" party
Wednesday, August 10 2005 at 11:50:32



Elton defends "Lestat"
Monday, February 6 2006

Elton John has leaped to the defence of his critically-mauled musical "Lestat", but acknowledges the show needs "a lot of work".

He tells the New York Post, "We have a lot of work to do, I'm not going to deny that. There are problems in the first act, we're going to have a new beginning and a new ending and some minor characters are going to bite the dust.

"We certainly ran into problems in San Francisco. But I think we can sort them out. It's a f**king painstaking process, but I'm confident we can do it.

"Right now, we've got too much information. The first act is a history lesson. A lot of it isn't necessary. We've done a lot of pruning, and I think I'm going to have to write another song or two."

Despite his optimistic outlook, Elton admits he was upset by certain reviews. He explains, "I did read one review that said I've obviously been watching THE PHANTOM OF THE OPERA, LES MISERABLES and JEKYLL AND HYDE. Well, thank you very much. I nearly killed myself. Where is the Golden Gate Bridge?"



LESTAT sets new Broadway opening
Friday, February 3 2006 at 15:57:59

Exclusive interview with Elton John
Sunday, January 29 2006 at 16:35:03

Elton to visit "Lestat" in San Francisco
Friday, January 27 2006 at 17:11:44

San Francisco Critics Meet Broadway-Bound Lestat
Tuesday, January 10 2006 at 18:48:12



LESTAT sets new Broadway opening
Friday, February 3 2006

Warner Bros. Theatre Ventures is proud to announce that their inaugural production for the Broadway stage, LESTAT, broke the box office record as the highest grossing world premiere musical in San Francisco history.

During its pre-Broadway run at the Curran Theatre, LESTAT grossed $4,315,293, breaking the record previously held by Wicked (LESTAT however ran an additional week and a half longer than Wicked to break the record).

In preparation for the Broadway run, Jonathan Butterell has joined the production as creative consultant to provide an objective overview as it undergoes revisions. To accommodate these revisions, LESTAT will now begin previews at the Palace Theatre (1564 Broadway at 47th Street) on Saturday, March 25, 2006, and open on Tuesday, April 25, 2006.

As a choreographer, Jonathan Butterell's Broadway credits include The Light In The Piazza, Assassins, Nine, Fiddler On The Roof and Electra. In the United Kingdom Mr. Butterell directed Michael Ball in Alone Together: Divas at the Donmar, and Orpheus Descending and Strindberg's Creditors for Theatre Project Tokyo. He was associate director for RNT's Othello, and RSC's Hamlet. Mr. Butterrell co-directed Into the Woods (West End), Peter Pan (Royal Festival Hall), and Sweeney Todd (Opera North). London choreography credits include Passion, Company, Habeus Corpus, How I Learned to Drive, The Maids. He choreographed the film Finding Neverland.

Inspired by Anne Rice's The Vampire Chronicles, LESTAT is the first theatrical score from the legendary songwriting team of Elton John and Bernie Taupin, has a book by Linda Woolverton, and is directed by Robert Jess Roth with musical staging by Matt West.


Lestat, Anne Rice's most celebrated and beloved literary character, is being brought to life on the stage with a score by Grammy and Academy Award winning composer Elton John and 2006 Golden Globe Award-winning lyricist Bernie Taupin in their first theatrical collaboration. LESTAT is the romantic and heartbreaking story of the extraordinary journey of one man who escapes the tyranny of his oppressive family only to have his life taken from him. Thrust into the seductive and sensual world of an immortal vampire, Lestat sets out on a road of adventures in a quest for everlasting love and companionship but is forced to reconcile his innate sense of good with his primal need to exist.

LESTAT, starring Hugh Panaro in the title role, Carolee Carmello as Gabrielle, Drew Sarich as Armand, Jim Stanek as Louis, Roderick Hill as Nicolas, Michael Genet as Marius and Allison Fischer as Claudia, has a cast of 19 that features Rachel Coloff, Nikki Renee Daniels, Joseph Dellger, Colleen Fitzpatrick, Chris Peluso, Megan Reinking, Sarah Solie, Amy Sparrow, Will Swenson, Steve Wilson and Tommar Wilson.

LESTAT has a scenic design by Derek McLane, costume design by Tony Award-winner Susan Hilferty, lighting design by Kenneth Posner, sound design by Jonathan Deans, visual concept design by Dave McKean, and hair design by Tom Watson. LESTAT has orchestrations by Steve Margoshes and Guy Babylon, with musical supervision by Guy Babylon, musical direction by Brad Haak, and vocal arrangements by Todd Ellison.

The playing schedule for LESTAT during previews is as follows: Monday through Saturday at 8pm, with matinees Wednesday and Saturday at 2pm. Please note there will be no 2pm matinees on Wednesday, March 29, or Wednesday, April 26. There will be an added 2pm matinee on Friday, April 28.

The regular playing schedule for LESTAT beginning Tuesday, May 2, 2006, is as follows: Tuesday at 7pm, Wednesday through Saturday at 8pm, with matinees Wednesday and Saturday at 2pm, and Sunday at 3pm.

Tickets range from $65 to $110, and can be purchased through ticketmaster.com at (212) 307-4100.



Elton to visit "Lestat" in San Francisco
Friday, January 27 2006 at 17:11:44

San Francisco Critics Meet Broadway-Bound Lestat
Tuesday, January 10 2006 at 18:48:12

Jack Noseworthy leaves Lestat
Friday, December 23 2005 at 07:14:23

World premiere of "Lestat" in San Francisco
Monday, December 19 2005 at 07:52:31

Taking the first bite
Sunday, December 18 2005 at 14:27:49

Creating Lestat and Louis
Wednesday, December 14 2005 at 21:16:12

Lestat - Second Review
Thursday, December 8 2005 at 22:01:44

Lestat - First Review
Friday, November 11 2005 at 08:56:24

A benefit for Gulf Coast families
Friday, February 3 2006

Three of the world's most popular entertainers - Celine Dion, Elton John and special guest host Jerry Seinfeld- will join for a one night-only performance at Caesars Palace, on Monday, February 20, 2006.

The Presidents Day evening gala in The Colosseum at Caesars Palace will benefit the recovery fund for hurricane-affected employees of the resort's parent company Harrah's Entertainment, Inc.

At Caesars Palace, Celine Dion stars in "A New Day…" Elton John performs "The Red Piano," and Jerry Seinfeld presents his acclaimed stand-up comedy. The three international superstar performers form the core of entertainment at Caesars Palace, which has been responsible for Pollstar magazine ranking the resort's Colosseum among the top two-ticket selling venues of any size in the United States.

Shortly after Hurricane Katrina closed Harrah's resorts in Gulfport and Biloxi, Mississippi, and in New Orleans, Louisiana, the Harrah's Foundation seeded an Employee Recovery Fund with a donation of $1 million. With added donations from employees, guests and industry associates, the total has grown to more than $3 million. All funds will go directly to Harrah's hardest-hit employees, providing them with badly-needed financial assistance as they begin the process of recovery.

The Recovery Fund is one piece of a comprehensive relief effort for the nearly 8,000 employees who worked at the three properties. The company guaranteed employees' pay for 90 days, continued health insurance benefits, opened employee information and recovery centers in Mississippi and Louisiana, gave affected employees first preference for available jobs at the company's 35 operating casinos across the united States, and provided financial assistance to employees relocating to other properties. When Hurricane Rita closed Harrah's Lake Charles in September 2005, relief benefits were extended to the 1,400 employees of that property as well.

Tickets are on sale now, priced from $100 to $1,000 (plus tax and handling fee), available at Ticketmaster outlets, online at ticketmaster.com and in person at the Caesars Palace Box Office.

Sponsor packages that include luxury hotel accommodations, premium seating and a pre-show VIP reception in PURE nightclub at Caesars Palace also are available online at caesarspalace.com and by phone at 888-21-HEART. Packages range from $ 3,000 (two orchestra seats and access to pre-show reception) to $100,000 (backstage celebrity meet-and-greet for four, 26 orchestra seats and three suites).

'Buffy' star channeling Elton John in ABC comedy
Wednesday, February 1 2006

British actor Anthony Stewart Head, formerly of WB series "Buffy the Vampire Slayer," has landed the lead in "Him & Us," ABC's comedy pilot inspired by the life of Elton John.

The project revolves around an over-the-hill gay rock star and his relationship with his long-time manager and the rest of his colorful entourage.

Head, who played Rupert Giles on "Buffy," also co-starred in the HBO film "And Starring Pancho Villa as Himself."



Elton John pilot strikes chord at ABC
Saturday, October 29 2005 at 06:59:04

Elton John inspires TV diva in 'upmarket Spinal Tap'
Friday, November 5 2004 at 03:37:37


14th Annual Academy Awards EJAF Party
Wednesday, February 1 2006
Elton John and David Furnish will host the 14th Annual Academy Award(R) Viewing Dinner and After-Party to benefit the Elton John AIDS Foundation (EJAF) along with co-sponsors Audi, Chopard and VH1 on Sunday, March 5, 2006 at the Pacific Design Center in West Hollywood, CA.
This year marks the second year that Chopard will be involved in this grand event and the first year Audi and VH1 will participate as co-sponsors.

The Elton John AIDS Foundation party is one of the most important events on Oscar night as it brings together the biggest names in the entertainment industry to raise money for one very worthy cause, the fight against HIV/AIDS.

Past guests have included Dame Elizabeth Taylor, Donald Trump, Denzel Washington, Hillary Swank, Michael Douglas and Catherine Zeta-Jones, William H. Macy and Felicity Huffman, Sir Paul McCartney, Donatella Versace, Mary J. Blige, Eva Longoria, Christina Aguilera, Natalie Cole, Halle Berry, Paula Abdul, Joss Stone, Jeffrey Katzenberg, John Waters, Beck and Sir Ben Kingsley just to name a few.

Audi, Chopard and VH1 have supported EJAF in various capacities since the organization was established. "The level of commitment that Audi, Chopard and VH1 have offered in support of the Elton John AIDS Foundation is remarkable," says EJAF Director Scott Campbell. "We are looking forward to working together to create one of the most spectacular events to date."

This year's Event Co-Chairs include Dame Elizabeth Taylor, Tom Hanks and Rita Wilson, Nicole Kidman, Donatella Versace, Jeffrey and Marilyn Katzenberg, Sharon and Ozzy Osbourne, Sharon Stone, Sheryl Crow, Barbara Davis, Audi Board Member for Marketing and Sales Ralph Weyler, Chopard President Caroline Gruosi-Scheufele and VH1 General Manager Tom Calderone.

Well-known event designer J. Ben Bourgeois from Los Angeles-based event production company J. Ben Bourgeois Productions, will transform the "Outdoor Plaza" of the Pacific Design Center into a lavish and warm environment using hints of periwinkle and chocolate brown staged in a custom-built circular tent. Guests will arrive at 4:00pm for a cocktail reception followed by a five-course benefit dinner and viewing of the 78th Academy Awards(R) telecast.

Immediately following the viewing guests will gather to celebrate the night's biggest winners.
Sharon Osbourne to make film debut
Wednesday, February 1 2006
Sharon Osbourne will make her film debut in romantic comedy "It's A Boy Girl Thing".
The wife of Black Sabbath frontman Ozzy, who shot to fame on the MTV reality show "The Osbournes", will star in director Nick Hurran's tale of switched identities which is currently filming in the UK and Canada.

The film is being produced by Rocket Pictures - which is owned by Sharon's close friends and gay newlyweds Sir Elton John and David Furnish.


UPDATE: Elton John is making an American high school comedy
Friday, May 13 2005 at 10:09:02