ELTON JOHN NEWS ARCHIVE: February 2004
"The Red Piano" - 6 of 91
Saturday, February 28 2004
Fan report of the February 20, 2004 show by Richard Joline.
What a couple of years it has been for this EJ fanatic from New York! I have caught five "Face to Face" shows, including several in the front row, the Tabernacle show in Atlanta (second row), a solo charity show in Chicago, and front row in Norfolk, Virginia.

I had the absolute privilege to attend the EJAF Enduring Vision benefit here in New York, during which I shook Elton's hand twice and had my picture taken with him and Sting as well as leaning on the stage while he performed for an hour.

I have snuck into sound checks, met Elton at his hotel and gotten 10 more album covers autographed, which brings my total to 16 - all of which I will cherish for the rest of my days. (I'm sorry Elton, I won't ask for any more!)

After all of this, aside from being invited over for dinner, what else could top any of these experiences? Well my friends, do yourself a favor and get to Nevada.

I had never been to Vegas and really did not have an overwhelming desire to go. But I just had to see the "Red Piano" during the first week, so off I went. I had managed to secure a second row ticket right in front of the "red" piano and, as is always the case, I could hardly contain my enthusiasm as the final minutes before the show ticked away.

At promptly (get there on time) 7:30 pm the house lights went down and the band assumed their usual positions on the stage. All looked refreshed and relaxed. And then the man himself strode out from stage left and walked the length of the stage to the piano, acknowledging the crowd, including yours truly.

And with the opening pounding notes of "Bennie and the Jets", the spectacle begins. And spectacle is the word! The entire stage is backed by what can be described as a IMAX like screen that must be more than 100 feet in length. The lights, the props, the images all make this a show instead of a concert.

Elton looks and sounds great. He is clearly enjoying himself and he has every right to be proud of this latest accomplishment. I won't go into many specifics except to say "Believe", "Pinball Wizard", "Daniel", "Candle in the Wind", etc, were all fabulous in their own right.

Elton took time between songs to explain how they came to be, introduce the band, pay homage to the original Elton John band "founded in 1969" (including the talented and missed Dee Murray) and thank the audience for all the love he feels from us. I really can't adequately explain the entire experience except to say that you will not be disappointed.

But...the best was saved for last. I had read a fellow fan report before I left that indicated some fans were allowed to dance on stage during "Saturday Night's Alright (For Fighting)", the second to last number. Could this be true? Well as Nigel hit those first six beats and Davey made his guitar scream, there I was bounding up on to the stage, right in front of the piano. Are you kidding me?!! Am I dancing on stage right in front of Elton as he is pounding the piano smiling back at me? Wait, I'm in heaven right? Hi Davey. Hey Bob, how are ya? Thanks Nigel! Turn around - 4,100 people dancing in the audience looking at us!

Back to Elton - he's right there, nothing but the length of the piano between me and him. I'm having the time of my life and he knows it! What can I say. Autographs, hand shakes, 65 previous concerts all over the country during the past 28 years - and now this. It just can't get any better. Except to say that I'm going again and will as often as my real life permits for the next three years. And I'll dance there again...right next to the "Red Piano"!

Folks, I know this can be expensive - and Vegas as a whole is not for everyone although it is a curious observation of human behavior. But if you are reading this far, you are a true fan and you would be as thrilled as I was if you had the opportunity I just had. My thanks to my wife and kids for understanding and allowing me to indulge in this passion - a passion that was kindled in an eleven year old boy in 1972 and has burned fiercely ever since as this boy became a man. A passion that comes from a beautiful man's heart and talent and energy - his devotion to performing for us all these years and the magic that he creates. Through a lifetime of love and loss, everyday life sprinkled with the occasional joys, the music of Elton John as been the one constant source of happiness and inspiration for me - and for that I could never say thanks enough to you Sir Elton John!

And you know what? During the past couple of months he has created another record for us all to enjoy for the rest of our lives. I can't wait for that Tuesday in September when it will hit the stores and the journey continues ...
Farm Aid Documentary
Friday, February 27 2004
Elton John, Barenaked Ladies, John Mellencamp, Dave Matthews and Sheryl Crow are among the artists who will be featured in a new Farm Aid documentary.
The programme premieres March 5, 2004 on the Country Music Channel.

The Farm Aid special will also feature appearances by Billy Bob Thornton, Jon Bon Jovie, Beck, Phish, and Billy Joel.
Update: Elton to perform at Rainforest concert
Friday, February 27 2004
Elton will once again join Sting and others on stage for the Rainforest Foundation benefit concert on April 21, 2004
This year's Rainforest Benefit concert will again take place New York's Carnegie Hall. The event is titled "Singing in the RainForest" and the theme will be 'Songs from the movies are given the Star Treatment'.

Confirmed artists so far include Sting, Elton John and James Taylor, but of course the line up will consist of the usual celebrity guests and surprises.

Box Office tickets go on sale on March 7, 2004 and can be purchased through the Carnegie Hall Box Office or Carnegie Charge at (212) 247-7800. Benefit Level tickets in the First Tier and Orchestra are available and start at $600, Second Tier tickets are $400, Dress Circle $275, Front Balcony $175 and Rear Balcony $150.

A variety of Corporate Packages are available from the prestigious 'Super Platinum' package involving fifty tickets, Dress Rehearsal attendance, private boxes and backstage passes etc. through to "Wonderful Seats" at $600. For further information on these packages contact Event Associates at (212) 245 6570 Ext 15 / Fax (212) 581 8717 or email tamaral@eventassociatesinc.com.
Councillors try to block Elton John concert in southwest France
Wednesday, February 25 2004
Two councillors in France's southwestern city of Bayonne launched a bid to block a concert by Elton John which the municipality has offered to organise.
The pair, both members of the Basque nationalist party Abertzaleen Batasuna, urged their fellow councillors to vote against signing the contract with the concert's organisers when the matter comes up for review on February 26, 2004.

"We don't have anything against Elton John," one of the councillors, Xabi Larralde, told a press conference alongside his colleague, Gisele Lougarot.

They said they were opposed to the concert because of the "indecent" cost of the tickets at between 50 and 300 euros, and because the deal came after the city had cut subsidies to certain associations by 10 percent.

Under the terms of the contract, a copy of which the councillors made available, the organisers of the event scheduled for May 28, 2004 intended to pay the municipality of Bayonne 370,000 euros for the hiring of the venue, and for a group of workers to set up the stage.

The concert is so far the only listed date for by John in France this year.
"The Red Piano" - 4 of 91
Monday, February 23 2004
Fan report of the February 17, 2004 show by Debbie Piemonte.
On February 17, 2004 my husband and I attended Elton John's "Red Piano" show at the Colloseum at Caesars Palace in Las Vegas. Elton the showman along with David LaChappelle who is the director in charge of the video and photography and affects put together a show that combines wonderful videos, neon lights, inflatables and much more along with Elton's fantastic tunes that rocked us for the entire show.

Elton looked and sounded great as did Elton's band. How thrilling it was to see the "Red Piano" show in Las Vegas. Highlights for me were the song "Believe" that I feel is such a beautiful song and since this is a song that I have not heard Elton play often I felt that hearing it was a real treat.

Another highlight was a figure of a younger Elton all decked out in a costume out of the 70's. It was so lifelike that we were totally in awe. I'd have to say that my very favorite song from this concert was "Rocket Man" it was quite simply the best rendition I've ever heard Elton play of this song. It was quite amazing the way in which Elton pounded the keys and did an extended extended version of this song. I just kept shouting out "Wow Elton Wow!"

Now for every Elton fan I say if you can get out to this show you should go for it and let Elton rock you with his Red Piano and if you can stay at Caesar's Palace were no matter who you are you will be treated like royalty. I have never stayed at any hotel more beautiful nor anywhere that the staff was so thoughtful and wonderful. And if any of you have children that you will need to bring Caesars contracts with an absolutely fabulous nanny service.

I was even lucky enough to attend the filming of "The View" when Elton was on another memory that I will always treasure. Elton and Vegas a combination that is indeed a must see. Oh and of course lets not forget about the added perk of being able to shop at the beautiful and well-stocked Elton John store. So do your best to get out to Vegas if you can.



Just bricks and stones to give them ...
Friday, February 20 2004 at 03:57:55

Elton on "The View"
Wednesday, February 18 2004 at 04:29:46


Cliff named Ultimate Pop Star
Monday, February 23 2004
Veteran singer Cliff Richard has beaten the Beatles and Elvis Presley to the title of the Ultimate Pop Star as the biggest selling artist.
Channel 4's The Ultimate Pop Star, broadcast on Sunday, said Richard had sold more singles than any other artist in the last 50 years, ahead of the Beatles in second place and Presley in third.

Madonna was in fourth place as the only female to make the top ten. She was followed by Kylie Minogue at number 13 and The Spice Girls at 15.

Elton John was named in fifth place, ahead of Michael Jackson in sixth and Queen in seventh. Swedish group Abba were placed eighth and Paul McCartney made the top ten twice, as a solo artist in ninth position.

David Bowie closed out the top ten.

The programme said Richard, the eternally youthful 63-year-old singer with a squeaky-clean image, had sold almost 21 million singles in his career of over 40 years.
Radio City Music Hall in July 2004
Saturday, February 21 2004
Elton John was on "The View" on February 20, 2004. During the show he announced five shows at New York City's Radio City Music Hall in July 2004
The concerts will be with the Royal Acadamy of Music Orchestra. Final dates are not yet know yet, but tickets will be on sale soon.
Just bricks and stones to give them ...
Friday, February 20 2004
Elton John is now part of the foundation of Caesars Palace.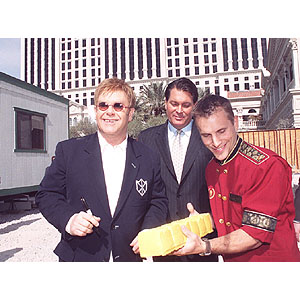 After opening his show "The Red Piano" at The Colosseum at Caesars Palace to rave reviews, Elton John joined Caesars president Mark Juliano to tour the construction site of the resort's new 949-room tower and autographed a special yellow brick which will be added to the support structure of the building which is set for completion in 2005.

"In a very short period of time, Elton John and 'The Red Piano' have made their mark on the landscape of Las Vegas entertainment," said Mark Juliano. "For Elton John to show his support for Caesars Palace by taking part in a brick signing event created with only our employees in mind, is truly special."

The signing was sparked by a recent human resources campaign in which Caesars Palace associates were invited to sign their names on cement bricks which are to be sealed in the support structure of the new tower. Elton John offered his support, but apropos of his hit song "Goodbye Yellow Brick Road," Elton John autographed only a yellow brick.

Lunch Around The World
Thursday, February 19 2004
Originally thought up by Elton fan Nancy Case in 2001, "Lunch Around The World" has turned into a regular activity for many Elton John fans all over the world.
The basic idea is to organize an fan events, invite your friends and other Elton fans and to raise money for the Elton John Aids Foundation.

The activities usually take place in March, to coincide with Elton's birthday on March 25. You can set up anything you like, lunches, dinners, coffee mornings private concerts, etc.

If you are organizing such event, please feel free to post event details at the Hercules Message Board where we have set up a special area for that purpose.
"The Red Piano" - 5 of 91
Thursday, February 19 2004
Fan report of the February 18, 2004 show by Marian Joy Friedman.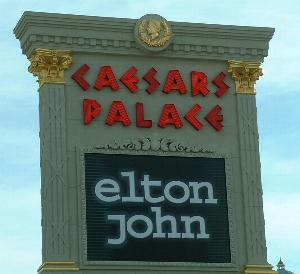 Today's Las Vegas is not your parents' Las Vegas and Elton John's "Red Piano" is unlike any Elton John show you ever saw. No hallucinogenic necessary. I attended tonight's show with my sister in honor of her birthday and what a celebration it was. Spectacular videos that are indescribable except that for this art novice, at times reminded me of Peter Max back in the 70's. The first song kicks off with the word "ELTON" in neon lights and from there, the visuals grow and grow. Colorful and huge blow-ups with similarly stimulating videos. If you are allergic to anything risqué, you may find yourself needing Claritin rather quickly. I find myself at a loss for words in describing this show. It is unlike any show or style of art I know. There is simply no show to compare it to.

When we arrived, we first stopped, of course, at the Elton shop. My recommendation: all the t-shirts should say "Vegas" on them and the elton john shop needs to start selling the fancy pens found in other casinos, but here say "Elton John, Vegas" on them. I don't think there would be a person not walking around with an Elton John pen! In general, the prices are very fair for casino prices. The shop offers a wider range of sizes as well and merchandise that will be new to all fans. It is a must see, must shop store.

After checking out the casino, the shops, and mini-exhibits and so on, we dropped off our purchases at the car and made our way to the Colloseum itself. Forget about a camera. Don't even try it. You have to go through metal detectors and they ask you point blank - do you have a camera on you? I asked them, if i did, would it be ok? They said no that is why we are asking each person and double checking them. Unless you want to be hauled away to camera prison, forget about even trying to bring a camera into the Colloseum.

You've heard most of it before in the other review. The theatre is really nice and of course, red. The stage is much lower then at the huge venues. The accoustics were great and all in all, a very elegant theatre.

The show begins and Elton enters stage left. Unpretentiously I might add. The first song is "Bennie and the Jets" with the very cool neon letters ELTON. And the show just grows from there. This show is Elton's show. It's an expression of his life over the last four decades, his love of color, art and piazzas and it is risqué. Not the Moulin Rouge but still. And the videos are amazing and out of this world. Something that has to be seen. Although I found myself confused at times, I never said I understood art very well. All in all, the videos were great. If there is one bad thing to be said about the visuals is that they can at times take away from the fact that you are seeing the man and his band. The visuals are big and and capturing. You will find yourself engulfed by the visuals. But the visuals, in my opinion, are an expression of Elton's life, beliefs and love of color and art.

What I really want to tell those reading this is that do what is necessary. Get front row seats or very close to that. Why? Because at one point in the show they let people from the very front up on stage to dance right on stage at the piano. Can you believe that? We could have gotten onto the stage but forget about it. This jersey lady is just too frightened and I had to hear about it for the next 3 days how we could have been on stage with Elton John!

Confetti was falling from the ceiling as well as huge balloons. Remember the days when people used to bring a huge ball and the audience tossed it around? It was a great thing for audience participation and the overall level of excitement.

This was truly a memorable show. One not to be missed. If you are sitting on the fence about visiting Vegas, take a dive to the right side because this is a show not to be missed. And today's Vegas has everything needed to have a great time away: great restaurants, great entertainment, 24 hour spas, open all night eateries, movie theatres and for those that dare, drive through wedding chapels and of course, 24 hour Kinko's where access to a computer anytime of the day is no longer an issue.

The set list:

Bennie And The Jets

Philadelphia Freedom

Believe

Daniel

Rocket Man

I Guess That's Why They Call It The Blues

Tiny Dancer

Don't Let The Sun Go Down On Me

I Want Love

Candle In The Wind

Pinball Wizard

The Bitch Is Back

I'm Still Standing

Saturday Night's Alright (For Fighting)

Your Song
British phenom to perform with Elton at his Oscar Party
Wednesday, February 18 2004
16-year old phenom Joss Stone, whose debut album "The Soul Sessions" has taken the world by storm, will perform at the 12th Annual Elton John AIDS Foundation party to celebrate the 76th Academy Awards on Sunday, February 29, 2004.
With her sultry Aretha Franklin-like voice, Stone will entertain celebrity guests including Beck, Seal, Ozzy and Sharon Osbourne, Carmen Electra and Dave Navaro, Michelle Branch and Hilary Duff, among others. The gala celebration presented by In Style magazine and Bentley Motors, and co-hosted by BroadVoice, will take place at 665 North Robertson Boulevard in West Hollywood.

Joss Stone will entertain guests during the Oscar after-party with her unique brand of vintage soul. Her performance will culminate in a special duet with Sir Elton John. With music legends such as Lenny Kravitz and Lamont Dozier anxiously seeking a chance to collaborate with Stone, she will undoubtedly give Sir Elton John's guests a night to remember.

"Joss possesses the kind of voice that leaves you breathless after every song," says Sir Elton John. "Her expressive lyrics affect audiences worldwide, and I have no doubt that she will do the same for our guests on Oscar night."

Joss Stone will make her debut performance on "The Tonight Show with Jay Leno" on February 24, 2004.

Sir Elton John's annual Academy Awards viewing party is the largest fund-raiser on Oscar night, bringing together the biggest names in entertainment. For one remarkable evening, film and music's elite gather to support the Elton John AIDS Foundation. Last year, the event amassed $500,000 for the Foundation, which raises international awareness and resources for individuals affected with HIV/AIDS.



Elton's annual Oscar Party
Thursday, February 12 2004 at 13:57:17


Elton #3 earner in the UK
Wednesday, February 18 2004
The Rolling Stones top the list with a GBP 55.3m pay-day last year after a lucrative world tour and accompanying DVDs.
Sir Paul McCartney - last year's number one - was second with earnings of GBP 40m, followed by Sir Elton John with GBP 34m. Both amassed their fortunes thanks to successful tours in 2003.

Coldplay are fifth in the list after a year which saw them catapulted into the superstar league.

Heat bases its rich list on estimated earnings from record and DVD sales, tour revenue, merchandising, music publishing royalties and other income.

Top 10:

1 Rolling Stones (GBP 55.3m)
2 Sir Paul McCartney (GBP 40m)
3 Sir Elton John (GBP 34m)
4 Robbie Williams (GBP 30m)
5 Coldplay (GBP 23.5m)
6 Sting (GBP 25.1m)
7 Phil Collins (GBP 25.1m)
8 Fleetwood Mac (GBP 23.5m)
9 Iron Maiden (GBP 17.9m)
10 Dido (GBP 15.8 m)

Elton on "The View"
Wednesday, February 18 2004
An interview taped in Las Vegas including some shots from his "The Red Piano" show will air on February 20, 2004.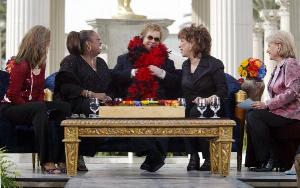 For co-hosts Barbara Walters, Meredith Vieira, Joy Behar, Star Jones and Elisabeth Hasselbeck, February 16, 2004 was all about unleashing their inner showgirl. They were poolside at Caesars Palace, doing the first two of five shows.

Nothing says Vegas like rhinestones, sequins, boas and bling bling, before noon. "You're way too `tarted up,' " Jones chided sidekick Vieira, who was wearing a flashy burgundy sequined mesh top.

Jones supplied the bling bling: jewel-encrusted sunglasses, an all-black outfit smothered in sequins and a huge new engagement ring that would impress even Joan Rivers.

She got engaged Sunday during the fourth quarter of the NBA All-Star Game in Los Angeles, she announced to everyone, including guest Elton John, who gave the audience of 500 a teaser of "The Red Piano" show by playing "Candle In The Wind" on his lacquered red Yamaha piano. That interview airs at 10 a.m. February 20, 2004, on KTNV-TV, Channel 13.

Elton said he was ecstatic about his new show, which opened February 13, 2004 at Caesars' 4,100-seat Colosseum.

"You have to come here and do something different or you're going to fall flat on your face," he said.

After completing the third and fourth shows this morning, "The View" crew flies to Los Angeles to appear on NBC's "The Tonight Show with Jay Leno."
"The Red Piano" - February 13/14/15, 2003
Tuesday, February 17 2004
Following is the set list for the first three "The Red Piano" shows - courtesy of Wayne Martin.
Stagehands enter, all dressed in white painters type outfits, remove black fabric cover over piano and plug in piano star-shaped riser. Pre-recorded music begins, during which the Band and eventually Elton enters. (Music is similar to the pre-recorded Bennie And The Jets musical intro from 1989 tour)
1) Bennie And The Jets
2) Philadelphia Freedom
David LaChapelle film plays on screen
3) Believe
Center Screen Director: Marcus Nipsel, Dancer: John Byrne, Director Of Photography: Peter Vermeer
4) Daniel
"Daniel": Keith Carhill, Director Of Photography: Michael Bernard
5) Rocket Man
"Young Elton John": Justin Timberlake, "Young Elton John Manager": Paul Reubens, Director Of Photography: Pierre Rouger
6) I Guess That's Why They Call It The Blues
Photographs: Mary Ellen Mark
7) Tiny Dancer
Elton Introduces The Band
8) Don't Let The Sun Go Down On Me
Inspired by Tennessee Williams "A Streetcar Named Desire", Dancer: John Byrne, Dancer: Janelle Abbott, Director Of Photography: Michael Bernard
9) I Want Love
Band Exits
10) Candle In The Wind (solo)
Actress: Susan Griffith, Actor: Simon Rex, "Girl Friday": Ilona Velez, Director Of Photography: Anghel Decca
Elton Exits - Pre-recorded music plays (Similar to Pinball Wizard Pre-recorded music intro to 1993 tour) as a David LaChapelle film begins to play. Stagehands appear and arrange props, as a large single pinball lands center stage and are immediately retracted back to the rafters. Dozens of white balloons with Elton's face (Thom Bell Sessions photo) are dropped from the ceiling. Band re-enter, followed by Elton, now in a new outfit.
11) Pinball Wizard
Vegas Unit Director: Luca Pizzeroni, Director Of Photography: Morgan Susser, Vegas Production Coordinator: Jolette Susser, Vegas Production Company: Bagans & Jaggers Productions, Vegas Strippers: Amber Dolman, Lisa Marie Parkens, Jessica Brown, Michelle Keres, Sarah Hansen, Stephanie Ashfield, Tika Monsarrat
12) The Bitch Is Back
"Vegas Show Girl": Pamela Anderson, Director of Photography: Morgan Susser, Visual Effects: Intro, London
13) I'm Still Standing
Visual Effects: Intro, London
14) Saturday Night's Alright For Fighting
Director Of Photography: Morgan Susser, Visual Effects: Intro, London
Elton and Band Exit - Stagehands appear taking down inflatable Legs, Bananas, Cherries, Lipstick, Airplane, Breasts, and replacing them with large red inflatable letters spread across the entire stage, spelling out the word "LOVE." Pre-recorded audio plays of actual Elton historical moments from throughout his career. IE: 1973 Hollywood Bowl, 1975 Elton John Week in LA, Dodgers Stadium, Central Park 1980, Knighthood, etc. -Elton Re-enters, Wearing A New Outfit
15) Your Song (solo)
Elton Exits - AIDA Orchestral Finale (pre-recorded music plays as production credits are run across the screen, as audience exits)
"The Red Piano" - 1 of 91
Saturday, February 14 2004
Elton John performed the premiere of his show "The Red Piano" at The Colosseum at Caesars Palace in Las Vegas, Nevada, February 13, 2004.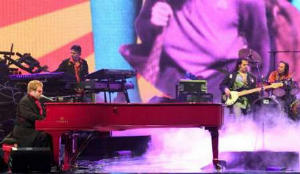 Elton has a contract with Caesars Palace to do 91 shows over the next three years, substituting for singer Celine Dion while she is on hiatus from her production 'A New Day...' at the 4,100-seat showroom.

No, he didn't fly. Didn't even try. Elton John stood on the stage and pointed up as a wax mannequin of his younger self dressed like a giant ice cream-sundae descended toward the bandstand.

"This is me. That was me," the 56-year-old British music legend said near the end of the opening night. Fans didn't miss Celine Dion-style aerialists or sequins on Sir Elton, who opted for basic black trimmed with various colors of sashes. Not when they had the giant pair of inflated female breasts to gaze at, mammaries which easily outsized the other inflatables of bananas, hot dogs and ice cream cones.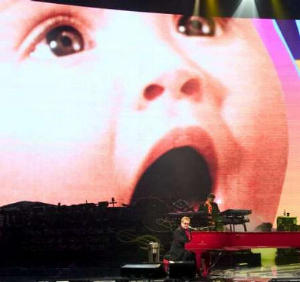 "The Red Piano" proved an understated name for a wild pop-art spectacle, designed by photographer David LaChappelle. It filled the stage with neon dollar signs and X-rated motel marquees, and its massive LED screen with a barrage of stylized video featuring everything from downtown Las Vegas to '70s porn stars in action.

Early in the show Elton thanked the Celin Dion, calling her "a real classy lady" and adding, "I know I'm playing her home so I hope I don't wreck it too much."

Fans who paid upward of $250 for tickets could pay another $40 for a lobby photo in front of one of the red Yamaha grands Elton played -- and sometimes vamped on top of, or they could take home a $20 alligator plush toy, Crocodile Rocky, with a little t-shirt bearing the words, "Elton Rocks Vegas."

No arguments there from the opening night audience, which included pop star Christina Aguilera and TV star Pamela Anderson, who sat a few seats apart in the third row. Anderson jumped up and clapped her arms over her head -- twice -- when video footage of her cavorting on a stripper pole filled the giant screen for "The Bitch is Back."

Aguilera opted to stay in her seat and chew on her glasses frames.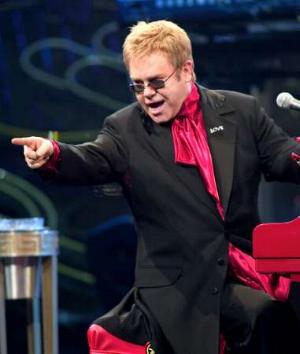 Friday's crowd also included Elton's partner, filmmaker David Furnish, Hollwyood couple Michael Douglas and Catherine Zeta-Jones, "My Big Fat Greek Wedding" star Nia Vardalos and comedian Kathy Griffin, who told an otherwise lonesome line of red-carpet camera crews that she would be seeing Bette Midler tonight.

"It doesn't get much better than that," Griffin said. "It's a whole gay Vegas package."

Perhaps, but the Elton John role in it celebrated the female fleshpot side of Sin City in risque video footage for favorites such as "Philadelphia Freedom" and "Pinball Wizard."

But Elton also strove for moments of poignancy with tunes such as "Daniel," "I Want Love" and "Believe."

Of the latter, he said, "We wanted to do it in Vegas because at this particular time, and with where we all stand in the world, love is an incredibly overlooked thing."



"The Red Piano" - setlist
Thursday, February 12 2004 at 17:36:16


"The Red Piano" - setlist
Friday, February 13 2004
Less than 48 hours before the first "The Red Piano" show at Ceasar's Palace in Las Vegas, the following details became known.
Justin Timberlake plays a young Elton in the "Rocket Man" video segment produced by David LaChappelle, the show's production designer and director.

As already reported earlier, "The Bitch Is Back" video features Pamela Anderson on a stripper pole.

The rumoured set list for "The Red Piano":


Believe

Daniel

Rocket Man

That's Why They Call It the Blues

I Want Love

Don't Let the Sun Go Down on Me

Candle in the Wind

Pinball Wizard

The Bitch is Back

I'm Still Standing

Saturday Night's Alright for Fighting
Ticket Prices: King's Ransom
Sunday, February 8 2004 at 11:39:36

"The Red Piano" - One week to go
Thursday, February 5 2004 at 06:46:30


Elton's annual Oscar Party
Thursday, February 12 2004
Someone at Elton John's annual Oscar night gala will drive home in a Bentley Continental GT, becoming the first person in the nation to own the coveted car.
The highest bidder at the February 29, 2004 fund-raiser will lay claim to the $150,000 luxury ride, named "The most beautiful car in the world" at the 2003 Design Awards in Italy.

Reaching a top speed of 198 mph, the Continental GT is considered the fastest 4-door coupe in the world.

The hard-to-get car should bring some additional bling-bling to the 12th annual Elton John AIDS Foundation Fundraiser. The event has become one of the premier post-Oscar parties in Hollywood, drawing entertainment's elite.

Scheduled to attend this year's party are Beck, Seal, Ozzy and Sharon Osbourne, Michelle Branch and Hilary Duff.

Last year's event raised more than $500,000 for the foundation, which provides awareness and funds for HIV/AIDS prevention and education programs. Proceeds from the Bentley auction will be donated to the nonprofit organization.
Uncool
Thursday, February 12 2004
Bernie Taupin has co-written the song "Uncool" with Courtney Love for her latest album "America's Sweethear".
Let this be your car
Thursday, February 12 2004
Jaguar, the world-renowned luxury sporting car maker, and Steinmetz, creators of the world's finest diamonds, are delighted to offer for auction by United International Pictures a unique Jaguar XK8 convertible, with all proceeds of the auction to benefit the Elton John Aids Foundation.
The closing date for the auction is March 1, 2004.

For more details, see http://www.uip.com/eltonjohnaidsfoundation/.
National Doodle Day in the UK
Monday, February 9 2004
Neurofibromatosis Association UK has teamed up with the Epilepsy Action Association and the national pharmacy chain, Lloydspharmacy to launch a brand new fundraising event – February 27, 2004 is National Doodle Day!
Doodle Day is set to be the next big fundraising event and one that we hope will rival the likes of Red Nose Day and even Children in Need. The event has already been supported by nearly 300 celebrities from the worlds of TV, radio, theatre, sport and the arts and we are delighted to announce that the Doodle Day patron for 2004 is Terry Wogan.

So, just what is National Doodle Day and how will it work?
The aim of Doodle Day is twofold. Most importantly to have fun! but also to raise vital funds to help people whose lives are affected by neurofibromatosis and epilepsy. Doodling is something everyone can do, most of us probably do a doodle everyday without realising it! And just look at some of the celebrities who have already doodled for us! To take part, all you will need to do is to buy a doodle card (they will cost £1), do your doodle and send it in to the address on the card.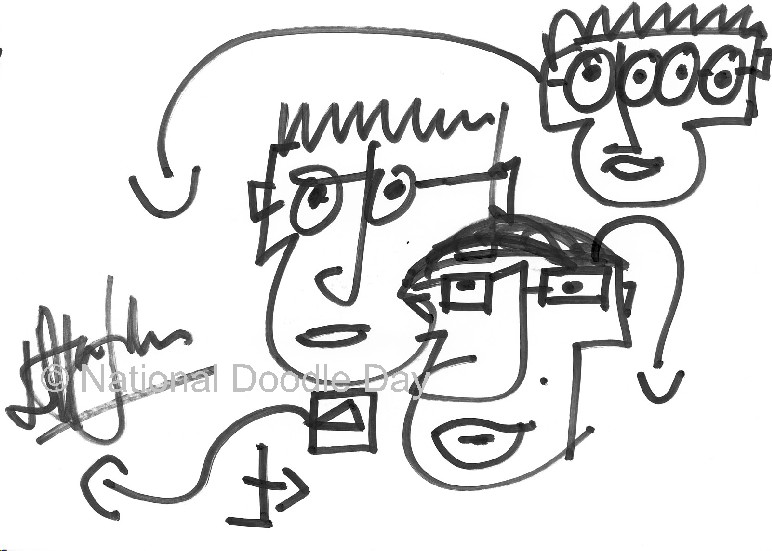 Some of the names already supporting Doodle Day:
Sir Elton John, The Tweenies, Sir Richard Branson, Basil Brush, Emma Bunton, Jo Cole, Chris Tarrant, Robbie Coltrane, Bruce Forsyth, Steven Gerard, Robson Greene, Alan Hansen, Stephen Hendrie, Glenda Jackson, Lorraine Kelly, Sarah Lancashire, Robert Lindsay, Tamzin Outhwaite, Sir Steve Redgrave, Jonathon Ross, Claudia Schiffer, Rick Stein, Alan Titchmarsh, Arsene Wenger, Duchess of York...

You will be able to get your Doodle Cards from Lloydspharmacy's throughout February 2004. They have over 1,350 stores across the UK, so simply pop into your nearest one in February and buy as many doodle cards as you need. If you don't know where your local Lloydspharmacy is, simply go to their pharmacy store locator and find it now!

After National Doodle Day on February 27, 2004, you will then have two weeks to send in your cards for your chance to win a place in the Doodle Day hall of fame! There will be prizes in a number of different categories and winners will receive a framed Doodle Day poster signed by our Doodle Day patron, Terry Wogan, and all the winning doodles will appear in an exhibition alongside those of your favourite celebrities – venue to be announced!

The next auction, of over 300 celebrity doodles, starts February 13, 2004 12.01pm UK Time at Ebay UK.
Ticket Prices: King's Ransom
Sunday, February 8 2004
Fans better start saving if they want to see their favorite acts in concert.
Earlier this month we asked you to contact us in regard of some research a journalist from Las Vegas was doing about ticket prices for Elton's upcoming "The Red Piano" shows at Ceasar's Palace. Following is the resulting article:

By MIKE WEATHERFORD - REVIEW-JOURNAL

For Las Vegan Robin Zimmerman, Elton John's multiyear commitment to Caesars Palace "feel(s) like I've been given the greatest gift on the planet."

"So far, I am going to all 18 that are currently on sale," she adds of the pop legend's concerts that begin Feb. 13 in Caesars' 4,000-seat Colosseum.

But Phil Friederichs, a fan in Germany, decided ticket prices ranging from $100 to $250 define "the moment when the last puzzle piece of rock 'n' roll is thrown in the trash.

"I could well afford it, but to me it's a clear sign that Elton wants to keep his fans out and play for a supposed Vegas elite."

Elitism is a charge that might be leveled more and more often at the Strip as the ticket prices for top shows continue to rise. Is the sky really the limit? Or can they push beyond the ozone layer? Las Vegas seems bound and determined to find out.

Consider these:

Luciano Pavarotti, Feb. 28 at Caesars Palace: Tickets range from $125 to $800.


Rod Stewart, March 20 at the Hard Rock Hotel: Tickets range from $303 to $753.


Sting, Feb. 15 at the Hard Rock Hotel: Tickets range from $155 to $505.


(Those who investigate the seating charts will find the most expensive tickets aren't limited to the first couple of rows.)

Add these one-time concerts to the top tier of ongoing shows that already have crossed the $100 barrier. Cirque du Soleil's "O" at Bellagio has a top ticket price of $150, and in March will change its seating configuration so that more seats go for the top price.

The increasing price of entertainment makes it fair to ask if Las Vegas is on its way to losing its image as Middle America's playground and is starting to become more of a rich person's folly.

"How do you sell Vegas when there's something like this going on? It's scary," says one tourism official who asked not to be named who deals in marketing Las Vegas' image. "We're about promoting the city and we don't want to run people away."

Die-hard Elton John fan Joanne Ohanesian happens to work for the Palm Springs Desert Resorts Convention and Visitors Authority in Rancho Mirage, Calif.

As a fan, she considers her April 4 ticket for John "a one-time splurge" funded by her income tax return. "I think it is a little out of line considering the number of shows he's got," she says of the singer's commitment to at least 75 concerts over three years.

But as one who also sees Las Vegas from the perspective of the tourism industry, she predicts the strategy will work. "I think they have enough of an international market (of customers for whom) money isn't an object."

Within U.S. shores, "people have options now when it comes to a gaming experience," notes Hard Rock Hotel President Kevin Kelley. With the explosion of tribal casinos in California and Arizona, "if we're pricing a lot of people out of the market, that's a very bad thing."

Then he laughs, admitting that sounds strange coming from the host of the Stewart and Sting concerts. But, Kelley also contends, "it's hard to look at one show and say we're gouging." For the past 76 shows at the Hard Rock, he says, the average ticket price is closer to $60.

"Just as casino resorts cater to different clientele, why shouldn't the entertainment offerings cater to a wide market as well?" agrees Michael Coldwell, spokesman for Caesars Entertainment. The high-dollar acts play the Colosseum, but sister-property Paris Las Vegas had outdoor poolside concerts by such acts as Uncle Kracker and Aimee Mann for $25 to $45 last summer.

Both Caesars and Hard Rock focus their publicity efforts on the "quality of the experience," as Kelley puts it, of seeing the big acts in a venue smaller than a sports arena. "It's a completely and totally unique experience," Kelley says of seeing arena stars in the 1,500-capacity venue the Joint. "That's why we compete against the (MGM) Grand Garden."

The issue of competition from tribal casinos could be flipped to use as an argument for why Las Vegas "has to rely less on gaming as its key product," Coldwell says. "Las Vegas needs to differentiate and take that next evolutionary step."

Some of the trend in pricing is unique to Las Vegas, while some of it reflects larger changes in the music industry.

Big shows mean big prices

As they used to say of prostitution, Las Vegas concerts have become a victimless crime. One person may decide a certain ticket is over the line, but another will snap it up as an ultimate expression of devotion to a performer.

"If you're a real Elton John fan, you will be in Las Vegas on Feb. 13," writes James Turano, a Chicago superfan who has been featured on VH-1.

"It is supply and demand," says Coldwell of Caesars. "When you look at the scarcity of Elton John tickets, it tells us there is a market out there."

Concert prices nationwide have escalated in recent years. Music downloading weakened CD sales, making tours more critical to performers. At the same time, promoters realized concert tickets had been undervalued since the industry's infancy in the early 1970s, when concert tours were more a vehicle to promote record sales.

The cost of ongoing shows such as "O" and "Mamma Mia!" ($71.50-$93.50) is more in tune with the rise of Broadway theater prices. In November, the New York Daily News reported top-priced Broadway tickets went up 54 percent in the past 10 years, from $65 to $100, and the cheapest ticket doubled, from $30 to $60.

The same comparison in Las Vegas isn't applicable at the cheaper end, because distinctions such as Broadway and off-Broadway aren't so uniform. But the highest ticket has gone from $72.85 for Siegfried & Roy -- by a long mile more expensive than other shows of the day -- during this week in 1994, to Celine Dion's $225.

But it doesn't stop with the ticket's face value. It's no longer street-corner scalpers, but ticket vendors advertising in the open and running sophisticated Web sites, who spur promoters to raise the official price.

Nevada Ticket Services, the largest of local agencies, asked as much as $450 for tonight's Dion show, and as much as $250 for tonight's performance of "O" on its Web site, www.lasvegastickets.com.

Last year, one of the Dion show producers, John Meglen, argued: "Why should a scalper who takes no risk make all that money? Why shouldn't Celine make that money? Why shouldn't the people putting up the money make that money?"

Clark County code makes ticket scalping a misdemeanor, and allows private enforcement by the operator or manager of the venue, and the business license issued to Nevada Ticket Services and other companies stipulates that they abide by the code.

For Nevada Ticket Services, the fine line of distinction is in separating the face value of the ticket from a courier or service fee reflecting "the costs involved in obtaining quality seating."

Under "Explanation of Charges," the Web site explains the face value of the tickets is charged by the company, while the fees are charged by a separate entity,TCS (Ticket Courier Service) Express Inc.

But even street scalping is hardly secretive.

"If you go to any event in the community, you will find people selling tickets," says Mark Tratos, an attorney who specializes in entertainment issues. "It seems part and parcel with the notion that you can buy anything in Las Vegas."

Someone is willing to pay

Las Vegas is the rare market with two arenas on the Strip (Mandalay Bay and MGM Grand), two more within a 3 1/2-mile radius (The Orleans Arena and Thomas & Mack Center) and two 4,000-plus-seat theaters (Caesars Palace and Aladdin).

For the stars' agents and managers, it's simple: If Bette Midler wants to play a sports arena in Reno, there is but one choice: Lawler Events Center, where tickets for her Feb. 20 concert are $55 to $155.

In Las Vegas, there are four arenas, and still more choices if the Aladdin, Caesars or Hard Rock Hotel want in the game: "The acts don't care (where they play). Their price is the same. We're going to step up to the plate and we're going to buy them," the Hard Rock's Kelley says.

Thus, tickets for Midler's Feb. 14 concert at the MGM Grand Garden are $75 to $250.

"It just depends on how greedy you want to be," says one casino official who is involved in concert decisions who asked not to be named. "Everyone sees this going on, so they want what everyone else gets: `Celine gets $225 so I should get $225.' "

Stewart's high expectations for Las Vegas are said to stem from a lucrative deal he scored at the Rio to perform a 1999 New Year's Eve millennium concert. Having turned the seven-figure corner, why would he agree to another Las Vegas concert for his old $300,000 guarantee?

"It's a major concern to us," says Glenn Medas, vice president of entertainment for Mandalay Resort Group, which has more often than not let the high-dollar shows go to the Colosseum or MGM.

"We try not to get into bidding wars. If it gets too crazy, we usually bow out gracefully," Medas says. "The ones who end up losing are the people who end up paying for the tickets."

It's all about image

Concerts and big shows do create ancillary spending on-property: Caesars Palace does not share in Dion's ticket revenue, but realizes at least an extra $150,000 every night she performs, the company has noted in previous earnings reports.

The rest of it comes down to image and what the high rollers leave behind in the casino. The first is hard to pin down in value, the second is closely guarded information.

To some degree, at least, event concerts have become analogous to a heavyweight fight: a debatable number of tickets are actually sold to the public; a considerable number are saved for high rollers, who then feel beholden to show their gratitude at the tables.

But if that's true, then why sell any tickets if the prices breed resentment? Why not keep the event off the radar screen, the way many conventions and corporate events do when they hire big names for private concerts?

As with the individual fans, it's about the casino's bragging rights.

Concerts such as Sting and Stewart are part of "an important marketing effort," the Hard Rock's Kelley says. "To break even with Rod, we'd have to charge double."

Publicity from TV shows such as "Access Hollywood" motivates the company to commit to losses that can't be justified as a players' event, he says. "We've shrunk down our casino blocks (of Stewart tickets)," he says. "It's going to take a very high-profile customer to qualify. ... We hope to have a good night (at the tables), but you can't go to the bank thinking the event will pay for itself."

Caesars' high-dollar concerts also might be seen as an aggressive push to re-establish a brand once synonymous with entertainment, but one that lost ground when the casino closed its original showroom in 2000.

"I think Caesars is in a re-branding mode," says Mandalay Bay's Medas, while Mandalay's image "doesn't rely solely on big-name entertainment."

Time will determine whether high-dollar entertainment eventually tarnishes Las Vegas' image or makes it all the sexier. The buyer can only beware, or at least settle into that triple-digit seat knowing that he may have paid a king's ransom, but no one held a gun to his head.



"The Red Piano" - One week to go
Thursday, February 5 2004 at 06:46:30



Elton John at Musicares 2004
Saturday, February 7 2004

Singers Elton John and Tony Bennett introduced singer Sting, at the National Academy of Recording Arts and Sciences annual Musicares 2004 Person of the Year dinner, at Sony Studios in Los Angeles, February 6, 2004.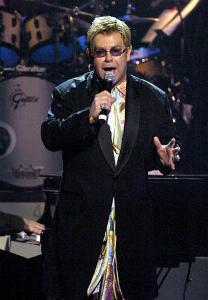 Sting was honored as person of the year at the dinner, which raises funds for the Musicares program to assists musicians with financial, medical and personal needs.

A sound stage at Sony Pictures studios was turned into a venue for the dinner and concert for 1,700 persons. Elton John sang "Mad About You."



Elton to attend MusiCares
Thursday, February 5 2004 at 06:47:54

John Mayer, Elton John, others to toast Sting at tribute event
Friday, December 12 2003 at 04:24:47


Elton John & Time Rice will do it again
Thursday, February 5 2004
Don Hahn, producer of Disney's computer animated SF film Gnomeo and Juliet, said that Elton John and Tim Rice have written songs for the upcoming animated movie.
Hahn added that Ewan McGregor remains attached to voice the lead character in the computer-animated tale about star-crossed love between ceramic gnomes.

"We have great songs by Elton John and Tim Rice," Hahn said in an interview. "Early on, Ewan McGregor was attached to it and still is, so I think as with any movie, it's about story and trying to get the story on its feet. So we're trying to keep our ducks in a row and do that first before we bring in the big guns."

Hahn added, "The writers have it, and they're trying to launch it to see if we can get a solid story before we take off and make it." The film has been in development for two years and is currently being written. Kate Winslet was reportedly attached to voice Juliet and Dame Judi Dench was involved as well.



R&B Star Cox confirmed for Broadway "Aida"
Sunday, January 25 2004 at 06:06:08


Elton to attend MusiCares
Thursday, February 5 2004
Elton said he plans to join Sting when the former Police leader is honored at a February 6, 2004 dinner with the 2004 MusiCares Person of the Year as part of Grammy week in Los Angeles.
MusiCares is a financial assistance program for musicians in need.

Elton will likely stick around for the tape-delayed music award broadcast on February 8, 2004 before heading to Vegas, where he will kick-off his "The Red Piano" show on February 13, 2004.



"The Red Piano" - One week to go
Thursday, February 5 2004 at 06:46:30


"The Red Piano" - One week to go
Thursday, February 5 2004
With just one weeks to go, plans for Elton John's headline gig at The Colosseum at Caesars Palace in Las Vages are in perfect harmony.
In fact, Elton himself was seen at the Caesars stage last week with show producer David LaChappelle before leaving for Los Angeles to attend the Golden Globes. "As the date gets closer, I am more and more excited," Elton said through his New York-based spokeswoman.

"Things are moving along exactly as planned," a Las Vegas source close to LaChappelle, a world-renowned fashion photographer and video producer, revealed. "We are in there during the day and then Celine comes in and does her thing at night. Elton's piano will be just left of center stage, facing house right. David is now editing video to be shown on the big screen in the back. And he's still experimenting with lights and some props, and working with Elton on a song list, his outfits and pacing for the whole thing."

"When the lights go down and the curtain goes up, Las Vegas is going to see one hell of a show," the source said. The opening-night performance on February 13, 2004 sold out quickly. Some individual tickets remain for weekend shows, and there is wider availability, but limited selection, for future dates.

Pamela Anderson revealed that she taped a video to be used as a backdrop during "The Bitch Is Back". She portrays a pole dancer.

Elton plays Vegas from February 13 through February 22, 2004, and again from March 23 to April 3, 2004. He will also play seven more Caesars shows this year and has 25 shows scheduled at Caesars in each of 2005 and 2006. See Tour News for more details.



Golden Globe Award 2004
Monday, January 26 2004 at 08:54:43

Las Vegas - confirmed
Tuesday, October 21 2003 at 18:04:14


Update: Elton John Remix CD (EP)
Wednesday, February 4 2004
UMe released a special EP--"Elton John: Remixed" on December 30, 2003.
This project features 5 rare or unreleased Elton John versions of classic Elton tracks. They are:



1. Are You Ready For Love ('79 Remix Radio Edit)

Originally recorded during the Thom Bell sessions in 1977, this track was remixed by Elton in 1979, and was a huge hit (#1) in the U.K. nearly 25 years later! The track features the definitive "Philly Sound" made popular by Thom Bell and Gamble & Huff in the 1970's (O'Jay's, Stylistics, Spinners, etc.) while still sounding very contemporary. Elton John will perform "Are You Ready For Love" on the "World Idol" finals on Fox, January 1, 2004. This track will also be featured on "Queer Eye For The Straight Guy" in 2004.


2. Are You Ready For Love (Ashley Beedle's Love & Protection Mono Edit)

A major U.K. club smash in 2003, this remix--which is very true to the original --makes its Worldwide CD debut on this package.

3. Candle In The Wind (Acoustic Mix) [Sound sample]

This remix, or more accurately "demix", makes only its second worldwide appearance here, the first being on the recently released "Goodbye Yellow Brick Road" Deluxe edition. Producer Greg Penny strips this classic Elton track down to its bare essentials utilizing only the original vocal and acoustic guitar.

4. Rocket Man ' 03 [Sound sample]

Previously available earlier in 2003 as an import only, this remix is a rebuild of this definitive Elton track utilizing the original, classic 1972 vocal. Elton John will perform "Rocket Man" on "Dick Clark' s New Years Rockin' Eve" on 12/31/03.

5. Song For Guy (Remix)

Initially appearing only on a 1993 bonus disc, this mix is a new take on an Elton fan favorite.
A Heart For Life
Wednesday, February 4 2004
For the charity campaign "A heart for Life" Elton John has painted a porcelain heart in order to support the fight against AIDS.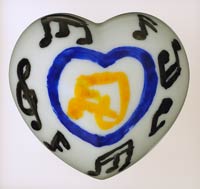 The gorgeous uniques will now be sold in a special charity auction for the benefit of Aids Life, the independent non-profit organisation which is realising Life Ball, one of Europe's biggest and most publicised charity events taking place annually in the Vienna City Hall.

Viennese porcelain is world-famous for its delicate and graceful shape. The traditional porcelain manufactory Augarten has provided Life Ball porcelain boxes in the shape of hearts hand-made from most subtle Viennese porcelain.

More than 30 well-known artists, fashion designer and celebrities, among them Hermann Nitsch, Gottfried Kumpf, Gianfranco Ferré, Vivienne Westwood and Elton John, - just to mention a few - have painted these hearts and thus transformed them into most precious uniques. Inside of the heart-shaped boxes the person who will get acceptance for his/her bid will find a small personal surprise gift from the artists.

The total funds raised in the auction will flow entirely into the funds of the organisation Aids Life for support of selected projects in the field of AIDS and HIV.

You can take a look on all the porcelain hearts that will be auctioned off on the homepage of Life Ball www.lifeball.org. Since February 2, 2004 the hearts are displayed in the showroom at the Palais Dorotheum in the centre of Vienna.

The pre-auction in the internet on www.OneTwoSold.at started on January 30, 2004, where you can post your bids for the hearts.

LIVE AUCTION AT DOROTHEUM, VIENNA

Thursday, 12 February 2004
Doors Open 7 pm / Auction 7.30 pm
Palais Dorotheum
Franz-Joseph-Saal
Dorotheergasse 17, A-1010 Vienna

For further information: www.dorotheum.com