ELTON JOHN NEWS ARCHIVE: December 2015
Elton John and band performed in Sydney on December 17, 2015
Thursday, December 31 2015
Photos from Elton's performance at Hordern Pavilion in Sydney on December 17, 2015 by Andrew Mccrae.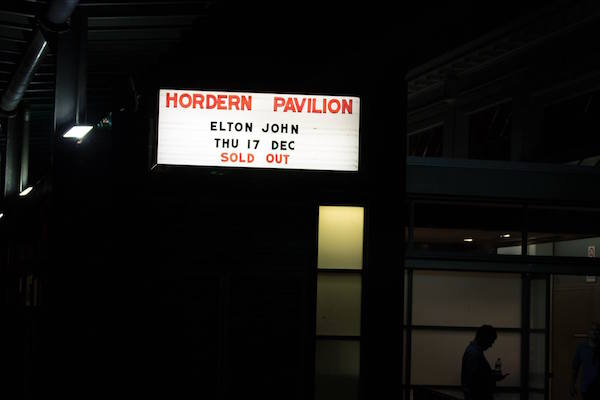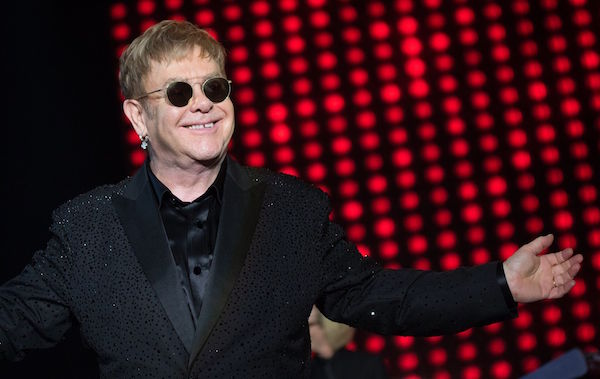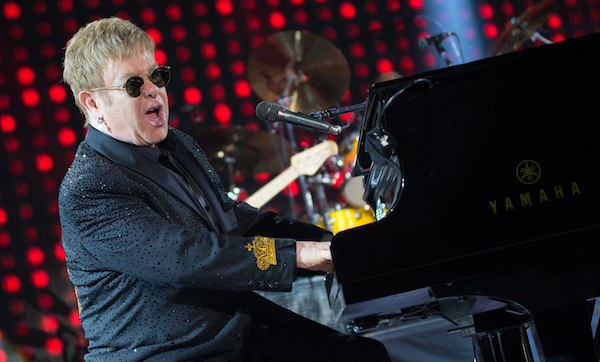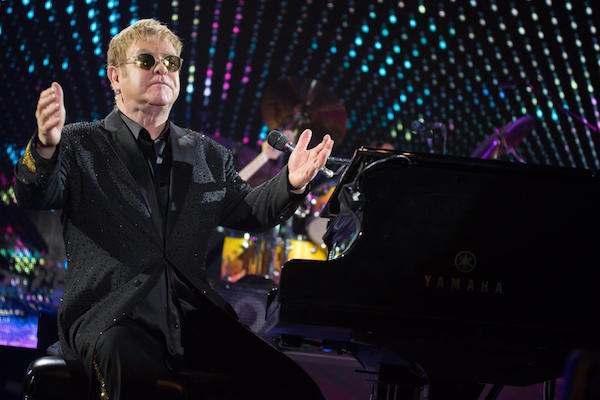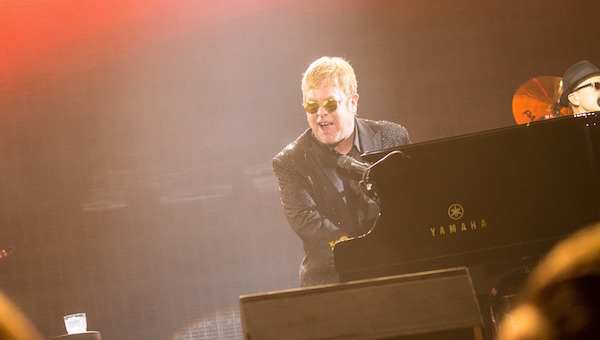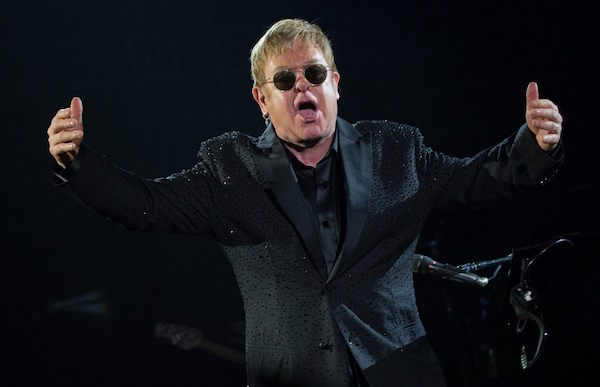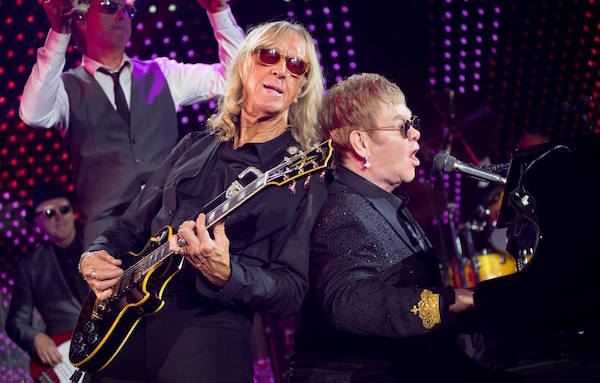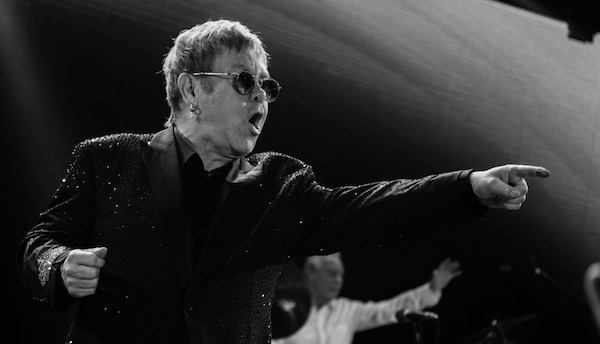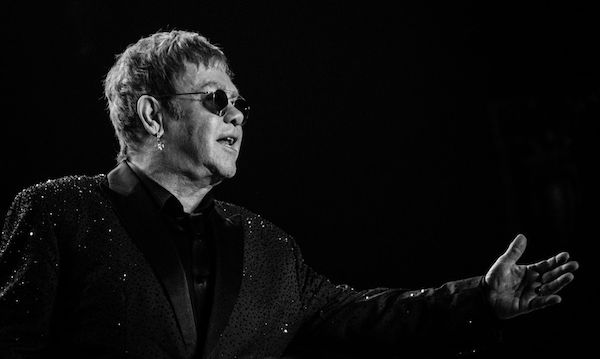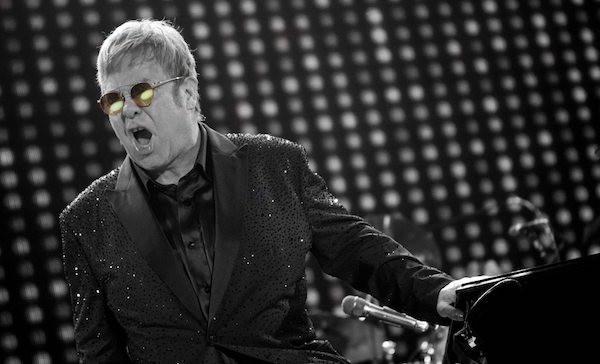 Snow Queen
Thursday, December 31 2015
Elton hit the slopes with his two sons – Zachary, 5, and Elijah, nearly 3 – on December 30, 2015.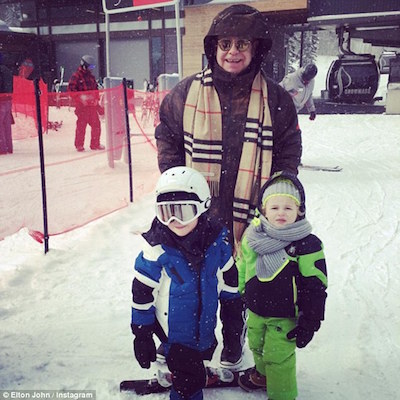 "Here in the snow with our beautiful boys. @davidfurnish #ShareTheLove," he Instagrammed the image.

Elton and David recently celebrated their elder son's birthday at the happiest place on earth. "Rounding the day off with the Christmas Parade down Main Street. Happy Birthday Zachary!! @davidfurnish @disneyland #ShareTheLove," the Crocodile Rock singer captioned the family photo.


Elton in a wheelchair
Saturday, December 26 2015 at 09:06:28

A trip to Disneyland
Thursday, December 24 2015 at 09:38:44


Elton in a wheelchair
Saturday, December 26 2015
Elton wasn't going to sacrifice a family day at Disneyland after suffering a mystery ankle injury.
He was happy for a minder to push him around the theme park in a wheelchair. Elton was joined by son Zachary, who was celebrating his fifth birthday on December 25, 2015. Husband David, son Elijah, two, bodyguards and a nanny also tagged along in Anaheim, California.

A source said: "He's hurt his ankle but is on the mend. He didn't want to spend the day walking round in case he aggravated it. He also didn't want to let down his sons who had been excited for the Disneyland trip for a long time."


A trip to Disneyland
Thursday, December 24 2015 at 09:38:44
A trip to Disneyland
Thursday, December 24 2015
Elton rode in a wheelchair with his son Zachary on his lap for a family outing at Disneyland in Anaheim on December 23, 2015.
H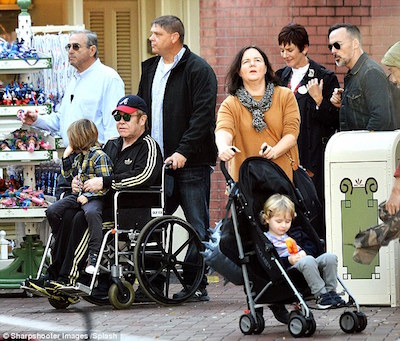 e was joined by an entourage including three bodyguards, husband David Furnish, a nanny, their son Elijah, and their very own Disney guide. Both of the iconic British belter's boys are celebrating birthdays in the next few weeks - Zach turns 5 on December 25, 2015, and Eli turns 2 on January 11, 2016.

But at the theme park, Elton seemed to lavish even more attention - as well as an ice lolly - on his eldest child. Elton dressed down in a black-and-yellow Adidas track suit with matching trainers. David wore a 'Canadian tuxedo' aka double denim over a green-striped jumper.

Zack and Eli met Darth Vader and rode Dumbo the Flying Elephant, Alice in Wonderland, and Pirates of the Caribbean. It's unclear what injury Elton sustained to confine him to a wheelchair, since he and David had no trouble walking out of Barneys New York in Beverly Hills 24 hours earlier.

December 21, 2015 not only marked the inseparable couple's first wedding anniversary, but also the 10th anniversary of their civil partnership.
Neil Patrick Harris gave Elton an amazing gingerbread house
Thursday, December 24 2015
It is no secret that Neil Patrick Harris and his husband David Burtka are fast friends with Elton John and David Furnish.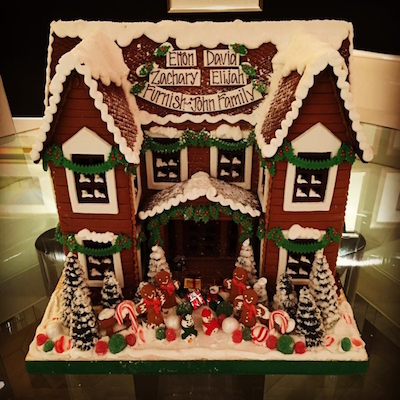 The two celebrity couples have been vacationing together for over five years and even sit together at major events. So it comes as no surprise when Burtka, Harris' professional chef husband, sent John's family a massive gingerbread house for Christmas.

"Wow!! This has to be the most beautiful gingerbread house I have ever seen. Thank-you Neil, David, Harper and Gideon!! Have a very Merry Christmas," wrote Elton along with the photo he posted to Instagram. The house featured the names of Elton, David (Furnish), and their sons, Zachary and Elijah, along with "Furnish-John Family." And truly, the baked treat looked perfect. Fans were blown away by Burtka's culinary skills. Comparing it to their own Christmas gingerbread houses, they said things like, "This makes ours look like a council flat," and, "This is just gorgeous!! Too beautiful to be eaten! Huge congrats to the chef @dbelicious."

Speaking of Christmas, also take a look at Neil Patrick Harris and Elton John's preparations for the holidays. It's safe to say that both families put in a great effort, which paid off really well.
Elton marks Wedding Anniversary with Gay Rights plea
Thursday, December 24 2015
Elton wed David Furnish on December 21, 2014 to embrace law changes in the U.K. which legalised gay marriage nearly a decade after the couple entered into a civil partnership in 2005.
Elton marked their first official wedding anniversary by posting a touching statement on Instagram.com, praising his longterm partner and insisting they are "happier than ever".

"Ten years ago... we were one of the first couples to embark on a Civil Partnership in the U.K... One year ago... we renewed our lifetime pledge to each other by getting legally married. Today, we are happier than ever - and want to thank fans and friends for supporting us with such open hearts and joyful spirit."

Elton goes on to declare the fight for equal rights is not over as there are many countries around the world where gay marriage has yet to be recognised.

"We also want to shine a light on all the less privileged and less advanced parts of the world, where LGBT people are criminalised and discriminated against. We pledge our support and will continue to help wherever we can," he adds.
Furnish under fire
Tuesday, December 22 2015
The yellow press in the UK has launched a battle against David's influence over Elton. Get your own idea ...
THE SUN (21 December 2015)

By Richard White

Elton John's control-freak hubby David Furnish now CEO of singer's company

Furnish has increasing influence over the singing superstar behind closed doors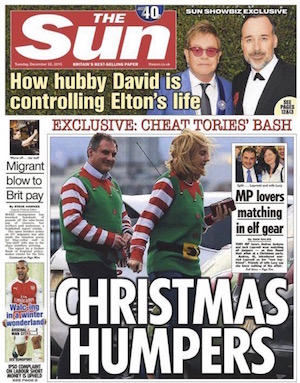 To the world outside, David Furnish is the rock Sir Elton John depends on. He is the superstar's lover, partner and co-father to their two young sons Zachary and Elijah and seen as the one constant in a notorious rock and roll lifestyle of wild excess.

But sources inside Sir Elton's inner circle now say Furnish, 53, is behaving like a control freak, exercising an increasing influence over the music legend.

The past 18 months have been a turbulent time for Elton, 68, who has parted company with a host of loyal employees including managers, publicist, lawyer and domestic staff. Record deals have been bungled as US music company executives despair of negotiations.

In the past year the singer has also been publicly humiliated by a series of PR gaffes. And friends and music insiders are now firmly pointing the finger at Furnish, who they blame for the disasters.

A source close to the couple said: "Elton is looking for a quiet life and has handed control of his life to David. But David is behaving like a control freak with little idea how to run Elton's financial or domestic affairs. He has fallen out with and fired some very experienced and loyal people and other domestic staff are suddenly being slapped with gagging orders so they can't talk about Elton or David.

"They have six houses all round the world. All those gardeners, chauffeurs, maids, cleaners. They are all gagged. Whenever you visit one of the houses you now have to put your phone in a basket when you go through the front door."

Friends say they fear Elton is becoming increasingly detached as Furnish takes ever greater control. One old friend, who has not seen him for months, said: "Furnish is in danger of turning Elton into some sort of eccentric Howard Hughes character. You just can't get near him. But Elton buys it all. He's 69 in March. He feels anything for the quiet life. He's got his kids and tours and just does it.

"But not everybody can be wrong. If David doesn't like friends or staff he severs them. Elton lives in a bubble so he's touring and he has all his backstage things. His staff know what to tell and not tell him but Furnish is his lifeline. Elton only ever hears Furnish's point of view."

In the past two years the pair have axed a string of key staff, some of whom have served them for decades. The source added: "Elton's had in the region of probably seven or eight managers since he and Furnish got together. Rod Stewart has had the same manager since the Seventies. David Bowie, the same."

The latest associate rumoured to be forced out is fiercely loyal and deeply private PR man Gary Farrow, who has resigned after 35 years service. In a statement, he simply cited "directional differences between Elton's new management and myself". Last night he refused to comment further.

Elton has suffered a string of public disasters, with insiders blaming Furnish for the damage to his image. When a Russian phone hoaxer pretending to be Vladimir Putin conned Elton into appearing on radio, Furnish compounded the disaster by immediately putting details of the "talks" on Instagram. A US source said: "With radio hoaxes so common, a smart move would have been to check that the phone call really was from Putin. Elton was humiliated."

Elton was also mocked earlier this year for being pictured with a Dolce & Gabbana bag hours after calling for a boycott of the brand. He was furious at the designers after they said kids born from IVF treatment, like his sons, were "synthetic". But a US music source said: "When the pictures broke on The Sun's website of Elton carrying a D&G bag there was pandemonium in the camp. At the time, PR Farrow suggested the photo was doctored but later confirmed it wasn't."

Elton also refused to attend his mother's 90th birthday, prolonging a rift which has lasted seven years. It is a family tragedy that devastated Sheila firmly blames firmly on Furnish, who has been in a relationship with her son since 1993. Speaking in March, she said her son had told her he "hated her" after she called Furnish "that f***ing thing you married".

At her 90th birthday celebrations, Sheila even ended up befriending an Elton John lookalike. A family source said: "This was the woman that bought him up and gave him private piano lessons. She ended up with a lookalike. It's very sad and all totally avoidable."

The influence of Canadian Furnish, a filmmaker, is also being felt in Elton's financial affairs. The Sun can reveal that in the past 12 months Sir Elton has quietly handed control of large chunks of his multi-million pound music and film businesses to Furnish. He was appointed a director of Rocket Stage Ltd, worth £1.3million, in January 2014 and he is already a director of Rocket Pictures Ltd, which is worth £4.7million

A business source said: "Effectively David Furnish has become CEO of Elton John Ltd. He is taking control of his companies, his tours, his whole career. Some very loyal people have been sacrificed as David has taken over." A US record company source said Furnish had also been meddling in Elton's music with unintentional consequences. She said: "There's a story. Furnish goes into Capitol Records in America — Elton's label.

"Steve Barnett, the CEO, kicks him out after 20 minutes and says to his team, 'I don't want Elton ... ' "The meeting ends abruptly and Elton's left without a label. That's why he moved to Island two months ago, another label in Universal that will have him. It's a terrible state of affairs for a major global artist.

"Elton is not set up financially like a Rod Stewart. Unlike him, he doesn't own all of the publishing rights to his music and so doesn't earn the same kind of royalty cheques. He has six houses to run all over the world with a huge team of staff. That all has to be paid for. It costs millions. He does the touring because that brings the money in."

Furnish's apparent power grab comes as he and Elton have developed markedly different lifestyles. The singer has turned his back on wild parties involving sex and drugs in favour of quiet time in his mansion with his sons. A US source said: "Elton is 68 years old. He has had a rough ride and not had the easiest of lives. He very much wants a quieter life and to devote as much time as possible to his sons.

"David is still a relatively young man who likes the company of younger people, so he is still up for the odd party." He is also a doting father.

But The Sun has revealed how he likes to party on yachts in the South of France with musclebound young men, as his Instagram and Facebook accounts reveal. And he has never publicly explained why one of those young men, Danny Williams, lives in a flat owned by Furnish.

In June we revealed how Furnish splashed out more than £330,000 for a two-bed luxury apartment in South London for his close friend. Furnish also helped decorate the flat, for which Danny pays him rent. Land registry records show it was bought in 2013, after the pair met on the gay clubbing scene. David then jetted model Danny on a string of lavish holidays, including first-class trips to Hawaii.

Leeds-born Danny is openly gay but has a 12-year-old son and ten-year-old daughter from a relationship with a woman. He now works as a personal trainer.

Elton and Furnish tied the knot on December 21, 2005, the same day civil partnerships for gays were legalised. They officially married last December after the law changed again. Today they split their time between two American homes, in Atlanta and Los Angeles, three in the UK and one in France.

While Elton is in the middle of a world tour and will be performing in LA in January, Furnish is still working as a film and stage producer, responsible for the 3D animation Gnomeo & Juliet and Billy Elliot The Musical. He also works one day a week on the Elton John Aids Foundation, which has raised nearly £134million.

In an interview with The Sun, Elton said he was hoping to scale back, leaving the way clear for David to take a much greater role. He said: "Yeah, a simplification of things. My life has got simpler over the last few years, I have a great steady relationship with David, I'm sober, I have a great career. I have my children now, which was much more of a calming influence on me than I ever thought it would be."

The Daily Mail (21 December 2015)

By Jemma Buckley

Discord as Elton splits from his old PR man and Furnish steps up: Colleague says he will no longer represent singer over 'directional differences' with his new management
Gary Farrow has announced he will no longer be able to represent the star

Elton's publicity is being handled by another big name, Murray Chalmers

Sources claim his husband David Furnish is keen to control star's image

Elton and Mr Farrow were close after working together for several decades
Elton John has dramatically parted company with a close colleague amid claims that his husband wants to take a greater role in the singer's affairs.

Long-term PR chief Gary Farrow has announced he will no longer be able to represent the star after a row over 'directional differences' with what was described as 'Elton's new management'. Sources close to Sir Elton claim David Furnish is increasingly keen to control the star's image and commercial activities. Elton's publicity is now being handled by another big name in the world of celebrity PR, Murray Chalmers.

He will work for the Rocket Entertainment Group – a music management company co-founded by Elton, which manages his own PR as well as other artists such as Ed Sheeran. Tellingly, when the Daily Mail contacted Mr Chalmers for a comment yesterday, a reply was sent from Mr Furnish, who is also CEO of Rocket. He said: 'With an artist of Elton's stature…it's extremely challenging to break through the diverse clutter of communications that now exist to make fans aware that he's still creating brilliant new music.

'Relying solely on traditional press just doesn't sell records these days. We moved our business over to Murray Chalmers as his talents embrace the multitude of ways in which music fans consume and get their information about music today.'

He did not address the claims he is increasingly keen to control Elton's commercial activities or that Mr Farrow left over concerns his influence would damage Elton's career.

THE OTHERS HE FELL OUT WITH

Gary Farrow, PR man. He left saying that 'directional differences' gave him 'little option'.

Sheila Farebrother, Elton's mother, who has not spoken to him in seven years. She says they fell out over former colleagues of his.

Bob Halley, his personal assistant who was fired after 30 years. Sir Elton launched an undisclosed legal battle against him in 2008.

John Reid, the ex-manager who guided Sir Elton's career in its early days. In 2000, Reid told a court their relationship ended over a leaked letter about Elton's spending.

He has also exchanged barbs with famous faces including Keith Richards, Madonna and Simon Cowell.

At glitzy charity events Mr Furnish is never far from Elton's side. He is also listed as the chairman of the Elton John Aids Foundation.

Before their sudden parting last week, Elton and Mr Farrow had worked together for several decades and had a close personal relationship. The singer had been best man at his wedding in 2002 and is godfather to his eldest daughter.

But now Mr Farrow has joined a list of friends, colleagues and associates Elton has fallen out with since his civil partnership to Mr Furnish in 2005.

Elton's own mother Sheila Farebrother, 90, who he has not spoken to in more than seven years, said earlier this year she believes Mr Furnish is attempting to take control of her son's life, at the expense of his old friends.

Mr Furnish and Elton, who have sons Zachary, four, and Elijah, two, were both said to be unimpressed with the work Mr Farrow had done for them. But the publicist insists he had been the one who resigned. A statement read: 'Contractual, media, and PR directional differences between Elton's new management and myself have proved wider than I ever imagined and leave me with little option but to leave.'


Elton splits with publicist Gary Farrow
Saturday, December 19 2015 at 06:23:14
Elton: I'd be a great record label boss
Monday, December 21 2015
Elton John believes he would be good at running a record label.
He has been churning out hit songs for almost five decades but revealed he has the talent to discover and "nurture" new artists too.
Asked what other role he would have liked in music, he shared: "I would be a great president of a record label company, but I wouldn't want to be, because you have to deal with bullshit and business. I would love to be an A&R man I know a lot about music and how to nurture talent.

"But it wouldn't pay me enough and I couldn't sit in clubs at 3 o'clock in the morning watching acts anymore."

Meanwhile, Elton thinks singers are being rushed into the spotlight nowadays before they have time to develop their songwriting. He told The Sunday Times: "A lot of artists are being pushed into recording too quickly instead of being nurtured. I know how frustrating it is... 'When's it going to happen, how much longer have we got to wait? But you know what? The wait was worth it. When I was ready, I was ready."
Elton final ever performance at Sydney Entertainment Centre before its demolition
Sunday, December 20 2015
Elton John has performed his 46th concert at the Sydney Entertainment Centre, in a special event that also marked the venue's final gig.
The beloved venue, which was built in 1983, will be demolished to make way for new apartments. The UK music legend was a fitting choice to close out its stellar live entertainment history, with Elton holding the record for the most individual performances delivered at the centre.

Last night's set list featured all the hits from the pianist, including 'Bennie and the Jets' and 'Candle In The Wind'. "I have played this place 46 times now, it's been part of my life," he told the rapturous crowd. I want to send it off with a big bang".
Elton splits with publicist Gary Farrow
Saturday, December 19 2015
Gary Farrow, managing director of The Corporation, has parted company with client Elton John, citing "directional differences" with the artist's new management.
Farrow, who is a publicist for celebrities including Ozzy Osbourne, Jimmy Carr and Michael McIntyre, issued a statement that reads: "After some serious thought, and with a heavy heart, I can no longer continue my professional duties as Elton John's personal PR. Contractual, media, and PR directional differences between Elton's new management and myself have proved wider than I ever imagined and leave me with little option but to leave. It simply remains for me to thank Elton for all the memorable experiences we have shared."

Farrow set up The Corporation in 2005 and is among the most high profile PRs in the entertainment industry.

Murray Chalmers PR will now handle publicity for the Rocket Entertainment Group - a music management company co-founded by Elton, which manages his own PR as well as other artists such as Ed Sheeran and Empire of the Sun.

Murray Chalmers said: "I'm really happy with the development of the company and with the new additions to our client roster. Working with Rocket Entertainment Group and Elton John is a big personal thrill for me, and confirms my view that we have one of the best artist rosters in the business. Onwards!"

MCPR's current clients include Coldplay, Kate Bush and The Stone Roses.
Elton playing One-Night-Only Fan Concert in L.A.
Thursday, December 17 2015
Before heading back to Las Vegas to continue his residency next year, Elton John will be playing an exclusive one-night-only concert for fan club members at The Wiltern in Los Angeles. The 90-minute show will take place on January 13, 2016.
Elton and his band will be premiering some new tracks from his upcoming album "Wonderful Crazy Night", as well as playing some old favorites.

Tickets for the One Wonderful Crazy Night concert will be available at EltonJohn.com for Rocket Club members. General admission tickets go on sale Saturday, December 19, 2015, at 9 am PT and will cost $200. There will also be a very limited amount of backstage packages available, priced at $800 each.
Astronaut Tim Peake tweets Elton from space
Thursday, December 17 2015
British astronaut Tim Peake has tweeted Elton from space, quoting his famous song "Rocket Man".
Major Peake arrived on the International Space Station (ISS) on December 15, 2015 to discover he had missed a good luck message from Elton while blasting into orbit on board the Soyuz rocket.

Elton had tweeted: "From one Rocket Man to another, good luck @astro_timpeake with your launch and mission! £Principia £spacerocks."

After spending his first full day in space, Major Peake responded: "Thank you! Sorry for late reply. Was already in spacecraft when your message came in (zero hour 9 am). £spacerocks"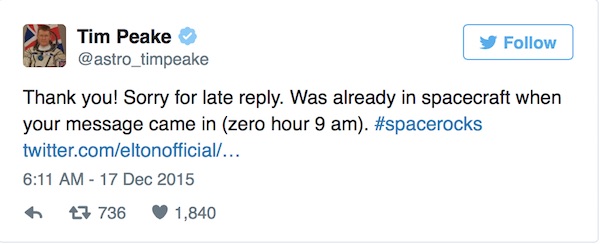 Major Peake will be separated from his wife Rebecca and sons Thomas, six, and Oliver, four, for nearly six months during the Principia mission. He is tasked with completing dozens of experiments for researchers on Earth as he orbits the planet at 28,800km per hour.


From Rocket Man to Rocket Man
Tuesday, December 15 2015 at 21:32:42


Elton John and band performed in Adelaide on December 15, 2015
Thursday, December 17 2015
Following is the complete set list of the Adelaide show on December 15, 2015.
Funeral for a Friend

Love Lies Bleeding

Benny And The Jets

Candle In the Wind

All The Girls Love Alice

Levon

Tiny Dancer

Believe

Daniel

Philadelphia Freedom

Goodbye Yellow Brick Road

Rocket Man

Hey Ahab

I Guess That's Why They Call it The Blues

The One

Your Song

Burn Down the Mission

Sad Songs (Say So Much)

Sorry Seems To Be The Hardest Word

Don't Let The Sun Go Down On Me

The Bitch Is Back

I'm Still Standing

Your Sister can't Twist But She Can Rock and Roll

Saturday Night's Alright For Fighting


Crocodile Rock
Elton: Secondary ticket prices 'disgraceful'
Wednesday, December 16 2015
Elton has branded secondary ticket sites "disgraceful" for selling tickets to his gigs at inflated prices.
The star urged fans not to pay over the odds, telling the BBC: "I'd rather have empty seats." Tickets for his 2016 UK tour are being sold for up to five times face value on some sites, even though the shows have yet to sell out.

"I think it's extortionate and I think it's disgraceful," he said, joining a growing campaign against ticket resale.
Rock band Coldplay recently signed an open letter to the government calling for action over the issue. They said fans were being "ripped off by touts" and warned of "industrial-scale abuse and insider exploitation" in the ticketing market.

Taking a more proactive step, Adele's management vetted people who pre-registered for her 2016 tour to eliminate potential touts. Working with ticketing website Songkick, they identified 18,000 suspect accounts and managed to keep 36,000 tickets off the secondary market, according to industry estimates.

Fans have also been warned they will need to present photo ID matching the name of the customer who originally bought the ticket to get into the shows. Elton, who has set a top ticket price of £89 for his 2016 tour, urged people not to empty their savings accounts to pay above face value on secondary sites. "The fact they're willing to pay that [amount] is fantastic. But I'd rather they'd save their money and not come."
From Rocket Man to Rocket Man
Tuesday, December 15 2015
Elton John made sure he wished another 'Rocket Man' good luck, British astronaut Tim Peake before he set off on his space mission on December 15, 2015.
The singer tweeted the astronaut just a few hours before launch, referencing his iconic 1970s track Rocket Man.

Elton wrote: "From one Rocket Man to another, good luck @astro_timpeake with your launch and mission! #Principia #spacerocks."



Brenda Lee: A gift from Elton
Tuesday, December 15 2015
Over the past six decades, music legend Brenda Lee has accumulated enough memorabilia to fill a warehouse. One of her prized possessions is a pair of sunglasses that Elton wore on stage and then gave to Lee.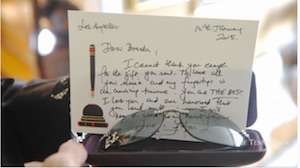 "I've been a big Elton John fan since I first met him in 1972," she explained. The feeling is mutual. Elton dedicated the song "Tiny Dancer" to Lee when he performed in Nashville in 2009. He also wrote to Lee asking about her music, and she sent him a flash drive full of her recordings. He responded by sending her a handwritten thank-you note that proclaimed, "You are THE BEST."

Lee, 71, has been singing professionally since childhood. Even with all of that experience behind her, she remains a student of other artists. She's gone to see acts such as John and The Pixies in concert and watched how they engaged with the crowd. "I've always been a fan of other entertainers," Lee says. "(I) always went to see the shows and looked and learned and savored what they did."

She also paid attention to how the artists who made music she admired presented themselves offstage. "Sometimes in life you build people up and then when you meet them, it's not quite exactly like you thought it was going to be. So when it is, it's really special."

For Lee, befriending Elton all those years was a gift she treasures to this day. The sunglasses, which feature Elton's monogram in Swarovski crystals, are just a bonus.
Elton releases video for new song "Wonderful Crazy Night"
Tuesday, December 15 2015
Elton has released a video of him performing new song "Wonderful Crazy Night" live in Las Vegas.
In it, Elton plays the jaunty title track of his upcoming album with his touring band. Elton has a residence in Vegas with his show The Million Dollar Piano, which runs at the Colosseum inside Caesars Palace.

The bluesy piano-driven pop number was co-written with the singer's long-term collaborator Bernie Taupin, who he has worked with for almost 50 years. The album version also features guitarist Davey Johnstone, who's played with Elton since 1971.



"Wonderful Crazy Night" is Elton's thirty-third album, set to be released on February 5, 2016. It was worked on by legendary producer and guitarist T Bone Burnett.
Elton ranks #15 in Forbes list
Monday, December 14 2015
Forbes magazine has released the list of the World's Highest-Paid Musicians Of 2015.
15. Elton John ($53.5 million)

Sticking with the approach that launched his success, the "Rocket Man" played 94 shows during our scoring period. Top tour dollars combined with a steady stream of royalties from his work as a solo artist and composer for theatrical productions like "The Lion King" to place him ahead of acts from Paul McCartney to Drake.

See Forbes' website for the full list.
West End's Billy Elliot to close in April 2016
Saturday, December 12 2015
The West End production of Billy Elliot - The Musical, which will celebrate its eleventh year at Victoria Palace Theatre in March of next year, has announced that it will end it's run at the venue on April 9, 2016, ahead of the theatre's refurbishment programme.
The London show has been seen by over 5.25 million people and nearly 11 million people worldwide, has grossed over $800 million worldwide and is the winner of over 80 theatre awards internationally.

Elton John said of the announcement: "I've said it before and it still remains true, Billy Elliot has been one of the most rewarding experiences of my entire life. The talented young performers who have become part of our Billy Elliot family have amazed me with their achievements from the very start. Each time I have revisited the show I have been moved by Billy's heart-warming story and his determination to achieve his dreams. I am so delighted that new audiences around the country will now have the opportunity to experience this extraordinary piece of work."

Billy Elliot - The Musical has book & lyrics by Lee Hall, with music by Elton John and is based on the film of the same name. It originally opened at the Victoria Palace Theatre on 12 May 2005, following previews from 31 March 2005 and has been seen by over 10.5 million people world wide. The show has been presented on Broadway, where it won the Tony Award for Best New Musical, as well as productions in Sydney, Melbourne, Chicago, Toronto, Seoul, the Netherlands and São Paulo in Brazil.

Tickets for the first UK and Ireland tour of Billy Elliot - The Musical went on sale in June this year. The tour is due to open at the Theatre Royal Plymouth in February 2016, when the touring and West End productions will be playing concurrently. Further dates for Sunderland, Bradford, Cardiff, Dublin, Edinburgh, Bristol, Manchester, Southampton and Birmingham have also been announced, and the tour is currently booking to May 2017.
Elton joins Ed Sheeran in Sydney
Thursday, December 10 2015
Elton John made an appearance at Ed Sheeran's Sydney show on December 9, 2015.
Elton joined Ed Sheeran for the Elton classic "Don't Go Breaking My Heart".



Ed Sheeran is one of the flock of Elton John's management company. The company, Rocket Music, also represents 2Cellos, Chris Difford of Squeeze, The Strypes and Australia's Empire of the Sun and PNAU.
Merry Christmas & a happy New Year 2016
Sunday, December 6 2015
We would like to wish you, your families and your loved ones a wonderful Christmas season and all the best for a successful New Year.
This typically is the time to look back to the Elton related highlights of the ending year and to start looking forward to what's ahead for the avid Elton fan in the New Year ...

By no means do we want to spoil your Christmas mood or hint that there haven't been any Elton highlights during the past twelve months - you know what they were anyway. But given the overall international situation - the terror, the wars, the climate chaos, the shooting rampages, the refugee crisis ... to just name a few - it becomes more and more difficult to remember those Elton peaks amidst all these tragedies.

The love to Elton and his music is what unites us and what gives us the strength to cope with the outgrowths of the crazy world we live in. But it should not make us ignore or suppress what's going on outside of our perfect Elton bubble.

Having said that, I am sure you all had another great Elton year with him continuing to tour the world. And we are all looking forward to "Wonderful Crazy Night" in early February 2016 and to even more concerts to follow.

So for us it is time again to thank you for your loyalty and support throughout the ending year. And we would like to wish you, your families and your loved ones a wonderful Christmas season and all the best for a successful New Year.

Your Hercules Team!
Elton talks Miley Cyrus, Young Thug & penning misery songs
Sunday, December 6 2015
Elton John's musical palette is as eclectic as his sartorial choices. Dive into YouTube and there are audio and visual clips of him sidelining for the likes of Kanye West, Eminem, Cher and Tina Turner.
In a recent interview with Noisey, the Rocket Man proves he isn't asleep on the younger artists currently breaking the Internet.

Speaking from Las Vegas -- the home of his current three-year residency -- Elton riffs about Miley Cyrus and Young Thug. "I mean who would have thought that [Miley would] do a record with The Flaming Lips?" Elton asks. "I love that kind of thing. That on the spur of the moment, out of leftfield stuff like that. And they're gonna perform the whole album nude. I'm booking my ticket now. It's like 'I wanna see this, this is interesting'."

He continued, "I mean it's fucking brilliant. It feels like something that would have happened during the 60s, something someone like Frank Zappa would have done. Good for Miley. ... Break the mold, girl."

In another instance, Elton gives Atlanta rapper Young Thug a glowing co-sign. "I love that record!," he says when asked if he's ever listened to Thugga. "I actually asked [Universal Music CEO] David Joseph about it. I heard a track on Beats 1 and I loved it so much. But he's got himself into trouble, hasn't he?"

Beyond his diverse playlists, the veteran singer-songwriter admitted that his pen gravitates to sad songs. "I love misery," he says. "Miserable songs are so great to write, I love writing them. It's much harder for me to write an uptempo song than a misery song. We're all afraid to admit that part of our soul: that we want to fall in love with someone and we hate having our heart broken. It's a very masculine thing to soldier on in the face of adversity. But at the end of the day it's like 'Oh, I'm human, I do want to be loved, I do want to get well, I do want a happy life.' And music has carried that through."

Elton -- who is rolling out his 33rd studio effort "Wonderful Crazy Night" on February 5, 2016 -- also discussed his hatred for censorship, writing music for "The Lion King" and why he doesn't consider himself a musical game-changer.

Read the full feature here.
Elton at Royal Variety Performance on ITV
Sunday, December 6 2015
The annual charity beanfeast, which took place on November 13, 2015 at the Royal Albert Hall, boasts a typically stellar line-up of musicians, comedians, acrobats and all-round entertainers.
When is it on TV?
The Royal Variety Performance is on ITV at 7.30pm on Tuesday December 8, 2015.

Will the Queen be there?
With the Queen and the Duke of Edinburgh otherwise engaged and the Duke of Cambridge presumably minding the kids, it falls to Prince Harry to keep the royal end up. Not that the Prince has much to fear, with the evening's host, Jack Whitehall, having reportedly anointed him "King of Banter" from the stage.

Who is performing?
Elton John, Kylie Minogue and One Direction (in their final public performance before the much-publicised hiatus) will be headlining the event, although a show-stealing performance from Jeff Lynne's resurrected ELO may be the one to watch.
Tony Bennett and Elton helped lift Lady Gaga's spirits
Friday, December 4 2015
The pop superstar initially scored a chart hit with her third studio project, but it received mixed reviews and suffered a large drop in sales after its first week of release, prompting some critics to deem the album a failure.
Gaga hit back at the criticism, insisting detractors simply failed to understand the concept of Artpop, and now she reveals her close pals Tony and Elton were among the only industry friends who offered her their support and encouragement.

"There is nobody more bada** than Tony Bennett," she tells Billboard magazine. "That man is a part of the history of music in a way that is extremely powerful, and he taught me to stay true to who I am, to not let anybody exploit me. He is responsible in so many ways for making me happy, and I can say the same for Elton. When the whole industry turned their back on me during Artpop, they were the ones who said, 'Hey, this is a blip. It's going to go away'."

Gaga bounced back from the career setback by recording the Grammy Award-winning "Cheek To Cheek" album with Tony Bennett, and she reveals her fans frequently thank her for introducing them to the veteran crooner. "On tour, I had people give me war medals and memorabilia just to thank me for exposing a younger generation to Tony Bennett because he changed their lives in such significant ways," she explains.

"I am an Italian-American girl from New York who won state jazz competitions in high school for my abilities. I was born to sing with Tony and for him to be like, 'Yes, you were'. And so was Ella (Fitzgerald) and so was Judy (Garland) - we could go on and on listing the amazing women he sang with. It's a party I'm thrilled to be invited to."

The star, who has been named Billboard's 2015 Woman of the Year, also insists she has no regrets about her road to fame: "Every up and down of my career was worth it - it has led me to epiphanies. We can't create without epiphanies."


Billboard Philanthropy Issue: Lady Gaga, Elton John & more
Thursday, October 15 2015 at 07:41:51

Elton backstage at Gaga/Bennett show
Tuesday, June 9 2015 at 07:54:59

Lady Gaga: Sir Elton John 'saved' me
Sunday, November 23 2014 at 11:44:55


Watch Elton play euphoric new song 'Looking Up'
Thursday, December 3 2015
Elton John previews his upcoming LP with a live version of lead single "Looking Up."
Elton John had pretty simple instructions for Bernie Taupin when he told the lyricist to begin writing songs for his upcoming album, Wonderful Crazy Night. "I just said that I even wanted the slow songs to be optimistic," Elton recently told Rolling Stone. "I wanted to make a happy record. 'Joyous' was the word I chose. Not happy, joyous. I said I want it to feel joyous from beginning to end, and even the slow songs should be joyous."

In October 2015, fans got their first taste of the album (out February 5, 2016) when Elton dropped the lead single, "Looking Up," and now he unveils a live rendition of the song taped that same month. Elton's longtime live band (featuring guitarist Davey Johnstone, bassist Matt Bissonette, keyboardist Kim Bullard, percussionist John Mahon and drummer Nigel Olsson) joins him here alongside percussionist Ray Cooper.



The song hasn't entered the set list of Sir Elton's live show at this point, though he did play it at the Royal Albert Hall last month as part of the Royal Variety Performance 2015. He plans to sprinkle in the new material when the tour hits Paris in February 2016. "We'll see how many album tracks we can squeeze into our set," Elton told RS. "It's difficult when you have a catalog and an audience expects to hear every song they know, but with these songs, I think they'll become staple Elton John songs."


Elton John interview in Rolling Stone
Friday, November 20 2015 at 00:27:40

Bernie Taupin interview in Rolling Stone
Wednesday, November 18 2015 at 22:12:38


Exclusive Elton interview with MSNBC
Tuesday, December 1 2015
To mark World AIDS Day – the day on which the world pauses to remember the millions of men and women who have lost their lives to AIDS-related illnesses – best-selling artist Sir Elton John spoke exclusively with MSNBC about his work as an activist, the stigma surrounding HIV/AIDS, and the role every person can play in ending the most devastating public health pandemic in history.
And he reveals the one thing he knows for sure: It all comes down to compassion.

In 1992, Elton founded the Elton John AIDS Foundation (EJAF), which rose to be one of the largest funders of HIV/AIDS programs in the world. In the past 23 years, EJAF has raised more than $349 million – crucial funds that have helped people across the globe obtain access to healthcare and influence the policies that affect the everyday lives of people living with HIV/AIDS.

At the close of last year, there were 36.9 million people living with HIV, according to UNAIDS. There were 2 million people who were newly infected with HIV in 2014, and 1.2 million who died as a result of an AIDS-related illness. The world now has the science to achieve zero AIDS-related deaths, and organizations like Elton's are leading the charge toward this ambitious global goal set by the United Nations.

While money helps wage the war, to quote from the title of his bestselling memoir, Elton recognizes that "love is the cure." Stigma remains the No. 1 driver of the global HIV/AIDS epidemic as it enters its 35th year.

Elton's pioneering role as an HIV/AIDS activist is rooted in compassion, which he learned from his dear friend Ryan White, whose very public diagnosis with AIDS changed the face of HIV in America. White was a hemophiliac who was diagnosed with AIDS at just 13 years old in the 1980s. He had been given a blood transfusion that was infected with HIV, and the fears generated by the stigma surrounding his illness led to his dismissal from school. White and his mother courageously fought for his right to an education, and his all-too-short life as activist planted a seed in Elton, which he details below for MSNBC.

MSNBC: Sir Elton, I know you had a special relationship with Ryan White. Was he the source of your inspiration to become an AIDS activist?

Elton: Ryan White changed the world, and he certainly changed me. Getting to know and love Ryan and his wonderful mother Jeanne has been one of the greatest blessings of my life. I first learned about Ryan, and how he and his family were basically being hounded out of their community in Kokomo, Indiana, by reading about him in a magazine. I was enraged by the way this poor family was being treated by their own neighbors during what had to be one of the most difficult and painful periods of their lives and became determined to help the White family any way I could. We very quickly became friends, and I helped them move to a more accepting community in Cicero, IN. Then in April of 1990, I spent the last week of Ryan's life with him in an Indianapolis hospital, and I joined Phil Donahue and Howie Long as pall bearers at his funeral.

At that time, my life was a complete mess. I was rich and famous, but I was also a self-obsessed drug addict. I looked at this extraordinary family, caught up in the terrible tragedy of losing this wonderful, courageous young man, and yet they were still able to forgive the hatred of others and focus their energies on trying to make things better for people living with HIV/AIDS. Then I looked at myself, and I knew something had to change. And it did. I got sober. And once I got sober, I knew I had to do something to honor my friend Ryan's legacy and to give new purpose to my life. That something turned out to be the Elton John AIDS Foundation.

MSNBC: In May, you told Congress that stigma remains the biggest barrier to ending the AIDS epidemic. Thirty-five years after the outbreak, why is this still true?

Elton: HIV/AIDS remains highly stigmatized because it is sexually transmitted. Every society attaches its own particular taboos or exerts a tremendous amount of judgment surrounding sexual practices. There's a prevailing attitude that a person who acquires a disease through sex "deserves their fate" or "was asking for it." Some people also think it's OK to discriminate against people who use drugs, people who engage in sex work, and LGBT people. Of course, such thinking is the height of hypocrisy, not to mention inhumane, but it makes it very easy to write off entire populations as being unworthy of our help and concern. As a result, HIV/AIDS remains a disease of the marginalized, the poor, and the dispossessed.

MSNBC: The use of drugs, especially injection drugs, fuels the epidemic. Why do you think there is so much hypocrisy and stigma related to drug use, and how can this be addressed to improve the HIV response?

Elton: As a society, we have attached a tremendous amount of stigma to drug use and addiction because it is regarded as a behavioral problem that only people who are weak and lack self-control engage in. Outside of the medical and drug rehabilitation communities, there is very little understanding among the general public about the biological realities of addiction, and little empathy for the people who struggle with it every day. But as I can very well attest from personal experience, addiction is something that can happen to anyone, and every single person living with chemical dependency deserves help, and to be treated with respect, kindness, compassion, and dignity.

At a governmental level, this means admitting that the "War on Drugs" has failed spectacularly, and that we have to stop warehousing drug addicts in prisons. It means fully funding drug rehabilitation programs so that every addict who makes the difficult and admirable decision to finally seek help can actually receive it. And it means fully funding needle exchange and syringe services programs, so that people who inject drugs can prevent injection-related HIV transmission and stay healthy until they are able to take that important step into rehabilitation.

Let me be perfectly blunt, and unapologetically so: If we demonstrated the same compassion for gay men, poor people, minorities, sex workers, prisoners, and yes, drug users, that we do for other, less marginalized people, there would be no more AIDS in America. So the solution to the twin problems of addiction and AIDS begins with the difficult task of educating people and changing hearts and minds. We must find a way to see the humanity in every person, to meet them and engage with them in the midst of their difficult circumstances, and help them find a path back to sobriety and health.

MSNBC: Among the groups most affected by HIV in America – gay, bisexual, and other men who have sex with men – the majority of new infections are occurring among the youngest age group – and they're rising. What is your message to young LGBT people? Does self-esteem play a role in this?

Elton: My heart truly goes out to LGBTQ youth all around the world. Being a teenager is hard enough – adjusting to a growing and changing body, navigating new emotions and feelings, trying to figure out how you fit into the world and into society – it's just an incredibly difficult rite of passage. LGBTQ youth have the added challenges of realizing that they are different from their peers, dealing with all of the negative messages from bigots and religious zealots, fearing the possibility of rejection by parents, family, friends, as well as the very real possibility that they may experience physical violence because of who they are and who they love. Is it any wonder that the HIV rates – not to mention the suicide rates – among LGBTQ teens are so much higher than their straight counterparts?

To all LGBTQ youth, let me just say that you are LOVED. I love every single one of you. You are VALUED. You have so much potential and so many gifts to offer the world. Please, PLEASE know that there are other people in the world who are just like you and who will love you just as you are. Seek out those people, make friends, become part of the greater LGBTQ community. And most importantly, find an LGBTQ health organization that can provide reputable information about your health and safer sex practices and connect you to the medical, mental health, and social services you need. You are all so special, and the world needs you to stay safe, stay healthy, and help contribute to a more just and peaceful future.

MSNBC: What role does compassion play in ending the AIDS epidemic?

Elton: Compassion is EVERYTHING! Money is absolutely necessary to ending AIDS, make no mistake! We do need funding to accomplish our ultimate goal. But as I've already said – we have the money and we have the means right now to end AIDS. What we lack is the compassion and human decency to do the right thing and make that money and those programs and those treatments available to every person around the world who needs it.

We need compassion, and we need greater understanding, more than anything else, to end this epidemic. HIV/AIDS is a disease that not only attacks the human immune system; it also attacks the human social system. It infects our civic institutions with fear, our communities with hate, our corporations with greed, our churches and synagogues and mosques with loathing. There is no medicine, no creation of science that will inoculate us from these social afflictions. And that is why the cure for AIDS is a matter of educating minds and changing hearts. It all comes down to compassion.

MSNBC: Do you believe you will see the end of AIDS or a cure within your lifetime? For the first time, thought leaders say we have the tools, but do we have the political will?

Elton: I do fervently believe that medical science will find a cure and that we will, at the very least, be well on our way to ending AIDS in my lifetime. Right now, even without finding a cure or a vaccine, we already have the tools and tactics that have been proven by research and science to halt the spread of the virus: condoms, health education, and needle exchange programs. Yet conservative religious and political leaders continue to stand in the way of fully implementing programs we know would save millions of lives. We already have advanced treatments that not only allow people with HIV to live long and healthy lives but also prevent the spread of the disease. Yet millions of people around the world don't have access to these lifesaving medicines. The reality is that until we give everybody the same access to treatment and prevention, AIDS will never, ever go away. It's that simple.

MSNBC: What would you encourage the average global citizen to do to help end the epidemic?

Elton: Governments and institutions aren't nameless, faceless monoliths. They start with individuals, and they are guided by individuals. Whether they do good or ill is up to individual choice. And while the AIDS epidemic is bigger than any one of us, the cure requires something from each of us.

It requires us to talk with our partners, to get tested and practice safe sex, and we must encourage friends and loved ones to do the same. It requires us to stand up for people living with HIV/AIDS and people most at risk of becoming infected. It requires us to educate ourselves about what governments and religious organizations are doing – and NOT doing – in our names. It requires us to be as generous as we possibly can in supporting nonprofit organizations working so hard to end this disease. It requires us to get out and VOTE for politicians who will actually serve our needs and hold them to their campaign promises. It requires us to embrace all people who need and deserve our compassion.

In other words, ending AIDS requires love, and lots of it. And the best way to engender love is to foster dialogue. We can only love one another if we understand one another. When AIDS is an uncomfortable and untouchable subject, the disease spreads. But when we bring it to the fore, when we aren't afraid to confront it, information spreads. Compassion spreads. The cure spreads.

MSNBC: What else is on your mind that you would like to draw attention to this World AIDS Day 2015?

Elton: This year, World AIDS Day – Dec. 1 – just so happens to coincide with Giving Tuesday, a global day in which charities, families, businesses, community centers, and students around the world come together for one common purpose: to celebrate generosity and to give. So in the spirit of Giving Tuesday and World AIDS Day, I encourage everyone to support the Elton John AIDS Foundation by visiting EJAF.org/donate, and give as generously as you can.