Zachary Jackson Levon Furnish-John, who was born on Christmas Day, will be treated to the best that money can buy. Elton's staff were spotted picking up the MamaRoo rocker, as well as boxes of top of the range toys and clothes, in Los Angeles, where the baby is staying.

The rocking chair has five motion settings such as a car ride and a swing, a hanging mobile featuring designs inspired by famous paintings and an iPod dock. One customer told The Sun: "A team of men came in and practically cleared the store. Some presents had already been boxed up so they must have been ordered in advance. Huge packages were taken by the men and two of the store staff. Elton must have spent thousands."



Zachary Jackson Levon Furnish-John was born by surrogate mother on Christmas Day. Despite speculation that David, 48, provided the sperm for the surrogacy because he is the younger man, it is 63-year-old Elton who has been recorded as the boy's father at the local register office in Los Angeles. David is listed as the mother in computer documents, an official told the Daily Mail.

Initially – normally on computer documentation – a 'father' and 'mother' are listed. However, in 'gay dad' surrogacy cases, when the actual certificate is produced, the couple can apply to have it re-issued as Parent 1 and Parent 2.

David on December 29, 2010 told of his joy at becoming a parent. He said: "For many years we have talked about fulfilling one of our greatest wishes by becoming parents. And now this wish has been granted to us, we feel so blessed and lucky." It was suggested last night that the birth may have cost the celebrity couple up to $1million (£646,000) in fees and payments to the clinic and women involved.

Waiting nervously at the hospital with them were David's parents Jack and Gladys, from Scarborough in Canada. David's younger brother Peter said: "We found out about Zachary on Christmas Day, when we got a phone call with the fantastic news and that the delivery went very well. My parents were in Los Angeles, so they were there to see the little guy."

Elton becomes father of Christmas baby
Tuesday, December 28 2010 at 07:36:30

New York Post mocks David Furnish as Elton's 'wife'
Thursday, December 30 2010

If the BBC's decision to ask a fundamentalist Christian who advocates the execution of gays to comment on Elton John and his civil partner David Furnish celebrating the birth of their son was not bad enough, the Murdoch owned New York Post has published its take on the story with a derogatory headline.

An article on the birth, penned by David K. Li, is titiled 'Elton & wife proud dads'. The article continues, "Goodbye yellow brick road, hello parenthood – Elton John is a dad! "The legendary hit maker and partner David Furnish announced they're first-time fathers, following the Christmas-Day birth of their adopted son."

The article has offended gay rights activists and feminists because of the derogatory use of the word "wife", says PinkNews, Europe's largest gay news service.



The BBC: Where commentators can totally support murdering gay people
Thursday, December 30 2010 at 06:47:14


The BBC: Where commentators can totally support murdering gay people
Thursday, December 30 2010
Not too long ago, the British Broadcasting Corporation (BBC) stepped in it something big, when they actually polled their audience on the question of whether it was OK to execute gay people.
The media powerhouse defended the poll at first, saying that they were trying to reach out to their African audience, where several pieces of legislation (most notably in Uganda) are up for consideration that would criminalize homosexuality with the death penalty or life imprisonment. Only after significant online pressure did the BBC relent and say that the poll was perhaps a bit tactless.

Fast forward to December 2010, and it looks like the BBC might not have learned from its mistakes. Because in a story on December 28, 2010 on their flagship news show, News at Six, the BBC ran a segment on the news that Elton John and David Furnish became gay daddies. And who did they turn to for an interview? Stephen Green from an organization known as Christian Voice.

Green has previously said that gay people deserve the death penalty, that gay celebrities are wicked and should be publicly hung, and that LGBT people are akin to mass murderers. Sound like the type of person who ought to be legitimized by the BBC?

Not according to Pink News, which broke the story on December 28, 2010 and has a follow-up on December 29, 2010, saying that the BBC is being all mimsy-mumsy and coy about their decision to bring on a commentator like Green who thinks gay people deserve death penalties.

Here's a bit of history on Green. During a segment on Uganda's Anti-Homosexuality Bill, which would criminalize homosexuality with the death penalty or life imprisonment, Green said that Ugandan legislators were moral for taking up such a bill. "The contrast between our politicians and those of Uganda could not be more stark. A Parliamentarian in Uganda is trying to protect his nation's children. The House of Commons of the United Kingdom is trying to corrupt ours. Which country is the more civilized, I wonder, in the eyes of Almighty God?" Green said.

And when rugby star Gareth Thomas came out of the closet, Green said that he was wicked and could lead children astray. "Gareth Thomas is urging such children to identify themselves as homosexual, and to inhibit their normal development into heterosexuality. That is a wicked thing to do to impressionable young people," Green said. "The Lord Jesus Christ spoke about millstones being tied around the necks of those who lead children astray."

And to complete the trifecta of homophobia, Green also once said that LGBT people are nothing short of mass murderers, comparing one openly gay UK celebrity to serial killer Jeffrey Dahmer.

So why did the BBC choose to give this man prime air time on their flagship show, on a story about Elton John and David Furnish having a baby? Good question. That would kind of be like Katie Couric turning to Fred Phelps to see what his thoughts were on The Kids Are All Right getting several Golden Globe nominations. Chances are the BBC just fell victim to the rather ridiculous notion that "mainstream media" needs to give two sides to the debate over LGBT issues. But as Dan Savage so brutally and honestly told CNN in November 2010, that's a flawed philosophy to have. "There are no 'two sides' to the issue of LGBT rights. Right now one side is really using dehumanizing rhetoric. The Southern Poverty Law Center labels these groups as hate groups and yet the leaders of these groups, people like Tony Perkins, are welcomed onto networks like CNN to espouse hate directed at gays and lesbians. And similarly hateful people who are targeting Jews or people of color or anyone else would not be welcome to spew their bile on CNN," Savage told CNN.

And he's right. When the 'other side' is saying that it's moral to execute gay people, or criminalize them and lock them up, they cease being a valid 'other side.' And that's a message the BBC should hear loud and clear from folks. Send the BBC a message that members of extreme hate groups don't belong on their airwaves. That's not providing 'fair and balanced' coverage. Rather, it's just giving a soapbox to someone with a violent, dehumanizing, and dangerous agenda.



Two mothers, two fathers
Wednesday, December 29 2010 at 19:11:26

Top psychologist salutes Elton on the way he handled baby news
Wednesday, December 29 2010 at 06:58:37

Elton becomes father of Christmas baby
Tuesday, December 28 2010 at 07:36:30


Two mothers, two fathers
Wednesday, December 29 2010
The California-based clinic used by Elton and David proclaimed the happy news of their involvement in the birth of the singer's son Zachary, on its website.
The Centre For Surrogate Parenting in Encino which helped the couple realise their wish to become parents said in a statement: "CSP is proud to have helped David Furnish and Elton John become the proud parents of a baby boy on Christmas Day."

Joanne Bubrick, programme administrator, said: "I can confirm that Elton John and David Furnish worked with the Centre for Surrogate Parenting and it was a lovely, beautiful surrogacy journey for all parties involved." Elton and David fulfilled their dream of having a child when their son Zachary Jackson Levon Furnish-John was born in Los Angeles on Christmas Day, weighing 7lb 15oz.

He was born to an unidentified surrogate mother who, it emerged last night, was not his biological mother but had carried the baby after being implanted with a donor egg from another mystery woman. The complicated arrangement carried out by the Encino, California-based Center For Surrogate Parenting Inc - a favourite with Hollywood stars - means that little Zachary effectively has two fathers and two mothers.

The centre previously arranged for Frasier actor Kelsey Grammer and his ex-wife Camille to have two children by the same surrogate mother - their daughter Mason Olivia, in 2001 and son, Jude Gordon, in 2004. And actress Angela Bassett and husband Courtney Vance became parents of twins, a boy and a girl, who were born through a surrogate in January 2006. Days Of Our Lives soap star Deidre Hall and former newsreader Joan Lunden also used the centre's services to become parents. Elton and David meanwhile successfully kept Zachary a secret from the world until three days after his birth.

They had previously been turned down for adoption because of Elton's age. And the former drug addict recently said it would not be 'fair' on a child because of his advancing years and the amount of travelling he did. He is due to begin a gruelling worldwide tour next month. Thanks to California's surrogacy-friendly laws, Elton and David are likely to have become Zachary's lawful parents straight away.

But the birth raises a number of questions. Nothing is known about the surrogate mother, her background, religion or marital status, and whether she has any rights over the child. The same applies to his biological mother, the woman who donated an egg for the process known as 'gestational surrogacy'. Another unknown is which man is the baby's true father – if either of them.

No matter how puzzling his parentage, Zachary is likely to have A-list stars as his godparents. Elton is godfather to David and Victoria Beckham's son Brooklyn, 11, and last night Mrs Beckham said: "David and I are absolutely thrilled for Elton and David. They have so much love to give and will be wonderful parents."

Elizabeth Hurley, 45, is also lined up as a potential godmother. The actress used the singer's country estate as a bolt-hole after the arrival of her son Damian, now eight, and made Sir Elton the boy's godfather as a thank-you. A spokesman for Elton said the proud fathers were still in LA. In a statement, the couple said: "We are overwhelmed with happiness and joy at this very special moment. Zachary is healthy and doing really well, and we are very proud and happy parents."

The identity of the surrogate mother is a closely guarded secret. But unlike elsewhere in the world, it is not illegal in California for a multi-millionaire such as Elton to pay a significant sum of money to buy a baby. If she was paid, a surrogate mother could in theory have become very rich after successfully delivering Zachary. It is likely she would have signed a strict confidentiality agreement never to speak about the deal.

Nor has it been announced which, if either, of the men is the biological father. However last night friends of the couple speculated that David was the true father. NHS experts recommend sperm donors should be under 40, because evidence suggest genetic abnormalities are more common in older fathers. If they had followed such advice, it is more likely that David's sperm was used in the conception.

Elton and David have opted for traditional names for their son. Zachary is of Hebrew origin, and means 'The Lord recalled', while Jackson is of Old English origin and simply means 'Son of Jack'. The name Levon is the title of a track on Sir Elton's 1971 album Madman Across The Water, which contains the line: "He was born a pauper to a pawn on a Christmas day." Zachary is the first child for both men. The couple made their surprise announcement of his arrival to American magazine Us, adding that out of respect for the surrogate mother's privacy they would not disclose any further information.

When his long-term keyboardist, Guy Babylon, died of a heart attack aged 52 in September last year, Elton said: "What better opportunity to replace someone I lost than to replace him with someone I can give a future to?" But he and Mr Furnish then made a failed attempt to adopt a 14-month-old HIV-positive boy called Lev from an orphanage in Ukraine. They were rejected because of Elton's age and the fact that the country did not recognise gay partnerships. Later, the singer suggested that having a child could be inappropriate. He said: "David always wanted to adopt a child and I always said no because I am 62 and I think because of the travelling I do and the life I have, maybe it wouldn't be fair for the child."

The baby's arrival led to an outpouring of gushing messages from a host of his fathers' celebrity friends. Model and actress Elizabeth Hurley was the first to congratulate them on Twitter, writing: "Massive congratulations to David and Elton on having their beautiful son. Can't wait for my first cuddle."

Sir Michael Caine offered his wishes, saying: "Great news about Elton and David adopting a child, let's hope more people are granted adoption." Apprentice star Lord Alan Sugar expressed disbelief at the news, tweeting: "Am I hearing things right on Sky news Elton John becomes a surrogate father." He added about an hour later: "Oh well congratulations to him."

And TV Presenter Piers Morgan, who recently interviewed Sir Elton for his ITV series Life Stories, was also caught out by the unexpected news, writing: "Feel such a fool – Sir Elton never even hinted he was pregnant during our interview." Former Spice Girl Emma Bunton wrote: 'Congratulations to Elton and David', while singer Boy George wrote on his Facebook site: "Wow, surprise news about the baby, congratulations!"

Amanda Holden tweeted: "So thrilled for Elton John and David Furnish! How wonderful life is – when you become parents!"

Mr Furnish had hinted at the looming arrival on Christmas Day when he wrote on his Facebook page that he was "on course to have the best Christmas ever!" Hours later he broke the news of Zachary's birth and revealed that he had never believed his dream would come true. In a message to a friend, the Canadian said: "I'm overwhelmed… I never, ever, thought I would be a dad."

The new fathers have already spent £35,000 designing and decorating a nursery for their son. The pair have enlisted the help of their friend shoe designer Patrick Cox to help them put the finishing touches to the 'palatial' room at the their Windsor mansion, Woodside. They are said to have splashed out thousands of pounds furnishing the room with 'one-off, tailored furniture items'.

A source said: "Elton and David began planning the nursery months ago. They wanted it to be ready for when the baby came home. It will be very lavish when it is finished. They like to make big statements." It is a clear indication that the couple plan to bring up their child in Britain, even though they will have to wait a few weeks to bring him home.

The friend added: "England is where their heart is. There is no way they would move to America full time."



Top psychologist salutes Elton on the way he handled baby news
Wednesday, December 29 2010 at 06:58:37

Elton becomes father of Christmas baby
Tuesday, December 28 2010 at 07:36:30


Top psychologist salutes Elton on the way he handled baby news
Wednesday, December 29 2010
Top child psychologist Dr. Fran Walfish has congratulated Elton and David on their Christmas baby, insisting they'll make great parents.
Walfish, the author of new book "The Self-Aware Parent: Resolving Conflict and Building A Better Bond with Your Child", salutes the couple on its decision to keep the pregnancy and the identity of the surrogate top secret - and she hopes the media will respect Elton's privacy as he tackles fatherhood for the first time.

Little Zachary Jackson Levon Furnish-John was born on Christmas Day 2010 and Elton and David waited until December 27, 2010 to announce the happy news. Dr. Walfish says, "They are already positioning their family with a surrounding wall of privacy and protection. They have laid the first layer of bricks and mortar as foundation for shielding for their son. These parents have taken their first steps to normalise the childhood of little Zachary. It's hard enough parenting a child. The challenge of parenting under the scrutiny of public judgmental opinion increase complications for both child and parents. Good job, Elton and David!"

And she warns bigots who may question whether two gay men can give a child everything he or she needs to keep their thoughts to themselves - because in her experience more and more kids are being brought up by gay or lesbian parents. She adds, "Each classroom where I have expert consulted in private schools has at least one family where the constellation consists of a gay couple, male or female, and their child or children. Research suggests that they turn out about the same, no better, no worse and no more likely to be gay than other kids. My professional clinical experience is that gay parents have the same challenges that heterosexual parents do. They must balance loving and nurturing their child with setting and following-through on clear boundaries."



Elton becomes father of Christmas baby
Tuesday, December 28 2010 at 07:36:30


Elton becomes father of Christmas baby
Tuesday, December 28 2010
Elton and David have become the proud parents of a son born to a surrogate in California on Christmas Day, US Weekly reported on December 27, 2010.
The boy, named Zachary Jackson Levon Furnish-John, is the first for Elton and David, who have been together since the early 1990s.

"We are overwhelmed with happiness and joy at this very special moment," US Weekly quoted the pair as saying. "Zachary is healthy and doing really well, and we are very proud and happy parents."

The magazine said the boy weighed 7 pounds, 15 ounces, and it quoted a representative for the 63-year-old musician as saying that no further details about the surrogacy arrangement would be disclosed. Elton's spokeswoman told Reuters the report was accurate.

The pair, who entered into a civil union in 2005, tried to adopt an AIDS-infected orphan in Ukraine in 2009, but were thwarted by government regulations.

The "Levon" reference is pretty obvious (born on Christmas day), but that child's probably not going to be a pauper ("He was born a pauper to a pawn on a Christmas day").

Congratulations, Alvin Tostig ... sorry ... congratulations, Elton & David!
Remembering Guy Babylon
Monday, December 20 2010
On December 20, 2010 Guy Babylon would have celebrated his 54th birthday.
As we are all aware, however, Guy tragically died of a heart attack while swimming in the pool on September 2, 2009.

Today, we would like to remember a man who has been a very gifted musician and a wonderful person. It is still hard to believe that has gone forever and we are thinking of Guy's family at this very difficult time.

It is great to see that a little bit of Guy seems to be living on in his son Ben.



The Rock and Roll Hall of Fame announces its 2010 inductees
Thursday, December 16 2010
All inductees are ultimately represented in the Rock and Roll Hall of Fame and Museum in Cleveland, Ohio.
Through approaches as creative and diverse as the music itself, the Rock and Roll Hall of Fame and Museum tells the story of rock music with its exhibits, education programs and Library and Archives. On December 15, 2010, the Rock and Roll Hall of Fame Foundation announced the Alice Cooper Band, Neil Diamond, Dr. John, Darlene Love and Tom Waits as its 2011 performer inductees.

Also being inducted this year as individual recipients of the Ahmet Ertegun Award are Jac Holzman and Art Rupe. The Award for Musical Excellence (previously the Sidemen category) will be presented to Leon Russell.

The 26th annual ceremony will take place on March 14, 2011, at the Waldorf Astoria in New York City and be broadcast on Fuse, Madison Square Garden's national music television network.

"We are pleased to welcome these artists and executives into the Rock and Roll Hall of Fame," said Rock and Roll Hall of Fame Foundation President and CEO Joel Peresman. "They truly represent the variety of people that have defined and continue to influence music and the business of Rock and Roll."

The 2011 Rock and Roll Hall of Fame performer inductees were chosen by more than 500 voters of the Rock and Roll Hall of Fame Foundation. Artists are eligible for inclusion in the Rock and Roll Hall of Fame 25 years after the release of their first recording.
Elton John could be the answer to his prayers
Wednesday, December 15 2010
Henry Landry hopes to turn his good fortune into a major boost for a new Vancouver Island Peace Centre and Retreat Garden at Gibbins and Vimy Roads in Duncan, with a little help from his new friend Elton John.
Landry loves how a series of remarkable events went in his favour to purchase the first six tickets for the legendary performer's first show next Valentine's Day at Victoria's Save On Foods Memorial Centre.

As a fundraiser for the site where the Nichiren Buddhist Society intends to relocate from Samuel Road, Landry is putting the tickets up for auction despite the fact he's a huge Elton John fan and would love to attend the show. "We have two acres now we made a deposit on," he said. "We have rights to another nine acres."

Assuming Elton John sings his classic John Lennon tribute song Empty Garden at the show, it'll be another touch of irony since he'll be inadvertently helping a new multi denominational garden to sprout. "People from all over the world will be able to come for the retreats," said Landry. "That's the whole idea."

Tickets for Elton John's Victoria performance went on sale on December 10, 2010 and Landry's quest began bright and early at 5:30 am. "In the pitch dark, I got on my bike and cycled into Duncan," he said. "I cycled in from Affinity (Cowichan Bay) to Duncan where I came to support our community transit bus to Victoria." By 8:30 am, Landry was at the Victoria arena.

"The way they do the tickets now, you don't have to get in line," he said. "They do a ticket draw." Landry separated himself slightly from the throng when he received his ticket, but stayed within earshot to hear the call. "I didn't want to lose my energy," he said. "I started chanting and I thought 'wouldn't it be nice if I was in the top 10," Landry recalled. A crowd he estimated at about 300 people had assembled by draw time at 9:25 am.

When ticket No. 124 was called, Landry let out a great big, 'yes,' he said. By 10 o'clock, it was time to make the big purchase. Landry consulted people in the know for the best choice of seat location. "We're at about one body length height from where Elton John will have his piano," he explained.

Landry paid $170 each for the six tickets for a total of $1,020, but hopes to turn the proceeds of the auction into much more for the retreat garden and peace centre. Bidding for the tickets by silent auction will begin at $250 each on December 26, 2010 and continues until February 1, 2011. Interested persons will have a chance to make bids and view the high bids at www.penlan.com and then go higher if they desire.

"We're not trying to scalp anybody here," said Landry. "We're doing this as a fundraiser. We'll start posting the first name and initial only and their bid on the ticket. We'll post every day who's the top six people and how much they've bid."

Landry celebrated his 25th anniversary of becoming a Buddhist December 8, 2010 and became a master teacher in 1994. "I think it was part of the universe blessing me; here's six tickets for the anniversary," he said.

Landry counts himself as one of Elton John's faithful followers. "He's been playing for 40 years and I've been following him for nearly that long,'' he said. "I have all the DVDs." Landry didn't rule out the possibility of submitting his own bid to reacquire a ticket by paying into his own charity. News has traveled fast since Landry landed the tickets. "My phone's been roaring off the hook," he said. "I've got friends I've forgotten about."
Elton on Piers Morgan's Life Stories
Tuesday, December 14 2010
During his appearance on Piers Morgan's Life Stories on December 12, 2010, Elton John's showbiz friends joked about him being 'most famous for spending money.'
Broadcaster Johnnie Walker even recalled a Christmas where he witnessed the superstar and David Furnish giving each other gold-plated Monopoly sets as gifts. But Elton insists that he would 'live in a caravan,' as long as he had Furnish.

During the revealing interview with Piers Morgan on the ITV show, Elton was asked about his reputation for extravagance. 'There's no getting away from it, It's fun to have money,' he admitted. 'Could you go back to being poor?' Morgan asked him. 'Listen, I have said to David, "I would live with you in a caravan, as long as I had you,"' he said. 'I'm not that facile, I'm not that shallow.

'I think about it sometimes, I think it would be nice to b****r off and buy a little house somewhere and have a simple life. If I had David in my life and my friends, I could live anywhere.' But Elton added: 'I'm too far gone now, I'm too far in, you can't run away like that. I'm very comfortable with my spending. I have no guilt, Piers. I earn the money, I pay my taxes. I've never lived anywhere else but Britain - it goes back into the economy, what's the problem?'

Elton says that he was more demanding back in his drugs haze, confirming that he once demanded that a private jet be re-painted before he would board. Yeah that's true,' he admitted. It was a 707; It was a turd colour. It was like an enormous flying turd,' he recalled. The record company paid for it to be re-painted and there was all stars. I was in the position to do that, and everyone who used it after was grateful for it.'

But Elton was coy when asked to confirm the items on his rider (the list of demands for his dressing room). Saying that he had a peak at the list before the show, Morgan said: 'It's quite fascinating,' telling the audience that it demanded that the room was 'exactly 68 degrees fahrenheit' and asked four 'three six-foot-long banquet tables with white linen tablecloths.' 'I don't actually know what my rider is,' Elton replied.

He did concede the specific instructions for the bouquet of flowers in his dressing room however, which included 'No chrysanthemums, no lilies, no carnations, and definitely no daisies.'

'Well chrysanthemums are pretty horrible, carnations don't look good in a vase, lilies don't smell very nice... and daisies I've got nothing against whatsoever,' he said. Referring to his documentary Tantrums and Tiaras, he said 'sometimes people are a spoiled brat,' and I wanted to show that.' Elton also revealed that he is still attracted to women, despite coming out of the closet forty years ago.

Asked by Morgan about his relationship with ex-wife Renate Blauel - whom he married in Sydney in 1984 - he said: 'When I was in bed with her and we were having sex it was great but I thought, "This is not right, I should probably be with a man."' But he said he still fancies women: 'There are so many beautiful women in the world,' he said. 'How can you not think a woman is beautiful?'
"Gnomeo & Juliet" CD - pre-order now
Monday, December 13 2010
The CD contains two new songs from Elton John with a new version of "Crocodile Rock" featuring Nelly Furtado.
Enjoy some of Elton John's greatest hits interspersed with new music and three score cues from the movie by Grammy award winning and Academy Award nominated James Newton Howard (Pretty Women, The Dark Knight, Blood Diamond, My Best Friend's Wedding).

Track Listings

1. Hello Hello (Elton John)
2. Crocodile Rock (Nelly Furtado)
3. Saturday Night's Alright (Elton John)
4. Don't Go Breaking My Heart (Elton John & Kiki Dee)
5. Love Builds a Garden (Elton John)
6. Your Song (Elton John)
7. Rocket Man (Elton John)
8. Tiny Dancer (Elton John)
9. Bennie and the Jets (Elton John)
10. Gnomeo and Juliet (James Newton Howard)
11. Dandelions (James Newton Howard)
12. Bennie and the Bunnies (James Newton Howard)
13. Terrafirminator (James Newton Howard)
14. The Tiki, Tiki, Tiki Room (Wally Boag; Thurl Ravenscroft; Fulton Burley; The Mellomen)

Truly an album the whole family will enjoy while reliving the whimsical joy of Gnomeo & Juliet and enjoying the upbeat Elton John tracks carefully selected for this soundtrack. The album is set for release on February 8, 2011. You can pre-order it now by clicking the link in the box on the right.
Medvedev in raptures after Elton gig
Monday, December 13 2010
Elton John's music is "of very high quality," Russia's rocker president, Dmitry Medvedev, wrote on his Twitter micro blog on December 12, 2010 after nipping down to Elton's gig in Moscow.
"Just been at Elton John's concert. Very serious work, of very high quality - almost three hours of live music," Medvedev tweeted after a night on the town.

Only thing is, Elton invited the president, "a true fan of modern rock music," as he called him in his message of November 25, 2010, to his St. Petersburg show on December 13, 2010, rather than the Moscow event, but Medvedev seemed to decide not to wait another day. As presidents do, as presidents do.

"You are a true fan of modern rock music that unites people from all over the world, regardless of their racial, political and religious views. I'll be very grateful if you will accept my invitation," Elton's message read.

Medvedev, who ran his successful election campaign largely by recounting how he collected the vinyl copies of every Deep Purple LP, is the exact opposite of his patron, Prime Minister Vladimir Putin - as far as music is concerned, that is. The former KGB man is more into a kind of sweaty patriotic folk pop, the likes of Lyube.

The 63-year-old rock legend was among the first western musicians to perform in the USSR - an honor shared with Soviet leader Leonid Brezhnev's favorite disco act, Boney-M.
Elton John & Ray Cooper performed in Malmö on December 10, 2010
Monday, December 13 2010
Fan report and photos by Ulrick Garde.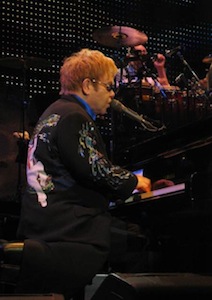 Friday the 10th of December 2010 was the beginning of a great and special weekend to come. I was attending my around 30th live show with Sir Elton John & the day after my girlfriend turned 30.

It was the first time for me to see Elton & Ray Cooper perform together which took place at Malmö Arena in south of Sweden. As this part of Sweden connects Denmark with a bridge and as we live in Copenhagen it was easy and quick to get to the venue.

Both the venue and the surroundings were really nice. With seats on the 3rd row just in front of Elton's piano this could only be an awesome evening for my girlfriend and me - and it was!

Elton entered the stage 7.30 PM sharp in a black suit with blue shirt and blue glasses, and started out his solo part with "The One". His voice was clear and sharp, and I still think it keeps getting better. The audience was pretty lazy which was to my disappointment but I tried all I could to higher the atmosphere, and it did get better!

When Elton finished his solo part he started playing "Funeral For A Friend" and Ray Cooper came onstage and then the two men lifted the arena more and more. The way Ray Cooper plays percussion fits so very well to Elton's songs and really puts that extra into them. There were several highlight during the show but especially "Indian Sunset" and "When Love Is Dying" sounded awesome!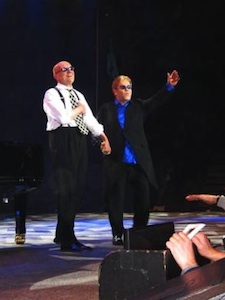 After "Don´t Let The Sun Go Down On Me" I was ready to rush to the stage and was lucky to get there almost first right in front of Elton. I got lots of great photos and being so close to the stage and the two gentlemen was a very unique experience.

When Elton did his solo in "Bennie and the Jets" he played a part of "Jingle Bells" in it to great appreciation from the audience. After having played "Crazy Water" which I really enjoyed as he never plays that live he spend around 5-7 minutes signing all kind of items from the people close to the stage.

I got my tour book signed and found out Elton signed did it upside down so that is a new version of his signature I happily will add to my collection. When Elton was standing in front of me I thanked him for a wonderful show and asked if I could shake his hand. He said "thank you" and shook mine. That was cool!

At the end he thanked the audience for loyalty and support during his carrier and wished us all a happy Christmas and a Happy New Year. After having played the last track "Candle In The Wind" he left the stage.

It was certainly a night to remember, and I do really hope that I will be able to see a show like this again! It was worth every Swedish Krone, and I can only thank Elton John & Ray Cooper for giving me another great memory in the world of music!

Following is the complete set list of the Malmö show on December 10, 2010.
Elton solo
The One

Sixty Years On

The Greatest Discovery

Border Song

The Ballad of the Boy in the Red Shoes

When Love Is Dying

I Guess That's Why They Call It The Blues

Nikita

Rocket Man

Never Too Old (To Hold Somebody)

Philladelphia Freedom

Tiny Dancer

Your Song

Elton with Ray Cooper

Funeral For A Friend

Tonight

Better Off Dead

Levon

Gone to Shiloh

Indian Sunset

I Think I'm Gonna Kill Myself

Daniel

Sorry Seems To Be The Hardest Word

Take Me To The Pilot

Don't Let The Sun Go Down On Me

Bennie And The Jets

Crazy Water

Elton solo

Candle In The Wind
Elton John is "bitchy" says Simon Cowell
Saturday, December 11 2010
Simon Cowell hit back and critics of the X Factor at the pre-final press conference on December 09, 2010 and deepened his feud with music legend Sir Elton John.
The music mogul said of Elton: "We've had this sort of love hate relationship." His comments come weeks after Elton blasted the show telling the Metro: "It's become boring, a***-paralysingly brain crippling." He also told DJ Christian O'Connell on his Absolute Radio Breakfast Show that he was concerned about the "psychological damage" to contestants and that they were treated like "products".

Defending the show Simon told the assembled journalists yesterday: "That is why I've always liked him [Elton] because he's bitchy." When told that Paul Weller had also criticised the show he said cattily: "If Paul Weller put out a good record I'd put him on the show."

Facing criticism that his show has a stranglehold on the charts he told the press: "With regard to the X Factor and what it does for music what we've done for the Sunday show is we've had up to three performances sometimes. But I think it's crazy to say when you've got 18, 19, 20 million people watching the show getting interested in music again that we have a stranglehold on it. It's actually ludicrous."

He claimed that the X Factor had sparked a revitalisation of the music industry: "You speak to most retailers and they tell you it's stimulated people going back in, getting interested in music again." Denying claims that he is shutting out rival record labels he continued: "It's very rare that we've just had Sony acts, there have been weeks we've had three Universal acts on. I don't' care as long as the artist is good, popular."



Rocket Pictures shoots for more music focus
Saturday, December 11 2010
Elton John and David Furnish's Rocket Pictures is looking to rev up with a new focus on music-related projects for film, TV, theater and other platforms.
Shingle has signed with UTA to help it field development projects and to expand the Rocket brand through digital media, licensing and branded entertainment. Formed in 1996, the company is led by Elton, David and managing director Steve Hamilton Shaw. Shaw will handle the day-to-day operations, but all three will be hands on with the company.

Elton and David decided to hone their focus to music-related projects in an effort to increase the volume of content company produces for the Internet. "Rocket Pictures' aim is to develop and build upon a unique relationship with recording artists and to become the home for diverse, artistically driven and commercial music entertainment," Elton said.

Rocket Pictures is behind the 3D animation feature "Gnomeo and Juliet," set for release Febrary 11, 2011 by Disney. The company has "Pride and Predator" on its slate, but that project will be the last without a strong music connection. Like the Lions-gate pic "Pride and Prejudice and Zombies," "Predator" will add a sci-fi twist to the Jane Austen novel. Pathe is onboard to finance, but there's no distrib in place yet. Rocket hopes to get the pic in production by the second quarter of next year.

Rocket's other pic credits include the indies "It's a Boy Girl Thing" and "Women Talking Dirty," as well as the docu "Elton John: Tantrums and Tiaras."



Elton John & Ray Cooper performed in Herning on December 09, 2010
Friday, December 10 2010
"Review" by Martin M. Aamand and fan report by Emil Christensen.
So much excitement yesterday
I hope you don't mind that I put down in words
How wonderful life is while Elton's in the world

I know it's not much but it's the best I can do
But oh how it feels so real
When piano man he makes his stand

Between you and me I could honestly say
In the second that the hammer hits –
Fire flying from his hands
Glancing down upon this thing
That makes strange sounds, strange sounds that sing
A strange new sound that makes boys explore

I am in the front row now
And nobody ever tells you
It just gets a little colder
After curtain calls and bows

Won't you please excuse my frankness but it's not my cup of tea
And I think it's gonna be a long, long time
But don't look at it like it's forever

Who'll walk around on stage when he's sixty-three years of age?
Oh, Hercules, he plays the piano, plays it just for you
We all wish he'll be playing sixty years on
Don't you know, you're never too old
You're still sharp as a razor
And I like you like that.

---

Elton and Ray! What more to ask for? I'd got tickets on row 7 on the floor, with an awesome sight to Elton and Ray. I was so excited about what the night would bring and I knew, this was going to be a night to remember.

Elton entered the stage during Aida-music at 8 pm sharp and the audience rose when they saw the shape of Elton. Elton sat down in front of the piano and started to play the hit "The One". After "The One" Elton thanked us and he said, that he was honored to be here because it was his first time in Herning.

Elton introduced some songs from the album "Elton John", which came out 40 years ago. Elton played a powerful version of "Sixty Years On" and a beautiful rendition of "The Greatest Discovery" and right from that moment I was not in doubt: this gig would be extraordinary.

Elton introduced "Ballad Of The In The Red Shoes" and told the audience, about the conditions during the government of Ronald Reagan which did absolutely nothing for people with AIDS, which Elton called a disgrase. He played the song with emotions and anger at the same time and made a beautiful edition of the song.

Afterwards Elton talked about "The Union", which he made with his dear friend Leon Russell and started to play "When Love Is Dying" which was the first time I've heard that live. Good to hear that Elton still can make gems of his own!

The next song was "I Guess That's Why They Call It The Blues", which he made up very bluesy and added another solo between the verses. The audience couldn't stop rocking. Then Elton played "Nikita" and what a blast! The audience gave Elton a big applause, when they heard the first lines of the song. Now the hits came streaming.

"Rocket Man". Breathless! What a solo version of the song! The audience made up a loud applause for Elton and he really deserved it. Elton went back to "The Union" and started to play "Never Too Old" and I really liked that song - and the rest of the audience seemed to do as well. Elton switched out the piano sound with a bluesy, electric piano sound and started to play "Philadelphia Freedom", which I really couldn't keep clapping to. "Tiny Dancer" and "Your Song" were both phenomenal and now Ray Cooper entered the stage:

Ray Cooper came into the stage, when Elton played "Funeral For A Friend" and we couldn't stop laughing at Ray's funny moves. "Funeral For A Friend" faded out into "Tonight", which made people around me cry and gave me goose bumbs. "Better Off Dead" and "Levon" made the arena boiling and now people seemed to have fun. Elton played a third song from "The Union" now with Ray Cooper on percussion. Elton played the song "Gone To Shiloh", which is about the American Civil War and with Bernie Taupin's beautiful lyrics this was a very memorial moment. "Indian Sunset" showed off, that Elton's voice's still better than ever and "I Think I'm Gonna Kill Myself" with a western-saloon sound on the piano showed off that Elton's still at the top! "Don't Let The Sun Go Down On Me" was fantastic.

Now Elton asked the fans to come up in front of the stage. People ran up there and the first chord of "Bennie And The Jets" was making the entire arena screaming. Oh My God! What a rendition! Elton sang with the power of his lungs and played the "In The Mood" part the best he could and he played it like never before! Crazy Water was making the climax on the show and when he finished the song he left the stage.

Elton came back and started to sign autographs. Elton went all across the stage signing and of course I got my autograph. After that Elton thanked the audience for being so kind to him and he said that he'd always loved comming to Denmark. Elton wished us a happy christmas and a happy new year. Then the sound of "Candle In The Wind" came into our ears. Beautiful, breathtaking, unbelieveable. Elton left the stage and the concert was over.

Thank you Elton for comming to Denmark and play for us. We really enjoyed your company and your beautiful songs! Please come again!

Following is the complete set list of the Herning show on December 9, 2010.
Elton solo
The One

Sixty Years On

The Greatest Discovery

Border Song

The Ballad of the Boy in the Red Shoes

When Love Is Dying

I Guess That's Why They Call It The Blues

Nikita

Rocket Man

Never Too Old (To Hold Somebody)

Philladelphia Freedom

Tiny Dancer

Your Song

Elton with Ray Cooper

Funeral For A Friend

Tonight

Better Off Dead

Levon

Gone to Shiloh

Indian Sunset

I Think I'm Gonna Kill Myself

Daniel

Sorry Seems To Be The Hardest Word

Take Me To The Pilot

Don't Let The Sun Go Down On Me

Bennie And The Jets

Crazy Water

Elton solo

Candle In The Wind
Mal Pope - Old Enough To Know Better
Wednesday, December 8 2010
Former Rocket artist Mal Pope has published a his autobiography and a new CD, "Old Enough To Know Better".
The book contains some Elton and Rocket memories, and the CD has two tracks featuring Elton from the Rocket era. These tracks are in fact remixed from the originals with Mal Pope adding his present vocals.

CD Track List:

1 Some of the Things
2 Everything I've Got
3 If I Wasn't There (Featuring Elton John)
4 When you're away
5 I Don't Know How to say goodbye
6 Don't Say you Love Me
7 Would You Dance
8 When I Call Out
9 How It Hurts (Featuring Elton John)
10 Ghost train
11 Holding You
12 You Can Do it
13 A Child's Prayer
14 Best is yet to Come

You can order the book and/or CD online at www.malpope.com.
EJAF - Double your Holiday donation!
Wednesday, December 8 2010
Great news for holiday donors! A chance to automatically double your gift! As the holiday season approaches and you contemplate your end-of-year charitable gifts, the Elton John AIDS Foundation (EJAF) is pleased to provide you with an opportunity to double your donation to EJAF!
The MAC AIDS Fund has issued a $100,000 challenge grant to EJAF, whereby they will generously match all on-line gifts received by EJAF up to $100,000. For instance, if you donate $50 to EJAF, the MAC AIDS Fund will match your gift, bringing it to $100! So maximize the impact of your giving and donate online now: www.ejaf.org.

EJAF is deeply grateful to the MAC AIDS Fund for their long-standing support of the Foundation's grant-making initiatives. Over the years, the MAC AIDS Fund has been an invaluable partner, joining them in supporting vital grassroots HIV prevention and awareness-raising programs across the U.S. and recognizing the value of EJAF's urgent work. With this gift, the MAC AIDS Fund is extending a wonderful opportunity to EJAF's donors to double the impact of their online holiday gifts.
Rolling Stone's top five albums of 2010
Wednesday, December 8 2010
Elton John and Leon Russell's album "The Union" made it into Rolling Stone's Top 5 of albums of 2010. The pair is listed on #3.
The magazine provides the following motivation for their decision: "Two rock giants, one largely forgotten, rekindle a friendship and make music that ranks with their best. Producer T Bone Burnett delivers his most spectacular production in memory, filled with shining steel guitar, chortling brass and gospel-time choirs. Ultimately, it's Russell's voice that shines brightest, drawing on the entire history of American popular music in its canny, vulnerable, knowing croon."

The full Top 5 is as follows:

1. Kanye West, "My Beautiful Dark Twisted Fantasy"
2. The Black Keys, "Brothers"
3. Elton John and Leon Russell, "The Union"
4. Arcade Fire, "The Suburbs
5. Jamey Johnson, "The Guitar Song"
Elton John & Ray Cooper performed in Gothenburg on December 04, 2010
Tuesday, December 7 2010
Photos by Henrik Larsson.
Following is the complete set list of the Gothenburg show on December 4, 2010.
Elton solo
The One

Sixty Years On

The Greatest Discovery

Border Song

The Ballad of the Boy in the Red Shoes

When Love Is Dying

I Guess That's Why They Call It The Blues

Nikita

Rocket Man

Never Too Old (To Hold Somebody)

Philladelphia Freedom

Tiny Dancer

Your Song

Elton with Ray Cooper

Funeral For A Friend

Tonight

Better Off Dead

Levon

Gone to Shiloh

Indian Sunset

I Think I'm Gonna Kill Myself

Daniel

Sorry Seems To Be The Hardest Word

Take Me To The Pilot

Don't Let The Sun Go Down On Me

Bennie And The Jets

Crazy Water

Elton solo

Candle In The Wind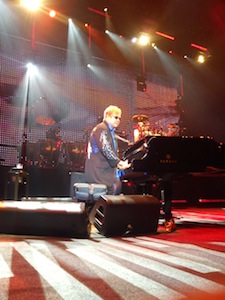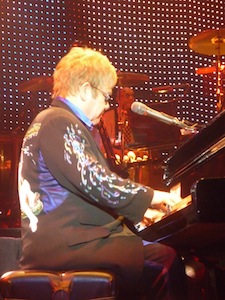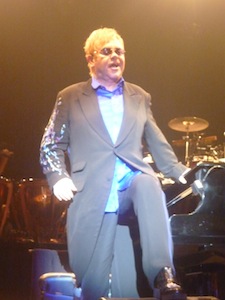 Petition underway to have Elton John perform nnother night
Monday, December 6 2010
A few signatures are now on a petition to get music legend Elton John to play another night at the new Matthew Knight Arena.
Mister Ooh-la-la, which is the man's legal name, says he was one of the hundreds of Elton John fans, who got caught up in the ticket office fiasco on December 3, 2010. He is trying to convince the UO athletic department's ticket office to schedule an another show.

He said if there's a demand for it, he doesn't see why the department or the musician himself wouldn't agree. "I and many other people are disappointed and it would be profitable for everybody. Elton would make money the arena would make money and everybody would get to see the show."

Many fans couldn't purchase tickets and some were charged thousands of dollars for trying to buy them multiple times.
Alexandra Burke: Sir Elton's weird for saying Simon Cowell will dump me
Monday, December 6 2010
The former X Factor champ told Metro: "It's a bit weird because I've met Elton a few times and every time he's said he loves my music."
Trying to end the growing feud between Elton and Simon Cowell, she said: "I don't want to get into a row about those comments because I haven't seen them." The 22-year-old spoke after returning to X Factor on December 5, 2010 with new single "The Silence".

Backstage, she said: "I am very nervous. It's bringing back so many memories but I've got my own Winnebago to chill out in so I'm ready." It was a busy weekend for Burke who sang her new song to family at Capital FM's Jingle Bell Ball at the O2 Arena the night before.

"It was really emotional. My family came down and they've never seen me sing it so it was special," she said.



Elton John adds 10,000 to Independent sales
Saturday, December 4 2010
Sir Elton John's day as guest editor of the Independent is thought to have added about 10,000 in extra sales as extreme weather conditions kept readers away from newsagents.
Elton guest edited the Independent and cut-price 20p spin-off the i on Wednesday, calling in favours from celebrities including Dame Elizabeth Taylor, Bill Clinton and Kanye West to boost the popularity of the issuedesigned to raise awareness of World Aids Day.

However, the arrival of earliest heavy snowfall across the UK in 17 years put paid to any possibility of a massive sales boost with all nationalnewspapers understood to have suffered a decline in sales on Wednesday. Newspaper distribution is thought to have been successfully maintained in the most areas of the UK despite the weather – but many readers abandoned habits such as picking up a paper. All circulation revenues from Wednesday's edition are to be donated to the Elton John Aids Foundation.

"The problem for all newspapers has primarily been in Scotland and the north and that has affected all sales," said one media industry source. "However the Indy will still not be happy with those figures." The Independent's i is not thought to have benefited from a sales uplift from the one-off edition, with average sales thought to be about 60,000 to 70,000. A second media industry source pointed out that unlike previous guest editor initiatives the Elton John issue was not backed by any official marketing campaign, outside of a PR push.

When U2 frontman Bono guest edited in 2006 the Independent's sales increased by about 70,000 copies – a bigger sales lift than after the London bombings in July 2005. But the event was marketed with a television ad campaign.

More recently, was Giorgio Armani guest editor the Independent ran some radio advertising; the sales uplift it is not thought to have been significant.



The Independent - Elton issue
Wednesday, December 1 2010 at 12:34:05

Elton calls on stellar list for Independent issue
Tuesday, November 30 2010 at 18:35:11

Elton John to be guest editor of 'The Independent'
Tuesday, November 16 2010 at 15:50:08


Elton John AIDS Foundation gives £1 million grant to Food Chain
Saturday, December 4 2010
The Elton John AIDS Foundation has agreed a £1 million grant to AIDS charity The Food Chain, PinkPaper.com can exclusively reveal.
It's one of the biggest grants ever made to an HIV or gay organisation in the UK but has sparked controversy as it has led to redundancies at the organisation.

The Food Chain, a registered charity based in Islington, North London, provides home-delivered meals and nutritional advice to men, women and children who are chronically sick with HIV-related illnesses. They receive no government funding and rely completely on donations.

The money from EJAF – to be given over a three-year period – is the largest donation the charity has ever received. It will implement the Food Chain's new strategy, which was devised to match the new needs of people living with HIV/AIDS following 18 months of research.

"Much has changed in the 21 years that The Food Chain has been delivering meals, nutrition education and support services. The charity has carried out an extensive consultation process over the past 18 months involving people living with HIV, medical and dietetic professionals, and following this we published a report (Understanding Need) on the food and service needs of those living with HIV in London," says general manager Andrew Davies.

"Responding to Need, our new strategy for 2010 to 2014, is the result of 18 months of research, consultation and work by the management committee." However, the changes have meant an internal restructure, resulting in the redundancies of three core staff members.

The new strategy has also brought rumours of dramatic cuts to the charity's 300-plus service users, but when we spoke to the Food Chain directly, they assured us that this was not the case – and that no current users will be dropped.

"This strategy includes significant additions to our services, some improvements to our existing services and a commitment to strengthen the organisation," adds Davies.

"This will allow us to feed more people in need, more often. To deliver the new services we have had to evaluate what resources and skills we will need. Unfortunately, this has meant that three of our existing staff will be made redundant.

"Service Users are the most important people at The Food Chain. Some will take part in new services, some will see change to existing services they receive but these aren't cuts - this is about delivering the best for our Service Users – listening to their needs and focusing on positive outcomes for each person. We have, and continue to, involve our Service Users in any changes and the development of services.

"The new strategy will bring about significant changes for everyone involved in The Food Chain - increasing the impact of our services and allowing us to feed more people in need more often, focusing on those who are faced with a financial or health crisis."

Demand for the Food Chain's services has increased, Davies said, due to the recession and rising food prices – benefit cuts are expected to mean even more demand in the future.
Happy Socks for the Elton John AIDS
Friday, December 3 2010
The collaboration between Giles Deacon and Happy Socks is now available! A limited edition "weeks worth of socks" for each seven days of the week, presented in a collectible and numbered box – only 1,000 available!
And the best part of all this is by buying these you will actually contribute in raising money for the Elton John AIDS Foundation as a minimum of 25% of the retail price will directly benefit them.

Each pair rocks one of Giles' favorite prints and the box itself is a piece of art: available both in men and women sizes: the set is the perfect gift for all fashion sock lovers out there! Available at Happy Socks>.
U2 close 360 World Tour with Elton John
Friday, December 3 2010
Global rock superstars U2 choose to close their gigs on their current 360 world tour with Elton John's "Rocket Man".
A fitting end to a concert featuring a space station themed claw structure complete with rocket symbol equipped with smoke, LED lights and moving spotlights.
Merry Christmas & Happy New Year 2011!
Thursday, December 2 2010
We would like to wish you, your families and your loved ones a wonderful Christmas season and all the best for a successful New Year.
The year 2010 - for an Elton fan - was very eventful. Not only did we finally get to hear a new studio album, but Elton also treated his fans to various shows of all types: solo, with Ray Cooper, "Face 2 Face" with Billy Joel, with the band and finally also with his new companion Leon Russell.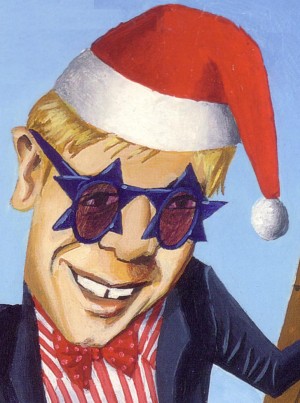 There also was a lot of controversy provoked by Elton's performances in e.g. Chichen Itza or in Israel, or by his support of Rush Limbaugh, his "Jesus is gay" comments and the never ending discussions about him becoming an "Idol" judge - or not.

However, 2010 also saw the 40th anniversary of two landmark Elton events: his first US show at the Troubadour as well as the recording of "11-17-70". And back in April 2010 Elton remembered the 20th anniversary of the death of Ryan White.

Lady Gaga became kind of Elton's alter ego and his mother Sheila auctioned off tons of memorabilia. And besides the more usual events such as the Oscar party, Smash Hits, Agassi benefit, etc. there also was "The Union", the long-awaited new studio album of Elton John and Leon Russell, who just had brain surgery in January of 2010.

And with the news that Elton might return to Las Vegas soon, we are all looking forward to more excitement in 2011 for which there are already quite a number of shows announced.

For us it is time again to thank you for your loyalty and support throughout the ending year. And we would like to wish you, your families and your loved ones a wonderful Christmas season and all the best for a successful New Year.

Your Hercules Team!
Grammy nomination for Elton & Leon
Thursday, December 2 2010
Elton John & Leon Russell's "If It Wasn't For Bad" has been nominated for a Grammy in the category Best Pop Collaboration With Vocals.
For more information see grammy.com.
Elton John & Ray Cooper performed in Brussels on December 01, 2010
Thursday, December 2 2010
Fan report by Filip Arijs.
Last report I finished with the hope Elton John would come back to Belgium with Ray Cooper … and so he did! We left home at 5.30 pm because of the bad weather (snow, -5°C), we drove 1,5 hour for a trip of not even 40 km. Elton John played already an hour when some people kept arriving.

The show, oh God, I saw already several great Elton shows but this was by far the most fantastic music experience. No discussion, and it's not because it is the most recent show I've seen. From the beginning it was clear that Elton enjoyed playing, he laughed and joked to the audience like never before. His enthusiasm got translated in his music. He played "I Guess That's Why They Call It The Blues" more in a staccato way and it made that song to one of the many highlights.

"The One" is one of my favourites and after that he played three songs from his debut album "Elton John" … our bible. "Sixty Years On" was amazing, it's such a powerful song. His new album "The Union" has the same high level as his last 3-4-5 albums and we are thankful that he played three songs from it.

"Gone To Shiloh" sounded perfect with Ray Cooper. In fact I have to write for each song in superlative terms and I'm not exaggerating. "Philadelphia Freedom" in a different piano tone, a fine solo. The solo's in "Rocket Man", "Take Me To The Pilot", … the solo in "Bennie And The Jets" reminded me at the solo he played in that song during the tour in 1986, the audience got crazy. There was so much fun! "Crazy Water" made it complete with a superb Ray. It's a pity that there was no live CD available.

Elton John thanked the audience extensively for the love they're giving him, but it's the audience who have to thank him for all what he's giving. Thank you Elton John!

The concert last almost 3 hours and all I could think was: 'I want to see it again'!

Following is the complete set list of the Brussels show on December 1, 2010.
Elton solo
The One

Sixty Years On

The Greatest Discovery

Border Song

The Ballad of the Boy in the Red Shoes

When Love Is Dying

I Guess That's Why They Call It The Blues

Nikita

Rocket Man

Never Too Old (To Hold Somebody)

Philladelphia Freedom

Tiny Dancer

Your Song

Elton with Ray Cooper

Funeral For A Friend

Tonight

Better Off Dead

Levon

Gone to Shiloh

Indian Sunset

I Think I'm Gonna Kill Myself

Daniel

Sorry Seems To Be The Hardest Word

Take Me To The Pilot

Don't Let The Sun Go Down On Me

Bennie And The Jets

Crazy Water

Elton solo

Candle In The Wind
The Independent - Elton issue
Wednesday, December 1 2010
Elton John was the guest editor for The Independent issue of December 1, 2010. Here is an excerpt from that editon: "Elton John: Read my lists – and I'll tell you who I am".
10 things I liked when I was 25 that I don't like now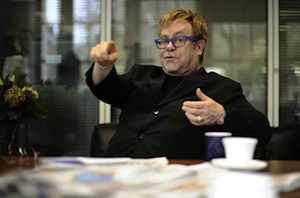 Art Nouveau
Impressionist art
Pre-Raphaelite art
Dancing (me dancing, that is)
Driving
Travelling
Alcohol/drugs
Westerns (bar Blazing Saddles)
Discotheques/nightclubs
Celebrity

10 things I didn't like when I was 25 that I like now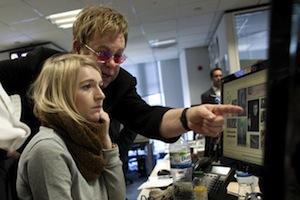 Photography
Contemporary art
Porcelain
Table linen/napkin rings
Baseball
Boats
Peace and quiet/staying in
South Africa
Jesus Christ
Glass

10 things I don't like: period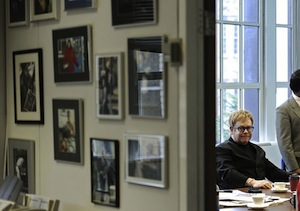 Lip-synching – except by drag queens
"Singers" who can't sing live
Bigotry
Mobile phones with cameras
Violence
Tweeting/blogging
Reality shows
Opening and closing ceremonies
Religious fanatics
Mozzarella cheese

10 things I like: period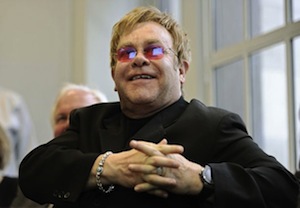 Friends
Fax machines
Music/books
Handwritten notes/letters
Venice
Animals
Laughter
Football
Nina Simone
The south of France

10 songs I like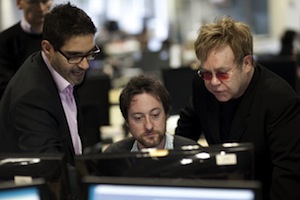 All I Want for Christmas is a Beatle
Nelly the Elephant
When You Come to the End of a Lollipop
Bangers and Mash
I'm a Pink Toothbrush, You're a Blue Toothbrush
Sit On My Face (Monty Python)
The Laughing Policeman
I Went to Your Wedding (Spike Jones)
My Word, You Do Look Queer
Philadelphia (Bruce Springsteen)

10 songs I dislike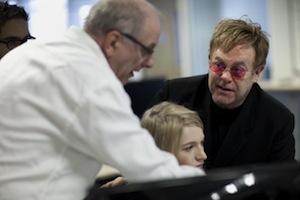 Fly Me to the Moon
The Greatest Love of All
Tie a Yellow Ribbon Round the Old Oak Tree
We Are the World (loathsome)
The Wind Beneath My Wings
Two Little Boys
Don't Worry, Be Happy (worst song of all time)
Y Viva Espana
What's Up (4 Non Blondes) (truly ghastly)
My Ding-a-Ling

10 films I like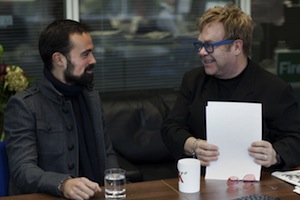 The Women
All About Eve
Pan's Labyrinth
Downfall
The Reader
The Lives of Others
The Diving Bell and the Butterfly
Barry Lyndon
2001: A Space Odyssey
Billy Elliot

10 films I dislike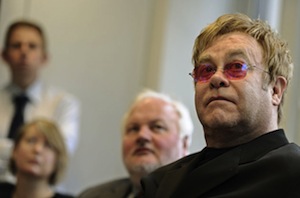 The Curious Case of Benjamin Button
Forrest Gump
The Piano
Doubt
Life is Beautiful
Blow Up
Avatar
Magnolia
There Will Be Blood
Eternal Sunshine of the Spotless Mind

10 things always in the fridge

Pickled beetroot
Non-alcoholic beer
Water
Cheese
Yoghurt
Colman's mustard
Branston pickle
Ginger beer (of course!)
Fruit juices
Tomatoes



Elton calls on stellar list for Independent issue
Tuesday, November 30 2010 at 18:35:11

Aids 'top of the agenda' for Elton the editor
Tuesday, November 30 2010 at 16:06:55

Elton John to be guest editor of 'The Independent'
Tuesday, November 16 2010 at 15:50:08