ELTON JOHN NEWS ARCHIVE: December 2009
New album update from Bernie Taupin
Wednesday, December 30 2009
Bernie and Elton will return to the studio in mid January 2010 to record a collaborative album with the iconic Leon Russell, reports berniejtaupin.com
Russell who has always been one of Elton's musical heroes and influences when it comes to piano styling will be featured on a 50/50 basis writing and performing his own material for the project as well as writing with both Bernie and Elton and performing and singing on the pairs own songs, the report continues.

A marathon writing session in Los Angeles in November 2009 saw the trio pen a vast wealth of material that ranges far and wide and covers many musical genres.

The sessions will be overseen and produced by Henry (T-Bone) Burnett whose work on roots based records over the last several years have turned this multi-Grammy winning musician and producer into the go-to-guy for unique projects.

Berniejtaupin.com advises all not familiar with Leon or T-Bone to Google and learn more about these extraordinary individuals.

Don't forget to keep checking for new postings by Bernie on his blog as we're hoping he'll be reporting some of his own personal feelings on this exciting new chapter in his storied career.
Elton John 'enjoys a festive trip to Venice'
Tuesday, December 29 2009
It seems as though booking hotels in Venice and spending the festive season in Italy is a popular option for celebrities, as well as those treating themselves to a Christmas break.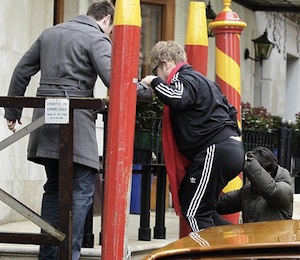 Elton John has been enjoying a holiday in the Italian city with his partner David Furnish and the couple went for a ride on a speedboat during their stay. They were not alone on their holiday, as the pair were joined by their dogs - two spaniels named Arthur and Marilyn, the Daily Mail reports.

Elton and David took their pooches for a stroll in the city, which TV chef Angela Hartnett recently told the Independent is "stunning and lovely to walk around". Despite his status as one of the most famous singers in the world, Elton dressed down for the occasion in a black and white tracksuit with a red scarf to keep out the chill.

People staying at hotel Venezia may have spotted David looking a little smarter in jeans, a red polo-neck top and a fitted black jacket.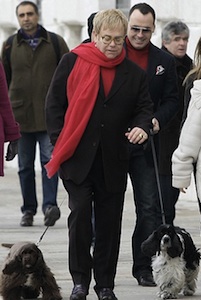 Elton and David will spend Christmas visiting their famous godchildren
Friday, December 25 2009 at 06:48:17


Elton John to help judge new Art Award
Monday, December 28 2009
Elton John is one of a group of judges who will decide the winner of a new prize for artists under 35 years old.
The award, called the Future Generation Art Prize, has been set up by Ukrainian billionaire Victor Pinchuk. It includes a $100,000 prize and will be given out every two years.

Fashion designer Miuccia Prada is also among the panel of judges. Artists Damien Hirst and Jeff Koons will mentor the winners, who are required to use $40,000 of the prize money to create new work.

Artists interested in the prize can apply online between January 18 and April 18, 2010. The winner and finalists will be announced in December 2010.
Elton and David will spend Christmas visiting their famous godchildren
Friday, December 25 2009
Elton John and David Furnish have 10 godchildren between them and plan to spend the Christmas period visiting their loved ones.
David said: "We're going to Venice! We have an apartment there. We'll try and see them all in the lead up to Christmas. I saw Damien Hurley, Elizabeth's son at the weekend. And I had dinner with the Beckhams two weeks ago, and I saw Brooklyn there."

David also said he and Elton – who are fighting to adopt a tot from the Ukraine – have spent lots of money on presents for the celebrity kids, because they don't yet have their own.

He said: "All the godchildren will be very well looked after!"
David: "Elton made me feel like Julia Roberts"
Monday, December 21 2009
David has described his first holiday with Elton, insisting a shopping spree with the singer made him feel "like Julia Roberts in 'Pretty Woman'."
The filmmaker met the music legend at a dinner party in 1993, and not long after they began dating, Elton whisked David away for a romantic weekend in Paris, France. And David admits he was overwhelmed by the experience, because it felt like a classic moment from Roberts' hit 1990 movie.

He tells Britain's Closer magazine, "The first weekend together, we went to Paris and I was totally overwhelmed. He took me to the Versace boutique. I felt like Julia Roberts in 'Pretty Woman'. I remember standing in the changing room and there were assistants running around me with shirts, jackets, coats and blazers. I always collected fashion within my own means, but there is the Elton level, which is totally different."
Remembering Guy Babylon
Sunday, December 20 2009
On December 20, 2009 Guy Babylon would have celebrated his 53rd birthday.
As we are all aware, however, Guy tragically died of a heart attack while swimming in the pool on September 2, 2009.

Today, we would like to remember a man who has been a very gifted musician and a wonderful person. It is still hard to believe that has gone forever and we are thinking of Guy's family at this very difficult time.



Plaque for Guy Babylon
Monday, September 14 2009 at 19:27:30

Elton remembers Guy Babylon
Friday, September 11 2009 at 20:11:51

R.I.P. Guy Babylon
Thursday, September 3 2009 at 10:07:21
Elton on collision course with Archaeology at Chichen Itza?
Saturday, December 19 2009
Recent archaeological discoveries at Chichen Itza may imperil the Elton John concert scheduled for April 2010, a Yucatecan news service reports.
According to Tribuna, recent excavations in Great Platform next to the giant pyramid El Castillo may mean the April 3, 2010 concert with Elton John will have to be cancelled. The news report quotes Rafael Cobos Palma, general coordinator of archaeology at Chichen Itza and leader of the "Grand Leveling" project which is digging throughout Chichen Itza to determine how the ancient city evolved.

The various pits that have been excavated in the Great Platform are not far from where the concert will be staged. Cobos reportedly told Tribuna that these pits will not be filled by the time of the concert as there is still much to be learned from them. Currently a multi-disciplinary team from INAH, the federal agency in charge of Mexico's ruins, and Universidad Autónoma de Yucatán, a university in Merida, are studying the data from the digging which began in February. Furthermore, the pits will likely never be filled, given the "didactic and academic importance" of the substructures that have been exposed, and how they demonstrate the importance of Chichen Itza as a Maya cosmopolitan city.

Cobos's comments have to date only been reported in Tribuna. However, it is well known that leadership at INAH has long opposed holding concerts at Chichen Itza but has consistently been ignored by other agencies, both state and federal. When it was announced that Placido Domingo was to perform at Chichen Itza in fall of 2008, INAH's advisory committee openly opposed the concert, but only managed to win concessions restricting the size of the concert and the construction of the stage.

In the meantime, tickets have gone on sale for the Elton John concert at Chichen Itza. They are currently only available in Mexico and only by telephone, (+42) 999/942-19-33 and (+42) 999/942-19-31. The prices for tickets are similar to October's Sarah Brightman concert, $10,000 (Mexican pesos), $7,500, $5,000, $3,000, $2,000, and $1,000.



Elton John and Paul McCartney will sing at Chichen Itza
Tuesday, November 17 2009 at 18:14:29


Tea for two: Elton & David bid for own charity gift
Friday, December 18 2009
Elton John and David Furnish created some buzz at a charity auction where David ended up bidding for his own prize.
The pair attended the dinner thrown by footballer Rio Ferdinand to launch his new Live The Dream Foundation. One of the items up for auction was the chance to spend the afternoon with Elton browsing his private art collection at his house in Windsor. This would be followed by afternoon tea with Elton and David.

But funnily enough, it was David who won the bidding - at £30,000 - for the experience. A gift from Elton and David indeed. A total £300,000 was raised at the event for the foundation.
US TV host shows off Christmas cards from Prince Charles and Elton
Friday, December 18 2009
US TV host Barbara Walters could not hide her glee at getting Christmas cards from Prince Charles and Elton John.
The veteran journalist showed off the festive A-list cards to her colleagues on The View talk show. The card from Charles and Camilla featured their royal crests and a photo of the couple in a horse-drawn carriage.

"The first is from my dear friends Charles and Camilla. They each have their own crest and note his is bigger than hers," said Walters.

She then showed off her card from Sir Elton John and husband David Furnish, which featured the Madonna with child.
The Rolling Stones are the top touring act of the Decade
Thursday, December 17 2009
Of all the different end of the decade lists Billboard has put together, none has a less surprising name on top than the list of top touring artists of the 2000s.
It's The Rolling Stones, of course. The group of elderly legends played 264 shows in the decade and made a nutty $869 million. U2 and Madonna were the only other artists to pass the $800 million mark. The rest of the top five included Bruce Springsteen and Elton John. This is your Social Security money at work.

Nothing beats the live concert experience -- and no one knows that better than these 5 road warriors who rocked more faces (and made more money doing it!) than others this decade.

1 - THE ROLLING STONES

Total Gross: $869,471,325
Number of Shows: 264
Total Attendance: 8,236,586
Number of Sell-Outs: 190

2 - U2

Total Gross: $844,157,925
Number of Sell-Outs: 288
Total Attendance: 9,869,953
Number of Shows: 288

3 - MADONNA

Total Gross: $801,299,671
Number of Shows: 248
Total Attendance: 6,387,124
Number of Sell-Outs: 244

4 - BRUCE SPRINGSTEEN

Total Gross: $688,136,476
Number of Shows: 403
Total Attendance: 8,605,238
Number of Sell-Outs: 248

5 - ELTON JOHN

Total Gross: $603,804,670
Number of Shows: 541
Total Attendance: 5,789,833
Number of Sell-Outs: 470
"The Lion King" becomes the 9th longest running musical in West End history
Thursday, December 17 2009
On December 18, 2009, Disney's award-winning production of "The Lion King" will play its 4,265th performance to become the 9th longest-running musical in West End history.
As the London production reaches this landmark, coincidentally, the original Broadway production also stands at number nine on the list of longest-running musicals in Broadway history. "The Lion King" is one of only five musicals in theatre history to play for ten or more years both on Broadway and in the West End.

Julie Taymor's internationally acclaimed stage adaptation celebrated its 10th anniversary in London in October 2009, where it remains one of the West End's most sought-after tickets. It has been seen by over 8 million people at the Lyceum Theatre and over 50 million worldwide.

In addition to the record-breaking productions in London and New York, "The Lion King" can currently be seen in Paris, Tokyo, Hamburg, Las Vegas, and on tour in North America. A new production is due to open in Singapore in 2010.

The London company of 46 performers is led by 11 principals: George Asprey as Scar, Shaun Escoffery as Mufasa, Stephen Matthews as Zazu, Brown Lindiwe Mkhize as Rafiki, Nick Mercer as Timon, Keith Bookman as Pumbaa, Andile Gumbi as Simba, Gloria Onitiri as Nala, Gary Forbes as Banzai, Allyson Addo as Shenzi and Mark Sangster as Ed.

"The Lion King" plays Tuesday to Saturday at 7:30pm with matinee performances on Wednesday and Saturday at 2:00pm and Sunday at 3:00pm. Learn more at www.TheLionKing.co.uk.
David struggling to come to terms with Gately death
Thursday, December 17 2009
David Furnish is still struggling to come to terms with the death of Stephen Gately - he can't bear to delete the late star's number from his cell phone.
The Boyzone singer died in Majorca, Spain in October 2009 after suffering a build-up of fluid on the lungs, aged 33. But David can't believe the Irishman has passed away, and still expects to hear from his pal.

He says, "When I think of Stephen now I just think of pure goodness. At my 40th birthday party I sat him next to my mother. Now you're always careful about who you seat beside your mother, but I knew Stephen would charm the pants off her. And I was right.

"One of the cruelest aspects of his death was that I'm sure his greatest achievements were yet to come. He was devoted to the theatre, and I believe he'd just landed a role in Jersey Boys, which was a show he loved. Plus Boyzone were going back into the studio. He had it all in front of him. At least he died at a happy time in his life; I suppose there's some solace in that. But I still can't believe he's not here. I can't take his number off my phone. I keep expecting one of those cheery texts to come through."



David pays tribute to Gately
Sunday, October 18 2009 at 07:35:46

Elton leads tributes to singer
Monday, October 12 2009 at 07:24:02

That's what friends are for
Wednesday, March 26 2003 at 22:22:34
David Bowie's 'Ziggy Stardust' named 'greatest, gayest' album
Thursday, December 17 2009
David Bowie's 'The Rise and Fall of Ziggy Stardust and the Spiders from Mars' has been named the greatest, gayest album ever made.
The iconic rocker's legendary 1972 album tops a new survey compiled by Out Magazine that also counts two albums by the Smiths in its top 10.

"At a time when social and sexual taboos were just starting to break down, Bowie as Ziggy created a world where the possibilities were limitless," former Culture Club singer Boy George told the magazine. "You could be whatever you wanted to be."

One hundred albums were ranked, with Tracy Chapman's 1988 eponymous disc, the Indigo Girls self-titled 1989 offering and Judy Garland's 1961 recording 'Judy at Carnegie Hall' also placing in the top five. Rufus Wainwright, Cyndi Lauper and Perez Hilton were among the 100 or so gay entertainers, writers and music industry professionals that were asked to name the ten most important discs of their lives.

The top 10 greatest, gayest albums, according to Out:

1. David Bowie: 'The Rise and Fall of Ziggy Stardust and the Spiders from Mars' (1972)
2. The Smiths: 'The Smiths' (1984)
3. Tracy Chapman: 'Tracy Chapman' (1988)
4. Indigo Girls: 'Indigo Girls' (1989)
5. Judy Garland: 'Judy at Carnegie Hall' (1961)
6. The Smiths: 'The Queen Is Dead' (1986)
7. Elton John: 'Goodbye Yellow Brick Road' (1973)
8. Madonna: 'The Immaculate Collection' (1990)
9. Cyndi Lauper: 'She's So Unusual' (1983)
10. Antony and the Johnsons: 'I Am a Bird Now' (2005)
Now Gordon Brown can't even count on Elton's vote
Tuesday, December 15 2009
Once regarded as one of the Labour Party's most stalwart supporters, Sir Elton John tells Mandrake that he has now joined, along with David Furnish, the ranks of "floating voters".
"Gordon Brown is a friend, but neither of us feels able to guarantee him our vote at the election," the pop star, pictured, told the Telegraph. One reason for their ambivalence about Brown is his failure to tackle the increase in the number of HIV infections in Britain: the Health Protection Agency believes that the number of cases has risen by eight per cent between 2007 and 2008. "I have talked to Gordon about it, but I am not sure he grasps the extent of the problem," he said.

Elton, who wrote the lyrics to Billy Elliot, which is noted for its strident attacks on Margaret Thatcher, said that, when she was prime minister, she tackled the issue a lot more robustly. "People were more aware of the disease because of the uncompromising advertising campaign that her government ran," said Elton.

"Now people seem to believe that they are invincible. Yes, sure, they can take pills when they become infected, but they seem to have no idea of the side-effects of these pills and the impact the condition has on their lives."
Elton John: The Red Piano neon sign
Tuesday, December 15 2009
One of a kind opportunity to own a piece of the legendary Elton John "Red Piano" performances: The pieces up for sale are the actual neon stage pieces that graced the Coliseum stage at Caesar's Palace in Las Vegas, Nevada during 241 critically acclaimed performances lasting over a period of five years. These are not replicas or knock offs.
The pieces have been professionally removed and stored since the final show on April 22, 2009. The signage consists of five neon letters that spell "ELTON" and range in size from 10' to 30' high and between 20' and 30' wide. Also included is the "Hotel Love" neon sign.

The signs are complete with all circuitry intact for operation of the units. There is minor damage to a portion of the neon glass, however it is easily repairable when installed. Inspection of the neon sign will be available to serious bidders. The sale is "as is". Seller can provide technical assistance to the successful bidder on terms to be agreed.

The signs have been disassembled in sections and will ship in a single semi-truck container. Shipping will be the responsibility of the successful bidder. Seller will deliver the sign FOB Henderson, Nevada to the successful bidder's shipping company. Seller will provide an Affidavit of Authenticity with purchase.

Please send all bids and inquiries to: eltonjohnsign@wcontilaw.com. For more information visit our website.

For video of the signs during Red Piano performances, please click the links provided:

Benny & The Jets live performance (footage of the ELTON sign)

Tiny Dancer performance (footage of the HOTEL LOVE sign)
Elton John added to list of performers at Neil Young tribute
Monday, December 14 2009
The list of performers at the 2010 MusiCares Person of the Year tribute to Neil Young just got longer. T Bone Burnett, Patty Griffin, Elton John, Lady Antebellum and Leon Russell have been added to the event January 29, 2010 at Los Angeles Convention Center's West Hall.
Previously announced were Jackson Browne, Crosby, Stills & Nash, Sheryl Crow, Everest, Josh Groban, Emmylou Harris, Norah Jones, k.d. lang, Dave Matthews, John Mellencamp, Ozomatli, Red Hot Chili Peppers, James Taylor and Wilco.

Jack Black will be the emcee, it was also announced on December 14, 2009.

The dinner and concert honoring Young will be held in Los Angeles on January 29, 2010, two days before the 52nd Annual Grammy Awards. Proceeds from the event will provide support for MusiCares, which ensures that music people have a place to turn to in times of financial, medical and personal need.

Past MusiCares Person of the Year honorees include Tony Bennett, Bono, Natalie Cole, Phil Collins, David Crosby, Neil Diamond, Gloria Estefan, Aretha Franklin, Don Henley, Billy Joel, Elton John, Quincy Jones, Luciano Pavarotti, Bonnie Raitt, Paul Simon, Sting, James Taylor, Brian Wilson and Stevie Wonder.
The Elton John Aids Foundation's lavish Winter Ball
Monday, December 14 2009
When Elton John and David Furnish threw their celeb-studded Grey Goose Characters and Cocktails party it was a charity bash like no other.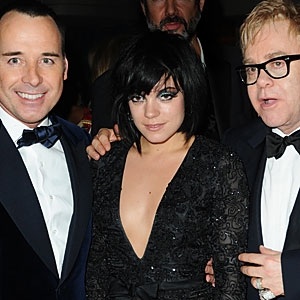 On December 13, 2009 a host of celebs including Elizabeth Hurley, Kelly Rowland, Tracy Emin, Amelle from the Sugababes, Daniel Merriweather and Amber le Bon flocked to the Grosvenor House Hotel for Elton John and David Furnish's lavish Winter Ball. The Grosvenor House Hotel's ballroom was transformed into a winter wonderland with white blooms, ice-blue drapes and even the entrance re-carpeted in white for the occasion.

The aim was to raise funds for the Elton John Aids Foundation through ticket sales (VIPs paid up to a thousand pounds a ticket) and a very special auction. Lily Allen, Roland Mouret and Lily Cole all designed spectacular bespoke bars imbued with their own personalities which were auctioned off to the VIP crowd to raise funds for Elton's worthy cause.

Shoe designer Patrick Cox designed a one-of-a-kind gold Vespa and Chopard donated a diamond watch, also to be auctioned.

There were Grey Goose vodka cocktails a-plenty and the bidding started for Mouret's mirrored Origami Bar at a not insignificant twenty thousand pounds which included a bespoke dress created by the designer and modeled by Amber Le Bon. The highest selling item of the night was Lily Allen's portable bar (it could be folded into a flight case and taken with you on a private jet - handy!) which sold for a cool one hundred thousand pounds.

The couple's pop up shop, Out The Closet had a selection of their former threads for sale (think D&G, Prada, McQueen) where guests could pick up a silk Versace shirt or a pair of pointy shoes formerly owned by either Elton or David. But despite all the glitz, glamour and fabulous gowns, Elton John was keen to remind his VIP audience about the work the Foundation is doing. "Every generation we see the number of cases of HIV rise as a new generation of need to be educated about the risks of unsafe sex. Young people are playing Russian roulette with their lives. My message is always be safe."

After his on stage interview (with questions by Fred, a young man the foundation has helped) it was swiftly back to the entertainment as Kelly Rowland took to the stage to perform a storming 45 minute set.
Elton makes dance album
Monday, December 14 2009
Elton has reportedly sparked a bidding war between record companies who are desperate to release his new music - which he has worked on with Australian producers P'Nau, known for their work with Empire of the Sun.
A source said: "Elton says he's writing his most exciting new stuff for years - possibly decades. Working with P'Nau has got the creative juices flowing again. They have got a load of big companies sniffing around."

Elton is not the only veteran star to take their music in a different direction. Sir Paul McCartney released the album 'Electric Arguments' under the title of his side-project The Fireman with music producer Youth.

Speaking about the LP, the former Beatles star said: "Originally, when I started the group, I used to joke with Youth in the studio, where we'd be putting together these midnight-dancey, ambient records, saying to him, 'This is like everything they won't allow me to do in the studio, what I won't even allow myself to do in the studio. This isn't like working, it's like goofing around.'"



Empire Of The Sun's Nick Littlemore writing with Elton John
Thursday, October 1 2009 at 08:45:09

Elton signs Sydney dance pop duo Pnau
Thursday, July 31 2008 at 08:48:43

Elton John joins the PNAU Fan Club
Thursday, December 13 2007 at 21:05:58


Out The Closet 2009
Saturday, December 12 2009
Fan report and photos by Mark Giles.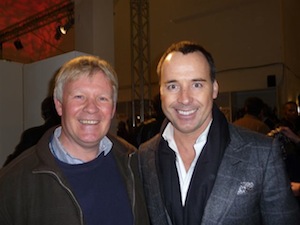 I was fortunate to attend the "preview" opening of "Out the Closet 2009" in Covent Garden, London, on December 11, 2009. Unlike the other "shops" a three hour preview window was given to the first 250 people on the Friday afternoon, before the shop opens to everyone on
December 12, 2009.

I need not have worried though, as when I arrived there was only a handful of people waiting at the door at 1pm and no more than 50 by the time the doors opened at 4pm.

Elton and David both greeted the press, arriving at around 3.30pm, but unlike other years they entered the building in a side door, and the press were then allowed inside the building for photographs etc, disappointing the
queue of people, who at the very best got a fleeting glimpse of Elton through the glass in the door.

When the doors opened at around 4pm, Elton had gone but David remained for a while, greeting people and answering questions about the various clothes etc. He thanked me for supporting the cause.

Inside the front door there were half a dozen of Elton's stage costumes (but none for sale) including the black & white suit worn by Elton at Wembley Stadium in 1984. The sale items were expensive (a Watford FC shirt was priced at £125). Items included caps at £20, belts (some Versace) at £50, trainers plimsolls for £50, shoes £99-£180, shirts at £125-£300 (Versace), jumpers from £50, scarves from £50, suits starting at £300, sports shirts £125 incl. Fred Perry shirts, trousers and some expensive bags. Sunglasses started at £125, and there were some watches too at £100. There were no ties, socks, Xmas cards, CDs, videos etc. that had been seen in other years.

In short, it was a clothes sale without the memorabilia that you might have expected. They were selling a few Elton John candles at £20, and had copies of the book "Dear Me .. A Letter to my sixteen year old self" at £10.

The shop will be re-stocked every day until the clothes run out, but it will close on December 20, 2009 at the latest.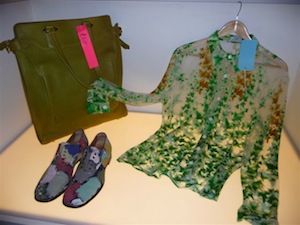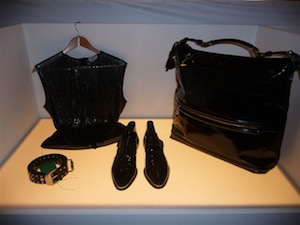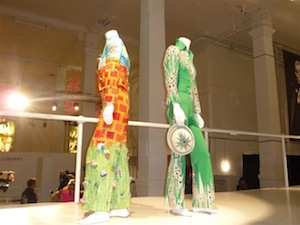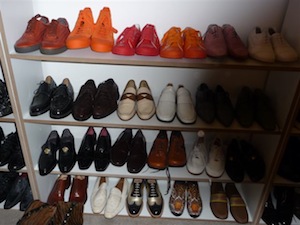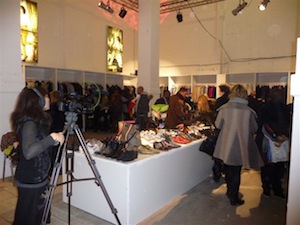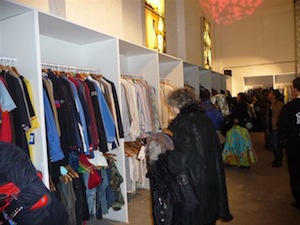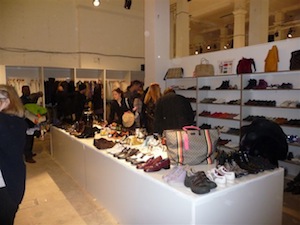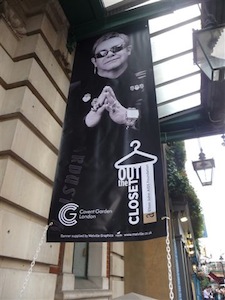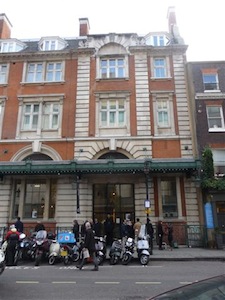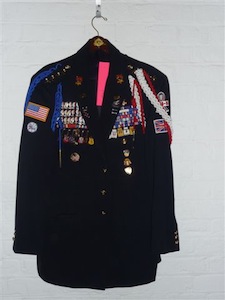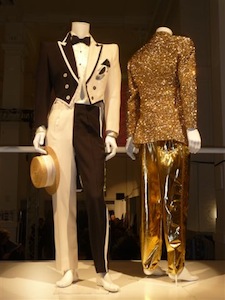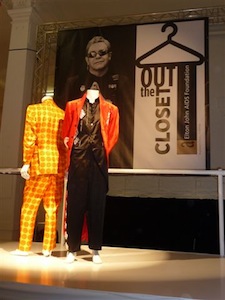 Elton opens "Out The Closet"
Friday, December 11 2009
Elton and David have formally opened "Out The Closet" which will sell items from their flamboyant clothing collection for charity.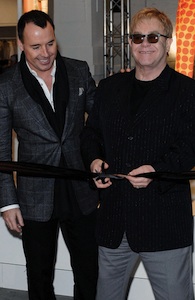 The shop in London's Covent Garden is being set up to sell clothes and accessories directly from their wardrobes, from December 12, 2009 for a week.

Elton said: "We always get a fantastic response from the public - I think the idea that the items we all buy and enjoy can help someone in dire need, particularly at this time of year, really strikes a chord."

David added: "For the first time we have sunglasses in store and other accessories which will make great Christmas gifts." The items will feature outfits worn by Sir Elton on stage, Furnish's favourite shirts, plus sunglasses, luggage and belts.

The shop will be restocked daily until sold out and a clearance sale will take place on any unsold stock. All proceeds from sales at the event will go to support the work of the Elton John Aids Foundation. The last Out The Closet, on Regent Street in 2002, sold about 15,000 items and raised £400,000 for the Foundation.



Sting tries on Elton's clothes for charity
Thursday, December 10 2009 at 10:45:19

'Out of The Closet' opens it's doors
Friday, December 4 2009 at 08:00:03
Haas leads team Elton to victory at WTT Smash Hits
Thursday, December 10 2009
Tommy Haas outgunned Andy Roddick in men's singles 5-2 to lead Team Elton John to a 16-13 win over Team Billie Jean King in the WTT Smash Hits charity event on December 8, 2009 in Baton Rouge.
The all-star charity event raised more than $640,000 for the Elton John AIDS Foundation and Baton Rouge area AIDS charities. More than $200,000 of the funds raised will stay in the Baton Rouge area.

In its 17-year history, WTT Smash Hits has raised more than $9.6 million for the Elton John AIDS Foundation and local charities throughout the U.S. With this latest win, Team Elton leads the overall series 9-8.

The event, presented by the Irene W. and C.B. Pennington Foundation, and hosted by the Baton Rouge Area Foundation (BRAF), will benefit the Elton John AIDS Foundation and AIDS charities serving the Greater Baton Rouge area. Captained by longtime friends Billie Jean King and Sir Elton John, the Smash Hits players formed two teams and faced off in a modified World TeamTennis match, playing one set each of men's singles, women's doubles, men's doubles and mixed doubles.

Haas put on a show for the energetic crowd, winning all three of his sets. In men's singles, Haas jumped to a 4-1 lead over Roddick before finally closing out the match with a 5-2 win. Haas teamed with Serena Williams, who served an ace on set point to edge Louisiana native Chanda Rubin and Roddick 5-4 in mixed doubles. Haas completed the trifecta, teaming with Jan-Michael Gambill for a 5-2 men's doubles victory over Roddick and 2009 NCAA Singles Champion Devin Britton.

Women's doubles featured an entertaining matchup of four Grand Slam doubles champions, including three former No. 1 doubles players. It was current top-ranked Liezel Huber and Lindsay Davenport who posted a 5-1 win over Kournikova and Williams.

Before the action on the court at the Pete Maravich Assembly Center, players took to the stage to raise more than $120,000. Andy Roddick served up a pair of tennis lessons for $12,000 each, while Florida residents Anna Kournikova and Serena William helped add $12,000 to the total by auctioning off a Super Bowl package to a room full of Saints fans. The top auction of the night was two Wimbledon packages featuring Billie Jean King's personal Center Court tickets which went for $20,000 each.

FINAL RESULTS - WTT Smash Hits in Baton Rouge, LA:

Pro-celebrity set: Elton John/Serena Williams defeat Andy Roddick/Anna Kournikova 4-3 (does not count toward total match score)

TEAM ELTON JOHN defeats TEAM BILLIE JEAN KING 16-13

Mixed Doubles: Tommy Haas/Serena Williams (Team Elton) def. Andy Roddick/Chanda Rubin 5-4 (Team Billie Jean)

Women's Doubles: Lindsay Davenport/Liezel Huber (Team Billie Jean) def. Anna Kournikova/Serena Williams (Team Elton) 5-1

Men's Doubles: Tommy Haas / Jan-Michael Gambill (Team Elton) def. Andy Roddick/Devin Britton (Team Billie Jean) 5-2

Men's Singles: Tommy Haas (Team Elton) def. Andy Roddick (Team Billie Jean) 5-2



Art prize gets Elton as celeb judge
Thursday, December 10 2009
When Ukrainian billionaire Victor Pinchuk needed a business model for his newly established Future Generation Art Prize, he decided to implement what we would call the American Idol method.
Pit a group of young starving artists against each other for a cash prize that comes with more strings attached than a marionette and throw in a loud bitchy judge with an English accent for good measure.

Pinchuk's $100,000 prize will be awarded every two years to an artist under 35 chosen from a panel of judges headlined by none other than Sir Elton John himself, who Pinchuk told the Times he chose because he likes his photo collection. Fashion maven Miuccia Prada is also on the panel—probably because Pinchuk likes her pants.
Elton the icon
Thursday, December 10 2009
Elton John and Judy Garland were voted the greatest gay icons of all time on December 9, 2009.
Elton emerged as the most respected man among the gay community. While Hollywood star Garland - who played Dorothy in The Wizard of Oz and was hugely popular with gay men during her lifetime - topped the list of women. A spokesman for www.OnePoll.com, which carried out the survey of 5,000 gay men and lesbians, said: "Interestingly only one of the men on the top 10 list of male celebrity gay icons isn't gay - David Beckham.

And yet most of the women put on a pedestal by the gay community are straight. "It just shows that to advocate a certain way of living, you don't have to live the lifestyle but simply be more accepting of those around you."

Queen frontman Freddie Mercury, who died of an Aidsrelated illness in 1991, was second in the male list while comedian Stephen Fry came third. Fry once said of his sexuality: "My first words, as I was being born... I looked up at my mother and said, 'That's the last time I'm going up one of those.'"

MALE CELEBRITY GAY ICONS

1. Elton John
2. Freddie Mercury
3. Stephen Fry
4. George Michael
5. Oscar Wilde
6. Will Young
7. Alan Carr
8. Paul O'Grady
9. Boy George
10. David Beckham

FEMALE CELEBRITY GAY ICONS

1. Judy Garland
2. Kylie Minogue
3. Madonna
4. Cher
5. Liza Minnelli
6. Marilyn Monroe
7. Shirley Bassey
8. Lily Savage
9. Dusty Springfield
10. Barbra Streisand
Elton hits in Gnomeo and Juliet
Thursday, December 10 2009
David has revealed forthcoming animation Gnomeo and Juliet is going to feature classic Elton John hits as well as new tracks.
The 47-year-old filmmaker is producing the comedy - featuring the voices of James McAvoy and Emily Blunt - and told how his civil partner is writing songs for the score.

David said: "It's got a lot of Elton's classic songs and he's even written some new songs that are going to appear in the film."



David 'sad' to see Danyl leave
Thursday, December 10 2009
David Furnish is having to pick a new X Factor favourite after Danyl Johnson got the boot.
He said he was disappointed to see the teacher ejected from the ITV show: "I was very sad when Danyl got voted out - he was my favourite choice so I'm having to re-evaluate the final acts now to see who I'm going to back but I was very sad to see him go, I thought he was great."

He added that he did not understand why the judges were so hard on Danyl, saying: "I think he had a tough time from judges, because he has the X Factor, he's an incredible singer, he's a genuine talent and he has a real personality and I was sad to see him voted out."
Sting tries on Elton's clothes for charity
Thursday, December 10 2009
Some of Elton's celebrity friends tried some of the clothes on this week to publicize the "Out the Closet" event in London.
Sting, Neve Campbell and Natalie Imbruglia were all spotted wearing Elton's old threads in GQ Magazine to help raise money for the Elton John AIDS Foundation.

"Elton and David are dear friends of mine, and I have the utmost respect for them as people and as campaigners," said Sting. "One of my favourite shots was with me wearing David's jacket and a pair of Elton's glasses. I looked a bit like Dame Edna Everage."

The clothes will be sold at Covent Garden's Flower Cellars on December 12, 2009.



'Out of The Closet' opens it's doors
Friday, December 4 2009 at 08:00:03


Elton will support Ukrainian boy he can't adopt
Tuesday, December 8 2009
DAvid says Elton was devastated that he wasn't allowed to adopt an HIV-positive Ukrainian toddler, but plans to support the boy anyway.
The 62-year-old pop star met 14-month-old Lev at a home for HIV-positive children in September 2009. But he was refused permission to adopt the boy because he was too old and not married.

David said on December 8, 2009 the couple was "massively gutted" by the rejection. He told BBC radio they were working to ensure Lev and his brother "have the best health care, education and family options available to them."

Elton and David tied the knot in 2005 in a civil union in Britain. Ukrainian authorities do not recognize gay unions as marriage. David said the couple would campaign for a change in Ukrainian law.



David Furnish: Friends 'worried' about George Michael
Tuesday, December 8 2009
Elton John has been contacted by friends of singer George Michael "worried" about his frame of mind, David Furnish has told the BBC.
"They keep calling us and saying 'you have to do something, George is in a bad way'", David told BBC Radio 5 live. "If he doesn't want help or... doesn't think he needs help, that's fine."

On December 5, 2009, Michael told Saturday's Guardian newspaper: "Elton needs to get on with his own life". Michael has admitted a past addiction to prescription drugs and said he is still a regular cannabis user. He claimed to smoke 25 cannabis cigarettes a day though he said in his recent interview that he has cut his usage to "about seven or eight a day now".

But, speaking on 5 live's Victoria Derbyshire programme, David said: "We're only reacting to what his close friends are saying to us. A lot of people are saying it to us, we get it very regularly. They're saying they're concerned about his health, concerned about his state of mind and his well-being and because Elton has been there and experienced sobriety now for 19 years, that perhaps he's in the best position to help him."

However, Michael told the Guardian: "Elton... will not be happy until I bang on his door in the middle of the night saying, 'Please, please, help me, Elton. Take me to rehab'. It's not going to happen."

In June 2007, the singer was banned for two years after pleading guilty to driving while unfit through drugs. He was also twice cautioned for possessing cannabis after being found asleep at the wheel of his car on two separate occasions in 2006.

David said: "George has to want help himself and if he wants help, then we're here for him. If he doesn't want help, that's his choice too or if he doesn't think he needs help then that's also fine."

George Michael's spokesperson could not be reached for comment.
WTT Smash Hits live webcast
Saturday, December 5 2009
Elton John and Billie Jean King take their coaching roles seriously for their annual charity tennis event, WTT Smash Hits, set for December 8, 2009 at the Pete Maravich Assembly Center in Baton Rouge.
The two longtime friends have already started their preparation by selecting their team lineups for the event. Elton John tabbed Serena Williams to head up his squad while Andy Roddick takes the lead for Team Billie Jean.

Joining Williams on Team Elton is former world No. 1 in doubles Anna Kournikova who is making her 7th consecutive Smash Hits appearance, Tommy Haas who is ranked No. 17 in singles, and former top 15 player Jan-Michael Gambill, a WTT favorite with the Boston Lobsters.

Along with Roddick, King rounded out her roster with 3-time Grand Slam singles champion Lindsay Davenport, current world No. 1 in doubles Liezel Huber, 2009 NCAA singles champion Devin Britton and local favorite and former world No. 6 Chanda Rubin of Lafayette, La.

In its 17-year history, WTT Smash Hits has raised more than $9 million for the Elton John AIDS Foundation (EJAF). The event, presented by the Irene W. and C.B. Pennington Foundation and hosted by the Baton Rouge Area Foundation (BRAF), will benefit EJAF and AIDS charities serving the Greater Baton Rouge area.

The two teams will face off in a modified World TeamTennis match, playing one set each of men's singles, women's doubles, men's doubles and mixed doubles. Sets are first to five games with a 9-point tiebreaker at 4-4. Games are no-ad, scoring is cumulative and service lets are playable.

Reserved tickets for the 17th annual WTT Smash Hits are $30, $65, and $100. Tickets are available through the LSU Box Office or by calling 800-960-8587. Visit www.WTT.com/smashhits to order tickets online.

TEAMS: Two teams of tennis stars will be coached by Sir Elton John and Billie Jean King.

TEAM ELTON: Sir Elton John (coach); Jan-Michael Gambill, Tommy Haas, Anna Kournikova, Serena Williams TEAM BILLIE JEAN: Billie Jean King (coach); Devin Britton, Lindsay Davenport, Liezel Huber, Andy Roddick, Chanda Rubin

SCHEDULE OF PLAY: Pro-Celebrity match: Evening begins at 7 p.m. with a special celebrity match featuring Elton John/Serena Williams vs. Andy Roddick/Anna Kournikova. (Note: Pro-Celebrity set does not count toward total scores)

Order of Play: Mixed Doubles: Tommy Haas/Serena Williams (Team Elton) vs. Andy Roddick/Chanda Rubin (Team Billie Jean)

Women's Doubles: Serena Williams/Anna Kournikova (Team Elton) vs. Liezel Huber/Lindsay Davenport (Team Billie Jean)

Men's Doubles: Tommy Haas/Jan-Michael Gambill (Team Elton) vs. Andy Roddick/Devin Britton (Team Billie Jean)

Men's Singles: Tommy Haas (Team Elton) vs. Andy Roddick (Team Billie Jean)

LIVE STREAMING ON WTT.COM FOR SMASH HITS: Watch live as some of the biggest names in tennis team up with Elton John and Billie Jean King for a great cause. Fans can watch the event live online at www.WTT.com/livestream. Mary Carillo and Harry Cicma will be in the booth and Jimmy Frederick of Baton Rouge's Cox 4 will be the sideline reporter for both the television broadcast and live streaming event.

The event will air locally on Cox 4 Baton Rouge/Lafayette, Cox Sports Television (CST Louisiana), Cox 10 New Orleans (check local listings for dates/times), and also airs on Tennis Channel on the following dates: 12/19/2009 at 7:00 p.m.; 12/20/2009 at 9:00 a.m.; 1/5/2010 at 9:00 p.m. (all times Eastern).



Andy Roddick to headline WTT Smash Hit Charity Night
Wednesday, June 17 2009 at 05:01:25

Team Elton John wins Advanta WTT Smash Hits 2008
Monday, October 13 2008 at 14:00:54

WTT Smash Hits 2008
Tuesday, August 5 2008 at 08:21:13


Sharon Stone's Elton-inspired jewelry collection
Friday, December 4 2009
In an bid to find a undiluted couples' present for Elton John as well as David Furnish, Sharon Stone took counts in to her own hands as well as written law rings for a duo.
The results, finished in as well as with Italian jeweler Damiani—a bullion perpetuity rope decorated with 2 carat severe diamonds for Elton, a china perpetuity ring with 5 carat diamonds for David—inspired a just-unveiled pick up called "Maji" (which equates to "water" in Swahili) that additionally includes pendants, earrings, as well as bracelets. The for-charity pieces (proceeds good an classification called "Drop In The Bucket", that installs water wells and sanitation systems in large rural schools in Africa) have been finished in varnished metals with tender diamonds for a masculine, dismantled look, as well as any a single is sealed by a actress.

At their brand new London boutique, Damiani's Vice President, Silvia Damiani, told PEOPLE some-more about a partnership with Stone, "This collection, that will be rising this Yuletide with a men's range, was her idea. It took 4 years to develop. The thought came about as Sharon has a lot of friends in a happy village as well as she additionally longed for to give something special to her friends Elton John as well as his partner David Furnish."

Damiani continues, "I unequivocally similar to a approach Sharon thinks," she said. "She sees things in a opposite viewpoint as well as has a really transparent prophesy in her mind. She had a lot of submit in this as she is really creative. The total thing was her concept." See a full pick up during Damiani.com.
'Out of The Closet' opens it's doors
Friday, December 4 2009
On December 12, 2009, the British public will see their Christmas dreams come true, as the doors of 'Out the Closet 2009' in Covent Garden's Flower Cellar's will fling open and shoppers will have a once-in-a-lifetime chance, to get their hands on an exclusive array of Elton John and David Furnishes' flamboyant clothing collection, direct from their wardrobes.
From outfits worn by Elton on stage to David's favourite Dior shirts, fans will have the opportunity to step into the shoes of the biggest stars in showbiz for real, as well as hand pick from their finest collection of clothes and accessories, including sunglasses, luggage and belts. Ranging from £10 to £2,000, the stock will feature labels such as Versace, Dior, Prada, McQueen, D&G and Jean Paul Gaultier. The shop will be restocked daily until sold out and a clearance sale will take place on any unsold stock on December 19, 2009.

'Out the Closet' always attracts the A-list shoppers from Elle Macpherson and Nathalie Imbruglia to Elizabeth Hurley. 100% of proceeds from sales will go to support the work on the Elton John AIDS Foundation.

'Out the Closet 2009' will be the fifth pop up shop the Elton John AIDS Foundation has held. The last 'Out The Closet', on Regents Street in 2002, sold approximately 15,000 items and raised £400,000 for the Elton John AIDS Foundation. Elton John comments, "Out The Closet has become an amazing fundraising opportunity for the Elton John AIDS Foundation. We always get a fantastic response from the public – I think the idea that the items we all buy and enjoy can help someone in dire need, particularly at this time of year, really strikes a chord. I'm so grateful for everyone's support in making this happen."

David Furnish adds, "The new stock in Out The Closet represents the largest clear out that I have ever had, and it's exciting to think that my clothes will draw a whole new demographic into our shop. For the first time we have sunglasses in-store and other accessories which will make great Christmas gifts."
EJAF - Holiday Candle at Macy's
Tuesday, December 1 2009
The Elton John AIDS Foundation (EJAF) and America's department store Macy's are partnering this holiday season to sell a limited edition Holiday-scented candle to benefit EJAF's grant-making initiatives.
Priced at $25, this special edition candle is available now through Macy's department stores in the US, as well as through macys.com.

"This holiday season, the gift of candlelight can also be the gift of life, because a portion of the proceeds from each candle will support EJAF's life-saving mission to bring effective HIV prevention programming to men, women, and children across the Americas and the Caribbean who are the most at-risk and the most vulnerable to HIV infection," said Sir Elton John. "I love candles, and it has been a great pleasure to create just the right scent to put everyone in the holiday spirit."
EJAF Winter Ball
Tuesday, December 1 2009
On December 13, 2009, Elton John throws his annual Winter Ball to benefit the Elton John AID Foundation.
This is a whopping event. It happens at Grosvenor House in plush Mayfair. Nobody who is anybody in Europe or the UK misses it.

Chanteuse Lily Allen and supermodel Lily Cole will provide some of the amusement. Arrivals: 6:30. Carriages: midnight.Click Fundraising@EJAF.com if you think you'll get onto a plane and into black tie. Or maybe just to donate a few bucks?
Costello giving up Spectacle
Tuesday, December 1 2009
Elvis Costello is saying he will leave his CTV series, "Spectacle: Elvis Costello With...", after Season 2 airs, tvguide.ca says.
"I wasn't looking for a career in TV," the online TV force says Costello told Wenn.com. "It's something I did as a side project for my real career."

Season 2 will air later. Guests are to include Bruce Springsteen, Sheryl Crow, Bono and The Edge of U2, Neko Case, Nick Lowe and Juno Award winner Ron Sexsmith.

Co-executive produced by Elton John, Costello and David Furnish, Spectacle benefits from Costello's talents as a performer and, more surprisingly, as a subtle interviewer.



"Spectacle: Elvis Costello with…" to be released on DVD
Thursday, November 12 2009 at 07:20:19