ELTON JOHN NEWS ARCHIVE: December 2007
The Billies 2008
Sunday, December 30 2007
The Billie Awards honor media excellence in the portrayal of girls and women in sports and physical activity. The Billies will be held on April 15, 2008 at the Beverly Hilton Hotel in Beverly Hills.
This event will gather celebrities from film, television and professional athletics, including Billie Jean King, as well as feature a special performance by Sir Elton John. Don't miss this spectacular event!

This black-tie evening begins with a 6 p.m. cocktail reception followed by the dinner and awards portion of the evening at 7 p.m. Five "Billies" will be presented throughout the evening in the following categories: Journalism, Entertainment, Breakthrough and Innovation, Industry Leader, and Outstanding Journalist.

For more information on The Billies, please email Jessica Blubaugh or call +1-516-542-4700 extension 163.
2nd maintenance update!
Saturday, December 22 2007
The domain eltonfan.net has now moved to a new server and all major problems seem to be fixed.
We were able to get the Hercules Message Board running with all the old posts. Should you still experience problems with this or any other script, please don't hesitate to contact me.

Take care,
Stephan (webmaster)
Merry Christmas & Happy New Year 2008!
Friday, December 21 2007
We would like to wish you, your family and your loved ones a wonderful Christmas season and all the best for a successful New Year.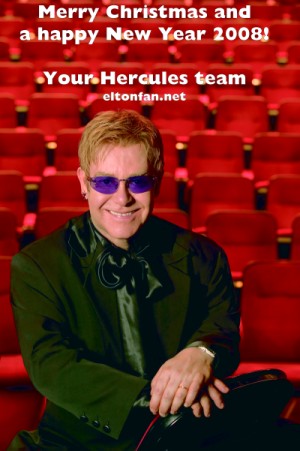 The year 2007 has been another exciting 365 days for fans of Elton John. As all of you will no doubt remember, Elton turned 60 this year and celebrated his big birthday with a wonderful show at Madison Square Garden in New York.

Fans came from all around the world to be part of this unique event. Besides the actual concert, there were many fan gatherings including a fantastic "Lunch Around The World" just hours before Elton's birthday show. If you want to relive some of that magic Elton weekend, check out our special website sixty.eltonfan.net.

And the celebrations will continue in 2008 as Hercules will celebrate its - drum roll - 20th anniversary! It's really hard to believe that we have been around for such a long time. We are currently planning a big fan party to celebrate this event sometime later in 2008, and we are especially looking forward to welcoming fans/members from "zero hour".

For us it is time again to thank you for your loyalty and support throughout the ending year. And we would like to wish you, your family and your loved ones a wonderful Christmas season and all the best for a successful New Year.

Your Hercules Team!
Elton says sorry to Hear'say
Friday, December 21 2007
He may be one of the UK's biggest success stories and most awe-inspiring characters, but it seems that even Elton John is not too big to admit when he's wrong.
He once lashed out at manufactured band Hear'say, accusing the group of being "the ugliest band in pop". But it seems the star realised his comment was out of line.

Former Hear'say member Kym Ryder told The Guardian: "He did come and apologise to us at the Royal Variety Performance. Well, he actually sent someone down who said, 'Elton John would like to apologise for the comment that he made, he'd like you to go up to his room'.

But Kym, who now stars as Michelle Connor in Coronation Street, continued: "Myleene Klass, I think it was, said, 'No, tell him to come here,' and he did." This is not the only time that the actress has been hit with acerbic remarks.
Paddick confident of Sir Elton's support
Friday, December 21 2007
Elton John and David Furnish will be supporting the campaign of the only gay candidate for Mayor of London.
Brian Paddick, a former Metropolitan police Deputy Assistant Commissioner, told LBC radio of his celebrity backers on December 19, 2007. During his time at the Met Mr Paddick was the UK's most senior out gay police officer.

In November 2007 he won the nomination of the Liberal Democrats for Mayor of London. Speaking to Nick Ferrari, Mr Paddick said that if elected he would alter the role of Police Community Support Officers in order to free police officers from paperwork and return them to frontline policing.

The 49-year-old faces incumbent Ken Livingstone and Tory candidate Boris Johnson in next May's election.
VH1 "Classic 60 Minutes"
Friday, December 21 2007
"Classic 60 Minutes" will feature music icons Bruce Springsteen, Tina Turner, Ray Charles, Elton John, Billy Joel, Sting and The Eagles. The first installment featuring Eric Clapton premieres January 6, 2008 at 8:00 PM ET/PT.
VH1 Classic is tapping into the archives of the award-winning CBS News broadcast "60 MINUTES" for the new series "Classic 60 MINUTES," which revisits some of the biggest names in pop and rock music, including Billy Joel, Bruce Springsteen, Tina Turner, Ray Charles, Elton John, Sting and The Eagles. The first episode, focusing on Eric Clapton, premieres January 6, 2008 at 8:00 PM.

CBS News correspondent Lara Logan will host the new half-hour series featuring past "60 MINUTES" interviews expanded with never-before-seen footage and conversations. "Classic 60 MINUTES" will provide viewers with an intimate snapshot of their favorite artists complete with in-depth details and insights as well as an update from Logan on recent news about these icons.
Shirley Bassey blows £500,000 on 70th party
Friday, December 21 2007
Party-goers on December 16, 2007 included Sir Elton John, Madonna, 'Harry Potter' author J.K. Rowling, Kevin Spacey and George Michael.
The 'Hey, Big Spender' singer treated guests at the bash, held at Cliveden House Hotel in Berkshire, England, to Scottish lobster and langoustine, foie gras and beluga caviar.

Although the party was held in celebration of her 70th birthday, the legendary singer actually reached the milestone in January but decided to hold the bash at a later date when everyone could make it. Later in the evening, Bassey - dressed in a figure-hugging red satin gown - led revellers in a rendition of 'Happy Birthday', before cutting her multi- tiered, red cake.
Happy Birthday, Guy!
Thursday, December 20 2007
Guy Babylon, keyboard player in the Elton John band, is celebrating his 51st birthday on December 20, 2007.
On behalf of the Hercules team and the Elton John fans all over the world, we would like to wish him a happy birthday!
Elton John performed in Werribee, Australia on Dezember 16, 2007
Monday, December 17 2007
Sir Elton has been spending this year celebrating his 60th birthday and the party finished on December 16, 2007 in Melbourne, Australia.
One of the first remarks he made to the crowd was to note the excellent weather. Many of the Aussie outdoor shows have been dogged by rain. "I can't believe it is sunny," he said. "I've brought so much rain to Australia on this tour".

The mark his anniversary, the first five songs came from his breakthrough debut from 1970, opening with the classic 'Your Song' and featured 'The Greatest Discovery'.

Never one to hold back, he chastised former US President Ronald Reagan and dedicated the song 'The Boy With The Red Shoes' to Ronnie's incompetence. "This song is from Songs From The West Coast. It is about AIDS in the US. Reagan was President and did nothing about it. It was a case of cowardice and malice," he said getting straight to the point.

Equally provocative was the song 'Ticking'. "This song is 34 years old and still relevant. The same thing happened three weeks ago in Colorado".

In true superstar fashion, once the show was over, Sir Elton departed in a helicopter while the thousands of fans battled their way out of the carpark.

Following is the complete set list of the Werribee show on December 16, 2007:

Your Song

Sixty Years On

The Greatest Discovery

I Need You To Turn To

Border Song

The Boy In The Red Shoes

Daniel

Honky Cat

Rocket Man

Tiny Dancer

Mona Lisas and Mad Hatters

Nikita

Philadelphia Freedom

Sacrifice

Ticking

Roy Rogers

Sorry Seems To Be The Hardest Word

Candle In The Wind

I Guess That's Why They Call It The Blues

Electricity

Carla/Etude

Tonight

Blue Eyes

Bennie and the Jets

Crocodile Rock


I'm Still Standing

Don't Let The Sun Go Down On Me
Coup for Cook
Sunday, December 16 2007
Elton John and husband David Furnish have made one antique dealer very happy this Christmas.
Woollahra royal and Paul Keating mate Martyn Cook hosted a shopping spree for the couple who were in town for the opening of Billy Elliot.

With the Queen St store specialising in 18th and 19th century antique furniture, objets d'art and paintings, there was plenty of scope for the show-biz identities to stock up their various homes. No word on if they are planning to buy more property in Australia, although Elton is a huge fan of the Sydney lifestyle.

Following the opening night performance, Elton gave every single member of the cast and crew a shiny new iPod.



Elton John drops in at Billy Elliot gala
Thursday, December 13 2007 at 21:13:26


Elton backs Al Bangura
Friday, December 14 2007
HONORARY Life President Sir Elton John has offered his high profile to support to Al Bangura, as the young Watford player bids to remain in the UK.
Sir Elton, who was formerly Chairman of the Hornets, has been watching the Bangura case unfold from afar and has taken the step of writing to Gerry Sutcliffe, Minister in the Department of Culture, Media and Sport. He has also copied the letter to local MP Claire Ward.

Likewise, the Professional Footballer's Association have made representation to Sutcliffe, with Bobby Barnes, the former West Ham United player, being particularly helpful and positive towards the case.
Elton John drops in at Billy Elliot gala
Thursday, December 13 2007
A bejewelled Elton John was at his sparkling best as he walked down the red carpet on December 13, 2007, for the gala opening of Billy Elliot the musical.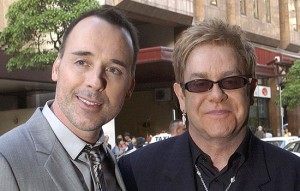 With partner and the show's executive producer, David Furnish by his side, Elton, who wrote the musical's score, charmed the crowd with his praise of the Harbour city.

"I've been here for three weeks and had the best time," he said. "I've caught up with people that I haven't seen for a long time." Sir Elton said he felt a connection with the lead character, reminding him of his own impoverished upbringing. "My dad wasn't supportive of me, so I've always been very ambitious," Elton said.

A crowd including Anthony La Paglia and Lachlan Murdoch joined Elton at the Capitol Theatre, before going to the Sofitel hotel after-party.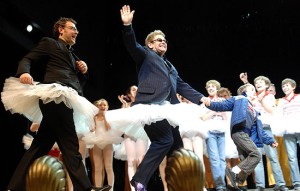 Elton John joins the PNAU Fan Club
Thursday, December 13 2007
Australia's PNAU have a new fan. Elton John has been telling his friends about his new-found discovery.
Sir Elton's record label Universal is reporting that the superstar has been buying up copies of PNAU's 'PNAU' and passing them onto friends. This week, he invited the duo, Nick Littlemore and Peter Mayes to tea at his hotel. He has offered to help with support in anyway he can around the world.

The PNAU self-titled release is the third album for the duo. PNAU will perform at the Big Day Out in January 2008.
Elton gives Mick Jones a push
Thursday, December 13 2007
Elton John is using his piano-thumping power to help former Clash man Mick Jones make it big in America.
Elton became an international star in the 1970s after his debut performance Stateside at The Troubadour Club in Los Angeles. Now, he wants Jones to take to the stage at the famous theatre in a bid to break America with the punk rock legend's new band Carbon/Silicon.

Jones, 52, was born in Brixton to a Welsh father and a Russian/Jewish mother. He spent much of his early life living with his grandmother, Stella, in Wales. The unlikely duo teamed up last Christmas after Elton's management company invited Jones to a party.

A spokesman for Elton said: "Mick is a member of Carbon/Silicon, a new band which also features former Generation X and Sigue Sigue Sputnik singer and guitarist Tony James. Elton and Mick get on extremely well, and when Mick told Elton that Carbon/Silicon were going to play gigs in America, Elton suggested that they play The Troubadour in Los Angeles, just as he had done back in 1970."

And Elton – who has championed the success of bands like the Scissor Sisters and James Blunt – has been raving about Carbon/Silicon's debut album The Last Post ever since. He said: "They have more to say, they are more relevant and I like them better than most young bands today."

Jones, who also found fame with Big Audio Dynamite, himself is determined to keep looking forward. He said: "I'm always thinking that tomorrow is going to be the day. I want to be in the moment... always cautiously optimistic about the future but with no expectations. It's only chasing an illusion. I try to be fresh by ignoring everything I've done up 'til now. I don't find it hard to be original... I just do what I do instinctively and don't even think about it."
Lunchbox 2007 - Charity Auction
Tuesday, December 11 2007
Elton was one of the ­­­celebrities that donated to the 2007 "Lunchbox Online Auction", where 100+ iconic celebrities from the entertainment, fashion, art, music, literary and culinary worlds remind us that food matters by creating personalized lunchbox art for online auction.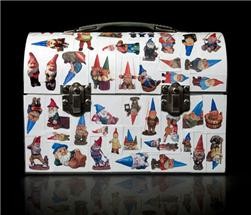 The auction went live on December 7, 2007 and will benefit two hunger-relief organizations — Food Bank For New York City and The Lunchbox Fund of South Africa.

Elton's lunchbox was inspired by Gnomeo and Juliet. All lunchboxes will be shipped after the Lunchbox Auction ends on December 21, 2007. This lunchbox will not be shipped in time for Christmas delivery.
Elton honoured by Maori community
Friday, December 7 2007
Elton John has been given a rare honour by the Maori community for his continued loyalty to the Polynesian people of New Zealand.
He was presented with a specially made bird-feather cloak - called a Korowai - by a member of the Ngati Te Whiti sub-tribe on December 6, 2007, following his concert in the city of New Plymouth.

The accolade is the "Maori equivalent to an Academy Award" and makes Elton an honorary member of the Ngati Te Whiti, according to the group's chairman Peter Love. He adds, "(The Korowai) was gifted as recognition of the enjoyment Sir Elton John's music has give to Maori over the years and his loyal continuance to return to Aotearoa (Maori name for New Zealand) to entertain."
Led Zeppelin seek advice from Elton
Tuesday, December 4 2007
Reformed rockers Led Zeppelin are to seek advice from Elton John ahead of their reunion concert at London's O2 Arena on December 10, 2007.
The band are worried about acoustics in the venue - formerly the Millennium Dome - because Elton is the only artist to have put on a good show there. And guitarist Jimmy Page is hoping to consult Elton before they take to the stage for their one-off performance.

Page says, "The Stones sounded terrible (when they played there), Prince wasn't great, Snow Patrol was just this great monolithic noise. "The only guy who sounded OK in there was Elton John. So I may talk to his sound man."