ELTON JOHN NEWS ARCHIVE: December 2006
Elton and David plan low-key Christmas
Sunday, December 24 2006
Elton John and David Furnish are shunning their mansions for an apartment in Venice, Italy this Christmas.
The pair have opted for their low-key Italian haunt this festive season over homes in America, France and England.

David admits the couple enjoy the simpler things in life at the Venetian pad, because it makes them "really happy" at holiday time.

He says: "We do our own self catering (in Venice). You can have all the world at your fingertips sometimes and then, actually, what makes you happy is loading the dishwasher, laying the table, making the toast and coffee, and just hanging around at home."
Merry Christmas!
Sunday, December 24 2006
We would like to wish you, your family and your loved ones a wonderful Christmas season and all the best for a successful New Year.

Please also check out our online Christmas card ... and please excuse the downtime of the server earlier today. What looked to be a major hard disk problem in the first place turned out to be a less harmful error that I could fix before the opening of Christmas gifts (which takes place on the evening of Decembe 24 in Germany).

Diana concert live on BBC
Thursday, December 21 2006
The BBC has announced it will broadcast the tribute concert to Diana Princess of Wales when it takes place in 2007.
The event will take place on July 1, 2007, what would have been the Princess's 46th birthday, and is being organised by her sons, Princes William and Harry.

Artists already confirmed for the concert at the new Wembley Stadium include Elton John, Duran Duran and Joss Stone.

The channel plans to show it live on BBC1 as well as online and on Radio 2. Bosses said they were "thrilled" the Princes chose the station to broadcast what will be a "key event for the British public".

The concert marks the 10th anniversary of Diana's death, with all proceeds going to charities she supported before her tragic death in a car accident and also those which the Princes are patrons of.

Tickets have already sold out but more are expected to be released in 2007. There will also be a memorial service in London on August 31, 2007, which members of the Royal Family and Diana's family will attend.



Elton: I will sing "Candle in the Wind"
Thursday, December 14 2006 at 11:39:34

Diana concert sold out - almost
Thursday, December 14 2006 at 08:02:33

Elton John heads Diana memorial concert
Tuesday, December 12 2006 at 15:07:52


David in The Spectator
Thursday, December 21 2006
David Furnish enjoyed his tour of Australia with Elton but he wasn't impressed with the resulting newspaper reports.
In a diary column he wrote for The Spectator magazine, David seems peeved that instead of lauding John's generous £100,000 ($250,000) donation for Australian AIDS initiatives, British newspapers concentrated on his unfortunate vomiting episode at his Brisbane concert, with headlines such as "Elton's Chunder Down Under".

David also complained about the paparazzi who hounded the pair on Sydney Harbour. They evaded the "long-lensed vermin" by staying below deck for the first part of their harbour cruise.

Australia's World AIDS day coverage stank, David wrote, with few and paltry articles. "Rather perplexingly," he wrote, "most of the Australian papers choose to give front-page coverage to the chronic illness of the lead singer of a group called the Wiggles. My mind boggles."
Lucas' wedding confuses Elton
Wednesday, December 20 2006
Little Britain star Matt Lucas' gay wedding on December 17, 2006 confused Elton - as the singer didn't recognise most of the guests.
Elton admits the pantomime-themed wedding reception after Lucas and Kevin McGee's nuptials was a great idea, even though the lavish costumes rendered his fellow celebrities almost unrecognisable.

But he believes the party was so successful because it was a British affair. He says, "The great thing about British people is you say, 'Come as fancy dress' and they always do. Americans don't get it. British people really do rise to the occasion.

"I didn't recognise half the people (at the wedding) until they started talking - Paul O'Grady, Roger Taylor from Queen... I didn't know them from Adam."



Little Britain star Lucas 'weds'
Monday, December 18 2006 at 10:44:55

Dame Elton
Saturday, December 16 2006 at 12:38:30


Elton John: Married life is great
Wednesday, December 20 2006
Elton John, 59, and David Furnish, 44, who wed on December 21, 2005 – the first day same-sex marriages were made legal in the UK – have only good things to say about married life.
"This year has gone so quickly and it has been a great year for us," Elton told PEOPLE in London at the screening of their latest film production, "It's a Boy Girl Thing".

"We feel great and we're going to Venice to celebrate our anniversary and have a very quiet dinner together," said Elton. "We're very happy." David, who co-produced the film with Elton, added: "(We're) very content and very nicely settled."

"It's a Boy Girl Thing" is a comedy about teenagers who find they've swapped bodies, but Elton was quick to give the credit to his partner for the film. "It's David's (movie)," he told reporters. "(He) really does most of the work and I just have all the credit at the end as a producer. I just helped get the music together and gave him moral support while he was making it."

But to David, Elton's involvement was much more significant. "I really do value his input because he has such fantastic instincts on what people would like and love," he told reporters.



Stars turn out for Elton's premiere
Tuesday, December 19 2006 at 08:18:18


Stars turn out for Elton's premiere
Tuesday, December 19 2006
Sir Elton John's celebrity mates have turned out in force to support the pop star at the premiere of his new film.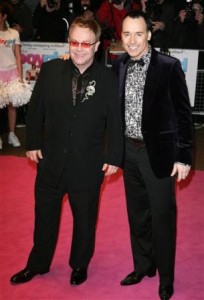 Geri Halliwell, Sharon Osbourne and Girls Aloud star Cheryl Cole were among the celebrities lending Sir Elton a helping hand. The star and his partner David Furnish produced "It's A Boy Girl Thing", with X Factor judge Osbourne making her feature film debut in the movie.

The rest of the cast are unknowns, but that did not stop Sir Elton's showbiz friends turning out in force. Others who attended included Girls Aloud star Nicola Roberts, Sting, fashion duo Trinny and Susannah, Jamelia and Graham Norton.

Osbourne, 54, who also brought her daughter Kelly, joked: "I loved every minute of doing this but I don't think this is the beginning of a new film career. It was just so great to work with my friends, to do this with them. I've brought Kelly here with me but my old man has had enough of seeing me right now."

Sir Elton revealed that he might have a larger role than simply performing at the concert in memory of Princess Diana organised by her sons. He said: "They said there might be a role for me doing the MC bit by linking it all together, which I don't mind doing. The princes will choose all the acts and if I can help co-ordinate it I will."

The premiere took place at the Odeon West End in Leicester Square in support of the Elton John Aids Foundation.

Little Britain star Lucas 'weds'
Monday, December 18 2006
Little Britain star Matt Lucas has "married" his long-term partner Kevin McGee in a civil partnership ceremony, before a panto-themed reception.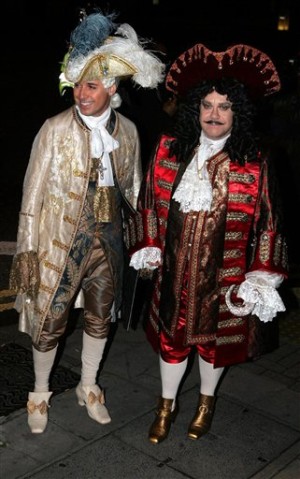 Guests at the service in London included Lucas' comedy partner David Walliams and presenter Dale Winton. The ceremony was kept fairly formal, with male guests wearing suits.

But the reception was a more outrageous affair as guests such as Elton John and Jonathan Ross took the opportunity to dress in pantomime costumes. Speaking ahead of the ceremony, Lucas said: "I'm nervous but very excited at the same time."

And, explaining the flamboyant dress code, the comedian added: "I like dressing up, I'm quite a preppy, dull dresser in my life, so it's a chance for me to be a bit more outrageous." The 32-year-old has been with TV producer McGee for three years and they have been engaged since May.

After the ceremony, the couple looked relaxed and happy as they posed for cameras arm-in-arm. Lucas wore an exotic Aladdin's costume with pink plumes, gold spangled trousers and a bolero jacket at the reception, which was held at Banqueting House in Whitehall. And his partner was dressed as Prince Charming.

Lucas' Little Britain comedy partner David Walliams attended the event in a blue and yellow Billy Bunter-style blazer.

Elton John and David Furnish arrived at the reception as Captain Hook and Prince Charming.

Other guests included comic Paul O'Grady, who was dressed as Captain Hook, and EastEnders actor Steve McFadden who turned up as the Demon Prince accompanied by his on-screen-mother Barbara Windsor as the Fairy Godmother.

Meanwhile, singer Will Young attended the event as an Ugly Sister, while Nancy Sorrell - Vic Reeves' wife - donned a short skirt and knee-high socks for her Bo Peep costume.



Dame Elton
Saturday, December 16 2006 at 12:38:30


Dame Elton
Saturday, December 16 2006
Nobody does flamboyant like Elton - and the Rocket Man is apparently planning to upstage the year's most outrageous wedding.
When Little Britain's Matt Lucas marries his long-time boyfriend on December 17, 2006 in a pantomime-themed extravaganza the one question on everybody's lips will be: "What will Elton John wear?"

Elton in drag (again) isn't the only thing guaranteed to get the 500 guests talking at the £300,000 star-studded bash.

The centre-piece of the wedding reception at the historic Banqueting House in Whitehall, London, will be a massive pantomime horse made of... Brussels sprouts.

Guests invited to the reception include fellow Little Britain star David Walliams, comic Vic Reeves, actor Anthony Head and Pet Shop Boy Neil Tennant. The tables will also be decorated with elaborate vegetable carvings - including cauliflower sculptures.

Guests are all expected to make the effort and dress up in pantomime fancy dress costumes, including Mother Goose, Peter Pan and Captain Hook. The dinner follows an intimate ceremony where the couple will exchange vows at Home House private members club. But it won't be until the bash at Banqueting House that things will be somewhat more lively.

It's understood that the lucky couple have not set up a wedding list and are leaving presents at their guests' discretion. Matt, 32, met Kevin at a nightclub four years ago and the pair have kept their relationship low-key ever since.

But their extravagant wedding celebrations - staged by legendary 80s party planner Philip Salon - are in marked contrast to their stag night, held a week ago at West End nightclub Too2Much. The pair only invited a handful of friends and spent barely £200 on the bar bill.
NAB Education Foundation fetes Elton John
Saturday, December 16 2006
Sir Elton John will receive the Service to America Leadership Award from the NAB Education Foundation June 11, 2007 at the organization's ninth annual Service to America Gala.
The award is given to "an individual who has performed extraordinary public service in bettering the lives of others," according to NAB. Elton is being recognized for his involvement in raising nearly $120 million to fight HIV/AIDS.

"Sir Elton John has served as a beacon to the world in the fight against AIDS," said NAB President and CEO David K. Rehr. "The NAB Education Foundation is proud to honor Sir Elton for his extraordinary dedication to eradicating this insidious disease."

The death of Ryan White, an Indiana teenager who contacted HIV through a blood transfusion and died 16 years ago at the age of 19, inspired Elton John. In 1992, he launched the Elton John AIDS Foundation in the United States. A year later, he based a likewise foundation out of the United Kingdom.

Recent recipients of the Service to America Leadership Award include former President Bill Clinton, Her Majesty Queen Noor of Jordan, First Lady Laura Bush, former New York Mayor Rudy Giuliani, Muhammad Ali, former President Jimmy Carter and First Lady Rosalyn Carter, and former First Lady Nancy Reagan.

The Service to America Awards are sponsored and produced by NABEF with major support from Bonneville International Corp. and NAB. Details about the Service to America Awards Gala are available at www.nabef.org.
Elton and Robbie's feud continues Down Under
Friday, December 15 2006
Elton has got his revenge on pop rival Robbie Williams, after the "Rock DJ" star announced Elton's hotel room number to a concert crowd of thousands.
Both British singers are currently touring Australia and Elton was furious when he learned Williams - who has been staying in the same Sydney hotel as Elton - had been giving out his suite details.

David Furnish tells British magazine "The Spectator" that Elton decided to get his own back by boasting about Williams' former band Take That's recent chart success - they are at the top of UK album and singles charts for the second week running.

Furnish says, "I got a phonecall from a slightly irked Elton still Down Under. (He was furious) at Robbie's irresponsible delinquency."

Elton wrote a note and slipped it under Williams' hotel room door: "Dear Robbie, Take That... No 1 single and album. Great result. Love Elton." Elton and Robbie's friendship soured in 2004 when the "Angels" singer claimed the former attempted to kidnap him in an attempt to steer him away from drugs.



Elton 60th birthday is just 100 days away
Thursday, December 14 2006
On December 15, 2006, there will be only 100 days left until Elton's 60th birthday on March 25, 2007.
Time's running fast and it has already been 100 days since we have launched www.sixty-years-on.com on September 6, 2006.

Since then, a few fans have already posted their birthday message for Elton John, but we hope there will be a lot more within the next 100 days.




In addition to the online birthday card (deadline for posting is March 24, 2007) there are other ways to participate in preparing some unique birthday presents for Elton:

'Sixty Years On' CD
(deadline: January 31, 2007)

You can also record a new version of 'Sixty Years On' (see 'New Sixty Years On' for details) and send us your recording for inclusion in a special CD which will be presented to Elton.

Ultimate Elton John Fan Guide
(deadline: January 31, 2007)

And finally, you can simply send us a photograph of yours and/or of an Elton John fan event you attended in the past and we will turn this into one big 'Ultimate Elton John Fan Guide' (see 'Ultimate Fan Guide' for details) which will also be presented to Elton.

Whatever option(s) you choose, make sure to be part of Elton's special birthday on March 25, 2006.




Preparations for Elton's 60th have begun
Tuesday, October 31 2006 at 16:59:37

sixty-years-on.com
Wednesday, September 6 2006 at 08:53:13

Elton: I will sing "Candle in the Wind"
Thursday, December 14 2006

Elton John says he will sing "Candle In The Wind" at the Concert For Diana on July 1, 2007 – if Princes William and Harry ask him to.

He vowed never to perform the reworked version of his classic single again after his emotional rendition at Diana's funeral in 1997.

But now he said: "I'll do it if the Princes want me to. I am at their service and if they think it is appropriate then I'll be ready for it. They'll tell me when they are ready."

In 1998 Elton said it would be "totally inappropriate" for him to perform it in public again.




Diana concert sold out - almost
Thursday, December 14 2006 at 08:02:33

Elton John heads Diana memorial concert
Tuesday, December 12 2006 at 15:07:52



Diana concert sold out - almost
Thursday, December 14 2006

Fans snapped up the £45 tickets for the Diana tribute concert on July 1, 2007 when they went up for grabs from 9am on December 13, 2006.

But the official website www.concertfordiana.com posted a message saying more would be released in the New Year.

The online message read: "For now, tickets have sold out. More Tickets will be released in the New Year, keep checking back."




Elton John heads Diana memorial concert
Tuesday, December 12 2006 at 15:07:52



Free streaming of Elton John Seventies concert
Wednesday, December 13 2006

The Concert Vault features 10 tracks from an early Elton John concert recorded at Fillmore West, San Francisco, CA, on November 11, 1970.

Register for free at Concert Vault to stream the approx. one hour show featuring Dee Murray on bass and Nigel Olsson on drums.
Elton John heads Diana memorial concert
Tuesday, December 12 2006
Elton John will be among the stars performing at a concert held at Wembley Stadium in summer 2007 in memory of Princess Diana, Clarence House has announced.
Princes William and Harry revealed the details of the July 1, 2007 concert today, as well as announcing a memorial service to mark the tenth anniversary of their mother's death on August 31, 2007.

Prince Charles and his new wife Camilla, the Duchess of Cornwall, will both attend the memorial service, as will the Queen, the Duke of Edinburgh, Lady Sarah McCorquodale, Lady Jane Fellowes and Earl Spencer, Diana's brother, among others.

But Camilla, who was famously described by Diana as the "third person" in her and Charles' marriage when the relationship was in trouble, is not expected to attend the concert.

The gig will be one of the first to take place at the renovated north London venue and will be on what would have been Diana's 46th birthday.

As well as Sir Elton, whose version of "Candle in the Wind" recorded in memory of Diana spent weeks at the top of the music charts, Duran Duran, Bryan Ferry, Pharrell Williams, The English National Ballet and Joss Stone will all perform at the Concert for Diana.

West End legend Andrew Lloyd Webber will also stage a medley of songs from some of his greatest shows.

"We both wanted to put our stamp on it. We want it to represent exactly what our mother would have wanted," Prince William said of the concert, which he and his younger brother have organised.

"So therefore the church service alone isn't enough. We wanted to have this big concert full of energy, full of the sort of fun and happiness which I know she would have wanted. And on her birthday as well, it's got to be the best birthday present she ever had. First and foremost the evening is for her. It's to remember her and to commemorate her life and celebrate it."

Prince Harry added of the memorial service: "The service is going to include both sides of the family, our mother's side and our father's side - everyone getting together. It should be a good occasion."

All profits from the concert will go to charities which Diana was involved with, as well as two – Centrepoint and Setebale – which her two sons support.

Tickets will be available on a specially set up website starting December 13, 2006 at a cost of £45.
Serge: Elton's just a fat man
Tuesday, December 12 2006
First it was Noel Gallagher, then Kim Wilde – and now Serge from Kasabian is the latest star to take a pop at Elton John.
The guitarist is fuming after reading Elton's tirade on The Sun' Bizarre page calling Serge's Oasis pal Noel "an absolute t***** who looks like Parker from Thunderbirds."

Serge told The Sun: "Elton's just a fat man in a tracksuit. Whereas anything that comes out of Noel's mouth is absolute genius. Noel is the last man you want to start with. He's so quick he can destroy anyone. Elton John needs to watch out."



Kim Wilde slams "deluded" Elton
Friday, December 1 2006 at 09:51:15

Elton slams Noel over 'precious' comments
Thursday, November 23 2006 at 08:56:08


Osbourne to play foul-mouthed housewife
Tuesday, December 12 2006
Sharon Osbourne has signed to play the part of a bossy foul-mouthed housewife in Elton and David's new movie.
In a case of life imitating art, Osbourne will play a character close to herself in "It's A Boy Girl Thing", which is being made by Elton and David.

Osbourne agreed to the cameo role after being approached by David - who thought she would be perfectly suited to the part. He says, "We needed someone to play a domestically challenged foul-mouthed housewife, somebody like Sharon, and then I said, 'Well why don't we ask her?'

"She got into the spirit of it and filmed the football scenes outside in a freezing Toronto suburb at three in the morning."



"It's a Boy Girl Thing" release date announced
Wednesday, September 13 2006 at 18:38:24


Top ten sad songs
Monday, December 11 2006
"The Drugs Don't Work" by The Verve is the No1 sad song, tests show.
The tune, which was inspired by the death of lead singer Richard Ashcroft's dad, beat Robbie Williams' "Angels" and Elton John's "Sorry Seems To Be The Hardest Word".

Dr Harry Witchel, an expert in physiology and music, analysed reactions to sad, happy and exhilarating music for Nokia. Sad tunes lowered heart rate, happy ones rekindled good memories and made test subjects sigh and exhilarating ones made them breathe heavier.

Top ten sad songs

1 The Drugs Don't Work — The Verve
2 Angels — Robbie Williams
3 Sorry Seems To Be The Hardest Word — Elton John
4 I Will Always Love You — Whitney Houston
5 Nothing Compares 2 U — Sinead O'Connor
6 Leave Right Now — Will Young
7 Are You Lonesome Tonight? — Elvis Presley
8 Beautiful — Christina Aguilera
9 Goodbye My Lover — James Blunt
10 Fake Plastic Trees — Radiohead
England's cricketers to rock with Elton
Monday, December 11 2006
England's cricketers are not letting a rough Ashes tour get in the way of getting to a good gig, or four.
The tourists will on December 11, 2006 attend Elton John's concert in Perth, which brings to four the number of concerts they have attended in Australia in five weeks.

They watched U2 perform in Sydney, Kylie Minogue dazzle in Sydney and Robbie Williams strut his stuff in Adelaide, although that show would have been flat for the players, as it was just hours after England lost the second Test.

Captain Andrew Flintoff organised tickets for the show on December 11, 2006 through his friendship with Elton.

Young batsman Alastair Cook, also a keen music fan, said Flintoff organised the tickets to help keep the players spirits up and morale high heading into the third Test, which starts December 14, 2006.

"We're all going out as a side tonight to watch Elton John," Cook said. "Freddie's organised that. We're all sticking together despite what everyone seems to be saying. There's good team spirit there."

Although England's players will not be short of live music this tour, their concert record could raise eyebrows among their numerous critics.

On December 12, 2006, bowlers Steve Harmison (one), James Anderson (two) and Ashley Giles (three) will all have attended more shows than they have taken Test wickets during the Ashes.



Pop stars to be lampooned in cartoons
Friday, December 8 2006
The world's most famous pop stars are to be lampooned in a television cartoon after the success of a series of children's books mocking their celebrity lifestyles.
Author of the tongue-in-cheek tales is Peter Robinson, founder of the www.popjustice.com Web site that appeals as much to music industry insiders as it does to teenagers.

"They are aimed at all ages. They are written in a childlike way like the 'Mr Men' books but they are for adults as well as kids," he told Reuters.

"I particularly loved the idea of writing a book about Michael Jackson that you could read to children."

In "A Boy Called Michael" Robinson writes: "If you were to line up lots of pictures of Michael, you might think that he had changed himself lots to look different. You would be wrong to think that -- most of this has happened by itself!"

"In the book on Britney Spears, I said she should stop having babies and make another album. She is now doing that so I hope we played a small part," Robinson said.

He has now signed a deal to turn the slim volumes into an animated TV series.

Elton John is satirised for his shopping sprees and short temper. Recalling one of his outbursts about lip-synching at concerts, Robinson writes: "Once Sir Elton was very mean about a girl called Madonna. He said that Madonna should not make people pay to watch her pretend to sing songs. Elton was very angry about this. He was so angry his head almost fell off." (Buy "A Boy Called Elton" from amazon.co.uk.)

Feedback, as far as Robinson knows, has been positive.

"Robbie Williams was given a copy early on of the book about him. He really liked it and took it home," he said.

No collection of cautionary pop tales would be complete without the story of "A Boy Called Pete" about singer Pete Doherty, the self-confessed drug addict and on-again off-again boyfriend of supermodel Kate Moss.

"I didn't set out to make it moral but it's difficult not to see it as a good example of why you should not take drugs all the time," Robinson said.

As the book explains, Pete "likes to take lots of mind-bending Class A drugs. Unfortunately Class A drugs are not very good for you. They make you smelly and a bit untidy-looking."
C Major announces deals on Elton John Special
Thursday, December 7 2006
Broadcasters in more than ten markets have come on board for Elton John's performance from the AVO Session music festival in Basel, Switzerland, distributed by the recently launched C Major Entertainment.
Produced by Swiss Television SF, the two-hour special , Elton John plays AVO Session from Basel, filmed November 18, 2006, has scored deals in Germany, Denmark, Belgium, Finland, the Czech Republic, Slovenia, Hungary and China, among others.

Other performances from the acclaimed music festival in Basel available for international broadcasters include Miriam Makeba, Shaggy and Cassandra Wilson.

C Major is a new company providing consulting, marketing and distribution services for music programming. In addition to working with the organizers of AVO Session, C Major is distributing the UNITEL catalogue, featuring performances by the likes of Leonard Bernstein and Placido Domingo, among others.
Nothing but the best for Sir Elton
Wednesday, December 6 2006
He might only be in the country for a few hours, but Elton John will be lavished with New Zealand gifts and food during his short stay.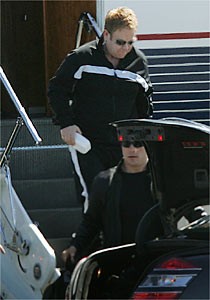 Elton arrived in Wellington in the afternoon of December 6, 2006 from Australia on a private jet. He was whisked to Westpac Stadium in a brand new chauffeur driven Mercedes, where he was taken to his suite, furnished especially for him by local company Parker Ferguson.

Promoter Phil Sprey said they wanted to give the star the best of everything to make his trip to Wellington a memorable one. "He's only here a matter of hours but you'd think we were fitting out an entire house," he said of Sir Elton's "greenroom".

The room will feature leather couches, rugs, coffee tables, lamps and glass work by Nelson's Hoglund Glass. Elton is fond of the one-off glass creations made by husband and wife team Ola and Marie Hoglund and he already has several of their creations in his personal collection.

Known for his penchant for fresh flowers, Elton has requested bunches in his personal rooms – but has stipulated he doesn't want any chrysanthemums, carnations, lilies or daisies.

While the performer doesn't drink alcohol, crew members will have a selection of New Zealand wines to choose from.

A major cricket fan, Elton will have access to Sky Sport in his room as well as a selection of local magazines and newspapers.

Because time is so tight, the Elton won't have time for a proper "sitdown" dinner before the concert so Wellington caterer Ruth Pretty is providing a selection of fresh, healthy produce for him to "graze" on. It will include cherries, strawberries, raspberries, New Zealand lamb cutlets and a selection of New Zealand cheeses.

Travelling with a personal staff of 28, including a hairstylist and makeup artist, Elton and his staff will all be given pounamu pendants to remember their time here as well as books on Wellington and a selection of New Zealand music.

Elton will also be given a whalebone necklace, a specially-made "surprise" gift by Wellington's Weta Workshop and beauty products by local woman Margaret Hema and New Zealand companies Trilogy and Living Earth.

Elton's list of requests was a "dream" compared to other big-name artists but Sprey said he wanted to go the "extra mile" because it was a small world and he hoped the singer and his crew would spread the good word about the city.

While Elton flies to Melbourne after the concert finishes, his piano and other equipment have to be trucked to Ohakea to be flown out because weight restrictions at Wellington Airport prevent them from being able to take off from the capital.

The furniture used by Sir Elton and his crew will be auctioned to raise money for Wellington Free Ambulance. It will go on display at Parker Ferguson's Thorndon Quay store on December 8, 2006. Bidding will close on December 10, 2006.
Glitterazzi Elton John Santa
Tuesday, December 5 2006
JTW has created an exclusive Glitterazzi piece for Elton John in Las Vegas!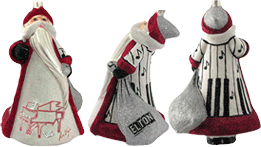 This piece has the black and white piano pattern on the back of the coat, and Elton's signature red piano on the front.

The glittered and silvered sack has the "Elton" logo on it. This piece will be a limited edition of 500 pcs and is available for order now.

All fans of this musical legend will want this piece in their collection! To order the Glitterazzi Elton John Santa, call +1 (702) 866-1239.
Elton and David see red Down Under
Saturday, December 2 2006
A scarlet-clad Elton and David joined famed snapper James Houston in Sydney on December 1, 2006 for the launch of his dance-themed collection of photos.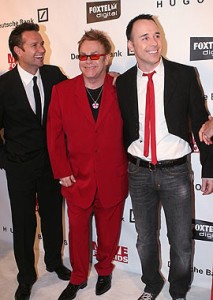 Elton John and David Furnish put on a well-matched performance in Australia as they both stepped out in scarlet. But while David limited his red attire to a tie, Elton went for a more top-to-toe approach.

Elton donned rose-tinted glasses and a striking scarlet suit for a book launch in Sydney. Proceeds from sales of Move, the new publication by renowned snapper James Houston, which features shots of famous dancers, will be donated to the fundraising programme Dancers Responding To AIDS.

The celebrity pair have been given a typically warm reception by Aussie fans. "People come to me and I'm a bit like the Queen Mother…I don't know what it is with me - people treat me very reverently," said Elton.
A quick word with Elton John
Friday, December 1 2006
The New Zealand Herald published this short interview with Elton John on December 1, 2006.
Your new album The Captain & The Kid as well as its immediate predecessors Peachtree Road and Songs from the West Coast mark what's generally been seen as a return to form. Do you see it that way and if so, what - or who - do you blame it on?

I am delighted by the critical acclaim that both albums have received. Peachtree was my first self-produced album and I think the move to go back to basics really paid off. I also think that Bernie Taupin is really at the top of his game and the lyrics he gave me were exceptional. They are both very personal albums for me.

But at the same time, many of those who turn out to see you aren't exactly rushing out to buy The Captain and the Kid. You reportedly blamed that on your record company recently. But is that the only reason? Haven't you made it a little hard for floating voters by creating a sequel to Captain Fantastic ... ? Who wants to go see part 2 of a movie they're not sure they ever saw part 1 of?

Of course I would have loved the critical acclaim to be followed with huge sales. I think the problem is more about the nature of the music business right now. It's difficult to get music apart from hit singles played on radio and TV channels these days. People like to hear tracks before they buy CDs, I think.

Describe Bernie Taupin in a sentence of 15 words or less.

My lyricist and the dirt brown cowboy

You're famous for giving sage advice and championing young stars. Whoever did that for you? Did you or would you have listened?

I got amazing advice when I was breaking out on the scene in the early 70s from total heroes of mine starting with Long John Baldry, Elton Dean, Aretha Franklin ... I always listen to people I admire!

And because it's that time of year, the best albums you heard in 2006 were (and why) ...

So many - Scissor Sisters, Ray LaMontagne amongst them. I love people who have really unique and fresh talent.

You're only playing in Wellington on your New Zealand visit. Should those of us in Auckland take it personally?

It's a long time since I have toured in Australasia. I really wanted to include New Zealand. There was the possibility of adding only one show, and that show was Wellington.
Kim Wilde slams "deluded" Elton
Friday, December 1 2006
Eighties singer Kim Wilde has hit out at Elton John - calling him "deluded" and "self-indulgent".
Wilde believes Elton has spent so long living the life of a superstar that he's now separated himself from reality. She says, "He's deluded. The man has always been deluded. He's lived a very unreal life for so many, many years, with so much excess that he's lost touch with some realities of life. He's become a self-indulgent person.

"He should refer all his criticism to himself. I won't abide tantrums in my children and I can't bear them in an adult. It's disgusting."

However, Wilde does like Elton's most recent album, "The Captain And The Kid". She adds, "I've heard his new album and there are some really nice songs on it."