ELTON JOHN NEWS ARCHIVE: December 2005
Virtual tour of Elton's homes
Friday, December 30 2005
With Google Earth you can "visit" Elton's homes around the world - Woodside, Atlanta, Nice, Venice or London as well as Caesar's Palace in Las Vegas. Take a look!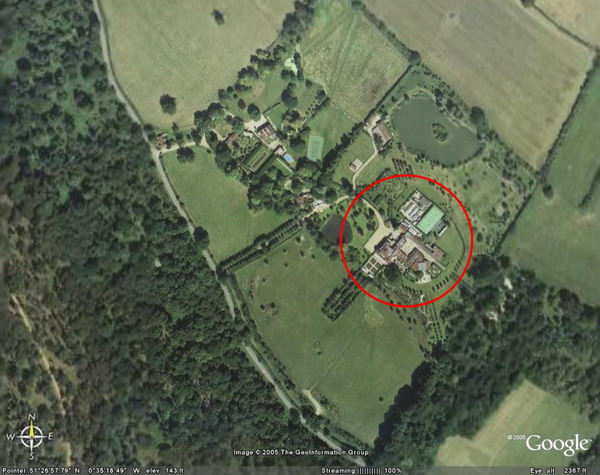 Elton's "Woodside" home near Windsor, UK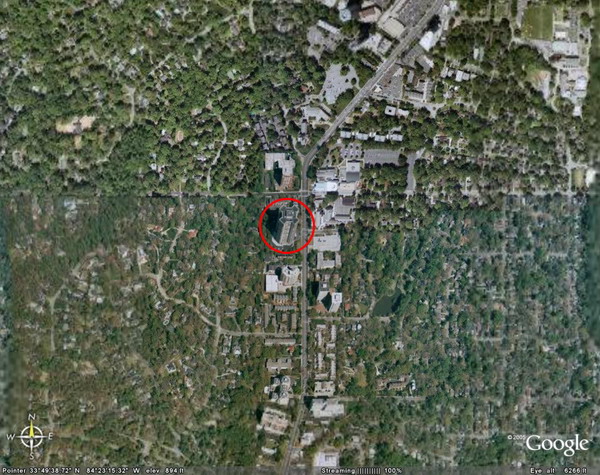 Elton's "Peachtree Road" home in Atlanta, GA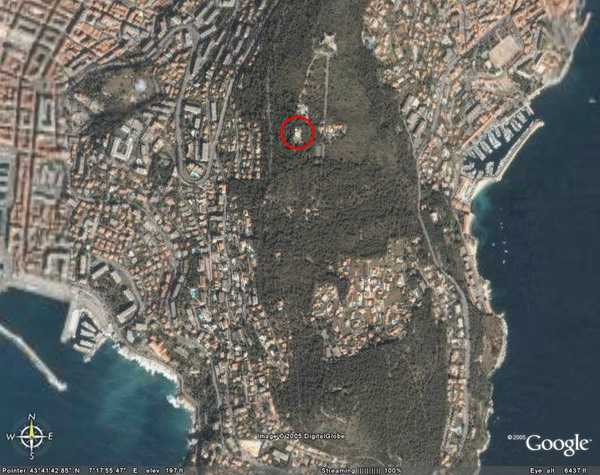 Elton's "Castel Mont Alban" home in Nice, France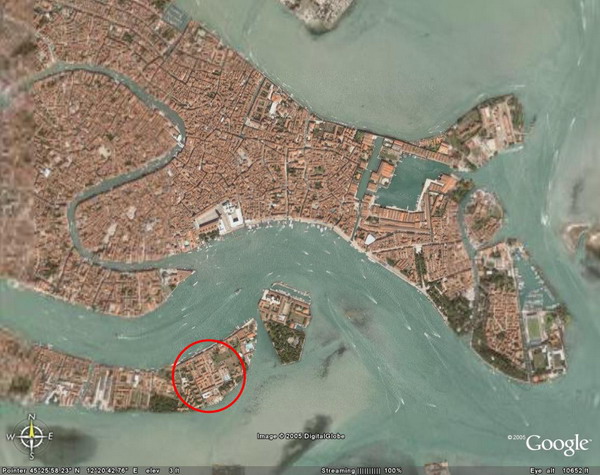 Elton's "Giudecca" home in Venice, Italy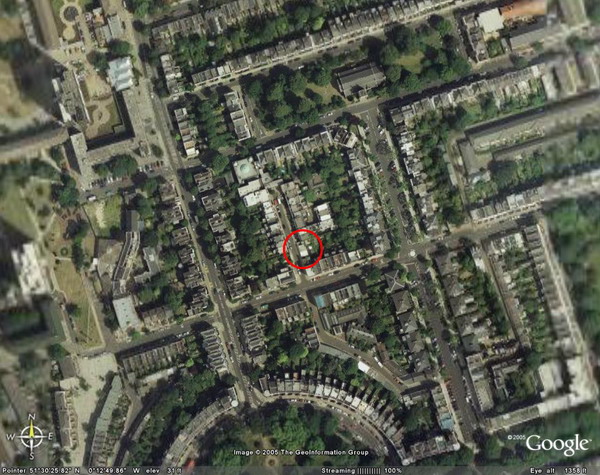 Elton's "Holland Park" home in London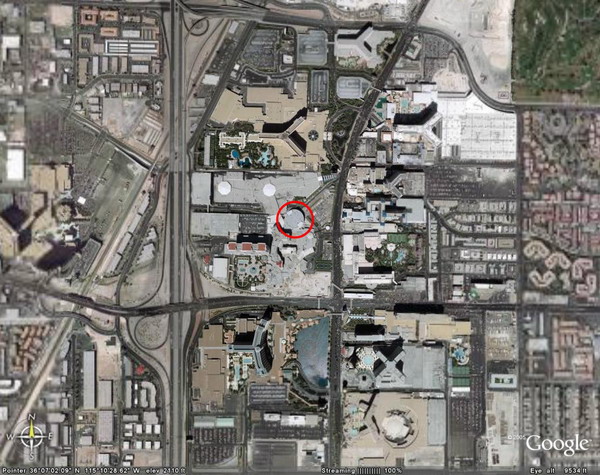 Elton's "The Red Piano" venue in Las Vegas, NV

Elton John and David Furnish's civil partnership certificate
Friday, December 30 2005
A copy of Elton John and David Furnish's civil partnership certificate was made available in London on December 29, 2005.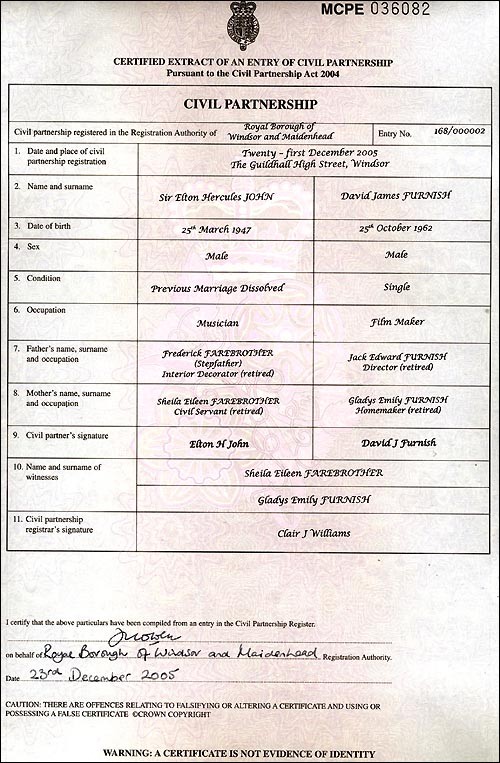 Elton John takes honeymoon tour
Thursday, December 29 2005
Elton John and David Furnish took a break from their honeymoon on December 27, 2005 to take a guided tour of Venice's historic La Fenice theatre .
"It's still the greatest theatre in the world," said Elton, who plans to hold another one-man show at the famed opera house after his highly acclaimed 2003 concert.

The newly-wed couple were accompanied by their pet dog and two unidentified women as theatre manager Giampaolo Vianello gave them a tour of the theatre and a show on Italian abstract artist Emilio Vedova .

The couple, who own a house in Venice's La Giudecca island, arrived in the lagoon city on December 22, 2005 and have been spotted shopping and lunching at Harry's Bar.

The Fenice opera house, a replica of the eighteenth century original that was destroyed in a fire in 1996, was inaugurated in 2003. The state-of-the-art renovation was carried out after meticulous historical research using photographs and documents.



Elton and David enjoy honeymoon
Saturday, December 24 2005 at 19:17:59


Elton and David enjoy honeymoon
Saturday, December 24 2005
Elton John and David Furnish have been spotted enjoying their honeymoon in Venice.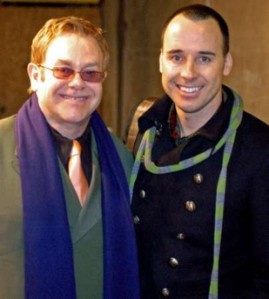 The happy couple took a motorboat cruise through the city on the first day of their holiday together.

"They've been together a long time, but they were just like a couple of love-struck teenagers," an onlooker said. "They were laughing and joking and seemed to be having a whale of a time."

Elton and David later went on a stroll through the Italian city, where Elton has a £1.25 million home.
Joss Stone sings for stars at Sir Elton's bash
Saturday, December 24 2005
Joss Stone was the surprise entertainment at Sir Elton John's wedding party - hotfooting it from the Hammersmith Apollo where she had performed in concert.
The 17-year-old soul star sang at Sir Elton's £1 million wedding party at his Windsor estate hours after she had won rave reviews.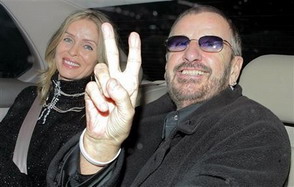 Before her performance, entertainment was provided by the three young stars of the stage version of Billy Elliot.

The bash featured 19,000 red roses arranged by Princess Diana's florist, Robert van Helden, in the grounds of Elton's Windsor home. "They were the most beautiful flowers I've ever seen," said a guest.

The 700 guests - possibly the greatest number of stars ever assembled in one marquee - included Liz Hurley, George Michael, Dame Shirley Bassey, Sting, Ringo Starr and Rod Stewart. Other singing stars there were Jamie Cullum and James Blunt.

Some guests were forced to spend up to two hours in their Bentleys and Rolls-Royces queuing in the country lane leading to the estate as they tried to get in.

Stars such as Victoria Beckham and Hugh Grant had barely arrived and had dinner before they were on their way home. By 2am many had left and were tucked up in bed although the party was supposed to continue until 7am.

The guest list also included Prince Andrew and the Duchess of York.



"This could only happen for Elton"
Thursday, December 22 2005 at 07:21:48


Jack Noseworthy leaves Lestat
Friday, December 23 2005
Jack Noseworthy has decided to depart the upcoming Broadway production of Lestat because the creative team has decided to take his character, Armand, in a new direction.


Director Robert Jess Roth said in a statement, "In the development of the show in San Francisco the creative team has decided to take the character of Armand, wonderfully played by Jack Noseworthy, in a new direction. I have enjoyed working with Jack and his contributions to our show have been invaluable. We will all miss him."

Noseworthy added, "Being part of the creative process of Lestat has been a tremendous pleasure and an enriching experience. I am confident that taking the character of Armand in a new direction is the correct choice for the production. I wish my friends well, and a long prosperous run."

Understudy Drew Sarich will perform the role until a replacement is announced.

Lestat, based on Anne Rice's novels, will play Broadway's Palace Theater beginning March 11, 2006 and opening on April 13. It is currently playing at San Francisco's Curran Theatre, and will run there until January 29, 2006.