ELTON JOHN NEWS ARCHIVE: December 2004
Elton 1,615 weeks in UK charts
Thursday, December 30 2004
The Guinness British Hit Singles and Albums book ranks artists every year according to how many weeks they have spent in the UK singles and albums charts.
The likes of Madonna, the Rolling Stones, the Beatles and Elvis Presley are already in the top 100.

This year, the Chilis are the only new entry - making it to number 97. Those who have a chance of getting in next year include Britney Spears, Eminem, Westlife, Radiohead and Iron Maiden.

Spandau Ballet have fallen out of the top 100, while Michael Jackson is the highest climber - now at number eight.

Elvis Presley still tops the list, having notched up 2,463 weeks in the UK singles and albums charts.


Here are the top 10 acts:

1. Elvis Presley (2,463 weeks)
2. Cliff Richard (1,972 weeks)
3. The Beatles (1,742 weeks)
4. Queen (1,725 weeks)
5. Madonna (1,653 weeks)
6. Elton John (1,615 weeks)
7. The Shadows (1,578 weeks)
8. Michael Jackson (1,477 weeks)
9. David Bowie (1,459 weeks)
10. U2 (1,402 weeks)
Casino's Success Breeds Tension
Sunday, December 26 2004
Residents in the Santa Ynez Valley - amonst them Bernie Taupin - go from helping the tribe to fighting its development plans.
In the 1960s, a group called Concerned Citizens held barbecue dinners, car washes and fashion shows to help bring indoor plumbing to the Chumash Indian reservation here.

The display of charity was not an isolated occurrence. Year after year, merchants donated toys and clothing to Indian children. Volunteers decorated the sparse tribal hall each Christmas and baked cookies for Chumash families.

"It was a very friendly atmosphere," said Jody White, who strung pine cones and candy canes in the tribal hall.

Today, the Chumash inspire more fear than pity. A new Concerned Citizens group has emerged ó not to help the tribe, but to fight its development plans. In a stunning reversal, the region's wealthy landowners now view the Indians as a threat to their way of life.

The Chumash plan to construct a museum, cultural center and retail complex on 6.9 acres near downtown Santa Ynez. It would be the first Chumash development on the north side of Highway 246, long the dividing line between the town and the reservation.

More controversial still is the tribe's proposal to build a massive residential complex in partnership with actor-turned-developer Fess Parker, less than two miles east of the reservation.

Parker paid $6 million for 1,428 acres of farmland in 1998, but failed in his attempts to ease strict zoning laws, which allow no more than two houses for every 100 acres.

Then Parker approached the Chumash about selling approximately half of his property. Like other federally recognized tribes, the Santa Ynez band enjoys special land acquisition rights granted by the federal government in the 1930s to compensate for past seizures of Native American property.

Invoking those rights, the tribe hopes to annex the property to the reservation ó after purchasing it from Parker. If the U.S. Bureau of Indian Affairs approves, the Chumash will be able to bypass county and state land-use regulations and build up to 500 luxury homes, a resort hotel and a championship golf course.

The proposal has bared deep resentment on both sides. In a full-page advertisement in a local newspaper, British songwriter Bernie Taupin denounced the Parker-Chumash partnership as "a treaty designed to line their pockets and damn the land." Taupin, 54, has owned a ranch in the Santa Ynez area since 1992.

"Should this atrocity go ahead, it would surely be the beginning of the end for this pastoral wonderland we cherish," he wrote. "The fight has only just begun. I can guarantee we will snap at Mr. Parker's lanky heels till his skin is raw."

The letter was signed by a number of prominent valley residents, including actress Bo Derek, singer David Crosby and his wife, Jan, and bandleader Doc Severinsen.

The Chumash took offense at what they saw as the critics' proprietary attitude toward the hills and pastures of the valley. "We've been here a lot longer than any of the complainers," said tribal chairman Vincent Armenta, 41, whose grandparents raised 10 children in a lean-to on the reservation.

Referring to Taupin, he asked: "Where does a foreigner get the gall to tell the first Americans what we can do with our own land?"
"Ducktail Jiver"
Saturday, December 25 2004
An unfinished track from the Caribou sessions, "Ducktail Jiver," will be finished and included as a bonus on the upcoming SACD reissue of the 1974 album.
Davey Johnstone will add guitar to round out the recording. Until now, the track has circulated among fans with the late Dee Murray's complex bass line the predominant instrument.
Prince leads concert cash league
Saturday, December 25 2004
Prince's tour of North America has made him the continent's most lucrative live performer of the year. Elton on #10.
Prince's 69 city, 96 show tour took $87.4m (£45.5m) during 2004, beating Celine Dion's Las Vegas residency, which came in second, taking $80.4m (£41.8m).

The figures were published by trade paper Pollstar, which named Madonna as the third most lucrative performer.

Madonna's tour took $79.5m (£41.3m), while Metallica were ranked fourth in the magazine's table, taking $60.5m (£31.4m).


TOP US/CANADA TOURS

1) Prince $87.4m (£45.5m)
2) Celine Dion $80.4m (£41.8m)
3) Madonna $79.5m (£41.3m)
4) Metallica $60.5m (£31.4m)
5) Bette Midler $59.4m (£30.9m)
6) Van Halen $54.3m (£28.2m)
7) Kenny Chesney $50.8m (£26.4m)
8) Sting $50.1m (£26m)
9) Toby Keith $43.7m (£22.7m)
10) Elton John $43.3m (£22.5m)

Of the top 100 performers, the average ticket came in at $52 (£27) - with Elton John's tickets the most expensive, at $158 (£82) each.
Beckhams host glitzy christening
Friday, December 24 2004
David and Victoria Beckham have hosted a star-studded christening for sons Romeo and Brooklyn, with Elton John heading the guest list.
A private chapel was constructed for the occasion in the grounds of the family's Hertfordshire mansion. Former Spice Girls Emma Bunton, Gerri Halliwell and Melanie Chisholm were all seen entering the estate.

It was rumoured the bash would see a reunion of all five group members, but "Scary Spice" Mel B did not attend.

The Beckhams were believed to have chosen Sir Elton John and his partner, David Furnish, as godparents to Brooklyn, five, and two-year-old Romeo. Sir Elton arrived for the black-tie affair in a silver Rolls Royce.

Other guests at the lavish ceremony included Liz Hurley and her boyfriend Arun Nayar, as well as Greg and Lucy Rusedski and David's former Manchester United team-mate Gary Neville.

Stars to receive invitations included Hollywood actor Tom Cruise, Wayne Rooney and Coleen McLoughlin, along with Sven Goran Eriksson and Nancy Dell'Olio. The rest of the guest list consisted of close friends and family, including the Beckhams' parents and siblings.

Earlier on December 23, 2004 afternoon David Beckham's mother Sandra drove to the couple's home near Sawbridgeworth, closely followed by Victoria's parents, Tony and Jackie, and then her sister, Louise.

Victoria, who is expecting her third child in March 2005, is understood to have planned the ceremony. Although Brooklyn and Romeo were to have a traditional Christian ceremony, the chapel appears to have two Buddhist shrines at its entrance.

The couple have flirted with different religions and earlier this year Victoria was spotted wearing a red Kabbalah bracelet.

After Brooklyn's birth, David remarked: "I definitely want Brooklyn to be christened, but I don't know into what religion yet."
Step into Christmas
Saturday, December 18 2004
The team of eltonfan.net would like to wish all Elton fans and their families a wonderful christmas 2004 and all the best for the New Year!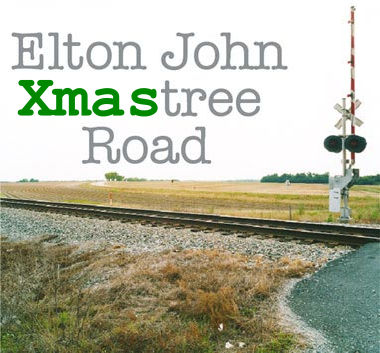 At the same time, we would like to take the opportunity again of thanking you for keep on visiting the site and for your support throughout the year.

We are happy to know that despite the fact the fan club no longer exists in his "old form", most of you are still loyal visitors of eltonfan.net and enjoy our services.

2004 has been an exciting Elton year, and there is no doubt that 2005 will be full of Elton excitement again. So keep on visiting.

We do offer these services free of charge, however, if you feel this service is worthwhile, we would appreciate a small donation in order to cover the costs for the server etc. Simply send it via paypal.com to paypal@eltonfan.net. Thank you in advance!

You can also support us financially be making your Elton purchases through www.eltonfan.net/shop. Thanks again!

Take care,

Stephan Heimbecher
(webmaster)
Elton stars in cult comedy
Saturday, December 18 2004
Elton is set to appear in a special episode of cult British comedy LITTLE BRITAIN.
He plays himself in the BBC show as he is interviewed by a homosexual Welsh character called Daffyd, played by comedian Matt Lucas.

Elton infuriates Daffyd, by stealing his trademark line, "You know, I am the only gay in the village."

The episode is set to screen as part of a COMIC RELIEF charity special in March 2005.
Elton John's partner slams marriage plans
Saturday, December 18 2004
Elton John's partner, David Furnish, has slammed claims they are set to marry at David and Victoria Beckham's mansion later this month.
The Canadian film producer, who has been dating the pop superstar for 11 years, says the couple have no intention of tying the knot at David and Victoria's private chapel at their Hertfordshire home as they are going to wait for gay marriages to become legal.

He said: "Elton and I will be going to the Beckhams for a christening ceremony, not to get married. I have been following the Civil Partnership Bill (which will give gay couples the same rights as married couples) through the House of Commons and the House of Lords, and hope that we'll be able to do something about it in six months' time."

David also said when the couple do decide to marry, it will be a very understated affair. He is quoted by Britain's Daily Mail newspaper as saying: "We have decided that everything would be done very simply, in a Register Office. There's absolutely no discussion of having a party or anything like that."

Last week, Elton fuelled speculation he was set to wed David soon - by picking his celebrity friends to be in the wedding party.

He was quoted as saying: "I think I would like Lulu as my maid of honour and Victoria Beckham as my best man!" Elton has never made secret his desire to marry David and is keen to legalise their relationship to give it "respect".



Elton asks famous pals to join wedding party
Thursday, December 9 2004 at 09:36:22


David defends Elton's George Michael comments
Friday, December 17 2004
David Furnish has leapt to the defence of his boyfriend Elton John after Gorge Michael's public letter to the flamboyant rocker.
The former WHAM! star responded to Elton's criticisms of his "strange lifestyle" and labelling his career "disappointing" in British magazine HEAT on December 15, 2004.

In the publication, Michael said, "Most of what Elton thinks he knows about my life is pretty much limited to the gossip he hears on what you would call the 'gay grapevine'. Elton John knows very little about George Michael, and that's a fact."

David admits he does not approve of Michael's Heat feature and insists Elton respects Michael as a friend.

David says, "It wasn't a rant. I think if you read what Elton actually said it was a fair and honest statement to a friend that he cares about. How George has chosen to respond to that is his business."



George Michael hits back at Elton
Wednesday, December 15 2004 at 09:59:42


George Michael hits back at Elton
Wednesday, December 15 2004
Pop star George Michael has hit back at comments made by Sir Elton John about Michael and his new album.
Elton was quoted as saying Michael was "in a strange place" with "a deep-rooted unhappiness" that came across on his latest album.

Michael said in an open letter to Heat: "Elton John knows nothing about George Michael... we have rarely spoken in the past 10 years."

He described himself as "content" and said he felt he had to defend himself. Sir Elton had said Michael should "get out more".

But Michael, who duetted with Sir Elton at 1985's Live Aid concert, said the singer's comments were based on tittle-tattle. "Most of what Elton thinks he knows about my life is pretty much limited to the gossip he hears on what you would call the 'gay grapevine' which, as you can imagine, is lovely stuff indeed," wrote Michael.

"Other than that, he knows that I don't like to tour, that I smoke too much pot, and that my albums still have a habit of going to number one. In other words, he knows as much as most of my fans do," the letter continued.

He said he preferred to concentrate on future songs whereas Sir Elton, "makes millions playing those old classics day in day out". Michael signed off with a reference to a recent charity donation he had made.

Sir Elton "seems to have forgotten me calling him a few months back to tell him that my American royalties from Patience would be donated entirely to the Elton John Aids Foundation".

George Michael's latest album Patience debuted at number one - Sir Elton's most recent LP, Peachtree, entered the chart at number 21.



Elton: "George Michael is disappointing"
Wednesday, December 1 2004 at 14:14:14


Elton John and band performed in London on December 13, 2004
Tuesday, December 14 2004
Fan report by Matt Isaacs.
"Iíve not been very well the last couple of days" he told a jam packed audience at Londonís Carling Apollo. "Iím going to start with several new songs". Bearing in mind the soaring quality of all the tracks from "Peachtree Road", nobody was complaining. His voice sounded better than ever. There is a dexterity and richness that has developed from the majestic orchestral concert at Birmingham in June 2004.

Even though the band have only played these a handful of times, and the CD has not been out that long, these songs have already grown in a live setting. "The Weight of the World" set things off beautifully, whilst the Elvis influenced "Porch Swing in Tupelo" benefited enormously from the awesome Atlanta choir. "Answer in the Sky" reeked with spiritual optimism, and "Turn The Lights out When You Leave" was superb. Iím so glad this is the next single.

OK, on to the standard. "My Elusive Drug", obviously about Elton and his relationship with David Furnish, was so passionately delivered by Elton. The amount grit, fire, and love into a song, which is already proved to be up there with "Your Song" etc as a top notch classic, brought tears to my eyes.

"They Call Her The Cat" which he announced was about ďa sex change!Ē went down a treat, although tonightís crowd were reserved to start off with. To all the people in the stalls, the one in the brown leather jacket wigging out? Yes it was me! To the four ladies dancing in the middle of the 10th row, you all looked stunningly beautiful!

"Freaks In Love" is a real grower. This has a real potential as single also. Davey added some lovely touches on this. "All That Iím Allowed" rounded off the songs in perfect style. This song should have at least hit the top 10. Sometimes I really do wonder about our record buying public! For next year's stadium concerts, "Too Many Tears" would a really good choice for those kinds of concerts. Just a thought ...

"Sorry Seems To be The Hardest Word" was a buzz to hear live in such an intimate setting. "Daniel" was played immaculately, and almost exactly as the original. "Take Me To The Pilot" just keeps getting better live. Bob Birch keeps some irresistible bass lines on the outro. "Rocket Man" was the showstopper it was always it, changing form once again. This version was absolutely unbelievable. "I Guess Thatís why they call it the Blues" ended with a nice bluesy play-off between Elton and Davey. "Tiny Dancer" was a nice calm before the storm. "Are You Ready for Love" and especially "Philadelphia Freedom" simply brought the house down.

I always like the way Elton follows his hits with the die-hard favourites. "Levon"is fast becoming as important to the set as "Rocket Man". I just adore the way The whole band shifts a gear towards the end. "Burn Down The Mission" has been sorely missed from the set, and proved to be a dramatic and elevating as ever. "Border Song" with the choir, Guyís wonderful organ work, and Elton singing his rear-end off. Forget it!

A charged "Donít Let The Sun" gave way to furious reading of "Iím Still Standing" and "The Bitch is Back". At the point one had to go the rim off the stage. Thanks to the all made those last few numbers so memorable. Florence especially. I hope those pictures came out alright! "Bite Your Lip" live just drives live. The amount energy this song creates is unbelievable. "Saturday Night" had everyone going ballistic, whilst a solo "Your Song" brought an unreal to a close. Except for a drum stick and a signed CD sleeve from the great knight himself.

This was my 9th concert over 12 years, and he keeps getting better. Only more question remains. Shall it be Bolton FC or Bercy in Paris next year?. Only one answer remains. Both of course!
Elton cancels Glasgow concert
Monday, December 13 2004
Due to a continuing throat infection, Elton has also had to cancel the concert in Glasgow on December 12, 2004.
Elton cancelled the show in Nottingham two days ago for the same reason, and despite every effort to make himself better, his doctor has advised that he should not attempt to sing for fear of making matters worse.

The concert has been rescheduled for June 12, 2005.

Elton said: "I caught this infection a few days ago, and my voice started to go during the Sheffield show on Thursday. Iíve been doing all that I can to try to get my voice back and Iíve seen a throat specialist again today and heís advised that it would be foolish to go ahead with tonightís show."

"Iím sorry to disappoint all the people whoíve bought tickets for tonight. I am really looking forward to playing Glasgow, and hope to see you all on Sunday 12th June."



Elton cancels Nottingham concert
Saturday, December 11 2004 at 04:54:19


Elton to wed a Beckham's palace?
Monday, December 13 2004
Elton is to wed boyfriend David at David and Victoria Beckham's private chapel just before Christmas 2004.
Elton, who previously married Renate Blauel on February 14, 1984, will finally tie the knot with Furnish on December 23, 2004 after 11 years together.

A close source says, "It's going to be a beautiful and touching ceremony for two people who are totally in love with each other. Elton and David are really looking forward to legitimising their relationship."

"After all this time they are still very much in love and both want to make a commitment to each other in church in front of their friends and family."

Real Madrid star David is favourite to be best man as the couple exchange their vows - and his sons Brooklyn and Romeo are set to be page boys.

A huge marquee has already been erected in the grounds of the mansion in Hertfordshire, England, to hold a reception for the guests - and Posh and Becks have also reportedly increased security for the day by hiring over 30 bodyguards to keep out intruders.



Elton asks famous pals to join wedding party
Thursday, December 9 2004 at 09:36:22


Elton cancels Nottingham concert
Saturday, December 11 2004
Elton's concert for December 10, 2004 has been cancelled because he has a throat infection.
Elton struggled with his voice at the Sheffield concert the previous night and apologised but he did not want to cancel.

Sadly it has not improved. The concert has been rescheduled for June 10, 2005.

Elton said: "I'm sorry to disappoint all the people who've bought tickets for the show."

Organisers said he should be well enough to perform at his next dates, in Glasgow and at the Hammersmith Apollo in London.

Elton explained: "I seem to have caught this infection only yesterday, and my voice started to go during last night's show. I woke up this morning with virtually no voice."

He added: "I've been doing all that I can to try to get my voice back and I've seen a throat specialist today who has advised that it would be foolish to go ahead with today's show."



Elton John and band performed in Sheffield on December 9, 2004
Friday, December 10 2004 at 07:13:58


Elton John and band performed in Sheffield on December 9, 2004
Friday, December 10 2004
Fan report by Si Owens.
Tonight's was a courageous show for Elton John to undertake. Such is the quality of the current album (Peachtree Road), and such is the pride that Elton and his team take from the record, tonight we were treated to the first eight songs from the album, in order, from the start of the show.

Now, bearing in mind that the last time Elton attempted such an approach was in debuting "Captain Fantastic And The Brown Dirty" some 29 years ago, and bearing in mind that about one third of that Wembley audience reportedly left the show early, one begins to understand the potential perils that such a gamble may entail. As a punter who was a mere twinkle in his father's eye in 1975, I missed out on that ill-fated event, and thus had no reference point by which to guage the reaction of tonight's audience. However, this performance could only be viewed as a resounding success.

"Weight Of The World" and "Porch Swing In Tupelo" delighted those Elton fans who own a copy of the album, while the more casual listeners responded with an applause which seemed to signify a pleasant surprise that a musical legend of thirty-plus years in the business is still crafting songs of such a fine quality.

"Answer In The Sky" warmed everybody up all the more (the record can't do justice to the power of the live guitar and harmonies), and "Turn The Lights Out When You Leave" sounded a far stronger contender for single release live than on disc.

Again, "My Elusive Drug" seemed to take the casual attendees by surprise with the quality of it's composition and of it's live delivery, while "They Call Her The Cat" takes on a new edge in the live setting.

"Freaks In Love" was well received, while Elton and the Voice Of Atlanta Choir gave a masterful rendition of "All That I'm Allowed". That takes us up to the end of the "Peachtree Road" section of the show.

Notable during this section were superb performances by Guy Babylon during "Weight Of The World" and "My Elusive Drug" - phasing the velocity of the strings louder and softer to great effect. Also notable were consistently impressive contributions from John Mahon on percussion throughout the "Peachtree Road" numbers.

During the first three numbers, Elton's voice cracked ever so slightly, and this was evidently due to an infection that Elton has been carrying recently. It has to be said that despite the performer's many apologies, it was an outstanding vocal performance throughout tonight's concert, especially in the context of a singer suffering from a bug.

Elton then thanked the audience for our patience, although it's hard to figure out why he thanked us. We'd just been thoroughly entertained for last forty-odd minutes, and it seems a strange thing to be thanked for that.

For the remainder of the show, Elton performed much loved hits, well known classics and tried and tested live favourites to hold this capacity audience in the palm of his hand. When I saw Elton live at Wembley with Royal Academy Orchestra and choir, "Border Song" was the stand-out number. The song was probably a fair shout for top number again tonight with the Voice Of Atlanta backing.

Other highlights included a rollicking "Are You Ready For Love", a well-received "Philadelphia Freedom", and an excellent "Take Me To The Pilot". "Sorry Seems To Be The Hardest Word" never fails to deliver, and tonight it featured a little more of Guy's strings in the verses than we've used to on recent tours, and this complimented the performance well.

Elton and the guys tonight gave the best live rendition of "I Guess That's Why They Call It The Blues" I've ever heard them do - it had a real energy and a kick to it tonight. And, of course, "Rocket Man" mesmerised us all as it always does - brilliant adaptation.

Elton encored with the much-missed "Bite Your Lip (Get Up And Dance)" and "Saturday Night's Alright (For Fighting)". There then followed a marathon autograph sweep, followed by an absolutely superb solo performance of "Your Song".

Elton was supported tonight by James Blunt, who played a similar set to the one I heard him do at Ipswich. Blunt performed extremely well tonight and gave us a very entertaining half an hour. Blunt's backing band are a superb bunch of musicians who have that sought-after knack of playing exactly the right parts to compliment the songs. The drummer in particularly puts thought into every beat, whilst the bassist's backing vocals are a delight to hear live.

On a personal note, I was a little sad that "I Can't Keep This From You" was dropped from the set since Newcastle. I say this because I rate it as the best song on the album and a top ten hit in waiting, and I was really curious to anticipate if the audience would react to it with the same enthusiasm that I have for the song. I can hardly be disappointed, though, this really was some concert. Also on a personal note, I was thrilled to have Elton sign my ticket (I'd intended to bring my Peachtree Road cover for signing, but left it in the bloody car!), and tonight I got a Davey Johnson plectrum for the first time!

As the house-lights returned at the end of the show, I heard two local lads who'd just attended their first Elton gig sharing their thoughts. "He's something special", commented one. "You won't hear that kind of quality from anyone else". As assessment's go, I guess that's pretty much spot on.

Following is the complete setlist of the Sheffield show on December 9, 2004:


Weight Of The World

Porch Swing In Tupelo

Answer In The Sky

Turn The Lights Out When You Leave

My Elusive Drug

They Call Her The Cat

Freaks In Love

All That I'm Allowed (I'm Thankful)

Sorry Seems To Be The Hardest Word

Daniel

Take Me To The Pilot

Rocket Man

I Guess That's Why They Call It The Blues

Tiny Dancer

Are You Ready For Love

Philadelhia Freedom

Border Song

Levon

Don't Let The Sun Go Down On Me

I'm Still Standing

The Bitch Is Back


Bite Your Lip (Get Up And Dance)

Saturday Night's Alright (For Fighting)


Your Song
Elton asks famous pals to join wedding party
Thursday, December 9 2004
Elton has added fuel to reports he's planning to imminently wed David, by picking his celebrity guests of honour.
He has some famous names in line to play vital roles at his nuptials with David. According to British newspaper the DAILY EXPRESS, Elton says, "I think I would like Lulu as my maid of honour and Victoria Beckham as my best man."

Elton has admitted he and David have often talked about making their union more official, because they realise gay lovers lose everything to family members if a partner dies.



Elton John to marry
Tuesday, November 16 2004 at 12:06:45


Elton John and band performed in Newcastle on December 7, 2004
Thursday, December 9 2004
Fan Report by Nigel Coleman.
At 19:55 James Blunt, the support act, came on and went off at 20:20. He was listenable, not bad.

At 20:35 Elton came on stage first dressed in his usual flamboyant style featuring a navy tail coat with lilies splashed up the sleeve and gold cravat pinstripe trousers and white shoes, he said to the audience "I've come out first to tell you this show is going to be different to the normal shows we do. We'll going to be starting with nine tracks from the new album Peachtree Road, and then we'll be rocking to the finish."

I was sat in the forth row from the front, dead centre stage, best seat I've had for a while, only problem with being in the middle is your not near the end of the aisle for the rush to the stage.

Elton started with the first eight tracks from "Peachtree Road" and the audience listened and enjoyed they responed well, and the other track was I can't keep this from you.

I think the new tracks went down well with the audience. I know it's not easy for a audience to sit there and listen to near enough a new album.

Just before Elton played "Turn The Lights Out When You Leave", he said this is going to be the second single from the new album, and should be out in March 2005.

The crowd began to cheer and scream when Elton went into "Sorry Seems to be the Hardest Word". Elton ploughed his way through a marathon 10 minute version of "Rocket Man", which was just magic.

When it came to introducing the band, Nigel Olsson received an extra special welcome, because he was brought up in Sunderland a few miles away.

Tyneside rocked the night away from "Are You Ready for Love", "Philadelphia Freedom", right up to "Don't Let The Sun Go Down On Me" and then the big rush to the stage and we rocked to "I'm Still Standing" and "The Bitch is Back".

Elton left the stage and came back with "Bite Your Lip", which went down well and it rocks well, before going into "Saturday Night's Alright (For Fighting)". Elton left the stage once more and changed into his tracksuit and trainers and started signing autographs, he must have signed about 50 items, and I wasn't one of them. Elton finished with "Your Song".

I thought the Atlanta Choir were excellent, a different show to what he normally does, but very enjoyable and can't wait until the Sheffield date on December 9, 2004.

I was disappointed with the merchandise it's near enough the same as the last tour except for the Peachtree Road T-shirt and the programme is the same.

Following is the complete setlist of the Newcastle show on December 7, 2004:


Weight Of The World

Porch Swing In Tupelo

Answer In The Sky

Turn The Lights Out When You Leave

My Elusive Drug

They Call Her The Cat

Freaks In Love

All That I'm Allowed (I'm Thankful)

I Can't Keep This From You

Sorry Seems To Be The Hardest Word

Daniel

Rocket Man

I Guess That's Why They Call It The Blues

Tiny Dancer

Are You Ready For Love

Philadelhia Freedom

Border Song

Levon

Burn Down The Mission

Don't Let The Sun Go Down On Me

I'm Still Standing

The Bitch Is Back


Bite Your Lip (Get Up And Dance)

Saturday Night's Alright (For Fighting)


Your Song
Elton performs in AIDS sufferers' home
Tuesday, December 7 2004
Elton has filmed his most intimate concert ever - in the home of AIDS sufferers.
He agreed to surprise Las Vegas, Nevada, family the Broadbents after they had their home renovated on hit show EXTREME MAKEOVER: HOME EDITION.

Elton jumped at the chance to perform in the family's living room after he heard the story of a courageous mother, Patricia Broadbent, who has helped three of her adopted children and many others face AIDS with hope.

All three of the girls contracted AIDS from their birth mothers and are now living with the virus.

Broadbent became an advocate for AIDS awareness and acceptance after she was diagnosed with the disease in the late 1980s. She is also currently undergoing chemotherapy treatments in a bid to battle lung cancer.

Elton, a longtime AIDS advocate, was so touched by the Broadbents' story that he donated a baby grand piano to them.

The programme airs in America on December 12, 2004.
Rainforest Calendar 2005
Tuesday, December 7 2004
Celebrity pals of eco-friendly rocker Sting and his wife Trudie Styler have contributed quotes for a 2005 calendar to raise money for the couple's RAINFOREST FOUNDATION.
The wise words of Brad Pitt, Bette Midler, Melanie Griffith, Antonio Banderas, Tom Hanks, Robin Willias and Elton John will all appear in the calendar, which features the art of Hunt Slonem.

You can buy the calendar online at the Rainforest Foundation website.
Elton phones talent show loser
Monday, December 6 2004
Elton John was so upset when a finalist was voted off British talent show THE X FACTOR on December 4, 2004 he phoned him up to commiserate.
Irish rocker Tabby Callaghan, whose coach on the programme is Elton's friend Sharon Osbourne, was surprised when he was passed a telephone and it turned out to be Elton.

Callaghan, who was the favourite to win the contest, says, "Elton said he was gutted. He couldn't believe I wasn't voted through."
Kennedy Center honors entertainment legends
Monday, December 6 2004
Elton John called his Kennedy Center Honor "icing on the cake," but actor Robert Downey Jr. got a frosty reception when he introduced the rock legend as "the other first lady."
Elton, opera diva Joan Sutherland, conductor John Williams and actors Warren Beatty, Ossie Davis and Ruby Dee were honored December 5, 2004 with a star-studded tribute at The Kennedy Center. The six recipients of the 27th annual Kennedy Center Honors were saluted for their lifetime contributions to American culture through the performing arts.

But Downey stole the show with his rambling tribute to Elton John. The actor said he -- like losing presidential candidate John Kerry -- was suffering "from acute symptoms of another dual-diagnosis disease of mine: the ADD, of course, the altruistic Democrat disorder."

That drew nervous laughter from the audience, which included Sen. Kerry as well as President and Mrs. Bush, Vice President Dick Cheney and his wife, Lynne, Secretary of State Colin Powell and the woman nominated to replace him, Condoleezza Rice.

Elton John, 57, has sold more than 60 million albums in three decades with hits such as "Rocket Man" and "Goodbye Yellow Brick Road." Downey said three phrases came to mind when he thought of Elton: "genius, life saver, the other first lady."

At a reception at the White House in the afternoon afternoon, Elton John said winning the honor "is about the icing on the cake. ... It's incredible for someone who's British to be given such an accolade from America, which has given me so much already in my career."
500 Greatest Songs of all time
Sunday, December 5 2004
Welcome to the ultimate jukebox: the second edition of the ROLLING STONE 500, a celebration of the greatest rock & roll songs of all time, chosen by a five-star jury of singers, musicians, producers, industry figures, critics and, of course, songwriters.
As with last year's inaugural RS 500 honoring the greatest albums ever made, the editors of ROLLING STONE called on rock stars and leading authorities to list their fifty favorite songs, in order of preference.

The 172 voters, who included Brian Wilson, Joni Mitchell and Wilco's Jeff Tweedy, were asked to select songs from the rock & roll era. They nominated 2,103 songs in virtually every pop-music genre of the past half-century and beyond, from Hank Williams to OutKast. The results were tabulated according to a weighted point system.

For this RS 500, the word song refers to both a composition and its definitive recorded performance, as a single or an album track. Bob Dylan, the Beatles and the Rolling Stones accounted for a combined total of 117 nominated songs, a measure of their unbroken reign as rock's most influential, beloved artists. Nirvana and the Clash crashed the top twenty, rubbing guitars with Chuck Berry and Jimi Hendrix.

This RS 500 is also a tribute to the eternal power of popular music, and great songwriting in particular, to reflect and transform the times in which we hear it. The highest-ranked Beatles-related song is from 1971: John Lennon's utopian dream "Imagine," America's alternative national anthem since 9/11. The entire top twenty is practically a contemporary newscast, a breaking story of worry, temper, hope and pride: "Let It Be," "My Generation," "Respect," "A Change Is Gonna Come." The RS 500 salutes the songs that move us -- and the artists who create them. It is also proof that whenever you want to know what's going on, listen to the music.

TOP 10
1 - "Like a Rolling Stone" - Bob Dylan (1965)
2 - "(I Can't Get No) Satisfaction" - The Rolling Stones (1965)
3 - "Imagine" - John Lennon (1971)
4 - "What's Going On" - Marvin Gaye (1971)
5 - "Respect" - Aretha Franklin (1967)
6 - "Good Vibrations" - The Beach Boys (1966)
7 - "Johnny B. Goode" - Chuck Berry (1958)
8 - "Hey Jude" - The Beatles (1968)
9 - "Smells Like Teen Spirit" - Nirvana (1991)
10 - "What'd I Say" - Ray Charles (1959)

ELTON JOHN LISTINGS
136 - "Your Song" (1970)
242 - "Rocket Man" (1972)
347 - "Candle in the Wind" (1973)
380 - "Goodbye Yellow Brick Road" (1973)
387 - "Tiny Dancer" (1971)
Elton: "I miss Robbie Williams"
Friday, December 3 2004
Elton regrets his public fall-out with British singer Robbie Williams and would love to make up with the ROCK DJ hitmaker.
Elton has not spoken to the troubled star since Williams published his autobiography FEEL, in which he accused Elton of kidnapping him.

But he is over his initial shock. He says, "I'm happy to put out a message to him - and the message is: we love him dearly. I don't bear any grudge against him. I miss having Robbie in my life."

"Come and see us, come and have a laugh. I'm saying to Robbie, take a look at what you've done, what you've achieved. Take a step back, applaud yourself - please, please enjoy it!"



A Better Man ... Robbie makes apology
Wednesday, October 20 2004 at 18:14:50

The day I was 'kidnapped' by Elton John
Monday, August 30 2004 at 15:35:50


Elton John Talks About Beckham Problems
Wednesday, December 1 2004
Elton John has blamed former pop star Victoria Beckham for problems in her high profile marriage to soccer star David Beckham.
But Etlon, a close friend of the celebrity couple and a godfather to their two sons, told a British magazine the pair's relationship was back on track.

The Beckham's marriage came under the spotlight earlier this year when David Beckham's personal assistant Rebecca Loos went public with claims she was having an affair with the England captain.

Elton told Heat magazine that Victoria should have moved with the Real Madrid star when he relocated to the Spanish capital. Instead, she decided to stay in Britain to pursue her ailing singing career, a move that Elton blames for Beckham's alleged relationship with Loos.

"I think he missed her and the boys terribly," Elton told the magazine. "If you live six months in a hotel room in Madrid - or anywhere - it's going to drive you crazy. I think they should have gone together as a family."

Elton also criticized the couple's handling of the Loos affair, saying they should have released a statement confirming their marital problems. "But they just denied it and kept denying it, and there were obviously problems ... which now they seem to have sorted out," he said.

The couple had been through a "pretty awful" time but were back on track, Elton said. "Basically, they are two people that love each other very much." Former Spice Girl Victoria announced last week that she would give up her music career to focus on being a fashion designer.

Victoria, who is expecting the couple's third child in March, has designed a jeans range for Rock and Republic and is developing her own label.



Sir Elton: Brooklyn will get my cash
Friday, October 1 2004 at 05:49:15

Elton supports Posh
Monday, April 12 2004 at 18:46:13


Elton worries fans won't like new album
Wednesday, December 1 2004
Elton always gets nervous when he releases new discs and he is paranoid his fans will hate his latest album "Peachtree Road".
Elton, who has made more than 30 albums during his celebrated career, spent many tense hours with his songwriting partner Bernie Taupin critically analysing his old songs.

And Elton admits he was less than impressed by some of them. He says, "Yeah, I get nervous when any project is about to come out. I sat down with Bernie before the last album and went very critically through out records and admitted that some of them had not been up to scratch."

"With this one, we wanted it to be a coherent album from beginning to end. But I still worry if people will like the songs."
Elton tried to save Blue
Wednesday, December 1 2004
Elton tried to convince British boyband Blue to ditch their pop image.
He teamed up with the All Rise hitmaker to record single "Sorry Seems To Be The Hardest Words" in 2002 and was so impressed with their talent, he tried to steer them away from their boyband style.

Elton says, "I really liked the first two Blue albums. I think they're great singers. And I tried to tell them that for their next tour and album they should do some more soulful stuff. I wanted them to ditch all that boyband s**t. But their managers obviously had other ideas."
Elton: "George Michael is disappointing"
Wednesday, December 1 2004
Elton has taken a sneaky swipe at singer pal George Michael, dubbing his recent career "disappointing".
Elton admits he liked Michael's most recent album, Patience, but claims the former Wham! star spent too much time making it and should perform live again.

He says, "George is in a strange place. I thought Patience was good, but considering it's been so long in the making it was a bit disappointing. It upsets me because he won't perform live. He's quite happy just being at home all the time and I think that's a waste of talent. There seems to be a deep-rooted unhappiness in his life and it shows on the album."

"He's one of the most talented people I've ever met and certainly one of the best singer I've ever heard. I love him as a friend, so I have to be careful what I say. So all I would say to George is: you should get out more."
Elton John seeks Scissor Sisters for Billy Elliot
Wednesday, December 1 2004
Elton has asked the Scissor Sisters to write a song for his forthcoming musical based on the Billy Elliot film.
He has previously admitted he is desperate to work with the New York band. And now he's in charge of the music for the UK stage adaptation of the ballet dancing movie, he wants their help.

He says, "We still might be writing something with the Scissor Sisters. We approached them to record one of the songs and they said, 'We'd like to write a song with you for it.' That may happen."



Elton Johnís Billy Elliot ó The Musical Announces Triplicate Billys
Wednesday, October 6 2004 at 15:05:33

Scissor Sisters To Support Elton John
Wednesday, May 12 2004 at 10:14:15