ELTON JOHN NEWS ARCHIVE: November 2013
Lady Gaga performs with Elton on Thanksgiving Day Special
Friday, November 29 2013
Lady Gaga and Elton John reunited for the first time since ending their public feud for the Muppets festive Tv special, which aired on November 28, 2013.
Elton accused the singer, who is godmother to his two sons, of avoiding him and refusing to take his calls over the summer 2013. However, they appeared to be back on speaking terms when she joined him and David for dinner in Los Angeles in September 2013, and it now appears the two pop superstars are back on good terms again after he joined her for a two-song performance as part of Gaga's Thanksgiving Day Tv special.

Praising Lady Gaga before the performance began, Elton expressed he was happy to be a part of the taped show, stating, "You're my favorite girl, you know that. I love ya' (sic)..." She replied, "It's always nice when I get to spend time with you because you help me to stay inspired and put life into perspective."

The pair then performed renditions of Elton's hit "Bennie and the Jets" - retitled "Gaga and the Jets" - and "We Could Belong Together" from her new album "Artpop," during which they were joined by Kermit the Frog and The Great Gonzo, among other Muppet stars.

Elton last appeared on Tv with The Muppets in 1978, when he duetted with Miss Piggy on "Don't Go Breaking My Heart," and played "Crocodile Rock," "Bennie And The Jets," and "Goodbye Yellow Brick Road" with assorted puppets on The Muppet Show.
Video from Elton Expo 2013
Friday, November 29 2013
Ben Babylon, the 15-year-old son of the late Guy Babylon, who was Elton John's Grammy-winning keyboardist and arranger, was one of the special guests who performed at The Elton Expo in Las Vegas in October 2013.
Two members of the Elton John Band, guitarist Davey Johnstone and percussionist John Mahon, sat in with Babylon at the Expo during the performance of Ben's song, "Burning Man."

See Actors Reporter for a video of the event.


Elton w/Piano Collectable Gnome Statue
Friday, November 29 2013
Been looking for the Elton John Gnome from the Gnomeo & Juliet movie? Well, something spectacular is on the way!
After thousands of requests, the iconic Elton himself has finally given approval to move forward with a Special Elton w/Piano Collectible suited only for his style, complete with fancy flair, glitter and beaded rhinestones!

Only 1000 pieces will be made of this original Collectible version. GardenFun.com will be getting most of them, and Amazon will get the rest. Each statue will be sequentially numbered and bear the signature of this legendary artist himself.

Due to limited quantities GardenFun.com will not be able to guarantee the availability of this product. They do promise, however, that if you sign up on this waiting list, a single unit will be reserved in your name, and when they are closer to having him ready for shipping you will receive a phone call and/or email notification that will give you 48 hours to place your pre-order and guarantee a delivery.

An incredible gift for any Elton John collector or Gnomeo & Juliet Super Fan! Get on that Waiting List today before they are all spoken for!
Gary Barlow: Elton John stucky by me "through thick and thin"
Friday, November 29 2013
X Factor judge Garry says Elton has supported him through difficult periods in his life.
Gary Barlow was delighted to work with Elton on his new music since the star has stuck by him "through thick and thin". The 42-year-old star was delighted to have the opportunity to record with the legendary singer, who he insists has supported him through difficult periods in his life, on his latest track "Face To Face" from his fourth solo album "Since I Saw You Last."

He told the Daily Star: "Elton has stuck by me through thick and thin - I always hoped we would record together. It's a respect record with a good message."

The pair bond over music but also share a close friendship and Elton enjoys showing Gary pictures of his sons two-year-old Zachary and 10-month-old Elijah - who he raises with partner David. He explained: "We're always emailing each other about checking out records, and when we meet up he'll get his iPad out and show off pictures of his kids."

Although Gary - who was catapulted into the spotlight in the 90's as part of boy band Take That - would be thrilled to top the charts with his new music he thinks he may be past it since he is a "dinosaur" in comparison to new bands like Bastille - who are ahead of Gary in the UK Singles Chart with "Of The Night". Gary added: "I would be bloody made up to get to number two but would never have suggested it. We've had great songs like 'The Flood' and 'Rule The World' not get to number one. I was happy for Bastille getting to number two this week as they're a new band starting out and not a dinosaur like me."


Gary Barlow's first solo album in 14 years will feature Elton John duet
Tuesday, September 24 2013 at 08:34:58

Gary Barlow thanks Elton for career
Friday, September 13 2013 at 06:24:34


For Elton collectors who have everything ...
Thursday, November 28 2013
... this Elton Christmas figurine might still be missing in their collection.
According to Les chieurs - Pooping stars from Spain, it is a very old tradition from Catalonia. At Christmas people hide a "pooping figurine" inside the crib and the kids have to find it.

If you are into Catalonian tradition, you can order your pooping Elton for Euro 20.
Elton John Holiday Candles
Thursday, November 28 2013
Still looking for a Christmas present? Here's a hint.
Matt Bissonette gets to the bottom of Elton's sound
Thursday, November 28 2013
Elton John is on tour this year with a new bassist, Matt Bissonette, who hails from Detroit.
Playing bass in Elton John's band is more than just another gig for Matt Bissonette. It's personal. The Warren native and graduate of Warren Mott High School was no mere fan of his predecessor, the late Bob Birch. Bob was Bissonette's mentor, a student teacher at Mott who schooled Bissonette in playing bass and even gave his pupil one of his old IDs so the teenage Bissonette could get into the clubs where Bob would be playing. So when Bob committed suicide on August 15, 2012, at the age of 56, after dealing with myriad health issues, it hit Matt hard.

"When I got that call, I was — everybody was — just in complete shock about it and couldn't believe it had happened," Matt, 52, recalls. "I talked to (Bob's) wife and his son and ... it still seems unreal to me. So even today, when somebody says 'Congratulations on the gig (with Elton's band),' I really don't know what to say. It's just a horrible circumstance, and I really don't know what to say about it. It's just one of those bittersweet things. We all miss Bobby. Everybody misses him out here. I just hope Bob would be happy that a fellow Detroit guy took his place. It was kind of a natural thing that it just worked out."

Matt got the call, not long after Bob's death, from Elton's guitarist and bandleader, Davey Johnstone. It was indeed a good fit; besides taking early lessons from Bob, Matt — who was playing in the Mott jazz band as a middle school student and studied music at the University of North Texas with older brother and frequent musical partner, drummer Gregg Bissonette — had racked up impressive credits playing with Maynard Ferguson, Ringo Starr, David Lee Roth, Joe Satriani, Rick Springfield, Brian Wilson, Boz Scaggs and more, as well as leading his own bands.

"They had some gigs coming up and just needed to move on," says Matt, who had to learn "a massive amount of songs and vocal parts" in short order. He even hired two friends to transcribe Birch's parts from a concert recording Davey gave him, but he was still apprehensive about how to approach the job.

"I walked into this situation where (Bob) had been there for a little over 15 years," says Matt, who was playing with Springfield at the time and co-wrote much of the material on his latest album, 2012's "Songs For the End of the World." "He was such a mainstay with the band, it's impossible to fill that spot. I just try to keep a low profile and fit in."

Things went well off the bat; Elton even surprised Matt by telling him after the first show — on Sept. 11, 2012 — that "he saw Bob's ghost behind me while I was playing." It was a really big deal to Elton because Bob was one of his very, very close friends."

But it was also Elton who told Matt when it was time to come into the band in his own right. "I used to have a picture of Bob on my bass for the first three of four shows," Matt says. "Elton kind of took me aside one day and said, 'You know, I love Bob and he was the greatest guy in the world, but we need to move on and have a whole new thing. I want you to play whatever you want to play. I really appreciate that you've done the thing and learned all (of Bob's parts), but I just want the band to go where it's gonna go. So he respectfully kind of said it's time to move on, 'cause there's no other place to go than that. But every time I go up there I'm thinking about Bob. He was a really close friend. It wasn't so much weird as it was the right thing to do."

Bass, meanwhile, became right for Matt at age 13, when his parents — Bud and Phyllis Bissonette, both musicians themselves — surprised him by bringing one home. He and brother, Gregg, then spent six hours in the family basement jamming on Deep Purple's "Smoke on the Water," letting the younger Bissonette feel out the role of the four-stringed instrument and start developing the sibling rhythm section chemistry that continues to this day.

"Most of the things I did I was usually just following my brother," says Bissonette, who produced Gregg's new solo album, "Warning Will Robinson." "He's the master of making things happen, so I learned when I was young to not try and compete with him and just get on his coattails and draft behind him, and I don't have a problem with that. I think it's the smartest thing I've ever done."

Dad Bissonette was a considerable influence, too; shortly after giving his younger son a bass he started having him play in his band, a trio with an accordionist that played weddings and club shows. "I had just gotten the bass and my dad bought me a tuxedo," Matt remembers. "I said, 'What's this?' and he told me 'You're gonna come play bass with me next week. You're gonna make $50. You're gonna wear this tux and you're just gonna play notes, and when I point to you you're gonna get me a beer from the bar. My dad just kind of threw me in the fire, and it's kind of been thrown into fire after fire ever since then."

His impressive track record shows that Matt can handle the heat. And he doesn't hesitate to call being part of Elton's band the best of his many gigs over the years. "The musicianship and the crew that's out here is unbelievable," says Matt, who resides in Los Angeles with his wife, stepdaughter and 17-year-old son (and aspiring baseball player), Joshua. "Everybody's really great and everybody works really hard to give the best show they can. It's amazing for me to see Elton going out there, just giving everything every night. He literally sings every lyric like it's the last thing he's gonna do. It's just an amazing lesson of work ethic. I remember when (Bob) got the gig with Elton, it felt like the payoff for a long career and a lot of dues that were paid. It's an amazing gig because everything's first class and the level's really high and the lifestyle is amazing. It's a nice crescendo in my eyes. I feel like God placed this in my lap to kind of go, 'OK, well, here's this for a while,' and it's been a great, great thing."


Elton thinks reality TV stars should be "assassinated"
Thursday, November 28 2013
Elton says reality TV stars are the people of nightmares.
The 66-year-old singer - who has previously slammed these kinds of programmes - says these shows contain people who long to be "successful" but are hated by the public. Speaking on BBC World satellite radio, Elton said: "With reality television, you get all these nightmare people who want to be successful, when you really want them to be assassinated."

Elton - whose 31st studio album "The Diving Board" deals stars finding fame young - thinks there are people who would are desperate for fame would "do anything" to be in the limelight. Quizzed on his new album, he said: "It's about someone who's attracted to fame no matter what. They want fame whatever the consequences, and they'll do anything to get there.

Elton claims 27-year-old actress Lindsay Lohan - who has been in and out of rehab to combat substance abuse problems - has great potential and is extremely talented but claims she was a "victim of success". He added: "Lindsay Lohan, unfortunately, who had a great career as an actress and as a recording artist, she had a hit album ... Suddenly, everything has fallen to bits because of the drugs. Her parents were a nightmare. She has become a victim of success and she wants success, no matter how much (it costs)."
Elton's "Love Is the Cure" out in paperback
Wednesday, November 27 2013
November 26, 2013 marks the paperback release of Elton's national bestseller, "Love Is the Cure: On Life, Loss and the End of AIDS," in which he shares his vision for ending the HIV/AIDS epidemic worldwide.

"Love Is the Cure" describes Elton's personal journey into AIDS activism, beginning with his friendship with Ryan White. Much more than a memoir, the book is a call to action that describes how stigma towards those living with HIV/AIDS is hampering worldwide efforts to end the disease, and how—from the US South to Ukraine—AIDS continues to take its toll on marginalized communities. Elton also argues that the world has the financial means to reach the end of AIDS today, if we make a shared commitment to do so.

The paperback features a new cover and a new foreword by the renowned medical anthropologist and physician Dr. Paul Farmer, the chair of Harvard University's Department of Global Health and Social Medicine, and the founding director of Partners In Health. Dr. Farmer writes, "Elton John's work is a revelation... his book gives us a vision for the future that is both cautionary and inspiring."

The book cover also features a quote by President Bill Clinton, who wrote, "My friend Elton has touched us all with his music and with the countless lives he has saved through his AIDS foundation. Now he has given us a deeply personal story of struggle and perseverance in the fight against this terrible disease. Few people know more than Elton about what it will take to end AIDS. His wonderful book will convince you that there's cause for hope––and inspire you to be part of the solution."

Sales of "Love Is the Cure" benefit the Elton John AIDS Foundation. The book is available at Amazon (see above) and bookstores nationwide.
David Furnish in dramatic appeal for routine HIV testing
Monday, November 25 2013
David Furnish on November 25, 2013 made a dramatic appeal for routine HIV testing.
The civil partner of Elton John is backing a campaign by Barts to complete the biggest-ever hospital-based programme to screen for the disease. The groundbreaking project is aimed at promoting earlier diagnosis and treatment to identify people who do not realise they are infected.

Furnish said an "AIDs-free future" in the UK was possible if HIV testing was made a normal part of looking after health. He said: "Knowing your HIV status is so important for your future health and that of your loved ones. The scale of work being done at Barts Health is ground-breaking and historic in the UK, and will hopefully go a long way towards breaking down the taboos that still exist around HIV. If we can make HIV testing a normal part of looking after your health, we can truly envisage and AIDs-free future in the UK."

The Barts campaign is focused on offering all outpatients at its six hospitals an HIV test as part of HIV testing week in Europe. The trust which is the largest in the UK aims to screen at least 2,500 people from today to November 29, 2013. This follows a pilot carried out by the trust at the Royal London between March and April 2013.

Doctors treated eight people who did not realise they were positive as a result of this trial. Other celebrities and politicians supporting the testing week include singers Annie Lennox and Beverley Knight as well as London Mayor Boris Johnson and MP Jim Fitzpatrick.

One 70-year-old patient also revealed that he spent 12 months without a diagnosis because it never occurred to doctors to test him. The man, from London, known only as Alan said: "Having been found to be positive at almost seventy years old it was a massive shock but once it had sunk in I did feel somewhat let down that nobody had suggested it before. We need to take away the stigma of being tested for HIV so that it becomes a routine test for people visiting hospital irrespective of their gender, ethnicity or age."
Elton John and band performed in St. Paul on November 22, 2013
Monday, November 25 2013
Following is the complete set list of the St. Paul show on November 22, 2013.
Funeral For A Friend

Love Lies Bleeding

Bennie And The Jets

Candle In The Wind

Grey Seal

Levon

Tiny Dancer

Holiday Inn

Mona Lisas And Mad Hatters

Believe

Philadelphia Freedom

Goodbye Yellow Brick Road

Rocket Man

Hey Ahab

I Guess That's Why They Call It The Blues

The One (solo)

Oceans Away

Someone Saved My Life Tonight

Sad Songs (Say So Much)

All The Girls Love Alice

Home Again

Don't Let The Sun Go Down On Me

I'm Still Standing

The Bitch Is Back

Your Sister Can't Twist (But She Can Rock 'n Roll)

Saturday Night's Alright For Fighting


Your Song

Crocodile Rock
Bernie Taupin: They Both Come From The Same Place
Sunday, November 24 2013
Bernie Taupin is probably best known for his songwriting and collaborations with Elton John...but he also paints! Bernie's got an art exhibit that will run through December 2013 at Gallery 319 In Woodland Hills.

Watch Bernie on Good Day LA.
Lady Gaga Talks About Elton John's Children
Sunday, November 24 2013
She told Ellen about her experience watching Elton John parent his adorable little boys.
The New Champagne Bar with Elton John touches
Friday, November 22 2013
Fizz Lounge, the bubblicious Champagne bar at Caesars Palace, quietly opened on November 15, 2013.
Why so quiet? Owners Steven Kennedy and Michael Greco, who partnered with David Furnish to open the space, don't plan to throw a grand opening gala until Elton himself returns to Caesars with his Million Dollar Piano residency in the spring 2014. Until then, this is a project in motion with changes coming all the time.

First up, a sign outside the $3.2 million venue asks guests not to take photos of the inside to respect the privacy of guests. So for now, nada on the inside. Inside the 2,750-square-foot space find cream wraparound banquettes with sexy backlighting to showcase lovely ladies' shoes, silver columns and chandeliers crafted like abstract glasses of cognac. Throughout the space, fine artwork from Elton and David's private collection. Find works from Steven Meisel, David LaChapelle and Steve Klein, among others.

And then there's the menu. Elton turned his personal chef loose to create dishes such as lobster rolls, caviar and gourmet paninis along with caviar, natch, and charcuterie plates. Over on the cocktail menu, find Champagne cocktails such as the Le' Fizz, a Grey Good concoction that uses Brut Champagne, egg whites and St. Germaine Elderflower liqueur, or the Fizz Fraise that brings together Champagne and strawberries.

On the regular cocktail menu, order up the Amorenna, named after one of Sir Elton's hits. This twist on the pisco sour uses La Diablada Pisco, Fragoli Wild Strawberry liqueur and a couple dashes of Fee Brother's Old Fashioned Bitters on top.

Keep in mind that while Fizz Lounge is open daily, hours vary, so do call ahead to make reservations. Yes, there are velvet ropes.

Fizz Lounge
Address: Caesars Palace, 3570 Las Vegas Blvd. S.
Phone: +1-702-776-3200


David to open a lounge bar in Las Vegas
Saturday, August 17 2013 at 07:39:38


Elton slams modern celebrities as a "vacuous, talentless, horror show"
Thursday, November 21 2013
He's not one to pull his punches when talking about fellow celebrities. And Elton was in rare form as he launched a verbal assault on what he deemed was an unhealthy cultural fixation on celebrity in a candid new interview.
Elton hit out at the current crop of young stars, calling them a "vacuous, talentless, horror show that they get paid millions of dollars for [nothing]". He made the provocative statements during a chat with CNN's Christiane Amanpour and his longtime friend Billie Jean King that aired on November 19, 2013.

In the candid chat Elton explained his views on celebrity worship: "We focus so much on celebrity in our culture and we don't focus on the right things. And I'm so sick of seeing celebrities on covers of magazines and on – tweeting, and on Facebook and reality shows... it's disgusting."

But Amanpour probed, observing that both King and Sir Elton are 'celebrities'. And Elton did not skip a beat saying: "I hate them. I know. But I hate the celebrity that is around now. The vacuous, talentless, horror show that get paid millions of dollars for [nothing]. When there are people who are teaching kids every day that are trying to scrape by and earn a living. It's a joke."

Elton also commented on Russia's new anti-propaganda law prohibiting public discourse on LGBT issues. "I've been going there since 1979 and I have had great times in Russia." he said. "What's happening there is so awful. But I've been asked to go. People from the LGBT community over there have said please come. I don't want to abandon them. I mean, if you don't go, you know, you're saying "stick it". What I'm going to do is meet with the LGBT community, see what the - how I can help them, see what I can do for them. I'm going to say something from the stage that's not going to be - that's going to be meaningful."

Meanwhile in the same interview, former tennis champ King gushed about her first meeting with Elton, who she met at a party in 1973. Of the experience, King admitted: "I about fainted, because Elton was my favourite."
Madonna named highest-paid musician by Forbes
Wednesday, November 20 2013
Madonna has beaten Lady Gaga to the title of highest-paid musician in the world, according to Forbes magazine. Elton comes in on #8.
Madonna has topped Forbes' list of highest-paid musicians. The 55-year-old singer is still the queen of pop according to the magazine, earning $125 million from June 2012 to May 2013 thanks to her sell-out 'MDMA Tour', miles ahead of her nearest rival Lady Gaga, who raked in $80 million.

However, the magazine estimates Lady Gaga could easily top the highest-paid musicians list next year because her current earnings were affected by her hip injury, which forced her to cut her 'Born This Way Ball' tour short. Had she completed the tour, she could potentially have made $200 million.

Bon Jovi placed a comfortable third with $79 million thanks to their 'Because We Can' tour and sales from concert and online merchandise. Toby Keith and his constant touring earned him $65 million, with Coldplay just behind at $64 million.

The top ten was rounded out by Justin Bieber ($58 million), Taylor Swift ($55 million) and Sir Elton John (54 million), followed by Beyonce and Kenny Chesney, both of whom brought home $53 million.
Gary Barlow and Elton John duet "Face to Face" will be released as single
Wednesday, November 20 2013
Gary Barlow has officially announced that Face to Face, his duet with Elton John, will be the second single from "Since I Saw You Last."
The X Factor judge has kept his new material under lock and key – not even allowing the Take That boys to have a sneaky listen. He says: "Usually I would send the guys something to listen to but I haven't on this occasion. I haven't really let anyone hear it. I know they've heard the first single but they haven't heard the album. They all love the single, and they really like the change in direction."



Gary, 42, adds that he's psyched about performing new material, saying: "Oh I love the touring, it's the best bit. "We are playing slightly bigger venues this time so I'm really looking forward to that. And to being able to put on a bit of a bigger show this time and taking out a bigger band. It just feels great.
Elton "John" winner flushed with victory
Tuesday, November 19 2013
A local radio station in Erie, PA has named a queen of the throne.
After days of sitting on the "John", Alexis Barnwell won the Happi 92.7 Elton John contest. Barnwell defeated some serious competition over the past few days, sitting on the toilet from nine to five Monday through Friday.

On show day (November 18, 2013), it came down to sudden death elimination, whoever found Elton John's face in their toilet, clenched the prize.

Barnwell defeated her competitor and was flushed with victory, nabbing a cool pair of Elton John tickets for the Erie show courtesy of Happi 92.7.
The 50 best album tracks of the year
Tuesday, November 19 2013
The songs that weren't singles but are still utterly awesome - big songs from brilliant albums.
Another year, another bounty of brilliant albums. You've heard the singles on the radio and lost your mind to the biggest hits at festivals and clubs - but what about those album tracks that are worthy of your attention?

In the digital age of music fans cherry-picking what they want to hear from the cloud, true 'album' bands are becoming rarer and rarer - but hidden in the grooves of the best records are many of today's artists finest moments.

So forget the singles and the obvious 'best of' tracks - these are the 50 best album tracks from 2013's best LPs - from Lady Gaga, Bowie, Arctic Monkeys and Queens Of The Stone Age to rising stars like Wilkinson, Daft Punk, London Grammar and Danny Brown.

The list includes Queens Of The Stone Age - 'Fairweather Friends' (...Like Clockwork): Forget everything you thought you knew about Elton John. He certainly knows how to rock out with the best of them. Adding some pretty stately backing vocals and dizzying piano-work to this cunning little beast, Elton spits in the face of his balladeering reputation to do some pretty twisted things with a set of ivories - enhancing Josh Homme and co's already pretty demented approach.
Elton John and band performed in Atlanta on November 16, 2013
Tuesday, November 19 2013
Following is the complete set list of the Atlanta show on November 16, 2013.
Funeral For A Friend

Love Lies Bleeding

Bennie And The Jets

Candle In The Wind

Grey Seal

Levon

Tiny Dancer

Holiday Inn

Mona Lisas And Mad Hatters

Believe

Philadelphia Freedom

Goodbye Yellow Brick Road

Rocket Man

Hey Ahab

I Guess That's Why They Call It The Blues

The One (solo)

Oceans Away

Someone Saved My Life Tonight

Sad Songs (Say So Much)

All The Girls Love Alice

Home Again

Don't Let The Sun Go Down On Me

I'm Still Standing

The Bitch Is Back

Your Sister Can't Twist (But She Can Rock 'n Roll)

Saturday Night's Alright For Fighting


Your Song

Crocodile Rock
Roddick leads Team Elton to victory at Mylan WTT Smash Hits
Monday, November 18 2013
Mylan WTT Smash Hits presented by GEICO returned to the Orlando area for the first time since 1997 on November 17, 2013, raising more than $700,000 for the Elton John AIDS Foundation and local charities.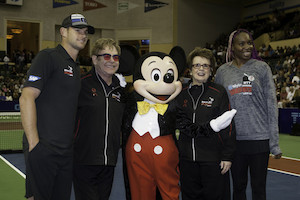 Team Elton defeated Team Billie Jean 24-18 at the ESPN Wide World of Sports Complex at Walt Disney World Resort to take an 11-10 lead in the overall series. Andy Roddick, who was making his 11th event appearance, won three sets including men's singles over John Isner to help Team Elton seal the victory.

"He's phenomenal," Elton said of Roddick. "We miss him on the tour because he's such a personality. He's doing so well. He came out and did it tonight."

A portion of the proceeds will go towards the Hope and Help Center of Central Florida. The annual event, co-hosted by Elton and Billie Jean King, has now raised more the $12 million to support HIV and AIDS prevention and awareness programs since the first event in 1993. Robert and Tricia Earl served as local hosts of tonight's Mylan WTT Smash Hits.

The evening began with a celebrity Battle of the Sexes set, pitting Elton and Roddick against Venus Williams and Marion Bartoli. Elton and Roddick won the entertaining set 4-3. The celebrity set didn't count towards the overall match score, but it got Team Elton off on the winning track. Roddick partnered teammate Robert Kendrick to a 5-4 win against Team Billie Jean's Isner and Jean-Julien Rojer to kick off the match.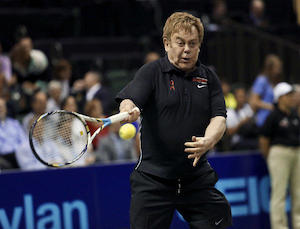 Team Elton moved ahead 10-6 when Williams and Vicky Duval joined forces in women's doubles for a 5-2 victory over Bartoli and Taylor Townsend. In women's singles, Townsend won the showdown of top young Americans as she held off Duval for a 5-4 win, clinching the set on a deciding point with a net cord.

Team Elton built on their lead in the 4th set with a 5-3 win in mixed doubles as Roddick teamed with Duval to get past Townsend and Isner. Roddick then closed out the night by topping Isner 5-4 in men's singles.

Before King and Elton's teams battled it out on court, they went head-to-head in a live auction contest, raising $212,000. Elton's squad took home honors by bringing in $126,000 of contributions. Roddick stole the show when he took the microphone to auction off a private lesson, selling two sessions for $36,000 apiece. Billie Jean King's Wimbledon package, featuring her own Centre Court seats to the 2014 ladies' and gentlemen's championship matches, sold for $25,000. Bartoli, the reigning Wimbledon ladies' champion, subsequently offered up her personal tickets and the $25,000 was matched. Other auction items included an Elton John-signed piano bench, a hitting session with Bartoli, a Daytona 500 experience, tournament packages for the US Open and Indian Wells, and a Forevermark pendant and earrings.

Official sponsors include Mylan, GEICO, 1059 SUNNY FM, Adecco, Akin Gump Strauss Hauer & Feld LLP, Alston & Bird LLP, ANZ, Bright House Media Strategies, Central Florida Press, Cravath Swaine & Moore LLP, Credit Suisse, DecoTurf, Fields Auto Group, Forevermark Diamond, Goldman Sachs, Kelley De & Warren LLP, Knobbe Martens Olson & Bear LLP, Macy's, McGuireWoods LLP, Orlando Magazine, Planet Hollywood Foundation, Presidio, Rakoczy Molino Mazzochi Siwik LLP, Skadden Arps Slate Meagher & Flom, Smart City, Wells Fargo Foundation, Wiley Rein LLP, Wilson, Wipro and Zebra Coalition.

Final Results:

Mylan WTT Smash Hits presented by GEICO at ESPN Wide World Of Sports Complex At Walt Disney World Resort in Orlando, Fla.

PRO-CELEB MATCH (didn't count towards final match score): Elton John / Andy Roddick def. Venus Williams / Marion Bartoli, 4-3

Team Elton def. Team Billie Jean 24-18

Men's Doubles: Andy Roddick / Robert Kendrick (Team Elton) def. John Isner / Jean-Julien Rojer (Team Billie Jean) 5-4

Women's Doubles: Venus Williams / Vicky Duval (Team Elton) def. Marion Bartoli / Taylor Townsend (Team Billie Jean) 5-2

Women's Singles: Taylor Townsend (Team Billie Jean) def. Vicky Duval (Team Elton) 5-4

Mixed Doubles: Andy Roddick / Vicky Duval (Team Elton) def. John Isner / Taylor Townsend (Team Billie Jean) 5-3

Men's Singles: Andy Roddick (Team Elton) def. John Isner (Team Billie Jean) 5-4

TEAM ELTON: Elton John, Andy Roddick, Venus Williams, Vicky Duval, Robert Kendrick

TEAM BILLIE JEAN: Billie Jean King, John Isner, Marion Bartoli, Taylor Townsend, Jean-Julien Rojer

For more information on Mylan WTT Smash Hits presented by GEICO, visit www.WTTSmashHits.com.
Billie Jean King, Elton John to host night of tennis at Disney for charity
Sunday, November 17 2013
Billie Jean King ran all over the court, chasing balls. For a six-time Wimbledon singles champion, most recently in 1975, King is accustomed to being prepared to cover the court.
Just not when she arrived one time for what was expected to be a leisurely match. With Elton John on the other side of the net. "He just about killed me because he doesn't hit it to you," said King, who will turn 70 on November 22, 2013. "I couldn't walk for a good three days. We were laughing so hard. I just remember my tongue was touching the ground, I was so tired. I said, 'Let up, man!' He said, 'No, I want to win.' He's so competitive."

Now King knows. The women's sports pioneer and iconic musician will host the 21st annual Mylan World TeamTennis Smash Hits charity event November 17, 2013 at Disney. The night of tennis will benefit the Elton John AIDS Foundation and the Hope and Help Center of Central Florida.

"I have always loved the sport, and I've also been fortunate to call the loyal and fabulous Billie Jean King my friend for many years," Elton said. "I love that we can get together to watch some truly talented athletes, while also supporting the cause nearest and dearest to me." Whether it's famous singers, actors, athletes or former presidents on the other side of the net, their competitive natures kick in, regardless of skill level. Playing for charity does not mean giving anything away for free, even points in a match.

"Some people have never played, other people were crazy about it and they were very good," said King, who has played in more tennis matches against celebrities for charity than almost anyone. "Everyone was different. Our job is to adapt to whoever we're playing, because you never ever want to embarrass anyone."

Venus Williams said it's not difficult to restrain herself when playing non-pros. She and 2013 Wimbledon champion Marion Bartoli will take on John and Andy Roddick to honor the 40th anniversary of King's victory against Bobby Riggs in the 1973 Battle of the Sexes match Sunday. Williams never has played against Elton but did face San Francisco 49ers tight end Vernon Davis once. "He never played the game before, but boy, can he compete," Williams said. "He can hit the ball on the court. You don't see that in tennis if they've never played before. "He learns so fast, has natural athleticism, understanding competition. It was just crazy."

Robert Kendrick, who also is scheduled to play Sunday, has played with actors Warren Beatty and Claude Akins, best known for his role as Sheriff Lobo in the 1970 TV series "B.J. and the Bear. They had tremendous amounts of power on their shots and a lot of control," said Kendrick, a touring pro for the Winter Park Racquet Club who plays in about four charity events a year. It's for the cause, and it's just to have fun out there. I know to take it easy on the amateurs and make sure they're having fun."

He does that by screaming at them when they miss their first shot. "It makes them relax a little bit," he said, laughing. Former President George H.W. Bush, a former baseball player at Yale, didn't miss very often when King played him in a charity event, she said. "He was excellent," King said. "His high backhand volley was extremely good."

As for Elton, whose hit, "Philadelphia Freedom," was about a World TeamTennis squad, King said the musician with the outsized personality and outlandish glasses needs work on his backhand. King said Elton's forehand is dangerous, recalling a match when he ripped a ball down the line. "The crowd went mental, but Elton is absolutely thrilled and relieved when it's over," she said. "It's like one of us going out to sing or play the piano. It's like, 'Yikes, let me out of here.' I always go over and say, 'Well done. How are you?' He always says, 'Ah, glad that's over.'"

That's probably what King was thinking after chasing Elton's shots around the court, too.


Smash Hits 2013 to benefit EJAF
Thursday, August 22 2013 at 05:05:45


Elton John and band performed in Washington DC on November 14, 2013
Sunday, November 17 2013
Following is the complete set list of the Boston show on November 14, 2013.
Funeral For A Friend

Love Lies Bleeding

Bennie And The Jets

Candle In The Wind

Grey Seal

Levon

Tiny Dancer

Holiday Inn

Mona Lisas And Mad Hatters

Believe

Philadelphia Freedom

Goodbye Yellow Brick Road

Rocket Man

Hey Ahab

I Guess That's Why They Call It The Blues

The One (solo)

Oceans Away

Someone Saved My Life Tonight

Sad Songs (Say So Much)

All The Girls Love Alice

Home Again

Don't Let The Sun Go Down On Me

I'm Still Standing

The Bitch Is Back

Your Sister Can't Twist (But She Can Rock 'n Roll)

Saturday Night's Alright For Fighting


Your Song

Crocodile Rock
Elton takes over at Stereoboard's Hot Ticket Chart
Friday, November 15 2013
Elton John has pulled up a chair at the top of Stereoboard's Hot Ticket chart this week, having seen off competition from Geordie TV duo Ant and Dec.
The pop legend will play three shows in June 2014, in Manchester, Nottingham and Colchester, while Ant and Dec have lined up an arena run for their Saturday Night Takeaway show.

At three is The X Factor's stage incarnation, while superstar DJ Avicii and boyband One Direction complete the top five.

Check out the full list below, and be sure to act quickly to make sure you don't miss out! Last week's positions are in brackets.

1. (-) Elton John
2. (-) Ant And Dec
3. (-) The X Factor
4. (-) Avicii
5. (4) One Direction
6. (7) Michael Buble
7. (-) Jingle Bell Ball
8. (2) Dolly Parton
9. (1) Drake
10. (3) The Reflektors
11. (-) Peter Andre
12. (13) Bruno Mars
13. (-) McBusted
14. (8) Strictly Come Dancing
15. (9) James Arthur
16. (11) Arctic Monkeys
17. (12) Lee Evans
18. (16) Chase And Status
19. (-) WWE
20. (14) Stereophonics
A banner night for Elton John at TD Garden
Friday, November 15 2013
Elton John, who performed at the TD Garden November 12, 2013, got his own championship banner before the show from Garden president Amy Latimer.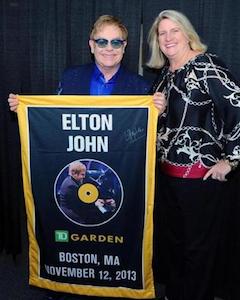 He also hung out with big fan (and Bruins winger) Daniel Paille and his wife, Dana, and had Pats owner Bob Kraft in the audience.


Elton John and band performed in Boston on November 12, 2013
Wednesday, November 13 2013 at 06:43:54


The best record sleeves of the year
Friday, November 15 2013
Having released some of 2013's biggest-selling records, Paul McCartney, Elton John and Daft Punk are now among artists in the running for the Best Art Vinyl 2013 prize.
Now in its ninth year, Art Vinyl puts record sleeve designs to a public vote in an effort to find the year's best cover.
A 50-strong shortlist has been drawn up, with big-name pop stars alongside lesser-known groups such as FYRNASK, Ras G and Pissed Jeans. Designers on the shortlist include Big Active, Leif Podhajsky and YES.

Art Vinyl founder Andrew Heeps suggests that the award is 'possibly the most credible end-of-year award, where the artistic merits of the completely unknown can sit alongside big names in music – albeit in celebration of their visual identity'.

You can see the full shortlist here.
Elton John and band performed in Boston on November 12, 2013
Wednesday, November 13 2013
Following is the complete set list of the Boston show on November 12, 2013.
Funeral For A Friend

Love Lies Bleeding

Bennie And The Jets

Candle In The Wind

Grey Seal

Levon

Tiny Dancer

Holiday Inn

Mona Lisas And Mad Hatters

Believe

Philadelphia Freedom

Goodbye Yellow Brick Road

Rocket Man

Hey Ahab

I Guess That's Why They Call It The Blues

The One (solo)

Oceans Away

Voyeur

Someone Saved My Life Tonight

Sad Songs (Say So Much)

All The Girls Love Alice

Home Again

Don't Let The Sun Go Down On Me

I'm Still Standing

The Bitch Is Back

Your Sister Can't Twist (But She Can Rock 'n Roll)

Saturday Night's Alright For Fighting


Your Song

Crocodile Rock
Elton inducted into the Headwear Hall of Fame
Sunday, November 10 2013
Among the numerous awards and honors Elton John has received over the years, this is surely one of the most unusual: He has been chosen for induction into the 2014 Headwear Hall of Fame.
Each year, the Headwear Association, the hat industry's organization, selects six people known for their love of headgear to enter its Hall of Fame. This year, Elton made the cut, along with Queen Elizabeth II, Sophia Loren, Diane Keaton, Spike Lee and Bruno Mars. While Elton doesn't often sport a hat these days, back in the '70s and '80s, he wore them all the time because of his premature baldness. Nowadays, he just wears a toupee.

There are now a total of 36 celebrities in the Hall, including such music stars as Frank Sinatra, Carlos Santana, Aretha Franklin, Tom Waits and Madonna.
Elton John and band performed in Providence, RI on November 9, 2013
Sunday, November 10 2013
Following is the complete set list of the Providence, RI show on November 9, 2013.
Funeral For A Friend

Love Lies Bleeding

Bennie And The Jets

Candle In The Wind

Grey Seal

Levon

Tiny Dancer

Holiday Inn

Mona Lisas And Mad Hatters

Believe

Philadelphia Freedom

Goodbye Yellow Brick Road

Rocket Man

Hey Ahab

I Guess That's Why They Call It The Blues

The One (solo)

Oceans Away

Voyeur

Someone Saved My Life Tonight

Sad Songs (Say So Much)

All The Girls Love Alice

Don't Let The Sun Go Down On Me

I'm Still Standing

The Bitch Is Back

Your Sister Can't Twist (But She Can Rock 'n Roll)

Saturday Night's Alright For Fighting


Your Song

Crocodile Rock
Leon Russell chose to leave the spotlight
Sunday, November 10 2013
Leon Russell is the first to admit that he's primarily responsible for becoming one of the forgotten figures of rock 'n' roll.
More than 40 years ago, when Russell and the husband-and-wife team of Delany and Bonnie Bramlett were putting together a massive band that nearly every star musician of the time was scrambling to be part of, this would have seemed impossible. Russell had put in more than a decade's worth of time as a first-call studio musician in Los Angeles and Tulsa with such aggregations as the Wrecking Crew, the Shindig house band, and more than can possibly be listed, before making his own stab at being a frontman.

When Russell finally made the move, it would have seemed that the sky was the limit, especially when his songs (including the classic "A Song For You," plus co-writes that included "Superstar," later a massive hit for the Carpenters) were clamoured after by other artists. He recorded with Sinatra and The Beach Boys, enthralled Eric Clapton, inadvertently terrified Elton John, and cut a striking and eccentric figure around L.A. as he went from session to session.

He was, as he says, "on the top of the world" around 1973 when he deliberately started to fade from the limelight. The late-period renaissance that had him record a record ("The Union") with Elton John in 2010 has cast more light on the pianist, which saw him endure multiple health issues around that period — undergoing surgery for a brain fluid leak during the making of the album, as well as heart failure and a bout with pneumonia.

The Journal spoke with the 71-year-old musician about his disappearance from the spotlight, his appreciation for Bob Dylan, and his relationship with Elton John.

Journal: Is it true that you scared Elton John when he was first starting out?

Russell: "I guess so, but I wasn't trying to! Billy Bob Thornton also said he was scared of me. I don't know why, I never meant to. What happened was we went to see Elton at the Troubadour (in L.A. in 1970) and he said later that he was scared to death when he saw me in audience. When I saw him I thought to myself, 'Oh, this is going to be bad for my career.' Because he was so active onstage, and just great. It was weird in both directions."

Journal: Elton apparently worshipped you for your piano playing. You hired him to open for you at a number of your own shows during that period, and really helped him with his career. How did you end up working with him again?

Russell: "We hadn't spoken in 35 years, so when I got the call I was surprised. He was doing concerts with Billy Joel and he originally wanted me to write songs for the album they were doing. Then he called back and said, 'Why don't we do an album together?' I was flattered and excited, because I was at the top of the heap in '73 for maybe a minute, but I blew it. I didn't understand or like the press, so I walked away from doing interviews. What I didn't know was that if you do one you have to do the other thing, too. I went to the bottom and thought, 'Someone will come get me.' Well, nobody did; it took 35 years for someone to come get me."

Journal: It got great reviews when it came out, and I particularly like how you seemed to kick Elton back into playing some seriously happening music for the first time in years.

Russell: "I don't know about that. It was an unusual album for both of us in that we're rock 'n' roll singers but the album itself isn't quite like that. People seem to like it, though, so that's good."

Journal: It's a nice survey of various styles, it's true. I remember reading about how you felt out of step with a lot of music, even when you were younger.

Russell: "Yeah, I never could understand what was happening, or why something was a hit and why something wasn't."

Journal: Who did you consider to be in your personal favourites?

Russell: "I don't know, someone like Sam Cooke? I thought he was the best soul singer in the world, and while he did well I just never thought he got the acceptance he deserved. A band I never 'got' was The Doors, who I called The Doors to Practically Nowhere. I never did get that at all, though I liked some of Jim Morrison's songs when they were done by people like Jose Feliciano. (Feliciano covered Light My Fire.) I also didn't get the Grateful Dead. I played one time with them at the Armadillo Club in Austin, played for five hours, and I didn't understand them anymore at the end then I did at the beginning."
Elton John and band performed in Bridgeport, CT on November 8, 2013
Saturday, November 9 2013
Following is the complete set list of the Bridgeport, CT show on November 8, 2013.
Funeral For A Friend

Love Lies Bleeding

Bennie And The Jets

Candle In The Wind

Grey Seal

Levon

Tiny Dancer

Holiday Inn

Mona Lisas And Mad Hatters

Believe

Philadelphia Freedom

Goodbye Yellow Brick Road

Rocket Man

Hey Ahab

I Guess That's Why They Call It The Blues

The One (solo)

Oceans Away

Voyeur

Someone Saved My Life Tonight

Sad Songs (Say So Much)

All The Girls Love Alice

Home Again

Don't Let The Sun Go Down On Me

I'm Still Standing

The Bitch Is Back

Your Sister Can't Twist (But She Can Rock 'n Roll)

Saturday Night's Alright For Fighting


Your Song

Crocodile Rock
See a slideshow with pictures from the event.

Elton and Tom Hardy at AFM to promote "Rocketman"
Wednesday, November 6 2013

Who cares about jet lag when you can have breakfast with Elton John and Tom Hardy?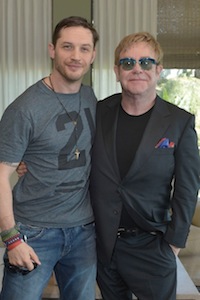 The pop icon and star turned up at a November 5, 2013 breakfast in Santa Monica to personally tout "Rocketman," the Elton John biopic that will star Hardy. Leading foreign sales outfit Good Universe hosted the event on the eve of the American Film Market (AFM), where it will shop the project to international distributors. About 100 foreign buyers attended the bash, held at the swank Bel-Air Bay Club.

Elton and Hardy, flanked by director Michael Gracey, talked about their hopes for the movie-musical, which Elton is executive producing. Elton also will re-record many of his hits to parallel the emotional beats of the movie.

Steve Hamilton Shaw and David Furnish of Rocket Pictures are producing the biopic alongside Lawrence Bender for AI Films. Other executive producers include Len Blavatnik, Aviv Giladi and Focus Features CEO Peter Schlessel. Focus will release the film in the U.S. (Schlessel brought the project with him from FilmDistrict).


Tom Hardy to play Elton in "Rocketman" biopic
Thursday, October 24 2013 at 05:27:40

Tom Hardy pursued for the role of Elton John
Thursday, May 30 2013 at 10:11:41
Lady Gaga enjoys being a godmother to Elton's sons
Tuesday, November 5 2013
The 'Applause' singer explained to Graham Norton that her outlandish fashion choices helped her as a youngster, and it remains the case today.
Gaga revealed that she enjoys being a godmother to Elton's sons. She said: "I bring them presents all the time. I spoil the hell out of them.

"They are the most beautiful kids and I've never seen such a loving family. They are absolutely the symbol of the future modern family."
Das Sprungbrett
Tuesday, November 5 2013
As in previous years, Elton fan Mireille Herz has prepared a German translation of all the songs on Elton's new album, "The Diving Board".
German-speaking fans can download the document from eltonfan.net.
Annie Lennox is honoured at Music Industry Trust Award and wins praise from Elton
Tuesday, November 5 2013
All eyes were on singer Annie Lennox on November 4, 2013 when she attended the 22nd Music Industry Trust Award at the Grosvenor Hotel in London.
The former Eurythmics star was honoured in recognition of her outstanding contribution to British music and her charity work at the event which was hosted by BBC Radio 2 presenter, Jo Whiley.

Annie, whose solo hits include "Why" and "Walking On Broken Glass," was thrilled with the accolade and said: "I'm very touched and honoured to receive this award. Music has given me a lifetime of experiences and opportunities that I would never have dreamed possible, and I feel very privileged to have been able to become an artist and communicator, especially as a woman."

The 58-year-old looked decadent in a long gold down with perfectly matching heels. She wore pink lipstick and she kept her famously short, bleached, cropped hair, neat and fuss-free. Singers Elton John and Adele were among the stars who praised the chart-topping performer.

Speaking in a recorded video message, Elton: "It is so well deserved and not only for your extraordinary contribution to music and songwriting but also for your outstanding and tireless work as an HIV and AIDS activist and supporter of woman's rights."
Elton: "My music is no longer relevant"
Monday, November 4 2013
He is one of the best-selling musicians in the world, whose songs are still loved by millions, but Elton John has admitted he is not very "relevant" now.
Elton said it was a "tremendous asset" to no longer have to "chase the charts" and have top 10 records. Instead, he said, he could just "do what I like". He told the Andrew Marr Show on BBC One: "I don't think my melodies and my songs are relevant really to the current age. People might like them but the records don't sell as much as they used to by a long way. But I'm not really interested in that any more ... I've been through what I've done, I've been successful and have the freedom not to care about that any more."

Elton said he sometimes felt like he was "the acceptable face of homosexuality," adding that this was something he wanted to use to break down barriers. He cited Russia as one country where he hoped to help "break down some walls and bring people together through music." But he expressed optimism about the growing amount of tolerance of homosexuality around the world.

The change was gradual, he noted, comparing it to the peace process in Northern Ireland. "Obviously that doesn't apply everywhere, it takes a long time," he said. "It's like Northern Ireland wasn't solved in a day, it was done by diplomacy, it was done by bargaining and it was done by discussion and actually talking about it."

After receiving the first Brits Icon award in September 2013, he acknowledged it was "a lovely way to sell the new record", adding: "I don't get played much on the radio any more. So, at my age, I'll take what exposure I can get."


The philanthropy and musical history of Sir Elton John
Monday, November 4 2013 at 05:52:46


The philanthropy and musical history of Sir Elton John
Monday, November 4 2013
Sir Elton John has explained to Andrew Marr why he paid for a classical pipe organ to be installed at the Royal Academy of Music.
Before becoming a famous rock-and-roll star, Elton trained on Saturday mornings at the Academy as a classical organist aged 11. With the recent release of his album, "The Diving Board," Elton spoke of his rise from a struggling pop musician to a multi-million-selling stadium filler, gay icon and family man.

Watch The Andrew Marr Show in full on BBC iPlayer.
The Graham Norton Show... according to Elton John
Friday, November 1 2013
Dame Judi Dench, John Bishop and Jeremy Paxman join Elton on the Friday night chat show, but what if Elton turned the conversation to that beard...
The Graham Norton Show is full to the brim with talent this week as Dame Judi Dench, comedian John Bishop, broadcaster Jeremy Paxman and musical legend Elton John take a seat on the big red sofa.

But could the entire evening go without mention of Paxman's rather famous beard? You know, the one he sported on Newsnight and it was all anyone could talk about?

During the show Elton has told of his delight that actor Tom Hardy had been cast to play him in a movie about his life. He said: "I've spent a lot of time with Tom already and we get on like a house on fire. We are very much alike - you wouldn't think so and certainly not physically. I wanted a serious actor and I'm so thrilled he is doing it," he added. "I didn't want it to be a flippant film. It's based on fact but there is a lot of fiction in it because I don't want just the usual biopic and my life has been so surreal." Rocketman follows Middlesex-born Reginald Dwight's journey from childhood piano prodigy to global superstar.

Elton also speaks of his royal fans on the show, he said: "Princess Margaret and I became friends. I took her to the cinema once at the Odeon Kensington. We had a lovely time and then we went out to dinner and I took her home. Nothing happened of course!"

See The Graham Norton Show Fridays at 10:35pm, BBC One.


Tom Hard to play Elton in "Rocketman" biopic
Thursday, October 24 2013 at 05:27:40

Tom Hardy pursued for the role of Elton John
Thursday, May 30 2013 at 10:11:41