ELTON JOHN NEWS ARCHIVE: November 2011
Elton John and band performed in Sydney on November 26 & 27, 2011
Tuesday, November 29 2011
Following is the complete set list of the Sydney shows on November 26 & 27, 2011.
Saturday Night's Alright (For Fighting)

I'm Still Standing

Levon

Madman Across the Water

Holiday Inn

Tiny Dancer

Philadelphia Freedom

Goodbye Yellow Brick Road

Candle in the Wind

Rocket Man

I Guess That's Why They Call It the Blues

Hey Ahab

Gone To Shiloh

Monkey Suit

Sacrifice

Honky Cat

Sad Songs (Say So Much)

Daniel

Sorry Seems to Be the Hardest Word

Don't Let the Sun Go Down on Me

Take Me to The Pilot

Bennie and the Jets

The Bitch Is Back

Crocodile Rock


Your Song
Tax on fun: Paying a price for liking Elton in 'concert levy'
Monday, November 28 2011
An audacious attempt to charge thousands of concert-goers a road levy in the Hunter Valley has been labelled a "tax on fun" by a tourism group.
With two Elton John concerts this weekend at the Hope Estate attracting 34,000 people, Cessnock Council is considering plans to charge ticket-holders a road tax to visit the region. A report before Cessnock Council has earmarked as "high priority" the need to cash in on the huge number of visitors that now travel there for the popular concerts, so it can afford to improve the shocking state of the roads in the area.

The report states that "a mechanism be investigated for collecting a levy/contribution from events to fund community infrastructure, tourism development and marketing". Charging the promoter a lump sum of $50,000, which would then be passed on to the ticket-holder as a $3 add-on, for example, is one option being considered.

The council's own legal advice last week found the levy to be legally challenging in the short term, but other ideas include asking each concert venue to make a lump-sum payment to council, or forcing every business to pay an extra levy as part of their rates. "This idea is absolutely appalling, it's just a tax on fun," Tourism Transport Forum CEO John Lee said. "What you have is a council that has reaped the benefit of having a vineyard on their doorstep for decades, and now they want to tax people for having fun."
Elton John and band performed in Dunedin on November 25, 2011
Saturday, November 26 2011
Following is the complete set list of the Dunedin show on November 25, 2011.
Saturday Night's Alright (For Fighting)

I'm Still Standing

Levon

Madman Across The Water

Holiday Inn

Tiny Dancer

Philadelphia Freedom

Goodbye Yellow Brick Road

Candle In The Wind

Rocket Man

I Guess That's Why They Call It The Blues

Hey Ahab

Gone To Shiloh

Monkey Suit

Sacrifice

Honky Cat

Sad Songs (Say So Much)

Daniel

Sorry Seems To Be The Hardest Word

Don't Let The Sun Go Down On Me

Are You Ready For Love

Benny And The Jets

The Bitch Is Back

Crocodile Rock


Your Song

The Circle Of Life/Can You Feel The Love Tonight (Solo Medley)
Elton starts the name game
Friday, November 25 2011
It is a long way from a rocket, man. But that has not stopped Port Otago staff from naming one of their giant container straddle carriers after pop star Sir Elton John.
The 68-tonne straddles can transport up to four containers at once and have a top speed of 25kmh when empty. No 29 was officially named after the piano man on November 24, 2011. "The directors came up with the idea. It was just a bit of fun, really. There's got to be a bit of fun in the business, too," Port Otago plant services manager Bob Smillie said.

"The idea is to personalise the big machines our men and women are spending so much of their working day on and we thought we would name them after icons of the entertainment world over the last 30 or 40 years. At the moment, they are all numbered and we thought it would be fun, and a bit unique, to give them names. The intention is to eventually name all the large straddles and machines in the container terminal, but we thought we would start with Elton because he's here. The next step will be to let the staff decide the names. We will probably do a short list and everyone can have a vote."

The port authority operated 15 straddles at the terminal, Mr Smillie said. The huge machines are made in Finland by Kalmar and assembled when they arrive in Dunedin. "We told the Kalmar people about it and they said they had never heard of anything like it. It's a world first, as far as they are concerned," Mr Smillie said.

"We would have liked Elton to come down and have a drive of the straddle, but we appreciate he might be a bit busy for that."
Two Rooms - weekly Elton radio show
Friday, November 25 2011
Host David Sigler of the only weekly radio show dedicated to the music of Elton John and Bernie Taupin, Two Rooms, wants everyone to know of more new and exciting shows coming up.
Among them: an interview with cover tribute artist Jerred Price, album spotlights that will feature a segment called "songs that should have been a single" and a special holiday themed show!

Learn more at www.facebook.com/tworoomsejbt and/or email Dave at tworoomsejbt@yahoo.com.

The show streams online Monday's at 2am EST on www.womr.org.
Songstress to open for Elton
Tuesday, November 22 2011
A West Coast songstress will open for Elton John in Dunedin.
Singer-songwriter Katie Thompson won the opportunity to open for Elton at his only New Zealand show this year, to be held at the new Forsyth Barr Stadium on November 25, 2011. "It's pretty big. I'm very very excited," she said.

The 24-year-old beat 50 entrants to take out the Open 4 Elton promotion, giving her the chance to play for up to 40 minutes in front of more than 30,000 people. A panel of judges narrowed the entrants down to four finalists before opening the competition to online votes last month. "It's great - just the support I've got has been awesome," Thompson said.

The country singer has released two albums and has been nominated for the Horizon and female artist of the year awards at this year's National Country Music Awards. She hoped to undertake a national tour soon, and believed opening for Elton John would give her an "amazing boost". "He's an amazing musician, so I don't know what's more exciting - getting to open for him or meet him or watching his show."

Thompson's prize also included airfares and accommodation for the performance and $5,000 cash.
Lady Gaga confirms Elton John duet
Monday, November 21 2011
Lady Gaga made an appearance on Alan Carr's chat show, sharing news of a planned duet with Elton John and details of her unusual bathroom habits.
There were big cheers in the audience as Gaga revealed she would be recording a duet for her new album with showbiz pal Elton John, adding that she had already 'played him the song and he really loved it'.

Plying his guests with a selection of alcohol as per usual, Carr probed an always candid Lady Gaga and got her to admit to some rather bizarre toilet habits – with the star confessing to urinating in the bins of her dressing rooms. Gaga said: 'I do quite often pee in the dressing room, in the trashcan', claiming that often the bathroom is too far away.
Elton gets Singapore orchid named after him
Saturday, November 19 2011
Elton John now joins the list of over 100 celebrities and heads-of-state who have received the Singapore welcome - an orchid named specially after him.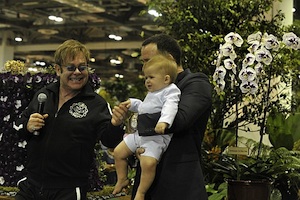 The 'Doritaenopsis Sir Elton John' is a hybrid orchid with a striking magenta pattern and a golden forked lip, over large white petals, to reflect the singer's flamboyant personality.

He told the crowd on November 18, 2011 morning at the World Orchid Conference: "This is such an honour because I'm an avid lover of gardens - I have beautiful gardens in my home in England and France."

He added that his partner, David Furnish - who was also present at the ceremony along with their baby son, Zachary - was planning to install a greenhouse in their England home.
Q&A with Elton
Saturday, November 19 2011
In October 2011, Elton played his 3000th concert. Now he's about to head to Dunedin for a concert that offers the statistically inclined musician the chance to add another entry to a long list. Shane Gilchrist asks the chart-topping, globe-trotting performer a few questions.
It is claimed your forthcoming Dunedin concert will be the most southern date you will have performed. However, I'm sure you've played more exotic (read strange) locations. Can you recall a few such performances?

The Dunedin date will indeed be the southernmost concert I have performed so far. And I think the most northerly concert I have played is Trondheim in Norway, which I played in 2003, closely followed by the Faroe Islands in 2010. Probably the highest concert I have played is the top of the mountain concert in Ischgl, Austria, an open-air venue that is 2300 metres above sea level.

As well as hundreds of sports-related stadiums, I've also played food and drink-related venues such as the KFC Yum! Center and the Dunkin Donuts Center America, the Coca-Cola Dome in South Africa and the Hope Estate Winery in Australia.

I've played breathtaking historical sites such as the Mayan ruins at Chichen Itza in Mexico, the Temple of Ephesus in Turkey and the Coliseum in Rome, and I'm looking forward to getting away from the English winter by playing in the sunshine in beautiful Honolulu, Hawaii, in January.

As a lifelong compiler of lists and recorder of statistics, I enjoy milestone achievements, such as my Vermont concert in July 2008 when I achieved playing at least once in all 50 states of the USA. Then in October this year I played my 3000th concert, at Caesars Palace in Las Vegas. Now I'm trying to break the record for the number of countries played, and so later this year I'll be playing for the first time in Indonesia and Malaysia, and next year I'll be playing my first ever concerts in Peru, Costa Rica and Panama.

Do you have a rough set-list in mind, or do you like to keep audiences guessing? Will the Dunedin concert be a mix of career classics as well as some newer material, perhaps songs off your last album, The Union (with Leon Russell)?

We try to create a set list that will please everyone. These days, concert tickets are certainly not cheap, and we strive to put on a show that is worth every penny of the ticket price. So if you are coming to my show for the first time you can expect to hear the big hits, lots of songs you know, and also one or two lesser-known album tracks from both my recent and early albums.

The Union and your debut album, 1969's Empty Sky, might be separated by some 40 years, yet there seems to be an enduring musical connection that can also be found on albums such as 1972's Honky Chateau, a spirit of the American South perhaps? Have you always been drawn to such music; eg, rolling pianos, earthy rhythms, brass sections and gospel choirs?

In a word, yes. Bernie Taupin and I have always loved both country and gospel music and, in fact, on the very first day of the recording sessions for The Union, T Bone Burnett sat us all down and played a wonderful recording of gospel singer Mahalia Jackson at the Newport Jazz Festival. I like to think the spirit of that recording permeated the sessions.

Did those sessions with Russell and, significantly, too, Burnett, perhaps remind you of the primal power music can have? That is, without all the hype/trappings of the entertainment industry, do songs and performances require honesty and artistry if they are to be judged of lasting value?

Yes, because I am, and always have been, a musician - it's both my job and my life. So to be working in the studio with Leon, my all-time musical hero, and to have T Bone bringing his extraordinary production talents and musical pedigree to the project ... for me that is the ultimate combination of integrity and honesty. And we haven't even mentioned the session musicians - all hand-picked by T Bone for their consummate playing skills.

The honky-tonk trappings of The Union aside, are you still a sucker for a good ballad (aren't we all)?

Definitely. In my new Las Vegas show, "The Million Dollar Piano", I've brought Blue Eyes back into the set. We haven't played that one for many years, but the audiences certainly seem to enjoy it. I love all the ballads on The Union; I'd be hard-pressed to name my favourite.

Goodbye Yellow Brick Road (1973) and Captain Fantastic and the Brown Dirt Cowboy (1975) are often held up by critics as two landmark albums in your career, but are there other records that resonate more strongly with you - either for artistic or personal reasons? Are there any albums, or songs, you feel have been overlooked and are worth re-exploring?

Obviously, Goodbye Yellow Brick Road is a very important album for me. It contains so many songs that are regularly in my live show Funeral For A Friend, Candle In The Wind, Bennie and the Jets, Goodbye Yellow Brick Road, Saturday Night's Alright for Fighting ...

Captain Fantastic is another of those statistics I love so much: the first album ever to enter all three American charts at Number One.

Lately I've been playing songs from (1971 album) Madman Across The Water - the title track, Tiny Dancer and Levon, and we have also included Indian Sunset in the new Las Vegas show.

I guess different albums resonate at different times. The Empty Sky album contains what I always think of as Bernie's and my first decent song, Skyline Pigeon, and then I loveThe Union because it not only reunited me with Leon Russell but it turned out to be exactly the album I hoped for. My entire studio album catalogue lies in between those two, and each one of them has some special association.

I am very fortunate to have always been perceived as an album artist, and so my album tracks have been played regularly over the years, and not just the hits. However, aside from the very well-known early albums, if you were new to my catalogue I would recommend Blue Moves, Too Low For Zero, Made In England, Songs From The West Coastand, of course, The Union.
Play my piano: plea to Elton John
Friday, November 18 2011
Adrian Mann, owner of the longest piano in the world, is taking it off to Dunedin – in the hope entertainer Elton John might drop by and play.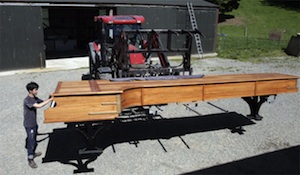 November 17, 2011 was a moving day for the piano Adrian started building at the Pareora Huts, near Timaru, seven years ago when he was just 15. Through a range of contacts Adrian has teed up the piano's first major outing – a visit to the Otago Museum, where it will have pride of place in the foyer for the next three weeks.

Adrian is making the trip after his supporters' best efforts failed to set up a visit by Elton to the Pareora Gorge farm shed, where the piano has been housed. They had hoped the uniqueness of the handmade 7.5-metre long piano might have intrigued the entertainer and pianist. While that did not work, a deal was struck with the Otago Museum which was more than happy to host a visit from Adrian and his piano.

"Although there was some motivation for bringing the piano down around getting Elton John to play the piano, I think for us it's just a great opportunity for the Otago community to be able to see such a fantastic accomplishment by a young South Cantabrian," museum marketing co-ordinator Juliet Pierce said. The piano will be on display in the museum's foyer through to December 5, 2011, with Adrian playing the piano at 1pm each day from Monday to Friday next week.

A special concert has been arranged for November 20, 2011 at which invited Dunedin pianists will be given the chance to play the Alexander piano. Adrian completed the piano 2 1/2 years ago, and since then several concert pianists have visited the farm shed where it is housed, and performed concerts.

While Adrian realises it is a long shot that Elton, who is playing a concert in Dunedin on November 25, 2011, will arrive at the museum to check out the piano, the chance of having his creation on display, and playing for the public, is an appealing prospect.
Elton's Jakarta concert postponed until next year
Thursday, November 17 2011
Concert promoter Big Daddy has announced that Elton's November 18, 2011 Greatest Hits Concert in Indonesia has been canceled due to a tight concert schedule and he would instead perform here on November 17, 2012 during his Asian Tour.
"The Elton John management has canceled the concert because he has an additional Asia Tour this year," Big Daddy president director Michael Rusli said. He said the management had included a Jakarta concert in the second tour schedule, which will be held next year.

He said the concert venue had also changed from the International Convention Center in Sentul, West Java, to the Mata Elang National Stadium in Ancol, North Jakarta. Michael added that cancellations were a business risk that he had to bear. "It is part of the risk."
Mike Posner's "Rocket Man" feat. Bun B
Wednesday, November 16 2011
On a new cover of Elton John's "Rocket Man," Mike Posner transforms the track into the interstellar song it always should have been, adding synth loops and bloops that take the song to outer space.
While Posner's sonic effects enhance the song, he also enlists Bun B for a verse in which the rapper spits, "Houston, we got some problems / Don't know how your boy gonna solve 'em / The command center just won't link and the contest down / I don't know what to think / Happened in a blink."



Posner has posted a video in which he explains the process behind the "Rocket Man" cover. He says, "I really wanted to take this Elton John song and make it as southern and gully as possible, and put as many 808s on the track as possible, so that's what I did with the beat." Mission accomplished!

Posner has shown a knack for recasting pop songs as atmospheric grooves, as he did with Coldplay's "The Scientist." The "Rocket Man" remake is featured on Posner's upcoming mixtape "The Layover," which you can download for free here.
Elton John and band performed in Moscow on November 14, 2011
Tuesday, November 15 2011
Following is the complete set list of the Moscow show on November 14, 2011.
Saturday Night's Alright (For Fighting)

I'm Still Standing

Levon

Madman Across The Water

Holiday Inn

Tiny Dancer

Philadelphia Freedom

Goodbye Yellow Brick Road

Candle in the Wind

Rocket Man

I Guess That's Why They Call It The Blues

Hey Ahab

Gone To Shiloh

Monkey Suit

Sacrifice

Honky Cat

Sad Songs (Say So Much)

Daniel

Sorry Seems To Be The Hardest Word

Don't Let The Sun Go Down On Me

Are You Ready For Love

Bennie And The Jets

The Bitch Is Back

Crocodile Rock


Your Song

Nikita
Rocket Man: The Australian Tour Edition
Monday, November 14 2011
To celebrate his Australian tour 2011, Elton is releasing a specially curated definitive, 33-track edition of 'Rocket Man: The Definitive Hits'.
It's all in anticipation of his big show at Burswood Dome on December 11, 2011. Rocket Man: The Australian Tour Edition is out in Australia on November 18, 2011.
Elton to take family on helicopter ride over Moscow
Sunday, November 13 2011
Elton is taking measures to conquer Moscow's notorious traffic jams ahead of a concert in the Russian capital. The singer will beat the queues and get a bird's eye view of the city from a helicopter.
Elton, who is due to perform at Moscow's Crocus City Hall on November 14, 2011, has first-hand experience of Moscow's traffic misery, being a frequent visitor to the city. The star has taken radical evasive action by booking a helicopter for himself and his loved-ones.

Happy couple Elton and David, who now have a 10-month-old son to care for, are not about to miss a chance to show the world to their baby. Despite the fact that Zachary will have no memories of his short trip here, the Russian capital will nonetheless figure on his "have-been-to" list.
Elton John and band performed in Ljublana on November 11, 2011
Saturday, November 12 2011
Following is the complete set list of the Ljublana show on November 11, 2011. - Fotos by Peter Bucek.
Saturday Night's Alright (For Fighting)

I'm Still Standing

Levon

Madman Across The Water

Holiday Inn

Tiny Dancer

Philadelphia Freedom

Goodbye Yellow Brick Road

Candle in the Wind

Rocket Man

I Guess That's Why They Call It The Blues

Hey Ahab

Gone To Shiloh

Monkey Suit

Sacrifice

Honky Cat

Sad Songs (Say So Much)

Daniel

Sorry Seems To Be The Hardest Word

Don't Let The Sun Go Down On Me

Are You Ready For Love

Bennie And The Jets

The Bitch Is Back

Crocodile Rock


Your Song

Circle of Life/ Can you feel the love tonight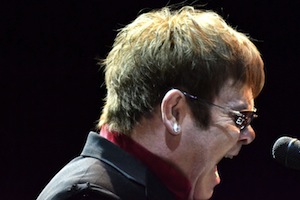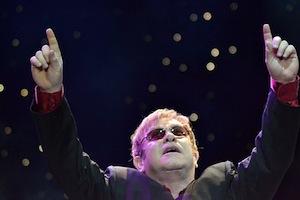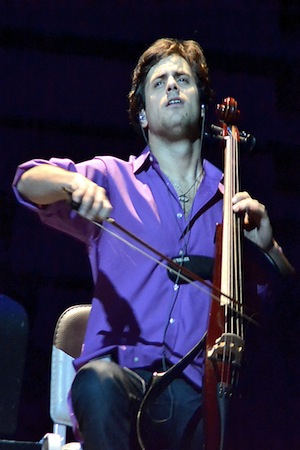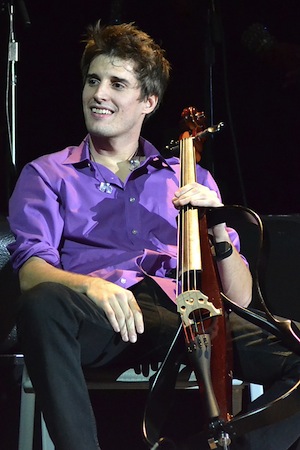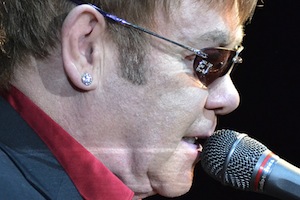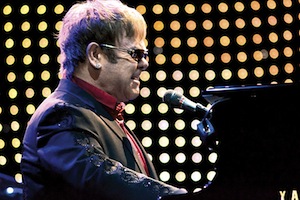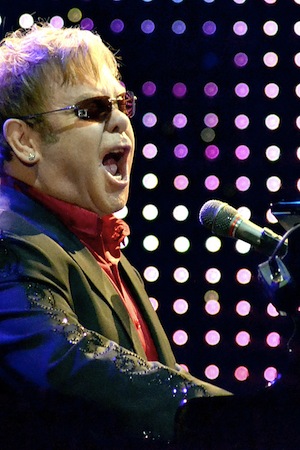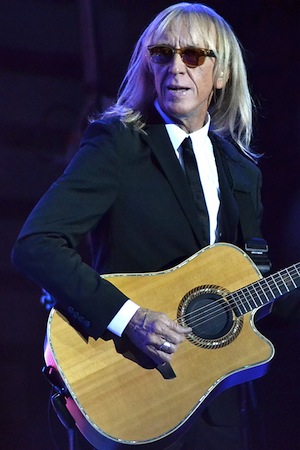 David partner tells conference he hopes to see AIDS cure in son's lifetime
Friday, November 11 2011
"At the core of the fight against AIDS is the fight against homophobia," said David Furnish, chairman of the Elton John AIDS Foundation and keynote speaker, at the U.S. Conference on AIDS in Chicago on November 10, 2011.
He spoke as a part of the National Minority AIDS Council's 15th annual event to spread awareness of the disease, treatment and prevention. Though AIDS affects men and women, the council focused this year's event on the effects it has on gay and bisexual men. "This is the first time in the epidemic's history that the number of infections of Latino gay and bisexual men outpaced African-American women," said Paul A. Kawata, executive director of the council.



African-Americans account for almost half of all the people living with HIV in the United States, according to the council's statistics. The Hispanic community has the second highest rate of HIV infections and has had an increase in HIV infections that was 2.5 times the rate of whites as of 2009, the most recently available data. David said that homophobia a is the reason gay young men still put themselves in danger by having unprotected sex.

"This risky behavior is driven by bigotry," David said. "In many American cities as many as 1 in 5 gay and bisexual men are HIV positive and half of those who are HIV positive have no awareness that they have the disease." As of 2009 20,676 Chicagoans reported that they are living with HIV/AIDS. According to the National Minority AIDS Council, male-to-male sex accounted for the largest proportion of HIV cases.

Though there is no cure for the disease, David said that organizations have helped to prevent the spread of AIDS by answering "shame with love." He cited two Chicago organizations for their leading roles in AIDS awareness and prevention, Walgreen Co. and Johnson Publishing, Inc. Both have joined Greater than AIDS, a national support organization in providing free testing and campaign promotion.

David said that cuts in state budgets have stalled advancements in slowing infection rates and treatment of those with the disease. He mentioned Illinois as a state that had, cut funding that would have provided medication and treatment to newly infected patients in underserved and marginalized communities. He also said the National Institutes of Health reported earlier this year that HIV positive individuals who receive effective anti-retro viral treatments are 96 percent less likely to pass the disease to their sexual partners. "I expect my son Zachary to live to see a world without AIDS," he added.

The conference will continue through November 13, 2011 at the Sheraton Chicago and Towers.


U.S. Conference on AIDS to feature David Furnish
Thursday, November 3 2011 at 06:23:52
Elton John and band performed in Kiev on November 08, 2011
Thursday, November 10 2011
Fan report by Nikita Seregin.
I was a lucky guy to attend Elton's concert in Kiev 'Palats Sportu' on November 8, 2011. The most exciting moment was before "Don't Let The Sun Go Down On Me" when Elton told the audience that the Ukraine is a very special place for him because of that baby from the orphanage called Lev. Elton said that he loved the boy so much and blamed Ukraine laws for stopping him from adopting Lev. Elton was so moved he burst into tears and devoted the song to Lev.



Following is the complete set list of the Kiev show on November 08, 2011:
Saturday Night's Alright (For Fighting)

I'm Still Standing

Levon

Madman Across The Water

Holiday Inn

Tiny Dancer

Philadelphia Freedom

Goodbye Yellow Brick Road

Candle in the Wind

Rocket Man

I Guess That's Why They Call It The Blues

Hey Ahab

Gone To Shiloh

Monkey Suit

Sacrifice

Honky Cat

Sad Songs (Say So Much)

Daniel

Sorry Seems To Be The Hardest Word

Don't Let The Sun Go Down On Me

Are You Ready For Love

Bennie And The Jets

The Bitch Is Back

Crocodile Rock


Your Song

Nikita
Elton unveils project to fight AIDS in Ukraine, believed worst in Europe
Thursday, November 10 2011
Elton has unveiled a charity project to fight the HIV/AIDS epidemic in Ukraine, believed to be the worst in Europe.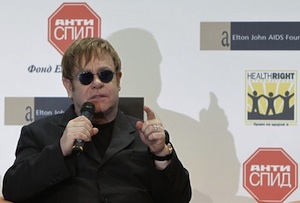 The program — co-founded by the Elton John AIDS Foundation (EJAF) and a local anti-AIDS group — will allow homeless women who are at high risk of contracting HIV to be tested for the virus which causes AIDS. Up to 100,000 young women are believed to be living on the streets of Ukrainian cities, according to organizers.

Elton said on November 09, 2011 that the homeless women will also get medical, psychological and legal help to "bring them back to life." Ukraine has Europe's worst AIDS epidemic with 1.3 per cent of Ukrainians above 15 infected with HIV, the virus that causes AIDS, according to the United Nations.
Elton eye glasses on display
Thursday, November 10 2011
Twenty pairs of Elton's unique spectacles are under the spotlight at a special exhibition in Switzerland.
The exhibition, entitled Brillen (Eyewear), focuses on 'Eyewear past, present and future - vision aid and fashion accessory.'

It is at the the Puppenhausmuseum, Basel, and runs until April 2012.
Bernie Taupin exhibits art at Tampa's Michael Murphy Gallery
Thursday, November 10 2011
Bernie Taupin has become a legend, and a wealthy man, as a lyricist. During their almost 40-year collaboration, he has given voice to Elton John's melodies; together, they have written some of the most memorable and beloved songs in the popular music canon.
But Taupin is a man of many creative interests and talents, including art. For more than 20 years, he has quietly taught himself to paint in a studio on the 30-acre ranch near Los Angeles he shares with his third wife and daughters, 3 and 6. He began exhibiting about a decade ago after he felt he had found his own style. Today, that style has evolved into abstract works densely layered with blocks and washes of color interjected with linear elements and sometimes the addition of other materials. A large exhibition of his paintings and prints made from them is on display at Michael Murphy Gallery in Tampa, and he will be there November 12/13, 2011 to discuss his art informally. In a recent telephone interview, Taupin, 61, talked about his art and some other creative outlets, including a passion for cooking.

You have credited your mother and grandfather with inspiring in you a love of literature and reading. Were you also exposed to art when you were young?
I grew up in a place (a rural area of England) without even what would be called a major town. It was culturally vapid so anything I saw visually, I saw in books. My mother loved (J.M.W.) Turner, so he was the first artist I remember.

Did you take any art classes?
No. I was a reader. When everyone else was playing cowboys and Indians, I was playing Lochinvar (the character in a long narrative poem by 19th-century novelist and poet Walter Scott) and reciting large blocks from Tennyson.

When did you become interested in creating art?
I was always drawing but didn't have the intensity for it that came later on. I began sketching a lot when we (John and he) were on the road. For so many years, I had a very transient life. I always wanted to paint large canvases but never had a place for it until I bought this ranch and settled down.

So you just picked up a brush and started painting?
Yes. At first I thought I wanted to paint big noisy paintings, but they became not so noisy and a bit more cerebral. I've always believed that if there's something you want to do, just try it.

How would you describe your painting process?
I like the straight-from-the-tube intensity that (Hans) Hoffman has. Painting is much like writing a song. It's a lyrical thing. A lot of people find my lyrics obscure to a certain point, and I like to create art that will also allow people to use their imaginations.

But all your paintings have very specific titles.
That's because I'm a songwriter. My titles are there to spark people's imaginations. I don't mind if someone comes up with their own representations.

You're famous for your music, but you have never been someone who's recognized in airports like John.
No, I'm reclusive and rarely give interviews. I could never live the kind of life he leads.

Do you get criticism from other artists and critics about trading on your fame in music for your painting?
Yes, and I don't have any choice; I understand I'm manacled to my celebrity, and I'm going to be painted into that corner — to use a cliche — by some people no matter what. I'd be lying if I said I didn't want the same respect for my art as for my music. But I love painting.

You also love cooking.
I do all the cooking at the house. I love Indian. When I blend spices, it reminds me of mixing colors.

Vegetarian?
No, I love meat. I'm looking forward to Bern's (Steak House) when I'm in Tampa.

What did you call Elton when you first met?
What everyone called him: Reg. (His name was Reginald Dwight.)

Was it hard to call him Elton when he changed his name?
No. I think it's rude not to call someone whatever they want to be called. And now if somebody called him Reg, he'd probably take their head off.

The exhibition for show and sale is at Michael Murphy Gallery, 2701 S MacDill Ave., Tampa, through November 13, 2011. Taupin will make guest appearances from 6 to 9 p.m. on November 12, 2011 and from 1 to 3 p.m. on November 13, 2011. Please do not bring memorabilia for autographs. Reservations are encouraged for space purposes and so you can be contacted if there is a scheduling change. Please call +1 (813) 902-1414 or go to michaelmurphygallery.com.
George Michael sings for Elton
Monday, November 7 2011
Relations between George Michael and Elton were once so bad that George told Elton to shut his mouth and stop interfering in his life.
But any acrimony between the two pop stars was clearly behind them when George took to the stage to perform a cover of an Elton John song - while the artist himself watched from the audience. At a special gig by the former Wham! singer to raise money for Sir Elton's Aids Foundation, Michael told the star-studded audience he hoped the Idol singer was among them.

Introducing his cover of the song at the Royal Opera House in London, he said: "This next song was written by someone I hope has made it in here already - Elton. It's a song he wrote in the late 70s and it's about an ageing pop star. Funny that."

As George cast his gaze around the audience, Elton waved from the stalls, where he sat beside David and broadcaster Janet Street Porter. Little Britain star David Walliams sat beside Janet with his wife Lara Stone. Other celebrities present at the black tie event - which formed part of George's 47-date Symphonica tour of Europe - included Kylie Minogue, former Spice Girl Melanie Chisholm, members of the band Scissor Sisters, comedian Michael McIntyre and actor James Corden.

After coming on stage almost 40 minutes late - but to rapturous applause - George told fans the evening would be "quite special" for him as his mother had loved coming to the venue. "It's truly special to play here," he said. "Probably not exactly my normal audience tonight but you're all absolutely there to be corrupted as far as I'm concerned."


George Michael gig for Elton John Aids Foundation
Saturday, November 5 2011 at 03:53:17


Elton admires Ben Cohen's efforts to end anti-gay bullying
Monday, November 7 2011
Elton made his comments in an op-ed published on November 3, 2011 in UK daily The Guardian.
"To become a parent is a blessing I never imagined might be bestowed upon me until recently. It's an awe-inspiring responsibility and both David and I are determined to fulfill that responsibility – not just to our son but to his generation. We want him to grow up in a Britain where every young person is not just loved as much as we love him, but is afforded fair treatment and respect. However, as we start thinking about Zachary's future education, it's clear that this Britain doesn't exist yet."

Elton went on to say that he feared his son would be bullied because he has two fathers. "Homophobic bullying isn't only an enemy of kindness and respect, it's an enemy of attainment across the board. I've got particular admiration for someone like Ben Cohen. This is a world-class, straight rugby star who has set up a foundation to support charities working around homophobic bullying. Now touring schools around the country, he understands that giving license to any sort of bullying makes all bullying acceptable."

"But just like Ben, every one of us can make a difference," Elton added.

Click here to read the full article.
Elton John and band performed in Riga on November 03, 2011
Saturday, November 5 2011
Following is the complete set list of the Riga show on November 03, 2011.
Saturday Night's Alright (For Fighting)

I'm Still Standing

Levon

Madman Across The Water

Holiday Inn

Tiny Dancer

Philadelphia Freedom

Goodbye Yellow Brick Road

Candle in the Wind

Rocket Man

I Guess That's Why They Call It The Blues

Hey Ahab

Gone To Shiloh

Monkey Suit

Honky Cat

Hercules

Daniel

Sorry Seems To Be The Hardest Word

Don't Let The Sun Go Down On Me

Take Me To The Pilot

Are You Ready For Love

Bennie And The Jets

The Bitch Is Back

Crocodile Rock


Your Song

Nikita
George Michael gig for Elton John Aids Foundation
Saturday, November 5 2011
George Michael will show he has put his feud with Elton behind him when he performs a special gig to raise money for the singer's Aids Foundation (EJAF).
While the two pop stars were close in the 1980s and duetted on the 1991 hit "Don't Let The Sun Go Down On Me", their friendship reportedly broke down as Michael's well-publicised drug problems grew. Elton's attempts to help were rebuffed, with George telling him to "shut his mouth" and stop interfering.

The pair will put any acrimony behind them when Michael takes to the stage of the Royal Opera House in London, accompanied by a symphony orchestra. The concert forms part of his 47-date Symphonica tour of Europe, which has already brought drama with his admission to fans at a sell-out Prague concert in August 2011 that he and long-term partner Kenny Goss had split up.

All proceeds raised from the black tie charity event will go to the Elizabeth Taylor Memorial Fund recently created by the foundation. Announcing the gig, George said in June 2011: "I have seen how HIV can affect people's lives, how it can destroy families and communities. The way that the Elton John Aids Foundation gets help to the people around the world who need it most - often the most marginalised communities - really spurred me on to do something."

Elton praised the planned concert as an "incredible and generous gesture" and said Michael was making a "fantastic gift" to people affected by HIV. Hollywood star Taylor, who died this year, was also a prominent campaigner against the disease and founded the American Foundation for Aids Research following the death of her close friend Rock Hudson in 1985.
U.S. Conference on AIDS to feature David Furnish
Thursday, November 3 2011
The National Minority AIDS Council (NMAC) has announced that Chairman of the Elton John AIDS Foundation (EJAF) David Furnish will give a keynote address at a special opening plenary focused on gay men at the United States Conference on AIDS (USCA), slated to take place November 10-13, 2011 in Chicago.
Joining David in addressing the plenary will be openly gay CNN anchor Don Lemon and Arizona state Sen. Jack Jackson. Former Project Runway contestant Mondo Guerra is also slated to be there. David serves as chairman EJAF both in the United States and the United Kingdom, taking an active leadership role as a public speaker on behalf of the foundation, writing editorials on the epidemic and traveling the world as an ambassador to develop partnerships with like-minded organizations.

Lemon anchors CNN Newsroom during the weekend and serves as correspondent across CNN's U.S. programming. On February 2, 2010, Jackson was appointed to serve on President Obama's Advisory Council on HIV/AIDS. He previously sat on President Clinton's HIV/AIDS Council in 1999.

Also participating in this session will be singer and Broadway legend Jennifer Holiday. Holiday is a longtime supporter of the gay community and ally in the fight against HIV/AIDS.
Help wanted for Elton documentary
Tuesday, November 1 2011
Back2Back productions are making a TV documentary biography on Elton John, which looks at Elton's life through fashion, style, image and accessories.
The are very anxious that the film should get the details right, and reflect the transformations to Elton's public image accurately. They aim to make an informative one-hour film that is detailed, thorough and comprehensive.

Are there any fans out there who have a personal collection of Elton clothes that would show his different styles through the years, or perhaps a collection of Elton's different glasses? Indeed it could be anything style or image related, for example who designs and makes Elton's glasses or his suits?

If you think you can help then email Susie@back2back.tv.
Plan B's drug quip offends Elton
Tuesday, November 1 2011
PLAN B needed a plan C after offending no less than Elton John.
The rapper, who performed at the Rocket Man's Grey Goose Winter Ball, was apparently snubbed by Elton after referencing drugs during his set. A reveller tells The Mirror: "Elton got on stage to introduce Plan B [real name Ben Drew] and then retreated to his table. There were quite a lot of toffs at the bash and, between songs, Ben looked around the room and asked: 'Do rich people like smoking weed?' There were a few awkward laughs but Elton – who has had problems with drugs – looked furious. He didn't stay around to chat to Ben afterwards."
An Enduring Vision 2011 – Wrap Up
Tuesday, November 1 2011
On October 26, 2011, Elton continued his humanitarian efforts to raise money for HIV/AIDS prevention, treatment, and awareness at the Elton John AIDS Foundation (EJAF)'s tenth annual benefit An Enduring Vision gala in New York City.
American Airlines served as the Presenting Sponsor of the benefit, and the star-studded evening raised $2 million for the Foundation.

EJAF Founder Sir Elton John and Chairman David Furnish presented Enduring Vision awards to four outstanding Foundation supporters. Bob and Tamar Manoukian have long been exceptionally generous benefactors of EJAF's events and programs both in the U.S. and most especially in the U.K. Greg Gorman's service and contributions as an EJAF Advisory Board member for many years have been vital to the Foundation's development and growth. As Group President, The Estée Lauder Companies and Chairman of the M•A•C AIDS Fund, John Demsey's vision and leadership have made M•A•C one of the most important and innovative funders of HIV/AIDS programs around the world. Both M•A•C Cosmetics and the M•A•C AIDS Fund have supported EJAF's work for more than a decade. Since its founding in 1994 the M•A•C AIDS Fund has raised over $224 million, to help improve the lives of men, women and children affected by HIV/AIDS globally focusing on under-served populations and geographies.

CNN journalist and New York Times best-selling author Anderson Cooper hosted the gala dinner for a fifth consecutive year, and legendary singer Smokey Robinson performed. Also, Jamie Niven of Sotheby's conducted a live auction featuring such one-of-a-kind items as a day in the kitchen with Wolfgang Puck at Spago Beverly Hills, and a five-night stay at Donna Karan's paradise home on the private island of Parrot Cay in the Turks and Caicos Islands.

In his keynote speech Elton stated, "Significant progress can be made against this disease when government and civil society join hands ... This is where the leadership of the Elton John AIDS Foundation comes to bear, not only to fund innovative projects and encourage their replication, but also to speak out as a reputable voice and to persuade others to join us in this important effort."

Click here to see photos of the event.


Elton John AIDS Foundation Benefit
Thursday, October 27 2011 at 07:24:02

An Enduring Vision Benefit 2011
Tuesday, October 4 2011 at 11:35:48


Elton John's 100 Greatest Songs of All Time
Tuesday, November 1 2011
Elton John is one of the greatest musicians of all time. His catalog of work is critically acclaimed, and belongs next to the likes of The Beatles and Elvis Presley. For the hundreds of songs he creates, only 100 can be considered his greatest. - By Ryan Drew.
Ryan Drew is a 29 year old male from Southeastern Massachusetts. He graduated high school in 2000, where he was a standout on the mens swimming and diving team. He attended college in Bangor, Maine and studied communications. After a year in college, he got an opportunity to buy his own business. So in 2001, he bought a video store. He owned and operated his video store for 5 years, until he sold it in 2006. In 2004, he lost his older brother in a horrific accident. He was killed by a drunk driver. In 2005, at the age of 23, he bought his first house. After selling the video store, he had some heart health issues, but was cleared 4 months later. He now currently works for an agency that assists people with developmental disabilities. He also promote wrestling events, wrestle on independent wrestling shows, and he is a trainer for Spike Dudley's school of professional wrestling. He also enjoys hiking and the outdoors. In February 2011, he lost another brother, this time to cardiac issues.

100) Chameleon
Elton John has gone on record as saying he is heavily influenced by The Beach Boys. And the proof is in the pudding. "Chameleon" is as Beach Boys as "Surfin U.S.A."

99) Bad Side of the Moon
Another early rock song created by the young and naive Reg Dwight. The song was a common visitor to his early setlists. It remains one of Elton's best rock songs. It would be a welcome to his current stagnant live set.

98) My Elusive Drug
"My Elusive Drug" is an autobiographical account of Elton John's battle with addiction and subsequent relationship with husband David Furnish. The bluesy piano and string arrangement is a 3 star song from a 2 star album.

97) Right Before My Eyes
Elton wrote "Right Before My Eyes" for his Broadway failure "Lestat." Elton performed this song solo on TV shows like Ellen and The Today Show. It proved that, behind the pomp and circumstance of Broadway, Elton wrote a endearing love song.

96) Ballad of the Boy in Red Shoes
Regarded by many fans as Elton John's best track of the new century. Personally, I don't even think its the best track on the album. The song suffers from a heavy political subject, which is a huge turn off. Elton John often criticized Ronald Reagan before singing this song in concert.

95) Ball and Chain
From the "Jump Up" album, "Ball and Chain" is a fast paced pop song. No rock and roll in this one. But its catchy and fun, and compared to the "Jump Up" album as a whole, its one of the better tracks.

94) Ego
Released at a time when Elton John was trying to reinvent himself musically. As close to an Elton John punk song as you're going to get. A fun rollercoaster with some funky rhythms. A strong tune that is different from what Elton usually does.

93) Amazes Me
From the 1990 album "Sleeping With the Past," "Amazes Me" is a tune heavily influenced by black music. It's got a very gospel ridden soul, and evokes the image of a Southern Baptist Church. One of Elton John's most beautiful and bare songs.

92) The House Fell Down
On the follow up to 1975's "Captain Fantastic and the Brown Dirt Cowboy," this brother to "I'm Still Standing" is a little more stripped down. But the fun and catchiness remains. The song revolves around Elton's drug abuse in the 80s.

91) Talking Old Soldiers
One of Elton John's most underrated songs of the 1970s. A very bare bones song, just Elton John and his piano. The song is about an old soldier who spends his nights all alone in a bar. This song helped give Elton John his folk music credentials.

90) Original Sin
Described by many hardcore fans as the second coming of "Tiny Dancer." Although some claim that there are similarities, the only thing that the two songs have in common are the beauty in their simplicity.

89) Elton Song
Something happened to Elton John in the late 70s and early 80s. He kind of disappeared. I mean, he was still around, but his songs weren't as noticeable as before. However, he was able to write a couple decent songs during this time. This includes Elton's Song, a sad song written about teenage gay romance. Definitely a risque topic for 1980.

88) Don't Go Breaking My Heart
This 1976 summer time hit is the type of song Elton can write in his sleep. Simple and easy, the song was a bit tongue in cheek. In fact, Elton and Bernie credited their pseudonyms out of sheer embarrassment. But the song is a beloved piece of sweet sugar cane. A guilty pleasure for fans worldwide.

87) The Fox
Elton John experiments with country music in the title track off "The Fox" album. The album itself is dismal, with Elton lack of creativity at the forefront. But "The Fox" is one of the gems on this album.
86) I Swear I Heard the Night Talking
Released as a B-Side in 1990, "I Swear I Heard the Night Talking" is a fast paced pop rock song. It didn't have hit single potential, but would have easily fit on his 1988 album "Reg Strikes Back."

85) House
A long repetitive stroke of genius. The 1995 album track from "Made In England" could be argued as the best track from the critically acclaimed album. The tune proved Elton John could still write strong relatable ballads.

84) The Retreat
Whoever decided to leave "The Retreat" off "The Fox" album is a lunatic. This ode to a soldiers life could have easily gone the same route as Billy Joel's "Goodnight Saigon." A true masterpiece that was cultivated at Elton's least creative time.

83) Emily
An uptempo pop song from 1992 "The One" album. "Emily" isn't breaking new ground and is a basic Elton John color-by-numbers song. But its simple and sweet and Elton's voice lends itself nicely to the chorus.

82) I Feel Like a Bullet
"I Feel Like a Bullet From the Gun of Robert Ford" is the only ballad off the "Rock of the Westies" album. The album was second album in history to debut on the Billboard Top 100 Album Chart. The first on? Elton John's "Captain Fantastic" album from the a year earlier.

81) Last Song
If there were ever a song that could move a cold hearted person to tears, this would be it. A slow sad song with a haunting chorus. The song is about a man dying of AIDS, who is visited by his father. Incredible.

80) Wasteland
Bogged down by ballads, "The Wasteland" is a welcome break on the 2001 "Songs From The West Coast" album. It's a bluesy ode to southern idol Robert Johnson. You're not going to find "Saturday Night's Alright For Fighting," but you will find a musician in his 50s who can still steal your breathe away.

79) Amoreena
A nice laid back country song from the 1971 Tumbleweed Connection album. Has one of the greatest Elton John opening lyrics ever. "Lately, I've been thinking, how much I miss my lady, Amoreena's in a corn field...."

78) Michelles Song
"Michelles Song" was a part of the soundtrack to the 1971 movie "Friends." The song, and the movie, was not a big hit. Despite Elton scoring some notice from the other song on this album, "Friends," this song was far more beautiful and elegantly put together.

77) Where To Now St. Peter
Owning one of Elton John's best opening lines. "I took myself a blue canoe, and floated like a leaf." Bernie's majestic lyrics continue to soar to new levels. Could have been a single off the "Tumbleweed Connection" album. A true folk style ditty.

76) The King Must Die
From Elton John's second album, Elton John, "The King Must Die" is an orchestral juggernaut.

75) Crazywater
A funky piano ditty. The lyrics are strange and you won't get much meaning from them. It's a good song to shake around and bop your head to. Lyrically, there is no depth.

74) Club at the End of the Street
Elton John was so busy blazing his own style, that he never really got to do Motown. But when he finally released "Club At The End of the Street," he proved he could do almost any genre of music. The song is very much akin to Rod Stewart's "The Motown Song."

73) Come Down In Time
A bluesy folk song with very descriptive lyrics. Bernie Taupin was on his A game and inspired during this time in his career.

72) American Triangle
The first song written for the critically acclaimed "Songs From The West Coast" album. The song is a slow building memoir to the tragedy of Matthew Shepard, who was killed by two young men because he was a homosexual. The song is a moving testament to Elton John's fight for equality.

71) Curtains
A long and somber song, with a dramatic and lovely ending. Simple in the beginning, and grows into a boisterous finish.

70) Can You Feel the Love Tonight
The theme song from "The Lion King" will never be mistaken as the greatest song of all time. But this sugary sweet piece of bubble gum ballad introduced a whole new world to Elton John. And the song is decent, if not somewhat schmaltzy.

69) Captain And The Kid
This song was the sequel to the 1975 title track "Captain Fantastic and the Brown Dirt Cowboy." It tells the story of where Elton John and Bernie Taupin are now in their life. In this reviewer's opinion, this is the best track off the "Captain and the Kid" album.

68) The One
A classic Elton John love song. Although a little overblown with the production, it wouldn't have been such an mega hit if it lacked the drama. It was the song that put Elton john back on the map after his stint in a sober clinic.

67) Look Ma No Hands
In the same vein as "Bitter Fingers," "Look Ma No Hands" is a triumphant spring walk through Central Park. Its fresh and easy, with lyrics that don't make you think too much. It was a refreshing break from the typical music Elton was putting out at the time.

66) Teacher I Need You
A goofy but catchy track off the "Don't Shoot Me..." album. It's a mix between "Bitter Fingers" and "I Think I'm Going To Kill Myself."

65) I Don't Wanna Go On With You Like That
A popular radio hit from the late 80s. It's often forgotten about today, as the song doesn't fit into many radio stations genres. Widely overlooked despite behind a big hit.

64) Amy
A sleeper hit from the 1970s. Taken from the "Honky Chateau" album, the song "Amy" was never released as a single but it earned a lot of radio play on AM radio. Like much of "Honky Chateau," the song was funky and different. It had a smooth white boy groove to it.

63) Jimmie Rodgers Dream
Spear-headed by one of Bernie Taupin's best lyrics in years. The mid tempo country song about a trucker on the open road. The song is easy, fun and compatible with his 70s output.

62) All the Girls Love Alice
A nice uptempo rock and roll song. It was proof that Elton, in addition to crafting pop, could write a full tilt rock and roll song. The song swings back and forth from raucous guitar riffs to a nice slow chorus. Elton's voice is in top form.

61) Empty Garden
This sweet song, dedicated to John Lennon, was released on the "Jump Up" album. The song is nice, and comes with a unique chorus. But it doesn't sound like your typical "my friend died" song. I don't know. It's a great song, but there's something about it that makes me feel unsatisfied.

60) Birds
Countrified and soulful, this is the type of Elton John song that he can write in his sleep. A mid-tempo bouncy song about birds. Nothing more.

59) Elderberry Wine
A fresh and suitable pop rock song for its time. The song still holds up today, though it was never good enough to be a hit single.

58) Ballad of a Well Known Gun
A tremendous country bumpkin song. Comes from the album "Tumbleweed Connection" which was Elton's only album to not have a radio single. The entire album was a critical success, and "Well Known Gun" is in the top.

57) Blessed
Released as a single in 1995, "Blessed" was a very minor hit and received a lot less radio play than its predecessor "Believe." It's a nice song, but nothing as innovative as "Believe."

56) You Gotta Love Someone
The southern ballad is kind of like Billy Joels "River of Dreams." It was a part of the movie "Days of Thunder." Decent song but a very minor blip in the commercial charts.

55) Tinderbox
When I first heard "Tinderbox" I wanted to cry. Not because of the content. But because I was happy knowing my favorite artist Elton John could still write music like the old days. "Tinderbox" is as close to 1970's Elton John as you're going to get in 2011.

54) Nikita
"Nikita" is one of those songs you tend to forget how good it really is. Elton's crooning 80s voice is at it's pinnacle in this popular hit from the cartoonish era. Lyrically, Taupin has seen better days. Funny enough, the video depicted Nikita as a Russian woman, even though the name is decidedly male.

53) Live Like Horses
Elton 1997 album "The Big Picture" was, musically at least, a big flop. However, "Live Like Horses" is a diamond in the rough that is "The Big Picture." A bit overdrawn, and maybe even tired, the some is still able to evoke emotion. The chorus makes the song, whilst the rest of the tune is boring and plotting.

52) So Sad The Renegade
"So Sad The Renegade" is an unfortunate victim of choice. Written for the "Peachtree Road" album, "Renegade" never got an official release. It was leaked out by hardcore fans. What was found was a great country song, both lyrically and musically.

51) Have Mercy On The Criminal
A broad orchestral arrangement brings this song from "Don't Shoot Me I'm Only the Piano Player" to life. Elton's young voice is tested in this particular chorus.

50) Blues for Baby and Me
A great example of what Elton John does best. Create lovely ballads that evoke imagery and imagination. This catchy ballad comes from "Don't Shoot Me I'm Only The Piano Player," which also includes the epic "High Flying Bird."

49) Island Girl
A number one hit for Sir Elton. A song like this wouldn't even be promoted today. The song makes constant references to "Black Boy" and "the white mans world." Funky and hip for its time. Doesn't really hold much weight today.

48) Skyline Pigeon
Elton John has gone on the record stating this is the first "good" song he ever wrote. Originally written for the Empty Sky album, John later re-recorded the song. It is a huge hit in Brazil.

47) When Love is Dying
The only true love ballad from "The Union," and its typical overblown Elton John. But its not bad, especially since its the only type of song from that specific album. Sometimes, one takes comfort in hearing Elton strain "ooooh."

46) Pinball Wizard
If anybody could do a The Who song better than The Who, it would be Elton. Elton john performed "Pinball Wizard" for the rock opera Tommy, and later released his version of "Pinball Wizard," which became a Billboard hit.

45) Mona Lisas and Madhatters
Elton John's ode to New York was featured in the movie "Almost Famous" and was also dedicated to the men and women of New York City, at the Concert for New York in 2001.

44) Ticking
An eight minute movie rolled into the lyrics of Bernie Taupin and Elton John's piano and string arrangement. Though written in 1974, the song remains relevent even today. The song tells a story similar to that of Columbine and Virginia Tech.

43) Believe
Perhaps Elton John's greatest song of the 1990s is "Believe." Strong, poignant, and extremely meaningful. "Believe" has everything a good pop song needs. The ultimate 90s power ballad with memorable chorus and inspired Bernie Taupin lyrics.

42) This Train Don't Stop There Anymore
The epitome of what a closing album track should be. Powerful, strong, and dull of emotion. But best of all, it keeps the listener wanting more. The song gives the album a sense of completion, but keeps the customer hooked. In one word: Tremendous.

41) Crocodile Rock
Elton has admitted that "Crocodile Rock" was kind of a cartoonish tongue in cheek song. And in some interviews, he claimed he wished he never wrote the song. Its a fun and fast goof, but carries a great 50s Spector-like flair to it. The extremely popular hit is a great road sing along.

40) Holiday Inn
A nice mid tempo tune about a musicians home away from home, the Holiday Inn. Nothing too spectacular about this song. It's just a good Elton John song and up to par with all of his early 70s work.

39) Gone To Shiloh
Elton John's collaboration with Leon Russell resulted in several incredible pieces of work. That includes "Gone To Shiloh." Think of Billy Joel's "Goodnight Saigon," but without the nifty helicopter sound. The song also includes vocals from Neil Young.

38) Blue Eyes
One of Elton's more famous 80s songs. Its very Frank Sinatra and Dean Martin like. Crooning Elton John at his best. The song fits well into his more coarse voice of today.

37) Bitter Fingers
The jittery "Bitter Fingers" comes off the "Captain Fantastic and the Brown Dirt Cowboy" album. The song is about Elton John's time when he was a pub singer in England. The song contains some fun pub style piano riffs.

36) The Best Part of the Day
the opening lines to "The Best Part of the Day" gives me goose bumps. It's one of the most incredible opening lines in music history. "I hear him singing, I shall be released. Like a chainsaw cutting, through a masterpiece." Incredible imagery mixed with legendary talent. The best song on the album "The Union."

35) High Flying Bird
A nice upbeat country love song from "Don't Shoot Me I'm Only The Piano Player." Great swinging chorus and lovely backing vocals from his Elton John Band.

34) Bennie and the Jets
I dare you to try and not tap your feet, clap your hands or sway your head to the beat of this mega hit for the piano prodigy. A number one hit on the R&B charts, the surprise hit single launched Elton John even further into the stratosphere of pop music. One of his most famous songs of all time.

33) Border Song
Once covered by Aretha Franklin, "Border Song" comes from the self titled "Elton John" album. This gospel tinged song was regularly played on radio and featured on television talk shows. It helped gain attention to the rising star.

32) Burn Down The Mission
The last track from the critically acclaimed "Tumbleweed Connection." Arguably the best track off the awesome album. Still remains on Elton John's concert set list, despite being written in 1971 and never having been a single.

31) Captain Fantastic and the Brown Dirt Cowboy
From the opening acoustic notes, "Captain Fantastic and the Brown Dirt Cowboy" is a long journey through the musical life of Elton John and his songwriting partner Bernie Taupin. Despite the lyrics being unrelatable because its autobiographical, the song rolls smoothly and is easy to understand.

30) Grey Seal
Despite not being released as a single, "Grey Seal" was a funky album track that was played on several radio stations throughout the 70s. Its one of Elton's best known album tracks. Bernie has admitted the lyrics don't have any meaning and it was just a fun lyric that drooled from his head.

29) Lucy in the Sky with Diamonds
Although written by Paul McCartney and John Lennon, Elton John covered this song in the mid 70s. And oddly enough, accomplished something The Beatles weren't. He took "Lucy in the Sky With Diamonds" to number one on the Billboard charts.

28) Little Jeannie
A surprise hit in 1980. Little Jeannie is one of those popular songs for its time, but doesn't last for a great period. Sounds like it could've been written for someone like Andy Gibb.

27) Someones Final Song
A dark depressing tune. Suitably coming from the "Blues Moves" album, "Someones Final Song" is great, but the subject matter and the manner in which Elton sings it, makes you want to slice your wrists. Very sad and depressing tune.

26) Hercules
A fun and funky rock and roll song. The last track on the 1972 Honky Chateau album. Recently returned to Elton John's live concert set list after several years on the shelf.

25) Better Off Dead
From the autobiographical "Captain Fantastic and the Brown Dirt Cowboy" album. Despite being short on time, the song packs quite a punch. Turn up the bass on this song.

24) Honky Cat
A hit single for Elton John in the early 70s. The catchy chorus is infectious and the listener will find themselves singing along to the ditty.

23) I'm Still Standing
I always describe "I'm Still Standing" as a pack of the candy pop rocks, being poured into your mouth all at once. It pops. It bounces up and down. Its fun for three minutes. But you can't eat pop rocks all the time.

22) Mellow
A bluesy romantic love letter. Mellow is rich with emotion and Elton's piano is at the forefront. An underrated love song by Elton and Bernie Taupin.

21) Hey Ahab
Whether it was Leon Russell or T-Bone Burnett who inspired Elton John, but whoever it was, Thank you. "Hey Ahab" is the kind of funky countrified rock songs Elton John was putting out in the early 70s. A true return to form.

20) Madman Across the Water
"Madman Across the Water" is a dark song. The piano and strings lurk, while Elton sings Bernie's shadowy lyrics.

19) Something About the Way You Look Tonight
Some people might forget, but "Something About The Way You Look Tonight" was once the most popular song in the world. At least, according to Billboard charts. The pop love song was one of Elton better compositions of the 90s. The single was released with "Candle in the Wind 97," which is why it was the largest selling song of all time.

18) I Should Have Sent Roses
Although not written by Elton John, he did participate in the song as part of his collaboration with Leon Russell. And quite honestly, it's one of the best songs on the album. Russell proved to be just as competent writer as Elton John.

17) I Think I'm Gonna Kill Myself
A jaunty tune that is completely opposite the depressingly sad title. Reminiscent of a pub song, with a great sing a long chorus. Kudos to tap dancing solo. Makes a world of difference.

16) Tiny Dancer
Although this song remains one of Elton John's greatest hits of all-time, the over-played anthem has gotten old. The song was much better preserved as a gem to hardcore Elton John fans. Now the song can be heard on local car dealership commercial spot. Regardless of its lost luster, the song keeps new fans discovering the rocket man.

15) Take Me To the Pilot
The piano pounding in "Take Me to the Pilot" would make any rock star blush. The album track pales in comparison to the live version. Even better, a solo version that Elton does live in concert.

14) Levon
The famous upbeat Elton John tune released in 1972. The radio hit single has long been discussed as controversial lyric. Taupin claims the song wasn't inspired by anything in particular, just a headline he read in the newspaper.

13) Tonight
A little known gem from the "Blue Moves" album. In the same vein as "Funeral For A Friend/ Love Lies Bleeding," in that the song is heavy on a musical performance. The song comes in at just under eight minutes long. Its a sweet serenade that many married couples could probably relate to.

12) Rocket Man
The epic ode to space discovery. On the same level as David Bowie and Captain Tom. The songs lyrics are brilliantly obtuse, allowing the listener to make this song about anything they wish.

11) Indian Sunset
This song would have been an epic hit if it weren't so long. The song is a story rolled into six minutes of bliss. Based on the plight of Native Americans, Elton John's young voice soars through the lines with peak perfection. "Indian Sunset" is a personal favorite. If you never heard it, download it immediately.

10) The Greatest Discovery
Lyrically, the song is about the birth of Bernie Taupin;s younger brother. Its sweeping string arrangement by Paul Buckmaster is one of the most beautiful moments in music history.

9) Goodbye Yellow Brick Road
Regarded as one of Elton John's most unique songs. Incredibly original for its time. The song is complete with one of the most revered chorus's in music history. Also, unlike many of todays artists who depend on studio tricks, the chorus was never sped up on Elton's chorus. He sung it the way it sounds on tape.

8) I Want Love
Perhaps Elton John's greatest musical achievement of the 21st century is the amazing ode to The Beatles, "I Want Love." At a time when his popularity was low, Elton regained exposure by releasing a powerful and popular love ballad. The song was a hit with the MTV generation, and the video was on constant rotation at the music channel.

7) Don't Let The Sun Go Down On Me
One of Elton John's most recognized and beloved songs. An incredible song that has been covered by many artists. But nobody has ever sung it with as much raw emotion as Elton. It's like a breathe of fresh air the minute those opening notes touch the ear.

6) I Guess Thats Why They Call It The Blues
One of Elton John's biggest hits and rightfully so. "I Guess Thats Why They Call It The Blues" is everything that is right with pop music. The song is catchy, not bloated and easy on the ears. Easily it the top of Elton John's greatest hits of all time.

5) Funeral For A Friend/ Love Lies Bleeding
Unbelievable. The most epic masterpiece Elton John has ever written. A joyous 11 minute music track that takes you on a rollercoaster of emotions. Too long to be a hit a radio single, the song has gone on to become a popular staple in concert.

4) Harmony
A true undercover gem from the classic album "Goodbye Yellow Brick Road." Despite never being released as a single, the song remains one of Elton John's most popular catalog titles. Elton has stated a number of times that if the song had been released it certainly would've been a number one hit. Easily one of Elton's greatest songs from the 70s.

3) Someone Saved My Life Tonight
Arguably one of the greatest songs of all time. The song is autobiographical and pertains to Elton's marriage and subsequent failed suicide attempt. The chorus was sampled by Kanye West for his song "Good Morning."

2) Candle In The Wind
The quintessential Elton John song. It will be the tune that the rocket man is most remembered for. It is quite possibly the most perfect song Elton has ever written. This refers to the 1973 and 1988 versions. The 1997 version was a mega hit, but that was not because of the song.

1) Your Song
The quintessential Elton John song. Quiet. Simple. Loving. Elton John's voice is so young and tender, and full of pureness. There are not many ways to describe the soothing mood "Your Song" creates.