ELTON JOHN NEWS ARCHIVE: November 2010
Add your name to the order list for Watford painting
Tuesday, November 30 2010
Plenty of readers of the Watford Observer have already ordered their reproductions of Terry Challis' famous Watford FC painting – and you can join them.
The Watford Observer is now selling copies, in canvas and poster form, of the late cartoonist's artwork that was presented to Elton John in 1977, visually capturing the then chairman's ambitions for the Hornets.

The former assistant editor, Oliver Phillips, explained the painting depicts Elton "astride a giant Hornet, pointing the way forward as a Watford figure emerged from the bog and looked towards the chessboard of football pitches, past new stands up towards the Liver Bird near the horizon and the Eiffel Tower, denoting Europe, beyond".

Memorably, of course, everything Terry prophesised in his painting came true – and now you can share in this special slice of Hornets history. A canvas costs £130, with posters available at £9.99, and if you would like further details email sports editor Anthony Matthews, with the words 'Terry Challis Picture' in the subject line and include your name, address and daytime phone number.
Elton John concert to benefit Prop. 8 foes
Tuesday, November 30 2010
Elton John will perform a concert at the Beverly Hills estate of Ron Burkle on January 19, 2011 to raise money for the legal challenge to Proposition 8, California's ban on same-sex marriage.
The proceeds from the event will support the American Foundation for Equal Rights, the org that is pursuing the challenge to the ban on gay nuptials, with Ted Olson and David Boies leading their legal team.

On December 6, 2010, the 9th Circuit Court of Appeals will hear arguments in the latest phase of the case. Proponents of Prop. 8 are appealing U.S. District Judge Vaughn Walker's August 2010 ruling that the initiative was unconstitutional.

The foundation, a nonprofit formed by a group of entertainment industry activists, has held a series of events in recent months, including an art auction in New York that raised $600,000 and a fund-raiser featuring Wall Street and GOP leaders that raised $1.3 million.
Elton calls on stellar list for Independent issue
Tuesday, November 30 2010
Elton John is calling on stars including Dame Elizabeth Taylor, Bill Clinton and Kanye West to contribute to the issue of the Independent he is guest editing on December 1, 2010.
Elton will guest edit a themed edition of the Independent, and its 20p cut-price spin-off, i that aim to raise awareness of World Aids Day. The cover has been designed by Gary Hume, a leading modern artist and contemporary of Damien Hirst.

Elton has also lined up a series of celebrities to tweet in support of the cause, including Stephen Fry, Phillip Schofield, Jimmy Carr, John's partner David Furnish, Kanye West and Lily Allen. There will also be contributions written by broadcaster Christiane Amanpour and Tamara Mellon, of Jimmy Choo fame, as well as an as-yet-unfinalised piece by Taylor.

Clinton will write a comment piece on how the European Union needs to change, while there will also be pieces on Elton's "heroes" including gay rights campaigner Peter Tatchell, footballer Paul Scholes and Hillary Clinton.

The one-off edition will be published on December 01, 2010, World Aids Day, with the aim of raising awareness of prejudice against HIV and the need to protect against transmission.

Elton follows in the footsteps of U2 frontman Bono and designer Giorgio Armani in guest editing the Independent. Bono's edition in 2006 resulted in a sales rise of about 70,000 copies – a bigger sales lift than after the London bombings in July 2005.

All circulation revenue from the Independent and the i on December 1, 2010 will go to the Elton John Aids Foundation.



Aids 'top of the agenda' for Elton the editor
Tuesday, November 30 2010 at 16:06:55

Elton John to be guest editor of 'The Independent'
Tuesday, November 16 2010 at 15:50:08


Aids 'top of the agenda' for Elton the editor
Tuesday, November 30 2010
Sir Elton John on November 29, 2010 pledged to put Aids awareness at the "top of the agenda" as he prepares to guest-edit The Independent.
Elton is to take charge of the December 1, 2010 edition and its sister newspaper i to recognise World Aids Day. Proceeds from the day's circulation revenues will benefit the Elton John Aids Foundation, which was founded in 1992.

"I was thrilled to be invited to guest edit The Independent," Elton said. "I'm really looking forward to spending a day in the editor's chair, and I'm pleased to get the chance to put the subject of Aids at the top of the editorial agenda." He also intends to "enlist the help of prominent friends".

The musician's guest editorship is similar to the stint carried out by U2 rocker Bono, who edited an issue of the same newspaper in 2006 to raise money to fight Aids in Africa.



Elton John to be guest editor of 'The Independent'
Tuesday, November 16 2010 at 15:50:08


Elton John to get Solidarity medal
Saturday, November 27 2010
Elton John is among 21 people who are to receive Solidarity's Medal of Gratitude at a ceremony at the Polish Embassy in London on December 6, 2010.
A citation speaks of Elton John's support for Solidarity declared during his visit to Poland in 1984, at a time when, shortly after the lifting of martial law, many people lost hope in an ultimate victory of the movement's ideas of freedom. Elton has not confirmed so far if he will collect the distinction personally.

The other recipients of the Medal of Gratitude include journalists Neal Asherson (the author of "The Struggles for Poland") and Timothy Garton Ash (the author of "Solidarity" - "The Polish Revolution"), Baroness Caroline Cox, one of the champions of the Polish cause in the UK House of Lords, as well as activists of the Polish Solidarity Campaign in Great Britain, which organized wide-ranging assistance for the Solidarity movement in Poland, including printing equipment.

Playwright Samuel Beckett receives the Medal posthumously. The author of "Waiting for Godot" signed a protest against the introduction of martial law in Poland and in 1982-1990 transferred all the fees for the publication and staging of his books and plays in Poland to Solidarity.

The Medal of Gratitude was founded to mark the 30th anniversary of Solidarity to honour foreigners who had supported the Polish people in their struggle for freedom and democracy. This year the Medal has been given to 326 people from Australia, Austria, Belgium, France, Holland, Germany, Norway, Portugal, Sweden, Switzerland, the United States, Great Britain and Italy.
Elton John performed a solo show in London on November 25, 2010
Friday, November 26 2010
Fan report by David Wright.
Elton performed a solo show in the unique setting of The Union Chapel in Islington, London on November 25, 2010. The show was arranged by Absolute Radio with the 800 strong audience made up of radio staff, guests, competition winners and a small number of Rocket members.

It will come as a surprise to many that the front row was made up of real Elton John fans. Not celebrities or corporate types; not a laminate or champagne glass in sight. I'm sure normal service will be resumed at the regular concerts.

Celebrities seen included film director Richard Curtis, US tennis star Andy Roddick, Matt Lucas of Little Britain, comedians Frank Skinner and David Baddiel, James Corden from Gavin & Stacey and former footballer Ian Wright.

"Sixty Years On" was an appropriate opening song; "Who'll walk me down to church when I'm sixty years of age?" Elton performed four songs from "The Union", mentioning that this was the first time he had performed "The Best Part Of The Day" solo.

Although the show was shorter than we are used to, Absolute Radio's Christian O'Connell said after that Elton was supposed to play for 30 minutes and that his nearly 90 minute set ran past the scheduled curfew.

The show will be broadcast in its entirety on Boxing Day.

Following is the complete set list of the London show on November 25, 2010:
Sixty Years On

Your Song

I Guess That's Why They Call It The Blue

Tiny Dancer

Gone To Shiloh

Rocket Man

The Best Part Of The Day

Never Too Old (To Hold Somebody)

Philadelphia Freedom

Take Me To The Pilot

Don't Let The Sun Go Down On Me

I'm Still Standing

When Love Is Dying
Elton gives piano to Radio 2
Friday, November 26 2010 at 07:14:03

Absolute Radio to stream Elton gig in full HD for the first time ever
Friday, November 26 2010 at 07:09:06


Elton gives piano to Radio 2
Friday, November 26 2010
Elton John has donated one of his own pianos to BBC Radio 2 to be used on the station's live music output.
The instrument will feature on Weekend Wogan, Radio 2 in Concert and Friday Night Is Music Night as well as being used for other live performances at Radio 2.

Fresh from his performance at the Radio 2 Electric Proms in October 2010, Elton said: "I'm delighted to donate one of my treasured pianos to Radio 2, who have supported me so much over the past 40 years. The piano is, of course, my favourite instrument to play and I hope it inspires the musicians who play it."

Lewis Carnie, Head of Programming at Radio 2 and 6 Music, added: "It's rare that Radio 2 receives such a generous gift, and we'd like to thank Elton for offering artists who visit the station the opportunity to perform on it and, hopefully, interpret Elton's own work."

The instrument will first be used on Weekend Wogan in December 2010. When not in use, the piano will be on display in Radio 2's reception area in London.
Elton to perform at royal wedding?
Friday, November 26 2010
Elton John has suggested he could have a role at next year's royal wedding.
The musician – who was a favourite of Prince William's late mother Diana, Princess of Wales – said he would "probably" perform. Elton famously performed at Diana's funeral after the lyrics to his hit "Candle In The Wind" were adapted to reflect her life. The song went on to become the biggest selling single in UK chart history as it tapped into the nation's grief.

William and fiancee Kate Middleton announced their engagement last week and are to marry on April 29, 2011 at Westminster Abbey. When Radio 2 presenter Steve Wright asked Sir Elton whether he would perform at the wedding, he replied: "I probably am." But he then quickly joked: "I'll probably be busking outside."

Elton said he would not be commissioning much about the royal date. "There's not going to be much about the royal wedding in there, though. I think we've had enough of that for the time being."

Sir Elton also bemoaned the state of the music world and its "mediocrity". He told the Steve Wright in the Afternoon show: "I just find when you look at music in the late 1960s, early 1970s, during the 1970s and even some of the 1980s, it's so much better than it is now. That's a fact. It's not just me being grumpy, it's just a fact."
Absolute Radio to stream Elton gig in full HD for the first time ever
Friday, November 26 2010
In what will be another radio first, Absolute Radio will be making an exclusive gig with the legend that is Elton John, available on-demand to stream in, high definition audio – 'Full HD' from www.absoluteradio.co.uk on December 25, 2010.
The gig which was held and recorded in the beautiful acoustics of The Union Chapel in Islington, London on November 25, 2010 and will be streamed at www.absoluteradio.co.uk using a linear equivalent lossless audio technology.

The gig will be the first piece of audio that we will record and stream in 'Full HD' which uses a Fully Lossless Audio Codec (FLAC) meaning no quality is lost at all – Absolute Radio is the first UK radio station to do this!

We're very happy about this but it seems Sir Elton John is too saying: "For every artist sound quality is so important and when recording a live gig I don't want to lose any quality at all. I want Absolute Radio listeners to feel like they are actually watching me perform live – full HD is definitely the way forward!"
Elton invites Russia's President to his concert
Friday, November 26 2010
Russian President Dmitry Medvedev has received a personal invitation from Elton John to his solo concert, scheduled for December 13, 2010 in St. Petersburg (at the Petersburg Sports and Concert Complex).
An official letter in which Elton makes a note of the Russian leader's commitment to rock music and adds that he would be extremely grateful if Dmitry Medvedev accepted his invitation was sent to the Kremlin. A day earlier, on December 12, 2010, Sir Elton John is going to give a concert in the metropolitan Crocus City Hall.

No information is yet available of Dmitry Medvedev's reaction to this letter and his plans.
Concert photos from the Asheville show
Thursday, November 25 2010
Photographer David Oppenheimer from Asheville kindly provided us with a link to some of his photos of Elton's concert at the Civic Center on November 16, 2010.
Check out David's photos here.
Elton John to Regis Philbin: "On Your Knees!"
Thursday, November 25 2010
On November 24, 2010 Elton John provided us with a quick analysis of Regis Philbin's psyche, based on Philbin's desire to call Elton by his Knighthood title of "Sir," despite Elton's protests.
Watch the awkwardly funny clip inside.
Soho bakery bakes Elton inspired cupcakes for charity
Thursday, November 25 2010
Soho bakery Cox's Cookies and Cake will be selling limited edition Elton cakes, to raise money for World Aids Day.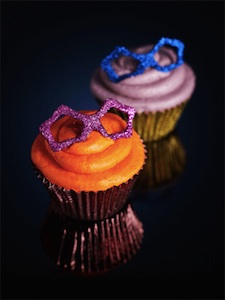 Soho bakery Cox's Cookies and Cake will be selling limited edition Elton cakes, to raise money for World Aids Day on December 1, 2010. Cox's Cookies and Cake is the making of renowned shoe designer, Patrick Cox and London's finest cake maker, Eric Lanlard. Their extravagant designs, capturing the spirit of Elton John are available in two flavours – Madagascan vanilla and triple Valrhona chocolate.

Each individual cupcake will be adorned with handmade glitter covered dark chocolate star-shaped glasses – very Elton! These cupcakes are a step towards raising awareness for the HIV/AIDS disease, which affects millions worldwide. £1.50 from each cup cake sold will go to the Elton John AIDS Foundation, one of the largest international AIDS charities.

Patrick Cox spoke of his fundraising venture saying: "World AIDS Day is an issue close to the Soho gay community and it is vital that we continue to raise awareness for HIV/AIDS and to stop the spread of this disease. We are delighted to be working alongside the Elton John AIDS Foundation, supporting the charity's invaluable fundraising, putting Cox Cookies & Cake's stamp on the day with our deliciously moreish glam pop Elton John cup cakes!"

The Elton Cakes are on sale at Cox Cookies & Cake until December 5, 2010, priced £4 each (£1.50 from each sale will go to the Elton John AIDS Foundation). For more information on the bakery's location visit coxcookiesandcake.com.
Singer 'ecstatic' at Elton invite
Wednesday, November 24 2010
A Gloucestershire-born musician is "ecstatic" at the prospect of performing at an Elton John lunch.
Jake Simms, 18, will take part in the Elton John AIDS foundation lunch in London on November 28, 2010. The former Chosen Hill School student was spotted playing at The Vaults pub in Cirencester on one of their open mic nights back in March 2010.

"There are going to be loads of producers, record execs and other performers, it will be mad," he said. Jake said he's not sure if Elton will be there but he is in the country.

The event is being hosted by comedian Alan Carr and will feature a four-course lunch, charity auction and some very special guests.

Since receiving the offer Jake has been taken under the wing of producer Benny D, who has worked with musicians such as Paloma Faith and Liberty X, and has been in the studio working on songs for a possible debut album.

"It has been good times." said Jake. "It is very intense but it is great to work with someone as well respected as Benny."
Piers Morgan to meet Elton John for ITV's Life Stories
Wednesday, November 24 2010
Elton John will be the feature of a Life Stories special to air in December 2010, it has been announced.
ITV has confirmed that Piers Meets Elton: A Life Story Special will air after The X Factor final on December 12, 2010. Previous guests on Life Stories include Russell Watson, Susan Boyle and Cheryl Cole. Nearly 3.5 million tuned in to the latest episode, in which Kelly Osbourne spoke about her upbringing.
Elton John & Leon Russell performed in Chattanooga on November 19, 2010
Saturday, November 20 2010
Following is the complete set list of the Chattanooga show on November 19, 2010.
Leon

Tightrope

Prince of Peace/Out In The Woods

A Song For You

Delta Lady

Roll In My Sweet Baby's Arms/Stranger in a Strange Land

Elton

Saturday Night's Alright (For Fighting)

Philadelphia Freedom

Goodbye Yellow Brick Road

Rocket Man

Don't Let The Sun Go Down On Me

Bennie and the Jets

I'm Still Standing

Elton and Leon

If It Wasn't for Bad

Hey Ahab

Gone to Shiloh

Jimmie Rodgers' Dream

Monkey Suit

The Best Part of the Day

A Dream Come True

When Love is Dying

Hearts Have Turned to Stone

Never Too Old (To Hold Somebody)

In The Hands Of Angels (Leon Russell solo)

Elton

Burn Down The Mission

Levon

Tiny Dancer

I Guess That's Why They Call It The Blues

Daniel

Candle in the Wind

Piano Intro/Chattanooga Choo Choo/Take Me To The Pilot

Sad Songs (Say So Much)

The Bitch is Back

Your Song
Italy must pay back EU-funded Elton John gig
Saturday, November 20 2010
Italy must reimburse 720,000 euros of EU cash used to fund an Elton John concert last year, the European Commission said November 19, 2010.
After looking into allegations of possible misuse of European Union cash, the commission sent a letter to the Italian government and the Campania regional authorities "asking them to reimburse 720,000 euros," spokesman Ton Van Lierop said.

The cash for the gig was part of a 2.25 million payout from the European Regional Development Fund to Italy's Campania region as part of a cultural project. "This was a one-off concert," the spokesman said, whereas funding is only available for longer-term projects. He said the money would be paid back "by deducting from the next (EU) payments." The remainder of the cash, used to fund a larger cultural festival, was not at stake, he added.

Elton's September 2009 gig was scheduled as part of the Piedigrotta festival in Naples. The affair came to light recently after a European parliamentarian, Mario Borghezio, a member of Italy's populist Northern League, called it a "shameful" misuse of EU funds by local authorities.

Van Lierop said there were as many as two million projects funded over a seven-year period by the commission's cohesion funds for Europe's poorest regions.



Italian region spent EU development funds on Elton John concert
Saturday, November 13 2010 at 17:03:27


11-17-70
Wednesday, November 17 2010
Fourty years ago today, "11-17-70" was recorded at A&R studios in NYC. That studio no longer exists today.
Dave Herman posted on musicradio77.com: "40 years ago tonight NYC radio listeners were treated to the 1st ever live rock concert on the radio when I hosted Elton John live from Phil Ramone's A&R studios on WABC-FM. That concert was eventually released as an album by Elton called '11-17-70'."
Free Elton John and Leon Russell "The Union" album app
Wednesday, November 17 2010
Universal Music has released their second album BlackBerry application after Robert Plant Band of Joy in October 2010.
This one is from Elton John and Leon Russell and lets you listen to clips from their latest album "The Union." The free app also lets you watch the story behind the record in a short documentary directed by Cameron Crowe.

There are a couple other bonuses in the app including one on one interviews with both Elton John and Leon Russell. The app is intended to get the best experience over Wi-Fi which is probably because it uses video streaming.

You can pick up the free Elton John and Leon Russell app at this link in App World.
Elton's brother cleared of attacking a 'burglar'
Wednesday, November 17 2010
The half-brother of Elton John has bitterly criticised police after he was cleared of assaulting a teenager he suspected of burglary.
Geoff Dwight and his girlfriend Karen Webb were charged with attacking the 17-year-old youth after a break-in at their home. Software engineer Mr Dwight, 44, was distraught when he discovered burglars had stolen a computer containing files covering a decade worth of work.

Later the same day the couple went to a park near their home in Ruthin, north Wales, after receiving a tip-off that one of the burglars was there. After an angry confrontation, they went to Ruthin police station to report their suspicions to officers. Mr Dwight and Ms Webb both allege that they were assaulted by youths in the park.

But one youth had already claimed he was the victim of an assault during the park confrontation in June 2010 and Mr Dwight and Ms Webb were arrested. Ms Webb, 47, faced a further allegation of resisting arrest. But the couple were cleared of all charges at Llandudno magistrates' court.

Chairman of the bench Emrys Williams, said: "A succession of misunderstandings inflamed a straightforward procedure." The magistrates were made aware of Mr Dwight's family link to Sir Elton, 63. Outside court Mr Dwight said: "We were both in custody for more than 23 hours. We spent a day in the cells for going down to a police station to help the police. It's ridiculous. We got burgled and found out who did it. A computer had been stolen with 10 years of work."

Mr Dwight vowed to complain to the Independent Police Complaints Commission. Sir Elton and Mr Dwight's father was Stanley Dwight who divorced the singer's mother in 1961. The former RAF officer re-married and had four more children, including Geoff Dwight. Mr Dwight once said of his famous half-brother: "Elton may have millions but I won't be asking him for any help. The only similarity between us is that we're both losing our hair – except he's done something about it." He added: "I'm not even keen on his music."
Cory Monteith Embarrassed By Elton John meeting
Wednesday, November 17 2010
"Glee" star Cory Monteith said a disastrous meeting with Elton John became one of "the most embarrassing experiences" of his life.
Cory Monteith pretended to be a waiter when he met Sir Elton John. The "Glee' star was taken by his co-star Lea Michele took him to meet the singer at his Academy Awards party but felt awkward when he realised Elton was about to sit down to eat, so decided to take a humourous approach to their first meeting.

He told Maclean's magazine: "I asked him, 'Is there anything I can get you sir? Another beer?' Maybe I was too convincing, as he just said, 'No, thank you,' and never looked up from the chicken."

Embarrassed, Cory decided to try again, asking: "Are you sure? Some water, perhaps?" and received only a shake of the singer's head. Cory who plays heartthrob Finn Hudson in the musical drama - eventually gave up his pretence and was introduced to Elton by Lea, but admits the meeting still didn't go the way he had hoped.

Cory explained: "He just gave me a 'what-the-hell' look, shook my hand and went back to his dinner. It was one of the most embarrassing experiences of my life."
Smash Hits 2010
Tuesday, November 16 2010
They did all the things weekend players do. They high-fived after great shots, bowed to opponents' winners, plowed their share of drop shots into the net, trash-talked and, when all seemed lost, lobbed.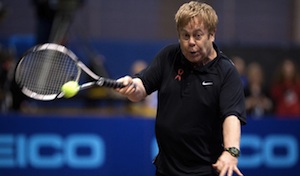 For stretches at American University's Bender Arena on November 15, 2010, it was possible to forget that the tennis players having such a great time on court shared 94 major titles among them.

But then Martina Navratilova would fend off a barrage of volleys drilled straight at her, proving, at 54, that she still has the best hands in the game. Or Andre Agassi would rip a service return down the line. Or Steffi Graf, quite possibly the world's most fit 41-year-old mother of two, would take a forehand in the air and paint a sideline with it.

World TeamTennis Smash Hits, the annual charitable exhibition staged by longtime friends Billie Jean King and Elton John, was billed as "tennis that serves a cause" - that cause being the fight against HIV/AIDS. Its 18th edition (and first in Washington) delivered handsomely, with the roughly $500,000 that was raised tipping the total funneled to the Elton John AIDS Foundation and local charities since 1993 to more than $10 million.

The pre-event auction, emceed by former touring pro and Baltimore native Pam Shriver, netted $267,000, half of which will go to the Washington AIDS Partnership. While a piano bench autographed by Elton drew plenty of bidders, the top-selling item was an hour-long tennis lesson for two with Agassi and Graf, sold for $50,000.

But the 21/2 hours of tennis that followed - with Agassi, Graf, Navratilova, Anna Kournikova, Jan-Michael Gambill, Eric Butorac, Mark Philippoussis and Rennae Stubbs facing off in men's doubles, women's doubles, men's singles and mixed doubles - was priceless for its display of shot-making and personality.

While the rapt capacity crowd of 3,017 surely couldn't relate to the winners that Navratilova and Agassi, in particular, conjured on occasion, surely everyone who ever played doubles understood the frustration of the occasional miscue between partners. There was a bit of that, too.

The night opened with a celebrity doubles match pitting Navratilova and Elton against Graf and Agassi. That foursome alone accounted for 89 major titles. But it was the Grammy-winning co-host with the discernible paunch who proved the ringer.

A longtime tennis fan and pupil, Elton wasn't particularly fleet around the court, but he had a knack for keeping the ball in play despite slightly unorthodox form. More than once a rally of world-class strokes among the three champions ended with Elton lobbing over the Graf-Agassi tandem. Agassi was the joker and, afterward, the most generous autograph-signer.

"C'mon baby, you got this!" he yelled at Graf, his wife, during a particularly frantic exchange. And as the night unfolded, he proceeded to goad Philippoussis, who boasts one of the game's bigger serves, into blasting aces past him only to blast the serve back, more often than not.

The celebrity match didn't count toward the evening's competition, in which Team Billie Jean (Navratilova, Philippoussis, Stubbs and Butorac) defeated Team Elton, 19-15.

There was significance behind the decision to stage the event in Washington, which has an HIV infection rate 12 times the national average. "We just don't go blindly from city to city," Elton said in a news conference before the match. "There is a massive problem, and that's why we're here today: To try and alleviate some of that problem."

The Washington area has an additional significance for Navratilova, who noted that it was at George Mason that she first beat Chris Evert, at a Virginia Slims tournament in 1975. In response to a question about recent incidences of bullying of gay youth, the singer lamented what he views as a decline in political discourse since he first came to the United States in 1970, calling it "a very worrying situation."



18th annual WTT Smash Hits presented by GEICO
Saturday, November 13 2010 at 17:32:12
Elton John to be guest editor of 'The Independent'
Tuesday, November 16 2010
Elton John is to guest-edit a special World Aids Day edition of The Independent and its newly launched sister paper, i. All circulation revenues from the one-off editions on December 01, 2010 will be given to the musician's charity, the Elton John Aids Foundation.
Elton embraced the idea in the knowledge that it would give him an opportunity to commission news, features and commentary to highlight the World Aids Day campaign, which aims to increase awareness of HIV in the UK and globally. He will edit The Independent during a break from a major American tour with Leon Russell.

"I was thrilled to be invited to guest edit The Independent," said Elton. "I'm really looking forward to spending a day in the editor's chair, and I'm pleased to get the chance to put the subject of Aids at the top of the editorial agenda."

Elton's guest editorship follows a similar experiment in 2006 when Bono edited an iconic (RED) issue of The Independent, raising money to help fight Aids in Africa. The edition was warmly received and led to a sales increase of 70,000 copies. Simon Kelner, editor of The Independent, said: "From football to music to politics, and, of course, on the subject of Aids, Elton has much to say, and I'm sure The Independent of December 01, 2010 will be diverse, entertaining and impactful."
Elton John to return to Caesars Palace in 2011
Tuesday, November 16 2010
Twice last month when Elton John performed in Las Vegas for Andre Agassi and Justin Timberlake at separate charity events on The Strip, the Las Vegas Sun reported rumors from highly reliable sources that talks were underway for the British superstar entertainer to return to Caesars Palace.
Now Las Vegas Sun can confirm that he'll be back at The Colosseum in 2011, two years after his residency ended there. Elton will resume his shows after Celine Dion's initial run of 70 performances a year for two years that premieres March 15, 2011. He returns to his theater home where he had alternated in a residency with Celine, Cher and Bette Midler beginning Feb. 13, 2004.

Las Vegas Sun was reliably told that Elton will be back for a regular run of shows. "You're going to see him here again at Caesars next year for sure," a top executive confirmed.

It probably will not be a repeat of his show Red Piano that ran at The Colosseum with shows over three years that ended April 2009. "The trend now is for superstars to perform as we're currently seeing with Rod Stewart and Diana Ross here. You get the songs. You get the music. You get it stripped down to pure entertainment and not clouded over with high-lavish spectacle," the Las Vegas Sun was told.

No word yet as to the terms of a contract with a number of shows over a period of time for a staggering $$ payday, but the deal is underway and definitely a go. Celine returns to The Colosseum on March 15, 2011 with a full orchestra and band of 31 musicians for her salute to the romance of classic Hollywood movies, plus her own greatest hits. Tickets to date are on sale through August 14, 2011, although she is taking off all of May 2011.

Las Vegas Sun is told that tickets are selling at a faster rate much farther out than her A New Day shows here and that hundreds of visitors from as far away as Europe, Japan and Australia have purchased hotel and show packages. Elton could take some of the May 2011 dates or next year's late summer and early fall openings. It's also believed that Rod will commit to additional shows in the theater after his present run ends on November 21, 2010.



Elton-themed X Factor
Monday, November 15 2010
Perhaps it was Simon's ultimate revenge. The X Factor's most famous hater, Sir Elton John, had the honour of the show on NOvember 13, 2010 being dedicated entirely to him.
"There will be a fair share of tantrums and tiaras," said Dermot deadpan, shoe-horning the first of many Elton motifs into the show. If he did tune in, one can only wonder what the multi-million- selling singer would have made as his back catalogue was put through the shredder.

It was only a few weeks ago that Elton – never one to shy away from an opinion – had his most recent rant about the reality TV show. He doesn't like talent shows. He doesn't think they prepare singers for stardom. The whole concept, he said witheringly, is "boring, a***- paralysingly, brain crippling".

At the time Simon promised to send him a tape of Rebecca Ferguson singing to prove him wrong. Perhaps he should have stuck with his original idea as the one thing the show on November 13, 2010 proved was that there is only one person who can sing Elton John – and that's Elton. Act after act gave it their best shot but most were overpowered by the songs.

Actually, Rebecca, who sang last, gave one of the better performances. Her take on "Candle In The Wind" was typically understated and rather beautiful. And boy band One Direction were impressive with "Something About The Way You Look Tonight". But elsewhere everyone struggled.

Confronted with difficult songs, many of the acts simply bellowed over the backing track in the hope no one would notice they didn't quite have a handle on the melody. The show opened with Paije singing "Crocodile Rock", which kick-started the judges into a fervour of criticism. It was the wrong song and sounded like "bad karaoke", said Louis.

Simon said that Paije now had zero chance of winning the competition. Cheryl, who you presume as a judge might have boned up a bit on Elton's oeuvre, said she wasn't familiar with the song in question but it looked like Paije was "having fun". Paije, bless him, looked as if he was about to cry.

Aiden sang "Rocket Man" and deviated from the original melody so frequently it's up for debate whether he, to use X Factor lingo, "made the song his own" or just didn't know the tune. Mary bellowed "Can You Feel The Love Tonight" and Katie, looking like the demented love child of Olivia Newton-John in Grease and Lily Savage, shouted her way through "Saturday Night's Alright For Fighting" while punching the air a lot.

Matt did the best he could with "Goodbye Yellow Brick Road", an incredibly difficult song. And then there was Wagner. He concentrated so hard on remembering the words he looked in danger of passing out. Cher was better but still not as good as she has been. It wasn't a vintage show and, by this stage of the competition, one was hoping for a bit more.



Elton John did not have a heart attack
Sunday, November 14 2010
Elton John is just fine, despite a false story floating around that the music legend had a massive heart attack.
The culprit: Twitter. In an ill-fated attempt at a dig at the notion of a certain young singer on television regarded as being a "young Elton John," one tweeter remarked that Elton John had suffered a "massive heart attack" in an apparent attempt at a satirical take along the lines of "spinning in his grave" but instead stated it in such a manner that it was widely taken as fact – and retweeted by so many users that it became a front-page tweet.

The individual then expressed his regret at the unfortunate joke. Just to be clear: Elton John did not have a heart attack, and he's probably unaware that the false story is spreading.
18th annual WTT Smash Hits presented by GEICO
Saturday, November 13 2010
Billie Jean King and Elton John will each captain a team composed of tennis champions Andre Agassi, James Blake, Stefanie Graf, Anna Kounikova, Martina Navratilova, Rennae Stubbs, Mark Knowles, Jan-Michael Gambill, and more who will play the World TeamTennis format.
Tennis legend Billie Jean King and Elton John are teaming up for their annual charity event — the 18th annual WTT Smash Hits presented by GEICO on November 15, 2010 at the Bender Arena at AmericanUniversity in Washington, D.C. This star studded event will raise money for the Elton John AIDS Foundation and local Washington, D.C. Area AIDS charities.

For Special V.I.P. ticket packages, including V.I.P. courtside seating and admission to the Smash Hits V.I.P. Reception and Auction click here or call the Washington AIDS Partnership at +1-202-939-3381.

In 2009, Elton John won his 9th overall Smash Hits 16-13 as Tommy Haas defeated Andy Roddick 5-2 in the final set. Despite a strong showing by Team King, Tommy Haas was just too much as he won all three of his sets for Team Elton. Even though it did not count towards the overall match score, Elton John and Serena Williams defeated Andy Roddick and Anna Kournikova 4-3 in a celebrity match to open the night.

Last year's event raised $640,000 for the Elton John AIDS Foundation and AIDS charities serving the Greater Baton Rouge area. Smash Hits has raised more than $9 million for EJAF and various local AIDS charities since 1993.

Breakdown of the Event and Order of Play

Team Elton (wearing black)
Andre Agassi
Jan-Michael Gambill
Steffi Graf
Anna Kournikova

Team Billie Jean (wearing white)
Mark Philippoussis
Mark Knowles
Martina Navratilova
Rennae Stubbs

Order of events for match:
*Celebrity Set of Doubles (first to 4 games, 9 point tiebreaker at 3-3):
Elton John/Martina Navratilova vs. Andre Agassi/Stefanie Graf
Followed by a WTT match:
FORMAT: The following 4 events will be played using the WTT format. Sets are first to 5 games with a 9-point tiebreaker at 4-4. Games are no ad, receiver's choice at 3-3, in mixed doubles; the serve is gender to gender 3-3. Scoring is cumulative and service lets are playable.
Men's Doubles:
Agassi/Gambill (Team Elton) vs. Knowles/Philippoussis (Team BJK)
Women's Doubles:
Graf/Kournikova (Team Elton) vs. Navratilova/Stubbs (Team BJK)
Men's Singles:
Agassi (Team Elton) vs. Philippoussis (Team BJK)
Mixed Doubles:
Agassi/Graf (Team Elton) vs. Knowles/Navratilova

Play starts at 7 p.m. and finishes by 10 p.m.
Elton John cover tipped for Christmas chart race
Saturday, November 13 2010
A cover of Elton John's 1970 single "Your Song" has been tipped as a contender for the Christmas number one after John Lewis selected it as the soundtrack to their new ad campaign.
Bookmaker William Hill has placed odds at 10/1 on the song, covered by Brit Award winner Ellie Goulding, taking the top spot in the pop charts ahead of the ad's first TV screening tomorrow night. The 60-second ad shows various scenes of gift-giving including a child hanging a Christmas stocking on the family dog's kennel and a car mechanic wrapping a polka-dot teapot.

It follows a recent campaign featuring a version of Billy Joel's "Always a Woman" performed by Fyfe Dangerfield from the Guillemots and last year's Christmas ad accompanied by a cover of the Guns N' Roses single Sweet Child O' Mine by folk group Taken By Trees. John Lewis managing director Andy Street said: "I am really pleased, but not at all surprised, that William Hill has announced these odds. There will be huge competition for the chart-topping song this Christmas, and I believe Ellie Goulding's version of 'Your Song', which complements our Christmas advert so perfectly, will be a strong contender."

William Hill spokesman Rupert Adams said: "We absolutely love the new Christmas advert from John Lewis and would put odds of 10-1 on the soundtrack becoming the Christmas number one. In fact, if it wasn't for X Factor we would probably put it down as our favourite." The ad will first screen in a commercial break during ITV1's The X Factor tomorrow night.

Goulding's version of 'Your Song' is available on iTunes.
Italian region spent EU development funds on Elton John concert
Saturday, November 13 2010
The EU has launched an investigation into how more than half a million euros earmarked for regional development in Italy were instead spent on putting on an Elton John concert.

Brussels was alerted by Mario Borghezio, a European MP with Italy's Northern League party, after it was discovered that funds for culture subsidies – used to support the traditional music, crafts and cuisines of member states – had been paid to the British pop singer. Borghezio said €750,000 (£640,000) had been spent on the concert, a sum he described as "shameful".

The union had handed the money to the regional authority of Campania, which includes Naples. "We know EU funds were used for this concert, and we are looking into it to see if it was eligible," an EU spokesman said. "This type of funding is for regional development. Cultural projects can be included, but with rules. If we find out that funds were used improperly we would ask Italy to deduct them from the next request for funds they make."

A former Campania official involved in the concert said the use of EU funds was "absolutely legitimate" and claimed the region had paid out "only" €600,000 (£500,000). "That got us TV and CD rights too," Dario Scalabrini, an ex-head of the region's tourism office, said. "I don't understand the problem. The EU has already approved the project. This money was given for the marketing of the city, and that is what we did. Just consider the number of people who stayed in Naples because of the concert."

Scalabrini said the lack of Neapolitan influences in Elton's repertoire was not an issue. "Neapolitan culture cannot be a closed off phenomenon – and besides, Elton John sang the Neapolitan song O Sole Mio for the first time ever," he added. "The audience was crying with emotion."

Regional officials had later tried to book Paul McCartney to perform, Scalabrini said, but the plan was abandoned when the centre-left governor was voted out of office in regional elections this year. "We would have used EU funds to pay McCartney too," he added. "It would have been a great concert."
Elton's ex-fiancee has a special request for the singer
Wednesday, November 10 2010
For most, "Someone Saved My Life Tonight" is just another classic rock song. For Linda Hannon, it's something more: a pointed reminder of a very turbulent, confusing and painful time in her life.
In the summer of 1970, Hannon (then going by her maiden name, Woodrow) was engaged to a struggling musician, sharing a flat in London's East End with him and his collaborator, supporting all three of them with secretarial work. She'd been in the relationship for nearly two years, but less than a month before the nuptials, Hannon's beau returned home late -- around 4:30 a.m. -- from a night of drinking with friends and told her it was over.

"I was devastated," Hannon says now, perched politely on the edge of her couch in her home in a quiet Euless subdivision. "My whole family was feeling for me, because they were expecting a wedding."

The musician who got away was Reginald Dwight, best known to the world now as Elton John. Four years after his failed suicide attempt and his canceled wedding, with the release of the seminal 1975 album "Captain Fantastic and the Brown Dirt Cowboy," Elton and lyricist Bernie Taupin framed the whole episode as a harrowing near-miss.

That's Hannon being referenced in the emotionally charged chorus: "You almost had your hooks in me, didn't you dear/You nearly had me roped and tied/Altar-bound, hypnotized."

"In a way, I was disappointed," Hannon says. "It was Bernie that actually wrote the words.... Bernie has probably said more negative things than Reg has ... I mean, unbelievable things that were said. In some of the songs, I was very hurt."

Hannon says she has moved on, but upon learning that Elton, along with fellow '70s survivor Leon Russell, would be performing in Fort Worth on November 13, 2010, she felt compelled to reach out to the press in an attempt to facilitate a meeting, however brief.

She says she isn't after money, or fame, or sparking romance anew or even, really, setting the record straight. (Indeed, Hannon says much of what has been written about her, by journalists and/or biographers, over the years is wildly inaccurate. For instance, she doesn't hate Elton's music, as has been reported: "I have all his music; my sons have all his music.")

Since he walked out of her life four decades ago, Hannon has not had any communication with the man. "I suppose I just carried on and put it down to an experience," Hannon says. "As he got more and more famous, I thought, 'Wow.' [laughs] It was incredible. I never at that time imagined he would be who he is today."

When contacted for this story, Elton's representatives said he was not available for comment. Hannon moved to the United States in 1984. The 66-year-old Scotland native has made her home in North Texas for the past 15 years, and now lives just slightly west of D/FW Airport. Retired and single, she shares her cozy, inviting home with several pets. She has three sons from a previous marriage, all of whom live in North Texas, and three grandchildren.

The portrait she paints of her brief time with Dwight, as he transitioned from being a member of Long John Baldry's band Bluesology to a solo artist, is tinged with wistfulness and nostalgia. According to Hannon, it was a joint decision to get married, even if "Reg" wasn't in the greatest financial shape.

"I even bought my own engagement ring," Hannon says. "His mother and I got on very well. She had ordered the wedding cake. We had found a flat in Mill Hill, and everything was fine." Until it wasn't. In what long since passed into lore, Baldry was the one who convinced Reg Dwight that marriage would end his music career before it ever got going. Baldry is quoted in David Buckley's 2007 "Elton: The Biography" as having said: "Oh, my dear, for God's sake you're getting married, and you love Bernie more than you love this girl. This is ridiculous. Put a stop to it now." (The "sugar bear" referenced in "Someone Saved My Life Tonight" is a nod to Baldry.)

There would be only one other woman in Elton's life, a marriage to sound engineer Renate Blauel in 1984 that lasted four years. He came out as a gay man not long after they divorced; Elton met his current partner, David Furnish, in 1993, and the pair entered into a civil partnership in 2005.

When asked what she would say if she had the opportunity, Hannon pauses briefly. "I would like to see him and tell him what I've been doing and about my three boys and my grandbabies ... just rekindle a friendship with him.

"There's no bitterness there."
Elton John to play intimate show
Tuesday, November 9 2010
Elton John will perform an intimate concert at London's Union Chapel on November 25, 2010.
He will showcase material from his new album 'The Union', as well as his classic hits at the special show at the city's Union Chapel in Islington. Tickets for the show - which will feature the singer performing solo with a grand piano - will only be available to competition winners through Absolute Radio, with their Breakfast Show DJ Christian O'Connell hosting the event.

Highlights from the concert will be broadcast on the station through the week of December 6, 2010, before it is broadcast in full on Boxing Day (December 26, 2010). The station will also host an interview with the singer on their website.

Also see Elton John Tour News.
Elton John & Leon Russell performed in Phoenix on November 06, 2010
Tuesday, November 9 2010
Fan report by Scott Hollabaugh.
On our way into what appeared to be a sold-out US Airways Center, one of the orange-shirted security men checking purses at the door paused, lifted his arms to draw attention, and exclaimed loudly, "Excuse me ladies and gentlemen. Can anyone tell me who Leon Russell is?" The surrounding fans approaching the arena laughed and one in particular smiled and responded, "He's an old rock guy."

Perhaps guessing that much of the audience would share the security worker's confusion, Elton John walked onto the stage at 7:57PM and personally introduced Leon Russell as his idol and "the master." Elton also warned the crowd that tonight was going to be "a longer show than normal. Leon's gonna play some songs, then I'm gonna play some songs. Then, he'll come back and we'll play some songs together, and then I'll play some more songs by myself."

And then the show began right on time, as Leon, with the help of a cane, ascended the stage to play a six or seven-song set. The crowd gave him several standing ovations, especially after "Tightrope" and "A Song for You," but Russell – who was dressed in a white cowboy hat and beach-shirt – had very little to say back to the audience. He thanked them for their applause at the end of the set and walked off of the stage as Elton's band replaced his own.

Leon Russell
Tightrope

Prince of Peace/Out In The Woods

A Song For You

Delta Lady

Roll In My Sweet Baby's Arms

Stranger in a Strange Land
And then it was Elton's turn, and the place went nuts, as the visibly-happy and energetic star took the audience through his own set of hits:

Elton John
Saturday Night's Alright (For Fighting)

Philadelphia Freedom

Goodbye Yellow Brick Road

Rocket Man

Don't Let The Sun Go Down On Me

Bennie and the Jets

I'm Still Standing
Leon then returned to the stage and Elton, perhaps anticipating the mass exodus to the bathrooms and beer lines, admitted that "it's hard to listen to new music." But he also discussed how proud he is of the new album and how proud he is of Leon's contributions to it. Then the pair quickly moved through 12 of the album's 14 songs, wisely cutting sluggish tracks like "Eight Hundred Dollar Shoes" and "I Should've Sent Roses."

When they arrived at Neil Young's verse in "Gone to Shiloh," Elton sang, choosing the same notes that Young sings on the album. The four-person choir (all ladies) really enhanced each track, and Elton and Leon sounded great. Even if most of the audience took a break during this 12-song set, those fans who bought and listened to "The Union" must have been impressed with how well everyone performed its tracks. Again, though, Leon said absolutely nothing to the audience, though he appeared to enjoy himself.

In fact, Elton introduced "In the Hands of Angels," Leon's tribute to John and their manager, before exiting the stage to allow Leon the full spotlight. Elton returned to hug Russell, and then Leon exited, allowing Elton to finish the show with one more high-energy set.

Elton and Leon
If It Wasn't for Bad

Hey Ahab

Gone to Shiloh

Jimmie Rodgers' Dream

There's No Tomorrow

Monkey Suit

The Best Part of the Day

A Dream Come True

When Love is Dying

Hearts Have Turned to Stone

Never Too Old (To Hold Somebody)

In The Hands Of Angels
The choir was awesome during tracks like "Burn Down the Mission," "Levon," and "Tiny Dancer," which Elton dedicated to all of the gorgeous girls in the admittedly-older audience. He played a spirited introduction to "Take Me to the Pilot" and returned with the band after "The Bitch is Back" to play a one-song encore, "Your Song," thanking his fans for their more than 40 years of buying albums and tickets.

Elton John
Burn Down The Mission

Levon

Ballad Of A Well Known Gun

Tiny Dancer

I Guess That's Why They Call It The Blues

Take Me To The Pilot

Sad Songs (Say So Much)

The Bitch is Back


Your Song
Three weeks earlier, in the same building, I saw Tom Petty perform just 18 songs in a two-hour show, but Elton and Leon's show lasted three hours and ten minutes, and the two stars played 34 songs. It's the eleventh time I've seen Elton in concert and like many fans, I was a little nervous about Elton pairing himself with Leon, but this show is outstanding, definitely one of the best I've seen. Leon's a great performer, and Elton makes sure that the audience doesn't come away feeling as though they've been burdened with his quest to rejuvenate Russell's career. I don't know if the orange-shirted security guy stuck around to appreciate Leon's performances, but no doubt, many left the US Airways center recognizing Russell as Elton hoped they would.

Stars turn out for Elton's Winter Ball
Monday, November 1 2010

Celebland's great and good put on an impressive show at Elton John's Winter Ball to raise funds for his Aids foundation on October 30, 2010.

Lovebirds including Doctor Who's Matt Smith, 28, and his 21-year-old model girlfriend Daisy Lowe were joined at the hip all night, while newlyweds Gemma Arterton, 24, and Stefano Catelli, 37, looked as smitten as ever.

David Furnish greeted his guests at special venue Maison de Mode, London, including Liz Hurley, 45, and Stephen Fry, 53, below, then told Goss that neither him nor Elton will be stuffing the Christmas turkey. He said: "We don't even think about cooking Christmas dinner ourselves. We stay in and have someone cook it for us."

Almost £600,000 was raised in honour of the Elton John AIDS Foundation as Jean Paul Gaultier transformed an old warehouse in London into a fashionable French boudoir. The event was named the Grey Goose Character & Cocktails, but it was much more than that. Gaultier transformed an old warehouse, in south-east London, soon to be the site of the new American Embassy, into a blue-floodlit, pink lace, French boudoir called "Maison de la Mode".

And the singer himself, marking his and his partner, David Furnish's 17th anniversary, dashed off an electrifying, impromptu, 40-minute set - which had celebrities dancing around their tables and singing along to hits including "Rocket Man," "Crocodile Rock," and "Your Song." He also sang "Sorry Seems to Be The Hardest Word," dedicating it to Lee Ryan and Duncan James of boy band, Blue, who covered the track in 2002, taking it to the UK Top Ten for the first time.

In a short speech, David Furnish said he believed the Elton John AIDS Foundation was "the luckiest charity in the world. Journalists are always saying, 'what about the recession?'. But we are continuing to grow." Since Elton established the charity in 1992, more than $220 million has been raised to support programs in 55 countries.

The auction lots included a vintage, gold-embroidered LBD, hand-picked by Lily Allen from her 'Lucy in Disguise' boutique, and modelled by Gemma Arterton, which went for £8,000; the Grey Goose, retro-Hollywood cocktail bar, designed by Jean Paul Gaultier, which raised £80,000; and VIP attendance for four people at the world premiere of "Gnomeo & Juliet", in London, in January 2011 which went for £85,000.

Guests enjoyed Grey Goose cocktails, created by the bartenders of the newly-redeveloped Savoy Hotel. The dinner, created by two Michelin-starred chef, Marcus Wareing, of The Berkeley Hotel, featured Pain de Champagne, truffles with chestnut sauce, beef with red wine and ceps, and a vanilla and almond tarte with crème de cacao and Grey Goose orange vodka.

Elton wants memorabilia museum
Monday, November 1 2010

Elton John dreams of establishing a museum to display his private photography collection and personal memorabilia to the public.

The Rocket Man has amassed a huge amount of artwork over the years, and stores it all in two massive warehouses in London, along with mementos from his long music career. But he wants the British public to enjoy the items - and one day hopes to set up a museum where the collectibles can go on show.

Elton tells Britain's The One Show, "I've got two (warehouses). They've got old stage costumes, sets pianos, all the memorabilia. It's quite a lot. I've got to decide what to do with that. I've always wanted to leave my photography collection to the nation - David and I probably have the largest private photography collection in the world, or one of them.

"There isn't a photography museum in England, there should be and I'd love to leave all the photographs to the nation and the memorabilia at the same time, so create a museum where you see my life. Instead of doing a biography or autobiography, you see my life through objects and you get to see the wonderful photographs I've collected over the years. I'd love to do that but you have to find a space and get it funded - it's one thing saying you'll do it but it's quite complicated."