ELTON JOHN NEWS ARCHIVE: November 2008
"The Red Piano" in Copenhagen on November 29, 2008
Sunday, November 30 2008
Fan report and photos by Ulrick Garde.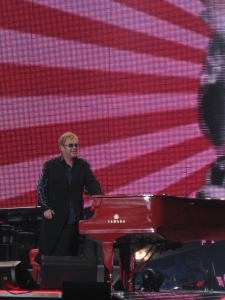 AMAZING! This was an evening I will never forget in my life! Attending my approx. 20th Elton John show since 1995, I was ready to rock Parken stadium with Sir Elton, the band and The Red Piano. And that I did indeed.

With seats on row 10 right in front of Elton's piano, my brother and I realized this was a great start. I was in Munich on November 22,2008 to see the first "Red Piano" show in Europe and was so amazed so I knew tonight was going to be good.

The show began around 8.30 pm after the warm up from well played Jamie Lidell. Elton entered the stage in a black suit with lots of decos. He was in a great mood when opening the show with "Bennie and The Jets".

Eventhough complaining suffering from bronchitis this was not to hear in Elton's voice. He sang clear, loud and with a passion that made everybody sing along and have a great time. The band was tight as always. The sound I found slightly bad compared to the Munich show, but it was still acceptable.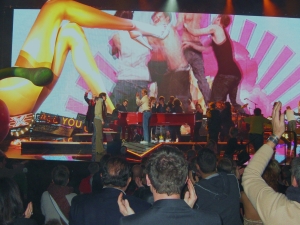 My plan for tonight's show was to get face to face with Elton - and this I managed! As I knew exactly when we were allowed to run on to the stage and on to it, I was the first to get up there, leaning on Elton's piano, and I stood face to face with him with a distance of around one meter. This I did during the whole song of "Saturday Night´s Alright (For Fighting)". As I was wearing a hand decoed sirt from Paul Smith with lots of flowers on it Elton looked a me and said " I like it" (It is me on the photo with the beige shirt, standing alone beside Elton's piano, clapping.)

I couldn't believe I was standing up there, but I was. After the song we were asked to go down, but I still succeeded in standing first in line close to the stage during the last song which was "Your Song".

Elton did not speak as much as in Munich, but this was probably to save his voice as much as possible. Elton finished the show by thanking us for loyalty and support for the last 40 years and wished us all lots of love and a happy Christmas. No autographs nor handshakes were given.

All I can say is "Thank you, Elton, for making this evening an unforgettable one for me!"

Following is the complete set list of the Copenhagen show on November 29, 2008:

Bennie and the Jets

Philadelphia Freedom

Believe

Daniel

Rocket Man

I Guess That's Why They Call They Call It The Blues

Someone Saved My My Life Tonight

Goodbye Yellow Brick Road

Sorry Seems To Be The Hardest Word

Tiny Dancer

Don't Let The Sun Go Down On Me

Candle In The Wind

Pinball Wizard

The Bitch Is Back

I'm Still Standing

Saturday Night's Alright For Fighting

Your Song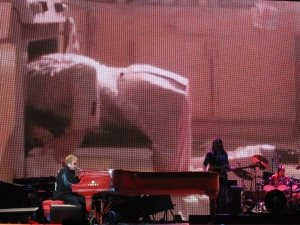 Kid Rock Thinks Elton John Should Cover Katy Perry's "I Kissed A Girl"
Thursday, November 27 2008
Kid Rock wants Sir Elton John to cover "I Kissed a Girl." The long-haired rocker thinks Elton would be the perfect choice to give Katy Perry's hit record a new lease of life.
He said: "I'm definitely going to pitch it to him that he should cover 'I Kissed a Girl.' But I need to buy him a Christmas present first, something really dirty!"

Kid Rock - who was previously married to former "Baywatch" actress Pamela Anderson - also revealed he took a shine to Katy when they met at the MTV Europe Music Awards recently.

He laughed: "I got Katy drunk in Liverpool at the MTV awards, she's a nice girl. I thought she was British but she is actually from California. We were just shooting the s**t and I guess we just overdid it!"

Kid, 37, hinted he is hoping his new record will be his best yet, and will be previewing the exclusive material during his performance at London's Hammersmith Apollo on November 30, 2008.
Party donations published for July to September 2008
Thursday, November 27 2008
The Electoral Commission in the UK has on November26, 2008 published the records of donations to political parties for the third quarter of 2008.
Donations to the Conservative Party between July and September 2008 totalled £4,060,633, including £54,000 from Stuart Wheeler - his largest single donation to the party since February 2006. A more detailed list of significant donations to Tory coffers is below.

Meanwhile, the Labour Party raked in £7,569,090 - although £2.25million of that came from loans (from Lord Sainsbury and Sir Gulam Noon) being translated into gifts.

The Lib Dems received £599,177, including £10,495 each from Sir Elton John and David Furnish. During the same period, the Greens and UKIP netted £188,000 and £33,663 respectively.
Elton backstage at Munich show
Monday, November 24 2008
Before the "Red Piano" show in Munich on November 22, 2008, Elton left his hand prints for the Walk of Stars in the Olympic Center in Munich.
"The Red Piano" in Munich on November 22, 2008
Sunday, November 23 2008 at 11:57:01


David: "I've accepted I won't have kids with Elton"
Monday, November 24 2008
David Furnish has admitted he's come to terms with the fact he will probably never become a dad.
David says Elton's busy life means it would be impossible to have a family. "We have talked about it so many times," he says. "Elton continues to want to work and be a global performer and travel the world. It's who he is. But there are children we support in Africa and I have nieces, nephews and godchildren. Sometimes life is not about having it all."

David, 46, also thinks kids could cause a rift between them. "I slightly resent the fact that we spend more time apart than I would like and I think having children would time me down to mostly being in England, because I would want them to have a stable base."

"I think it would create some unnecessary pressures in the relationship."
"The Red Piano" in Munich on November 22, 2008
Sunday, November 23 2008
Fan report by Stephan Heimbecher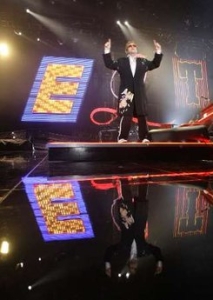 This was Elton's first show in Munich after a break of more than 6 years and the experienced Elton fan could tell that Elton was in a very good mood by the various deviations from his usual song introduction routine.

The bad news: Security as well as old-aged concert goers - especially the so called VIPs in the first rows - spoiled a lot of the atmospehre and made it difficult for the diehard fans to really enjoy the show.

After a 30-minute set by support act Jamie Lidell (which I really enjoyed) the lights went out for Elton at 8.25 pm. The stagehands - all dressed in white - came on stage and did their 'uncover the red piano and plug in the power' routine, and I couldn't stop being reminded of the sperms in Woody Allen's 1972 comedy "Everything You Always Wanted to Know About Sex" ...

While Elton was lauching into "Bennie And The Jets" I noticed that it wasn't only the piano that was red: Also the bench was completely of that same color and even the towels to absorb Elton's sweat were red. After the first song, Elton welcomed the audience and said "it's cold outside today, but we gonna get hot inside". It was in fact a very chilly evening in Munich that night and our group of some 25 fans from all over the world didn't really enjoy the 15 minute walk from the train station to the venue facing the freezing wind.

I don't want to repeat all of the details of the show itself which have been reported here in previous reviews about "The Red Piano"; the giant screen behind the "ELTON" neon lights is revealed during "Philadelphia Freedom", roses inflate during "Believe" and then it all ends in the grand finale starting with "Pinball Wizzard" when confettis fly and the entire stage is covered in inflatable bananas, cherries, breasts ... you name it.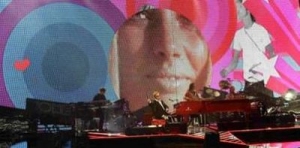 Instead, I would like to focus on what was different from previous "Red Piano" shows which I have attended myself or read reviews about. Like I already mentioned above, Elton seemed to have replaced his cheat sheet with all the introductions to the songs. He was a lot more spontaneous in Munich and was surprised about the reaction of the German audience after his lengthy explanation about how he had crossed out the last verse to "Daniel". When everybody was laughing about that, an astonished "God, your English is soooo goooood" escaped Elton's lips.

After the wonderful movie accompanying "Rocket Man" he revealed: "You know, that wasn't really me in the movie. Was it a) Michael Schumacher, b) Barack Obama or c) Justin Timberlake?". And also during the band introduction he became creative again when he introduced Davey Johnstone as former member of the Scottish folk band Cobolas Coconuts (not sure I got that completely right).

People were allowed on stage during "Saturday Night's Alright (For Fighting)", but it took a while for most of them to understand that they would really be allowed to gather around Elton's piano. At first, people only rushed the stage and then climbed it one after the other. Elton kind of flew from the stage right after he had hit the last note on that song, and while the stage was cleared from both the people dancing as well as all the inflatable stuff, audio snippets from Elton related broadcasts were played ... and finally Elton came back on stage pointing at himself and mouthing "That's me" everytime his name was mentioned in that recording.

He then said "Thank you, Munich" about a hundred times (okay, I know it was a lot less, but it felt endless) and explained how Germany was the first foreign country that he came to some 40 years ago. And of course he dedicated the final song, "Your Song", to everybody in the audience. With this the show ended at 10.15 pm.

Following is the complete set list of the Munich show on November 22, 2008:

Bennie and the Jets

Philadelphia Freedom

Believe

Daniel

Rocket Man

I Guess That's Why They Call They Call It The Blues

Someone Saved My My Life Tonight

Goodbye Yellow Brick Road

Sorry Seems To Be The Hardest Word

Tiny Dancer

Don't Let The Sun Go Down On Me

Candle In The Wind

Pinball Wizard

The Bitch Is Back

I'm Still Standing

Saturday Night's Alright For Fighting

Your Song
The party's over for cheating organiser
Sunday, November 23 2008
Court battle exposes overcharging at £800,000 event at Elton John's home.
The extravagant spending of Britain's rich and famous has been revealed in the High Court, where the organiser of some of Britain's most lavish parties was shown to be a cheat who regularly overcharged his stellar list of clients.

Matthew James had become one of Britain's most famous fixers with a series of outlandish events. He sent giraffes and zebras to wander among guests at a garden party thrown by Elton John, recreated an airport to celebrate Kevin Spacey's term at the Old Vic, and held an open-air dinner for Stella McCartney in a forest lit with 2,000 candles.

But his award-winning company, DNA Productions (Europe), has been wound up after a High Court battle over the cost of an £800,000 party in the grounds of Elton's mansion. The judge ruled that the company had grossly overcharged one client and routinely concealed the true costs of events to others.

James came to prominence in 2001 after organising the White Tie and Tiara Ball in the grounds of Elton's 37-acre pile in Windsor, Berkshire. Over four years, he organised the annual charity event attended by guests including Puff Daddy, Michael Caine and Ronnie Wood with a variety of glittering themes. At one, based on an 18th-century Fragonard painting of a girl on a swing, staff wore powdered wigs and Swarovski created a secret crystal garden in the woods. In 2005 James entertained hundreds of guests with a menagerie of safari animals.

His company went bust after he was ordered to pay £100,000 to Armenian-born property tycoon Rafi Manoukian by the High Court. Mr Justice Evans-Lombe found that James had launched a 'campaign of concealment' over the cost of a joint birthday and christening party that was held by Manoukian at Elton's home. Guests, including David and Victoria Beckham, dined in an £80,000 marquee.

Manoukian, who with his brother Bob is believed to be worth more than £250m, had expected DNA to charge a 12.5 per cent management fee and take commissions from suppliers of up to £16,000 for the lavish party. But when he received the full £827,761 bill, he believed that the company had been unfair in raising costs and had failed to pass on discounts offered by suppliers.

His suspicions were confirmed when an assistant at DNA accidentally sent a list detailing the real costs of supplies and services to his office. Manoukian, 52, refused to pay the full bill. James took his case to the High Court demanding an outstanding payment of over £200,000.

Documents emerged in court showing the full scale of the 'impropriety'. James and a former employee of DNA admitted that the company had a policy of concealing suppliers' discounts from all their clients. Evidence showed that James had taken at least £50,000 in discounts from Manoukian's party which he had not passed on to his client.

One email, from James's assistant and event producer Victoria Smith to a supplier, said: 'When you do quote, could you also just include 10 per cent commission to us hidden in the quote? We have to show the client all our invoices which is why we need the written quote and also the commission included.'

In another email to a supplier, Smith wrote: 'As discussed, attached is a breakdown of how I need your quote laid out in order to show Manoukian - so we can then get deposit [sic] from him! Where the costs are higher, it's because we have marked them up - your quote should still show these as I have quoted to Manoukian but allowing for a bit more commission for DNA. Does that make sense?!'

The judge said: 'Matthew James accepted it was DNA's practice to conceal from its clients that it was receiving commissions or discounts from some of its suppliers in addition to an event management fee... It was Matthew James's evidence that DNA's practice was not to record offers of commission or discounts from suppliers in writing, as far as possible, and correspondence referring to such offers or their payment was routinely deleted from DNA's books and records.'

The judgment revealed that DNA went into voluntary liquidation in June 2008 with debts of £389,892. The company's staff have also been laid off.
Munich fan get-together - you can still join!
Friday, November 21 2008
Hercules will organize a small get-together for all fans attending the Munich "Red Piano" show on November 22, 2008.
The event will take place at Munich's Hard Rock Cafe in the center of old town and directly across from famous Hofbräuhaus.

Starting at 1.00pm you will have the chance to meet with fans from Switzerland, Sweden, Spain, Israel, Ukraine, Japan etc. while enjoying Hard Rock Cafe's famous burgers and other finger food. The cover price is Euro 32 (including food buffet and two drinks) and can be paid cash at the door.

At around 4.30pm we will start moving over to the venue in order to see Elton's "Red Piano" show. If you are attending that show and if you are in Munich early, come by and meet us at the Hard Rock Cafe.



Win dinner for two at Hard Rock Cafe Berlin
Friday, August 1 2008 at 12:27:28

Hercules Fan Convention - cancelled!
Monday, July 7 2008 at 21:13:39

Hercules Fan Convention - please read!
Tuesday, June 10 2008 at 22:52:56
"The Red Piano" in Birmingham on November 19, 2008
Thursday, November 20 2008
Fan review by Simon Gambling.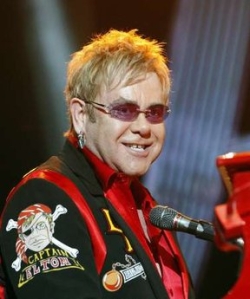 Elton John brought a little bit of Las Vegas to the UK on November 19, 2008. Sitting behind his red piano, on a platform in the shape of a star, it was a fun filled and very energetic show. Basically this was your typical "Red Piano" concert, Elton and the band taking second stage to the massive screen behind them depicting the stories behind each song. You don't realize what an in depth view David La Chapelle has managed to give to these songs unless you see and hear it live.

The stage was very smooth, with the road crew polishing it up a little after the support act had finished. For the first part of the show Elton was wearing a black jacket with a red shirt underneath with the top two buttons undone and red shoes. On his right sleeve it said "Treasure Hunter" and higher up it said "Captain Elton" underneath a skull and cross bone. I couldn't quite make out the writing on his back.

The concert started off a little after 9 pm with "Bennie and the Jets", the intro is very dramatic – lit by a single spotlight from the back of the hall, a group of people in white costumes walk onto the stage and lift the black sheet off Elton's piano and march off with it. One solitary person remains on stage and plugs the platform underneath the piano into it's socket to reveal the star shape with white neon lights running through it. Large neon letters slide in and spell out "E L T O N" behind the stage. For the first verse of this song the sound levels seemed too high, Elton's voice was bordering on being a little 'screachy' – anyway, it sounded much better by the end.

After a quick introduction and saying hello to everyone Elton started "Philadelphia Freedom". The first video of the night was shown on the screen behind. Just before the next song, "Daniel", Elton did his normal introduction of not knowing what "take me to the pilot, I'm but a stranger" meant and said he crossed the last verse off to shorten the song. The video for "Daniel" is very good, it's certainly one of the most relevant videos that are shown and gives life to this otherwise worn out song.

Next up was "Believe". The men in white costumes were back on stage inflating large red roses. One rose did not inflate (to the front right of the stage) and Elton was busy watching this therefore he came in late – missing the first line and half out of the first verse. The video for this song is very pretty and compliments it well – very bright with a single elegant dancer.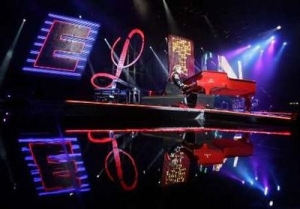 With no introduction came "Rocket Man", again the video for this is very good, surrounded by stars with fantastic blue lights on the stage. A quick note here about the large screens to the left and right of the stage. Normally they would show the band and so on, but this time they rotated between two main shot angles for the whole show. One was Elton's face with the microphone from a camera in front of him, and the other was of him sitting at the piano (which occasionally caught the back of Bob) from the back of the stage. This highlights the fact that the main emphasis tonight was on the stage and the large inflatable's and TV screen.

"I Guess That's Why They Call It The Blues" had a few old photographs on the large screen behind it, somehow I don't think this song fits into the set list. Elton introduced it as coming from the "Too Low For Zero" album which is unusual as he normally dives straight into it.

"Someone Saved My Life Tonight" was next. The song was introduced as being from "Captain Fantastic And The Brown Dirt Cowboy", saying how it was autobiographical. The video for this song is pretty intense, starting off with a young Elton putting his head in the gas oven. A very moving video to accompany an old favorite.

I was pleased to find out that "Goodbye Yellow Brick Road" stayed in the set – and it was played next. Again the video was quite dramatic, lots of people snorting drugs and a girl lying dead on the floor. It hammers home the meaning behind this rather "dark" song.

"Tiny Dancer" came next with a neon sign sliding in from the ceiling saying Hot(el) Love. Elton talked about how they forgot this song for a while then how it took off again and is now one of their most requested songs.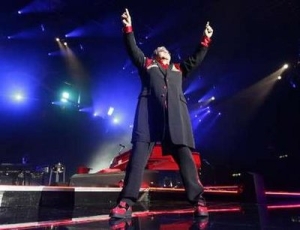 "Sorry Seems To Be The Hardest Word" came next with no video, no introduction and hardly any lights on stage. I thought he may have said that this was the last song Ray Charles ever recorded with him but he didn't.

"Don't Let The Sun Go Down On Me" came next and for a moment I thought he was going to drop "Candle In The Wind". The video for "Don't Let The Sun Go Down On Me" was very strange, two dancers portraying a couple in their living room rowing with a live feed of Elton singing being shown from the TV in the corner of the room. The video didn't fit the song in my opinion but was none the less very interesting to watch. "Candle In The Wind" came next to my delight, Maralyn Monroe on the large screen, just Elton and his piano with no band – this song was a highlight of the night as it one of my personal favorites.

The fun started now – a massive ball dropped from the roof with a bang, the band returned, a casino scene with pinball machines, roulette wheels and Ceasors Palace was shown on the large screen and Elton walked onto the stage wearing a different costume. It was his black blazer with blue stripes along with black trousers with a thick blue stripe running down the legs. The men in white returned to the stage like Centurions working for their Crimson King – inflating a giant lipstick and banana. Behind them lots of neon lights lit up sayng things like "Money to Loan" and "Vacancies".

Straight into "The Bitch is Back" next with Pamela Anderson dancing on the screen, huge apples, bananas, ice-cream, cigarettes and so on were inflated and the stage came alive. With balloons dropping from the roof being knocked around by the audience, everyone was really engaged no matter where they were sitting. "I'm Still Standing" followed this and had various pictures of Elton at all different ages on the screen.

Finally "Saturday Night's Alright (For Fighting)" started. Every possible inflatable was on stage now, confetti was falling from the roof and the first couple of rows from Block A were allowed to run up onto the stage and stand right next to Elton's piano and Davey was handing out guitar picks while playing.

"Your Song" saw Elton return to the stage with a microphone in his hand saying thank you to everyone. The word "L O V E" was spelled out in huge inflatable letters. He said that he played more shows this year than ever before and that he still really enjoyed it. I'm sure he didn't enjoy it as much as we all did tonight – and I can't wait for the next
time!

Following is the complete set list of the Birmingham show on November 19, 2008:

Bennie and the Jets

Philadelphia Freedom

Believe

Daniel

Rocket Man

I Guess That's Why They Call They Call It The Blues

Someone Saved My My Life Tonight

Goodbye Yellow Brick Road

Sorry Seems To Be The Hardest Word

Tiny Dancer

Don't Let The Sun Go Down On Me

Candle In The Wind

Pinball Wizard

The Bitch Is Back

I'm Still Standing

Saturday Night's Alright For Fighting

Your Song
Also see the Sunday Mercury for a report and picture gallery.

Style profile: David Furnish
Wednesday, November 19 2008

He may be best known as Elton John's other half, but David Furnish is also the producer responsible for bringing the critically acclaimed musical "Billy Elliot" to Broadway.

He also happens to have a wicked fashion sense that's totally apart from Elton's flamboyant look. Now that the couple has an apartment in L.A., it's only fitting that Project Angel Food, the local charity that provides meals to those living with HIV/AIDS and other illnesses, would honor Furnish with the Man of Style Award at its Divine Design fundraising gala December 4, 2008. The L.A. Times caught up with him for a few minutes on the phone on November 18, 2008 to talk about his affinity for Thom Browne suits, the musical "Fame," and why he's no longer wearing denim.

For more information about Divine Design, and how to purchase tickets for the shopping event that continues through December 8, 2008 at the Barker Hanger in Santa Monica, go to divinedesign.org.

You've just opened "Billy Elliot" on Broadway. Do you have a good-luck piece that you wear when you have a big opening?

I have around my neck a little tiny locket and it has a lock of Elton's baby hair and a picture of him as a baby. I wear it for important occasions, when I climbed Mt. Kilimanjaro and on airplanes. It's a talisman of sorts that makes me feel protected, like I have got him with me all the time.

What was your style like growing up in Toronto?

I was in a high school drama program with Eric McCormack, who actually approached me about accepting this award. We were the "Fame" generation running around school with leg warmers on, taking dance classes. We formed a little acting company and we had a great drama teacher who said you can wait your whole life to teach a class like ours. He fed us so much, from Pinter to Shaw to classic musicals and Shakespeare.

As an adult, what was your first big splurge?

Just before I moved to London, I was working in advertising, and I discovered the British hight street stores — Britain has a much more defined affordable fashion culture with TopShop and the like. I remember going to NEXT in the mid- to late-1980s and I couldn't believe I could buy all these great shoes and suits for a fraction of what you pay elsewhere. They were so beautifully cut, detailed and so cheap.

Do you still shop the high street?

I do. It's fun, especially if you are looking for limited shelf life items to update your wardrobe.

You and Elton have very different looks, do you advise each other on clothes?

He asks me to help him get dressed, and pick out which ties and shirts match, but he has his own sense of style, which is much more exuberant than mine. He can pull it off because he has that larger than life personality. He has all of his suits custom-made by Yohji Yamamoto, because he can find traditional tailoring quite a restriction, and he gets very hot. The Japanese work with light fabrics, and the way they cut them and weave them, he feels quite liberated wearing those. He has a stock element of Yohji shoes, Etro shirts, and he collects loads of neckties. He'll land on a color scheme and get the socks to match. And he travels with hundreds of eyeglass frames all lined up in cases — the red, the blue. I don't know another man who can wear color like Elton does.

If he collects eyeglasses, what do you collect?

Tailored pieces, I suppose. I don't feel dressed up unless I am in a suit. I find it an empowering thing to wear. Nothing makes you feel better or more presentable. Thom Browne's suits are beautifully cut, he pushes the envelope. He's been one of the most influential men's suit makers in the past decade, really ahead of the game. There's an irony and witticism to him.

Do you wear his short pants?

No, I stop at that. I don't wear the short pants or hem the trousers halfway up my calf like Thom does. I would look like a fashion victim. I like my trouser to skirt the top of the shoe.

You like a slimmer cut to your suits, right?

Yes, another designer who I really admire but who sadly is not working in fashion anymore is Hedi Slimane. He changed the line of suits, and he's been a friend for 10 or 11 years. I started wearing his suits when he did his first collection at YSL. And that was back when YSL menswear was associated with duty-free shops, and boringly classic. I was in Charivari in New York, and the buyer had bought Hedi's first collection for YSL. I snapped up the whole collection. It was so modern in its cut and detailing. I went along and we have been friends ever since. And I still wear those pieces.

Is there anything you won't wear?

I am trying to wear a lot less denim, because I think I'm 46 now and shouldn't be wearing it. I also find as I'm getting older, I'm liking the modernity of the new cuts but with traditional details. I've been going to Brooks Brothers. I started going in to look at Thom Browne's line Black Fleece, but I've noticed the Brooks Brothers ties and shirts are getting more in line with the times, and less boxy.

Where do you get your shirts?

Thom Browne, where they are handmade. Except I like them pressed and crisp and Thom likes the rumpled look. That's not me. You have to be careful with any clothing choice, because a designer makes a proposition when they have a runway show, but you have to tailor it to your sensibility. Also, a real treat would be to get a shirt made in Paris at Charvet.

You host and go to so many parties. Do you have a go-to party outfit?

A menswear line I think is getting better and better is Lanvin. I like the evening jackets. If you are getting it right, when you arrive in a room people don't notice you right away.

Anything you regret wearing?

Oh God, yes. I remember a fancy dress party we had for Elton's birthday at the Ritz Hotel in London. The hotel had a baroque dining room, and we did the party with artist Sam Taylor-Wood — a rock-meets-baroque theme. I wore a white and gold leather stitched jacket and baroque print jeans, and I was dabbling with highlights in my dark hair at the time, and was way too blond. Elton was wearing a baroque print suit and trousers. And someone had given him a Louis Vuitton Stephen Sprouse graffiti bag. It was statement, statement, statement. The number of times magazines have pulled up that picture ... we always say, "But it was a costume party!"

What are your favorite places in L.A.?

We just got an apartment there, in West Hollywood, because it's a great base when Elton needs to get out of Las Vegas, and being a filmmaker, it's an ideal place for me to get some work done. I love Fred Segal and Maxfield. James Perse does nice laid-back cotton T-shirts and beachy stuff. I just went to the new Luau. We went with Loree Rodkin who designed it and is an old friend. It's fabulous.

New Elton John song: "The Drover"
Wednesday, November 19 2008

Elton has written a love song for Baz Luhrmann's epic movie "Australia". The special edition of Sydney's Time Out magazine that was edited by Elton John featured an interview with Luhrmann.

Elton asked him if he needs any of his songs for the "Australia" soundtrack and Baz replied: "Well there is a scene in the film involving a crocodile ...".

This romantic drama from Baz Luhrmann ("Moulin Rouge"), which is set in pre-World War II Australia, stars Nicole Kidman as an English aristocrat who inherits a sprawling ranch, and Hugh Jackman as the cattle driver who helps protect her property from greedy English cattle barons.

With Elton in Sydney for the opening of the musical Billy Elliot, it was a perfect opportunity for him to discuss what he might contribute to Luhrmann's film. Elton and David visited Luhrmann's set in Sydney and watched the film's leading lady Nicole Kidman at work in the studio, filming a ball scene set in a stunning recreation of the lush gardens of Government House in Darwin. When the couple walked onto the set, the film's band burst into "Crocodile Rock" in their honour.

A film Benefit Gala at The Museum of Modern Art, which honored the award-winning work of director, producer, and screenwriter Baz Luhrmann, raised $948,000 for the Museum's collection of film. The gala dinner in the Museum's Donald B. and Catherine C. Marron Atrium featured a distinctly Australian theme in décor and menu. Elton John entertained the benefit's guests with "Your Song" and "The Drover," his new song from the movie "Australia".

TV hopefuls join forces for an "Elton" Christmas hit.
Tuesday, November 18 2008

TV wannabe's Ed Hintze & Stuart Fretwell have come up with a new Christmas song following a chance meeting at Stuart's home in 2007.

TV-wise, Ed is best known as a competitor on BBC talent show, "The One & Only". Stuart & his family have appeared as contributors in a half-dozen reality TV shows since 2004, including Channel 4's 'Richard & Judy' in 2006 - so the pair are well-used to being in the limelight.

Ed Hintze, better known as the proprietor of 'Weymouth Music' , Elton John tribute-act and runner-up on the BBC talent show "The One & Only", was delivering a piano to Stuart's home on Portland, when the pair got chatting about their shared appreciation of the songwriting talents of Elton John & Bernie Taupin.

Ed was soon busy with the BBC talent show, but on his return the pair got together to take a look at one of Stuart's 'Eltonesque' songs, called "December Star". "It was quite ironic really", says Stuart. "I'd actually managed to get an earlier version of this lyric to Sir Elton, in Las Vegas, in 2004. Sadly, he only accepts lyrics from Bernie Taupin, so that was a bit of a non-starter. Now, I had the next-best thing - an ace 'E.J' sound-alike to work on it. I loved Ed's voice, right from the start, so I was delighted to hear his 'take' on it."

More recently, I also sent the lyric to Sir Cilff Richard's people and we were invited to send a demo. Sadly, he had no plans for a Christmas single, this year, so it was another rejection. We also considered Jason Donovan as a suitable artist, only to discover that he already has a festive single planned.

Says Stuart: " One of the verses was written 37 years ago, so it's been a long hard slog to get it a finished song. I'd be pretty happy with just that, but we both have faith in the song and it would be really nice if more people got to hear it."

You can listen to the song at http://www.dorsetecho.co.uk/.




Elton, Kylie out of The One And Only
Sunday, February 3 2008 at 09:02:37

Dorset songwriter pens lyrics for T.V.'s 'Elton John' hopeful
Friday, February 1 2008 at 10:12:01

Music teacher is the One and Only Elton
Tuesday, January 8 2008 at 02:58:10



Leona Lewis to appear At Elton John's New Years Eve Party
Monday, November 17 2008

Leona Lewis is being lined up to perform at Elton John's New Years Eve party at London's O2 Arena, according to reports.

But the former X-Factor winner is also apparently wanted at a different event in America. Lewis has enjoyed huge success in both countries since winning the talent competition in 2006 despite never touring live.

According to the Sun newspaper, she is torn between the two offers because she had hoped to spend the evening with her family. "She had planned to spend it at home with Lou [Al-Chamaa, her boyfriend] and her family," a source said.

Lewis returned to The X Factor last weekend to perform a cover of Snow Patrol's 'Run'.

As previously reported, Elton's party, which will be produced by photographer David LaChapelle, comes a year after Take That staged a similar event at the venue.




Elton's New Year's Eve bash
Friday, November 14 2008 at 14:22:03



Elton John and band performed in Uncasville on November 14, 2008
Sunday, November 16 2008

Following is the complete set list of the Uncsville, CT show on November 14, 2008.
Funeral For A Friend

Love Lies Bleeding

The Bitch Is Back

Madman Across the Water

Tiny Dancer

Levon

Believe

Take Me To The Pilot

Goodbye Yellow Brick Road

Daniel

Rocket Man

Honky Cat

Sacrifice

Don't Let the Sun Go Down On Me

All The Girls Love Alice

I Guess That's Why They Call It The Blues

Sorry Seems To Be The Hardest Word

Candle In The Wind – (Solo)

Bennie And The Jets

Sad Songs (Say So Much)

Philadelphia Freedom

I'm Still Standing

Crocodile Rock

Saturday Night's Alright (For Fighting)


Pinball Wizard

Your Song
Elton's New Year's Eve bash
Friday, November 14 2008
As O2 announced on November 14, 2008, there will be a massive 'Elton John New Year's Eve Party' concert at the former Dome in London.
Tickets for the December 31, 2008 show go on sale to O2 customers on November 17, 2008 and to the general public on November 24, 2008 - at 9am. The show is promised to be Sir Elton's greatest hits plus a "visual masterpiece" - live in front of 17,000 fans.

O2 boss David Campbell said: "I've seen the set list and this is going to be one massive party."
Elton John celebrates `Billy Elliot' on Broadway
Friday, November 14 2008
Elton John still can't believe he's a Broadway hitmaker. He marveled at his success on November 13, 2008 at the opening of "Billy Elliot."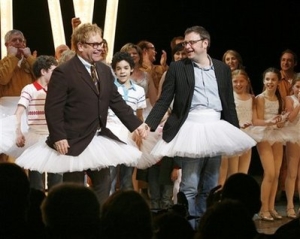 He composed the score for that show, "Aida" and "The Lion King," which is still playing on the Great White Way.

"I'm looking up at the street and I'm seeing the sign for `The Lion King,' and I'm standing here and I'm thinking, `I had never thought in a million years I'd ever be standing in Broadway and talking about something I'd written for the stage," said Elton, beaming with pride.

Elton, accompanied by partner David Furnish, said he'd rather write a musical than record an album because he likes having a story line and characters. "I love it — but I've got a lot to learn," he said. "I'm a novice at this."

"Billy Elliot," at the Imperial Theater, is based on the popular 2000 movie about a young boy who longs to dance but lives in the bleak coal-mining area of Northern England. His story is set against the backdrop of a bitter miners' strike. "It's a triumph over adversity. It's something beautiful coming out of something tragic," Elton mused about the show, which has had successful runs in London and Sydney, Australia.

The role of Billy has been cast with three actors — David Alvarez, Trent Kowalik and Kiril Kulish — rotating the physically demanding part.

Joining Elton at the performance: Barbara Walters, Rosie O'Donnell, Ron Howard, Rachel Weisz, Kevin Spacey, Mayor Michael Bloomberg and tennis legend Billie Jean King.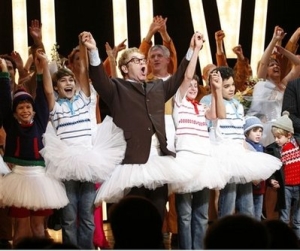 Performance of Broadway's Billy Elliot canceled
Thursday, October 16 2008 at 08:40:54

Lion King - Aida - Billy Elliot
Thursday, October 2 2008 at 06:49:35

Tickets for Billy Elliot on Broadway on sale
Monday, June 16 2008 at 10:09:05

Billy Elliot names its trio of young leading men
Wednesday, April 23 2008 at 19:29:17

Billy Elliot sets Broadway opening date at the Imperial
Friday, March 14 2008 at 11:28:35

Billy Elliot goes Broadway
Tuesday, August 21 2007 at 22:53:06

Elton John and Billy Elliot Stars
Wednesday, May 30 2007 at 06:19:33


Elton John: Where Prop 8 went wrong
Thursday, November 13 2008
Elton John, accompanied by his longtime partner David Furnish, had some choice words about California's Proposition 8, the ban on same-sex marriage that passed on November 4, 2008.
In December 2005, Elton and David tied the knot in a civil partnership ceremony in Windsor, England. But, clarified the singer, "We're not married. Let's get that right. We have a civil partnership. What is wrong with Proposition 8 is that they went for marriage. Marriage is going to put a lot of people off, the word marriage."

"I don't want to be married. I'm very happy with a civil partnership. If gay people want to get married, or get together, they should have a civil partnership," said Elton. "The word marriage, I think, puts a lot of people off. You get the same equal rights that we do when we have a civil partnership. Heterosexual people get married. We can have civil partnerships."

Elton and David, and their two cocker spaniels Marilyn and Arthur, were in town for the annual benefit for the Elton John AIDS Foundation. What does the annual gala mean to him? "It means we get to see our friends on the East Coast who support us so much. It's a staple event for us on our calendar in America. We do the Oscar party on the West Coast and we do this on the East Coast," he said.



Elton John falls in love ggain – with America
Thursday, November 13 2008 at 07:27:33

An Enduring Vision
Wednesday, November 12 2008 at 07:39:37


Elton John falls in love ggain – with America
Thursday, November 13 2008
Last week's election helped Elton John strike a patriotic note at a fundraiser for his AIDS charity in New York City on November 11, 2008.
"I'm so proud to be in this country. So proud to be a part of something so incredibly moving, and touching," Elton said from the stage to a packed crowd at Cipriani Wall Street. "Last week's election demonstrated to me why I fell in love with America in the first place. More importantly, it demonstrated to everybody across this planet that America is a good place now."

Citing recent reports showing significant increases in the number of new AIDS cases in America – especially among African-Americans – he went on to praise President-elect Barack Obama for including the development of a National AIDS Strategy in his vision for the country.

"I mean, after all these years, isn't it about time the United States developed a National AIDS Strategy?" said Elton to the appreciative crowd. In all, the event raised $2 million for the Elton John AIDS Foundation. Not that the evening was entirely serious. At one point Elton offered not to remove his clothes onstage – if someone would donate $1 million.

During a live auction, one bidder paid $50,000 for lunch with CNN's Anderson Cooper. And after a soulful performance of "Midnight Train to Georgia," Gladys Knight invited Elton to join her on stage for a rarely performed duet of their '80s hit, "That's What Friends Are For."

Relying on a cheat-sheet to remember the lyrics, both delivered a rousing rendition, trading the words "keep smiling" for the sentiment of the night: "keep giving."



An Enduring Vision
Wednesday, November 12 2008 at 07:39:37


An Enduring Vision
Wednesday, November 12 2008
Elton John and David Furnish attended "An Enduring Vision" the 7th Annual Elton John Aids Foundation Benefit at Cipriani Wall Street on November 11, 2008 in New York City.
Gladys Knight, Susan La Lucci, Tim Allen, and Micah Jesse were also on hand. Elton performed a duet with Glady Knight during the event.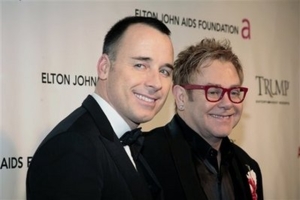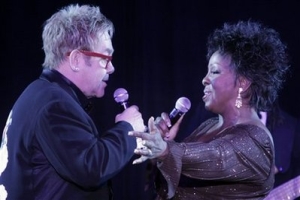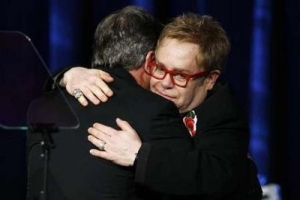 Elton pays tribute to Miriam Makeba
Wednesday, November 12 2008
Elton John has paid tribute to late South African singer Miriam Makeba and called on the nation's officials to give her a state funeral.
Makeba, 76, suffered a heart attack after performing at a charity concert near Caserta, Italy on November 9, 2008 and passed away at Pineta Grande hospital shortly afterwards.

Elton reveals he was a huge admirer, and insists she should be honoured as a hero in her homeland: "She was the voice of South Africa, and she was an incredible woman. I'm sure she will have a state funeral, she should have."
'I booked Led Zep for £100 but turned down Elton John'
Wednesday, November 12 2008
A music promoter has come forward with the proof that one of the world's biggest ever rock bands played a gig in Peterlee.
Brian Stoker and friend David Richards booked rock super group Led Zeppelin for just £100 to play at the Argus Butterfly pub in Peterlee on March 23, 1969. The gig, which came just weeks after they had released their first self-titled album, saw the group play before hundreds of fans ahead of a gig before tens of thousands at the Hollywood Bowl in Los Angeles.

The group then went on to become one of the most successful rock bands in the world and played a sell out gig earlier this year after reforming to perform at the O2 Arena in London. Easington Colliery-born Brian, 65, who organised gigs under the Peterlee Jazz Club banner, has unearthed the original flyers for Led Zeppelin gig and a string of other shows that were held at the pub in the late 1960s.

He said: "We booked Led Zeppelin for £100 and they went down a storm. Everyone loved it and I remember me and Dave had a drink with the lads from the group. I was talking to guitarist Jimmy Page and asked if he enjoyed it and he said 'yes' and he would come back. I said what are you doing next month and he said they were playing the Hollywood Bowl, so that was the last we saw of them."

The pair secured the band through a contact at London promotion firm Ellis Wright, which went on to become the Chrysalis music company. They attracted bands that had played the previous night at universities in Scotland and got them to stop off to play a Sunday night spot in Peterlee while travelling south. Other groups that played at the venue included Free, Deep Purple, Family, 10 Years After, Taste, and Jethro Tull.

Dad of two Brian, who moved to Sheffield in 1974 to work for a brewery, said: "We had Free on about three or four times and the last time we had them Alright Now was number one the week after. We had booked them for £100 as well.

"They also told us they had this solo act and they wanted £100. I said you must be joking because we had Led Zeppelin for £100. I asked his name and he said Elton John and I said no chance am I paying that for a bloke on his own."

Brian and David later launched similar nights at the Swan pub in Billingham where acts including Joe Cocker and 10 Years After played gigs, but he said the venue did not have the same success as the Argus Butterfly. Music promoter Mick Arnell is hoping to return the pub into a successful music venue and is appealing for local talent to come forward to perform.
Elton/Billy tour to last "at least two years"
Tuesday, November 11 2008
Elton and Billy Joel's upcoming tour will last "at least two years and go all over the world," Elton announced on "The View" on November 11, 2008.
Joel confirmed the tour late last month at a benefit for Charity Begins at Home, but didn't release specific dates. Elton said that the tour would begin in March 2009.

"It's something I've looked forward to for a long time," Elton said. "We haven't done it in a while. I love touring with him. I have the greatest respect for him. We're both such good friends. It's two people for the price of one. Our ticket prices are the same as you'd see anyone else, but there's two of us. In this day and age, we hope to be getting people value for their money."

As part of the warm-up for the tour, Joel has set up some solo dates -- at the Hard Rock Casino in Hollywood, FL, in January 2009, and a Valentine's Day 2009 show at the MGM Grand in Las Vegas. Tickets for those shows are now on sale through Ticketmaster. Joel, who says he has been practicing John's songs again to get ready for the tour, is currently in the middle of his tour of Asia and Australia, set for Hong Kong tomorrow night.



Billy Joel confirms rumor he'll tour with Elton John
Tuesday, October 28 2008 at 08:30:50

Elton wants more - 2009 and beyond
Thursday, September 25 2008 at 17:49:22

"Face to Face" in 2009
Monday, September 22 2008 at 20:35:13


Elton John not enough, The Killers need a Pet Shop Boy
Tuesday, November 11 2008
You might think the five combined songwriting minds of The Killers and Elton John would be enough to bang out a Christmas hit. But you'd be wrong.
The band 'hit a wall' while recording at producer Stuart Price's house, where, coincidently, Pet Shop Boys stopped by to visit. Pet Shop Boy Neil Tennant saved the day.

"We'd hit a block, and Neil came upstairs," Killers' frontman Brandon Flowers told Planet Sound. "Within moments, he came up with a great line about 'Going to the carpenter's shop'."

The song, called "Joseph, Better You Than Me," is still expected for an early December 2008 release.



Killers, Elton to release Christmas single
Wednesday, September 24 2008 at 08:23:38


Chopard: Elton John's new watch collection
Thursday, November 6 2008
The first drawings of the new Elton John Watch Collection, designed by Caroline Gruosi-Scheufele, will benefit The Elton John AIDS Foundation.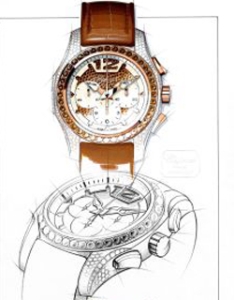 The new chronographs will be available in rose or white gold set with different variations of stones including diamond baguettes, pink, yellow, black or chocolate diamonds, rubies, emeralds, and sapphires. The watches will also come with pink, yellow, blue, red, green, or black bracelets.

They are all limited editions engraved with Elton John's signature on the back. The watches will be launched in Moscow on December 7, 2008 and will be celebrated with a private Elton John concert.
Elton on song with Richard Fleeshman
Thursday, November 6 2008
He's duetted with the likes of George Michael and Kiki Dee, but now Elton John is to write songs with Manchester's very own Richard Fleeshman.
Elton personally invited 19-year-old Soapstar Superstar winner Richard to be his support act on his stadium tour over the summer - and has now arranged to meet at the end of November 2008 for a music jamming session.

It's something of a dream come true for Richard, as Sir Elton was his childhood idol and the man he credits for inspiring him to become a musician. Richard says: "Elton has been amazing, so supportive. We're going to be writing some songs together towards the end of this month. It's really nice of him to do it and we're just going to see what happens. Sometimes these things work, sometimes they don't. But, either way, it's going to be exciting.

"It's going to be amazing, because he was my hero growing up. I used to watch him and go, `I want to do that'. That was one of the reasons I wanted to learn the piano when I was so young. "We've never written together before, but he's been so supportive and lovely. It means such a lot when someone you admire so much takes an interest in you."

Former Coronation Street star Richard will also rejoin Elton for the December 2008 dates of his Red Piano tour - including two nights at the M.E.N Arena. Richard says: "I think the atmosphere will be amazing in the arena. I just can't wait. To finish on the 21st in Manchester, at the M.E.N, is pretty cool. It's coming home and it's going to be really great."
Portraits by Anderson & Low to benefit the EJAF
Thursday, November 6 2008
A new display of over 30 previously unseen nude portraits of leading international sportsmen and women by acclaimed photographers Anderson & Low opened at the National Portrait Gallery on October 30, 2008.
Several years in the making and shot over three continents, this project was conceived by the photographers to support the Elton John Aids Foundation in raising awareness of the global issue of HIV/AIDS.

Transcending cultural and socio-economic boundaries the universal appeal of these athletes made them the ideal subjects for this project. Their nudity in the portraits is symbolic, illustrating both their physical beauty and prowess alongside their vulnerability and humanity. The subjects for the portraits are drawn from a range of sporting disciplines and include Thierry Henry, Matt Dawson, Billie Jean King and Venus Williams. By participating, these sports stars have drawn attention to the importance and relevance of continued education, prevention and treatment of HIV/AIDS.

Jonathan Anderson and Edwin Low (www.andersonandlow.com) have been collaborating as the team 'Anderson & Low' since 1990 when the Royal Academy of Arts exhibited one of their early collaborations. Their fine art work includes portraiture, nudes, architectural studies, reportage and highly disciplined studio-based images. Their work has been exhibited world-wide and is held in a number of collections including both the National Portrait Galleries of Australia and Great Britain, the Houston Museum of Fine Arts, The High Museum of Art, Atlanta and the Worcester Museum, Massachusetts. Of their work, the portfolios Gymnasts, Athletes, Athlete/Warrior, Chrysalis and most recently Circus, have been published as monographs and there are plans to publish the Champions portfolio in 2009.

Elton John, Chairman of the Elton John AIDS Foundation, says "I am delighted that the National Portrait Gallery is hosting this exhibition of wonderful photographs of internationally renowned male and female athletes. Anderson & Low have caught in these heroic images of the human body at peak physical condition just how frail, vulnerable and defenceless we all are in the face of such a pernicious virus as HIV".
Elton John quits Watford FC role
Wednesday, November 5 2008
Elton John has dramatically resigned as Life President of Watford FC on November 5, 2008.
The two-times Hornets chairman made the announcement on his website eltonjohn.com and it continues an increasingly turbulent week for the Hornets, following the departure of Aidy Boothroyd as manager and the calling of an emergency general meeting next month where the club's three-man board will face a vote of no confidence and demands for their immediate resignation.

The statement reads : "Elton John has decided to resign as Life President of Watford Football Club. In a letter to Watford chairman Graham Simpson, Elton affirmed that he would always be a fan of Watford. Elton wishes the team every success for the future. However, in the light of developments over the past few months, he feels he cannot remain in any formal position within the club."

Although the full reasons for Elton's decision are not yet known, it is likely that Boothroyd's departure may have triggered it following last month's outspoken statement in which he raised his fears for the future of the club.
Elton on "The View"
Tuesday, November 4 2008
Elton will be a very special guest on "The View" on ABC next Tuesday, November 11, 2008.

See "The View" website for more information.