ELTON JOHN NEWS ARCHIVE: November 2007
Elton dedicates concert to 'a great Aussie'
Wednesday, November 28 2007
Elton John has dedicated his Sydney concert to Australian EMI music executive Ken East who died on the weekend.
Before opening the sold-out show at Sydney's Acer Arena on November 28, 2007, Elton said the night was a special one because it was the first time he had played in Sydney alone. But he said it was also special because of the recent death of a good friend.

"Tonight is also very special because I want to dedicate the whole show to a friend of mine who passed away on Sunday: Ken East," Elton said. "Ken was probably without a doubt one of the greatest record men I have ever met. He was a great man. He was also a great Australian, which is more important."

Elton said that while East spent much of his time overseas, he always called Australia home. "His great love was to come back here by the bay and look out over the ocean," he said. "That's where he died, looking out over his beloved Sydney Harbour. I was so pleased to be able to be here to say goodbye to him."

Sir Elton dedicated the concert to East and his wife Dolly. "I hope he gives me the inspiration to play well for all you who I love so much," he said. He then launched into "Your Song".
David supports gay hate bill
Wednesday, November 28 2007
David Furnish has pledged his support to a new bill aiming to make homophobic jokes illegal in the U.K.
The Canadian film producer agrees with the new legislation, which will potentially result in seven-year prison sentences for those found guilty of promoting hatred against homosexuals.

He says, "I think any sort of hatred is unacceptable so yes, I support it. That said, I think this country is unbelievably tolerant and I feel privileged to live here and to be married to a Brit - as well as thankful that I can be married to a Brit."
Elton John has a ball at Beckham party
Tuesday, November 27 2007
Elton loves surprises. For his solo concert in south-east Queensland on November 25, 2007 he walked on stage 15 minutes early and launched into "Your Song" while most people were still parking their cars.
The whispers had been circulating all week but it was only fitting that Sir Elton be the surprise guest at the glamorous cocktail soiree for another mock-royal, David Beckham. Elton and David are good friends with the superstar footballer and his fashion plate wife, Victoria Beckham. Since the Beckhams moved to Los Angeles, Elton and Furnish have been to visit and have also hosted the Beckhams at their London home.

Sydney's A-list may have been starstruck but it took Elton John to break the ice at the Foxtel is Football party, greeting guest of honour David Beckham with a cheeky quote, "Allo Golden Balls". David and Elton kicked off the fun at Cafe Sydney, where the A-list went ga-ga over the LA Galaxy superstar.

While the rest of the team were happy to take in the view, local eyes were fixed on the bronzed Beckham. Ian Thorpe, Antonia Kidman, Collette Dinnigan with Richard Wilkins and Sydney FC co-owner Anthony La Paglia who used his star power to pull together last night's glamour grudge match against Galaxy, added to the stellar night.

Beckham proved the greatest guest of honour, happily posing for happy snaps with guests, including NRL star Matt Cooper, party princess Kate Waterhouse and radio babe Bianca Dye.
Elton John performed in Canungra, Australia on November 25, 2007
Monday, November 26 2007
Following is the complete set list of the Canungra, Australia show on November 25, 2007. Photos by Darren George.
Your Song

Sixty Years On

The Greatest Discovery

I Need You To Turn To

Border Song

The Boy in the Red Shoes

Daniel

Honky Cat

Rocket Man

Tiny Dancer

Mona Lisas and Mad Hatters

Nikita

Philadelphia Freedom

Sacrifice

Ticking

Roy Rogers

Sorry Seems to be the Hardest Word

Candle in the Wind

I Guess That's Why They Call it the Blues

Electricity

Carla/Etude

Tonight

Take Me to the Pilot

Blue Eyes

Levon

Bennie and the Jets

Don't Let the Sun Go Down on Me


I'm Still Standing

Circle of Life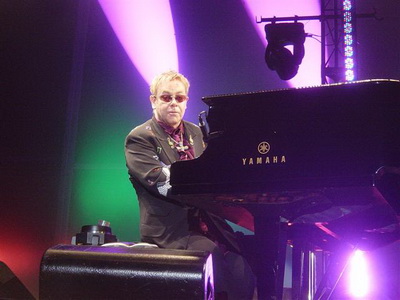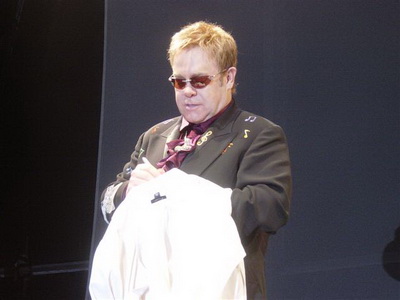 Elton John to bring effects laden show
Monday, November 26 2007
Capital C: Concerts has added a number of elements to the concert on December 6, 2007 that will make the event a momentus one. Special lighting effects alone will compliment the 'Festival Of Lights' that will be on early this year.
Promoter Phil Sprey at Capital C: Concerts said, "We never just put an artist on a bare stage, we look at making each of our concerts a complete experience. We could have gone to other cities with bigger audience capacities than the TSB Bowl of Brooklands but believed from the outset that his solo tour would 'feel' better in the surrounding that New Plymouths number one venue has."

With the maximum capacity of approx 15,000 only a handful of tickets remain in the last 2 weeks prior to the show. As Sprey added, "when you have a great artist appearing in a provincial city the one factor that always comes to bear is accommodation, which in New Plymouths case is a bursting point. Venture Taranaki the regional tourism authority has however found a number of spaces still exist is short distance from New Plymouth and these are now being 'discovered' by those out of town visitors coming to the concert.

Sir Elton John will arrive in New Zealand on December 6,2007 direct from a concert in Townsville Australia and may drive north into New Plymouth from Wellington and enjoy a bit of scenery before the performance.
Gracious Elton John sure can shop in Virgin Megastore
Monday, November 26 2007
Elton John did his bit for the local economy on November 23, 2007, stocking up on Aussie music and shocking staff at the Virgin Megastore in Sydney's Martin Place when he dropped by for a CD binge.
With two bodyguards and an assistant in tow, Elton hit the store - and hard, with the music star filling the arms of his attending entourage with new releases.

Heading for the Christmas stockings of his friends were a few festive finds. He asked for and snapped up Olivia Newton-John's new seasonal CD. A Confidential source said a staff member then told him about Kylie Minogue's new album, which had just arrived, and "his eyes lit up as he said: 'I'll take five copies'."

One shelf elf said: "Elton was pleasant and gracious to all, including some fans who recognised him."
Elton John performed in Tokyo on November 20, 2007
Tuesday, November 20 2007
Following is the complete set list of the Tokyo show on November 20, 2007.
Your Song

Sixty Years On

The Greatest Discovery

I Need You To Turn To

Border Song

The Boy in the Red Shoes

Daniel

Honky Cat

Rocket Man

Tiny Dancer

Mona Lisas and Mad Hatters

Nikita

Philadelphia Freedom

Sacrifice

Ticking

Roy Rogers

Sorry Seems to be the Hardest Word

Candle in the Wind

I Guess That's Why They Call it the Blues

Electricity

Carla/Etude

Tonight

Take Me to the Pilot

Blue Eyes

Levon

Bennie and the Jets

Don't Let the Sun Go Down on Me


I'm Still Standing

Circle of Life
Elton John Aids Foundation party
Friday, November 16 2007
Elton John and David Furnish kicked off the winter party season with a glitzy charity cocktail party in London's Covent Garden Piazza on November 14, 2007 - and their friends pitched in to make it a glamorous affair.
Fashion designers Christopher Bailey and Patrick Cox, artists Sam Taylor-Wood and Dinos Chapman, and actress Liz Hurley designed five fantasy cocktail bars which were auctioned off to guests. David Furnish also created his own piece - a Las Vegas-themed aquabar, with two male pole dancers and a mermaid model in a tank.

Party-goers included Kelly Osbourne, Camilla Fayed and David Walliams, fresh from the BBC2 screening of Stephen Poliakoff's drama Capturing Mary, in which Walliams's straight acting received mixed reviews. 'Don't give up the day job' (in Little Britain), said one critic, while another praised his portrayal of 'casual wickedness'.

All proceeds from the event, sponsored by Grey Goose, go to the Elton John AIDS Foundation.
Elton to support London major candidate?
Friday, November 16 2007
Brian Paddick, the controversial former top cop chosen by the Liberal Democrats as their candidate for London Mayor, is being backed by Elton John, Sky News reports exclusively.
Paddick, Britain's first openly gay senior policeman, operated a softly-softly policy on cannabis when he was Metropolitan Police commander in Brixton, south London, a strategy condemned by many MPs. Now he is challenging London Mayor Ken Livingstone and Conservative rival Boris Johnson in a contest next May that has already been dubbed a race between three mavericks.

Revealing his celebrity backing from Elton, Paddick told Sky News: "Before I got the nomination, I got a text from David Furnish saying 'We'll support you'." He says there has been no pledge of financial support so far. But I'm sure big-spending Elton can afford to donate a few bob to a political campaign.
Sir Alan's ex-Elton Bentley on sale
Wednesday, November 14 2007
Sir Alan Sugar is selling the Bentley he bought from Sir Elton John. The silver motor is expected to fetch £100,000 at Bonhams in December 2007.
Elton bought the 1956 S1 Continental Sports Saloon in 1976, the same year "Don't Go Breaking My Heart" shot to Number One in the UK singles chart. He had power steering, a new stereo system, and air conditioning installed.

Sir Alan, 60, who is seen driving a black Bentley complete with customised number plate on BBC1 show "The Apprentice", has done only 1,000 miles in the vintage car. He bought the Bentley at the Sir Elton John Collection sale in 2001.

Former owner Sir Elton has described the Bentley as the "most beautiful-looking car that's ever been designed". The sale will feature around 80 cars, including the world's oldest Rolls-Royce, which is expected to break auction records by fetching up to £2 million. The two-seater was built in 1904, the year Rolls-Royce was founded.

Bonhams' annual Olympia Motoring Sale takes place at Olympia, London, on December 3, 2007.



Elton Bentley up for auction
Thursday, May 18 2006 at 10:46:27


Aretha Franklin shines forth with 'Jewels in the Crown'
Wednesday, November 14 2007
Her new "Jewels in the Crown: All-Star Duets With the Queen" collects two decades of collaborations with the likes of Frank Sinatra, Keith Richards, Elton John, Mariah Carey, Luther Vandross and Whitney Houston.
The first single, "Game", finds the diva dishing words of wisdom with the third-season American Idol. At No. 18 on the adult R&B chart, it's Franklin's first hit in four years. The younger singer was overwhelmed when the two met at a United Negro College Fund tribute to Franklin last year.

The album, released on November 13, 2007, also contains "Through the Storm", a duet with Elton John.

Stars flock Chopard store opening
Wednesday, November 14 2007
Elton John and Adrian Brody have attended the opening of the new Chopard boutique in New York.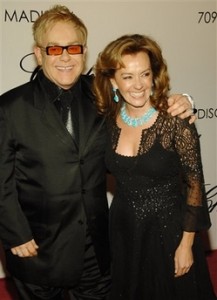 Liz Hurley, Rachel Weisz, Maggie Gyllenhaal and supermodel Eva Herzigova were just some of the other stars at the jewellery store launch on Madison Avenue. Elton, who's said to be a big fan of Chopard jewels, was the guest of honour for the evening. The company has worked with the musician on events for his Aids foundation.

He said: "I'm here in a small capacity, returning a favour to them for a very big favour they do for us. They're great people and great humanitarians."

The Chopard store is the 100th and largest store to open.
Elton John's Killers duet
Friday, November 9 2007
The Killers want to record a duet with Elton John. The Killers frontman Brandon Flowers would love to collaborate with the singer and is hoping Elton will agree.
Brandon said: "It would be nice to work with somebody new, you know? It seems like nobody gets together any more. It would be nice to so something with someone - a legend like Elton John would be amazing."

The 26-year-old singer, who has spent the past year touring the band's second album 'Sam's Town', also revealed the group are working hard on a "new, fresh" sound for their next studio LP. Brandon said: "I hope we change so it's not so boring. I'm looking forward to it.

"We strive for excellence. We just kind of let it take us where it's going to go - we let the songs lead the way. It is really exciting not to know what is coming." Brandon admits he feels under pressure to create another hit album and believes it could make or break the band.
Elton gig for slain broker
Thursday, November 8 2007
Elton John is planning a memorial concert for slain celebrity real-estate agent Linda Stein, with the proceeds going to breast-cancer research.
According to Hope Faith Consolo, another high-powered New York real-estate broker and friend of Stein, Elton wants to do the show in April 2008.

"He's doing that just for Linda Stein, because Linda was a big supporter for Elton John's AIDS foundation," Consolo said. Stein was stricken with breast cancer in the mid-1990s. On November 7, 2007, Stein's friends and family gathered for a final day of mourning as stumped detectives again visited the crime scene.

Four detectives made the trip to Stein's Fifth Avenue apartment building where she was found in a pool of blood by her daughter Mandy on October 30, 2007. In recent days, police removed a portion of Stein's 18th-floor penthouse doorframe along with her bathtub drain in a search for clues.
DVD "Concert for Diana"
Tuesday, November 6 2007
The DVD will be released in the US on November 13, 2007.
Princess Diana's favorite performer, Sir Elton John, was on hand to help her sons Prince William and Prince Harry mark the 10th anniversary of their mother's death with an event to celebrate her life.

The Concert for Diana was held at the new London Wembley Stadium on July 1st 2007, which would have been Diana's 46th birthday. Along with Sir Elton, an array of Universal Music artists performed for a capacity 63,000 crowd lucky enough to escape the rain in London. Live on stage were: Fergie, Kanye West, Nelly Furtado, James Morrison, The Feeling, Pharrell Williams, Roger Hodgson of Supertramp, Tom Jones, Rod Stewart, and many more. Proceeds from the concert will go to charities supported by the late Princess of Wales, and to charities of which Princes William and Harry are patrons.



Diana concert raises 1.2 million pounds
Friday, October 5 2007 at 08:40:58

500 Million see Diana concert
Monday, July 2 2007 at 19:50:28

Elton launches and ends Concert for Diana
Monday, July 2 2007 at 08:38:14