ELTON JOHN NEWS ARCHIVE: November 2006
Sir Elton gets honorary room in Sydney
Wednesday, November 29 2006
Elton John has had a room named in his honour at the Sydney Entertainment Centre.
The aptly named "Sir Elton John Suite" contains costumes and other memorabilia collected during the singer's 40 concerts at the venue.

"It's just a place I feel very comfortable in playing but again I can't believe I've done 40 shows," he said at the room's unveiling on November 28, 2006.



Up yours from Elton to John Howard
Tuesday, November 28 2006 at 15:34:09

Elton spews at show, but still standing
Monday, November 27 2006 at 12:29:44


Up yours from Elton to John Howard
Tuesday, November 28 2006
Elton John has delivered an "up yours" message to Prime Minister John Howard for opposing same-sex marriages.
Elton, in Sydney for the first of three concerts on November 28, 2006, said he was unimpressed with the lack of legislation to protect gay couples in Australia.

Elton and David in December 2005 became one of the first gay couples in England to tie the knot in a civil partnership ceremony. "It was just a commitment I wanted to make because I love him, and vice-versa, and it was just a great day," Sir Elton told the Seven Network.

Asked what he would like to say to Mr Howard about his views on gay marriage, Sir Elton replied: "Up Yours".

It's Mr Howard's second dispute with a high profile rock star this month after he had differences with U2 frontman Bono over Australia's funding for third world countries. The Howard government earlier this year scuttled plans to allow gay marriages in the ACT.

Mr Howard said in June 2006 his government was not "anti-homosexual"."It is not a question of discriminating against them," he said. "It is a question of preserving as an institution in our society marriage as having a special character and if you look at the legislation, what it effectively says, a civil union is not a marriage, but it will be treated for all purposes as being equivalent to a marriage."
Elton spews at show, but still standing
Monday, November 27 2006
Elton John had to leave the stage for a "chunder" when he took ill during the first performance of his latest Australian tour.
He was about to launch into his classic "Crocodile Rock" two hours into the Brisbane Entertainment Centre concert when he walked off without a word.

Guitarist Davey Johnstone played an impromptu five-minute solo before Sir Elton returned to tell the 15,000 strong crowd he had been sick.

"I thought I'd better chunder in the toilet than all over the front row," he said. A spokeswoman for the tour said the star had been suffering from a stomach upset. "He got it out and got on with it," she said.

Elton performed the final 45 minutes of the show without problem, even changing the lyrics of "Crocodile Rock" to make a joke about his plight, singing "the flying doctor never had so much fun".
Princes plan Diana tribute concert
Sunday, November 26 2006
Princes William and Harry are planning a star-studded pop concert 2007 in honour of their late mother Diana, Princess of Wales.
The event marking 10 years since her death is due to be held at Wembley stadium on July 1, 2007, which would have been her 46th birthday, the Sunday Mirror said.

William and Harry are expected to host the concert for 90,000 fans featuring performers from Britain and the US including Sir Elton John.

The royal brothers want it to be an "upbeat, joyous tribute to her life and work", according to the newspaper. It said the event is expected to be screened live on television to a worldwide audience of millions.

Proceeds are likely to go to homeless charity Centrepoint, a favourite of Diana's, and other causes championed by the princes.

A Clarence House spokesman said: "We're considering a number of options on how best to commemorate next year. William and Harry will make a decision in due course."
Elton can't feel the love for cricketers
Friday, November 24 2006
England's poor start to the first Ashes Test has prompted Elton John to ditch plans to watch the action at the Gabba.
The cricket lover starts his 12th Australian tour at the Brisbane Entertainment Centre on November 26, 2006 and was expected to attend some of the opening Test of England's Ashes defence.

Elton is due in Australia on November 25, 2006 but he will base himself in Sydney, travelling to and from Brisbane on a private jet.

Sources close to the tour said any interest Sir Elton had in going to the Gabba had been "diluted" by Australia's first innings batting dominance.

England cricket captain Andrew Flintoff is a huge Elton John fan and the pair sang a duet of the classic 70s hit "Rocket Man" at a charity dinner in London in May 2006. "Rocket Man" became an English dressing room anthem during last year's upset Ashes series triumph over Australia.

Brisbane was the only city where Sir Elton may have had a chance to watch any of the latest Ashes series.



Elton John won't miss the action
Tuesday, November 14 2006 at 20:55:05

Flintoff ruined duet with Sir Elton
Thursday, May 11 2006 at 09:23:25

Flintoff to open with Elton in Battersea Park charity concert
Wednesday, April 26 2006 at 23:49:31


Elton slams Noel over 'precious' comments
Thursday, November 23 2006
Elton John has hit back at Noel Gallagher with a foul-mouthed tirade after the Oasis rocker branded him a recluse and "precious".
Elton is outraged that Gallagher portrayed him as an isolated celebrity who refuses to mix with the general public.

Gallagher said, "Life is a great thing, why shut yourself away from it? I can't understand people like Elton John..."

Elton hits back, "After what f**king Noel Gallagher said about me I couldn't give a s**t about Oasis. I go into shops all the time myself, he just such a t**ser and he looks like Parker from Thunderbirds."
Elton John plays miner in cameo stage role
Thursday, November 23 2006
Elton John made a brief stage appearance on November 22, 2006 as a flat-capped miner from northern England in a special gala performance of his hit West End show "Billy Elliot - The Musical".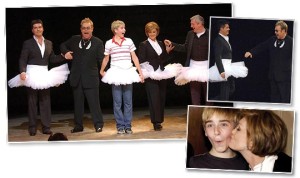 The three judges from the television talent series "The X Factor" also played cameo roles, with acerbic Simon Cowell, famous in Britain and the United States where he appears in a spin-off show, took his curtain call wearing a frilly white tutu.

"'Billy Elliot' has been one of the great events of my life," Elton told the audience ahead of a special performance to celebrate the one millionth patron to see the show. "Being involved in this musical has given me so much pleasure."

In one early scene, Billy turns to a man behind a newspaper at the piano and asked: "So what do you reckon, Reg?" Elton lowered the newspaper, sauntered off stage and muttered a line that was inaudible above the cheers.

In the show's production notes Elton said the film "Billy Elliot", on which the musical is based, had inspired him because it reflected his own childhood.

Like Billy, who escapes the grim world of a coal mining town brought to its knees during the 1984 strikes by turning to ballet, Elton said music was his "passport to a better, more fulfilling life" than his working class roots may have allowed. "Art can make you look at life in a way you never have before," he wrote.

"The X Factor" judges Cowell, Sharon Osbourne and Louis Walsh also appeared to huge applause, playing the stern adjudicators at Billy's audition to enter the prestigious Royal Ballet School in London. "Well that's a no from me," Cowell said, in keeping with his sharp-tongued assessments of pop wannabes.

The proceeds from the evening went to children's charity The Place2Be, which works with disadvantaged children in schools across Britain, including those in ex-mining communities.



Elton John will appear at Billy's charity gala
Saturday, October 28 2006 at 14:49:22
UPDATE: Webmaster private Elton sale
Wednesday, November 22 2006
After many years of collecting, it is about time to part with some of the items in my Elton John collection.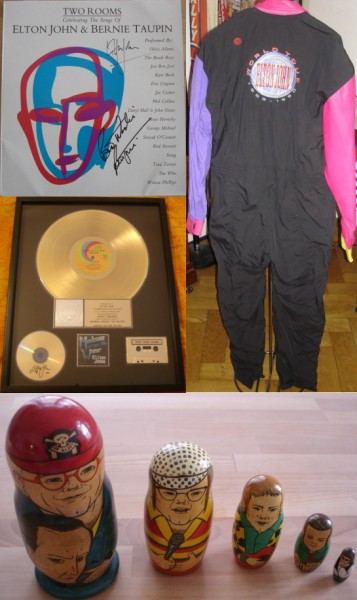 While I am still deciding what items of my collection I am ready to let go (i.e. there is more to follow), here's a first list of articles I am putting up or sale:

original stage jumpsuit from 1989/1990 world tour [no bid received yet]

"Two Rooms" (vinyl) signed by Elton John and Bernie Taupin [current bid Euro 160]

"Madman Across the Water" Gold Disc signed by Elton John (limited edition #4/100) [current bid Euro 500]

various sets of handcrafted Russian "Elton" dolls [all sold]
If you are interested in any of these items, simply let me know what you are willing to spend by sending an e-mail to stephan@eltonfan.net. Of course I am also happy to answer any additional questions you might have regarding these items.

Fan pays $11,000 to meet Elton John
Wednesday, November 22 2006

A Whitby courier who has been saving "for a rainy day" has bid $11,050 in an internet auction for a date in Wellington with his hero – Elton John.

Daniell McGruddy, 43, made the winning bid hours before the charity auction closed on November 21, 2006.

The first-time Trade Me user said: "I love the way he sings, the way he plays the piano. He's a modern-day Beethoven.

"This is a once-in-a-lifetime opportunity. A few months ago I thought, 'I just have to meet this guy before I die'."

Mr McGruddy will not only meet Sir Elton, he will also attend the official sound check and watch the December 6, 2006 concert with a friend at Westpac Stadium. All auction proceeds go to the Aids Foundation.

Mr McGruddy has been listening to Sir Elton's music since he was a boy and planned to have Funeral for a Friend played at his own final farewell. He was reeling at the thought of shelling out $11,050 – "I'm not a millionaire" – but glad the money was going to a good cause.

And what would he say to the man he has already seen live in concert three times? "I just want to say thank you very, very much for the music that you've given the world – for making a difference in my life."

Elton outbid for Superman film role
Wednesday, November 22 2006

Sir Elton John bid £40,000 for a walk-on part in the next Superman movie - but was beaten to it by retail boss Sir Philip Green.
Sir Philip paid £50,000 and gave the cameo role to his wife Tina. They were bidding in a star-studded auction to raise money for London's Old Vic theatre.

The event raised over £500,000 and was attended by the likes of Claudia Schiffer, Elle Macpherson, Trudi Styler and Sex And The City's Kim Cattrall.

A romantic dinner for two with Paris Hilton in Los Angeles went to an anonymous bidder who paid £30,000 for the privilege.

Top Shop boss Sir Philip also splashed out £40,000 on a cocktail party for 50 at his home with drinks mixed by legendary barman Salvatore Calabrese.

The retail billionaire has a history of shelling out at celebrity auctions - in May he paid £60,000 for a kiss from Kate Moss but offered the opportunity to Jemima Khan instead.

Other lots included a Fender guitar autographed by Sting, which went for £20,000, and a dinner party cooked by Michelin-starred chef Tom Aikens, which fetched £25,000.

The Old Vic's artistic director Kevin Spacey was guest of honour at the fundraiser, held at London private members club Fifty.

"This was a great event and a really valuable contribution to our work at the theatre," Spacey said.

UPDATE: Elton's concert and television appearances
Sunday, November 19 2006
Elton John fan Tony Marshall has compiled a list of Elton's concert and television appearances from 1964 until today.
You can download the updated list here (Excel file).

For corrections and ammendments, please contact list author Tony Marshall. Thanks for your support.
Elton John and band performed in Basel on November 18, 2006
Sunday, November 19 2006
Tribute to aging fans - a new concert experience. Fan report by Mireille.
"Elton John live at the AVO-Session" was the cryptic announcement of this somehow unusual show. First of all: What is this "AVO-Session"? Answer: It is an annual series of concerts in a rather intimate atmosphere. Location is a trade fair hall in Basel. And AVO? That is the main sponsor of the whole thing – a Swiss cigar brand.

Maybe it was owing to this fact that the pre-concert atmosphere reminded me strangely of an old-fashioned smoke room. Expensively dressed couples in their 50s and 60s were sipping sparkling drinks and sampling AVO-cigars. No wonder, we fans felt just so slightly misplaced but still tried our best to mingle. To our astonishment, there was no merchandising stand, just some CDs and Vinyl albums for sale – only about half of them Elton's! Well, I guess the target audience would rather have bitten off their right arm than wear an Elton John T-shirt.

Still, we received our bit of fan memorabilia because there was a Canon stall – another sponsor – where they printed out poster size photographs of Elton for free.

The exclusive atmosphere made us feel quite uneasy: What kind of concert are we going to see today? Would anyone react to Elton's music at all? And of course: How would Elton react if the audience did not even move their little toes? At least there was enough diversion in alcoholic beverages to push these dark thoughts aside.

Shortly after 8:00 pm, theatre bells called us into the concert venue. This room with small round tables with a single lamp on each fit very well with the smoke room experience from before: a ballroom dance for senior citizens.

Excitedly and with glasses of red wine in our hands, we took our places. The first sounds of "Funeral For A Friend" were to be heard at exactly 8:30 pm. Elton took the stage and people applauded politely. He was wearing a black suit embroidered with a retro cartoon version of himself on the back, plus a shiny blue shirt.

A crowd of about 30 people was standing directly in front of the stage from the beginning of the show. We certainly joined them after three songs.
"Funeral for a Friend", "Love Lies Bleeding", "Bennie and the Jets", and "Philadelphia Freedom" went by without any special moments. "Rocket Man" and "Take Me To The Pilot" went on forever, and Elton and the Band were visibly enjoying themselves. Even Bob Birch smiled and laughed – more than once!

After "Someone Saved My Life Tonight", Elton announced the sequence of songs we had all been waiting for. First, he played "Postcards From Richard Nixon". Even though I love this song on the album, I must say that the live version felt rather uninventive and lacked variations in mood and volume. Afterwards, Elton announced that "Tinderbox" would be his single from the album, to be released next year. With this song, I felt the opposite as with "Postcards…" – it came across much more lively and charismatic than the album version. "Blues Never Fade Away" and "The Bridge" are nice live songs, but nothing could match the energy of "The Captain and the Kid".

Whereas the audience was not to be heard during the first four songs from the album, they now came to life. "TCATK" is truly a brilliant live song. In our post-concert rundown, all fans agreed that it should become a staple in the set list.

Towards the end of the show, Elton rocked the hall – even the smartly dressed champagne-sippers – with "Crocodile Rock", "The Bitch Is Back", and "Saturday Night's Alright". After a very brief disappearance backstage, Elton returned for the only encore "Your Song". The show lasted only 2 hours – very un-Elton-ish but probably due the TV broadcast.

I have seen concerts in an ambience like this with a very business-like Elton playing no-frills versions of his songs without smiles or jokes. But on that Saturday, he was obviously in best spirits. During the band introduction, he said: "Few people know that, but John Mahon was my boyfriend before David." And Davey Johnstone was labelled to be born in "Tit'nborough, Scotland". A name which I was neither able to understand nor to place appeared in "Crocodile Rock": "Me and ---whoever--- had so much fun…" And there was the undeniable Elton-in-good-mood-signal: He jumped on the piano and walked across the stage.

Oh yes, even though I was deeply sceptical whether this concert would be worthwhile for fans I was not disappointed. In fact, I loved it. In retrospect, I must say that I found the pre- and post-concert atmosphere very apt for aging fans – like me.

Notable hair facts: Elton rather unshaved, Guy Babylon with new (and very beautiful!) weave

Some photos from Friday's show can be found here.

Following is the complete set list of the Basel concert on November 18, 2006:

Funeral for a Friend

Love Lies Bleeding

Bennie and the Jets

Philadelphia Freedom

Goodbye Yellow Brick Road

Daniel

Rocket Man

I Guess That's Why They Call It the Blues

Take Me to the Pilot

Someone Saved My Life Tonight

Postcards from Richard Nixon

Tinderbox

Blues Never Fade Away

The Bridge

The Captain and the Kid

Sorry Seems to Be the Hardest Word

Crocodile Rock

The Bitch Is Back

Saturday Night's Alright for Fighting


Your Song
Elton's Copacabana show postponed
Sunday, November 19 2006
Elton's concert at Rio de Janeiro's famous beach, the Copacabana, will be postponed to March 17, 2007.
Originally planned for January 20, 2007, officials have explained that it will be moved to the new date as Elton will be in the studio recording a new album in January.



UPDATE: Elton to perform free concert at the Copacabana
Tuesday, August 15 2006 at 08:19:30


(Live) broadcast of second Basel show
Saturday, November 18 2006
Elton's second concert at the AVO Session in Basel on November 18, 2006 will be broadcast 'live' on Swiss television channel SF2.
There will be an 80 minutes delay to the broadcast which will begin at 9.50 pm. However, the show will be shown in full length.



Elton John and band performed in Basel on November 17, 2006
Saturday, November 18 2006 at 16:24:06


Elton John and band performed in Basel on November 17, 2006
Saturday, November 18 2006
Following is the complete set list of the Basel concert on November 17, 2006.
Funeral for a Friend

Love Lies Bleeding

Bennie and the Jets

Philadelphia Freedom

Goodbye Yellow Brick Road

Daniel

Rocket Man

I Guess That's Why They Call It the Blues

Take Me to the Pilot

Someone Saved My Life Tonight

Postcards from Richard Nixon

Tinderbox

Blues Never Fade Away

The Bridge

The Captain and the Kid

Sorry Seems to Be the Hardest Word

Crocodile Rock

The Bitch Is Back

Saturday Night's Alright for Fighting


Your Song
Timbaland works with Elton John on next CD
Friday, November 17 2006
Super producer Timbaland has quite a diverse lineup of stars that will appear on his next album. The record is tentatively titled "Timbaland Presents Shock Value", and judging by what Tim has said recently, it won't be what people are expecting.
"I'm not just Hip-Hop," Tim told MTV News. "My mission is to take over Top 40 radio — what they call popular music, different genres of music — and reach all types of people."

Tim will do just that by working with everyone from Dr. Dre, 50 Cent and Jay-Z to alternative rockers like She Wants Revenge and The Hives. "I'm about to get the Fall Out Boys, Björk, Elton John," Tim added. As for his song with Sir Elton, "Last Piece of the Puzzle," Tim told MTV, "It was cool. I didn't have him sing, I had him play. I was like, 'Go ahead, Elton.' I might get a choir to sing on top of it."

Meanwhile, Tim's first single, "Give it to Me," is already causing some controversy. It features Nelly Furtado and Justin Timberlake, and some gossip Web sites are speculating that Timberlake's verse is aimed at Janet Jackson and their televised Super Bowl debacle. Timberlake reportedly sings, "I saw you tryin' to act cute on TV, 'Just let me clear the air'/ We missed you on the charts last week/ Damn, that's right, you wasn't there/ Now if sexy never left, then why is everybody on my shit?/ Don't hate on me just because you didn't come up with it."

Timbaland's album will be released via his Mosley Music imprint, hopefully sometime in March 2007.



Elton spied with Timbaland
Friday, October 20 2006 at 15:43:12


Britain's top record collection
Thursday, November 16 2006
Queen's "Greatest Hits" is the most successful album ever in Britain. Elton ranks 54 in this Top 100 of the past 50 years.
It took The Official UK Charts Company six months to plough through 50 years of sales figures to produce the ratings.

There is no place for Bob Dylan or The Rolling Stones — but Jason Donovan and Robson & Jerome make it. Robbie Williams has most albums in the list with six.

Here is the complete Top 100 (sales in millions):

1 Greatest Hits – Queen 5.41
2 Sgt Pepper's Lonely Hearts Club Band – The Beatles 4.81
3 (What's The Story) Morning Glory? – Oasis 4.31
4 Brothers In Arms – Dire Straits 3.96
5 Gold: Greatest Hits – Abba 3.94
6 The Dark Side Of The Moon – Pink Floyd 3.78
7 Greatest Hits II – Queen 3.64
8 Thriller – Michael Jackson 3.58
9 Bad – Michael Jackson 3.56
10 The Immaculate Collection – Madonna 3.40
11 Stars – Simply Red 3.36
12 Come On Over – Shania Twain 3.34
13 Rumours – Fleetwood Mac 3.14
14 Urban Hymns – Verve 3.10
15 No Angel – Dido 3.02
16 Bridge Over Troubled Water – Simon and Garfunkel 3.01
17 Talk On Corners – The Corrs 2.95
18 Spice – Spice Girls 2.92
19 Back To Bedlam – James Blunt 2.90
20 White Ladder – David Gray 2.85
21 Bat Out Of Hell – Meat Loaf 2.84
22 Life For Rent – Dido 2.79
23 But Seriously – Phil Collins 2.74
24 1 – The Beatles 2.69
25 The Man Who – Travis 2.67
26 The Joshua Tree – U2 2.66
27 Greatest Hits – Abba 2.60
28 Tubular Bells – Mike Oldfield 2.58
29 A Rush Of Blood To The Head – Coldplay 2.57
30 I've Been Expecting You – Robbie Williams 2.56
31 Jagged Little Pill – Alanis Morissette 2.55
32 Scissor Sisters – Scissor Sisters 2.54
33 Legend – Bob Marley & The Wailers 2.52
34 Hopes And Fears – Keane 2.49
35 War Of The Worlds – Jeff Wayne 2.45
36 The Sound Of Music – Soundtrack 2.44
37 Dirty Dancing – Soundtrack 2.43
38 Ladies And Gentlemen: The Best Of – George Michael 2.41
39 Grease – Soundtrack 2.37
40 Come Away With Me – Norah Jones 2.36
41 X&Y – Coldplay 2.35
42 Tracy Chapman – Tracy Chapman 2.342
43 Robson & Jerome – Robson & Jerome 2.34
44 Tango In The Night – Fleetwood Mac 2.33
45 Parachutes – Coldplay 2.32
46 Automatic For The People – REM 2.27
47 Whitney – Whitney Houston 2.24
48 The Marshall Mathers LP – Eminem 2.23
49 Swing When You're Winning – Robbie Williams 2.21
50 Graceland – Paul Simon 2.20
51 Sing When You're Winning – Robbie Williams 2.18
52 Saturday Night Fever – Soundtrack 2.15
53 The Bodyguard – Soundtrack 2.14
54 The Very Best Of – Elton John 2.13
55 Simply The Best – Tina Turner 2.12
56 Kylie: The Album – Kylie Minogue 2.11
57 Falling Into You – Celine Dion 2.10
58 Life Thru A Lens – Robbie Williams 2.08
59 Greatest Hits – Eurythmics 2.06
60 Escapology – Robbie Williams 2.04
61 Greatest Hits – Robbie Williams 2.00
62 Let's Talk About Love – Celine Dion 1.99
63 Dangerous – Michael Jackson 1.98
64 True Blue – Madonna 1.96
65 Appetite For Destruction – Guns N' Roses 1.95
66 No Jacket Required – Phil Collins 1.94
67 Abbey Road – The Beatles 1.93
68 A New Flame – Simply Red 1.92
69 By The Way – Red Hot Chili Peppers 1.91
70 Can't Slow Down – Lionel Richie 1.89
71 Songs About Jane – Maroon 5 1.87
72 Crossroad: Best Of – Bon Jovi 1.86
73 Stripped – Christina Aguilera 1.85
74 Greatest Hit – Simon & Garfunkel 1.84
75 Carry On Up The Charts – Beautiful South 1.83
76 Play – Moby 1.82
77 The Colour Of My Love – Celine Dion 1.817
78 Born To Do It – Craig David 1.816
79 The Greatest Hits – Texas 1.809
80 Nevermind – Nirvana 1.807
81 South Pacific – Soundtrack 1.803
82 Justified – Justin Timberlake 1.802
83 American Idiot – Green Day 1.80
84 Be Here Now – Oasis 1.798
85 Back To Front – Lionel Richie 1.794
86 Out Of Time – REM 1.79
87 Call Off The Search – Katie Melua 1.78
88 Employment – Kaiser Chiefs 1.772
89 By Request – Boyzone 1.771
90 Bat Out Of Hell II – Meat Loaf 1.75
91 Definitely Maybe – Oasis 1.74
92 Just Enough Education To Perform – Stereophonics 1.73
93 The Hardline According To – Terence Trent D'Arby 1.72
94 Missundaztood – Pink 1.712
95 Let Go – Avril Lavigne 1.711
96 Performance And Cocktails – Stereophonics 1.71
97 Older – George Michael 1.70
98 Parallel Lines – Blondie 1.69
99 Fever – Kylie Minogue 1.682
100 10 Good Reasons – Jason Donovan 1.681
World premiere of the new James Bond film
Wednesday, November 15 2006
Elton John and David Furnish attended the world premiere of the new James Bond film "Casino Royale" in London on November 14, 2006.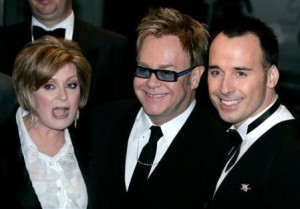 Elton John up for grabs
Wednesday, November 15 2006
Money can't buy you love, but it can buy you a private audience with the legendary singer Sir Elton John.
A charity auction, which runs on the internet auction site Trade Me, is offering one lucky couple the ultimate Elton experience - access to the pre-concert sound check, dinner and a night at Wellington's InterContinental Hotel, access to a VIP suite throughout the concert, plus an assortment of merchandise signed by the man himself.

All profits from the auction will to the New Zealand Aids Foundation, a cause of which Elton has been a long-time supporter.

The auction will close at 9pm on Tuesday, November 21, 2006. Elton will perform at Westpac Stadium in Wellington next month, on December 6, 2006.
Elton John and band performed in Ottawa on November 10, 2006
Tuesday, November 14 2006
Following is the complete set list of the Ottawa show on November 10, 2006.
Funeral for a Friend

Love Lies Bleeding

Bennie and the Jets

Philadelphia Freedom

Believe

Goodbye Yellow Brick Road

Tiny Dancer

I Guess That's Why They Call It The Blues

Take Me To The Pilot

I Want Love

Postcards From Richard Nixon

Tinderbox

The Bridge

The Captain and the Kid

Mona Lisas and Mad Hatters

Sorry Seems To Be the Hardest Word

Rocket Man

Daniel

Levon

Crocodile Rock

The Bitch is Back

Saturday Night's All Right (For Fighting)


Candle in the Wind

Your Song
Elton John won't miss the action
Tuesday, November 14 2006
England captain Andrew Flintoff's musical favourite Sir Elton John is expected to lead the celebrity charge at next week's opening Ashes cricket Test at the Gabba.
Sir Elton, who opens his latest Australian tour in Brisbane on November 26, 2006, is a keen cricket follower. His spokeswoman said he was due in Brisbane a few days before the concert and was likely to attend some of the first Test, which starts on November 23, 2006.

Flintoff sang his favourite Elton song – "Rocket Man" – with Sir Elton at a London charity dinner in May 2006. The star allrounder and other England players are expected to attend the singer's Brisbane Entertainment Centre concert.

Other British celebrities tipped to be at the first Test are billionaire businessman Sir Richard Branson and TV talkshow host Michael Parkinson.

Former British prime minister John Major, lyricist Sir Tim Rice and pop star Robbie Williams are other cricket lovers said to be planning to be in Australia for the much-anticipated Ashes series. Prince William also has been rumoured to be considering a visit to Australia for the Ashes.



Flintoff ruined duet with Sir Elton
Thursday, May 11 2006 at 09:23:25

Flintoff to open with Elton in Battersea Park charity concert
Wednesday, April 26 2006 at 23:49:31
Elton John and band performed in Montreal on November 11, 2006
Tuesday, November 14 2006
Fan review by Gilbert Guindon.
Elton wrapped up his Canadian tour at the Bell Center in Montreal on November 11, 2006 in front of 19,691 faithful fans. It was his first presence in solo since The Big Picture Tour in 1997 and his last show in Montreal was with Billy Joel in May 2001. His last solo presence in Quebec was in October 2001 at the Quebec City colisee for the Songs of the West coast Tour when he played 29 songs.

And Elton's show is now a mix of wonder and disappointment. Last Saturday he performed 24 songs. With the exception of "I Guess That's Why they Call it the Blues" (1983), "Believe" (1995) and "I Want Love" (2001) the rest of the songs were from the 70-76 golden era. From "Bennie and the Jets", a reporter wrote in the Montreal Gazette the next day, «the tunes that fuelled AM radio for generation were as reassuringly familiar as the faces of old friends».

Indeed, for the occasional fan, it was the return of Captain Fantastic. For the "diehard" fan, it's no surprise and no classic tracks. Of course, his virtuosity is intact, his new intro for "Take Me to the Pilot" is brilliant, but for the rest he played on automatic pilot in a very professional way. Why not have a back to back version of "Captain Fantastic" and "Captain and the Kid", or play "The Bridge" with "Your song". Why is he not more playful with the crowd that he got in the palm of his hand since the beginning of the evening?

Unfortunately, he removed the beautiful "Blues Never Fade Away" from the set list and he replaced it with "Daniel". And what about "Noah's Ark" or "And The House Fell Down" tailored for a live version? Nothing. Elton has decided to bring an extended set list of his Red Piano show all over the world!

Other than that, Elton was in a good mood, but didn't talk much between songs. He spoke French, but not as much as usual. His voice was very good but he had some difficulties with "The Bridge" (like on the album). He signed autographs before the encore. The band sounded excellent as always. Bob and Davey seemed glued around their microphone a space they rarely left to join Elton.

The colourful giant screen behind the stage was useless with some very basic images. It added nothing to the show except on very rare occasions. Elton would need some advices and a boost from the Cirque du Soleil?

He still delivers a very good show. He deprives himself of revisiting his own catalog. With some artistic intention behind it and a better setting in scene, it could be a great show, not just a recital of hits.

Following is the complete set list of the Montreal show on November 11, 2006:

Funeral for a Friend

Love Lies Bleeding

Bennie and the Jets

Philadelphia Freedom

Believe

Goodbye Yellow Brick Road

Sorry Seems To Be The Hardest Word

I Guess That's Why They Call It The Blues

Take Me To The Pilot

I Want Love

Postcards From Richard Nixon

Tinderbox

The Bridge

The Captain and the Kid

Mona Lisas and Mad Hatters

Sorry Seems To Be the Hardest Word

Rocket Man

Daniel

Levon

Crocodile Rock

The Bitch is Back

Saturday Night's All Right (For Fighting)


Candle in the Wind

Your Song
Elton John invited to 'see how gay Christians behave'
Tuesday, November 14 2006
The Metropolitan Community Church in East London (MCCEL) has issued an invitation to Sir Elton John following his call for religion to be 'banned'.

Sir Elton claimed organised religion only worked to chastise homosexuality and convince people it's wrong. He said, "Religion promotes the hatred and spite against gays. I would ban religion completely. Organised religion doesn't seem to work. It turns people into really hateful lemmings and it's not really compassionate."

But the Pastor of MCCEL, the Revd Jane Clarke aid, "Before you give up entirely on religion, come and see how we do it here. As a Christ-centred church of the lesbian, gay, bisexual and transgendered communities inviting people of all religions and none to share in an adventure of spirituality and faith, we have a full time ministry to queer people, people with HIV and AIDS and anyone who is on the end of the world's boot in any way.

"I am certain that Elton will get a better idea of that faith can do if he came to see the love of God demonstrated for all people here at our church. We would be delighted to welcome him.

Rev Clarke continued, "we know that religions haven't always kept an unblemished record in combating the most hateful expressions of homophobia; many of our members have experienced this, which is why we it's so important for us to get it right. The message that God loves all human beings equally is one that needs to be heard by all human beings and we are about letting people know that, and not about telling them they are unlovable. We think this might be an eye-opener for Elton, but we're delighted to invite him to come and talk to us."

Sir Elton's outburst also saddened Ekklesia associate Giles Fraser who helped to found the Inclusive Church movement. He believes the singer's comments are a popular 'misconception' in the gay community.

Fraser says, "I'm sad because it deepens the perception that the church is intrinsically homophobic. I don't believe it is homophobic, I believe that's a mistaken interpretation. And (Elton John's comments) don't help those struggling to change that perception."

The think tank Ekklesia is sponsoring a conference in February 2007 organisaed by the Lesbian and Gay Christian Movement, which will look at the links between religion and homophobia.

The event follows a controversial advert by the Gay Police Association (GPA), placed in the Independent newspaper, which highlighted connections between religious faith and homophobia.



Gay Russia reacts to Elton's sesire for Moscow Pride gig
Monday, November 13 2006 at 19:45:01

Elton John: For gays' sake ban religion
Sunday, November 12 2006 at 10:11:20


Gay Russia reacts to Elton's sesire for Moscow Pride gig
Monday, November 13 2006
"We should, en masse, go to Moscow next year if they'll have us," declared Elton John in an interview published by the Observer on November 11, 2006. "We want you," chanted Russian Gay activists.
While Nikolai Alekseev, the organiser of the first Moscow Pride last May, was in London to receive an award for his courage in challenging homophobia in Russia and beyond from the British Gay and Lesbian Humanist Association, the British newspaper, The Observer choose to reveal yesterday morning that Elton John and Scissor Sisters' Jake Shears plan to take part in a gay pride concert next year in Moscow.

"The idea for a 'Gay Pride' concert in Moscow would be a brilliant idea" said Elton John in The Observer. Sir Elton John sees in the concert a good way of working against the "huge anti gay movement" that exists in Russia. Jake Shears would like The Pet Shop Boys to join him and Elton John.

On their side, organisers of the Moscow Pride said November 12, 2006 that they would like to include Georges Michael to the event as well as some gay friendly Russian artists.

"You can trust Elton to speak out against homophobia," British gay human rights campaigner Peter Tatchell of Outrage! said. "He doesn't put up with bigoted nonsense. It is great to see him becoming increasingly committed to defending gay human rights worldwide. I would love Elton to one day write a catchy, popular gay anthem that hits number one around the globe.

"Perhaps he could premiere it at Moscow Pride 2007," Mr. Tatchell suggested. "Elton's music has the potential to be a powerful force for gay emancipation. (Such a concert) would have a huge and positive impact on Russian public opinion; helping to breakdown ignorance and prejudice.

"For beleaguered Russian gays and lesbians it would be a great morale booster. Such a concert could help put gay rights centre stage in Russia," Mr. Tatchell concluded..

Sir Elton John's support to Eastern European gay activists is not new. In July 2005, he signed an article in the Guardian about growing homophobia in Europe. A year later, he was the patron of the London EuroPride that put on the spotlight the organizers of LGBT events in Eastern Europe.

Then, when he appeared at the Sopot Festival in Poland in September 2006 he said during the concert: "I'm just a performer who plays people some music. I hope that my music helps people to forget about their problems for few hours. But I'm also a gay man and I've heard that gay people face violence in Poland. Leave us [gays] alone. We don't want to harm anybody. We just want to love and be loved."

Earlier, in May 2006, Moscow mayor Yuri Luzhkov banned a march that was scheduled to be the first-ever Moscow Gay Pride. Despite the official ban, backed by local court, the organisers took the streets in Moscow where they were bashed by groups of fascist, skinheads, orthodox priests before being arrested by the police.

In addition, Member of the German Bundestag, Volker Beck, was injured before to be briefly detained by the police. Next year, the organisers plan a different approach to combat homophobia in the Russian society.

"A big concert in which international stars will 'party' with Muscovites, regardless of their sexual orientations ... we will see how many people will attend such an event in Moscow which will become a real barometer of tolerance in Russian society" said Mr. Alekseev.

He said the interest of Elton John for a Gay Pride concert in Moscow has already generated the interest of several sponsors.

Sir Elton's desire to come to Moscow to promote gay rights contrasts with the recent venue of gay icon Madonna in the Russian capital. The diva generated mitigated reactions within the gay community after she publicly thanked the mayor of Moscow for his support in organizing her concert and did not use the opportunity to say a word of support in favour of gay rights.

"What we should be doing as musicians is trying to bring people together. The idea for a 'Gay Pride' concert in Moscow is a brilliant idea" said Elton John in the interview with "The Observer". This event is not about making a good deal" emphasized Alekseev. "We just want to create a popular event to invite straight people to come to party with us and see that we are, in fact, not different," he added.

Asked whether the concert might take place in Red Square, Nikolai Alekseev said: "I know they would like to sing in this symbolical place. But it's really not that big. Luzhniki stadium would be more appropriate for such party."



Elton John: For gays' sake ban religion
Sunday, November 12 2006 at 10:11:20


Elton John: For gays' sake ban religion
Sunday, November 12 2006
Elton John wants religion banned completely because he believes it promotes hatred of gays.
Speaking to the Observer Music Monthly Magazine the singer said religion lacked compassion and turned people into "hateful lemmings".

In a candid interview for a dedicated Gay issue of the magazine he shared his views on topics as varied as being a pop icon to Tony Blair's stance on the war in Iraq.

He said there was a lack of religious leadership, particularly in world politics, and complained that people do not take to the streets to protest any more.

Sir Elton said: "I think religion has always tried to turn hatred towards gay people. Religion promotes the hatred and spite against gays. But there are so many people I know who are gay and love their religion. From my point of view I would ban religion completely.

"Organised religion doesn't seem to work. It turns people into really hateful lemmings and it's not really compassionate. The world is near escalating to World War Three and where are the leaders of each religion? Why aren't they having a conclave? Why aren't they coming together?

"I said this after 9/11 and people thought I was nuts. Instead of more violence why isn't there a meeting of religious leaders? It's like the peace movement in the Sixties. Musicians got through to people by getting out there and doing peace concerts but we don't seem to do them any more.

"If John Lennon were alive today he'd be leading it with a vengeance," he said.

Sir Elton said people were too busy blogging on the internet to go out onto the streets to stand up for what they believed in.

"They seem to do their protesting online and that's not good enough. You have to get out there and be seen to be vocal, and you've got to do it time and time again. There was a big march in London when Britain decided to join the war against Iraq and Tony Blair is on the record as saying 'the people who march today will have blood on their hands'. That's returned to bite him on the ass," he said.

Elton compared his place in British culture with that of the Queen Mother's.

He said: "People come to me and I'm a bit like the Queen Mother. I never get those problems. I don't know what it is with me, people treat me very reverently.

Referring to his "wedding" to long-term partner David Furnish, he said: "It was the same when Dave and I had our civil union - I was expecting the odd flour bomb and there wasn't. Dave and I as a couple seem to be the acceptable face of gayness, and that's great."

He pledged to continue to campaign for gay rights saying: "I'm going to fight for them whether I do it silently behind the scenes or so vocally that I get locked up. I can't just sit back; it's not in my nature any more. I'm nearly 60-years-old after all. I can't sit back and blindly ignore it and I won't."
Baby brings Elton 'back to Earth'
Sunday, November 12 2006
On the eve of the 15th anniversary of the Elton John AIDS Foundation, the global nonprofit's founder is the cover subject of the Chronicle of Philanthropy.
The prestigious publication devotes a six-page spread to Elton and the $120 million his foundation has raised.

The piece opens with a large photograph of the singer at a South African hospital, holding an AIDS-infected infant. Elton reflects in the issue: "The baby was so beautiful. I said, 'Is she going to make it?' And they said, 'No.' And she died two days later. It's the reality of seeing those things that brings you back to Earth. That's why I need the foundation in my life. I don't live in the real world. These people do. Those are the moments that the foundation kicks it home to me."

With his trademark candor, Elton goes on to explain why the British office of the foundation has a mere nine employees, while the U.S. office maintains just four employees.

"We don't want to get any bigger. Otherwise, how can you keep your eye on the ball? You can't. I don't want [staff] people driving around in Mercedes and having marble offices."

As for the EJAF's routine check-cutting practices, Elton says: "I don't see the point of having a nest egg. We're a charity, for God's sake. People are dying and needing help now. If we need more, I'll go out and do another two concerts."

Click here to read the full article.
Elton John received Billboard's 2006 Legend of Live award
Friday, November 10 2006
Elton John was honored at the reception as Billboard's 2006 Legend of Live, recognizing his significant and lasting impact on the touring industry. Elton was the first artist to receive this award.
The Rolling Stones' Bigger Bang tour was a big winner at the Billboard Touring Awards, which were given out November 9, 2006 in the Grand Ballroom at the Roosevelt Hotel in New York. The awards, based on box-office figures reported to Billboard Boxscore, wrapped up the third annual Billboard Touring Conference. The Stones' tour was recognized as the top tour, based on gross dollars, and top draw, based on ticket sales.

Another multiple winner was Madonna, a finalist in four categories. She won the top boxscore award for her $22 million, eight-sellout stand at London's Wembley Arena on her Confessions tour, while Madonna's team of Guy Oseary and Angela Becker won the top manager award.

For venues and events, there were three three-time winners: Madison Square Garden in New York for top arena; Bonnaroo Music Festival in Manchester, Tenn., for top festival; and the Colosseum at Caesars Palace for top small venue (resident).

The Fox Theatre in Atlanta received the top small venue (nonresident) award for the second straight year. Nikon at Jones Beach Theatre in Wantagh, N.Y., was named top amphitheater, and House of Blues Atlantic City was named top club.
Elton John helps rapper Just Jack
Friday, November 10 2006
Elton John is about to do for Just Jack what he did for James Blunt. The music legend helped break Blunt worldwide by championing him at every opportunity.
Now he's doing the same with London DJ and rapper Just Jack - real name Jack Allsopp - who is a mixture of The Streets, Massive Attack, Mylo and the Audio Bullys.

The rapper revealed: "Elton heard my first album, The Outer Marker, in 2003, mentioned it at the Q Awards and made it one of his albums of the year when he guest-edited Time Out. When my old label went bust he helped me get signed to Mercury.

"He's become a friend. He invited me to his wedding reception and I've been to his house. We talk music mainly, which is really all I want to talk about. He's a real music lover and he really helped me get to where I am today."

And how does Jack feel about following in the footsteps of James Blunt? He laughed: "I'm not allowed to comment." Jack's music, thankfully, is very different to Blunt's stuff. He mixes hip-hop, funk and acoustic harmonies with The Streets-style everyday observations.
Elton John and band performed in London, Canada on November 6, 2006
Wednesday, November 8 2006
Following is the complete set list of the London, Canada show on November 6, 2006.
Funeral for a Friend

Love Lies Bleeding

Bennie and the Jets

Philadelphia Freedom

Goodbye Yellow Brick Road

Believe

Tiny Dancer

I Guess That's Why They Call It The Blues

Take Me To The Pilot

I Want Love

Someone Saved My Life Tonight

Postcards From Richard Nixon

Tinderbox

Blues Never Fade Away

The Bridge

The Captain and the Kid

Mona Lisas and Mad Hatters

Sorry Seems To Be the Hardest Word

Rocket Man

Levon

Crocodile Rock

The Bitch is Back

Saturday Night's All Right (For Fighting)


Candle in the Wind

Your Song
Elton chills in Canada
Tuesday, November 7 2006
Don't be surprised to see Sir Elton John hanging around Toronto this week. After his concert in London, Ontario, on November 6, 2006, the singer has a few days off before his shows in Ottawa and Montreal.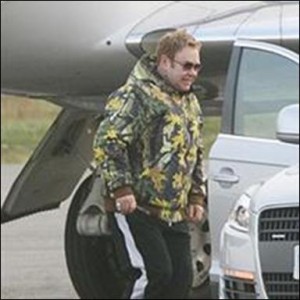 Elton's private jet touched down in Toronto on November 4, 2006 but our spies tell us there was no sign of his Canadian partner, David Furnish – only the couple's beloved pooch Arthur.

Elton might be spending some time with his in-laws, who were front and centre at his concert in Toronto. Perhaps he will catch up with Furnish's parents Gladys and Jack, who still live in nearby Scarborough.

"I'm half-Canadian now, as you know," Elton told the crowd. "And I'm very happy about that." After his date in Montreal, Elton is off to Switzerland for concerts on November 17 and 18, 2006.
Billy Elliot auditions in New York and Boston
Tuesday, November 7 2006
Who will play the title role in the Broadway production of Billy Elliot? Open auditions have been scheduled in New York City on November 11, 2006 and in Boston on November 18, 2006 to find boys ages 10 through 13 to play the roles of Billy and Michael in the award-winning musical hit.
Even if the perfect candidates are found, they'll face a lengthy wait for their big night on Broadway: Billy Elliot is not scheduled to open New York until the fall of 2008.

Based on the successful feature film, Billy Elliot is the funny, heartwarming tale of a young boy with a dream, and a feel-good celebration of his triumph against the odds. Bringing the production to the Broadway stage is the original London creative team of Stephen Daldry (director), Elton John (music) and Lee Hall (book and lyrics). Daldry and Hall were also the creative team behind the film.

For more information about the open auditions, go to www.bebilly.com.



"Billy Elliot" goes Down Under
Tuesday, October 31 2006 at 08:10:09

Elton John will appear at Billy's charity gala
Saturday, October 28 2006 at 14:49:22


Elton ticket sales in New Zealand
Tuesday, November 7 2006
Elton John fans have snapped up more than 20,000 tickets - half of those available - to his only New Zealand show on the first day of ticket sales.
A limited number of tickets were released to Visa credit card holders On NOvember 6, 2006 for his show at Wellington's Westpac Stadium on December 6, 2006.

The tickets were only available online and promoter Phil Sprey said fans went into a buying frenzy to ensure they didn't miss out.

More than 12,000 tickets sold in the first hour alone. "It's been full-on," he said. "It started at 9.01am and hasn't stopped, it's been phenomenal. We've sold half the number of tickets that will be available."

Visa cardholders can still buy tickets before a set number of tickets go on sale to the general public on November 8, 2006.

All 40,000 tickets to the show are expected to sell out.
Elton slams record label during concert
Friday, November 3 2006
Elton launched a scathing attack on his record label Universal during a US concert on on November 1, 2006, insisting he wants to be released from his contract with the music giant.
Elton is incandescent with rage that music executives have failed to back new album "The Captain and the Kid", and vented his anger on stage at New York's Nassau Veterans Memorial Coliseum.

He told the audience: "It's very good - but it's not selling well. And for that I blame my record company! They didn't do anything to promote it. So if anybody from Universal is listening, do me a favor and fxxxing drop me! Just fxxxing drop me! I'm 59 years old now and I don't care anymore. I'm begging you - just drop me!"
Sanctuary sounds another discordant note
Friday, November 3 2006
Sanctuary, the troubled music group which Elton John, has suffered another setback, with Rod Smallwood, one of its co-founders, leaving the business and taking with him the company's oldest client - Iron Maiden.
Mr Smallwood is quitting to join fellow founder Andy Taylor, who was ousted from the group in May 2006 after the company was rocked by a plummeting share price and the discovery of "fundamental errors" in its accounts.

The iconic heavy metal band were discovered in a London pub by Mr Taylor in 1979. Mr Smallwood continued to manage the group even after Mr Taylor's ousting from the company.

Industry rumours in recent months suggested Iron Maiden were about to quit Sanctuary, but this confirmation will be a symbolic blow for the company. Mr Smallwood was a director until March 2006 and was paid £491,000 last year. It is understood he will not be receiving any severance package.

Though Sanctuary will no longer manage Iron Maiden, it will continue to make money from selling its merchandise and tour tickets.

The shares, which were 434p at the start of the year were unchanged at 14p in early morning trading.



Sir Elton comes for 2007 Tobago jazz festival
Wednesday, November 1 2006
Elton John, American soul singer Al Green and Trinidad-born R&B vocalist Heather Headley are the top acts contracted to perform at the 2007 Plymouth Jazz Festival in April 2007.
Eight more top international performers are to be named as their contracts are signed in the coming days.

CL Communication CEO, Roy Maharaj, made these disclosures at a media launch of the festival at Hilton Tobago on October 31, 2006. Also attending the launch was THA Tourism and Transportation Secretary Neil Wilson.

Maharaj said local artistes as well as a steelband would be included in the festival, which is carded for the scenic Plymouth Recreation Ground in Southwest Tobago from April 27-29, 2007.

He said he expected the 2007 edition of the festival to be even bigger than the two previously held at the same venue, since the organisers would have learnt from their experiences. One of these was a revolving stage which would be installed to cut down the time it took to change performances.

He said CL Communications, which is a member of the CL Financial Group, had originally promised to finance the festival for five years, but it now seemed that it would be for ten years.

He said CL Communications was proud to be associated with the Tobago House of Assembly and the LaRoda Group of California for the event. The THA will be providing the infrastructure.

Maharaj said tickets for the festival would cost around the same as last year. These prices were US$65 (general admission), US$90 (VIP) on the Friday; US$85 (general admission) and US$110 (VIP) on the Saturday; and US$100 (general admission) and US$125 (VIP) on the Sunday.
Mercuriadis splits with Elton
Wednesday, November 1 2006
Merck Mercuriadis has split ties with Elton John. According to a statement issued on behalf of Elton's management company Twenty-First Artists, Mercuriadis has stepped down by "mutual agreement" from duties tending to the creative side of the veteran singer/songwriter's career.
As a result of the move, creative management services will be handled by Johnny Barbis in the United States, and Clive Banks in the United Kingdom and rest of the world.

Mercuriadis continues as an artist manager within Twenty-First Artists' parent company Sanctuary Group, overseeing artists including Axl Rose and Morrissey.

Elton turned to Mercuriadis -- formerly CEO of Sanctuary Records -- to manage the creative side of his career after Elton and his partners sold Twenty-First Artists to the Sanctuary Group for $30.1 million.

Elton co-founded London-based Twenty-First with Frank Presland and Keith Bradley. Presland was appointed CEO of Sanctuary Group following Andy Taylor's dismissal from the post on May 26, 2006.