ELTON JOHN NEWS ARCHIVE: November 2004
Ozzy, Elton To Perform For Prince Charles
Thursday, November 25 2004
Ozzy Osbourne, Elton John and Gwen Stefani are among the performers set for the annual Royal Variety show in front of Prince Charles, to be held December 14, 2004 at London's Coliseum Theatre.
It will be the only British performance this year for Osbourne, who earlier this week tackled a burglar who stole gems worth an estimated $3.6 million from his mansion in Buckinghamshire county, southern England.

Others on the bill include Liza Minnelli, Cliff Richard, Jamelia and Girls Aloud, who have the No. 1 single in the United Kingdom this week. Nathan Lane and Lee Evans will perform a medley from the West End hit musical, "The Producers," while Brian McFadden and Delta Goodrem will team for their new duet, "Almost Here."

The event will be broadcast December 15, 2004 by BBC1.
Elton John Tour 2005
Wednesday, November 24 2004
Elton has announced the first dates for his "Peachtree Road" Tour in the US in 2005.
More dates are being announced on a daily basis, so we recommend to check the Elton John Tour News frequently.
BBC4 is searching "old" fans
Tuesday, November 23 2004
Did you attend Elton's concert at Madison Square Garden in November 1974? Then you might be a candidate for BBC4.
BBC Radio 4 is preparing a documentary called "For One Night Only". It looks at concerts that were musical highlights of our lifetime.

If you have been at the Garden back in November 1974, you might want to get in touch with researcher Jenny Dare, BBC Radio 4 Documentaries & Features, phone 44 207 765 5786.
Elton John Brings Stars to the Cape
Tuesday, November 23 2004
The Beckhams, Sting, George Michael, Elizabeth Hurley and Tim Rice are some of the British A-list guests invited to attend superstar Elton John's exclusive Aids charity ball in the Cape winelands in 2005.
Elton will visit South Africa for the first time in early January 2005 to promote work done here by his international organisation, the Elton John Aids Foundation. He will host a private ball for 50 guests at a wine estate in the Cape, where he will also give a special performance of his hits.

"I am delighted to be hosting the foundation's first fundraising event in South Africa," Elton said.

Top South African businessmen and celebrities such as Mvelaphanda's Tokyo Sexwale, PetroSA's Simphiwe Mehlomakulu and Cape Town artist Beezy Bailey are some of the invited local guests. The proceeds will be donated to the fight against HIV/Aids.
Drop me into there
Tuesday, November 23 2004
Lady Diana's butler skydives into camp as Elton warns of royal row.
Paul Burrell made a shock parachute entry into the I'm a Celebrity, Get Me Out of Here jungle on UK television on November 22, 2004. Princess Diana's self-styled 'Rock' was one of four of the 10 contestants chosen to be dropped 12,000ft into their new home for the series.

Burrell screamed: 'No, no, no!' as he jumped out of the plane and looked terrified as he drifted half-a-mile from the landing zone. Minutes before the jump, he said: 'I can't believe that they are doing this to us.'

And superstar Celebrity fan Elton John predicted the memoir-peddling former butler was in for an even more bumpy ride at the hands of his pal Janet Street-Porter. Interviewed by presenters Ant and Dec for tonight's show, Elton said Janet disliked Burrell and the Royal Family and was also unlikely to get on with the other would-be Queens of the Jungle.

He said: 'Ooh, now there's fireworks ... Janet and Paul Burrell. That would be an interesting celebrity death-match. I don't think she likes him very much. That might be worth the price of admission. She's not a great lover of the Royal Family.'
Clive Cussler "attacks" Elton John concert
Tuesday, November 23 2004
Clive Cussler debuted his new series, The Oregon Files, with the incredible adventure of Golden Buddha. Now he follows that triumph with Sacred Stone, a rollicking new tale featuring the enigmatic captain of The Oregon, Juan Cabrillo.
Eric the Red's A.D. 1000 discovery of a radioactive meteorite has present-day life-or-death ramifications in Cussler and Dirgo's second novel (after Golden Buddha) featuring the Oregon, a state-of-the-art warship disguised as a rusty tramp steamer and manned by some of the world's finest ex-military and intelligence operatives.

Known collectively as the Corporation, the men and women of the Oregon—"mercenaries with a conscience"—offer their services to various countries and individuals with specialized security and military needs. The Corporation's chairman, series hero Juan Cabrillo, has several pressing concerns: supply security for the emir of Qatar, who is attending a conference in Iceland; track down a nuclear bomb that has gone astray; and pick up the aforementioned meteorite, which has just been found ensconced in a mysterious shrine.

These jobs become dangerously complicated when industrialist Halifax Hickman, a man fueled by revenge and hatred, enters the picture. The meteorite, the atomic bomb and a vial of plague are to be used in attacks on holy sites—Israel's Dome of the Rock and Saudi Arabia's al-Haram mosque—and at an Elton John concert. It's a deadly game, but the brilliant Cabrillo is a master player, moving his pieces at lightning speed on several boards until he outmaneuvers his opposition in this action-packed page-turner.
Elton on UK TV
Saturday, November 20 2004
On November 18, 2004, Elton appeared on the early evening UK TV show "Richard & Judy" for a 20 minute interview.
On the night of November 19, 2004, he sang live on BBC1's Children In Need, performing "All That Im Allowed". He then donated £50,000 to the cause, live on TV.

Later that night on BBC2, "Later With Jools Holland", Elton was part of the lineup and sang four songs. As well as opening with "All That Im Allowed", for the first time in the UK he performed live versions of "My Elusive Drug" and "Turn The Lights Out When You Leave". He ended the show with "The Bitch Is Back", Jools Holland played piano on this one along with Elton.

John Jorgenson again stood in for Davey and played pedal steel guitar on "Turn The Lights..."



Friday Night with Jonathan Ross
Saturday, November 13 2004 at 12:39:42

John Jorgenson returns
Friday, November 12 2004 at 04:28:04


The Rocket Man rocks Radio City
Friday, November 19 2004
Don't miss this exclusive Bravo special presentation as Sir Elton John leads his own band backed by two orchestras in a concert for the ages.
Featuring a fantastic mix of greatest hits and little-known gems from across his legendary career.

The schedule is as follows:

Sat, November 27, 2004 - 8:00 PM
Sat, November 27, 2004 - 10:00 PM
Sun, December 5, 2004 - 3:00 PM
Wed, December 15, 2004 - 8:00 PM



Radio City shows on Bravo
Friday, July 23 2004 at 05:04:49

Elton John & orchestra performed in New York City on July 14, 16,17 & 18 2004
Monday, July 19 2004 at 11:28:48


Elton John: 'I wish I'd done more to fight HIV'
Thursday, November 18 2004
Sir Elton John has admitted he wished he had done more at the start of the AIDS crisis in the 1980s, saying he feels "ashamed" he didn't make his voice heard.
And speaking to Time Out magazine, he said that this guilt spurs him on to now speak out at things he disagrees with. In an interview to promote his latest album, Peachtree Road, Elton says that the reaction to HIV in the US, where he was living during the 1980s, shocked him.

"The American government didn't do anything," he said, adding that their policy was 'if it's gay people, let them f***ing die'. However, he says he should have challenged this more openly.

"I didn't say anything? Why wasn't I out marching? What kind of person was I then?" he said. "When all my friends were dying left rights and centre, I didn't have the courage to do anything. Why? It just fills me with despair. I'm ashamed I did nothing during that period."

Since then, he has established the Elton John AIDS Foundation, which raises money to help fight HIV and AIDS. He also admitted that he found it hard to challenge the rumours circulated about him throughout his career, and that he has since learnt to challenge them head on.

In particular, he attacks The Sun newspaper, which attempted to smear his name with kiss and tell stories. "The only time I didn't go out was when The Sun kept attacking me with sex stories," he told the magazine.

"The more I sued them, the more shit they printed. When you open the pages and they're saying you tied six boys on a bed and urinated on them, it's not a great start to the day."

Since then however, Elton has become more vocal against attacks, although he admits his boyfriend David Furnish does "rein me in". "I went mad when the press picked on Liz Hurley and her son Damian. David and I were both enraged, but I wanted to send barrels of pigshit and put it through [Mail on Sunday columnist Lauren Booth's] letterbox," he admits.

Recently, Elton has grabbed the headlines for attacking Madonna and lip synching artists, as well as shouting abuse at Taiwanese photographers at an airport. "I can't stop myself," he said.
Elton John to marry
Tuesday, November 16 2004
They are one of the country's best known gay couples, and now Sir Elton John and David Furnish have officially announced they will be one of the first to make use of the Civil Partnership legislation, should it be passed into law.
In a bid to stave off rumours they were splitting up, and ongoing speculation about whether they would tie the knot in typically ostentatious style, Elton and David made a joint announcement on November 15, 2004.

However, they said they would be having a low-key affair that would result in legal recognition of their 11-year relationship. And in light of the current hype over gay marriage in the USA, Elton was quick to criticise the demonisation of same-sex couples.

"We are keeping an eye on how the same-sex legislation pans out, and hope to be able to formalise our union soon," he said. "We don't envisage a marriage in a church in the way that President George W Bush and his supporters would have you believe every gay couple regards as their right, simply a low key but formal and legal union that will be attended only by our closest friends and family," he added, saying the date will not be announced so as to avoid a "media circus".

"We feel, however, that any relationship that has lasted for as long as ours deserves such recognition, protection and respect."

It is not the first time the rock star has hinted at the idea of a legal commitment. He recently said that he was keen to have a ceremony with Furnish and "place my life in his hands with a wedding vow. David is the most important person in my life. I cannot imagine a life without him," he said, adding that he "had never been so happy".

The Civil Partnership bill, which will give legal recognition to same-sex couples for the first time, re-enters the House of Lords on November 17, 2004, where peers will debate the amendments added in the Commons. If passed before the end of this parliamentary session, it could become law by next year.



Elton John plans to marry David
Thursday, November 4 2004 at 10:50:50


Friday Night with Jonathan Ross
Saturday, November 13 2004
Elton appeared on Friday Night with Jonathan Ross on BBC1, Friday November 12, 2004.
Elton was on good form, and he needed to be with Ross's irreverent style. He talked about Las Vegas, his love of tennis and dismissed gutter press reports that he was back on drink and drugs and that he and David Furnish are having problems.

Ross himself has not drank alcohol for 6 years and suggested that he and Elton "go and get shit-faced and not tell anyone."

This time Elton was on the receiving end of some language. He noticed spots on Ross's face and said how he could have them removed. "You cheeky old f***er! I'll have another lump removed in a minute - you off the f***ing couch!"

It was all in good humour and Elton loved the banter. He had the last word introducing the next song as sponsored by Clearasil. Before his chat he played "Are You Ready For Love?" with the full band and four backing singers. John Jorgenson stood in for Davey Johnstone.

After the chat he performed "All That I'm Allowed" and "Answer In The Sky".



John Jorgenson returns
Friday, November 12 2004 at 04:28:04


Elton John German Tour 2005
Friday, November 12 2004
Elton has announced tour dates for Germany for December 2005.
ELTON JOHN TOUR 2005

05 Dec 2005 - Hamburg, Colorline Arena
06 Dec 2005 - Oberhausen, König-Pilsener-Arena
08 Dec 2005 - Stuttgart, Schleyerhalle
09 Dec 2005 - Mannheim, SAP-Arena

See Elton John Tour News for more details.
Elton's AIDS rant
Friday, November 12 2004
Elton John has attacked the Catholic Church over their handling of the AIDS crisis in Africa.
He claims the safe sex message is being thwarted by advice from the Vatican. Elton said: "The Vatican is telling people not to use condoms because they spread AIDS. Just what century are they living in? It makes me nuts."

His charity the Elton John AIDS Foundation has funded more than 900 projects in 55 countries since it was founded in 1993.
John the Baptist
Friday, November 12 2004
ELTON John will see godson Brooklyn christened in an angel-topped chapel at Beckingham Palace, it emerged on November 10, 2004.
Not ones to do things by half, Posh and Becks have had it built in the grounds of their £2.5million home in Hertfordshire.

The chapel has a statue of a white angel above a grand arched entrance and can seat 20. And just before Christmas, sons Brooklyn, five, and two-year-old Romeo will be baptised.

Elton - who recently turned fairy godmother after promising Brooklyn a slice of his will - can't wait. The star, 57, said: "I'm definitely going to see David and Victoria over Christmas because there's a christening happening isn't there? I'm taking my godfather duties very seriously."

Elton's partner David Furnish is expected to be godfather to Romeo, along with Posh's brother Christian. Sister Louise is godmother.

A source close to the couple said: "David and Victoria had the chapel built for a special occasion like this and what could be more special? They know they couldn't have them baptised in a church because it would just turn into a media frenzy."

Becks' football pal Gary Neville and England boss Sven Goran Eriksson are on the guest-list, while pregnant Posh, 30, has invited Liz Hurley and Baby Spice Emma Bunton. The source added: "It will also be a bit of a Christmas knees up as well."

But it is to hoped David, 29, now has his head round christenings. After Brooklyn was born, he said: "I definitely want him to be christened, but I don't know into what religion yet."
Elton tops Billboard Boxscore Charts
Friday, November 12 2004
Elton is back on top of BILLBOARD BOXSCORE Concert Grosses for the week ending November 13, 2004.
His "Red Piano" show at The Colosseum at Caesars Palace in Las Vegas generated gross sales of $9,823,975 for the shows between October 12-31, 2004.

The 15 sold out shows were attended by 59,155 people. Tickets costs $250, $175, and $100.
John Jorgenson returns
Friday, November 12 2004
Former Elton John band member John Jorgenson returns to "Elton space" performing pedal steel on two tracks from the "Peachtree" sessions.
Here is what John wrote on the message board of his website johnjorgenson.com:

"Last Spring I went down to Atlanta to play pedal steel on a couple demos for Elton. The songs were called 'Turn the Lights Out When You Leave' and 'So Sad the Renegade' which I also sang some background vocals along with Davey Johnstone and Bob Birch. I had no idea what they were going to be used for at the time (I don't think Elton did either) but 'Turn the Lights' ended up on the new CD, and 'So Sad' ended up on a CD single in Europe."
Kiki Dee - The Rocket Years
Thursday, November 11 2004
Due to popular demand, Kiki Dee is releasing a Limited Edition compilation of her recordings made on the Rocket Record label from 1973 to 1978.
The tracks, Kiki's personal favourites are:

Loving And Free

You Put Something Better Inside Of Me

Song For Adam

Lonnie And Josie

Do It Right

Amoureuse

Talk To Me

Sugar On The Floor

Dark Side Of Your Soul

Safe Harbour

Stay With Me Baby

I've Got The Music In Me

Night Hours

Water

"The Rocket Years" comes in a specially designed cover and will be available from December 1, 2004 . You can pre-order your copy now, Kiki will sign and number the first 100 copies!

The price is £13.99 incl. p&p (US$28.00) and 10% of all proceeds will be donated to the Elton John Aids Foundation.

Elton John live & exclusive
Tuesday, November 9 2004

In a live and exclusive concert for Radio 2 at the Tabernacle in Atlanta, Georgia, Elton John performs tracks from his new album, Peachtree Road. The show will air on November 20, 2004 on BBC Radio 2.

Peachtree Road in Atlanta is the street where Scarlett O'Hara lived in Gone With The Wind – and the street in which Elton now lives.

The concert also includes some of the music legend's classic hits, as Elton is joined on stage by the Atlanta Voice Choir.

Throughout the evening, the music superstar also chats to Stuart Maconie about his new album.

This concert will be available to hear again for seven days after broadcast via the BBC Radio Player.




Elton John and band performed in Atlanta on November 4 & 5, 2004
Saturday, November 6 2004 at 08:38:29



Sir Elton Lets Rip With More Obscenities
Tuesday, November 9 2004

One or two four-mouthed tirades are not enough for Elton John - he has let rip with yet another outburst of colourful language.

Sir Elton released his latest string of obscenities on live radio, turning the airwaves blue. The 57-year-old was appearing on Chris Moyles' Radio One breakfast show, when he decided to show off his potty mouth, starting with the f-word.

Shortly after 9 am Monday, November 8, 2004, he told listeners: "I haven't been to the BBC for so long I almost went to the other building. But I saw Tony Blackburn on a walking stick and I thought 'No, it's the wrong ******* place'."

He then joked: "I'm not live on air, am I?" His embarrassed host replied: "Yes, we're live. I apologise to the young boys and girls. But it is Elton John". And the star continued down the same path, asking whether another five offensive words were permissible on air.

After apologising again, Moyles said: "Thanks everyone, you're listening to my last show on Radio One". A Radio One spokesman said: "It's a live show and Elton was warned several times about swearing. We're sorry if he offended anyone."

"Peachtree" promo activities
Sunday, November 7 2004

Elton is currently all over the place promoting the new album, "Peachtree Road", which will be released November 8/9, 2004.

There are interviews in various newspapers and magazines around the world, plus he will appear on television in many countries over the next few weeks.

Many of you send us information about these promo activities for publication on the website. Please understand, however, that it will be absolutely impossible for us to mention each and every news clipping and TV appearance on eltonfan.net.

Feel free to post this on the Hercules Message Board in order to inform other fans. Thanks for your understanding.

Elton John and band performed in Atlanta on November 4 & 5, 2004
Saturday, November 6 2004

Fan report by Gary Landon.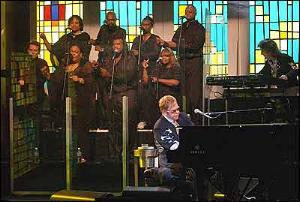 Elton was is a great mood and great voice as he played most of "Peachtree Road" live during the first of his two shows in Atlanta at the approx. 1,800 seat Tabernacle.

They were recording the show for playback on the BBC later in November 2004 - hopefully many of the fans who could not be there will be able to listen in. [It will be on BBC 2 Radio on November 20, 2004.]

Elton came out, sat down at the piano, and told the crowd tonight was going to be a little different from a normal show. He was going to start by playing nine straight songs from "Peachtree Road" (of the twelve tracks) ... only nine because they had not rehearsed the other three yet - then do somethng solo, and finally 'rock out with the band'. He talked a lot between the new songs telling us what each was about, and stories from the recording - which took place in Atlanta.

The entire band was with him, as was John Jorgenson on Peddle Steel Guitar for one of the songs. Elton also had an eight person backing vocals section - all local Atlanta singers who had worked with him recording "Peacthree Road". The backing vocals added a lot to the new songs as well as to many of the older songs - such as "Border Song", "Philadelphia Freedom", and "Burn Down the Mission".

Elton also told us Bernie Taupin was in the crowd to hear the great lyrics he wrote.

Most of the new songs got a very good response. "They Call Her the Cat" received the loudest response - it had everyone on their feet the entire song - you could see the smiles on Elton and the rest of the band when the crowd was up dancing and singing along with the chorus to that song. Hopefully it will be in the set list for a long time. "Answer In the Sky", "All That I'm Allowed", "Porch Swing in Tupelo", "Weight of the World", "Freaks in Love", and "Turn the Light Out" were also very good live.

It was great to hear "Border Song" with the full band and backing singers. "Bite Your Lip" had everyone 'moving that muscle and shaking that fat'.

After "Saturday Night", no one left even when the roadies started covering the piano - everyone kept yelling for Elton - finally they announced he was not coming back out. The only disappointment was that the show lasted only about one hour and 45 minutes.

Following is the complete set list of the Atlanta show on November 4 & 5, 2004:


Weight Of The World

Porch Swing In Tupelo

Answer In The Sky

Turn The Lights Out

My Elusive Drug

They Call Her The Cat

Freaks In Love

All That I'm Allowed

I Can't Keep This From You

Your Song (solo)

Philadelphia Freedom

The Bitch is Back

Border Song

Levon

Don't Let the Sun Go Down on Me

Burn Down the Mission

Bite Your Lip (Get Up and Dance)

I'm Still Standing

Saturday Night's Alright (For Fighting)
I'm Still Standing
Friday, November 5 2004
Elton John wrote 60 songs last year, a career peak. November 9, 2004 brings "Peachtree Road", a Southern-tinged disc of a dozen emotional tunes. "Dream Ticket", a $40 four-DVD set with TV footage and 70 songs from various venues, is due the same day in Best Buy stores.
He just wrapped up another sold-out run of "The Red Piano", his critically hailed audio-visual spectacle at Caesars Palace. And he has composed songs for musicals "Billy Elliot", the movie spinoff opening in March 2005 in London, and "The Vampire Lestat", based on Anne Rice's gothic novels and bound for Broadway in November 2005.

"I still have a lot to offer as a writer," Elton, 57, says backstage at Caesars, where hundreds of bobbleheads crowd a dressing room perfumed by his signature candles. "I'm not ready to go off into the sunset doing cover versions. I drew a line in the sand with my last album. It was a new beginning."

"Songs From the West Coast" arrived in fall 2001 to strong reviews but little radio attention, eventually selling 588,000 copies, paltry by John's standards. His overall U.S. albums sales since 1991 exceed 23 million, according to Nielsen SoundScan.

"How many people need another Elton John album?" he says. "I'm running up against people who think, 'I've got his greatest-hits album. I'll wait 10 years for the next one.' (West Coast) sold about 4 million copies worldwide, which is great, but it didn't rattle anybody's cage in America. I am still a vital artist. I know that, and that's all that counts. I tell myself, 'You're doing great stuff, you like it, you're proud of it.' But because of my past, I am competitive. I'm doing more promotion than I've done for any album in years. You need a military assault."

Peachtree's fourth-quarter timing and Elton's willingness to beat the media drums will boost its market potential, says Daily Variety music critic Phil Gallo.

"There's an awareness of this record, and it can catch on if people hear it's good," Gallo says. "Elton needs to do what James Taylor did: interview rounds, publicity performances and a full-fledged attempt to get out there. He should go for Dateline, 20/20, 60 Minutes, the morning shows. George Michael sold an extra 25,000 copies by going on Oprah. And who wouldn't want to talk to Elton John?"

Elton offers more than icon status, Gallo says. He's hungry for fresh inspiration. As other artists his age do rote renditions of oldies, Elton and art director David LaChapelle updated hits for "The Red Piano" in exciting multi-media twists.

"Rod Stewart had to find a gimmick to stay in the game," Gallo says. "Elton is an intense music fan who stays current, unlike a fair number of performers attempting to recapture old glory. 'Songs From the West Coast' was a tremendous record, but radio ignored it. The guy writes songs that are too complicated for mainstream radio. There's an NPR audience that would love to hear Elton, but NPR shies away if they think an artist isn't hip enough. I don't get it. In the Scissor Sisters and the current British trend of piano-based rock acts like Keane and Travis, I hear Elton."

Elton's hopes are buoyed by early reaction to Peachtree and single "Answer in the Sky" toehold at adult-contemporary radio — it's No. 13 on Radio Monitor's AC chart this week.

Regardless of rankings, he's proud of the sumptuous melodies and countrified soul on Peachtree, the first album he has produced. His voice, which has grown deeper since surgery in 1987 that removed benign growths from his vocal cords, sounds richer.

"I used to be a piano player who sang," he says. "Now I'm a singer who plays piano. I don't have the falsetto ability, but I have a more resonant voice that's getting stronger. I used to sound like a choirboy. It's fun to think I'm getting better at this."

The deeply personal lyrics, written by longtime collaborator Bernie Taupin, seem channeled. "Bernie has great intuition about me, a magic that's never worn off in our relationship," he says. "My Elusive Drug" addresses former substance abuse that thwarted a quest for love, later fulfilled in his 12-year bond with David Furnish. "The lyrics say it all. When I was looking for a relationship, I could never find it because I was doing bad things. Then I gave it all up. I'm sober now, and now I've found my elusive drug. It's a really beautiful, passionate love song, and Bernie and I nailed it straight away."

While recording in Atlanta, his U.S. base, Elton aimed for the quality of "Tumbleweed Connection" or "Madman Across the Water".

"But I won't have that energy level again," Elton says. "When you're younger, you have momentum and no fear and no sophistication. Every major artist has that five- or six-year edge where they can do no wrong, then they take a break and then they lose it and somebody else takes over. After that, you hope you can find your niche and fit in."

He found more. In the '90s, when cynics might have predicted a slide toward a cheesy Vegas lounge, Elton inspired young rockers, composed Broadway's "The Lion King" and "Aida" and scored history's top-selling single by recasting "Candle in the Wind" for Princess Diana's funeral.

As for Vegas, Elton's three-year residency is a critical and box-office smash. Because of the demand, he'll play 150 shows instead of the originally planned 75.

"It's been one of the great surprises of my life," he says. "It reflects everything I love. It's a nod to the past, and it's up to date. It reflects my love of photography and contemporary art and fun. My career has always been about not taking myself too seriously." He laughs and adds, "Or not seriously enough sometimes."

Elton may be among pop's elder statesmen, but his mature reserve wavers when his enthusiasm flares, whether he's dissing Madonna for lip-syncing, blasting paparazzi in Taiwan as "rude, vile pigs" or declaring American Idol racist for voting off black contestants.

Today, graver questions are on his mind. He's distressed that his AIDS foundation's education efforts in Africa may be impeded by diametric messages from churches.

"The Vatican is telling people not to wear condoms because they spread AIDS," Elton says. "What century are they living in? That kind of pontification is a form of genocide. It makes me nuts." He was so distraught over the war in Iraq that Furnish gave him a cheerful distraction, a cocker spaniel named Arthur.

"The polarization in this country worries me greatly," he says. "The atmosphere is so preposterous and sad. We were lied to, both in Britain and America. Here, a fear has been instilled in people since 9/11. When I see the orange alert on TV, I think, what's the point? Buy duct tape? I love this country so much, but it isn't the land of the free anymore. It's certainly not the land of free speech."
Elton John inspires TV diva in 'upmarket Spinal Tap'
Friday, November 5 2004
Elton John is to making his television debut with a new show about an ageing rock star in a new sitcom billed as an "upmarket Spinal Tap".
The comedy, created by Elton and a former Sex and the City producer, will feature a male diva in a role that has distinct echoes of his own life. But the singer insisted the character was based on a mix of fellow pop icons such as Rod Stewart, Mick Jagger, Freddie Mercury and David Bowie.

"It's not about me, but about everybody we've encountered over the past 30 years," he told the US trade paper Daily Variety. "We've met every star and seen every misbehaviour. And it's about the people around the star, who have to put up with them. It's an upmarket Spinal Tap."

Songwriter Bruce Roberts has created an entire back catalogue of music for the fictional star of the comedy, which was the brainchild of Sir Elton's long-time business manager, Bob Halley. Elton has already written a song for the project, "Him and Us".

"I think it will be one of the funniest things on TV in a while. I like being a team player and being within this team. All five people are extremely funny - except Bruce Roberts," he added. Sex and the City screenwriter Cindy Chupack will write the script for the show, which is being developed for the US broadcaster ABC. The executive producer is Michael Edelstein, the man behind US ratings hit Desperate Housewives.

"Elton's been very public about the craziness of his life," Mr Edelstein said. "There's nothing like the world of rock'n'roll. He's got a hairdresser, valet and two straight SWAT bodyguards on staff. They've assembled their own wacky family. Elton's witty, relevant and has always been on the cutting edge in both his personal life and musically."

Mr Halley, a long-time friend of Sir Elton, explained: "I came up with the germ of an idea three years ago while on the road. We have many laughs together, we work hard and we enjoy ourselves. Elton was up for it, so we went from there."

During the famous fly-on-the-wall documentary Tantrums and Tiaras, made by his partner David Furnish, he stormed out of his hotel on the French Riviera after a female fan dared to wave at him on the tennis court. Explaining his behaviour, Elton likened himself to the little girl in The Exorcist. "I don't seem to have anger - I have rage," he said.
Elton John plans to marry David
Thursday, November 4 2004
Elton John plans to marry his longtime boyfriend David Furnish, saying he has "never been so happy".
"We haven't set a date and it surely won't be a big public ceremony but I would like to place my life in his hands with a wedding vow," the 57-year-old told German weekly celebrity magazine Gala. "I have never been so happy."

Elton, who did not reveal in which country he planned to tie the knot, said he had lived for years "like a wild animal" with a lifestyle marked by drugs, alcohol, depression and suicide attempts. "Today I am happy that person no longer exists."

He called the 40-year-old Canadian-born Furnish "the most important person in my life". "I cannot imagine a life without him." Elton said he had grown fed up with fame and would like to lead a quieter life, but he said it was unlikely he would shy away from the spotlight for long.

Elton was married to studio technician Renate Blauel from 1984 to 1988. He has been linked to Furnish since 1993 in what London's Observer has called "the most conspicuous gay couple in the world." Elton is to accept Germany's "Bambi" media award in Berlin in November 2004 for his charity work to fight AIDS. His foundation has raised nearly 40 million euros (50 million dollars) for research into the disease.



Elton's German TV Promo Tour
Tuesday, October 19 2004 at 09:44:48


I'm in Elton's new video
Monday, November 1 2004
My name is Roy Ashen and I'm a singer, songwriter and performer here in Los Angeles. I've always admired Elton and was excited to be part of his new music video for "All That I'm Allowed".
The call came from a friend of mine who occasionally works with Director David LaChapelle. She said she loved my new CD and that they wanted an up & coming singer to appear in Elton's new video. I told them I'd like to be involved and they came to my band's rehearsal studio in Hollywood to film us playing the song. Of course Elton's CD was not released - so the first time I heard the song was when the film crew arrived!

We only had a few minutes to learn the song...but it's very catchy and we got it right away. We played through the whole song a few times and had a lot of fun.

I was honored to be part of the video and will hopefully be able to say Hi to Elton at a concert soon, as I'm planing tour dates for my new CD "Sugar and Gasoline". I'd love to say hello to all the Elton fans and invite them to hear my new CD at: www.royashen.com.

Sending warm wishes from Los Angeles!
cheers,
Roy Ashen
Pop icon Elton John on CNN's 'Talk Asia'
Monday, November 1 2004
Elton John appears on CNN's chat show Talk Asia. He talks about his greatest influences and the toughest times in his life, including playing at Princess Diana's funeral, as well as his childhood passion of pursuing a music career.
The shows airs 1 November at 9 am. "I knew from an early age what I wanted to do...I would have been quite happy working in a record store - anything to do with music. There was no great master plan that I'm going to conquer the world and be a big star - that just happened accidentally" he states.

When asked about the greatest song that he has written, the Grammy-award singer says, "Well, if you had asked me that about five years ago, I'd have had to say Your Song. I would probably still say that it's the song that I've sang at every concert that I've ever done since I've written it."

On a more personal note, the 57-year-old singer discusses the loss of his friends, Gianni Versace and Princess Diana. "Gianni Versace taught me to live life to the full, to see everything...to be a cultural sponge." As for the lessons he learned from Princess Diana John says, "Her compassion towards people, she has a great ability to walk into a room of people and put them all at ease ...whether they were famous or not."