ELTON JOHN NEWS ARCHIVE: October 2016
'Jeans for Refugees' celebrity jeans auction
Saturday, October 29 2016
Elton John, Eva Longoria, Pink, Rachel McAdams & other celebrity jeans are up on auction for charity!
Now is your last chance to make a grab for your favourite celebrities' jeans as they go under the hammer for refugee's charity.

If you're a 'Directioner' wanting to bag Harry Styles's jeans, a fashionista hoping to lay claim to Elton's denim threads, you have less than a day to bid for a piece of extraordinary history.

The jeans are exclusively available to bid and buy on the world's fastest growing online auction house, Catawiki and are expected to raise thousands. All proceeds will go to the IRC.

The auction closes on October 30, 2016, it's your last chance to win one of the world's most sought after pieces of wearable memorabilia.
Limited Edition Vinyl Box Set for Burberry
Wednesday, October 26 2016
Eltonjohn.com reports that Elton has partnered with Burberry to release a limited edition LP box set, available from November 1, 2016 exclusively at Burberry.com and selected Burberry stores across Asia, Europe and the US.

The unique set of records chosen by Elton comprises six albums originally released between 1970 and 2001, including one which is previously unreleased on vinyl. The albums were remastered from the original tapes by legendary engineer Bob Ludwig and the vinyl was cut at the renowned Abbey Road Studios in London. The artwork has been painstakingly recreated from archive copies.

Packaged in a beautiful Burberry-designed box, each set includes:
6x 180g, 12 inch vinyl

Original artwork and sleeve content

Limited edition card detailing the unique number of each box

Burberry-designed poster depicting 'Elton John with his eyes closed', shot in the mid-1990s by Terry O'Neill, featuring an exclusive interview with Elton
The box set will be priced £225 GBP/$375 USD.
"50 Years Of Words & Music"
Wednesday, October 26 2016
Elton John and Bernie Taupin appeared at The Neuehouse in Los Angeles on October 24, 2016 to celebrate their 50 years of collaboration.
See the following video links:

https://www.instagram.com/p/BL-eJZZhEPA/
https://www.instagram.com/p/BL_BQukBLPm/
Happy birthday, David!
Tuesday, October 25 2016
Elton's partner, David Furnish, is turning 54 on October 25, 2016.
On behalf of the visitors of eltonfan.net, we would like to wish David all the best and a wonderful birthday!

Elton wrote on Instagram: "Happy Birthday to my Guardian Angel who I love so much @davidfurnish"
EJAF welcomes Diana Krall to its 15th Annual Fall Gala
Saturday, October 22 2016
Elton will welcome Grammy-winning performer Diana Krall as his special musical guest for the Elton John AIDS Foundation's 15th annual fall gala, An Enduring Vision, on November 2, 2016, at Cipriani Wall Street in New York City.
"I'm so thrilled Diana will be joining us for our fall gala this year," said Elton. "Diana is an extraordinary performer and a dear friend, and I'm thrilled beyond belief to welcome an artist of her caliber to our annual New York event."

Emmy award-winning producer and popular talk show host Andy Cohen will emcee the evening. EJAF will honor internationally-renowned philanthropists Frank Giustra and Steve Tisch with the Foundation's Enduring Vision Award and present its second Founder's Award to United Nations Secretary-General Ban Ki-moon.

For ticket information, please contact Andreas Schwarz at EJAF, +1.212.219.0670 or andreas.schwarz@ejaf.org.
John Jorgenson nominated as "Featured Artist of the Year"
Saturday, October 22 2016
Guitarist John Jorgenson, who has worked with the likes of Elton John, Luciano Pavarotti, Bonnie Raitt and Bob Dylan, has been nominated as "Featured Artist of The Year" in the 2016 Vintage Guitar Reader's Choice Awards.
Every year, Vintage Guitar magazine honors those who inspired and awed guitar players, fans, and listeners by inducting great players, innovators, and instruments to the VG Hall of Fame. Also chosen in the Vintage Guitar honors are "Album of the Year", "Featured Artist of the Year", and "Player of the Year" in four categories. Nominations are solicited from editorial contributors and visitors to VintageGuitar.com, then a list of finalists is compiled with input from VG staff.

John Jorgenson's limited edition 3-CD box set, Divertuoso, mixed one of his current passions (gypsy jazz) with an old one (bluegrass) along with electric guitar skills that fans of the Hellecasters and Desert Rose Band enjoy. With John Jorgenson Quintet, John offers true-to-form gypsy jazz using authentic instruments including a '42 Selmer, a Gitane, an Altamira, his vintage Gibson K-4 mandocello, a Gibson F-5L, flamenco guitar, and a bouzouki. Please take a minute and vote for John Jorgenson! Deadline for voting is November 12, 2016.
Elton interviews one of his favorite new musicians
Wednesday, October 19 2016
Until very recently, Max Kakacek and Julien Ehrlich, who record under the name Whitney, were best known as former members of the Chicago band Smith Westerns.
Now, "Light Upon the Lake," the band's debut album, is one of Elton's favorite records of the year — a metric of success that is surreal, bordering on unthinkable, for the duo. "I just fell in love with the music," Elton said, after it was recommended by a friend, the Guardian writer Alexis Petridis. "I went on the website and I saw the video for 'No Woman.' It was fantastic. I thought it was so wistful and so plaintive and no one else sounded like that."

Elton was so enamored with Whitney that he has played them on the Beats1 radio show he hosts, "Elton John's Rocket Hour." "The whole purpose of me doing the Apple show is to play stuff that I like but to hopefully focus on new people," he said, noting his displeasure with mainstream radio using colorful, unprintable language. "Anything I can do to put new music on the radio." Elton, who is 69, is at work on his autobiography, and has begun looking back on a career that spans decades of exploits, musical and otherwise. But last week, he was more interested in talking to Whitney's 25-year-old Ehrlich about his rapidly ascending new project. "You're a newborn baby this year and you're growing in the right direction," Elton told Ehrlich, his tone paternal but not patronizing. "More power to you and thank you for the music, all right?"
Listen to Elton discuss his "dear friendship" with Eminem
Monday, October 17 2016
The artist discussed the unlikely alliance on his 'Rocket Hour' show, which airs in full October 18, 2016.
Elton John has spoken about how he considers Eminem to be "a dear friend" of his. Elton hosts a semi-regular show on Apple's Beats 1 station, titled the 'Rocket Hour'. The show, which debuted in July 2015, will air once again on October 18, 2016, and, ahead of the airing, a number of preview clips from the new episode have been shared by Apple.

While discussing fellow Beats 1 contributor Drake's recent claim that Eminem was "the greatest rapper of all time", the veteran musician was keen to agree with the Toronto rapper's high praise. "Eminem just did a show in which Drake introduced him in Detroit as 'the greatest rapper of all time,'" Elton said. "It's very hard to disagree with that. I love him, and he's a dear friend."

Elton will also show his appreciation for both Lana Del Rey and Crystal Castles during the show. Calling Del Rey "a really great girl [who] I love very much," Elton also praised Crystal Castles' most recent album, 'Amnesty (I)'. "It's a really interesting album, full of surprises and not your normal record. I like it very much."
Hillary Clinton feted by Elton at final LA pre-election fundraiser
Friday, October 14 2016
Hillary Clinton returned to Los Angeles for one last fundraising swing before the general election, at a high-dollar fundraiser where Elton John performed to an industry-centric crowd.
Elton opened by singing "Your Song," after being introduced by Casey and Laura Wasserman, who hosted the event at their new home along Foothill Road. Clinton gave what was described by one attendee as an "energized" and a call to get out the vote. She praised Elton for his philanthropy, and even quipped that the would switch roles some day (he'd do the political speech, she'd sing.)

There were a few digs at Donald Trump. Casey Wasserman, in introducing Clinton, said he wasn't sure how she was able to get up on a debate stage and face Trump. According to an attendee, John said of Clinton, "We have to elect this humanitarian — we cannot let this barbarian in office."

Among the 135 people or so present: Barbra Streisand, Skip Paul, Berry Gordy, Ken Ziffren, Craig Jacobson and Steve Tisch. Los Angeles Mayor Eric Garcetti spoke, and other guests included Marc Nathanson, Jon Vein, Russell Goldsmith, Gloria Allred and Evelyn de Rothschild and Lynn Forester de Rothschild. Co-hosts of the event were Jeffrey and Marilyn Katzenberg, Sean and Alexandra Parker, Haim and Cheryl Saban, Chris and Crystal Sacca and Thomas and Alba Tull. Others who committed to the event: Damon Lindelof and Seth MacFarlane.

Tickets to the event started at $33,400, and went up to $100,000 to be listed as a co-chair. Although polls are looking much more favorable for Clinton, one attendee said that there was a note of caution. "I don't think anyone was resting on their laurels because it is such a turbulent election," the attendee said.

The event was on the same property where Casey Wasserman's grandfather, Lew, hosted political figures for decades. That included Bill Clinton, who was the headliner at a fundraiser at the home after he secured the nomination in 1992. Casey Wasserman said he hoped she would have the luck the location gave her husband.

Elton also sang "Circle of Life" and dedicated it to Katzenberg, according to an attendee.

Across town, in Santa Monica, Vice President Joseph Biden and House Democratic Leader Nancy Pelosi attended an event at the home of Peter and Megan Chernin to raise money for the Democratic Congressional Campaign Committee. Tickets started at $5,000 per person, and an attendee said that the gathering drew about 40 people.

This may have been Clinton's final L.A. visit, but it isn't her campaign's last fundraiser in the region. Chelsea Clinton is scheduled to headline an event on Oct. 20 at the home of David and Andrea Nevins, with Kristen Bell as the special guest, according to an invite.
Pan Mac wins Elton's autobiography
Friday, October 14 2016
Pan Macmillan has acquired Elton's autobiography alongside sister company Henry Holt in New York, for publication worldwide in 2019.
Pan Macmillan m.d Anthony Forbes Watson and publisher Jeremy Trevathan at Pan Macmillan, along with Stephen Rubin, president and publisher, and Gillian Blake, editor-in-chief, at Holt, jointly acquired world English rights from Andrew Wylie of the Wylie Agency.

The book will be the first and the only official autobiography of the multiple Grammy-winning international singer-songwriter. It is being written by Sir Elton with writer and music critic Alexis Petridis as a "no holds barred account" of his life and work. It was tipped to be one of the hottest properties ahead of the Frankfurt Book Fair, with the advance predicted to "certainly eclipse seven figures".

Elton John said: "I'm not prone to being a nostalgic person. I'm often accused of only looking forward to my next gig or creative project. It's come as quite a surprise how cathartic I am finding the process of writing my memoirs. As I look back, I realise what a crazy life I have had the extreme privilege of living. I have grown up in a period of extraordinary change in our world - and have had the joyful honour of rubbing shoulders and working with so many of the people at the heart of these changes. My life has been one helluva rollercoaster ride and it's still lumbering on. I hope readers will enjoy the ride too."

Forbes Watson said: "Elton's life transcends classification and his wildly readable, deeply human story will speak to anyone and everyone, everywhere. We look forward to working alongside our close colleagues at Holt to make Elton the biggest worldwide publishing event of 2019."

Trevathan, publisher for Macmillan UK, added: "Elton John's memoir is a Holy Grail of book publishing. Publishers around the world have long contemplated the excitement and potential of such a wonderful project. When the material arrived we were overwhelmed by how authentic, open, charming and, yes, commercial it was. I'm more than proud that we will be working with Elton and David to bring out this fantastic book."


Elton John and Jim Broadbent lead FBF hotlists
Monday, October 10 2016 at 05:14:11


Sir Ben Kingsley does his best Elton John on Lip Sync Battle
Tuesday, October 11 2016
This week's Lip Sync Battle is shaping up to be an epic showdown of… Cowboys & Aliens? Sir Ben Kingsley took the stage to do his very best Elton John as he performed "Rocket Man" in a new clip from the show.
Kingsley looked to be having the time of his life as he lip synced along to the 1972 hit, decked out in an outfit that would make John himself proud: silver armbands covered in jewels, an extra-terrestrial-esque silver suit and helmet in the British flag colors, and a pair of wacky glasses.

Hosts LL Cool J and Chrissy Teigen waited in the wings and grooved along, as did Kingsley's competitor for the night, John Cho. Cho, too, was in full costume as a cowboy, so either he stumbled off the set of Westworld, or Kingsley is up against a rootin'-tootin' good time.


World Team Tennis Smash Hits 2016
Tuesday, October 11 2016
Maria Sharapova set foot on a tennis court for the first time since her positive drug test at the Australian Open on October 10, 2016, smiling throughout an appearance in the World Team Tennis Smash Hits charity event in Las Vegas.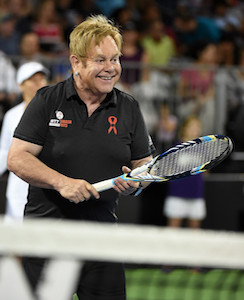 The Russian star, who last week earned a reduction in her drug ban that will allow her to return to tennis in April 2016, played in two light-hearted doubles matches in the event at Caesar's Palace to benefit the Elton John AIDS Foundation.

Sharapova lost her doubles match with American youngster Taylor Johnson when they faced Martina Navratilova and Liezel Huber. The 29-year-old indicated had felt a hint of nerves along with her 16-year-old doubles partner Johnson. "It was a big occasion for her (Johnson) and also for me," Sharapova told ESPN. "I haven't been on a court for a while, for both of us, it was to have some fun and a bit of laughs," she added.

Sharapova later paired with US legend John McEnroe in the evening's final game against Navratilova and Andy Roddick. Sharapova had not played since testing positive for meldonium at the Australian Open in January 2016.

Her initial 24-month ban was slashed to 15 months by the Court of Arbitration for Sport last Tuesday, a ruling which has divided opinion among her peers.

Team Elton defeated Team Billie Jean 19-14 to move ahead 13-11 in overall WTT Smash Hits series. The night raised $600,000 for the Elton John AIDS Foundation.

Celeb set – Andy Roddick/Maria Sharapova def. Sir Elton John/3-1 (does not count towards overall score)

Women's Doubles: Martina Navratilova / Liezel Huber (Team Elton) def. Maria Sharapova / Taylor Johnson (Team Billie Jean) 5-2

Men's Doubles: Andy Roddick / Mardy Fish (Team Elton) def. Mark Philippoussis / John McEnroe (Team Billie Jean) 5-3

Men's singles: Andy Roddick (Team Elton) def. Mark Philippoussis (Team Billie Jean) 5-3

Mixed Doubles: John McEnroe/Maria Sharapova (Team Billie Jean) def. Andy Roddick / Martina Navratilova (Team Elton) 5-3

Extended Play: John McEnroe/Maria Sharapova (Team Billie Jean) tied Andy Roddick / Martina Navratilova (Team Elton) 1-1


Elton John and Jim Broadbent lead FBF hotlists
Monday, October 10 2016
A memoir from Elton John and a graphic novel from Oscar-winner Jim Broadbent are among the hottest as-yet-unsigned properties from UK agents heading into the Frankfurt Book Fair (FBF).
Elton has decided to tell "the full story of his life and extraordinary career with exceptional candor and wit", acccording his representatives, The Wylie Agency. Elton's book will undoubtedly be the hottest non-fiction property on submission this FBF. It perhaps will not approach Amy Schumer numbers in the run-in to FBF 2015—when S&S US may have paid as much as $10m for North American rights alone to the comedian's memoir—but the advance will certainly eclipse seven figures. Elton's principal agent is Wylie founder Andrew Wylie.

Elton previously published an autobiographical title, "Love is the Cure" (Hodder), in 2012. That book was narrowly focused on the pop star's experiences of losing friends to AIDS during the height of the disease's epidemic. It did not set the charts on fire, however, shifting just 2,800 units through Nielsen BookScan.

Several attention-grabbing big deals have already been struck ahead of Frankfurt Book Fair, which begins on October 19, 2016. George Osborne's "The Age of Unreason" by the Rt. Hon George Osborne MP was snapped up by William Collins this week, while in fiction, the much talked-about "The Chalk Man" by C J Tudor went to Michael Joseph after a nine-way auction, Hutchinson pre-empted Swan Song in a six-figure deal and Picador won "Dear Mrs Bird" after a seven-way auction.

The full UK agents' hotlists are featured in the October 7, 2016 print edition of The Bookseller magazine.
Zakabannaya Mosque's Imam: "I don't like Elton John's propaganda, not his art"
Thursday, October 6 2016
Seidjagfar Lutfullin is one of the most celebrated imams in Tatarstan who serves at Zakabannaya Mosque and deals with social work and other activities.
He is famous for quite blunt and unclear statements on the Internet. Even if he has preferred not to speak to journalists in recent time, he made a concession for a correspondent of Realnoe Vremya. There were many questions. Amonst other things, he explained other loud statements about Elton John's concerts and the ban on Hizb ut-Tahrir units in Russia.

You told you was against concerts of some pop singers – Madonna, Elton John. Why?

I did not say I was against the pop culture. I am against the popularisation of sexual minorities. Moreover, many foreign media resources are making new steps. They did not manage to win against us with their sanctions. Now they are trying to destroy us morally. This LGBT will sponsor its clubs around the world to make them active. Elton John said on the official page of LGBT he was going to come to Russia to support sexual minorities. As he officially represents LGBT, people in the cities he was going to visit opposed it. Both the Church and people were against it. A service of supplication was held, Elton was ill after that, he was operated. It seems the Most High heard their prayers. Earlier Madonna did a concert in Petersburg. She had words supporting such people written in her back, though she had been warned not to do that. And Elton John had the same purpose. I don't like Elton John's propaganda, not his art. I don't like him as a propagandist. First of all, gay propaganda is forbidden by law. Secondly, it was the purpose of his visit. For this reason, I was against it. If it is distributed without proof, everybody will be punished. The Lot people suffered from it. Now, when Sodom and Gomorrah were dug, people saw an entire family was in the house, they were normal. Why did ordinary people who were not implemented in lascivious behaviour suffer? Because it became a norm. This is why they were punished. People express their dissatisfaction first, then impede it and agree with it. So it turns out they are accomplices. As a religious activist, I think when it has a mass character some of the religious representatives should react to it.
Maria Sharapova joins Smash Hits Charity Tennis Event
Thursday, October 6 2016
Tennis star Maria Sharapova will join Mardy Fish, John McEnroe, Martina Navratilova, Mark Philippoussis, and Andy Roddick to headline World TeamTennis (WTT) Smash Hits at Caesars Palace, a charity night of tennis co-hosted by longtime friends Sir Elton John and Billie Jean King on Monday, October 10, 2016.
Also joining the line-up is former world No. 1 doubles standout Liezel Huber. This will be Ms. Sharapova's WTT Smash Hits debut. "I am really excited to get back on the court for a great cause," said Sharapova. "I have been wanting to play this event for Billie and Elton for a long time so I am looking forward to a great night of tennis."

Last year's event in Las Vegas raised more than $1 million, bringing the historic total to more than $14 million for the Elton John AIDS Foundation (EJAF) and various local AIDS charities since 1993.

Tennis action is set for 6:30 p.m. PT. The pre-match VIP Reception and Auction will kick off at 5:00 p.m. Tickets are available through WTTSmashHits.com or axs.com, or by calling The Colosseum at Caesars Palace box office at (866) 320-9763 or AXS at (888) 929-7849.

Elton, Billie Jean, and all players will participate in the pre-match live auction, which will include an Elton John signed piano bench and King's Wimbledon tickets among other items.

For more information on WTT Smash Hits, visit WTTSmashHits.com.


Elton's Annual Charity tennis match returning to Las Vegas
Friday, July 15 2016 at 17:00:21


Elton plays Sam Zell's birthday
Monday, October 3 2016
Sam Zell threw himself a birthday bash on October 1, 2016, and Elton turned up to rock the crowd.
Zell, the Equity Group Investments chairman, turned 75 September 28, 2016. This year the party was held at Cinespace Studios on the Near West Side. Among the chefs providing fare for the partiers was Paul Kahan of Blackbird.

Zell is infamous for throwing lavish celebrations, the locations of which are kept secret from the hundreds of guests until the last minute. Invitees are instructed to meet at an assigned spot but it's not until then that they know where the party will be held.

In past years, the musical entertainment has been the Eagles, Aretha Franklin, Bette Midler, Fleetwood Mac and Billy Joel. The guests include Zell's best friends, many of whom are real-estate professionals who fly in to Chicago for the festivities.

One year, guests were given black T-shirts adorned with white feathers, and had to wear the shirts to gain admittance to the party, according to published reports.