ELTON JOHN NEWS ARCHIVE: October 2013
Elton receives Rockefeller Foundation's Lifetime Achievement Award
Thursday, October 31 2013
Elton delivered remarks after receiving a lifetime achievement award for his philanthropic work from the Rockefeller Foundation in Washington October 30, 2013.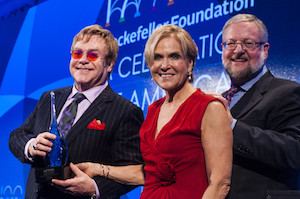 Elton John, Judith Rodin and David Rockefeller Jr. pose for a picture as Elton is presented with the Lifetime Achievement Award during The Rockfeller Foundation 2013 "Celebration of American Philanthropy" Event at American Red Cross on October 30, 2013 in Washington, DC. The foundation noted Elton John's longtime work to de-stigmatize HIV/AIDS in giving him the award.


Elton to receive Rockefeller Foundation's Lifetime Achievement Award
Monday, October 28 2013 at 17:35:11

Elton to receive Rockefeller Foundation Lifetime Achievement Award
Friday, October 4 2013 at 03:55:56


Elton praises T Bone Burnett
Thursday, October 31 2013
Collaborating on Elton's latest album "The Diving Board" has turned into a mutual love fest for the singer and producer.
Nearing the end of his own yellow brick road, Elton found himself a new and improved Oz, in the form of T Bone Burnett. They first worked together on "The Union," a 2010 collaboration between Elton and old pal Leon Russell that Burnett was brought in to produce. But the Elton/T Bone pairing really came to return-to-form fruition on "The Diving Board," a prime candidate to be a finalist in the Grammy balloting that just closed.

Elton got on the phone with The Hollywood Reporter to talk about how he tracked down Burnett, the someone who saved his life in the studio tonight, as it were.

Burnett was honored with the Maestro Award at the Billboard/Hollywood Reporter Film & TV Music Conference on October 30, 2013.

The Diving Board is being heralded as an artistic comeback for you, but in truth, you had already turned a corner and were on a roll prior to meeting T Bone, when you did The Captain and the Kid [billed as a sequel to Captain Fantastic and the Brown Dirt Kid] in 2006. Was there something about T Bone that you thought would really get or keep you back on track?

Well, the Captain Fantastic follow-up was for me a really important follow-up, but it kind of got dumped by the record company [Interscope]. I didn't expect it to sell a lot of records, but I expected them to do the best with it and they didn't. So I became disillusioned with recording and putting records out. Then it all happened with T Bone because of Leon [Russell]. It was j getting in touch with Leon, finding out how he was, suggesting doing a record, him agreeing, and then thinking who I would want to do the record. And I had never met or spoken to T Bone. I just took a chance, phoning him. I loved the records he did with Elvis Costello, and that's what first got me noticing him. But Raising Sand [by Robert Plant and Allison Krauss] was such a great-sounding record, that when I thought of who we were going to record with, I thought, let's try T Bone Burnett.

He was in Nashville trying to do the second [Plant-Krauss] record, which really didn't happen. I asked if he'd be interested in the Leon project, and he said yes. We met later that year, and got on like a house on fire. We started recording The Union in January 2010 with Leon, and that was the beginning of a relationship that I hope will remain as steadfast as it is already. I really loved the recording process with him so much because he went back to recording on analog, and it was a different group of musicians that he introduced me to, which was really necessary for me at that time. When I decided to make the new record, it was a no-brainer who I wanted to do it.

You just did a piece with Cameron Crowe in Rolling Stone where you said you couldn't imagine working with another producer ever again. That's a strong statement.

T Bone is the guy. We have so much fun. It's a very easy process and so relaxed in the studio. He has the incredible knack of throwing the right musicians into the mix and has a huge pool that he uses. It was the Leon Russell album that really got it going. That's the kind of music I want to make. I suppose I'm an Americana artist now! They categorize you so much. But T Bone is that kind of producer. All the people he produces, like Gregg Allman and the Secret Sisters, it's all got that Americana feel to it. That's the music I love, and that's the music I want to keep making. We're both cut from the same cloth. We both love the same kind of music. He introduced me to the Punch Brothers' music and I just became obsessed with them.

I just did a thing with him the other day for American Epic, a six-episode program about the history of the blues. [The documentary miniseries about the recording industry of the 1930s is being produced by Robert Redford and the BBC; Burnett and Jack White are collaborating on a soundtrack, which will feature contemporary artists recording on rare equipment.] I got to use the original machine from 1934 that Bessie Smith and Louis Armstrong recorded on, and I wrote a special song with Bernie, and Jack White played on it. So it went straight to analog. That was a lot of fun. Recording sometimes can be stressful. But with T Bone, it's really fun and I don't freak out and I'm much more relaxed than I would be with anybody else.

What ideas for your new album came directly from T Bone?

I don't think he was acquainted so much with my pop history, even though he saw me at the Troubadour [in 1970]. He suggested on this album going back to the piano, bass and drums that I made my name with -- live, anyway -- and I'd never done that on a record. That was pointing out something that was fairly obvious, but I'd have never thought of it in a million years. And that's what you need a producer for—someone who picks out the best of what you do. Bernie and I write in a peculiar, very quick way, and he loves that. For me, recording shouldn't take too long, and once you know the song, then just put it down. That's the way he likes to work. When you have a producer, you always have to be prepared for them to say, "Well, actually this part of the song should go there." You cannot see the woods for the trees sometimes when you've just written something. It's so precious to you that you sometimes are blinded by it. And he's about the same age as me. At the end of my career -- or the twilight of my career -- I've found someone I feel just as excited about as when I first met Gus Dudgeon.

Was it beneficial to have someone around your age in with you, to understand the kind of music you want to make at the age you're at?

It's the most stripped down record I've ever made, and the most piano-oriented record I've made, and that was T Bone's idea. I would never have thought of that in a million years. And it was the same with the Leon record, even though there were a lot more musicians hanging around, and we had to deal with Leon's illnesses and stuff like that. Leon was desperately sick when we were making The Union. But that was the whole point of it: to get him well again, get him back into shape, and we succeeded. The records I want to make at this time in my life aren't the Yellow Brick Road albums. I've done that. I can't recreate that anymore. It was when I was younger I did those. I'm not that kind of guy anymore. I can do odd things with other people for their projects [that are more up-to-the-moment and energized], like Queens of the Stone Age, and I enjoy that. But for an Elton John record now, this is the path I'm taking. And it's not particularly the most commercial path in the world, but it doesn't really matter to me. He encouraged me to be myself, which is so important.

He said he was thinking of what would last 100 years from now -- which is not necessarily a record company's first concern, right?

I don't have any record company barking down my back saying "We want a top 20 record." Those days have gone, and I'm kind of relieved that they have. Because there was a lot of pressure to perform and to come up with things. And we're not necessarily that kind of writing team. We've had our day in the sun as far as hits goes. What we want to do now… When I heard the Bob Dylan record Modern Times, I must say, it was my template of how I wanted to make records as I got older, because I thought it just was a beautiful sounding record. It still sounded incredibly relevant, and he sounded incredibly relevant. And I thought, this is what I must [go after]. I'm not about making pop records anymore. I'm about trying to improve as a piano player and as a singer, and he's the guy that can help me do that.

All I want to do is enjoy my music. I still love playing live. What I do particularly on new records doesn't translate to what I'm gonna do in an arena, because people just want to hear the hits. But as long as I'm trying to write better songs or trying to keep the quality up, and the vocal and piano are getting better, I'm not going to stop. And he's reinstilled that love of songwriting and performing in the studio. And basically what we're doing in the studio is writing the songs very quickly and recording them live, basically. I mean, that's the way it's done. That's the way I did it on the Elton John album, because I had to do it with an orchestra and it was all written down. But it is far less stressful now, because just having the core of three people play on it made it so so easy. And I thank him for that, because I would never have gotten to that. I mean, ever. In a million years, I would have never thought of doing that.

I think we'll make another one pretty quickly. As I say, he got my love of recording back, and I thought I'd lost that. Just by happenstance, so many things in my life have happened [through] just little weird things -- like playing an old Leon Russell album, thinking he'd been forgotten, ringing him, and then ringing T Bone. If I hadn't had been listening to that Leon Russell record, I'd never have met T Bone, so it's weird how things work out. Thank God I did.
Elton to receive Rockefeller Foundation's Lifetime Achievement Award
Monday, October 28 2013
Dr. Judith Rodin, President of The Rockefeller Foundation, will award Sir Elton John this year's Lifetime Achievement Award for his advocacy on behalf of people with HIV/AIDS, and for the innovative work he has done targeting the stigma of the disease.
He will join President Bill Clinton and Ratan Tata as former recipients of the award. The award will be conferred at The Foundation's "Celebration of Philanthropy" event, which will highlight the myriad accomplishments of modern philanthropy and focus on some of the "big bets" that many individuals and institutions are making to solve the challenges of the next 100 years.

The event will take place October 30, 2013, at the Hall of Service, Red Cross National Headquarters (1730 E Street, NW, Washington, DC).

The Rockefeller Foundation's Lifetime Achievement Award is conferred each year to an eminent individual who is honored for extraordinary and innovative philanthropic work and vision. In addition to the Lifetime Achievement Award, the Rockefeller Foundation will give a grant to the Elton John AIDS Foundation in support of its work.

The event marks the 100th anniversary of The Rockefeller Foundation. Attendees will include top policy makers, thought leaders, think tank heads, the media and foundation presidents. The program will highlight some of the amazing and innovative ideas that American philanthropy is pursuing today.
Elton's £12m bid to help Royal Academy of Music's theatre
Monday, October 28 2013
Elton John has pledged to help raise the £12m needed to renovate the Royal Academy of Music's theatre.
Elton, who studied at the academy as an 11-year-old, is to stage a series of fund-raising concerts. In a speech to musicians and benefactors at the central London academy, Elton pledged to help turn the dingy theatre into a professional venue.

Among his audience were the theatre producer Sir Cameron Mackintosh and the philanthropist Dame Vivien Duffield. He spoke after Professor Jonathan Freeman-Attwood, the principal, paid tribute to his "extraordinary" help in raising funds for a £1.2m organ that was inaugurated the last week of October 2013.

After taking to the stage Elton said: "I'm not stopping at an organ. My heart beats with the Royal Academy." Referring to Ray Cooper, a fellow musician with whom he raised money for the new organ, he said: "We will help you build this theatre. I will do concerts and help you raise the money."

He said the academy - whose alumni include the conductor Sir Simon Rattle and the singer Katherine Jenkins - was "a place of sheer joy and exuberance... a place of meticulous artistry where futures are built".
Elton in rage over robot singers
Sunday, October 27 2013
Elton has launched a withering attack on the growing number of pop stars who he believes produce "processed" music and provide poor-quality live concerts that lack "human soul".
Elton, who has sold more than 300m records worldwide, said: "Everything's too flawless now ... Everything's auto-tuned. There's no trace of humanity." He said that in the past most singers could sing live, but: "A lot of them can't now — it's a shocker."

Citing "amazing" singers such as Judy Garland and Nina Simone, he said audiences loved them as each live performance was unique, but: "If you go and see a Britney Spears concert, you might as well stay at home and watch the video."

From 11-17-70 to xxx-7-77
Saturday, October 26 2013
Legendary New York DJ Dave Herman has been busted for trying to arrange a sick tryst with a 7-year-old girl — whom he hoped to liquor up in the US Virgin Islands and "force" into sex, federal authorities said.
The former radio mainstay — whose "Rock And Roll Morning Show" ran on WNEW-FM from 1972 to 1998 — allegedly thought he was teaming up with the child's mom to organize the perverted attack on the girl, who was called "Lexi."

But the 77-year-old Herman didn't realize the woman with whom he was scheming was an undercover officer with the Bergen County Prosecutor's Office, federal officials said. He was arrested October 24, 2013 when he flew from La Guardia Airport to St. Croix to meet the mom and child — and was instead met by special agents of the departments of Homeland Security and Immigration and Customs Enforcement.

Herman — who once hobnobbed with rock superstars such as Mick Jagger, Bruce Springsteen, David Bowie and Pete Townshend — was the host at A&R Recording Studios, New York, NY on November 17, 1970, when Elton performed and recorded his first live album, "11-17-70". Herman can be heard at the beginning and end of the album.
Elton to perform on X Factor
Saturday, October 26 2013
Elton John has done a mighty turnaround and agreed to perform on the X Factor, despite once blasting the show as "brain crippling."
Elton has become the latest A list star to sign up for the Sunday night results show, following in the footsteps of Katy Perry, Robin Thicke, Ellie Goulding and Cher. Little Mix, Taylor Swift and Niles Rodgers have also been confirmed for forthcoming episodes.

Sharon Osbourne has reportedly used her influence and persuaded her legendary pal to give a one off performance for reality TV fans and it's been claimed that Elton will also give this year's contestants a master class and a spot of guest mentoring.

All this is more surprising when it's considered that just a few years ago Elton was ranting about Simon Cowell's show insisting: "It's become boring, a***-paralysingly brain crippling."

He also warned hopefuls that try to forge a career on the show that they shouldn't expect too much, adding: "TV vaults you to superstardom and then you have to back it up. Leona Lewis and Alexandra Burke are at the mercy of the next song they can get. It's important that they write their own songs, so they're not at the mercy of anyone. Songwriters today are pretty awful, which is why everything sounds the same. Contemporary pop isn't very inspiring."


Headache all over the world
Saturday, October 26 2013
Songs by Simon & Garfunkel, Robbie Williams and Elton John ease chronic pain. "Bridge Over Troubled Water" is the new Tylenol.
Walk into select Lloyds Pharmacy locations in the UK complaining of a headache, and you may be more likely to walk out with a Simon & Garfunkel CD than a bottle of painkillers. The pharmacy chain commissioned a study that found 41% of all people suffering persistent pain (and 66% of people aged 16-24) felt better after listening to music, reports the Telegraph. Now the store is "trialing the use of music within our pain service in some of our pharmacies," says a company pharmacist. "There are lots of different ways of managing pain, not only with medicines but also with lifestyle changes such as moderate exercise and relaxation," he says.

The study of 1,500 people found pop music was the most effective pain reliever, followed by classical, then rock or indie music. The songs with the highest pain-relieving powers reported were "Bridge Over Troubled Water" by Simon & Garfunkel, "Angels" by Robbie Williams, "Albatross" by Fleetwood Mac, "Candle in the Wind" by Elton John, and "Easy" by The Commodores. This may be an eyebrow-raiser for some people—like the Guardian's music editor, who jokes: "This slightly contradicts my own survey, which found that 100% of all respondents (sample size: one) thought 'Candle in the Wind' induced chronic pain, but there you go."
Happy Birthday, David!
Friday, October 25 2013
Elton's partner, David Furnish, is turning 51 on October 25, 2013.
On behalf of the visitors of eltonfan.net, we would like to wish David all the best and a wonderful birthday!
Tom Hardy to play Elton in "Rocketman" biopic
Thursday, October 24 2013
Tom Hardy will star as Elton John in Rocket Pictures' Rocketman, and Focus Features has come aboard to give the film a major U.S. release, producers announced on October 23, 2013.
The Hardy deal caps a lengthy search to cast the role of Elton in the film, which will be co-financed by AI Film. Much like the man himself, "Rocketman" is a larger-than-life movie musical spectacle that tells the story of a child prodigy turned music legend.

Elton will re-record many of his iconic hits to parallel the emotional beats of the film that will have audiences on their feet, singing along to his much loved music. The film is scheduled to shoot in fall 2014.

Incoming Focus CEO Peter Schlessel, brought "Rocketman" from FilmDistrict to Focus Features. "Rocketman" is produced by Steve Hamilton Shaw and David Furnish of Rocket Pictures and Lawrence Bender on behalf of AI Film, the film production and financing company created out of the acquisition of Icon by Len Blavatnik's Access Industries.

Elton and Len Blavatnik are executive producing, along with AI Film CEO Aviv Giladi and Focus Features CEO Peter Schlessel. UTA Independent Film Group arranged financing for the project and negotiated the project's sale to FilmDistrict. Good Universe is handling international sales.

"Tom is a stellar talent who will add extraordinary depth and nuance in bringing Elton's story to life," said Rocket Pictures CEO Steve Hamilton Shaw. "We are excited to have such a gifted actor on board, and equally excited to be in the hands of Peter Schlessel and the entire Focus Features team. Tom is quickly becoming known as one of the world's most versatile actors, and like others at the top of their craft, he has proven his ability to transform himself completely into the character or subject found in the material," said Schlessel. "We are confident that Tom will embody the physicality and spirit of Sir Elton. This, in conjunction with the creative team led by Michael and Rocket Pictures, will provide the foundation for something that will be a unique cinematic event."

"Rocketman" will be directed by Michael Gracey (Fox's upcoming The Greatest Showman on Earth starring Hugh Jackman, and Disney's The Muppet Man). The original screenplay is written by Academy Award nominee Lee Hall (War Horse, Billy Elliot).

British actor Hardy will next be seen in Steve Knight's "Locke" and in the reboot of the "Mad Max" franchise for Warner Bros. and George Miller. Hardy recently wrapped "Child 44" with director Daniel Espinosa and Animal Rescue for director Michael Roskam. He most recently starred in "The Dark Knight Rises" and previously worked with director Chris Nolan on "Inception." His credits include "Tinker Tailor Soldier Spy", "Bronson" and "Warrior." He is represented by CAA, Lindy King at United Agents and attorney Jason Sloane.


Tom Odell to play Elton John?
Wednesday, October 23 2013 at 06:30:56

Tom Hardy pursued for the role of Elton John
Thursday, May 30 2013 at 10:11:41
Elton professes his love for Billy Joel
Wednesday, October 23 2013
It was a love fest last night between Elton and Billy Joel, who had (until this summer) been feuding over comments Elton made about Billy's struggles with addiction.
At the Elton John AIDS Foundation Enduring Vision Gala on October 15, 2013, Elton called Billy a "dear friend." The two hadn't seen one another in years.

"I want to thank him for coming tonight," said Elton. "It was an incredibly kind gesture ... I love you and I will be seeing a lot more of you, I think," he added. "11:30, my room."


EJAF announces round 2 of 2013 grants – over $2 million to fight HIV/AIDS
Wednesday, October 23 2013
The Elton John AIDS Foundation (EJAF) announced its second round of grants for calendar year 2013, totaling $2,090,275.
View a complete list and project descriptions for these latest grants at www.ejaf.org.

The one new and nine renewal grants support organizations working to address some of the most critical challenges of the HIV/AIDS epidemic in the United States, Canada, and the Caribbean. The projects being supported include:
efforts to improve access to HIV-related medical services in Jamaica;

a major national survey of syringe exchange programs across the U.S., which will be used to advocate for lifting the ban on the use the federal funding for syringe exchange;

the Greater Than AIDS Pride campaign to raise awareness and reduce HIV transmission among gay and bisexual men in the U.S.;

a major campaign to raise awareness and reduce HIV transmission among Black Americans;

intensive training for AIDS service and care providers across the Southern U.S.;

Canadian advocacy and education efforts addressing HIV criminalization – the use of criminal law to prosecute and extend imprisonment of people with HIV for consensual and no-risk behavior – a discriminatory practice based in fear and shame rather than compassion and science;

organizing and technical assistance for fledgling LGBT and AIDS advocacy groups in Haiti;

advocacy for increased funding for AIDS cure research and for universal access to antiretroviral medications by 2015; and

two-year $1 million renewed commitment to the Syringe Access Fund, to provide funding for clean needles across the country with the goal of ending HIV transmission among people who inject drugs – a key priority of the Foundation.
The EJAF is deeply grateful to all of our generous and loyal donors for supporting their life-saving work.

Tom Odell to play Elton John?
Wednesday, October 23 2013

Tom Odell wants to star as Elton John in a film about his life.

The piano playing 'Another Love' star would love to appear as the iconic singer in a movie, although he's unsure about dyeing his blond hair to emulate Elton's distinctive ginger locks. When asked about changing his hair colour for a movie, he said: "Maybe, I'd have to mull on that for a little bit."

The 22-year-old star has become friends with Elton since they performed together at the iTunes Festival on October 12, 2013, performing Elton's 'Tiny Dancer'. Speaking at the Q Awards in London on October 21, 2013, Tom told BANG Showbiz: "He's my all time idol, I think I'd almost count him as a friend now, he's very cool, he's very supportive and it's been very nice getting to know him. I've seen him a little bit, it's cool. He's a legend in every essence of the word, I can't even believe that those exist, it's very, very cool to be associated with someone that I look up to so much".

Tom says Elton also advised him to record with a live band in the studio, rather than to build his songs up part by part and use session musicians. He added: "He really likes what I'm doing with the band so he was like I should do a record with them and that's what I'm gonna do ... it's just nice to get that kind of confidence from someone."



Lady Gaga's meat dress tops poll of outrageous stage outfits
Monday, October 21 2013

Elton's 1980 Donald Duck costume comes in second.

Lady Gaga, Elton John and Liberace are the stars with the most outrageous stage outfits, according to the British public. Over 2000 Brits were polled to mark the Blu-ray and DVD release of the gloriously entertaining "Behind The Candelabra", the story of the glamorous life of entertainer Liberace.

Famously flamboyant Lady Gaga and her meat dress took the top spot (20%). The dress, which was made from raw beef flank, was worn by Lady Gaga to the 2010 MTV Video Music Awards and was named top fashion statement of the year by Time magazine. Versions of the dress have since been worn by Gaga on tour, whilst the original dress has since been preserved by taxidermists and is now on display at the Rock and Roll Hall of Fame. Gaga said of the dress: "It has many interpretations, but for me, it's 'If we don't stand up for what we believe in, we don't fight for our rights, pretty soon we're gonna have as much rights as the meat on our bones.'"

The full top ten:
Lady Gaga ' Meat dress (20%)

Sir Elton John ' Donald Duck costume (13%)

Liberace ' Sixteen feet long white fur coat (9%)

Red Hot Chilli Peppers ' Naked except for sock (8%)

Freddie Mercury ' White trousers and vest, braces, crown, cape and cane (7%)

Madonna ' Jean Paul Gaultier conical bra (6%)

David Bowie ' One armed, one legged catsuit (6%)

Elvis ' Rhinestone encrusted white jumpsuit (5%)

Britney Spears ' Snake round neck (4%)

Miley Cyrus ' Nude PVC bikini (3%)
Elton at "Live with Kelly and Michael"
Sunday, October 20 2013
Elton appeared on "Live with Kelly and Michael" on October 16, 2013 and performed two songs live. Watch the videos.
Andy Roddick Foundation Gala 2013
Sunday, October 20 2013
On October 17, 2013, Elton returned to Austin to perform at a gala benefitting the Eight Annual Andy Roddick Foundation at ACL Live at the Moody Theater.
The Gala serves as the chief fundraising event for the Andy Roddick Foundation whose mission is to ensure youth in low-income communities have abundant opportunities to reach their full potential through education and sports-based mentoring. Founder and Chairman Andy Roddick moved his Foundation to Austin back in 2012 and efforts are currently underway to build a Sports and Learning Center in East Austin.

Prior to Elton's concert performance, the Gala included a cocktail reception, dinner, and an exclusive live auction.

Following is the complete set list of the Austin show on October 17, 2013:
Don't Let the Sun Go Down on Me

Your Song

Levon

Tiny Dancer

Goodbye Yellow Brick Road

Rocket Man

I Guess That's Why They Call It the Blues

Daniel

Philadelphia Freedom

Home Again

I'm Still Standing

Bennie and the Jets


Circle of Life
Elton and the Muppets to star in holiday special
Sunday, October 20 2013
Lady Gaga and the Muppets are teaming up for a holiday special called "Lady Gaga & The Muppets' Holiday Spectacular," ABC confirmed on October 17, 2013.
The 90-minute special will air on November 28, 2013, Thanksgiving night, at 9:30 p.m. ET and will include duets with Elton John, Joseph Gordon-Levitt, RuPaul and Kermit the Frog. Lady Gaga will also perform songs from her upcoming album, "ARTPOP."

"I was so excited when ABC called me about doing a holiday special this year," Lady Gaga said in a statement. "I knew it just wouldn't be a complete night of laughter and memories without The Muppets! Can't wait to see the gang again and I hope Miss Piggy's still not mad about Kermit. We're just friends!"
Benefit auction: Tickets for Elton's Philadelphia show
Friday, October 18 2013
Orchids of Light is auctioning off a pair of 5th row seats at the November 27, 2013 performance of Elton John at the Wells Fargo Center in Philadelphia.
The Orchids of Light Foundation is a non-profit organization dedicated to the causes of injustice and poverty.

One hundred percent of the money raised will be given away to one of this years campaigns.

You can place your bid here!
Elton to appear in powerful film to help LGBT youth
Friday, October 18 2013
It's an incredibly sad but true fact that approximately 3,600 LGBT youth spend each night on the scary streets of Los Angeles.
Many turn to crystal meth to stay awake to protect themselves and some have anonymous sex with strangers in exchange for meals and money to stay alive.

After touring the L.A Gay & Lesbian Center, which for years has provided essential service to abandoned queer kids, filmmaker Trent Kendrick and producer Michael Fossat developed "Any Given Tuesday," a short film to create additional awareness and promote support for the Center. Celebs such as Elton John and David Furnish, Jamie Foxx, James Woods, Lisa Ling and others quickly offered their support for the project.



Out director Roland Emmerich, one of the Center's largest donors, was so impressed by "Any Given Tuesday" that he offered to host its official premiere at an exclusive star-studded benefit dinner October 19, 2013, along with David Geffen, Dustin Lance Black, Bryan Lourd, Jane Lynch, Ryan Murphy and Amy Pascal.
An Enduring Vision raises over $3.45 million for EJAF's work
Friday, October 18 2013
On October 15, 2013, Elton continued his humanitarian efforts to raise money for HIV/AIDS prevention, treatment, and awareness programs across the United States, the Americas, and the Caribbean at the EJAF's 12th annual benefit An Enduring Vision held at Cipriani Wall Street.
American Airlines, Frank Guistra, Robert K. Kraft, and Wells Fargo served as the Presenting Sponsors of the benefit, and the star-studded evening raised over $3.45 million for the Foundation.

As part of the evening's program, EJAF Founder Elton John and Chairman David Furnish presented EJAF's very first Founder's Award to former Secretary of State Hillary Rodham Clinton. Secretary Clinton's ground-breaking speech in Geneva declaring that "gay rights are human rights and human rights are gay rights" and the bold plan for an AIDS-free generation she presented at the International AIDS Conference epitomize EJAF's concept of "an enduring vision of a world without AIDS."

Elton and David also presented Enduring Vision awards to three outstanding Foundation supporters. Multiple Emmy Award-winning television host and magazine editor-in-chief Sandra Lee is a long-time supporter of EJAF and other HIV/AIDS and LGBT civil rights organizations, as well as serving as the national spokesperson for the No Kid Hungry campaign and a founding board member of UNICEF's Los Angeles chapter. Devoted EJAF supporter Ronald O. Perelman, Chairman and Chief Executive Officer of MacAndrews & Forbes Holdings, is a major philanthropist who has made numerous multi-million dollar gifts to health, education, civic, and arts organizations across the country. Founding EJAF Board member Howard Rose has generously assisted the Foundation in all areas of its work since its inception, from the initial and continued development of a variety of fund-raising events to building individual and corporate relationships.

NBC Today Show host Matt Lauer stepped in for CNN anchor Anderson Cooper to emcee the gala dinner. Cooper had been sent to Washington, DC, to cover the debt ceiling crisis, and the Foundation was most grateful to Lauer for gallantly filling in at the last moment. The legendary band Heart performed. Also, guest auctioneer Jamie Niven conducted a live auction featuring such one-of-a-kind items as photographs by artists Matthew Pillsbury, Ed Ruscha, and Terry O'Neill; a private one-hour tennis lesson with Novak Djokovic; a four night vacation at Clayoquot Wilderness Resort; lunch with CNN anchor Anderson Cooper; tickets to Howard Pinter's Betrayal on Broadway and a backstage meet-and-greet with star Daniel Craig; a five day vacation at Elton John and David Furnish's Venice apartment, including an art tour with their Venetian guide, and dinner for two at Harry's Bar and Harry's Dolci; and a tour of Tamara Mellon's office and showroom culminating in a head-to-toe look styled by Ms. Mellon.

During the program, Dr. Julio Frenk, Dean of the Harvard School of Public Health, Dr. Max Essex, Mary Woodward Lasker Professor of Health Sciences and Chairman of the Harvard School of Public Health AIDS Initiative, and Deeda Blair and Maurice Tempelsman, Co-Chairs of the Harvard School of Public Health's International AIDS Council presented the Harvard AIDS Institute's Leadership Award to Sir Elton. This award is presented to individuals who have displayed outstanding vision, leadership, and courage in the worldwide struggle against AIDS.

"When I think of the extraordinary people who have received this honor before me, including my dear, dear friend Princess Diana, I am humbled to be counted among such august company. But I am also tremendously inspired by their courage, vision, generosity, dedication, and grace under fire," said Elton upon receiving the award. "What I hope to add to their legacy is my own special brand of pig-headed stubbornness. And I really hope that I will have your support – that all of you will join me in being equally stubborn when it comes to ending AIDS. Because that is what will be required to make our vision of a world without AIDS a reality.

Through the impeccable credibility and reputation attained based on more than 20 years of extensive work, EJAF has emerged as a significant leader in the field of AIDS. The Foundation advances public dialogue on critical and controversial issues related to the epidemic and challenges misguided policies and attitudes that block progress in HIV prevention. Proceeds from An Enduring Vision will help support these efforts, as well as EJAF's grant-making initiatives across the U.S., the Caribbean, and the Americas.


Elton on Hillary Clinton: America "could use a woman president"
Wednesday, October 16 2013 at 18:33:34


'The Lion King' on track to become Broadway's first $1 billion blockbuster
Thursday, October 17 2013
Hakuna Matata indeed! Although Disney's behemoth Broadway musical "The Lion King" has shown no signs of wavering since its debut in 1997, the smash hit is about to conquer a musical theater milestone, becoming the first Broadway musical to top $1 billion in cumulative grosses.
EW has confirmed that the colorful crowd pleaser — based on Disney's beloved 1994 animated feature — will hit 10 figures after the week of performances ending October 20, 2013. Coincidentally, the spectacular box office feat (the first of any Broadway show) comes almost exactly 16 years to the day since "The Lion King" roared onto Broadway with its first preview performance on October 15, 1997.

The news that "The Lion King" is the first show to bank $1 billion on Broadway may come as a surprise to fans of Broadway's longest-running blockbuster "The Phantom of the Opera," which has been playing the Majestic Theatre since opening in 1988 but hasn't hit the billion-dollar mark just yet. Phantom has grossed around $5.6 billion worldwide, though, holding its own against Lion's $5 billion international take.

Another fun fact: In just a few weeks, "The Lion King" is on track to overtake "Les Misérables" as the fourth longest-running Broadway show in history. By then, there'll be even more cause to celebrate — and then the bug juice can really start flowing.
Elton on Hillary Clinton: America "could use a woman president"
Wednesday, October 16 2013
Former Secretary of State Hillary Clinton was honored on October 15, 2013 by the Elton John AIDS Foundation, where she was presented with the organization's first-ever Founder's Award.
On hand were celebrities such as Alec Baldwin, Russell Crowe, Hugh Jackman, Tom Hanks, Mick Jagger and Billy Joel. Also on hand was the Washington Post's Philip Rucker, who had a chance to ask these celebs their thoughts on Benghazi Hillary's chances for president in 2016. It turns out her policy on not being a man resonates with a good number of actors and musicians.
Elton John is dull, 1960s talent panel found
Wednesday, October 16 2013
David Bowie was out of tune and Elton John a dull performer, according to talent spotters who watched the stars audition before they became famous.
Documents referring to Bowie, Elton John and the Rolling Stones reveal the stars failed to impress the BBC's Talent Selection Group in the early days of their careers in the 1960s. All had to have an audition in front of the panel before they were allowed to perform on television or radio, with the Rolling Stones classed as "unsuitable" and Bowie regarded as out of tune and an "amateur sounding vocalist."

Elton John also failed to impress judges, being referred to as a "wonky singer" after his 1968 performance for the panel. Notes on his audition, reported in the Daily Mail, said: "The items are not songs. Pretentious material, self-written, sung in an extremely dull fashion without any feeling and precious little musical ability. Thin, piercing voice with NO emotion. Not a tuneful voice."

Elton John had performed three songs - "All Across the Havens", "Lady Samantha" and "Skyline Pigeon". Depsite the verdict from judges, Elton John was lucky as his tape was still passed to BBC bosses who then allowed him to perform. But Bowie did not have such good fortune following his audition in 1965.

However, some artists did impress the panel of three judges, with the Kinks, Alvin Stardust and the Beatles highly regarded by critics. Simon and Garfunkel and Nick Drake were also noted as impressive acts. The comments of the panel, which has since been scrapped, will be covered in Auditioning For Auntie, a Radio 4 documentary, due to be aired the week of October 21, 2013.

For fans that want to learn more about Elton's development in the Sixties, we highly recommend the book "Tin Pan Alley - The Rise of Elton John" by Keith Hayward.


"BRILLIANT! ABSOLUTELY BRILLIANT! One of the best books on Elton I've ever read."
Friday, August 30 2013 at 07:04:23

UPDATE: New book "Tin Pan Alley"
Wednesday, January 9 2013 at 09:57:03


Davey Johnstone has launched an official website
Tuesday, October 15 2013
2013 sees the 40th Anniversary of Davey's much-loved "Smiling Face" album. And it appears that this has triggered Davey to finally launch an official website.
Featuring contributions from Elton John, Dee Murray and Nigel Olsson, the "Smiling Face" was recorded between tours and sessions for Elton's "Honky Chateau" and "Don't Shoot Me" albums. Produced by Gus Dudgeon and remastered by Guy Babylon, this classic album will soon be available on CD and – for the first time – digital download.

Visit daveyjohnstone.com for details on the "Smiling Face" podcast, promotional videos and a documentary about the making of the album including interviews with Davey, Diana Johnstone and David Hentschel.
Elton John: My Life in 20 Songs
Friday, October 11 2013
In the latest issue of "Rolling Stone", Cameron Crowe explores Elton's journey from Reginald Dwight to technicolored pop sensation to rehab and back.
"You don't mind if I play it loud, do you?" It's morning in Las Vegas, and sunlight fills the condo that serves as Elton John's home during his latest run of shows at Caesars Palace, part of the residency known as "The Million Dollar Piano." Wearing a white terry-cloth robe, he moves to the stereo system like an athlete, arms swinging crisply at his sides. Soon, he's locked and loaded his latest album, "The Diving Board." Many who've just spent the past year and a half working on arecording might then leave the room, allowing the listener his own experience. Not Elton John. He sits down on a small sofa in front of the speakers, closes his eyes and listens along with you. And yes, it's loud.

The album is a game-changer for him. It's spare, sophisticated and deeply personal. Call it Elton John's "Sketches of Spain," after Miles Davis' own deep­career discovery of a worldly new creative voice. Spread around the stereo are other CDs – from new artists as well as Nina Simone at Town Hall. Elton is a fan who refuses to download his music. Music is a tactile experience for him – he wants to read liner notes, look at the pictures and take the journey.

He closes his eyes as he listens to "The Diving Board," his leg bouncing and head catching the rhythms. You might even forget he's made a few records before this one: This is his 30th. This one began as a trio recording, produced by T Bone Burnett. The first run of songs was relaxed and promising. A second session, fueled by an inspired new set of lyrics from longtime collaborator Bernie Taupin, pushed the album into deeper waters. The feeling taking hold was reminiscent of Elton's earliest recordings, when his band was a blazing trio, peaking with the live album "11-17-70." But Elton's voice is more resonant now; the songs ring with experience and a life filled with epic highs, lows and plateaus. Now in his sixties, he is finally a father of two children, a family man and a working artist.

In the spirit of the intimate nature of his album, Elton and Cameron Crowe reconvened a few months later to put together a fan's playlist of his own most personally affecting songs. It was the perfect late-summer afternoon to reflect and kill some time before a doctor's appointment to remove the stitches from a recent appendix operation. Going over all of his recordings, Elton chose the songs – not necessarily the hits – that still mean the most to him.

"Empty Sky"
Empty Sky (1969)
A great rock & roll track. I love it to death. I remember doing the vocal in the stairwell to get that echo, in a very small studio in London. [Caleb Quaye's] guitar solo was done in the stairwell as well. Another song on that first record, "Skyline Pigeon," was the first good song that Bernie and I wrote. But "Empty Sky" has something magical about it. It came together so brilliantly, and still sounds so good. It's hard for a piano player to write a rock & roll song. It sounded like a Stones song. I thought, "I can do this."

"Your Song"
Elton John (1970)
What can I say, it's a perfect song. It gets better every time I sing it. I remember writing it at my parents' apartment in North London, and Bernie giving me the lyrics, sitting down at the piano and looking at it and going, "Oh, my God, this is such a great lyric, I can't fuck this one up." It came out in about 20 minutes, and when I was done, I called him in and we both knew. I was 22, and he was 19, and it gave us so much confidence. "Empty Sky" was lovely, but it was very naive. We went on to do more esoteric stuff like "Take Me to the Pilot," of course, but musically, this was a big step forward. And the older I get, the more I sing these lyrics, and the more they resonate with me.

"Come Down in Time"
Tumbleweed Connection, 1971
I love the melancholic, and I love the sadness. I love writing sad songs. Not that I'm sad as a person – because I'm not – but they get to me. Dylan, Joni Mitchell, Neil Young have written so many of them. Peter Gabriel, "Don't Give Up." They're the ones that stay with me for life, and when you write one of those songs, oh, does it feel good! If it were down to me, I'd write that sort of shit all the time! I love "Come Down in Time." It was only our third album, and it's kind of something that a jazz singer would record. Chordwise, it was like nothing I'd ever written before. Essential for this list? Absolutely.

"Burn Down the Mission (including My Baby Left Me/Get Back)"
11-17-70, 1971
The first FM radio broadcast live from a studio, with 300 invited guests, including Mary Travers. We were all in the studio wearing headphones as if we were recording an album, but we were playing live. We could all hear each other extremely well. We just jammed, and the 18-minute jam session is some of the finest drum and bass and piano playing I've ever done. We were a bloody good band.
Personally, I was just evolving, like a butterfly coming out of a cocoon. Musically, Reg Dwight was gone. As soon as I changed my name to Elton John, I became Elton. Reg was still there as a person, and that caused a lot of problems later on, because my personal life didn't catch up with my professional life. I was still the shy, retiring boy offstage. But onstage, I was so much more confident. I'd just come to America, meeting people that I loved, being introduced by Neil Diamond, meeting the Band, meeting Dylan, meeting Leon Russell. People like George Harrison giving me telegrams, saying, "What you're doing is great." That gave me such confidence. It kick-started what I already had in my tank, which was, "I'm having a ball here, I can compete with these guys." That's what I try to do for young bands nowadays. If I hear something that's really fantastic, I have to ring them up to say, "This is absolutely brilliant." I think I tracked down Fountains of Wayne in Scandinavia. The guy from the Shins didn't believe it was me [laughs].

"Madman Across the Water"
Madman Across the Water, 1971
The Madman Across the Water album was the end of an era, the last record I made with session musicians. It was not commercial at all. I always think that we got shortchanged in my career. We took a chance on every album. We were making and writing serious fucking songs. "Levon" and "Tiny Dancer" were the singles from the album – they didn't do very well chartwise. "Tiny Dancer" is a complex song – it's not easy to sing – but the album did brilliantly. This was the end of the three-piece era on the road, because we'd reached as far as we could go, and I decided to get a guitarist into the band. Davey Johnstone brought a new essence. The three of those voices were so symbolic of my records from that point onward. I was personally most connected to the title song.

"Rocket Man"
Honky Château, 1972
The first huge single that I had. "Your Song" was a hit; "Rocket Man" was a big hit. It had an acoustic guitar on it, it was a different song for me – it was a simpler sound. I'd moved into a house, I was becoming successful, I was so confident, musically. Everything was to do with the music – touring, recording, radio interviews, photo shoots and "What are we going to do next?"

"Crocodile Rock"
Don't Shoot Me I'm Only the Piano Player, 1973
Don't Shoot Me I'm Only the Piano Player was my first U.K. Number One album. It had "Daniel," which was pure pop, but there were also songs like "Elderberry Wine" and "Teacher I Need You." And of course it spawned "Crocodile Rock," which was the song that probably changed the critics' opinion of me. It was a really blatant homage to Speedy Gonzales and all the great Fifties and Sixties records that we used to love, like Danny and the Juniors' "At the Hop." My career wasn't about "Crocodile Rock" – it was just a one-off thing – but it became a huge hit record, and in the long run, it became a negative for me, because people said, "Oh, fucking 'Crocodile Rock.' " I'd never started off as a hit writer, and I didn't know what a hit was, and it's evidenced on my first four albums. Rolling Stone reviewed it and gave it two stars, and I said, "Oh, fuck off." It was a great fucking pop record. Shut the fuck up.

"We All Fall in Love Sometimes"
Captain Fantastic and the Brown Dirt Cowboy, 1975
Another creative shift. Every lyric on Captain Fantastic and the Brown Dirt Cowboy was about Bernie and me, about our experiences of being able to make songs and make it big. I cry when I sing this song, because I was in love with Bernie, not in a sexual way, but because he was the person I was looking for my entire life, my little soulmate. We'd come so far, and we were still very naive. I was gay by that time and he was married, but he was a person that, more than anything, I loved, and the relationship we had was so odd, because it was not tied at the hip. Thank God it wasn't tied at the hip, because we wouldn't have lasted. That relationship is the most important relationship of my entire life. In a way, years later, I ended up being Captain Fantastic and he ended up the Brown Dirt Cowboy: Here, I'm living my fabulous lifestyle, collecting paintings, and Bernie is interested in horses and bull riding and shit like that. We became those characters. Who was to know?
I wrote a lot of the songs on the SS France going from Southampton to New York. I took the band – Nigel and Davie came with me – and I wrote the songs on the lunch hour because the piano room was booked by an opera singer for most of the day.
"Someone Saved My Life Tonight" is an obvious choice, because it was about me, but I wouldn't necessarily pick that one. I like this one, and "(Gotta Get a) Meal Ticket" [from the record] too. The album was written in running order – from start to finish, it was a story – and at that point, the bravest album I'd made.

"Song for Guy"
A Single Man, 1978
The first one I made without Taupin. Bernie and I never split up. But we were doing a lot of drugs and drinking heavily, and he was beginning to write with other people, which made me a little jealous, but I decided I'd write with some other people. We never discussed it, we just let it go, and it hurt. It hurt him and it hurt me, but we both had the resilience and the intelligence to know that if we didn't let each other write with other people, it would be the end of our relationship.
My favorite track from A Single Man is "Song for Guy" – it was different, it was an instrumental, it was just me doing everything. It meant so much to me, that track. It was a huge record in England and everywhere else in the world, but it was my first single that didn't make the Top 100 in the U.S. That was the reason I got bloody-minded and left MCA Records. I wanted­ to have an instrumental on the charts. They said, "You can't." So I said, "Fuck you, I'm joining Geffen." In retrospect, that was a big mistake.

"Mama Can't Buy You Love"
The Thom Bell Sessions, 1979
A million-selling record that was only played on black radio. With "Philadelphia Freedom," "Bennie and the Jets" and then "Mama Can't Buy You Love," I had three Number One R&B rec­ords, which meant a huge deal to a white guy from Pinner. Producer Thom Bell was an idol of mine, and I was crazy about all that music from Philadelphia: Gamble and Huff, MFSB, the Three Degrees, the O'Jays, Teddy Pendergrass – come on! That era was so great, totally brilliant stuff, never dated.

"Elton's Song"
The Fox, 1981
I'm searching for a hit. At that point, with the record companies, you had to have a hit. And The Fox didn't really have a hit. It was the first album I made for Geffen; it wasn't a success. I was in good company – David Geffen also signed John Lennon and his record was a stiff until, unfortunately, he was shot, then it made the charts. It was a big slap in the face for me. Again, a lot of drugs involved, but "Elton's Song" is so beautiful, and Tom Robinson's lyric is so beautiful. It reminded me of the film If . . . ., by Lindsay Anderson. It was very homoerotic. I could imagine the boy that I wanted to be, on the parallel bars, swinging with his tight little outfit on and his bare feet. It was the first gay song that I actually recorded as a homosexual song. Rather than "All the Girls Love Alice," it was the first boy-on-boy song I wrote – because Tom, of course, is a gay man, and we became great friends.

"I Saw Her Standing There" (with John Lennon)
28th November 1974 EP, 1981
What did John Lennon see in me? I think outrageousness and being true to myself and not giving a fuck. We hit it off straight away, even though I was in complete awe of him. He was nothing else but kind to me. I never saw the other side of John, the Harry Nilsson drinking side of John, where he'd turn on a sixpence. I only saw the gentle, gorgeous side of John, and he was gentle­ not only to me but my parents, my band members, and I just fell in love with him. I kind of brought him back, in a way, to performing, with the Madison Square Garden thing, because I did the bet with him about "Whatever Gets You Through the Night," and it got to Number One. He was petrified – he hadn't performed in years – but he came. I've never forgotten, I've never heard an ovation for anybody that was so heartwarming, and it moved him. It was, like, an eight-minute standing ovation. He was physically sick before he came on, he re-met Yoko that night, it changed the course of his life again. And I had something to do with it. Maybe I was put into John's life to reinstate him with Yoko.
We were so naughty together, we made music together, it was a huge thing for me to be able to play with him. We laughed our heads off. I can remember being stoned out of our mind on coke at the Sherry­Netherland hotel, and at 2:00 in the morning, there would be a knock on the door – of course, you know how paranoid you get on coke, you say, "Go to the door and look through the thing!" And it took me about five minutes to get the door because I was so paranoid, but it was Andy fucking Warhol! And I said, "It's Andy Warhol," and he said, "Don't fucking let him in! He'll have a camera and everything!" So we just waited for him to go away. Little things like that, crazy things like that. I would absolutely include "I Saw Her Standing There," which he acknowledged that Paul had written, which was great.

"I Guess That's Why They Call It the Blues"
Too Low for Zero, 1983
Bernie was back on Too Low for Zero – we wrote everything on the album. Also, it was the first time I met Renate [Blauel, later to be his first spouse], because she was an engineer on that record. It really was a return to form. Even though "I'm Still Standing" was kind of an anthem, "Blues" is the one for me because it's just a great song to sing. It's timeless.

"I Don't Wanna Go on With You Like That"
Reg Strikes Back, 1988
Personally, I'm headed for the abyss. There didn't seem to be a way out. I'm not the sort of person that should ever have taken a drug, because I don't need it – I have enough speed in my body to deal with anything; I have enough enthusiasm. The only reason I liked taking cocaine was because it was an aphrodisiac for me, which for 99 percent of other people, it was not, but it just made me horny, so I liked taking it.
The ironic thing is, this was a hit single and a gold record. "I Don't Wanna Go on With You Like That" is an uptempo song, for one, and it just worked perfectly. When I'm in the studio, I'm paying full attention, but on that album, I was out of control. I never took my personal stuff onstage, though. You have to divorce yourself from it. All great artists do that. Billie Holiday did it. Diana Ross did it. Otis Redding did it. Johnny Cash did it. Or, if you do take your personal stuff onstage, you do it to help you. You do it to make yourself more emotional. Judy Garland did that. But don't do an Amy Winehouse. Don't come onstage and ruin yourself. Come onstage and go with it, however sad you're feeling. I've only got to see an audience, a piano and the band, and I'm off. Then I've got to come offstage and deal with it. But for two and a half hours, I'm transported to somewhere else.

"Club at the End of the Street"
Sleeping With the Past, 1989
Sleeping With the Past was more of a drunken album than a drug album. It was the last album before rehab, but it was a good album, and I love "Club at the End of the Street." We wanted to write a song like the Drifters would record, one of those Goffin-King, Brill Building songs. It's the closest we ever got to one. By this time, I had known for years that my little run was up. I studied the charts, I'm a fan, and I know that people have their little time in the sun when they can do no wrong. It maybe lasts for five albums, six albums, and then someone else comes in, and in my case, it was Phil Collins, Madonna, Prince, U2, the Police, all those people. I knew I was good enough to maintain, because I'm a good live performer, but I said, "I'm not going to be Number One for all time" – and thank God, I had the common sense to know that. With people like Michael Jackson, when he said, "I want to sell more records than Thriller," I thought, "You must be joking, you're just setting yourself up for a fall, you can't expect to do that."

"The North"
The One, 1992
I'm rehabbed. When did I know it was time? I knew subliminally in 1989, when I auctioned off all my stuff at Sotheby's. My marriage had finished, I didn't have a partner, I was miserable. I thought, "Right, I'm gonna cleanse myself of all these possessions for a start, and I'm gonna start making my house at Woodside into a real home instead of a fucking pop star's house with gold records on the wall. I'm going to have a human life." I was still taking drugs, but living a more humane life. Six months later, my partner at the time was in rehab in Arizona. I knew when I visited what was going to happen. He had a counselor, I had a counselor, we faced each other knee to knee, we wrote a list of what we thought was wrong with each other. My list was so puny – like, he didn't put his CD covers back in the right place. He said I was a drug addict, a bulimic, a sex addict, a food addict, an overeater, an alcoholic. I said, "You know what? You're absolutely right. I give in. I surrender." I came out of rehab and, you know, it's astonishing when you think of the chain of events. Everything came alive again. The hope. Everything. Music never left my side.
Sobriety allows you to let things go. I've had so many things happen to me in sobriety that normally would have freaked me out: the turmoil of having to break up with my manager, having money stolen, stuff like that. Sobriety lets you focus on the now and not the past, and I've never had any regrets. Since I got sober, nothing bad has happened to me. Things happen, you fall out with people, but I've been given the tools to deal with it, and I've had the luck of having David [Furnish] as a great partner to help me deal with it, and good business people. I love my life now. I loved my life before, I just didn't know how to live it.
I went to Paris to make The One, and it was a strange experience. I was used to making records under the haze of alcohol or drugs, and here I was, 100 percent sober, so it was tough. But I managed to come up with a good song, which was the title of the record. "The North" I love a lot; that's my favorite song without question. Then, of course, afterward, The Lion King came along and all hell broke loose.

"Circle of Life"
The Lion King, 1994
The Lion King changed my life. It gave me the opportunity to write for the stage. It gave me more strings to my bow. After The Lion King, I wrote Aida, I wrote Billy Elliot, and I wrote The Vampire Lestat – four stage musicals. Up until that point, I was just doing records, videos and touring. Of course, nobody knew it was going to be this big. I'm so proud to be involved in it, and I have Tim Rice to thank for it. He phoned me up and said, "Disney said you won't do it," and I said, "Of course I'll do it, it's a great story." It was a wonderful experience working with Jeffrey Katzenberg and Tim, and Bernie gave me his blessing – there wasn't any jealousy or anything like that. I don't often play the songs from it live, because they don't really fit in, but I do play "Circle of Life" because it's a brilliant lyric. It's really the song that should have won the Oscar, but "Can You Feel the Love Tonight" did. I'm not complaining.

"Original Sin"
Songs From the West Coast, 2001
Hearing Ryan Adams' album Heartbreaker was a seminal point for this part of my career. I just fell in love with him and that record. And I had the great fortune of doing Songs From the West Coast with producer Pat Leonard. He got my idea and simplified the record, and made me work with other musicians. I have to say that one of the biggest regrets of my life is that I've not fallen out, but I've drifted away from Pat. I feel very ungrateful to Pat that I didn't make another record with him. We were so close on that record, he shifted me so much in the direction that I wanted to go. "Original Sin" is one of the best songs I've ever written.

"Gone to Shiloh" (with Leon Russell)
The Union, 2010
The album before this, The Captain & the Kid, was the lost gem of my life. It was telling the continuing story of us, Bernie and Elton, now. I cared so deeply about it, because it was so personal and such a really good record. I was so furious with Interscope Records because they put it out and they dropped it. I had meetings in the South of France, and I said, "I know this isn't a commercial album, I just want you to do your best," and they dropped it like a fucking turd. It's probably why I didn't make another solo record. It was pure heartbreak.
I was so disillusioned. If it hadn't been for Leon Russell, I wouldn't have gone back into the studio – a chance call to Leon, just to see how he was doing and to thank him for all he did for me as a young artist, turned into one of the greatest experiences of my life. "Gone to Shiloh" is a song that feels like a movie – it was a pivotal moment for the record I did with Leon, The Union, and a pivotal moment for us as writers.
When I heard the Robert Plant/Alison Krauss record Raising Sand, I noticed T Bone Burnett again. I'd heard all the Elvis Costello records he'd produced and I loved them, but Raising Sand was such a simple record, and it made me want to work with him. When the Leon thing came up, he was the first person I thought of, and we started this relationship, which has gotten so strong that I can't really see me recording with anybody else. It's the beginning of a new beginning.

"My Quicksand"
The Diving Board, 2013
When I did "My Quicksand," I thought, "That's the best track I've ever recorded, right there." Pianowise, vocal­wise, everything about it. I've never played the piano like that on a record before – the solo was improvised. It's just a very musical moment that I was very proud of on this record. I knew that I'd moved forward – this is the kind of song that I never thought I'd be singing when I started out. My days of making pop records like Goodbye Yellow Brick Road and Don't Shoot Me I'm Only the Piano Player, they were when I was younger. I'm not that guy anymore. I'm this guy. It's the most honest rec­ord I've ever made.
I'm at a stage where I want to give back as much as I can. It's all kind of unexplainable, you know. There was this little boy, not the normal prototype; there was no one else like me in rock. I got stuck on the piano. And I think people realize that I genuinely appreciate their love and affection and their loyalty. It's so fucking joyous after all this time. I wasn't always comfortable in my own skin. They were with me when I didn't know who I was. I'm just so grateful, and this is the music I want to make. This is the very best I can do.
Elton John frame created with blood ties
Friday, October 11 2013
High fashion British eyewear company Cutler and Gross has created a capsule range of sunglasses for the Elton John AIDS Foundation to mark its 20th anniversary. All profits will be donated to the Foundation and the target is to raise over £60,000.
The limited edition model of the iconic 0734 sunglass has been handcrafted in a deep red thick Italian acetate and engraved with a discreet gold foil logo. Designed as a quintessentially British frame, the 0734 has a keyhole bridge and vintage circular pins.

The frame is inspired by the Foundation's 'Love Is In My Blood' campaign, which is designed to attract attention and show solidarity for over 30 million people living with HIV. "The idea behind Love is in My Blood' is to remind the world that more than any disease, or prejudice, it's love that flows through our veins and it's that love which will ultimately defeat AIDS," said Elton.

The limited edition EJAF frames are numbered from 1-300 and will retail for £320, while the premium model will be glazed with 24 karat gold lenses, numbered from 1-20 and will retail for £400.

To illustrate how far purchasing a frame can help change the lives of people living with HIV, for each pair of glasses purchased, two women who have been raped in Kenya will receive counselling, emergency contraception and anti-HIV treatment to stop them becoming infected.

Both frames will be available to purchase from Cutler and Gross stores worldwide and at www.cutlerandgross.com.
"The Diving Board" fades Down Under
Wednesday, October 9 2013
Elton's "The Diving Board" has failed to impact with his Australian fans despite being his most successful album in over a decade in the UK and over 30 years in the USA.
"The Diving Board" dived to number 99 on the Australian chart in its third week after selling just 386 copies. The album is surrounded by other high-profile failures in Australia that have worked in other markets like Kanye West, Jay-Z and Robin Thicke that have all already dropped into the 90s.

Elton John "The Diving Board" has had a particular bad result in Australia with sales totally 1795 after three full weeks.

In the UK the album is at 25 after three weeks and in the USA it is at number 10 after two weeks after debuting at in 4 in the USA and becoming Elton's highest debuting album in the USA since "Blue Moves" in 1976. The album debuted at no. 3 in the UK.

Also see Elton John Charts.
Tennis legend Billie Jean King marks 70th birthday in Las Vegas celebration
Tuesday, October 8 2013
Tennis great Billie Jean King celebrated her 70th birthday on October 5, 2013 at Caesars Palace with Elton John, Andre Agassi and Steffi Graf among the 200 revelers.
The evening commemorated a number of recent 40th anniversaries, including the Battle of the Sexes, pitting King versus Bobby Riggs, her friendship with Elton and her help in founding the Women's Tennis Association.

The party was held at Caesars' Garden of the Gods pools after Elton's show at The Colosseum. Elton, who dedicated "Don't Let the Sun Go Down on Me" to King during his show, was among the speakers at the party.

He described King as a personal inspiration and "the sister I never had." Elton and Bernie co-wrote "Philadelphia Freedom" in King's honor. She played for the Philadelphia Freedoms tennis team.

A former world No. 1, King won 39 grand slam titles, including a record 20 at Wimbledon. Her first Wimbledon title was in doubles as a 17-year-old. An estimated 50 million in 37 countries watched the Battle of the Sexes, won by King, 6-4, 6-3, 6-3. King was 29; Riggs, a former Wimbledon champion, was 59.

Among those attending her birthday party: Elton's entire band, including original members Davey Johnstone, Nigel Olsson and percussionist Ray Cooper, King's partner Ilana Kloss, ABC's "Good Morning America" host Robin Roberts, former tennis stars Tracy Austin, Lindsay Davenport, Rosie Casals and Pam Shriver and tennis analysts Bud Collins and Mary Carillo.

King held the birthday celebration six weeks early. Her birthday is November 22, 2013.


"The Million Dollar Piano" in Las Vegas on October 5, 2013
Sunday, October 6 2013 at 07:39:16


"The Million Dollar Piano" in Las Vegas on October 6, 2013
Monday, October 7 2013
Following is the complete set list of the "Million Dollar Piano" show on October 6, 2013.
The Bitch Is Back

Bennie And The Jets

Rocket Man

Levon

Tiny Dancer

Your Song

Mona Lisas And Mad Hatters

Better Off Dead

Indian Sunset

Empty Garden

Goodbye Yellow Brick Road

I Guess That's Why They Call It The Blues

Don't Let The Sun Go Down On Me

Philadelphia Freedom

I'm Still Standing

Crocodile Rock

Saturday Night's Alright (For Fighting)

Circle of life
"The Million Dollar Piano" in Las Vegas on October 5, 2013
Sunday, October 6 2013
Fan review by Stephan Heimbecher.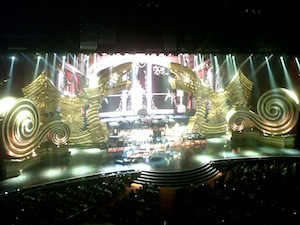 Following day 2 of the Elton Expo 2013 quite a number of fans attended the "Million Dollar Piano" show at the Colosseum in Caesars Palace that same night. It was my 116th Elton show, but the first time I saw this new production in Las Vegas after having attended "The Red Piano" back in 2005.

I never was a big fan of "The Red Piano", to be perfectly honest, and I am not so sure that I will ever become an avid fan of this new Sin City extravaganca either. On the plus side I have to mention that "Million Dollar Piano" includes some fan gems such as "Better Off Dead" and "Indian Sunset" and the show lasts for two hours, which makes it considerably longer than the 90 minutes "Red Piano".

"Million Dollar Piano" kicked off at 7.41pm with the sound of "Also sprach Zarathustra" (Thus spoke Zarathustra) and the band together with their equipment being moved in from left and right. Elton entered with a golden cape, which was taken off by the 2 Cellos, and launched right into "The Bitch Is Back" followed by "Bennie And The Jets". He then welcomed the audience level by level starting with the 2nd balcony. House lights were brought on only for the specific part of the audience that he greeted - a simple, yet effective way of addressing the audience on some kind of a personal level.

"Rocket Man" then was the first song the video wall at the back of the stage came into play, which is extended on the podiums of the band as well as on Elton's piano. Just like with "The Red Piano" I didn't really get the visual concept during this part of the show. The screen was black during some songs and I kept wondering why there was a camera man on stage during the entire show, but up until the end one could never see any live footage anywhere.

Following "Levon" and "Tiny Dancer", which always work great with any audience, the band moved out and Elton became a lot more talkative and gave a long introduction into "Your Song" referring to Bernie and their 46 years of songwriting. He then introduced "Mona Lisas And Mad Hatters", for which he was accompanied by Davey and the 2 Cellos, referring back to the 9/11 benefit show at Madison Square Garden in New York, which would forever be stuck in his mind as a very emotional evening. During the song, ordinary people from New York City (filmed in 2012) where shown on the screen, making good use of that gigantic canvas for the first time in my opinion.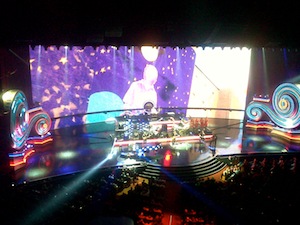 What followed was the highlight of the show for me, two great performances with Ray Cooper: "Better Off Dead" and "Indian Sunset". Then the band was brought in again and Elton gave another long introduction into the next song, "Empty Garden", which began with material from the famous show on November 24, 1974, when Elton was joined on stage by John Lennon. Unfortunatly, only about ten seconds of that footage exist, so the clip ended rarther abrupt.

"Goodbye Yellow Brick Road" featured a nice cartoonish 'The life of Elton John' animation on the big screen, which was one of the few interesting video clips. Following "I Guess That's Why They Call It The Blues", Elton sang the entire band introduction, which that way seemed to last as long as "Indian Sunset", but was unique in a way and well received by the audience.

Elton dedicated "Don't Let The Sun Go Down On Me" to Billy Jean King, who was in the audience celebrating her birthday with 250 of her closest friends. Another Billy Jean King song, "Philadelphia Freedom", was next. For this some stage elements left and right opened up and revealed the video screen in the back in its entire enormous dimension. This actually was the look that I had expected throughout the entire show. During "I'm Still Standing" snippets from various Elton video clips were shown, leaving all the hardcore fans in the audience playing trivia with themselves. And during "Crocodile Rock" the big screen finally came to life with singing along audience being shown in five times life-size.

Parts of that audience were then allow to rush the stage during "Saturday Night's Alright (For Fighting)", just after Elton's piano had been carefully roped off. And while lucky stage crasher were shuffled back to their seats, the band already launched into the final song of the night, "Circle Of Life".

The entire band as well as Elton came to the front of the stage after that, taking a bow, and then Elton gave a high five to everybody on stage as well as a few people in the first row, before leaving without even saying "goodbye".

I will give "Million Dollar Piano" another chance tomorrow night. It's with no doubt a great show, but with ticket prices as high as $500, I do prefer a regular Elton show.

Following is the complete set list of the "Million Dollar Piano" show on October 5, 2013:
The Bitch Is Back

Bennie And The Jets

Rocket Man

Levon

Tiny Dancer

Your Song

Mona Lisas And Mad Hatters

Better Off Dead

Indian Sunset

Empty Garden

Goodbye Yellow Brick Road

I Guess That's Why They Call It The Blues

Don't Let The Sun Go Down On Me

Philadelphia Freedom

I'm Still Standing

Crocodile Rock

Saturday Night's Alright (For Fighting)

Circle of life
"Goodbye Yellow Brick Road" released 40 years ago
Sunday, October 6 2013
It almost seems too easy to call "Goodbye Yellow Brick Road" Elton's masterpiece, but it's hard to argue against it. Released on October 5, 1973, it was the second studio album he put out in 1973, and his seventh in five years. Plus it was a double album.
That's a staggering tally for even the most prolific artists, from a time when the insatiable nature of the pop charts demanded constant product. In comparison, Elton has released just four studio albums, or about half that amount, in the past ten years.

Such was the era, and such is his talent. It may be a run of success, quality, and humility unprecedented in rock history. He had six No. 1 singles on the Billboard charts in the 1970s, second only to the Bee Gees. Although "Goodbye Yellow Brick Road" didn't have enough time to beat out 1973′s top-selling album, "The World Is a Ghetto" from War, it outsold all other records the following year. He's described the era as a time "before the drugs set in," and his overdose in Los Angeles wouldn't come until 1975, but at that moment, there was only the music, the studio and the road, on and on.

Elton writes the music for most songs in twenty minutes or less — "in the time it would take me to make a sandwich," as longtime guitarist Davey Johnstone would later remark. "Goodbye Yellow Brick Road" was completed over just two weeks in France, after an aborted attempt to record in Jamaica (the source for Bernie Taupin's lyric on "Jamaica Jerk Off," no doubt). The band would wake up in the morning for breakfast, Elton would retire to the piano to write, they'd learn the day's song, and it took usually no more than four takes to cut each track.

That doesn't count overdubs and additional instruments, and "Goodbye Yellow Brick Road" is an album full of lush, rich productions, with strings, horns, and sound effects in abundance across its 17 tracks. Horses gallop on "Roy Rogers," a chilling wind blows through "Funeral for a Friend," and a fake crowd claps the off-beat on "Bennie and the Jets." Pop, rock, country, reggae, soul and R&B melt together into a gorgeous, rocking mosaic. Every song stands as its own tone poem, Taupin's lyrics conjuring images of a wistful, sometimes painful past that you can't really escape, no matter how many yellow brick roads you walk away from.

"Goodbye Yellow Brick Road" finds an artist at the top of his talents, in a moment when the world was at his feet. Elton's had countless legendary moments in his career, from winning Oscars for "The Lion King" to entertaining all of Central Park in a Donald Duck outfit. But there may be no record that captures his gifts more perfectly than "Goodbye Yellow Brick Road."


40th anniversary of "Goodbye Yellow Brick Road"
Monday, June 10 2013 at 19:53:33


Elton Expo 2013 continues with Matt Still, the Elton John Band and Ben Babylon
Sunday, October 6 2013
Fans from all over the world had a blast on day 2 of the Elton Expo 2013 at the Tuscany Suites hotel in Las Vegas on October 5, 2013.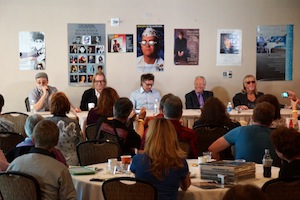 After the event had kicked of with author Keith Hayward and tribute band Elton Rohn on day 1, the second day of the Elton Expo 2013 continued with a Q&A session with Matt Still, producer of Elton albums including "Peachtree Road" and "The Captain And The Kid".

Next the Elton John Band - Matt Bissonette, Kim Bullard, John Mahon, Nigel Olsson and Davey Johnstone - poped in for another Q&A session, after which they also signed autographs.

The afternoon was kicked off by Magic Johnstone, aka the Davey Johnstone family reunion, jamming along with "Grow Some Funk Of Your Own". The main act for the day was fabulous Ben Babylon with his amazing band, who performed a number of tracks from their new EP "Further Interpretations of Real Life". Ben began with "Song For Guy", accompanied by John Mahon, before turning to his own tune "Contradiction", for which he was joined by Davey Johnstone.

Thanks to Kevin Bell from East End Lights for putting together this amazing treat for the fans!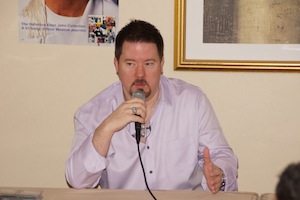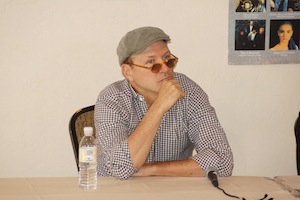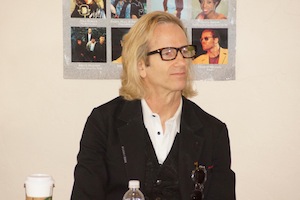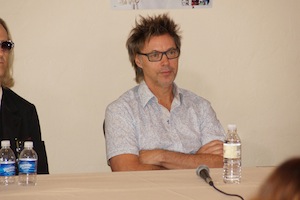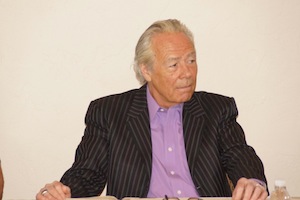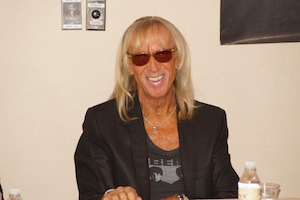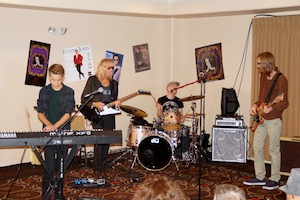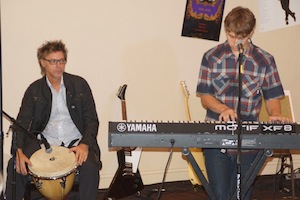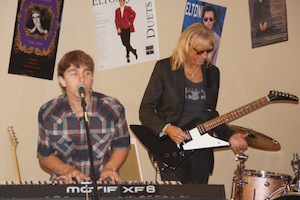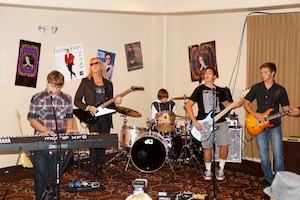 Elton John to make "Jimmy Kimmel Live" debut
Saturday, October 5 2013
Elton will be making his debut appearance on "Jimmy Kimmel Live" on October 8, 2013 at 11:35pm/10:35pm CT on ABC.
The music legend will be interviewed by the late night host followed by an intimate performance on the show's studio stage. Elton will be performing "Home Again" from his new album "The Diving Board." Kimmel's additional guest that evening will be Emily Vancamp from ABC's hit show, "Revenge."

Elton is the third most successful artist in the history of the American charts, behind only Elvis Presley and the Beatles. He has had 56 Top 40 singles in the United States, a total second only to Elvis Presley. He achieved seven #1 albums in the three-and-a-half-year period from 1972 to 1975 -- a period of concentrated success surpassed only by the Beatles.


US charts: Elton hits 37-year high
Saturday, October 5 2013 at 04:43:19


Poll: Your LEAST favorite track from "The Diving Board"
Saturday, October 5 2013
Over the past ten days, 550 fans took part in the latest Hercules Poll.
The final results are in now. The question we asked was "What is your LEAST favorite track from 'The Diving Board'?.
My Quicksand 21%

Mexican Vacation (Kids In The Candlelight) 9.2%

The Diving Board 8.5%

Can't Stay Alone Tonight 7.6%

Candlelit Bedroom 6.5%

A Town Called Jubilee 5.8%

Take This Dirty Water 5.6%

Voyeur 5.6%

Home Again 5.2%

Oscar Wilde Gets Out 5.2%

Oceans Away 4.3%

Dream # 1 4.1%

The New Fever Waltz 3.8%

The Ballad Of Blind Tom 3.4%

Dream # 3 2.5%

Dream # 2 0.9%
Just recently, we had asked fans to vote for their favorite track from the new album.

Elton Expo 2013 kicks off in Las Vegas
Saturday, October 5 2013

Day 1 of the Elton Expo 2013, presented by East End Lights, kicked off at the Tuscany Suites hotel in Las Vegas on October 4, 2013.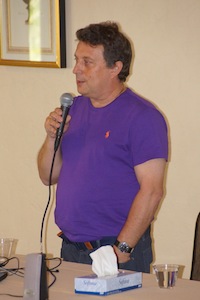 Elton fans from all over the world were treated with a Q&A session with Keith Hayward, author of the book "Tin Pan Alley: The Rise Of Elton John", a highly recommended read about the beginning of Reg Dwight's career before he became famous as Elton John. The book covers the period until 1970 when Elton made his debut in the US. During the session Keith revealed that a volume 2 of the book - covering Elton's musical producing until 1979 - is already in the making.

In the afternoon Canadian tribute act Elton Rohn performed some Elton gems, which most of the fans present would probably love to hear from the "real" Elton: "Bad Side of the Moon", "High Flighing Bird" and "Harmony" were just some of the songs. Elton Rohn will also perform at the Elton Expo After Party at the Hard Rock Cafe on day 2 (October 5, 2013).

The Elton Expo will continue with visits from producer Matt Still, the Elton John band and performances by Davey Johnstone & Family as well as Ben Babylon.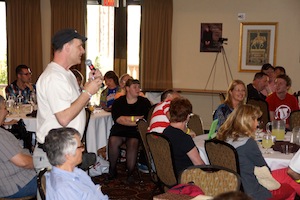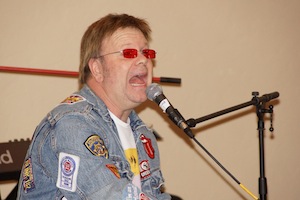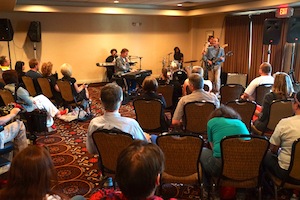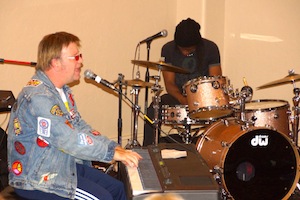 Elton called "The Devil's Work" by Russian Muslim Cleric
Saturday, October 5 2013
A Russian Islamic imam demanded the boycott of Elton John's Moscow and Kazan concerts in December 2013, calling the openly gay singer "the devil's work in the shape of a pederast."
The imam, Seidzhagfar Lutfullin, hails from Russia's Muslim Tartarstan area. According to his statements made public on October 3, 2013 (in a local newspaper, posted on his mosque's website and from a speech), "Sodomy ... is what the world famous homosexual Elton John, who recently wed a man in public, is promoting."

The legendary star's fans were warned to avoid his December 8, 2013 show in Kazan. "Divine retribution for taking part in a hotbed of sodomy will fall both on those who attend the concert and those who perform there," said Lutfullin.

This isn't the first group to advocate a ban of the 66-year-old's performances. Last week, the Union of Orthodox Brotherhoods' leader Yuri Ageshchev spoke out against John's Moscow show. "The statement by this gay guy -- Elton John -- about his support for gays and other perverts during the upcoming concert in Moscow is an insult to all Russian citizens," he said.

In addition, an open letter from the Ural Parents Committee asked Russian President Vladimir Putin to ban the British singer's upcoming concerts. Elton addressed the situation in The Guardian in September 2013, stating the shows will go on despite Russia's current anti-gay legislature.


Anti-Gay groups call on authorities to ban Elton John concert
Wednesday, September 25 2013 at 09:12:48


US charts: Elton hits 37-year high
Saturday, October 5 2013
Elton John has scored his highest charting solo album in the States since 1976 with "The Diving Board" debuting at No 4.
Although he reached No 3 on the Billboard 200 in 2010 with "The Union" in conjunction with Leon Russell, the last time he charted so high as a solo act across the pond was 37 years ago when "Blue Moves" made it to No 3. That album followed seven consecutive No 1 albums on the chart for him, starting with "Honky Chateau" in 1972 and ending with "Rock Of The Westies" in 1975.

"The Diving Board" sold 47,000 copies last week, according to Nielsen SoundScan, to become his 18th US Top 10 hit, although the last Top 10 hit with a new studio album (apart from "The Union" with Russell) was "The Big Picture," which reached No 9 in 1997. The retrospective Rocket Man: The Definitive Hits made it to No 9 in 2007.

Also see Elton John Charts.
Elton to receive Rockefeller Foundation Lifetime Achievement Award
Friday, October 4 2013
The EJAF is very excited to announce that founder Elton John will receive The Rockefeller Foundation's Lifetime Achievement Award at The Rockefeller Foundation's "A Celebration of American Philanthropy" event in Washington, D.C., on October 30, 2013.
"At the Rockefeller Foundation, we are constantly searching for innovative solutions to some of the world's most pressing challenges. As such, we are honored to recognize Sir Elton John for his unwavering commitment and contributions to the fight against HIV/AIDS, and for the innovative work he has done not just targeting the disease, but also the stigma, discrimination, politics, and community-related concerns associated with it," said Dr. Judith Rodin, President of The Rockefeller Foundation.

The Rockefeller Foundation's Lifetime Achievement Award is given annually to an outstanding individual who has implemented major innovative approaches to social or environmental problems. Previous recipients of the award are President Bill Clinton and Ratan Tata. In addition to the Lifetime Achievement Award, the Rockefeller Foundation will also distribute a grant to EJAF in support of its work.

"From the beginning, it has been my steadfast belief that we would not be able to treat or cure HIV/AIDS when people living with the disease or very vulnerable to it are shunned, hidden, or denied their human rights," said Elton. "It is an honor to receive this award from The Rockefeller Foundation, an organization that has been at the forefront of leveraging innovation, in all its forms, to promote the well-being of humanity around the world."
Tantrums and Tiaras - reloaded
Wednesday, October 2 2013
Elton really hates the paparazzi, which is why it's weird that he went to a Hollywood restaurant on September 30, 2013 in the thick of the paparazzi zone.
Elton arrives to Craig's -- famously patronized by big celebs on a nightly basis -- and immediately goes off on the waiting paparazzis. In fact, Elton was so passionate about his cussing that he tripped over his own feet and almost fell on his way in.


Elton's video tribute to drummer Roger Pope
Wednesday, October 2 2013
It was a rock 'n' roll sendoff to a legendary musician from one of the biggest singing stars in the world.
Dozens of mourners said a final farewell to renowned Southampton drummer Roger Pope, including Elton John, who paid a personal tribute to his late friend. As reported earlier, 66- year-old Roger died just hours after tying the knot with long-term partner Sue Tressider in Southampton General Hospital, having fought a tough battle with cancer.
And on September 30, 2013 the popular musician received a fitting farewell as scores of people packed into the Wessex Vale Crematorium in Bubb Lane, West End.

Many who turned out wore T-shirts emblazoned with The Soul Agents, the Southampton band in which Roger played drums alongside a young Rod Stewart. After the emotional service, it was time to celebrate his life as dozens of people – including former bandmates and members of the city's rock 'n' roll fraternity – packed into The Brook in Portswood.

But a particularly special moment came with a touching video tribute from Elton, in which the pop knight dedicated his chart-topping hit "Don't Let The Sun Go Down On Me" to his former drummer. He had heard the news of Roger's death just an hour before he went on stage to perform in Las Vegas, and spoke of their friendship and his sadness at the news.

Singer Kiki Dee also penned a tribute to her "loyal friend" – his wicker coffin having been carried into the crematorium with a drum-shaped wreath, to the sounds of Elton and Kiki's hit duet "Don't Go Breaking My Heart" and Kiki's "I've Got the Music in Me."

Funeral celebrant Lesley Nash said that Roger was known to so many because of his drumming skills. She said: "His unique and instinctive style of drumming made him a must-have session musician during the 70s and 80s. It was well known in the music business that Roger was one of the best drummers in the world."


R.I.P. Roger Pope
Wednesday, September 18 2013 at 07:31:21


Ben Babylon to release new single "Burning Man"
Wednesday, October 2 2013
Singer/songwriter Ben Babylon, son of Elton's late keyboardist and arranger, Guy Babylon, plans to release his new single, "Burning Man," on October 4, 2013.
The song is off Babylon's forthcoming album, which he has been recording with help from some members of the Elton John Band, including percussionist John Mahon, who performs on the track. The song will be included on an album that is expected to be released in early 2014.

The Ben Babylon Band will debut "Burning Man" on television for the first time on October 4, 2013, from the prestigious Gibson Las Vegas Showroom at KVVU FOX5 Television. The Gibson Las Vegas Showroom opened last year as the company's first professional showroom that also serves as a performance and broadcasting studio. The performance will air locally at 6:30 p.m. on the entertainment program "More Access," with hosts Rachel Smith and Sean McAllister, and will later be available online.

The Ben Babylon Band will be in Las Vegas this weekend for a concert at Elton Expo 2013, a fan fest taking place at the Tuscany Suites Hotel. Three-day and one-day registrations are available at www.EastEndLightsMagazine.com.

On October 18, 2013, Ben will perform solo when he opens for Leon Russell at The Canyon Club in Agoura Hills, California. He will reunite with his band, the Ben Babylon Band, to open for Blood, Sweat & Tears at The Canyon Club on December 13, 2013.

The music of Ben Babylon is available on iTunes. Information is available at www.BabylonMusic.biz.