ELTON JOHN NEWS ARCHIVE: October 2012
Elton to extend Las Vegas run until 2016
Tuesday, October 30 2012
Elton wrapped his 2012 residency at Caesars on October 28, 2012 and departed for England.
He has a week's vacation there before touring in Australia and China. "I've really had the greatest time in Las Vegas. It's been the best. It's so good to stay put in one place so long, and we're only a quick trip from the new house in Los Angeles," he told the Las Vegas Sun.

"I'm going to keep on doing shows especially here in Las Vegas because this run truly has been the best ever. We have always had the best time in Vegas. We love it here. I'm serious about continuing it out to at least 2016," he said.

His whirlwind weekend in Las Vegas continued the 50th star-studded birthday celebrations he'd planned for David that began in L.A. B>"A lot of work went into this, and thankfully it all went smoothly," Elton added. "This has been a wonderful 50th for David. Mine in London was over the top. Then I celebrated my 60th in New York, so I think when it comes time for my 70th, we'll keep it just to a quiet dinner for several close friends."
Elton cuts the ribbon for new Chopard store at the Wynn
Tuesday, October 30 2012
Chopard has finally made its long-awaited debut in Las Vegas.
The luxury Swiss-based jewelry, accessories and watch company celebrated the arrival of its Sin City location on October 28, 2012 with an exclusive cocktail soiree at its new home in the Wynn Las Vegas.

None other than Sir Elton John, who has a Vegas residency for his show show "The Million Dollar Piano", was on hand to cut the chic boutique's official blue opening ribbon. Chopard Co-President and Artistic Director Caroline Scheufele co-hosted the event. She and Elton also debuted their collaboration, a new extension of the Elton John Watch Collection, at the glamorous, 800-square-foot shop. Their haute pairing benefits the Elton John AIDS Foundation, which Scheufele has supported for nearly 15 years.

Other guests in attendance included David Furnish as well as Christina Hendricks and Malin Akerman, all of whom headed over to Casear's Palace post-party for the "Million Dollar" concert. Prior to the ribbon-cutting, the whole group celebrated David's 50th birthday at Simon Hammerstein's new Vegas hot spot, The Act.
Elton sings for Telethon
Tuesday, October 30 2012
Elton John will do a live cross to Telethon from his Rocket Man 40th anniversary concert at Perth Arena.
After several months of negotiations, Telethon organisers on October 29, 2012 celebrated confirmation that the singer would play two songs live from his Perth concert to the Statewide Telethon audience. Telethon general manager Steve Mummery said the show would cross to Elton's concert spectacular on November 10, 2012.

"Elton has agreed to perform two songs exclusively for Telethon at his concert," he said. "We'll cross to the concert live for a couple of songs. It's pretty exciting to have somebody of the calibre of Elton John on Telethon. He has a child himself and knows how important it is for us to be looking after our kids. He's going to bring all of WA into his concert. It's going to be a great event and fantasic for Telethon."

Elton is the opening act for the new 15,000 seat Perth Arena in Wellington Street. Telethon will run over the weekend of November 10-11, 2012.
Adele calls Elton for parenting advice
Tuesday, October 30 2012
New mother Adele is reportedly taking parenting advice from singer Elton John.
The 24-year-old Grammy winning singer, who gave birth to a baby boy with her charity worker partner Simon Konecki on October 19, 2012, has been Skyping her friend Elton to ask for advice about raising a child in the limelight, reported Sun online.

"As Elton`s in LA the time difference works out perfectly when she`s up in the night with the baby," a source said. The child is the first for Adele, but the second for Konecki, who also has a daughter with his ex-wife.
Elton leads star parade at the Palazzo's Act gala opening
Monday, October 29 2012
Elton's four-day birthday bash for Davidcontinued October 27, 2012 at the gala opening of the Act theater nightclub in the Palazzo in Las Vegas.
David hit the Big 5-0 on October 25, 2012, and Caesars Palace headliner Elton has spared no expense celebrating the milestone of his partner. First, a huge party at their Beverly Hills home, then a second birthday bash at a downtown L.A. venue with guests including Neil Patrick Harris, Johnny Depp, Gwen Stefani, Elizabeth Hurley and my pals Melissa and Joan Rivers.

On October 267, 2012, the birthday action moved to Las Vegas, where Elton wraps his 2012 season run of shows at the Colosseum on October 28, 2012. David's party at the Act also served as the glittering opening of Simon Hammerstein's theatrical club. Among those joining Elton and David: Susan Sarandon, Mark Salling, Chris Mann, Christina Hendricks, Victoria Grant, Malin Akerman, Alison Melnick, Michael Gladis, Matt Stone and ringmaster, MC and performance artist Raven O. Simon was joined by Murtaza Akbar and Randy Weiner, his business partners in the Act.


Robbie Williams thanks Elton ...
Sunday, October 28 2012
.. for getting him through drink and drug addictions. Take That star said Elton was the only one who understood him.
Robbie Williams has Elton to thank for beating his drink and drug addictions as the Take That star admits the music icon was the only one who really understood him during his troubled past. Robbie has revealed that he hit rock bottom several times in his Take That heyday. The star does admit though that he wishes his bad boy phase had come later in his life. Robbie was just 16 when he joined the boy band in 1990, just three years later he says he had to accept he was "out of control:" "I regret that it was all over so fast. I regret the fact I was 19 when I realised I was out of control." Robbie tells Shortlist Magazine.

"I regret the fact I wasn't 29 or 30 when it happened and I'd spolodged my way around the world in some sort of alcoholic drug stupor. I spent most of my 20s sober." The star may still have some nostalgia for his naughty habits but the 38-year-old new dad does admit that he was at rock bottom: "Many times during my 20s and a short period in my 30s [I hit rock bottom]. In my 20s I was like, 'This is f***ing horrendous' but I didn't think I was going to die. The short period in my 30s I thought, 'I'm just about to die and I don't care.' In fact, it would have been a relief. But that's where you're f***ing head goes when you're taking loads of things you shouldn't be taking."

Robbie, who is now happily married, reveals that it was former addict and fellow musician Sir Elton John who helped him through: "The only person I knew who understood anything about it was Elton John. After a big bender it'd be [calling] 'Elton'. How weird is that, when the only person you know can help you is Elton John?"


David celebrates turning 50 with four parties
Saturday, October 27 2012
It's surely one of the most exciting landmark birthdays to reach. So when David turned 50, who better for him to mark the special day with than his husband Elton and son Zachary.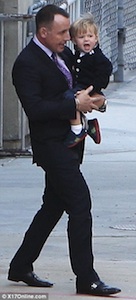 The filmmaker was seen holding son Zachary, one, close as the pair cuddled up while out in Los Angeles on October 25, 2012, ahead of his big day on October 26, 2012. Birthday boy David looked smart in a dark navy suit, purple shirt and matching tie, while little Zachary looked equally dapper in his buttoned-up cardigan, with shorts and a shirt and blue, red-soled trainers.

The pair were seen walking slightly ahead of Elton, who wore his staple black ensemble with a jacket and white V-neck T-shirt. He brightened up the outfit with a colourful pocket square and pink-lens glasses.

While the day may not have been particularly exciting, given that the pair were in court for an ongoing libel case, Elton did pull out all the stops with a star-studded party in the evening. According to reports, Elton decided to host the celebration at the Los Angeles mansion the pair recently purchased, and ensured every effort was made to make the evening as enjoyable as possible for David. Upcoming band the Gypsy Queens provided the entertainment.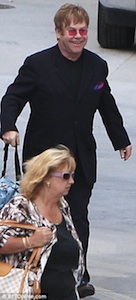 The party doubled as a housewarming for the couple's spacious mansion, the purchase of which fuelled rumours they are expecting their second child via the same surrogate who gave birth to Zachary in December 2010. Speaking previously about his desire to have another child, Elton said in an interview on Daybreak that he and David are 'definitely' going to be adding to their brood in the future. He added: 'At what stage we don't know, but we definitely will. I don't want him to be an only child.'

The party which doubled as a housewarming event was only the start of the lavish celebrations to mark David's milestone. On Day Two after getting their beauty sleep at the Four Seasons, the A-list guests joined David on his actual birthday for a special dinner in the ballroom of the 112-year-old Belasco Theatre in downtown Los Angeles. Renowned chef Ludo Lefebvre is said to be the man behind his birthday meal and the Circque de Soleil will provide the entertainment.

Day three of the celebrations, will see David and his guests head to the Greystone Manor nightclub where veteran singer Cher is expected to take to the stage for and exclusive performance. And if he's still standing on the final day, Furnish can look forward to another party - Sin City Style! Guests will be driven 300 miles to Las Vegas, and given the best seats in town to see Elton's Million Dollar Piano show at Caesars Palace, with a private after- party in the hotel to round off the epic celebrations.


David celebrates 50th birthday in style
Friday, October 26 2012 at 05:36:09

Happy Birthday, David!
Thursday, October 25 2012 at 07:05:26

Elton plans a 'party to end all parties'
Sunday, October 14 2012 at 06:38:39
The new "Million Dollar Piano" in Las Vegas in October 2012
Friday, October 26 2012
For his new leg of the "Million Dollar Piano" in Las Vegas, 'Blue Eyes' was dropped and replaced by 'Empty Garden'.
Despite other reports, only a few moments (less than 10 seconds) of video is shown of John Lennon joining Elton on stage in New York City in 1974. After that, a white flower is used as background for photos of Lennon and Yoko Ono, Lennon and Elton, and some video of Lennon and Yoko Ono from the mid Eighties.

'Rocket Man' now has a new relatively short classical style intro that was new to the ears of most Elton fans.

Following is the complete set list of the "Million Dollar Piano" show on October 21, 2012:
The Bitch Is Back

Bennie And The Jets

Rocket Man

Levon

Tiny Dancer

Your Song

Mona Lisas And Mad Hatters

Better off Dead

Indian Sunset

Empty Garden

Goodbye Yellow Brick Road

I Guess That's Why They Call It The Blues

Don't Let The Sun Go Down On Me

Philadelphia Freedom

I'm Still Standing

Crocodile Rock

Saturday Night's Alright (For Fighting)

Circle of Life
David celebrates 50th birthday in style
Friday, October 26 2012
On October 24, 2012, Elton pulled out all the stops to celebrate the 50th birthday of David at the couple's fancy new home in Los Angeles.
"Just to show you how amazing the home is, over 200 friends of the couple partied in the lavish, ultra-private home" in Beverly Hills, one person who attended the event told the Huffington Post. "Amongst the crowd of friends and family was 'Will & Grace' star Eric McCormack, who was seen sipping on a Bombay Sapphire Martini." Also at the party were several very handsome male waiters, who made sure no glass was ever empty.

"Elton and David could not be more in love," one insider told. "These two are the perfect poster couple for a great relationship, gay or straight." Elton and David met on October 30, 1993, when a mutual friend invited David to dinner at the singer's mansion. It wasn't long before the relationship became serious. On Christmas Day 2010, the couple's son, Zachary, was born via surrogate mother.


Happy Birthday, David!
Thursday, October 25 2012 at 07:05:26

Elton plans a 'party to end all parties'
Sunday, October 14 2012 at 06:38:39


Happy Birthday, David!
Thursday, October 25 2012
Elton's partner, David Furnish, is turning 50 on October 25, 2012.
On behalf of the visitors of eltonfan.net, we would like to wish David all the best and a wonderful birthday!


Elton plans a 'party to end all parties'
Sunday, October 14 2012 at 06:38:39
New album from 2CELLOS
Thursday, October 25 2012
Croatian cellists Luka Sulic and Stjepan Hauser, known as 2CELLOS are back with a new music video and a brand new album.
The music video for their first single is a powerful and intense rendition of AC/DC's "Highway to Hell" featuring guitar great Steve Vai. "Our fans love this song at our live shows and we really wanted to add it to the album," says Stjepan. "It was very exciting to work with an amazing musician such as Steve and we really want to show the people that the cello can rock as hard as the guitar!" says Luka.

The new album, entitled IN2ITION (pronounced Intuition) is produced by the legendary Bob Ezrin, and is set for release on January 15, 2013 through Sony Masterworks. The label released 2CELLOS' self-titled debut album last year, establishing Sulic and Hauser as an innovative classical-pop/rock duo who took their classical instrument to the contemporary repertoire.

On IN2ITION, 2CELLOS take their original concept even further by including guest artists like Elton John, guitarist Steve Vai, Glee's Naya Rivera, classical superstar Lang Lang, legendary Italian vocalist Zucchero and pop artist Sky Ferreira. IN2ITION was recorded in Zagreb, Rome, Nashville, Las Vegas and Los Angeles.

"Both Luka and I love classical music and have studied it since childhood," notes Hauser. "But we are really excited to put our own take on some of our favorite pop and rock songs." The new 2CELLOS album offers a fresh and unique twist on classics such as Fleetwood Mac ("Oh, Well" feat. Elton John), The Prodigy ("Voodoo People"), Coldplay ("Clocks" feat. Lang Lang), Rihanna ("We Found Love"), AC/DC ("Highway To Hell" feat. Steve Vai), Muse ("Supermassive Black Hole" feat. Naya Rivera), Cher and Nancy Sinatra("Bang Bang" feat. Sky Ferreira), The Police ("Every Breath You Take") and Elton John ("Candle In The Wind").

"Elton suggested that we cover 'Oh, Well' because he thought it would be perfect for the cello. We said we'd do it if he sang on it and he agreed!" says Stjepan. "It's a fairly unknown Fleetwood Mac song and Elton's voice sounds amazing on the track."

The 2CELLOS' career received a substantial boost in January 2012 when they performed "Smooth Criminal" with actress Naya Rivera's character "Santana" in Glee's Michael Jackson tribute episode. It was the first time that the blockbuster hit show featured an instrumental group as the guest artist. While on set they struck a friendship with Rivera, who will appear on Muse's "Supermassive Black Hole." "We love Naya's sexy voice – it's perfect for this song!" says Stjepan. "We recreated Muse's amazing guitar riff on the cello and by using different sound effects, we gave this traditionally classical instrument a more contemporary, rock sound."

IN2ITION also features 2CELLOS' original track aptly named "Orient Express". The Orient Express was a legendary train from Paris to Istanbul that passed through the Balkans, including Croatia. "We drew our inspiration for the melodies from our Balkan roots and the continual persistent rhythm of the track resembles a train, hence the title," says Luka. "We're extremely happy to have collaborated with such great guest artists and we believe that this is just the beginning. We've practiced all our lives, and in this project we've succeeded in extending the possibilities of the cello and bringing it to a wider audience," say the 2CELLOS.

Tracklisting:

1. Oh, Well (feat. Elton John)
2. We Found Love
3. Highway to Hell (feat. Steve Vai)
4. Every Breath You Take
5. Supermassive Black Hole (feat. Naya Rivera)
6. Technical Difficulties
7. Clocks (feat. Lang Lang)
8. Bang Bang (feat. Sky Ferreira)
9. Voodoo People
10. Candle in the Wind
11. Orient Express
12. Il Libro Dell 'Amore (feat. Zucchero)
13. Benedictus
Emeli Sandé to perform at Elton John's Grey Goose Winter Ball
Thursday, October 25 2012
Elton John's fourth annual Grey Goose Winter Ball will take place on November 10, 2012 in London. Proceeds will go to the Elton John AIDS Foundation.
This year the Ball will bring a touch of a classic Côte d'Azur summer to a wintry Battersea Power Station. The food is by the Michelin Starred chef, Hélène Darroze and music by Emeli Sandé and Labrinth.

The Foundation''s collaboration with Grey Goose has already helped thousands of men, women and children who are living with HIV by funding landmark programmes in Zambia, Cambodia, and in the UK. This year they will fund a huge scale-up of HIV testing for people at risk in the UK and around the world, so that they can access affordable medical treatment. This will not only save their lives, it will reduce their chances of passing on the virus, and so protect millions more. In this way, with your support, they will make the future AIDS free.

Grey Goose's commitment to support the Elton John AIDS Foundation means that every penny of income from the event will go to support the vital work of the Foundation.
Pnau plan more albums with Elton - and David Bowie?
Thursday, October 25 2012
Following the No.1 success of their 'Good Morning To The Night' album in 2012, Pnau have revealed plans for more collaboration albums with Elton John.
The album hit the top of the UK album charts after its release in July 2012. The album saw Australian duo Pnau sample tracks from Elton John's seventies releases to create all new tracks, including the album's title track - which was one of the official tracks of the London 2012 Olympics. Now, producer Peter Mayes has spoken of plans to record a number of follow up albums, moving through the decades of Elton's work.

"We're actually doing another record with Elton. In fact, we're doing a couple of them but with a different era," he tells Gigwise. He also admits that despite progressing further into Elton's work, the sound will remain similar to the Good Morning To The Night album. "We'll always be drawing from the seventies because that was such a good time for his music, but in the early eighties obviously the sound changed an awful lot and he went a lot more electronic," he adds.

Mayes also says says that we would happily consider working on similar projects with different artists, naming David Bowie as his first choice for future collaborations. "In terms of other artists I would love to do it with other artists, like Bowie. Without making it sound like a greatest hits remix record, it would have to be with someone who had made a lot of music," he says. "That also made it harder with Elton because he had so many songs, but we had a lot to draw from and a lot to absorb."


Best bits from Rod Stewart's new autobiography
Wednesday, October 24 2012
The rock-and-roll hall of famer writes about his life with self-deprecating wit in his new memoir, from how he seduced women with Ronnie Wood to snorting cocaine with Elton John.
Friendship With Elton John and Freddie Mercury
In the early 1970s, Stewart lived down the street from Elton John, and the two became best of friends. They called each other Phyllis and Sharon, or just "Dear." "Whether it was drink or cocaine, he could see me right under the table every time. One night at his house, we were applying ourselves to the medicinal powders and it got to six in the morning, at which point I tendered a short letter of resignation," Stewart wrote. He felt like he "had been run over from a number of different directions by a number of different traction engines," found a bed to sleep in, but four hours later his friend was thumping at the door, "bright of cheek and white of smile," telling him they've got a football match to go see. Stewart even wanted to form a supergroup with Elton and Freddie Mercury, whom they liked very much also. "The name we had in mind was Nose, Teeth & Hair, a tribute to each of our remarked-upon physical attributes. The general idea was that we could appear dressed like the Beverley Sisters. Somehow this project never came to anything."

Rod Steward also writes about his friendly competition with Elton John in his book:

From time to time this rivalry has driven Elton to pull off some beautifully organized stunts. In 1985 I had a bunch of massive footballs, the size of blimps, tethered above Earls Court to mark the fact that I was doing concerts there. Elton hired a sniper to shoot them down with an air rifle. Or like the time the banner for my Blondes Have More Fun tour, outside the same venue, was matched by one that Elton put up on an opposite building, which read, "But Brunettes Make More Money."

There is no more generous person on this earth, though, than Elton — just incredibly generous. I have watches he has given me for birthdays: lavish, thickly jeweled pieces engraved "From Elt." He gave my first wife, Alana, with whom he remained good friends after she and I separated, a Steinway piano. Those don't come cheap.

And then there was the Christmas where I thought long and hard about the present I was going to give him. That's always a tough one: What do you get the man who has bought himself everything? Eventually, though, after a bit of scouring around the shops, I lit upon the solution: a novelty portable fridge. … And it cost me about £ 300, which I thought was enough. Elton's present to me that year: a Rembrandt. A drawing — The Adoration of the Shepherds. A fucking Rembrandt! I felt pretty small — although not as small as Elton presumably wanted me to feel when he later referred tartly to my present as "an ice bucket." It was not an ice bucket. It was a novelty portable fridge.

Anyway, I played it a bit better on his fiftieth birthday in 1997. I bought him a full-size, sit-under hairdryer like the ones you see in women's hair salons. Two years later, he marked my marriage to Rachel with a £ 10 voucher from Boots. On the card he wrote, "Get yourself something nice for the house."


Rod Stewart writes of affection for Elton
Saturday, October 13 2012 at 06:45:23


Times editor defends Elton John article
Saturday, October 20 2012
The editor of the Times has defended an article that Elton John claimed falsely linked him to a tax avoidance scheme in 2011.
In a statement to the Leveson inquiry into press standards, James Harding said the Times was mistaken when it linked the singer to an accountant mentioned in the article. However, he defended the paper's decision not to give Elton prior notification that he would be named in the story. Harding said in his witness statement: "We did not contact him in advance because, at no point, have we either suspected or suggested that he was involved in tax avoidance schemes. The story did not say that he had invested in any such schemes. Instead, his name and photograph appeared in order to put Patrick McKenna into context. In this, unfortunately, we made a mistake. We immediately corrected it."

The high court threw out Elton's attempt to sue the Times for libel over the two articles on "The secrets of tax avoiders" published on June 21, 2012. Elton complained that the articles, part of the Times's prominent tax avoidance investigation, falsely claimed that he had used Patrick McKenna of Ingenious Media as his accountant in a tax avoidance scheme. The court ruled that they could not bear that meaning.

The day after the story was published the Times published a correction in which it acknowledged that McKenna had never been John's accountant. A second clarification was added on July 26, 2012 stating that Ingenious Media was not involved in moving money offshore to avoid tax. Harding added: "To be clear, there was nothing sinister at work here: the reporter made an error in transcribing from his notebook and this was explained to Sir Elton John's lawyers. Sir Elton's lawyers were also told on the day of the complaint that the apology would run the following day and were informed of the placing of the apology. The original story was illustrated with a small, portrait-sized picture of Sir Elton. Its publication was a consequence of the initial mistake, and we apologised promptly."

The editor added that the Times had taken great care to notify in advance anyone who it would suggest was avoiding tax. He said that politicians who had shaped tax laws or celebrities who appeared in films apparently financed by avoidance schemes did not need to be notified in advance because "they were part of the context of the story, they were not the subjects of our investigations".


A simple man
Friday, October 19 2012
Elton John apologized to a fashionable crowd for his sensible suit at his Elton John AIDS Foundation's "An Enduring Vision Benefit" at Cipriani Wall Street.
Elton told the crowd including Anderson Cooper, Bridget Moynahan, Lance Bass, Matt Lauer, Courtney Love and Patriots owner Robert Kraft that he left his favorite rhinestone jacket in LA by accident, and called his housekeeper and asked her to find the "rhinestone jacket in the cupboard and mail it straight away."

But the housekeeper e-mailed back, "There is no jacket designed by Ryan Stone in the cupboard." Elton offered the crowd "my sartorial apologies" for wearing a simple black suit.


11th Annual EJAF's "An Enduring Vision"
Wednesday, October 17 2012 at 09:13:52


Charity tennis event a smashing success
Wednesday, October 17 2012
On October 16, 2012 at the Pittsburgh Petersen Events Center, a group of tennis icons, along with some notable friends, played for a cause.
As a part of the Mylan World Team Tennis' Smash Hits, tennis legend Billie Jean King and Rock and Roll Hall of Famer Elton John, among others, took to the court as part of an effort to raise money to help combat AIDS.

While the annual event is new to the Pittsburgh area, the match marked its 20th anniversary, a span that has seen it raise more than $10.5 million for the Elton John AIDS Foundation and various AIDS charities, including the Pittsburgh AIDS Task Force. The match and VIP auction on October 16, 2012 raised roughly $1 million, the highest total in the event's history.

The event leaves behind an indelible impact in each city it visits, something that makes it even more rewarding for those involved. "We try to go to as many different cities as possible and leave the money that we raised for that night," Elton said. "It's very important because if people are going to turn out and give money to see us play tennis, then it's only right that some of the money stays in the community."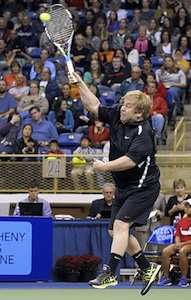 The event is entering its third decade of existence, but its roots go back much further, particularly with the relationship that exists between King and Elton. In 1974, King was one of the co-founders of World Team Tennis, a groundbreaking coed professional tennis league. Around the same time, King and Elton developed a strong friendship that continues today, part of which was based around a shared love of tennis. Even one of Elton's hit songs, "Philadelphia Freedom," was named in honor of the WTT team on which King played.

For the two of them, using tennis as a way to support a cause only made sense. "I've been a big tennis fan for a long time -- I love to watch it, I love to play it and it gives me a chance to go on court and watch my idols play close up," Elton said. There were many idols to watch Tuesday. There was Martina Navratilova, who Elton dubbed "probably the greatest women's tennis player of all time," as well as Andre Agassi and Steffi Graf, the husband-and-wife duo that, combined, owns 30 Grand Slam titles.

Additionally, there were former standouts such as Andy Roddick and Mark Knowles, both of whom retired after the recent U.S. Open. "It's good to see him out and staying connected to the game," Agassi said of Roddick. "It doesn't surprise me. He still shows that he cares."

For King, it was a chance to return to Pittsburgh, a city for which she expressed admiration dating to her days playing against the WTT's short-lived Pittsburgh Triangles. "I loved it when I played here," King said. "The fans would be great and obnoxious -- I loved it. I like it when they are totally into it. There are great fans here in Pittsburgh."

Even with the atmosphere of goodwill and charity that surrounded the event, there was an irrepressible competitive streak from some players, particularly the event's most prominent participant. "I don't see the point in doing anything in half measures," Elton said. "When I was a drug addict, I did as many drugs as possible. I'm competitive -- in my career, in life because I'm driven and want the best and I still want the best."

For those involved, though, tennis still remains the backdrop, especially for Elton. After spending years not getting involved in fighting AIDS, something for which Elton expressed great lament, his life changed when he met Ryan White, an Indiana boy who died of the disease. Elton became good friends of White and his family, and developed an admiration of White for his perseverance and dignity. For John, White prompted him to act, get involved and become a better person, noting that White has "been my inspiration ever since."

Although he still regrets the years that he spent away from activism and charity, Elton is thankful that, along with his good friends and idols like King, he is able to make an impact while playing the game he loves in the process. "I kept asking myself 'Where was I?' I was absent, so I had to make up for lost time," Elton said. "I'm still ashamed of my actions from before, but I'm trying to make that right now. When you get a second chance in life, don't waste it."
11th Annual EJAF's "An Enduring Vision"
Wednesday, October 17 2012
Elton John and his partner David Furnish have appeared on the red carpet for their annual Aids Foundation benefit in New York.
Speaking to journalists David said, "There is still so much stigma associated with it (HIV) people are afraid to test, afraid to announce their status." (Video link)

American Airlines, The Kraft Group, and Wells Fargo served as the Presenting Sponsors of the benefit, and the star-studded evening raised $2 million for the Foundation. View a photo gallery from the event.

As part of the evening's program, Elton and David presented Enduring Vision awards to three outstanding Foundation supporters. Robert Kraft has been a loyal and generous supporter of the Foundation for many years, both personally and through the Robert and Myra Kraft Family Foundation. As Chairman, CEO, and Founder of Neuro, and as a private philanthropist, Diana Jenkins has been a wonderful patron of EJAF's work and events in the U.S. and in the U.K. Likewise, Joseph Blount has also been an ardent benefactor to the Foundation since its inception.

CNN journalist and New York Times best-selling author Anderson Cooper hosted the gala dinner for a sixth consecutive year, and legendary singer Stevie Nicks performed. Also, Jamie Niven of Sotheby's conducted a live auction featuring such one-of-a-kind items as a Jean-Philippe Delhomme portrait; "Big Bear," the largest canvas from Matthew Brandt's Lakes and Reservoirs series; two Andy Warhol Cow screenprints; lunch for two with Anderson Cooper; two best-in-house seats and backstage passes to Alec Baldwin's Broadway performance of Lyle Kessler's Orphans; and a week-long stay for up to 16 people at the Castello di Santa Eurasia in Italy.

"The AIDS disease is caused by a virus, but the AIDS epidemic is not. The AIDS epidemic is fueled by stigma, by hate, by misinformation, by ignorance, by indifference. Science has accomplished miracles over the past 20 years, and science can now end this disease – but it cannot end the epidemic. We need more than medicine," stated Elton in his keynote speech. "We can do something about these things. We need to speak out about the changes we need to make in our society. We have spoken out. And we will continue to speak out." The Foundation raised $2 million (£1.24 million) at the event.


An Enduring Vision 2012
Wednesday, September 5 2012 at 16:41:02
Elton unveils footage of John Lennon duet
Monday, October 15 2012
Elton has unveiled extraordinary footage of his famous onstage performance with John Lennon in New York.
The painstakingly restored film, shot by a fan, is the only known colour footage of the historic occasion on November 28, 1974, when the former Beatles rocker was the star guest at a gig by Elton at Madison Square Garden, which turned out to be Lennon's final stage performance.

The unique film of the two musicians will accompany Elton's performance of "Empty Garden" during his Million Dollar Piano shows in Las Vegas.

Mary Ann Summers, who recorded the footage, said, "When Elton began his introduction of John, we were all 'Yes! Yes! Yes!!' It was for real! We got up on our seats, a precarious position when you're dancing and jumping for joy!... When they finished off with "I Saw Her Standing There" - I simply can't describe the atmosphere - 20,000 people in a place of pure happiness."
Lady Gaga donates LennonOno Grant for Peace to EJAF
Monday, October 15 2012
The Elton John AIDS Foundation (EJAF) is very pleased to announce that Lady Gaga has very generously donated her LennonOno Grant for Peace to EJAF.
"I'm supremely honored to accept this grant and award today on behalf of youth empowerment around the world," Lady Gaga said in her October 9, 2012 acceptance remarks at the award event in Reykjavik, Iceland. "I will be donating this grant to the Elton John AIDS Foundation, and I will be working closely with them."

"I am profoundly grateful to my friend Lady Gaga for generously donating her LennonOno Grant for Peace to the Elton John AIDS Foundation," said Founder Elton John. "John Lennon was a very, very dear friend of mine, and I'm so touched that Lady Gaga has chosen my Foundation to receive this grant."

Awarded every two years on John and Sean Lennon's birthday, the LennonOno Grant for Peace was also awarded this year to peace activist Rachel Corrie (posthumous), author John Perkins, feminist punk rock band Pussy Riot, and journalist Christopher Hitchens (posthumous). "Lady Gaga is one of the biggest living artists of our time," said Yoko Ono during the award presentation. "She is being acknowledged for her activism, and how her album Born This Way has widely changed the mental map of the world."

"I greatly cherish Lady Gaga's friendship and have the utmost respect for her, both as a songwriter/performer and as an activist/humanitarian," added Elton. "Through her Born This Way Foundation, she is using her success and popularity to create safe communities for young people who are being bullied and to give a voice to those who are suffering in silence. Her efforts beautifully complement the Elton John AIDS Foundation's initiatives to prevent HIV/AIDS among disadvantaged youth, and particularly among gay youth, who are often at greater risk for HIV/AIDS because they are bullied, ostracized, and abandoned. We look forward to working with Lady Gaga on awarding this grant to innovative programs helping disadvantaged HIV-positive young people."
Elton plans a 'party to end all parties'
Sunday, October 14 2012
Elton is planning an extraordinary four-day bash to celebrate David's 50th birthday.
Elton is billing the lavish do in Los Angeles as 'the party to end all parties' and guests are expected to fly in from all over the world. Elton will perform and Lady Gaga, the Scissor Sisters, Cher and Cirque du Soleil will also appear at the party's various venues. Guests including David and Victoria Beckham and Elizabeth Hurley have been invited to the extravaganza, which has taken six months to plan. Those who have flown in will be put up at Elton's expense at the Four Seasons Hotel in Beverly Hills, where rooms start at £310 a night.

The celebrations for David – whom Elton insists should be referred to as his husband after their civil ceremony in 2005 – kick off on October 24, 2012 at the couple's £4 million new home in the Hollywood Hills. The first night will take the form of a housewarming party for the couple's mansion, which has undergone a multi-million-pound renovation and includes a nursery for their son Zachary, who will celebrate his second birthday on Christmas Day.

The following day is David's birthday and dinner will be laid on for 200 guests in the ballroom of the 112-year-old Belasco Theatre in downtown Los Angeles. Those guests who are still standing on Octber 26, 2012 will continue the celebrations at nightclub Greystone Manor, where Cher will perform.

The party will round off on October 27, 2012 when guests will be driven 300 miles to Las Vegas to see Elton's Million Dollar Piano show at Caesars Palace. 'Elton wants this to be the party to end all parties,' said a friend. 'Money is no object.'

His own 50th birthday was a study in excess, with the host turning up in an elaborate Louis XIV-style costume complete with 15ft silk train and a towering wig. The hairpiece was so tall he had to be driven to the venue in the back of a lorry.
David: Madonna is an inspiration
Saturday, October 13 2012
David Furnish insists he "loves" Madonna.
Elton and David have had a famously tumultuous relationship with the iconic pop star. However, the film director-and-producer has now been singing Madonna's praises. When asked by paparazzi what he thinks of the singer, David responded, "Seriously, I love her," reports TMZ. "I think she's a great artist...she works very, very hard ... she's an inspiration to all of us," he added.



Madonna forgave Elton in public recently, after he made an offensive comment about her tour. Elton had claimed Madonna's shows were a "disaster" and that she looked like a "fairground stripper". In response, the singer took to the stage in France and dedicated her track Masterpiece to Elton. "I know he's a big fan of it. And I know he's a big fan of mine. And you know? I forgive him. Gotta start somewhere," she told the crowd.

Earlier this year 'Masterpiece' triumphed over Elton's Hello Hello for Best Original Song at the Golden Globes. David famously took to Facebook to air his anger about Madonna winning the award. "Madonna winning Best Original Song truly shows how these awards have nothing to do with merit. Her acceptance speech was embarrassing in it's narcissism. And her criticism of Gaga shows how desperate she really is (sic)," he wrote on his Facebook page.


Rod Stewart writes of affection for Elton
Saturday, October 13 2012
Rock star Rod Stewart may be famous for his bevy of ex-wives and girlfriends, but it is fellow pop star Elton John who comes in for the lion's share of Stewart's affection in excerpts from his new memoir.
In an excerpt published in Rolling Stone magazine on October 12, 2012, Stewart recalled bygone days the two British singers spent partying and on holiday, the Christmas presents they exchanged, and even their nicknames for each other - Phyllis and Sharon. "It was in the early 1970s that Elton and I drew especially close, the best of mates for a while," Stewart, now 67, writes in Rod: The Autobiography.

Elton lived with his then-boyfriend just down the road from Stewart in the countryside west of London, not far from one of the royal palaces at Windsor, Stewart recalled. "Our mutual friend Long John Baldry had christened me 'Phyllis,' he had christened Elton 'Sharon,' and that's what we were to each other: Phyllis and Sharon. Or just 'dear.'" Stewart, who had scored by then with both the No. 1 single, Maggie May and No. 1 album on both sides of the Atlantic, also wrote admiringly of Elton's stamina for hard partying: "I also had to be in awe of the fact that, whether it was drink or cocaine, he could see me right under the table every time."

Elton's extravagance also impressed. Stewart writes of one Christmas when he scoured shops and found a novelty portable refrigerator for Elton that opened up automatically as a cloud of vapour emanated and a bottle was hoisted up - "Brilliant." "Elton's present to me that year: a Rembrandt." "He later tartly referred to my present as 'an ice bucket,' " Stewart wrote. In 1985 on safari in Africa, the pair would dress up in bow ties and dark jackets for dinner around the fire.

The book also gave Stewart an opportunity to lay to rest a gay sex rumour that has dogged him since the 1970s. The singer, who has eight children from three marriages and other girlfriends, attributed its origins to his flamboyant assistant and publicist, the late Tony Toon, who he said fed the story to the press in revenge for Stewart's firing him.

Rod: The Autobiography will be published October 23, 2012 by Crown Archetype.
Elton 'not libelled by Times tax avoidance article'
Wednesday, October 10 2012
The high court has ruled that Sir Elton John was not libelled by the Times in articles that he claimed falsely linked him to a controversial tax avoidance scheme.
Mr Justice Tugendhat said in a short oral judgment handed down at the high court on 10 October 2012 that the two Times articles were not capable of bearing the defamatory meaning alleged by Elton. Elton complained that he was libelled by two articles on "The secrets of tax avoiders" published by the Times on 21 June 2012.

He said that the two articles, part of the Times's prominent tax avoidance investigation, falsely claimed that Elton had used Patrick McKenna of Ingenious Media as his accountant in a tax avoidance scheme. The day after the story was published the Times published a correction in which it acknowledged that McKenna had never been Elton's accountant. A second clarification was added on 26 July 2012 stating that Ingenious Media had not offered to move money offshore.

Tugendhat ruled: "The conclusion I have reached is that the words complained of are not capable of bearing the meaning attributed to them by the claimant or any other defamatory meaning." Elton sued the Times for libel damages after complaining that the articles were "severely damaging" to his reputation and charity work. Tugendhat said in his written judgment that Elton's claim that the articles meant he was, or was reasonably suspected of being, involved in tax avoidance as "so lacking any possible basis that it is obviously to be rejected".

The judge also rejected Elton's third argument, that there was grounds to investigate whether the singer used tax avoidance schemes. Tugendhat said the "hypothetical reasonable reader" of the Times was among the more highly educated and better informed members of the public. The judge accepted the argument, put by Times barrister Manuel Barca QC, that readers have more discriminating judgment than was traditionally recognised by the courts.

Counsel for the Times confirmed after the short hearing that the judgment puts an end to the matter. Lawyers for Elton declined to say whether the singer would appeal.


Elton sues The Times over tax story
Wednesday, August 8 2012 at 05:53:07

Elton reports Times to Leveson Inquiry
Thursday, July 5 2012 at 07:41:47

Elton suing "The Times of London" for suggesting he's a tax dodger
Saturday, June 23 2012 at 07:46:18


Elton helps celebrate Sharon Osbourne's 60th birthday
Wednesday, October 10 2012
Elton John, Mariah Carey, and Tommy Lee helped make Sharon Osbourne's 60th birthday extra special by filming special tributes to be aired during her U.S. chat show The Talk on October 9, 2012.
Sharon Osbourne hit her sixties on October 9, 2012 and to mark the milestone, her TV co-stars presented her with a dog-shaped cake and a special bash attended by her husband Ozzy Osbourne and their daughter Kelly.

The Black Sabbath icon, who has been married to the TV personality for 30 years, held back tears as a video montage of their life together was aired, and 27-year-old reality star Kelly came out to give her mother a hug, stating, "I love you more than anything." The couple's son Jack Osbourne, who is on holiday in Hawaii, where he recently wed his fiancee Lisa Stelly, also shot a short video for the programme, during which he wished his mum a happy birthday.

The rock matriarch was then showered with warm wishes from her America's Got Talent pal Nick Cannon, who arrived on set with a massive array of balloons, and his singer wife Carey, who offered up a video rendition of the song Happy Birthday.

Motley Crue's Lee and Nikki Sixx also taped message for the birthday girl, as did Elton John, who said, "Your 60th birthday today, you don't look it. I love you madly, I will always love you. You are a dearest friend and I hope you have the best day and I will see you soon and give you a big hug in person. Love ya."
Elton: I should be allowed to call David my 'husband'
Tuesday, October 9 2012
Elton has called on the government not to concede to the opponents of equal marriage and says he would "love nothing more than to make history again" by turning his civil partnership into a marriage.
He has spoken movingly of his 19-year-long relationship to partner David Furnish, and has urged the government to press ahead with its plans for equal marriage. Writing in the Independent, Elton said: "If we legalise gay marriage in Britain, you can bet your last penny that I'll be pushing to call him my husband at the first opportunity".

On the day when Lord Carey, the former Archbishop of Canterbury, blasted the government for wanting to go beyond civil partnerships, Elton said: "I know a lot of people, and perhaps especially religious people, will say that David and I should count ourselves lucky for living in a country that allows civil partnerships, and call it quits there". He continued: "Well, I don't accept this. I don't accept it because there is a world of difference between calling someone your 'partner' and calling them your 'husband'. 'Partner' is a word that should be preserved for people you play tennis with, or work alongside in business. It doesn't come close to describing the love that I have for David, and he for me. In contrast, 'husband' does. A 'husband' is somebody that you cherish forever, that you would give up everything for, that you love in sickness and in health.

Elton continued: "Until the law recognises David Furnish is my husband, and not merely my partner, the law won't describe the man I know and adore". Elton's remarks follow in the wake of Stephen Fry's decision to release a video for the Out4Marriage campaign on October 5, 2012. The gay writer, actor and television star said it was "unfair" of the Church of England to oppose same-sex weddings to appease "the more extreme end" of their membership.
Heart's new album comes with Elton's seal of approval
Friday, October 5 2012
Heart's new album, "Fanatic", is in stores the first week of October 2012, and you know it must be good because one of music's most outspoken stars has given it his seal of approval: Elton John.
Heart's Ann and Nancy Wilson tell ABC News Radio that when they were recording "Fanatic", Elton and his producer T Bone Burnett were in the same studio, working on Elton's new album, "The Diving Board". After Elton played some of his new tracks for the sisters, he insisted that they reciprocate, much to their horror.

"Elton's like, 'Let's play some of your stuff!'" Nancy Wilson recalls with a laugh. "And we were like, 'Oh, no, no please, no! It's not ready! It's not ready!'" He wouldn't let them off the hook, so they finally gave in, even though they were afraid of what he would say. "He's notoriously honest," notes Nancy. But everything worked out for the best: Elton loved what he heard. "He was so complimentary, and he gave us hugs and kisses," she laughs.

Still, Nancy decided not to share with him a story featured in the sisters' new memoir, "Kicking and Dreaming", which relates how she once climbed over a fence to sneak into one of his concerts back in the '70s. "I always was too embarrassed to be a super-fan in front of him," she tells ABC News Radio. "But you know, we're pretty close and I'm sure he'll read [the book], and get a pretty good giggle out of that."

Ann and Nancy say they approached the making of "Fanatic" with a renewed sense of confidence, because their most recent album, 2010′s Red Velvet Car, had been their first top 10 album in 20 years. The recording process, they say, was very organic.

"We went into studios, and hotel rooms with mics thrown up, and tour buses, and iPhones…Just every way you could record ideas is how we did it," Ann tells ABC News Radio. "I think it retains a real spark of movement, you know. It's got life, because we didn't sit in the studio and moulder." Nancy adds, "It's not constructed and cut and pasted. It's performed."

"Fanatic" features a duet with Sarah McLachlan who, in an odd coincidence, now lives just across the street in Vancouver, Canada, from where Ann lived when she wrote Heart's earliest songs.
"He's my little angel, he's my fairy godmother"
Wednesday, October 3 2012
Anastacia reveals how Elton helped her through her battle with breast cancer.
Anastacia hailed Sir Elton John for his help as she lauded him with praise for helping her get through her battle with cancer. She described the enigmatic entertainer as a her own personal guardian angel after he spent a lot of time helping her deal with her illness. Anastacia, 44, told ITV1's Lorraine that she was massively comforted by Elton, 65, when she battled her breast cancer in 2003, at age 35.

The soulful pop star said: "He is just a shepherd. He's a shepherd with music, he's a shepherd with ailments, he's just such a giver and he's my little angel. He's my fairy godmother, you know." At 13, Anastacia was diagnosed with Crohn's disease, an intestinal disorder she still has to keep in check. In 2003, suffering from back trouble and seeking surgery to reduce her breasts, a routine mammogram revealed a particularly virulent form of breast cancer.

Months of radiation therapy followed and she told Lorraine: "Technically I really had to end up taking care of myself and I'm not the best at that, so this year is a different year for me. It's eating right and taking care of myself and looking at things a little bit differently than I did before. So I think I have a delayed reaction to my cancer because I just wanted to write songs and help other people, and then I was like, 'I think I need my own attention'."

The American star, who is supporting Lorraine's Touch, Look, Check campaign, added: "I was so naïve when I started in this business, even though I was older, I had no idea. I had never travelled outside of America, I didn't really realise the world was the world, I thought it was a globe in my school. So I definitely had a lot to learn about things and when I got diagnosed with breast cancer, the world kind of stopped for a minute."

Touch, Look, Check is a campaign to make all women in the UK aware of the five warning signs of breast cancer. The latest research from Breakthrough Breast Cancer reveals that 98 per cent of women don't know what these warning signs are. All week Lorraine viewers can text the word TLC to 84424 to receive information on breast cancer and the signs they should be looking out for.


Anastacia: Sharon and Elton helped me fight cancer
Wednesday, July 28 2004 at 12:05:26

Anastacia is back stronger after breast cancer
Sunday, March 21 2004 at 23:11:33


George-Elton swap
Tuesday, October 2 2012
It has been announced that Elton will step in to replace George Michael as the official opening act at Perth Arena after the 'Freedom' hitmaker cancelled his Australian tour dates to receive treatment for "post-traumatic stress disorder" following his near-fatal bout of pneumonia last year.
Elton was already scheduled to perform in Perth on November 12, 2012, but will also take over the venue on November 10, 2012, the date George was meant to be on stage.

Ticket holders to George's show are able to use their tickets to see Elton instead, or obtain a refund.
Wedding singer Elton John
Tuesday, October 2 2012
Elton John performed at two weddings the last weekend of September 2012.
He was a surprise guest at the Los Angeles nuptials of Laura Katzenberg - whose father Jeffrey is a long-time friend of Elton - and record producer Mark Sudack, taking to the piano to provide the music for the happy couple's first dance on September 30, 2012. He played all the standards like "The Chicken Dance" and "Hava Nagila" and introduced the couple as they made their grand entrance into the VFW hall with colored lights and strobes blasting.

On September 29, 2012, Elton performed at the wedding of Australian actress Holly Valance and British billionaire Nick Candy at the Paramount lot in Los Angeles. The wedding performances come just a month after Elton made an appearance at a reception in Canada. Elton agreed to perform for the unnamed man and his new wife after the groom made a huge donation to his AIDS Foundation.