ELTON JOHN NEWS ARCHIVE: October 2011
PAS gets its ass kicked over Elton's concert in Muslim Malaysia
Sunday, October 30 2011
A call to ban Elton John's forthcoming Greatest Hits tour in Malaysia by the Pan-Malaysian Islamic Party (PAS) has been met with derision by various artistic bodies.
Datuk Freddie Fernandez, President of an association of artists called Karyawan, is quoted here as saying: "These people (protesting the concert) should all go and live in a cave." Fernandez – who believes PAS's anti-gay attitude takes Malaysia back to the dark ages when people used to be burnt at the stake – asked: "Where's the freedom and what does the future hold for Malaysians if this continues? No one should discriminate against gay or lesbian people."

Fernandez added that Elton is a highly talented individual with over four decades of producing great music. His music is wholesome entertainment. People of all ages enjoy his music. He has even written songs for a Disney movie! The majority just wants to hear a legend perform live for the very first time in this country. They don't care about his private life.

According to an earlier report, Shahril Azman Abdul Halim Al-Hafiz, the chairman of the PAS youth wing of eastern Pahang state, said the concert at the Genting Highlands resort on November 22, 2011 would corrupt young Muslims because of Elton's homosexuality. "It's not good. In Islam homosexuality is forbidden. What he is doing is hedonism. Hedonism is not good in Islam."

But Norman Halim, chairman of the Recording Industry Association Of Malaysia said: "These are just a few narrow-minded people trying to impose their values on everybody. You don't go to an Elton John concert and suddenly become gay!" Norman also said that these ridiculous protests should not happen if Malaysia wants to move to developed country status. "There is a huge investment involved in bringing shows in to Malaysia. If this continues to happen, promoters would be reluctant to bring any foreign artistes in to the country."

And Voice of Women President Chew Hoong Ling added that the protest was just a publicity stunt for PAS. "It's also disrespectful to the gay community and human rights. One has a right to choose his or her own way of life."

MCA central committee member Datuk Ti Lian Kerr said: "PAS should stop bullying or intimidating Malaysians who have no issues over John's concert."


Pahang PAS Youth against 'gay' Elton John concert
Tuesday, October 25 2011 at 10:47:19


South Park: "Broadway Bro-down"
Sunday, October 30 2011
South Park's new episode, "Broadway Bro-down," featured a bro-down between Stephen Sondheim, Andrew Lloyd Webber, Stephen Schwartz and Elton John -- and as a result, you may never watch another Broadway show the same way again.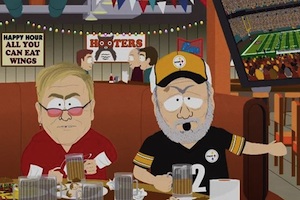 "You know you've made it when South Park does a satire on your music," said Grammy award-winning composer Stephen Schwartz -- and with South Park's new episode "Broadway Bro-down" spoofing popular musicals including Jersey Boys, Spider-Man: Turn off the Dark, Godspell, Sunday in the Park with George and The Book of Mormon -- let's just say all these shows have most definitely made it.

South Park creators Trey Parker and Matt Stone, who also are responsible for the Broadway hit The Book of Mormon, manage to make even the most innocent Broadway musical look perverted. In this episode, Randy comes to the realization that many of these musicals actually contain subliminal messages to encourage women to perform certain sexual acts on their male companions.

Randy decides to write his own musical to get more of these favors from his wife, but the Broadway greats -- including Stephen Sondheim, Stephen Schwartz, Andrew Lloyd Webber, and Elton John -- challenge him to a "bro-down" for Broadway domination. They end their dispute and decide to work together -- over drinks at Hooter's, of course.

Only South Park could get away with portraying Academy Award-winning composer and lyricist Sondheim, who wrote lyrics for West Side Story and composed famous scores for hits such as "A Funny Thing Happened on the Way to the Forum" and "Sweeney Todd", as a male chauvinist who hangs out at Hooter's and writes songs so he can get lucky.
Elton loses Lion's share
Sunday, October 30 2011
Elton is roaring mad over being mauled by Disney bosses who are not paying him royalties for the 3D version of hit movie "The Lion King", reports the Daily Star Sunday.
Elton won an Oscar for hits such as "Circle Of Life" and "Can You Feel The Love Tonight" for the original 1994 classic. Although the film grossed almost half-a-billion pounds worldwide, Elton accepted a one-time fee of £1.25million for his soundtrack.

But now sources claim he has not been offered an extra penny for the lavish remake which has already racked up more in Los Angeles than £50million in a month at the US box office alone. One said on October 29, 2011: "He feels it is terribly mean-spirited of Disney not to offer him a slice of all the extra profits they are making. He has been steaming since learning Elton more was never actually raised as the 3D soundtrack is the same as the original."

Elton has made a further fortune from worldwide spin-off hits, especially "Circle Of Life", whose lyrics were written by Tim Rice and which made the Top 20 in 13 countries. But a source close to the star revealed: "It's more a matter of principle than anything else. He feels Disney should have made an that everyone else involved in the movie will be getting extra cash apart from him. He's ready to go to war with Disney over this."

A senior executive at the family-orientated studio insisted: "The prospect of paying Sir offer to boost his original fee when the 3D version hit the screen. Sir Elton feels like he's a travelling billboard for one of the biggest studios on the planet."
Elton teams up with Cleveland Tennis star for AIDS Charity
Friday, October 28 2011
Elton John put his athleticism to the test and hit the tennis court at Cleveland's Public Hall on October 27, 2011 to raise money for the Elton John Aids Foundation.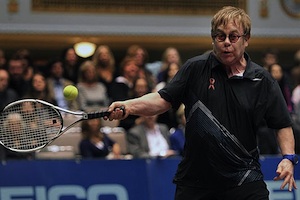 "I am going to make a fool of myself on the court and we are going to make us a lot of money," Elton John said, speaking to the live auction audience. Elton and tennis legend Billie Jean King came together for the 19th Annual World Team Tennis Smash Hits event, which always starts with a VIP live auction. The goal is to raise money for the Elton John Aids foundation and for local AIDS groups. The event travels to different cities each year and made its first stop in Cleveland in 19 years of existence. The money from the VIP auction benefited the AIDS Taskforce of Greater Cleveland.

"I have always loved playing here," Elton said. This is the first place I think I ever played," he said. "I love coming here, it is a good town."

Elton and King selected their teams for the tennis matches. Elton's lineup included former U.S. Open Champion Andy Roddick and 18-year-old Australian Open qualifier Lauren Davis. Davis is a local player from Gates Mills, Ohio. She grew up watching the players that she got to share court with on the night. She also grew up listening to Elton John. "I love his music, and growing up watching these players on TV, it is just so cool," Davis said.

Billie Jean King's team was headlined by 59-time Grand Slam champion Martina Navratilova and 17-time Grand Slam winner John McEnroe. The games began with a celebrities doubles contest. Elton John and Navratilova against McEnroe and Amelie Mauresmo. Elton and Navratilova took victory at Public Hall that night. He now has one more win than King in 19 years of fundraising. Smash Hits has raised over 10 million dollars since beginning in 1993, but John says the struggle is much greater than raising money.

"The medicine has become so much more sophisticated. People have hopes of living normal lives. The challenge now is to get the medicine to people who can't afford it and to get rid of the stigma that is still associated with AIDS," Elton said. "That people who get AIDS are ashamed of having it and they don't tell anyone and they don't get tested because of the stigma of the disease."

Final Results - WTT Smash Hits presented by GEICO at Public Hall in Cleveland, Ohio

Team Elton def. Team Billie Jean 19-18 (7-1 Supertiebreaker)

Men's Doubles: John McEnroe/Jan-Michael Gambill (Team Billie Jean) def. Andy Roddick/Mark Knowles (Team Elton) 5-2

Women's Doubles: Martina Navratilova/Coco Vandeweghe (Team Billie Jean) def. Amelie Mauresmo/Lauren Davis (Team Elton) 5-1

Women's Singles: Lauren Davis (Team Elton) def. Coco Vandeweghe (Team Billie Jean) 5-1

Mixed Doubles: Andy Roddick/Amelie Mauresmo (Team Elton) def. Jan-Michael Gambill/Martina Navratilova (Team Billie Jean) 5-4

Men's Singles: Andy Roddick (Team Elton) def. Jan-Michael Gambill (Team Billie Jean) 5-3

Supertiebreaker - Men's Singles: Andy Roddick (Team Elton) def. Jan-Michael Gambill (Team Billie Jean) 1-0 (7-1)
Celebrity Dads
Friday, October 28 2011
Elton, David and Zachary in New York City on 27 October 2011.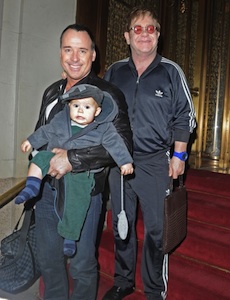 Onerepublic play for Elton and Justin Timberlake at New York restaurant
Friday, October 28 2011

Elton John and Justin Timberlake paid a late night visit to the Sexyback hitmaker's New York restaurant on October 26, 2011 to attend a surprise show by Onerepublic.

The group's singer/songwriter Ryan Tedder recently signed a franchise ownership deal with Southern Hospitality Bbq owners, and he and his bandmates decided to play an intimate gig at the Hell's Kitchen branch in Manhattan - with a handful of celebrity fans in the audience, including New York Yankees baseball star Derek Jeter and soul singer Maxwell.

And Tedder was surprised to learn that Elton was one of his biggest admirers. In a series of posts on Twitter.com, Tedder writes, "did short gig last nite (southern hospitality), ended up in 30 min conversation w (with) Elton John who was there - he knew all our songs - Still kinda tripping - the man just Loves music,we're honored he attended -Thx 2 (thanks to) Elton & David, Justin Tmb (Timberlake), Derek Jeter, Maxwell...".

Elton tried to help Ryan Adams with addictions
Friday, October 28 2011

Singer/songwriter Ryan Adams has hailed Elton John a "shaman and sorcerer" after the Brit reached out to rescue him from his addiction problems.

The rocker admits he was trapped in a "dark" moment in life, abusing alcohol and drugs, when he met Elton on a music TV show in 2002. Elton, who famously battled his own drug demons, offered to help Adams get sober but the young star stubbornly refused.

He tells Britain's The Times, "That guy (Elton) is like a shaman, he is like a sorcerer, the good wizard, one of the deepest people you can meet in music, but the honest truth is that he was at one point concerned for where I was headed. I was having a bad time romantically, I was having a hard time writing, he came out of the clouds, checked in on me and I barked at him. I alluded to him in a very hurtful way, said I was enjoying it down there in the unfathomable darkness. It was a really s**ty thing to do."

Adams, who is now clean, later apologised to Elton and insists he will always be grateful for the star's kindness. He adds, "He rang and we had a conversation and it was a very redemptive, beautiful thing. Some people need some time to be in the dark."

Elton John AIDS Foundation Benefit
Thursday, October 27 2011

Kelly Rutherford, Sara Ferguson, and a sea of beautiful ball gowns graced the red carpet for the 10th anniversary of Elton John AIDS Foundation's An Enduring Vision benefit.

Elton and David say they believe in love. And they're showing it with a whole lot of financial support. Since its inception 10 years ago, the Elton John AIDS Foundation has helped raise almost a quarter of a billion dollars for HIV prevention, research, and treatment.



Elton John AIDS Foundation Benefit: MyFoxNY.com

Anderson Cooper emceed and Smokey Robinson was the musical guest. Elton hopes the event also hits a high note. Last year the benefit raised more than $2 million. The foundation hopes to top that this year.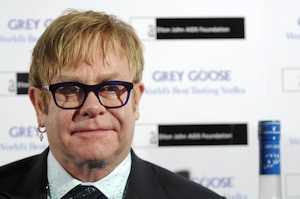 Elton kisses Carrot Top in response to Vegas show invitation
Thursday, October 27 2011
Comedian Carrot Top will be joining the likes of Barry Manilow and Celine Dion with his own show on the Vegas Strip, but no one is more excited about it than Elton John.
"It's huge because growing up and wanting to be a comic, you never think that you will get to Vegas. But it's not like the old days where you are Wayne Newton and you just go there to die. But I hope I die there because I don't want to go back on the road," explained Scott Thompson, who goes by the stage name "Carrot Top."

"I invited Elton John and he said, 'Oh, yeah, we would love to come to your show.' He hasn't. And he gave me a big, wet kiss. Haven't washed my face since. And then he shook my girlfriend's hand. And she said, 'What was that about?' and I said, 'It's Elton John!' It was a little weird, though. But I went in for it. <>There was tongue, a little bit. It was like 'Rocket Man.'"

Although his comedy may be blunt, Carrot Top refuses to dish about which comics he thinks deserve crickets -- he knows all too well what it's like having others say mean things about him. "I've been trashed so much so I don't want to do that to people. Like Pauly Shore calling me bad, come on. He ripped me one time. I was like, 'You are Pauly Shore! You can't rip me! You are Pauly Shore,'" Carrot Top laughed.
Ben Babylon releases "Contradiction" with Elton John band
Tuesday, October 25 2011
As the son of late Grammy-winning keyboard player Guy Babylon, Ben Babylon grew up in the shadow of the Elton John Band, studying and learning from some of the world's greatest rock artists, while developing his own unique style.
Now, the 14-year-old singer/songwriter has released "Contradiction," the first single from his upcoming album of original songs, "Dreams for Sale," recorded with the help of legendary EJ musicians Davey Johnstone, Nigel Olsson, Bob Birch and Martin Tillman.

"It's so cool having them on my record," said Babylon, an accomplished pianist and keyboardist. "I'm surprised at how great it came out. When I started working on it, it was just piano, but I love how everyone else added their parts, and it became a powerful rock song. Martin's electric cello really adds an ethereal quality that I wasn't expecting."

"Contradiction" is more complex than what might be expected from most adolescent songwriters. With Johnstone's hard-driving, electric guitar riffs, it is a classic rock-style tune about, as the titled suggests, conflict: "Heaven and Hell sit side by side," sings Babylon. "Good and bad can't make up their minds, right and wrong can't understand, that peace and war battle again."

"Everyone will have their own interpretation, but for me, it's about how so many things in life don't seem to make sense," Babylon said. "When you fight a war, you're doing it because you want peace, but what you are really doing is the complete opposite."

Babylon began studying music at age 4, and spent countless hours watching his father work, and many more hours jamming with him, in their private recording studio in Southern California. When Guy Babylon, who was Elton John's keyboardist and arranger, passed away unexpectedly in 2009, Ben channeled his grief into "Goodbye Superman," an epic, heartfelt song he composed in just three days, in his dad's memory. Early versions, which were recorded when Ben was 11 and 12, can found on the Internet. Now that his voice has matured, he plans to include a new recording of "Goodbye Superman" on his album, which will be released early in 2012.

Members of the Elton John Band have previously collaborated with other artists on independent projects, but Babylon is the youngest. For Johnstone, it is a way of paying tribute to the memory of his late friend and band mate. "I have seen the talent of Ben Babylon emerge from a 4-year-old kid sitting on the couch in his dad's studio, watching how Guy and his musician friends would put a song together, to a teenager who seems to be taking on the world with his multi-faceted playing," Johnstone said. "Ben is a true vision of his dad," added drummer Nigel Olsson. "He has a long way to go to fill the shoes of a true genius, but he has the faith, joy and inspiration that will take him to new heights."

"Contradiction" features Ben Babylon on piano, clavinet with Castlebar and lead vocals, Davey Johnstone on lead guitar, Bob Birch on bass, Nigel Olsson on drums and Martin Tillman on electric cello. The single was produced by Jesse Johnstone and by Greg Penny, who produced Elton John's "Made in England" album in 1995.

"Contradiction" is available through www.BenBabylonMusic.com.


Ben Babylon & John Mahon On Actors Podcast Network
Friday, September 10 2010 at 06:16:17

Ben Babylon pens musical tribute
Thursday, June 10 2010 at 11:12:42


Elton John Art Auction
Tuesday, October 25 2011
Sotheby's will host an art auction on November 10, 2011 to benefit the Elton John Aids Foundation (EJAF).
Sotheby's "Contemporary Art Day Sale" will feature work from artists such as "Tracey Emin, Jeff Koons, and Keith Haring," with the proceeds being donated to EJAF. "The auction is part of a series of art-related events that will help mark the 20th year of the organization in 2012."

Tobias Meyer, Worldwide Director of Contemporary Art at Sotheby's, stated, "Sotheby's is delighted to support the remarkable work of the Elton John AIDS Foundation [...] The works on offer in November have been donated directly from an enticing mix of today's leading contemporary artists, and their connection to the EJAF is certain to appeal to a wide range of today's collectors and philanthropists."

"All of us at EJAF are tremendously grateful to Sotheby's and to all of the amazing artists who have so generously contributed truly special pieces to the charity lots for this auction," said Elton John. "I am inspired by their great generosity as we kick-off our fund-raising efforts for the 20th year of the Foundation's work."
Pahang PAS Youth against 'gay' Elton John concert
Tuesday, October 25 2011
Pahang PAS Youth has protested against Elton John's Greatest Hits Tour concert, scheduled for November 22, 2011 in Genting Highlands, saying the performance by the "gay singer" was considered "incompatible" with Malaysian culture.
Its chairman Shahril Azman Abdul Halim said in Harakah Daily on October 24, 2011 that "even though it is meant to entertain his fans, the international singing icon would have a negative influence on the younger generation. The authorities are aware that the culture of hedonism or excessive and extreme entertainment is spreading swiftly, like poison, among young Muslims. It is this culture such as free intermingling, drinking, adultery and illegitimate children - that often damages a society and causes people to neglect their responsibilities to their religion. This is made worse by the practise of homosexuality. We cannot imagine how the youth will receive it, especially when the authorities failed to restrict it from the start," he said.

This is the first time that Elton will be performing in Malaysia. Shahril urged the authorities to put a stop to the concert and stem moral decay in society. MCA central committee member Loh Seng Kok , however, described PAS' proposal as extreme. "We are only interested in his music," he said. "But, PAS is making Malaysia a laughing stock in the eyes of the world." Loh said such concerts helped earn tourism revenue and also enabled Malaysians to watch world-class acts. He urged the promoters to ignore PAS as the party was not reflective of the Malaysian majority.
Happy birthday, David!
Tuesday, October 25 2011
Elton's partner, David Furnish, is turning 49 on October 25, 2011.
On behalf of the visitors of eltonfan.net, we would like to wish David all the best and a wonderful birthday!
Elton John, Daniel Radcliffe, George Michael on UK Pink List
Monday, October 24 2011
Elton John, Daniel Radcliffe, George Michael and John Barrowman are among the celebrities on this year's Pink List, UK daily Independent on Sunday's annual celebration of the gay and lesbian community.
Topping the list of 101 notable people is Elly Barnes, a music teacher who has stood up to fight homophobia. "Since 2005, she has been running LGBT History Month at Stoke Newington School, north London, every February," the paper wrote. "She says: 'I've had pupils say, 'Miss, are you trying to turn us gay?' and I ask them, 'Do you turn black during Black History Month or Turkish during Turkish month?'" Barnes 'came out' on Teachers' TV, and says: 'It's ignorance that causes homophobia – once educated, attitudes change. Sometimes it's a deep-rooted hatred which takes a long time to change. The best way is to show positive role models.' We think she is one."

Twenty-three-year-old singer-songwriter Jessie J, who was listed at third on the list, has downplayed her bisexuality. "Whoopie doo, guys … get over it," she says.

Also in the top ten are: Michael Salter, broadcast adviser to the prime minister, Clare Balding, broadcaster, Sue Perkins, comedian, Evan Davis, Radio 4 Todayhost, Antony Cotton, actor, Charlie Condou, actor, Scott Mills, tv host, and Heather Peace, singer.

Torchwood star John Barrowman is listed at number 15. Singers George Michael and Elton John received a lifetime achievement awards. Actor Daniel Radcliffe, a strong supporter of the The Trevor Project, is recognized as a Non-LGBT Friend.
Jonathan Saunders's star turn for Elton
Saturday, October 22 2011
Grey Goose teams up with Elton John, Jonathan Saunders and Christian Louboutin for the fashion party of the year.
Grey Goose has announced their stellar line up for their hugely popular Winter Ball, which benefits the Elton John AIDS Foundation taking place on October 29, 2011 in Battersea Park. In previous years, the booze brand has teamed up with stars from the world of film and fashion, including Lily Allen, Lily Cole, Roland Mouret and Jean Paul Gaultier to help raise money for the charity, however this year they really have upped the stakes.

Designer du jour Jonathan Saunders has been drafted to ensure all the staff there are looking ship-shape. He has designed both a menswear and womenswear look, in line with his autumn/winter 2011 collection, which features his signature prints. In addition, the generous London based designer has donated a cocktail dress to the auction; the lucky winner will have a personal fitting with Saunders himself as well as having the opportunity to sit on the front row at his next fashion show. And, as if that wasn't enough, the Scottish designer has concocted a new Grey Goose cocktail, named Blue Print, which will be served in bespoke glasses at the event.

World renowned footwear designer Christian Louboutin has designed the cocktail bar for the Architecture of Taste themed party in the shape of a stiletto painted in his signature red (Pantone colour, 186c don't you know) which he will be auctioning off on the night. Other highlights of the evening include dinner by internationally-acclaimed restaurant elBulli and auction lots from British artist Marc Quinn.

Last remaining tickets for the Grey Goose Winter Ball are available to buy on +44 20 7603 9996. 100% of the ticket price is donated directly to the Elton John AIDS Foundation.
Brian Wilson reimagines Elton's 'Can You Feel the Love Tonight'
Wednesday, October 19 2011
Brian Wilson, the harmonic mastermind behind '60s songbirds the Beach Boys, has returned to the studio to put his quirky and smile-laden mark on several Disney classics.

Wilson's new album, 'In the Key of Disney,' covers different decades throughout the famed animation studio's entire history from 'The Jungle Book' track 'Bare Necessities' to 'We Belong Together' from 'Toy Story 3.'

"Like every kid in America, I grew up loving Disney, especially the animated classics," Wilson said in a statement. "The songs from those masterpieces were as much a part of my musical education as anything else. So it only made sense that I would want to put my spin on some of those truly great songs."

The Beach Boy's cover of 'Can You Feel the Love Tonight' from 'The Lion King' is filled with unexpected harmonies, bringing the Elton John and Tim Rice-penned tune a whimsical twist.

Wilson's previous work for Disney includes 'Brian Wilson Reimagines Gershwin,' an entire album dedicated to the late George Gershwin, including two songs that he put together from unfinished fragments. It's no wonder that the home of Mickey Mouse chose Wilson to reinvent their songbook. 'In the Key of Disney' will hit record stores and online distributors on October 25, 2011.
EJAF 2011 grants - round 2
Wednesday, October 19 2011
The Elton John AIDS Foundation (EJAF), which funds innovative HIV prevention, stigma reduction, and direct care and support programs for people living with HIV/AIDS in the Americas and the Caribbean, on October 18, 2011 announced its second round of grants for calendar year 2011, totaling $3,435,249. This new funding brings EJAF's total grant investments for 2011 to $4,735,249 so far.
These grants represent EJAF's continuing commitment to fund demographics and geographic regions that are seriously impacted by HIV/AIDS and under-served by traditional funders. Grants totaling $2,810,249 were awarded to 13 projects in the following targeted areas: The Caribbean – $845,249; Latin America – $150,000; Southern United States – $150,000; Domestic MSM (men who have sex with men) Initiative – $400,000; Injection Drug Users – $1.090 million; African Americans – $200,000; Youth and Sexual Health – $75,000. While these grants have been categorized into targeted areas, many of them have overlapping areas of focus, i.e., Latin American young people, Black MSM, Caribbean MSM, African Americans in the Southern U.S., etc. Three additional grants totaling $125,000 were awarded for treatment, research, and information projects.

EJAF's strategic approach allows them to respond adroitly as the global AIDS epidemic evolves, investing donor dollars where they are most needed and will have the greatest impact. Many of these grants are requests for renewed funding for organizations EJAF has partnered with in the past, and they have been very gratified to learn about important new issues that have arisen during the course of their work, resulting in funding requests for programs that have evolved to address these issues.

The largest grant awarded during this funding cycle was a two-year $1 million partnership commitment to the Syringe Access Fund. Numerous scientific studies have incontrovertibly established that syringe exchange is a highly effective method for helping injection drug users significantly reduce their risk of becoming infected with HIV and other blood-borne diseases and transmitting these diseases to others. Studies have also clearly demonstrated that syringe exchange programs help to remove contaminated needles and syringes from community streets, playgrounds, and other public areas and to encourage drug users to avail themselves of other health and social services, including drug rehabilitation and treatment programs. By helping addicts to preserve their health and prevent the spread of HIV, EJAF serves both the best interests of the individual and the health and welfare of the community at large.
Elton John and Van Morrison top Bill Clinton's favorite songs playlist
Monday, October 17 2011
Elton John and Van Morrison have turned up on former President Bill Clinton's Top 20 Songs of All Time playlist.
On the former president's iPod you will hear a cool variety of sounds that lean toward jazz, folk and gospel. Favorites from Willie Nelson and Simon & Garfunkel stand next to artists like Miles Davis and Nina Simone. Bill Clinton has always had a connection to the music he loves, from having Fleetwood Mac play his inaugural gala, hanging around with Bono or famously tooting his own horn (literally) on the Arsenio Hall Show all those years ago.

On October 15, 2011, Mr. Clinton celebrated the tenth anniversary of the William J. Clinton Foundation with the "Decade Of Difference" event. Held at The Hollywood Bowl, it featured a wide variety of performers including Kenny Chesney, Stevie Wonder, and Lady Gaga. The foundation, with offices located in NYC, Boston and Little Rock, was established with the stated mission to "strengthen the capacity of people throughout the world to meet the challenges of global interdependence".

Bill Clinton's Top 20 Songs of All Time:

Mickey Magnum – 'In The Presence Of Jehova'
Miles Davis – 'My Funny Valentine'
Nina Simone – 'I Wish I Knew How It Would Feel To Be Free'
John Coltrane & Johhny Hartman – 'My One And Only Love'
Zoot Sims -'Summertime'
Mahalia Jackson – 'Take My Hand Precious Lord'
Igor Butman – 'Nostalgia'
Judy Collins – 'Chelsea Morning'
David Sanborn – 'Harlem Nocturne'
Phil Coulter – 'This Town I Loved So Well'
Van Morrison – 'Brown Eyed Girl'
Carly Simon – 'You And I Get Along So Well'
Stan Getz With Bahai – 'Charlie Byrd'
Simon & Garfunkel – 'Bridge Over Troubled Water'
Sarah McLachlan – 'Angel'
Elton John – 'Philadelphia Freedom'
Willie Nelson – 'A Song For You'
Joan Baez – 'Winds Of The Old Days'
John Williams – 'Concierto De Aranjuez'
Elizabeth Taylor remembered at Private Memorial
Monday, October 17 2011
Close friends and family of the late Elizabeth Taylor gathered on October 16, 2011 afternoon to remember beloved Hollywood legend during a private memorial on the Warner Brothers lot in Burbank.
With Taylor's good friend Colin Farrell hosting the 75-minute celebration in the lot's Steven J. Ross Theater, the tribute was attended by Taylor's children Michael and Christopher Wilding, Liza Tivey and Maria Burton, as well as close friends Michael Caine, stepdaughter Kate Burton and Elton John, who sang a stirring rendition of "Blue Eyes" to close the program.

"To say that the world got smaller, emptier, darker and lonelier when we lost Elizabeth is an understatement," Elton John told the 400 guests during his heartfelt remarks. "She was a true rock, a pioneer, a pathfinder, a trailblazer and a star who will always burn bright and always had time to laugh at herself."

Throughout the program, guests spoke of Taylor's humor, beauty and generosity, and shared memories from her rich and colorful life. Taylor died of congestive heart failure on March 23, 2011. She was 79.

One especially touching moment came when grandson Rhys Tivey stood up and played a trumpet rendition of "Amazing Grace," a song his grandmother loved. "People were mesmerized how her talent and grace lived on in Rhys," says a guest. There were also tributes to the three-time Oscar-winner's post-Hollywood career, both as a businesswoman with her fragrance White Diamonds, and her tenacious advocacy on behalf of people living with HIV/AIDS. AIDS activists in the audience were visibly moved as clips of Taylor lobbying in Washington, D.C., in the early '80s played on the screen.

"Many of us remember all too well, those early days of the AIDS epidemic in the early to mid-1980s," said Elton. "It brought out the worst – hysteria, bigotry, callous indifference. But it also allowed an angel and warrior, like Elizabeth, to rise up and show us how to respond instead with compassion, reason, and humanity."

Taylor's son Michael, from her 1952 marriage to British actor Michael Wilding, said: "My mother was an extraordinary woman whose life touched so many, most of whom we will never know. Our whole family is extremely proud of her accomplishments, and know what a unique and special experience it was to have her in our lives. Today, it was especially meaningful for us to be with so many good friends to celebrate her spirit, which will be with us forever."


Elizabeth Taylor Private Tribute
Friday, October 14 2011 at 21:07:14


Elizabeth Taylor Private Tribute
Friday, October 14 2011
Although not publicly announced, Elton is scheduled to appear on an event paying tribute to the late Elizabeth Taylor on October 16, 2011.
It's nearly impossible to keep a secret in Hollywood, especially when it involves the late and great Elizabeth Taylor. But this is something very few in Hollywood know about: On October 18, 2011, those nearest and dearest to the actress are gathering on the Warner Bros lot for a private event in her honor at the Steven J. Ross Theatre.

Nikki Finke writes on Deadline Hollywood: "I'm told her son Christopher has organized everything for what is being called an invitation-only 'Worldwide Tribute To Elizabeth Taylor' for her trust foundation."

Even though no photographers or press are invited, a Red Carpet will roll out for her friends, colleagues, co-stars, and generally those closest to her personally and professionally. Taylor was laid to rest on March 24, 2011 at a small funeral service attended by family members and close friends at Forest Lawn Cemetery in Glendale. She died of congestive heart failure at age 79 and her estate went into the trust. The Elizabeth Taylor HIV/AIDS Foundation has raised millions of dollars since 1985.


Elton dedicates AIDS benefit to Liz Taylor
Friday, May 20 2011 at 08:42:38

Elton on Elizabeth Taylor's death
Thursday, March 24 2011 at 07:14:04

R.I.P. Elizabeth Taylor
Wednesday, March 23 2011 at 14:11:04


Elton and Sen. Bill Nelson urge Congress to maintain funding for HIV/AIDS medication
Friday, October 14 2011
Elton John and Sen. Bill Nelson (D-FL) have an op-ed in Politico on October 13, 2011 urging Congress to increase funding for programs that provide access to HIV/AIDS drugs.
"All 50 states now have assistance programs for people with low income, living with the disease. But, in an increasing number, the need for these medications is greater than federal and state funding," the two warn, arguing that "these cuts will only lead to higher costs to taxpayers in the long run":

First, patients who lose their assistance and are forced off HIV medications could develop drug-resistant strains of HIV — which may well be more difficult to manage.

Second, denying treatment to low-income, HIV-positive people will most likely result in increased transmission of the disease. A recent, groundbreaking study by the National Institutes of Health demonstrated that people living with HIV who receive effective drug treatment are 96 percent less likely to pass the virus on to their uninfected partners.

Third, while HIV/AIDS medications are expensive, the emergency room and hospital care required by people who do not receive them is far more costly.

While Congress debates funding levels for the next fiscal year — President Obama asked Congress to increase funding for AIDS medications to $940 million in the next fiscal year, but a Senate appropriations subcommittee has only approved $900 million — HHS has recently released $1.89 billion in grants through the Ryan White HIV/AIDS Program. Approximately $1.213 billion will be sent to states and territories under Part B of the Ryan White Program, with $813 million of that total designated specifically for the AIDS Drug Assistance Program (ADAP). ADAP is a national initiative funded by the federal and state governments and run by the states that provides prescription drug coverage for low-income people with HIV/AIDS. As of October 2011, 7,409 individuals in 10 states were waiting to sign up for the program.

Meanwhile, health advocates continue to fight against cuts to health care programs that HIV/AIDS patients rely on. Earlier this week, House members from California met with CMS Administrator Donald Berwick and urged him to deny the state's request to cut $1.4 billion from Medicaid, the single largest source of coverage for people with HIV.

Read the full article at politico.com.
'I'm living Elton John's life,' says Love Lies Bleeding dancer
Friday, October 14 2011
Tokyo-born Yukichi Hattori is a huge favourite with Alberta Ballet audiences for his formidable speed, crisp attack and virtuoso technique. He may be short, but he is a dynamo on stage.
Hattori, 31, is the lead dancer in Jean Grand-Maître's "Love Lies Bleeding," the ballet set to the songs of Elton John and Bernie Taupin. He is also a gifted choreographer who is showing work in the Alberta Showcase hosted by Calgary's Fluid Movement Festival on October 22, 2011.

Over the Thanksgiving weekend, The Globe reached Hattori in Calgary at 9 in the morning, which he claims is his quiet time. In the background, one could hear his three-year-old daughter Mae, presumably getting ready to interrupt her father's peace and quiet.

How did you get into dance?

I wanted to go on the stage after I saw the musical Annie when I was six. My parents, who were actors, put me in ballet class because dance skills take the longest to develop. They figured that acting and singing could come later. I loved the special treatment I got as the only boy in the class.

How did you get to Hamburg Ballet?

I was 13 when Hamburg Ballet toured Japan. I was cast as a peasant boy in Swan Lake. I could see that the Hamburg dancers' technique was much more advanced over Japanese dancers, so I had to get to Europe. I got a scholarship to the Hamburg Ballet School. When I graduated five years later, I joined the company. I was promoted to soloist in 2004.

Dancers would kill to be in a prestigious company like Hamburg. Why did you leave?

After 12 years, I needed more rigorous eyes on me. They thought they knew me, and what I could do, so I felt that any new skills I developed would be overlooked. I was always going to be a 13-year-old boy.

You got to Alberta Ballet through your wife, Galien Johnston.

We joined Hamburg in the same year, 1999. When we decided to leave, we were looking for a company that could accommodate both of us. She's 5'9" and I'm 5'4". We needed a place that was not obsessed with lines and height. In 2006, Galien was visiting her parents in Edmonton, and took a class with Alberta Ballet. They offered her a contract and also one to me, based on my reputation.

Let's move on to Love Lies Bleeding. What do you think the ballet is about, and what is your role in it?

It's about pop stars and pop culture. I'm living Elton John's life, the public and the private faces, the pleasure and the pain, the conflict and the harmony. The title reflects both his suffering and facing his demons. His soul is opened up through his music.

You are in almost every scene.

It's jam-packed with choreography, and I also go through a lot of emotional highs and lows. I'm completely exhausted at the end of the show, but I reach a state of ecstasy – a runner's high.

I understand that Jean Grand-Maître has reworked the ballet.

It's a lot tighter. A few songs have been shortened, and the transitions have been reworked. He's also beefed up the choreography to reflect the higher level of dancers from two years ago.

Alberta Ballet is becoming known as a company of songbooks.

Ballets set to specific songwriters create excitement. It's about the contemporary arts – living choreographers using the music of people who are alive, sharing stories that are about now. These ballets also open doors to touring in a time of recession. They are part of the art of entertainment. It's not a bad thing to have a ballet that is a commercial success. It's survival over innovation.


Support the Kaleidoscope Trust to fight homophobia
Thursday, October 13 2011
Elton John has urged people to support the Kaleidoscope Trust campaign against homophobia around the world. He applauded Kaleidoscope for confronting the worsening situation facing gay men and women in many countries and for offering 'real support and solidarity' to locally-based campaigners.
Elton described the Kaleidoscope Trust as 'a remarkable group…with global reach and a simple goal', on the side of people who wanted to live and to love who they chose.

Writing on the Huffington Post website, Elton said that when he was born 'it was a crime to be gay in Britain, but I survived through the battles to see the day when I could have a civil partnership and a son and be accepted by all but a small circle of bigoted hold-outs. It didn't happen by magic. It happened because gay people organised and stood together and appealed to the decency and empathy of the heterosexual majority.'

In an article with the journalist and campaigner Johann Hari, Elton said of the Kaleidoscope Trust: 'It will carry out its work sensitively, guided by the help gay people in the group want. The murderous homophobes want to claim that homosexuality is an "imperialist" or "alien" import — so it is crucial that we don't play into their hands. This is a fight that needs to be lead by local people. But we can offer real support and solidarity — just as the fight against Apartheid was led within South Africa, but supported across the globe. This doesn't detract for a second from the urgent fight for equality back at home. We can do both.'

He added that 'We know what will happen if we do nothing, and if Kaleidoscope doesn't attract the supporters it needs,' and urged people to back the work of the Kaleidoscope Trust through their website.
Rare Elton items wanted
Thursday, October 13 2011
Channel 4's Hit Series "Four Rooms" is back and looking for more extraordinary items to feature in the second series.
Do you own something unique, rare or beautiful that you want to sell? Their four top dealers are ready to part with their cash for something truly exceptional.

From iconic memorabilia to beautiful or rare objects, or even the grotesque and macabre, your item could be bought for life changing amounts of money.

If you own an item that you would like to show the dealers, Channel 4 wants to hear from you! To apply please call +44 207 861 8499. Or email a photo and description to fourrooms@talkbackthames.tv.
A big shout out for megastar Lulu
Wednesday, October 12 2011
A host of music megastars including Elton pay tribute to Lulu in the special one-off warts-and-all documentary.
Kylie Minogue, 43, raves about the Scot's voice, saying: "When you know it's come from that little package, it's astonishing. She makes it effortless. I don't know how effortless it is, probably quite, because she's had that voice since such a young age. What's equally amazing is that she still has the power."

Elton adds: "It's the spirit with Lulu. She's forever young. She has this incredible zest for life. Whenever you see her, you still get a tingle down your spine because she has the ability to get the audience in the palm of her hand. She still excites you."

Sporty Spice Mel C, 37, calls the singer a "national treasure". While Barry Manilow, 68, thinks she's still a stunner. He adds: "She looks like a million bucks, sounds like a million bucks and has all the energy in the world."

Lulu's ex-brother-in-law Robimn Gibb, 61, says: "People love her. She's got a great voice and that's not gone away. Frankly, I think she could keep performing forever. She's still got it." Cliff Richard, 70, adds: "In terms of soul singing, she's probably one of our best."

In the programme, Lulu performs a duet — of 60s singer Brenda Lee's I'm Sorry — with Squeeze legend Jools Holland. The 53-year-old presenter says: "Her voice is completely unique. She'll go on for as long as she can sing for."
Lulu: Something To Shout About is on BBC Two on October 15, 2011 at 10.30pm.
Johnny Depp breaks bread with Elton
Wednesday, October 12 2011
Everyone knows that Johnny Depp isn't one for seeking out publicity. In fact, he'll do just about anything to avoid it. That's why flags raised when Depp frequented a very public celebrity haunt, breaking bread with Elton John.
According to sources at the Madeo, the West Hollywood restaurant in question, the actor arrived separately from the celebrated singer. However, the duo quickly joined forces to share a meal. Since they aren't known as good friends, everyone's radar went up right away.

There are all kinds of possibilities for their topic of discussion. Depp has a lot of film projects in the works. Perhaps Elton would be perfect for a role in one of them. The most likely culprit would be the Dr. Seuss biography in which Johnny Depp recently agreed to star. It isn't likely that the '21 Jump Street' remake has a part for Elton, but perhaps Tim Burton's 'Dark Shadows' or Disney's 'Lone Ranger' does.

Maybe Johnny Depp is looking at another singing opportunity like the one he took on in 'Sweeney Todd' and he wanted Elton's professional opinion of his singing talents. Or maybe it's Elton who has a project in mind for Depp. Anyway you slice it, a joint venture between the two of them could be interesting.

It's definitely something worthy looking out for. Both gentlemen have strong personalities that might create cinema magic if combined.
Pinner to star in film about life of Elton
Tuesday, October 11 2011
Two schools and an inconspicuous looking semi-detached house in Pinner are to feature in a film about the life of Sir Elton John.
Elton grew up as Reginald Dwight in a house on Pinner Hill Road and attended Pinner Wood Junior School, Reddiford School and what was Pinner County Grammar School, now Heathfield School. The star and his civil partner David Furnish will produce the film with their production company, Rocketman, with Billy Elliot screenwriter Lee Hall providing the script.

Details about filming locations for the production have yet to be revealed, but many of the places which played a part in Elton's life are as they were more than 50 years ago. David Patterson is business manager at what was the young Elton's grammar school and said: "Our students would certainly be excited if they were to come and film here. There is a lot of the old building left so they could use it, but they would probably have to hide all the modern parts of the school, though you can still see how it was back then."

The singer was born in Pinner on March 25, 1947, and lived in a council house in Pinner Hill Road for the first 11 years of his life with his grandparents. He performed in pubs in the area and after studying at the Royal Academy of Music went on to become an international musical sensation.

Geoff Barr of the Pinner Old Students Association, comprised of Pinner County Grammar alumni, was at the school at the same time as Reginald Dwight, but was four years above him so doesn't remember their paths crossing.
He said people are still fascinated in his story and humble beginnings: "We have a lot of people ringing up asking for information about Elton John, authors, writers and people from the BBC. Whenever we get in touch with him he never replies, he did come and play at the school in 1972 or '73, but only three people knew about it before he arrived. He played for two hours and gave the sixth form a colour TV."

Steven Gregory, heritage services manager at Harrow Museum said: "Of course it would be wonderful if they came to film here. It is always very exciting when filming goes on for a local story like this. The area has got so much history which goes up to the present day, and things which are more recent and people can remember are sometimes more exciting than things which happened 200 years ago."


Ewan McGregor wants Elton part in Rocketman biopic
Sunday, October 9 2011 at 08:03:48

James McAvoy set to play Elton John in new film biopic
Saturday, September 24 2011 at 05:55:50

Elton John biopic 'Rocketman' in the works
Thursday, September 22 2011 at 07:46:22


Elton celebrates 3,000th live public performance
Monday, October 10 2011
Elton celebrated a milestone 3,000 live public performances on October 8, 2011 with his show "The Million Dollar Piano" at The Colosseum at Caesars Palace.
The landmark concert punctuates a banner year for the entertainer as 2011 marks the 40th anniversary of his debut. Elton has enjoyed an extraordinary and unique voyage from the first ever public concert he played on his 23rd birthday, March 25, 1970, at the Revolution Club in London. At that time Elton was promoting the "Elton John" album, which had just been released on the DJM label.

Over the past forty-one years Elton's concerts have been presented in many formats. He has played with his band, solo, in a two-man show with percussionist Ray Cooper, with Billy Joel, with Leon Russell, with Eric Clapton, with orchestras, with choirs and, now, with a full band plus four backing vocalists and the 2CELLOS. Two of the great musicians in his current band, drummer Nigel Olsson and guitarist Davey Johnstone, have been with Elton since those very early concerts in the 1970s - with breaks.

Since 1970 Elton has played and replayed the alphabet of cities, from Aalborg, Denmark, which he played on June 6, 2004, to Zurich, Switzerland, which he has played sixteen times in his career. Elton has performed concerts in 74 countries, some of which have changed names, and in some cases political systems, between his performances.

Still today he is actively seeking to increase the number of countries in which he has played. Elton has played the most concerts in the US, with a total of 1,608 performances. In fact, Elton has played concerts in every one of the 50 states. Great Britain comes next (497), followed by Australia (138), Germany (133) and Canada (102). The remaining countries have less than 90 shows each.

Breaking down those 3,000 concerts by decade, Elton performed 616 in the 1970s, 537 in the 1980s, 590 in the 1990s, an astonishing 1,064 in the 2000s and, so far, 193 in the 2010s. On two occasions he has performed at two cities on the same day. On September 18, 1971 he played in Oakland and San Diego, while on July 2, 2005 he played at Live 8 in London and at R.D.S. Arena in Dublin, Ireland.


Elton's NZ gig his furthest south
Wednesday, October 5 2011 at 09:02:50

Saturday is EJ3K day!
Tuesday, October 4 2011 at 11:51:20


Ewan McGregor wants Elton part in Rocketman biopic
Sunday, October 9 2011
Ewan McGregor says he'd like to play Elton in the singer's upcoming musical biopic, Rocketman.
The actor, who's been tipped for the part, said it would be "wicked" if he were asked. Speaking at the premiere of his new film Perfect Sense in London, the star said: "That would be great, I'd like to play Elton John."

James McAvoy and Guy Pierce are names that have also been linked to the main part in the Elton John film.


James McAvoy set to play Elton John in new film biopic
Saturday, September 24 2011 at 05:55:50

Elton John biopic 'Rocketman' in the works
Thursday, September 22 2011 at 07:46:22

Elton biopic in the works
Monday, January 24 2011 at 12:19:47


What Elton looks for in a million-dollar piano
Sunday, October 9 2011
Rick Lax caught up with Yamaha Entertainment Group Vice President Chris Gero to ask four questions about Elton John's very special, very expensive, custom piano.
How long have you been working with Elton John?
Yamaha's been working with Elton since 1993. I've been collaborating with him since the Red Piano Tour. When that was wrapping up, we started talking about the Million Dollar Piano.

And is that figure pretty accurate—a million dollars?
The exact figure is $1.4 million. We originally priced the piano at under a million. But remember, our pianos take years to produce and we make them by hand in Japan, so we didn't want to price out the LED screens before we'd completed the piano. We realized there would be advances in LED technology by the time we were finished. And by the time we added all the electronics, we were looking at $1.4 million.

Bells and whistles aside, what does Elton look for in a piano?
Elton is an exceedingly hard player. He plays really, really hard. Especially with his left hand. He used to play so hard that his hands would bleed. So we modify and strengthen the hammers for him. And the action is really light. We file the keys a certain way. He's got a signature sound that's developed over time. It comes from the acoustic properties of the instrument, but also the off-stage tone generators. So his "signature sound" is actually the combination of a lot of sounds put together.

Who else plays as hard as Elton?
The only other guy is Billy Joel.
Sir Elton John's Holiday to the NEST Fragrances Collection
Thursday, October 6 2011
NEST Fragrances, the leading luxury home fragrance manufacturer, announces the introduction of Sir Elton John's Holiday to benefit the Elton John AIDS Foundation.
The Sir Elton John's Holiday charitable candle and boxed votive set will debut at Bergdorf Goodman, Neiman Marcus and specialty stores nationwide beginning in mid-October.

"Elton John loves candles…he is a true home fragrance aficionado," said Laura Slatkin, founder and CEO of NEST Fragrances. "When I launched my first company with my husband in 1992, Elton quickly became a Slatkin & Co. devotee. One day, we closed our shop so Elton could investigate and enjoy our fragrances in privacy; ever since that day, we have become good friends. We later came up with the idea of combining Elton's passion for candles and his dedication to helping those affected by AIDS, and we began a decade-long plus tradition of launching home fragrance collections to support the Elton John AIDS Foundation."

"Having the opportunity to work with Laura again to produce a stunning candle that will benefit my Foundation has been both rewarding and a great deal of fun," said Elton. "I love scented candles and enjoy incorporating them into the décor for all my homes. This particular candle is very special. It not only looks gorgeous and smells sensational, but it will also offer consumers the opportunity to purchase festive holiday gifts for family, friends, and colleagues that will make a real difference in the lives of people affected by the HIV/AIDS epidemic."

The source of inspiration for the unique and unexpected design on the Sir Elton John's Holiday candle packaging and glass is based on an etching of a coat of arms crest belonging to a noble family that lived in Luxembourg during the 1800s. The design underwent creative modification with the inclusion of gold, red, and green seasonal holiday foliage drawn into the artwork. Bernard Maisner, an internationally renowned calligrapher, fine stationer and artist, added and blended in custom-made, hand-written calligraphic lettering in both a gothic style from the medieval era and an italic humanist script from the Renaissance period. The artwork similarly blends old and new in a playful and light manner, featuring majestic gold crowns and gothic calligraphy.

"When Bernard Maisner came to my office to discuss his design work, I took one look at his portfolio and said, 'You must do something special for my friend, Elton John,'" continued Slatkin. "Maisner's work is so steeped in the tradition of royal engravings it was a natural fit. It was Elton's idea to add the deep aubergine color to the candle glass, which took the collection to a whole new level of sophistication."

Featuring a delightfully festive fragrance blend of evergreen and balsam fir needles combined with rich woods and a sparkling citrus accord, Sir Elton John's Holiday is available in an 8.1 oz. candle for $38 (SRP) and a six-pack boxed votive set for $54 (SRP). A portion of the proceeds from the sales of Sir Elton John's Holiday will benefit the Elton John AIDS Foundation.
Lion King joins list of Top 10 Highest Grossing Films Of All Time Domestically
Wednesday, October 5 2011
After all this "Lion King" success, we'd imagine we'll probably be seeing a lot more Disney 3D re-releases soon!
Thanks to the $79.7 million that "The Lion King 3D" has grossed domestically so far, the Disney classic film has officially entered the coveted list of top 10 domestic highest grossing films of all time, with an overall total of $408.2 million!

Here's what Disney Executive VP of Distribution Dave Hollis had to say about it: "The Lion King is a timeless classic whose characters and story are as beloved today as ever. Breaking into the top 10 is a testament that quality entertainment for people of all ages is a cornerstone to achieving such incredible success."

Check out the full domestic list of highest-grossing films of all time:

1. Avatar ($760.5 million)
2. Titanic ($600.8 million)
3. The Dark Knight ($533.3 million)
4. Star Wars ($461 million)
5. Shrek 2 (441.2 million)
6. E.T.: The Extra-Terrestrial ($435.1 million)
7. Star Wars: Episode I–The Phantom Menace ($431.1 million)
8. Pirates of the Caribbean: Dead Man's Chest ($423.3 million)
9. Toy Story 3 ($415 million)
10. The Lion King ($408.2 million…so far)


'Lion King 3D' roars #1
Saturday, September 17 2011 at 16:48:09

'Lion King' in 3-D: Moviegoers can return to the jungle in September 2011
Thursday, September 15 2011 at 09:15:46


Kate Bush album to feature Elton John
Wednesday, October 5 2011
Kate Bush's new album is to include appearances by Elton John and Stephen Fry.
Both men have cameos on "50 Words for Snow", Bush's second album of this year, which is due to be released on November 21, 2011.

News of Elton's involvement on the LP comes courtesy of Anti-Records, an American label that represents Tom Waits, Wilco and Nick Cave. Bush is now joining their roster, at least in the US. Besides Fry and Elton, "50 Words for Snow" also features Andy Fairweather Low and, according to his Twitter feed, the 19-year-old chorister Stefan Roberts. "I'm singing solo on one of the tracks," he warbled. "Yay!!!"

This is the first real team-up for Bush and Elton, although she is famous for her interpretations of his work. Her 1991 version of "Rocket Man" – recorded for a tribute album – climbed to no 12 on the UK charts, and is one of the best-loved covers of the 1990s. "Candle in the Wind" appeared as a B-side. "From the age of 11, Elton John was my biggest hero," Bush wrote on the sleeve. "I loved his music, had all his albums and I hoped one day I'd play the piano like him (I still do)."
Elton's NZ gig his furthest south
Wednesday, October 5 2011
Over the years Elton John has performed in a huge number of locations around the world.
Collectively his audiences since the 70's are undoubtedly the largest of any artist as he has consistently toured when his contemporaries have travelled far less. Now to add to the statistics is the fact that the concert in Dunedin's Forsyth Barr Stadium in November 2011 will be the southernmost place he has ever performed in. A detail that the city can add to the occasion.

With less than two months to go the concert only has a limited number of seats left on sale. All expected to go as the date comes closer. As a special bonus to the event, Capital C Concert has announced that Solo Rock Guitarist, Kara Gordon will be the second support artist, scheduled to play a short medley of instrumentals and his version of the NZ National Anthem.


Saturday is EJ3K day!
Tuesday, October 4 2011 at 11:51:20


Saturday is EJ3K day!
Tuesday, October 4 2011
Elton's "The Million Dollar Piano" concert on October 8, 2011 at Caesars Palace, Las Vegas, will be his 3000th public concert!
For his first ever public concert which took place March 25, 1970 (Elton's 24th birthday), at the Revolution Club in London, Elton was joined onstage by Nigel Olsson and the late Dee Murray.

During this week eltonjohn.com will be counting down to EJ3K, and highlighting some of Elton's world-beating touring history.
Elton's 'Billy Elliot' to shut down on Broadway in January 2012
Tuesday, October 4 2011
Three years and three months after it danced onto Broadway, the $18 million Elton John musical "Billy Elliot" is closing, its producers said on October 3, 2011.
Stephanie Lee, president of Group Sales Box Office, said "Billy Elliot" producers, including Universal Pictures and Weinstein Live Entertainment, treated her and other ticket agents to an "appreciation lunch" last week in the Theater District. "It was a gracious gesture, so it was very surprising to hear the news today," she said. "Everyone thought it would run longer than three years."

The show, about striking British coal miners during the Margaret Thatcher era of denationalization, has been running in London's West End since 2005. It hasn't proven as popular with Broadway audiences. Recently the producers attempted to make the show more appealing to American audiences by changing some of the working- class British slang. They also reduced the amount of profanity in the show.

Based on the 2000 film of the same name, "Billy Elliot" is about a boy from a depressed mining town who develops a love for ballet dancing. The show won the 2009 Tony Award for best musical -- and nine other Tonys -- and recouped its initial investment after 14 months.

"Billy Elliot" grossed $718,000 last week, 54 percent of capacity, according to the Broadway League. Its January 8, 2012 shuttering will follow by a week that of "The Addams Family," which will have run 22 months on Broadway. A magnet for tourists, Broadway has been considered largely immune from stock market drama and U.S. economic woes.
Geox footwear designed by Patrick Cox for Elton John
Tuesday, October 4 2011
GEOX the premier Italian brand famous for the innovative use of breathable technology and the renown British shoe designer Patrick Cox have created the eye catching footwear that Elton John wears during his new show "The Million Dollar Piano," which has just opened at Caesar's Palace in Vegas.
"I've made hundreds of pairs of shoes for Elton over the past 20 years" says Patrick Cox "but this is the first time I've designed the shoe that Elton will wear on stage. Fundamentally it's a traditional English brogue but, Elton being Elton, we've made it in metallic leather in all colours of the rainbow and we've melded tradition with contemporary by incorporating GEOX innovative leather patent, which makes leather soles waterproof "

Mr Mario Moretti Polegato, Chairman of GEOX comments "I am happy to collaborate with such a great artist as Elton John, whose music I have always loved, and I see fashion and innovation coming together on a stage that will attract global attention."

GEOX and Patrick Cox have recently teamed up to create a capsule footwear collection for Spring Summer 2012, which is the start of an ongoing collaboration between GEOX and Patrick Cox. The Spring Summer 2012 collection will be distributed in key European markets such as the UK, Italy and France as well as in North America and Asia. GEOX new Spring-Summer 2012 collection for woman, man and children will be regularly distributed worldwide in all GEOX SHOPS and independent retailers.
An Enduring Vision Benefit 2011
Tuesday, October 4 2011
On October 26, 2011, the Elton John AIDS Foundation (EJAF) will present its 10th annual An Enduring Vision benefit at Cipriani Wall Street in New York City.
Award-winning CNN anchor and talk show host Anderson Cooper will return as host, and the legendary Smokey Robinson will perform. This year, EJAF is pleased to pay tribute to several esteemed philanthropists by presenting Enduring Vision Awards to EJAF benefactors Bob and Tamar Manoukian, EJAF Advisory Board member Greg Gorman, and corporate philanthropic leader John Demsey, Group President, The Estée Lauder Companies and Chairman of the M•A•C AIDS Fund for their extraordinary contributions to the fight against AIDS and to EJAF's work.

The 2010 An Enduring Vision event raised more than $2.1 million, which helped EJAF continue serving as one of the leading grant makers addressing the HIV prevention and treatment needs of populations most at risk of HIV infection and most in need of our help because they exist at the margins of society.

They are deeply grateful to the following generous organizations and individuals that have signed on to date as sponsors for An Enduring Vision 2011 – Presenting Sponsor: American Airlines; Co-Sponsors: Chalk Miami, Evelyn and Leonard Lauder, M·A·C AIDS Fund, Revlon, Starkey Hearing Foundation, and The Radcliffe Foundation. For information on ticket availability for An Enduring Vision or to place an advertisement in the event program journal, please contact Matt Blinstrubas at +1.212.219.0670 or matt.blinstrubas@ejaf.org.


"The Million Dollar Piano" in Las Vegas on September 30, 2011
Saturday, October 1 2011
Following is the complete set list of "The Million Dollar Piano" show on September 30, 2011.
The Bitch Is Back

Bennie An The Jets

Rocket Man

Levon

Tiny Dancer

Your Song

Mona Lisas And Mad Hatters

Better Off Dead

Indian Sunset

Blue Eyes

Goodbye Yellow Brick Road

I Guess That's Why They Call It The Blues

Philadelphia Freedom

Don't Let The Sun Go Down On Me

Hey Ahab

I'm Still Standing

Crocodile Rock

Saturday Night's Alright (For Fighting)

Circle Of Life
An Elton John Art Auction
Saturday, October 1 2011
Elton said his charitable organization is planning to auction off six artworks at Sotheby's November 10, 2011 contemporary-art sale, including Keith Haring's untitled 1981 ink-on-paper view of three men, which is priced to sell for at least $60,000.
The singer-songwriter (and art collector) said newer pieces by Jeff Koons, Cecily Brown, Tracey Emin, Howard Hodgkin and Jim Hodges are also being put up for sale. The sale is to raise funds for the Elton John AIDS Foundation. Combined low estimate for the group: about $750,000.