ELTON JOHN NEWS ARCHIVE: October 2010
Elton John: "I will never write another pop single"
Sunday, October 31 2010
Elton John has called time on his song-writing career, declaring himself too old to write another pop single.
The man frequently hailed the greatest song-writer of his generation, with hits such as "Rocket Man," "Your Song" and "Candle in the Wind," said he can no longer compete with younger stars like Lady Gaga.

The 63-year-old said he would continue with several "little side projects", such as his collaboration with the US pop band Scissor Sisters, but declared that he would never put out another solo single.

In an interview with GQ magazine, he said: "I'm at that stage where I don't think I can write pop music any more. I can't sit down and do a proper rock song. It was okay when I was 25 or 26, but not any more. I like to do my little side projects like Scissor Sisters and have fun, but I don't think Elton John will be putting any pop singles out."

He added: "Look, I'm 63, I don't want to be on VH1 or MTV. I'm not going to compete with JLS or Lady Gaga." Elton formed half of one of pop's most successful song-writing partnerships with the lyricist Bernie Taupin in 1967 and went on to have more than 50 Top 40 hits. Earlier this month he released The Union, an esoteric album of duets with the little-known US singer song-writer Leon Russell.

Launching the album at the BBC Electric Proms last week, he said: "I can't make pop records any more and I hate videos. I just watched VH1 and it makes me want to vomit. I've made 40 odd albums. People aren't screaming for another Elton John record - I'm not screaming to make another record". Elton added: "The singles chart isn't one I'm going to be in".

The 63-year-old, who has sold more than 250 million records in a career spanning five decades, recently launched a withering attack on the music industry, declaring that today's songwriters were "awful" and modern pop singles "all sound the same". He lambasted television talent shows for failing to produce any genuinely gifted stars and said true artisits should write their own material. But despite his vocal contempt for singers such as Alexandra Burke and Leona Lewis who won their fame on ITV's X Factor, he has shown a soft spot for Lady Gaga.

Elton performed a duet the flamboyant US singer in February 2010 at the Grammy Awards in Los Angeles. The pair performed a "mash-up" of their respective hits "Your Song" and "Speechless" sitting opposite each-other at two grand pianos. They have also teamed up to record a single called "Hello, Hello" for the forthcoming Disney film Gnomeo and Juliet.

Lady Gaga, 24, performed at Elton's White Tie and Tiara ball in June 2010 and was rewarded with a gift of a vintage tea set from his own chinaware collection.



Elton would give up title for Oscar
Sunday, October 31 2010
Elton John would give up his knighthood before his Academy Award - because he treasures his Oscar for songwriting.
He has won many accolades throughout his career, including the Best Original Song Oscar in 1994 for "Can You Feel The Love Tonight" from "The Lion King." And the award means so much to the singer, he'd rather relinquish his 'Sir' title - which was bestowed upon him by British royal Queen Elizabeth II in 1998 - than give up the trophy.

When asked by Britain's The One Show host Chris Evans which award he would keep, Elton replied, "Probably the Oscar. "The thing with an Oscar... normally you get an award and they don't weigh anything. The Oscar actually feels like something. The odds of me getting an Oscar when I was growing up as a musician - I wouldn't even have thought about films and music, so that was an exciting award to get."



Elton John congratulates couple
Sunday, October 31 2010 at 06:49:42


Elton John congratulates couple
Sunday, October 31 2010
A plucky Elton John fan who proposed to his girlfriend in the middle of a concert secured her hand in marriage – and congratulations from the legendary singer live on television on October 29, 2010.

Guy Hooper, 34, who was born in Liverpool and described himself as a proud Scouser, proposed to Erika Burrows, 26, while her idol performed in London on October 28, 2010. The couple were cheered by the crowd and spotted by radio producers who were recording Sir Elton's Electric Prom. They invited them to join the One Show audience on October 29, 2010, where Elton was told about their engagement.

Sir Elton said: "That's incredible, wow." He then went over to hug and congratulate them. Mr Hooper told the ECHO: "It was unbelievable. I think it was the perfect proposal." Ms Burrows said: "It was absolute madness. I cannot tell you how exciting it all was. I think Elton John is a legend, but I had never even seen him perform live before."

The couple first got together 2½years ago and were engaged, but broke up for a month earlier this year, after what Mr Hooper described as "a crap proposal". He said: "I did it outside a shop. I tried to go for a 'spur of the moment' thing, but I thought she never really bought into the idea. "So when we broke up, I took the ring back.

"Then we got back together and for the last six months it has really worked out, so I thought I needed to do something special." When Ms Burrows bought tickets to the concert, Mr Hooper tried to arrange for Sir Elton to propose on stage on his behalf – but was told it would not be possible. He had no idea if the superstar would even sing Ms Burrows's favourite song, "Tiny Dancer," which is her nickname for her two-year-old daughter Ava.

Mr Hooper told the ECHO: "I was at the bar getting some drinks and he started playing the song, so I had to run all the way back to get to her before it finished – I pushed everyone over trying to get to her. "I got down on one knee, I gave the drinks to somebody and everyone sort of parted like the Red Sea. She started crying her eyes out, as did almost everyone else that was within 10ft of us, and everyone cheered like something from a movie." The couple hope to wed next summer and have children together.
Elton John & Leon Russell performed in London on October 28, 2010
Friday, October 29 2010
Fan report by David Wright.
One of the great things about being an Elton John fan is the variety of shows we see over the years; with the band, solo, with Ray Cooper, with Billy Joel, with an orchestra and now we have another one for the list – a new band and Leon Russell.

As The Roundhouse is a standing venue, die-hard fans queued from mid-morning for the 8pm start of a show that was part of the BBC Electric Proms and was broadcast live on BBC Radio 2 (watch/listen on the BBC website).

The early information from the staff at the venue was for a 90 minute show. This would have been a little disappointing as we were hoping to hear the whole of "The Union." Once inside the venue news filtered through from fans at home (thank you Tammi!) that Elton and Leon had been interviewed on the radio and had asked to extend the show to 2 1/2 hours. This meant that BBC Radio 2's coverage was extended from 10pm till 11pm.

Elton started with a five song set of his own opening with "Burn Down The Mission" giving an early indication of the joys to follow. The new band with a brass section and backing singers adding much variety.

There were two special guests; "Plan B performed an unimpressive version of "I Guess That's Why They Call It The Blues." Maybe it was in the wrong key for him, maybe he was under rehearsed, but it simply didn't work. I was only relieved he didn't rap.

Leon Russell then arrived to the stage in a wheelchair to perform a three song set. Instead of exiting the stage to his dressing room, Elton took a seat to the far left of the stage, watching with the enthusiasm of the dedicated fan he is.

Leon's third song was "Masquerade" sung by the second special guest, Rumer. Now this was more like it. Rumer was new to me and I was very impressed, she has a lovely voice and I'm sure we will hear more of her.

Then it was time for "The Union." They performed all 14 tracks on the standard release. I shan't review the CD as that has been done elsewhere and you will have your own views by now.

Personally I loved it, the main highlight being "Hey Ahab." One of the backing singers has an incredible voice which she gets to show in this song more than any other. The new songs we well received by the audience and rapturously by those of us at the front.

It was then time for Leon's second set. As someone who knows nothing of his work I thoroughly enjoyed this up tempo set. Then it was Elton again to close the show with four more songs. "The Bitch Is Back" is a great way to end and a trombone solo showed what a difference the new band made.

Elton seemed to enjoy himself enormously as did the band. I hope Leon had fun too, but as he didn't speak and barely moved, we can't be sure. I can only hope his health improves but you have to admire someone who seems frail but can still play the piano with such style.

All in all, one of the great nights to be an Elton John fan. We are Blessed.

Following is the complete set list of the London show on October 28, 2010:
Elton


Burn Down The Mission

Levon

Tiny Dancer

Ballad of a Well Known Gun

I Guess That's Why They Call It The Blues – with Plan B

Leon


Delta Last

A Song For You

Masquerade – with Rumer

Elton & Leon


If It Wasn't For Bad

Eight Hundred Dollar Shoes

Hey Ahab

Gone To Shiloh

Jimmy Rodger's Dream

There's No Tomorrow

Monkey Suit

The Best Part Of The Day

A Dream Come True

I Should Have Sent Roses

When Love Is Dying

Hearts Have Turned To Stone

Never Too Hold (To Hold Somebody)

In The Hands Of Angels

Leon


Tightrope

Prince of Peace/ Out in the Woods

Roll In My Sweet Baby's Arms

Stranger In A Strange Land

Elton


Your Song

Take Me To The Pilot

Sad Songs (Say So Much)

The Bitch Is Back

Encore – Elton & Leon


Hey Ahab
Elton and Leon album delivers their best chart in decades
Thursday, October 28 2010
Elton John and Leon Russell are seeing chart popularity that they haven't had since the 70's as "The Union" debuts on the Billboard Album chart at number 3.
While that might seem surprising for Elton, the fact is that he has not been that high on the chart since 1976's "Blue Moves" which also peaked at number 3. "Blue Moves" was the followup to Elton's "Rock of the Westies," the last of his seven number 1 albums.

For Russell, it has been even longer, all the way back to 1972's "Carney" which went up to number 2. "The Union" becomes the second highest charting album of Leon's career if you don't count his appearances on the "Mad Dogs and Englishmen" and "Concert For Bangladesh" albums.

Also see Elton John Charts.
Elton John: 'Michael Jackson was damaged'
Thursday, October 28 2010
Elton John has described Michael Jackson as a "damaged" man in the later years of his life.
Elton, who revealed that Jackson came to his gigs with Elizabeth Taylor, said that the 'Billie Jean' star put too much pressure on himself to be successful. Recalling a time Jackson visited Elton's home, he told the Telegraph: "[He was] charming, sweet, lovely - but damaged. He came down here and we closed all the curtains and had lunch. He said it was the first time he'd sat down and had a meal with people for 10 years. He would always eat on his own. Fame infantilises people. You don't ever grow up. But thank God, I did."

He continued: "I remember talking to Michael once when he did Thriller and I said, 'How are you going to top that?' He said, 'Oh, the next one's going to do twice as much', and I thought, Michael, it's not. You can't. You put so much pressure on yourself."
Elton and Nelly Furtado to duet on "Crocodile Rock"
Wednesday, October 27 2010
Nelly Furtado and Elton John will perform a duet of "Crocodile Rock" for the upcoming animated ensemble comedy Gnomeo & Juliet, a project that is being produced by David Furnish.
Elton's already agreed to lay down vocals with pop sensation Lady Gaga for the movie's theme song, "Hello, Hello."

Gnomeo & Juliet arrives in theaters Februray 11, 2011.



Lily Allen to perform at Elton's Ball
Monday, October 25 2010
Pregnant pop star Lily Allen has patched up her relationship with Elton John to come out of retirement again - she's agreed to sing at the star's annual winter ball on October 30, 2010.
The "Smile" hitmaker, who is currently on a pop hiatus, famously fell out with Elton after they both appeared at the GQ Men Of The Year Awards in 2008. Allen then mocked Elton in her music video for "Who'd Have Known," in which she gazes at images of the veteran star, before an Elton lookalike is kidnapped and forced to declare his love for her.

But the pair put their differences behind them in 2009 when Allen designed her own cocktail bar for Elton's 2009 ball - and now she has signed up to play a set at this year's festivities, which takes place October 30, 2010.

A statement from Elton and David reads, "We are thrilled to announce that this year our dear friend Lily Allen will give us an exclusive performance."



Lily Allen and Elton John honoured
Thursday, October 7 2010 at 05:21:10

Lily Allen kidnaps Elton John lookalike in her wacky new video
Tuesday, October 20 2009 at 07:37:07


Elton John, Salt-n-Pepa shine at Justin Timberlake & Friends
Monday, October 25 2010
Electrifying and incredible! The audience at the benefit concert Justin Timberlake & Friends at the Theater for the Performing Arts in Planet Hollywood on October 23, 2010 were on their feet throughout the 4-hour-plus evening for the superstar and superstars-in-the-making performances, and the general consensus was that music legend Elton John and hip-hop pioneers Salt-n-Pepa stole the show.
And that's on top of thunderous applause for Christina Aguilera, Diddy and his duo Dirty Money, top-selling Lady Antebellum, Selena Gomez, T-Pain and new Memphis act Free Sol, whose music has been featured in Entourage. Justin performed throughout the evening with the artists and the onstage DJ, and his final acoustic guitar version of "Cry Me a River" was a vocal and evening highlight.

Contributing photographer Tom Donoghue said: "Each one of the star groups sang some four songs. But the electricity for Elton was so intense that he did more. He performed with his Red Piano for 45 minutes to close out the show. There's no doubt that if he returns as a regular showman to Las Vegas, he'll score another huge success. He simply brought the house down topping what had already been a rocking good time for everybody."

Elton's surreal set included "Saturday Night's Alright (for Fighting)," "Levon," "Tiny Dancer," "Benny and the Jets" and "Rocket Man," the latter an explosive and energetic extended version with Justin's band that drew a thunderous ovation. Perhaps prophetically, he ended the evening with "The Bitch Is Back"!
Simon Cowell hits back after Elton John X Factor jibe
Sunday, October 24 2010
Furious Simon Cowell on October 23, 2010 blasted back at Elton John and insisted the pop legend was wrong to lambast X Factor acts as boring and "brain crippling".
And Simon vowed to send Sir Elton a tape of Rebecca Ferguson's barnstorming performance of Nora Lee King's "Why Don't You Do It Right" to prove him wrong.

With an estimated 13 million viewers watching at home, Simon said: "Elton John said in the papers ... he said that these shows don't produce stars. Well Elton if you're not watching, I'm going to send you this tape and you can take back what you said."

Earlier music mogul Simon, 51, exclusively told the Sunday Mirror: "The truth is Elton's watching the show every week. What he's slightly missing the point on, and you always hear this resentment from bigger artists nowadays... they don't like the fact a show can make an artist. I always say to these people who criticise - why don't you spend some time with new artists. If Elton feels that strongly about it then my message to him is: "You show me how to do it."



Elton slams today's songwriters and warns against X Factor route to fame
Tuesday, October 19 2010 at 08:21:07


Elton sparks new residency rumors in second Vegas visit in two weeks
Saturday, October 23 2010
For the second time in just two weeks, Elton John is back in Las Vegas -- for charity. But Las Vegas Weekly is hearing solid rumors that the legendary entertainer has begun seriously thinking of a return residency there.
Just 14 days ago, Elton wowed Andre Agassi's guests at the 15th Annual Grand Slam at the Wynn. Now on October 24, 2010, he's set to dazzle again as the headliner of an all-star lineup for Justin Timberlake's Shriners Hospitals for Children.

In recent years, Elton didn't have too many complimentary things to say about Las Vegas, but times have changed and as the years ticked on -- he's often said favorable things about Sin City nowadays. Maybe he'd like to cut back on his traveling and settle there?

That's the word Las Vegas Weekly is hearing, and his business folks have talked with Las Vegas entertainment directors about a possible return here next fall -- 2011 or spring 2012. It would be far less scheduled than he had during the three-year contract he signed with AEG at The Colosseum in Caesars Palace. It would be a guaranteed number of weeks or long weekends similar to Garth Brooks' deal with Steve Wynn -- and this time it might be at another property.

It's definitely a story to watch, and Elton might be here again in another two weeks to check out fellow British star Rod Stewart, who begins his own testing of the waters. Rod has said his engagement starting November 7, 2010 will be looked at to see if he would agree to regular concerts here.



JT And Friends Concert announces special guest Elton John
Monday, October 18 2010 at 13:41:44

Elton joins Justin Timberlake's Vegas Benefit Show
Thursday, October 7 2010 at 05:14:28


Elton John and Lady Gaga duet
Friday, October 22 2010
If you were watching Elton John on The View on October 21, 2010, you might have heard him mention that he's planning to release a duet with Lady Gaga.
It's something he's alluded to before, but we can report that the track, called "Hello, Hello," will appear in the upcoming Disney animated film Gnomeo & Juliet, which is being produced by Elton and David Furnish.

The charming pop track plays during the moment where the two lead characters, lawn ornaments named Gnomeo (voiced by James McAvoy) and Juliet (Emily Blunt), meet for the first time. The film hits theaters on February 11, 2011.



Lady Gaga and Elton John: Working together on the pop queen's new album?
Friday, October 8 2010 at 18:30:04

Gneomeo and Juliet trailer
Thursday, September 23 2010 at 21:07:38


Elton collection sells for £28,820
Thursday, October 21 2010
A highly-prized collection of Sir Elton John memorabilia has been sold at auction by his mother for £28,820.
The treasure trove included more than 100 gold and platinum discs, tour jackets and VIP passes his mother, Sheila Farebrother, used for backstage access at his concerts.

Some of the top items included a music box modelled as a piano, which was a gift from Sir Elton, which sold for £1,200 and Mrs Farebrother's personal collection of records which sold for £700.



Elton's mother sells career memorabilia
Monday, September 27 2010 at 18:06:38

Elton John Memorabilia online catalogue
Tuesday, September 14 2010 at 19:40:19

Sheile Farebrother's big sale
Sunday, September 5 2010 at 17:39:42


A Night With Elton John on BBC2
Thursday, October 21 2010
On October 30, 2010 BBC Two are dedicating a whole evening to the king of the hair weave and kick ass tune, Elton John.
No, wait, come back. Elton's not all "Candle in the Wind" and "Circle of Life", y'know. In his back catalogue are some serious dance-floor fillers: we're thinking "Saturday Night's Alright (For Fighting)", we're thinking "Don't Go Breaking My Heart", we're thinking "Step Into Christmas" and, frankly, we've got our chair dance on.

Whether you're a die-hard fan or an amused observer, we reckon that after Saturday's shenanigans you'll have got your Elton groove on too. Here's what's planned for this evening dedicated to Elton Hercules Reginald Kenneth Dwight John.

Madman Across The Water: The Making Of Elton John
9.40pm – 10.40pm
This documentary charts Elton's career from his beginnings as Reg Dwight in Pinner, to his position as the most successful living solo artist in the world today. Expect tantrums, tiaras, big glasses and even bigger boots. Amazing.

Elton John: Radio 2 Electric Prom
10.40pm – 11.40pm
Elton rocked the Electric Prom, kicking off the series and showing everyone how it should be done. As well as bringing down the house with his classics, he got young upstarts Rumer and Plan B up with him, performing hits-in-the-making from new collaboration album The Union.

Elton John At The BBC
11.40pm-00.40pm
A night with Elton John comes to a close by tracking the wonder that is Sir Elt through a selection of choice performances, interviews and classic clips.
Elton John's AIDS Gala
Thursday, October 21 2010
It's a funny business these charity galas. A single ticket for "An Enduring Vision," the ninth annual benefit for the Elton John AIDS Foundation, which took place on October 18, 2010 at Cipriani on Wall Street, went for $2,500. You don't get much more VIP than that.
Hugh Jackman sings Elton John in the shower. Which song? "Candle in the Wind," he said, although his children beg him to stop. "And they're not very happy they didn't get to come to the ball tonight," his wife, Deborra-Lee Furness, added before she hummed a few bars of her own.

The singer Deborah Harry also nominated it as her favorite. "I met Elton for the first time in the '70s, in Hollywood," said Ms. Harry, who wore a camouflage jacket she identified as by Dolce & Gabbana.

Christina Ricci also had a favorite, though she almost mangled the name. "That song, someone my brother, you know that song? So-and-so my brother?" she said, warbling before seizing on it. "Daniel!"

The would-be singers had gathered at Cipriani Wall Street to raise money for the Elton John AIDS Foundation — and to sing along with Elton. The cavernous Beaux-Arts interior was bathed in bubbly pink and blue lights, and as a parade of familiar faces waltzed in — Joanne Woodward, Clive Davis, Billie Jean King, Vera Wang, Martha Stewart, Ivanka Trump — it resembled a celebrity-filled snow globe.

After cocktails, Anderson Cooper bounded onto the stage and served as the flirtatious M.C. At one point after the steak medallions were served, he coquettishly offered himself for lunch, as an auction item that raised $70,000. "I don't do much on the first date, but if you behave and you're cheerful there might be a second," he said. Jeffrey Katzenberg, DreamWorks Animation chief executive, was the winner.

The evening's honorees were introduced, including Tamara Mellon (the Jimmy Choo founder), Mr. Katzenberg and his wife, Marilyn, and Victor and Elena Pinchuk (the Ukrainian industrialists). But just when the audience thought the speeches were over, Elton took to the stage, wearing an uncharacteristically subdued black tuxedo with a shiny brooch, and delivered a forceful speech about the continuing fight against AIDS.

"It took the death of Ryan White before this country did anything about AIDS," he said, referring to the teenager who became a national face for H.I.V., and died at age 18.

The mood lifted considerably when Elton sat at his piano and belted out a half-dozen songs, including "Tiny Dancer," "Levon" and "Rocket Man." Members of the audience moved their lips. Then the stage was ceded to the pianist and singer Leon Russell, a friend of Elton's for 40 years with whom he released an album collaboration this week, called "The Union."

The audience kept humming after the performances. Mr. Davis, the record producer, said that he also sings Elton in the shower. "All the time," he said. "Literally he's among the top three of all time." (The other two being "McCartney-Lennon and Paul Simon.")

Leelee Sobieski, the actress, also said that she wanted to sing to her showerhead. "If I haven't in the past," she said, "I certainly will tonight."
Elton John "terrified" by own album
Thursday, October 21 2010
Elton John was "too terrified" to listen to his own latest album "The Union" album after he recorded it.
Despite the singer recording 29 albums before "The Union", he was incredibly worried about how it would be received when it was submitted to the record company. He said: "I worry about how it might be received. I couldn't listen to the playback with the record company, it was too terrifying.

"I don't know if it's a young person's album, but you never know. It's the one I wanted to make now." Elton recorded the album with fellow singer and pianist Leon Russell, with whom he'd been friends with in the 1970s, but had lost contact with in recent years.

He added that the pair used Bob Dylan's critically well received 2006 album "Modern Times" as a reference point when writing and recording. Elton said: "My template was "Modern Times" by Bob Dylan, which sounds as if it was produced in the 1950s but is also modern."

He also spoke of his pride at helping resurrect Leon's career, which the singer had nearly given up. He added to Radio Times magazine: "His wife told me he'd nearly given up, and he says it in the song "In The Hands Of Angels".

"Cameron Crowe filmed the recording and we were all crying. I went out, composed myself, and when I returned Leon said, 'Thank you for saving my life'."



Reviews are mixed for "The Union"
Thursday, October 21 2010 at 19:48:19

"The Union" - out today!
Tuesday, October 19 2010 at 05:09:22


Reviews are mixed for "The Union"
Thursday, October 21 2010
Elton John has long acknowledged the influence Leon Russell had on his career, as a pianist and a songwriter who fused and dabbled in an array of styles, from country and soul to gospel and blues.
Now Elton shows his gratitude with the release of "The Union," a 14-track collaboration between the two that was produced by T-Bone Burnett and includes assistance from Elton's longtime songwriting partner, Bernie Taupin, along with Neil Young, Brian Wilson, Robert Randolph, Don Was and Booker T.

The early reviews have run from positive to, uh, not so positive. In Rolling Stone, critic David Fricke said, "Bernie Taupin wrote the words to the Stax-heartbreak shuffle 'I Should Have Sent Roses,' but the chewy vocal agony is Russell's. When he and John trade lines in 'When Love Is Dying,' against a choral arrangement by Brian Wilson, John goes for the wrenching high notes. Russell sticks to his odd gritty register, heavy with turmoil. …
" 'The Union' often feels like a conversation: the two trading sober and grateful reflections, in songs like 'The Best Part of the Day' and 'A Dream Come True,' on the costs and prizes of a life at the top."

At www.slantmagazine.com, however, critic Joseph Jon Lanthier said the execution doesn't live up to its noble ambitions. Instead, he writes, it reveals two esteemed artists who have become comfortable with their ways: "That the album is a failure despite the authentic passion behind it only accentuates its participants' respective ruts. And it's further proof that the most consistent musicians are more pilgrims than they are professionals."

At www.bbc.com, writer Paul Whitelaw fell somewhere in between: "The strength of these tracks highlights the album's weaknesses: too many mid-tempo ballads, too many generic melodies. At 14 tracks stretched just over an hour, it's simply too long; shorn of its more forgettable songs, it could've been a glancing contender. As it stands, 'The Union' is a blot on neither man's legacy, just a mature bout with flashes of former glory."

A deluxe CD/DVD version includes a documentary on the making of "The Union," directed by Cameron Crowe.



"The Union" - out today!
Tuesday, October 19 2010 at 05:09:22


Elton John's objection to Vince Vaughn's gay joke
Thursday, October 21 2010
He's never been one to keep his opinions to himself, and Elton John is speaking out against the gay joke in Vince Vaughn's new film "The Dilemma."
Elton has gone on record as agreeing with CNN reporter Anderson Cooper's objection to the joke, "Ladies and gentlemen, electric cars… are gay."

Elton told press, [Anderson] is one of the most important people on television. His heart is in exactly the right place- same as mine." He thinks the way I do. He's intelligent, and he's on the side of what we're on. I hate bigotry. I hate racial hatred. I hate sexual hatred. I mean, Anderson is on our side."
Kanye West's next single to feature 11 artists, including Elton John
Thursday, October 21 2010
Kanye West revealed that his third single "All of the Lights" will feature 11 other artists including Kid Cudi.
Kanye's G.O.O.D. Friday leaks have featured some very large guest lists, but all of those will pale in comparison to Kanye's third single. On October 18, 2010 in Los Angeles Mr. West aired a short screening of his film "Runaway," where he revealed that the next single would feature 11 artists.

Hip Hop fans may be a bit disappointed as this cast doesn't feature his usual emcee collaborators, but Kid Cudi and 10 singers. Those who 'Ye said will appear are Rihanna, Alicia Keys, John Legend, The-Dream, Tony Williams, Charlie Wilson, Ryan Leslie, Fergie, La Roux's Elly Jackson, the aforementioned Kid Cudi and Elton John.

The Louis Vuitton Don didn't include full verses from each, but bits and pieces and described the track as "completely seamless and completely ghetto as fuck." The song will be heard in his 35-minute "Runaway" film, premiering October 23, 2010.
Elton John & Leon Russell performed in New York on October 19, 2010
Wednesday, October 20 2010
Following is the complete set list of the Elton John & Leon Russell show in New York on October 19, 2010.
Leon set

Tight rope

Prince of Peace

Song for You

Delta Lady

Roll in My Sweet Baby's Arms

Stranger in a Strange Land

Elton & Leon set

If It Wasn't for Bad

Eight Hundred Dollar Shoes

Hey Ahab

Gone to Shiloh

Jimmie Rodgers' Dream

There's No Tomorrow

Monkey Suit

Best Part of the Day

A Dream Come True

I Should Have Sent Roses

When Love's Dying

Hearts Have Turned to Stones

Never Too Old Old

In the Hands of Angels

Elton set

Burn Down the Mission

Levon

Tiny Dancer

Ballad of A Well Known Gun

I Guess That's Why They Call It the Blues

Your Song

Take Me to the Pilot

Sad Songs (Say So Much)

The Bitch is Back

Elton & Leon encore

Hey Ahab
Elton slams today's songwriters and warns against X Factor route to fame
Tuesday, October 19 2010
Elton John has slammed today's songwriters as "pretty awful" and TV as "arse-paralysingly" boring.
He said he was not a fan of TV talent shows and confirmed that he turned down the opportunity to be a judge on American Idol. He told the Radio Times that he admired contemporary stars such as Lily Allen, who he traded insults with at an awards ceremony two years ago, Amy Winehouse and Lady Gaga.

But he said: "It's important they write their own songs, so they're not at the mercy of anyone. Songwriters today are pretty awful, which is why everything sounds the same. Contemporary pop isn't very inspiring." He added: "I'm not a fan of talent shows. I probably wouldn't have lasted if I'd gone on one. I was asked to judge American Idol."

Elton, who famously attacked Madonna for lip-synching on stage, said he "couldn't do" American Idol, which featured Simon Cowell as a judge before he quit to launch a US version of the X Factor, "because I won't slag anyone off. Also I don't want to be on television", he said. "It's become boring, arse-paralysingly brain crippling. I like Simon Cowell, but what he does is TV entertainment.

"There have been some good acts, but the only way to sustain a career is to pay your dues in small, s**t clubs. I was in a band at 17, became a songwriter with Bernie Taupin and wasn't successful until we'd had six years of hard graft and disappointment, as well as great times."

He added: "TV vaults you to superstardom and then you have to back it up, which is hard. (X Factor winners) Leona Lewis and Alexandra Burke are at the mercy of the next song they can get. Susan Boyle was an endearing phenomenon, but I fear she might not understand the rigours of showbusiness."

Elton, who is in talks about creating a musical version of George Orwell's Animal Farm, also used the interview to vent his anger over the fact Strictly Come Dancing host Bruce Forsyth has not been awarded a knighthood. He said: "I grew up with Sunday Night At The London Palladium and it's an outrage that Bruce Forsyth (its former compere) hasn't been knighted. I told him that, and wrote a letter to the honours committee. He's part of our lives, like Rolf Harris - a clever, incredibly witty man who always made me feel good."

Elton defended his decision to perform, for a reported million dollars (£629,000), at the wedding of right-wing US media personality Rush Limbaugh, who has been criticised over his views on Aids and homosexuality. He said: "I was incensed when people said I was throwing away 40 years of credibility for money. No. I don't need it. No-one was more surprised than I when Rush asked. Politically we're opposites. It was an opportunity to break the ice. I'm a builder of bridges and knocker-down of walls. I want him on side when I step up to the plate on civil partnerships."

On the subject of gay rights, Elton, who had a civil partnership ceremony with long-term partner David Furnish in 2005 - on the first day of same-sex unions in England and Wales, said: "I'm very proud of what Britain has done for gay rights. In America, unfortunately, there's the 'm' word - some say 'It's marriage or nothing'. Well, you're going to have to wait a long time, baby. Let's just get the ball rolling with civil partnerships. You can't go for the jugular straight away. As it happens I don't want to get married."

Elton, who gave up drugs and alcohol after battling addictions, said of the current drug scene: "It couldn't be worse than it is now. It's funny - once you give up drugs, as I did, you assume everyone else has, but it's more prevalent now than ever. The drugs are particularly dangerous today. A lot of people are on prescription pills, crystal meth and crack cocaine."
"The Union" - out today!
Tuesday, October 19 2010
The wait is finally over - at least for fans in the US: The long-awaited musical collaboration between Elton John and Leon Russell, "The Union", will be available from October 19, 2010.
Fans in the UK and other European countries will have to wait until October 25, 1010 before they can buy the CD in the shops. However, most devoted fans have heard the songs of the new album already anyway as the tracks have been available through various official and less official sources over the past weeks.

There has also been a plethora of upfront reviews of the album, most of which have been very positive with just a few exceptions. And while we are all very excited about this new album we have decided not to post just another review on eltonfan.net. At the end of the day everybody will form an own opinion anyway and we are aware that the fans' tastes are as diverse as Elton's musical talent.



JT And Friends Concert announces special guest Elton John
Monday, October 18 2010
Elton John will be one of the special guests at the 2010 Justin Timberlake & Friends Concert to benefit Shriners Hospital for Children on October 23, 2010.
The line up for this year's Justin Timberlake and friends, a Special Evening Benefiting Shriners Hospitals for Children in Las Vegas October 23, 2010 also includes: Christina Aguilera, Sean "Diddy" Combs's new group, Diddy-Dirty Money, Lady Antebellum, Salt-N-Pepa, Selena Gomez & The Scene, T-Pain, and Tennman Records artist, FreeSol.

Justin has now confirmed that Elton will also appear on stage at Planet Hollywood Resort & Casino's Theatre For The Performing Arts in Las Vegas on October 23, 2010.

Said Diana Jenkins, who is Chairman, CEO and Founder of the U.S. and U.K.-based company, Neuro Drinks, "I am thrilled and honored to be able to add to this amazing night with a performance by my friend, Sir Elton John. Neuro, as a company, realizes its social responsibility, so it is a natural fit to be involved with such a worthy organization as Shriners Hospitals for Children. Health and wellness should be the right of all children, and Neuro is proud to support the good work that Shriners does."

Tickets are on sale at Ticketmaster.
Elton John & Leon Russell performed in Boston on October 16, 2010
Monday, October 18 2010
As part of T Bone Burnett's "The Speaking Clock Revue" - also featuring Elvis Costello, Jeff Bridges and more - Elton and Leon performed six songs from "The Union" live.
Following is the list of songs from Elton John's and Leon Russell's set during "The Speaking Clock Revue" in Boston on October 16, 2010:
If It Wasn't For Bad (Elton John & Leon Russell)

Jimmie Rodgers' Dream (Elton John & Leon Russell)

Gone To Shiloh (Elton John & Leon Russell with Gregg Allman)

Hearts Have Turned To Stone (Elton John & Leon Russell)

Hey Ahab (Elton John & Leon Russell)

Monkey Suit (Elton John & Leon Russell)
AIDA - the Broadway musical live in Frankfurt on October 9, 2010
Monday, October 18 2010
Fan report by Phillip.
Elton has already produced four musicals, of which are only two left in the mind of most people. First, of course, the all-time-standard "Lion King", popular on Broadway, in London's West End, and in Hamburg, Germany. Apart from that Billy Elliot premiered five years ago in London and two years ago in New York City. It's a pity that the other two plays aren't seen anywhere nowadays. We got Lestat on the one hand, which was pretty much of a disaster when it comes to ticket sales and on the other hand there was the story about the Nubian slaves and their princess Aida. Like Verdi told us a few hundred years ago, Aidas fall in love with the upcoming king of Egypt.

I've been very, very excited when I heard about the great news that AIDA was going to come to Germany. The "Musical Factory Groß-Umstadt" toured with their own production through some suburbs of Frankfurt. This group is a mix of professionals and laymen. There were all kind of age groups presented in this production.

On this evening, they brought a piece of Egypt back to life. With a breathtaking stage show, accompanied by a live orchestra, everyone of the 80 contributors gave their best to please the audience. The music has all been played live with the original Broadway score. With the help of their own stage outfits, and some great sound/lightning men the "musical factory" suited everybody's taste.

Even though you heard that most of the singers didn't have trained voices, everybody sang with such a passion that one believed they are doing this show every evening. None of the characters meant any disappointment for the audience. It was rather hard to find a singer you liked the most. They have all been fabolous.

There is one big praise left for me for the conductor and producer of the show, Ralf Schreiner. Even though his orchestra did never play in a professional (and commercial) produced play on Broadway or in London's West End, it was hard to find any differences in quality concerning their play, and the way the music is played on the official AIDA cast recording. Schreiner was very caring about every detail in Elton's musical composition.

This actually was my second Elton musical I have seen so far. I've been able to attend the Lion King twice (in London and Hamburg) and I have to say that the Lion King is far away from the quality AIDA has to offer. After this evening I'm a bit angry on Elton's management for they stopped every AIDA production on this planet. There are just small, local ones like the one I attended to suit the taste of musical lover.

In the end I have to admit that when the first act finished (Gods love Nubia), some tears started rolling out of my eyes.
'Elton!' to launch on SIRIUS XM Radio
Sunday, October 17 2010
SIRIUS XM Radio announced that it will launch "Elton!," a seven-day long, commercial-free music channel featuring music, interviews and special guest DJ sessions celebrating the release of Elton John and Leon Russell's new album, "The Union".
The limited-run channel launched on Friday, October 15, 2010 at 3:00 pm ET and will run until Friday, October 22 at 3:00 am ET on SIRIUS channel 33 and XM channel 27. "Elton!" will feature music spanning Elton John's prolific and award-winning career as well as music from Leon Russell's storied music past. Listeners will hear an interview with Elton John and Leon Russell conducted by director Cameron Crowe, during which Elton will talk at length about "The Union", scheduled to be released on Decca Records on October 19, 2010, as well as various highlights from his 41-year career.

"Elton!" will also feature interviews with T Bone Burnett, who produced "The Union", and singer, songwriter and long-time Elton John collaborator, Bernie Taupin.

The seven-day music channel will also feature special guest DJ sessions with long-time Elton John fans actor Robert Downey Jr. and tennis superstar Andy Roddick. The two will play their favorite Elton John music and share stories about individual songs and of first falling in love with Sir Elton's music.

"Elton John is a unique cultural icon with an unmistakable voice who collaborates with Leon Russell as easily as he does with Alice in Chains or Lady Gaga," said Scott Greenstein, President and Chief Content Officer, SIRIUS XM Radio. "His influence spans generations and is felt everywhere."
Elton John: America is in a horrible place
Wednesday, October 13 2010
Sir Elton John has condemned a spate of anti-gay slurs in America.
Elton spends a great deal of time in the country, and is dismayed about recent incidents of homophobia and gay suicides that have occurred there.

The suicide of gay student Tyler Clementi, who studied in New Jersey, has caused a host of stars to get involved in an anti-bullying campaign. Tyler was reportedly picked on because of his sexuality, and Elton said that this kind of attitude towards gay people was not the America he knows and loves.

"People were saying gays should be beaten up, we're not part of God's universe. What kind of mentality is this?" he asked USA Today. "When I first came here, it was such a loving country. It's never been in a more horrible place. This is not the America I love."

Elton, who is in a civil partnership with David Furnish, is currently promoting his new duet album with Leon Russell. But the talented pianist has decided to use press opportunities to campaign for more tolerance towards gay people in America.

"We've come so far, with a black president, it's mystifying that this can still be going on," Elton said. "Jesus Christ taught tolerance. That's the example we should follow. We should forgive, understand, be compassionate. We're not all the same. Thank God! It would be so boring."

Elton works hard to benefit AIDS charities, such as his own, the Elton John AIDS Foundation, and has referred to himself as "probably the most gay man in the world".

He believes that opposing political parties in the US should stop trying to score points from each other and exchange concepts on how to stop homophobic bullying.
Elton John concert to be broadcast live on Fuse
Monday, October 11 2010
The Fuse cable TV network will carry Elton John & Leon Russell's October 19, 2010 performance from New York City's Beacon Theatre.
The show, to be broadcast live, will feature Elton John and Leon Russell, with whom Elton has been touring and recording lately.

The Fuse concert will include songs from their new studio CD "The Union," which will be released October 19, 2010 plus tunes from both performers' long careers.
NDR looking for Elton fans from Northern Germany
Monday, October 11 2010
The following request is for Elton fans in Northern Germany and therefore posted in German.
Der NDR sucht für eine Radioreportage auf NDR 1 einen riesigen Elton John Fan/Fanclub aus Norddeutschland. Sie machen einen Elton-Tag und wollen dafür ein paar Fans porträtieren.

Wer mitmachen möchte meldet sich bitte bei stephan@eltonfan.net. Bitte nennt in der Mail gleich Eure kompletten Kontaktdaten, so dass wir diese an den NDR weiterleiten können.
First Listen: Elton John And Leon Russell, "The Union"
Monday, October 11 2010
Elton John has done reverence and irreverence, decadence and schmaltz. But he wears elegance especially well in "The Union", his new, album-length collaboration with the man he calls his idol: 68-year-old fellow singer-pianist Leon Russell.
Often playing pianos simultaneously, Elton and Russell team up seamlessly on "The Union", with the aid of guests such as Neil Young, Brian Wilson and Booker T. Jones, not to mention songwriter Bernie Taupin and the producer synonymous with pedigreed collaborations of this nature, T-Bone Burnett.

Alternately rollicking ("Hey Ahab") and reflective ("The Hands of Angels," which alludes to Russell's frail health), "The Union" is no mere nostalgia trip: Among other things, it's Elton's clearly sincere attempt to return his hero to a spotlight Russell hasn't occupied in more than three decades. Elton used to open for Russell in concert, but this isn't just overdue payback, either; both men seem invigorated here, with Russell sounding lively (he underwent brain surgery mere weeks before "The Union" was recorded, but you wouldn't know it) and Elton atoning for many recent excursions into watery soft-pop balladry. Rough-around-the-edges collaboration suits both men just fine.

"The Union" will stream here in its entirety until October 19, 2010. Please leave your thoughts on the album in the comments section below.
Andre Agassi's star-studded Grand Slam raises $8.5 million
Monday, October 11 2010
The Andre Agassi Foundation for Education raised nearly $8.5 million during the star-studded 15th Annual Grand Slam for Children benefit concert at the Wynn on October 9, 2010.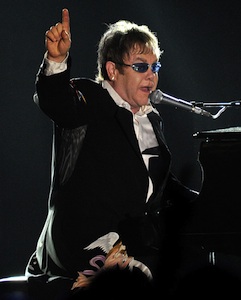 The tennis legend, philanthropist and hometown hero's amazing concert lineup after a red carpet, cocktail reception, dinner and live auction featured a surprise appearance by legendary comedian Bill Cosby, the Las Vegas debut of The Canadian Tenors, Peter Cincotti, Jason Mraz, Jennifer Hudson, Rob Thomas and, the evening's headline attraction, Sir Elton John, all under the direction of David Foster.

A.J. Green, the valedictorian of Andre Agassi Preparatory Academy's first graduating class last year, 100 percent of whom were accepted to college, sang Taylor Hicks' "Do I Make You Proud," the crowning song of American Idol's Season 5 winner, before the live auction, then returned to the stage after Mraz to sing a last-minute "Rock With You" by Michael Jackson, and a surprise duet of "I Am Changing" from Dreamgirls with Oscar winner and newly slimmed down Jennifer Hudson, who stunned with her sexy blue gown and spot-on vocals.

"I am both impressed and thankful for the tremendous support we have gotten for this milestone, the 15th Grand Slam," Agassi said in a statement. "From the incredible group of artists who gave their time and talents, to the generosity of Genworth Financial and all of our supporters, this is a proud moment for us. The success of the event allows us to make a positive difference in students' lives as we work to transform education."

The $8.5 million is $500,000 more than last year, especially impressive in the downturn economy, and the 15 fundraising galas have amassed $91 million, so next year's benefit is likely to reach the $100 million milestone. During the dinner, Agassi thanked Las Vegas casino resort mogul Kirk Kerkorian in a heartfelt speech that included crediting him for saving the struggling Agassi family over the years.

During the segment in which audience members were asked to pledge $2,500 to support the academic year of a student -- and which was matched 100 percent by the Ralph Engelstad Foundation, Kerkorian and Steve Wynn were among the donors who pledged 50 students, while another donor pledged 10 students for 12 years. Agassi, running throughout the audience in his black suit and understandably breaking a sweat, hugged and kissed donors and even offered up smooches from wife and fellow tennis legend Steffi Graf, who was glowing in an animal-print dress.

Bidding at the live auction during dinner and before the concert with auctioneer Christian Kolberg was fast and furious: A painting by Loppo Martinez and Agassi Prep students Jasmine Robinson, Jada Glasco and Shannel Andrews went for $45,000; a breakfast and studio tour with The CBS Evening News anchor Katie Couric and tickets to The Late Show With David Letterman, $15,000; a dinner for 12 at home prepared by New York chef and Top Chef Masters champion Susur Lee, $50,000 apiece to two bidders; Viagogo's Ultimate Sports Experience (tickets to the 2011 Super Bowl, World Series, NBA Finals and NCAA Final Four), $65,000; a trip to India and lunch with actress Freida Pinto, $75,000; a lunch and swimming with Olympic champion Michael Phelps, plus an impromptu addition of pitching lessons from World Series champion and Cy Young Award winner Greg Maddux, $60,000; lunch and drum lessons with Metallica's Lars Ulrich, $35,000; a private dinner for six with Robin Williams in San Francisco, $100,000 apiece(!) for three donors; a trip to the Cayman Islands with Agassi, Graf and Michael Mina, $100,000 apiece for three donors; a dinner for four with Emeril Lagasse in New Orleans, $50,000; a custom, hand-blown Robert Kaindl chandelier, $50,000; a Longines watch and a trip to Tokyo, $40,000; and a hockey experience with Wayne Gretzky, Luc Robitaille and the L.A. Kings, $15,000.

Mr. Vegas DeLuxe Robin Leach covered the red carpet, which included Agassi and Graf, Foster, Lee, Mraz, Thomas and wife Marisol (who were celebrating their 11th anniversary), Mina, Steve Wynn and Andrea Hissom, Elaine Wynn, Terry Fator and Taylor Makakoa, The Canadian Tenors and Mike Krzyzewski and wife Mickie. The dinner crowd, along with Kerkorian and Maddux, included gubernatorial candidates Rory Reid and Brian Sandoval, The Mirage President Felix Rappaport and CNN Senior White House correspondent Ed Henry.
Elton to record with 'Glee' star Morrison
Saturday, October 9 2010
Elton John is giving Glee star Matthew Morrison a career boost by recording a duet with him for his new album.
The British rocker is a huge fan of the hit TV show, in which Morrison plays singing-and-dancing teacher Will Schuester, and he has revealed he'll be joining the actor in the studio when he records his debut solo album.

Elton tells Entertainment Weekly, "I am supposed to be doing something with Matthew Morrison for his album. We had a little meeting together, so hopefully that's going to happen when I get to L.A."

But Elton doesn't think that will lead to a full Elton Glee tribute, like the ones dedicated to Britney Spears, Lagy Gaga and Madonna - even though he wouldn't be averse to such an idea. He adds, "I love Glee, but no, no. Of course I'd be into that. It's always great when someone covers your songs no matter how good or bad the version is."
'GMA' Fall Concert lineup announced
Friday, October 8 2010
Join 'GMA' this fall for incredible Live Concerts with stars from Elton John and Leon Russell to Rihanna.
Two music legends, Elton John and singer songwriter Leon Russell, will perform live on ABC News' "Good Morning America" on October 20, 2010 from the Beacon Theatre. The duo will perform new music from their upcoming album, "The Union," as well as a classic Elton John song. This album marks the first time they have worked together in over 40 years.

If you are interested in being part of the audience for the Elton John "Good Morning America" performance on October 20, 2010 at the Beacon Theatre, please arrive no earlier than 5:00 am under the marquee at 2124 Broadway between 74th and 75th Street. Lining up prior to 5 am is not permitted. Doors will open at 6:00 am. General Admission tickets will be distributed on a first come first serve basis. There is limited capacity seating for this special showcase. "Good Morning America" airs live from 7:00 – 9:00 am.

"GMA's Robin Roberts will also sit down with Elton and Leon to discuss the collaboration behind the new album. The interview will air onTuesday, October 19th.
In addition, Elton, Leon and T Bone will make an exclusive daytime talk show appearance on ABC's "The View," live, October 21, 2010 to perform a song off the highly anticipated new CD and will be interviewed by all five co-hosts.

"Good Morning America" is a two-hour, live program anchored by Robin Roberts and George Stephanopoulos. Juju Chang is the news anchor and Sam Champion is the weather anchor. The morning news program airs Monday-Frida< (7:00-9:00 a.m., EDT), on the ABC Television Network. Jim Murphy is the senior executive producer and Tom Cibrowski is the executive producer of ABC News' "Good Morning America."

Check out the full schedule of performances below:

Oct. 19: Rod Stewart

Oct. 20: Elton John and Leon Russell

Oct. 21: Wynonna and Naomi Judd

Nov. 17: Rihanna

Dec. 3: Wilson Phillips
Lady Gaga and Elton John: Working together on the pop queen's new album?
Friday, October 8 2010
Will Elton John make an appearance on Lady Gaga's forthcoming album "Born This Way"? It seems very possible.
Entertainment Weekly recently spoke to Elton about "The Union", his album collaboration with legendary pianist-songwriter Leon Russell,, and Elton couldn't help but bring up his love for all things Gaga. "I love her, and I love her ability to write," he says. "I love the songs she writes."

A collaboration between the pair—who've become bosom buddies since performing together at January's Grammy Awards 2010 — is a good possiblity. "I'd love to in the future," Elton says of working with her. "I'd love to do that." Then he elaborates: "There's a chance I might do one track with her [for "Born This Way"], but it's just, she's so busy, and I'm so busy, we can never get together!" But, he adds, "I've already heard [Gaga's new album], so I think it's more or less done. ["Born This Way" is expected to be released early next year.]

Her record—it's f—ing amazing. 'Born This Way,' which is the title song, will completely get rid of Gloria Gaynor's 'I Will Survive.' This is the new 'I Will Survive.' That was the gay anthem. This is the new gay anthem. Actually, it's not a gay anthem—it can apply to anybody."

Elton John performs at AMNH Museum Gala
Friday, October 8 2010
A much-anticipated highlight of the fall season, the Museum Gala is the American Museum of Natural History's largest annual benefit.
More than 500 guests are expected to attend this year's dazzling ball. Following cocktails in the Roosevelt Rotunda, guests will enjoy a gourmet dinner and a performance by Elton John in the Milstein Hall of Ocean Life.

The event features host Tom Brokaw and an auction of extraordinary prizes, overseen by auctioneer Jamie Niven of Sotheby's.

Thursday, November 18, 2010

7-7:45 pm Cocktails in the Theodore Roosevelt Rotunda

7:45-11 pm Dinner, live auction, dancing, and performance by Elton John in the Milstein Hall of Ocean Life

Proceeds from the evening help support the Museum's educational and scientific programming.

This evening is proudly presented by Graff and ABN AMRO.
Lily Allen and Elton John honoured
Thursday, October 7 2010
Stars including Lily Allen, Sting and Elton John have been honoured for their songwriting by the US music industry.
Awards were handed out on October 5, 2010 at a ceremony at the Dorchester Hotel in London organised by the rights body Broadcast Music, Inc (BMI). Don Black, known for tracks such as "Born Free", "Diamonds Are Forever" and Michael Jackson's "Ben", attended the ceremony and collected an award. The lyricist, who has contributed to numerous film soundtracks as well as working with Andrew Lloyd Webber, was awarded the BMI Icon title.

Previous winners of the award, which is given to writers who have had "a unique and indelible influence on generations of music makers", include Ray Davies, Bryan Ferry and Van Morrison.

Awards were also handed out for some of most played songs on US radio including Lily Allen's "The Fear" and "The Script's The Man Who Can't Be Moved".

Sting was recognised for the Police song "Every Breath You Take", which has been played more than 10 million times since it was first released in 1983.

Elton John was also recognised along with songwriting partner Bernie Taupin. Among the pair's successes are "Your Song", which has been played 8 million times, and Crocodile Rock which has been played around 6 million times.

BMI collects royalties on behalf of writers and music publishers in the US.
Idina Menzel, Elton John and more 'Give a Damn' against hate crimes
Thursday, October 7 2010
A slew of theater stars have joined together to speak out against the recent tragic wave of hate crimes in America.
Tony winners Idina Menzel and Elton John plus "Love, Loss and What I Wore" veteran Rachael Harris, Ricky Martin (who's Broadway bound in Evita) and comedian Wanda Sykes filmed a new public service announcement for the Give a Damn Campaign, a project of Cyndi Lauper's (a Broadway veteran herself in The Threepenny Opera) True Colors Fund.

Listen to the stars important message as they discuss the need to end acts of violence and intimidation based on sexual orientation and gender identity!
Elton joins Justin Timberlake's Vegas Benefit Show
Thursday, October 7 2010
Elton John is the latest performer to join the lineup of Justin Timberlake's all-star charity concert, taking place October 23, 2010 at Planet Hollywood Resort & Casino in Las Vegas.
The event will benefit Shriners Hospitals for Children, and is just one event in a week of festivities surrounding Timberlake's charity golf tournament. In addition to Elton, the concert will feature performances from Christina Aguilera, Lady Antebellum, Diddy, and Selena Gomez.

Tickets are on sale now through .
Ticketmaster.com.
Smash Hits 2010
Thursday, October 7 2010
On November 15, 2010, the Elton John AIDS Foundation (EJAF) and World TeamTennis (WTT) will bring WTT Smash Hits presented by GEICO, a fabulous all-star charity tennis event, to Washington, D.C., for the first time in its 18-year history.
Since the two organizations joined together to establish this event in 1993, Smash Hits has raised nearly $10 million for EJAF's grant-making initiatives supporting HIV/AIDS-related prevention, stigma and discrimination reduction, and direct care and service programs across the United States, as well as providing additional funding for local AIDS charities in the city hosting the event. This year, the featured local charity will be the Washington AIDS Partnership.

The tennis lineup so far is incredible, including tennis greats Andre Agassi, James Blake, Stefanie Graf, Anna Kournikova, Martina Navratilova and others to be announced soon. Elton John and Billie Jean King will captain two teams of these great champions for a World TeamTennis match at American University's Bender Arena and will also lead a celebrity doubles match to open the event. Prior to the tennis match, all the players will join Elton and Ms. King for a VIP Reception and Auction.

EJAF and World TeamTennis feel very strongly that it is particularly important for us to bring Smash Hits to the nation's capital this year. The District of Columbia now suffers the highest rate of new AIDS cases in the United States and an HIV infection rate 12 times the national average. Over the years, the money raised by Smash Hits has helped fund urgently needed programs in cities across the nation like Washington, DC. But our work is far from done. Both organizations remain committed to making a difference in the lives of others and increasing the awareness of this ongoing battle against HIV/AIDS.

Tickets, which include general admission ($40), reserved bleacher seats ($60), and reserved courtside seats ($100-$120), may be ordered through the American University online box office at www.aueagles.com/ticketsor visit www.WTT.com/SmashHits for more information. For group sales of 10 or more tickets, please call (202) 552-5999.

Special VIP ticket packages, including VIP courtside seating and admission to the Smash Hits VIP Reception and Auction, are available for $500. The auction will feature Ms. King's Wimbledon tickets and a piano bench autographed by Sir Elton among other items. To purchase VIP ticket packages, please call 202/939-3381 or visit or visit http://smashhits.eventbrite.com/.

"We are so thrilled to bring Smash Hits to our nation's capital this year," said WTT co-founder and EJAF Board member Billie Jean King. "This is the perfect venue for us to raise awareness about HIV and AIDS, and we are excited to build upon the growing support in the community for WTT."
BBC Radio 2 seeking support from Elton fans
Wednesday, October 6 2010
Have you heard the news that Elton John will be appearing at the BBC Electric Proms this year?
"I'm one of the Radio 2 Producers, and I've come over to you because I think you may be able to help us!

We're looking for some fabulous pieces of memorabilia to showcase on the Radio 2 website. Do any of you have anything like that? Would you consider sending us a photograph so that we can put it on our website?

All we need is a nice hi resolution photograph of the item, and a bit of text about the object, maybe why you like it so much or where you got it from? If you have any lovely items of memorabilia and you'd be kind enough to share a picture of them with us and other fans, could email them over to us at electricproms@bbc.co.uk so that we can add them to the collection on our website?

I'll come back and tell you when they're up so you can see what sort of treasures we've managed to hunt down. Thank you all very much, hope you enjoy listening to Elton at the Electric proms!

If you have any questions please fire away here, or on the Radio 2 Facebook page here. Thanks all!

Peta - Radio 2 Producer"
Elton John & Ray Cooper performed in Madrid on October 2, 2010
Monday, October 4 2010
Fan report by Julio & Fernando Barral.
It has been my 8th Elton concert and it's amazing to admit that every concert is better than the previous. This time with Ray Cooper, it was a memorable night in front the 9,000 people that crowded the "Palacio de los Deportes" in Madrid, Spain.

Elton started in Spanish with "Buenas noches Madrid" to continue then in English saying that he was wearing a red shirt as a tribute to "La Roja" the Spanish Football team, winners of the Soccer World Cup this year in South Africa. All the 9,000 people then raised the roof.

Another highlight was when he mixed notes of "Que Viva España" song during the "Take Me To The Pilot" intro.

"Muchas gracias Elton, vuelve pronto" (Thank you very much Elton, come back soon).

- Fernando Barral

The weather in Madrid was good. A sunny afternoon when fans befan to gather at about 5 pm. Doors opened promptly at 7 pm. In the front row I could see many of the fans I've seen in other shows and all promised that we would have a great show to finish the European Fall Tour.

The concert opened with "The One", widely applauded by the audience. The most surprising thing was when Elton made a surprise "Song For Guy", mixing it with "Daniel" - it was incredible to hear it again! Another one of the greatest moments was when he played the song "Que Viva España" in honor of Spain during "Take Me To The Pilot".

- Julio

Following is the complete set list of the Elton John & Ray Cooper show in Madrid on October 02, 2010:
Elton solo piano

The One

Sixty Years On

The Greatest Discovery

Border Song

The Ballad of the Boy in the Red Shoes

The Emporer's New Clothes

I Guess That's Why They Call It The Blues

Rocket Man

Never Too Old (To Hold Somebody)

Philladelphia Freedom

Tiny Dancer

Your Song

Elton with Ray Cooper


Funeral for a Friend

Tonight

Better Off Dead

Levon

Gone to Shiloh

Indian Sunset

I Think I'm Gonna Kill Myself

Daniel / Song For Guy

Sorry Seems To Be The Hardest Word

Take Me To The Pilot / Que Viva España

Don't Let The Sun Go Down On Me

Bennie And The Jets

Crazy Water

Elton solo piano


Circle of Life / Can You Feel The Love Tonight
Elton John & Ray Cooper performed in Toulon on September 29, 2010
Saturday, October 2 2010
Fan report by Julio (Spain).
The concert was better than expected. After having changed the set list several times and cut some songs, Elton surprised the Toulon audience by playing the complete set list! Beginning with a genial "The One" (which I love solo and with the band) and playing songs like "The Emporer's New Clothes", that make you say ... wow!

The set was fantastic with Ray Cooper, highlighting "Indian Sunset" or "Crazy Water" as strengths, although it is a pity that he did not include "Saturday Nights" and "Honky Cat", but rewarded us with playing "Gone to Shiloh" and "Circle Of Life" mixed with "Can You Feel The Love Tonight".

In resume, a great concert, and Zenith Omega a great stage.

We hope to see "The Union" Tour in Europe soon!

Following is the complete set list of the Elton John & Ray Cooper show in Toulon on September 29, 2010:
Elton solo piano


The One

Sixty Years On

The Greatest Discovery

Border Song

The Ballad of the Boy in the Red Shoes

The Emporer's New Clothes

I Guess That's Why They Call It The Blues

Rocket Man

Never Too Old ( to hold somebody )

Philladelphia Freedom

Nikta

Your Song

Elton with Ray Cooper


Funeral for a Friend

Tonight

Better Off Dead

Levon

Gone to Shiloh

Indian Sunset

I Think I'm Gonna Kill Myself

Daniel

Sorry Seems To Be The Hardest Word

Take Me To The Pilot

Don't Let The Sun Go Down On Me

Bennie And The Jets

Crazy Water

Elton solo piano


Circle of Life / Can You Feel The Love Tonight