ELTON JOHN NEWS ARCHIVE: October 2008
Elton marriage permission letter on eBay
Friday, October 31 2008
A letter which Elton wrote in order to get permission to get married to Renete Blauel in Sydney on Valentines day in 1984, with only 4 days notice, is now selling on eBay.com.
Complete with a copy of his marriage application form, newspaper clippings and a letter from his solicitor.

See eBay item #290271669658 for more details. Happy bidding.
Behind the curtains with Elton John
Thursday, October 30 2008
CBS Evening News anchor Katie Couric talked with Elton about his latest Broadway baby "Billy Elliot".
He's a 61-year-old superstar and a Knight of the Realm, with multiple Grammy awards and sales of more than 250 million records to his name. But all it took was one moment in the 2000 independent movie "Billy Elliot" to reduce the pop music's "Rocket Man" to tears.

"The thing that really got to me emotionally was at the end when Billy comes on and dances as an adult," he told CBS News anchor Katie Couric. "And his father's in the balcony watching him come on and do Swan Lake." The concept of a father's acceptance of his son's artistic aspirations struck a chord with Elton - who, growing up, yearned for the approval of his domineering dad.

"I grew up in the '50s, Katie. And rock 'n roll happened. That's what I wanted to do. And my father never really wanted me to do that." Elton said his father imagined his son working at "a bank … or join the Air Force like he did. And when I did become, you know, really successful, he never ever came and saw me. So I never had that moment of approval." That regret inspired Elton to write "Billy Elliot: The Musical."

And the title role of the would-be boxer turned ballet dancer is so physically demanding it requires not one, not two, but three different boys to rotate in and out of performances. "You have to find at least three Billys and rehearse them separately 'cause they all sing in different keys. They all dance differently. So it's a Groundhog's Day nightmare," Elton explained. "And you've got to have these kids for a certain amount of time every week."

But as Couric discovered chatting with 13-year-old Trent Kowalik and 14-year-olds David Alvarez and Kiril Kulish, there's no struggle to steal the spotlight. The three stars said they don't watch the competition. Aren't they curious about what the other guys are doing?

"Well, I just try to focus - to compete with myself, to do better than I did last night," Kulish said. "Yeah, I just try to be the best I can be, and hopefully the audience likes it," Alvarez said. Trent added: "And we're all friends anyway." "Yeah, we're really supportive of each other," Kulish said.

Sounds like the most nervous performer in the room on opening night will be Elton John. "If I'm doing a concert for myself, I know what's going to happen; I know what I'm playing. If I'm sitting there and a piece of scenery breaks, I'm apoplectic," he said. "There's nothing you can do. So yes I will be extremely nervous."



Coming to the Munich show on November 22, 2008?
Wednesday, October 29 2008
Then why don't you join us for the fan get-together at Munich's Hard Rock Cafe before the concert - we still got seats available.
We will be meeting between 1.00pm and 4.30pm at the Hard Rock Cafe in the very heart of Munich - directly across of famous Hofbräuhaus.

We have reserved the private LP Lounge (with a maximum capacity of 40 people) for a fan get-together and warm-up before the show. The event will include a flying buffet with international finger food, including nachos, spring rolls (vegetarian), chicken wings, chicken tenders, Hard Rock burgers/cheeseburgers, pork and chicken sandwiches, fudge sundae as well as two free soft drinks for every guest.

Costs are Euro 32 if you pre-register by November 10, 2008. Provided that we won't sell out by that date, you can also join us on November 22, 2008 for a door price of Euro 40.

We are still trying to arrange for a "special bonus" for the fan convention attendees later that day at the venue. Fingers crossed, we will be able to organize a walk-on-stage before the show or something similar. We cannot guarantee that anything like that will really happen, but please note that such event will be limited to registered participants of the above mentioned event at the Hard Rock Cafe.

We are looking forward to welcoming many devoted Elton fans in Munich on November 22, 2008. So far, we have received registrations from fans from Japan, Israel, Ukraine and many European countries.
Now available at Best Buy
Wednesday, October 29 2008
Following the success of 2004's definitive Elton John DVD set, "Dream Ticket", Best Buy has released "The Red Piano" collection on October 28, 2008.
For more details on this DVD and CD release, see the original news item of September 22, 2008 (see related news below).



Best Buy presents "The Red Piano" Show on DVD and CD
Monday, September 22 2008 at 20:23:51


Billy Joel confirms rumor he'll tour with Elton John
Tuesday, October 28 2008
Billy Joel showed how well-rounded he is musically last night at a special charity concert at the Hard Rock Cafe in New York's Times Square.
He offered his opinions on the differences between Beethoven and Mozart, impressions of Robert Plant, Frank Sinatra, Tony Bennett and even Chris Rock. He also broke a bit of news, confirming what has been rumored for months - that he is planning another tour with Elton John next year.

"This isn't going to be one of those barroom request nights," he said, answering a question about songs that have the same sentiment today as when he wrote them. Then, he broke into "New York State of Mind," to the obvious delight of the crowd.

The event, a benefit for the 30th anniversary of the Freeport-based Charity Based at Home organization, raised $300,000, according to charityfolks.com, which handled the auction for the night's tickets.

Joel used to do several of these "master's classes" a year, mainly at universities and theaters as benefits. However, before last night's session, which involved far more shouting than the usual shows, he hadn't done one in years.



Elton wants more - 2009 and beyond
Thursday, September 25 2008 at 17:49:22

"Face to Face" in 2009
Monday, September 22 2008 at 20:35:13


Supergroup plans for 2012
Sunday, October 26 2008
Rock icons Mick Jagger, David Bowie and Elton John are reportedly set to form a supergroup - to play at the London Olympics in 2012.
The Rolling Stones are slated to perform at the opening ceremony of the games - and Jagger is said to be keen to include other members of the rock aristocracy.

He wants to be joined on stage by Bowie and Elton, as well as Phil Collins, Sting, Van Morrison, Pink Floyd's Dave Gilmour, and Led Zeppelin guitarist Jimmy Page. The concert would be trumpeted as featuring the greatest rock "supergroup" of all time.

A source tells Britain's News of the World newspaper, "Mick feels the Olympics coming to London is a huge honour - and wants to make his own gesture with the band. It's early stages but Page, Bowie, and Morrison are already involved, although no-one is quite sure yet how the show will play out in its entirety.

"The Olympics people hope to use the template of the American football Super Bowl half-time show, where an artist takes over the field on a giant stage. Having the Stones on side for a project like this is a huge deal."
Bowie and Elton lose £1m rock memories in blaze
Sunday, October 26 2008
Rock legends including Elton John, The Rolling Stones and David Bowie have been left devastated after £1million of rare memorabilia was destroyed in a fire.
Tour pictures and promotional material marking different eras in The Stones' 42-year career were lost in the warehouse blaze. And "Ashes To Ashes" singer Bowie, 61, is said to be "distraught" after legal documents signed at the start of his career were lost forever.

Items belonging to Sir Elton John, Duran Duran and The Sex Psitols were also being kept at the depot in Bow, east London by storage experts Iron Mountain. Managers for The Stones and Bowie are now seeking compensation. A music industry source revealed: "Everyone is very upset. The material is irreplaceable. Some of it is years old and worth thousands of pounds.

"Lawyers have been instructed to deal with it. People just want some compensation for their loss. They refuse to take it lightly. There is no way that this will be let go, there has not even been a proper explanation."

It is the third blaze to hit Iron Mountain in recent weeks after warehouses in New York and Ottawa burned to the ground. The firm would not comment on the London fire but said: "The security of our customers' valuables is paramount."
Happy Birthday, David!
Saturday, October 25 2008
Elton's partner, David Furnish, is turning 46 on October 25, 2008.
On behalf of the visitors of eltonfan.net, we would like to wish David all the best and a wonderful birthday!
UPDATE: New Elton John DVDs
Friday, October 24 2008
"Tantrums and Tiaras" is to be released on DVD on November 25, 2008 - more than ten years after its original release on VHS tape.
This release includes a host of extra features including a blooper reel, deleted scenes, as well as commentary by Elton and Director, David Furnish.

Special Features Include:

First Time Ever: Commentary featuring Elton John and (Partner/Director) David Furnish

Never-Before-Seen Footage featuring Rod Stewart, Kylie Minogue, and Fashion Industry Icons Mario Testino & Gianni Versace

Deleted Scenes

Bloopers

Collectable Embossed O-Card Packaging with Elton John's Signature
There will also be a DVD titled "Biography: Elton John" - to be released on October 28, 2008. While no further information is available at this point in time, this is expected to contain the Elton John Special that first aired on The Biography Channel on March 25, 2005 - Elton's 58th birthday.

You can pre-order both Elton John: Tantrums and Tiaras
and Biography: Elton John
from Amazon today.

Elton party defies credit crunch
Friday, October 24 2008

It seems the credit crunch hasn't affected the celebrity world, judging by the cash raised at an Elton John party on October 22, 2008.

Hosted by Elton's partner David Furnish at Chateau Grey Goose in Bloomsbury, guests including David Walliams, Eva Herzigova, Lily Allen, Giles Deacon and Jenson Button enjoyed bespoke Grey Goose vodka cocktails while Kate Moss's ex Jefferson Hack provided the tunes at the Grey Goose Character & Cocktails party, held in aid of the Elton John Aids Foundation.

More than £350,000 was raised during an auction at the dinner. A smiling Burberry clad David said: "I'm having a great night. I can't thank everyone enough for being so generous."

Famous for hosting the Oscars party in LA, David said: "After 15 years, I still get nervous before hosting an event like this but then I think of why we're doing it in the first place and tell myself to get on with it."

David, who is flying out to join Elton in the US, added: "We're working hard on the Broadway production of Billy Elliot. We're keeping everything the same including the strong northern accents. We don't need to change anything as the story translates so well. We've also got the animation Gnomeo and Juliet coming that Elton and I have produced so it's pretty busy for us at the moment."

GYBRoad concert raised $1 million for charities
Thursday, October 23 2008

Broadway Cares/Equity Fights AIDS, the Elton John AIDS Foundation and Friends in Deed will all benefit from the starry Goodbye Yellow Brick Road concert that was held October 20, 2008 at the New Amsterdam Theatre in New York.

The concert, which celebrated the 35th anniversary of the U.S. release of the acclaimed Elton John-Bernie Taupin double album, "Goodbye Yellow Brick Road," raised $1 million in support of the three charities.

In the Heights' Tony Award-winning choreographer Andy Blankenbuehler directed and choreographed the evening, which featured the talents of composer Elton John, Jane Krakowski, Ben Folds, Joey Arias, the cast of New York Shakespeare Festival's Hair, Melissa Hough, Larry Keigwin, Mary McBride, Lin-Manuel Miranda, John Cameron Mitchell, Kelli O'Hara, Sherie Rene Scott, Jake Shears, Stew, The Broadway Inspirational Voices, the cast of Disney's The Lion King, Rufus Wainwright and Patrick Wilson. Jeffrey Seller produced.

Broadway Cares/Equity Fights AIDS is the nation's leading industry-based, nonprofit AIDS fundraising and grants making organization. The Elton John AIDS Foundation is one of the world's leading nonprofit organizations supporting innovative HIV prevention programs, efforts to eliminate stigma and discrimination associated with HIV/AIDS, and direct care and support services for people living with HIV/AIDS. Friends in Deed is the crisis center for people coping with HIV and other life-threatening illnesses.




Elton & friends return to the "Yellow Brick Road"
Tuesday, October 21 2008 at 21:26:45



Elton & friends return to the "Yellow Brick Road"
Tuesday, October 21 2008

It was kind of a testy night at the New Amsterdam Theater on Broadway on October 20, 2008.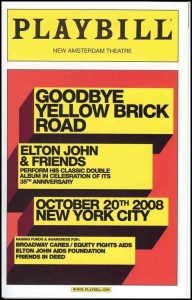 That's because the performance of "Goodbye Yellow Brick Road" by 'Elton John and Friends' turned out to be more Friends, less Elton, and not totally what at least half the audience expected.

The 'friends' were largely Broadway performers who were off for the night rather than Elton or his rock band or rockers at all. For those who plunked down $500 to see Elton John perform his classic album, this took a little adjusting. Needless to say, the Broadway types in the audience were just thrilled to see "Goodbye Yellow Brick Road" camped up and tricked out.

The main redeeming feature: that it was all for a good cause. The money went to the Elton John AIDS Foundation and Equity Fights AIDS/Broadway Cares. But perhaps if Elton, and not actor Patrick Wilson, had opened the show with "Funeral for a friend/Love Lies Bleeding," there wouldn't have been hoots and hollers from the balcony of "I want my money back!" and "Where's Elton?" Whoops!

Wilson, whose singing was not up to measure, was not the only mistake of the evening. Drag queen Joey Arias didn't ingratiate himself with the rockers on "I've Seen that Movie Too." Rufus Wainwright couldn't sing "Goodbye Yellow Brick Road" with a straight face, and John Cameron Mitchell made "Bennie and the Jets" a farce. Mary McBride wore a floor length gown and stood dead still while belting "All the Girls Love Alice." And Stew, from "Passing Strange," flounced into "Saturday Night's Alright (For Fighting)." He tried an old Elton trick, but nearly slipped off the piano after he slid onto it.

Who saved the show: pianist Ben Folds should get a purple heart for rescuing "Grey Seal" and "This Song Has No Title." The casts of "Hair" and "The Lion King" were exemplary, respectively, on "Jamaica Jerk Off" and "Your Sister Don't Twist." Jane Krakowski got "Sweet Painted Lady" so right it was scary, and Sherie Rene Scott sent up Sarah Palin on "Dirty Little Girl" with a chorus of Palins.

But it was Sir Elton who people came to see, some paying really bigger bucks. The great Billie Jean King introduced him, and when Elton took over the deficiencies of the other performances became glaring. He wrapped up the night with the last three tracks from his classic 1973 double album: "Roy Rogers," "Social Disease," and a gorgeous delivery, with a choir, of the magnificent song, "Harmony." Sir Elton even introduced Bernie Taupin, his longtime lyricist, a nice touch.

Mistakes aside, the performance of "Goodbye Yellow Brick Road" may have a silver lining. The material has held up beautifully, and really begs to be put on Broadway as a concert/revue show. Just seeing how Jane Krakowski handled her number showed what the potential was for a "Movin' Out" kind of presentation and Elton and Bernie's music.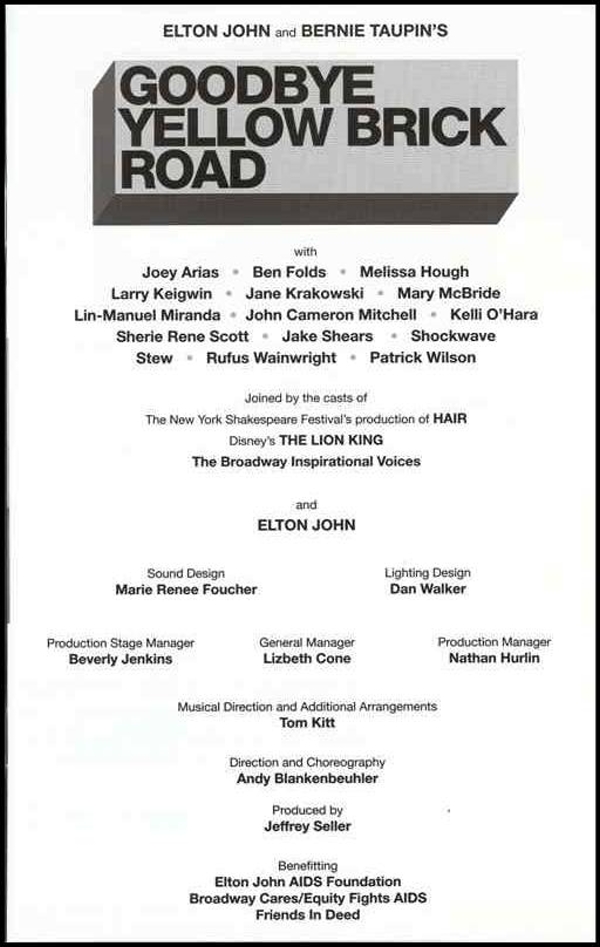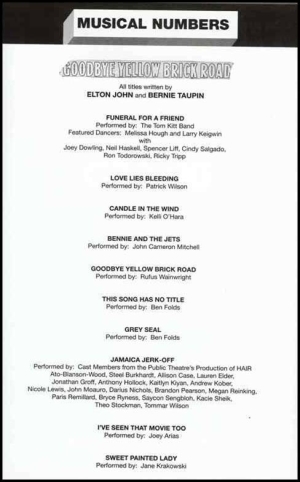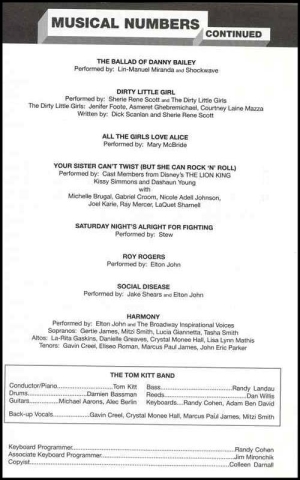 The Elton John Band Page on eltonjohn.com
Friday, October 17 2008
Eltonjohn.com has launched a great new feature for all Rocket Members: The Elton John Band page - a comprehensive profile of everyone who has played in Elton's stage band since 1970.
There have been well over 2,300 Elton John shows with a band since 1970 and the Elton John Band Page includes musician biographies, as well as details on every band tour, with many photographs from Elton's archives, extensive discographies, and other unique surprises as well!

Regaholic John F. Higgins has spent the past 18 months or so to gather all the statistics and information which is now available at the mouse click for the devoted Elton John fan.

You will learn that Davey Johnstone has performed closed to 2,000 shows with Elton, while guitar player Jeff "Skunk" Baxter only played for one show on June 21, 1975. And did you know that percussionist Ray Cooper first joined Elton on stage on February 5, 1972, but hasn't performed with Elton since 1995?

To find the Elton John Band Page, you must be a Rocket Member. Log on to the Rocket Member area and click the word 'Band' in the header.
Performance of Broadway's Billy Elliot canceled
Thursday, October 16 2008
The October 14, 2008 performance of the new musical Billy Elliot, which is currently in previews at the Imperial Theatre, was canceled due to a hydraulic malfunction, according to a spokesperson for the production.
"The problem is being fixed and tomorrow evening's performance is expected to go ahead as scheduled," the show spokesperson told Playbill.com. Those seeking refunds to the October 14, 2008 performance should return to the point of purchase. Those who purchased tickets via Telecharge will be refunded automatically.

The Olivier Award-winning Billy Elliot—The Musical, the hit London musical based on the film of the same name, arrived in America October 1, 2008 at the Imperial. Opening night is scheduled for November 13, 2008.



UPDATE: Celebrity shoes sold in auction
Wednesday, October 15 2008
Movie stars, athletes and television personalities have donated their shoes to raise money for good causes.
Hollywood actor Robin Williams, Harry Potter star Daniel Radcliffe and singer Elton John are among those who handed over their footwear. The 19 pairs of shoes will be auctioned on eBay for Cancer Research, Cash for Kids, No More Landmines, and Angus College Charitable Trust. Bidding for the slippers, trainers and high heels will close on October 19, 2008.

They were collected by Angus College staff, who last year created a three-mile line of pairs of shoes, which they believe to be the longest ever recorded. More than 20,000 pairs were then sent to charities in Africa and Asia.

Kay Gilmour, organiser of the OneStepBeyond campaign, said: "The very first pair of celeb shoes that we got in were from Sir Elton John and he very kindly donated his 1975 original stage shoes to us, which are really quite fantastic so we're hoping to get good bids for them. As well as that we've got shoes from Andy Murray, footballers' boots such as Barry Ferguson's, and Stephen Fry gave us his hairy monster slippers.

"We also have shoes from the US - we've got Robin Williams' hand-made gold trainers which he signed for us and we've got Emma Thompson, who gave us a beautiful pair of Jimmy Choo shoes, which she wore when she was launching her movie Nanny McPhee in the States.

"We also have Jo Brand's smelly plimsolls - as she calls them not us - and a whole range of other stuff."
New Elton musical
Wednesday, October 15 2008
Elton is penning a film musical for Ben Stiller - about a gay man with Aids.
Elton wrote the score for the Broadway production of "The Lion King" and "Aida" as well as the 2005 stage adaption of "Billy Elliot". And now he is working on a controversial new film musical for actor/director Stiller.

He writes on the GQ style blog, "It's about a guy on Broadway who is gay, has HIV and AIDS, and has to go back and face his wife and his kids that he left. It's very funny."

And anticipating what critics might say about the musical, he adds, "No, it's very funny. The premise doesn't sound funny, but it is. All right?"
Team Elton John wins Advanta WTT Smash Hits 2008
Monday, October 13 2008
Elton John knows how to get Andy Roddick fired up on the tennis court. Before Advanta WTT Smash Hits event at Kennesaw State University on October 12, 2008, cohost Elton John joked that Andy Roddick hasn't been on a winning Smash Hits team in years.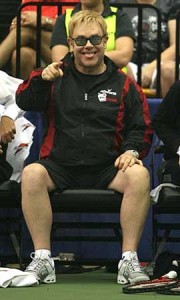 Roddick responded to the challenge from his team coach, winning three sets to lead Team Elton John to a 23-16 victory over Team Billie Jean at the 16th annual Advanta WTT Smash Hits at Kennesaw State University. With the win, Elton John evened the series with Billie Jean King at eight wins apiece.

The annual charity event, hosted by Billie Jean King and Elton John, raised more than $400,000 for the Elton John AIDS Foundation and Atlanta AIDS Partnership Fund.

Elton kicked off the tennis action teaming with Roddick to win a battle of the sexes match against Anna Kournikova and Martina Navratilova. The music superstar and avid tennis fan hit several winners, showcasing a formidable forehand.

Team Elton got off to an early lead in the first set of mixed doubles as Kournikova and Roddick edged Navratilova and Jesse Levine in a tight match 5-4 (3). Roddick outgunned Levine in two sets of men's singles 5-2, 5-1. Team Billie Jean rallied in the second set of mixed doubles when Navratilova and Levine outlasted Roddick and top American junior Melanie Oudin, 5-3.

At 17, Oudin is 34 years younger than the timeless Navratilova. But the Marietta, Ga., teen shook off the nerves and was impressive in singles. Navratilova hit several drop shot winners which prompted Oudin to laugh and yell across the net "haven't got one yet have I?" On the next point, Oudin hit a drop shot out of Martina's reach to the delight of her hometown crowd.

She closed out the game with an ace to take a 4-2 lead. Navratilova put on a shot-making clinic in the next two games to take the final set to a nine-point tiebreaker before Oudin closed out the set 5-4 to grab the match victory for Team Elton with a forehand winner. For Oudin the afternoon was memorable experience, playing a legend in front of family and friends. "It was a great experience getting to play her, win or lose" said Oudin.

At a pre-match reception, more than $171,000 of the event's total was raised as King, Elton and the players participated in a live auction. The top auction items were two Wimbledon packages with Billie Jean King's personal Center Court seats which sold for $21,000 each. Other top draws were Elton's autographed piano bench and a Super Bowl package. Roddick wrapped up the auction with a winning $17,000 bid for artwork created by Martina Navratilova. The VIP reception was co-chaired by civic leaders Dr. Bobbie Bailey, Charlie Hendon, and Sacha Taylor.

Elton's part-time hometown turned out to support his annual charity event and help raise funds for HIV/AIDS programs in the South. During a pre-match press conference, Elton talked about how much the Atlanta community has supported him since moving here 17 years ago and he emphasized the importance of community support for AIDS programs especially during tough economic times.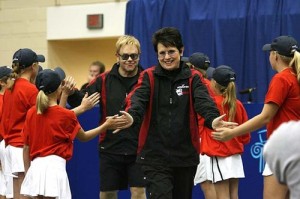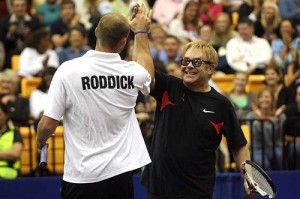 FINAL RESULTS – 2008 Advanta WTT Smash Hits – Kennesaw, Ga.

Celebrity Battle of the Sexes: Elton John/Andy Roddick def. Anna Kournikova/Martina Navratilova 3-1

(Celebrity match does not count towards overall score)

FINAL SCORE: Team Elton John def. Team Billie Jean 23-16

MIXED DOUBLES: Anna Kournikova/Andy Roddick (Team Elton) def.

Martina Navratilova/Jesse Levine 5-4 (3)

MEN'S SINGLES (2 sets):Andy Roddick def. Jesse Levine 5-2, 5-1

MIXED DOUBLES: Martina Navratilova/Jesse Levine def. Melanie Oudin/Andy Roddick 5-3

WOMEN'S SINGLES: Melanie Oudin (Team Elton) def. Martina Navratilova (Team Billie Jean) 5-4 (1)



WTT Smash Hits 2008
Tuesday, August 5 2008 at 08:21:13

Team Elton wins at Advanta WTT Smash Hits
Friday, October 12 2007 at 13:25:22

2007 Advanta WTT Smash Hits
Monday, June 18 2007 at 08:22:22
Pink leaning towards piano men
Monday, October 13 2008
Pink wants to "rock" on Sir Elton John's piano and perform with Billy Joel. The singer has revealed her musical to-do list, which also includes teaming up with former Fugees star Lauren Hill.
She said: "I'd love to rock on Elton John's piano and play with Billy Joel. I'd love to duet with Lauren Hill too." The star - whose new single 'So What' has topped the charts in both the UK and US - also revealed plans to try to crack small eastern European country Lithuania.

She said: "I never dreamed I'd get a US number one. So what's left? It's all about Lithuania from here on in. I have done a lot but there's so much more to come. I want to keep getting better. Creativity breeds creativity."

Before the 29-year-old singer can start her new tour, she has vowed to resolve an animal rights issue she feels strongly about. She added to Britain's Daily Star newspaper: "Before I hit the road I'd like horse drawn carriages banned from Times Square in New York. It's hard to alter things that have been going on for so long and that make a lot of money but it's very important."
George's apology snubbed by comic
Monday, October 13 2008
Singer and DJ Boy George has revealed how he tried to end his war of words with Matt Lucas - but was snubbed by the comic.
The former Culture Club frontman called the Little Britain star a "prissy, niggly diva" when they worked together on hit musical Taboo. Later attempts to make amends got him nowhere. George, 47, said: "I wrote Matt an email a while ago. I apologised to him for the things I said but he didn't respond. But that's irrelevant. It's about what you have done and holding your head up high.

"I wish that a few more people would apologise to me in life. There's something to be said about being able to say sorry." Two people who accepted an apology, though, were Elton John and partner David Furnish. George had called Sir Elton's plans to work with Eminem a "desperate bid to be trendy".

But after making a new year's resolution to be nicer, he made his peace with Furnish at an event. He said: "He actually made me feel really bad because he was so nice. We agreed it was all very juvenile. Then I got a call from Elton a few days later. I tended to say things before thinking about them. But that was always done in a comic sense.

"However, when you're on the receiving end of that, it does come across as bad."
Elton John to visit Cambodia
Friday, October 10 2008
Elton John, heavyweight activist in the fight against HIV/AIDS, has told a US magazine he is planning a visit to Cambodia.
Elton and partner David Furnish have raised more than 150 million dollars for projects to assist people living with the virus through the Elton John Aids Foundation since it was set up in 1992. "This year, we look forward to traveling to Cambodia to visit projects in that country," Kansas City-based Camp Magazine quoted Sir Elton as telling journalist and gay rights activist Mark Segal.

Elton has focused his humanitarian work on HIV/AIDS projects and regularly visits countries ravaged by the virus such as South Africa. Although Cambodia has reduced its rate of HIV/AIDS in recent years, it still has one of the highest in the region and people with the virus continue to face stigma and discrimination. The visit would be Sir Elton's first to Cambodia.

See http://centralvoice.wordpress.com for the full interview.
Elton buys George W. Bush cartoon
Tuesday, October 7 2008
Elton John left Nova Scotia with more than fond memories of his two concerts at the Halifax Metro Centre.
He also acquired the original of a cartoon drawn by The Chronicle Herald's own Bruce MacKinnon. Elton's people contacted the paper, saying their boss wanted to buy the cartoon that showed U.S. President George W. Bush at the piano belting out Goodbye Yellow Brick Road.

"I guess they were looking for a memento of his swing through Atlantic Canada," Mr. MacKinnon said. "It must have captured their imagination somehow. They seemed pretty excited about it." Mr. MacKinnon, who is also a musician, said he grew up listening to Elton John's music and learned more of his songs than those of any other performer.

After learning the political cartoonist was such a fan, Elton's staff asked Mr. MacKinnon to write a personal note to go along with the cartoon. Premier Rodney MacDonald, who expressed hope last year that Elton John would perform here, got to see the concert, and we hear he gave it a great review.
Elton John duets with Charles Aznavour
Monday, October 6 2008
Elton John has apparently recorded a duet with French crooner Charles Aznavour that is to be released in November 2008.
Over the last five years or so Aznavour, now 84, has assembled an album entitled "Duos" on which he collaborates with such luminaries as Paul Anka, Céline Dion, Placido Domingo, Josh Groban, Herbert Grönemeyer, Johnny Hallyday, Julio Iglesias, Bryan Ferry, Carole King, Liza Minnelli, Nana Mouskouri, Laura Pausini and Sting.

Aznavour, for many years a star in France as both singer/songwriter and actor, burst onto the international scene in 1974 with his worldwide signature hit "She", and it is this song that he now collaborates with Bryan Ferry on.

"Duos" will be released by EMI on November 24, 2008.
Elton John performed in St. John's on October 3, 2008
Monday, October 6 2008
Mini review by Derrick Baker.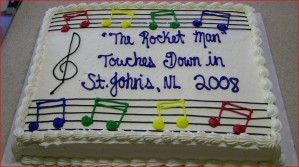 We had a group of fans get together for an afternoon of Elton music, chilli, coffee and cake before the first concert on Thursday night.

Friday afternoon, a group of us arrived in "Elton Style" at Mile One Centre, in a stretched limousine. When we arrived at Mile One, we had "Crocodile Rock" blasting on the stereo system.

Both shows were amazing. I've never seen Mile One Centre erupt like that before. We had great 12th row seats. And thanks to Sir Elton for including Atlantic Canada in his schedule and for coming to the most easterly point in North America. Please come back.

Pictured on the right is a cake we had made for the special occasion.

Following is the complete set list of the St. John's show on October 3, 2008:
Your Song

Sixty Years On

The Greatest Discovery

I Need You To Turn To

Border Song

Ballad Of The Boy With The Red Shoes

Daniel

Honky Cat

Rocket Man

Tiny Dancer

Mona Lisas And Mad Hatters

Nikita

Philadelphia Freedom

Someone Saved My Life Tonight

Ticking

Roy Rogers

Take Me To The Pilot

Sorry Seems To Be The Hardest Word

Candle In The Wind

I Guess That's Why The Call It The Blues

Levon

Carla Etude

Tonight

Bennie And The Jets

Crocodile Rock


I'm Still Standing

Don't Let The Sun Go Down On Me
Elton John performed in St. John's on October 2, 2008
Monday, October 6 2008
Following is the complete set list of the St. John's show on October 2, 2008.
Your Song

Sixty Years On

The Greatest Discovery

I Need You To Turn To

Border Song

Ballad Of The Boy With The Red Shoes

Daniel

Honky Cat

Rocket Man

Tiny Dancer

Mona Lisas And Mad Hatters

Nikita

Philadelphia Freedom

Someone Saved My Life Tonight

Ticking

Roy Rogers

Take Me To The Pilot

Sorry Seems To Be The Hardest Word

Candle In The Wind

I Guess That's Why The Call It The Blues

Levon

Carla Etude

Tonight

Bennie And The Jets

Crocodile Rock


I'm Still Standing

Don't Let The Sun Go Down On Me
Watford chairman refutes Elton claims
Friday, October 3 2008
Watford chairman Graham Simpson has responded to a statement issued by Elton John by insisting that the future is 'rosy' at Vicarage Road.
Former Hornets chairman Elton voiced his concerns on October 1, 2008 that the club were "heading for a catastrophe" but Simpson insists there is nothing to fear.

He told BBC Radio 5 Live: "I'm really sorry that Elton felt he couldn't pick up the phone and have a chat with me because I've got no idea where he's got this information from. He certainly hasn't got it from anybody in our club. The only person I know he speaks to sometimes is our manager Aidy Boothroyd and I'll have to ask if he's had a chat with him. As far as we're concerned it's not the case.

"We had a punt to get back to the Premiership last year and we weren't successful. Like all clubs, parachute money isn't going to last forever, we've only got one more year left and we have to cut our costs accordingly and that's what we'll do.

"I've been here six years and when I joined we were on the point of administration. The club is in a great position now and the future's rosy. I want to make sure our club is in a good, safe position, even if we have to be prudent. If I could find somebody with more money in their pockets than I have I would be more than a delighted to stand down as chairman and make way for them."



Elton John in attack on Watford board
Thursday, October 2 2008 at 06:42:26


New from The Elton John Aids Foundation
Friday, October 3 2008
The Elton John AIDS Foundation (EJAF) is proud to announce its second round of grants for calendar year 2008, totaling $3.112 million. This new funding brings EJAF's total grant investments for 2008 to nearly $5.2 million to date.
These grants represent EJAF's continuing commitment to funding demographics and geographic regions that are being seriously impacted by HIV/AIDS, including: critically under-funded communities of the Southern United States, the Caribbean, and Latin America; highly marginalized populations such as injection drug users and men who have sex with men (MSM); and underserved populations such as African Americans and young people. The cycle also includes $195,000 in smaller discretionary grants varying from $20,000 - 50,000 to community-based HIV prevention, care and service programs. A complete list of EJAF's September 2008 grants can be found online at www.ejaf.org.

EJAF funding totaling $1.367 million will renew and enhance the Foundation's significant commitment to a broad spectrum of projects addressing HIV/AIDS at community, national, and regional levels in the Caribbean, where rates of HIV infection rank second only to sub-Saharan Africa. One of the EJAF-funded organizations providing urgently needed treatment services in the Caribbean is the Clinton HIV/AIDS Initiative (CHAI). Upon receiving the EJAF renewal award, President Bill Clinton stated, "Growing inequality in access to treatment between developed and developing countries is claiming lives and undermining social and economic stability in many regions of the world. Recognizing the need to address these inequalities, I launched the Clinton HIV/AIDS Initiative (CHAI) in 2002. It is thanks to partnerships with organizations like the Elton John AIDS Foundation that today 1.4 million people are benefiting from medicines purchased under CHAI agreements."

"Elton John and his Foundation have been instrumental in the efforts to prevent and eliminate prejudice against HIV/AIDS-affected individuals in the United States. Together we will continue to enhance our nation's commendable global leadership in the fight against HIV/AIDS, as well as renew the battle against the pandemic here at home," President Clinton added.

According to new data released in August by the Centers for Disease Control and Prevention (CDC), 56,300 Americans became infected with HIV during 2006, a 40% increase over the 40,000 annual number used over the past decade. In addition, the CDC reported that 53% of these new HIV infections were among MSM, more than a third of whom were younger than 30, and 49% were among African Americans, although they comprised only 13% of the overall population. Indeed, the Black AIDS Institute, which received a renewal grant in this awards cycle, released a report on AIDS in Black America at the recent International AIDS Conference in Mexico City, noting that if Black America were to be considered an independent nation, it would rank below 104 other countries in life expectancy as a result. In addition, an article in the August 28, 2008, edition of the New York Times noted that HIV is spreading at three times the national rate in New York City, citing the disproportionate impact of HIV on black New Yorkers, men who have sex with men, and injection drug users.

EJAF's Founder and Chairman Sir Elton John stated, "For the past two years, most of the grants EJAF has funded target these specific populations, such as the grants awarded to the Black AIDS Institute, the Syringe Access Fund, and amfAR, among others. Clearly, EJAF's strategic approach to grant-making continues to respond adroitly as both the domestic and global AIDS epidemics evolve, investing donor dollars where they are most needed and will have the greatest impact."
Lion King - Aida - Billy Elliot
Thursday, October 2 2008
"The Lion King" is getting ready to roar in Las Vegas. Disney's hit Broadway musical will open at the Mandalay Bay in May 2009.
Meanwhile, Elton John and Tim Rice's stylistically eclectic rock musical AIDA opened in Shanghai to a full house at the Majestic Theater last on September 27, 2008, starring Marja Harmon as Aida, Casey Elliott as Radames, and Leah Allers as Amneris — all three of whom were part of the North American tour of the show in 2006 and 2007. The show runs till October 12, 2008 in Shanghai, after which it moves on to Suzhou, Nanjing, Changsha, Wuhan, Ningbo, Hangzhou, Xi'an, Beijing, Chengdu and Tianjin.

And on October 1, 2008, the Imperial Theatre in New York threw the switch and electrified Broadway with Billy Elliot. After much anticipation, New York audiences are finally able to experience the show that took London's West End by storm three and a half years ago. Billy is boogieing up to opening night on November 13, 2008, so order your tickets now before he dances away as the hit of the season.



Elton John in attack on Watford board
Thursday, October 2 2008
Elton John is known for his fierce temper and, on October 1, 2008, he gave both barrels to those running Watford football club, the love of his life, resorting to characteristic "Saturday Night's Alright (For Fighting)" mode as he launched into the club's directors.
Elton has not been impressed by Watford's stuttering start to the season. They lost 3-2 away to Burnley on Septeber 30, 2008 and are 21st in the Coca-Cola Championship.

In a statement, he said: "As a lifelong fan and former chairman of Watford, I feel I must now express my deep dismay about what is happening at the club. First, I should make it clear that the manager [Adrian Boothroyd] and the players have my full support. However, it is clear that the playing staff has been left threadbare after the sale of leading players over the last year or so and, even now, I understand that there are still plans for further player sales in January.

"The chairman [Graham Simpson] and leading shareholders have made it clear that they wish to sell the club and this comes despite a profit of nearly £8 million having been made last year. We know from other clubs that when stability and confidence go then there is a danger of plummeting into freefall. I fear we could be facing that catastrophe.

"Voices other than my own have already asked the question of what has happened to the money from the sale of some of our best players and the parachute payments. Confidence must be brought back to the playing staff and a sense that there is a future at the club. If the directors do not have that optimism, then they should go."

Simpson was taken aback by the attack but attempted to calm the temper tantrum of the club's honorary life president. "I'm sorry Sir Elton didn't come to talk to me first as, contrary to his beliefs, the club's finances are in good shape," he said. "However, it is no secret that we are either looking to sell the club or to find investment."
First tour dates for 2009
Wednesday, October 1 2008
It looks like that Elton will be kicking off 2009 with some shows in South America.
Three dates at the end of January 2009 have already been confirmed and are listed at Elton John Tour News. More dates are in the pipeline.



Elton wants more - 2009 and beyond
Thursday, September 25 2008 at 17:49:22