ELTON JOHN NEWS ARCHIVE: October 2007
Seized Elton photo judged not indecent
Friday, October 26 2007
A photograph owned by Elton John which was seized by police at a gallery as part of a child pornography probe is not an indecent image, the Crown Prosecution Service (CPS) said on October 26, 2007.
The photo, entitled "Klara And Edda Belly-Dancing", had been removed from an exhibition at the Baltic gallery in Gateshead last month after management had sought advice before it was put on public display. The photograph is of two young girls, one of whom has her legs apart.

Northumbria CPS said it had told police there was insufficient evidence to justify proceedings for possession or distribution of an indecent photograph. It said it had investigated the picture by U.S. photographer Nan Goldin in 2001 when it was part of another exhibition at the Saatchi gallery in London and had decided then that it was not indecent.

Kerrie Bell, head of CPS Northumbria's South Unit, added: "In order to prove that the photograph is indecent we must be satisfied that contemporary standards of propriety are so different now to what they were in 2001, that it is more likely than not that a court will conclude that the photograph is indecent. I am not satisfied that is the case.

"Even if the photograph was now considered to be indecent, a defendant would be able to raise a legitimate defence, given that the photograph was distributed for the purposes of display in a contemporary art gallery after having been deemed not to be indecent by the earlier investigation."

Called "Thanksgiving", the Gateshead exhibition was due to have shown 149 of Goldin's pictures. Klara And Edda Belly-Dancing had been exhibited in the Saatchi gallery in London in 2001 as part of the "I Am A Camera" exhibition.

Elton John had said on his Web site that the photograph was part of an installation which had been exhibited in Houston, London, Madrid, New York, Portugal, Warsaw and Zurich "without any objections of which we are aware" and was offered for sale at Sotheby's in New York in 2002 and 2004. Goldin is renowned for her work among gay and transvestite communities in the United States.



Elton removes his photo collection from gallery amid child porn concerns
Tuesday, October 2 2007 at 08:25:48

Elton defends photo seized in porn probe
Wednesday, September 26 2007 at 18:16:40

Seized 'art porn' owned by Elton John
Wednesday, September 26 2007 at 10:09:05


Tumbleweed Connection
Friday, October 26 2007
'Tumbleweed Connection' sets it story to the music and lyrics of Elton John and Bernie Taupin. The show continues through November 4, 2007.
"Tumbleweed Connection" is a lavish new musical fueled by the great music of Elton John and Bernie Taupin and filled with talent, from the writer, directors and designers to an array of more than 40 actors, singers and dynamite dancers.

The show's world premiere at the Clark Center is an opportunity for local audiences to appreciate the theatrical riches in the area. "Local" doesn't mean amateur. Writer Christopher Kahn, director Bill McLaughlin, choreographer Suzy Miller, and musical director Alissa Aune are pros with impressive resumes, and many members of the cast and ensemble are graduates or students of PCPA and Cal Poly theater studies.

Production values are also professional, a combination of creative talent and the excellent facilities at the Clark Center. It's a theater where designers with a dream have the technology to make it come true. The show was built around songs from the 1970 album "Tumbleweed Connection." The songs are good to begin with, and when they are woven into the story the lyrics take on new meanings.

The story by Kahn is set in Oklahoma during World War I. It centers on two brothers, Jeb, a happy, sanctimonious and patriotic Christian engaged to the lovely Amoreena, and his "bad" brother Joe, who is usually running from the law. Both boys go to war. The plot is complex, with several themes running through it regarding war, bigotry, religious hypocrisy and homophobia. By setting the scene in this time period, the writer has been able to avoid having to be politically correct.

Brady Beckstead plays Jeb, and Greg Correia is Joe. Both are good actors with fine voices that handle Elton John's music with aplomb. Kerry DiMaggio is the lovely Amoreena, and she has a beautiful voice. One of the most interesting characters in the show is Reginald, "the angel in the tree," who narrates now and then and seems to orchestrate some of the action. Dolan Wolfe-Callanta, a PCPA alumnus, is superb as this mysterious being, with an androgynous physical grace and powerful presence.

Delilah Kujala, also from PCPA, is good as the American Indian woman who becomes entangled in Joe's dramatic life, and Randy Lee Hose performs a show-stopping dance number as her warrior father. Everyone in the 20-plus member cast is good, and the lively ensemble of more than 20 singers and dancers of all ages joins them to energize the show's rousing moments. Some non-John songs of the period have been added, such as "Over There," and "The Battle Hymn of the Republic." The dance pieces have a wide range of settings and styles, including a prison, a bar in France, a battlefield, an Indian funeral and a raging fire. The dancers move the set pieces between scenes, dancing as they do so.

The sets and lighting are stunning and provide the production its lavish quality. Shelley Malcolm is set designer and Rick Pierce is lighting designer. Donna Sellars and Natalia Berryman designed the costumes, which include the period clothing, as well as skimpier costumes for French nightclub women and Indians. But there is a fantasy element in some of the pieces, and that's where the creative costuming comes in to depict angels with silver dreadlocks, bewigged demons and other fanciful dancers.

For a premiere performance, "Tumbleweed Connection" has few problems. Some of the numbers run too long, and could be approached with a little editing and tightening. And the Oklahoma accents are a bit thick, making it difficult at times to understand the dialogue and lyrics. But those are minor flaws. The show deserves big audiences and a bright future.

The show runs 8 p.m. Fridays and Saturdays, and 2 p.m. and 7 p.m. Sundays, through November 4, 2007, at the Clark Center, 487 Fair Oaks Ave., Arroyo Grande, CA. Tickets are $28 to $30.



Broadway or bust for actors of Tumbleweed Connection
Tuesday, September 25 2007 at 08:29:30


Hulaween 2007 contains Elton prize
Thursday, October 25 2007
Join Bette Midler and her friends to help restore and revitalize parks & community gardens throughout New York City.
Prizes Include:

Enjoy a day on the Set of WOLVERINE with Hugh Jackman

Walk the Red Carpet with Nicole Kidman

Meet President Clinton

Meet Bette Midler Backstage

Have Dinner at Rao's

Final chance to see Celine Dion in Vegas

See Elton John in Las Vegas

Experience Stevie Wonder

See Bon Jovi

Spend a Classic Evening with Lily Tomlin

Meet Nathan Lane

Win a VIP WICKED Package

Vacation at Spice Island Beach Resort

Attend a Michael Kors Fashion Show
And dozens more auction items donated by celebrities including Angelica Huston, Annie Liebowitz, Ben Affleck, Carson Daly, Cher, John Lithgow, Leonardo DiCaprio, Bill Blass..

Click here to register and bid on celebrity events - http://hulaween2007.charitybuzz.com/viewLots.do

Please call 203-226-5805 or info@charitybuzz.com. HAPPY BIDDING!

Happy Birthday, David!
Thursday, October 25 2007

Elton's partner, David Furnish, is turning 45 on October 25, 2007.

On behalf of the visitors of eltonfan.net, we would like to wish David all the best and a wonderful birthday!

Superstar singers salute cinema
Wednesday, October 24 2007

Elton John, Beyonce and Carrie Underwood will headline "Movies Rock," a two-hour music-and-film event at the Kodak Theater on December 2, 2007.

Show, put on by Conde Nast Media Group, the Producers Guild and the Entertainment Industry Foundation, will air December 7, 2007 on CBS.

Beyonce will sing "Over the Rainbow," Underwood will perform "The Sound of Music," Fergie and Jennifer Hudson will pay tribute to Bond films with "Live and Let Die" and "Goldfinger," and John Legend and Mary J. Blige will sing "As Time Goes By."

Elton, who won an Oscar for "Can You Feel the Love Tonight" from "The Lion King," will honor music from animated movies, and John Williams will perform a medley from his original scores, which include "Jurassic Park" and "Raiders of the Lost Ark."

"We wanted to create an extraordinary show that would pay tribute to the indelible impact music has on film," said Richard Beckman, president of Conde Nast Media Group. Beckman, PGA board members Kathleen Kennedy and Bruce Cohen and Don Mischer will serve as executive producers.

"Movies Rock" will be supplemented by a magazine component, also called Movies Rock, which will be packaged with 14 December Conde Nast titles. Publication will highlight stars, directors and musicians, and Bill Murray is the cover. Vanity Fair's Graydon Carter will serve as editorial director of the special issue, and Mitch Glazer will serve as editor.

Azerbaijan makes proceeds from Elton concert
Monday, October 22 2007

The State Oil Company of Azerbaijan (SOCAR) made net proceeds of AZN 70,000 ($82,000) from Elton John's concert in Baku.

The SOCAR said besides Azerbaijani viewers, more than 1,500 people came from Russia, Georgia and Turkey to the concert. The State Oil Company of Azerbaijan sponsored the concert which was held on September 23, 2007.

The company said the net profit after costs and tax was AZN 70,000. The price of one ticket ranged from AZN 30 to AZN 800,000. The concert took place in Tofig Bahramov Stadium which accommodates about 30,000 people. The concert was organized by Art-Community.

Calling on Elton John Superfans
Sunday, October 21 2007

Are you the UK's biggest Elton John fan? Do you know everything about Elton and his music? If so, Endemol UK wants to hear from you.

Endemol UK is currently developing a brand new, primetime TV series and want to hear from the UK's biggest Elton John fans. For your chance to be involved, please send the following information to catriona.dickey@endemoluk.com:

A brief outline as to what qualifies you as a 'superfan'

A photograph

Your contact details
The show will be a Saturday night, Prime Time talent show for BBC1. The working title is Ultimate Tribute and the aim is to find the UK's best solo tribute act. In order to help decide who emulates superstars best, they need the expertise superfans - people that have seen mega-stars in concert, regularly listen to their music and are knowledgeable on all things related to their idol. The show is going to be very exciting and will be hosted by Graham Norton.

David: "Elton's too busy for kids"
Saturday, October 20 2007

David Furnish is devastated at the prospect of never having kids, blaming Elton's busy workload for denying him the chance of fatherhood.

The pair, who married in a civil ceremony in 2005, had always dreamt of raising a family together. But now Furnish concedes this is never likely to happen - because Elton's always too busy.

He says, "I wanted children. We talked extensively about adopting, but it came down to Elton saying, 'I'm going to continue to do what I do and it will be very difficult to raise a child with you if I'm not going to be there'." Furnish, 45, fears he will always be sad about the decision. He adds, "It will be my one regret when I leave this planet; that I never had children of my own, because I really love children."

Elton John put on diet
Saturday, October 20 2007

Sir Elton John's husband David Furnish has put him on a strict diet to help him lose weight.

Elton has piled on the pounds lately and Furnish is determined to help him adopt a healthier lifestyle. He says, "I can't change him but I want him to be as fit and physically and mentally sound as he can be.

"The message has gone out to the people on the road: no bowls of M&Ms in the dressing room. I don't want nacho chips lying around. And he's drinking water now rather than Diet Coke."

A weekend with Sir Elton and Andy Roddick
Saturday, October 20 2007

A stray tourist cutting through the sixth floor of the Austin Hilton on October 14, 2007 could be forgiven for thinking out loud: "That party hired a pretty darn good Elton John impersonator."

It was the real Sir Elton, performing gratis for the Andy Roddick Foundation fundraiser, which, in just a few years, has become a heavy charity hitter. Pounding an amplified piano that sounded like an entire band, Elton donated a dozen songs.

Three groups of as-of-yet-unidentified bidders pooled $428,000 to dine at one of Elton's homes, a surprise — and seemingly improvised — final auction item.

Celebrities, including Lance Armstrong, soccer whiz Mia Hamm and Boyd Tinsley (from the Dave Matthews Band), cheered as Gov. Rick Perry thanked Roddick for making Austin home and invited Sir Elton to settle here. Maybe he didn't realize that the musician's marriage to David Furnish wouldn't be valid in Texas.




Andy Roddick Charity Gala
Monday, October 8 2007 at 16:58:52



Elton John and band performed in Kansas City on October 13, 2007
Tuesday, October 16 2007

Fan report by Marian Joy Friedman-Kaplan.

We had 4th row center. The best seats we ever had for an Elton show and I have to write, the audience at the Sprint Center was the loudest audience I ever heard. My sister and I had to cover our ears they were so loud. Rarely did the audience sit down. No lie, Kansas City was one of the most enthusiastic Elton crowds I ever heard/saw.

The set list was great because there was a good mix of old and new. Elton looked dapper as usual. Great sequence jacket with a crocodile on it and he really opened that brand new arena in style big time. Extremely charming and complimentary, he gave a great performance and that audience from Kansas City was loving it.

For me, he is beyond a doubt the best showman of our times for so many reasons and I loved traveling to new place to see and hear him perform. With all the things happening everywhere in the world, it is indescribeable that I can travel anywhere he is performing (I really mean anywhere) and the joy, love and happiness that happens when he is performing, is overwhelming. It is so quite unusal and rare. How lucky I have been to see and hear such beauty. Nothing can acurately describe it. I appreciate this man so much. He deserves so much good back.

Following is the complete set list of the Kansas City show on October 13, 2007:

Funeral for a Friend

Love Lies Bleeding

The Bitch is Back

Madman Across the Water

Tiny Dancer

Levon

Believe

Take Me to the Pilot

Goodbye Yellow Brick Road

Daniel

Rocket Man

Honky Cat

Someone Saved My Life Tonight

I Guess That's Why They Call It the Blues

Burn Down the Mission

The Bridge

Sorry Seems to Be the Hardest Word

Candle in the Wind

Bennie and the Jets

Philadelphia Freedom

Sad Songs (Say So Much)

I'm Still Standing

Crocodile Rock

Saturday Night's Alright (For Fighting)


Don't Let the Sun Go Down On Me

Your Song
Their songs
Sunday, October 14 2007
Artists paid tribute to Elton John and Bernie Taupin in New York's Carnegie Hall on October 10, 2007.
"It was hard to choose one," said Shawn Colvin, before performing "Sacrifice" at a tribute to the songwriting team of Elton John and Bernie Taupin, October 10, 2007 at Carnegie Hall in New York City.

No kidding. Elton and lyricist Taupin have one of the biggest and most varied catalogs in the business, and it's almost impossible for a tribute concert -- even a generous one like this, which featured 20 artists doing one song apiece -- to do it justice.

There was no "Daniel" in this tribute, a benefit for the UJA-Federation of New York's Music For Youth initiative. There was no "Someone Saved My Life Tonight." No "Candle in the Wind." No "Don't Let the Sun Go Down On Me." No "Goodbye Yellow Brick Road." There just wasn't enough time.

Also, artists didn't restrict themselves to monster hits. So Page McConnell of Phish, for instance, tackled "Amoreena," adding a touch of cocktail-lounge suavity, and Aimee Mann sang a graceful, slightly melancholy "My Father's Gun." Folk-rock visionary Roger McGuinn turned in a loose, upbeat "Friends," and jazz singer-vibraphonist Roy Ayers funked up "Bad Side of the Moon."

Elton didn't attend, but Taupin did; he was introduced, from his balcony seat, at the start of the show, and waved. One imagines it was quite a night for him, listening to such an eclectic batch of artists bring new shades of meaning to his words.

David Broza opted for one of the best-known John-Taupin compositions, "Your Song," and put an odd twist on it, turning this humble love letter into a bold, flamenco-tinged declaration. The singer-songwriter known only as Buddy offered an equally adventurous, and more satisfying, overhaul of a John-Taupin classic. Singing "I'm Still Standing," he sounded fragile and wounded at first, but ended with a cathartic raveup; it really seemed like he had triumphed over something.

Colvin interpreted "Sacrifice" in a gentle, coffeehouse-folk manner, and the group Fools For April treated "Mona Lisas and Mad Hatters" in much the same way. But most artists tried for something more dramatic. Phoebe Snow turned "Empty Garden (Hey Hey Johnny)" into an explosive soul-gospel epic, and Lizz Wright smoldered in torch-song fashion, on "Come Down In Time."

Raul Malo brought a near-operatic sense of intensity to "Sorry Seems To Be the Hardest Word," while Ryan Shaw added some dazzling vocal runs to "I Guess That's Why They Call It the Blues." Jill Sobule, sumptuously backed by the Ethel string quartet and keyboardist Steve Gaboury, sang "Levon" with an irresistibly uplifting sense of joy.

The evening's biggest trouper turned out to be new-wave survivor Howard Jones, who didn't get upset when his electric keyboard issued blasts of static as he tried to sing "Tiny Dancer." He just shrugged, exchanged smiles with his guitarist, walked over to the grand piano at the side of the stage, and started over. His version was straightforward, but still magical, with the crowd helping to sing the song's soaring chorus.

The show-closing slot went to British Invasion stars Peter & Gordon -- Peter Asher and Gordon Waller, who recently started performing together again after a 38-year break. They reinvented a relatively new John-Taupin song, the stately "I Want Love," with their lush harmonies, making it sound like one of their own hits.

This was the fourth Music For Youth benefit that has taken place since early 2006; the previous ones saluted Bob Dylan, Bruce Springsteen and Joni Mitchell. No date has been set for the next in the series.



Carnegie Hall to honor Elton and Bernie
Wednesday, August 8 2007 at 21:52:08


The BBC Radio Six's List Of The Top 10 Worst Duets
Friday, October 12 2007
The British are once again torn between love and hate. In the BBC's poll of best and worst duets of all time, Mick Jagger & David Bowie's 'Dancing In The Streets' came in as number three worst and number eight best. Two 'worst' entries for Elton.
What is even funnier is that Bowie made both lists twice with another duet. 'Little Drummer Boy' with Bing Crosby was voted the fourth worst duet of all-time and the eleventh best. Bowie also scored a thumbs up for 'Under Pressure' with Queen. It was the third best duet.

Other multiple offenders for worst song were Paul McCartney and Elton John. McCartney's 'Ebony and Ivory' with Stevie Wonder was voted the Worst Duet of All Time. 'The Girl Is Mine', his duet with Michael Jackson, was voted the sixth.

Elton John copped a bashing for 'Children of the Revolution', his duet with Pete Doherty at Live 8. That one came in at number seven. He also ranked in at ninth position for the song he performed at Live Aid with George Michael 'Don't Let The Sun Go Down On Me'.

The BBC Radio Six's List Of The Top 10 Worst Duets:

1. Paul McCartney & Stevie Wonder - "Ebony and Ivory"
2. Arthur Mullard & Hilda Baker - "You're the One that I Want"
3. Mick Jagger & David Bowie - "Dancing In the Streets"
4. Bing Crosby & David Bowie - "Little Drummer Boy/Peace on Earth"
5. Rene & Renata - "Save Your Love"
6. Paul McCartney & Michael Jackson - "The Girl Is Mine"
7. Elton John & Pete Doherty - Children Of The Revolution (Live 8)"
8. Puff Daddy & Faith Evans - "I'll Be Missing You"
9. Elton John & George Michael - "Don't Let the Sun Go Down On Me"
10. Band Aid - Do they Know It's Christmas? tied with Girls Aloud & Sugababes - "Walk This Way"

The BBC Radio Six's List Of The Top 10 Best Duets:

1. Sinéad O'Connor & The Chieftains - "Foggy Dew"
2. Kirsty MacColl & The Pogues - "Fairytale Of New York"
3. Queen & David Bowie - "Under Pressure"
4. Nick Cave & Kylie Minogue - "Where The Wild Roses Grow"
5. Run DMC & Aerosmith - "Walk This Way"
6. Kenny Rogers & Dolly Parton - "Islands In The Stream"
7. Marvin Gaye & Tammi Terrell - "You're All I Need To Get By"
8. Dusty Springfield & Pet Shop Boys - "What Have I Done To Deserve This?"
9. Peter Gabriel & Kate Bush - "Don't Give Up"
10. Lee Hazlewood & Nancy Sinatra - "Some Velvet Morning"
11. Bing Crosby & David Bowie - "Little Drummer Boy"
12. Mick Jagger & David Bowie - "Dancing In The Streets"
Team Elton wins at Advanta WTT Smash Hits
Friday, October 12 2007
In a battle of big servers, John Isner held off Andy Roddick to lead Team Elton to a 20-18 overtime victory over Team Billie Jean at the 15th annual Advanta WTT Smash Hits in Villanova, PA.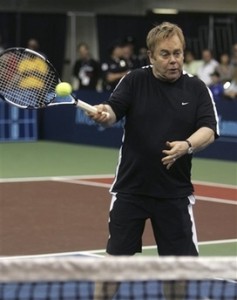 The annual charity event, hosted by Billie Jean King and Elton John, raised more than $400,000 for the Elton John AIDS Foundation and Philadelphia-based ActionAIDS.

The night was capped by an exciting duel between American Davis Cup teammates Roddick and Isner. Roddick and Isner put on a serving clinic for the Philadelphia crowd of 4,156 in the evening's much anticipated final set. Roddick won men's singles for the trailing Team Billie Jean 5-2, forcing the match into overtime. Isner took the second game of overtime to win the overall team match 20-18 and give Team Elton John its first Smash Hits victory since 2001. "The quality of the tennis was fabulous and we raised a lot of money for charity," King said. "It was a really great night."

At a pre-match reception, more than $248,500 of the evening's total was raised as King, Elton and the players participated in a live auction. Anna Kournikova kicked off the auction by buying a package that included tickets to Elton John's Red Piano show in Las Vegas, along with dinner in his VIP suite for $35,000. Advanta Chairman and CEO Dennis Alter capped off the auction by putting in a winning bid for a hit with Patrick McEnroe and Billie Jean King at the USTA Billie Jean King National Tennis Center.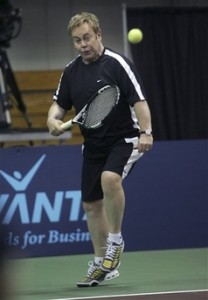 Elton John opened the evening of tennis by teaming with Roddick to win the celebrity battle of the sexes match against Lindsay Davenport and Anna Kournikova, 4-0. The set was highlighted by a humorous 12-stroke net rally between Roddick and Kournikova, ultimately won by Roddick.

The WTT format match officially began with men's doubles as Roddick and Luke Jensen (Team Billie Jean) took on Isner and Patrick McEnroe (Team Elton). Jensen and McEnroe struggled to return the powerful serves of Isner and Roddick.

The highly competitive set went to a WTT tiebreaker, won 5-4 by Team Billie Jean on an unexpected ace by Jensen. Kournikova and Davenport returned to the court for Team Elton, taking on rising Dover, Del., star Madison Brengle and Corina Morariu, representing Team Billie Jean. Brengle and Morariu prevailed 5-3. Brengle then had an opportunity to live out a dream in women's singles, facing Lindsay Davenport, former world No. 1 and mother of 3-month old son Jagger. Davenport appeared to be back in Grand Slam form, dominating the set 5 -0 for Team Elton.

The night of competitive tennis was high-lighted by a crowd-pleasing mixed doubles showdown. But neither Morariu standing on a chair at the baseline to return the serve of the 6' 9" Isner, or a successful between-the-legs shot by Roddick could help Team Billie Jean prevail in mixed doubles competition. The towering team of Davenport and Isner took the set 5-2 for Team Elton.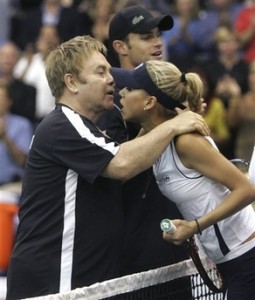 On the cover of the Rolling Stone
Tuesday, October 9 2007
Bondi Digital Publishing's Cover to Cover series "Rolling Stone: The First 40 Years" will be on sale beginning November 2, 2007 in bookstores and all major retail outlets across the U.S.
These fully searchable DVD-ROM box sets from Bondi Digital Publishing bring the past back to life with one of the most popular and venerable publications of our time. Consumers can now log onto www.covertocover.com to place pre-sale orders and watch a sneak preview of the DVD-ROM.

Individually scanned page-by-page, past issues of Rolling Stone are combined with the Bondi Reader, a groundbreaking and user-friendly magazine browser that is compatible with both Mac and PC. In addition, the unique companion coffee table book included with each box set is filled with one-of-a-kind previously unpublished material, allowing users to complement their digital experience with a hands-on look at behind-the-scenes accounts and editor-selected highlights.

"The Rolling Stone Cover to Cover: The First 40 Years" release coincides with the iconic rock-and-roll magazine's 40th anniversary and marks the first time its history will be available in digital archive form. The Cover to Cover box set includes three DVD-ROM disks and one Install DVD-ROM disk, with 98,000 pages of content from issues 1 through 1,025/1,026 in their entirety, and a 208-page companion coffee table book. Also included is a no-strings-attached one year bonus subscription to the magazine (a $12.95 value).

Elton John has been in Rolling Stone magazine quite a few times. In fact, he's graced the cover on issues no. 84 (June 1971), no. 174 (Nov. 1974), to name a few.
Andy Roddick Charity Gala
Monday, October 8 2007
Elton John will again be part of the 3rd Annual Andy Roddick Foundation Charity Gala at the Austin Hilton on October 14, 2007.
Elton is also one of the Honorary Board Members of the foundation besides Ben Crenshaw, Lance Armstrong, Boyd Tinsley and Ken Meyerson.

See Andy Roddick's website for more details.



Elton John and band performed in Sioux Falls on October 7, 2007
Monday, October 8 2007
Following is the complete set list od the Sioux Falls, SD show on October 7, 2007.
Funeral For a Friend

Love Lies Bleeding

Madman Across the Water

Tiny Dancer

Levon

Believe

Take Me to the Pilot

Goodbye Yellow Brick Road

Daniel

Rocket Man

Honky Cat

Someone Saved My Life Tonight

I Guess That's Why They Call it the Blues

Burn Down the Mission

The Bridge

Sorry Seems to Be the Hardest Word

Candle in the Wind

Bennie and the Jets

Philadelphia Freedom

Sad Songs Say So Much

I'm Still Standing

Crocodile Rock

Saturday Night's Alright (For Fighting)


Don't Let the Sun Go Down On Me

Your Song
Elton John and band performed in Columbia, MO on October 5, 2007
Monday, October 8 2007
Fan reports by Chris Akins and James. Photos by Chris Akins.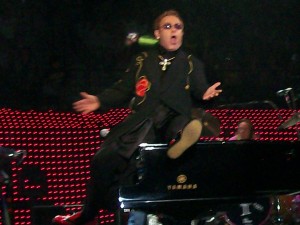 Elton John and his band took the stage at approximately 8 p.m. in the Mizzou Arena. From my fourth row Rocket Tickets, directly in front of Elton, I was absolutely exstatic. When the legend walked out on stage, I knew Columbia was in for an amazing performance.

Elton wore a black jacket with "Love" written on the sleeve, with a western gun on the back, embraced by colorful flowers. Elton began smiling when he walked out, and he seemed to be in a very pleasant mood. This was a relief to me, because the last show I attended was Birmingham, Alabama, where he was not in the best of spirits.

Elton's great mood continued to shine through. He said he was very happy to perform for the first time in Columbia on the eve of a big Mizzou football game. He informed the crowd that he was heading for Nebraska the next day, and everyone booed. Mizzou was playing Nebraska the next day. He also gave the crowd a score update for the Cleveland and New York baseball game. He asked the crowd which team they preferred and the entire crowd cheered for Cleveland. He then said that he was glad we wanted Cleveland, because "I f*cking hate the Yankees," he instantly responded.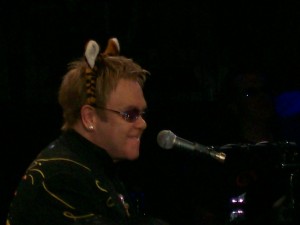 When introducing the band, he told the audience that unlike some artists and bands, their sound was the real deal, no recordings. The crowd responded very well to this. The band seemed to be in great spirits as well. Bob Birch and Davey were laughing throughout the evening.

Elton's voice and sound was in flawless form. His voice really shone through on "The Bridge". It was such a beautiful rendition. "Rocket Man" was brilliant as always. Elton's air guitar was priceless at the beginning of "Saturday Night's Alright". He also added a new intro into "Crocodile Rock". The long piano intro into "Take Me To the Pilot" was simply breathtaking. Elton really worked the keys on that number. "Levon" was a great song to be included in the set list. "Believe" was awesome as usual, when he does perform this song live. It was great to realize that Elton did a song from each decade of his career: 70's, 80's, 90's, and 00's.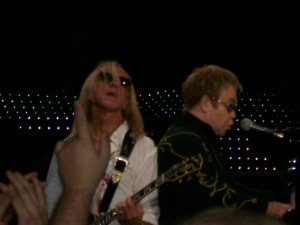 It was definitely a greatest hits collection, with a few rarities added: "Burn Down the Mission" and "Madman Across the Water". The Columbia crowd was very receptive to every song performed. Our section stood for the entire concert, never once taking a seat, even on the slower ballads. During "Candle in the Wind", cell phones were up in the air throughout the arena, while thousands of other voices helped Elton sing the song. When Elton came back for his encore, he took awhile to sign a lot of autographs for the first three rows. He then put on a Mizzou Tiger headband, with tiger ears. It was very neat the way he showed such appreciation for Columbia.

All in all, it was a great two hour and forty-five minute performance. Elton's endurance always seems to amaze me. He looked very healthy and very happy in Columbia. His voice, looks, and energy made it very hard to believe that the man is actually sixty years of age. Hopefully he will have the same enthusiasm throughout this brief U.S. tour.

Following is the complete set list od the Columbia, MO show on October 5, 2007:

Funeral For a Friend

Love Lies Bleeding

The Bitch is Back

Madman Across the Water

Tiny Dancer

Levon

Believe

Goodbye Yellow Brick Road

Take Me to the Pilot

Daniel

Rocket Man

Honky Cat

Someone Saved My Life Tonight

I Guess That's Why They Call it the Blues

Burn Down the Mission

The Bridge

Sorry Seems to Be the Hardest Word

Candle in the Wind

Bennie and the Jets

Philadelphia Freedom

Sad Songs Say So Much

I'm Still Standing

Crocodile Rock

Saturday Night's Alright (For Fighting)


Don't Let the Sun Go Down On Me

Your Song
---

Fan report by James.

On October 5, 2007, I had the ultimate Elton John experience. It still has not sunk in.

The night started with me finding out that my Rocket Tickets were in the 4th row. My jaw hit the ground. I was sitting close enough to Elton's piano that I could have thrown something and hit it!

After sitting in and getting comfortable, Elton started just a few minutes late. He came out in great spirits. One early highlight for me was hearing Elton take the original high notes on the WHOA WHOA WHOA that are at the end of "Love Lies Bleeding". He nailed them!

This article would be too long to talk about every song, so I will talk about the highlights. First off, the crowd went nuts when he played the opening notes to "Levon". I loved hearing "Believe" again. I heard it at the Red Piano, but it sounded awesome this night. Elton also put "Goodbye Yellow Brick Road" back into the show. It was great hearing that again. One of my personal highlights was hearing "Honky Cat". They did some awesome things with the percussion to change the song a bit. At the very beginning, there was a whole line of words that Elton did not sing. He made a silly face and looked right at Davey. Davey's banjo was out of tune. So, he ran off, got it tuned up, and returned to the stage. The band got a kick out of it.

Later when he introduced the band, Elton said that Davey could play "out-of-tune banjo AND in-tune-banjo". It was pretty funny. "The Bridge" never sounded better. From Elton's vocals, to his piano, to the background vocals, it was perfect.

After "Candle in the Wind", people ran up to the stage. I debated going up, but decided to give it a try. I had a CD sleeve in my hand to hopefully get an autograph. One of the event staff stepped right in my way and said I could not go. Just as I was about to turn back, one of Elton's staff grabbed the event staff person's shoulder, pushed him out of the way, and let me and my friend through. It was awesome! We were the last two they let go to the stage. This is when Elton really picked it up with "Crocodile Rock" (crowd favorite), "Philadelphia Freedom", and, he put "I'm Still Standing back" in the show. I have not seen it on recent set list. As that is one of my top three Elton songs, I felt fortunate to hear it.

When Elton came back for the encore, he walked over to me. I was holding up my "The Captain and the Kid" CD sleeve. I was a little nervous because I did not have a pen for Elton to sign with. Just then, one of his crew members through up a marker, and guess who Elton came to very first! That's right, he grabbed my CD sleeve, took his time, and gave me a great signature. I yelled "Thank You" to him and he said "You're Welcome" back. I tried to give him a high five, but it didn't quite work and I ended up nailing him right in the arm. I think he knew I was just pretty pumped and wrapped up in the moment. The second signature he signed was the picture my friend was holding up! It truly was an incredible moment.

Finally, for "Don't Let the Sun Go Down on Me", Elton acknowledged that there was a huge college football game coming up the next day. Since we were at the home of the Mizzou Tigers in Columbia, MO, Elton put on a headband that had two tiger ears on it. He wore it for the whole song. The night wrapped up with "Your Song" which is obviously, always a treat.

I don't know if that is the last time I will get to see Elton John perform, but if it is, what better way to wrap up? It truly was an amazing night full of great music and unforgettable moments. Thank you Sir Elton...this time I won't crack you in the arm.



MU gives Sir Elton documentary photos
Monday, October 8 2007 at 09:38:25

MU gives Sir Elton documentary photos
Monday, October 8 2007

The Missouri School of Journalism's Pictures of the Year International program presented Sir Elton John with a welcoming gift during a one-on-one meeting with the singer before his October 5, 2007 concert at Mizzou Arena.

Elton received a portfolio of 20 documentary photos from the program's archive that depict the fight against the AIDS/HIV epidemic. Elton, who has a private photo gallery in Atlanta, is a major contributor to AIDS and HIV research through his organization, The Elton John AIDS Foundation.

"This gift to Sir Elton John is a symbol of our respect for his love of photography and admiration for his noble efforts," said POYi Director Rick Shaw. POYi, one of the oldest photojournalism competitions in the world, is part of the Donald W. Reynolds Journalism Institute at MU's School of Journalism.

"It was just he and I on this dusty roadie crate, and he was genuinely moved," Shaw said. "There was not a lot of banter, he just sort of said, 'Wow, I'm really moved by this. This is really impressive.' You could tell he was genuinely taken by it."

"It was a situation where there was no pretense," Shaw said yesterday. "It was simply a genuine gift that said, 'Welcome to Missouri; we recognize and respect your cause, and here you go,' " Shaw said. "We tried not to make it a big deal."

Diana concert raises 1.2 million pounds
Friday, October 5 2007

The July concert staged in memory of Princess Diana by her sons raised 1.2 million pounds for charities dear to her heart, the organizers said on October 4, 2007.

Cheered on by Princes William and Harry, an international array of pop stars from Elton John and Rod Stewart to Kanye West and Sean "Diddy" Combs performed before 62,000 people in London's Wembley stadium.

The six-hour concert, arranged to commemorate what would have been her 46th birthday, was also beamed to millions of television viewers around the globe.

The charities to benefit from the concert ranged from the National AIDS Trust to the Leprosy Mission.




Elton launches and ends Concert for Diana
Monday, July 2 2007 at 08:38:14



Elton removes his photo collection from gallery amid child porn concerns
Tuesday, October 2 2007

A British gallery that turned over a photograph belonging to Elton John to police amid concerns that it amounted to child pornography has now closed an exhibition featuring the star's photographic collection.

The Baltic Center for Contemporary Art, in Gateshead, northeastern England, said it closed "Thanksgiving," an installation of 149 pictures by American photographer Nan Goldin, at Elton's request.

"After the removal of one image from the series it was no longer possible for Baltic to exhibit the collection of works as the artist intended," the gallery said in a statement. "Therefore Baltic is sympathetic to Sir Elton John's request and supportive of the decision."

The gallery alerted police to one of the "Thanksgiving" pictures on September 20, 2007, and authorities are investigating whether it violates Britain's child pornography laws. Police confirmed they were looking at the picture to assess whether an offense had been committed, but have refused further comment.

Elton, who purchased the "Thanksgiving" installation in 1999, said that the picture "Klara and Edda Belly-Dancing" had been exhibited across Europe and the United States without any objections of which he was aware.




Elton defends photo seized in porn probe
Wednesday, September 26 2007 at 18:16:40

Seized 'art porn' owned by Elton John
Wednesday, September 26 2007 at 10:09:05