ELTON JOHN NEWS ARCHIVE: October 2006
Preparations for Elton's 60th have begun
Tuesday, October 31 2006
There are various ways for Elton John fans to participate in preparing some unique birthday presents for Elton.



In order to coordinate these activities, eltonfan.net has launched the special website www.sixty-years-on.com on September 6, 2006, and has started the 200 day countdown to Elton's big day.

With now less than 150 days to go until March 25, 2007, it's time to get serious, also as some of the plans require a rather early deadline in order to complete everything on time.

The following projects have now been launched. Please see www.sixty-years-on.com for details:

Online birthday card
(deadline: March 24, 2007)

You can post congratulations in various ways or forms. By March 25, 2007, that way sixty-years-on.com will be turned into one giant audiovisual state-of-the-art birthday card for Elton John.

'Sixty Years On' CD
(deadline: January 31, 2007)

You can also record a new version of 'Sixty Years On' (with 'updated' lyrics posted on sixty-years-on.com) and send us your recording for inclusion in a special CD which will be presented to Elton.

Ultimate Elton John Fan Guide
(deadline: January 31, 2007)

And finally, you can simply send us a photograph of yours and/or of an Elton John fan event you attended in the past and we will turn this into one big 'Ultimate Elton John Fan Guide' which will also be presented to Elton.

Whatever option(s) you choose, make sure to be part of Elton's special birthday on March 27, 2006. Visit www.sixty-years-on.com today!


"Billy Elliot" goes Down Under
Tuesday, October 31 2006

Universal Pictures, Working Title & Old Vic Productions are proud to announce that the multi-award winning Billy Elliot the Musical will open at Sydney's Capitol Theatre in January 2008.

Directed by Stephen Daldry with book & lyrics by Lee Hall, Billy Elliot was developed for the stage by the same award winning creative team responsible for the much-adored British film. The score has been composed by Elton John.

Choreography is by Peter Darling with set design by Ian MacNeil, costumes by Nicky Gillibrand, lighting by Rick Fisher, sound by Paul Arditti and music supervision by Martin Koch.

A funny, heart-warming & feel-good celebration of one young boy's dream in a gripping tale of triumph over adversity.

The search for Australia's Billy Elliot has begun.

For information on casting and auditions please contact:

LYNNE RUTHVEN CASTING
phone 03 9584 8277
fax 03 9584 7588
email billyauditions@lwaa.com.au





Elton John will appear at Billy's charity gala
Saturday, October 28 2006 at 14:49:22



Let me be your car ...
Monday, October 30 2006

... come on and drive me. I'm a speedy little boy down deep inside.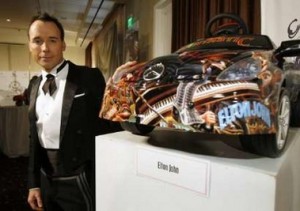 A toy pedal car designed by Elton John was displayed at the 17th Annual Mercedes-Benz Carousel of Hope cocktail party at the Beverly Hilton Hotel on October 28, 2006 in Beverly Hills, California.

The celebrity designed child-sized pedal cars were auctioned off to benefit the Children's Diabetes Foundation.

The picture shows David Furnish standing next to Elton's design. Elton himself was busy performing at the "Life@50+ Event".
Taxman targets Elton
Monday, October 30 2006
Legendary spender Sir Elton John is touring America - but according to the Mail on Sunday the taxman is not far behind.
Elton, who earns £25m a year in royalties, is working as hard as ever. His tour also takes in Canada and Australia, he has a successful new album and is reaping praise and profits for his Billy Elliot The Musical score.

But accounts just filed at Companies House for his holding company, William A Bong, state: 'Revenue & Customs have raised enquiries into the company's tax return for 2004. It is not possible to predict the outcome of these enquiries and no provision has been included in these statements for additional liabilities.

'The directors believe the company has sound arguments to refute the enquiries.'

Frank Presland, Sir Elton John's manager and a Bong director, told Financial Mail: 'There is nothing unusual in this.'

Revenue & Customs would not comment. The performer is Bong's sole shareholder, but receives no dividends. Though he is an employee he is not a director.

Accounts show that staff wages for the year to March 31, 2005, were £13.5m, but that includes 15 administrative staff as well as the star. The previous year, which the Revenue is questioning, the figure was £18.6m and Elton received an unspecified bonus.

The company habitually advances the singer money on top of his wages, so that he now owes it £32.8m, up by £1.5m on the previous year.
Elton John will appear at Billy's charity gala
Saturday, October 28 2006
Original Billy Liam Mower returns to his role in the hit show Billy Elliot – The Musical for a one-off charity gala performance on November 22, 2006, hosted by the show's composer Elton John.
Director Stephen Daldry is to create a special performance of the musical for the gala, which celebrates the show's one millionth ticket holder through the door of the Victoria Palace and is in aid of children's charity The Place2Be.

Mower, who was one of three young stars to share the role when the musical opened in May 2005, will once more take to the stage as Billy, the young boy who prefers ballet to boxing. Mower gave his last performance as Billy on September 30, 2006. Along with the two other original Billys, George Maguire and James Lomas, he picked up a Laurence Olivier Award for Best Actor in a Musical at the 2006 awards. The show also won three other Laurence Olivier Awards, including Best New Musical.

Set in 1984 at the time of the miners' strikes in Northern England, the musical tells the touching story of Billy Elliot, a motherless boy whose father and brother are caught up in the strikes. Sent to boxing lessons by his father, Billy stumbles across a dance lesson and, inspired by dance teacher Mrs Wilkinson, he eventually applies for the Royal Ballet School.

The charity gala benefits the Easington branch of The Place2Be, which gives children in primary schools a place where they can express their feelings through talking, creative work and play. It delivers a range of services directly to children, parents and teachers in primary schools from ex-mining communities. Easington Village in County Durham was where much of the original film of Billy Elliot was shot.

To book tickets for the charity gala on November 22, 2006, ring the box office on +44 870 895 5577.



Elton performed a benefit show in Dallas on October 25, 2006
Thursday, October 26 2006
Elton John mixed polish and potency at the Morton H. Meyerson Symphony Center to raise funds for the Dallas Center for the Performing Arts.
Take Sir Elton John's resonant turn at the Morton H. Meyerson Symphony Center on October 25, 2006 during Act Two, the Dallas Center for the Performing Arts' second major fundraising shindig. The big-buck, clothed-to-the-nines crowd included many of Dallas' elite, large portions of which acted more like it was listening to a Mozart opus than one of pop's greatest melody makers.

But Sir Elton suppressed his grumpy-uncle side and remained gracious, energetic and enthusiastic throughout his hit-laden 90-minute show. He was dressed down by his standards: a loose tuxlike suit (with a vibrant rhinestone mosaic of himself lounging in the jaws of a crocodile on the jacket's back), an untucked cobalt-blue silk shirt, boyish-looking and spiky hair, and gently shaded specs. He smiled often and broadly, though, taking bows after nearly every number and inhaling several stilted but effervescent ovations, which held true to orchestra-hall form in timing and intensity.

Accompanied only by a synth-assisted grand piano and some offstage backing swells, he stormed through a considerate selection of barnburners and quieter ballads and ignored material after 1983's "I Guess That's Why They Call It the Blues." The latter point is notable for two reasons: He's got a new album out full of new songs written with longtime lyricist partner Bernie Taupin, and his forays into opera (Aida) and his success with scoring "The Lion King" with Tim Rice might have supplied fodder for this night. After all, the money raised will help build an opera house and performing arts center.

But Sir Elton had none of that. He roared – literally in places, as the volume was high and treble frequencies were brittle at first – through highlights of his halcyon days, starting daintily with "Mona Lisa and Mad Hatters" and wrapping with a peppy "Don't Let the Sun Go Down on Me" as an encore.

With no band tying him down, the prodigal Sir Elton was free to roam on his keys for many selections; instrumental high points included a ragtimey treatment of "Honky Cat" and the melancholy, dissonant intro to the most obscure of his song choices, "Take Me to the Pilot." Throat surgery 19 years ago robbed him of his falsetto, and that night he short-circuited some elements of his unique, off-time vocal delivery (most notably in the chorus to "Candle in the Wind"), but his pipes remain loud, sharp and potent.

But even a man who can bellow like that – much less a man who has sold 200 million albums worldwide – couldn't quite coax Troy Aikman or Mayor Laura Miller into singing the cartoonish la-la lines in "Crocodile Rock."

Some hearty guests paid $50,000 and more to attend the sold-out show. Those high-net-worth rock fans were summoned to arrive at the Meyerson an hour before show time for a private audience with Elton as well as the evening's emcee, Dame Julie Andrews.

Wearing an enormous diamond-encrusted cross around his neck, even Elton was wowed by the baubles draped across the Dallas women. "There is a lot of jewelry in this room," he mused covetously as he posed for photos with every guest – billionaires like Gene and Jerry Jones, Ross Perot Sr. and his son and daughter-in-law, Ross Jr. and Sarah; Chase Bank chairman Elaine Agather; insurance titan Randall Goss and his wife, Krickett; longtime Dallas arts patron Sis Carr; Nasher Sculpture Center founder Ray Nasher; and Eugene McDermott Foundation president Mary McDermott Cook.

Once onstage, Elton again mentioned the king's ransom of diamonds rattling around the Meyerson. "You better check yourself on the way out," he warned. "I'm quite a pickpocket."
Happy Birthday, David!
Wednesday, October 25 2006
Elton's partner, David Furnish, is turning 44 on October 25, 2006.
On behalf of the visitors of eltonfan.net, we would like to wish David all the best and a wonderful birthday!
NYRP's 2006 Hulaween Auction
Tuesday, October 24 2006
Bette Midler invites you to join her and dozens of her celebrity friends in her truly divine Hulaween online auction.
Bette Midler's New York Restoration Project (NYRP) carries out Founder Midler's dream of a cleaner, more beautiful New York . Each year at Halloween, NYRP presents "Hulaween," a star-studded costume gala with a Hawaiian-Halloween theme.

NYRP is once again conducting an online auction which will be hosted at www.charitybuzz.com and will coincide with the Hulaween gala in New York City on October 31, 2006. At the gala, Willie Nelson will be honored for his environmental work, Stevie Nicks will perform, and Joy Behar will serve as the celebrity auctioneer for selling trees of all sizes to be planted by NYRP in New York City . The online auction reads like a "who's who" in the entertainment world, and opens for bidding on October 24 through November 10, 2006.

A few of the highlights of the online auction are: An opportunity to sip tea with Meryl Streep or visit the movie set in New York City of either Hugh Jackman or Susan Sarandon. Fans of Sir Elton John can bid on the chance to see him perform and meet him after his show at Caesars Palace in Las Vegas. And if you simply must see Barbra Streisand in concert one more time, you now can bid on tickets to her show at the MGM Grand.

NYRP has reclaimed over 400 acres of neglected and abandoned parks and open spaces in New York City and created Swindler Cove, a new park in upper Manhattan.

You can support NYRP and get great things by registering now at www.charitybuzz.com.
The retreat - part 4 (at least)
Friday, October 20 2006
Elton announced once more that he is going to quit. "You won't hear from Elton John again" he said during the "Red Piano" show in Las Vegas on October 14, 2006.
That would make "The Captain and the Kid" his last album. But of course we have heard these kind of "threats" many times before. So let's see ...

And maybe one has to intepret his statement that way that he will no longer make records as "Elton John" but under some other name. Time will tell ...
Elton spied with Timbaland
Friday, October 20 2006
Elton John might just be following through on his recent threat about trying his hand at a hip-hop album.
Las Vegas Review-Journal gossip Norm Clarke reports that Sir Elton and producer Timbaland were spotted teaming up at the Palms recording studios over the weekend (October 14/15, 2006) "on a super secret project." Elton is in Vegas this week performing his "Red Piano" shows at Caesars Palace.

Clarke says work might well be continuing on the trans-Atlantic Broadway debut of Elton's London hit "Billy Elliot" musical as well. David Furnish was seen at Krave Nightclub on October 15, 2006 with "Billy Elliot" director Stephen Daldry.



Elton John vows to make hip hop record
Sunday, August 27 2006 at 08:47:27


Talking old pensioners
Friday, October 20 2006
He's famous for his spending, but Elton John plans to save a few pence when he turns 60 next March.
"I'll play New York on my 60th birthday. Then go home on the subway for half price as a pensioner," he says.
Elton guides Chaplin through rehab
Monday, October 16 2006
Elton has offered his services as an unlikely advisor to troubled rocker Tom Chaplin, and he has reportedly spent hours on the phone counselling the Keane star through rehab.
Elton was saddened when he heard about Chaplin's battle with alcohol and cocaine addiction, and was determined to help him in any way possible. Elton was the last person the singer expected to hear from, but Elton believes he is the perfect advisor after beating his own substance abuse demons nearly 20 years ago.

A friend of Chaplin's says, "Tom's had so much support after going into rehab but he never expected it would come from someone like Sir Elton John. At first he thought it was a wind up - why would Elton take the time out to contact him? Even though they met at Live 8 last year they weren't exactly close friends."

"Tom was moved by the gesture and they've been in touch frequently. Elton knows exactly what Tom's going through."

Chaplin left top London rehab clinic The Priory earlier in October 2006, but is still receiving treatment.
Pair sent to prison in Elton concert bashings
Friday, October 13 2006
Two men who beat a man and his young nephew as they left an Elton John concert have been sentenced to prison.
Graham Brydon had taken his nephew John to the concert at Watford football stadium in June 2005. Walking home Brydon put an official T-shirt he bought at the concert over his shirt.

Henry Peters, 31, and Neil Wattley, 30, spotted the T-shirt and began harassing Brydon and his nephew, yelling "Elton John is fucking gay." Then without provocation the assailants began beating them.

Brydon, in his 50s, required hospitalization for a suspected broken cheekbone. Peters and Wattley pleaded not guilty, and claimed that Brydon and his nephew had provoked the attack.




But at trial police showed tape from a CCTV camera which had recorded the entire encounter. The tape showed Wattley yelling the homophobic slur and then punching Brydon in the face. Peters then joined in the attack. John Brydon, 26, was not seriously injured.

Peters was found guilty of two counts of assault. He was sentenced on October 11, 2006 to two years behind bars. Wattley was convicted of one count of assault and will spend the next year in prison.

Elton John live QVC Broadcast
Wednesday, October 11 2006

Elton John is scheduled to make his QVC® debut live from Caesar's Palace in Las Vegas with his latest project, The Captain & The Kid, on Friday, October 13 at 7 PM (ET).

During the one-hour QVC broadcast, Elton will sing a selection of songs and offer viewers insight into the fascinating story behind his new release, The Captain & The Kid, which is based on the 39- year songwriting partnership between John and Bernie Taupin.

Not only will QVC customers receive The Captain & The Kid, but it will be packaged with a special CD compilation of tracks from John's recent Fashion Rocks concert performed in New York City.

"Elton John is the definition of a music legend," said Rich Yoegel, director of merchandising for QVC. "This is an amazing chance for QVC viewers to not only hear about the inspiration that went into the creation of The Captain & The Kid, but also to own previously unreleased material from Elton's Fashion Rocks concert performance. We are proud to be the only retailer to bring these opportunities to Elton John fans across the country."

Elton John "The Captain & The Kid" plus bonus CD (QVC Item #E01919) will be available through QVC at 800.345.1515 or www.QVC.com while supplies last.

Elton John received Disney Legends Award
Wednesday, October 11 2006

The Walt Disney Company honored Elton John, as well as 11 additional inductees, with the prestigious Disney Legends Award during a ceremony at The Walt Disney Company headquarters on October 9, 2006.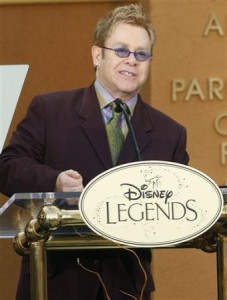 Presiding over the ceremony was Disney President and CEO Robert A. Iger, and his fellow presenters included Dick Cook, Chairman of The Walt Disney Studios; Roy E. Disney, Disney Director Emeritus; and Marty Sklar, Executive Vice President and Walt Disney Imagineering Ambassador.

"This annual ceremony, now in its 19th year, gives all of us at Disney a moment to remember the importance of our past achievements and to recognize those who embody this company's constant focus on delivering unparalleled creativity, quality and innovation to our audiences around the world," said Iger. "As we continue the tradition this year, we also mark a special milestone as we welcome our 200th Disney Legend."

The 12 new Disney Legends include leaders in the fields of music, journalism, art, performance, engineering and business. Among them are: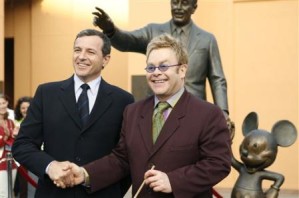 * Renowned singer and songwriter Sir Elton John;
* ABC News anchor Peter Jennings;
* Actors Tommy Kirk and Kevin Corcoran (Old Yeller, The Shaggy Dog, Swiss Family Robinson, Mickey Mouse Club);
* Actors Tim Considine and David Stollery (The Adventures of Spin and Marty);
* Actress Ginny Tyler (Mickey Mouse Club)
* Disney and Pixar animation story artist Joe Ranft;
* Voice actor Paul Frees (Haunted Mansion, Ludwig Von Drake);
* Disney Imagineer Don Edgren (Disneyland, Pirates of the Caribbean, Space Mountain);
* Animation background artist Al Dempster;
* Founder of Walt Disney Records, Jimmy Johnson

The Disney Legends Award was established in 1987 to honor the men and women who have made significant contributions to the Disney legacy. The first recipient of this prestigious distinction was actor Fred MacMurray (The Shaggy Dog, The Absent-Minded Professor, The Happiest Millionaire), and since that time 203 Disney Legends have been named, including this year's recipients. Among the past Disney Legends are Julie Andrews, Steve Martin, Dick Van Dyke, Annette Funicello, Dean Jones, Angela Lansbury, Fess Parker, Kurt Russell, Tim Allen, Hayley Mills, Phil Collins, Art Linkletter, Tim Conway, Sir Tim Rice, Howard Ashman and Alan Menken.
Elton John and band performed in Atlantic City on October 7, 2006
Wednesday, October 11 2006
Fan report by Stephan Heimbecher.
During my two weeks vacation in New York City (which ended yesterday) I took the chance of spending part of my 39th birthday on October 7, 2006 in Atlantic City watching Elton and the band perform at Boardwalk hall (thanks Merck for the tickets, thanks John for the ride).

Believe it or not, this was the first Elton show I have seen in a little over a year (in my professional life I have to travel that often that I hardly ever get a chance to attend Elton shows, not even the one close to my home).

This being the 109th Elton concert I have seen since my first one on May 11, 1984, I was a bit disappointed that the set list at large was very similar to those in the previous years, except for the inclusion of five songs from "Captain and the Kid". Still, Elton managed to "update" some of the classic tracks, most notably the intro to "Take Me to the Pilot", which not only lasted for several minutes but was a great combination of classical elements with Jazz and Funk parts.

While most of Elton's song introductions were pretty much identical to those at many shows before, there were some "highlight moments" including that when a guy selling cotton candy came that close to the stage in between two songs that Elton commented: "One for everyone - this is the first time I see upstage cotton candy in 37 years".

It should also be noted that Elton dedicated "Daniel" to Daniel Pearl (also see 'Elton John raises voice in "Harmony for Humanity"').

Following is the complete set list of the Atlantic City show on October 7, 2006.

Funeral for a Friend

Love Lies Bleeding

Bennie and the Jets

Philadelphia Freedom

Goodbye Yellow Brick Road

Believe

Tiny Dancer

I Guess That's Why They Call It The Blues

Take Me To The Pilot

I Want Love

Someone Saved My Life Tonight

Postcards from Richard Nixon

Tinderbox

Blues Never Fade Away

The Bridge

Captain and The Kid

Mona Lisas and Mad Hatters

Sorry Seems To Be The Hardest Word

Rocket Man

Levon

Crocodile Rock

Bitch is Back

Saturday Night


Don't Let The Sun Go Down On Me

Your Song
This was my house
Thursday, October 5 2006
The house where some of Elton John's most famous songs were reputedly written is being sold.
9, Beck Hill, Tealby - Bernie Taupin's old house is for sale at £250,000. He bought the home in Tealby in 1971 - the same year as his wedding in Market Rasen - to escape the pressures of fame which had befallen him during the four years since meeting Elton John through an NME advert.

The two-bed semi-detached stone cottage at 9 Beck Hill is being sold through Perkins George Mawer and Co for £250,000.

It is 32 years since Taupin sold it for £11,500 and now Noel Hudson is selling up after 26 happy years in the property.

Legend has it in Tealby that Elton John would block the lane with his pink Rolls Royce when he rolled up for parties there.

It is also said that lyrics for "Candle in the Wind" were written there and "Goodbye Yellow Brick Road" was inspired by the road at the bottom of Beck Hill while Taupin was at the cottage he called Piglet in the Wilds.

A century earlier the Tennyson d'Eyncourt family, relatives of the Poet Laureate Alfred, Lord Tennyson, lived there.

Taupin grew up at Owmby by Spital and attended Market Rasen Secondary School before going on to meet Elton John in 1967, penning scores of hits for the star, producing 30 albums through their collaboration and now living on a ranch in California.
Elton to set Sydney record
Thursday, October 5 2006
Elton John is poised to set a new record for the greatest number of performances at the Sydney Entertainment Centre.
Promoters Michael Chugg Entertainment announced on October 4, 2006 a third Sydney show on his "Captain & The Kid" tour for December 1, 2006. It will be the Elton's 40th date at the 12,400-capacity venue. Elton is already booked to play there on November 28 and 29, 2006.

The record-breaking tally, made over 12 concert tours, represents a gross of A$36 million ($27 million), says Michael Jacobsen, CEO of Arena Management, which operates the 23 year old venue. "Elton is the highest grossing act ever for the Entertainment Centre," Jacobsen told Billboard.com. "We greatly value his loyalty to the venue over the course of his visits to Sydney.

The previous record of 39 shows was set in 2003 by veteran local singer John Farnham on his "The Last Time" tour for Talentworks.

Also see Elton John Tour News.
Funeral Charts
Thursday, October 5 2006
Elton John tops the charts as the singer most people would like to perform at their funeral.
After Elton, in the survey by Age Concern, comes Frank Sinatra and Elvis Presley - even though they have both long gone to their graves, so it would be nothing short of a miracle getting either to appear.

Still, few of us will get our wishes because 98 per cent of us fail to make any funeral arrangements before we die.

Meanwhile, James Blunt has knocked Robbie Williams off the No 1 spot in the list of songs played at funerals.

The former soldier's "Goodbye My Lover" was the most requested tune last year, the Bereavement Register's annual survey revealed.

The song came above Robbie's "Angels", which was the previous year's most popular choice. "I've Had The Time Of My Life" by Jennifer Warnes and Bill Medley from Dirty Dancing was No 3.

More than half of the 5,000 people surveyed pick a tune for their funeral and 79 per cent have spoken to loved ones about the songs they would like.

Register founder Mark Roy said: "A song can be an emotive reminder of a person in a time of grief."

Top 10
1 Goodbye my Lover, James Blunt'
2 Angels, Robbie Willams'
3 I've had the Time of my Life, Jennifer Warnes and Bill Medley'
4 Wind Beneath my Wings, Bette Midler'
5 Pie Jesu, Requiem'
6 Candle in the Wind, Elton John'
7 With or Without You, U2'
8 Tears in Heaven, Eric Clapton'
9 Every breath you Take, The Police'
10 Unchained Melody, Righteous Brothers
An enduring vision
Monday, October 2 2006
On October 3, 2006, Sir Elton John continues his worldwide humanitarian efforts to help raise money for HIV/AIDS awareness with the Elton John AIDS Foundation's fifth annual benefit "An Enduring Vision" presented by Bath & Body Works at New York's Waldorf-Astoria Hotel.
Sir Elton John and David Furnish are honorary chairs with Harry Slatkin, Bryan Adams, Daniel Battsek, David and Victoria Beckham, John Demsey, The Earl and Countess of Derby, Nick Faldo, Fawaz Gruosi, Patricia Hearst and Bernard Shaw, Elizabeth Hurley, Evelyn and Leonard Lauder, Viscount and Viscountess Linley, Elle Macpherson, Bette Midler, Lily Safra, Danielle Steel, Donatella Versace as co-chairs.

Whoopi Goldberg, a unique talent who has appeared on stage, screen, radio, television and comedy, will host the gala dinner. To add to the excitement of the evening, there will be special performances by Sir Elton John and singer/songwriter Neil Young. A live auction will be conducted by Vice Chairman of Sotheby's North and South America Jamie Niven.

As part of the evening's program, EJAF will proudly present Enduring Vision awards to Jo and Raffy Manoukian, Billie Jean King and Ilana Kloss, and Frank Tiberius Gangi for their outstanding support of EJAF and its mission.

For ticket information, please contact Eric Washer at Elton John AIDS Foundation, 212-763-9172 or eric.washer@ejaf.org.