ELTON JOHN NEWS ARCHIVE: October 2004
Greg Penny Offers Sneak Preview of Elton John Surround Sound SACDs
Friday, October 29 2004
While it wasn't on the show program, one of the highlights of the recent Surround 2004 Conference in Hollywood was a sneak preview of the upcoming Surround Sound Super Audio CDs by Elton John.
The sneak preview was offered by producer and engineer Greg Penny who is heading up the remixing and remastering of Elton's classic catalog albums into 5.1 Surround Sound.

Penny was the producer and engineer of last year's 5.1 Surround Sound edition of Goodbye Yellow Brick Road which won two Surround 2004 Conference Awards, so it seemed only fitting that he would be retained to continue the series for Elton John and Universal/Rocket Records.

Honky Cat in 5.1 Surround Sound
To kick off his session with a lively start, Penny cued up the new 5.1 Surround Sound remix of Honky Cat from the album Honky Chateau. Session attendees were treated to an exciting new 5.1 mix of the song which featured extensive use of all 5 channels. With Honky Cat, Elton John's vocals are in the Center Channel with the Front Channels being used for the band and Right and Left Surround used for the horns and instrumental accents in the song.

Penny explained that his approach to mixing Elton John in Surround Sound is to duplicate the sound and feel of the original recording, make sure the song "rocks", highlight the singer's vocals and piano (he said "with Elton's songs it's all about the vocals and the piano") and involve the music fan with the song making extensive use of both the front and surround channels.

To my ears, he certainly accomplished all of the above with the new 5.1 edition of Honky Cat. But I would caution SACD fans that if you're looking for a subtle and ambient edition of Elton's songs, you'd best stick to the SACD Stereo track on this one.

Getting The Assignment
One of the more interesting stories Penny told was how he came to get the assignment to produce and engineer the Elton John 5.1 Surround Sound reissue series. Penny has been a big fan of Elton John and first met the singer at age 17 when he sat in on the original recording sessions in France of Goodbye Yellow Brick Road. Over the years, Penny became a recording engineer and producer working with artists including k.d. Lang and of course Elton John with his Made in England album.

According to Penny, he pitched Elton John and his band on the idea of mixing Made in England in 5.1 Surround Sound by creating a 5.1 mix of one of the songs from that album. Penny said that when he played the sample Surround Sound cut for Elton and the band, they said it was great. Then Elton told him he'd like Penny to do a Surround Sound remix of the Goodbye Yellow Brick Road album. Penny said "I was stunned and almost fell off my chair. But I quickly recovered and agreed on the spot." And that was the start of Penny's work on the Elton John Surround Sound remixes.

Exploring The Vaults & Remixing
Greg Penny told us he remains a big fan of Elton John and he was thrilled to have a chance to go through the vaults as part of the project. It turns out that the Elton John master tapes are kept in a vault in a subway tunnel in London. The early albums are recorded on 4 or 8 tracks and then gradually show an increase in track usage over time - with Honky Chateau being the first album recorded in 16 track and Caribou being the first in 24 track.

Sometimes it can be a challenge to find all of the needed tracks. In the case of Benny & the Jets, the crowd applause was initially missing. The missing applause was found three weeks later on an "extras" master tape. Interestingly, the applause was taken from two actual rock concerts - one featured Elton John, and the other starred Jimi Hendrix!

Penny says that his approach is to do the Surround Sound remixes "in layers". He starts by transferring the master tapes to DLT tape, then he works to take out the pops and cracks. Once this has been done, he starts by focusing on the drums, piano and vocals, followed by the backing instruments and then adding reverbs to complete the process.

Greg Penny also talked about transferring his finished Surround Sound mixes to the Sonoma DSD Workstation for mastering and authoring work. He mentioned working on this phase of the project with Gus Skinas of the new Super Audio Center in Boulder, Colorado. He said "Gus is all about the music" and really cares about the finished product. He also noted that Skinas was unable to attend the Surround 2004 event in September because he was "back in the studio finishing up the SACDs" of the 5 Elton John albums.

Isolating The Vocals & Bonus Tracks
To emphasize an earlier point, Penny played the 5.1 Surround Sound versions of Madman Across The Water and Lucy In The Sky With Diamonds. Both featured Elton John's vocals in the Center channel. Penny's view is that he likes "soloing" Elton's vocals on the Surround Sound track of each reissue so that the fans can listen to the vocals only, if they choose. He also said that Elton John himself enjoys this approach to the remixes, saying listening to them is "like looking in the mirror".

Turning to Madman Across The Water, Penny played us the 5.1 remix of the original version of the song, It features guitar in Left Front, vocals in the Center and the "thunder clap" sound effects and string section of the song in the surround channels. He also told us that one of the upcoming Surround Sound albums would feature a "more stripped down, alternate version" of the song. Much as he did with the two versions of Candle In The Wind on the Goodbye Yellow Brick Road, Penny says he likes finding "extras" in his search through the master tapes and thinks music fans will appreciate these extra tracks. I'd agree with him there - the time spent finding and including the extra tracks is appreciated.

Rocket Man and Philadelphia Freedom
On Rocket Man, Penny explained that he wanted to use the Surround Channels to "involve the listener". To do this, he places the band and Elton in the front channels, uses the surround channels for the background vocals and then uses panned sound effects to finish it off. Very nicely done.

Turning to another favorite, Philadelphia Freedom, Penny noted that the original master tape was recorded at a much louder level than other tracks. For the 5.1 Surround Sound mix, he had to "back off" the volume a bit with "all channels going" to make the song sound correct. The final Surround Sound mix didn't sound softer to me at all - it was lively, made extensive use of all 5 channels and definitely "rocked" to use Penny's expression.

Peachtree Road in Surround Sound
Sitting in on the presentation was Matt Still, the recording engineer for Elton John's upcoming album Peachtree Road. Still told us that he mixed the album in both Stereo and Surround Sound from the start at Elton John's request. His approach is to do a rough mix of each cut, audition it for the singer and then "tweak it a bit" based on Elton's comments.

During Still's presentation, we heard two tracks in Surround Sound from Peachtree Road - Answer In The Sky and Too Many Tears. Answer In The Sky is slated to be the first single from the album while Too Many Tears is Still's favorite from a Surround Sound perspective. Answer In The Sky features Elton John's vocals in the Center Channel, the piano in the front channels with strings and background singers in the surround channels. Too Many Tears is a more aggressive Surround Sound mix with some panning and effects in the Surround channels.

What's Next ?
Penny says that his work on the Elton John series has involved 6 albums in total and 82 Elton John songs remixed into 5.1 Surround Sound. As to what's next, Penny is already at work pulling master tapes for the next 5 albums. Surround Sound remixing is governed by what master tapes are available. At this point, Penny says four of Elton's early albums - Caribou, Don't Shoot Me I'm Only The Piano Player, Rock Of The Westies and Blue Moves - are likely to be in the next group of 5 Surround Sound remasters. I suspect we'll see if they are indeed in the line up in the months ahead.



Sony Electronics & Universal Records Announce Elton John SACD Promotion
Friday, October 29 2004 at 09:16:14


Elton John regrets his lip-syncing slip
Friday, October 29 2004
Elton John is ready to kiss and make up with Madonna after recently accusing the pop star of lip-syncing.
"I don't want to escalate it because I like Madonna," Elton tells Entertainment Weekly in the mag's November 6, 2004 issue out October 29, 2004. "She's been to my house for dinner. It was something that was said in the heat of the moment, and probably should not have been said."

"Would I apologize to her if I saw her?" said Elton. "Yeah, because I don't want to hurt any artist's feelings. It was my fault. I instigated the whole thing. But it applies to all those bloody teenage singers."

Elton made the comment when presenting the Best Live Act award during the Q awards in London earlier this month. In EW's November 6, 2004 issue, Elton described the event as "a very drunken lunch."

"The reaction to it was so hysterical," he said. "It was like I said, 'I think all gays should be killed or I think Hitler was right.' I just said someone was lip-syncing. I'm not afraid to speak my mind. I'm not going to mellow with age. I get more enraged about things as I get older because you see that these injustices go on."

(Madonna's spokeswoman, Liz Rosenberg, has said the singer doesn't lip-sync and indicated that she hadn't taken John's remarks too seriously.)

Elton wasn't remiss, however, about recently calling photographers in Taipei, Taiwan, "rude, vile pigs." "The thing in Taiwan was unfortunate," he told the magazine. "We arrived at 12:15 at night, we were going through the terminal, and we were just ambushed. (The photographers) were pretty hostile. They were allowed to stay in immigration and photograph us."

In the article, Elton also revealed he loves Eminem's new album, "Encore"; might collaborate with the Scissor Sisters; doesn't see himself stopping recording; and wouldn't have a "Jennifer Lopez wedding."



Elton John slams Madonna at rock awards
Tuesday, October 5 2004 at 05:03:59

Elton apologizes at Taipei concert
Thursday, September 23 2004 at 19:09:42


Sony Electronics & Universal Records Announce Elton John SACD Promotion
Friday, October 29 2004
Six upcoming Surround Sound SACDs by Elton John will receive a major marketing push when they arrive in early November 2004.
According to representatives from Sony Electronics and Universal Records, the release of the singer's new "Peachtree Road" album and five catalog albums - "Elton John", "Tumbleweed Connection", "Madman Across The Water", "Honky Chateau" and "Captain Fantastic And The Brown Dirt Cowboy" - in Super Audio CD Surround Sound will be backed up with "a major radio and retail promotional campaign that features Sony DVD Dream Systems and ES high-end audio products to raise awareness of these new SA-CD titles."

Included in the marketing effort will be demonstrations of the new Surround Sound SACDs and giveaways featuring a 7 track Elton John Surround Sound Sampler SACD. Also included will be demonstrations from the Super Audio Surround Sound edition of "Goodbye Yellow Brick Road" by Elton John which was released last year and won two Surround Sound awards at the recent Surround 2004 Conference in Hollywood.

In announcing the Elton John SACD promotion, Mike Fidler, senior vice president in charge of Sony's Home Products Division, said that "With Elton John's prolific SA-CD catalog and nearly three million SA-CD products – like our DVD Dream Systems – in the U.S., we hope to drive awareness across all segments of the consumer market."

Commenting for Universal Records, Mike Etchart, one of the key players behind Universal Music's SACD program and director of product and market development for Universal Music Group e-Labs added "Having the SA-CD release of Peachtree Road available at the same time as the CD release will give Elton John enthusiasts a way to experience this great music like never before. Working with Sony will also help drive adoption of the SA-CD format."

Sony Electronics and Universal Records describe the upcoming marketing effort on behalf of the new Elton John Surround Sound SACDs as a "three phase marketing promotion". We're told that the promotion will start in early November to coincide with the release of the 6 new Super Audio CDs and will last through the balance of the year in the U.S.

In terms of the promotion details, Sony and Universal say that the campaign will "will incorporate Sony and Universal-sponsored retail events and radio spots in 14 markets, including Atlanta, Boston, Chicago, Denver, Los Angeles, Miami/Ft. Lauderdale, Minneapolis, New York, Philadelphia, San Antonio, San Diego, San Francisco, Seattle and Washington D.C.

Radio stations in each city, along with leading AV specialty retailers, will host SA-CD "Peachtree Road" listening parties, distribute hybrid SA-CD sampler discs, and promote giveaways of the Elton John SA-CD catalog and Sony DVD Dream Systems. Stations will also run on-air promotional spots highlighting the new Elton John release and Sony SA-CD compatible products. In addition, there will be live in-store radio station remotes.

The campaign culminates with a national grand prize sweepstakes for a fan to receive a free trip to Las Vegas to see Elton John in concert, along with a Sony SA-CD DVD Dream System and the entire Elton John SA-CD catalog."

As noted above, during the Elton John SACD marketing campaign, music fans that attend Elton John listening parties and events at music stores and radio stations will receive an Elton John SACD Surround Sound Sampler. The sampler disc is a Hybrid Surround Sound SACD that features 7 Elton John cuts from the albums coming out in Super Audio CD. The line up of the sampler is as follows:

1. Answer In The Sky - from Peachtree Road
2. Take Me to the Pilot - from Elton John
3. County Comfort - from Tumbleweed Connection
4. Madman Across The Water - from Madman Across The Water
5. Honky Cat - from Honky Chateau
6. All The Young Girls Love Alice - from Goodbye Yellow Brick Road [Deluxe Edition]
7. Someone Saved My Life Tonight - from Captain Fantastic & The Brown Dirt Cowboy

Turning to the sampler jacket, it notes that "Congratulations! You have a special player. You deserve a special disc. The Elton John Sampler you're holding in your hands is very special. It's a Super Audio CD (SA-CD) and it was developed by the same people who invented the Compact Disc. And it was made especially for you to enjoy on your new SA-CD compatible player. Because There's So Much More to Hear™

Elton John has produced one of the most enduring bodies of work in popular music history. Now you can rediscover this great artist's albums all over again on Super Audio CD. And don't miss his newest album Peachtree Road on SA-CD. All these albums have been mixed in both high-resolution stereo and breathtaking 5.1 surround sound. So get ready for an unscheduled visit by Elton John in your living room!"

The Elton John Surround Sound SACD Sampler sounds very interesting indeed. It will be worth watching for as the Sony/Universal Elton John marketing campaign moves around the U.S. in the next two months.
Product Launch to Feature Elton John
Wednesday, October 27 2004
Elton John will be featured in the national TV advertising campaign to launch the MyFi, the first personal, portable XM2GO satellite radio.
Delphi Corp. a pioneer of in-vehicle entertainment and electronics, and XM Satellite Radio, America's number-one satellite radio service with more than 2.5 million subscribers, today announced a major milestone in consumer electronics -- The Delphi MyFi(TM), the first personal, portable XM2GO satellite radio that delivers XM's Ultimate PlayList(TM) anytime, anywhere -- at home, at work, in the car and now, on the go.

XM also announced today that Elton John will be featured in the national TV advertising campaign to launch the MyFi. The TV spot directed by award-winning music video director and photographer David LaChapelle is a humorously surreal celebrity "slice of life," which follows Elton as he travels from place to place listening to his new hit song "Answer in the Sky" from his critically-acclaimed album "Peachtree Road" on his Delphi MyFi satellite radio.

"The MyFi is one of the biggest things to ever happen to radio, and Elton John is one of the biggest names in music," said Panero. "We're thrilled to be working with Sir Elton, and the TV commercial is going to be an enormous hit with viewers."
Elton at Radio Music Awards TV show
Tuesday, October 26 2004
Fan review by Reggie Zippo.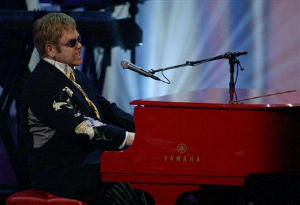 On October 25, 2004, Sir Elton John appeared on the Radio Music Awards TV show to hawk his new American single, "Answer In The Sky". Introduced by actor Sylvester Stallone and boxer Sugar Ray Leonard, Elton sat poised at his famous red piano ready to deliver the goods.

Dressed in a black suit with flower designs crawling up the right sleeve, and accented with a shiny gold tie, Elton began to perform his newest gem. While the low vocal range of the song did not quite transfer well from the studio version to the live performance, Elton delved whole heartedly into the song. He must have lost track of himself, though, because he forgot the lyrics twice.

Although the flubs were very brief, and it may have gone largely unnoticed by passive fans, Elton fans across the USA no doubt picked up on it right away. One wonders how many fans also noticed that Elton was wearing a penis shaped earring.

While Elton's vocals were definitely live, the musical accompaniment appeared to be partially canned. Elton's entire band was present on stage, but the TV camera caught a glimpse of Elton's hands on the piano. The piano kept playing while both hands were clearly not touching any of the keys.

At the end of the song, the entire audience gave Elton a standing ovation before he quickly exited back stage. Overall, Elton delivered his "Answer In The Sky" as best he could. I do not see this song staying very long on any of Elton's future concert set lists. "My Elusive Drug" would have been a much better choice as the first USA single from the new album.
Best Buy launch party
Monday, October 25 2004
Elton John performed at the Best Buy's VIP launch party for the Elton John four DVD collection, "Dream Ticket" at Caesar's Palace Hotel on October 24, 2004 in Las Vegas.
As already reported here earlier, the set includes four DVDs, three showcasing concerts at Madison Square Garden; The Royal Opera House in London and The Great Amphitheatre in Ephesus, Turkey.

The fourth DVD showcases Elton's four-decade career, including performances from the 1970s and 1980s as well as more recent material. The set will be available November 9, 2004.



Opinion: Recurring Dream Ticket
Tuesday, September 14 2004 at 22:24:52

November 9, 2004 is Elton release day
Wednesday, August 25 2004 at 04:47:46


Elton is a generous guy
Monday, October 25 2004
We always knew Elton John was a generous guy, but now we have the proof.
He likes to shower his mates with pressies and, according to Mary J Blige, "he gives the most amazing gifts in the world".

The R&B singer said: "He gave me a gorgeous, black lacquer grand piano as a house-warming gift and for my wedding day he gave me a beautiful portrait of Billie Holiday."

Mary adds that Elton "has such fabulous taste it's a joke. He's just one in a million." And its not just gifts Elton's useful for. Mary said: "I could be in the middle of the ghetto and he'd come and rescue me."
Elton John loving it in Sin City
Monday, October 25 2004
Elton John 'feels at home' and would like to extend his stay at Caesars Palace In Las Vegas.
It sounds good in theory but it was not necessarily a long-term match made in heaven. However, Elton, who signed a three-year deal earlier this year to play The Colosseum at Caesars Palace when Canadian diva Celine Dion isn't in the house, says he's enjoying his residency so much he wants to extend it.

"If they ask me, I will," Elton told The Sun in an exclusive Canadian print interview held in his 29th-floor penthouse suite at Caesars. "You don't know, but I think they might. You can't force their hand. If they do ask me, I would love to because I really enjoy it and the show is such that you can change it with different videos coming in and you can do different songs." As witnessed by The Sun, John's critically acclaimed Las Vegas show, The Red Piano, which debuted back in February, recently incorporated his first single, Answer In The Sky, from his new album, Peachtree Road. It's due in stores November 9, 2004.

The show's eye-catching director and designer, photographer/video director David LaChapelle, provides all of the accompanying films. "There was the obvious pitfall of, 'Well, Elton's gone to Vegas, and end of career, that's what everybody does,' " says Elton, dressed casually in a black track suit and joined by his American cocker spaniel Arthur.

"And I thought, 'Well, Celine hasn't really done that. She's taken a risk.' It's a huge risk for anyone to go into one place and sell out 230 shows a year. I mean, c'mon, that's a huge risk. So I thought, 'How am I going to do this show?' And the only person I could think of was David LaChapelle because he's done my videos before, we're big friends, he knows my catalogue, he's a big fan. And we opened in February to very little rehearsal. In fact, three days rehearsal because Celine was here. We couldn't get in the room. And after all, this is her place. But we had incredible reviews."

LaChappelle provides a wild visual ride to Elton John's reworking of some of his classic songs, including an 11-minute-plus version of Daniel. "I just wanted to do something edgier and more rock 'n' roll," says Elton, sipping a 7-Up while seated at a dark-wood dining room table. "And more visual, using my love of photography and modern art and David's sense of humour. And it works brilliantly. And I have to say every night I enjoy it more and more. I'm not bored with it. I'm only on stage for an hour and a half because that's all they want from me, which is unusual."

"The first few weeks I did it, I couldn't get used to that at all because I'm used to playing for two-and-a-half to two-and-three-quarter hours. It was nice but it's like, 'I've only just gone on and now I'm off.' It's like very strange. And I felt as if I was cheating the audience. But now I'm used to that and the routine of it."

Elton insists he will hit the road again next year in North America, including a stop in Toronto, in support of Peachtree Road and already has two shows slated for November 4-5, 2004 in Atlanta, where the album was recorded and he has one of his five homes. Elton will be joined by a gospel choir at on old church and the performances will be filmed.

"I want to go out on the road with a band and play the album, absolutely," he says. "I will never, ever, get myself in the position where I'm just stuck here and I can't tour anywhere else because that would drive me a little crazy. It's great for Celine because she's bringing up a kid. And she's bringing up a kid in one place and that's what she wanted to do. So it's perfect for her. But for me, I couldn't do that."

But in order to make Elton feel cozy when he is at Caesars, the hotel redecorated his penthouse suite -- his quarters take up half the top floor -- complete with a cream-coloured sectional sofa, modern artwork, and a great view of the strip and mountains beyond.

In the corner of the front hallway is a toy white Siberian tiger, which was a welcoming gift from Siegfried and Roy. "I feel like I'm at home here," says Elton. "It's great. It feels like a New York apartment, because I didn't want the typical chintzy gold Las Vegas suite, thank you very much! They're great here. They look after you so brilliantly. They make sure you're comfortable. They can't do enough for you. I have to say they've been brilliant towards me and I think Celine feels the same way as well."

Not bad for a guy who claims he previously never spent a single night in Las Vegas. "I've never stayed in Vegas overnight before. I'd always flown to Los Angeles. I'd come in. Do the show. Play the MGM Grand. Go home. So yes, I'm surprised at how much I'm enjoying it."



First Review: Peachtree Road
Monday, October 18 2004 at 07:50:13


Music for the Masses
Saturday, October 23 2004
The Radio Music Awards on October 25, 2004 are an excuse to gather big names from all genres for live performances.
Las Vegas is so rich with entertainment and celebrity-spotting, locals hardly think twice about a star-studded awards show falling on a Monday.

But Las Vegas isn't the rest of the country, which makes Monday a prime TV night. "If you think of our target audience, most of them are not out partying on Monday night," says Paul Joseph, co-producer of the Radio Music Awards.

Hence, Joseph is fine with going up against "Monday Night Football" when the awards show originates from the Aladdin for its fifth year in Las Vegas and the second time on NBC.

The awards, chosen by radio programmers across the country, are an excuse to gather big names from all genres. Carson Daly hosts the show that includes performances from Chingy, Green Day, Tim McGraw, Usher and Big & Rich teaming with Gretchen Wilson.

Two of the stars preview new albums: Destiny's Child returns from a three-year break to perform "Lose My Breath," the hit lead-off single from "Destiny Fulfilled," due Nov. 23. And Elton John is set to sing "Answer in the Sky" from "Peachtree Road," due November 9, 2004.

"We do believe in a stadium approach to the show, keeping it moving quickly and making sure the audience feels like they're watching a concert almost instead of a droned-out awards show," Joseph says.

The honors may mean more to the artists than viewers who are inundated with awards shows, which serve as TV's last real variety format.

"They know it comes from radio. I think that means a lot to them, because everything else is television giving the artists awards. This is the program directors and music directors," Joseph says.
Elton John surgery to save his voice
Saturday, October 23 2004
Elton John has revealed he used to smoke so much marijuana he had to undergo surgery to save his voice.
He began smoking large amounts of the drug while he was living in Australia in the 1980s after his brief marriage to Renate Blauel.

He said: "I could speak, and only barely sing. Deep down, I knew that there was something chronically wrong with my voice."

When Elton - who had originally claimed the throat surgery was the result of an infection - visited a specialist, the doctor informed him the marijuana had resulted in tiny growths on his vocal chords, which had to be removed to prevent further damage.

Elton said in an interview with Canadian television: "The first thing the doctor said to me was: 'You smoke a lot of dope, don't you?' I gasped and said: 'How do you know that?' "And the doctor said: 'I can tell by the way you're talking. If you're a singer, the worst thing you can do is smoke dope.'"

As well as saving his voice, Elton claims the surgery in 1987 improved his vocal talents. He added: "We did the operation in Australia and it lowered the timbre of my voice. It's deeper, has more resonance and it's stronger. I used to be a piano player who sang and now I'm a singer who plays piano."

Elton, who is now in a long-term relationship with boyfriend David Furnish, fought a long battle against drink and drugs in the '80s, including a cocaine addiction. He also battled the eating disorder bulimia.
Celebrity Shoppers Battle For Title
Saturday, October 23 2004
Battle has commenced as showbiz stars vie for the honour of being named Celebrity Shopper of the Year. The British Retail Consortium has instituted the awards, and Wayne Rooney's girlfriend Coleen McLoughlin is a strong contender.
McLouglin recently hit the headlines after a £15,000 shopping spree in New York, and as a regular wearer of expensive designer clothes, she could be hard to beat.

But Victoria Beckham, also a habitual shopper, will be strongly tipped to beat her to the crown. Posh Spice is well known for a passion for Prada and Gucci.

Her husband, England football captain David Beckham, also likes to shop for designer gear, and earns a separate nomination.

The winner will be announced at a glittering dinner at the Grosvenor Hotel in London on October 25, 2004.

The full list of nominees is: Laurence Llewellyn-Bowen, Coleen McLoughlin, Sir Elton John, Victoria Beckam, Jamie Oliver, Trinny & Suzannah, Abi Titmuss, David Beckham, Jude Law and Richard E Grant.
A Better Man ... Robbie makes apology
Thursday, October 21 2004
Robbie Williams has publicly apologised to Elton John for slagging him off in his controversial autobiography.
And he is desperate to meet Elton and attempt to patch up their relationship. The singer came close to tears on Australian TV on October 19, 2004 as he broke down and revealed the extent of his regret.

Robbie admitted he only realised the distress he had caused after reading in Bizarre how much he'd hurt Elton by describing him as "weird" for "kidnapping" him and forcing him into rehab.

Speaking on TV show Rove, Robbie blubbed: "I know Elton said I'm not a well budgie and it didn't make me happy. But I've been thinking about it a lot and perhaps it wasn't cool that I've written about it. Maybe I should be saying sorry to him. But I think it is a really interesting story and I didn't mean to cause harm by saying what went on."

Robbie tried to make out he had only ever meant to compliment Elton. He added: "It just shows Elton in a very caring light and he is a very caring man. So if he is upset then 'hey ho' but it wasn't meant to provoke Elton and I want him to know that."

Robbie crossed Elton in his new autobiography, Feel. But the pair have hardly spoken since 1997 when Elton tried to help Robbie by taking him into rehab. The former Take That star was at rock bottom — bingeing on booze, heroin, cocaine and ecstasy. But according to Robbie's new version, he was bundled into a limo against his will.

Elton has always maintained he only got involved after Robbie turned up unexpectedly at his Windsor mansion in a terrible state.



The day I was 'kidnapped' by Elton John
Monday, August 30 2004 at 15:35:50


Elton John Day on MTV Italia
Tuesday, October 19 2004
MTV Italia will celebrate an Elton John Day on October 27, 2004.
The new Elton John video, "All That I'm Allowed", will be broadcast every hour. Furthermore, the special program for the evening is as follows:

8.00 pm - A special Interview (1 hour)
9.00 pm - Elton John Live at Supersonic in Milano

The later was recorded on September 29, 2004. MTV Italia is available both on satellite (at 13°east) and terrestrial.



MTV Italia Special Concert
Thursday, September 30 2004 at 05:48:56

More MTV Italia news
Wednesday, September 22 2004 at 16:03:50

Update: Special promo concert at MTV Italia
Tuesday, September 21 2004 at 18:40:57


Elton's German TV Promo Tour
Tuesday, October 19 2004
Elton will be omnipresent on German TV in November 2004 as he will be massively promoting the new album, "Peachtree Road".
Currently, he is confirmed to appear on the following shows:

13 November 2004
8.15 pm - channel: ZDF - show: Wetten, dass..?

18 November 2004
8.15 pm - channel: ARD - show: Bambi Awards

24 November 2004
10.15 pm - channel: Pro 7 - show: TV Total

27 November 2004
8.15 pm - channel: ZDF - show: "50 Years of Rock"

Please note that most of these channels are available via satellite outside of Germany.



Update: Elton John on German TV
Monday, September 20 2004 at 15:41:32


First Review: Peachtree Road
Monday, October 18 2004
Elton's new album "Peachtree Road" will hit the stores on November 8/9, 2004. Hercules Co-ordinator Stephan Heimbecher provides a quick review for those who cannot wait.
Just recently, I had the chance to listen to Elton's forthcoming album, "Peachtree Road". As with most of Elton's more recent albums, I got the feeling that it will take some more time to grow on me, so I cannot wait for the final copy to arrive in the shops so I can compare my first impressions I will share with you in the following with my thoughts about the tracks after I had the chance to listen to them more carefully.

Another interesting development that I noticed over the past few albums is that almost any of the new songs sounds very familiar even the first time I hear it. I wonder whether that's because Elton is repeating himself or whether I got to know him that good (from a musical point of view) that I can sort of predict his compositions.

In the light of this "forecasting gift", what's strange is the fact that many of the new songs take quite a while to be memorized. I rather re-predict than remember the songs for quite a while. Is it that they are not as distinct as his earlier compositions, or am I just getting old?

As for the following review, please keep in mind that it is very personal and subjective, and it is based on just two back-to-back listening sessions of the new songs. We all know that the opinions of Elton's fans are as diverse as Elton's musical styles. So make sure to form your own opinion once the album is available.

You can click the Amazon link on the right to pre-order the album right away.

1 - The Weight Of The World


The album makes a "wet start" with the sound of light rain merging with what I would call a typical modern Elton John song that sort of reminded me of a last reminiscene of "Songs From The West Coast".

2 - Porch Swing In Tupelo


Elton definitely leaves the west coast with this song, which kind of heralds the new "Peachtree Road" style. I especially like the arrangement of organ and choir on this track.

3 - Answer In The Sky


This song is probably already know to all fans as it has been played up and down US radio in the past few weeks. And it definitely is a very radio compatible song that reminds a little bit of "Philadelphia Freedom". "Answer In The Sky" might not become as classic, but it definitely has hit potential.

4 - Turn The Lights Out When You Leave


Elton goes Country and proves once more that he is home in quite a number of different musical styles. I have to admit that I am not a big Country lover, hence this is not one of my favourites as it also becomes a bit corny towards the end. You can tell that Elton hang out with guys like Ryan Adams to often lately ...

5 - My Elusive Drug


I liked this song from the start and I think this has to be my personal favourite of the album. It has lots of passion and I had the feeling that I was listening to an outtake from "Goodbye Yellow Brick Road" that would have been worthwhile to be included in that classic album from 1973. In my opinion, the drum play is a bit too harsh, but apart from that I simply love this song.

6 - They Call Her The Cat


Right next is my least favourite track. It's a feel-good song that isn't bad, but isn't a musical masterpiece either. To my ears, it's a very average ditty that finds its negative climax in the "meouw" background towards the end of the song.

7 - Freaks In Love


This is another song that fans might already know as Elton has already performed it live in concert. To me, this is the first of two boy group style songs on the album. It could be one of those songs which will develop the more often you listen to them. It has a very catchy chorus that stays in your ear for a while.

8 - All That I'm Allowed


Right next is "Elton goes boy group part 2". Another very catchy tune which is going to be Elton's first single and might indeed work as it also has lots of radio potential due to the its juvenile touch (just suppress that there is a 57 year old singing).

9 - I Stop and I Breathe


Lots of Elton and piano and hence another favourite of mine. I like the arrangement and the way it develops over time. It has a bit of a soundtrack feeling and lots of that "Cole Porter style" that so many fans liked about Elton doing.

10 - Too Many Tears


The piano intro to this song sounds too familiar, but I still couldn't figure out what it reminds me of. The interesting melody and the voice effects produce interest, but the song turns into a typical Elton track far too soon. This one may need a few more listenings before I can give a fair judgement.

11 - It's Getting Dark In Here


This one kicks off like so many Elton John songs, but then it isn't really getting off the ground. Some passages remind me of the opener of the album, which I like better than this one. Maybe I need to hear that one again. So far it sounds unfinished to me.

12 - Can't Keep This From You


Everybody always expects the "classic Elton ballad" for the grand finale of an album. This track doesn't deliver. It has some nice organ and an interesting chorus, but apart from that it is far too chiselled. I didn't like it at all at first listen, but I liked it a lot more in the second round due to its nice vocal finale.

Fergie to Bare All for Aids Charity
Friday, October 15 2004
The Duchess of York is to appear nude but for some Cartier jewels and a pair of Jimmy Choo shoes for charity.
She is among several famous faces who will be appearing in the pages of Four Inches - a book being produced by the exclusive jewellery and shoe designers in aid of the Elton John Aids Foundation.

Her spokeswoman said: "The Duchess is absolutely taking part in this case. It is a fundraiser for the Elton John Aids Foundation."

Fashion photographer Pamela Hanson took the shots for Four Inches - which takes its name from the height of the stilettos worn. Models Kate Moss, Rachel Hunter and actresses Rebecca Romijn-Stamos and Lara Flynn Boyle are among those who are also being tipped to take part.

London-based publishers Scriptum Editions could not confirm the final line-up because the book is still being shot. A spokeswoman said: "It is being produced by Jimmy Choo, ourselves and Cartier in aid of the Elton John Aids Foundation. It features women of various fame in Jimmy Choo shoes and Cartier jewellery. We are still shooting the book."

But the Foundation was remaining tight-lipped about the project. A spokesman said: "It is a photographic project. It is not just a book. The book is just an element of the whole project. We are not releasing any information."

The book is not expected until the spring.
Elton John's Photographs Sell Well
Friday, October 15 2004
Photographs from the collection of rock star Sir Elton John sold for more than half a million pounds at auction on October 14, 2004.
Over 100 pictures from the musician's prestigious collection went under the hammer at Christie's in New York. Robert Mapplethorpe's Vase with White Tulips, from 1988, attracted the highest bids, stretching well beyond its estimate to fetch nearly £47,000.

Another Mapplethorpe work, entitled Calla Lily, from 1987, also sold above the expected price, attracting just over £30,000. The second highest seller was Irving Penn's Mermaid Dress, which sold for over £32,000.

One of the most anticipated lots of the night was Ansel Adams' photograph, The Tetons and the Snake River, Grand Teton Park, Wyoming, 1942, which sold for over £24,000.

Sir Elton decided to sell a few of the works in his collection, simply because he already had so many in the same styles.

Speaking ahead of the auction, held at the auction house's Rockefeller Plaza site in Manhattan, he said: "I never get fed up with looking at the images. I can honestly say that of all things I've collected in my life, nothing has been dearer to me than collecting photography."

Another work by Adams, St Francis Church, Rancho de Taos, New Mexico, from 1929, sold for nearly £14,700. And another Penn, depicting Woody Allen as Chaplin, sold for nearly £11,500.

Christie's said it was delighted with the results. Many of the photographs sold for well above their estimates. Among the pictures were still life, portraits and fashion photography.

Sir Elton began collecting photographs in 1991, and his collection is now regarded as one of the leading private photography collections in the world. From major vintage 20th century modernist works to cutting-edge contemporary images, the collection now holds over 4,000 fine art photographs.

Josh Holdeman, International Director and Head of the Photographs Department at Christie's, said: "The sale of certain acquisitions from time to time often proves a very useful endeavour, ensuring the collection's continued integrity."



The Elton John Photograph Collection at Christie's
Thursday, October 14 2004 at 13:03:28


Elton cools off
Friday, October 15 2004
Elton John is sort of backing off his Madonna bashing.
A week after ripping Madonna for lip-syncing on stage, Elton told the media at a Los Angeles charity this week that his criticism "was probably a bit unfair because there are people who lip-sync worse and whole shows are lip-synced. Her show is not wholly lip-synced." "Madonna is a great artist," said Elton.

His Madonna moment came earlier this month at a London awards ceremony after Madonna's nomination for best live act.

"Since when has lip-syncing been live?" scoffed Elton, using some colorful expressions often found in a Robin Williams routine.



Elton John slams Madonna at rock awards
Tuesday, October 5 2004 at 05:03:59


The Elton John Photograph Collection at Christie's
Thursday, October 14 2004
Fan report by Marian Joy Friedman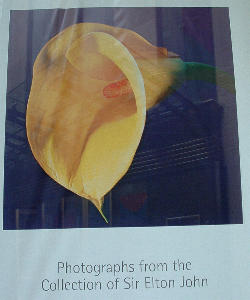 I had the opportunity to see Elton John's 100 piece photograph collection at Christie's in New York City. The collection goes up for auction 6 pm on October 14, 2004.

I appreciated the opportunity at an intimate look at something that is near and dear to our Elton John. To paraphrase Sir Elton John's photography collection, here are some comments taken straight out of the Christie's cataloge describing this very significant collection and collector:

"Sir Elton John's collection is recognized by many in the art world as one of the finest private collections of vintage, modernist and contemporary photographs. Elton began collecting photographs in 1991, soon after becoming sober. Photography with its directneess and poignancy has become symbolic of his new life. In a relatively short period of time, Elton has amassed nearly 4,000 photographs, boldly setting records for vintage works he has acquired at auction and quickly gaining international respect for his insightful eye. Although he is well aware of current art trends and historical opinioins, his acquisition decisions are based upon his personal reaction to the visual impact of a given photograph. [...]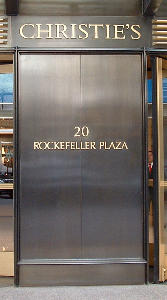 Elton's enthusiasm and highly perceptive understanding of the medium remains a topic of conversation in the city today. [...]

Although difficult for any passionate collector to sell work, periodic sales become a necessary exercise for the continued growth of a large collection. In an effort to diversify concentrated positions in particular artists or subjects, this sale encompasses a variety of works in areas that Elton has collected in depth through the years. It is Elton's sincere hope that this sale will inspire others to look at photography more seriously and possibly begin collecting themselves."

Jane Jackson
Director of The Sire Elton John Photography Collection

Altough only briefly viewing Elton John's photographs at Christie's, the photographs took my breath away and I can say, Elton John has inspired me once again. Yes, I now have an interest in photgraphs and photography. The catalog is still on sale for $35 USD for those interested.



Update: Sir Elton to raise up to £600,000 in sale of photographs
Sunday, September 19 2004 at 11:36:32


Tabernacle shows sold out in four minutes
Wednesday, October 13 2004
It took precisely four minutes Monday for both of Elton John's "Peachtree Road" tour concerts, scheduled for November 4 and 5, 2004 at the Tabernacle in Atlanta, to sell out.
According to the shows' promoters, this represents a new sell-out record for the venue. It could not be confirmed at press time exactly how many blocks of seats Madonna snatched up.

Also see Elton John Tour News
Red Rom: The Musical
Wednesday, October 13 2004
Soccer billionaire Roman Abramovich is to have his amazing life story made into a musical. The impresario wants to hire Elton John to write the songs.
The rights to a biography of Chelsea's Russian boss are being snapped up by top showbiz producer Billy Gaff. He hopes Red Rom: The Musical will have theatre-goers rocking in the stalls. And he hopes the final production will have performers in Chelsea kit in the chorus line.

Billy, Rod Stewart's ex-manager, launched his bid after reading new book Abramovich: The Billionaire From Nowhere. Author Chris Hutchins told The Sun: "Amazingly we got a call from Billy on Sunday and he wants to buy the rights to the book.

"He has a vision of the Red Rom story as a grand musical, a real rags to riches story telling this amazing story of an amazing man. Billy went through some ideas and told us he sees the male chorus line being made up of Chelsea players. He is even planning to ask Elton John to do the music."

Final negotiations are planned for next week. In the meantime our show poster above suggests a possible line-up. Other stars have already had the musical treatment with great success, including Rod Stewart, Queen and Boy George.

And who knows, the new production may end up on Broadway, if Roman, 37, has anything to do with it. The tycoon has just taken on the William Morris agency to represent Chelsea and its players in the US.

The firm looks after Hollywood stars like Halle Berry, Lucy Liu, Jackie Chan and Sarah Michelle Gellar.
Tennis With A Sense Of Humor To Support EJAF In Irvine
Wednesday, October 13 2004
Bille Jean King and Sir Elton John co-hosted the 12th Annual World Team Tennis All-Star Smash Hits this evening at the Bern Event Center at the University of California, Irvine.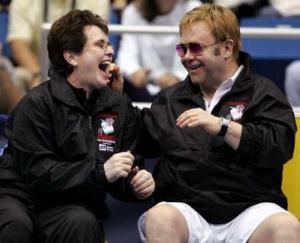 Celebrity players who came to support the Elton John AIDS Foundation included Andre Agassi, Tracy Austin, Darren Cahill, Brad Gilbert, Anna Kournikova and Andy Roddick. Elton and Billie were introduced to the strains of "Philadelphia Freedom," which induced spontaneous clapping to the beat in the stands.

The event consisted of five short sets, starting with a doubles match of Elton and Andy ("Team Elton") versus Andre and Anna ("Team Billie"). The first serve was from Andre to Elton, and Elton returned the serve. When Andre served to Andy at full strength, the ball moved a bit faster to say the least.

Nevertheless, Elton played surprisingly well with the pros and played his best despite all the silliness, including Andre showing Anna how to wiggle her bum and how to serve a ball.

Between points, Elton's music was played frequently, including "Crocodile Rock," "Honky Cat," "The Bitch is Back," and "Saturday Night's Alright (For Fighting)."

Humorous moments during the second set included one incident in which the referee made a call Elton didn't approve of which was met with Elton's middle finger. Later, when Andy Roddick was serving, a fan called out, "it looks faster on TV." Andy called the fan to the court to try to return a few of his serves. The man in the audience managed to return the balls but couldn't get them back on the court.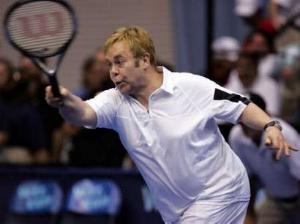 For added humor, a very small ball boy who was sitting most of the evening next to Elton was offered the chance to try to return one of Andy's serves. Andy lobbed the ball to the little boy and he at least hit the ball which brought Elton to his feet in exuberance. At one point, a fan called for Andre to remove his shirt and he obliged to the delight of the fans.

The final two sets consisted of amazing singles play between Andre Agassi and Andy Roddick, with much humorous banter between them. Some of Andy's serves were reported to be 145 mph.

Earlier in the evening, there was a VIP auction event to further support the Elton John Aids Foundation. The program notes include a letter from Billie and Elton in which they state that over the past 12 years, "World Team Tennis has raised nearly $5 million for the EJAF."

The Elton John Aids Foundation has to date dispersed in excess of $50 million in grants globally, making it one of the largest public non-profit organizations in the AIDS arena.

Ray Charles tribute concert held in Los Angeles
Monday, October 11 2004
Hollywood's entertainment legends joined thousands of fans of musical pioneer Ray Charles to celebrate his extraordinary life and musical legacy with a tribute concert on October 8, 2004 in Los Angeles.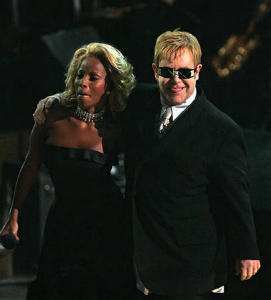 The concert titled "Genius: A Night to Remember" featured renditions of Charles' songs including Stevie Wonder's cover of the 1955 classic "I Got a Woman," Elton John and Mary J. Blige's "(Night Time is) The Right Time" and a performance of "Sinner's Prayer" by B.B. King with Bruce Willis on harmonica.

Other artists including Usher, Norah Jones and Reba McEntire joined the band to croon such classic Charles tunes as "Georgia on My Mind" and "Drown In My Own Tears."

Film stars including Tom Cruise and Morgan Freeman also took center stage to express their admiration for Charles. "He was an extraordinary genius of soul," Freeman said in remarks on Charles' musical and personal convictions.

The evening showcased scenes from the upcoming biographical movie "Ray," scheduled for U.S. release in late October 2004. Film and TV star Jamie Foxx, who portrays Charles in the film, hosted the concert. He praised Charles' talent for breaking musical and cultural barriers, saying, "He was a man whose music touched us all." Charles died June 10 at the age of 73.



Tribute to Ray Charles
Thursday, September 9 2004 at 19:09:01

Ray Charles Dies At 73
Friday, June 11 2004 at 03:42:26

Elton recorded with Ray Charles
Wednesday, June 2 2004 at 11:01:27


Robbie Williams Has A Go At Elton John
Monday, October 11 2004
Robbie Williams took the piss out of Elton John's Madonna hissy fit on Later With Jools Holland this weekend (October 10, 2004) on UK TV.
When he appeared on the show, fans saw his equipment covered in stickers stating "I'm not miming".

Elton John made an outspoken attack on Madonna at the Q Awards in London last week after finding out she was nominated for Best Live Act. "Madonna, best f***ing live act?" he said. "F*** off. Since when has lip-synching been live"?

Williams and Elton John have also had their run-ins in the past. Williams blames Elton for putting him into rehab for alcoholism.

Madonna didn't up ending the award. It went to UK band Muse. However, she is the favourite for the Billboard Backstage Pass Award to be handed out in November.



Elton John slams Madonna at rock awards
Tuesday, October 5 2004 at 05:03:59

The day I was 'kidnapped' by Elton John
Monday, August 30 2004 at 15:35:50


Elton Rocks the Osbournes
Monday, October 11 2004
"Be fabulous," the invitation instructed on the topic of dress. Elton John, the guest of honor and performer at "An Evening at Home With the Osbournes," always dresses with fabulous in mind, and he arrived Thursday (October 7, 2004) night in a black suit with a zipper stretching across the back and down the left sleeve.
The crowd also obliged. For men, it meant suits without ties; for women, it meant colorful outfits accented with major cleavage.

About 250 people showed up, walking up the flower-lined stairs of the iconic Osbournes' Beverly Hills home -- made famous by the MTV reality show -- each paying $2,500 to benefit the Elton John AIDS Foundation and Sharon Osbourne's Colon Cancer Program at nearby Cedars-Sinai Medical Center.

All the Osbournes were present and mingling: Kelly's strapless black dress revealing angel wing tattoos on her shoulder blades, Jack opting for a more conservative look in suit and tie, and Ozzy sporting black tie with tails. Sharon Osbourne, elegantly dressed in black with spiky, magenta hair, came up onstage to introduce the evening and the entertainment. "You're stuck with me and a couple of my friends," she said. "I hope tonight will educate and entertain you."

The educational portion of the evening featured a speaker on colon cancer as well as a video on AIDS orphans: a heartbreaking story about two children in South Africa who represent just a tiny fraction of the 14 million children worldwide orphaned by the disease.

Osbourne returned to the small stage, set up in front of the guest house, to introduce the entertainment portion of the night. "The best, the legendary Elton John!" she announced. "I want to see you on your feet!"

Sir Elton has been in the news quite a bit lately -- less for his music than his profanity-laced tirades against the press and Madonna. So it was nice to see him doing what he does best: performing music, this time beneath stately palm trees in the backyard of the Osbourne mansion. Backed by a band featuring drummer Nigel Olsson and guitarist Davey Johnstone -- who have been with him longer than his current hair -- Elton rocked through a stripped-down set.

He opened the show with oldies including a rollicking "The Bitch Is Back" and an impassioned, solo piano rendition of "Your Song." Then, shifting gears, he said, "We're gonna do something new: you might as well be the guinea pigs for it," introducing "Answer in the Sky," a tune from his forthcoming album, "Peachtree Road". The new number, a classic Elton John power ballad, generated a clap-along response from the crowd. Another new song, "All That I'm Allowed," showed gospel influences. The band was predictably tight and Elton was in strong form and voice, seated at his keyboard and pounding out two-fisted rhythms.

"When we did this event last year," Elton said in a serious moment, "Sharon was ill and had to watch from her bedroom upstairs. I was frightened, but she survived. It's a lesson to all of us. I dedicate this next song to her," he continued, launching into "Sorry Seems to Be the Hardest Word." Sharon stood, arms around a seated Ozzy, watching the show. Elton then closed with a raucous "Saturday Night's Alright (For Fighting)," and he had the whole crowd up and dancing by the end.

The moneyed attendees -- who included 'N Sync's Lance Bass, Quincy Jones, Robin Williams and Jennifer Love Hewitt -- sipped bubbly from Perrier Jouet and dined on miso-cured Alaskan butterfish and five-spice sirloin steak from Asia de Cuba, the trendy fusion restaurant just a few blocks away on the Sunset Strip. Will & Grace's Eric McCormack and Megan Mullally led a live auction, including the sale of an Aston Martin DB 9, purchased by Bass for $220,000. An estimated $1 million was raised by evening's end, to be split between the two charities.
Queen drummer backs Elton's Madonna jibe
Sunday, October 10 2004
Queen's drummer Roger Taylor has supported Elton John in his criticism of international pop singer Madonna.
Elton John made headlines internationally after taking a foul-mouthed swipe at Madonna at the British Q Awards, saying she cheated her fans by miming on stage.

"It is about time somebody said it," Taylor said in Sydney of Elton John's comments. "It is the worst kept secret in the world and I think there is too much bloody dancing in rock n roll and not enough actual singing. So I think it was a very brave and correct thing to say. Maybe she (Madonna) should get an award for dancing but certainly not for singing."

However, fellow Queen band member Brian May said Elton John should have kept his opinions on Madonna to himself. "I think it was being very unnecessarily bitchy, personally, but there you go," May said. "If you don't have something positive to say, you should shut up."

Taylor and May arrived in Sydney earlier this week for the opening of their stage musical, We Will Rock You.



Elton John slams Madonna at rock awards
Tuesday, October 5 2004 at 05:03:59


Elton: They should drop Owen
Sunday, October 10 2004
Elton has gone breaking Michael Owen's heart - by insisting Sven Goran Eriksson drops the Real Madrid striker.
The Tantrums And Tiaras star has urged the England boss to make Jermain Defoe and Wayne Rooney his first choice attack pair.

In his latest hissy fit the 57-year-old former Watford chairman has turned his attentions to the England boys.

In an interview for Radio 5Live, Elton says: "Who should be up front for England? It's got to be Wayne Rooney and Jermain Defoe. They're the best two at the moment."

However, Eriksson does not agree with the pop legend and is set to play all three of his strikers. Owen took part in a full training session yesterday and suffered no reaction from the back injury which had cast a doubt over his fitness.
Elton at The Radio Music Awards
Thursday, October 7 2004
The 2004 Radio Music Awards air live from the Aladdin Casino Resort in Las Vegas on October 25, 2004.
Carson Daly will host the show. Janet Jackson will be honored with the Radio Legend Award. Scheduled performers include Tim McGraw, Usher, Elton John, Destiny's Child, and Big & Rich. Additional performers and presenters to be announced.

The show will air live on NBC Television Network from 09:00 pm - 11:00 pm ET.
Elton John's Billy Elliot — The Musical Announces Triplicate Billys
Wednesday, October 6 2004
Elton John's Billy Elliot — The Musical has found its Billy. Or, rather, Billys, as the title role has been triple cast.
Unknowns James Lomas, George McGuire and Liam Mower are set to play the pubescent prancer. The movie's star, Jamie Bell, was about 14 years old at the time of filming, and his successors in the role are around the same age. Lomas is 14, McGuier 13 and Mower 12.

They were picked from thousands who attended open auditions across the UK. All the children who came through the first round of auditions were offered classes in singing, ballet, tap, street dancing and acrobatics at the Billy Elliot School set up in Leeds. Britain's child labor laws, which require a cast change in the lead role every six months, led to the establishment of the school.

In a press release, the three boys commented on their feelings at being chosen. Lomas said, "[When I started dance lessons in Sheffield], the dance teacher told my mum that I would be the only boy in the class, but I didn't care. . . I really took to dancing; it was also great working with all the girls!"

MacGuire's call up, he reveals, almost didn't happen: "On my first audition, by mistake, I left with a group of boys that were asked to leave. I thought it was all over. I was devastated. The next day we had a phone call to say, 'Where did George go, we want to see him again!' I'd have never thought I would be here now."

Mower says, "All my dreams are coming true."

The first night of the highly anticipated stage version of the movie "Billy Elliot" is scheduled for March 24, 2005. Three press nights are now promised, one for each boy — because the show will be subtly altered for each of the child actors.

Originally, Billy Elliot — The Musical was due to open at the Victoria Palace after premiering at the Tyne Theatre, Newcastle — the native city of the film's creator, Lee Hall. But the producers were forced to reschedule after the venue (better known as the Newcastle Opera House) was closed last June.

The story of Billy Elliot is set in the North East of England during the miner's strike of the 1980's. The eponymous hero is a sensitive young boy who discovers a talent for ballet. Billy is the only child of a single parent, a macho father who believes that dancing is for girls and that boys are better suited to boxing.

The movie marked the cinematic debut of theatre director Stephen Daldry, who will also direct the musical for which Hall has written the book and Elton John the score.

"Billy Elliot—the Musical is the most complex and challenging production I have ever undertaken," said Daldry earlier in 2004. "Finding a boy from the north with exceptional talent has been our primary focus. The vast majority of the children we have seen are not from stage schools, but have managed, like Billy, to overcome extraordinary difficulties in achieving their dreams. Our responsibility is to give them the opportunity to flourish. If we succeed, then next March we'll be presenting the unique experience of watching a new star literally developing before your eyes."



Everett fires back at Elton over Madonna criticism
Wednesday, October 6 2004
Rupert Everett has accused Elton John of being "bossy and cranky" after he criticised his pal Madonna for lip-synching on her Re-invention world tour.
The British actor became close friends with Madonna when the pair teamed up in film flop "The Next Best Thing" and he has stepped in to defend her after Elton attacked the singer during the Q AWARDS ceremony in London.

Everett fires back, "I don't understand what he's got against her because this is the second time he's stuck into her a bit. That seems really unfair to me. Listen, any singer who dances all the time, you don't have the breath to sing all the time. Everyone knows that. It's unfair to make it a point. If you do a heavy dance routine, at some point you're going to do a bit of lip-synch. But everybody does that."

"Madonna sings everything she can sing but, if she goes into a dance routine, she's got to dance; you can't breathe and dance and sing at the same time. She doesn't lip-synch her whole performance."

"I bet Elton has lip-synched moments of his performance, even though he's at a piano all the time. He's very bossy these days, I think. I mean he's lovely but he's a bit bossy and he does seem a bit cranky."



Elton John slams Madonna at rock awards
Tuesday, October 5 2004 at 05:03:59


Elton's 'A fat frog'
Wednesday, October 6 2004
Madonna fans have hit back at Elton John after he accused her of miming.
While she had a laugh and denied it, a fan on website www.drownedmadonna.com fumed: "Christ, is he still alive? Is he senile, getting Madonna mixed up with Britney?"

"He should stick to writing crap tunes. He wears a wig and stupid specs. At least Madonna is a woman, not a fat frog."

This catfight could go on and on.



Elton John slams Madonna at rock awards
Tuesday, October 5 2004 at 05:03:59


Elton's Bitchionary
Wednesday, October 6 2004
Following Elton's attack on Madonna, newspapers - especially those in the UK - are full of Elton these days.
According to the Sun, no one is safe from the acid tongue of Britain's scariest knight, Sir Elton John. According to the newspaper, Madonna was just the latest victim in a long line of astonishing Eltbursts.

On October 5, 2004, the Sun crowned Sir Elton Queen Bitch and compiled a "bitchionary" of his tirades.

AIDE: Elton once screamed the F-word 20 TIMES at an aide who forgot to pick up his costume for a video shoot.

BENEFIT: At an AIDS fundraiser in 2000, Elton bitched to a waiter: "This is like a third-rate wedding" after his dinner was late.

COWELL: Pop Idol's Mr Nasty got a tongue-lashing from Elton.

He said: "I am on the side of the artists. I am not on the side of someone like Simon Cowell who sees them as another Mercedes Benz in his pocket."

DANNY FOSTER: Elton is not a fan of his band Hear'Say. He said: "They are the ugliest band I've ever seen. If you're going to have a boy band or girl band then they've got to be good-looking. The guy Danny looks like Shrek. I feel sorry for them."

ELTON: The arch bitcher can't even resist a pop at HIMSELF. After watching fly-on-the-wall documentary Tantrums And Tiaras he said: "I looked at myself and thought: 'She's an absolute cow!' I had to laugh. I was just impossible."

FLOWER ARRANGERS: Thought they were harmless? Think again. When presented with a bouquet once Elton delivered a withering: "I loathe flower arranging — it's a hideous profession."

GRAMMYS: Elton caused uproar when he reviewed a Stevie Wonder video on kids TV show Live And Kicking. He joked: "Grammy Awards only go to disabled people." Producers were forced to apologise on his behalf.

HELLO: Whatever you do don't utter this friendly greeting to Queen Elton. He cut short a holiday in the South of France because a fan said hello. He ranted: "I'm supposed to be on f**ing holiday. I'm never coming here again, get me on a plane tomorrow." Let's hope no one annoyed him more by saying goodbye.

INJUSTICE: Elton branded the American public "incredibly racist" when three black contestants on TV show American Idol continually came bottom of the viewers' phone poll despite having brilliant voices.

JORDAN: Elton didn't like her whoppers, branding her "a ridiculous liar" when she claimed his pal Becks made a play for her.

KING: Elton wished he was "King of the music business" so he could ban music video TV. Luckily for MTV he doesn't have blue blood.

LUCY GEORGE: She was the photographer who tried to snap Elton leaving Liz Hurley's home. He bawled: "I hope you die of cancer of the clitoris."

MADONNA: As well as this week's outburst he previously attacked her for complaining about lack of privacy, saying: "We have this wailing from people like Madonna who've manipulated the press to suit their own ends."

NOSE: According to Rod Stewart, big bully Elton regularly teases him about the size of his hooter.

Rod said: "Elton always calls me Phyllis and makes fun of my nose."

OSCARS: Elt did not mince his words after this year's Oscars. "It was the most boring Oscars I have ever seen. I thought there might be one surprise in the song category but even there Lord Of The Rings won. And I don't think it deserved to."

POP MUSIC: Elton caught a host of pop pups in this swipe at the industry. He ranted: "The Backstreet Boys, NSYNC, Britney Spears, S Club 7, Steps — the music is like packets of cereal. There are too many of them, too many of them are just average and mediocre."

Q AWARDS: The Rocket Man went into orbit at the awards bash this week, exclaiming "F*** off!" at the idea of Madonna being Best Live Act and branding Robbie Williams "not a well budgie."

RUDE: Elton branded a female guest at a charity bash "One rude bitch" when she said she could play the piano better than him. He stormed out and had to be coaxed back by organisers.

SORRY: No don't be silly, Elton has never actually said sorry but the music critic who panned the singer's duet with Blue certainly was. Elt fired off a fax saying: "Sorry happens to be a beautiful song sung by Frank Sinatra among others. As a musician, I know this. As a w*****, you wouldn't. Have a nice day."

TINA TURNER: Elton flew into a rage with the leggy diva during rehearsals.

No one knows exactly what he said but Tina later admitted: "I learned the hard way that you don't tell Elton what to do."

UGLY: This is what he branded the Diana Memorial Fountain. Appalled at the tribute, the Candle In The Wind singer said: "It's purely ugly, it looks like a sewer."

VILE PIGS: In a recent tirade Elton screamed "rude, vile pigs" at police and photographers who were waiting for him at Taiwan airport.

WATFORD FC: Even Elt's beloved footie team don't escape his sarcasm. When in the running for an Oscar he said: "I'll be fine if I don't get an Oscar. I was chairman of Watford FC so I know what it's like to lose."

X-WIFE: He said of former wife Renate Blauel: "The nicest person I have ever met. I don't have one negative thing to say about her." I beg your pardon, Elton?

YOO-HOO: Do not under any circumstance say this to Elton. In 1996 he threw a wobbly when a female fan called "Yoo-hoo" as he was playing tennis. Elton raged: "It p*****d me off. I take my tennis seriously."

ZELLWEGER: Elton left svelte star Renee distraught when he implied she was too thin and had an eating disorder.



Elton John slams Madonna at rock awards
Tuesday, October 5 2004 at 05:03:59


Elton John slams Madonna at rock awards
Tuesday, October 5 2004
Elton John has launched a scathing attack on Madonna, accusing her of cheating fans by miming on stage.
Elton targeted the Queen of Pop in his latest public outburst. Attending the Q Awards to pick up a prize for his songwriting, Elton was incensed to find Madonna had been nominated for best live act.

Taking to the stage, Elton blasted: "Madonna - best f****** live act? F*** off. Since when has lip-synching been live? Anyone who lip-synchs in public on stage when you pay £75 to see them should be shot."

He ended his rant by saying: "That's me off her f****** Christmas card list but do I give a toss? No."

Madonna did not win the award - that honour went to British band Muse. She was nominated for her Reinvention tour. The show attracted criticism in some quarters because tickets were so expensive.

The outburst at the Grosvenor House Hotel in Central London came after Sir Elton hit the headlines last month by branding Taiwanese photographers "rude, vile pigs" in an airport bust-up.



Taiwanese Tantrums
Thursday, September 23 2004 at 12:20:01


David defends 'vile pigs' outburst
Friday, October 1 2004
Elton John's lover David Furnish has defended the singer's outburst at a Taiwanese airport - insisting he was tired after a long flight.
Elton lashed out at a waiting bunch of photographers, calling them "vile pigs", but David Furnish says someone should have protected him from the media scrum.

Furnish explains: "People don't realise what happened. First his plane had to circle in the air for an hour. Then when he landed he had to walk half a mile to customs and go through all the security. Nobody stopped them, nobody protected him."



Taiwan's media the rudest I've met, says Elton
Friday, September 24 2004 at 13:20:53

Elton apologizes at Taipei concert
Thursday, September 23 2004 at 19:09:42

Taiwanese Tantrums
Thursday, September 23 2004 at 12:20:01


Sir Elton: Brooklyn will get my cash
Friday, October 1 2004
Elton John is to leave his millions to godchildren Brooklyn Beckham and Damien Hurley.
The 57-year-old said he wanted to 'take care' of the boys after his death.

Elton, who is worth £175 million, said: "They are going to inherit a fair old whack, but our godchildren play a very big part in our lives."

The singer and his lover David Furnish have 10 godchildren, including David and Victoria Beckham's son Brooklyn, five, and Liz Hurley's two-year-old, Damien.

Elton said the rich kids would get his cash because there was no one else he could think of.

He added: "There was a part of me going, 'Who am I going to leave this to?' and it was going to be nobody. We have enough godchildren to leave everything to now and take care of them."

Elton revealed he and David had considered adopting a family of their own.

He said: "We always have children with us. I love kids. It was an honest decision for us not to adopt. I thought, 'I am too selfish and stuck in my ways.' The former Watford chairman revealed that he and advertising executive David are still as close as ever."

Elton said: "It is just the most fantastic relationship. It's a great romantic, physical, friendship thing. Every Saturday, wherever we are in the world, we give each other a card as it's our anniversary - we met on a Saturday. It is great if we can be together to do it, but if not, I courier one to him and he couriers one to me."
Crazy Water
Friday, October 1 2004
Speaking of the Diana Memorial Fountain, Elton says it's "one of the most disgraceful things" he's ever seen.
"It's purely ugly. It looks like a sewer," Elton continues. "It looks like one of those water park rides that's just collapsed on the floor. It's hideous. Hideous. Disgraceful!"

Sir Elton suggests that the money should have been spent on a hospital wing instead of a fountain.