Rod Stewart even claims Sir Paul escapes mockery because of his knighthood. McCartney married former model Heather Mills last year and the couple are now expecting their first baby.

And Stewart, 58, says: "What p***es me off is they never have a go at Paul McCartney for marrying a younger woman. He's 60 and Heather is 34, but they kill me because of Penny. Perhaps it's because he has a knighthood, a wonderful little honour to be bestowed on one."

Stewart, whose songs have been made into new West End musical Tonight's The Night, also takes a swipe at several other icons of pop.

He says Sir Elton John, whom he nicknames Sharon, should lose some weight. "Sharon doesn't invite me to any of her dos, the miserable bugger.

"Perhaps she doesn't want competition. My hair is nice and real and looks it, and her's doesn't.

"No, I take that back. He looks good at the moment, but he could lose a bit of timber."

And he labels Sting a do-gooder, saying he is "astounded" that he's never won a prestigious US music award like the former Police frontman.

He adds: "They tend not to give it to the British unless you're Sting. The sun shines out of his arse, a pure jazz musician, Mr Serious who helps the Indians."
Tickets for the first series of Colosseum engagements beginning February 13 through February 22, 2004 go on sale on October 22, 2003 at 10 a.m. All performances begin at 7:30 p.m. Tickets are priced at $250, $175, and $100 (plus applicable taxes and handling charges) and are available by calling 888-4-ELTONJ (888-435-8665), or by visiting www.ticketmaster.com, or in person at the Caesars Palace Box Office.


Elton denies Vegas reports
Monday, September 22 2003 at 12:55:50



Doodle for Hunger
Friday, October 17 2003

A doodle by Elton John will be part of the Doodle for Hunger celebrity art auction to take place in New York, October 21, 2003, to support the Capuchin Food Pantries.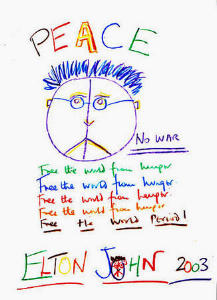 Every week, the Pantries feed, clothe and shelter more than 1,000 underprivileged New Yorkers.
Elton John on German TV
Thursday, October 16 2003
Elton John is scheduled to come to Germany on October 27, 2003 for the recording of the show "Absolut Elton John".
We can finally reveal details about the TV show which has been mentioned on this website for the past few weeks. "Absolut Elton John" will be recorded in Cologne on October 27, 2003. The date has been moved a few times, but we hope that this is now final.

The broadcast date for this one hour show is not yet know, but fans in Germany should expect it in November 2003. The host of the show is Oliver Geissen.

Tickets for the show are available www.ticketservice.tv for the price of Euro 25 each.
New album will be delayed
Wednesday, October 15 2003
Early October 2003, Elton was due to begin recording his next album in Los Angeles. Waiting in the studio were producer Patrick Leonard, several musicians and an English television crew making a documentary.
Time came, and time went, yet still no sign of Sir Elton. "Eventually he rang to say that he was feeling 'overtired'," says one who was there. "He did at least call up personally, but even so. We will apparently be summoned back in the New Year to start all over again."

Barbara Charone, Elton's publicist, explains: "Sir Elton has been writing a musical and decided to take a break."
Elton won't perform at Carl Wilson Foundation show
Wednesday, October 15 2003
Elton John will be unable to perform at the 6th Annual Benefit Concert of the Carl Wilson Foundation on October 16, 2003.
At this point in time it is not yet known why Elton cancelled his performance.

"We are saddened that Elton, who has been a part of our extended family since the 1970s, will not be with us this year, and we appreciate how supportive he has been of our foundation," said CWF's Jonah Wilson.

"The Beach Boys' music and Southern California style has been such an incredible influence in my life. The Carl Wilson Foundation and the evening are very special to me. I truly wish I could be there in person this year; but I will be with Jonah, Justyn, and the fans in spirit," said Elton John.



UPDATE: Elton to perform with Brian Wilson
Sunday, September 14 2003 at 19:13:25


Love at first suit
Sunday, October 12 2003
It promises to be the most dramatic New Look since Cinderella went from grunge to glam. Elton John is being made over by Yohji Yamamoto.
It was love at first suit for Elton and the cerebral Japanese designer, according to a source in Tokyo, who says that Yamamoto has been secretly working on a public and private wardrobe that will be unveiled at Elton John's upcoming world tour, which opens in Fresno, California on November 8, 2003.

Will Elton embrace the more soulful side of Yamamoto's creative designs - such as the poetic men-in-skirts collection that was shown as a menswear collection in July? Or will he go for the designer's classic navy tailoring, white shirts and boxy suits?

Yamamoto's office declined to comment, saying that they never discuss private clients. But apparently up to 20 custom-made outfits have been created with personal fittings that have required a tailor to follow Elton John around the globe.

And maybe the outfits will not be so low key, for Yamamoto himself has a rocker side, having once created his own Tokyo band and produced costumes for Japanese gangster movies. Rich velvets and chunky silver jewelry have appeared on his runways and the designer often wears a jaunty burgundy fedora that could be just the headgear for his new client.

Elton John may have been encouraged to change his look by his stylish and fashion-aware partner, David Furnish. But divesting himself of glitter-gulch suits could come from a similar instinct to make over his London home from sumptuous to simple. A sale of Elton's interior décor, including a birch and maple wood bedroom suite by the royal carpenter David Linley, went under the hammer at Sotheby's in London last month, bringing in £1.4 million for Elton John to put toward his new clothes.

Justin Timberlake = Elton John?
Sunday, October 12 2003
Sir Elton John is desperate for Justin Timberlake - but only to star as the pop legend in a film about him.
Elton is about to begin work on a script with songwriting friend Bernie Taupin, according to The Sun. Both are reported to be keen on Britney Spears' ex-boyfriend to portray part of Elton's life.

Elton is said to have been impressed by Justin's performance as the Rocket Man in the video for his track "This Train Don't Stop There Anymore".

"He's a really talented boy, he gave me the chills when I watched him in the video. It was actually so close to me," said Elton.

Three actors will play Elton portraying his life, with Justin appearing as the singer in his 20s.
John Jorgenson & Friends
Friday, October 10 2003
Merseycats, the original Merseybeat groups of the Sixties (The Rock'n'Roll Childrens Charity) are proud to present John Jorgenson & Friends performing a charity concert on Tuesday October 28, 2003 at Churchills Club in Wavertree, Liverpool, UK.
Tickets are priced at £6, all proceeds from the night are to benefit local childrens charities.

There are a limited number of tickets available, if you would like to order/book tickets for this event please call Frank at 44 771 243 0553 or Keith at 44 776 890 8591.

For the many who have seen John and his band in the past we sure you will agree this promises to be a great nights entertainment and for those who have not, why not give it a go, you won't be disappointed, and you would be helping a good cause at the same time.
Elton John - The TV Show
Friday, October 10 2003
Elton could be landing in your living room next season. Fox has green-lighted a new drama series based on the tunes of Elton John and Bernie Taupin.
The network has made a pilot commitment to Rhapsody, the musically minded brainchild of onetime teen popster and former Hardy BoyShaun Cassidy and Warner Bros. TV.

Set in the vein of Moulin Rouge, and not Cop Rock, says Cassidy, characters will sing on camera even though the hourlong show is not an outright musical.

"It's a soap opera with the emphasis on the opera," Cassidy told Variety. "There's a murder mystery and a power struggle and a big, grand love story. The storytelling will have a strong musical component like what's been out there for 20 years with music videos but not longform [TV]."

If the series is eventually renewed, the second season would feature a new cast and catalog of music, much like a reality series.

"Audiences seemed primed to accept a new format and characters [each season], where the only constant is the narrator," said Cassidy. "One year it's The Bachelor and then it's The Bachelorette."

While Cassidy wouldn't divulge many details about the plot, a Fox development exec called Rhapsody a "really intriguing tale of two families."

Cassidy, who developed Rhapsody as part of a deal with Warner Bros. TV, also serves as an executive producer on the new WB network series Tarzan.

Despite his musical background, Cassidy won't write or sing any songs for the project. However, Elton and Bernie, who will serve as consultants (and creative inspiration) on the series, may contribute original compositions along with their established hits.

"Elton and Bernie's catalog is one of the most well-known in popular music history," Cassidy told Variety. "At its heart, there are a lot of stories in there, and to be able to use those songs is a gift."
Elton is Absolutely Fabulous!
Wednesday, October 8 2003
Elton is to appear in the new series of popular British sitcom Absolutely Fabulous.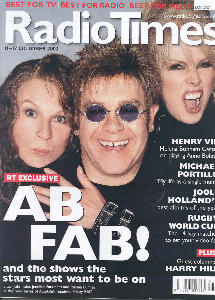 He is on the cover of the Radio Times issue dated 11-17 October with the show's stars Jennifer Saunders and Joanna Lumley.

Elton appears, as himself, in episode six which is due to be broadcast on November 21, 2003.

Other guest stars in this series include Emma Bunton, Minnie Driver, Kristin Scott Thomas, Kate O'Mara, Mariella Frostrup, Robert Lindsay, Jean Paul Gaultier and Fern Britton.

An earlier series had a guest appearance from Elton's friend Lulu.

Elton is clearly getting a taste for these guest appearance having previously been in Ally McBeal and Will and Grace.
Jet-setters up for Concorde's final flight
Wednesday, October 8 2003
The Concorde's last hurrah on October 24, 2003 will be a freebie for invited loyalists, who are apt to include Paul McCartney, Elton John and Rudy Giuliani, with Prime Minister Tony Blair on hand at the arrival.
Television interviewer David Frost plans to be on the final SST flight from Kennedy to Heathrow. "It was really a club more than anything else - the atmosphere was always very friendly," says Frost, who has been a loyal Concorde passenger since British Airways and Air France jointly launched the supersonic transport in 1976.

"I'm afraid I never saw anything really dramatic happen during a flight. The most dramatic event was when someone spilled his soup."

The workaholic Frost, who liked to leave London at 6 p.m. and arrive in New York three hours "earlier," didn't even blink at the fare - in the end, $12,000 round-trip. But this time, the Concorde's last hurrah will be a freebie for invited loyalists, who are apt to include Paul McCartney, Elton John and Rudy Giuliani, with Prime Minister Tony Blair on hand at the arrival.

British Airways is mum on the guest list, but spokesman Jeff Angel says, "It will be a hugely historic moment."
The Sharon Osbourne Show
Wednesday, October 8 2003
Happy Birthday to Sharon! Sir Elton John makes a special visit to the set along with Sharon's daughter, Kelly Osbourne, on October 9, 2003.
Sharon gets Elton and Kelly "Under the Covers" for a candid, fun interview and Elton performs some of his signature hits!

See http://sharon.warnerbros.com/ for more details and a video preview.



More duet rumours
Tuesday, October 7 2003
According to rumours, Daniel Bedingfield will sing a duet with his pop hero - Sir Elton John for this year's Children In Need show on November 21, 2003.
There's been no official confirmation so far, but Daniel's fansites are certain the duo will hook up for a live performance on the BBC charity event, having heard that, "the pair, who have already met," will release an as-yet-untitled charity single on November 24, 2003.

In the meantime Daniel Bedingfield releases a sixth single - Friday, from his triple-platinum selling debut album, Gotta Get Thru This on October 20, 2003 through Relentless.
Dennis a menace, Sir Elton tells crowd
Tuesday, October 7 2003
Elton John loves Andre Agassi, and he loves Las Vegas. But Sir Elton absolutely despises Dennis Miller.
Elton attacked Miller from his piano perch at the end of the "Grand Slam for Children" benefit hosted by Agassi at the MGM Grand Garden Arena on October 4, 2003.

"Americans are always asking why the rest of the world hates them," Elton said after singing his first song, "Tiny Dancer." "Well, the reason is Dennis Miller."

"You've all gone mental if you liked that," Elton said, before looking at the floor and shaking his head in disgust. Earlier in the show Miller delivered about 20 minutes of his usual act -- biting, sarcastic political humor with a very strong right-of-center slant.

Miller's remarks include bits about not caring about blowing the Baghdad Museum to bits, and his advocating killing caribou and raping Alaska for oil so there would be a lessened dependency on foreign outlets.

VegasBeat spoke to Miller after the show and asked him if he had heard Elton John's remarks. With a smile, Miller said, "Everyone is entitled to their opinion." Then he made a quick exit into a staging area where we weren't allowed to go.

VegasBeat caught up to Elton, he didn't want to talk about Miller, but did lavish praise on Agassi for his charitable work. Sir Elton will make public the details of his 2004-05 Colosseum engagement at an October 21, 2003 announcement. He will perform on some of Celine Dion's dark nights.

"I love Las Vegas and I am looking forward to being here more often," he said.



Grand Slam for Children benefit concert
Monday, October 6 2003 at 06:32:22


Grand Slam for Children benefit concert
Monday, October 6 2003
A record $12.6 million was raised this year at the eighth annual Andre Agassi Charitable Foundation Grand Slam for Children benefit concert at the MGM Grand Garden Arena in Las Vegas, Nevada, October 4, 2003.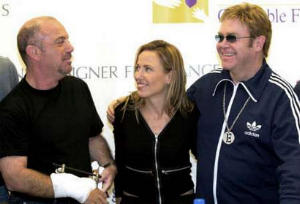 Sir Elton John, Billy Joel, Sheryl Crow and more performed at the eighth annual Andre Agassi Charitable Foundation Grand Slam for Children benefit concert at the MGM Grand Garden Arena in Las Vegas, Nevada, October 4, 2003.

The event raises money to assist less fortunate children in Agassi's hometown of Las Vegas. A record $12.6 million was raised this year.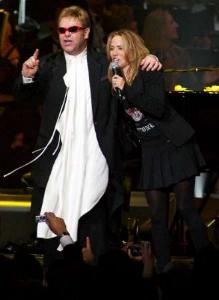 Elton John, Sheryl Crow, Curt Smith from pop band Tears for Fears, singers Renee Olstead and Sarah McLachlan and Roland Orzabal from Tears for Fears, perform during the finale of the show.

Billy Joel did attend despite the fact that he had broken his wrist a few days earlier.

During the show Elton was wearing an oversized bib. A hidden homage to Amy? Just kidding ...
Coretta King plans move to Buckhead condo gift
Monday, October 6 2003
Two of Atlanta's best-known residents are about to become neighbors in Buckhead.
Coretta Scott King, wife of slain civil rights leader the Rev. Martin Luther King Jr., is moving out of the family's longtime house in Vine City and into Park Place on Peachtree Road, a condominium high-rise noted for its security and discretion. It's also the part-time residence of pop star Elton John.

In a statement, King Center communications manager Robert Vickers said, "Mrs. King has been blessed with many good friends over the years who care about her deeply. After much deliberation, she has decided to accept an anonymous lifetime gift from one of those friends."

The gift consists of two adjacent condo units on the property's 39th floor. Vickers said work is now being done on the property and that King is "a few months" away from a move.

The name of King's generous friend was not released, and King could not be reached for comment. Her numerous confidants include TV talk show host Oprah Winfrey and poet and author Maya Angelou. Angelou recently parted with property she owned in Dunwoody.
DVD "The Lion King"
Sunday, October 5 2003
Elton John attended the premiere of the DVD special edition of the animated Disney film 'The Lion King' in Hollywood on October 3, 2003.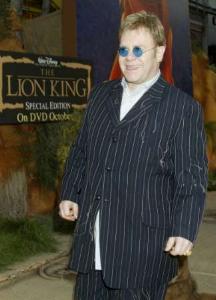 The DVD will be released October 7, 2003. It will be available as Special Platinum Edition as well as Special Platinum Edition Collector's Gift Set.


A Lady called Amy
Thursday, October 2 2003
What happens if you "add" two Elton John fans? You get a lady called Amy.
Hercules Coordinator Stephan Heimbecher will slow down over the next few weeks ... as far as his Elton John related work is concerned. Why?

Because on October 2, 2003 his baby girl Amy was born by his wife, who also happens to be a devoted Elton John fan.

For more details, see www.heimbecher.de/baby.
Elton John on TV
Thursday, October 2 2003
Elton John can be seen on two US TV shows on October 2 & 3, 2003.
Elton will be on the Ellen Degeneres Show on October 2, 2003. According to their website, he will stop by to chat and perform!

Furthermore, Elton will be on the Jay Leno Show on October 3, 2003. He will be accompanied by the band and is expected to perform at least one song.

Elton John Furniture Sale Smashes Expectations
Wednesday, October 1 2003
Elton John's sale of the contents of his London home as he goes minimalist after a lifetime of flamboyant extravagance, smashed expectations as it raised over 1.4 million pounds ($2.3 million) on September 30, 2003.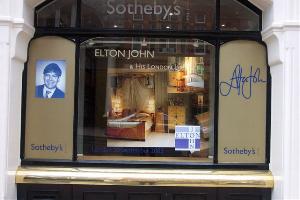 The auction of everything from Elizabethan paintings to Art Deco beds had been expected to raise 800,000 pounds with prices ranging from 40 to 40,000 pounds for items of furniture, paintings, baubles and even a pair of stone poodles.

"This wasn't a sale of memorabilia, but Elton's taste proved to have an extraordinarily wide appeal with enthusiastic buyers from around the world," Marcus Linell, specialist at auction house Sotheby's, said.

Unlike the 1988 sale of the singer's entire wardrobe, there was little personal in Tuesday's auction. "He bought everything in a six-month spree and told his decorator to make something of it," said a Sotheby's spokeswoman before the sale.

Top price in the sale was paid for Maxwell Armfield's painting of Madison Square Park which went for 67,000 pounds, nearly double its top pre-sale estimate, while a portrait painted in 1617 of Queen Elizabeth I and priced at 40,000 pounds was knocked down for 54,000 pounds.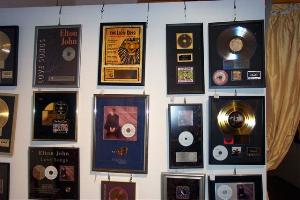 The pictures were among a large selection of mostly 16th and 17th century portraits priced from 4,000 pounds that hung in the singer's Holland Park home, dominating the entry hall.

The sale included lamps, gilt mirrors, glass baubles, candelabras, tables, cupboards, clocks, statues, a full dining room suite and dinner service, the contents of two living rooms and several bedrooms.

Elton's own satin birchwood and rosewood bed went for 3,600 pounds, more than double the expected price. Virtually everything was sold from a complete sitting room suite in leopard skin fabric to a striking picture by Paul Jouve of a black jaguar waiting to pounce on its unwary victim.

A spokesman for the singer/pianist who has made -- and spent -- millions in a prolific career spanning some three decades said he was "delighted" with the result of the sale.





Elton's £800,000 houseware sale
Tuesday, September 30 2003 at 17:35:23


Wanted: One-of-a-kind Elton fans
Wednesday, October 1 2003
For an Elton John related TV programme which will be broadcast at the end of 2003, an production company in Germany is looking for real Elton fans with a unique collector's item to present or a special story to tell.
Did you acquire one of Elton's inimitable stage costumes? Do you own any other very special Elton John collector's item including rare photos from the early years?

Or do you have a special Elton John related story to tell? Do you know someone who has known Elton in the early days or are you such person yourself?

Whatever it is ... as long as it is unique or special, we would like to hear from you. E-mail us at realfan@eltonfan.net and do include a photo (compressed JPEG format) if possible.

You don't have to necessarily be from Germany, but if you are, please feel free to write us in German.
Sir Elton won't be white knight - Lewington
Wednesday, October 1 2003
Watford can expect no help from Sir Elton John to lift them out of trouble, according to manager Ray Lewington.
Elton is no longer Hornets chairman but is still in contact with the club and has contributed towards a fund to buy Vicarage Road.

But Lewington, who had to cut the wage bill again this summer and is still deferring 12% of his salary along with the players, denied speculation Elton is about to rescue Division One's second-bottom club.

Lewington did not mince his words when he told the London Evening Standard: "It would be nice if the rumours were true. But I'm afraid it's not going to happen.

"Everyone in football is waiting for a white knight to ride in and solve all the problems in one sweep but that only happens at Chelsea.

"Sir Elton will always be a Watford fan though and phoned regularly last season, when we were doing so well in the FA Cup."
Elton's £800,000 houseware sale
Wednesday, October 1 2003
The contents of Sir Elton John's London home are being auctioned on September 30, 2003 in a sale expected to raise £800,000.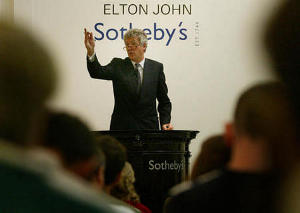 Hundreds of items are under the hammer, including fake leopardskin sofas, art and his double bed.

One of the first items to sell was a 16th Century painting selling for £54,000.

The portrait of Elizabeth Honeywood, from the Circle of William Larkin and thought to have been painted between 1580-1619, is one of 400 lots up for grabs at the sale at Sotheby's in London.

Sir Elton is auctioning off the items so that he can redecorate his home. The house, in Holland Park, has played host to actor Kevin Spacey and former US President Bill Clinton.

One buyer paid £31,200 for an enamel miniature of Thomas Howard, third Duke of Norfolk, which was expected to sell for about £5,000.

Another buyer picked up three wooden photo frames designed by Royal furniture maker David Linley for £540. He has crammed every surface in his home with photo frames, and all are up for sale - although the photos, featuring him with partner David Furnish and various celebrity friends, are not.

The furnishings are relatively restrained for the flamboyant star, except for the faux-leopardskin upholstery in the bedroom.

It is not the first time Sir Elton has had a mass clear-out of one of his homes. In 1988 he auctioned nearly 2,000 lots of memorabilia, jewellery and works of art from his Windsor estate.



This is my house
Friday, September 26 2003 at 12:28:32

UPDATE: The Elton John Sale at Sotheby's
Friday, August 15 2003 at 18:32:40

Sotheby's to sell the contents of Sir Elton John's house in London in September 2003
Friday, June 20 2003 at 09:40:27