ELTON JOHN NEWS ARCHIVE: January 2016
Elton and David in Winq magazine
Sunday, January 31 2016
Having raised over £100,000 for the Elton John AIDS Foundation since the first UK-produced Winq was released two years ago, the gay magazine thought it was high-time they caught up with Elton and David for a chat about family life, the ongoing fight against HIV/AIDS and that conversation with the real Vladimir Putin.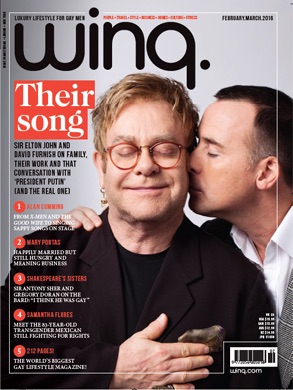 Elton's 33rd album, "Wonderful Crazy Life", is due out February 5, 2016, but his music output is just a small part of something nothing less than an empire, which includes ventures such as a talent agency, sports management agency, and TV and theatre production businesses. Since meeting Elton in the 1980s, David has become his partner in life and business, and is now the brain behind Brand Elton.

Pick up or download Winq February/March 2016 now to read the full 10-page feature with Elton and David, and check out the highlights below…

On the Catholic Church:
In September, Pope Francis described the type of programmes that the Foundation is involved in as being part of a process of "ideological colonisation", where acceptance of HIV drugs is almost conditional upon accepting the existence of homosexuality.

"I'm very pro-Pope Francis in a lot of the things he's said and done so far," says Furnish. "The Catholic Church's track record on this issue is appalling. John Paul II said – he actually put out an official message – condoms spread AIDS. In my opinion, that's genocide."

On fighting HIV/AIDS:
Fighting HIV and AIDS is something they have always taken seriously. It was fear of the disease that got Elton sober 25 years ago, prompting him to set up the foundation, which began by taking meals to dying AIDS victims who lived near his home in Atlanta, Georgia. "By all rights, I shouldn't be here. I should be dead, six feet under in a wooden box," Elton told me later. "I should have contracted HIV in the 1980s and died in the 1990s, just like Freddie Mercury. Or like Rock Hudson."

On finding the right work/family life balance:
"I'm actually very grateful that I've come to parenting when I've come to parenting," he says. "Nothing prepares you for the responsibility and the changes in life. I look at my parents and marvel that, in their 20s, they were starting careers, paying a mortgage, buying a house, starting a family – all at the same time. I feel much more comfortable in my skin professionally than I'd have felt 20 years ago. Financially, our life is in a solid place. In terms of being able to give the children as much focus as you possibly can, those things aren't distractions now. And now, where work is concerned, it's really, really easy. Either it's really good for our business and we want to do it, or we turn it down because it means taking time away from the children. That's an easy decision to make."

The full interview can be seen in the February/March issue of Winq, the world's largest gay magazine. Buy yours now in a super-luxe, three-paper print edition, or download it for free on iOS and Android devices.
Elton says that David is not on a "power trip"
Sunday, January 31 2016
David Furnish has come under fire for being too controlling, but Elton said that he is doing it for the good of the family.
Elton says he is still standing financially after David overhauled his business. David has taken over the running of "Brand Elton", leading to the departure of many of the singer's long-standing staff. But Elton said his other half is doing it "for love" and dismissed reports he is trying to take over his entire life.

Elton said: "People think he's on a power trip. He's not. My business is solvent since David took over, we have money put aside for tax. Being me is a bit like being king in a medieval court. People get infatuated with money and power. There's a jostling for position. David won't have it. He is taking care of business. He's doing it because he loves me, because he wants our family to have a very secure future and he doesn't want me to be on the road for the rest of my life."

Speaking in the Daily Telegraph, he added: "It's an unpopular place to be, but somebody has to be Cruella de Vil." David has been criticised by friends of the piano legend for being a "control freak". But he said that since taking the reins the couple are on a firm financial footing and securing a safe future for their sons.

David said: "Financially, our life is in a solid place. And now, where work is concerned, it's really, really easy. Either it's really good for our business and we want to do it, or we turn it down because it means taking time away from the children. That's an easy decision."

Opening up about life with sons Zachary, five, and Elijah, three , the pair say becoming fathers has made them better people. Of Elton, David told Winq magazine: "He is much more mellow with children. It's turned out to be a very healing, positive thing in both our lives. Everything from parents on the school run to teachers in school to fans has been positive."

And tour dates fit around school holidays. David added: "The two schedules literally sit side by side. We've sort of been gypsies, living in different parts of the world. But now we really feel the children need to be part of a regular school community."

Elton, meanwhile, revealed plans to quit touring in a couple of years or so. He said: "I did 107 shows last year. That can't go on. I don't want to die on the road. I want to die at home and I want to spend a lot of time with my kids before I do."
Elton cancels Las Vegas show
Sunday, January 31 2016
The "Million Dollar Piano" show at Caesars Palace Colosseum on January 30, 2016 was cancelled due to Elton taking ill.
Apparently the show was cancelled last minute as it was about to start. No further information has been provided so far.
Davey reveals how Elton helped save him
Saturday, January 30 2016
In the Scottish Sun guitarist Davey Johnstone has revealed how a rocket from the Rocket Man helped save his life.
Edinburgh-born musician Davey reckons he's been on more booze and drugs benders than all The Rolling Stones put together. Yet he boasts he's the only man Elton's not sacked after 40 years touring all over the world together. And the 64-year-old has spoken of the moment pal Elton pulled him back from the brink as his life threatened to spiral out of control after his nine-year-old son Oliver died in a tragic 2001 pool accident.

Former hellraiser Davey confessed: "Elton saved my life and I could not be happier. The best thing that I did for myself was to stop drinking about six-and-a-half years ago. Elton's been sober for 25 years because he really had to. He was really going over the cliff and there were people around who were willing to support him — and he helped me. I was a maniac. An alcoholic is probably a very normal thing in Scotland. No one wanted to say anything but it got to the point that someone had to say something and Elton pinned me down.

"We were on a tour of Europe and he said 'Why don't you fly back with me and we'll spend a couple of days at the house?'. I love going there — we always have a great time watching the football and laughing. Then one day he sat me down and said 'You should have a look at your life and there might be something you should do to make it better and to honour your kid Oliver' because I lost a boy when he was nine years old and it almost killed me — as it does any parent who has gone through that awful thing.

"He said 'If you look at your life a little more seriously, instead of just trying to go balls-out every night and having to score a chick or drugs or whatever. It doesn't have to be that way'. And as a result of listening to Elton, my wife and my kids are happier because they know that they're not going to see this maniac occasionally appearing."

Dad-of-seven Davey added: "I took his advice and it's been wonderful. You realise 'Jesus Christ, I've been a complete f***ing idiot'. You know what, I don't regret a day because I've lived life to the full."

Davey — who is also Elton's musical director — has played more than 2,000 gigs with Elton and can't wait to return to Scotland to perform at Meadowbank Stadium in his home city on June 25, 2016. He reckons that becoming a dad with David Furnish has mellowed Elton, who had a notorious reputation as one of showbiz's biggest divas. Davey said: "He's become a much better person from having kids and his relationship with David. It's really changed him because he's seen another aspect to life that he was never aware of before. He used to never take the top off his own egg. Someone would do everything for him but now he's been a bit more hands-on with nappies and stuff.

"He does have a reputation obviously — he's a massive diva. But we've known each other so long, I can basically say to him 'Get off your f***ing horse'. Or if he's having trouble then I can go and give him a hug and say 'Hey, it's OK. Everything will be all right'. He's always been the boss and I call him 'Boss', although I call him a lot of other things too. But he's just such a loyal friend and we've got closer over the years. We're just good mates. Funnily enough — and he says this quite often — I'm the only one in all these years who's never been sacked."

Talented Davey — who co-wrote Elton's hit "I Guess That's Why They Call It The Blues" — has enjoyed an incredible four decades on the road with the music legend. He beamed: "One of my favourite memories is after a Madison Square Garden gig in 1974 with John Lennon. We had a great party afterwards with Uri Geller, the guy who bends spoons, and then about one or two in the morning Elton called me up and said 'What a f*****g night, was that great or what?'. He said 'Listen, John wants to come over and hang out with you. Is that OK?'. And I said 'Nah, tell him to f*** off' and then I said 'I'm only kidding. Of course, it's OK'. And so John came over and we hung out until about eight in the morning and talked and I played him some music that I was into.

"Another thing about John is that he used to have an auntie living in Edinburgh and every summer he used to come up and spend a couple of weeks in Costorphine. I'm going 'F***ing hell, I lived two miles from there'. It's great when you discover stuff like that."

Davey also revealed that even legend Elton gets starstruck when hanging out with Rolling Stones pal Mick Jagger. He said: "Mick used to come and visit the studio when we were recording and Charlie Watts is one of my dear, dear friends. I've had wild nights out with the Stones but I can't really give you the details of those nights because they are just too over the top. One of my favourite nights with The Stones was they came to see us in Los Angeles at the Universal Amphitheatre — and Mick actually is one of the few people who kind of intimidates Elton. He gets nervous.

"Elton was on stage and he was doing a solo version of 'Your Song' and I was at the side with Mick, and Elton forgot the words. It was bizarre and Mick turned to me and said 'For f*** sake, tell him I've left'. He knew, he could tell that Elton was nervous because he was there."

Davey also has fond memories of going on massive booze benders with pal Billy Connolly — but revealed they are now meeting for afternoon tea at posh hotels. The guitarist said: "I'm going to see him in London next week and we're gonna have high tea at the Royal Garden Hotel — which is a far cry from getting completely blootered in a pub somewhere. In the old days, it would have been three or four hours in the pub getting completely hammered but, you know, Billy stopped drinking a long time ago and I chucked it about six-and-a-half years ago. I still cherish my talks and texts with Billy, who is one of my idols and dearest friends, and I was so happy to see him get that TV tribute the other week.

"He's got Parkinson's but he's hanging in. It's a horrible disease, my sister's had it for 25 years, and it's an absolutely dreadful thing. But Billy is the kind of guy that he is so natural and he's not going to let it stop him. He's got it but his attitude is he's got to deal with it. The main thing is that we're extremely grateful that we've been so fortunate in life."

Davey hopes Elton wants to have a blast at T In The Park before retiring in 2020. He revealed: "We can't do this forever obviously. We're looking at maybe four years more. In the old days Elton really was really distainful of playing festivals but he's realised that even though we've been doing this such a long time, a lot of the young kids want to see us playing live. So hey, if Glastonbury ask, I'm bloody sure we'll be there. And the same with Coachello or even T In The Park, because that would almost feel like a home gig for me."

However, Davey has doubts Elton will go through with his plan to hang up his mic for good in 2020. He said: "I think he'll finish when he falls off his piano bench because he loves it so much."


Exclusive interview: Davey Johnstone - my career with Elton John
Tuesday, April 5 2011 at 14:34:23


Listen to "In the Name of You"
Saturday, January 30 2016
Here's another track from Elton's upcoming album "Wonderful Crazy Night", to be released on February 5, 2016.
UPDATE: Wonderful Crazy Night Track-By-Track
Saturday, January 30 2016 at 10:14:53


Elton performs live non BBC 2
Wednesday, January 27 2016
Elton will perform a live and exclusive gig from the BBC's Maida Vale studios on February 3, 2016.
He promises some of his classic hits as well as a selection of brand new songs from his forthcoming album "Wonderful Crazy Night".

Tune to BBC Radio 2 on February 3, 2016, at 9.30 am GMT.
Di Caprio, Bloomberg, Elton John for Kenya jumbo talks
Tuesday, January 26 2016
Leading Hollywood and media personalities will be in Kenya in April 2016 to attend a major summit on the illegal trade in wildlife.
Among those expected in Nairobi are naturalist and broadcaster David Attenborough, American actor and film producer Leonardo DiCaprio and American business magnate and philanthropist Michael Bloomberg, a former New York mayor. The others include Australian-American actress Nicole Kidman, billionaire businessman George Soros, Yao Ming, Elton John, Paul Allen, Kim Tan and Howard Buffet.

"They will be joined by a host of African gliterrati in a campaign to sustain the fight against poaching and the illegal trade in ivory, for which Kenya is already a recognised leader," the Environment Cabinet Secretary, Professor Judi Wakhungu, said. Several heads of state and governments, including high-powered representatives of Western nations and China, are also set to attend the two-day Pan-African Giants Club in April.

Kenya plans to use the occasion to set ablaze 120 tonnes of ivory, the biggest to be burned by any country in one go, as its commitment to zero tolerance for poaching and the illegal ivory trade. The summit is set for April 29 and 30, 2016, and will also be attended by heads of state and government.

According to government statistics, poaching has gone down in Kenya by 80 per cent, with the number of elephant and rhinos poached in 2015 dropping to 57 and five respectively. The success has been attributed to the high penalties enforced by the Wildlife Management and Conservation Act 2013, increased numbers of rangers and improved surveillance at Kenya's major airports. Continued training of the Judiciary on enforcement and collaboration with the office of the director of public prosecutions is also said to be part of the success story.

President Uhuru Kenyatta signed up as a founding member of the pan-African Giants Club in July 2015, joining political, business and finance leaders to fight the illegal trade in wildlife that has devastated Africa's elephants. The President also committed to the Elephant Protection Initiative launched in the UK in 2014, which is supported by dozens of African countries struggling to eradicate the increasingly lucrative ivory trade. Some 100,000 elephants have been killed across Africa in the past three years.

The Giants Club was established by The Space of Giants, whose patron is the media billionaire Evgeny Lebedev, owner of The Independent and the London Evening Standard newspapers.
In-store signing
Tuesday, January 26 2016
To celebrate the release of his new album "Wonderful Crazy Night", Elton John will be meeting fans and signing exclusive limited edition album art cards at HMV on 363 Oxford Street in London

The event will take place on February 3, 2016 at 5:00 pm.

Online tickets have sold out already! Fans who obtained a ticket will be given the "Wonderful Crazy Night" exclusive limited edition art cards on the day of the event. We politely ask fans not to bring items of memorabilia or old albums to be signed, as only the "Wonderful Crazy Night" exclusive album art cards will be signed by the artist.

Please note photos with the artist will not be available at this event. Customers who obtain a ticket can pre-order a copy of Sir Elton John's album "Wonderful Crazy Night".
Italy senator says Elton 'vile' for surrogate mum use
Tuesday, January 26 2016
The vice president of Italy's Senate launched a virulent attack on Elton John on January 24, 2016, over the British singer's use of surrogate mums to carry his children.
Maurizio Gasparri said the star was a "vile person" and that his use of surrogate mothers was "vile". "With wombs for rent it's easy to arrive at eugenics and Naziism," he told Radio 24.

Elton has two sons - Zachary, four and Elijah, two - with his partner David Furnish. Both boys were born using a surrogate mother, an issue which has taken centre stage as Italy prepares to debate its civil unions bill on January 22, 2016.

"What he did was the selfishness of a rich, arrogant man who exploited other people's desperation," continued Gasparri – echoing comments earlier this month by Italy's Interior Minister, Angelino Alfano, who branded surrogacy "a sex crime". The potential right of same-sex couples to use surrogates to have children is being fiercely opposed by those who don't want to see the bill passed.

In a move branded "indecent" by Italy's biggest gay rights group, Catholic senators from Prime Minister Matteo Renzi's DemocraticParty last week tabled an amendment to draft legislation legalizing same-sex unions which would require gay couples to prove they had not used a surrogate.

If they cannot, the partner who is not the biological father would not be allowed to adopt the child and a judge would be entitled to have the child placed in care and put up for adoption. The amendment also envisages prison terms of up to two years and fines of up to €1 million for using a surrogate overseas, regardless of whether the practice is legal in the country concerned. Similar penalties are already in place for anyone entering a surrogacy arrangement in Italy.

Sir Elton is rumoured to be performing at Italy's most prominent music festival in San Remo in February 2016. But Gasparri warned him to keep a low profile should he take part. "If he does come to Sanremo, he should stick to singing and not try to be the guru of surrogacy," the minister said.

This is by far the first time that Gasparri has hit the headlines with rash comments. Earlier this month he was ridiculed online after confusing the late Jim Morrison with a non-existent Slavic criminal terrorizing Italy.

Last year, Elton was involved in a public spat with Venice Mayor, Luigi Brugnaro, who he branded "a bigot" after the mayor banned books depicting same-sex couples in the region's schools. Elton is yet to respond to Gasparri's comments.


Venice mayor hits back at Elton in gay book spat
Wednesday, August 19 2015 at 08:39:40


Elton's Maserato for sale
Tuesday, January 26 2016
A 2005 Maserati Quattroporte V, first owned by Elton John, will be going under the hammer at CCA's sale on March 19, 2016 at the Warwickshire Exhibition Centre, Leamington Spa.
Ordered new by Elton, the car features a host of extras, including a rear DVD player and screen, games input, two headphones, remote control and six CD auto changer. Also
included in the sale is the original Maserati welcome letter, unused personal 24hr concierge members card, and personal gift of a matching leather covered key tray, tool kit, gloves and car cover. The history file also includes national press cuttings from the sale of the car to its second owner in 2010.

With Elton's name on the V5 certificate, a mere 28,000 miles on the clock, and offered freshly serviced and MoT'd until January 2017, this car offers a great value example of Italian exotica. Estimate (£): 15,000 - 17,000.
The First Time with ... Elton John
Monday, January 25 2016
A special one off edition of The First Time features one of the most highly acclaimed and successful solo artists in the history of music; Sir Elton John.
He's sold more than 250 million records worldwide, holds the record for the biggest selling single of all time and is the third most successful artist in the history of the American charts, just behind Elvis Presley and the Beatles.

As he prepares to release his 33rd studio album "Wonderful Crazy Night", he looks back at his early ragtime influences and how that grew to become an obsession with playing piano and absorbing albums. He also talks us through some of the remarkable musical milestones in his life - like performing with John Lennon at his last ever show and staging Nina Simone's final concert. He also discusses how music helped him through his battle with drug addiction, his appetite for new music and his obsessive love for Blur, John Grant and New Order and whether he'll ever play the Glastonbury Festival.

Listen to the programme online until February 21, 2016.
Happy birthday, John!
Saturday, January 23 2016
Elton's percussionist and background vocalist John Mahon is celebrating his birthday on January 23, 2016.
John is currently filling in for Ray Cooper at the "Millkon Dollar Piano" shows in Las Vegas, as Ray recovers from open heart surgery.

On behalf of the Hercules team and the Elton John fans all over the world, we would like to wish him a happy birthday!
The legacy of radio pioneer Rosalie Trombley,
Friday, January 22 2016
Bob Seger immortalized Rosalie Trombley in a song and now the Canadian broadcasting legend will be immortalized by the Canadian Academy of Recording Arts & Sciences at the 45th annual Juno Awards. The 76-year-old will become the first woman to receive the Walt Grealis Special Achievement Award since the award was created in 1984.
Trombley has three children, two of whom followed her into the music business. Diane started at Virgin Records and is now in broadcast sales, and Tim was VP of talent acquisition and artist development at EMI Music Canada, where he worked for 23 years. Todd is not in the industry now, but picked up sales skills working at CKLW's sales office in Detroit.

Tim, now director of entertainment at Caesars Windsor, will accept the award on his mother's behalf and talked to Billboard about his mother's legacy.

Your mother has health issues now. Does she understand the award?

She does. Yeah, she's dealing with some serious health issues. She's thrilled. She feels very honored, very grateful for the recognition. She loved what she did, but she never looked at it in any kind of grand way. It was just what she had to do to raise her three kids and it just happened to be something that she really enjoyed doing.

What are some of Rosalie's favorite memories?

She would probably tell you Bob Seger. My mom and Bob have always had a real connection. Bob, of course, immortalized her with the song 'Rosalie,' but she just really felt connected to Bob's music from the very beginning, long before he broke on a national level. He was a regional star and my mother always really supported him and, in the end, was a catalyst to him breaking on a national level. He would come over to the station and hang out and go to dinner with my Mom and the program director.


So that's one, and certainly Burton Cummings and The Guess Who. She wasn't promoted specifically on "These Eyes" -- she wasn't promoted on the single by RCA on the States; she was promoted on the single by RCA in Toronto; the band didn't have a US deal. She got sent the record by RCA Canada, heard it and instantly, first listen, thought that song was a smash -- this was before Canadian Content [when the 30 percent requirement for AM radio was implemented in January, 1971] -- and put it on the air. The phones blew up. She got a call from RCA in New York the following week -- they wanted to know what was happening and she basically told them, 'This song is a hit and you need to put this out in the States. I'm getting calls from record retailers in Detroit that people are coming in looking for the single and it's not there. So if you want to sell some records, you better get this band put out in the States very quickly; it's looking and feeling like a major hit.' So that's always been a real point of pride for Mom through the years. She's run into [Guess Who members] Burton [Cummings] and Randy [Bachman] on occasion -- they treat her with tremendous respect and reverence.

And she did the same for Elton John's "Bennie and the Jets," insisting that should be a single?

Yes. That was never going to be a single and one of the urban stations in Detroit started playing it, just as an album cut, and my mother picked this up, again on her weekly record sales research that she would do -- that's a whole side topic, how she pioneered doing radio sales tracking -- but in any case, when she would call some of the inner city urban music accounts, they would say they were getting people coming in looking for this song 'Bennie and the Jets.' And so she found out that one of the urban stations in Detroit was playing it, and she knew the program director there and called up this fellow Donnie Simpson and got the story on the record. She started playing it and the same thing happened. The phones blew up and she let MCA, now Universal, know the following week what had happened over the weekend and, to her ears, it could really reach an urban audience, and if they were smart they would make it the next single.

So, literally within a couple of days, she had a call from Elton John himself, wanting to know why she thought it should be a single and she told him, 'I think the song's a hit; our listeners think the song's a hit; here's what happened at urban radio in Detroit; it's happening for us now; if you want to reach a black audience, you really should consider making this your next single,' and he did and the rest is history. It was one of his biggest hits ever.
Elton to play at Sanremo Festival
Friday, January 22 2016
Elton John will be one of the international guests at this year's Sanremo Music Festival, where he will perform the single "Blue Wonderful", scheduled for release on Italian radio January 29, 2016.
The Sanremo Music Festival 2016 (66° Festival della Canzone Italiana di Sanremo 2016) will be the 66th annual Sanremo Music Festival, a television song contest to be held at the Teatro Ariston in Sanremo, Liguria, between 9 and 13 February 2016 and organised and broadcast by Radiotelevisione italiana (RAI).

The show will be presented by Carlo Conti, who also serves as the artistic director for the competition. Conti will present the show together with Virginia Raffaele, Mădălina Diana Ghenea and Gabriel Garko.
Production on Elton biopic stalls
Friday, January 22 2016
Production on the Elton biopic has been put on hold by Hollywood executives.
The musical movie, titled "Rocketman", has been in the works since 2011 and production seemed to move forward in 2013 when actor Tom Hardy was confirmed to play the veteran singer.

However, Elton has now revealed the project, which is set to depict his life after he left rehab in 1990, has been put on hiatus by Hollywood executives, who are keen to wait to release it when musicals become popular again.

He says, "The biopic went into hiatus because musical film started to do badly. You know what the film industry is like when a topic isn't doing well, they all say no... It's definitely Tom Hardy. It is going to happen and will happen eventually."

Hardy has previously spoken of his struggle with the musical elements of his job, saying, "I'm not a singer I have no idea really. I'm really trying because of 'Rocketman' but it's hard for me to open my mouth in that way. I'm not really drawn towards singing and musicals and that stuff... I did some rap when I was a kid but I'm somebody's dad now so it wouldn't be too cool to crack that out!"


Elton: Lady Gaga's 'ARTPOP' was "not a good Idea"
Thursday, January 21 2016
Elton isn't one to shy away from being blunt, which is why it wasn't particularly surprising to hear his rather candid opinion(s) of Lady Gaga's music.
During an appearance on Zane Lowe's Apple Music Beats 1 radio show to promote his 33rd studio album "Wonderful Crazy Night", he had an illuminating chat about his latest record, surviving in the music industry, up-and-coming talent (he loves Christine And The Queens) and the state of pop music today.

Aside from his own music, Elton also revealed that he's heading into the studio with longtime friend, collaborator and godmother to his sons Elijah and Zachary, and he's already heard some of her upcoming studio album (code name: LG5).

"I'm writing with Gaga tomorrow. She's doing a new record. I've heard two songs, which are killer. They're just great songs, it's like back to the early stuff of hers," he explained, referencing "You & I" (which he amusingly called "You & Me" — oops!) and the "Bruce Springsteen one," "Bad Romance."

He remained surprisingly objective when it came to her less well-received moments in the past few years. "She made some bad career decisions," he admits. "ARTPOP was not a good idea. It was not a good album. I think she will admit that."

But, as we've seen, she's now in the process of a slow, steady return as she continues to play the long fame game. "Last year, which was 2015, she did three things which were kind of amazing. She did the whole tour and album with Tony Bennett, which did amazingly well. She sang the Julie Andrews tribute on the Oscars which everyone loved. And she was on American Horror Story," he pointed out.

"I think she's a great writer. For me, she is Stefani Germanotta and I love her and care about her. She's the godmother to my two children. I want her to make a simple, fabulous, great song record. Maybe like [Carole King's] "Tapestry", but her version of "Tapestry". I heard two of the songs. They're not complex arrangements, but they're great songs. It's all about the song."
Wonderful Crazy Night: EJAF's 24th Academy Awards Viewing Party
Thursday, January 21 2016
Elton and David will host the Elton John AIDS Foundation's 24th annual Academy Awards Viewing Party Wonderful Crazy Night on February 28, 2016, at West Hollywood Park in Los Angeles.
The EJAF is profoundly grateful to their Presenting Sponsors BVLGARI, M∙A∙C Cosmetics, and Neuro Drinks and Diana Jenkins for supporting this important event so generously.

This year Elton and his band will perform various selections for the guests, including songs from his new album "Wonderful Crazy Night", co-produced by Elton and T-Bone Burnett with lyrics by Bernie Taupin.

The evening features a sumptuous dinner designed by award-winning Chef Gordon Ramsay served during the live telecast of the 88th Academy Awards, followed by a live auction and Elton's special performance.

For inquiries about EJAF's 2016 Academy Awards® Viewing Party, including ticket information, please visit the EJAF website or contact Andreas Schwarz at +1.212.219.0670 or andreas.schwarz@ejaf.org.
Elton moves 'up' to record-extending 71st Adult Contemporary hit
Wednesday, January 20 2016
Elton extends his record for the most appearances in the 54-year history of Billboard's Adult Contemporary chart, as "Looking Up" enters at No. 20. The song marks his 71st entry on the ranking. Barbra Streisand ranks second with 64 AC hits.
"Looking Up" is the lead single from Elton's February 5, 2016 studio album "Wonderful Crazy Night", co-produced by Elton and T Bone Burnett, who worked on Elton's last studio set, 2013's "The Diving Board". The song also marks his highest AC debut (on the chart dated January 30, 2016) since "You Can Make History (Young Again)" launched at No. 11 in 1996.

Elton first charted on AC with the No. 9-peaking classic "Your Song," which bowed on the December 26, 1970, ranking. He tallied his 70th entry, the No. 18-peaking "Can't Stay Alone Tonight" (from The Diving Board), in 2014.

Here's an updated look at the artists with the most appearances in the Adult Contemporary chart's archives. Along with holding the record for the most AC visits, Elton also boasts the most No. 1s (15, a mark he shares with the Carpenters) and top 10s (39). When Billboard celebrated the survey's 50th anniversary in 2011, Elton was honored as the chart's all-time top performer.

Total AC Hits, Artist

71, Elton John
64, Barbra Streisand
58, Neil Diamond
53, Elvis Presley
50, Barry Manilow
50, Johnny Mathis
49, Kenny Rogers
48, Frank Sinatra
46, Herb Alpert/Tijuana Brass
45, Dionne Warwick


Elton tells Jimmy Kimmel: "Everything's been fantastic. I can't complain"
Wednesday, January 20 2016
On Jimmy Kimmel Live! on January 18, 2016, Jimmy welcomed Elton, who sat down for a chat before closing the show by playing the single "Looking Up".
His wild days long behind him, Elton explains that his latest collaboration with songwriter Bernie Taupin finds the music legend in a great place. "If someone said to me ten years ago that I'd be sitting in Los Angeles in my house…with two children, I'd have said you put acid in my drink," Elton quipped before calling the past few years, "the best ride possible."

"Everything in my life that's happened to me has been for a good reason," the star says, summing up: "My..bad behavior got me sober, my sobriety got me my husband, my husband then got me my two children, and everything's been fantastic. I can't complain."

Elton then talked about his 49-year-history with Taupin, explaining their working relationship might be odd for some, but what's not broken doesn't need fixing. "You know, when I first started writing with Bernie, it was exactly the same as it is now. I would get a lyric, I would go away and write the melody and play it for him. That's never changed. It's the same thing now. It's as exciting now as it was then."



In their now-32-record history, the star explained there was only one song for which he wrote the melody before Taupin put pen to paper: "Don't Go Breaking My Heart," the hit 1976 collaboration with Kiki Dee. "It's strange, but it works," Elton said of his relationship with Bernie, "so I don't question it."
Greg Gorman's "Boys Night Out"
Monday, January 18 2016
Photographer Greg Gorman posted on Facebook: "It seemed like BOYS NIGHT OUT last night at my home where I held court for John Water's and our friends. Never laughed so hard in my life! No comedy show could have touched last night's dialogues and humor! Priceless!"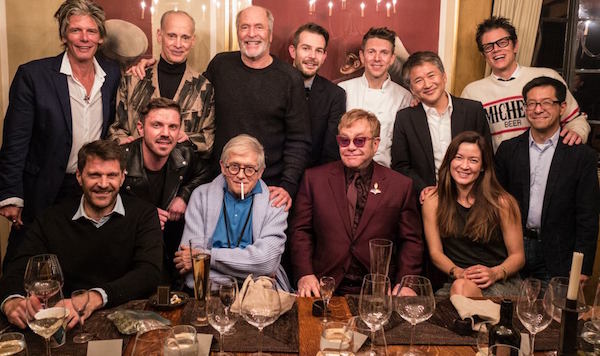 Pictured clockwise from left: Charlie Sexton,John Waters, me,Rod Thomas, Chef Ulric Giezendanner, Marcus Hu,Johnny Knoxville, Ross Naksone, Naomi Knoxville, Elton John, David Hockney, Jason Sellards and JP.
Elton releases a brand new video for "Blue Wonderful"
Monday, January 18 2016
Elton John has released a stunning new video for his latest track, entitled "Blue Wonderful".
His latest offering comes ahead of his upcoming album drop, "Wonderful Crazy Night", set to be released on February 5, 2016. The video for the current single was inspired by the photography of Gregory Crewdson.

He's famed for shooting in suburban landscapes and uses exterior lighting like spotlights to make the ordinary look extraordinary. Elton is an admirer of Gregory Crewdson's work, which he collects, and told MailOnline: 'If Gregory Crewdson made a video I'd like to think it would look something like this.'

The idea for the video was to take a very mundane, suburban setting and make something magical happen within it. The video was shot in Montreal.


Elton at the Ellen DeGeneres show
Monday, January 18 2016
Elton John discussed his 'amazing' young children during an appearance on The Ellen DeGeneres Show.
He told the chat show host that five-year-old Zachary and three-year-old Elijah unexpectedly changed his life. "If you'd had said to me 10 years ago I'd be sitting on your show married to the man I love and have two beautiful children I would have said you put acid in my drink," Elton said.



"But life throws you challenges and life throws you curve balls and great curve balls and these two children have come along at a time I never thought I'd have children,' he said of his family with husband David Furnish. They are the greatest thing in our lives. There's no words to describe how much we love these boys. They're just amazing," he added. Elton also revealed his boys already have become music fans.

"I mean they love Hotline Bling that's their favorite song. And they love 'Uptown Funk' and Zachary likes Kraftwerk, which is a bit worrying," he said. He also said his sons sing his songs too. "They sing 'Rocket Man', 'Don't Go Breaking My Heart' and 'Bennie and the Jets'," the singer said.



Elton also talked about a recent trip to Disneyland with the boys and said he sprained his ankle as they were leaving and ended up in a wheelchair. "It was the first time they'd been and they went on a lot of things. Including the Tea Cups which I hate!," said Elton who added the wheelchair helped him go unrecognised.
A hip to be square
Sunday, January 17 2016
They have been estranged for eight years, but Elton has extended an olive branch to his mother Sheila – by paying for her double hip replacement at a top private hospital, reports the Daily Mail.
In a gesture hinting that Elton is ready to end their long-running feud, he picked up the bill of about £30,000 for the 90-year-old's one-week stay at the Wellington Hospital in St John's Wood. But Elton's efforts at a reconciliation may have been in vain – because Sheila doesn't get on with her son's husband David.

Sources in Elton's camp revealed that David had been encouraging him to get back in touch with his mother, and advised him to spare no expense so that Sheila could have the surgery. The hospital charges £11,500 per hip replacement on top of room charges and after-care fees.

The source said: "David believes that paying for the surgery is in itself an important gesture. David is happily telling friends that they are all back in touch. Elton has been in touch at least twice since her 90th birthday in July. There is a reconciliation in progress."

However, Sheila painted a different picture, saying: "It is good of him to pay and I do appreciate it. I would love it [a reconciliation] to happen – I am his mother. But I don't see it happening, at least not while Mr Furnish is around."

Elton and David became civil partners in 2005 when Sheila was working as Elton's housekeeper. She quit in 2008 when Elton demanded she cut staff members Bob Halley, his former PA, and John Reid, his ex-manager, out of her life. She refused and he vowed never to speak to her again. Sheila has accused David, who married Elton last year, of turning her son against her.


James Corden has filmed Carpool Karaoke with Elton
Saturday, January 16 2016
Elton John will be James Corden's next guest in the carpool lane. The segment will air following the Super Bowl.
In discussing how "The Late Late Show" managed to snag Adele for the latest edition of Carpool Karaoke, EP Ben Winston revealed to Vulture that Elton's segment has already been filmed, and that it will air following the Super Bowl.

"Elton is a really iconic name," said Winston. "Whatever age you are, you love him. He's got a back catalogue that goes for years. When we booked him, we were just punching the air."

Unlike Adele's segment, which was filmed in the U.K. over the holidays, Corden filmed with the England-born icon in Los Angeles, "but it was London weather," said Winston. "It was pissing rain. And it was fantastic. Elton is just the most charming, wonderful guy."

Corden's past guests include One Direction, Justin Bieber (x2), Rod Stewart, and Stevie Wonder. Mariah Carey was the first to agree to the segment, and that opened a lot of doors for "The Late Late Show's" bookers; however, it was the attention garnered from Wonder's Carpool Karaoke — which sent the singer-songwriter's 2002 greatest hits compilation to the top of the charts in the U.K. — that really had artists and labels sitting up and paying attention. "Suddenly, it wasn't such a long shot to be asking your Rod Stewarts and your Elton Johns and your Coldplays," Winston added. "That was probably a turning point for us."


Live from LA: James Corden hits the road with Adele, Elton John
Wednesday, January 13 2016 at 13:34:06


Elton performs at Disneyland
Saturday, January 16 2016
Elton performed in a appearance at Disneyland on January 15, 2016 for an upcoming TV special, park officials said.
Photos and videos show the Grammy award-winning artist playing on a red grand piano in front of Sleeping Beauty Castle for ABC's "The Wonderful World of Disney: Disneyland 60." The two-hour special is scheduled to air on February 21, 2016 at 8 PM and will feature performances by other artists. Elton has been the first celebrity announced to star on the show so far.

He sang two songs, "Circle of Life," from Disney's "The Lion King," and another from his new album, said park spokeswoman Suzi Brown. Most parkgoers were not told of the performance in advance. "It was a surprise for most of our guests," Brown said.

Elton was spotted on a family trip to the park in December 2015 sitting in a wheelchair. He was accompanied by bodyguards, David, Zachary and Elijah, and a nanny.


ABC's 'Disneyland 60' Special to feature Elton
Sunday, January 10 2016 at 02:28:24
Elton in a wheelchair
Saturday, December 26 2015 at 09:06:28

A trip to Disneyland
Thursday, December 24 2015 at 09:38:44


"One Wonderful Crazy Night"
Thursday, January 14 2016
Elton John brought his crimson grand piano and gracious charm to his "One Wonderful Crazy Night" performance in Los Angeles on January 13, 2016.
Elton tipped his hat to the next generation of musical artists, welcoming out several high-profile guests to perform duets of some of his biggest hits. "Confident" singer Demi Lovato killed it when she joined Elton for a performance of his 1979 classic "Don't Go Breaking My Heart." The 23-year-old singer worked the stage during the lively number, strutting around the six-time GRAMMY winner and his crimson piano.



Fall Out Boy frontman Patrick Stump also joined Elton on stage for a super high-energy performance of his 1973 single "Saturday Night's Alright (for Fighting)," which the band had recorded of cover of in 2014.

Elton also welcomed "Stitches" singer Shawn Mendes, and the two performed a moving duet of "Tiny Dancer."

Following is the complete set list of the Los Angeles show on Januar 13, 2016:
Funeral for a Friend

Love Lies Bleeding

Bennie And The Jets

I'm Still Standing

Levon

A Good Heart

In The Name Of You

Tiny Dancer (Duet with Shawn Mendes)

Philadelphia Freedom

Goodbye Yellow Brick Road

Rocket Man

Wonderful Crazy Night

Blue Wonderful

Don't Go Breaking My Heart (Duet with Demi Lovato)

I Guess That's Why They Call It The Blues

Sad Songs (Say So Much)

Burn Down The Mission

Don't Let The Sun Go Down On Me

The Bitch Is Back

Looking Up

Your Sister Can't Twist (But She Can Rock 'n Roll)

Saturday Nights Alright For Fighting (Duet with "Fall Out Boy" front man Patrick Stump)


Your Song
"Wonderful Crazy Night" - first review
Thursday, January 14 2016
Maddy Raven from music-news.com published the following review of Elton's upcoming studio album "Wonderful Crazy Night".
Returning with his 33rd studio album 'Wonderful Crazy Night' is the legend himself Sir Elton John. Similar to 2013 LP 'The Diving Board' the album was co-produced by T-Bone Burnett and recored at Village in Los Angeles. After only 17 days in the studio, John had already finished the whole 14 track album. The speedily made LP will make its worldwide release on February 5th, leaving the rock phenomenons fans waiting eagerly.

The first track of any album should captivate you and leave you intrigued wanting more. Opening track 'Wonderful Crazy Night' does this exactly, with cheeky piano licks hidden here and there alongside a prominent beat. Around one minute into the track the catchy piano begins to grow very tiresome and just repetitive so you're left waiting for a climax that never occurs.

The style changes drastically as John returns to his late 90s early 00s sound in 'In The Name Of You'. The gravely texture to his voice shows he has definitely not lost his vocals even after having throat nodules removed in 1987. The short but sweat juicy guitar solo enthrals your ears so that you're begging for more. The husky vocals adjoining with infectious guitar riffs makes another Elton John classic.

'Good Heart' presents the inexhaustible songwriting partnership of Elton John and Bernie Taupin. With a captivating but simple chorus alongside passionate heartfelt verses, the track demonstrates just how perfectly the collaboration has and still is working even after 49 years.

The album continues with four bonus tracks. The first two, 'Free & Easy' and 'Childrens Song', sound as if John has just discovered the incredible percussion instrument of a sand block. The sound is overused throughout the two tracks and once heard cannot be unheard. Besides this, the bonus tracks are slightly tedious and after a while become indistinguishable.

Suddenly you're awoken with final bonus track 'England & America'. From the moment you press play to the final note, the song is bursting with energy. The straight forward lyrics explaining his love for the two countries and the support they've given him over the years is so genuine and it's undoubtable he is only going to gain more after this album. It's unbelievable that this track is an extra as it holds such feistiness and power, making it one of the best on the album.

It's always a worry when a musical legend tries to create music for longer than their time but when will Elton John ever reach his time? With incredible lyrical,vocal and composing skills it's impossible for John to lose his fans or his career anytime soon. The album has certain tracks that lack that zest that John used to own but overall the LP is eclectic and won't leave the legions of fans disappointed.

3/5 stars
Mick Jagger and Elton John set to honour David Bowie at BRIT Awards
Thursday, January 14 2016
The Brit Awards is set to pay tribute to legendary musician David Bowie when the ceremony takes place in February 2016.
The annual event will dedicate a segment to the glam rock star following his tragic death on January 10, 2016. The likes of Mick Jagger, Sir Paul McCartney and Elton are said to be among the names invited to play in the tribute.

David - who died aged 69 after a secret 18-month battle with cancer - released his critically acclaimed album "Blackstar" just days before he passed away. Chairman of The Brit Awards Max Lousada said the "extraordinary life and work [of] one of our greatest icons" would be honoured at the show, held at London's O2 arena.

He said: "David Bowie was one of the most important and influential songwriters and performers ever and, like so many fans around the world, we're devastated to hear of his loss. A visionary and ground-breaking pioneer, he has inspired generations of musicians and will continue to shape music for many years to come. Naturally, we wish to honour his extraordinary life and work at the forthcoming Brit Awards and pay a fitting tribute to one of our greatest icons."


Elton celebrates the 'Mystique' of David Bowie in L.A.
Wednesday, January 13 2016 at 16:34:06

Elton to participate in Bowie tribute show
Wednesday, January 13 2016 at 13:39:12

Elton's secret plan to honor pal David Bowie
Tuesday, January 12 2016 at 07:28:06


Elton presents David Beckham with Unicef Humanitarian Leadership Award
Thursday, January 14 2016
David Beckham was presented with the Danny Kaye Humanitarian Leadership Award at the sixth biennial Unicef Ball in Los Angeles on January 12, 2016.
Elton and David presented the award to David at the black-tie gala event, honoring him for his tireless work to save and improve the lives of children around the world. David has been a Unicef Goodwill Ambassador since 2005 and last year launched 7: The David Beckham UNICEF Fund, making a personal commitment to use his voice, influence and connections to raise vital funds and rally for lasting change for children.

"I will not stop supporting Unicef until I know that all children are safe, healthy and have a bright future ahead of them," David said.

Danny Kaye, star of Hans Christian Andersen and White Christmas, was one of the world's most beloved entertainers. He was the first ever celebrity celebrity representative for Unicef, and was a Goodwill Ambassador from 1954 until his death in 1987.

Find out more about 7: The David Beckham UNICEF Fund at www.7.org.
Elton celebrates the 'Mystique' of David Bowie in L.A.
Wednesday, January 13 2016
"We know David Bowie the figure, the singer, the outrageous performer, but actually, we don't know anything about him -- and that's the way it should be in music," Elton says at SiriusXM Town Hall taping.
After taking a group picture with fans at a SiriusXM Town Hall taping January 12, 2016 at the Wiltern in Los Angeles, Elton swiveled around on his bench and began playing his red piano. "Ground control to Major Tom," he sang, breaking into a lush piano version of David Bowie's "Space Oddity" as his band was still setting up their instruments and the crowd of only 50 fans and reporters remained hushed.

It was just the night's first tribute to his musical peer and kindred spirit, who died January 10, 2016 at age 69 after a private, 18-month battle with cancer. "There are so many incredible words written about him in the last couple of days," Elton told veteran rock journalist David Fricke, the night's moderator. "It's so wonderful. We all know how inspiring he is. We all know that his music stands. We don't have to say anything about the music: It speaks for itself. He was innovative, he was boundary-changing, and he danced to his own tune -- which in any artist is really rare. But what I loved about him towards the end was his incredible privacy during what must have been 10 years of incredible bad luck with illnesses, heart attacks, cancer, whatever," he continued. "He kept it private in an age we're living in with Twitter when everyone knows everything about everything -- he kept it to himself. He made two albums without anybody knowing he was making them. He had treatment for his illnesses without anyone knowing or anyone saying anything. And that is the mystique of the man, because we know David Bowie the figure, the singer, the outrageous performer, but actually, we don't know anything about him -- and that's the way it should be in music and should be in any art form whatsoever."

Elton also recalled how Bowie's music connected him with his early collaborators. "If it wasn't for David Bowie, I would never have found my original producer Gus Dudgeon and Paul Buckmaster, who arranged the first three albums for me," he said. "Because when I heard 'Space Oddity,' I thought it was probably the most incredible record I'd ever heard and for a long time after that point. And the production and the arrangement of that song, I said, 'Whoever did that, I really want to work with them.' And so I got in touch with Gus Dudgeon and Paul Buckmaster, and we made the Elton John album together and many more albums, so I've got David to thank for that."

The full SiriusXM Town Hall With Elton John -- celebrating the release of Elton's "Wonderful Crazy Night album" (out February 5, 2016) -- will air on The Spectrum, channel 28, on Thursday, February 4, 2016, at 5 p.m. ET. Elton performed five songs before sitting down for the Q&A: three from his new album ("Looking Up," "Blue Wonderful" and "A Good Heart") and the classics "Tiny Dancer" and "Bennie and the Jets." Before launching into the iconic, chugging "Bennie" intro, Elton talked about how proud he was of his first hit on Billboard's Hot Soul Singles chart (the song peaked at No. 15 on the chart, which is now called Hot R&B/Hip-Hop Songs).

Following is the complete set list of the SiriusXM Town Hall show:
Space Oddity (David Bowie cover)

Bennie and the Jets

Tiny Dancer

Looking Up

Blue Wonderful

A Good Heart
Elton to participate in Bowie tribute show
Wednesday, January 13 2016 at 13:39:12

Elton's secret plan to honor pal David Bowie
Tuesday, January 12 2016 at 07:28:06
Elton to participate in Bowie tribute show
Wednesday, January 13 2016
David Bowie is set to be honoured with a star studded tribute concert in his adopted home of New York.
It's believed that pals of the Starman rocker - who died on January 10, 2016 aged 69 - want to give him a fitting send off, and are planning on taking to the stage at the end of March 2016. Sir Mick Jagger and Sir Paul McCartney are already believed to be on board, and Sir Elton John is also expected to perform.

The gig, at the city's Carnegie Hall, was already planned - but since his passing it's been shifted from being a celebration of his music to a celebration of his life. It's already sold out, with tickets going for between £225 and £700.

A statement on the website reads: "The unexpected death of David Bowie has turned this tribute, which we have worked on for the past 7 months, into a memorial concert. While the series has featured surprise appearances and performances of honorees several times in the past, this year's concert will certainly be remembered as a poignant celebration of his music by his friends, peers, and fans. We are all deeply saddened by this news. The timing of our public on-sale date is bizarre in its timing and the show is taking on many more emotions. RIP David and may God's love be with you."

If Elton does join the line-up, which will also see Cyndi Lauper take to the stage, it won't be the first touching gesture Elton has carried out in order to remember the iconic star.

On January 11, 2016 he took to Instagram to post a picture along with the caption: "I am still in shock. Never saw it coming. My deepest condolences to Iman and the family. An amazing life. An amazing career." A rep for Elton poured scorn on reports he was to record a "Candle in the Wind" style tribute to his lost pal.

Meanwhile UK fans are eager for David's legacy to be marked in his home country, despite him spending the last two decades living in New York. There have been calls for the Brixton-born star to have a state funeral, and for a similar gig to take place closer to home.


Elton's secret plan to honor pal David Bowie
Tuesday, January 12 2016 at 07:28:06


Live from LA: James Corden hits the road with Adele, Elton John
Wednesday, January 13 2016
James Corden revealed on January 11, 2016 to his TV audience that the biggest recording artist in the world will appear on "Carpool Karaoke," his signature "Late, Late Show" bit in which celebrities let down their hair, dueting with the amiable host while cruising down the street.
But after the taping, TV critics got a sneak preview of the entire 13-minute segment, in which Adele brandishes her image as the superstar-next-door by enthusiastically rapping and doing a spot-on rendition of a Spice Girls hit.

During the after party on set, Corden said that viewers needn't worry about him getting some of today's biggest names into a fender bender; for the bit, he rarely goes above 11 mph and there are production cars in front of him to make sure there are no "surprise" guests.

Also at the get together, executive producer Ben Winston let slip that Elton John will participate in "Carpoool Karaoke" during a special episode of "Late, Late Show" following the Super Bowl on February 7, 2016.
New Musical Express interview
Wednesday, January 13 2016
Watch Elton and The Killers' Brandon Flowers discuss 'Wonderful Crazy Night' and the joy of fatherhood.
Elton John is preparing to release new album 'Wonderful Crazy Night' on February 5, 2016. It's his first since 2013's 'The Diving Board', and in a career spanning five decades it will be his thirty-second studio album to date – a pacy rate of one every year and a half. 'The Diving Board' was a piano-led record with Elton performing without his band, but for 'Wonderful Crazy Night', his regular band makes its return. "I want this to be a rock record", he says, "but I've never really been that great at writing a lot of uptempo songs together."

So working with longtime collaborator Bernie Taupin, Elton created 10 tracks that form "the most uptempo album I've made since [1975 album] 'Rock Of The Westies'". In the below interview with The Killers' frontman Brandon Flowers, Elton discusses his new album, his live show – "we've got a lot to choose from", he says, thanks to the new material – and his children. "I've never had that touchstone in my life before. It's a miracle what they can do for you. I'm in a great frame of mind and the album's joyous because I'm joyous, and I'm joyous because of those children."


Elton's secret plan to honor pal David Bowie
Tuesday, January 12 2016
Just one day after David Bowie lost his battle with cancer at the age of 69, RadarOnline.com has exclusively learned that his lifelong pal Elton John already has something very special planned to honor his late friend.
On January 13, 2016, at the Wiltern Theater in Los Angeles, Elton and his band will introduce several new songs off his upcoming album, "Wonderful Crazy Night". But after the sudden passing Bowie, a source told Radar that "Elton has decided to dedicate one of these new songs to David. He is even working on writing a new song for the world to remember him by. Think 'Candle in the Wind.'"

"There are no hard tickets and it is a very intimate venue," the source said of Elton's one-off show. "It is so hard to get into, that guests who are invited have to show their ID and credit card at the box office in order to be admitted."

Prior to the show, Elton spoke out in a heartfelt post on his Instagram dedicated to his "inspiration." - "I am still in shock. Never saw it coming. My deepest condolences to [his wife] Iman and the family. An amazing life. An amazing career," he wrote.
ABC's 'Disneyland 60' Special to feature Elton
Sunday, January 10 2016
ABC and the Disneyland Resort have announced that Elton will debut his title track 'Wonderful Crazy Night' during the two-hour special 'The Wonderful World of Disney: Disneyland 60,' premiering Sunday, February 21, 2016, on the ABC television network at 8:00 pm ET/PT.
Although ABC has yet to announce other appearances on the show, audience ticketing company 1iota is currently offering free tickets to those wishing to attend a taping for the special on Tuesday, January 12, 2016, at the Disneyland Resort. According to 1iota, those performing during the taping including Pentatonix, and 'Dancing with the Stars' professional dancers Derek Hough and Witney Carson.

In addition, ABC has announced that fans watching the show at home can participate in Elton's performance with the Disney Applause app. Using Walt Disney Imagineering's 'Made with Magic' technology, Applause delivers a second screen, interactive experience that will sync directly to the broadcast's major musical segments, displaying colorful light shows and original content on viewers' phones. Their display will be in harmony with the illuminated accessories worn by guests and elaborate lighting design during the performance. Fans will also have a rare opportunity to experience this once-in-a-lifetime performance via virtual reality. Through the use of the Jaunt VR app, fans will join in the celebration as they are instantly transported to Sleeping Beauty Castle for the musical superstar's concert and to Main Street, U.S.A. for a very special dance routine. A 360-degree view of the VR elements will also be available on ABC.com.
New single "Blue Wonderful" on BBC 2 Radio
Monday, January 4 2016
Ken Bruce will be giving the world exclusive first play of Elton's new single on January 5, 2016.
The sho will air at 9.30am UK time. See the BBC Radio 2 website for more details.
Gary Farrow: "I resigned from job with Elton John"
Monday, January 4 2016
In last week's Sunday editio on page 16 The Mirror reported on Elton's desire to top the charts again - at the age of 68.
The Mirror told how his bid to match the success of other golden oldies like David Bowie, Dave Gilmour and Rod Stewart, had resulted in the axing of his long-term publicist Gary Farrow. Mr Farrow OBE has asked The Mirror to make it clear that this was not the case and that it was his decision to resign from his job.

Mr Farrow quit after Elton's manager - and husband David Furnish - brought in another top publicist Murray Chalmers, to help promote the singer's new album "Wonderful Crazy Night" - out in February 2016. Announcing his decision to leave on December 17, 2015, Mr Farrow - who worked for Elton for 35 years - said in his statement on his Twitter account @LordGaryFarrow: "After some serious thought and with a heavy heart, I can no longer continue my professional duties as Elton John's personal PR "Contractual, media and PR directional differences between Elton's new management and myself have proved wider than I ever imagined and leave me with little option but to leave. It simply remains for me to thank Elton for all the memorable experiences we have shared."

Meanwhile, David Furnish, CEO Rocket Entertainment Group, said in a statement, released by Murray Chalmers on December 22, 2015: "With an artist of Elton's stature and the sheer depth of his back catalogue, it's extremely challenging to break through the diverse clutter of communications that now exist to make fans aware that he's still creating brilliant new music.

"Relying solely on the traditional press just doesn't sell records these days. We moved our business over to Murray Chalmers as his talents embrace the multitude of ways in which music fans consume and get their information about music today."


Furnish under fire
Tuesday, December 22 2015 at 07:12:50

Elton splits with publicist Gary Farrow
Saturday, December 19 2015 at 06:23:14