ELTON JOHN NEWS ARCHIVE: January 2015
Two scammers sold fake Elton John tickets
Saturday, January 31 2015
Two Lockland men were arrested on January 29, 2015 in Covington after police said they tried to sell fake tickets to an upcoming Elton John concert at US Bank Arena.
Police said Bennie Bowman and Kenneth Hutson were caught in the act after an Independence couple bought the fake tickets on Craigslist this week. Jerri Lowe said he wanted to surprise his fiancé with tickets to the February 27, 2015 concert as a Valentine's Day gift. That's when he said he found a pair of second-row tickets on Craigslist for only $200 each.

"I couldn't believe it," Lowe said. "I looked at the seats and I was just amazed and instantly I started asking, 'Where did you get the tickets because I'm pretty sure it's a sold-out show?' And he tells me he bought them from (another) guy off of Craigslist." Lowe said the seller's response had him skeptical, but he agreed to buy them anyway.

He said he started doing some research on the tickets and reached out to the seller a second time pretending to be someone else on January 29, 2015 morning. "I asked him if he could send me a picture of the tickets that he had… and he sent me a picture of the exact tickets that (I) had purchased the night before." Lowe said his next move was to call the Covington Police Department.

Officers advised Lowe to set up a meeting with the seller at the Frisch's Big Boy Restaurant at 520 West 5th St. in Covington. That allowed police to swoop in and arrest the two men who showed up: Bowman and Hutson. "In (Bowman and Hutson's) passenger visor were 10 additional counterfeit tickets," Covington Police Det. Jim Miskanin said. "There were two sets of three of the same tickets for Elton John."

Bowman and Hutson were taken to the Kenton County Jail. Hutson was charged with theft by deception and third-degree criminal possession of forged documents. Bowman was charged with theft by deception, third-degree criminal possession of forged documents and possession of drug paraphernalia.
Elton and David named in the Debrett's 500
Wednesday, January 28 2015
The list recognises people of influence and achievement in British society and is produced by an independent panel.
Elton and David are listed in this year's Charity category. They are jointly recognised for campaigning and fundraising "tirelessly for the prevention and treatment of HIV/AIDS"; and for backing Cyndi Lauper's charity True Colors, which aims to bring an end to LGBT youth homelessness in the US.
HBO greenlights musical period drama "Virtuoso" from Elton John
Wednesday, January 28 2015
Variety reports that HBO has ordered a pilot for a new period drama about musical prodigies titled "Virtuoso". The project is from "True Blood" creator Alan Ball, along with Elton John and David Furnish.
According to the report, the drama will be set in 18th century Vienna, and will center on "a class of musicians from all across Europe at the prestigious Academy of Musical Excellence." "True Blood's Peter Macdissi is set to star and serve as executive producer, along with Ball, Elton, David and Steve Hamilton Shaw. Macdissi, Shaw and Ball will write the pilot.

The cast of musical students will include Alex Lawther ("The Imitation Game's") as Battista; Francois Civil ("Rosemary's Baby") as Isidoro; Nico Mirallegro (BBC's "Upstairs Downstairs") as Franz; LINDSAY Farris as Heinrich; and actress Iva Babic as Leonid.

Ball's feature credits also include Towelhead and American Beauty. Production is set to get underway this spring in Budapest.
Candle in the wings
Monday, January 26 2015
Elton John to invest in stage shows, reports the Sunday Times on January 25, 2015.
Elton is teaming up with the theatre company Old Vic Productions to create a £10m venture to develop new stage shows. His company Rocket Pictures will own 75% of the vehicle, called Rocket Stage. The rest will be held by Old Vic Productions, which will invest £2.5m in the next three years. Five projects are in the works, including one featuring old and new Elton John songs.

Rocket Stage will also have the rights to turn movies made by Rocket Pictures into theatrical shows.

Old Vic Productions, which is distinct from the Old Vic theatre in Waterloo, is preparing a £3.5m fundraising. As well as investing in Rocket Stage, it is working on other new shows, such as a musical based on Enid Blyton's Famous Five stories.
Elton's piano sold in Caribou studio auction
Monday, January 26 2015
Auctioneers have sold nearly 500 items from a recording studio that put the Rocky Mountains on the rock and roll map.
The sale was held January 24, 2015 at Caribou Ranch near Nederland, Colorado, where stars like Michael Jackson and Elton John recorded in a converted barn and relaxed in cabins named for Native American chiefs.

Highlights included an antique mahogany Steinway & Sons grand piano used by Elton and a Gibson bass guitar said to have been played by Chicago band musician Terry Kath. No estimate was available on the money raised.

The Denver Post reports that producer James Guercio turned the ranch into a major recording studio in the 1970s. A fire damaged the control room in 1985. The 1,600-acre ranch was sold last year, setting the stage for the auction.


Elton tops Hot Tours recap
Sunday, January 25 2015
Elton John rang in the new year in New York City for the first time ever in his legendary five-decade career, selling out Brooklyn's Barclays Center with 16,470 fans joining the party on December 31, 2014.
With ticket sales topping the $3 million mark, the concert earns the Rock & Roll Hall of Fame inductee the No. 1 slot on the weekly ranking of Hot Tours (see list, below).

The New Year's Eve performance closed out a year of touring in North America and Europe in support of the 40th-anniversary reissue of his "Goodbye Yellow Brick Road" album, which was released in October 1973. Following its launch last March 2014, the tour hit 21 markets in the U.S. and Canada in two legs and also played 42 cities in 16 European countries during treks in the summer and fall.

Elton ranked No. 15 in Billboard's 2014 year-end list of top-grossing tours, with $59 million in revenue from 632,685 sold tickets at 60 shows.

The December 31, 2014 concert also included a live remote performance on ABC's New Year's Rockin' Eve, with Elton singing "I'm Still Standing" during the live-event cut-in. Barclays Center participated in the annual New Year's Eve television program during the previous year when Billy Joel performed live on the show during his performance at the Brooklyn venue.

HOT TOURS - January 21, 2015
Ranked by Gross. Compiled from Boxscores reported January 14-20, 2015.

Rank ACT
Total Gross
Show Date Range
Show Venue/City (Shows/Sellouts)
Total Attendance (Capacity)

1 ELTON JOHN
$3,090,167
Dec. 31
Barclays Center, Brooklyn, N.Y. (1/1)
16,470 (16,470)

2 FLEETWOOD MAC
$1,837,886
Dec. 15
Toyota Center, Houston (1/1)
12,983 (12,983)

3 TRANS-SIBERIAN ORCHESTRA
$1,200,040
Dec. 19
Toyota Center, Houston (2/0)
20,338 (23,938)

4 ERIC CHURCH
$769,786
Jan. 14-18
Chesapeake Energy Arena, Oklahoma City (1/0)
Valley View Casino Center, San Diego (1/0)
16,383 (17,987)

5 THE BLACK KEYS
$604,605
Nov. 15
Toyota Center, Houston (1/0)
9,408 (11,955)

6 ANGUS & JULIA STONE
$449,207
Nov. 9-14
Capitol, Offenbach, Germany (1/1)
Grosse Freiheit, Hamburg (1/1)
Tempodrom, Berlin (1/1)
TonHalle, Munich (1/1)
Palladium, Köln, Germany (1/1)
12,629 (12,629)

7 NELLY
$297,200
Jan. 8
Qantas Credit Union Arena, Sydney (1/0)
3,238 (3,677)

8 ALAN JACKSON
$284,484
Jan. 8
Germain Arena, Estero, Fla. (1/0)
5,159 (5,831)

9 GREGG ALLMAN
$256,158
Jan. 3-14
Barbara B. Mann Performing Arts Hall, Fort Myers, Fla. (1/0)
Ryman Auditorium, Nashville (2/0)
5,057 (5,964)

10 FOREIGNER
$181,171
Jan. 12-14
Van Wezel Performing Arts Hall, Sarasota, Fla. (1/1)
Maxwell C. King Center for the Performing Arts, Melbourne, Fla. (1/1)
3,576 (3,576)
Diana Krallbeing friends with Elton John
Sunday, January 25 2015
The Canadian jazz pianist and singer has sold more than 15 million albums worldwide and won five Grammys.
My hero player-singer is Elton John. I used to listen to him as a child, every single record. When Blue Moves came out [in 1976], that's what I wanted for Christmas. He still remains to me just completely incredible in the way he plays and the way he performs.

Elton is extremely generous. I met him in Hawaii and we became friends. He gives me records, and we had lunch together last summer with his family. He's always interested in what's going on and who's playing what. I don't have that energy to keep on top of everyone. He's so supportive of artists he likes, and I became one of them.

There's an art to making people feel comfortable. When you meet your hero, you're ready to say all these things you've prepared all your life and you end up saying something like, "I like cheese." Elton knows how to not to make you feel awkward.
Happy Birthday, John!
Friday, January 23 2015
Elton's percussionist and background vocalist John Mahon is celebrating his birthday on January 23, 2015.
On behalf of the Hercules team and the Elton John fans all over the world, we would like to wish him a happy birthday!
EJAF's 23rd Annual Academy Awards Viewing Party
Thursday, January 22 2015
Elton and David will host the Elton John AIDS Foundation's 23rd annual Academy Awards Viewing Party on February 22, 2015, at West Hollywood Park in Los Angeles.
Sponsored by Chopard, Neuro Drinks and Wells Fargo, the event will feature a sumptuous dinner designed by Chef Gordon Ramsay, a live telecast of the 87th Academy Awards, followed by a live auction, a special performance by Nile Rodgers & CHIC, and dance tunes spun by DJ Johnny Dynell.

For more information, please visit newyork.ejaf.org.
The Half a Million Dollar (per show) Piano
Thursday, January 22 2015
Elton John has bumped Britney Spears in her Vegas run by hauling in more than $500K a show.
According to his deal he gets 88% of the door for every show, TMZ reports. He also has a sign off on ticket prices, which range from $55 to $1,000 for VIP seats.

Not that we would want to compare apples with oranges, but Elton is putting Britney's $475K take a show to shame, because he's doing it with fewer seats. The Colosseum only seats 4,296 while Britney's show at Planet Hollywood has 4,600.

Celine Dion, Cher and Rod Stewart have all held residencies in the prestigious venue where Elton will perform until April.
Elton's "Nikita" Bentley up for sale
Wednesday, January 14 2015
The convertible red Bentley that took pride of place in Elton John's Cold War hit "Nikita" has emerged for sale for £70,000.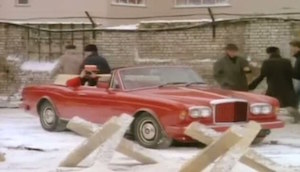 Bought by Elton himself when new, the plush Bentley Continental was used for the video of the 1985 hit single about a beautiful female Russian border guard called Nikita. The video featured Elton sat in the luxury motor taking photos of Nikita from afar before making several failed attempts to drive it through her checkpoint.

The song, from the album "Ice on Fire," was a number one around the world and charted at number three in the UK. The album was Elton's first in almost 10 years and despite Nikita's success was not critically acclaimed.

Elton bought the Bentley in February 1985, which had the B120 WYM registration plate that can be seen in the music video. He went onto change the registration for personalised plates of B20 ELT, which remain on the vehicle to this day, before he sold the Bentley some time after.

In 2008 the Bentley was bought by a classic car collector from Venice, Italy, who has kept it in top condition. It boasts a huge 6.7-litre V8 engine capable of propelling the car to a top speed in excess of 120mph, and has less than 40,000 miles on the clock.

Painted in a fetching 'Tudor red', it has a red-piped beige leather interior and matching hood as well as a walnut coloured dashboard. It is being sold with a UK registration document and the original stamped service book showing Elton John as the first owner.

The Bentley is tipped to fetch £70,000 when it goes under the hammer at auctioneers Bonhams. Gregor Wenner, a motoring specialist at Bonhams, said: 'This is a fantastic example of a Bentley engineered during the brands mid-eighties revival period. The luxury marque attracted the interest of renowned motoring enthusiast and celebrated musician, Sir Elton John, who purchased the car new and later used it for the music video of his 1985 hit song Nikita, which reached number one in many European countries and number three in the UK singles chart.'

The auction will take place in Paris on February 5, 2015.
Donny Osmond gets personal with 'Soundtrack Of My Life'
Tuesday, January 13 2015
The 57-year-old star covers the 1964 Supremes hit "Baby Love," Peter Gabriel's 1986 duet with Kate Bush "Don't Give Up" and the Elton John-Bernie Taupin favourite "Your Song" from 1970.
Singer Donny Osmond celebrates five decades in show business by putting his spin on some of his all-time favourite songs for a collection aptly titled "The Soundtrack of My Life."

There are also standards like Henry Mancini and Johnny Mercer's "Moon River" from 1961 and the 1936 Cole Porter classic "I've Got You Under My Skin."

Osmond convinced Stevie Wonder to play harmonica on his version of Wonder's 1969 single "My Cherie D'Amour" — the first song Osmond ever bought. The album also includes a version of "Ben," a song written by Don Black and Walter Scharf for the 1972 film of the same name that was an early hit for Michael Jackson.

The Soundtrack of My Life, Osmond's 60th album, goes on sale January 13, 2015.
Happy Birthday, Elijah!
Sunday, January 11 2015
On January 11, 2013 Elton and David became the proud parents of their second son born to a surrogate in California.
The boy, named Elijah Joseph Daniel Furnish-John, is celebrating his second birthday on January 11, 2015.

Elijah's brother, Zachary Jackson Levon Furnish-John, turned four on December 25, 2014.

On behalf of the Hercules team and all the fans around the world, we would like to wish Zac all the best and a happy birthday!
Watford FC teams up with Energy Assets for stand project
Wednesday, January 7 2015
When Elton John officially opened the new stand that bears his name at Watford Football Club's Vicarage Road Stadium in December 2014, it added some showbiz glitz to the completion of a major redevelopment project on the east side of the ground.
Elton, who is the club's Honorary Life President, was recognised for his support of the Hornets over many years, including spells as chairman when he forged a winning partnership with then manager Graham Taylor. Construction work on the new stand was undertaken in two phases and initially required significant gas infrastructure work to ensure that the club's new changing facilities (located in the stand) would be ready for the start of the current season. Phase two is nearing completion and will herald an increase in seating capacity at the club from 17,500 to 21,000.

Gas infrastructure design for the project was undertaken by engineers in the Siteworks division of Energy Assets, the UK's leading independent provider of gas metering and associated services, which has a strong track record of delivering football stadia projects.

The Watford contract required the alteration and upgrading of the existing gas service meter and outlet pipework in advance of demolition work. This had to be completed with minimal disruption to the football ground, as gas demand was still required to serve the other parts of the stadium, which remained fully operational. The second phase involved connecting to the new outlet pipework and feeding gas to the new changing rooms via above ground steel pipework

Commented Watford FC Safety Manager Stephen Crabtree: "We were very pleased with the way the gas element of the project was planned and executed, because it goes without saying that, despite the disruption caused by the project, having the changing rooms available at the start of the season was absolutely essential. It's now great to see our supporters enjoying a fantastic new facility."

Andy Collin, Technical Engineer at Energy Assets, said that the Watford project was among a number recently designed and completed for leading football clubs.

"It's not every day that we contribute to projects that get the seal of approval of rock superstars, but we are now gaining a reputation in the football sector for the successful delivery of complex energy infrastructure projects both within stadia and at training grounds," commented Andy.


Elton opens stand in his honour at Watford
Saturday, December 13 2014 at 21:50:29
Watford fans are encouraged to be in their seats early
Friday, December 12 2014 at 23:40:23

Watford: Elton's coming home ...
Sunday, November 30 2014 at 08:31:31


Honeymoon shopping in L.A.
Sunday, January 4 2015
They've been together for over twenty years, but Elton John and David Furnish looked still very much in their honeymoon phase after their recent wedding.
The couple couldn't hide their smiles as they stepped out for a spot of shopping in Beverly Hills. Browsing the high-end stores, Elton looked dapper in a navy blue suit and lilac shirt – completing his look with a pair of trademark tinted sunglasses.

Meanwhile, David opted for a more casual look – dressed in a plaid shirt, blue jeans and a pair of mirrored aviator sunglasses. Clearly besotted with each other, the pair looked like they were having a great time as they laughed and smiled throughout the shopping spree.


New Year's Rockin' Eve 2015
Thursday, January 1 2015
After the clock struck midnight on "New Year's Rockin' Eve" on ABC, the party was not entirely over just yet. After all, the network had another major performance in store for you courtesy of Elton John.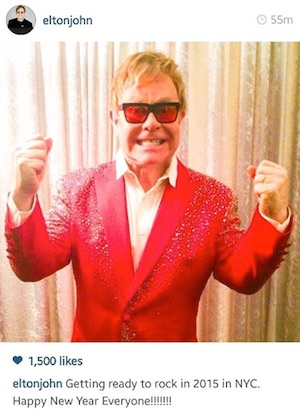 They went over to Brooklyn in order to check this one out, as the music legend performed a song that is very appropriate for the arrival of a new year: "I'm Still Standing." It's a track about perseverance, and in a way, it reminds us that not everyone had the best year in 2014. This is a chance to recover, and feel like the year is really getting off to a great start.

This is becoming a tradition for the show to end its Eastern-time festivities with a performance featuring a music icon. Last year, they showed a performance from the incredible Billy Joel.

Earlier in the show all the boys in the front row removed their shoes and socks during "Goodbye Yellow Brick Road". After "Sorry Seems To Be The Hardest Word", Elton introduced the band and then began the 10 second countdown to 2015. Confetti and balloons dropped from the ceiling. Elton then explained that his cousin became engaged at the stroke of midnight. He the performed "Don't Let The Sun Go Down On Me".

After that song Elton explained about the live broadcast and that there were about 60 seconds to go. To fill the time, he then improvised "New York You Give Your Love To Me" before saying hello to Ryan Seacrest and to all in Times Square.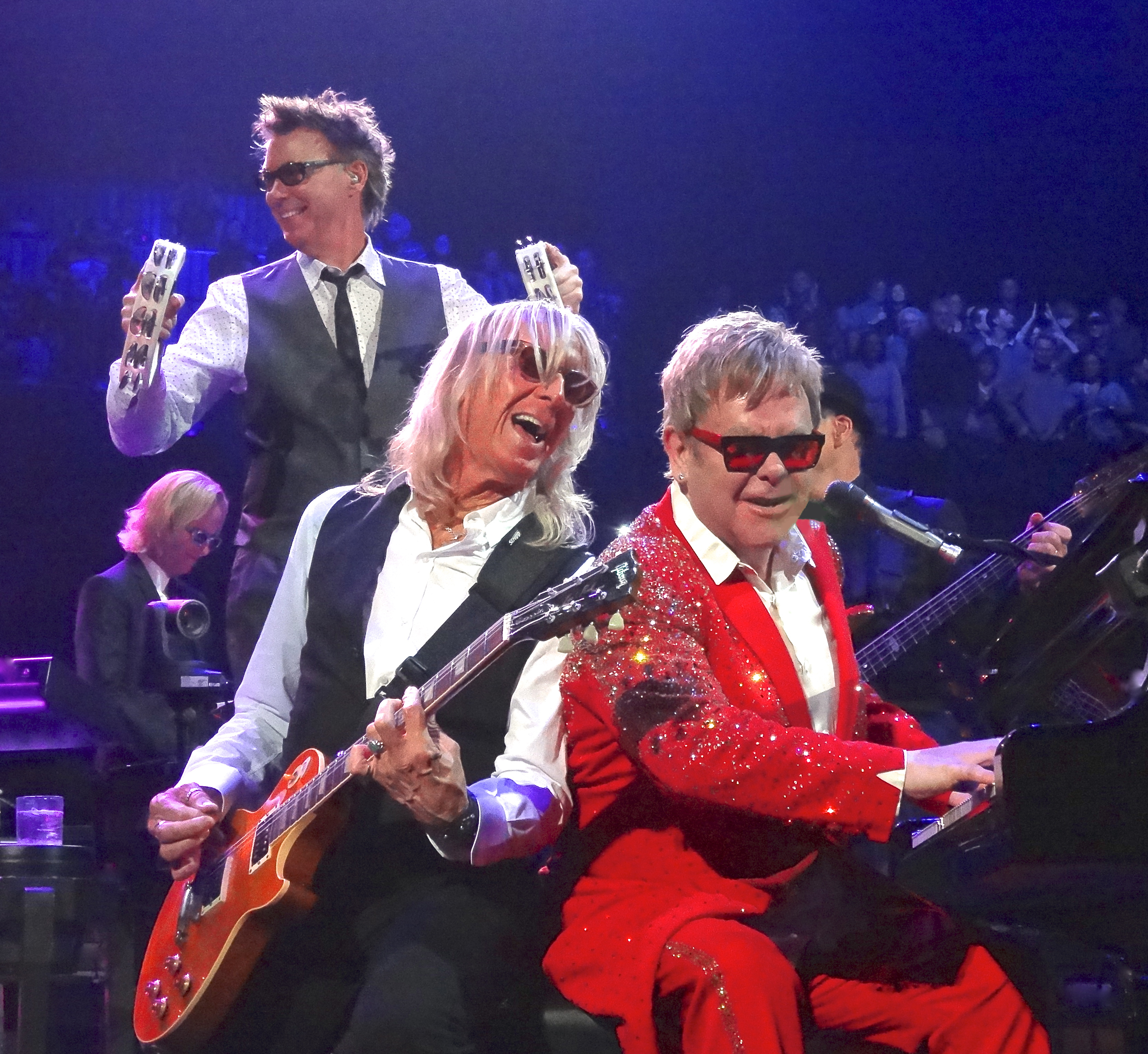 Photo by Brad Joblin (c) 2015. Used with permission



Following is the complete set list of the Elton show in New York on December 31, 2014:
Funeral for A Friend

Love Lies Bleeding

Bennie And The Jets

Candle In The Wind

All The Girls Love Alice

Levon

Tiny Dancer

Believe

Daniel

Philadelphia Freedom

Goodbye Yellow Brick Road

Rocket Man

Hey Ahab

I Guess That's Why They Call It the Blues

Mona Lisas and Mad Hatters - (solo)

Your Song

Burn Down The Mission

Sad Songs (Say So Much)

Sorry Seems To Be The Hardest Word

Don't Let The Sun Go Down On Me

New York You Give Your Love To Me - (solo)

I'm Still Standing

Your Sister Can't Twist (But She Can Rock 'n Roll)

Saturday Night's Alright For Fighting


The Bitch Is Back

Crocodile Rock