ELTON JOHN NEWS ARCHIVE: January 2014
UPDATE: 'Goodbye Yellow Brick Road' Reissue
Friday, January 31 2014
Elton John will re-release his seminal 1973 double album "Goodbye Yellow Brick Road" on March 25, 2014 as a deluxe edition on CD, vinyl and limited-edition yellow vinyl.

It'll also be released as a box set with a DVD of the long out-of-print 1973 Bryan Forbes film Elton John and Bernie Taupin "Say Goodbye to Norma Jean and Other Things" and a 100-page hardback book about the making of the album.



All the new editions will contain a tribute album of nine "Goodbye Yellow Brick Road" songs covered by Ed Sheeran, Fall Out Boy, the Zac Brown Band, Miguel featuring Wale, Hunter Hayes, the Band Perry, John Grant, Emeli Sande and Imelda May.

Complete list of the cover versions suite on the Box Set and Deluxe Edition:

1. Ed Sheeran - Candle In The Wind
2. Miguel featuring Wale - Bennie And The Jets
3. Hunter Hayes - Goodbye Yellow Brick Road
4. The Band Perry - Grey Seal
5. John Grant - Sweet Painted Lady
6. Emeli Sandé - All The Girls Love Alice
7. Imelda May - Your Sister Can't Twist (But She Can Rock And Roll)
8. Fall Out Boy - Saturday Night's Alright For Fighting
9. Zac Brown Band - Harmony

Complete list of formats of Goodbye Yellow Brick Road:
1-CD set: 2014 CD remaster of Goodbye Yellow Brick Road by Bob Ludwig at Gateway Mastering from the original analogue tapes. Digital equivalent editions: Remaster, Mastered For iTunes, HD Edition

2-CD set: 2014 CD remaster of Goodbye Yellow Brick Road as above, 9 cover versions, best of Live At Hammersmith CD

Digital equivalent editions: Remaster, Mastered For iTunes


Five Disc CD/DVD box set: containing standard album, 9 cover version disc, single B-sides and bonus tracks, complete live At Hammersmith CD, DVD of Bryan Forbes' 1973 film Elton John And Bernie Taupin Say Goodbye To Norma Jean and Other Things, and 100-page illustrated hardback book packed with rare photos, memorabilia and a new essay containing interviews with Elton John and Bernie Taupin). Digital editions for audio: Remaster, Mastered For iTunes


Standard 12" vinyl album. Mastered for vinyl by Doug Sax and Robert Hadley at The Mastering Lab, California. 180GM audiophile quality vinyl with download card


Limited edition yellow vinyl


HD Pure Audio Blu-ray album
Elton and Lada Gaga score GLAAD Media Awards nods
Friday, January 31 2014
Elton John, Lady Gaga and the movie "Dallas Buyers Club" are among the nominees for awards presented by the gay advocacy group GLAAD.
The 25th annual GLAAD Media Awards honor outstanding images of the lesbian, gay, bisexual and transgender community in areas including music, movies, TV and journalism.

On January 30, 2014, GLAAD announced 93 nominees in the English-language categories, with cable channels earning 28 bids and broadcast networks receiving 11. Netflix earned its first nomination for the series "Orange is the New Black." Other nominees include HBO's "Behind the Candelabra" and "Brooklyn Nine-Nine," with Andy Samberg.

The GLAAD Media Awards will be presented in Los Angeles and New York this spring. Go here to see a list of nominees.
'The Million Dollar Piano' gets cinema date
Thursday, January 30 2014
On March 22, 2014, for one night only one of the world's most sensational concerts will be screened from Elton John.
The concert will be shown in over 200 cinemas across the UK & Ireland including Odeon, Cineworld and Vue Theatres, forming a total of 1,200 cinemas worldwide in over 40 countries including the US, Canada, Germany, France, Italy, Spain, Brazil, Mexico and Australia.

Coming to your local cinema the critically acclaimed concert was recorded at The Colosseum at Caesars Palace, Las Vegas. 'The Million Dollar Piano', is being performed to standing ovations during Elton's current residency at Caesar's Palace and includes all of Elton's greatest hits from throughout his career including 'Rocket Man', 'Tiny Dancer', 'Saturday Night's Alright for Fighting', 'I'm Still Standing', 'Goodbye Yellow Brick Road', 'Crocodile Rock' and 'Your Song'.

At the centrepiece of the performance is the show's namesake piano, an engineering marvel featuring more than 68 LED video screens created by Yamaha. Nearly four years in the making, the state-of-the-art piano is the perfect accompaniment to Elton's greatest hits displaying fantastical imagery to complement the entertainer's fan favourites. Creating a whimsical, one-of-a-kind entertainment experience, the piano weighs in at nearly 3,200 pounds.

Elton said, "I've had the best time [in Las Vegas] because I always thought of it as a challenge and wanted put on the best show. I don't think there could be a better looking show than this in Vegas or in any venue anywhere."

For a full list of cinemas where the event will take place on March 22, 2014, with links to buy tickets please visit: www.cinemalive.com.
22nd Annual EJAF Academy Awards Viewing Party
Tuesday, January 28 2014
The Elton John AIDS Foundation (EJAF) will present its 22nd annual Academy Awards Viewing Party on March 2, 2014 at West Hollywood Park in Los Angeles.
Elton and David will host the gala event sponsored by the Foundation's generous corporate friends Chopard, Neuro Drinks and Wells Fargo. Chef Gordon Ramsay will once again prepare the sumptuous dinner for Party guests to enjoy while watching a live telecast of the 86th Academy Awards. Following dinner and an exciting live auction, a special musical guest will take the stage to perform, and DJ Johnny Dynell will spin tunes for guests to dance the night away.

The Foundation's Academy Awards Viewing Party is the most highly visible and successful fund-raising event in Hollywood on Oscar night. Over the past 22 years, this annual event has raised nearly $40 million, thanks to the generosity of EJAF's supporters. These funds help the Foundation to support a wide range of initiatives, including direct treatment, care, and support services for people living with HIV/AIDS in marginalized communities, such as among young gay black men; providing injection drug users with clean needles to prevent HIV infection and transmission; and sexual health education for young people in America who are most at risk.

Audi and MAC Viva Glam have partnered with EJAF as the evening's generous Co-Sponsors. The Foundation is especially grateful to the City of West Hollywood for continued collaboration with EJAF on shared goals. American Airlines is EJAF's official sponsoring airline.

This year's event co-chairs are Bill and Tani Austin, Johnny and Edwina Barbis, Joseph W. Blount, Jim Carrey, Chris Colfer, John Demsey, Judi Dench, Greg Gorman, Tim Hanlon and Anthony Klatt, Neil Patrick Harris and David Burtka, Diana Jenkins, Quincy Jones, Nicole Kidman and Keith Urban, Billie Jean King and Ilana Kloss, Heidi Klum, Ryan Kwanten, Fred Latsko, Shelley Lazar, Sandra Lee, Jared Leto, Andra Liemandt, Eric and Janet McCormack, Joseph A. McMillan, Jr., Sharon and Ozzy Osbourne, Anna Paquin and Stephen Moyer, Katy Perry, Tyler Perry, Pablo and Nathalie Salame, Caroline Scheufele, Bryan Singer, Sharon Stone, Steve Tisch, Steven Tyler, and John Waters.
Elton guest edits Clash
Thursday, January 23 2014
It's a secret they've kept for some time now, but Clash finally revealed that Elton John is set to become their first ever Guest Editor.
In time for the March 2014 issue, the legendary songwriter is to take control of the magazine, becoming deeply involved with the suggestions and selections of content. Opening with an insightful and heartfelt Editor's Letter, the March issue's cover story traces the path of Elton's classic 1973 album, 'Goodbye Yellow Brick Road'.

Celebrating the record's 40th anniversary, Clash goes behind the scenes to chat with all of its surviving contributors: guitarist Davey Johnstone, drummer Nigel Olsson, percussionist Ray Cooper, writer Bernie Taupin, and of course Elton himself. Keen to keep moving forwards, Elton also joins Clash for a fresh discussion on contemporary music and the industry itself.

A fashion special, Elton allowed the Clash team extremely rare access to his private storage facility, to shoot incredibly detailed photographs of his imaginative, iconic '70s stage costumes. Spread across six pages, this shoot is accompanied by an interview with Annie Reavey, one of Elton's original costume designers.

Full information about this special issue will be revealed closer to the launch date. The March 2014 issue of Clash will be on sale from February 6, 2014.
Elton blasts Russia: "Vicious Homophobia Has Been Legitimized"
Thursday, January 23 2014
Elton labeled Russia's new anti-gay laws "inhumane" and "isolating" when he played Moscow and Kazan in December 2013, and now that he's back from tour he's taken the time to write a thorough condemnation of the legislation via his website.
He was further outraged by President Putin's recent remarks that linked homosexuality to pedophilia. "Vicious homophobia has been legitimatized," he writes, "by this legislation and given extremists the cover to abuse people's basic human rights." Read his complete statement below:

I am deeply grateful for the support of the Russian people who have welcomed and accepted me in their country ever since I first visited in 1979.

On my last visit, in December 2013, I wondered whether the new legislation banning "homosexual propaganda" might have changed that. It hadn't. I still felt the same warmth and welcome from the audiences that I have felt every time I have been in Russia.

On that trip I met with members of the LGBT community in Moscow. Although I was still welcomed as an openly gay foreigner, I wanted to really understand at first-hand what difference the legislation had made to Russian LGBT in their own country. What I heard reinforced all the media stories that have been circling since the propaganda bill became federal law: that vicious homophobia has been legitimised by this legislation and given extremists the cover to abuse people's basic human rights.

The people I met in Moscow – gay men and lesbians in their 20′s, 30′s and 40′s - told me stories about receiving threats from vigilante groups who would 'cure' them of homosexuality by dousing them with urine or beating them up. One young man was stalked outside a gay club by someone posing as a taxi driver who tried to garrotte him with a guitar string because he was a "sodomite". Everyone shared stories of verbal and physical abuse – at work, in bars and restaurants or in the street – since the legislation came into force last June. And, some of the vital work providing HIV prevention information to the gay community has been labelled "homosexual propaganda" and shut down.

It was very clear to me that, although foreigners like myself who are visiting Russia are not affected by this new law (and President Putin has recently confirmed this), it is a very different story for those living inside the country. As Maria Maksakova told her fellow Russian MPs last month: "We are seeing extremely negative consequences as a result of this law, with the growth of hate crimes."

President Putin asserts that this was not the intention, but it is undoubtedly the effect that this law has had by promoting misunderstanding and ignorance. In particular, it is very disappointing that the law explicitly links homosexuality with child sex abuse, which countless studies have shown to be conclusively wrong.

The people I met in Moscow were decent, kind, patriotic men and women who had no thought of forcing their sexuality on anyone. Whatever the intention of Russia's homosexuality and paedophilia propaganda laws, I am absolutely clear from my own personal experience that it is proving deeply dangerous to the LGBT community and deeply divisive to Russian society. I would welcome the opportunity to introduce President Putin to some Russians who deserve to be heard, and who deserve to be treated in their own country with the same respect and warm welcome that I received on my last visit.


Putin: Elton is 'an extraordinary person'
Monday, January 20 2014 at 04:42:34


Happy Birthday, John!
Wednesday, January 22 2014
Elton's percussionist and background vocalist John Mahon is celebrating his birthday on January 23, 2014.
On behalf of the Hercules team and the Elton John fans all over the world, we would like to wish him a happy birthday!
Sydney Entertainment Centre to close in late 2015
Monday, January 20 2014
Elton John will now hold the record for the most concerts at the Qantas Credit Union Arena after a naming rights sponsorship will keep the doors open at the former Sydney Entertainment Centre for another two years.
Bulldozers were set to raze the 30-year-old venue at the end of 2013 until a last minute naming-rights deal was brokered between the venue's operators AEG Ogden and Qantas Credit Union. Originally slated for the wrecking ball at the end of 2013, new venue operators AEG Ogden have brokered the deal with the airline employee credit union to keep it rocking until December 31, 2015.

AEG Ogden, who also run Allphones Arena, took over the 30-year-old "Ent Cent" in December 2013. Chairman Harvey Lister said the naming rights deal was part of their business plan to keep the venue viable and not a drain on the public purse as the entertainment and convention precinct is rebuilt. The credit union, which has 90,000 members and almost $3 billion in assets, is on a drive for brand recognition in the banking market.

While the new name is a mouthful, Mr Lister said corporate titles for music and sporting venues is now standard worldwide. "If you look at the names of arenas around the world, there are a lot of long names," Mr Lister said. "The important issue is for people to recognise this financial institution put their hand up to help keep this building open." The reaction from promoters keen to continue to book acts into the old Ent Cent has been "overwhelmingly positive",

Already booked to play the arena this year are Celtic Woman, Dolly Parton, Queens Of The Stone Age and Nine Inch Nails, Bruno Mars, Thirty Seconds to Mars, Dave Matthews Band, Arctic Monkeys, Jason Derulo and Sydney Kings matches. Mr Lister said music fans could expect to see some artists play concerts at both the city venue and Allphones Arena at Sydney Olympic Park. "Some venues work better on certain nights of the week. Bruno Mars is playing both venues - as have Kylie and Pink," he said. "It can also depend on the style of music and where most of their fans live."

The venue is expected to stage farewell concerts by some of its biggest and favourite acts at the end of 2015. Besides Pink's phenomenal last two tours, the arena also hosted the emotional return of Kylie Minogue with the Showgirl Homecoming tour after undergoing treatment for breast cancer.

It is believed negotiations are already underway with Elton John and John Farnham who have enjoyed a friendly rivalry over the years who hold the record for the most concerts at the old Ent Cent. Mr Lister said he also wanted Sydney's music fans to nominate who they would want to see close the venue.

Top ten of top performers at Sydney Entertainment Center:
Elton John (56 shows)

John Farnham (40)

Billy Joel (28)

Pink (26)

Dire Straits (26)

Kylie Minogue (23)

Neil Diamond (23)

AC/DC (17)

INXS (17)

U2 (16)
Putin: Elton is 'an extraordinary person'
Monday, January 20 2014
Russian President Vladimir Putin said musician Elton John is "an extraordinary person" as he defended his country's stance on homosexuality ahead of the Winter Olympics in Sochi, during an interview with BBC1's Andrew Marr Show.
Mr Putin said: "Read our law carefully - and pay attention to its name. It's called a 'ban on the propaganda of paedophilia and homosexuality'. There are countries, including in Europe, where they're debating the possibility of legalising paedophilia. Publicly discussing this, in parliament.

"They can do what they want, but the people of Russia have their own cultural code, their own traditions. It seems to me that the law we adopted doesn't harm anybody. What's more, homosexual people can't feel inferior here, because there is no professional, career or social discrimination against them.

"When they achieve great success, for example Elton John - he's an extraordinary person, a distinguished musician, and millions of our people sincerely love him, regardless of his sexual orientation."
Touring the world alongside Elton John
Thursday, January 16 2014
5 questions with percussionist, Canton native, John Mahon.
John Mahon, a 1973 graduate of St. Thomas Aquinas High School, has been a percussionist and backing vocalist in Elton John's touring band since 1997. One can only imagine where he's been and what he's seen. On February 1, 2014, he'll be onstage with Elton for a sold-out concert at the Covelli Centre in Youngstown.

Here, Mahon — who lives in the Los Angeles area when he's actually home shares some insider stories:

Q. You keep very busy onstage with Elton. What all do you do up there?

A. "Just look good! No, really.... The best way to describe what I do onstage is, I accentuate and color the music rhythmically. There are so many options with percussion like cymbals, congas, tambourines, electronics, etc. But one of the most important things I have to do is sing backing vocals. I sing on every song quite a lot. Recently, we rehearsed a new song with no percussion and I tried to strategically hide offstage hoping Elton would not need me on that song. I was hoping I could take a little break during the show and he says, 'Where's John? I want you to sing on this song.' The crew had a good laugh as they pointed me out! No escape — but I don't complain because Sir Elton never takes a break the entire show."

Q. Where are some of the places you played with Elton during 2013? Was there a favorite show?

A. "Last year was the usual crazy mix for us. We were in Brazil, Argentina, Chile, Uruguay. Then we hit the eastern USA along with some stints in Las Vegas. There was Europe in the summer, Normandy, France, Ireland (which I love), Austria, Switzerland and always London. The end of the year was Moscow, Paris, Germany and Norway just to name a few places.

Of course, there is Madison Square Garden. Did you know that the floor is suspended and bounces up and down when the audience is dancing together? It's crazy, especially for a dude that lives in earthquake country! Elton and the band just played the 64th performance there. He has the most shows at MSG of any single artist."

Q. How do you keep things fresh for yourself after so many years of touring?

A. "I have the greatest job in the world. Set aside the countless hours I spend in airplanes, buses, vans (contrary to popular belief, we are not always in limousines) restaurants and hotel rooms. When I go onstage, I see nothing but absolute joy on the faces of the people in the audience. Not many people can say that their job makes people laugh, smile, cheer and cry with happiness for two and a half continuous hours. When I was maybe 18 years old, one of my oldest musician friends, saxophonist Paul Whitehurst of Canton, said to me, 'John, play every gig like it might be the last one you ever play.' I try to do that every night."

Q. Tell me something about Elton John that might surprise people.

A. "Elton has an incredible memory. He can remember any song, the artist, the date it was recorded and even band-member names. His memory is also dangerous, so you never tell him anything in passing because he does not forget. He is often described in introductions as a genius and I have actually seen that crazy brain of his in action. It's impressive — he is brilliant. Another thing is that Elton does not have a cellphone or computer. But now that he has children he is addicted to his iPad. He's constantly showing us their pictures or FaceTiming with them. It's how he stays in touch with his children when we are away so much of the time."

Q. I imagine you have lots of dining opportunities traveling internationally. Are you an adventurous eater?

A. "I was going to say no to that question, but when I started writing down foods I've eaten, it seems that maybe I am adventurous. I do like to try the regional foods. I recently had borscht in Russia, shepherd's pie in London, wiener schnitzel in Germany, kimchee in Seoul, dumplings in Hong Kong.

In Australia, I had Moreton Bay bugs, which are like little lobsters. I love Japanese food like sushi and seaweed salad. I'll try fish anywhere in the world. I've always survived being a little adventurous. I tried a street vendor in Bangkok last year that I thought would be the end of me, but it was the best $3 meal I ever had! I've had kangaroo. Is that weird?"
25th Anniversary Elton John Screen Print
Thursday, January 16 2014
The Flood Gallery has invited Canadian illustrator and print-maker Miles Tsang to create an homage to Elton John.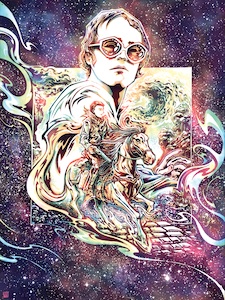 Titled "Roy Rogers" after the song from Elton's 1973 album "Goodbye Yellow Brick Road", Tsang's unique and eye-catching artwork has taken us back to those days of hoppin' and a boppin' and a dreamin'.

Released at 2pm EST (9am GMT) on January 17, 2014, this poster will be available from www.TheFloodGallery.com and in the flagship store in London's Greenwich Market open 7 days a week 10:00 - 18:00.

Each 18 x 24" poster will be signed and numbered by the artist and is a five-colour screenprint, limited to just 80 copies and costs just £25 (approx $38 US).
Happy Birthday, Elijah!
Saturday, January 11 2014
On January 11, 2013 Elton and David became the proud parents of their second son born to a surrogate in California.
The boy, named Elijah Joseph Daniel Furnish-John, is celebrating his first birthday on January 11, 2014.

Elijah's brother, Zachary Jackson Levon Furnish-John, turned three on December 25, 2013.

On behalf of the Hercules team and all the fans around the world, we would like to wish Zac all the best and a happy birthday!
Elton recorded with Engelbert Humperdinck
Saturday, January 11 2014
Engelbert Humperdinck may be just three years short of his 80th birthday, but he has just recorded an album of duets with some of the biggest names in world music.
The Leicester singer has finished recording the tracks after drawing up a "wish list" of artists he wanted to work with. Engelbert has teamed up with singers including Sir Cliff Richard, Sir Elton John, Willie Nelson, Lulu, Smokey Robinson and Gene Simmons, lead singer of US rock group Kiss.

The album, "Engelbert Calling" – recorded in London, Nashville and Los Angeles – is due to be released on March 17, 2014. Engelbert, who lives in Los Angeles and Great Glen, said: "My son and manager, Scott Dorsey, started putting this together more than two years ago because there are so may international artists who are constantly touring the world. It's taken time to get producers, singers and schedules in the same place. It's been a labour of love and I'm truly proud of how it's turned out."

Duets he has recorded include a cover of the Shirley Bassey classic Never Never Never with Olivia Newton-John, "Something About The Way You Look Tonight" with Elton John and To Make You Feel My Love with country music legend Willie Nelson. Elton said his new recording pal was "one of the sweetest and nicest people I have ever worked with. We had a great time singing together. He is 77 years old and still sounding as good as ever."

Engelbert said: "I am truly thrilled to be working with some of the greats of show business and am honoured Sir Elton has contributed to this album. I had an absolute blast recording and measuring tongue sizes with Gene Simmons. He won – just."

Engelbert is already planning a follow-up album of duets called Engelbert Redialled. He said he had six stars lined up and did not rule out the possibility of recording with Leicester's X Factor winner Sam Bailey.
David Furnish hosts party at Holland Park home
Wednesday, January 8 2014
David Furnish opened up the home he shares with Elton John and their children in London's Holland Park on January 6, 2014 to celebrate the latest edition of London Collections: Men.
Surrounded by an impressive collection of contemporary art including photos by David LaChapelle, spots and butterflies by Damien Hirst and a glittering and blush-inducing Liza Lou sculpture of a naked man wrapped around himself, David's guests included Richard James and Patrick Grant, David Gandy and Robert Konjic, Eric Jennings, Pat McGrath and Elizabeth Saltzman.

Saltzman had come almost directly from the airport, after spending the holidays in the Caribbean, dressed in what she swore was the "in-flight" blanket. Gandy spent the festive period in a Scottish castle with his family. "The kids really loved it; they got lost in it. Hell, I got lost in it," he told WWD. "It was kind of scary. They'd ask me to go to the loo with them and I'd pretend to be the brave uncle but, really, I was scared too."

David had is own fears: for the art and rare objets in his home. "I had a very great/bad party experience here when I hosted a party for Donatella [Versace] many years ago," he explained. "I said it could be a max of 80 people because it's close to the art but 500 people were invited. It was the best party: Nicole Kidman walked in with Keith Urban; [Magician] David Blaine came in and started eating drinking glasses; Rod Stewart and Penny [Lancaster] were here; I got to introduce The Killers to the 'Natural Born Killers' as Woody Harrelson and Juliette Lewis were both here too."

"But, unfortunately, at some point, someone jumped over the coffee table, knocked over and broke a Lynn Chadwick sculpture and I went nuclear. I said, 'I don't care if it's the Queen of England, we're at 120 people now and no one else is coming in the house.'"
Pianist Isata is set for stardom and Elton is already a fan
Friday, January 3 2014
A 17-xear-old Nottingham girl who appeared on stage alongside Elton John has reached the finals of the BBC Young Musician of the Year competition.
Pianist Isata Kanneh-Mason will come up against four other students in the keyboard category in the battle to reach the grand final. It comes just weeks after the talented teenager accompanied superstar Elton John on stage in a Los Angeles concert as he performed some of his new tracks.

She met him backstage before the gig, as he listened to her playing the piano. She said: "He was really nice and funny as well. Being on stage with him was amazing. His band were on as well. It was one of the best experiences. He played some new songs when I was on stage, which lasted around 30 minutes in all. I got to watch the rest of the gig, where he played some of his big hits."

Young Musician of the Year is to be broadcast on BBC 4 and BBC Radio 3. The category finals are pre-recorded and the main final will be shown live on May 18, 2014. Isata, who is in Year 13 at Trinity School, in Aspley, said: "I was so excited when I found out I had qualified. It's a great experience. I want to play the piano for a career so this is giving me a great start."

Isata entered the competition after being advised to do so by her music tutor. The regional competitors were whittled down to around 30 per category, with five from across the country being selected for the category finals. The category finals will take place from March 3 to 7, 2014 in the Dora Stoutzker Hall, Royal Welsh College of Music and Drama, Cardiff. The winner of each of the five categories – keyboard, strings, woodwind, brass and percussion – will then take part in the semi-finals at the same venue on March 9, 2014. The top three will make it through to the grand final at Usher Hall in Edinburgh.

Isata added: "I'm looking forward to going to the finals. I hope I can get as far as I can." Isata has been playing the piano since she was six. Musical talent runs through the family, with her mother Kadie and father Stuart more than capable pianists. Her brothers Braimah and Sheku, 16 and 14, and sisters Konya and Jeneba, 13 and 11, also play the piano along with other instruments.

The five siblings travel to the Royal Academy of Music in London every Saturday, leaving home at 6.30am and returning at 8pm. Isata has been given a scholarship to study at the academy for four years from September after completing her A-levels in English, performance studies and music.

She added: "I just love music. I listen to it all the time, different kinds of music. But I like playing classical music on the piano. I play the piano when I get home from school every day and on Sundays and then go to London every week. It can be quite challenging at times, fitting it all in with my studies, but I am determined to be successful."

It was through the academy that Isata had the chance to play with Elton John. He backs the academy and asked staff for a pianist who could accompany him on stage. They chose Isata. Her mum Kadie, 47, said: "We are so proud of how she has done. She is very talented and hard-working and deserves to be successful."
Elton and David make list of best-dressed men
Thursday, January 2 2014
Radio 1 Breakfast DJ Grimshaw has the top spot, followed by The Avengers star Tom Hiddleston and Sherlock actor Benedict Cumberbatch.
The top 10 is completed by rapper Tinie Tempah, X Factor host Dermot O'Leary, Arctic Monkeys' frontman Alex Turner, fashion designer Charlie Casely-Hayford and model David Gandy.

The poll was voted for by staff at GQ and a panel of experts from the worlds of fashion and celebrity, including Giorgio Armani, Tom Ford, Sir Roger Moore and Donatella Versace.

It comes after the US edition of men's magazine Esquire named Pope Francis as its Best Dressed Man of 2013. The magazine admitted the decision was 'unconventional' but claimed his simple manner of dressing has 'signaled a new era (and for many, renewed hope) for the Catholic Church'.

TOP THIRTY: THE GQ BEST-DRESSED MEN LIST 2014
Nick Grimshaw

Tom Hiddleston

Benedict Cumberbatch

Idris Elba

Dan Stevens

Tinie Tempah (right)

Dermot O'Leary

Alex Turner

Charlie Casely-Hayford

David Gandy

Harry Styles

Luke Day

David Beckham

Douglas Booth

Theo Hutchcraft

David Furnish

Mark Ronson

Aaron Taylor-Johnson

Sir Elton John

Jude Law