ELTON JOHN NEWS ARCHIVE: January 2013
Elton introduces son Elijah Joseph Daniel
Monday, January 28 2013
When Elijah Joseph Daniel Furnish-John arrived in Los Angeles on January 11, 2013 — two days after his due date — dads Elton John and David Furnish were in the delivery room just as they were when Elijah's big brother Zachary Jackson Levon was born to the same surrogate two years ago.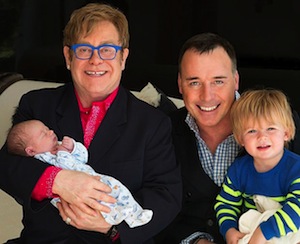 "We tried to create a welcoming and relaxed atmosphere," Elton tells PEOPLE. "We were excited at the prospect of Elijah's birth as we were at the prospect of Zachary's — but much less nervous." Adds David: "I would say we feel more secure in our parenting skills now — it's far less scary than the first time 'round!"

When the couple, who entered into a civil partnership more than eight years ago, decided just before Zachary'sfirst birthday in December 2011 to expand their family, they knew they wanted to use the same surrogate. "She is a wonderful, kind and loving woman," says Elton, who thinks of her as "part of our family."

Elton and David intend to be open with both their boys about the circumstances of their births (they also used the same egg donor and, as with Zachary, did not want to find out which of them is their son's biological father). "We kept a scrapbook for Zachary with all his scans, emails with the surrogate and key moments from the surrogacy, and we are doing the same for Elijah," explains David. "We want the boys to understand the spirit and love that was at the heart of the process."

For the next few months, the family of four will live in L.A. before returning to their "light, bright room filled with toys and books," says David, in their main home in Windsor, England. "All we hope is that Zachary and Elijah are healthy and happy," says Dvid. "They will always be able to rely on us for total love and support, and we hope they grow up to live their own lives and be who they want to be, not who we want them to be."


Elton confirms birth of second son
Wednesday, January 16 2013 at 03:55:19

UPDATE: Elton and David welcome second child
Thursday, January 10 2013 at 17:56:05


Elton and a star-studded line up dazzle Yamaha audience
Monday, January 28 2013
Elton John and a star-studded line up of musicians treated Yamaha dealers and special guests to a very special concert in Anaheim, California, on January 25, 2013.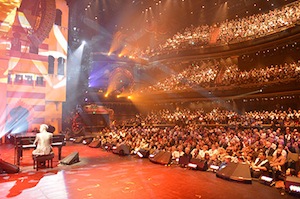 The show celebrated the 125th anniversary of the Japanese keyboard manufacturer. The event also showcased Yamaha's latest technology with the Disklavier.

The night included an exciting roster of musicians, ranging from newcomers Lucy Schwartz, Leogun, and fun marching band, funk legends Chaka Khan and Earth, Wind, & Fire, singer Amy Grant, greats Dave Grusin and Lee Ritenour as well as David Foster and Dave Coz, 80's rockers Toto, Doobie Brothers crooner Michael McDonald, songstress Sarah McLachlan, and after nearly three hours of 3-song sets, Elton John.

Elton strolled on to the stage in a sparkling blue suit, made a few comments praising Yamaha, then treated the audience to renditions popular songs, such as "Your Song", "Tiny Dancer", "Sorry Seems To Be The Hardest Word"—all backed amazingly by a full orchestra—then performed piano-only for "I Guess That's Why They Call It the Blues" and "Rocket Man".

The fascinating part of the evening, other than the obvious stellar performances, was Elton's playing broadcast around the world via Yamaha's Disklavier.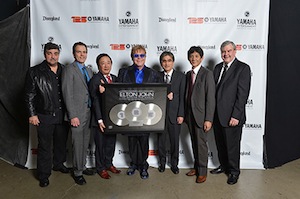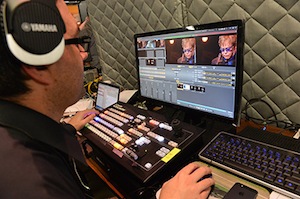 Using Yamaha's DisklavierTV and RemoteLive technology, Elton's piano playing was transmitted in real-time to venues around the world. The TV monitor technology allowed world-wide viewers to see John play, while the RemoteLive technology allowed Disklavier pianos to recreate his playing, a sort of virtual concert experience. This technology is especially useful for teaching remotely and the multimedia entertainment experience.
Ed Sheeran to perform with Elton At the Grammys
Thursday, January 24 2013
Ed Sheeran's name may have just been added to the A-list. The ginger-haired Brit has just been tapped to perform at the Grammy Awards on February 10, 2013 with music legend Elton John.
The singer is up for Song of the Year for "The A Team." He tweeted about his excitement on January 23, 2013, writing, "Buzzing to announce i am going to be performing live on@TheGRAMMYs on Feb the 10th on @CBSTweet. Cannot wait!!"
Bernie Taupin talks painting career
Thursday, January 24 2013
As Elton's lyricist, Bernie Taupin has written some of history's most evocative pop-rock songs: "Candle in the Wind," "Daniel," "Your Song" and "Rocket Man" among them. But the 62-year-old songwriter also paints, though he'd probably prefer it if you didn't use the "also."
"It's funny that people refer to my painting as something I do on the side," says Taupin, calling from his home in California's San Andreas valley. "I loathe people thinking of it as a hobby, because I spend far more time on my painting than I do in creating songs."

Indeed, he says he only writes lyrics when he has a project coming up. On the other hand, he paints all the time; he estimates it takes up 80 percent of his time. Of course, it wasn't always like that. When the Brit first came to America in the 1970s, he was "tagging along with a rock and roll band," as he puts it. But he always had an appreciation for art.

"My mother was very, very much instrumental in turning my head toward things that she felt I could use later on in life," he recalls, his accent softened by his years in the States. "She would show me paintings by Turner and explain them to me when I was young. I definitely had an appreciation for art. It might have been a bit ragged, but it was an appreciation nonetheless." He sharpened his eye when he relocated to the United States.

"I would spend a great amount of time strolling the Museum of Modern Art," he says. "I was totally enamored with abstract impressionism of the late '40s and '50s. It was then I started thinking that I'd like to try my hand at this." He never felt that turning his attention to canvas was a great leap.

"It is a natural extension of what I do anyway," he says. "Songwriting is a sonic expression. Art is visual expression. For me, they are tied together in a way." Twenty years ago, he moved to the home he now occupies. The property included a racquetball court that he knew would eventually become an art studio.

"I made sure when I bought this place there was somewhere I could make this happen," he says. "It's huge, which is perfect, because I'm a messy painter. I like to throw paint around, to work on large canvasses. The whole thing has been ideal for me."

His exhibition, "Beyond Words," includes dynamic abstracts from the earlier part of his painting career. It allows him the opportunity to reflect on his work and how it has changed. He says his recent work has moved to a more pop-abstract style of expression.

"When you start, one of the problems is knowing when to finish," he says. "There is a possibility with some of the earlier stuff ... I don't know if I laid it on too thick or there was too much of it. It's hard to be a judge of your own material." He laughs.

"There are even pieces of mine that are on the road with the show that I'm sort of dubious about, but other people who are curating the show said, 'No, no, no, that's very representative of where you were at one place in your life.' It's hard to be your own critic." Taupin has yet to move to one field of art. Like any good rocker, his arms are heavily tattooed, though he didn't design any of the pieces.

"I was very specific about what I wanted, though," he says, chuckling. "The thing about tattoos is all those God-awful Chinese symbols that people have and they don't even know what they mean. I had to be specific. If something is going to be on your body forever, it needs to mean something or to represent something."

'Bernie Taupin: Beyond Words'

When: Through Sunday, Jan. 27. Taupin will attend from 7 to 9 p.m. Saturday and 2-4 p.m. Sunday, Jan. 26-27.

Where: DeRubeis Fine Art, 7171 E. Main St., Scottsdale.

Admission: Free; RSVPs preferred for Taupin's appearances.

Details: +1-480-941-6033, roadshowcompany.com.
Yamaha will stream Elton concert free
Thursday, January 24 2013
Yamaha will stream the company's 125th anniversary concert, headlined by Elton John in Anaheim, for free on January 25, 2013, the company on the eve of the National Association of Music Merchants annual convention.
The private concert hosted by the musical-equipment company, which has its U.S. sales and marketing headquarters in Buena Park, will highlight a new technology that will beam Elton John's piano performance note-for-note live to other Disklavier pianos in Korea, Australia, Russia, Canada, Germany and other locations for the first time.

Elton will be joined for the three-hour concert that begins at 8 p.m. by Amy Grant; Chaka Khan; Dave Grusin; Earth, Wind & Fire; David Foster; Dave Koz; James Newton Howard; Leogun; Landon Pigg; Lucy Schwartz; Michael McDonald; Sarah McLachlan; Toto; and Sinbad.

Elton is expected to perform at around 10:25 p.m. at the Hyperion Theater in Disney California Adventure. He'll play five songs on his custom red Yamaha Disklavier piano – his finger presses will be synced to audio and video of the rest of the concert and broadcast around the world.

To watch the concert live, visit eltonjohn125.usa.yamaha.com or eltonjohn.com during the event.


Elton to play Disney's Hyperion Theater
Wednesday, January 9 2013 at 19:19:08


Desperately nervous Adele calls on Elton for help
Thursday, January 24 2013
Golden Globe winner Adele , 24, has called on her pal Elton John to help battle her crippling stage fright before she performs at the Oscars in February 2013.
They spent an afternoon at Elton's Beverly Hills home last week and Adele came away feeling more confident. "Adele's desperate to overcome her nerves," says a Now magazine insider. "It's been several months since she last played live, so this is going to be a tough gig for her. But Elton's offered to sit with her and give her counselling."
Happy Birthday, John!
Wednesday, January 23 2013
Elton's percussionist and background vocalist John Mahon is celebrating his birthday on January 23, 2013.
On behalf of the Hercules team and the Elton John fans all over the world, we would like to wish him a happy birthday!
2013 Academy Awards Viewing Party
Friday, January 18 2013
The Elton John AIDS Foundation (EJAF) will present its 21st annual Academy Awards Viewing Party on February 24, 2013 at West Hollywood Park in Los Angeles.
Elton and David will host the gala event sponsored by the Foundation's generous corporate friends Chopard, Neuro Drinks and Wells Fargo. Party guests will enjoy a sumptuous dinner prepared by a celebrity chef and watch a live telecast of the 85th Academy Awards. Following dinner, Jamie Niven of Sotheby's will conduct an exciting live auction, a special musical guest will take the stage to perform, and DJ Johnny Dynell will spin tunes for guests to dance the night away.

The Foundation's Academy Awards Viewing Party is the most highly visible and successful fund-raising event in Hollywood on Oscar night. Over the past 21 years, this annual event has raised millions of dollars, thanks to the generosity of EJAF's supporters. These funds help the Foundation to support a wide range of initiatives, including direct treatment, care, and support services for people living with HIV/AIDS in marginalized communities, such as among young gay black men; providing injection drug users with clean needles to prevent HIV infection and transmission; and sexual health education for young people in America who are most at risk.

Audi, Grey Goose, and MAC Viva Glam have partnered with EJAF as the evening's generous Co-Sponsors. The Foundation is especially grateful to the City of West Hollywood for continued collaboration with EJAF on shared goals. American Airlines is EJAF's official sponsoring airline.

This year's event co-chairs are Bill and Tani Austin, Johnny and Edwina Barbis, Joseph Blount, Chris Colfer, Miley Cyrus, John Demsey, Alec Gores, Tim Hanlon and Anthony Klatt, Neil Patrick Harris and David Burtka, Hugh Jackman and Deborah-Lee Furness, Diana Jenkins, Quincy Jones, Rashida Jones, Heidi Klum, Ryan Kwanten, Fred Latsko, Sandra Lee, Baz Luhrmann and Catherine Martin, Eric and Janet McCormack, Katy Perry, Tyler Perry, Caroline Scheufele, Sharon Stone, Edward Walson and John Waters.

For inquiries about EJAF's 2013 Academy Awards Viewing Party, please contact Matt Blinstrubas at +1.212.219.0670 or matt.blinstrubas (at) ejaf.org.
Ben Babylon to play at NAMM Show
Friday, January 18 2013
Singer-songwriter Ben Babylon continues to attract attention throughout Southern California and beyond, for his music.
The 15-year-old son of Guy Babylon, who was Elton John's late keyboardist and arranger, can be seen performing next at the annual NAMM Show (National Association of Music Merchants) in Anaheim, California on January 24, 2013. The Ben Babylon Band is among several up-and-coming artists scheduled to appear at NAMM, which is billed as the world's premier music products trade show.

"It's a real honor to be invited to perform at NAMM, which is not easy to get into," Babylon said. "I am looking forward to meeting other artists and seeing what new products are coming out." Babylon has been studying music since age 4. He is now working on his first album of original songs, "Dreams for Sale," in collaboration with members of the Elton John Band and other musicians. Babylon's first single, "Contradiction," is available on iTunes.

In addition to Babylon, who plays keyboards and sings lead vocals, the Ben Babylon Band is comprised of Brian Schwartz on lead guitar, Alex Arnaout on bass and background vocals, and Jagger Krusen on drums.

The Ben Babylon Band will perform at the NAMM Show on Thursday, January 24 at 4:00 p.m. on the Patio Stage, Anaheim Convention Center. Open to NAMM Show attendees. Pre-registration is required. Information is available at www.namm.org.

Information about the Ben Babylon Band is available at www.BabylonMusic.biz.
"Rock Of The Westies" 24 Karat Gold CD
Wednesday, January 16 2013
"Rock of the Westies" is the tenth studio album by Elton John, released in 1975, the album debuted on the Billboard chart at #1.

Notable tracks include the #1 single "Island Girl," the light and funky and more than a little humorous, "Grow Some Funk of Your Own" and "I Feel Like a Bullet" is the one moment of seriousness on this album - a ballad about the breakup of a relationship and one of the most creative songs on the album similar in style to other songs from prior albums. The song "Street Kids" was featured in the 2008 video game Grand Theft Auto IV.

Elton used mostly a new band on "Rock of the Westies" including drummer Roger Pope and bassist Kenny Passarelli, who had previously played with Stephen Stills and was an original member in Joe Walsh's band Barnstorm. James Newton-Howard on keyboards and Caleb Quaye on acoustic, electric and rhythm guitar. The holdovers from Elton's previous group and earlier records were Davey Johnstone on guitar, banjo and mandolin and Ray Cooper on percussion.

This is a great Elton John rock 'n' roll record, he was just having fun and it shows. It most definitely rocks harder than most of his albums, but in a distinctive style consistent with and instantly recognizable as Elton John. It's clear even from the front cover photo of an unusually scruffy Elton, relatively conservatively dressed in a hat and shades, head resting on hand with a mischevous smirk, that this album is a departure from past efforts. In the end "Rock of the Westies" represents Elton John being at the very top peak of his best period of the 70's. 1975 was a turning point for rock music...soon funk and disco would be overwhelming the airwaves. But for one album we got to see Elton having a good time, and do it thoroughly and well. Worthy of being considered a classic Elton John album.

A limited numbered edition 24 Karat Gold CD of "Rock Of The Westies" will be released on January 22, 2013.
"Don't Shoot Me I'm Only The Piano Player" - 40th anniversary
Wednesday, January 16 2013
January 2013 marks the 40 year anniversary of Elton's and Bernie's second straight #1 album in the USA: "Don't Shoot Me I'm Only The Piano Player", which was released on January 26, 1973.
The album also went to #1 in the United Kingdom. From that album, "Crocodile Rock" became Elton's first #1 single in the USA. "Daniel", a song about a blinded Vietnam War veteran through the eyes of his younger brother, went to #2 on the USA Billboard.

"Elderberry Wine" was played by progressive and alternative rock stations in the mid sevenies in the USA.

According to writer Philip Norman, the album name and cover is associated with a meeting between Elton and comedian Groucho Marx. There's a poster of the Marx Brothers movie 'Go West' on the album cover.
Elton confirms birth of second son
Wednesday, January 16 2013
Elton has finally confirmed he is a father for the second time.
Rumours suggesting he and David had welcomed another tot via a surrogate began to swirl last week, but on January 20, 2013 a representative for the couple denied the reports.

And it seems the world's media was a little early with the big news - the baby was actually born in Los Angeles on January 11, 2013, and now Elton has officially announced the arrival of Elijah Joseph Daniel Furnish-John.

A statement from the pair to Hello! magazine reads, "Both of us have longed to have children, but the reality that we now have two sons is almost unbelievable. The birth of our second son completes our family in a most precious and perfect way. It is difficult to fully express how we are feeling at this time; we are just overwhelmed with happiness and excitement."

The couple's first son, Zachary, was born on Christmas Day (Decmber 25) in 2010.


UPDATE: Elton and David welcome second child
Thursday, January 10 2013 at 17:56:05

Happy Birthday, Zac!
Tuesday, December 25 2012 at 05:00:00


UPDATE: Elton and David welcome second child
Thursday, January 10 2013
Elton John and David Furnish have become fathers for the second time, according to multiple reports.
According to The New York Post, the couple welcomed their second baby via surrogate, and are said to have used the same Encino, Calif.-based surrogate mother who bore their first son, Zachary, in 2010. No further details about the birth or the baby have been revealed, and Elton's spokeswoman has refused to confirm or deny the report, telling Page Six, "We never discuss our clients' personal lives."

In November 2012, The Sun reported that Elton and David were expecting their second child, and were on the hunt for a nanny to care for their impending arrival. Elton has previously gushed about becoming a parent. "I think it changes everybody. It's the most wonderful thing that you could possibly go through," he is quoted by Radar Online as saying. "I regret a little bit that I didn't do it sooner, but [Zachary] has changed our lives. Everything is about him now."

UPDATE: Contrary to various rumours that have been published online and in other media, reports that Elton John and David Furnish have had a second child are false - states eltonjohn.com.
Elton slams Reality Television: 'It's the lowest common denominator'
Wednesday, January 9 2013
In his latest tirade, Elton harshly targeted the world of reality TV, calling the small screen genre "the lowest common denominator."
"I hate reality television, I think it's the lowest common denominator," Elton said in an upcoming documentary, titled Sellebrity. "It's mind-rotting to me. It numbs my brain." He didn't deter from calling out the legions of stars who found fame through reality shows.

"And the people being called celebrities and have their own reality shows, I want to kill 'em," he added. This hasn't been the first time Elton has publicly bashed reality television. In 2004, he accused American Idol voters of being racist after Jennifer Hudson was ousted off the show, while Fantasia Barrino and La Toya London were constantly grouped in the bottom three. "These three girls would have the talent to be members of The Royal Academy or Juilliard," he told reporters in 2004. "They have great voices. The fact that they are constantly in the bottom three, and I don't want to set myself up here, I find it incredibly racist."
Elton & Bernie back in studio for new album
Wednesday, January 9 2013
Elton John and Bernie Taupin will return to the studio towards the end of January 2013 to put together additional material for Elton's upcoming album.
Taupin said on his official webpage: "Seeing that we're in no rush to get this record out there, we just felt the bug to get back in and cut some more material. We're pretty happy with what we've already laid down but there's always room for improvement. If you've got some good songs up your sleeve that can spice up the mix and enhance what's already there, it would be a shame not to make use of the free time."

He also said that the same musicians were being brought back in for the recording sessions with the goal of keeping the new material in sync with tracks they had already laid down.

The album, which they expect to put out in May 2013, has had its title changed from "The Diving Board" to "Voyeur".


Elton to play Disney's Hyperion Theater
Wednesday, January 9 2013
It's not entirely unusual for Elton John to turn up in O.C. doing something special during the annual NAMM convention, although it has been a decade since the ever-touring icon made his splashiest appearance related to the massive gathering of music merchants at the Anaheim Convention Center.
Back in 2003, at what was then the Arrowhead Pond, he was the focus of a Yamaha-sponsored, career-spanning tribute concert bolstered by several other legends (Ray Charles, Brian Wilson, Randy Newman) and a number of then-emerging upstarts (Norah Jones, John Mayer, Rufus Wainwright). They all joined in on "Crocodile Rock" to finish — and wound up raising $330,000 for music education charities in the process.

Now Elton is staging another NAMM-adjacent event, this time to celebrate the 125th anniversary of Yamaha, whose pianos he's pounded for decades. On January 25, 2013, he will perform with a 70-piece orchestra inside Disney California Adventure's 2,000-capacity Hyperion Theater, normally host to the Aladdin show. But, in a sense, he actually will be playing simultaneously at various venues across the globe.

As Elton taps out his famous melodies on a Yamaha Disklavier, an innovative instrument that can replicate key strokes and pedal functions with uncanny finesse, his performance will be reproduced at various remote locations in real time via Yamaha's DisklavierTV and RemoteLive technology, while the orchestra will be seen and heard via monitors. (Those other spots will be revealed soon. The event also will be streamed online.)

"I'm constantly astonished by the inventive skills and versatility of the Yamaha team," Elton said in a statement released January 8, 2013. "Not only have they built all my touring pianos for the past 20 years, as well as the wonderful Million Dollar Piano that resides at Caesars Palace, but they've also now perfected the RemoteLive technology, which means that effectively, I can perform the concert live in Anaheim on January 25, live across the Internet and also live in venues worldwide – all at the same time!"

In other Elton news: Expect to hear about special events tied to the 40th anniversary of the release of his 1973 double-LP "Goodbye Yellow Brick Road" (still high on the list of his finest efforts) and look for a new studio set at some point this year. In April 2013, he returns to the Colosseum in Vegas for another season of the Million Dollar Piano show, which will be shot for DVD release later in 2013.
UPDATE: New book "Tin Pan Alley"
Wednesday, January 9 2013
With first-hand accounts from the people who knew him best, this book details Elton's formative years: from training as a classical pianist at the Royal Academy of Music; his time as a jobbing songwriter in London's Tin Pan Alley; performing his first live gigs; and his eventual rise to superstardom in the '70s.
Packed with exclusive interviews with everyone from Elton's first piano teacher through to band mates in Bluesology and the Elton John Band, managers Ray Williams and John Reid, collaborators such as Kiki Dee and Rick Wakeman along with personal friends.

Written by Keith Hayward and Nigel Goodall (who already teamed up on "Elton John – A Visual Documentary" in 1993) this book will be published on January 31, 2013. You can pre-order it from Amazon by clicking the link on the right.
Want to drive safely? Listen to Elton John, Aerosmith or S Club 7
Wednesday, January 9 2013
The choice of CD for a long car journey has long been the cause of family friction. But new research has revealed that which song drivers listen to can even influence how safe they are on the roads.
Among the top ten safest songs to drive to are "Come Away With Me" by Norah Jones, "I Don't Want to Miss a Thing" by Aerosmith and "Tiny Dancer" by Elton John. Each of the songs have an optimum tempo of a song for safe driving, mimicing the human heartbeat at around 60 to 80 beats per minute. "The Scientist" by Coldplay and Justin Timberlake's "Cry Me a River" also appeared in the top 10.

The study, conducted at London Metropolitan University, also revealed the type of songs that cause motorists to drive dangerously. Unsurprisingly, music that is noisy, upbeat and increases a driver's heart rate can be a deadly mix. Fast beats cause excitement that can lead people to concentrate more on the music than on the road and to speed up to match the beat of the song.

Genres of music were also measured during the experiment and revealed variations between male and female drivers. Hip-hop made a female driver drive far more aggressively, breaking harder and accelerating faster, than her male counterpart. The heavy metal playlist caused the fastest driving among males in the group while the dance playlist had the same effect among women. The male and female drivers who listened to the classical playlist drove the most erratically.

The experiment involved eight people driving 500 miles each using the confused.com MotorMate app, which monitored driving behaviour through GPS technology.

The top 10 safest songs to drive to are:

1. Come Away With Me – Norah Jones
2. Billionaire Feat. Bruno Mars – Travie McCoy
3. I'm Yours – Jason Mraz
4. The Scientist – Coldplay
5. Tiny Dancer – Elton John
6. Cry Me a River – Justin Timberlake
7. I Don't Want to Miss a Thing – Aerosmith
8. Karma Police – Radiohead
9. Never Had a Dream Come True – S Club 7
10. Skinny Love – Bon Iver
2Cellos get Steve Vai, Fleetwood Mac and Elton John to cover AC/DC
Saturday, January 5 2013
2Cellos second album 'In2ition' features an all-star line-up of guests including their mentor Elton John on two tracks and Steve Vai helping them cover AC/DC.
"We're extremely happy to have collaborated with such great guest artists and we believe that this is just the beginning. We've practiced all our lives, and in this project we've succeeded in extending the possibilities of the cello and bringing it to a wider audience," say the 2Cellos. Luka Sulic and Stjepan Hauser (aka 2Cellos) recorded 'In2ition' with the legendary producer Bob Ezrin.

Elton features on a cover of Fleetwood Mac's 'Oh Well' and remakes his classic 'Candle In The Wind' with 2Cellos. Steve Via is on guitar for AC/DC's 'Highway To Hell'.

2Cellos have been touring the world opening for Elton for the past few years and then feature in his band. "Elton suggested that we cover 'Oh Well' because he thought it would be perfect for the cello. We said we'd do it if he sang on it and he agreed!' says Stjepan. "It's a fairly unknown Fleetwood Mac song and Elton's voice sounds amazing on the track."

The album also features songs from Coldplay, Muse, The Police and The Prodigy.

1. Oh, Well (feat. Elton John)
2. We Found Love
3. Highway to Hell (feat. Steve Vai)
4. Every Breath You Take
5. Supermassive Black Hole (feat. Naya Rivera)
6. Technical Difficulties
7. Clocks (feat. Lang Lang)
8. Bang Bang (feat. Sky Ferreira)
9. Voodoo People
10. Candle in the Wind
11. Orient Express
12. Il Libro Dell 'Amore (feat. Zucchero)
13. Benedictus
Pnau talks about Elton collaboration
Friday, January 4 2013
Speaking with one half of the local electro duo some weeks before Christmas, Pnau member Peter Mayes talked to Music Feeds and shed some light on the band's current goings-on.
A man of many bands, Mayes happily gave an update on upcoming albums from Pnau andEmpire of the Sun, while also fondly recollecting on the experiences that informed one of this year's most in-depth releases, Elton John v Pnau.

Music Feeds: What are you doing in the studio at the moment?

Peter Mayes: Right now I am really busy finishing [the] Empire of the Sun record that we have been working on for the last year or so, [or] a bit longer. And we're in the early stages of starting a new Pnau record.

MF: In a previous interview you said with Empire of the Sun it's important not to make album one, version two. How have you gone about making the new record different from its predecessor?

PM: I don't know, I mean there's been so many songs written. I think because of all the people involved – there's three or four of us involved making this record – and as it's been four or five years since the last one, inevitability you can't help but move on.

Everybody's developed their skills more. We've all done a lot of work outside of Empire in the last however many years. I don't know if it's really a conscious thing. I don't think we're sitting around going, 'Oh, that guitar sound sounds too much like the [first] record.' It's not really like that; it's more just like, you just end up moving on.

It's just what artists do. It's what excites people, creatively.

MF: On Empire of the Sun's Facebook page there's a post that reads: "Each day is a new discovery in melody and Mysticism". What exactly is going on inside the studio?

PM: It's very hard to describe, because we've been in there a lot. But basically, I mean, you would probably describe it better, but we're just in there making a record (laughs).

To me it's just the same as every other day in my life, except different people. I mean, having a guy like Luke (Steele) to work with is…incredible… And one thing that Nick (Littlemore) and I try to do as much as we can in life is to work with incredibly talented singers and artists.

And when you've got a voice that is special and communicates to people in a certain way, then you've got a true gift. And Luke has that. And he's an amazing guy to work with, I mean he's so creative.

When he gets on the microphone you're like, 'Oh, my god!' He is an amazing talent. So that's what we try and do. That's what's been going on in the studio. He's been singing and we've been like, 'Wow!'

I mean, we do work very hard, you know, this is an important record because the last one was really quite a success all over the world. And obviously a lot of ARIA Awards and all that kind of crap. But really, it was not just a success here, it was a success pretty much everywhere.

So there's a lot of pressure now, that wasn't there on the first record, to make something really special. And that's cool, we're used to that. But it's something that [you have] to forget about when you're in the studio.

When you're in the studio you have to forget about all your problems and whatever argument you had that morning, or whatever, and you just have to make a record. That's when you do your best work, when you abandon all rational thought (chuckles) and just let the creativity flow.

MF: So in some ways, for you making music is a form of meditation and mediation?

PM: Absolutely. Absolutely. Without a doubt…

MF: As you said, you've just started the new Pnau record. Has studying Elton John's music so closely taught you anything about songwriting that you might hope to implement on Pnau's next record?

PM: Yeah, I mean there's no way you can't learn from that experience. I mean, being given all the track recordings for one of the greatest artists of our time and in the history of pop music, or recorded music even, it is an incredible gift…it's a once-in-a-lifetime opportunity.

Gus Dudgeon is an amazing producer and Bernie Taupin, his songwriting partner, is a genius. So being surrounded by such talent and being such a talent himself, and having the recordings, being able to really delve into that, is an education that you could never receive from any school. It's like a free mentorship in how to make a classic record, it's incredible.

I mean, I think we learn from every record that we do… When we made the last Empire record it was a really interesting experience for us because it happened really quickly and it just flowed and there was not a lot of pressure. It just happened really fast, which is always great…

But doing an Elton record and having so much great content, you know, he's done over six hundred songs in his career. So having such a breadth of incredible material to work with and what is essentially his life's work…you can't help but learn from that. How could anyone not learn from that?

MF: Did you discover any instruments that you are now eager to try out on your own music?

PM: That's an interesting question (laughs). To be honest, [being] the kind of guys that we are, electronic music guys, I think we're actually pretty [much] into most of the weird instruments out there (chuckles).

But that's interesting. I have to think now because there's so much stuff. I think in a way, not really (chuckles), but I think we kind of learnt, if anything, obviously how to construct good songs, but also how often a song can be made up of very few elements and be really powerful.

And that's a lesson that's really hard to teach yourself today because there's no limit. The computers that we use are so powerful that you can just go on and on and add and add more and more stuff 'til it really becomes a bit of a blur …

MF: Is it true that Pnau have written a couple of originals with Elton John that might find their way onto the next album?

PM: Yeah, actually no, we're [not sure] what exactly is happening with those songs right now. But we have worked with him (Elton John) in the studio before.

Obviously he wasn't there when we made the Elton John v Pnau record. He is a guy who … he's the opposite of us. He'll come into the studio, write a song, you know, a real musician and genius, he'll write a song in ten or twenty minutes and record it. And he'll make a whole record in, like, two weeks. So we're very different to that. We take a long time and we really labour over the sonics, and we really flesh it out in a different way to him.

But writing with him was such … again an incredible education, and also very humbling because we can't work like that… You put some lyrics in front of him and he will literally sit down and might quietly sing to himself. So quiet that you can't even hear…but then he'll just play out the song, it's crazy.

All his hits were done in exactly the same way. So Rocket Man, Tiny Dancer, whatever you can think of, Bennie and the Jets, these incredible pieces of music history were all done that way…

Pick a bunch of lyrics and then, 'bang', you have a hit song; you have an incredible piece of art in front of you. And the way he does it, that's what makes him a true genius, apart from his incredible performances and all that, and the great personality that he is.

His genius, when you see that, it's really crazy. And in a way you probably wouldn't believe it until you saw it because it just seems … at least as a songwriter you're like, 'Wow! How is that possible?'…

I mean songs generally do emerge within a day. The basic framework of a song can emerge very quickly, but to sit down and play a song from beginning to end purely from your head, I mean lyrics aside, but the music and the melody and the harmonic structure of the music is just flowing out of him. It's an amazing thing.

MF: Pnau and Elton John recently performed together in Sydney. It's not the first time you two have played live together, but was it a special experience sharing the stage in front of an Australian audience?

PM: Absolutely. I mean, playing in Australia is something we always like to do. And as Pnau, it's the place where we still have the most success. Yeah, especially in Sydney, people are very receptive to us, it's our hometown and all that. It's always an amazing thing to be given the opportunity to play with Elton on that stage; it was definitely a moment that we'll never forget.

It's definitely the gig you'd invite your parent to, you know what I mean. My family [are] very musical people, but you don't want them to come to some crappy show that you're doing that's only half attended or whatever. You want them to see the good ones.

But that was probably only the second time, I think, that they'd seen me play in Pnau. So that was a good one. It was a real moment.

MF: Pnau reworked some of Elton John's classics but not necessarily his commercial hits. Do you think Elton has been rejuvenated in a way now that Pnau has revived some of his forgotten gems?

PM: I hope so. It's more for you to say than for me to say, but I hope so. I mean, that was the idea: to present him [Elton John] in a different way, a way that he hadn't been presented before.

The options were endless; we could've done anything. Obviously, there are musical [and] technical limitations to what you can do, but really, if we wanted to do a new version of Rocket Man or Tiny Dancer or whatever, we could have.

But there didn't seem a point. Those version that exist are, for want of a better word, perfect. And they're ingrained in the public's consciousness, and it doesn't seem to make any sense to try and improve or to change that in any way …

How could it really be better than the original? And if anything, all you're going to get is slander for doing something like that. And, you know, obviously this is a sensitive thing, [working] with somebody's masterpieces.

Whether they're hits or not from the past, it doesn't matter. There are people who are like, 'What the hell are doing?' (laughs) … So it's a love/hate thing this record. You either understand it and you get it and you see that it is the greatness that it is, or you turn your back on it.

And it's interesting if you look on iTunes, most of the reviews are either five stars or one star (chuckles). Luckily most of them are five stars, which does help. We've had a really positive reaction for this record.

But we always knew there were going to be people … because Elton is so … I mean it never stopped. He's a guy who's had success in every decade. And I don't really think there are any other artists that have done that.

He's like the fifth highest-selling artist of all time or something crazy like that. But he has really, really loyal diehard fans that will always love him. And we always knew there was going to be a backlash. I mean, it's just inevitable.

As I said, we did make a fairly conscious decision to stay away from the hits because there's so many of them. But also there are so many incredible grooves and ideas and melodies in everything that we had full access to …

MF: Any New Year resolutions for Pnau in 2013?

PM: I guess the New Year resolution for Pnau would be to make an incredible record. I mean, what more do you need than that (chuckles). We're in the very early stages of making the record, we haven't really done that much stuff, but that's the best thing we can do: keep giving something to people and hopefully they will react to it and connect with it.
Dee Murray's widow passed away
Thursday, January 3 2013
Eltonfan.net has learned that Maria Gombatz Murray passed away suddenly from an accidental fall on Christmas Day 2012.
Maria was the widow of husband Dee, a bass player and longtime member of the Elton John band in the Seventies and Eighties. After battling skin cancer for a number of years, Dee died in Nashville, Tennessee, after suffering a stroke on January 15, 1992 (aged 45).

Maria Murray was survived by son, Ashley, 25 and daughter, Jenna, 21. Maria was born on January 19, 1958 to Robert & Ruth Gombatz, twin of sister Lisa and sister of Karl, Frank & Kurt. Her greatest joys in life were her children and traveling the world with her husband and sister.

Maria will be remembered as a loving and wonderful mother, daughter, sister, aunt, and friend. She will be greatly missed by all who knew and loved her. A memorial service was held on December 29, 2012 in the Wynne Center, 300 St. Mary's Street, Raleigh. Condolences may be sent to the family at www.brownwynne.com.

Maria had recently begun to list items that belonged to her husband Dee on eBay.


Dee Murray auction
Tuesday, November 6 2012 at 06:21:46


Elton John and Neil Young will honour Bruce Springsteen at gala
Wednesday, January 2 2013
Bruce Springsteen's Musicares Foundation gala looks set to be a star-studded affair as Elton John, Neil Young and Sting are among the acts who have signed up to pay tribute to The Boss.
Springsteen has been named the charitable organisation's Person of the Year in recognition of his glittering career and tireless charity work, and he will be the guest of honour at the annual event in Los Angeles on February 13, 2013.

Mumford & Sons, John Legend, Tom Morello, Patti Smith, Alabama Shakes and married singers Tim MCGraw and Faith Hill are also on the bill for the concert at the L.A. Convention Centre. The show will be hosted by Jon Stewart.

MusiCares provides help and support for musicians in times of financial or medical need.