ELTON JOHN NEWS ARCHIVE: January 2012
"The Union" on HBO - previews & interviews
Tuesday, January 31 2012
As reported earlier, on February 2, 2012, HBO Documentary Films presents THE UNION.
THE UNION takes an unprecedented look at the creative life of Elton John and his remarkable collaborative album with his early-career idol, Leon Russell, produced by award-winning music producer T Bone Burnett. Never before filmed in his composing process, Elton is captured by Crowe in this candid portrait of one of the world's most treasured artists and performers. Begun in November 2009, THE UNION chronicles the entire writing and recording process of the heralded album Elton recorded with Leon.








HBO 2012 schedule of documentaries
Saturday, January 14 2012 at 06:35:48

HBO ccquires TV rights to Cameron Crowe's documentary 'The Union'
Tuesday, June 7 2011 at 09:42:10


Elton keeps Madonna feud alive with not-so-friendly Super Bowl advice
Monday, January 30 2012
Who needs Saturday night? For Elton John, Super Bowl Sunday's just as all right (if not better) for his fighting ways, reports eonline.com.
Because just when it seemed like his partner David Furnish had wrapped up his feud with frenemy extraordinaire Madonna, along comes Elton to spark it back up—this time under the guise of offering up some not-so-friendly advice to this year's half-time show entertainment.

While speaking to Good Morning America from the set of his own Super Bowl Pepsi commercial (along with The Voice winner Melanie Amaro), Elton was asked for his ever-cutting opinion on the traditionally all-out half-time shows. "I've never seen a decent one," he said. "Never ever."



Ouch. Then again, the preemptively harsh words seem par for the course when you consider who's set to hit the gridiron come this Sunday. So does Elton have any advice for Madonna? Does he ever. "Make sure you lip-sync good," he said. Ouch again. Luckily, Elton quickly softened up his stance.

"Of course you have to play live, but I don't think you can. In all fairness to everyone who's done it before, I think you may be able to sing live, but it's really hard to play live."

And the caustic pop icon isn't completely immune to being impressed by his fellow performers. "To be honest with you, I saw the Stones and I saw Prince and I thought they were pretty good." And that's about as effusive as he's going to get.


Behind-the-Scenes Preview: Melanie Amaro & Elton star in Pepsi Super Bowl Commercial
Monday, January 30 2012 at 18:43:39


Behind-the-Scenes Preview: Melanie Amaro & Elton star in Pepsi Super Bowl Commercial
Monday, January 30 2012
Though Melanie Amaro was "crowned" the winner of the first American season of "The X Factor" - the 19 year-old chanteuse must please "King" Elton John in a humorous new Pepsi commercial which will air during the broadcast of Super Bowl XLVI on February 5, 2012.
In addition to her $5 million dollar recording contract with L.A. Reid's Epic Records, the British Virgin Islands singer was granted a starring role in her own Pepsi commercial as a reward for her victory on "The X Factor."

In their first encounter on the set, Melanie and Elton hugged and kissed as the rock superstar congratulated her on winning "The X Factor" in the United States. Between takes, Elton expressed his admiration for Amaro's considerable vocal talents and her "cheeky" personality, noting that she has a bright future as a live performer.

"King's Court," takes place sometime during the Middle Ages, and opens with a series of court jesters trying in vain to entertain and amuse the ornately attired King atop his throne, portrayed by Elton John. None of them succeed...until Melanie Amaro appears!      

Amaro removes her hood and belts out a funky rendition of the classic Otis Redding penned Aretha Franklin hit "Respect." ("Respect" - is also Amaro's new single. Viewers who "Shazam" the spot during game will receive a video of the song on their smart phone.)   

Also, pay attention to towards the end of the spot during the broadcast, when you see a celebrity make a surprise appearance.


Elton to appear on ABC's Good Morning America
Saturday, January 28 2012
Actor Daniel Radcliffe and Elton John will appear as guests on ABC's GOOD MORNING AMERICA on January 30, 2012.
Radcliffe will be discussing his upcoming film 'The Woman in Black', while Elton will chat about his new Super Bowl ad. Also on the show will be reality star and stylist Brad Goreski with all the highlights from last night's SAG Awards; "GMA" begins its count down to the Academy Awards with a profile of actor Jonah Hill.

Good Morning America is a two-hour, live program anchored by Robin Roberts and George Stephanopoulos. Josh Elliott is the news anchor, Lara Spencer is lifestyle anchor and Sam Champion is the weather anchor. The morning news program airs MONDAY-FRIDAY (7:00-9:00 a.m., ET), on the ABC Television Network.
Sir Elton film about pop hopeful
Thursday, January 26 2012
Elton's film company is bringing to life a pop hopeful's tale of record company rejection.
Lotte Mullan chronicled her efforts to make it big, as well as her eye-opening tales of the time she spent working for a record label, in a warts-and-all online blog. And now, still without her own major record deal, her tale is to be dramatised by Elton's Rock Pictures, which was behind box office hit Gnomeo And Juliet.

Lotte, 27, used her online diary to tell tales of rejection and give an insight into her experiences of the music business, attracting the eye of screenwriter Nick Moorhouse. The singer, who has also seen her version of Labi Siffre song "It Must Be Love" in a Lovefilm ad campaign, said: "My original dream was for the big recording contract, but real-life experience can really shatter the dream. I never imagined that my blog would be discovered instead. It's even more ironic that a musician owns the film company. My first album was Elton John's greatest hits on cassette in 1989, so it's a huge honour that Sir Elton John's film company is going to make a film based on my life."

Lotte has rejected one offer from a major label and is due to release a single I'm Alright With Me on her own label Raindog Records next month. Her self-released album Plain Jane is out at the end of January 2012.
Oscar music snubs: Were songs by Elton and others really that bad?
Thursday, January 26 2012
It's safe to say that when looking at the music nominations for the Academy Awards this morning, literally thousands of people thought, "That's IT?"
While the Academy's rules for the Best Original Song and Best Original Score categories are surely very thoroughly thought through, it's difficult to imagine the thinking that deemed only two songs worthy of 2012 Oscar consideration.

A look at the 39 songs and - wow - 97 scores officially in contention for the Oscars demonstrates just how thorough the initial vetting process is. A deeper dive on the songs list - which doesn't name songwriters or singers on the Oscars site - gives an idea of the artists who didn't pass muster: Elton John (two songs from "Gnomeo & Juliet"), Mary J. Blige ("The Living Proof" from "The Help"), Pink ("Bridge of Light" from "Happy Feet Two"), She & Him ("So Long" from "Winnie the Pooh"), the National ("Think You Can Wait" from "Win Win"), Elvis Costello ("Sparkling Day" from "One Day"), She & Him featuring Zoey Deschanel ("Winnie the Pooh"), Chris Cornell ("The Keeper" from "Machine Gun Preacher"), Willie Nelson ("Hell and Back" from "Hell and Back Again"), even Jordin Sparks ("The World I Knew" from "African Cats") and Sinead O'Connor ("Lay Your Head Down" from "Albert Nobbs").

Was it really that bad a year for original songs in films? Mary J. Blige wonders the same thing, tweeting on January 24, 2012: "I'm so thankful for true fans like you all. It saddens me & feels like the Academy is being mean. 2 only nominate 2 of the 5 slots is......."

And while some eyebrow-raising names were excluded from the Best Original Score list - last year's winners, Trent Reznor and Atticus Ross for "The Girl With the Dragon Tattoo" along with perennial nominees like Danny Elfman, Mark Isham, Thomas Newman and Alan Silvestri - at least weren't passed over for, well, no one.

While there's hardly been the kind of outcry and calls for reform that greeted, say, Jethro Tull winning a Grammy for Best Heavy Metal Album, it is hard to believe that the esteemed ears of the Academy could only find two original songs worth nominating for this year's awards.
Leon Russell celebrates 70th birthday at Brady Theater bash
Wednesday, January 25 2012
Tickets are now on sale for the Tulsa Sound's biggest annual gala. Leon Russell's birthday bash will be 7 p.m. April 14, 2012 at the Brady Theater, reports The Tulsa World.
According to the newspaper, it's the 26th consecutive year the legendary pianoman's celebrated his birthday in Green Country. Opening act will be Glen Templeton. Russell turns 70 this year. Raised in Tulsa, Russell once ran his Shelter records from the Church Studio in the Pearl District near downtown Tulsa.

"The night will include special video messages from friends such as Willie Nelson and Elton John, and include performances by Templeton with Russell as his own headliner," event promoter Steve Todoroff told The Tulsa World. Russell recorded on Templeton's single "Fixer Upper." This will be their first concert appearance together since the recording, Templeton's publicist said.

Russell is a well-known studio musician and in 2011 was inducted into the Rock and Roll Hall of Fame by one of his biggest fans, Elton John. The show is all-ages. Tickets are $35 and $40, plus fees, available at tulsaworld.com/protix.

As reported earlier, "The Union," a documentary about the making of the Grammy award-winning 2010 album of that same name by Elton and Leon, makes its broadcast premiere on February 2, 2012 on HBO.


HBO 2012 schedule of documentaries
Saturday, January 14 2012 at 06:35:48

HBO ccquires TV rights to Cameron Crowe's documentary 'The Union'
Tuesday, June 7 2011 at 09:42:10


Phish, Elton lead Hot Tours with biggest box office numbers
Tuesday, January 24 2012
Legendary jam band Phish tops Hot Tours with ticket sales totals reported from its traditional year ending run of concerts at the partially refurbished Madison Square Garden in New York City.
Elton John ranks second on Billboard's tally with $1.2 million in box office grosses reported from performances on January 6 and 7, 2012 in Honolulu, Hawaii. A two-show stint at the Neal S. Blaisdell Center drew a total of 13,822 fans for both nights. This year's concerts in Hawaii continue a tradition for Elton. He has played multiple-show runs at the 8,700-seat Honolulu arena during January in three previous years, according to box office totals reported to Billboard.

In 2010, he performed on January 6 and 9, selling 13,880 tickets for both concerts. A decade earlier, he sold 25,191 tickets for a three show run on January 7-9, 2000 and 13,125 tickets the following year for shows on January 12-13, 2001.
Mr. Kraft, Elton's on the line for you
Monday, January 23 2012
As Robert Kraft was holding the new-fangled Lamar Hunt trophy as AFC champions and talking about his late wife being the heavenly force that blew Billy Cundiff's 32-yard field goal wide left, he was handed a cell phone.
"It's my pal Elton John," Kraft announced, after hosting Aerosmith's Steven Tyler in his owner's suite as the Patriots beat the Ravens, 23-20, to advance to Super Bowl XLVI. "Hello, Elton! How are you my friend," Kraft said. "You're so kind."

As the conversation wrapped up, Kraft again expressed his appreciation. "Thank you, your call means a great deal. I love you, man," Kraft told Elton. Turns out, a phone call from Sir Elton John has been a tradition of sorts.

"He always used to call and he'd speak to my wife first, when we won a Super Bowl," Kraft said. "He's never won for an AFC championship. Whether he's in Dubai or wherever he is in the world, he watches our games. He's a huge Patriots fan and been a good friend of our family for over 25 years. I promise you he'll be at our game in London. We'll try to get him to Indy."
Happy Birthday, John!
Monday, January 23 2012
Elton's percussionist and background vocalist John Mahon is celebrating his birthday on January 23, 2012.
On behalf of the Hercules team and the Elton John fans all over the world, we would like to wish him a happy birthday!
Fancy bidding on Elton's old Jaguar?
Sunday, January 22 2012
A red E-Type Jaguar that belonged to Elton John is up for sale at an Oxford auctioneers.
The popstar's 1965 sports car is expected sell for up to £70,000 when it goes under the hammer at Bonhams in Banbury Road. The vehicle is the highlight of the classic car sale on March 3, 2012.

Elton bought the car in 1987 and nicknamed it 'OK Elton' as its number plate is OKE 1. He sold it in 2001 to a private collector.

Rob Hubbard, senior specialist at Bonhams, said: "This is a fantastic example of a 1965 Jaguar E-Type Series 1, which has been carefully looked after since its original purchase and is in excellent condition. We are expecting much interest from both national and international clients, particularly as a result of the E-Type's provenance."
Elton's Rocket Pictures turning kidbook 'Nerds' into animated feature
Saturday, January 21 2012
Elton John's Rocket Pictures has acquired film rights to Michael Buckley's bestselling seriesNerds, and will develop them as an animated family feature that Buckley will script. Rocket Pictures principals Steve Hamilton Shaw and David Furnish will produce. Elton is executive producer.
The Nerds series follows a group of unpopular and socially inept geeks who run a spy network from inside their elementary school. They battle the Hyena, a former junior beauty pageant contestant-turned-assassin, and an array of James Bond-style villains, each with an evil plan more diabolical and more ridiculous than the last. Three books have been released in the past two years by the Abrams imprint Amulet Books, and the next one comes in the fall.

"Nerds is an action-filled comedic property with a great inclusive message at its heart," Shaw said. "We think it has huge potential as a dynamic and modern family movie." Rocket Pictures most recently produced the 3D animated Disney movie Gnomeo & Juliet and is developing Will Gallows And The Snake Bellied Troll, written and to be directed by Shrek 2's Kelly Asbury. The company's also developing Rocketman, a biographical musical-fantasy feature film about the life of Elton John that's being written by Lee Hall. UTA reps Rocket Pictures and also brokered the book deal with publishing agent Alison Fargis of Stonesong.
David explains Madonna comments
Friday, January 20 2012
David Furnish has taken to his Facebook account to clarify previous comments he had made about Madonna's win at the Golden Globes.
"Wow! What a tempest in a teapot. My comments regarding The Golden Globes have been blown way out of proportion," David wrote. "My passion for our film "Gnomeo & Juliet" and belief in Elton's song really got my emotional juices going. But I must say for the record that I do believe Madonna is a great artist, and that Elton and I wish her all the best for next week's premiere of the film "W.E."."

Madonna won the award for Best Original Song for her work on "Masterpiece" from her film W.E., besting David's hubby Elton John 's song "Hello, Hello" from Gnomeo & Juliet.


Elton at the Golden Globes 2012
Monday, January 16 2012 at 20:42:07


Costa Rican culture minister to open for Elton
Thursday, January 19 2012
Costa Rican pianist and composer – and Culture Minister – Manuel Obregón will open for Elton John's February 3, 2012 concert at the Ricardo Saprissa Stadium in Tibás, north of San José, the daily La Nación reported.
Obregón, a renowned musician who has composed more than 20 albums, will perform an extract from his latest work, "Simbiosis, piano y bosque tropical seco," for the occasion, according to concert producer Evenpro. The Culture Minister assured La Nación that his performance would not affect his ministerial duties because the concert is in the evening.

"I can undertake any musical activity after 4 p.m., so there is no problem," Obregón told the daily. The concert will be Elton's first in Costa Rica.
Ed Sheeran on eating where Elton suggests
Thursday, January 19 2012
Over in England, the singer-songwriter Ed Sheera is a sensation.
In 2011, his album sold close to one million copies in a matter of four months, he racked up more Brit Award nominations than the formidable Adele, and all throughout, his army of young fans has grown and continued to swoon over his every appearance, move, smile. So, as Atlantic Records attempts to spread the madness into the United States with an American EP, "The A-Team," and a tour supporting Snow Patrol, Sheeran got on the phone to talk about his eating habits. Turns out he's not much different than any other twenty-year-old, as long as you don't count the times when Elton John gives you restaurant recommendations.

What's the last good meal you had?
The last good meal I had was in Venice, Italy. Actually it was a while ago, on New Year's. Right now I'm on tour, which basically means I'm making myself sandwiches every day. But on New Year's I went to a place called Da Ivo, and that was a beautiful experience.

Can you describe it?
I got put on it by Elton John. He called me up, said, "I've booked you at the best table in Venice and you need to go there." It's kind of a family-run restaurant — really small, really intimate. Really good wine, really good steak. It was so nice.

How does one get treated at a restaurant when Elton John has made the reservation?
Well! I'm still a kid at heart, so I want my steak well done and a glass of orange juice, so when you order things like that at a nice restaurant, they sort of look at you like you're mental. So there was a bit of that, as well.


Ed Sheeran praised by Elton
Monday, January 16 2012 at 20:45:15


Elton John or Madonna?
Thursday, January 19 2012
A musical war is brewing between two pop superstars, Elton John and Madonna. Details of the feud to follow, but Poll Position wanted to know who you think is more talented.
In a Poll Position national scientific telephone survey, 47% chose Elton John, 13% picked Madonna, 39% did not have an opinion. Among those with an opinion on the talent level of the two, it was a blowout with 78% choosing Elton to 22% for Madonna.

The battle started on January 15, 2012 at the Golden Globes when Madonna won "Best Original Song" for "Masterpiece" from her movie W.E. Elton was nominated for his song "Hello Hello" from the movie Gnomeo and Juliet. Madonna's victory was slammed by Elton John's partner David Furnish. John also weighed in prior to the Globes by saying Madonna had no chance to win the Golden Globe for her song.

Among those with an opinion on the talent of the two stars, African-Americans and whites differed. Whites picked the "Rocket Man" by a 79% to 21% margin over the "Material Girl." African-Americans also thought John was more talented but by a smaller margin of 58% to 42% over Madonna.

Women thought Elton John was more talented than men did, choosing him over Madonna by 82% to 18%. Men thought Elton was more talented than Madonna by a 74% to 26% margin.

Along political lines, Republicans chose Elton John by 82% to 18% over Madonna, Democrats picked John's talent by 75% to 25% for Madonna, Independents chose John by 76% to 24% for Madonna.

Poll Position's scientific telephone survey of 1,145 registered voters nationwide was conducted January 17, 2012 and has a margin of error of ±3%. From the total sample there are 694 with an opinion of Elton John/Madonna with a margin or error of +/- 4%. Poll results are weighted to be a representative sampling of all American adults.


Elton at the Golden Globes 2012
Monday, January 16 2012 at 20:42:07


Foster the People to perform at 20th EJAF Oscar Viewing Party
Thursday, January 19 2012
The EJAF announced on January 18, 2012 that the 20th annual Elton John AIDS Foundation Academy Awards Viewing Party, hosted by Elton and David, will feature a special performance by the Grammy nominated band, Foster the People. This year's event will be sponsored by Chopard, Neuro Drinks and Wells Fargo.
Best known for their edgy smash single, "Pumped Up Kicks," off their debut album "Torches", Foster the People is one of the hottest young indie bands in the US. The group will briefly take a break from their world tour just in time to perform at the EJAF Academy Awards Viewing Party to be held on February 26, 2012.

"We were thrilled when Sir Elton John asked us to play his Academy Awards party," said Foster the People front-man Mark Foster. "His foundation has globally impacted the lives of millions of people suffering from HIV/AIDS and we're honored to be involved in any way we can."

"'Torches' by Foster the People is one of my favorite albums of 2011 and 'Pumped Up Kicks' was my favorite single," says Elton. "I'm so thrilled that they are playing at our 20th anniversary Oscar party and I'm so impressed that they want to give back so early in their career."

In the fall of 2009, Mark Foster joined forces with Cubbie Fink and Mark Pontius to form Foster the People. Shortly after releasing their first single "Pumped Up Kicks," the band received numerous accolades from high-profile print publications helping to send the track to the top of the charts. The song reached number one on Billboard's Alternative Songs chart, number three on the Rock Songs chart, and number three on the Billboard Hot 100. The band is currently nominated for two GRAMMY Awards: Best Pop/Duo Group Performance for their single "Pumped Up Kicks" and Best Alternative Album for "Torches."
Ed Sheeran praised by Elton
Monday, January 16 2012
Elton phoned Ed Sheeran to say he'd "smashed it" with his BRIT Award nominations.
He called his young protege to wish him well after it was revealed he leads this year's awards with four nods on January 12, 2012. Ed told The Sun newspaper: "I speak to Elton on a weekly basis. He's very involved. I got a talk from him after the BRITs nominations. He's overseas at the moment but left me an answer phone message. He said I've smashed it so hard and good luck. It's always good to hear from Elton. He's a lovely guy and is very passionate about the music. He wants me to be huge all over the world, and I'm up for that too."

'A Team' singer Ed is very driven when it comes to his career, and didn't even stop for long over Christmas, instead opting to fly to the US to record tracks with a top rapper. He added: "I got home for Christmas and it was lovely to see my friends and family. Then I got the email from this rapper so I went. I get restless when I'm not creating. I'm 20 and have a lot of steam to burn off so I keep going. I don't have much time for a love life though. I had a relationship from school but I realised that didn't work and that I'd have to be married to my job for a few years."

Ed is nominated for Best Male Solo Act and Best Breakthrough Act at the BRITs, while his debut album, '+', is up for Mastercard British Album of the Year and his single 'A Team' is one of the nominees for Best British Single. The awards will take place on February 21, 2012 at The O2 venue in London.
Elton at the Golden Globes 2012
Monday, January 16 2012
Is the Elton vs. Madonna feud happening all over again?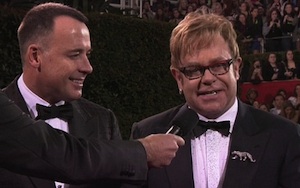 He had introduced her by sarcastically saying she was still 'like a virgin' while pretending to muffle a series of snort. But while Ricky Gervais enjoyed poking fun at Madonna, it was she who got the last laugh. As she stepped onto the stage she addressed the Golden Globes presenter and asked him: "If I'm just like a virgin Ricky why don't you come over here and do something about it," before adding: "I haven't kissed a girl in quite a few years, at least not on TV".

Ricky feigned being frightened and was seen sprinting across the stage behind her, which raised plenty of laughs among the crowd. She shrugged off the British comedian's remarks to announce the winner of the best foreign language film.

But no wonder Madonna was feeling invincible, she had just proved Elton John wrong by scooping the gong for Best Original Song. Earlier in the red carpet Elton John had predicted that the 53-year-old had 'no f***ing chance of wining' an award. It is her first trip down the Golden Globes red carpet in 14 years, and as a double nominee Madonna pulled out all the stops. Madonna's win was especially sweet because she was actually up against the Elton in the Best Original Song category.



During his red carpet interview Elton was discussing her fellow nominees chances, but when he came to his arch-rival he remarked: 'Madonna doesn't have a f***ing chance of winning tonight.' When the reporter asked if 'those were fighting words?' he replied: 'No, those are accurate words.'

When the same reporter informed Madonna minutes later that Elton had just been by, she reportedly asked: 'Was he wearing a dress?' And when told of his comment, she snapped back: 'May the best man win.' Elton, who was nominated for Gnomeo & Juliet, had to eat his words as it was announced shortly into the ceremony that Madonna was the winner. Others in the category were songs from Machine Gun Preacher, The Help and Albert Nobbs.

Viewers appeared to be most interested in Madonna's bizarre accent during the televised red carpet. With commenters on social network sites remarking that her American accent was prominent in some interviews and her 'British' one in others.

David lashed out at Madonna following her victory speech at the Golden Globes last night ... saying it was 'embarrassing in its narcissism.' Moments after Madonna won the statue for Best Original Song, David went to his Facebook page and went off ... writing, "Madonna. Best song???? F**k off!!!" Elton seemed pissed off in the crowd when Madonna's name was read.

But David continued on Facebook ... writing, "Madonna winning Best Original Song truly shows how these awards have nothing to do with merit. Her acceptance speech was embarrassing in it's narcissism. And her critisism of Gaga shows how desperate she really is."
HBO 2012 schedule of documentaries
Saturday, January 14 2012
HBO Documentary Films has released the schedule of premieres of upcoming documentaries. Highligts include "The Union" about the music collaboration between Elton John and Leon Russell.
"The Union" (air date February 2, 2012) is an unprecedented look at the creative life of Elton John and his remarkable collaborative album with his early-career idol, Leon Russell, produced by award-winning music producer T Bone Burnett.

Never before filmed in his composing process, Elton John is captured by Crowe in this candid portrait of one of the world's most treasured artists and performers. The documentary was started in November 2009, the and chronicles the entire writing and recording process of "The Union," the acclaimed album John made with Russell. Directed by Cameron Crowe ("Almost Famous," "Jerry Maguire").
Murdoch 'angry' over Elton John settlement
Thursday, January 12 2012
News Corporation chairman Rupert Murdoch took a "hands on approach" to his UK newspapers, The Sun tabloid's former editor told an inquiry into press ethics on January 9, 2012, recounting Mr Murdoch's reaction to a story involving Elton John.
Mr Murdoch was angry about The Sun paying a £1 million ($1.54 million) settlement to the pop singer over a false news story in 1987, Kelvin MacKenzie, who edited the paper from 1981 to 1994, told the inquiry. The story wrongfully claimed Elton John paid for sex with underage "rent boys".

"Murdoch thought I'd gone too far," Mr MacKenzie said. "I then received something like 40 minutes of non-stop abuse" during a phone call from Mr Murdoch. "It wasn't so much the money of course - it was the shadow it cast over the paper."

The inquiry was called for last year by British Prime Minister David Cameron in response to a phone-hacking scandal at another News Corporation tabloid, the News of the World, which the New York-based company closed in July to contain public outrage over the scandal. Mr Murdoch, 80, told lawmakers last year that he wasn't responsible for the scandal and that he'd "lost sight" of the News of the World.
Globe nominees ready for ribbing
Thursday, January 12 2012
Elton John says he's prepared to get a kicking from Golden Globes host Ricky Gervais at the January 15, 2012 awards ceremony. He is nominated for his song from the film Gnomeo & Juliet at the A-List event.
Elton said: "I'll probably get the piss taken out of me, but it's fine with me. I'm British. I can take it." Ricky took sharp swipes at Mel Gibson, Bruce Willis, Robert Downey Jr and the Hollywood Foreign Press Association at last year's ceremony and some criticised the comedian for going too far.

But with Ricky back for his third turn as Globes host on January 15, 2012, nominees are already preparing themselves for the funnyman's pointed jabs. Damian Lewis, nominated for his work on the TV series Homeland, said he might also be an easy target for Ricky. "If he's got a thing about redheads, I'm a sitting duck," Damian said.

Glee and American Horror Story executive producer Ryan Murphy is also excited about Ricky's return and the spice he brings to the three-hour telecast. "It's always good with the shows to have an unpredictable element to them, and he certainly is that," he said.
Elton John and band performed in Honolulu on January 07, 2012
Wednesday, January 11 2012
Following is the complete set list of the Honolulu show on January 7, 2011.
Saturday Night's Alright (For Fighting)

I'm Still Standing

Levon

Madman Across The Water

Holiday Inn

Tiny Dancer

Philadelphia Freedom

Goodbye Yellow Brick Road

Candle In The Wind

Rocket Man

I Guess That's What They Call It The Blues

Hey Ahab

Gone to Shiloh

Monkey Suit

Someone Saved My Life Tonight

Honky Cat

Sad Songs (Say So Much)

Daniel

Sorry Seems To Be The Hardest Word

Don't Let The Sun Go Down On Me

Bennie And The Jets

The Bitch Is Back

Crocodile Rock


Your Song
Publisher has deal for Elton John book
Monday, January 9 2012
Fans of Elton will have to wait a little longer for his memoir of sex, drugs and rock 'n' roll. But his publisher is expected to announce today that Elton has signed up to write his first book, about his experience in fighting AIDS.
The book, titled "Love Is the Cure," will be "the very personal stories of Sir Elton's life during the AIDS epidemic, including his agony at seeing friend after friend perish needlessly," said his publisher, Little, Brown & Company. Elton had long wondered why greater effort was not made to cure the disease. "Why are we not doing more?" he wrote in an e-mail from his publisher. "This is a question I have thought deeply about, and wish to answer — and to help change — by writing this book."

Michael Pietsch, the publisher of Little, Brown, will edit the book, to be released in July 2012. A number of musicians, including Keith Richards, Patti Smith, Pete Townshend and Sammy Hagar, have lined up in recent years to write memoirs. Robert Barnett, the Washington lawyer who represented Elton in the deal, said that Elton had no such plans.
Elton & Family: Happy In Hawaii
Sunday, January 8 2012
Enjoying a sunny holiday in beautiful Honolulu, Hawaii, 1-year-old Zachary looked absolutely adorable as he spent some time at the beach on January 6, 2011 with his parents Elton and David.
The famous family was also spotted meeting with friends for a bite to eat, where the happy toddler was of course the center of attention.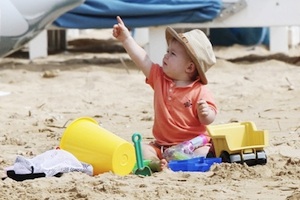 I'm a Rocket Maaaan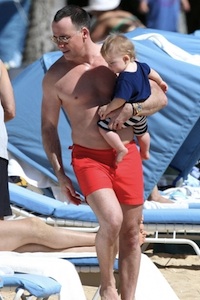 Take Me Down To The Ocean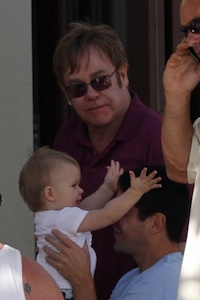 Wrap Hair Up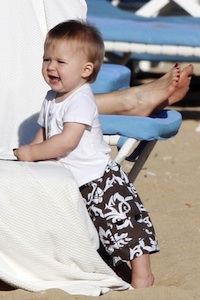 I'm Still Standing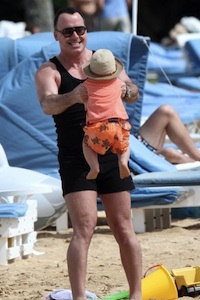 Jump Up!
Elton not available to play Rachel's dad on Glee
Thursday, January 5 2012
While Glee is finally getting around to casting Rachel Berry's gay adoptive dads for an upcoming episode, Elton — long-rumored for one of the roles — is unavailable.
"I'm currently meeting and talking to [actors]," confirms executive producer Ryan Murphy. "So many people are interested in playing them." But while Ryan loves Elton, he tells me, "He is, unfortunately, touring."

Still, it sounds as though Ryan will have his choice of big names for the often-mentioned but never-seen men. "I had no idea when I sent out word to a couple of agents that there would be so much interest," Ryan says. "But there is."

According to Ryan, we'll likely get our first glimpse of the dads in late February or early March 2012.


Lea Michele wants Elton John on Glee
Thursday, August 18 2011 at 21:46:58

Matthew Morrison: Elton should be Sue Sylvester's boyfriend
Wednesday, June 1 2011 at 07:37:51

Is Elton John finally heading to 'Glee'?
Tuesday, March 1 2011 at 22:59:30


5 actors who could play Elton John (and none of them are Justin Timberlake)
Tuesday, January 3 2012
Hitflix.com respectfully disagrees with Elton's choice to portray him in a biopic.
In a recent interview with the Los Angeles Times, Elton John said that his No. 1 pick to play him in his forthcoming biopic is Justin Timberlake, "because he played me before in a David LaChapelle video of 'Rocket Man' and was superb."

Hitflix.com saw that video, which played behind Elton's performance of "Rocket Man" during his multi-year Las Vegas run of his "Red Piano" show, and agree that Timberlake did a great job portraying Elton in the early '70s, but he's not their first choice.

Elton has already said that he sees the film as a "surreal" look at his life, more in the manner of "Moulin Rouge," so that instantly gives the casting director latitude. Plus, if Elton's thinking Timberlake, who looks nothing like Sir Elton, that frees up any notion of having to find someone who physically resembles him since that can be accomplished with make-up and wigs (or may not be necessary). Elton also wants the story to end in 1990 when he was 43 and entered rehab, so the actor doesn't have to age too much.

Here are Hitflix.com's top 5 choices:

1) Daniel Radcliffe: He just ended a successful Broadway run as J. Pierrepont Finch in "How To Succeed In Business Without Really Trying," and while he's shorter and slighter than John, he's got the right look, he can sing, and he doesn't have to fake the British accent. While Timberlake is rapidly proving that he can play almost any type, and could certainly handle John's flamboyant stage side, Radcliffe seems a better fit in playing his off-stage, less confident self. And who doesn't want to see him in a Daffy Duck suit?

2) Andrew Garfield: (remember, physical resemblance is not an issue here) Someone who can go from a Harvard nerd in "The Social Network" to scaling walls in "Spider-Man" has the right blend of vulnerability and swagger to play John. Other than laughing his way through the "Bed Intruder Song," we're not sure of his singing abilities. This video hardly serves as an audition tape, but remains good for a laugh.

3) Nick Jonas: No, he's not British, and at 19, he may be too young to even play a young Elton, but anyone who has seen him knows that his talents lie far beyond The Jonas Bros. He started on Broadway when he was 7, and replaces Radcliffe in "How To Succeed" starting in mid-January. Yes, it's a stretch, but we think he's got the intensity and drive that matches John's early days.

4) James McAvoy: He's not a great singer (if his warbling in "Penelope" and "Shakespeare Retold—MacBeth)" are any indication, but he's got the right look and sensitivity. He could also pull off John's songwriting partner Bernie Taupin. In fact, he may make a better Taupin than John.

5) Jamie Bell: Given that "Billy Elliot" scriptwriter Lee Hall is also writing the script for John's biopic, and Bell starred in the screen version of "Billy Elliot," it's worth considering...but even we have to admit that we'd probably cheat and put Timberlake before Bell.

6) Longshots, but intriguing possibilities: What about Tom Hardy, who can seemingly play anything, or Jared Leto, who may be too old, but can definitely sing? We bet Zac Efron's agent is dying to get him an audition, but we don't see it AT ALL. Same with Robert Pattinson.


The Sunday Conversation: Elton John
Saturday, December 31 2011 at 11:59:42


Bernie Taupin: What I've Learned
Tuesday, January 3 2012
Quotes from an interview conducted on September 28, 2011 which is published in the January edition of Esquire magazine as one of the "18 Other Guys" in "The Meaning Of Life 2012" feature.
"One reason I quit doing interviews after years and years and years was because I was making things up. People would ask me the same question again and again and again, and I'd add something new to the story because I was bored of it. I'd embellish the stories to the point where I couldn't remember what was true or not.

I get irritated when people try to become familiar and say, "Oh, have you seen Reg lately?" Because you don't say that to Elton. Not unless you want your head torn off. When people change their names legally, you respect that.

I never got to have a cool name. Lash La Rue. That would've been good.

My mother's father taught English literature. When I was about ten or eleven, I could recite Macaulay's Lays of Ancient Rome. While other kids were playing pedestrian war games, I'd be Horatius keeping the bridge.

Don't call my lyrics poetry. It's an insult to real poets.

John Lennon famously said that "Before Elvis, there was nothing." I say, Before Elvis, there was everything. After Elvis, there was a lot less.

Lincolnshire is the Idaho of England. You were either going to drive a tractor for the rest of your life or head for the city to work in a factory. Answering a magazine ad placed by a new record company looking for talent was a form of desperation.

I didn't play any instruments. I had no concept of a bridge or a chorus. I wrote some sort of nonsensical psychedelic lyrics that were plagiarized from a conglomerate of things in vogue, and actually got a reply. So I went to London and this guy said, "I've got this kid. He wants to write songs, but he doesn't write lyrics. He's auditioned for us, and everyone said no. Maybe you two guys should hook up." That's how it is. Mick Jagger meets Keith Richards at a train station and says something like, "What's that album? Can I hear it?" It's kismet. Elton had answered the same ad.

I sat very properly in the control room. Elton walked in and said, "Are you the guy who writes the lyrics?" I said, "That would be me." He said, "Let's go have a cup of coffee." That was it.

There are songs that, to this day, Elton thinks I've written about him when they're actually about me.

I was on a trip to England, driving to my parents' place in Lincolnshire, when the whole first verse came into my head at once. "She packed my bags last night preflight, / Zero hour, nine A.M. / And I'm gonna be high as a kite by then." The whole stanza. I'm going, "Oh, my God, that's great." But I didn't have a pen, paper. Nothing. This was before microcassettes and those sorts of things. And I'm on the road and I have nowhere to put it. So I had to keep it in my head for about an hour. I'm driving along going, "She packed my bags... " over and over again. I pulled into the driveway, ran inside — "Nobody say anything to me!" — and wrote it down.

I like it to be a bit more interesting than a good old "I love you, you love me, my heart will break if you leave me." Throw in a curveball. "Someone Saved My Life Tonight." "Don't Let the Sun Go Down on Me." Put a dark twist on them, you know.

"Crocodile Rock" is a strange dichotomy because I don't mind having created it, but it's not something I would listen to.

Back in the seventies, when people were saying that "Madman Across the Water" was about Richard Nixon, I thought, That is genius. I could never have thought of that.

The "Buh-buh-buh" was pure Elton. I didn't write it that way. But it was a great interpretation. Because the whole idea of"Bennie and the Jets" was almost Orwellian, you know — it was supposed to be futuristic. They were supposed to be a prototypical female rock 'n' roll band out of science fiction. Automatons. So when Elton did that very hypnotic "Buh-buh-buh," it worked.

When you read a screenplay, you're reading a screenplay. When you see it performed, that's another dimension.

There's something creepy about taking your music home and consistently listening to it.

I've been married three times before. It takes you a while to really find the right connection.

I paint, you know, and have a fairly good career going. And I'm touchy when elitists say you can't be taken seriously in more than one form of art. Duke Ellington said that everybody should do two things. I'll listen to Duke Ellington before I'll listen to the critics.

My philosophy is that if you don't feel like what you're creating is the best work you've ever done, it's time to throw in the towel.

One of the terms I dislike intensely is survivor. "He's a survivor." Disengaging yourself from crap and bad habits doesn't make you a survivor. It just means you've got the common sense to stop fucking yourself up on drugs and alcohol. There's nothing heroic about it.

I go through books like a paper cutter.

When Elton and I started out, we were literally kids. Then we became young adults. Then we became adults. Now we're old men. But old men with distinctly young ideas."