ELTON JOHN NEWS ARCHIVE: January 2011
19th Annual EJAF Academy Awards Viewing Party
Monday, January 31 2011
The Elton John AIDS Foundation (EJAF) announced on January 31, 2011 that the 19th annual Elton John AIDS Foundation Academy Awards Viewing Party hosted by Elton John and David Furnish will take place on February 27, 2011, at the Pacific Design Center in Los Angeles.
Elton stated, "I am tremendously excited to announce that Best New Artist Grammy nominee Florence + The Machine has accepted my personal invitation to perform for guests attending this year's gala event." Guests will arrive at the Academy Awards Viewing Party at 4:00 pm for a cocktail reception followed by a gala dinner and viewing of the 83rd Academy Awards® telecast.

This year Chef Ludo Lefebvre, owner of the wildly popular touring restaurant LudoBites in Los Angeles, will prepare the menu. Named one of the World's 50 Greatest Chefs by Relais & Chateaux, "Chef of the Future" by Time Magazine and nominated by the James Beard Foundation for the "Rising Star" award, Chef Ludo is known for his innovative and adventurous cuisine and menu design.

For nearly two decades, the world has turned its attention to this annual event as it attracts the brightest stars in entertainment for a singular purpose - to raise money and awareness for the fight against HIV/AIDS. In 1993 Elton pledged to the Hollywood community that he would hold this event every year until a cure for HIV/AIDS had been found. Nearly 20 years later, the Hollywood community is still standing with Elton, showing their support for the Foundation and this worthy cause.

"2011 marks the 30th year since the disease we have come to know as HIV/AIDS was first observed by physicians in American patients," said Elton. "Since then, tremendous strides have been made in our understanding of this terrible virus and the disease process it causes, as well as in the medical treatment of people living with HIV/AIDS. However, in many ways we are still dealing with the same problems, prejudices, and roadblocks that stymied efforts to engage the epidemic aggressively in the 1980s. There are still government policies in place that fly in the face of scientific fact and public health practice; our society still turns its back on the very people who most need our help; and we still do not give our children the information they so urgently need to protect their health, their future and their very lives. This is precisely what the Elton John AIDS Foundation has been doing since its inception, and it is even more important today that we raise as much money as possible to address these issues in order to reduce the terrible human cost of this preventable disease."

Nowhere else in Hollywood can you find a more eclectic group of luminaries who have come together to support a cause on the evening of the Academy Awards. Throughout the years, the party has played host to legendary actors including Dame Elizabeth Taylor and Sir Ben Kingsley, today's Academy Award winning stars and celebrity personalities such as Gerard Butler, Halle Berry, Marion Cotillard, Catherine Zeta-Jones and Michael Douglas, Denzel Washington and Ryan Seacrest, and the biggest names in rock-n-roll including Jon Bon Jovi, Bono, Sir Paul McCartney, Prince, John Mayer, Jennifer Hudson, Katy Perry, Adam Levine and Grace Jones.

In addition to the tremendous celebrity presence at the event, several members of the Hollywood community have also agreed to be Event Chairs at this year's event. Event Chairs for 2011 include Victoria & David Beckham, Mary J. Blige & Kendu Isaacs,Cameron Crowe, Miley Cyrus, Ellen DeGeneres & Portia de Rossi, Hugh Jackman & Deborra-lee Furness, Rashida Jones, Jeffrey & Marilyn Katzenberg, Nicole Kidman, Baz Luhrmann & Catherine Martin, Jane Lynch, Eric & Janet McCormack, Sharon & Ozzy Osbourne, Tyler Perry, Paul & Julie Rudd, Sharon Stone, Taylor Swift and John Waters among others.

In addition to being the largest fund-raising event on Oscar's big night, the affair has become known for its spectacular musical performances. This year is no exception, as Florence + The Machine will take center stage to entertain this year's guests. While Florence + The Machine pride themselves on the fact that no two live performances are ever alike, guests can be sure they will hear some of their favorite songs, including "Dog Days Are Over."

Known for her soaring, epic vocals and quirky melodies, Florence Welch and her band, "The Machine," released a debut album,Lungs, in July 2009 to critical acclaim, reaching the top of the UK charts in January 2010, where it stayed for 28 consecutive weeks and has been certified as quadruple platinum. Performances on the MTV Music Awards and the hit show Glee propelled Florence + The Machine into the US market, where their title track "Dog Days Are Over" is currently climbing the Billboard's Hot 100 chart, and was featured on the soundtrack of the blockbuster movie "Eat, Pray, Love."
Elton John & Ray Cooper performed in London on January 28, 2011
Saturday, January 29 2011
Following is the complete set list of the London show on January 28, 2011.
Elton solo
Sixty Years On

The Greatest Discovery

When Love Is Dying

When Love Is Dying

I Guess That's Why They Call It The Blues

Rocket Man

Never Too Old (To Hold Somebody)

Philladelphia Freedom

Your Song

Elton with Ray Cooper

Funeral For A Friend

Tonight

Better Off Dead

Levon

Gone to Shiloh

Indian Sunset

I Think I'm Gonna Kill Myself

Sorry Seems To Be The Hardest Word

Take Me To The Pilot

Don't Let The Sun Go Down On Me

Bennie And The Jets

Crazy Water

Elton solo

Candle In The Wind
Steve Lawrence sings with Elton and others
Saturday, January 29 2011
It all comes together thanks to Ron Dante, most famous as the voice of The Archies' "Sugar Sugar."
But he's enjoyed an even more prolific career as a record producer. It was under his stewardship that Barry Manilow evolved from Bette Midler's piano player into a superstar balladeer.

Ron's now producing a new album for Steve Lawrence, whom he dubs "one of the last of the Rat Pack." Unlike Manilow, Rod Stewart and Brian Wilson, who've all done albums of pre-rock-era standards, Lawrence is recording what Dante calls, "classic songs from the last 30 years" by writers such as Elton John, Paul Simon and Garth Brooks — who'll join Steve on vocals.
Matthew Morrison wants Elton to play Sue Sylvester's boyfriend on Glee
Saturday, January 29 2011
Matthew Morrison managed to get Elton John into the recording studio with him, so the next sensible step would be to get him on Glee, right?
"We should find a spot for him to be on the show," Morrison tells People magazine. "That would be awesome. He's a living legend. He just brings such a great energy and a great validity to everything he does."

What sort of role does the actor, who plays Mr. Schuester, see for John? "He should do something with Jane Lynch," Morrison says, referring to the Golden Globe-winning actress who plays Glee's no-nonsense cheerleading coach, Sue Sylvester. "I think he should maybe play her boyfriend or some kind of love interest for her. I think that would be funny."

Working on his album with new dad Elton was what Morrison calls "an out-of-body experience." "I didn't really believe it was actually happening," says the actor. "I actually felt like I was a bad singer because we were singing a couple of his songs, and you're so used to hearing that voice on these songs, and I'm like, 'I don't sound good on these songs.' "

Despite any insecurities on Morrison's part, the musicians' collaborations were hailed a success by Elton, who has already talked up the duo's time in the studio. "It was supposed to be a secret that he was going to be on my album, but he's kind of telling everyone," Morrison says with a laugh. "So I guess we can talk about it. He's just the most loving man, and we had the best time. He was so giving and so supportive. We just had a ball."

Fans eager to hear the singers' duets will have to wait until the February 2011 release of Morrison's album. Until then, he plans to play a free show on January 29, 2011 – his first live performance in his solo career – at The Grove in L.A., as part of Oscar Mayer's Good Mood Mission.



Elton reveals duet with Glee's Matthew Morrison
Saturday, January 22 2011 at 13:35:57

Elton to record with 'Glee' star Morrison
Saturday, October 9 2010 at 06:18:56


Elton drops the F bomb on the air
Saturday, January 29 2011
Elton stunned millions of Radio 2 listeners the morning of January 28, 2011, dropping the F bomb on Chris Evans' live Breakfast Show.
He let the word slip during a conversation about his home life and morning routine. Elton revealed he hardly plays the piano at home these days, prompting Chris to tell him that Jools Holland is unable to start the day without tickling the ivories.

That's when an exasperated Elton signed: "Oh f****** hell!" Realising his foul-mouthed blunder, he very quickly apologised to a speechless Chris. Elton then issued a formal apology after the 9 o'clock news, saying: "I'm really, really sorry that I said that naughty word, but I can't believe that anyone would want to get up and first thing in the morning play the piano." Aptly, Chris then played Elton's 'Sorry Seems To Be The Hardest Word.'

It's not the first time Elton has unleashed an expletive on air - in 2004 he used the F-word on Chris Moyles' Radio 1 show before listing several swear words, asking which ones were acceptable to say.

In a less controversial moment on Evans' programme, Elton also revealed he's working on a biopic of his life. He said: "It'll be more Moulin Rouge! and less like the Tina Turner movie. My life has been quite bizarre... music, a football club..."



Elton biopic in the works
Monday, January 24 2011 at 12:19:47

More tantrums
Saturday, February 23 2008 at 14:23:39


James Blunt on hanging out with Elton
Saturday, January 29 2011
In an interview with Gibson former British Army officer James Blunt was asked about his friendship with Elton John.
Sir Elton John has become a great friend of yours. Do you have any good Elton stories?

One happened last year, on my birthday. I was alone in Denver, eating chicken wings and drinking champagne, and thinking, "What a miserable experience to be doing this on my birthday." Then I got a call. It was Elton on the line, saying, "Hey, I'm in Denver, too, doing a show with Billy Joel. Why don't you come and hang out in my dressing room, while I get ready?" So I went and helped him choose his stage clothes. He gave me a front row seat, which is a weird place to be. People were pointing at me, probably thinking, "Hey, there's that singer. He must be a psychotic Elton fan." They probably thought I followed him all across the world, sitting in the front row.



Elton John and James Blunt bond at Plan B show
Saturday, January 15 2011 at 10:23:09

James Blunt to perform at 15th Annual EJAF Oscar Party
Thursday, February 8 2007 at 17:25:39


Elton blasts 'Idiot' record company chiefs
Friday, January 28 2011
Elton John has blasted 'idiot' record company bosses for caring more about music sales than their artists' welfare.
Elton John is "sickened" by "idiot" record company chiefs. The outspoken singer launched an attack over the treatment of artists who fail to live up to the success expected of them by corporate backers, insisting executives should care for their acts more.

He said: "I think most heads of record companies are idiots. About five per cent are any good. They're only in it for themselves. They don't care about artists. They're all about the next fix, the next single. It's like they're having a hit of cocaine every 15 seconds. And if someone falls by the wayside, they're by the wayside. They're not allowed one blip. In America, most of them are idiots. They're sickening actually. They sicken me. They're thick as s**t."

Elton also admitted he no longer likes being famous but understands he has to be available to promote his work, something which he takes tight control of. He added in an interview with Shortlist magazine: "Do I enjoy success now? Fame is completely different. It's not as innocent. I don't want to be famous any more, I just want to make my music and have a nice life. But you have to play the game and promote your records, your movies, your musicals. But if I was young, I'd hate it."
Harps COO releases statement
Thursday, January 27 2011
Following a number of complains about the concealing of the cover of the Us Weekly magazine, which features Elton and David holding their newborn baby Zachary, the Harps grocery store chain in Arkansas has released a statement on its website.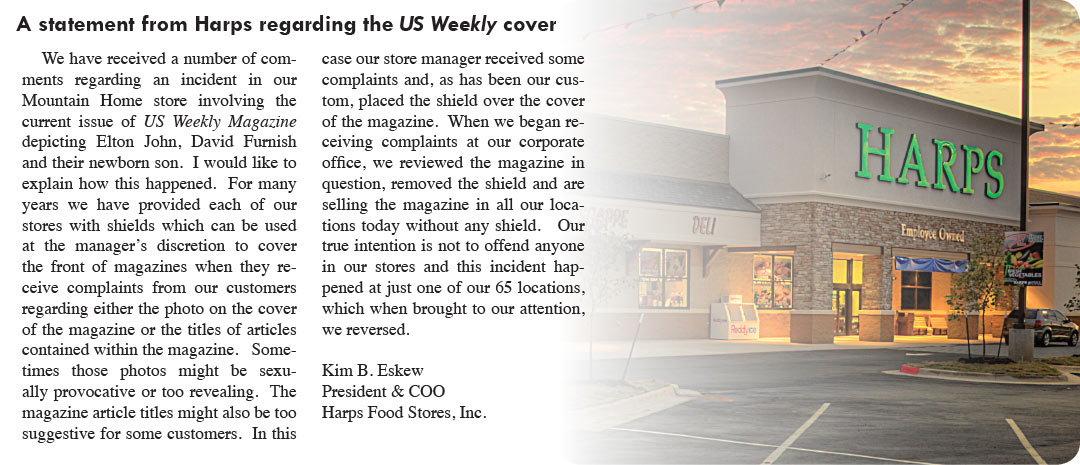 Market censors Elton/David holding baby 'Us' cover
Wednesday, January 26 2011 at 19:10:46


Elton calls Kayne West album "genius"
Thursday, January 27 2011
Elton previously showed his love for hip-hop by performing with Eminem at the 2001 Grammys. But his respect for the music doesn't end there. He, who guests on Kanye West's star-studded single "All of the Lights," expressed his fondness for Kanye's latest album and rap in general.
Elton showered praise on Mr. West's critically-acclaimed fifth album 'My Beautiful Dark Twisted Fantasy.' "I grew to love R&B and Motown and all black music, gospel music. I never dismiss any form of music," he told TeenMusic.com. "I listen to everything. I'm on the new Kanye West record, for example. It's a genius record."

He was quick to defend the genre against those who malign it. "People who mock rap, and say, 'I don't like it,' they should go check out Kanye in the studio rapping," said Elton. "Or Eminem when he's in the studio. It's a phenomenon. Don't knock it until you've seen it. It may not be your cup of tea, but don't ridicule. I find that so many of my peers of my age don't listen to anything new. I love the new."



First show of the year postponed
Thursday, January 27 2011
The Elton John & Ray Cooper show in Lievin, France on January 26, 2011 has been postponed.
As eltonjohn.com reported, Elton has become unwell and couldn't perform at the Stade Couvert de Liévin.

The new date for the show is now May 24, 2011.
Jake Shears book to benefit EJAF
Wednesday, January 26 2011
The Elton John AIDS Foundation (EJAF) will benefit from a portion of the sales of a new photo book "One Day in the Life of Jake Shears," by photographer Tim Hailand, to be published on February 21, 2011.
You can order your copy here at www.onedayinthelifeof.org. Jake Shears is the lead singer of the American musical group Scissor Sisters, and a long-time supporter of EJAF and friend of Sir Elton John.

The book follows a day in the singer's life, June 22, 2010, through black and white and color photographs, including shots from a BBC radio session; lunch with composer Nico Muhly, and Jonathan Pierce of The Drums; trying on possible stage costumes designed by Gareth Pugh; a sound-check and pre-show chat with producer Stuart Price; culminating in full-color photographs from the first concert of the Scissor Sisters "Night Work" world tour at London's famed 02 Brixton Academy, as well as intimate and previously unseen moments with family and friends. The book also features accompanying text by Jake Shears himself, and introduction by Elton John, and an afterword by Kylie Minogue.

"One Day in the Life of Jake Shears" may be purchased online exclusively before February 21, 2011 at the special pre-sale price of $30, and then for $35 upon publication.
Market censors Elton/David holding baby 'Us' cover
Wednesday, January 26 2011
A grocery store chain in Arkansas is concealing the cover of the Us Weekly magazine, which features Elton and David holding their newborn baby Zachary.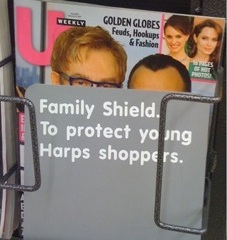 Harps grocery stores has placed a "family shield" over the magazine to block from view the cover photo of Elton and his family. "Family Shield. To protect young Harps shoppers," the shield says.

"This was taken at my local grocery store," a shopper tweeted. "I was shocked and horrified." In a later tweet, she adds, "It's over all the covers of that magazine (at every register). The other magazines aren't covered."

"I love Arkansas. I hate to see this sort of thing happen here or anywhere," she said in another tweet, where she encouraged followers to complain to the grocery chain.

The user added that she snapped the picture at her local grocery store in Mountain Home. Harps has 60 stores located in three states: Arkansas, Oklahoma and Missouri. Whether other stores were censoring the cover is not known.



UPDATE: Elton introduces the world to his son
Tuesday, January 18 2011 at 08:39:07
"Gnomeo & Juliet" - more videos available
Wednesday, January 26 2011
More newly released video clips from Touchstone Pictures' "Gnomeo and Juliet" are now available.
Gnomeo & Juliet – Film Clip "Balcony"



Gnomeo & Juliet – Film Clip "Delicate"





"Gnomeo & Juliet" - new videos available
Thursday, January 20 2011 at 18:46:25
James McAvoy: "I admire Elton John"
Wednesday, January 26 2011
James McAvoy has expressed his admiration for Gnomeo And Juliet's executive producer Elton John.
McAvoy, who provides the voice of Gnomeo in the animated movie, told Parade that he has never been able to meet the acclaimed 'Candle In The Wind' singer. "Do you know what? I have yet to meet the fantastic Elton John," he said.

The actor added that he often hoped that Elton would turn up to offer him vocal advice during the film's recording sessions. He explained: "I'm a total fan of his music and I've been working on this film for I think three years. So every day I would come to work and I would kind of be hoping that that would be the day Elton would be there but he was never there when I was there. I was absolutely gutted. I thought, 'Am I performing badly? Does he not like the film?'"



Elton's song secret
Wednesday, January 26 2011
Elton became emotional every time he performed his song "The Greatest Discovery" prior to his son's birth, because the lyrics reminded him of his surrogacy secret.
Elton and David welcomed little Zachary via a surrogate mother at Christmas Day 2010, after keeping their baby plans quiet for nearly a year. Elton admits his song from 1970, about the birth of a child, reminds him of the emotional journey to becoming a parent and he grew teary every time he sang it before the tot's birth, because he couldn't share his news with his audience.

He tells Access Hollywood, "It's about the birth of a new baby and I was singing it before he arrived and I was getting very emotional as I sang it. And I thought, 'People don't know what's going on and I'm singing this song.'"

And he reveals he is now serenading his baby boy with the track, adding, "I've been singing that (to him) recently."



Elton "thrilled" with Lady Gaga collaboration
Wednesday, January 26 2011
Elton John has revealed that Lady Gaga brings "personality" to their collaboration "Hello, Hello."
Elton, who has teamed up with Gaga on the song for the Gnomeo & Juliet soundtrack, also admitted that he "is thrilled" with the finished product. Speaking of Lady Gaga and their duet to Access Hollywood, Elton confessed: "We became friends, and I adore her. I told her about the song, and she said, 'I'd love to do it,' and she did it. We're just so thrilled she took time out of her incredibly busy schedule to do it."

Elton also claimed that the "Poker Face" hitmaker put her own unique spin on the tune, which was produced by himself and his partner, David Furnish. He said: "She had fun with it and changed it a little bit and brought her own personality to it, so she gave Juliet that personality."

The collaboration is due for release on February 8, 2011, just a few days before Gaga's eagerly awaited new single, "Born This Way," on February 13, 2011.



Elton reveals what he would have changed about 'American Idol'
Wednesday, January 26 2011
"Let's have bands, let's have songwriters, let's change the format a little," he tells MTV News of what he would have shaken up as a judge.
Now that "American Idol" has kicked off its 10th season with a bright, shiny new group of judges, it's almost hard to remember that chaotic time over the summer when the fate of the panel was in limbo — back when Jessica Simpson, Justin Timberlake and Elton John were all rumored to be in consideration.

When MTV News caught up with Sir Elton recently as he promoted the upcoming animated film "Gnomeo & Juliet," for which Elton composed original songs, they asked if he'll be making any appearances on "Idol" this season.

"I don't know if you'll see me on this season," he said. "But you won't see me judging, obviously! But I don't know if I'm going to be on it. They've always been very, very generous to the AIDS Foundation," Elton said of the "Idol Gives Back" charity show. "I'm very, very grateful. They've been helpful to us. I don't know if I'm going to be on or not. I can't answer that question."

With regard to fellow Brit and former "Idol" judge Simon Cowell's "X Factor," however, Elton brightened a bit when we asked what he thinks of it and how well it will do in the U.S. "X Factor is going to be a huge show," Elton said. "It's going to be huge, because you can have bands on there, and that's one thing I wanted to change, if I had been on American Idol," he revealed. "Get away from the solo stuff. Let's have bands, let's have writers, let's have songwriters, let's change the format a little, and that's why X Factor is going to do so well, because it's a different lineup. You can have bands and groups. That's more interesting I think."



Pastor Joel Osteen: Elton John is a sinner
Wednesday, January 26 2011
Best-selling author and Pastor Joel Osteen, and his wife Victoria Osteen, are the guests on "Piers Morgan Tonight," and the hour-long discussion touches on faith, finances, charity and more.

But one part related to a topic Osteen rarely discusses – sin. Specifically, why homosexuality is a sin, and according to the scriptures, Elton John is a sinner.

"The scriptures shows that it's a sin," said Osteen in the interview. "But you know, I'm not one of those that are out there to bash homosexuals and tell them that they're terrible people and all of that. I mean, there are other sins in the Bible too...I don't believe homosexuality is God's best for a person's life."

Piers Morgan noted Osteen does not usually discuss this, and he admitted in the first interviews in front of the camera "this was all new to me" and "people say I don't talk about sin." As for Elton John, there was this exchange:

MORGAN: Say a friend of mine like Elton John watching this at home, who with his partner – a civil partner, David Furnish – have just had a surrogate child which was born on Christmas day. They're going to be pretty angry what they hear. They're going to think who are you to call them a sinner.

J. OSTEEN: Yes.

MORGAN: But why are they sinners in your eyes?

J. OSTEEN: Well, it's strictly back to what the scripture says. I mean, I can't grab one part and say God wants you to be blessed and live an abundant life, and not grab the other part that says, you know what? You know, live that kind of life. So it comes back to the scripture. I'm not the judge. You know, God didn't tell me to go around judging everybody.

The full interview airs on CNN January 26, 2011 at 9pmET/PT.
Elton: "I won't be at Royal Wedding"
Wednesday, January 26 2011
Elton John has revealed he does not think he will be invited to the Royal Wedding, despite his close connection to Prince William's late mother, Princess Diana.
"I don't really know the boys at all," he said. "They're tremendous boys, but I don't know them, it would be presumptuous of me to even talk about them. They are great boys, their mum would be very proud of them, but I don't know them so I'm not invited to the wedding, I would not expect to be invited to the wedding."

The 63-year-old new dad was widely tipped to be asked to perform when Prince William marries Kate Middleton on April 29, 2011. Speaking as he promotes the film he produced with his husband David Furnish, Elton added: "I just wish them the happiest of lives together, they seem very happy. He's a really terrific man, William, and he's going to be a great king. And that's all I can say.

"Because of my relationship with Princess Diana, the people automatically think I'm going to be invited, but these boys are their own people, they have their own friends, and I just hope that they have the best day and it's sunny and it's a great occasion for them."



Elton to perform at royal wedding?
Friday, November 26 2010 at 07:11:30


Elton and David at 'Gnomeo And Juliet' premiere
Monday, January 24 2011
Elton John has been very much in the spotlight recently, with the birth of his new baby son with partner David Furnish via surrogate on Christmas Day last year, but on January 23, 2011, it was his other baby the animated film "Gnomeo and Juliet" that he was focusing on.
Elton and David co-produced the children's animated film, a toned down version of Shakespeare's classic story of tragic love "Romeo and Juliet," and both were on hand at its premiere at the El Capitan Theater on Hollywood Boulevard. Also joining the pair were cast members Emily Blunt, James McAvoy, and Patrick Stewart.

After being first introduced to animated films thru writing music for the 1993 Disney film "The Lion King," Elton became interested in adapting the classic play for children using garden gnomes as characters, having had the idea 11 years ago.

"We all love love stories. It's a love story with a happy ending, this one, but it's also a message of 'let's get on with each other'. These two families spend all of their time hating each other, destroying all the beauty they've created, and at the end of the movie they come together because of Romeo and Juliet, or 'Gnomeo and Juliet,' and say, 'god, what have we been doing for all this time, let's get along. Message we need to hear," said Elton.

He also admitted that having the clout he does in the entertainment world helped him with his producing duties. "I use the 'Elton' factor in the fact that I can use my name, get on the phone, and people will take my calls quicker than they maybe will take anybody else's," he said.

Scottish actor James McAvoy, who plays "Gnomeo" in the film, said the presence of the acclaimed singer in the film gave it much needed poetry, as none of the Bard's prose was actually recited by the characters. "We don't have Shakespeare's poetry in this film, we have his great story and his great characters as played by garden gnomes, and we have a lot of fun, but we don't have his poetry," says McAvoy. "But you've got a poet in this film still, and his music influences the entire shape of the film."

Actress Emily Blunt, who plays Juliet, added that Elton did an excellent job as producer by keeping everyone in a positive mood. "He was very influential in just keeping the project on a great path and on a positive path and, because I think people are going to doubt things all around nowadays, and I think he's really good at keeping things very focused," said Blunt.

Given the well-known ending of the classic tale, when approaching the adaptation to a kid-friendly picture, much had to be cut, according to Blunt. "Like the suicide, and the blood and the guts and the murder, and the drugs, yeah, we have kind of erased most of that. For the kids," she said.

Actor Patrick Stewart is known for being a great thespian, he has appeared in 28 of Shakespeare's plays, but he has yet to touch "Romeo and Juliet," that is, until this film came about. "This is the closest I've ever got to 'Romeo and Juliet'," says Stewart. "I mean look at me, why was I never cast as Romeo? Why was I never cast as Juliet if it comes to that? No, I've never been in the play, so this is the closest that I got."

Emily Blunt only met Elton John and David Furnish recently despite her work on their film, and expressed her support for allowing same-sex couples to marry and raise children. "Yes, it's actually vital that they're allowed to also be able to have children and raise children and nurture them and offer them a great life, I think it's essential and it has to continue," says Blunt.

"Gnomeo and Juliet" will hit theaters on February 11, 2011.



"Gnomeo & Juliet" - new videos available
Thursday, January 20 2011 at 18:46:25

"Gnomeo and Juliet" finally arrives in theaters on February 11, 2011
Tuesday, January 4 2011 at 08:54:04

"Gnomeo & Juliet" CD - pre-order now
Monday, December 13 2010 at 10:05:27


Elton biopic in the works
Monday, January 24 2011
Elton has announced he is working on plans to bring his "crazy" life story to the big screen.
Elton and David are teaming up with British screenwriter Lee Hall for the project. And the singer has promised fans the upcoming biopic will be as wild as his career and personal life have been.

He explains, "I'd just like to make a really great film about my life story. We have a great script already by Lee Hall who wrote Billy Elliot. Obviously, it's not going to be your normal, run of the mill film because my life has kind of been crazy. And I think it's important to do a kind of surrealistic take on my life."
Elton: "I Can See For Miles"
Monday, January 24 2011
Elton is urging fans to take signs to his concerts - because now he's had his eyesight corrected, he can read them.

Elton insists touring is more fun for him now than it was when he was younger - because he's no longer high backstage, alone in hotel rooms and he can see the faces of his fans. He explains, "I had my eyes done about eight years ago; I had replacement lens surgery because I was so blind... Now I have 20/20 vision and I can see all the signs that the fans have, all the album sleeves - and it makes a difference. I really appreciate my performing so much better now as I get older than I did. I don't take it for granted anymore."

Elton admits he even looks forward to tours: "When I come offstage now I have a balance in my life. Until I found that in 1990 I came off stage and I didn't know what to do with myself. Now I fly home every night after a show and I get back in my own bed. I have a wonderful partner in David, I have wonderful friends. I can remember things. I don't take drugs anymore."

"It's a whole new world out there. I could remember the words to the songs; it's great! It's just sensational what's happened to me in the last few years. The older I get, I think I'm singing better live."
Happy birthday, John!
Sunday, January 23 2011
Elton's percussionist and background vocalist John Mahon is celebrating his birthday on January 23, 2011.
On behalf of the Hercules team and the Elton John fans all over the world, we would like to wish him a happy birthday!
Elton reveals duet with Glee's Matthew Morrison
Saturday, January 22 2011
In October 2010, Elton John made news when he mentioned that he would be working with Glee's Matthew Morrison on the actor's debut album.
But with a busy schedule that included newfound fatherhood, another studio album, and executive producing and providing the soundtrack for Disney's Gnomeo & Juliet, Elton had more than enough on his plate.

In an interview with Parade's Mary Margaret, he gave exclusive details about his project with Morrison, revealing that the two were able to finally sit down and make beautiful music with each other earlier in January 2011.

"I just did it! It's a duet. It's great, really fantastic. He sings great on it. It's a medley of 'Mona Lisas and Madhatters' going into 'Rocket Man.'

"There is Plan B, which is a British act out. It's going to released here [in America] in March on Atlantic. It's a huge record in England. It's a bit like a male Amy Winehouse record with a little bit more edge. He's a 27-year old white boy who has the voice of Smokey Robinson."

"He's incredible. It's amazing. That's the one I'm crazy about at the moment, that's the one I love. His name is Ben Drew, but his band is known as Plan B. That's going to be a big record."



Elton to record with 'Glee' star Morrison
Saturday, October 9 2010 at 06:18:56


Elton and David coming to Canada with Zachary
Saturday, January 22 2011
Toronto film-maker David Furnish has confirmed that he and British husband Elton John's month-old son, Zachary, born via a surrogate mother on Christmas Day, is coming to Canada soon for a visit.
And he's getting legal papers for Canada too. "Zachary's going to be going home soon and his Canadian passport application has been filed," said David of their son who currently only has a British passport.

David and Elton made the comments as they promoted their new film, Gnomeo And Juliet in 3D, an animated, comedic take on Romeo and Juliet starring the voices of James McAvoy and Emily Blunt in the starring roles. They were the movie's producer and executive producer, respectively, and Elton's back catalogue along with some new material provide the film's soundtrack.

David said he was proud of the fact that Toronto's Starz Animation worked on the film and that Toronto-based singer-songwriter Nelly Furtado is one of two duet partners with John on soundtrack. The other is Lady Gaga.

"Blame Canada!" sang Elton, at the press conference, alluding to the South Park's Bigger Longer & Uncut song. He also confirmed he will be in Toronto to attend the Canadian premiere of his hit musical, Billy Elliot, March 1, 2011.



"Gnomeo & Juliet" - new videos available
Thursday, January 20 2011 at 18:46:25

"Gnomeo and Juliet" finally arrives in theaters on February 11, 2011
Tuesday, January 4 2011 at 08:54:04

"Gnomeo & Juliet" CD - pre-order now
Monday, December 13 2010 at 10:05:27


Barbara Walters gushes over Elton's "adorable" baby on The View
Friday, January 21 2011
For a short time on The View on January 20, 2011, there was a fifth guest at the table: The new issue of Us Weekly.
"I want to show you something that made me feel so good," Barbara Walters said. "I want to show you the adorable pictures and wonderful interview with the proud parents."

Walters then picked up the latest issue with Elton John, David Furnish and their baby Zachary Jackson Levon Furnish-John on the cover. "I love Elton John and David Furnish. I'm very happy for them," Walters gushed. "That's an adorable picture."

Walters' praise also comes on the same day as the announcement that Us Weekly scored a GLAAD nomination for Outstanding Magazine Overall Coverage.



UPDATE: Elton introduces the world to his son
Tuesday, January 18 2011 at 08:39:07


"Gnomeo & Juliet" - new videos available
Thursday, January 20 2011
We wanted to share with you the newly released videos from Touchstone Pictures' GNOMEO & JULIET that are now available.
Gnomeo & Juliet: Online Featurette - "What's In A Gnome?"



Gnomeo & Juliet – Film Clip "Kick Some Grass"





Elton plays benefit to back gay marriage
Thursday, January 20 2011
He walked on stage in sunglasses, an earring glittering in one ear. The days of jumping on piano benches were presumably behind him.
Still, in 16 songs that lasted more than 90 minutes on January 19, 2011, Elton John offered a robust private concert to a relatively intimate audience gathered under a tent on an estate in the Hollywood Hills on a cool California evening.

The cause for this fundraiser — extravagant even when measured against Hollywood events — was the legal fight to overturn Proposition 8, the California voter initiative that banned gay marriage. At the end of the night, as the crowd headed to a long line of waiting limousines and shuttle vans, Rob Reiner, the director and a leader of the American Foundation for Equal Rights, announced that the event had raised $3 million.

The makeshift concert hall for Elton was an elaborate tent, lined with curtains and backlit with soft lighting. There were about 500 assigned chairs, two video screens and a mini-camera perched on the right side of the keyboard, offering viewers high-definition proof that even at age 63, this is one versatile pianist. The screens were almost not necessary; there was no bad seats in this house.

Elton opened with "Sixty Years On" and ended with a "Don't Let the Sun Go Down on Me," in a set that drew heavily on his early work: "Border Song," "Levon," — which drew the first of several standing ovations — "Rocket Man," a syncopated version of "Philadelphia Freedom" and "Bennie and the Jets." There was a particularly heavy representation from his breakthrough album, Elton John, which was released in 1970 before many people in this audience were born. Nonetheless when he took the stage, even some of the young waiters rushed over from another tent, snapping pictures.

Elton did more singing than speaking, yet made clear that he recognized the political ramifications of the event and his role there. He is openly gay and, as he noted, he and his partner had a son on Christmas day. He was at turns politic and caustic in his description of politicians and church leaders who oppose gay rights.

"As a gay man, I think I have it all: I have a wonderful career, I have my health, I have a partner of 17 years, and I have a son," he said. "But I don't have the respect of the church or politicians who says I'm less worthy because I'm gay."

Elton was also remorseful in describing how he responded, as a younger gay man before he had gone public, to the outbreak of the AIDS epidemic, mixing criticism with the American government with personal remorse. "The American government was AWOL," he said. "And I was AWOL." He said the government's response had been a disgrace. "And I was a disgrace as well."

The tent where Elton performed was one of two set up on the sprawling estate known as Green Acres, the mansion owned by Ron Burkle, the business entrepreneur and fundraiser. The second tent was for the reception before the concert, where waiters passed around platters of food — pear and brie pastries, smoked chicken tartlets, sweet sashimi in cones — and bartenders served drinks, to attendees who paid $1,000 a head to attend.
UPDATE: Elton introduces the world to his son
Tuesday, January 18 2011
Elton John and David Furnish have been pictured for the first time with their newborn son Zachary Jackson Levon.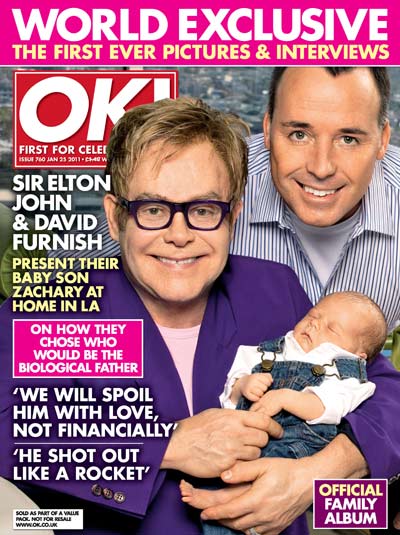 The couple became parents to the baby boy, who was born on Christmas Day, through a surrogate mother.

In an interview with OK! Magazine, Elton and David talk openly about the birth and their love for Zachary. Elton said: "There just aren't proper words to describe that feeling. It's indescribable. It was just...we have a son."

They also talked about their plans for Zachary's upbringing.
"I'm ready to have a child and lavish my love on our son and not spoil him," Elton said. He had previously spoken of his desire to become a father, announcing last autumn that he wanted to adopt a boy from an orphanage in Ukraine. But his plans to adopt a baby named Lev were thwarted because the country does not recognise same-sex marriages and its laws deemed him too old.

In the interview, the couple also said they will never give up on the 26-month-old orphan and his HIV-positive brother Artyom, four. The couple is donating all fees received from the interview and pictures of Zachary to charity.

Readers in the US should get the the new issue of Us Weekly (out January 19, 2011), in which Elton and David share first-ever photos of their beautiful baby son, who was born on Christmas Day.



Elton John and James Blunt bond at Plan B show
Saturday, January 15 2011
Two British troubadours posed at LA club The Troubadour after rocking out to the UK's latest soul-pop sensation, Plan B.
British soul-pop sensation Plan B, fronted by singer-rapper Ben Drew, has sold more than three millions albums (one million in the U.K. alone), making him somewhat of a continental superstar, so it's no surprise that at his Los Angeles show on January 13, 2011 none other than Elton John would be cheering from the stands.

And by cheering we mean bouncing enthusiastically in a pair of silver sparkle slippers that no doubt cost a fortune and pumping his fist in the air. That was the sight on the balcony of the Troubadour, where Elton was seated next to fellow Brit James Blunt, who was in town for a round of press and promo.

The sold out show was packed with fans well-accustomed to the sweaty frenzy that Plan B's music inspires, which boasts well for a U.S. transition. Although it must be said, that predecessors like Daniel Merriweather and Craig David found penetrating the American market to be an uphill battle.

Then again, there's no better endorsement than Elton, who noted that he'd performed at the Troubadour at least 10 times over the years. In fact, for the first of those appearances some four decades ago, Elton himself relied on support from a more seasoned veteran: Neil Diamond.
Private concert with Elton John
Saturday, January 15 2011
Elton will perform an intimate private concert to benefit American Foundation for Equal Rights (AFER) in Beverly Hills on January 19, 2011.
The event will also address the fight to overturn prop. 8 and restore marriage equality. The show will take place at the historic Green Acres Estate, home of Ron Burkle, in Beverly Hills from 6 to 9 pm.

Tickets are available at http://act.afer.org/elton-tickets.
Ed Sheeran receives phone call from new fan Elton John
Friday, January 14 2011
Elton John knows good music, he's had some of the best producers and songwriters of the last 40 years, so when he says he likes Ed Sheeran's EP that's a hell of a co-sign.
Ed Sheeran's had an incredible week with his EP "No. 5 Collaborations Project" fighting it out in the iTunes top 10, peaking as high as number 2 on January 10/11, 2011. It's currently standing firm at number 6.

Ed was also welcomed to the Altantic Records family which, with all things as they should be, will see Ed fighting even higher up the charts in the years to come. In what must have been a roller-coaster week for the multi-talented singer, songwriter and a whole lot more, Sheeran received a call from legendary singer Elton John who offered his support and let him know that he enjoyed his EP which features JME, Wiley andP Money among others.
Another statement from Willam A Bong Ltd
Thursday, January 13 2011
More nonsense in the online press - as published on eltonjohn.com.
"Elton's management has drawn attention to yet another stupid article in the Daily Mail's online edition today [January 12, 2011] - reporting that Elton went to an LA studio yesterday, and suggesting that the financial pressure of employing all the extra staff for Zachary is causing Elton to have to produce a new album. It is also almost beyond belief that the paper continues to make a ludicrous link between the accounts for the period ending 31 March 2010 and Zachary's birth on Christmas Day.

Leaving aside the fact that two weeks paternity leave is entirely the norm in the UK, we can dispel the idea that Elton is working on a new album. Elton takes a close interest in all the artists signed to Rocket or its associated companies, and is currently helping the greatly talented Nick Littlemore (half of the very successful Australian Pnau group and also part of The Empire of the Sun project) with a new work for Cirque du Soleil.

Anyway, to say it once more, William A Bong Ltd hired nobody in the year ended 31 March 2010, or since then, to assist in the care of baby Zachary. Neither did the company increase its staffing numbers at all, despite what the accounts say because of a procedural change.

It is truly extraordinary how sour some people can be about what is plainly a very happy event. The Editor must be a very unhappy person."



Statement from William A Bong Ltd. - Correction to press reports
Tuesday, January 11 2011 at 22:03:49


Elton to perform at amFar New York Gala
Thursday, January 13 2011
Elton John will perform alongside Stevie Wonder, Gladys Knight and Dionne Warwick at amFar's annual New York Gala to be held February 9, 2011 at Cipriani Wall Street, according to The New York Times.
The event will honor former President Bill Clinton; Diane von Furstenberg; and two of the foundation's co-founders, Dr. Mathilde Krim and Elizabeth Taylor.

The event will feature the four entertainers in a special performance of the song, "That's What Friends Are For," which was originally written by Carole Bayer Sager and Burt Bacharach and was released by Arista in 1986 as a benefit single for amfAR.

For tickets, contact Cassandra Dawes at +1-212-806-1753 or e-mail cassandra.dawes@amfar.org. For additional information visit www.amfar.org.
'AC:360' to air special on AIDS in America
Wednesday, January 12 2011
To mark the 30th anniversary of the first AIDS diagnosis, CNN's "Anderson Cooper 360°" will dedicate a special hour to AIDS in America.
"Hope Survives: 30 Years of AIDS," airing January 14, 2011 at 9 pm ET, will focus on the role that stigma continues to play in the global spread of HIV, explore how education can ensure an HIV-free future generation, and examine the latest medical breakthroughs.

Elton John will discuss the Elton John AIDS Foundation's work to end the disease, and celebrities including Susan Sarandon, Sharon Stone, Barry Manilow, Margaret Cho and Kareem Abdul Jabbar will share the "Deciding Moment" that changed how they think about AIDS and inspired them to get involved with the cause.

"I'm deeply grateful to CNN and Anderson Cooper for focusing a special hour of programming to bring attention to the continuing impact of HIV/AIDS, not only internationally, but also right here in the United States," said Elton John. "We've all become way too complacent about a deadly epidemic that is only getting bigger, especially when we already have creative readily accessible prevention methods that we know to be highly effective at curtailing the spread of this disease right now."
Elton John to host celebrity charity ball in June 2011
Wednesday, January 12 2011
In July 1999, Elton John and David Furnish opened the doors of their Old Windsor home for the first White Tie & Tiara Ball, and the tradition will continue in 2011 on June 23.
Set amongst 37 acres of rolling English countryside next to Windsor castle, the White Tie & Tiara Ball is a spectacular evening, raising money for the Elton John AIDS Foundation. Since then, it has become an annual event hosted by Elton and David and one of the premier fundraising events of the UK.

A highlight of the year's social calendar, the ball always attracts a wealth of celebrities. In previous year's guests have included Diana Ross, Sharon Stone, Michael Douglas & Catherine Zeta Jones, Dionne Warwick, Burt Bacharach, Sean Connery, Guy Richie, Joss Stone, P. Diddy, Boris Becker, Joan Collins, Joan Rivers, Kevin Spacey, Kate Winslet, Elizabeth Hurley & Hugh Grant, Victoria & David Beckham, Elle Macpherson, Mick Jagger & Jerry Hall, Kylie Minogue, Pierce Brosnan, Anastacia, Spice Girls, Roger Federer, Dawn French & Lenny Henry, Ronan Keating, George Michael, Trudie Styler, Sir Tim Rice, Jasper Conran, Jane Seymour, Sir Bob Geldof, Sophie Dahl, Diana Krall, Lulu, Sir David Frost, Sir Andrew Lloyd Webber, Stephen Daldry, Nigella Lawson, Richard E. Grant and the list goes on!

Beginning with a champagne reception, guests are able to walk around the grounds of Woodside at their leisure enjoying the elegant surroundings of the 18th Century Orangery, The White Scented Gardens, The Roman Terrace, The Italian Garden, The Tennis Courts and The Secret Garden. Each of the gardens is brought to life with a host of themed performers and musicians which have ranged from characters from A Midsummer Nights Dream in The Secret Garden, a thirteen piece orchestra and four opera singers in the classical Italian Garden to live zebras and giraffes, a pink stretch cadillac filled with 10 Elvis's or Venice Beach at the 2008 Ball. The evening then continues with a lavish dinner featuring London's top caterers and selections of premium wines.

A short auction follows featuring a number of exclusive and unique lots. In 2001 the auction, hosted by Kevin Spacey, saw a hilarious bidding war erupt between himself and Kate Winslet which resulted in Kate joining him on stage to fight over a unique diamond watch created by the event sponsors, Chopard. Other auction lots have included "You write the lyrics and Elton writes the song", a private yoga lesson with Sting, a portrait session with photographer David LaChapelle, a football lesson with England Captain David Beckham, a sculpture by Antony Gormley, an appliqued blanket by Tracey Emin, a painting by Marc Quinn and a dinner with Elton & David at their London home.


The night culminates with much anticipated performances from some very special surprise guests and Elton himself. Each year, magical and memorable moments are created included performances from Craig David and Ronan Keating, a duet by Elton and Sting of "Hey Big Spender" and an impromptu duet of Elton's classic "Saturday Nights Alright For Fighting" with Anastacia and Elton. Dionne Warwick and Burt Bacharach received a standing ovation for their set one year before going on to invite Elton to join them on stage to perform "That's What Friends Are For". Recent guest performers have included Patti LaBelle, Nile Rodgers & Chic, Donna Summer, Barry Manilow, Take That, Shirley Bassey, Tom Jones, Brian Wilson and a special appearance by a HIV-positive Choir from South Africa with Elton.

The evening then finishes with dancing into the early hours and breakfast.

Each year, the ball takes on a different theme but the dress code remains the same: White Tie & Tails for Gentlemen, and Tiaras and Ball Gowns for Ladies. Themes have been inspired by a variety of influences including The Wallace Collection which saw the marquee transformed into a French 18th Century Palace complete with a hand-painted marble floor and waiting staff dressed as footmen with powdered faces and white wigs. 2001 saw a broadly Italian theme, focusing on 'The Glory of Venice'. St Marks Square was re-created indoors complete with a 24m long purpose-built canal (which guests had to cross over a stone bridge) running directly through the dinning room. In 2003, the ball took a 1930's British theme, inspired by Robert Altman's Oscar Winning Gosford Park. The reception room was transformed into a magnificent library using 6,000 leather-bound books, while the dining room was decorated with chandeliers, oil paintings, and burgundy & gold velvet drapes. More recent events have been themed around Imperial Russia, Imperial China, Africa, Mogul India, Las Vegas and last year, Californian Beach.

Since it began, the White Tie & Tiara Ball event alone has raised over £40 million to fund projects for those affected by HIV & AIDS in Europe, Africa, Asia and India, helping the Foundation to positively change the lives of millions of people in need. An extraordinary result for an extraordinary event.
Statement from William A Bong Ltd. - Correction to press reports
Tuesday, January 11 2011
Set out below is the text of a statement supplied by Elton's company, W A Bong Ltd - as published on eltonjohn.com.
"Some reports about Elton are based upon stupidity of the reporter. Other reports are based upon prejudice. Sometimes, as with the latest article in the Daily Mail today, reports are based upon both stupidity and prejudice.

The Daily Mail claims that Elton's staff went from 14 to 22 between 2008 and 2010 and implies that the increase is due to arrangements being made for the birth of Zachary. This claim has now been picked up and distorted by others on the internet.

The inconvenient facts are:

A. The accounts of William A Bong for the period April 2008 to March 31, 2009, showed administrative staff of 13, and for the next year (April 1, 2009 to March 31, 2010) the figure was 21. By the way, on any count this does not mean, except to a moron, that the staff has "doubled."

B. Zachary would hardly have been conceived during the financial year ended March 31, 2010, and it is again a suggestion of true absurdity that any increase in staff shown in those accounts was related in any way to the addition to Elton and David's family. Furthermore, the employment of purely personal staff such as housekeepers and nannies would constitute a fraud on the Revenue, as would be obvious to anybody but a financial illiterate such as the Daily Mail's reporter, Simon Cable.

C. Nobody talked to us about the figures, and if they had done so we would have pointed out that the wages and salaries had risen for administrative staff from £1,260,854 in 2008/9 to £1,276,023 in 2009/10, a rise of just over £15,000. Even if wages had been entirely frozen for the entire 13 original staff, it would surely defy logic to suggest that an additional 8 staff could be employed at a total cost of £15,000 for the year. This simple fact would have put any fair-minded reporter on enquiry. The truth is that the increase in numbers is a purely procedural step taken because some staff who previously were employed by other companies associated with Elton John (e.g. TwentyFirst Artists Ltd.) have been counted in the later accounts as William A Bong employees if they performed any duties at all for that company. In short there has been no actual increase in the staff of William A Bong Ltd.

D. If further evidence of the financial illiteracy of the reporter was required one need only look at the final paragraph of the article - the claim that Elton took "a £283,825 hit simply by turning his foreign income back into pounds." Under the administrative expenses section of the accounts the figure of £283,825 is shown in brackets - a commonplace accounting device to show not a cost but a profit! How incompetent can you get?

The article is yet another piece of pathetic journalism by a newspaper with a continuing agenda against Elton."
Elton has endangered son's welfare, claims Bishop Michael Nazir-Ali
Sunday, January 9 2011
Elton John's fathering of a surrogate child by an American woman raises concerns, says the Rt Rev Michael Nazir-Ali, the former Bishop of Rochester.
Zachary Jackson Levon Furnish-John is only 15 days old, but he has already provoked a pronouncement from one of the Church of England's most prominent prelates. Elton John's fathering of a son by an American surrogate mother with his civil partner, David Furnish, risks causing the child lasting psychological damage, claims the Rt Rev Michael Nazir-Ali, the former Bishop of Rochester.

"I believe that surrogacy, inevitably, introduces a 'third' party to the legal parents," he tells Mandrake. "This will affect the welfare of the child, psychologically and in other ways."

The Rt Rev Nazir-Ali also draws attention to the age of Elton, who turns 64 in March 2011. "It is very important for a child's parents to be of an age that provides the child with a fair chance of being brought up by them without unnecessary disruption," he says.

"Although society must support single parents who, heroically, bring up children on their own, all the evidence shows that children are best brought up in the context of a stable marriage where they can relate to a mother and a father, so that they can develop healthy relationships with people of both genders."
Elton chooses lesbian couple as godparents for baby son
Sunday, January 9 2011
Elton John has chosen two godmothers for his two-week-old son Zachary, ignoring his celebrity coterie in favour of two of his oldest – albeit most colourful – friends.
Elton is said to have chosen Scottish-educated magazine editor Ingrid Sischy and her lesbian partner Sandy Brant to be Zachary's moral guardians. A close friend told The Mail on Sunday: "Elton could have picked anyone from the world of showbusiness to be godparents but he chose a couple of dear friends who will take their role seriously. Ingrid has been best friends with both Elton and his partner David Furnish for years. They holiday in Africa together every year and they all spent Christmas in Los Angeles together. Ingrid and Sandy are two of the most genuine people they know. They were among a handful of people Elton entrusted with the details of the surrogate pregnancy. Zachary means everything to Elton and David and they have chosen Ingrid and Sandy as godmothers for the traditional reason: to take care of the child's welfare in case something happens to them."

Another friend said: "Elton and David still haven't decided exactly how many godparents to have. They want to have a member of David's family and they may still choose someone else who is high profile."

Ingrid, the former editor of artist Andy Warhol's Interview magazine, refused to discuss Zachary as she arrived on January 8, 2011 at the townhouse in New York's Greenwich Village she shares with Sandy, 55. "That would be a private matter," she said.

A friend of Elton's said: "Ingrid has been with him every step of the way and it was natural that he should choose her and Sandy."

Elton is godfather to ten children – including John Lennon's son Sean, all three of David Beckham's boys and Liz Hurley's son Damian – who, until Zachary's birth on Christmas Day, looked set to inherit most of his £175 million fortune.

Art expert Ingrid, 58, was born in South Africa, but the family moved to Edinburgh in 1960, where she studied at the exclusive George Watson's Ladies' College. When Ingrid was 15, the family moved to New York.

Before her relationship with Ingrid, socialite Sandy was married to New York billionaire Peter Brant, a pal of Prince Charles, by whom she has five children.

Despite his insistence that he will be a hands-on father, Elton has continued his glamorous social life, and held a lavish New Year's Day baby shower in Los Angeles. "Elton and David adore the baby but like many successful parents, they believe they can have it all," said a friend.

Asked about godparents, Elton's spokesman said: "I don't have a comment. It's a private matter."



Elton & David fed up with "speculation" about new baby
Friday, January 7 2011 at 14:38:31


Billy Joel to return to stage with Elton?
Saturday, January 8 2011
Billy Joel is reportedly set to celebrate his speedy recovery from double hip replacement surgery by joining his pal Elton John onstage in March 2011 when the Brit plays New York's fabled Madison Square Garden.
The 61-year-old singer had the operation in November 2010, but was already back on his feet and hobbling around with the help of two canes within two weeks of the surgery. And, according to the New York Post's Page Six column, the Piano Man is preparing to make his live comeback by performing alongside the Rocket Man for a special appearance at one of his upcoming gigs in the Big Apple.

Representatives for both stars had yet to comment on the rumours. Elton is due to play Madison Square Garden on March 16 and 20, 2011.
Elton & David fed up with "speculation" about new baby
Friday, January 7 2011
Since Elton and David announced that they were the proud fathers of a new baby boy, plenty of articles have appeared -- mostly in the British press -- about who the baby's biological father is; how much the couple has shelled out on his nursery, clothing and toys; where little Zachary will live and attend school; and who his godparents will be.
Elton and David are pretty fed up with all the gossip, and have issued an official statement on Elton's website.

The statement reads, "Elton John and David Furnish wish to point out that neither they nor any of their close friends have contributed to recent UK press coverage about the birth of their son, and so there is very little truth to the speculation that has been published."



Elton presents award to Taylor Swift at People's Choice
Thursday, January 6 2011
The 2011 People's Choice Awards were televised on January 5, 2011, and Elton John presented Taylor Swift with the crowning country music award of the night, Favorite Country Artist.
Elton's 1971 "Tumbleweed Connection" album had more than a little country flavor to it, and that sound has resonated in many of his other compositions over the years - most recently in the 2010 blues-inspired "The Union" collaboration with Leon Russell.

After Queen Latifah introduced Elton, the musical icon came out looking dapper and slim in a black suit and wearing amber-tinted eyeglasses. Unsurprisingly, Elton received a standing ovation from the audience.

Elton expressed his love of the genre before presenting the People's Choice award to winner Taylor Swift. "When I was a young lad growing up in England, the upbeat twang of the guitar and the honky tonk banging of the piano rang loud and clear all the way across the world. Today, those lovelorn melodies and rebellious songsters still ring loud and clear, proving you don't need a pick up truck or even an old pair of boots to love country music. You just have to hear it to love it."

Watch the video of Elton on the People's Choice Awards website.
World Darts Championship: Elton John helps Wolfie in title bid
Thursday, January 6 2011
Martin Adams is out to hit the high notes - with a little bit of help from Elton John.
Tungsten-tossing legend 'Wolfie' has admitted he loves nothing more than listening to the ivory-tinkling music maestro while putting in hours of practice. The cult album "Goodbye Yellow Brick Road" is a personal favourite of a player who has carved out a high-class career for himself on the road to Frimley Green.

And on January 6, 2011 Adams hopes his dream of a third Lakeside World Championship title doesn't go out like a "Candle in the Wind" when he takes on young gun Ross Smith in a quarter-final clash. The match gets underway at 6.30pm behind the red button on BBC television before being picked up by BBC2 at 7pm.

Adams said: "I always have music on when I'm practising and you can't beat a bit of Elton John. Goodbye Yellow Brick Road is a classic. If I was going to have something heavier it would be a little bit of Rainbow, but I couldn't get into any of this modern stuff. I'm an old man who likes his Radio 2!"
Grammy week event honors T Bone Burnett
Wednesday, January 5 2011
Grammy-winning producer T Bone Burnett will be honored during "Shaken Rattled and Rolled" on February 9, 2011, an event celebrating the 10th anniversary of the "Producers & Engineers Wing" of The Recording Academy. None other than Elton John and Leon Russell will serve as honorary event co-chairs.
T Bone Burnett just produced Elton and Leon's critically acclaimed and highly successful "The Union" collaboration, which spawned a Grammy nomination for lead single "If It Wasn't For Bad."

Neil Portnow, President/CEO of The Recording Academy remarked in the press release: "As we celebrate this milestone anniversary, it is only fitting that we pay tribute to one of our industry's finest, T Bone Burnett, whose visionary talent and masterful skills have greatly impacted the landscape of audio production."

10-time GRAMMY winner and current three-time nominee Burnett has a body of work that spans 40 years. In addition to producing "The Union", he holds producer credits for Elvis Costello, Jakob Dylan, Robert Plant & Alison Krauss, k.d. lang, John Mellencamp, Willie Nelson, and many more artists. Burnett also produced popular film soundtracks "O Brother, Where Art Thou?" and "Walk The Line" to name only a few.

It's truly an honor for Elton and Leon to be able to act as honorary co-chairs of the celebration. Grammy Week culminates with the 53rd Annual Grammy Awards on February 13, 2011 at 8 p.m. on CBS. Keep your fingers crossed in hopes that Elton and Leon will perform on the show!



"The Union" - out today!
Tuesday, October 19 2010 at 05:09:22

Elton John unveils "The Union"
Friday, July 9 2010 at 12:27:51

Elton talks about "The Union"
Wednesday, July 7 2010 at 09:15:01


Last chance to enter AFER's Elton John Sweepstakes
Wednesday, January 5 2011
Elton John will perform a concert on January 19, 2011 at a Ron Burkle's estate in Beverly Hills to raise funds for the American Foundation for Equal Rights. The Foundation's case, Perry v. Schwarzenegger, is the federal constitutional challenge against Prop. 8.
To herald the occasion, AFER is offering up a trip for two to Los Angles to come and see Elton John perform - prize includes round-trip airfare for two to Los Angeles and two nights in a hotel. Enter on their Web site, afer.org and their Facebook page http://www.facebook.com/AmericanEqualRights.

Prize Eligibility : Only persons residing in United States who are at least 18 years of age can enter.
Sweepstakes Ends: January 05, 2011 @ 11:59 pm (PST).

Elton John's performance comes off the heels of an art auction in New York that raised $600,000 for the Foundation that drew support from Mayor Michael Bloomberg, Barbara Bush (daughter of President George W. Bush), and Google Chairman Eric Schmidt. The auction included works by Andy Warhol, Roy Lichtenstein and Diane Arbus. In September 2010, the Foundation garnered more than $1.3 million in support from an event that drew together a surprising array of GOP and Wall Street leaders.

The American Foundation for Equal Rights, which launched the Perry case just 18 months ago, has endeavored to expand equality for all Americans by linking marriage equality to the nation's founding constitutional principles, including the right of all Americans to equal protection under the law. Its coalition of support has grown to include a diverse and unprecedented array of leaders including Julian Bond (past Chairman of the NAACP), Dolores Huerta (co-founder with Cesar Chavez of the UFW), the California NAACP, MALDEF, Ken Mehlman (former Chairman of the Republican National Committee and top adviser to President George W. Bush), major LGBT civil rights and legal organizations, and thousands of grassroots supporters across the nation. Its advisory board is co-chaired by John Podesta (White House Chief of Staff in the Clinton Administration and head of the Center for American Progress) and Robert Levy (head of the Cato Institute).
"Gnomeo and Juliet" finally arrives in theaters on February 11, 2011
Tuesday, January 4 2011
So now that "Tangled" has restored moviegoers' faith in Walt Disney Animation Studios, which toon is going to cash in on all of this Mouse-related good will?
Oddly enough, it's a project that WDAS abandoned back in 2006, only to then be resurrected by Miramax Films in 2008 and then - on February 11, 2011 - get released to theaters under the Touchstone Pictures' banner. Yeah, "Gnomeo & Juliet" has had a rather convoluted production history, to say the least. But by that same token, this has also been a project that Mouse House management has repeatedly resurrected over the past decade. If only so Walt Disney Records then wouldn't miss out on the chance to release this animated feature's virtually-guaranteed-to-go-platinum soundtrack.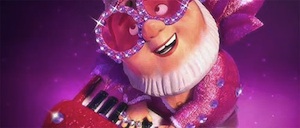 "And why was that?," you ask. Because "Gnomeo & Juliet" was (Slight spoilers lie ahead. Proceed at your own risk) supposed to be built around Elton John & Bernie Taupin's song catalog. Which meant that this whimsical retelling of William Shakespeare's romantic tragedy was going to feature sequences that would be staged to classic tunes like "Crocodile Rock," "Rocket Man," "Tiny Dancer," "Don't Go Breaking My Heart" and "Saturday Night's Alright (For Fighting)."

You have to admit that that sounds like a very marketable gimmick to build an animated feature around. Rocket Pictures President Steve Hamilton-Shaw certainly thought so when he got "Gnomeo & Juliet" set up at Disney back in 2001. But while veteran WDAS story artists repeatedly took runs at John Smith & Rob Sprackling's screenplay, trying to change this admittedly intriguing premise into the sort of film that Walt Disney Pictures could actually release ... Well, that's when "Gnomeo" slipped into development hell.

As one Mouse House insider who actually worked on the WDAS version of this film explained it: "We could never quite get the balance of story elements right with 'Gnomeo & Juliet.' This film was supposed to be a parody of Romeo & Juliet. But at the same time, we wanted the audience to actually care about these lawn gnomes and what they were going through. And on top of that, we were being told to shoehorn in as many Elton John songs as possible. What we eventually wound up with something that was long on whimsy but really short on heart. There were individual bits, characters and sequences that were great. Really fun. But the story as a whole didn't hold together."

That's what John Lasseter thought, anyway, when he came through the door back in early 2006 as the new Grand Poobah of WDAS. Which is why he almost immediately put "Gnomeo & Juliet" into turnaround. Only to then have then-Disney-Studios-Chairman Dick Cook move this animated feature over to Miramax Films. With the hope that a little dash of that patented-Harvey-and-Bob-Weinstein edge would be all that was needed in order to finally pull this project together.

The WDAS insider pal continues: "That was a really smart move on Cook's part. What kept tripping up 'Gnomeo & Juliet' was that we kept trying to turn it into a Disney film. Something that wasn't quite as quirky as this material needed to be, that was aimed more at a mainstream audience. Whereas at Miramax, they could actually embrace the fact that this was a quirky piece of material. They could then mix together the gnomes, the Shakespeare parody and the Elton John music and then not have to worry about whether mainstream audiences would actually buy into the whimsy of the thing."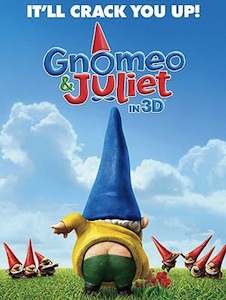 Mind you, it didn't hurt that they brought Kelly Asbury to helm "Gnomeo & Juliet." As his co-directing efforts on "Shrek 2" proves, Kelly was an expert when it came to mixing parody with sincerity. To get big laughs out of a character one minute, and then turn on a dime and make that very same character worthy of an audience's sympathy the next.

And Asbury - working with veteran Disney producer Baker Bloodworth as well as the very talented folks at Starz Animation Toronto - has reworked "Romeon & Juliet" has a very English sort of comedy. Which isn't set in Verona, Italy anymore. But - rather - on Verona Avenue in a typical English suburb. Where the Montagues and the Capulets aren't warring Italian families. But people who each own one half of a duplex.

Mind you, Mr. Montague is a big fan of blue. Which is why he drives a blue car, has the trim on his side of the duplex painted bright blue, and - more importantly - uses blue gnomes to decorate his lawn & garden. Whereas Ms. Capulet ... She loves the color red. Which is why she droves a red car, has the trim on her half of the duplex painted bright read and (you guessed it) decorates her part of the lawn & garden with red gnomes.

Now what Mr. Montague and Ms. Capulet don't know is that - when they're away - the red gnomes and the blue gnomes come to life. And the faction that's led by Lady Blueberry (voiced by Maggie Smith) and the group that follows Lord Redbrick (voiced by Michael Caine) are constantly battling because ... Well, no one quite knows why or when this feud started. But it's been going on for years at this point. With the red gnomes & the blue gnomes always trying to prove that they're the best at bizarre back alley sports competitions.

And as "Gnomeo & Juliet" is getting underway, Lady Blueberry's son, Gnomeo (voiced by James McAvoy) has been challenged by the Red Garden's champion, Tybalt (voiced by Jason Statham). What the strong-willed Gnomeo doesn't realize is that Lord Redbrick has an equally strong-willed daughter, Juliet (voiced by Emily Blunt) and when these two meet one night (to the tune of a brand-new Elton John & Bernie Taupin ballad, "Hello Hello." performed by Elton and Lady Gaga) ... That's when things start to get interesting.

Now don't go into "Gnomeo & Juliet" and expect a beat-for-beat retelling of the story of Romeo & Juliet. Some of the characters for the original Shakespeare play do make appearances in this animated feature. But in "Gnomeo & Juliet," Paris has been reimagined as this bespectacled master of topiary. Whereas Juliet's nurse is now known as Nanette (voiced by Ashley Jensen) this frog-faced lawn sprinkler who thinks that story, no matter how small or insignificant, can be turned into a tragic romantic epic.

But you'll find new characters in "Gnomeo & Juliet." Like Fawn, the foul-mouthed concrete lawn deer (voiced by Ozzy Osbourne) who sides with the gnomes from the Red Garden. As well as Benny (voiced by Matt Lucas), Gnomeo's impetuous best friend. Who seems to have been named Benny so that the filmmakers then have an excuse to stage a musical sequence to that old Elton John / Bernie Taupin standard, "Bennie and the Jets."

And William Shakespeare himself - in statue form - also shows up in "Gnomeo & Juliet" ? And that - thanks to Patrick Stewart's plumy vocals - then gets to comment on the action? But as for any other changes that "Gnomeo & Juliet" 's filmmakers may have made to Shakespeare's romantic tragedy, when you finally get to see this Touchstone Pictures release on February 11, 2011 the ends justify the means.



Elton to attend People's Choice Awards 2011
Tuesday, January 4 2011
Elton John is scheduled to attend People's Choice Awards 2011, to be broadcast live from the Nokia Theatre L.A. Live in Los Angeles, January 5, 2011 (9:00-11:00 PM, live ET/delayed PT) on the CBS Television Network.
New and classic songs from the legendary musician will appear in the upcoming film Gnomeo & Juliet, in theaters February 2011. The show will also feature a performance from Selena Gomez and the Scene.

Also during the live show, Vanessa Williams will announce that the official charity of People's Choice Awards 2011 is Special Olympics, a cause P&G and its brands have sponsored for more than 30 years. Williams will deliver a message informing fans how they can support Special Olympics Team USA this summer as their athletes prepare for Special Olympics World Summer Games 2011 in Athens, Greece.

In addition, in partnership with Ustream, People's Choice is powering an exclusive look at People's Choice Awards 2011 red-carpet action with a special live webcast airing Wednesday, January 5, 2011 (7:30-9:00 PM live ET/4:30-6:00 live PT) at www.PeoplesChoice.com. Hosted by Ty Treadway and Jamie Parcel, the webcast will cover all of your favorites in music, movies, TV and highlight the stars as they arrive on the red carpet.

Previously announced talent from film, TV and music attending the first awards show of the year include Malin Akerman, Julie Bowen, Michael Chiklis, Miranda Cosgrove, Kaley Cuoco, Taye Diggs, Lisa Edelstein, Zac Efron, Neil Patrick Harris, Teri Hatcher, the Kardashians, Minka Kelly, Mila Kunis, Ashton Kutcher, Taylor Lautner, Zachary Levi, AnnaLynne McCord, Leighton Meester, Stephen Moyer, Conan O'Brien, Jerry O'Connell, Jim Parsons, Pauley Perrette, Katy Perry, Natalie Portman, Emma Roberts, Kristen Stewart, Taylor Swift and Kate Walsh. A performance by Kid Rock was also previously announced.

Now in its 37th year, the People's Choice Awards celebrate fan favorites in music, movies and television. The People's Choice website at www.PeoplesChoice.com serves as a year-round destination for entertainment enthusiasts to voice their opinions on pop culture by voting in and creating polls and features an extensive video archive and photo gallery of People's Choice Awards footage. PeoplesChoice.com houses the voting platform where fans determine the categories, nominees and winners for the annual awards show. Fred Nelson is the President of People's Choice, and the awards show is produced by Procter & Gamble Productions, Inc. [NYSE:PG], which is represented by MediaVest Worldwide, Inc., supervisors of the production. Queen Latifah is the host of People's Choice Awards 2011 and Mark Burnett is the Executive Producer.
Elton decided to start a family after death of Guy Babylon
Monday, January 3 2011
New dad Elton John made his decision to start a family after the sudden death of a musician pal, the Sunday Mirror can reveal.
The pop star and his partner David celebrated the birth of their surrogate son Zachary on Christmas Day. But before making their news public, he called widow Kathy Babylon - whose husband Guy's death aged 52 inspired his change of heart.

Elton had resisted David's pleas for them to adopt or have a baby with a surrogate mother until keyboard player Guy's sudden death of a heart attack in September 2009. Mother-of-three Kathy, 52, said: ""Elton was there for us right away. He came to the house and said, 'What can I do? Can I help with anything?' He was really devastated, but he wanted above all to make sure we were okay. He was worried about me and the kids. He said nothing else in his life had really hit him like that. He told me then that Guy and our family had inspired him to start a family of his own."

Kathy, a singer-songwriter who lives in California, said: "Elton told me it wasn't working out with the Ukrainian adoption, but he wasn't giving up hope of having a child. I am just really happy for him. I think it's fabulous that his baby was born on Christmas Day - Guy's birthday was on December 20. It was a top secret. Elton called me before it came out in the media. He was so excited and happy. The baby was born on Christmas Day and he called me the next day. He and David will be such great parents. Elton has such a big heart. He has been so important to us and he has always been there for us during a really tough time."

After Guy died from a heart attack, Elton described him as "one of the most brilliant musicians I ever knew". Guy played more than 1,000 concerts as a key member of Elton's band and worked on many of his albums and theatrical projects in the late Eighties.

He left three children, Ben, 13 - also a musician - Max, 19, and Jessica, 29. Kathy said: "My husband and Elton were really close. It was such a shock when Guy died. He was really a very fit man. "He would swim at least three times a week and he looked after himself. He had a heart attack just like that. The doctors said afterwards that his heart looked fine. It was just one of those things that nobody could predict. We were together for more than 25 years and then suddenly that happened. It was the shock of a lifetime."

Elton has always been great to our family. He is still close to us and he has taken a great interest in the music of our son, Ben. "Ben has been trying to follow in his dad's footsteps and he has been very influenced by Elton's music. He adores him, we all do. Elton is a lovely man and really caring. He thought so much of Guy. Guy touched so many lives in so many ways."



Elton's new baby next door
Monday, January 3 2011
The Mail on Sunday has learned that Elton and David have appointed a top Hollywood interior designer to turn the flat beside their luxury home into a dream nursery.
Elton's new baby son Zachary is 'living like royalty' in his own £1.3 million apartment adjoining the singer's exclusive Los Angeles pad. Although the work is not yet finished, several months after it started, eight-day-old Zachary is already installed there, and looked after by round-the-clock nannies.

A New York television star who is a long-time friend of the couple said: "Elton and David have wanted this baby for a long time. They bought their first apartment in 2007 and then the following year they bought the smaller one next door. "Everyone originally thought they bought the smaller apartment because they wanted extra space, but then I found out they were trying to have a baby. They haven't said whether they have knocked the wall down between the two apartments but I must say at Elton's age, I wouldn't blame him if there is no adjoining door. Will he really want to be woken up at night by a screaming baby From what I understand the baby and his nannies are living in one apartment and Elton and David are living in another.

The couple have hired 'interior designer to the stars' Martyn Lawrence-Bullard to decorate the baby's apartment. Lawrence-Bullard, who also masterminded Elton's flat, was overheard telling a friend: "I am still decorating it. It is not quite finished yet."

A source at the building, the 32-storey Sierra Towers, said last night: "It seems a slightly odd arrangement when you have waited so long to have a child. It certainly gives a new answer to the question: what do you give the baby who has everything? His own flat, of course. Everyone in the building has been talking of nothing else but the baby all week. Apparently he is seriously cute with wispy blond hair. He is in his own apartment with a Filipino lady and an African-American nurse, who are with him 24/7."

Elton's spokesman Gary Farrow on January 1, 2011 said of the baby's sleeping arrangement: "It's private. No comment." The source said: "Apparently Elton said that money was no object. The baby's flat is decorated in blues and muted greens. Zachary is going to be living like royalty. Martyn started decorating a few months ago and was clearly in on the big secret."

The Mail on Sunday revealed exactly how Elton and David meticulously planned baby Zachary, who was born to a surrogate mother on Christmas Day. In an exclusive interview, Joanne Bubrick, of the Center for Surrogate Parenting in Encino, California, told how the couple, who tied the knot in a civil partnership in 2005, picked an egg donor to match their specifications. She confirmed the centre has been dealing with Elton 'for over a year' and added: "Future parents can look for a donor with specific qualities that are important to them. Everything is computerised these days so you can put in what you want – blue eyes, ethnicity, whether you want an egg from someone who enjoys playing the piano or is sporty and then you hit the button and a list of donors comes up."

"Typically donors are young women in their 20s, who are often educated university students looking to make some extra money. You can be very specific depending on your wishes. If you want a musical baby with blue eyes whose mother went to Harvard you can probably find an egg donor to match."

Ms Bubrick said her company, whose clients have included Kelsey Grammer and Angela Bassett, had '50 to 100 surrogate mothers on tap'. She said: "When a couple like Elton and David come to us we already have a wide selection of surrogates pre-screened and available. If we are matching to a celebrity couple, the surrogate gets extra psychological counselling to ensure she is prepared to see her baby in the newspapers in the coming years."

She said Elton and David would have met the surrogate 'several times' before pregnancy. "There is a bonding period and trips to the psychologist to make sure that both parties are happy," she said. "Prospective parents undergo an initial evaluation of four to six hours with a psychologist, as does the surrogate. Then the contract is signed and the surrogacy moves ahead."

Lawyer Andy Vorzimer, who handled the paperwork for Elton, said the couple chose to have their baby in California because it is the only place in the world where a couple taking a surrogate baby can be considered its legal parents before it is born. He said: "Once a judge signs a judgment, the baby is the legal child of the intended parents even though it is still in the womb of the surrogate. In the case of a celebrity being involved, all paperwork is sealed by the judge to protect the identity of both the child and the surrogate."

A source close to the couple said: "Contrary to what has been written, they don't know whether Elton or David is the dad. They also have other embryos available should they wish to have another child." Ms Bubrick confirmed: "It is quite common in the case of gay couples that both men will both contribute so neither knows who is the father. Of course, as the child grows, sometimes it becomes obvious."

Neither the surrogacy agency or the lawyers would confirm how much baby Zachary cost Sir Elton although the figure has been placed as high as $1 million (£640,000). A source said: "Between surrogacy fees, legal fees, medical and other costs, a million bucks isn't too far off. The surrogate will have been paid handsomely to never go public."

However, Ms Bubrick said the mother did not want to be identified in any case. "At first, the surrogate didn't know she had been paired up with Elton,' she said. "We presented her with the anonymous profiles of three couples, and told her that among them were some high-profile public figures who might attract media attention. We wanted to make sure she was comfortable with that. She selected Elton and David based on their anonymous profile, and only later was she told who they were. She was asked if she wanted to be identified, but decided against that. She is a very sensible lady."

Ms Bubrick added that parents are encouraged to keep in touch with the surrogate mother. "Normal practice is to ask the parents to send pictures and letters of the baby at three, six, 12 and 24 months," she said. But often the surrogates form a lasting friendship with the parents and it is quite normal for parents to use the same surrogate for subsequent additions to their families. Often surrogates will be invited to go on vacations and spend Christmas and other special times with the parents and the child."

Jubilant Elton rang in the New Year on December 31, 2010 at the five-star Regent Beverly Wilshire hotel at the end of Rodeo Drive, a ten-minute drive from Sierra Towers. He and David joined their decorator Lawrence-Bullard and his partner, photographer David LaChapelle and magazine editor Ingrid Sischy at Wolfgang Puck's acclaimed Cut steakhouse at the hotel. The group donned fake black plastic top hats and blew cheap trumpets to welcome in the New Year.

As Furnish left he said: "The baby is beautiful. He's back at the apartment sleeping. We're just so excited."



Now for baby No.2
Saturday, January 1 2011
Elton and David are already thinking about a brother or sister for one-week-old Zachary, says the Daily Mail.
The couple's son Zachary was born only a week ago, on Christmas Day, but friends say the pair have already discussed adding to their family. Elton and David are considering plans to become parents to a second child. They say that David – who has two brothers, Peter and John – is particularly keen for Zachary to have a brother or sister. And 2013 has already been pencilled in as a possible date for the new arrival.

One friend said: "Elton and David are both revelling in parenthood. They feel that it has been a true blessing in their lives. David, in particular, now wants more children. As one of three brothers himself, he believes it is important that Zachary is not an only child. He and Elton have already been discussing it and David, especially, believes they should not wait too long."

It is believed that Elton and David have been pleased with the service provided by the Center for Surrogate Parenting (CSP) in Encino, California, which arranged the birth. As a result, it is likely that the same firm would be used for a future child. Zachary was born with the donor egg of one woman before a different woman acted as surrogate.

According to CSP, couples often use the same surrogate and donor combination again for a second child, so that the second one is still biologically related to the first, even if the other man's sperm is used. Also, in high-profile cases, if the surrogate has maintained confidentiality then celebrities would regard her as even less of a risk the second time.

As the Daily Mail revealed, Elton has been recorded as the father at the local register office in Los Angeles – with David as the mother in computer documents, according to an official. The Mail has now also been told the birth of Zachary was as much as two and a half years in the planning.

Elton and David are believed to have been discussing having a child via a surrogate mother since 2008. Elton, at least, seemed to be showing the strain of being a new father as he and David joined fellow pop star Sting and his wife, film producer Trudie Styler, at a house party in LA's Hollywood Hills suburb. Observers said that Sir Elton appeared somewhat worn out as he attended the bash.