ELTON JOHN NEWS ARCHIVE: January 2009
An Evening with Diana Krall, Elton John, Elvis Costello, and James Taylor
Friday, January 30 2009
On February 16, 2009, Diana will be joined by Elton John, Diana's husband Elvis Costello, and James Taylor for a private, invitation-only, black tie charity benefit at the Fairmont Hotel Vancouver.
An Evening with Diana Krall, Elton John, Elvis Costello, and James Taylor will raise funds for VGH & UBC Hospital Foundation in support of B.C's Leukemia and Bone Marrow Transplant Program, which provides care for patients with multiple myeloma, leukemia, and other blood cancers and carries out pioneering research into new treatments. To
make a gift or for more information, visit VGH & UBC Hospital Foundation's web site.
Most expensive concert tickets of 2008
Friday, January 30 2009
Well, this isn't really news for most Elton fans: Concerts seem to be getting more and more expensive every year, especially for all the big name acts.
CD sales are down, so more money must be made from live shows and merchandising. Here are the top 10 most expensive, cash-grabbing concert tickets of 2008, according to average ticket prices from Ticketmaster:

Madonna : $378

Elton John : $306

The Eagles : $279

AC/DC : $263

Tina Turner : $263

Celine Dion : $240

Bruce Springsteen : $235

Coldplay : $217

Neil Diamond : $217

The Police : $216
These don't include resold or scalped tickets. The award for the most expensive tickets ever sold would go to Led Zeppelin, whose tickets for their reunion tour were auctioned off for £83,000 ($164,929 USD) for a pair in 2007.

Elton John and band performed in Santiago de Chile on January 24, 2009
Wednesday, January 28 2009

Following is the complete set list of the Santiago de Chile show on January 24, 2009.
Funeral for a Friend

Love Lies Bleeding

The Bitch is Back

Madman Across the Water

Tiny Dancer

Levon

Believe

Take Me to the Pilot

Goodbye Yellow Brick Road

Daniel

Rocket Man

Honky Cat

Sacrifice

Don't Let the Sun Go Down on Me

I Guess That's Why They Call it the Blues

Sorry Seems to be the Hardest Word

Candle in the Wind

Bennie and the Jets

Sad Songs (Say So Much)

Philadelphia Freedom (incl. "Day Tripper")

I'm Still Standing

Crocodile Rock

Saturday Night's Alright (For Fighting)


Can You Feel The Love Tonight

Your Song
Elton John and band performed in Buenos Aires on January 22, 2009
Wednesday, January 28 2009
Following is the complete set list of the Buenos Aires show on January 22, 2009.
Funeral for a Friend

Love Lies Bleeding

The Bitch is Back

Madman Across the Water (incl. "Don't Cry For Me Argentina")

Tiny Dancer

Levon

Believe

Take Me to the Pilot

Goodbye Yellow Brick Road

Daniel

Rocket Man

Honky Cat

Sacrifice

Don't Let the Sun Go Down on Me

I Guess That's Why They Call it the Blues

Sorry Seems to be the Hardest Word

Candle in the Wind

Bennie and the Jets

Sad Songs (Say So Much)

Philadelphia Freedom (incl. "Day Tripper")

I'm Still Standing

Crocodile Rock

Saturday Night's Alright (For Fighting)


Can You Feel The Love Tonight

Your Song
Elton John receives GLAAD nomination
Wednesday, January 28 2009
The nominees for the 2009 GLAAD Media Awards, which recognize outstanding work dealing with gay, lesbian, bisexual, and transgender themes, have been announced.
Ceremonies will be held in New York on March 28, 2009 at the Marriott Marquis, in Los Angeles on April 18, 2009 at the Nokia Theatre, and in San Francisco on May 9, 2009 at the Hilton San Francisco.

The New York theater nominations include the Lee Hall-Elton John musical Billy Elliot, Annie Baker's Body Awareness, Craig Lucas' Prayer for My Enemy, the John Weidman-Stephen Sondheim tuner Road Show, and Tarell Alvin McCraney's Wig Out, competing in the Broadway/Off-Broadway category.

GLAAD is also giving special recognition to The Laramie Project, 10 Years Later - The Lasting Legacy of Matthew Shepard, a radio documentary produced by Sirius XM Radio that was narrated by Stockard Channing and featured interviews with playwright Moises Kaufman and members of Tectonic Theater Company. Special honorees will also include Tyra Banks, Suze Orman, and Lucía Méndez.

Other nominations include the films Milk,Nick and Norah's Infinite Playlist, and Vicky Cristina Barcelona, all of which have several stage veterans involved. For more information, and a full list of nominees visit www.glaad.org/mediaawards.
Elton skips delayed meeting with president in Argentina
Tuesday, January 27 2009
Elton stunned Argentine dignitaries by snubbing their president after she kept him waiting.
Elton is said to have "hit the roof" when president Christina Kirchner pushed back their private chat for five hours. He then left for Chile instead of waiting for the re-scheduled meeting on January 23, 2009 after his concert in Buenos Aires.

But Argentine commentator Javier Gonzalez said on January 26, 2009: "Christina always keeps VIPs waiting. It would seem she is as much of a diva as Elton John."
Elton John ballet launch scrubbed
Tuesday, January 27 2009
The Dayton Ballet's planned 2009 premiere to music by Elton John, "Rocket Man," won't be getting off the ground.
The Elton's management, after previously granting preliminary approval to use his music, has revoked the rights. Dayton Ballet spokesperson A. Diane Schoeffler-Warren said no reason was given. "Sir Elton's people just decided not to let us use it. We're all really disappointed."

The new work was being choreographed for the Dayton Ballet by Washington Ballet artistic director Septime Webre, who began working with the dancers in November 2008. The premiere was planned for a mixed-repertory program March 19-22, 2009. In its place, the company will revive Christopher Fleming's comic ballet "Play Ball!" Weber's "D-Construction" has also been added.
Elton John voted Britains Most Iconic Specs Wearer
Monday, January 26 2009
Elton John has been named Britains Most Iconic Specs Wearer. Elton, who has owned 20,000 pairs over the years, topped the poll of 2,000 people for Specsavers, reports the Sun.
Beatles legend John Lennon came second while Oz star Dame Edna Everage landed the third spot. British fashion consultant and television presenter Gok Wan stood fourth and English comedian Eric Morecambe rounded off the top five.

The top ten Britains Most Iconic Specs Wearers are

1. Elton John
2. John Lennon
3. Dame Edna Everage
4. Gok Wan
5. Eric Morecambe
6. Alan Carr
7. Timmy Mallett
8. The Queen
9. Johnny Depp
10. Jarvis Cocker (ANI)
Elton John visits Cape artists' home
Sunday, January 25 2009
Elton John has taken a keen interest in South African art. He visited a William Kentridge exhibition and two young up-and-coming artists during a brief trip to Cape Town in January 2009.
His partner, David Furnish, actress Elizabeth Hurley and her husband, Arun Nayar, were among those travelling with Elton. He was interested in eight works by twins and graduates of the Michaelis School for Fine Art, 23-year-olds Hasan and Husain Essop. The pair collaborate, and Husain said that Elton was interested in their photographic works depicting "South African based issues".

"It was the best experience," he said of Elton's visit to their Belgravia home. The twins accepted an invitation to join Elton and his friends for dinner in Bishopscourt. "Liz (Hurley) looks exactly the same as she does in her movies, " Husain said. "Everyone was very interested in our work. Elton. . . understood what we do." Husain said it was incredible to think his work might hang inside Elton's gallery — reportedly one of the largest private photography collections in the world.

Joe Dolby, director of the South African National Gallery, said Elton and a group of 14 had viewed Kentridge's multichannel projected installation, entitled I am not me, the horse is not mine, on January 10, 2009. Prior to their arrival in Cape Town, the group visited the exclusive Royal Malewane Luxury Safari Lodge in Mpumalanga.
Elton ready for Watford return
Saturday, January 24 2009
Sir Elton John and Graham Taylor are set to make an emotional return to Watford and ensure the club do not go into financial meltdown.
Watford are facing a financial crisis and desperately need assistance to avoid going out of business.

Manager Brendan Rodgers has been holding discussions with former chairman Sir Elton – who flew in by helicopter to see the players in early January 2009 – and revealed Elton is desperate for the club to achieve success again. Rodgers has also spoken to Taylor, who is regarded as the most successful manager in the club's history and is also ready to play his part in helping the club challenge for a place in the Premier League again.

Rodgers said: "I've spoken with Elton quite a lot in the past month and everyone was aware about his return and his keenness to support the club. I have also spoken to Graham and he is loved by the supporters and the town. There will be something presented by the club in the near future."

When asked if he would welcome the money from Sir Elton, Rodgers added: "It would be nice to have that. Financial things will become clear in the next few weeks and we are not in a great position. Elton loved Watford and when I spoke to him I sensed he was a friend of the club. He is an iconic figure and I was impressed by his football knowledge and his affinity with Watford. Watford is his passion and he has not fallen out of love with the club."



17th Annual Oscar Viewing Party benefiting the EJAF
Friday, January 23 2009
The 17th Annual Elton John AIDS Foundation (EJAF) Academy Awards Viewing Party hosted by Sir Elton John and David Furnish will be held Sunday, February 22, 2009, at the Pacific Design Center and will be co-sponsored by Chopard, Jo & Raffy Manoukian and Vh1.
The event will begin at 4PM with a cocktail reception, followed by a formal dinner and viewing of the 81st Annual Academy Awards, an exciting auction and a very special soon-to-be-announced musical performer invited by Elton John.

Over the past 16 years the Elton John AIDS Foundation's annual Oscar-night gala has raised over $20 million for the fight against HIV/AIDS, making it the most highly visible and successful fundraising event held on Hollywood's big night. Last year alone, the event raised a record-breaking $5.1 million and organizers hope patrons will help them continue that success.

EJAF will invest the money raised at the event in its grant-making initiatives that support prevention education programs, harm reduction, and direct services to persons living with HIV/AIDS, especially populations with special needs. "HIV/AIDS continues to take a tremendous toll on our world. While we have seen advances in HIV treatments, we are far from wiping this horrible disease from the earth. EJAF is committed to raising funds to support important HIV prevention education and direct service programs in the Americas and the Caribbean," says EJAF Director Scott Campbell.

"At this year's Elton John AIDS Foundation Academy Awards Viewing Party, we know that our loyal supporters will stand up and show the world that even in today's tough economic climate, fighting HIV/AIDS is our number one priority. The 17th Annual Elton John AIDS Foundation gala is guaranteed to bring out today's brightest Hollywood stars. This year we are especially honored to have Caroline Gruosi-Scheufele, David and Victoria Beckham, Diana Jenkins, Donatella Versace, Ed Limato, Jo and Raffy Manoukian, John Waters, Mary J. Blige, Nicole Kidman and Tom Calerone serve as co-chairs for the event".

Past guests have included Hollywood luminaries, Oscar winners and music stars such as Marion Cotillard, Kevin Spacey, Halle Berry, Ellen DeGeneres, Harrison Ford and Calista Flockhart, Mary J. Blige, Larry King, Sean Penn, Jeremy Piven, Quincy Jones, Heidi Klum and Seal, Sir Paul McCartney, Denzel Washington, Dame Elizabeth Taylor, Benicio Del Toro, Sir Ben Kingsley, Sir Ian McKellen, Zoe Saldana, Sissy Spacek, Billy Joel, Chace Crawford and Sting.



Elton sets sights on Winehouse for Oscar party
Monday, January 19 2009 at 12:30:21


Happy Birthday, John!
Friday, January 23 2009
Elton's percussionist and background vocalist John Mahon is celebrating his birthday on January 23, 2009.
On behalf of the Hercules team and the Elton John fans all over the world, we would like to wish him a happy birthday!
Center For Creative Arts presents Elton John's AIDA
Thursday, January 22 2009
Based on Giueppe Verdi's classic opera, Elton John and Tim Rice's pop-rock AIDA will be presented by the musical theatre department of Chattanooga's Center for Creative Arts.
The shows will be on Thursday, Friday, and Saturday, February 5, 6 and 7, 2009, at 7:30 p.m.

Featuring orchestral accompaniment and a cast of 50, this production is under the direction of Allan Ledford, with choreography by Lindsay Fussell.

AIDA is an epic tale of love, loyalty, and betrayal. It ran for 4 years on Broadway and won both Grammy and Tony Awards.

Tickets will be on sale at the door for $8.
Elton John and band performed in Rio de Janeiro on January 19, 2009
Thursday, January 22 2009
Fan report by Andre Percia.
Elton performed two memorable concerts in Brazil with a high level of audience participation, who sang on the top of their lungs all the Elton John hits. In São Paulo there was some rain before the concert started and some doing "Madman Across The Water", but the concert was very nice. However in Rio de Janeiro, everybody who attend both concerts noted that Elton was very much more energetic, making solos, introductions and increasing the length of some songs which he did not make in São Paulo, and the public responded very warmly.

Everyone who I talked with after the concert, some of them are not even Elton John fans, said that that was one of the if not the best concert they attended. And people like Police, Madonna and others are always around here. In Rio, Elton even played chords from "Girl From Ipanema" and another Tom Jobim songs and, at the end, he said that he and the band were really loving to play in Brazil.

I have seen hundreds of hours of Elton Live on DVDs, seven live concerts and the two he made in Brazil in 1995, and the concert in Rio on January 19, 2009 was one of the best he ever did! I have written to his website strongly encouraging him to play "Skyline Pigeon" which is his most famous song here in BRazil due to the fact that is was attached on a soap opera and maybe by coincidence he did that, and solo!

Following is the complete set list of the Rio de Janeiro show on January 19, 2009:

Funeral for a Friend

Love Lies Bleeding

The Bitch is Back

Madman Across the Water

Tiny Dancer

Levon

Believe

Take Me to the Pilot

Goodbye Yellow Brick Road

Daniel

Rocket Man

Honky Cat

Sacrifice

Don't Let the Sun Go Down on Me

All the Girls Love Alice

I Guess That's Why They Call it the Blues

Sorry Seems to be the Hardest Word

Candle in the Wind

Bennie and the Jets

Sad Songs (Say So Much)

Philadelphia Freedom

I'm Still Standing

Crocodile Rock

Saturday Night's Alright (For Fighting)


Skyline Pigeon

Your Song
Elton John and band performed in Sao Paulo on January 17, 2009
Tuesday, January 20 2009
Fan report by Ana Sousa.
I went to Sao Paulo in the evening on Friday January 16, 2009. At the airport I met a friend, who I shared the room with. We took turns in the line since 8:30am. She brought with her a small bench for us to seat while in the line, so we wouldn't get too tired when we got into the arena. The scheme worked perfectly. The hotel was just two blocks away, so when I was in the line, she was resting at the hotel and vice versa.

When we arrived at the arena in the morning there were about 30 fans already waiting; some of them since the previous night. The gates were schedule to open at 5pm, but there was a delay of 1 hour causing uproar from the fans, especially because they asked to split the single line in three, which caused a total chaos for accessing the arena. Those that arrived pretty early were incensed at the lack of organization, because many that arrived late were getting up front. Also, a heavy rain fell and each minute that went by the atmosphere was getting tenser.

When the gates finally opened at 6pm, the crowd was shoving to enter in the arena to get a better place in front of the stage. The security had a hard time to perform the public safety inspection. I'm not sure if they either allowed cameras or not, but many made it to the arena with a camera in hands.

The stage was about 9.8 feet high and there were two lines of rails separating the stage from the public that together were about 9.8 feet wide. No autograph sweep this night then.

When I entered, I ran to a place right in front of the stage that at that time was prepared for James Blunt concert, so there was no piano yet to be in front of, but knowing Elton likes to be on the left, I could sort of guess where it was the closest I could stay in front of him, so I run to the left side and joined with a few of my friends that were already in the arena.

In the arena the mood calmed down. At 8pm sharp James Blunt started his concert. I have to say, the boy astonished me with his energy and presence on stage. Charismatic, he won the crowd and many, including myself, had a great time on his concert.

After Blunt's concert was finished his stage equipment was dismantled to make room to Elton's music equipment. When the piano was pushed onto the stage many fans couldn't keep the tears. The piano was the real proof that it was not a dream; it was real that they were about to see Elton live again. After 13 years, his Brazilians fans that attended his concert in 1995 could experience the same emotion and excitement they lived before, while those that were going to see him for the first time it was a lifetime dream that was finally turning reality.

When Elton got on stage at 10 pm, an incredible noise filled the arena; screams; applause, fans calling his name. Again, many fans couldn't keep the tears. It was too much emotion for those that waited 13 years to see the man again and for those that had never seen him live.

Elton wore a black jacket with "The Lion King" on the sleeve and love on the front with a yellow shirt to match. On the back of his jacket there were drawings inspired by "The Lion King".

I had a great view of Elton. I was lucky, because the piano was placed not too far on the left. I just didn't have a full view of him - I couldn't see his legs - because there was a teleprompter blocking part of the view. I had a great view of the band, except of Nigel that was totally hidden behind the piano. I just saw his hand when he waived to the audience during the band's introduction.

Elton was clearly happy with the fans' display of affection for him. To very smile, every move there was a response from the public with screams and applause. "Elton I love you" was heard several times throughout the night. The fans sang in chorus with him. The language was not a barrier anymore. There was only one language and it was the language of Elton's songs.

He was in top form. His voice was clear and loud; his piano playing was flawless. The band was tight as always.

One of the most moving moments was when he came back for the encore and performed "Skyline Pigeon". This song is one of his most beloved songs in Brazil. In 1995 he didn't perform this song, but made a promise that next time he played in Brazil he would sing it for us. He kept his promise. "Skyline Pigeon" is not on the set-list of this tour, but he did it solo just for us. It was a special moment.

He played all the set-list without any break, with just a brief exit from the stage before the encore.

Before finishing the concert with "Your Song", he thanked the audience for being a wonderful and loving crowd. He also thanked Brazil and the city of Sao Paulo and dedicated "Your Song" to the audience wishing love and happiness forever.

Following is the complete set list of the Sao Paulo show on January 17, 2009:

Funeral for a Friend

Love Lies Bleeding

The Bitch is Back

Madman Across the Water

Tiny Dancer

Levon

Believe

Take Me to the Pilot

Goodbye Yellow Brick Road

Daniel

Rocket Man

Honky Cat

Sacrifice

Don't Let the Sun Go Down on Me

All the Girls Love Alice

I Guess That's Why They Call it the Blues

Sorry Seems to be the Hardest Word

Candle in the Wind

Bennie and the Jets

Sad Songs (Say So Much)

Philadelphia Freedom

I'm Still Standing

Crocodile Rock

Saturday Night's Alright (For Fighting)


Skyline Pigeon

Your Song
Elton sets sights on Winehouse for Oscar party
Monday, January 19 2009
Elton has reportedly asked troubled singer Amy Winehouse to perform at his 2009 Academy Awards party to ensure his notorious bash is one of his best ever.
Elton annually hosts a flamboyant gathering after the Oscars to raise money for the Elton John AIDS Foundation, and previous performers at his event have included acts like Mary J. Blige and James Blunt.

And Elton is desperate for Winehouse to be his guest of honour after hailing her as one of the greatest performers he's ever seen.

A source tells British newspaper The Mail on January 18, 2009, "Elton is aiming to book the best cabaret on the circuit and he's really keen to book Amy."



Elton: Amy Winehouse is best female singer
Friday, June 1 2007 at 11:23:51

Winehouse apologizes to Elton for cancelled gig
Friday, May 18 2007 at 19:17:30


TV Globo to broadcast Elton's Sao Paulo show
Thursday, January 15 2009
TV Globo in Brazil is going to broadcast Elton's concert in Sao Paulo on January 17, 2009.
The show will broadcast from Pacaembu stadium at 11.05pm local time.

See a video clip of an interview Elton gave to TV Globo recently.
Senator to settle football bet by singing 'Rocket Man'
Wednesday, January 14 2009
Forget all those inaugural concerts. The most pressing musical issue in the nation's capital is whether a stone-face senator from Oklahoma will hit the high notes in "Rocket Man" to pay off a college football bet.
Republican Sen. Tom Coburn is slated to serenade Democratic Sen. Bill Nelson of Florida with his very own rendition of Elton John's 1970s classic on January 14, 2009 afternoon.

Coburn owes Nelson because the Florida Gators defeated the Oklahoma Sooners 24-14 in last week's BCS title game. Nelson chose "Rocket Man" because he is a former astronaut who flew on the space shuttle Columbia in the 1980s. If Oklahoma had won, Nelson would have had to sing the title song from the musical "Oklahoma!" It also happens to be the official state song.

Coburn spokesman John Hart said his boss won't wear a leisure suit for the performance but would be ready. He acknowledged the vocal range for "Rocket Man" is a "bit more expansive" than for the song Nelson would've had to sing.

Coburn, a physician, is best known as a budget hawk who has given Senate Democrats headaches for years by using procedural tactics to block new spending measures. Nelson spokesman Dan McLaughlin said the senator "is looking forward to settling the wager in good spirit and with a sense of humor."
Goody saddened by lack of celeb support
Wednesday, January 14 2009
Jade Goody has admitted that she feels disappointed after being snubbed by celebrities since being diagnosed with cancer.
The reality TV star told The Mirror that the only offer of support has come from Elton John, who has invited her to stay at his French villa while she recuperates.

"I've not really heard from any other celebrities though," she continued. "But then I never had many celebrity friends. I loved Jonathan Ross and going on his show and it would have been nice to have a card from him or a call or something. And Jimmy Carr I loved too but I never heard from him either. I loved meeting them at the time, but maybe to them I was just another contestant on their show.

"I did used to be friends with the Prince of Brunei and we hung out together a bit. He rang me when I was first diagnosed but since then he hasn't been to see me or sent a card so maybe we weren't friends after all."

Goody recently confirmed that she has a 40% chance of beating the illness.
Methil brothers catch Elton's ear
Tuesday, January 13 2009
Two Methil brothers are primed to hit the big time this year - thanks to Elton John. The superstar has signed-up Andy and Colin Malcolm who, along with bassist Angus Schroder, make up the band Healthy Minds Collapse.
A Christmas Party brought the group south to Elton's London offices, where they met other 21st Artists including Lily Allan and James Blunt. It marks a surreal turnaround for a group which has spent eight years rehearsing in their Dad's garage in Wellesley Road.

Lead singer Andy (28), explained: "It all kicked off when Elton heard our stuff. He absolutely loved it. When you are facing him it's like meeting royalty. It's literally unbelievable!"

The band were asked to support Elton's Perth gig in July 2009 and the heat is now on to put an album together. Andy and drummer Colin (25) were destined to have music in their blood. Their dad, John Malcolm, played with sixties group The Troggs – best remembered for their songs 'Wild Thing' and 'Love Is All Around'. He also entered the qualifiaction competition for a place at the 1976 Eurovision Song Contest as Joey Valentine, losing out to Brotherhood of Man.

Andy said: "There were always guitars lying around the house, so it was only a matter of time before I picked one up. I needed a drummer so..."

Healthy Minds Collapse represent a new breed of thoughtful gritty rock heavyweights, with a sound inspired as much by The Cure as Nirvana.
Saturday games alright for Elton
Friday, January 9 2009
A sense of optimism is beginning to sweep around Vicarage Road following a positive start to 2009, which has seen,among other things, Elton John bcome involved with Watford again.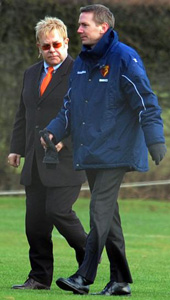 The club racked up its first win of the year with a 1-0 victory over Scunthorpe United in the FA Cup, but were also blessed with some other good news. After recently walking away from the club in dismay, former chairman and lifelong fan Sir Elton John has given his full support for the Hornets.

Elton resigned from his role as life president in November 2008, insisting that he was disillusioned with the way the club was being run by chairman Graham Simpson. However Simpson and his right hand man Mark Ashton have since left the club, and Elton has been quick to offer his backing to new boss Brendan Rodgers and his squad.

During his visit to the team's London Colney training facility, he gave a speech to the players underlining his commitment to the new regime. Although he is yet to confirm he has rejoined the club in an official capacity, it is believed that Sir Elton has been in contact with manager Rodgers in recent weeks and that he will continue to hold a stake in Watford Football Club.

With the transfer window opening on January 1, 2009, Rodgers signalled his intentions to add depth to his squad by bringing in two new players on loan. The arrival of youngsters Jack Cork and Gavin Hoyte from Chelsea and Arsenal respectively is the first business of what could be a busy month of transfer dealings for the club. Both players will remain at the club until the end of the season, as will Liam Bridcutt who had his loan deal extended.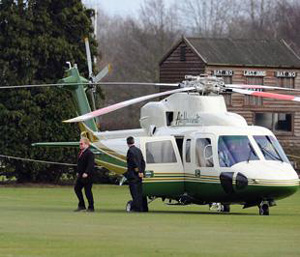 Both players figured in the Hornets' win over Scunthorpe on January 3, 2009, but it was another loanee that grabbed the winner. It came on 67 minutes as a Adrian Mariappa flick-on found Polish striker Grzegorz Rasiak who lifted the ball past Scunthorpe keeper Joe Murphy.

In other transfer news, Steve Kabba, Moses Ashikodi and Jordan Parkes return to Vicarage Road with their respective loan deals having expired. Lionel Ainsworth has had his loan at Hereford extended until January 24 while Dale Bennett will continue with FA Cup heroes Kettering Town until May 2009.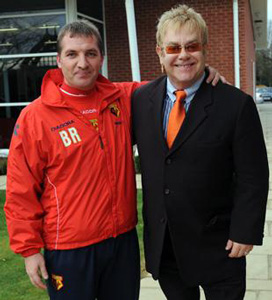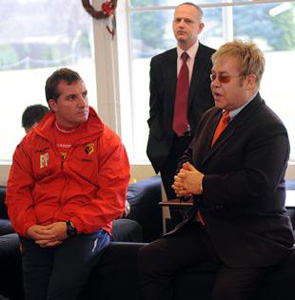 Elton John Avenue rejected by readers
Tuesday, January 6 2009
Strolling down Simon Le Bon Gardens or Elton John Avenue would be bliss for some fans of the rock stars. However residents have overwhelmingly rejected the idea of having Harrow streets named after celebrities.
In December 2008 the Harrow Observer revealed the Local Government Network was encouraging local authorities to celebrate their homegrown heroes by immortalising them in street and place names. A poll on their website showed people in the borough were not taken by the idea.

Sixty per cent of people polled voted no to Elton John Avenue, while 39 per cent wanted the Rocket Man to be honoured. Harrow's claim to fame is Sir Elton was born at 55 Pinner Hill Road, Pinner on March 25, 1947.

Martin Verden, chairman of the Harrow Heritage Trust, said: "I would not support it. I personally think roads should be named after the area or place, like Chapel Lane - where there used to be a number of chapels. The names should be something that bring a smile to your face."

Daniela Murgia, from Harrow, said: "I think Simon Le Bon should have a street named after him." The Duran Duran star attended Pinner County Grammar school and also worked as a theatre porter in Northwick Park Hospital, in Watford Road. Councillor Susan Hall (Conservative) said the council would not want to rename existing roads due to the financial inconvenience.

The deputy leader said: "It is interesting, if people say they do not want this loud and clear we will listen to them. It is up to new developers what they name their streets, but the council gets the final say and we are mindful of what our residents think."




Sir Elton John road wanted by Harrow
Tuesday, December 23 2008 at 08:02:12


Elton refused to duet with Alexandra Burke
Sunday, January 4 2009
Elton John refused to duet with X Factor winner Alexandra Burke during his New Year gig, it has been claimed.
According to the News of The World, Elton ignored pleas from ITV bosses for him to sing with Alexandra just before midnight in the O2 Arena. Burke, 20, had been told the collaboration was likely, but Elton declined to share the stage with the Hallelujah singer.

A source says, "We were desperate for Elton to do a duet with Alex to boost ratings. But his people weren't having any of it. She was allowed to come on at midnight while he was playing Auld Lang Syne but that was all."

Elton did, however, agree to perform a duet of his classic hit "Daniel" just before midnight with Pop Idol winner Will Young.




Alexandra Burke and Will Young lead countdown to 2009 at glitzy Elton party
Thursday, January 1 2009 at 07:36:47


Watford captain says Elton John gave players 'solidifying' speech
Sunday, January 4 2009
Watford captain Jay DeMerit says Elton John's show of support for the Hornets' new regime is something everyone at Vicarage Road "wanted" after the club's most famous fan gave an uplifting speech to the players on January 2, 2009.
The Golden Boys former chairman gave up his title as honorary life president in November 2008 after becoming increasingly frustrated with the way the club was being run by former chairman Graham Simpson and chief executive Mark Ashton. But on January 2, 2009 he flew into Watford's London Colney training ground in a helicopter to meet the staff and players.

At the end of his visit he gave a speech to the players explaining the reasons behind him ending his formal affiliation with the club and how he expects the Hornets to have a bright future under new manager Brendan Rodgers. The Northern Irishman and Elton have been speaking to each other on the phone in recent weeks and although Elton has not reclaimed his title as honorary life president, it is believed he may do so in the near future.

Speaking after the victory over Scunthorpe on January 3, 2009, DeMerit said: "He (Elton John) is an integral part of what this club is all about and I think to see him leave was a shock to everyone but to see him come back is something he wanted, the fans wanted, the board wanted and everyone else wanted. To have him back is great not only because him just being who he is, and being a fan of the club, brings a bit of notoriety to Watford Football Club and that is a positive thing in itself and to have him be able to do whatever he can do to help, which he has always been able to do. To always have him on your side is something that you want and thankfully now he is back on our side and we can hopefully move forward."

On Elton John's speech to the players, the American said: "He (Elton John) was just solidifying what the board and everyone else has been saying, that we are not here to try and make this season more difficult than it already has been, I think we are here to come together and make sure the club are going in the right direction and he solidified that point himself and he said 'I'm here now and I'm going to try and help out as much as I can'. Obviously he is a busy man and we all know that but you do look to him to hopefully add more support if needed and that was his message to us."




Elton keen to show support for Brendan Rodgers
Friday, January 2 2009
Elton John is expected to make a shock return to Watford just under two months after he walked out on the club and resigned as the Hornets' honorary life president.
In October 2008, Elton expressed his "deep dismay" at the direction the club was headed under the leadership of former chairman Graham Simpson and chief executive Mark Ashton and when manager Aidy Boothroyd left Vicarage Road a month later, Elton decided to end his formal affiliation with a club he has supported since childhood.

But the Watford Observer understands the former two-time Hornets' chairman has been speaking to new boss Brendan Rodgers in recent weeks and is keen to show his support for the Northern Irishman, interim chairman Andy Wilson and the new board currently being put together. Although he is not expected to take up a formal role initially, it is likely that Elton will eventually regain his title as Watford's life president.

However, it is unlikely that Elton will be a member of the new board Wilson is trying to build and that, maybe more importantly for fans, it is not thought the multi-millionaire will be pouring significant investment into the club. Even when Elton stood down in November 2008 he stated that he would always be a Watford fan and wished the team "every success in the future".

But his relationship with Simpson and Ashton seemed to have reached an all time low and it resulted in him not only walking out but also withdrawing all his memorabilia from the Elton John Suite in the Rous Stand at Vicarage Road. In the statement released before his resignation, Elton said: "We know from other clubs that when stability and confidence go then there is a danger of plummeting freefall. I fear we could be facing that catastrophe. Voices other than my own have already asked the question of what has happened to the money from the sale of some of our best players and the parachute payments. Whatever investment the directors still have in the club is likely to be devalued if stability is not brought back. More than anything else, confidence must be brought back to the playing staff and a real sense that there is a future at the club. If the directors do not have that optimism then they should go."

In the end he got his wish and both Simpson and Ashton have since left the club, and Elton's likely return could be the first of several this month as Wilson looks to have at least a five-man independent board in place by the end of January 2009.




Alexandra Burke and Will Young lead countdown to 2009 at glitzy Elton party
Thursday, January 1 2009
X Factor winner Alexandra Burke and Will Young led a New Year countdown at Elton John's exclusive party at the 02 Arena. The pair were centre stage with host Kate Thornton as the clock struck midnight.
But as they took the limelight, Elton John waited in the sidelines of the stage ready to launch into a rendition of "Auld Lang Syne" (siehe YouTube clip).

The glitzy evening was opened by Alexandra who sang her hit cover of the song Hallelujah to rapturous cheers. After finishing she thanked the crowd and wished them all a happy New Year. Following her performance, a breathless Alexandra told host Kate Thornton: ' It was amazing. I had the best time. I'm so happy.'

Elton, who has sold over 250million albums, put on the show in an evening which saw him take part in one of the biggest shows of his four-decade career. Speaking to Thornton before the concert started, Elton said revealed he isn't really a fan of New Year and so is much more at ease on stage performing.

He said: 'I do not drink anymore. I've been sober for eighteen-and-a-half years so New Year is always a predicament for me because we usually don't do anything. I've never really liked New Year's Eve... never enjoyed it that much. I'm a musician and would rather be playing.'

Elton then performed the second song of the evening, "Philadelphia Freedom", followed by "I Guess That's Why They Call It The Blues". Then he sang "Daniel" with Pop Idol winner Will Young - an interesting coupling when Elton's recent comments about shows like X Factor are taken into account.

Earlier in December, as Alexandra was crowned X Factor queen, Elton launched a diatribe against the show while performing a gig at the 02. He told the audience at the time he would rather have his 'c*** bitten off by an Alsatian' than watch the ITV show. He also said he would be happy to lose his testicles in the process.

Following Elton and Will's rendition, Thornton questioned their pairing together, describing it as a little strange. Elton looked on sullenly as Will said with an awkward smile, with just a hint of sarcasm: 'We met on the internet. We get on like a house on fire.' Alexandra was then brought back on to the stage as the countdown began to New Year, led by Thornton.

Following jubilant cheers from the crowd as the clock struck 12, balloons were released from the ceiling and a dramatic laser show began as Elton launched into a rendition of "Auld Lang Syne", followed by "Pinball Wizard". Then he gave an energetic performance of "Saturday Night Is Alright (For Fighting)", which saw members of the audience invade the stage for a boogie. He closed the event with his 1970s hit Your Song.




Elton's New Year's Eve bash hampered by poor ticket sales
Wednesday, December 31 2008 at 14:38:52

Elton John wants helipad for New Year performance
Wednesday, December 31 2008 at 06:16:23

Elton to be seen on New Year's Eve special
Tuesday, December 23 2008 at 07:58:54