ELTON JOHN NEWS ARCHIVE: January 2004
Golden Globe Award 2004
Monday, January 26 2004
Elton and Bernie's song "The Heart Of Every Girl," written for the new Julia Roberts movie, "Mona Lisa Smile," was nominated for a Golden Globe award, but unfortunately didn't win.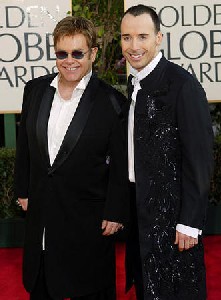 The winner in the category "Original Song" is:

"Into the West," "The Lord of the Rings: The Return of the King" --- music/lyrics, Howard Shore, Fran Walsh, Annie Lennox

Other nominees besides Elton were:

"Man of the Hour," "Big Fish" --- music/lyrics, Eddie Vedder

"Time Enough for Tears," "In America" --- music/lyrics, Bono, Gavin Friday, Maurice Seezer

"You Will Be My Ain True Love," "Cold Mountain" --- music/lyrics, Sting

The awards were presented in Hollywood on January 25, 2004. See www.thegoldenglobes.com for more details.
A story about Elton
Sunday, January 25 2004
Small Talk called former Watford manager Graham Taylor and asked him, amongst other things: "Can you tell us a tale about Elton John we don't already know. Please."
Here is Taylor's reply:

"Erm, a story about Elton? Well there was the time we came back from a meal with the Chinese ambassador, a few days before we were due to fly out to China, and it was just before Christmas. Elton had left his car at my house, and we'd had a few drinks, so when we got back, we decided we'd do a bit of carol singing in the cul-de-sac I lived in. There were eight houses, so the neighbours all knew me, but you can only imagine their faces when they saw Elton John stood next to me singing Once In Royal David's City! [chuckles]. That was a fantastic night, until the wife pulled us in and told us what she thought of us [chuckles again]."
R&B Star Cox confirmed for Broadway "Aida"
Sunday, January 25 2004
Deborah Cox has been confirmed to replace Michelle Williams in the title role of Elton John and Tim Rice's "Aida" on Broadway, reports Playbill On-Line.
Cox will be the latest pop singer to step into the title role of the Disney hit. Cox begins her four-month engagement February 17, 2004 and will play the role of the Nubian princess through June 13, 2004. Her co-stars will include Will Chase as Radames, Lisa Brescia as Amneris and Micky Dolenz as Zoser. "Aida" will mark Cox's Broadway debut.

Born in 1973, Cox began her professional career at the age of 12, playing small Toronto clubs before attending a performing arts school. Cox's recording of "Nobody's Supposed to Be Here" from her album "One Wish" topped the R&B charts for 14 weeks. She also had another Top 10 hit with "We Can't Be Friends." She currently holds the No. 1 Billboard Dance position with her remake of Phil Collins' "Something Happened on the Way to Heaven."

"Aida" plays the Palace Theatre ó Broadway and 47th Street ó and tickets are available by calling the Disney hotline, 1 (212) 307-4747. For more information about Aida, go to www.DisneyOnBroadway.com.
Fans around the World
Saturday, January 24 2004
Help Elton fan Misty Malone put together a "Fans around the World" patch on her website.
Here are the rules she has in regards to sending in your signatures.


Write something short, preferably a couple of words, sign your name, and put where you are from. You can put the country, or you can put the full city, state and country. That's up to you. Please do not put your address though.

At this time she can only accept .jpg/.jpeg scans, so check your scanner software to make sure it scans in this format.

Please try to keep the image as small as possible. At this time all she has are a couple of free email accounts, so they don't give her very much space to recieve bigger files.

Have fun and be creative. This is your signature stamp, make it original like you are.


See Misty's website for more details.

Elton John to attend Vancouver hospital fundraiser
Saturday, January 17 2004

Jazz diva Diana Krall, her British rocker husband Elvis Costello and Elton John will attend a fundraiser for the Vancouver General Hospital in March 2004.

Krall will perform March 5, 2004 at a black-tie dinner for the hospital's leukemia-bone transplant program, a charity her family's been involved with since 1998 after her mother was diagnosed with cancer. She died in 2002.

Costello and Elton will also perform.

"The benefit concert is a heartfelt expression of Diana's thanks to the caregivers in the LBMT program," said a news release from the hospital.

"Diana's mother Adella enjoyed six additional precious years of life following her 1996 diagnosis of multiple myeloma - an incurable form of cancer that affects the immune system."

Krall's previous concerts have collectively raised over $500,000, money which has helped purchase medical equipment and assist out-of-town patients, among other things.

"This event is about celebrating life and love," Krall said in the news release.

"Having the event without our mother Adella will be difficult but she is a source of inspiration for us to continue.

"We are very grateful to the hospital for the care she received."

Krall, 39, and Costello, 49, married last month at Elton John's castle in England.




Woodside wedding
Monday, December 15 2003 at 15:41:28



DVD release of "Mona Lisa Smile"
Friday, January 16 2004

In keeping with the strategy of the two companies to release many of their films very quickly to DVD, Columbia TriStar Home Entertainment has set a release date of March 9, 2004 for Revolution Studios' "Mona Lisa Smile," just 81 days, or 111/2 weeks, after its theatrical debut.

So far the Julia Roberts starrer has grossed about $60 million at theaters.

The DVD version of "Mona Lisa Smile" will include several featurettes and an Elton John musicvideo of his Golden Globe-nominated song "The Heart of Every Girl."




Golden Globe nomination
Saturday, December 20 2003 at 06:24:30



Wanted: Most absurd Elton memorabilia
Tuesday, January 13 2004

COLORS Magazine is doing research for an article about unusual fan memorabilia. They would love to know about the most absurd objects owned by fans of Elton John.

A good example of what they're looking for is the old French toast that an 'NSync fan once bought for $1025. Why did she buy this half-eaten piece of French toast? Because Justin Timberlake took a bite of it while he was giving an interview on a morning radio talk show. The radio station sold the toast on eBay, with all the money going to charity.

Some potentially interesting items they've seen include a sports bra used by Madonna, a half-empty bottle of water sipped by Robbie Williams, and a bloody towel (stage blood) used by Gene Simmons of Kiss.

COLORS is considering objects to be shot for the magazine (they can offer a user's fee -- to be negotiated).

If you do have such memorabilia, please contact Molly Bloom, Assistant Editor COLORS Magazine, at bloom@colorsmag.com.

See Elton at the movie theatre
Monday, January 12 2004

UCI Kinowelt will show Elton's December 2002 Benefit Concert at London's Royal Opera House in HDTV on the big screen.

The special show with Elton, his band and the 90-piece orchestra of the Royal Academy conducted by James Howard Newton will be shown in Berlin at UCI Kinowelt Zoo Palast on February 1, 2004 - in HDTV picture quality with 5.1 surround sound.

The show will start at 8.00 pm, tickets are available for Euro 10 per person.

Elton John is launching auditions to find Billy Elliot
Thursday, January 8 2004

Here comes the biggest chance for kids to find fame since Pop Idol. Elton John is launching an open audition to help find budding young actors who can sing and dance to play Billy Elliot in a West End production of the hit film.

Elton has written all the music for the show, which will kick off in London before Christmas 2004.

"Iím so excited about this musical. I loved the movie and I know the musical will be fantastic. Weíre looking for about three or four boys to play Billy Elliot. Because of child labour laws you canít have children working on stage every night."

"The difficulty is finding boys who can sing, dance, and speak with a North Eastern accent. They need to be between 11 and 14. We thought an open audition would be the best way."

"Iím sure weíll find what weíre looking for and Iíve no doubt the show will be amazing. I found the music really easy to write. There is so much inspiration from the era in which it is set, during the minersí strike. I related to Billyís character because he struggles against a strong father and I had a similar problem."

The musical is being directed by Stephen Daldry, who also directed the movie. If you want to audition, just turn up at the address below on Sunday January 11, 2004 at 9am to register: The London School Of Musical Theatre, 83 Borough Road, London SE1 1DN.

John Jorgensonís father dies
Tuesday, January 6 2004

John Jorgenson's father James R. Jorgenson, who served as the University of Redlands' Director of Bands from 1957-1989 and recently retired from a 12-year
career as director of orchestras at Gordon College in Wenham, Mass., died December 28, 2003, at home in Redlands.

He had been in failing health since suffering a stroke in September 2003. He was 77.

A memorial service is planned January 11, 2004, at 2 p.m. in the University of Redlands Memorial Chapel. Private burial will be at Montecito Memorial Park.

Memorial donations may be made in his name to the University of Redlands, designating the James R. Jorgenson Scholarship (for School of Music brass students).

The Hercules team would like to express its condolences to John Jorgenson and his family.

Elton tops Billboard Hot Dance/Club Play chart
Saturday, January 3 2004

It's hard to believe there is any unconquered chart territory for Elton John, who made his debut on The Billboard Hot 100 in August 1970 with "Border Song."

Still, the new year of 2004 brings a new accomplishment for Elton, who collects his first No. 1 hit on another Billboard chart.

Back in 1977, Elton went into the studio with American producer Thom Bell to record three songs. One of those cuts, "Mama Can't Buy You Love," peaked at No. 9 in 1979.

Another of the three tracks, "Are You Ready for Love," was released in the U.K. in 2003, and topped the British singles chart. Now issued in the U.S. on Southern Fried/Ultra, "Are You Ready for Love" moves 2-1 on the Hot Dance/Club Play chart the first week of 2004. Since this chart was introduced in 1976, Elton has never topped the tally until now.

"Are You Ready for Love" is Elton's biggest Club Play hit since April 1994, when a remake of "Don't Go Breaking My Heart," with RuPaul taking Kiki Dee's place as Elton's duet partner, peaked at No. 3.